Car makers' electric vehicle plans for 2023 and beyond
All these pure-electric cars are on sale now — or will be soon
Five years ago there were 20 electric cars available on the market; by the end of 2023 there will be up to 120, according to the Society of Motor Manufacturers and Traders — the motor industry's trade body. What that means for car buyers is unprecedented choice, while for us it means we have our work cut out keeping up to date this brand-by-brand guide to the current and upcoming battery-powered cars.
The reason for the flood of electric vehicles is in part due to governments around the world clamping down on exhaust emissions; in the UK there will be a ban on sales of new petrol and diesel cars from 2030, with hybrids following five years later, and car makers have been given a mandate to sell an increasing share of zero-emission vehicles up to that point. In other words, car makers have no choice.
But the good news is, electric vehicles can be really good to drive, and the increasing variety means that there's something to suit everyone: superminis, SUVs, estates, sports saloons, hot hatches and supercars.
Here are all the pure-electric cars on sale in the UK right now, as well as all the models we know will be gracing a dealership forecourt near you soon.
Jump to car company by letter:
A ¦ B ¦ C ¦ D ¦ F ¦ G ¦ H ¦ J ¦ K ¦ L ¦ M ¦ N ¦ O ¦ P ¦ R ¦ S ¦ T ¦ V
Alfa Romeo electric car plans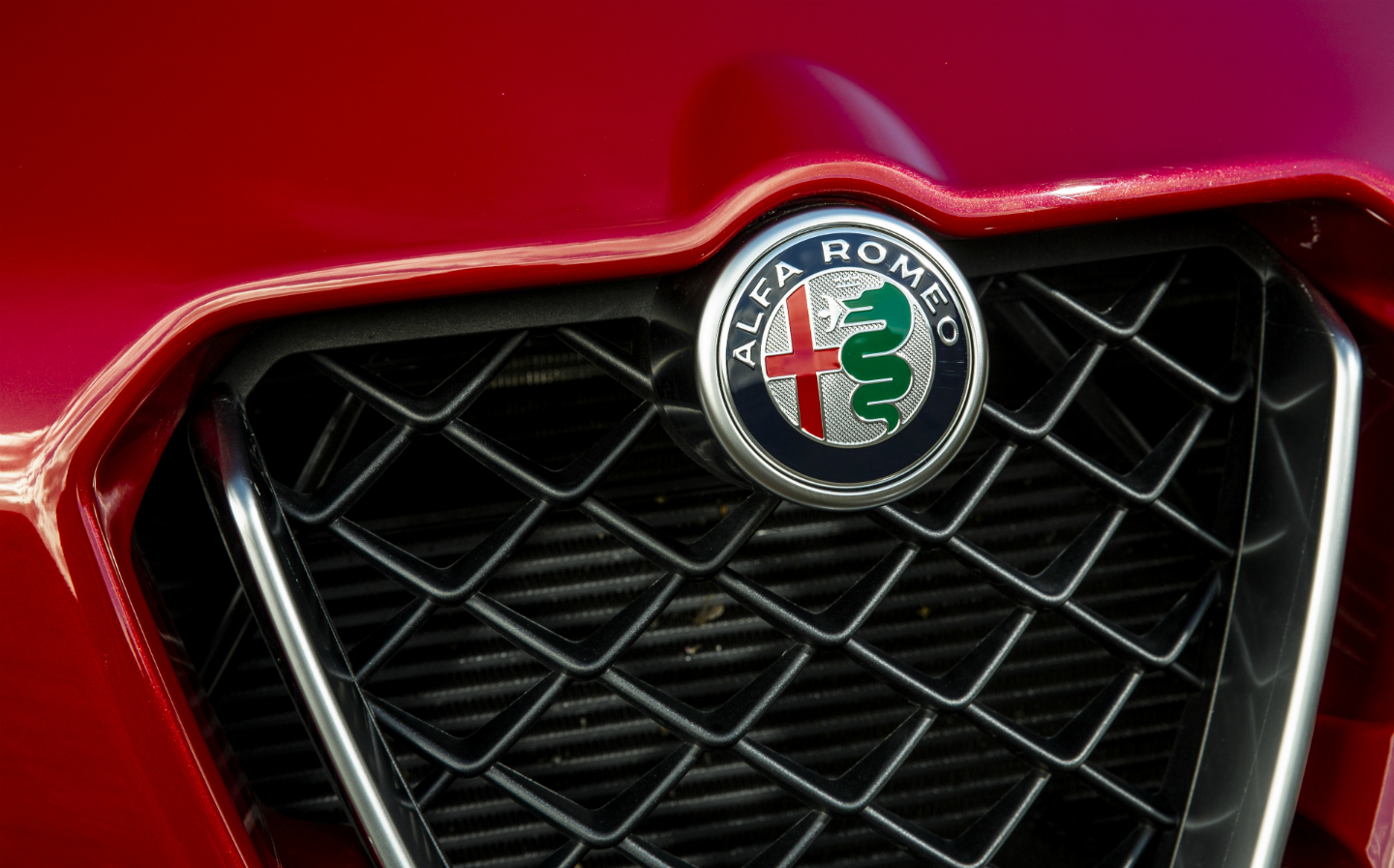 On sale now None
Coming soon Brennero (2024); Stelvio EV tbc (2024);
Alfa Romeo only has a plug-in hybrid on offer right now — the Tonale PHEV — but from 2025 it plans to only launch pure-electric models, and by 2027 its entire line-up is expected to be electric.
The first pure-electric Alfa is now expected in 2024, and is thought to be an new entry-level compact SUV, perhaps called the Brennero, which will share its underpinnings with Stellantis stablemates such as the Jeep Avenger, Citroën C4, Peugeot 2008 and Vauxhall Mokka. It'll be a plug-in hybrid as well as pure electric, but the latter should include a 134bhp electric motor driving the front wheels and a range of around 200 miles.
After that, CEO Jean-Philippe Imparato has said, will come a "full EV super-performing car". The company has hinted that it will revive the GTV name as a four-door electric coupé – which could borrow from the Maserati GranTurismo Fulgore electic sports coupé (Maserati also being part of the Stellantis family).
Maserati also has a pure-electric version of the Grecale SUV coming, which means the replacement for Alfa's sister car, the Stelvio, may also be available in electric form when it arrives in 2024.
Alpine electric car plans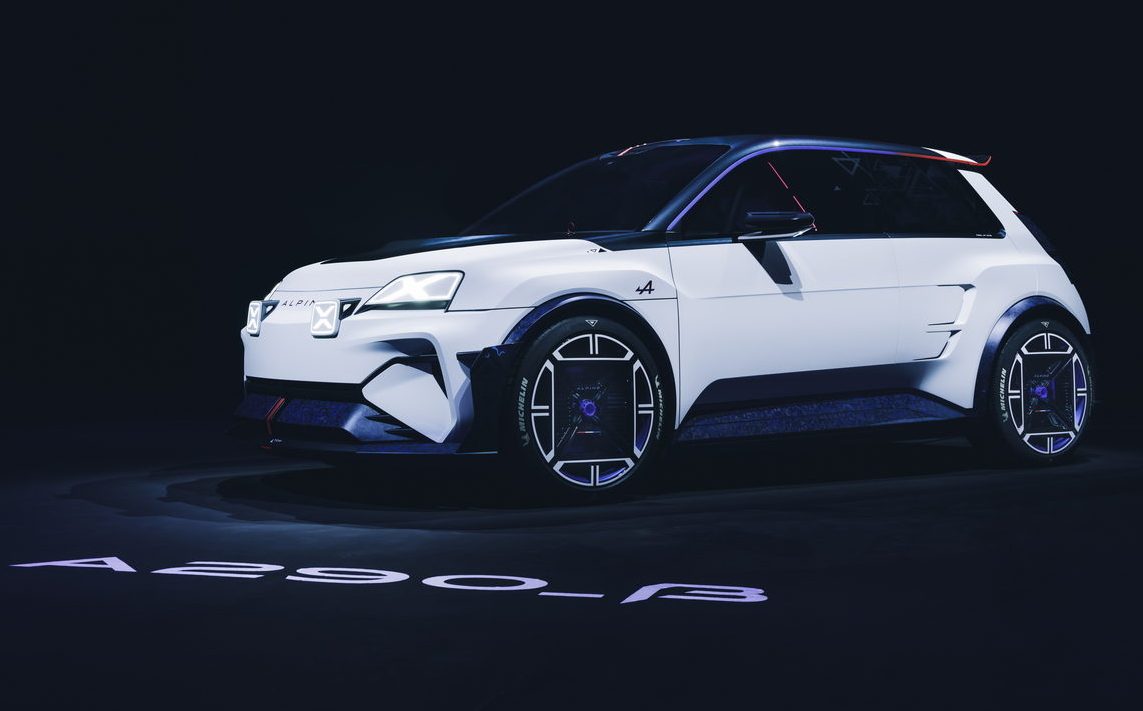 On sale now None
Coming soon A290 hot hatch (2024); GT X-Over crossover (2024 – TBC); new sports car (2026)
Alpine is set to have an all-electric line-up by 2026, with three new models launching from 2024.
First up will be a hot version of Renault's upcoming retro R5 supermini. Rather than the standard R5's 134bhp electric motor, the Alpine R5 is expected to use the same 215bhp motor as the Renault Mégane E-Tech Electric, following some reworking to make it fit into the smaller car. We have seen the development car in action, though its central driving position and dual-motor set-up won't be carried over to the production model.
Next in line is a sporty crossover, possibly to be called the GT X-Over, based on the same underpinnings as the Mégane E-Tech Electric. Alpine has hinted at something more potent — probably twin-motor and all-wheel drive — positioning it as a rival to the upcoming Porsche Macan Electric and Lotus Type 132.
Speaking of Lotus, Alpine's third EV, launching in 2026, will be a sports car co-developed with Lotus due not just to replace the A110, but Lotus's final petrol-engined model, too — the Emira. Given that it's still quite some way away though, further details are scarce.
While those models have been officially confirmed by the company, there might be something else coming in the meantime to bridge the gap between the current A110 and Alpine's future electric sports car.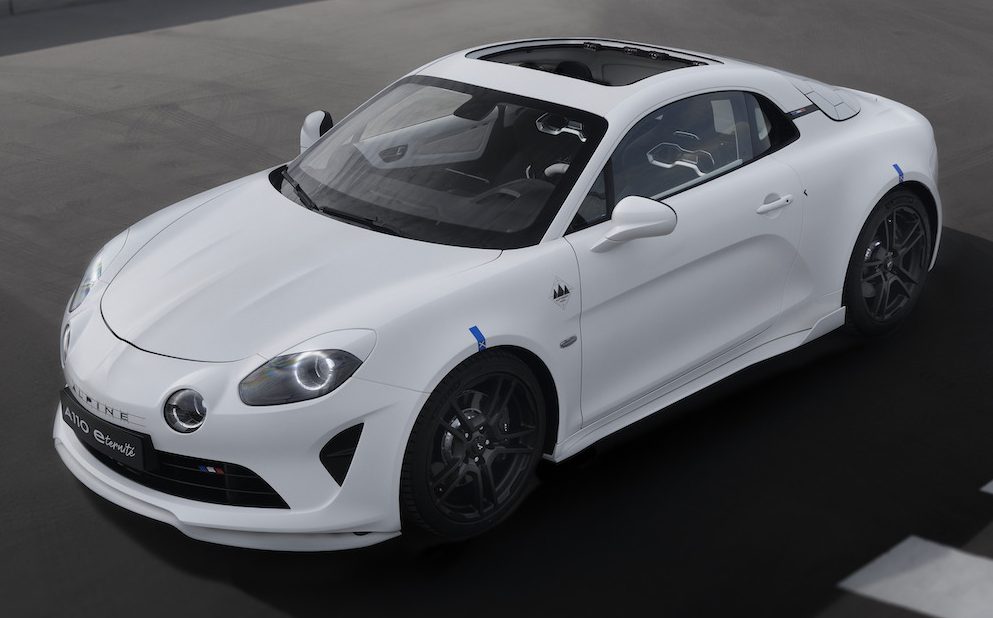 In July 2022, the company unveiled the E-ternité concept, a fully electric version of the A110 with a 60kWh battery, 261 miles of range and, crucially, only a 258kg weight gain over the combustion-powered model. By the time the new electric sports car launches, the A110 will be getting on a bit and so, having proven that a fully electric A110 is at least technically feasible, something based on the E-ternité concept could potentially see the light of day in the coming years, though the packaging at present is not ideal.
Aston Martin electric car plans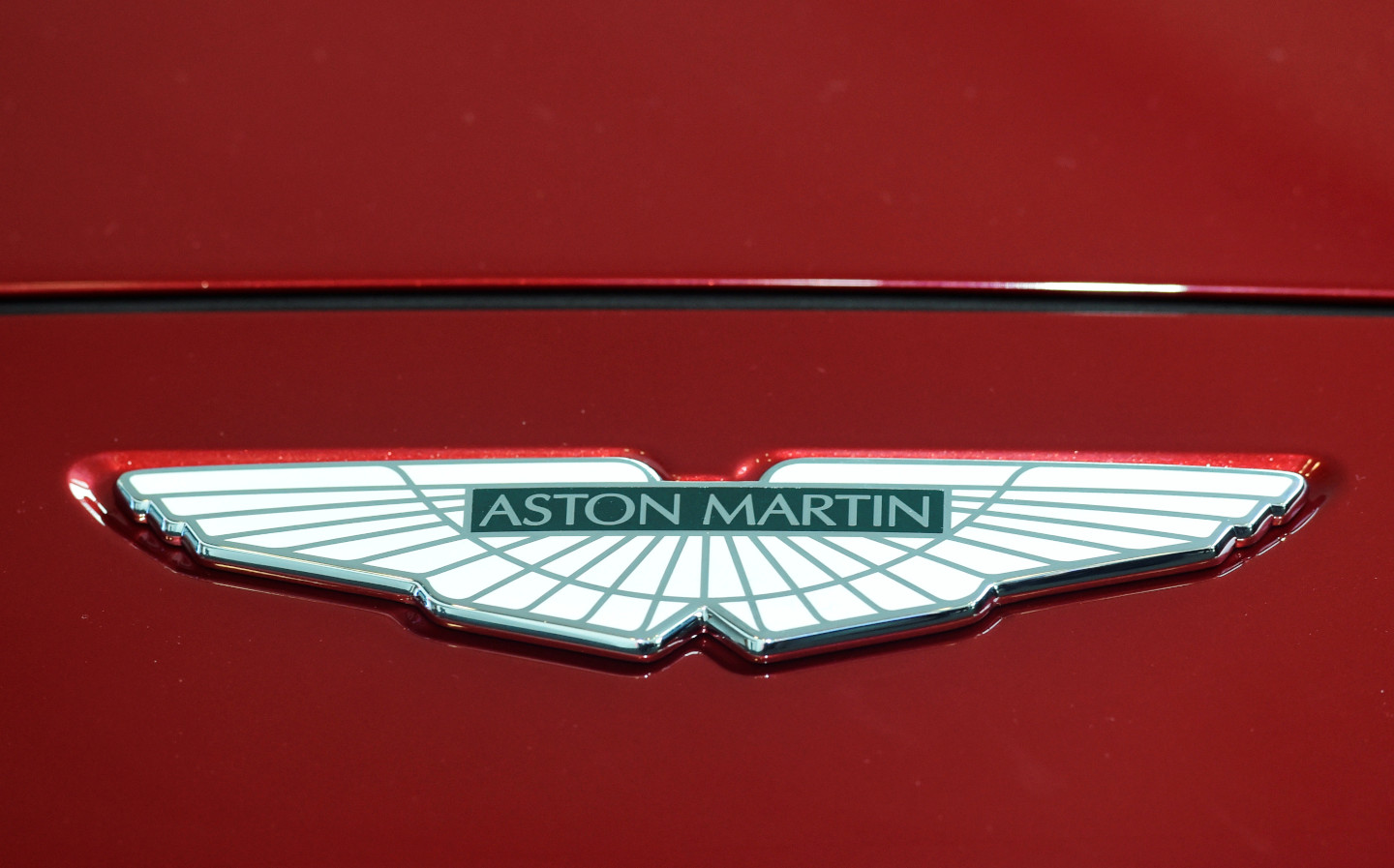 On sale now None
Coming soon Pure-electric sports car in 2025; electric SUV in 2025 or 2026
Aston Martin had planned the development of the Rapide-E, an all-electric GT, but that project was sunk with the ousting of former boss Andy Palmer in May 2020, whose brainchild it was, following the brand's disastrous stock market flotation and financial losses. At the same time, the company also put on hold (or likely cancelled) a reboot of the Lagonda badge as a luxury electric sub-brand.
That allowed Aston to focus on its first SUV, the DBX, which has unsurprisingly proved to be the firm's most popular and profitable model. Then Aston was able to finalise its hybrid hypercar, the Valkyrie, deliveries of which began in early 2022 (somewhat later than planned and, reportedly, at great expense to the company).
Now the focus can shift to its electrification strategy proper. It no longer has to worry about developing its own electric powertrains, now that Mercedes-Benz has agreed to lend its considerable expertise, as well as its electric chassis underpinnings, in return for a larger slice of Aston Martin shares. More recently, Chinese behemoth Geely, which also owns Volvo and Lotus, has doubled its stake in Aston after owner Lawrence Stroll sold 35m shares, worth £117m. It's a harmonious agreement as Geely and Mercedes jointly own and develop Smart's new range of EVs..
Aston's first plug-in hybrid model, the Valhalla supercar, is due to begin deliveries in 2024 with, according to the firm's latest boss Tobias Moers, an electrified powertrain option across all product lines by 2026. The company intends that all of its core models will be fully electric by 2030.
Audi electric car plans
On sale now Q8 e-tron; Q8 e-tron Sportback; Q4 e-tron; Q4 e-tron Sportback; e-tron GT; RS e-tron GT
Coming soon Q6 e-tron; A6 e-tron; A6 e-tron Avant
Few car makers come close to matching Audi's planned pure-electric product onslaught. The newly-renamed Q8 e-tron SUV and its Sportback counterpart are already available, as is the flagship Audi e-tron GT and sportier RS e-tron GT.
The Q4 e-tron and Q4 e-tron Sportback (based on the same Volkswagen Group MEB underpinnings as the Volkswagen ID.4 and Skoda Enyaq iV) are also available. Next up will be the Q6 e-tron, a sporty large SUV built on a new platform shared with Porsche.
Audi has also confirmed that there will be an electric version of its next-generation A6 saloon and Avant estate.
Rumours abound of an electric A2, as well as battery-powered reinventions of the TT sports car and the R8 supercar. By 2025, Audi will offer more than 20 battery-electric models and is aiming for 40 per cent of its sales to be electrified.
Bentley electric car plans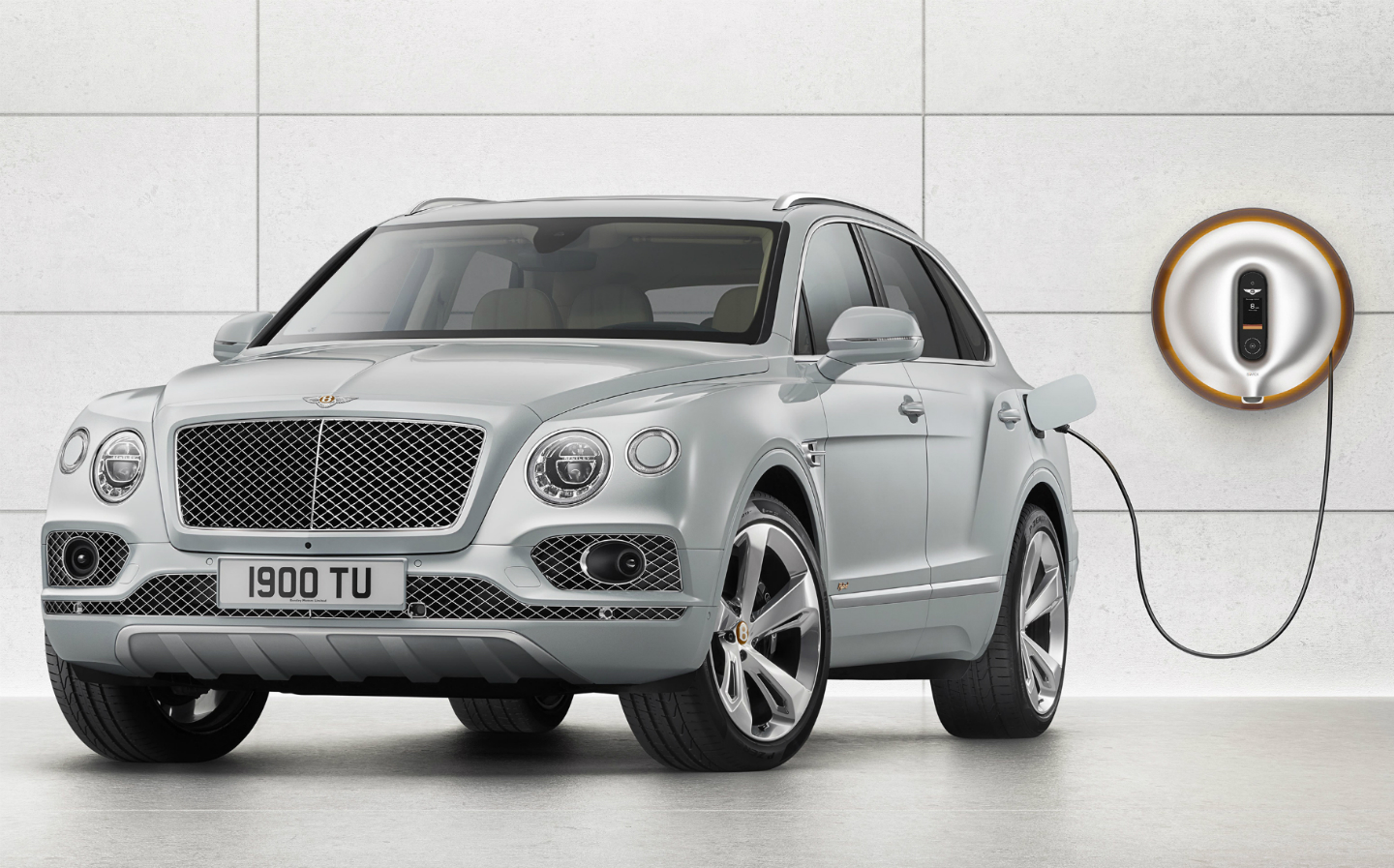 On sale now None
Coming soon Five pure-electric models between 2025 and 2030
Bentley has announced a plan called 'Five-in-Five', which involves launching a new pure-electric model every year for five years from 2025 – after which the entire product range will be electric. Sadly that means the end of its wonderful, silky W12 engine.
Bentley boss Adrian Hallmark has made it clear that the company's clientele are "desperate for a luxury electric product". With Rolls-Royce almost ready to launch its first pure-electric model — the Spectre — Bentley needs to get a move on.
It makes things easier that the Crewe-based car maker can lean on sister-brands Audi and Volkswagen for electric drivetrain tech, though as ever, Bentley will want its own electric products to have a distinctive character.
BMW electric car plans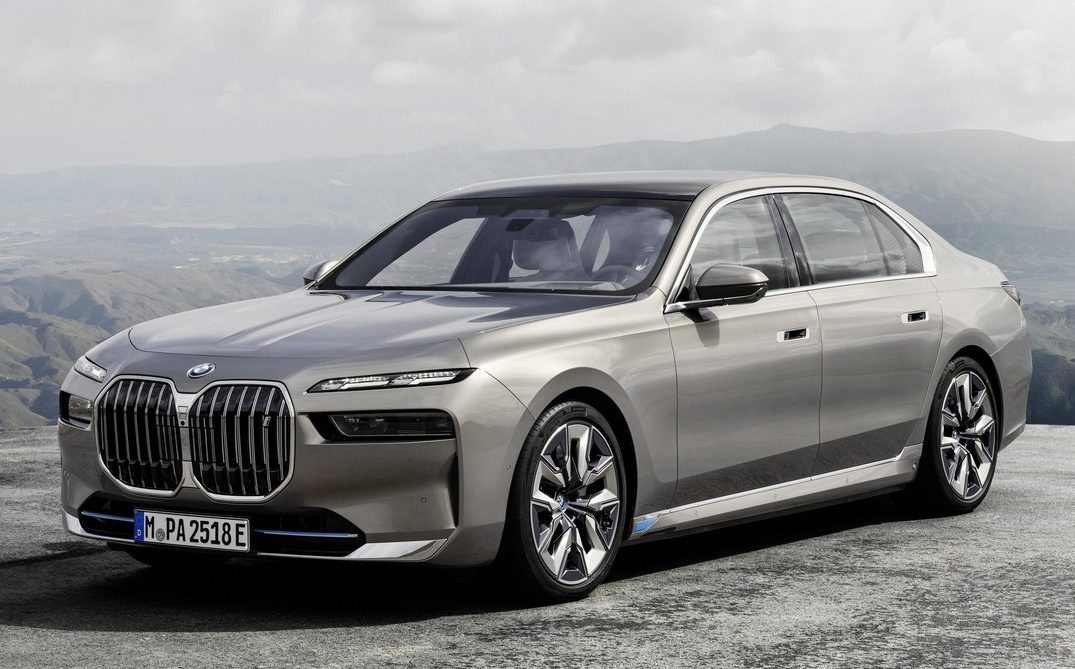 On sale now i4; i5 (deliveries 2024); i7; iX1; iX3; iX
Coming soon iX2 (2024)
BMW's plans to expand its EV offering are nothing if not ambitious, aiming to ramp up the number of electrified and pure-electric cars significantly in its line-up by 2025. The company turned heads (and a few stomachs) when it revealed the polarising iX in 2021, but the SUV, which has a range of up to 370 miles, is an impressive technical package.
The ahead-of-its-time i3 has been discontinued and the new entry-level BMW EV is the iX1, an electric version of the company's compact X1 SUV. That will be joined by an electric version of the next X2, called the iX2.
On the saloon car side there's the accomplished and attractive i4, with the i4 M50 being the first EV to which BMW's performance M division has turned its attention. An all-new BMW 5 Series has been revealed, along with an electric version called… you guessed it… the i5.
At the top of the saloon line-up is the i7 (pictured top). The i7 xDrive60 features a 101.7kWh battery, twin front and rear electric motors, 537bhp, a range of up to 388 miles and a 0-62mph time of 4.7 seconds.
Like the iX, the i7's styling won't be to everyone's taste but in the metal it does look imposing, particularly in all black, and the interior is a sumptuous affair with huge amounts of tech. The range-topping i7 M70 xDrive with 659bhp is properly punchy, too.
BYD electric car plans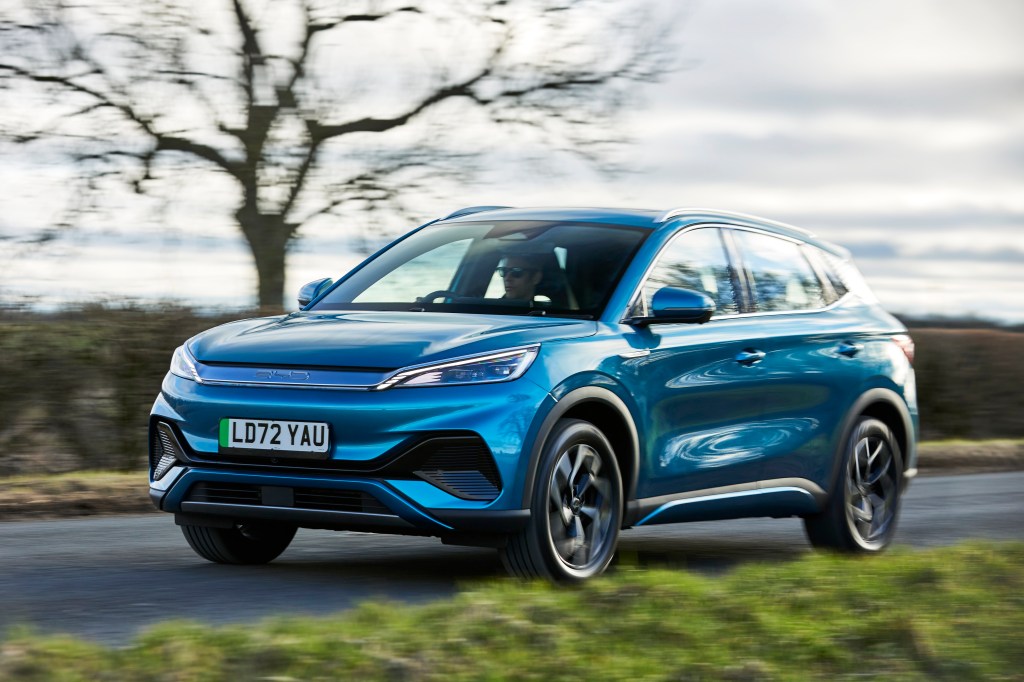 On sale now Atto 3, Dolphin
Coming soon Seal (2024), Han (TBC), Tang (TBC)
Yes, BYD cringingly stands for "Build Your Dreams", and yes, two of the Chinese company's models are named after aquatic animals, but don't let that fool you into thinking it shouldn't be taken seriously. BYD manufactured more electric cars in 2022 than Tesla, making it the biggest producer of EVs in the world. And that's before it started its offensive on the European market in seriousness.
The BYD Atto 3 crossover is the first of its models to arrive in the UK and while it has value on its side, that's not the only reason to buy one – think of it as an alternative to the Volkswagen ID.4. Hot on its heels is the less-impressive Dolphin hatchback, though it makes up for its shortcomings with a good specification and low price.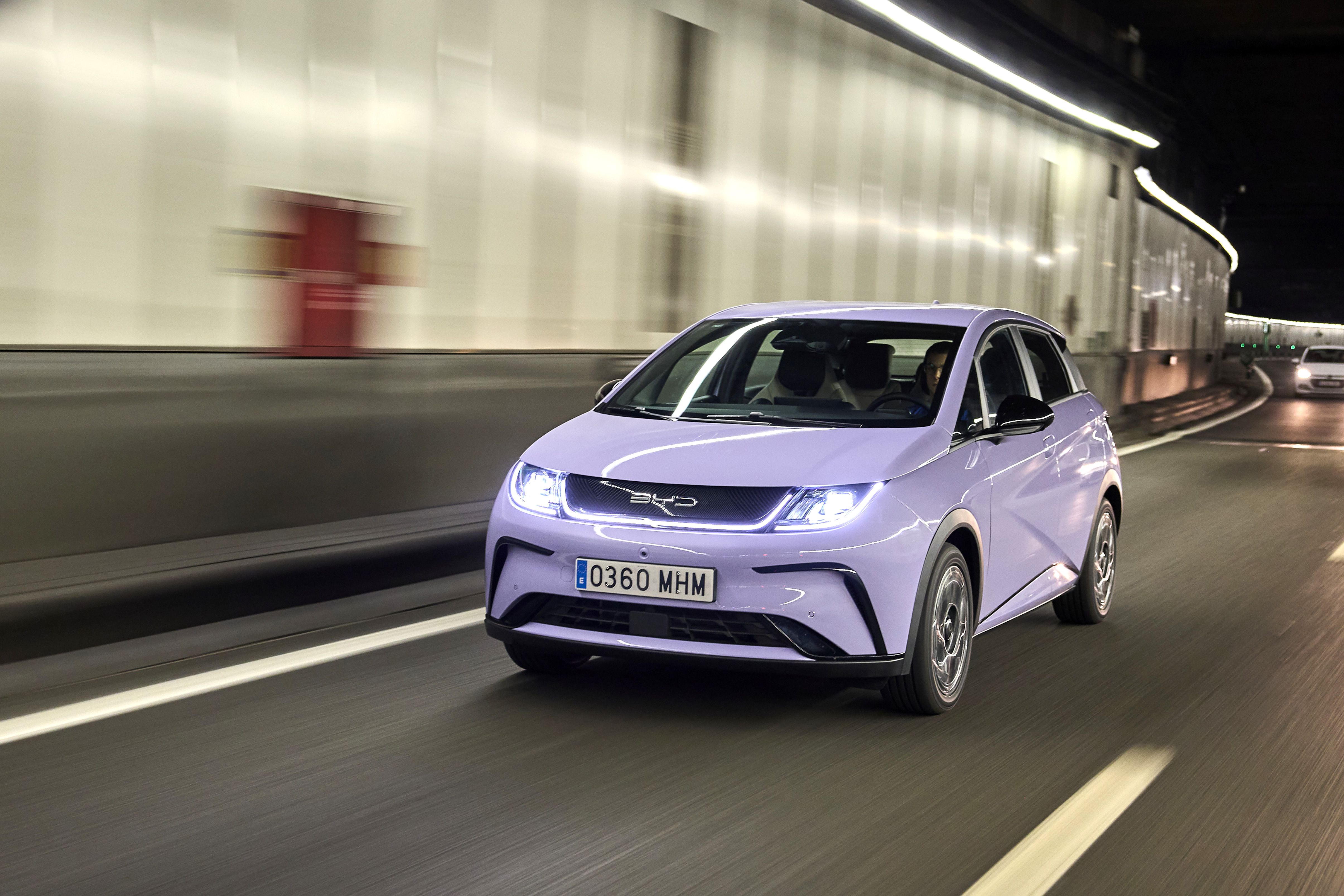 BYD will regain credibility with its next model, the Seal. It's an impressive sports saloon in the same vein as the BMW i4 and should give Tesla Model 3 buyers something to think about, too. BYD also makes the Han luxury saloon and Tang SUV, but it's not clear if those will be sold in the UK. Nevertheless, it has stated that up to nine new models will be added to its European line-up, so watch this space.
Citroën electric car plans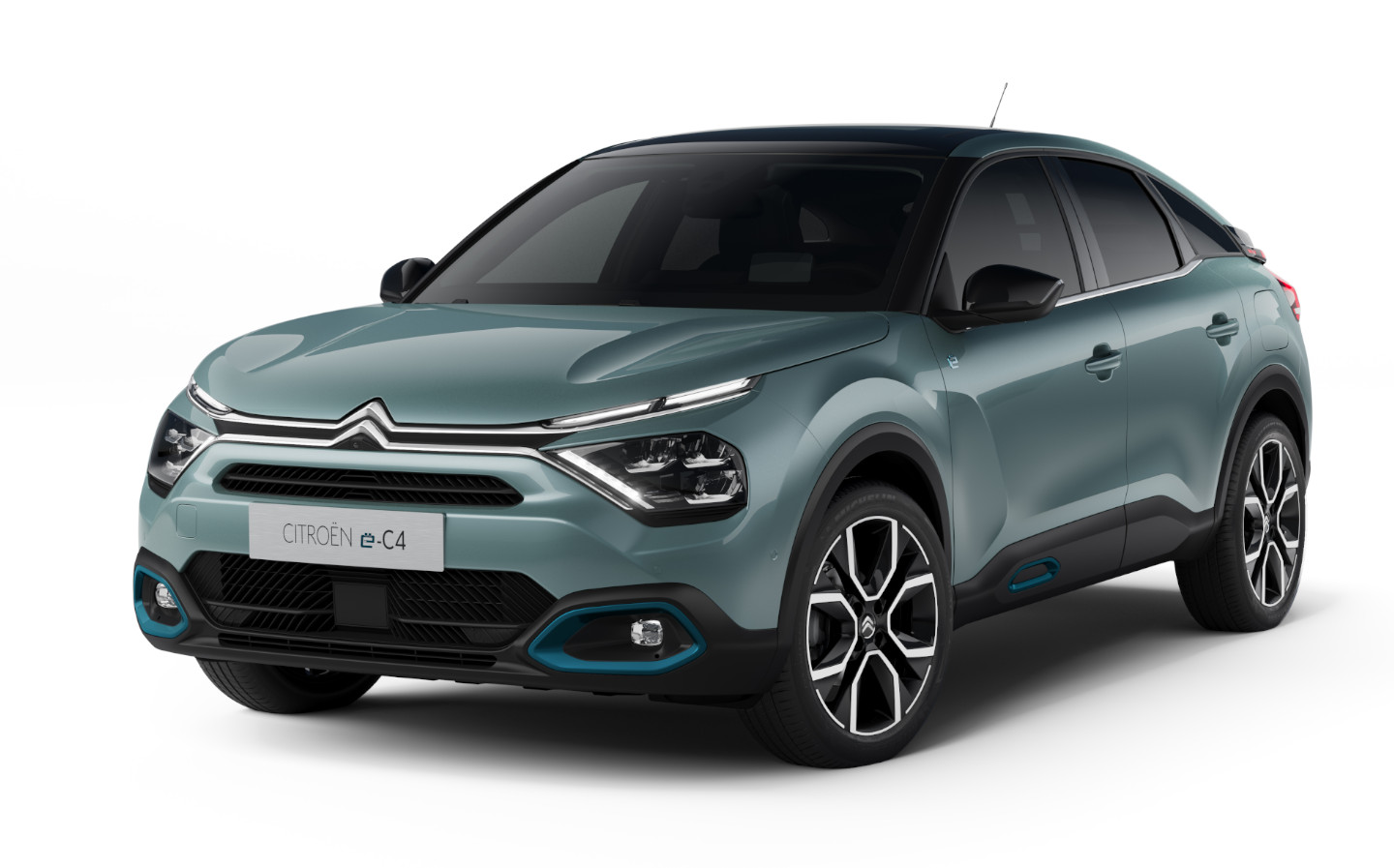 On sale now Ami, ë-C4, ë-C4 X, ë-Berlingo, ë-Dispatch, ë-Spacetourer
Coming soon ë-C3 (2024)
Citroën and then-PSA stablemate Peugeot were early adopters of modern electric cars, releasing the C-Zero and iOn electric city cars around the same time as Nissan launched the Leaf, in 2010. Citroën has also previously sold an electric version of the Berlingo van.
More recently, the car maker has committed to launching a pure-electric or plug-in hybrid version of every new model by 2025.
The new wave of Citroën electric vehicles started with the ë-C4, which has broadly similar electric stats to the successful Peugeot e-208 and e-2008 — that's a 50kWh battery pack enabling an official 219 miles of range. There are two MPVs in the range with the Citroën ë-SpaceTourer and ë-Berlingo (and their commercial equivalents), all using that same Stellantis electric powertrain.
Stellantis has already revealed the next evolution of this, however, pairing a battery of higher energy density with a more powerful electric motor. The first Citroën to use this system – a 54kWh battery and 154bhp motor – is the ë-C4 X, a niche fastback/crossover/saloon sharing the ë-C4's underpinnings though with more space. It's already on sale in the UK.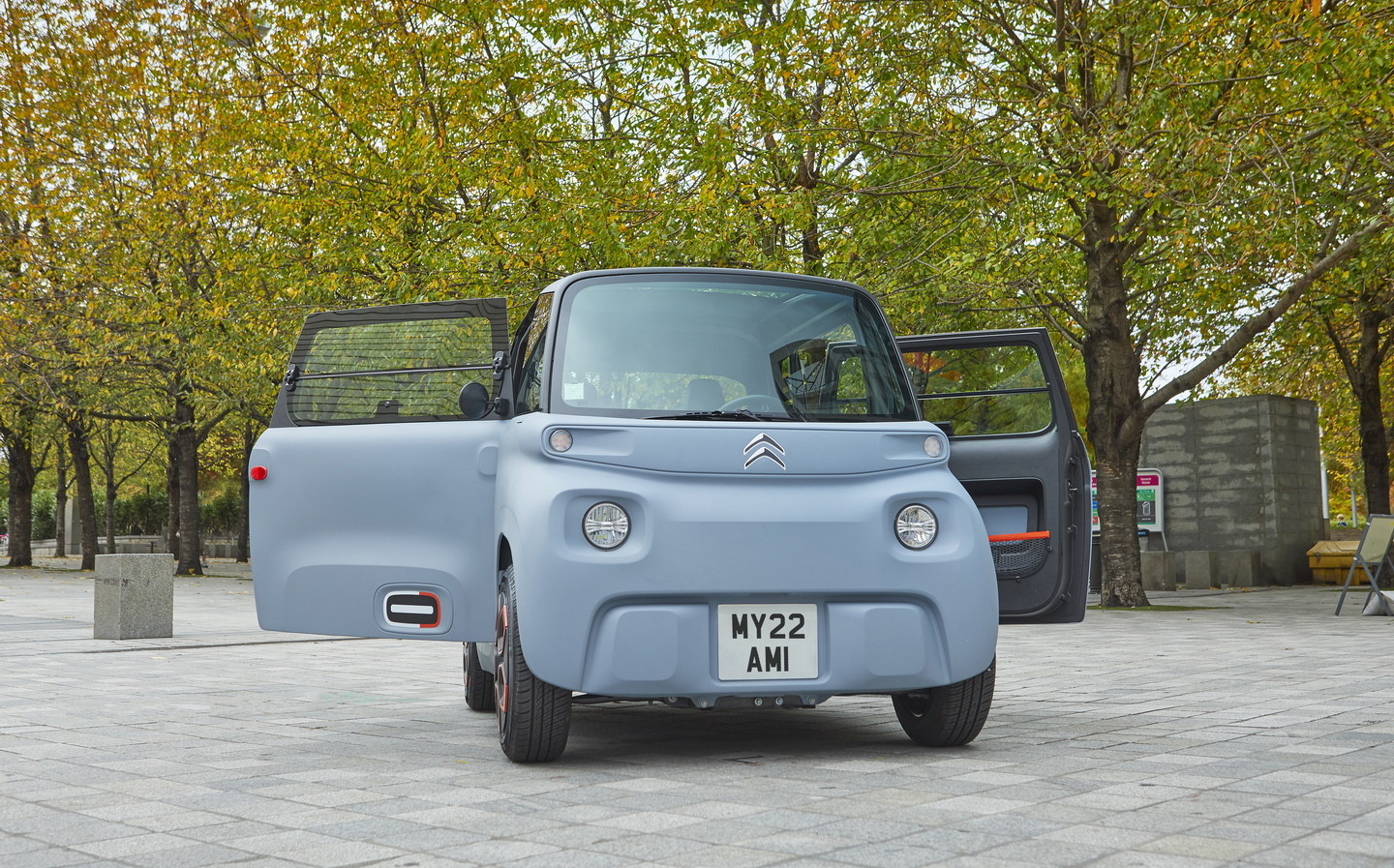 Adding to Citroën's electric line-up is the Ami, which is technically a "quadricycle" rather than a car, which means it can be driven in Europe by anyone over the age of 16, with or without a driving licence — like the now-departed Twizy from rival Renault (though driver and passenger sit side-by-side in the Ami, rather than in line).
Next year we are promised a new ë-C3 model, set to start a new range of electric cars from the French brand focused on value for money.
Cupra electric car plans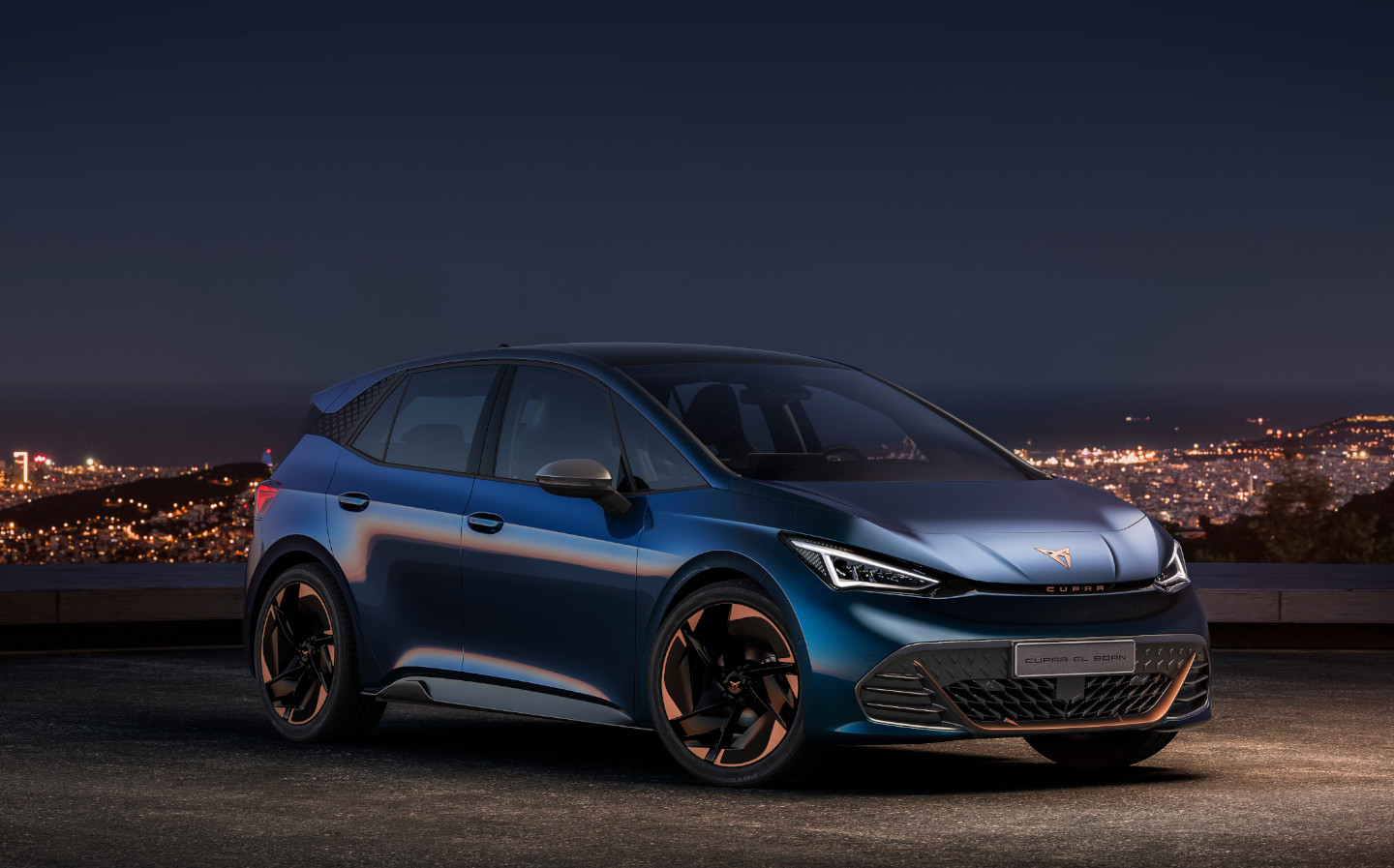 On sale now Born
Coming soon Tavascan crossover (2024), Raval city car (2025)
Opening Cupra's electric range at present is the Born, a lightly reworked version of the Volkswagen ID.3 with which it shares its underpinnings. The Born has a reasonable claim on being the world's first electric hot hatch and, with its sporty chassis set-up and plenty of power on tap, it's more fun to drive than its German cousin. Pricing for the Cupra Born starts from £36,475 and, hot hatch credentials notwithstanding, it's still a fine electric car with a spacious, eco-friendly interior.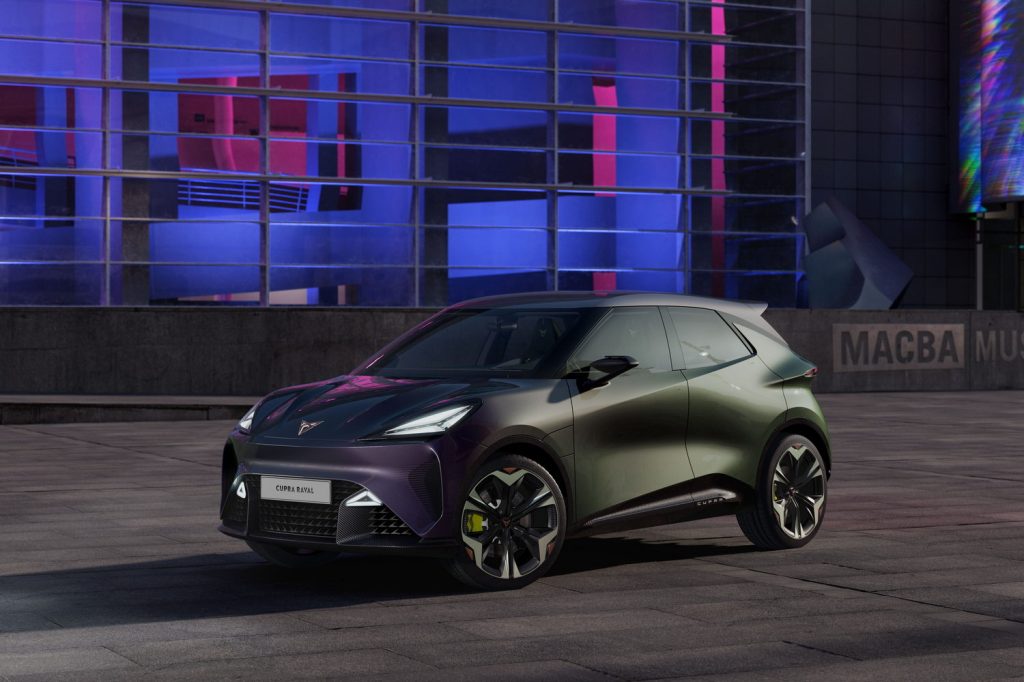 Going head-to-head with the likes of the Ford Mustang Mach-E and Kia EV6 from 2024 will be the Cupra Tavascan with styling based on that of the company's 2019 concept car and whose interior is set to be a funky, modern affair, giving the whole vehicle an entirely different look and feel to the Volkswagen ID.4 and ID.5.
Following the Tavascan in 2025 will be the cool little Raval, which aims to compete in the same electric supermini segment as the Renault Zoe, though with a sportier edge than other cars in its class and with a lightweight 3D-printed and 3D-knitted construction for lower weight and greater eco-credentials.
Dacia electric car plans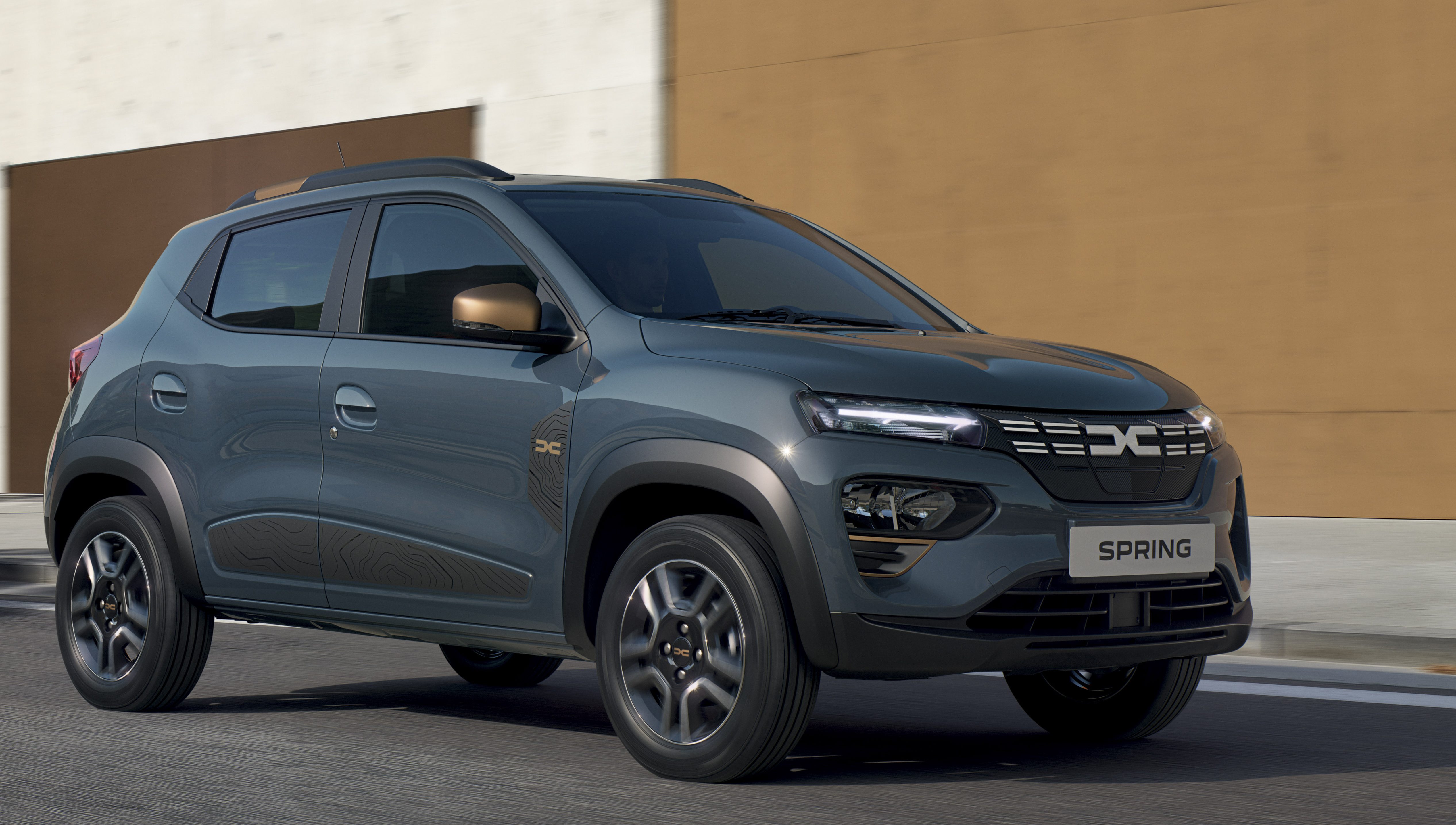 On sale now None (in the UK)
Coming soon Spring (TBC)
"Great news!", as James May might say: Dacia will soon launch its very first pure-electric vehicle. It comes in the form of the Spring SUV, which is touted to be Europe's cheapest electric car.
Rivalling models including the Seat Mii Electric city car, it is diminutive in size but also adopts SUV styling cues like a high stance and roof rails. A Napoleon complex in a car, if you will.
Hiding beneath all that is a 26.8kWh battery, which should allow the Spring to travel 140 miles on a single charge — with an extra 43 added onto that if you're only doing urban driving.
The bad news is that the Spring isn't coming to the UK — for now at least. Dacia's CEO, Denis de Vot, said that the company is "actively considering" producing right-hand-drive versions of the Spring and a decision on whether to sell it in the UK may be made later this year.
DS Automobiles electric car plans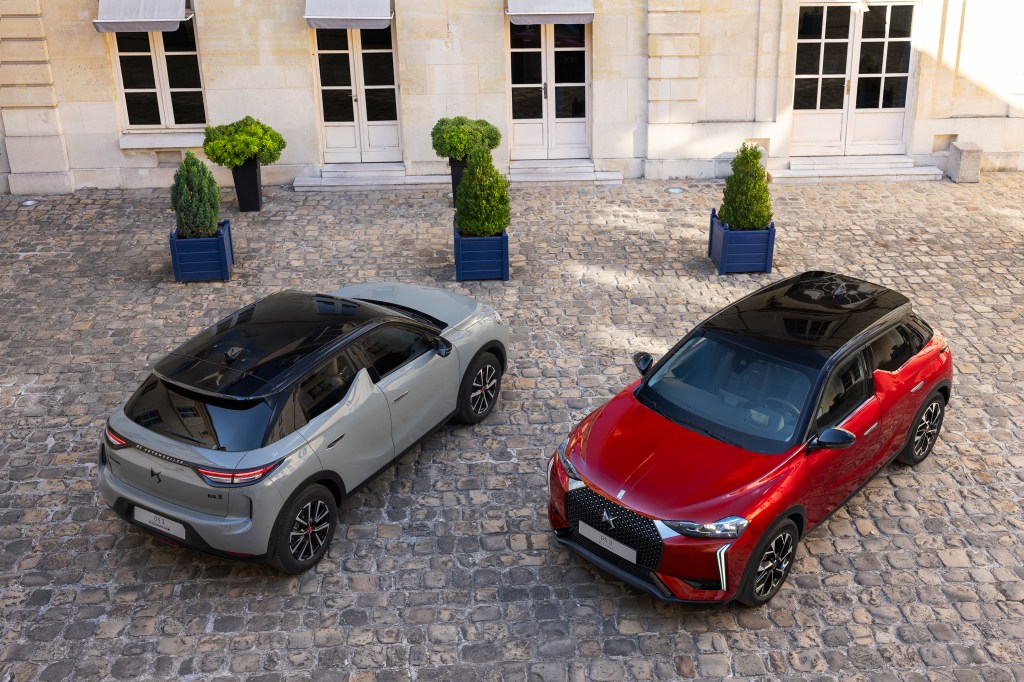 On sale now DS 3 E-Tense
Coming soon DS 4 E-Tense (TBC)
DS Automobiles has stepped out from the shadow of Citroën and has several of its own models currently on sale, one of which is pure-electric: the DS 3 E-Tense, the car maker's contribution to the burgeoning market for electric compact SUVs – formerly known as the DS3 Crossback E-Tense. With the name change came an upgrade to the electric system and now there's an official range of up to 250 miles between charges. As before, the DS 3 is luxuriously appointed and loaded with kit.
DS plans to introduce a fully-electric version of its DS 4 model, which is already offered with a plug-in hybrid option to sell alongside the DS 7 and DS 9 PHEVs. The brand plans to go all-electric by 2024, which, if it happens, will make it the first marque under the Stellantis umbrella to do so.
Some of DS's expertise with EV powertrains is derived from its work with Techeetah, a team that won the Formula E drivers' and constructors' championships in 2019 and 2020.
Ferrari electric car plans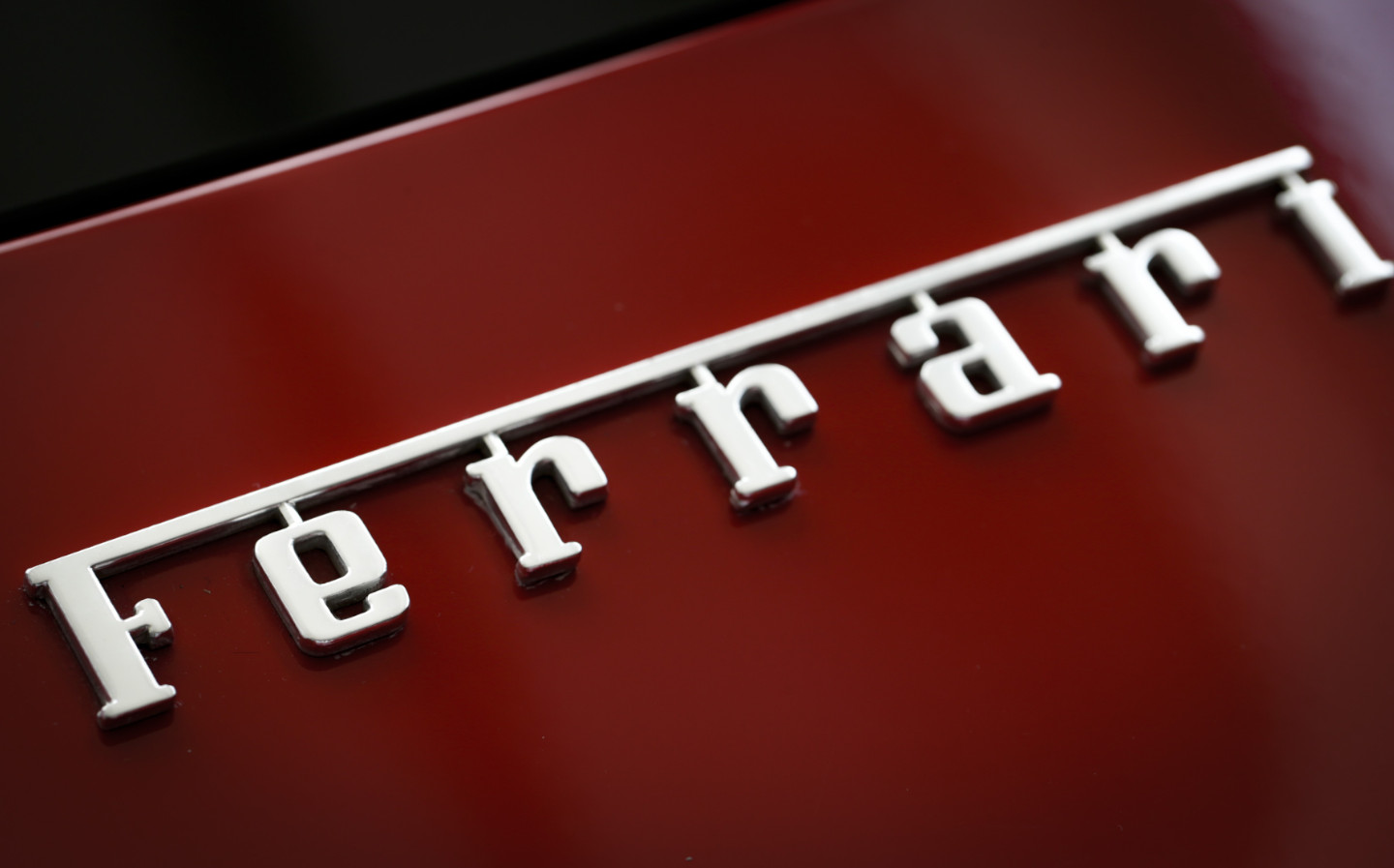 On sale now None
Coming soon Pure-electric model expected in 2025
After years of dismissing the idea, Ferrari has confirmed that it will produce a pure-electric car by 2025. Ferrari's parent company, Exor, struck a deal in September 2021 with design-duo Sir Jony Ive and Marc Newson – formerly of Apple, and the styling hands behind the iMac and iPad.
Their first assignment will be to help develop an electric Ferrari.
While it's dabbled with hybrid tech in the LaFerrari — and the newer Ferrari SF90 plug-in hybrid and 296 GTB have some electric range, albeit only 16 miles — its first pure-EV isn't expected until at least 2025. Leaked patent documents from earlier this year appear to suggest that the first fully electric Ferrari could be a GT in the vein of the 812 Superfast.
At the Ferrari Capital Markets Day in June 2022, Ferrari gave a few more details: it's expanding its factory for electric vehicle production; batteries will be produced by suppliers at first but to Ferrari specifications; the electric motor will be produced entirely in-house, though, as will the controller, and the company is aiming for the most power-dense motors available; and the sound of a Ferrari EV is of critical importance.
At the end of 2020, former Ferrari CEO Louis Camilleri said his company would never go fully electric, and in fact not even 50 per cent of the model line-up will be pure-electric. In June, chief executive officer of Exor clarified that by 2030, 40 per cent of Ferrari's output will be pure-electric, with 40 per cent hybrid and the rest remaining pure-petrol powered.
Fiat electric car plans
On sale now 500, Abarth 500e
Coming soon e-Ulysse (2023), e-Doblo (2023), electric Panda (2024 – TBC), 600e (2024)
One of the criticisms of some electric cars is that they lack character. The phrase "laptop on wheels" has been thrown around, while Jeremy Clarkson has referred to them as "husks". However, with the new pure-electric 500 city car, Fiat seems to have done a fairly stellar job when it comes to retaining the cuteness that has made the modern Fiat 500 such a popular model, adorning it with a number of characterful features such as a melodic acoustic alert and a key fob that looks like a pebble. Bringing with it even more character is the hot Abarth version of the 500
In the meantime, the company's second electric car, the e-Ulysse, due to arrive in 2023, will be a rather more prosaic affair. Based on the Scudo van and sharing its underpinnings with its Stellantis stablemates – the Peugeot e-Traveller and Citroën ë-SpaceTourer – the e-Ulysse is an MPV with plenty of space, a choice of body lengths and, with the larger 75kWh battery, a range of up to 205 miles.
Next up will be the new Fiat E-Doblo, available in both commercial and passenger versions, based on the same underpinnings as the Peugeot Partner and Citroën Berlingo and sharing the now ubiquitous 100kW electric motor and 50kWh battery giving the E-Doblo around 174 miles of range.
As well as that, an electric Panda is on the way, hopefully with styling based on the Centoventi concept that Fiat displayed at the 2019 Geneva motor show, and the 600e crossover has already been leaked in a marketing video.
Fisker electric car plans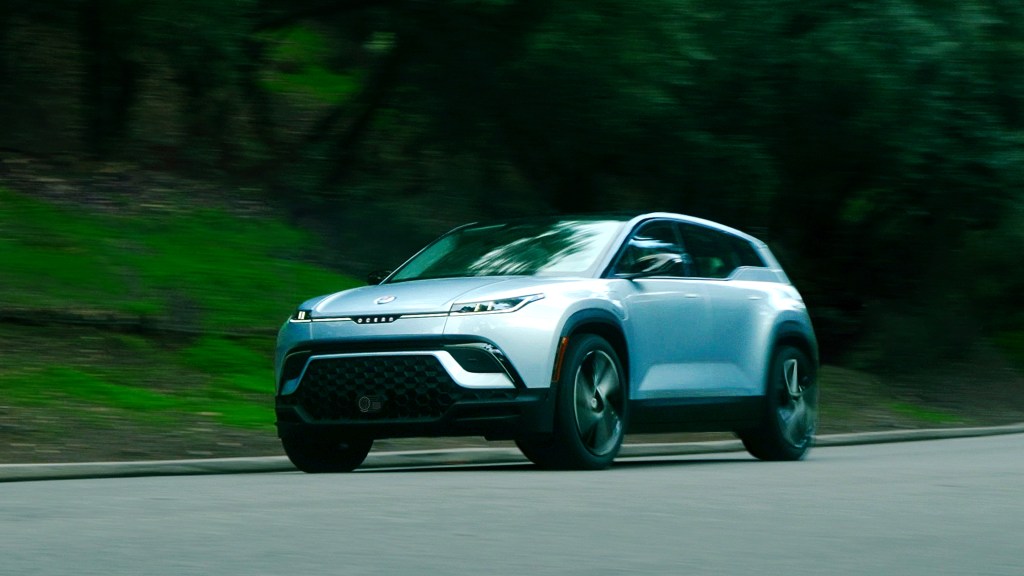 Coming soon Fisker Ocean SUV (2024), Pear city car (TBC), Ronin roadster (TBC)
Fisker Inc. is an American electric vehicle company started by the famous designer, Henrik Fisker. Its first model is the Ocean, a five-door SUV launched in 2023, first in the US and will eventually roll out to Europe. The headlining model of the line-up is called the Ocean Extreme, claimed to have a WLTP range of up to 440 miles. It's expected to go on sale in the UK from 2024 starting at less than £40,000.
It will be followed by the Pear city car and Ronin sports car, though details on those are scant at this stage.
Ford electric car plans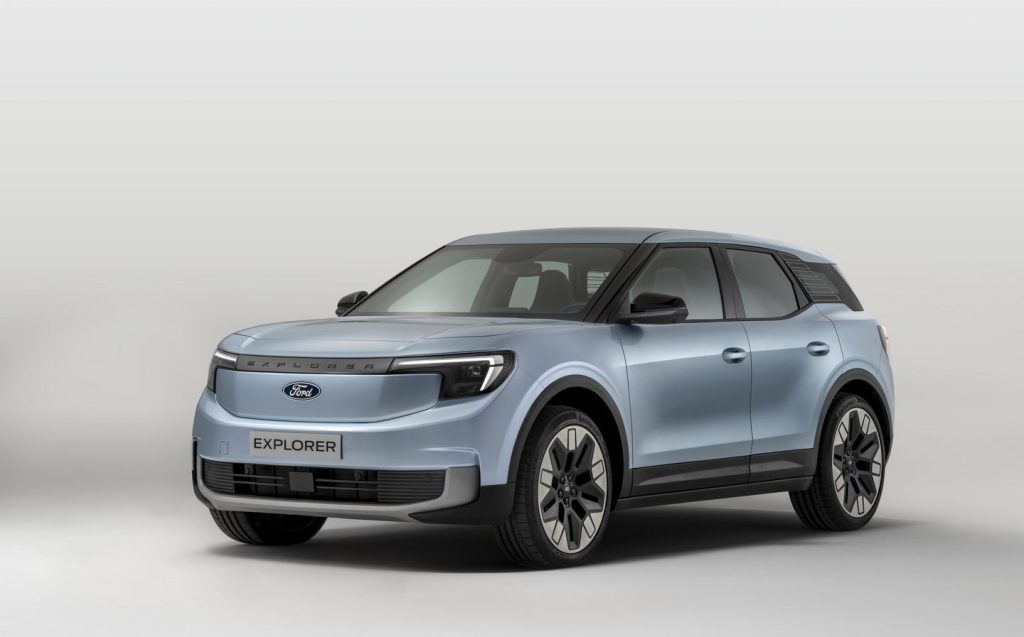 On sale now Mustang Mach E; E-Transit van
Coming soon Explorer (2024), E-Tourneo Custom (late 2023), E-Transit Custom (late 2023), E-Tourneo Courier (2024), E-Transit Courier (2024), Sports Crossover (2024), Puma Electric (2024)
Following the Mustang Mach-E's launch in 2021 to considerable acclaim, Ford of Europe announced in March 2022 that it would introduce seven new electric models by 2024. While a few of these models are set to be vans (the E-Transit with a 196-mile battery range arrived in 2022, for example), others are aimed squarely at a particularly hot section of the passenger car market.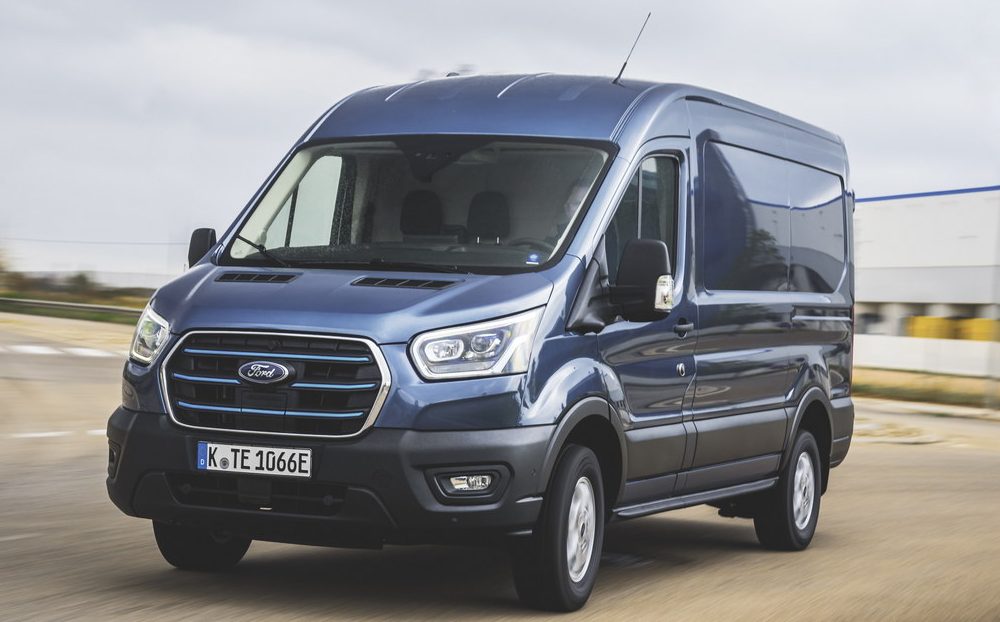 Revealed in 2023 was the Explorer medium-sized crossover based on the same Volkswagen MEB electric vehicle architecture as the VW ID.4, ID. Buzz and Skoda Enyaq as part of a platform-sharing agreement between Ford and Volkswagen. That'll be followed by electric versions of the Transit Courier and Tourneo Courier, the latter of which is a passenger model, also sharing its underpinnings with the VW Caddy.
Also from Ford's commercial vehicle department are the E-Tourneo Custom and E-Transit Custom, a mid-sized van and MPV in between the smaller Courier and full-sized Transit.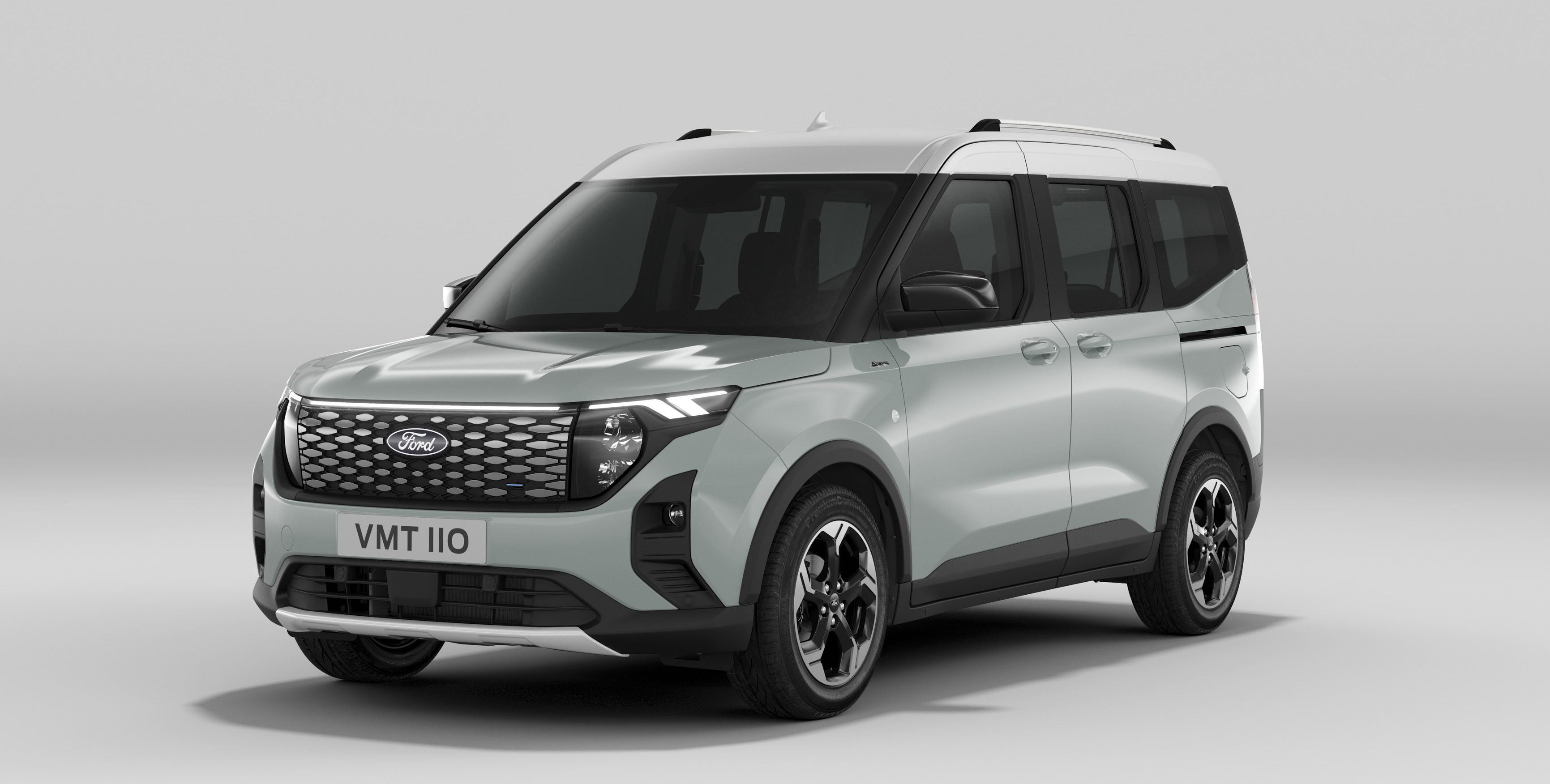 Next in line will be what Ford describes as a "sports crossover", again based on the MEB platform and likely a sort of VW ID.5 to the previous model's ID.4. After that comes an electric version of the Puma, set to be built in Romania alongside the petrol-powered model.
In launching these models, Ford is attempting to follow-through on its plan to sell 600,000 electric vehicles annually in Europe by 2026. Not only is the company investing some £1.54bn in its Cologne plant and an attached battery-production facility, but it is expanding its battery-making capacity in Turkey and Romania, too.
Genesis electric car plans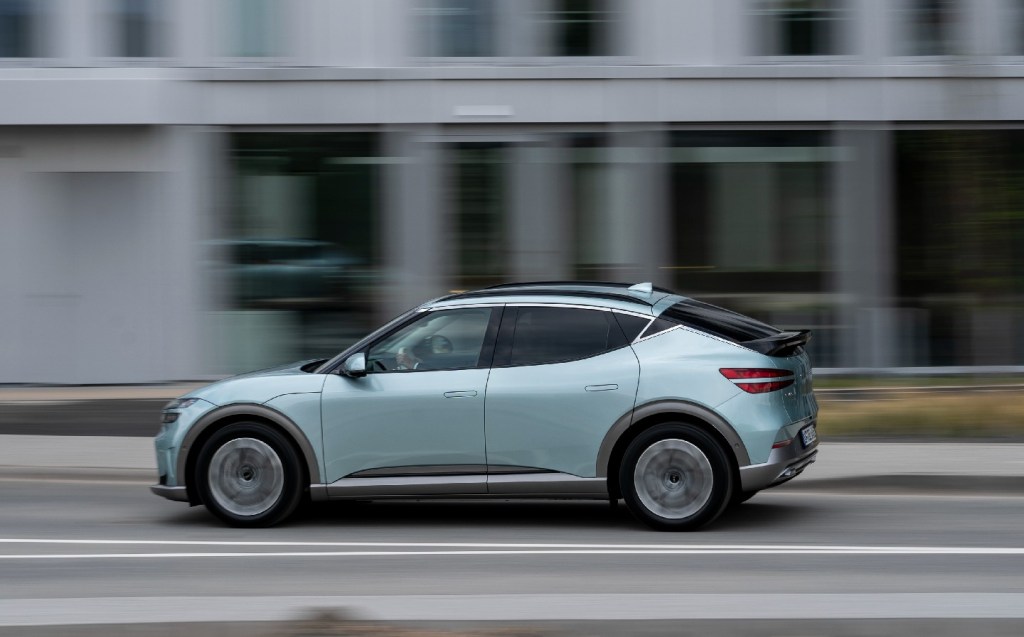 On sale now GV60, GV70, G80
Coming soon TBC
Currently on sale from the Korean brand Genesis is the GV60, a crossover sharing the same underpinnings as the Hyundai Ioniq 5 and Kia EV6, so think 77.4kWh battery, 350kW rapid DC charging, a choice of single or dual motors and a range of up to 321 miles. As a car from a premium brand, the GV60 is more upmarket than its Kia and Hyundai cousins and makes a convincing rival for the likes of the Mercedes EQA and Volvo C40.
Also on sale is the Genesis G80, a large saloon with dual motors, up to 364bhp and a similar 320-mile range to the GV60 thanks to an 87.2kWh battery. Completing Genesis' fully-electric line-up for now is the firm's first electric SUV, a version of the GV70 with 429bhp.
Genesis plans to only launch electric models from 2025 onwards.
HiPhi electric car plans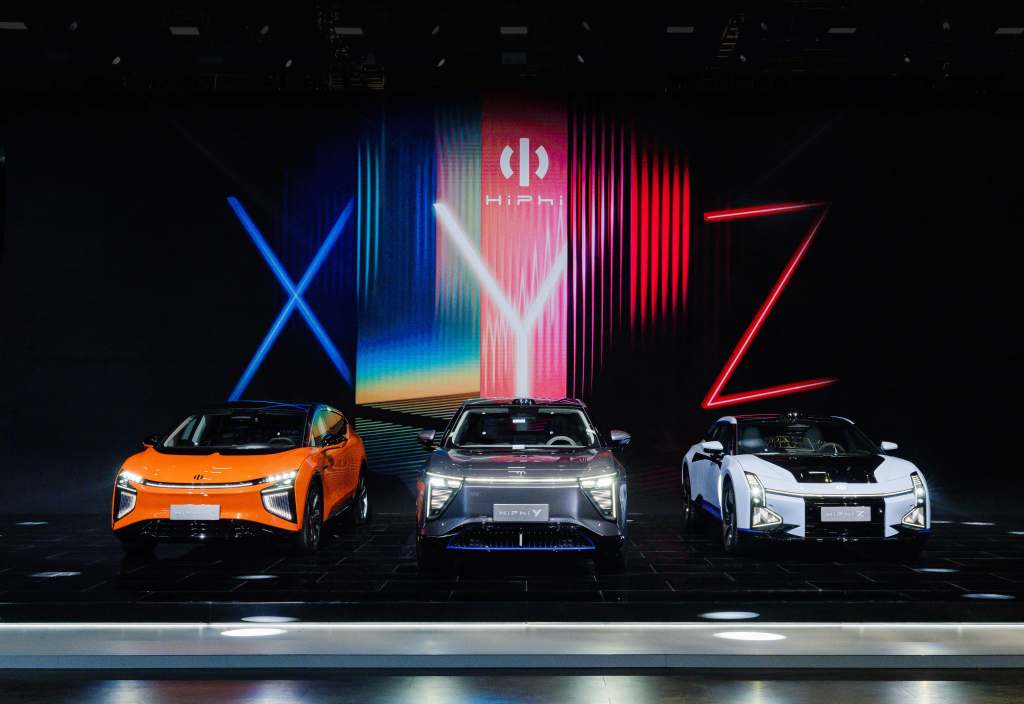 On sale now HiPhi X, HiPhi Z
Coming soon HiPhi Y
HiPhi is yet another new Chinese electric car manufacturer with its eye on the European market. The HiPhi X SUV and Z GT have already gone on sale in Norway and Germany, targeting the top end of the market with big batteries, lots of technology and plenty of performance – think Porsche Taycan. The company has also revealed its 'Y', a more affordable SUV that may even compete with the Tesla Model Y. Right-hand-drive production has yet to start, but we've been assured that the HiPhi brand will arrive in the UK by 2025 "at the latest".
Hispano-Suiza electric car plans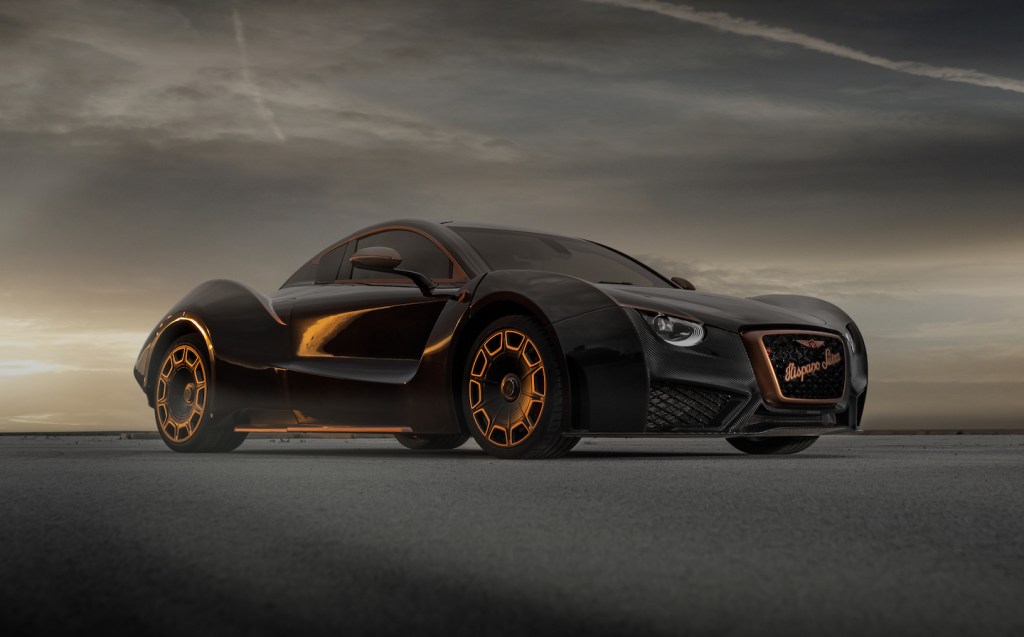 On sale now Carmen
Coming soon TBC
Initially expected to be just another electric hypercar start-up making big promises before going mysteriously quiet, Hispano-Suiza, a revival of an old Spanish luxury car marque, has begun delivering cars.
Making an appearance at the 2022 Goodwood Festival of Speed, the Hispano-Suiza Carmen is the company's oddly-styled electric car looking a blend of 1930s streamliner and mid-2000s Audi. Reports vary as to how many Carmens the company plans on building (no more than 25), but one thing's for sure: with an 80kWh battery supplying power to a pair of electric motors sending 1,005bhp to the rear wheels, it's quite quick.
If the standard Carmen's sub-three-second 0-62mph time wasn't fast enough, there's an even hotter version, the Carmen Boulogne, with 1,098bhp and which can make the 0-62mph dash in 2.6 seconds. The starting price for Hispano-Suiza's electric hypercar is somewhere around the £1.3m mark.
Honda electric car plans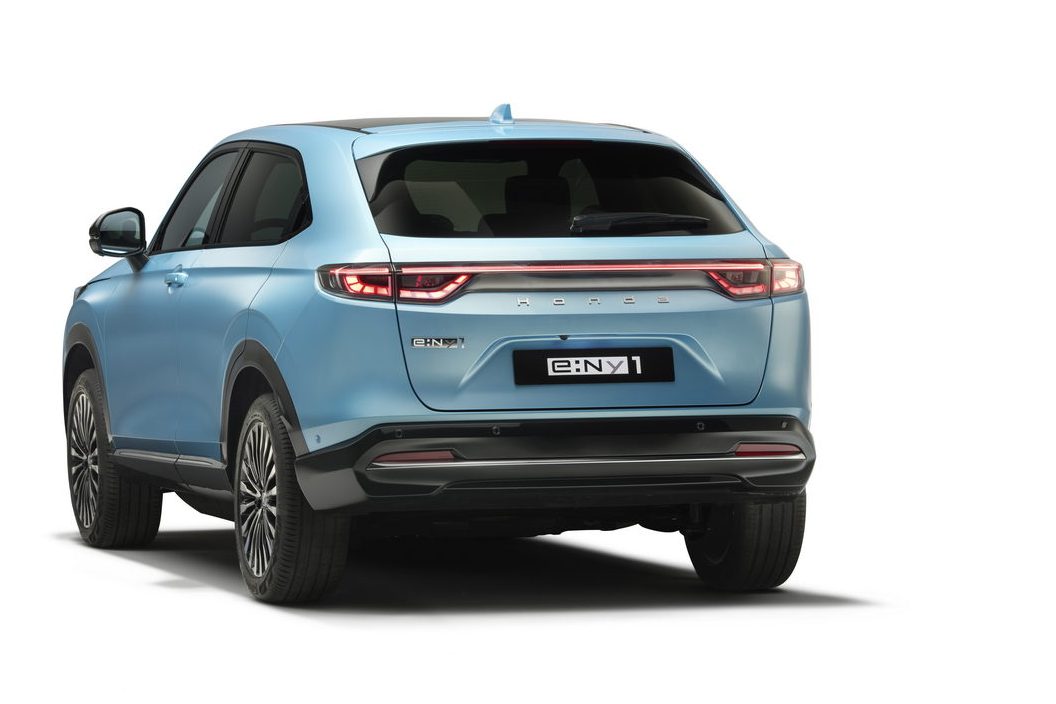 On sale now Honda e
Coming soon e:Ny1 crossover (2023)
Despite being an early pioneer in the field of hybrids, Honda has become something of a laggard in the field of electric vehicles with just one EV currently on sale, the admittedly accomplished and roundly well-liked Honda e city car.
Its plans for the next decade are a bit more ambitious, however, with plans to launch 30 new EVs by 2030, for 40 per cent of its sales in Europe to be either electric or fuel-cell vehicles by the same year (80 per cent by 2035) and to phase out internal combustion globally by 2040.
To this end, over the next decade the firm will invest £31.2bn in electrification and will form joint-ventures with companies such as General Motors and Sony to reduce the overall cost of electrifying its range globally.
Due to arrive late in 2023 is the e:Ny1, which is an electric vehicle around the same size as the current HR-V crossover, sharing many of the HR-V's handsome styling cues. The e:Ny1 is based on the Honda e:NP1/e:NS1 models that are sold in China, and it uses the same 68.8kWh battery, giving it a range of just over 250 miles.
Rumours suggest that Honda is working on an electric successor to the S2000 sports car, too.
Hyundai electric car plans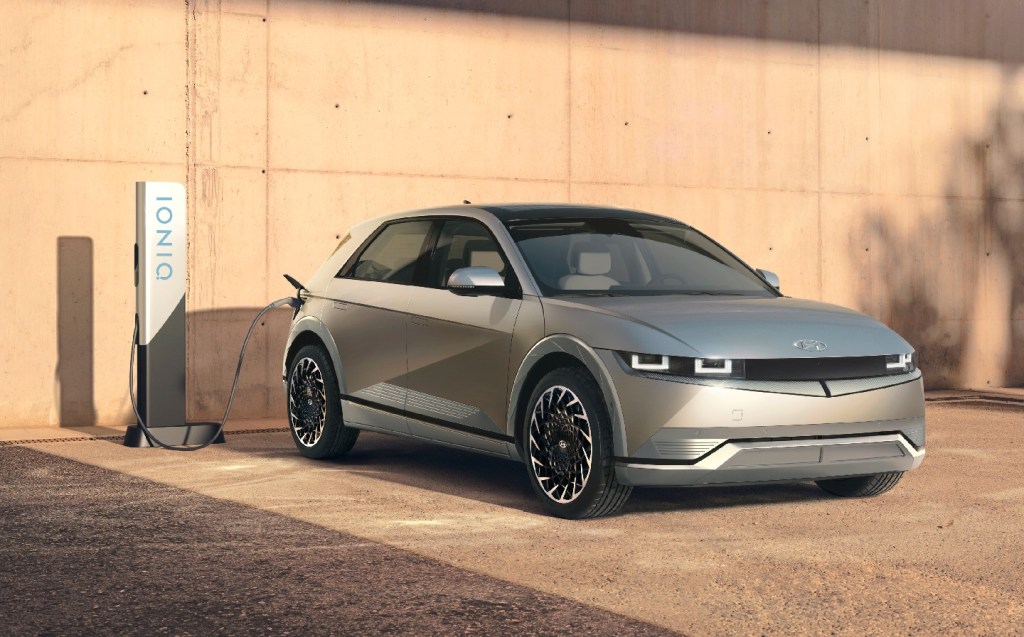 On sale now Kona Electric, Ioniq 5, Ioniq 6
Coming soon new Kona Electric (2023), Ioniq 7 SUV (2024)
Hyundai is an incredibly accomplished maker of electric cars. The now-discontinued Ioniq Electric was praised as a good electric family car in its day, a standard now borne by the Ioniq 5, a hugely impressive car from the brand, mixing high performance with a long range and eye-catching design.
Meanwhile the Nexo, which converts hydrogen to electricity in a fuel cell stack, rather than storing it in a battery, shows Hyundai's looking down several avenues towards a zero-emission future.
On sale now is the sleek, streamlined and ultra-efficient Ioniq 6, the production version of the well-received Prophecy concept. The Ioniq 6 uses the same underpinnings as the Ioniq 5, meaning there's a 77.4kWh battery in top models, up to 321bhp, a choice of single or dual motors and a very impressive range of up to 379 miles.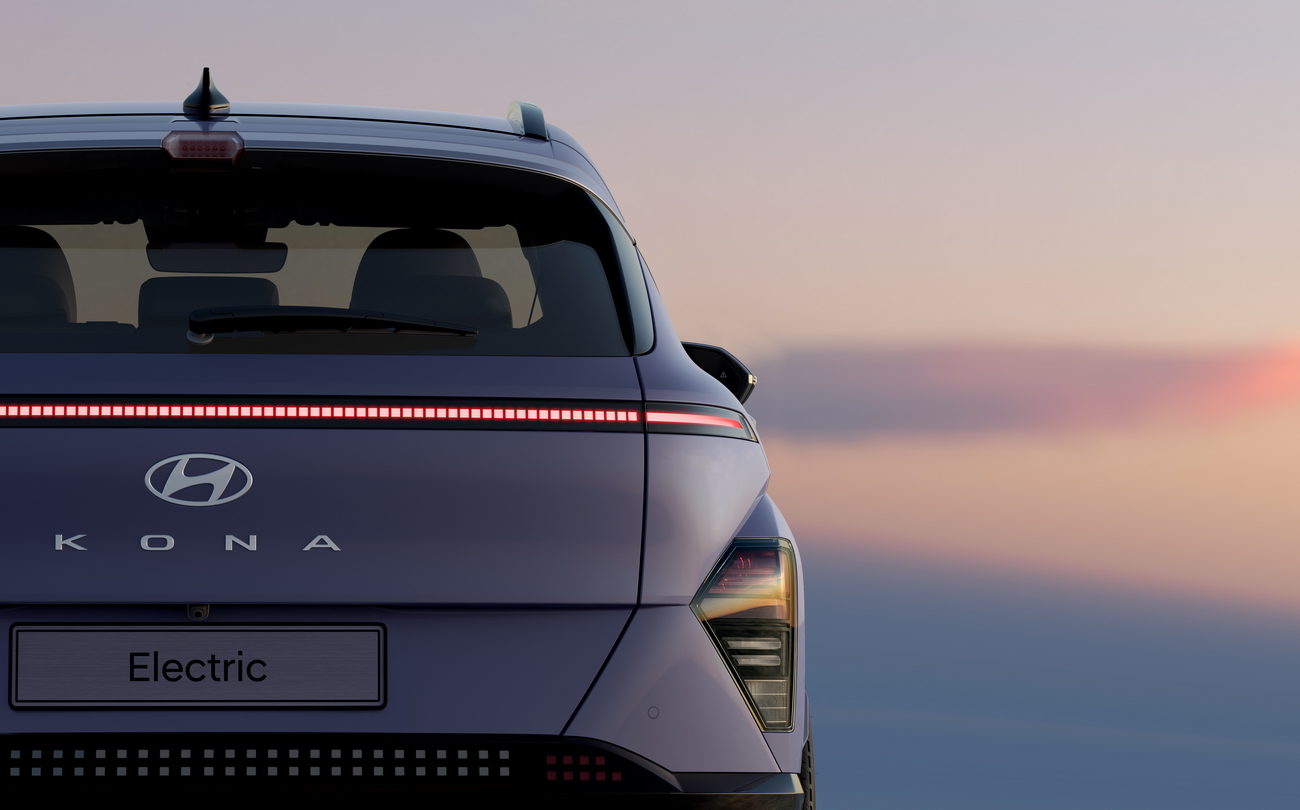 If that wasn't exciting enough, coming later in 2023 will be an "N" performance version of the Ioniq 5 and, further down the line, a hot version of the Ioniq 6 if the company's RN22e concept is anything to go by.
Also on the way in 2023 is a new Kona with fresh, futuristic looks. First revealed at the end of 2022, the 2023 Kona was designed from the ground up as an EV, with the architecture subsequently adapted to petrol and hybrid variants.
The last model confirmed by Hyundai is the logically-named Ioniq 7, a large SUV launching in 2024. The brand hopes that these releases can make it the world's third-largest electric car maker by 2025.
Jaguar electric car plans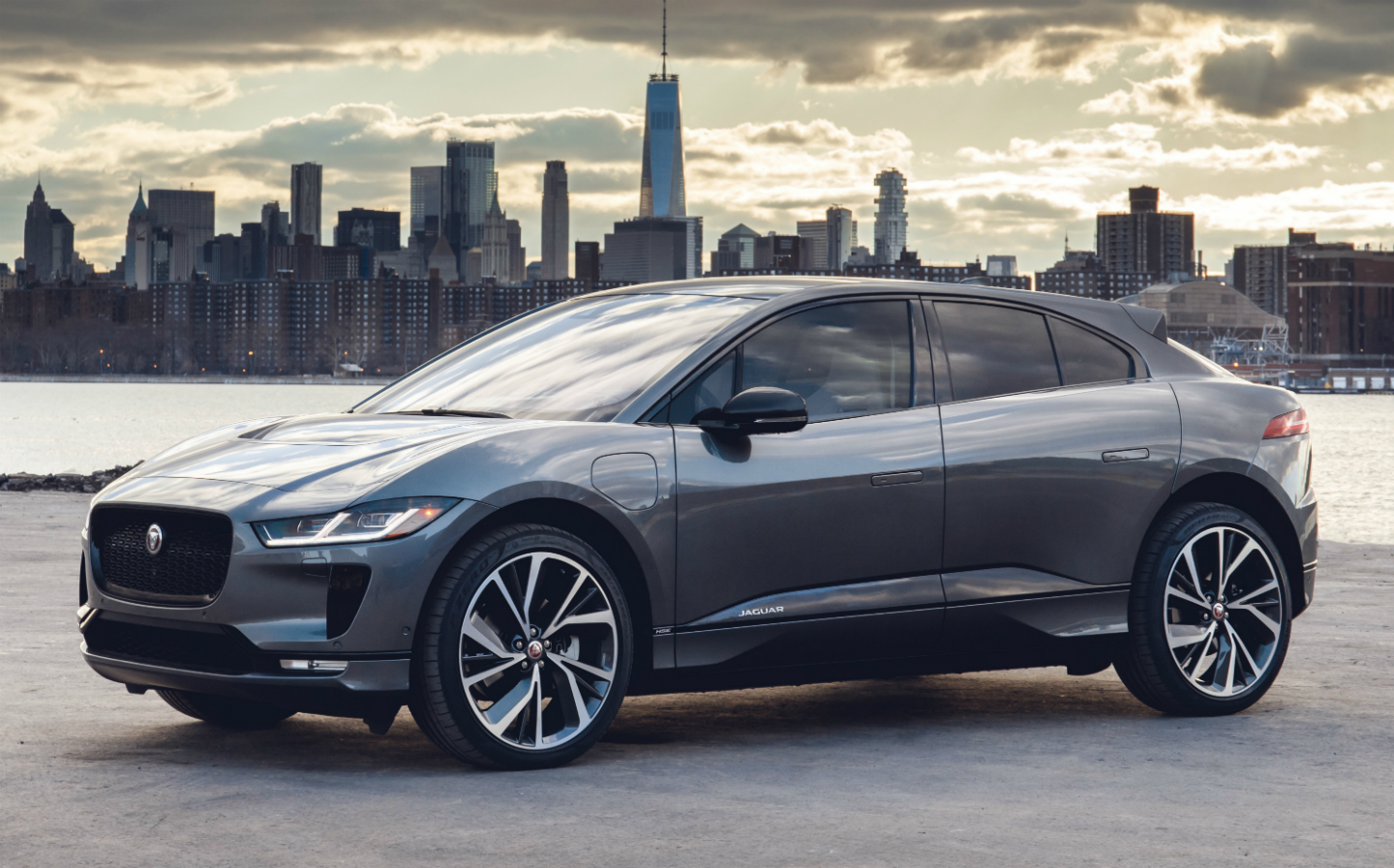 On sale now I-Pace
Coming soon J-Pace; All models to be electric by 2025
The Jaguar I-Pace made quite the impact when it was launched in 2019 — so impressed were we with it here at The Sunday Times, it was crowned Car of the Year at our inaugural Motor Awards.
A bigger impact came in February 2021, when Jaguar Land Rover boss Thierry Bollore stunned the world by announcing Jaguar would become an "all-electric luxury brand" by 2025. A new large SUV, the J-Pace, is expected to be launched next.
However, plans for an electric version of the XJ limousine have been put on ice (as predicted by The Times), and the fate of the XE, XF, F-Pace and E-Pace are to be confirmed.
Jeep electric car plans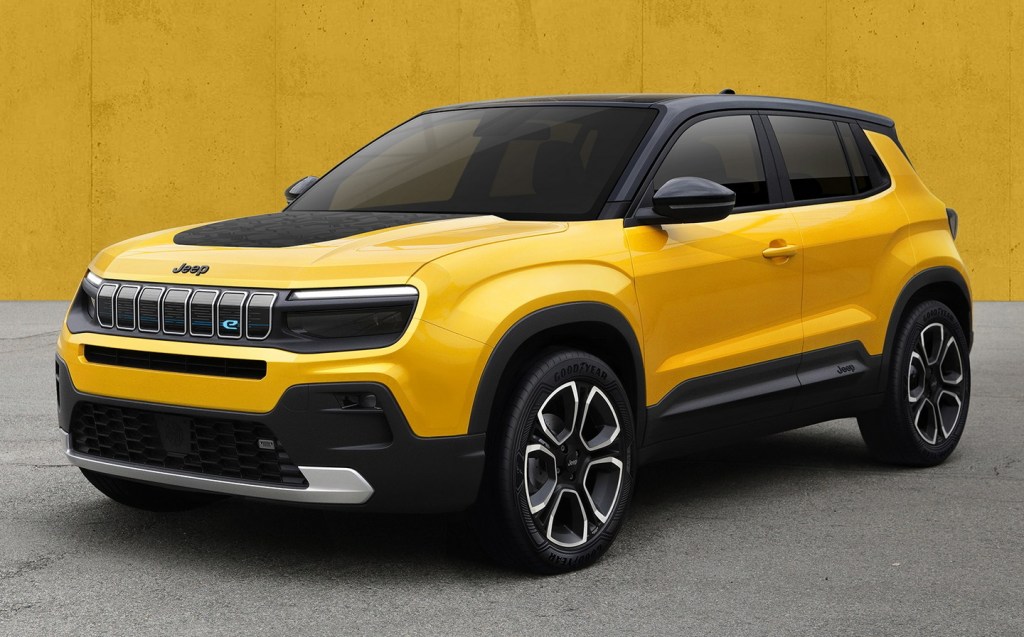 On sale now Avenger
Coming soon Wagoneer S (by 2025); Recon (by 2025)
Jeep's first pure-electric car, the Avenger, sits on the same underpinnings as the Peugeot e-2008, Vauxhall Mokka-e and other electric models from brands under the Stellantis banner. The Avenger is a smaller model than Jeep's current Renegade equipped with a 54kWh battery supplying power to a 154bhp electric motor that powers the front wheels only, to deliver a WLTP range of up to 248 miles.
Jeep also currently sells plug-in hybrid (4xe) versions of its Renegade and Compass models in the UK, while an all-new Jeep Grand Cherokee 4xe is due by the end of 2023. These will be joined by two more pure-electric models before the end of 2025; a large SUV called the Wagoneer S and a Land Rover Defender-rivalling Recon, which will be "very boxy and very capable", according to Antonella Bruno, head of Jeep in Europe.
The famous Wrangler, which is available as a plug-in hybrid in America, won't be converted to right-hand drive for the UK market in its current generation, Bruno has said.
Kia electric car plans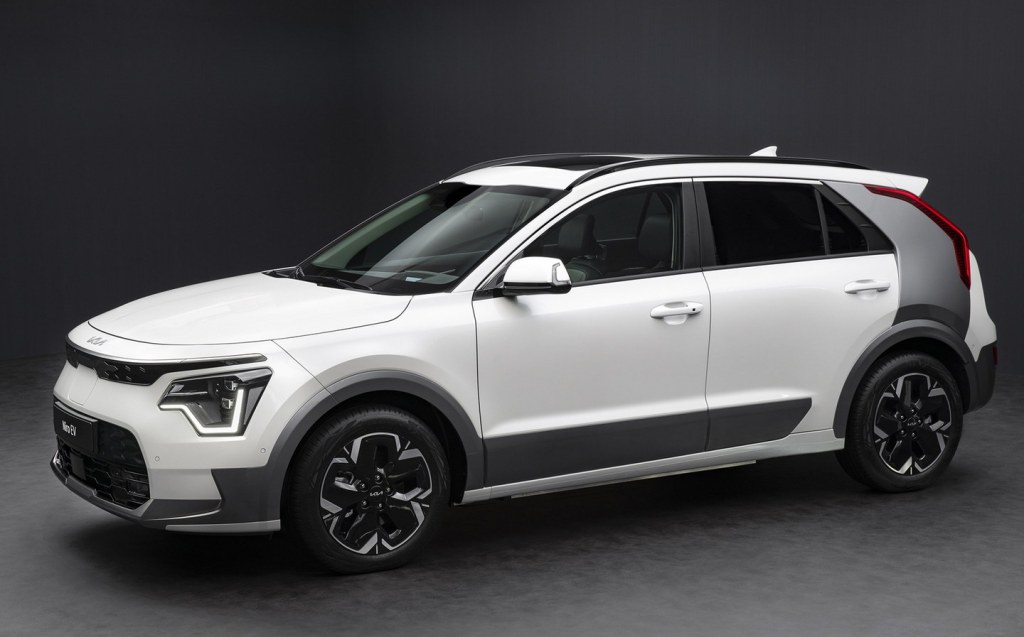 On sale now Niro EV, EV6, Soul EV
Coming soon EV9 (2024); 11 new pure-electric models worldwide by 2025
Like sister brand Hyundai, Kia has firmly cemented itself as a key player in the electric car market. It already has three battery-powered models on sale in the UK: the Niro EV crossover, the quirky Soul EV and the distinctive EV6.
An all-new version of the Niro EV went on sale in 2022, replacing the old e-Niro, which though accomplished in its time, was getting a bit long in the tooth. That said, the powertrain hasn't changed significantly — there's a 201bhp electric motor driving the front wheels through a single-speed automatic gearbox, and it's fed by a 64.8kWh lithium-ion battery, all of which is around the same as the old model. Officially, it has a 286-mile range, which, at less than four miles better than the old e-Niro, isn't much of an improvement and is one of the factors preventing the Niro EV from sitting at the top of its class.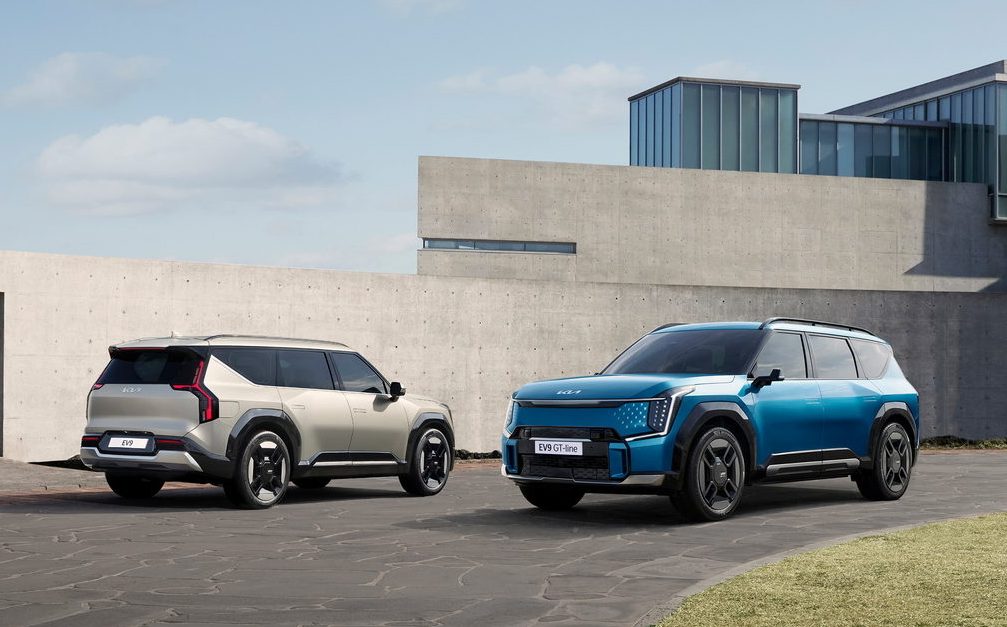 By 2025, the Korean car maker expects to have 11 pure-electric models on sale worldwide. That includes the hot GT version of the EV6 that takes aim at the Audi e-tron GT and Porsche Taycan, with a 0-62mph time of 3.5 seconds, and the impressive three-row Kia EV9 SUV.
There are also rumours of an electric Sportage joining the line-up at some point, though those are unsubstantiated.
Lamborghini electric car plans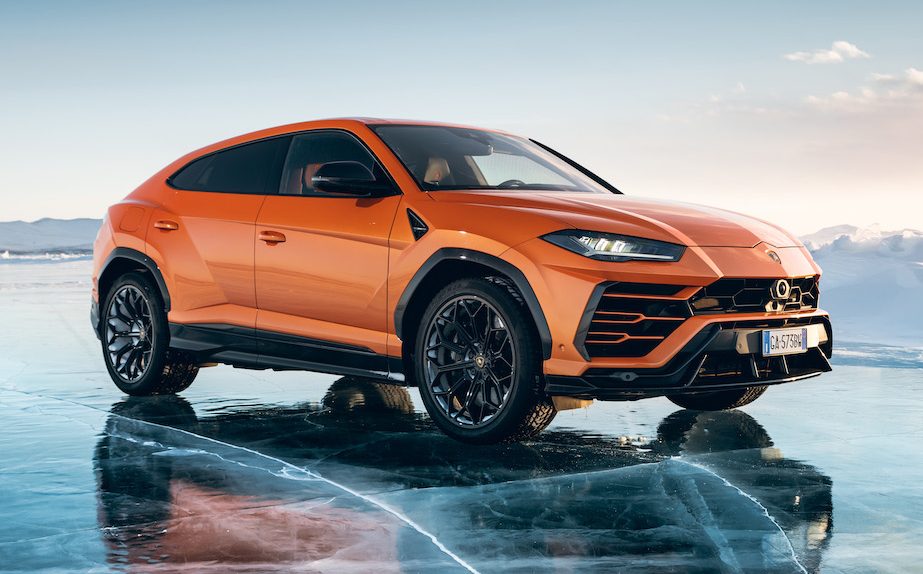 On sale now None
Coming soon New fourth model will be pure-electric (2028); Urus BEV (2029)
Lamborghini is slightly behind Ferrari in terms of electrification but has committed to all three of its models being hybrids from 2024, then introducing two pure-electric vehicles in 2028 and 2029.
First on the agenda is the Revuelto, a replacement for the Aventador, the firm's halo supercar. It is a plug-in hybrid marrying an all-new V12 petrol engine with an electric motor for 1,001bhp. Then the Urus SUV (pictured) goes hybrid in 2024, followed by the new Huracan, which will be a PHEV of some description, by the end of that year.
But for emissions-free Lamborghinis, buyer will have to wait until 2028, when an all-new fourth model will be added to the line-up. Details are to be confirmed, but given we get a pure-electric Urus the following year, and CEO Stephan Winklemann is on record as saying the company's supercars won't go electric, a smaller SUV to rival the likes of the Porsche Macan might be a good guess.
Winklemann said the first two EVs will help reduce Lamborghini's overall emissions by 80 per cent compared with 2023 levels.
Land Rover electric car plans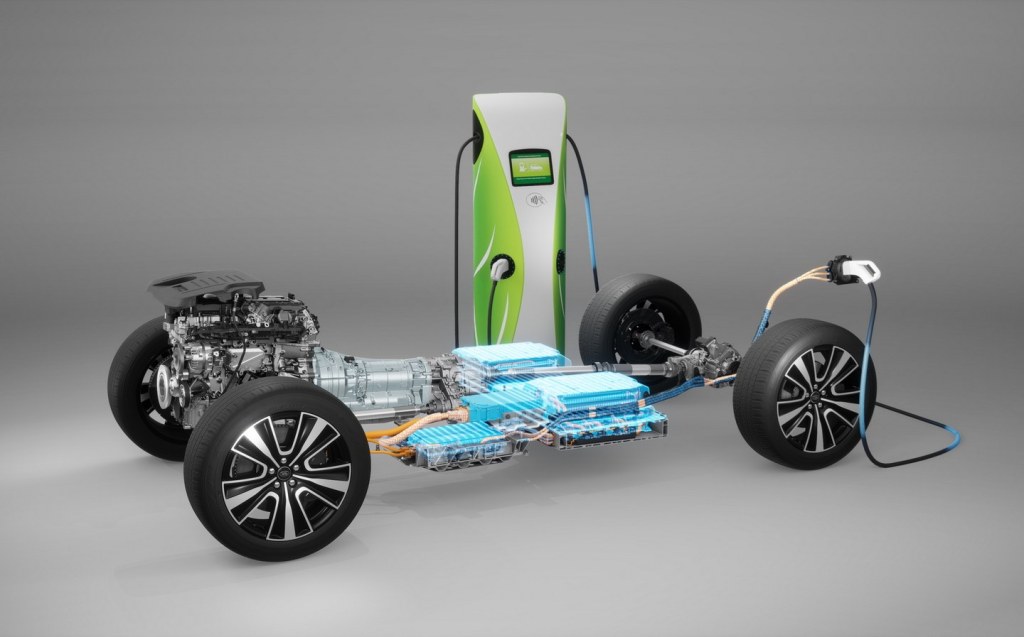 On sale now Range Rover PHEV, Defender PHEV, Discovery Sport PHEV
Coming soon Electric Range Rover, Discovery and Defender (from 2024)
In February 2021, Jaguar Land Rover boss Thierry Bolloré stunned the world with an aggressive electrification strategy. While Jaguar will become a pure-electric luxury brand by 2025, Land Rover will welcome an onslaught of six pure-electric variants over the next five years, with the first set to arrive in 2024. The six variants will span all three Land Rover families: Range Rover, Defender and Discovery.
JLR expects three of every five Land Rovers sold by 2030 to be zero-emission models, the same year in which the UK government will ban the sale of new petrol and diesel cars.
All diesel Land Rovers will be phased out by 2026, and Land Rover projects 100 per cent of its sales will be pure-electric by 2036. In the UK, sales of new hybrids, including plug-in hybrids, will be banned from 2035.
Lexus electric car plans
On sale now UX 300e, RZ
Coming soon RZ (2023)
Having just come in for a mild visual refresh, the Lexus UX 300e packs 201bhp, can manage 196 miles on a single charge and recharges to 80 per cent in 50 minutes using a 50kW charging station. That means it's not the cheapest or longest-range EV, but it comes with Toyota's reputation for reliability attached, and will be more luxurious than some of its competitors.
Lexus launched its new electric SUV in 2023, the RZ, based on the same underpinnings as the Toyota bZ4X and Subaru Solterra. As a clean-sheet design, the RZ features several innovative features such as steering-by-wire, dual electric motors and the option of a Tesla-style yoke instead of a steering wheel. Powering those motors is a 71.4kWh battery pack that, according to Lexus, is good for up to 271 miles between charges.
As for the future, the Japanese car makers don't like to show their hands too early, but there are high hopes that the sensational Electrified Sport concept will inspire a new Lexus sports car.
Lotus electric car plans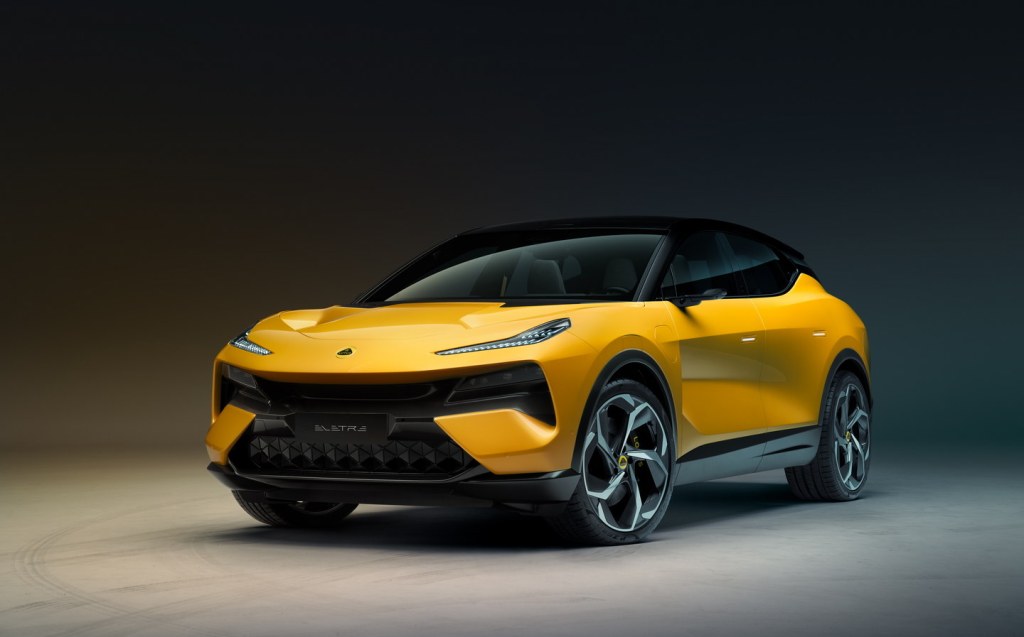 On sale now Evija
Coming soon Eletre SUV (late 2023); Type 133 saloon (2024); Unnamed electric sports car (2026)
Fifteen years after production of the legendary Esprit ended, Lotus returned to making to supercars. The extraordinary Lotus Evija (pronounced "eh-vai-ya") was the firm's first pure-electric production car and its most extreme car ever. Lotus says its 1,973bhp and 1,254lb ft of torque are good enough for a 0-62mph time of under three seconds, a staggering sub-nine-second time for 0-186mph and a top speed of over 200mph.
The mid-mounted battery pack, developed by the Williams Formula 1 team's Advanced Engineering division is good for 250 miles per charge under the WLTP test cycle, and is capable of charging speeds of up to 800kW meaning an ultra-rapid full recharge will be possible in just nine minutes, Lotus claims. Not that there are any chargers capable of that output on the market as yet…
Lotus has also launched an electric SUV, called the Eletre (el-etra). The SUV is based on bespoke underpinnings from Lotus's parent-company, Geely, and is built at Geely's facilities in China.
Lotus then plans to launch a four-door electric saloon in 2024, codenamed Type 133, and is expected to add an electric sports car by 2026.
Don't discount the idea of further variations on the SUV theme in the interim, as they're profitable and popular, which would allow the further development of electric sports cars. Like it or not, that's business.
Lucid Motors electric car plans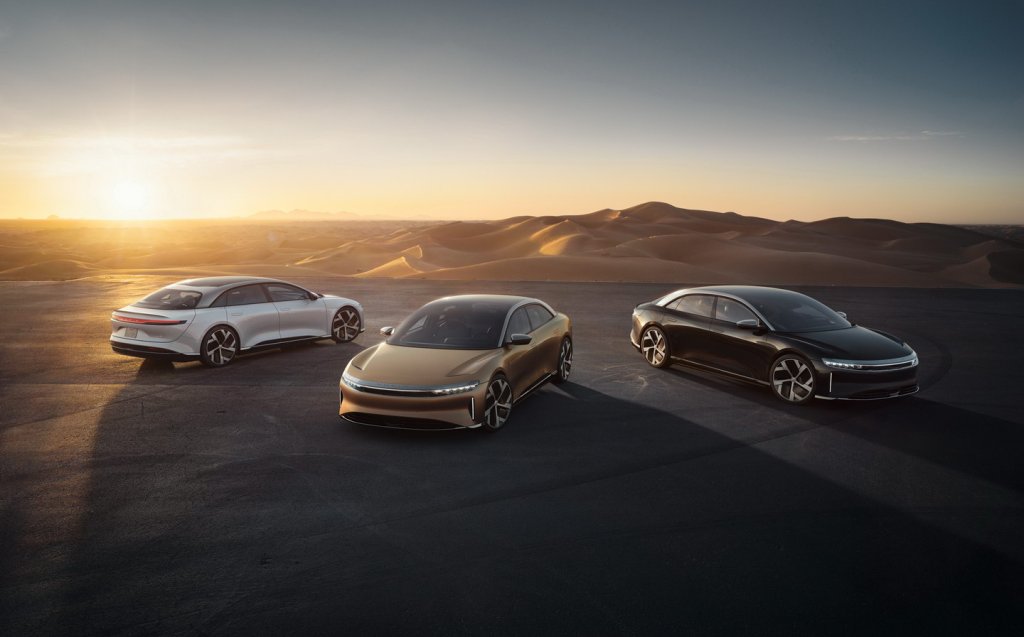 On sale now: Air
Coming soon: Gravity SUV (2024 – TBC)
At Lucid Motors' helm is Peter Rawlinson, the man who led the development of the Tesla Model S and who has vowed to beat Tesla when it comes to luxury, acceleration, price and range. By a couple of metrics, Lucid already has; its Air Dream Edition model has been officially certified by the Environmental Protection Agency (EPA) in the United States as having a range of 520 miles, which is some 25 per cent more than a Tesla Model S Long Range. It achieves that partly through ultra-smooth aerodynamics but mainly through efficient battery management techniques derived from the company's experience with the Atieva Formula E team. The fact that the Air Dream Edition features a substantial 113kWh battery helps too.
Not every Lucid Air has the Dream Edition's all-wheel drive, efficiency and 1,086bhp power figure though. The Air Pure opens the range with rear-wheel drive, an 88kWh battery and a range of 406 miles. At the other end of the spectrum, the Dream Edition Performance offers up to 1,111bhp with 0-60mph dispatched in just 2.5 seconds.
The Air is currently on sale in the US, but hasn't yet made it to Europe. Lucid, however, has said that it will bring the Air to Europe including a right-hand-drive version for the UK market. The company also plans to launch an SUV, likely called the Lucid Gravity and based on the Air's running gear.
Maserati electric car plans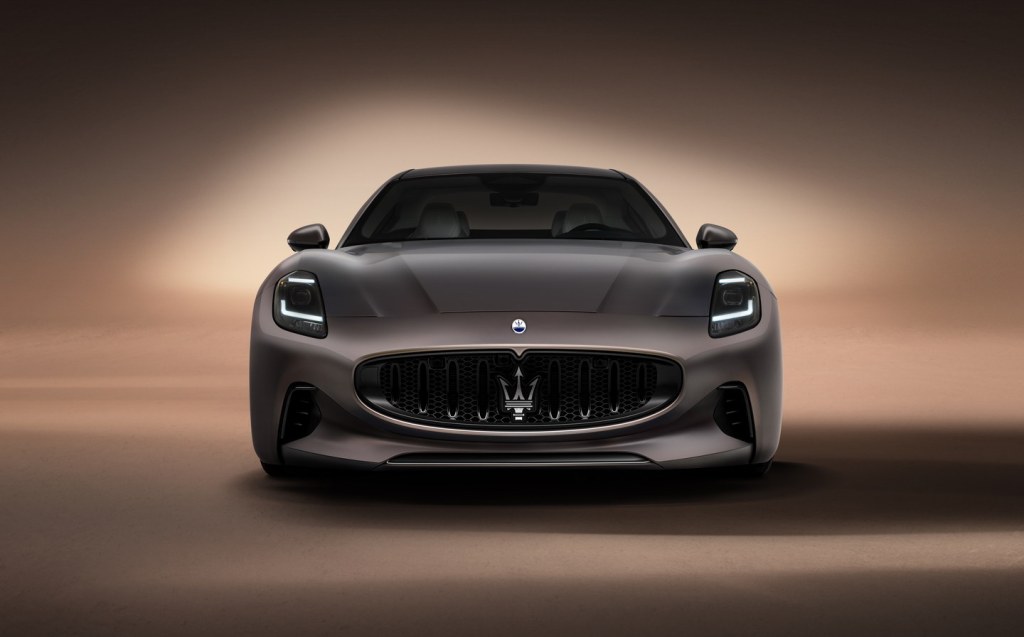 On sale now None
Coming soon MC20 (TBC), Grecale SUV (TBC), GranTurismo Folgore (2023), electrified versions of Levante and Quattroporte (TBC)
Maserati relaunched its entire brand with the unveiling of the MC20 supercar in 2020, which has given it a boost of productivity, with three electric models due from the company in the next few years.
There's an electric version of the MC20 coming, which will, in swapping the twin-turbo V6 for a tri-motor set up, add around 100kg to the ICE model's 1,500kg, as well as 80bhp or so.
The Maserati Grecale SUV features V6 power as well as mild-hybrid options, but the option of a pure-electric powertrain is on the way. The company's electric models will be badged "Folgore" — Italian for "lightning" — and the replacements for the Levante and Quattroporte models will receive the option of fully-electric powertrains, too.
In October 2022, Maserati revealed details of the GranTurismo Folgore powered by three 300kW electric motors, one in the front and two at the rear. While the 800-volt electric system can generate a continuous 750bhp, by delving into the driving modes, drivers can access the Folgore's full 1,185bhp for short periods, enabling 0-62mph in as little 2.7 seconds. Energy is supplied by a battery pack with a 92.5kWh capacity, which is similar to the capacity of the 245-mile Porsche Taycan Turbo S's battery, allowing an official range of up to 280 miles.
Mazda electric car plans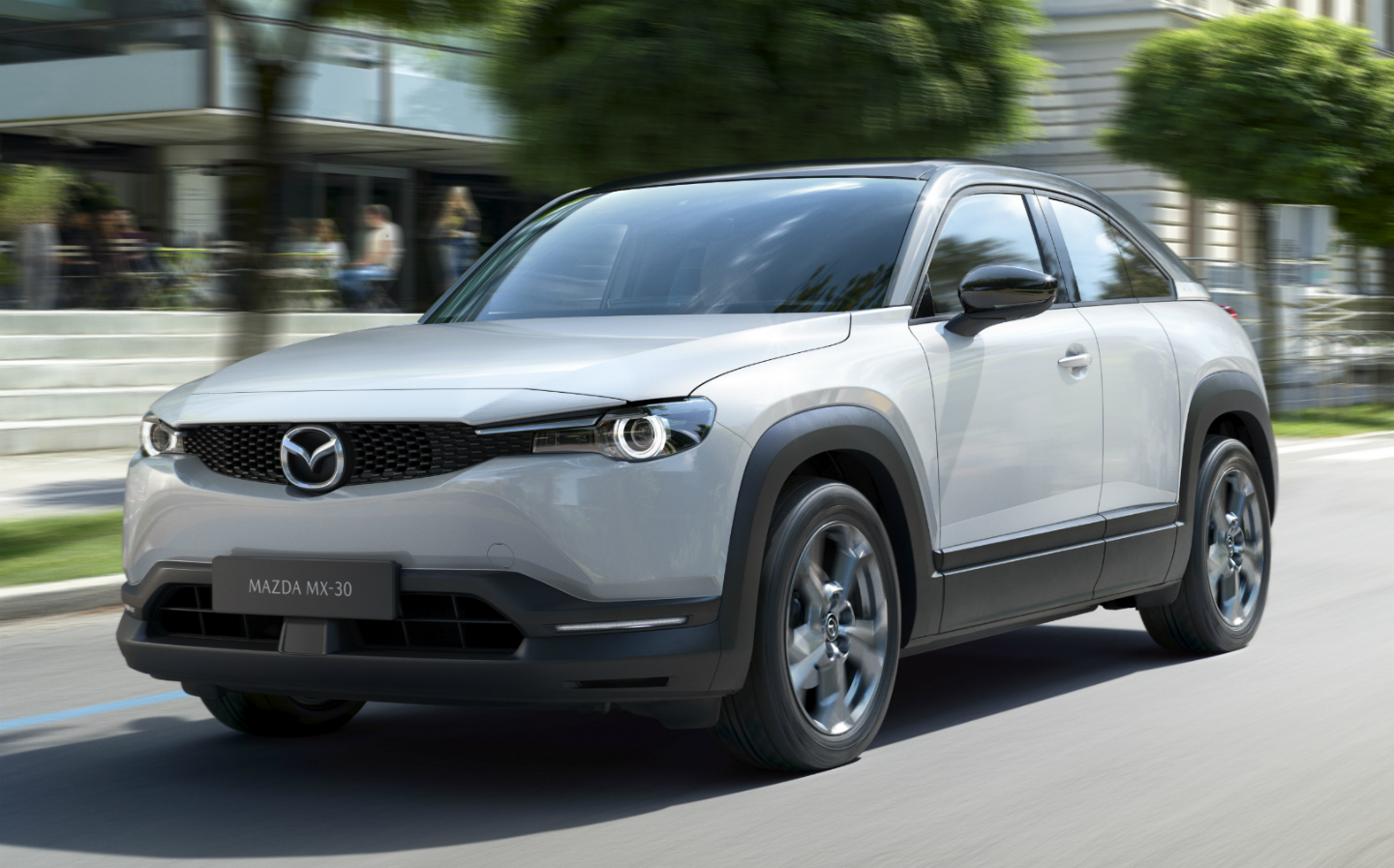 On sale now MX-30
Coming soon TBC
Like many of its fellow carmakers, Mazda is making the mass-production foray into the world of electric motoring with a compact crossover — unsurprising, given the appetite for them.
Potential buyers may be put off by the small 124-mile range of the Mazda MX-30 — smaller even than the Honda e — but Mazda says it has done its research, and thinks that its clientele aren't looking for anything more than that. Plus, a smaller battery (35.5kWh, in the MX-30's case) is better for the environment, and means less weight.
For those still antsy about the range, a plug-in hybrid version with batteries charged by a rotary-engine range extender is due by the start of 2024.
Mazda plans to launch a dedicated EV platform by 2025 and has said it will launch three new EVs in the meantime, though details are scarce.
Mercedes-Benz electric car plans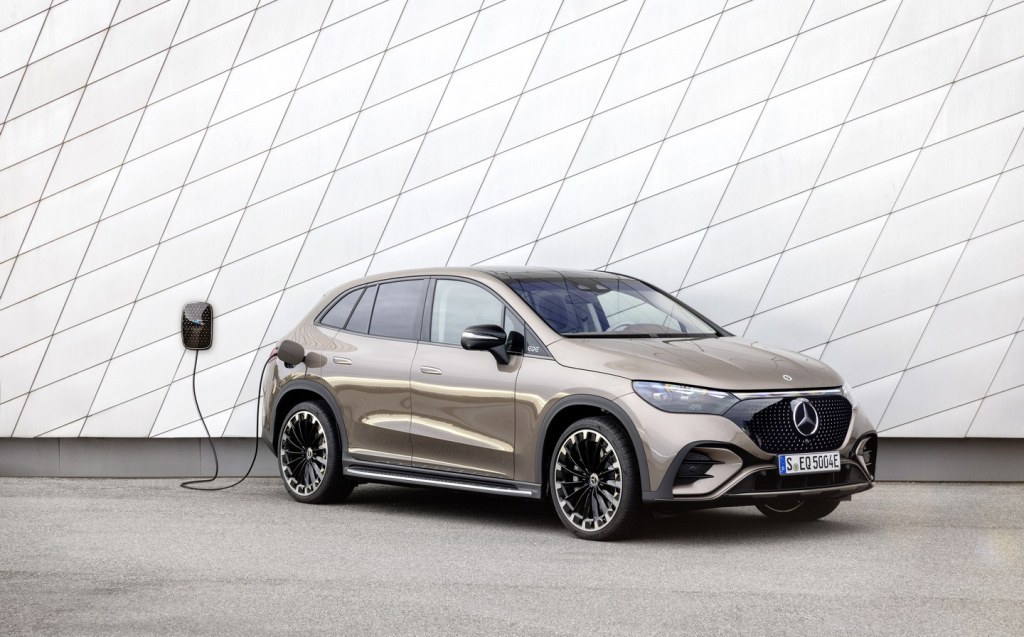 On sale now EQA, EQB, EQC, EQE, EQE SUV, EQS, EQS SUV, EQV
Coming soon EQT (late 2023), EQG (2025)
Mercedes is another car maker going on the offensive when it comes to electric car releases. It already has nine fully-electric models on sale under its EQ sub-brand. The EQC SUV and EQV MPV are joined by the EQA, a compact SUV based on the GLA, and the compact seven-seat EQB SUV.
The EQE, launched in 2022, should prove a popular and less-expensive alternative to the flagship EQS, (not least because we awarded it overall Car of the Year at The Sunday Times Motor Awards 2022). The EQS crowns the current EQ line-up and is the company's flagship electric car with a massive 478-mile range. There are also AMG versions of the EQE and EQS with greater performance outputs, as well as SUV versions of both.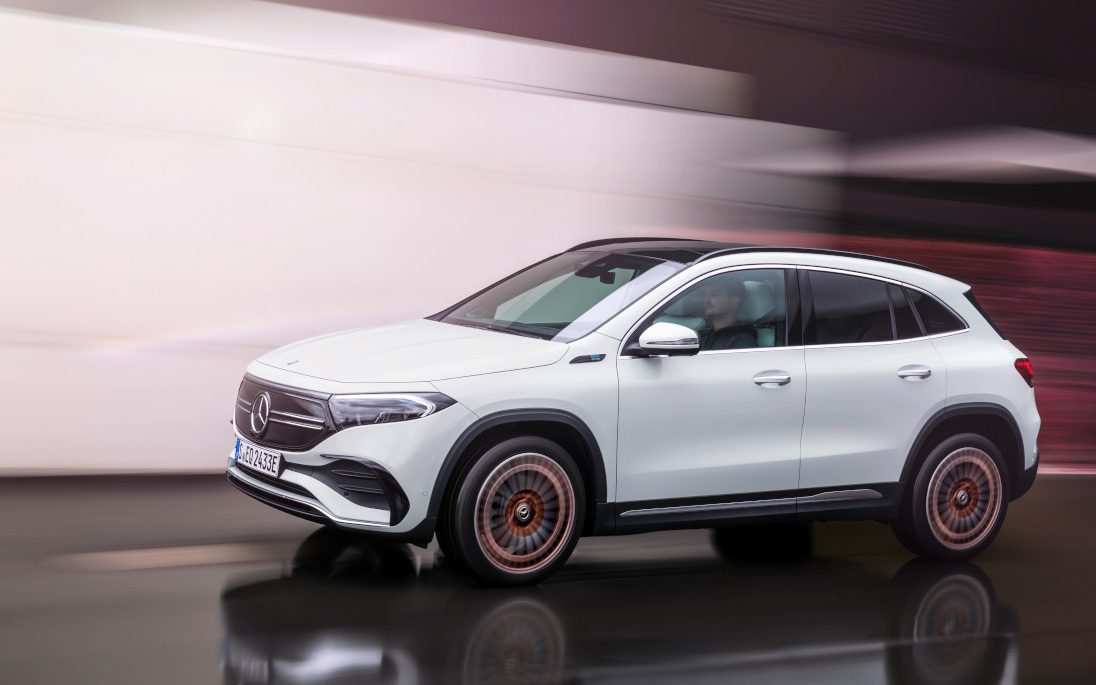 At the Munich motor show in 2021, the company announced a number of upcoming models including a Maybach SUV based on the EQS SUV, and an electric G-Class set to arrive by 2025 – probably called the EQG. Later this year will also see the launch of the EQT, Mercedes' electric MPV based on Renault Kangoo running gear.
In the longer term, Mercedes will launch three new electric-only vehicle platforms that will underpin most of its future models across its luxury Maybach and AMG performance sub-brands plus its commercial vehicle line-up.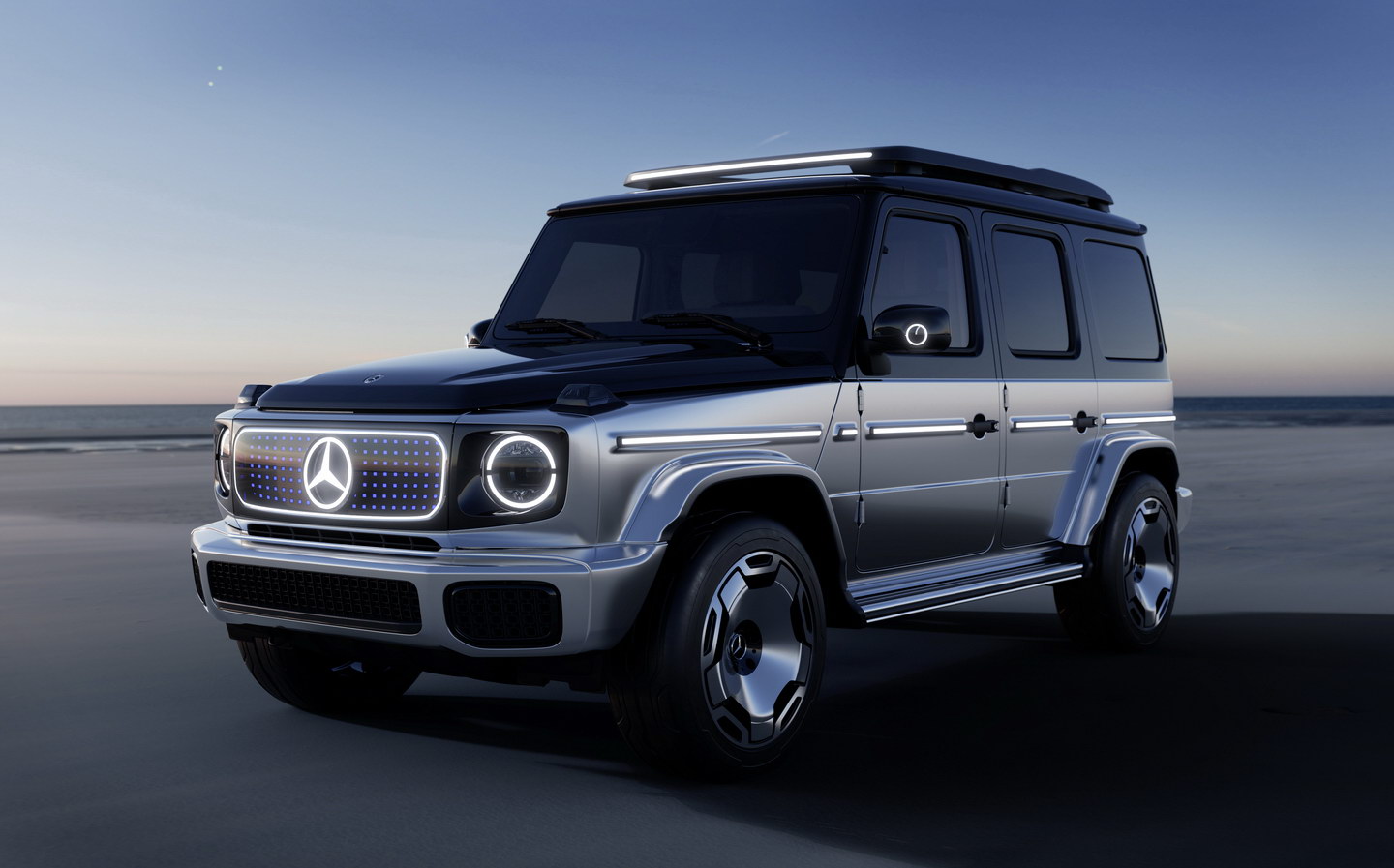 A better of idea of what the company says will be its approach to EVs going forward was seen with the unveiling of the Vision EQXX at CES in Las Vegas in January 2022. The sleek concept car won't make series production, but will remain a "road legal research prototype" claimed to be capable of 621 miles between charges through efficient battery management, smooth aerodynamics and a lightened design. Mercedes says this will be its approach towards electric cars in future rather than just applying bigger and bigger batteries to solve the issue of range.
MG electric car plans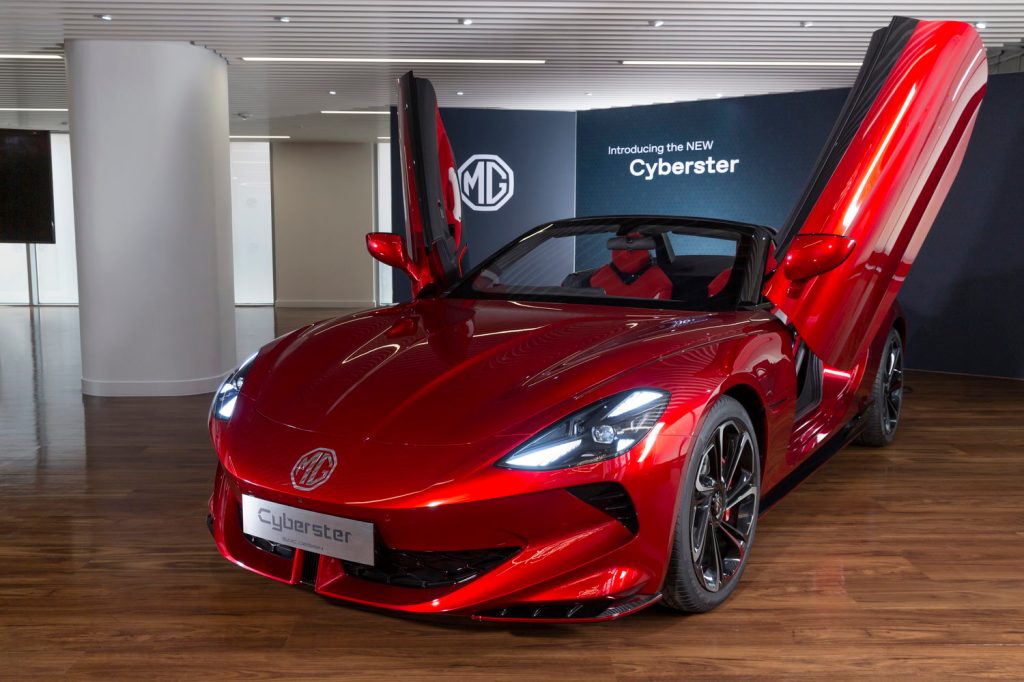 On sale now ZS EV, MG5, MG4
Coming soon Cyberster (2024), MG4 XPower
Chinese-owned MG has emerged as a bit of a dark horse in the electric motoring world, thanks to the success of its well-priced ZS SUV and the similarly priced MG5 electric family estate which has seen a recent facelift.
Both hit a sweet spot financially and in terms of range: the MG5 Long Range costs £30,995 and has a 250-mile range; the ZS EV comes in both standard- and long-range guises with prices starting from £30,495 for the former (with 198 miles of range), while a longer-range version with a 72.6kWh battery and 273 miles of range is also available. Add in MG's mammoth seven-year warranty and they make attractive, practical propositions.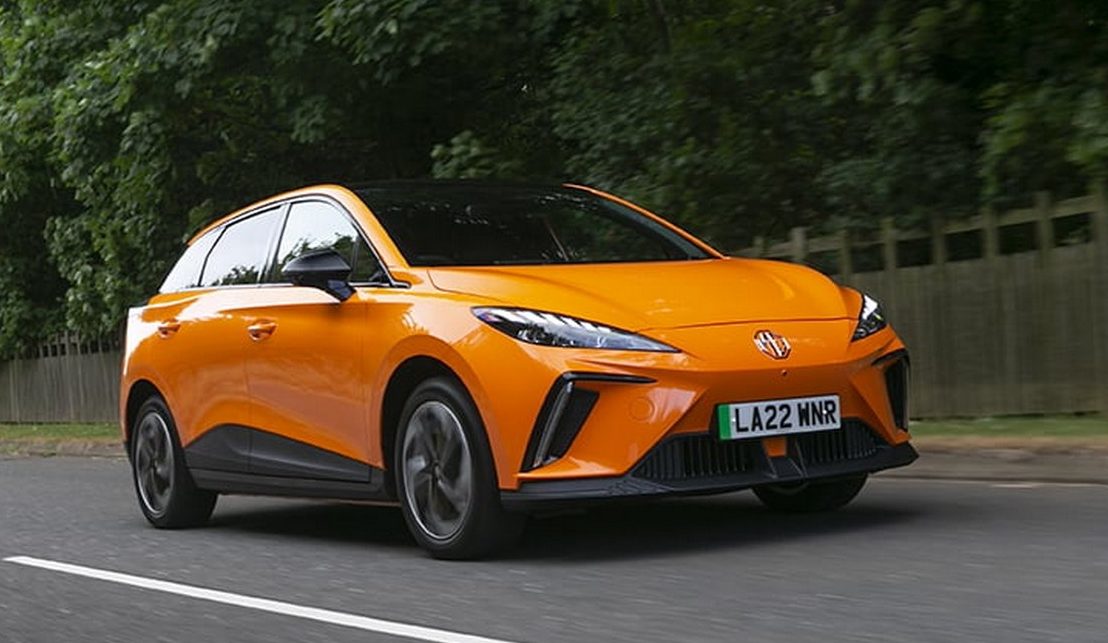 The MG4 hatchback that went on sale at the end of 2022 is designed to take on the likes of the Volkswagen ID.3 and Nissan Leaf. Based on MG's MSP (Modular Scalable Platform) architecture, the MG4 is rear-wheel drive only (for now — a 450bhp all-wheel-drive range-topper called the XPower is on the way) and is available with battery capacities from 51kWh to 64kWh, which gives it a range of 218 miles or 281 miles (depending on the version) between charges. The MG4 is something of a game-changer in this section of the market with a lot of spec, performance and quality for its £26,995 starting price. MG's competitors should be very worried.
What's lined up next for MG is something quite different indeed: the company's first sports car since the demise of the elderly TF in 2011. It's called the Cyberster and it's a pretty two-seat roadster with dramatic, McLaren-style doors. Underneath is an all-electric powertrain, with rear- and all-wheel-drive options. The latter, using a dual-motor setup, will produce more than 500bhp. Revealed in 2023, it's expected to go on sale in early 2024.
Mini electric car plans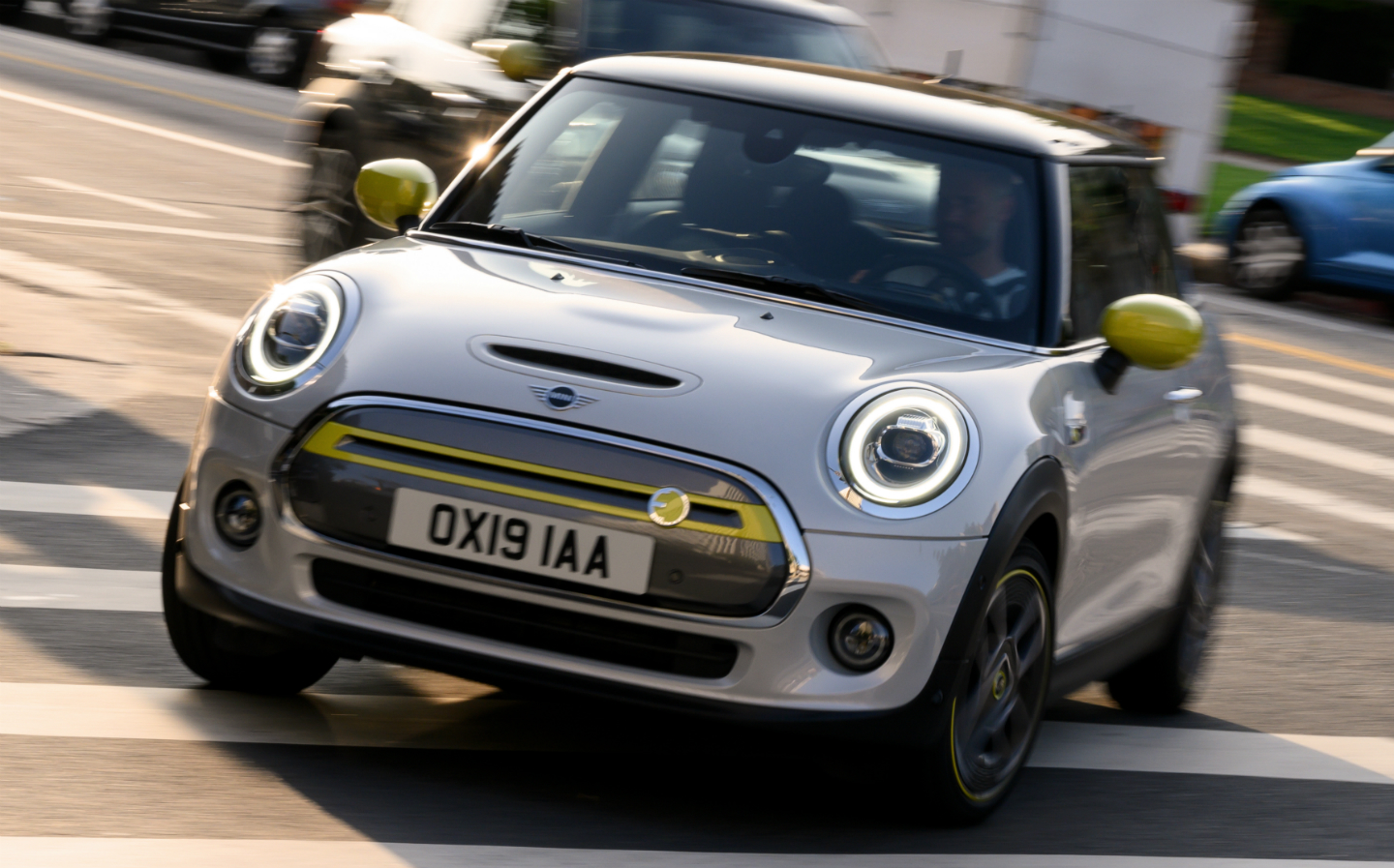 On sale now Mini Electric, Mini Electric Convertible
Coming soon New Mini Electric (2023), Countryman E (2024), Aceman crossover (2024)
With the launch of the Mini Electric in 2020, Bernd Körber, head of Mini, told Driving.co.uk that he felt that driving the new Mini Electric (which Will Dron tested long-term throughout the second half of 2020) is even more fun than its internal-combustion compatriot, thanks to a "go-kart feel" that he said suits the ethos of the brand.
Körber revealed that Mini was planning the release of two new electric models by 2023 or 2024: an all-electric version of the Mini Countryman SUV as well as a then-unnamed small crossover to sit below the Countryman in Mini's range.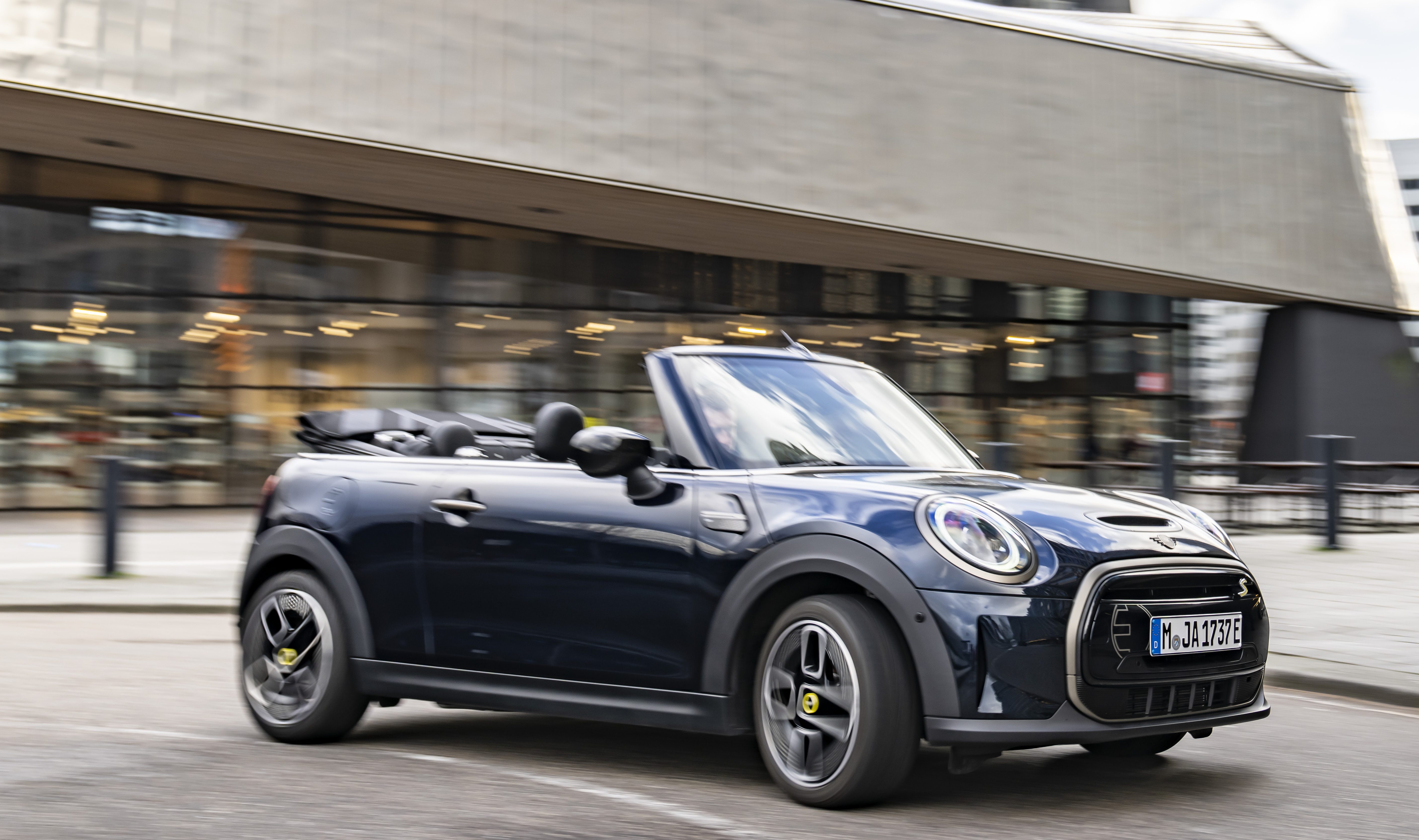 In July 2022, the company unveiled the concept car on which that small crossover would be based. Dubbed the Aceman, it previews the company's future design language as well as offering a fairly accurate preview of the crossover that will go into production mostly unchanged. The design represents a departure for Mini, eschewing the soft, rounded lines and chrome fittings of previous models in favour of stronger, sharper lines and a cleaner design.
The next-gen Mini Hatch will also be offered with an electric powertrain option from the start in two different guises. Interestingly, it won't be based on the same platform as the petrol-powered model, but rather on architecture co-developed with BMW's Chinese partner, Great Wall.
The Aceman will fit into Mini's range between the new Mini Hatch (which is set to shrink compared to previous models) and the new Countryman, which is due to grow.
Before any of those new models launch, there's a limited-edition electric version of the Mini Convertible to consider, using the same underpinnings as the Mini Electric hatch. Just 150 will be sold in the UK.
Nissan electric car plans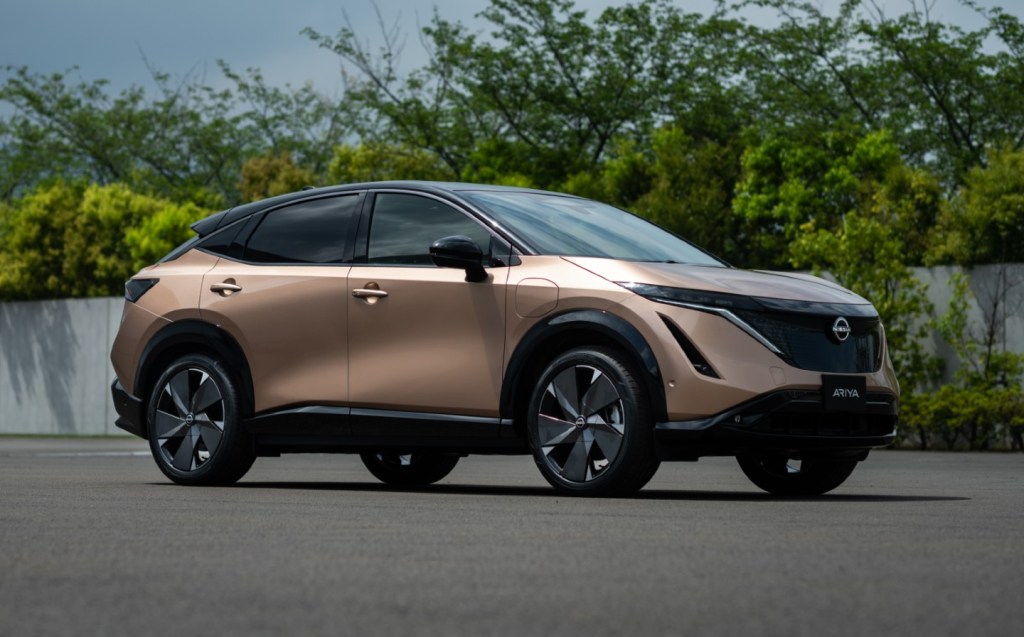 On sale now Leaf, Townstar, Ariya
Coming soon Micra replacement (2024 – TBC), seven other electric models worldwide by 2023, possibly including large SUV
Despite being one of the early pioneers of modern mass-market electric cars, until 2022 Nissan's electric vehicle range wasn't that extensive, comprising only the Leaf hatchback and van-derived e-NV200 people carrier.
That comparatively meagre line-up has been bolstered by the Ariya crossover SUV, which has arrived with up to 329 miles of range and a host of powertrain options including a choice of two battery sizes — 63kWh or 87kWh — and two- or four-wheel-drive versions. There's also a new electric van, the Townstar.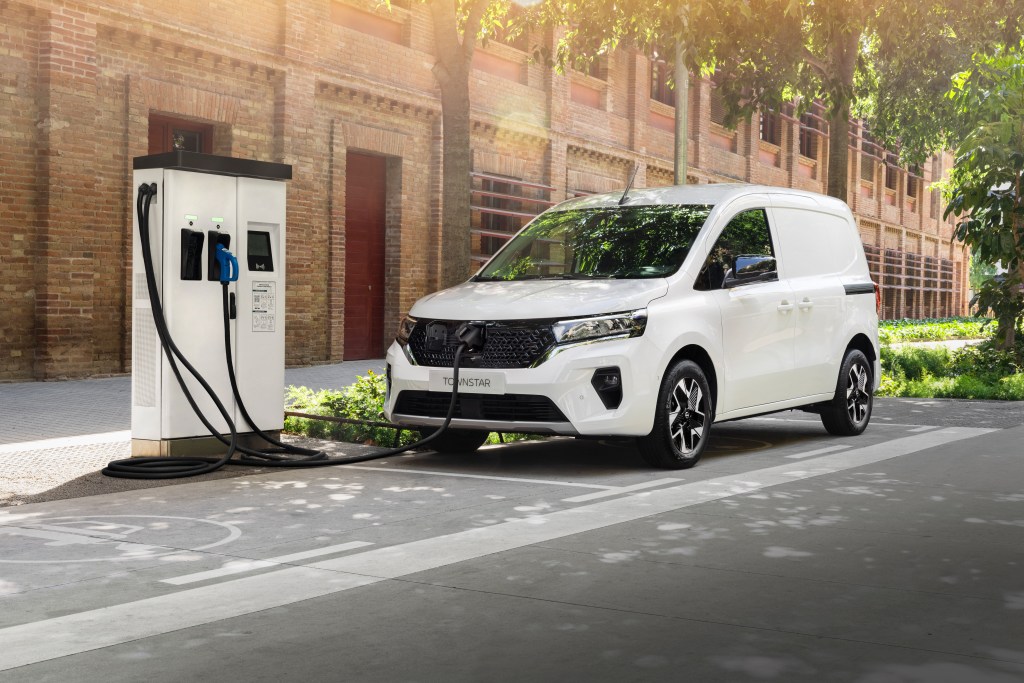 Coming down the line is an electric replacement for the Nissan Micra supermini set to be based on a Renault-Nissan-Mitsubishi Alliance platform, which is due to arrive in 2024. Nissan says the underpinnings will provide a battery range of around 250 miles and be shared with Renault's revival of its own R5 retro-styled supermini. The new Micra will be engineered by Nissan, but built in France by Renault.
Ora electric car plans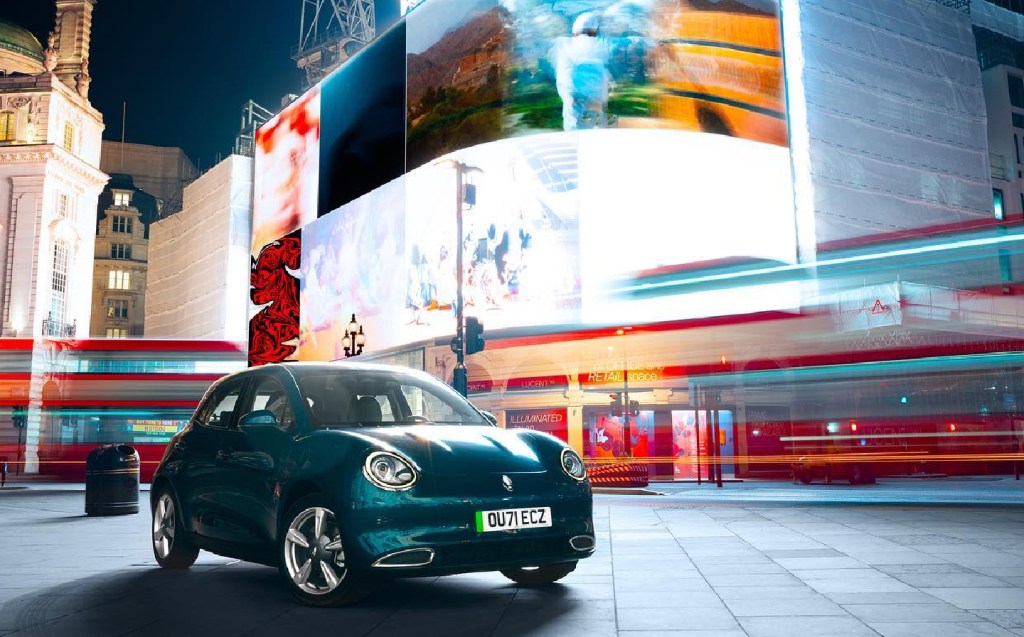 On sale now Funky Cat
Coming soon Ora 07 saloon (2023 – TBC)
Ora is a Chinese manufacturer and a sub-brand of car-maker Great Wall that once sold pickups in the UK until it fell afoul of emissions regulations. The company now sells the amusingly named Ora Funky Cat, a cute electric hatchback with styling cues seemingly drawn from Mini, Alpine and even Porsche.
Pricing for the Funky Cat starts from £31,995 and customers get plenty of spec for their money with a reversing camera and 18in alloy wheels, as well as LED headlights, wireless phone charging, adaptive cruise control, electrically adjustable front seats, Android Auto and Apple CarPlay smartphone mirroring featuring as standard.
Using a 48kWh battery, the Funky Cat will manage 193 miles (WLTP) between charges and feature rapid charging at up to 80kW.
While the Funky Cat is definitely competitive in terms of its aesthetics and spec, until the company introduces its planned cut-price versions, it's not a huge car with a fairly low range for the money (compared with, say, the MG4). In terms of its size it straddles the divide between city cars such as the Fiat 500 and Mini Electric and hatchbacks such as the VW ID.3, MG4, Smart #1 and Cupra Born.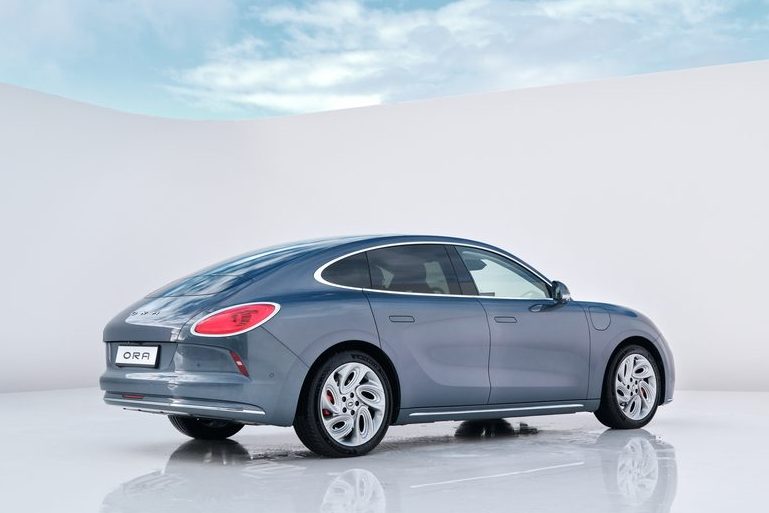 In the next year or so, the company plans to launch an elongated saloon version dubbed the Ora 07, a sort of Tesla Model 3 competitor, aping the styling of the Porsche Panamera, with twin electric motors and up to 267 miles between charges.
Peugeot electric car plans
On sale now e-208, e-2008, e-Rifter, e-Traveller
Coming soon E-308 (2023), E-3008 (2024)
Peugeot is attempting to electrify its entire line-up by the end of 2023, meaning that all models will have some form of plug-in variant. With its smaller offerings, like the already-available (and well received) 208, it's going full bore with pure-electric, while larger models like the 5008 will be hybrids.
The next pure-electric model will be the 308 hatchback and its 3008 SUV counterpart. The E-308 and its estate variant are powered by a single 154bhp motor driving the front wheels with power supplied by a 54kWh battery to deliver a range just short of 250 miles. That same powertrain is set to be used in both the 3008 SUV and the Peugeot's Stellantis stablemate, the new Vauxhall Astra Electric.
Polestar electric car plans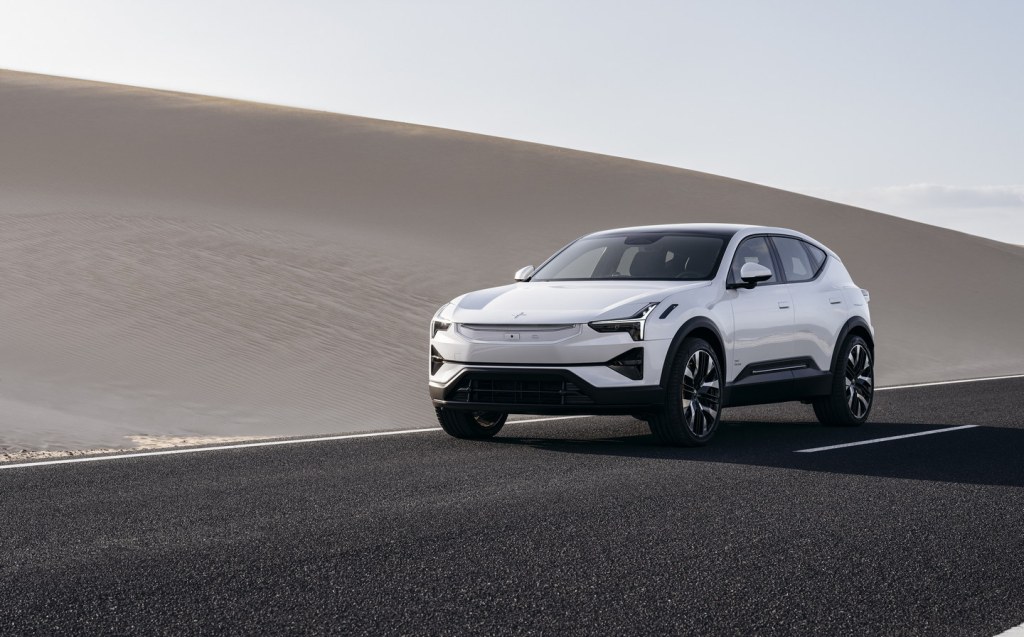 On sale now Polestar 2, Polestar 3
Coming soon Polestar 4 SUV (2024), Polestar 5 saloon (2024), Polestar 6 convertible (2026), Polestar 7 fastback (2027)
Most brands are (understandably) continuing to flog their engine-based wares while they make the transition to electric motoring. Polestar, though, started as an electric car brand.
Its first offering, the stunningly-designed Polestar 1, was a plug-in hybrid, while the Polestar 2 arrived in 2020 as the brand's first pure-electric car, to strong reviews.
The company's next model is the Polestar 3, a mid-sized performance SUV with the same running gear as the upcoming electric Volvo EX90. Powering the Polestar 3 is a huge 111kWh battery pack endowing the model in its most efficient guise with a range of up to 379 miles. The new electric architecture allows for rapid DC charging at up to 250kW with up to 510bhp on tap in the most powerful all-wheel-drive versions. First deliveries of the Polestar 3 are expected towards the start of 2024.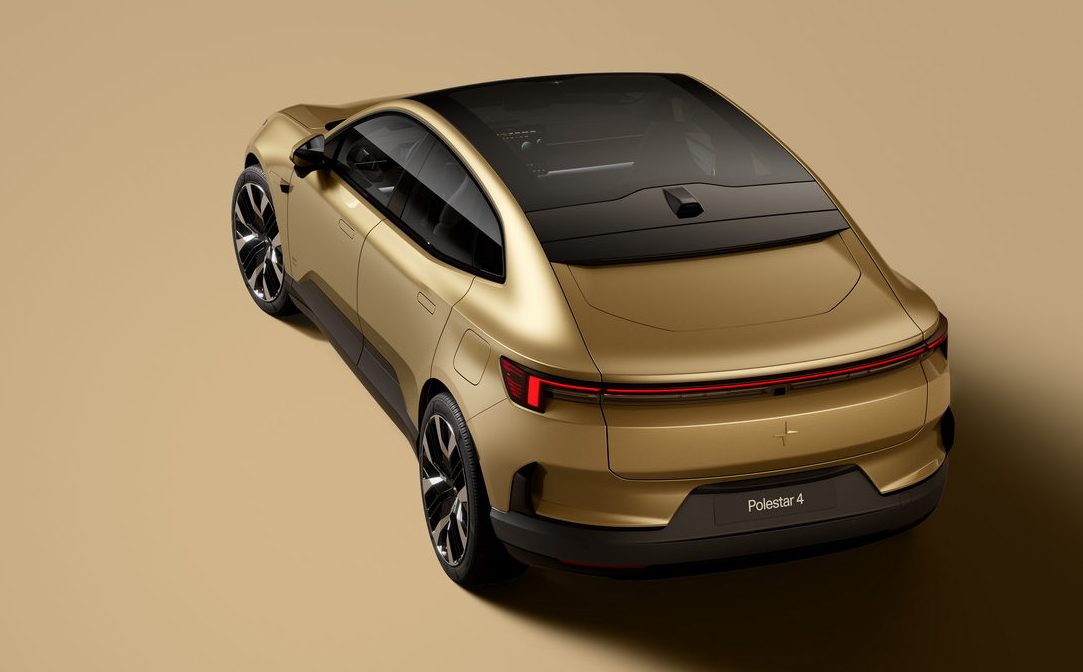 Following that, another, smaller SUV, the predictably named Polestar 4, made its debut in 2023, set to go on sale in 2024, while the Porsche Taycan- and Tesla Model S-rivalling Polestar 5 saloon is also expected in 2024, based on the well-received design of the company's Precept concept.
The innovative, lightweight bonded aluminium architecture of the Polestar 5 will also be employed by Polestar's first sports car, the Polestar 6, expected to arrive in 2026. Based on the stunning O2 roadster concept revealed in March 2022 (which, like the Polestar 5, borrowed its design language from the Precept), Polestar said that with the enthusiasm shown by the press and public for the design, that it would make the sports car a production reality.
While little else has been confirmed about the final production model, Polestar did promise some pretty impressive performance figures, with a power output of up to 872bhp and 664lb ft of torque from a dual-motor system, giving the Polestar 6 a potential 0-62mph sprint time of 3.2 seconds.
Pricing, it said, would be around the £165,000 mark and that while it won't be a high-volume car like the Polestar 2, it won't be ultra-low-volume like the Polestar 1.
Eventually, the Polestar 7 will replace the Polestar 2, though that won't happen until at least 2027.
Porsche electric car plans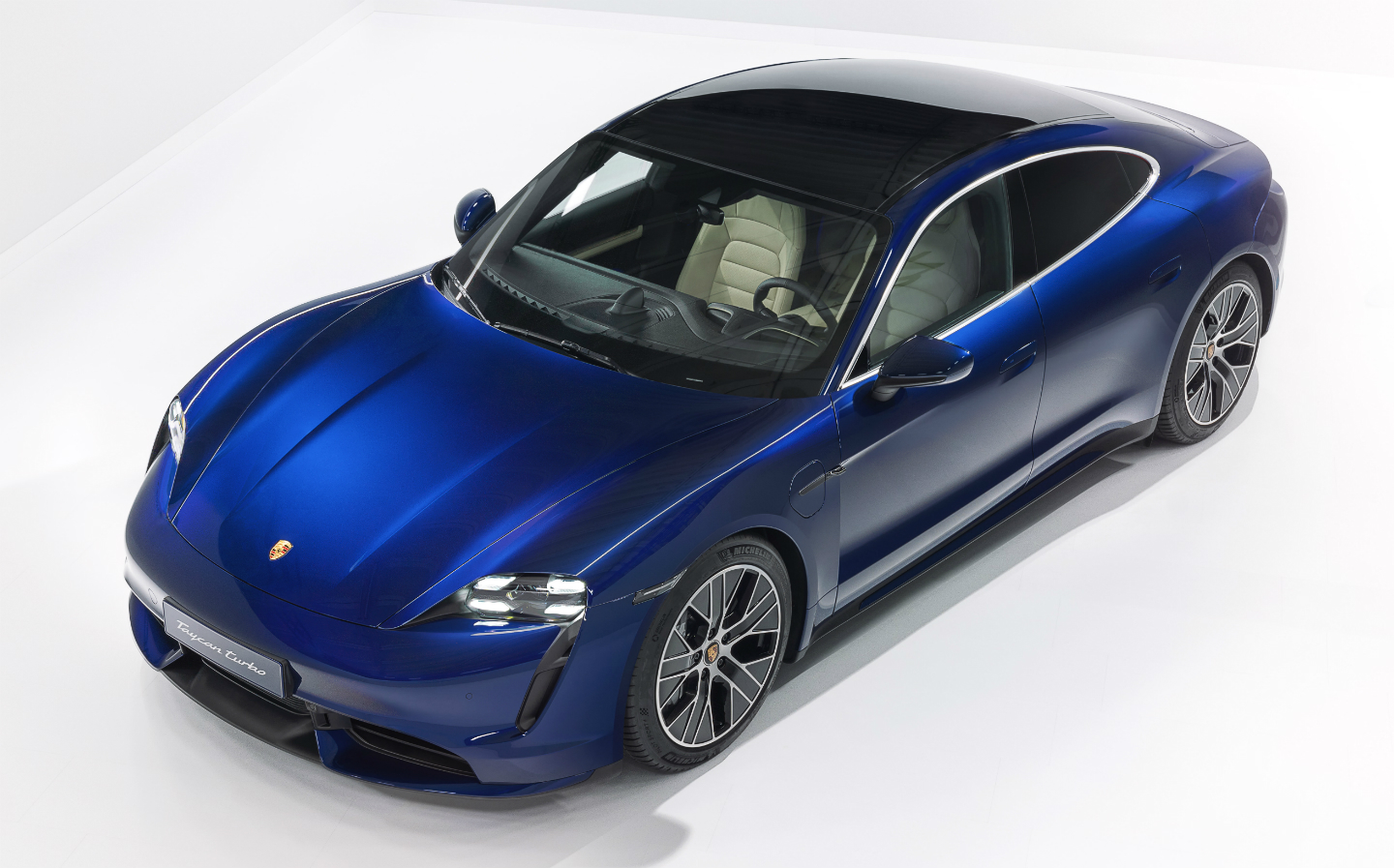 On sale now Taycan, Taycan Cross Turismo, Taycan Sport Turismo
Coming soon Macan Electric (2024), Cayman and Boxster Electric (TBC)
Sports car maker Porsche has no qualms about embracing the potential of electric power. Its first pure-electric model, the Taycan, has received rave reviews, and there's now a little family of them including the 4S, the Turbo and the Turbo S (even though electric cars can't technically be turbocharged).
A rugged estate version of the Taycan, called the Cross Turismo, is available too, and it's a compelling mix of high performance, long range and crossover-like ability. Or you can have the Sport Turismo, which is effectively the same thing without the ruggedness.
An electrification of Porsche's wider line-up is scheduled to take place next, with the Macan SUV due to be made electric for its next generation in 2024 (delayed due to software development issues), and pure-electric versions of the 718 Cayman and 718 Boxster models being developed. It will come as welcome news to many that an electric version of the much-adored 911 is not expected this side of 2030.
Pininfarina electric car plans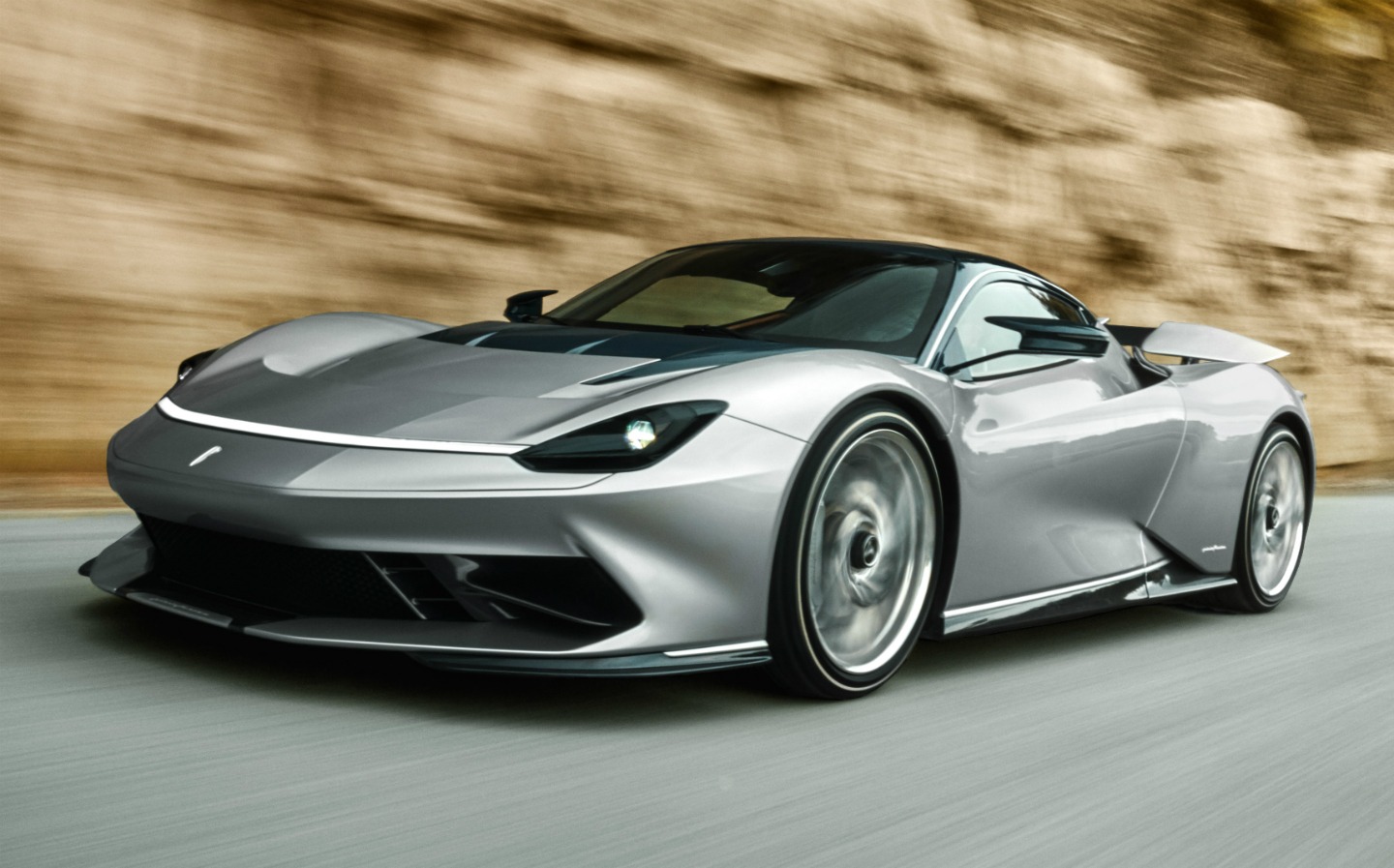 On sale now Battista
Coming soon Three new models by 2024
More than 90 years after it was founded as a coachbuilder, Pininfarina has finally begun deliveries of its first homegrown car: the pure-electric Battista hypercar, which rivals the similarly ludicrous Lotus Evija (see above). The Battista's sensational performance claims include 1,874bhp, a top speed in excess of 217mph and 0-60mph in less than two seconds, all thanks to underpinnings from Croatian hypercar-maker Rimac (see below).
Pininfarina is set to build just 150 Battistas which, if you're interested, will set you back £2m plus tax, with personalisation options allowing customers to spend well in excess of £3m to get the car they want.
Pininfarina has also said it's working on a new pure-electric car platform that will underpin three future models to be released in the three years after the Battista hits the road. Two of these will reportedly be SUVs, but that's not been officially confirmed.
Renault electric car plans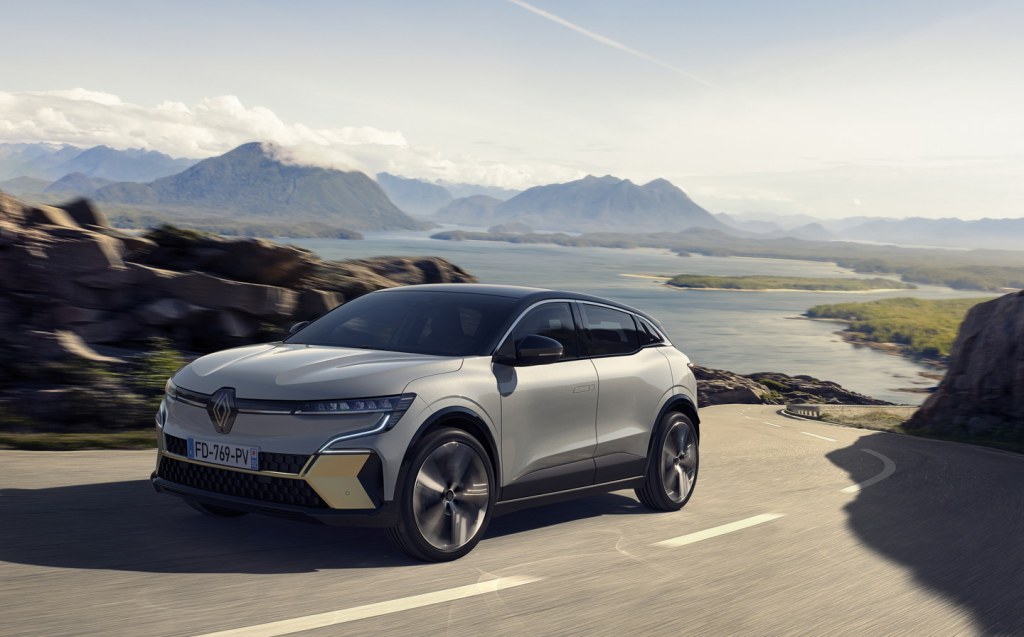 On sale now Zoe, Mégane E-Tech Electric, Kangoo E-Tech Electric (van)
Coming soon R5 (2024), R4 (2024), four other new electric models globally by 2025
Like sister company Nissan, Renault got into the electric car game very early, with the likes of the Fluence Z.E., Twizy and Kangoo Z.E, and, while its line-up remains quite limited, the arrival of the electric Mégane heralds the start of a major electric product push for the firm.
Powertrains in the Renault Mégane E-Tech consist of two power outputs and two battery options. Both 128bhp and 215bhp electric motors are available, the latter allowing a 0-62mph time of 7.4 seconds. A 40kWh battery delivers an official range of 186 miles, while the larger 60kWh pack manages 292 miles.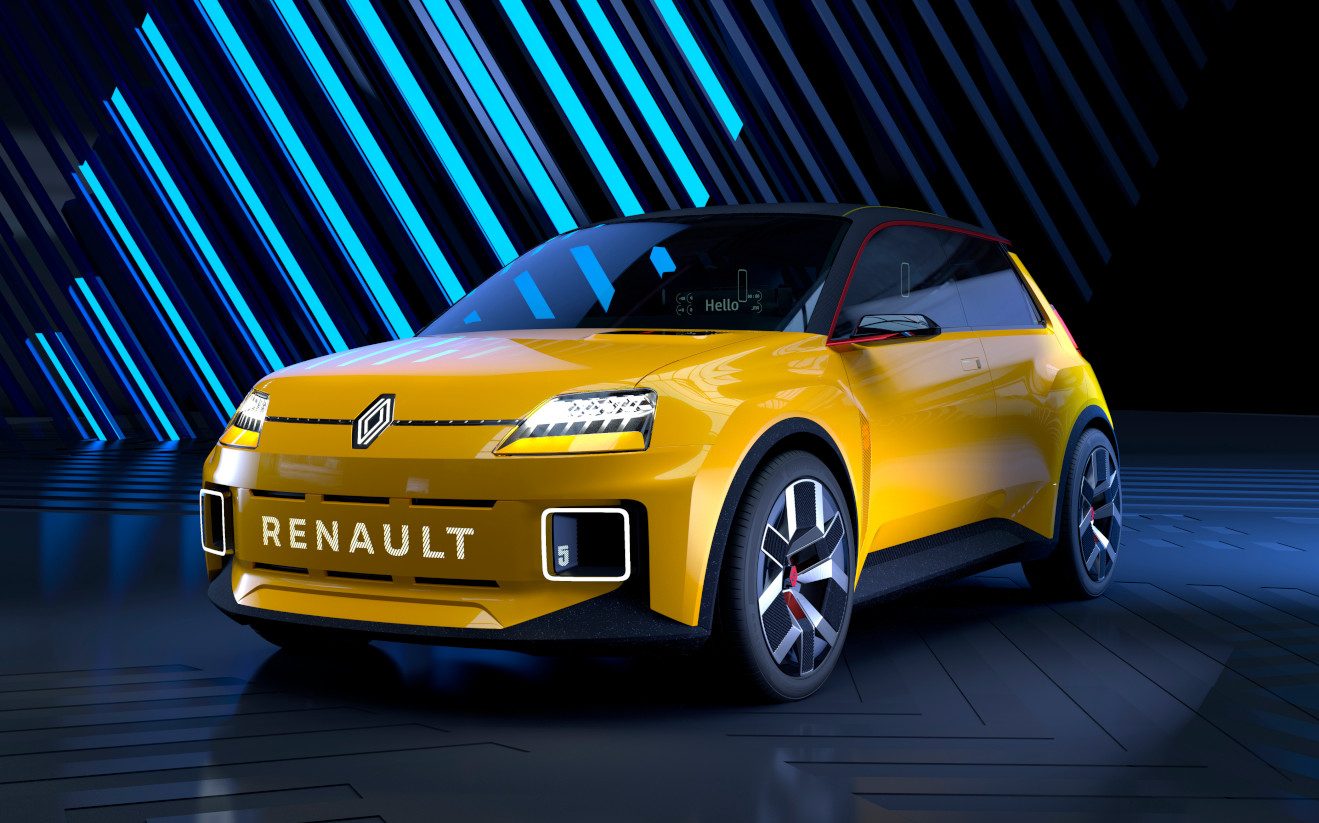 Both the Mégane and the Zoe supermini are set to be joined in Renault's electric stable soon as the company plans to have eight pure-electric models in its global portfolio by 2025.
Highly exciting is the reinvention of two iconic old Renaults, the R5 and the R4 — the former as a good-looking electric hatchback, the latter as a funky retro-styled crossover. The Renault 5 EV is promised to be cheaper than the current Zoe when it goes on sale.
Rimac electric car plans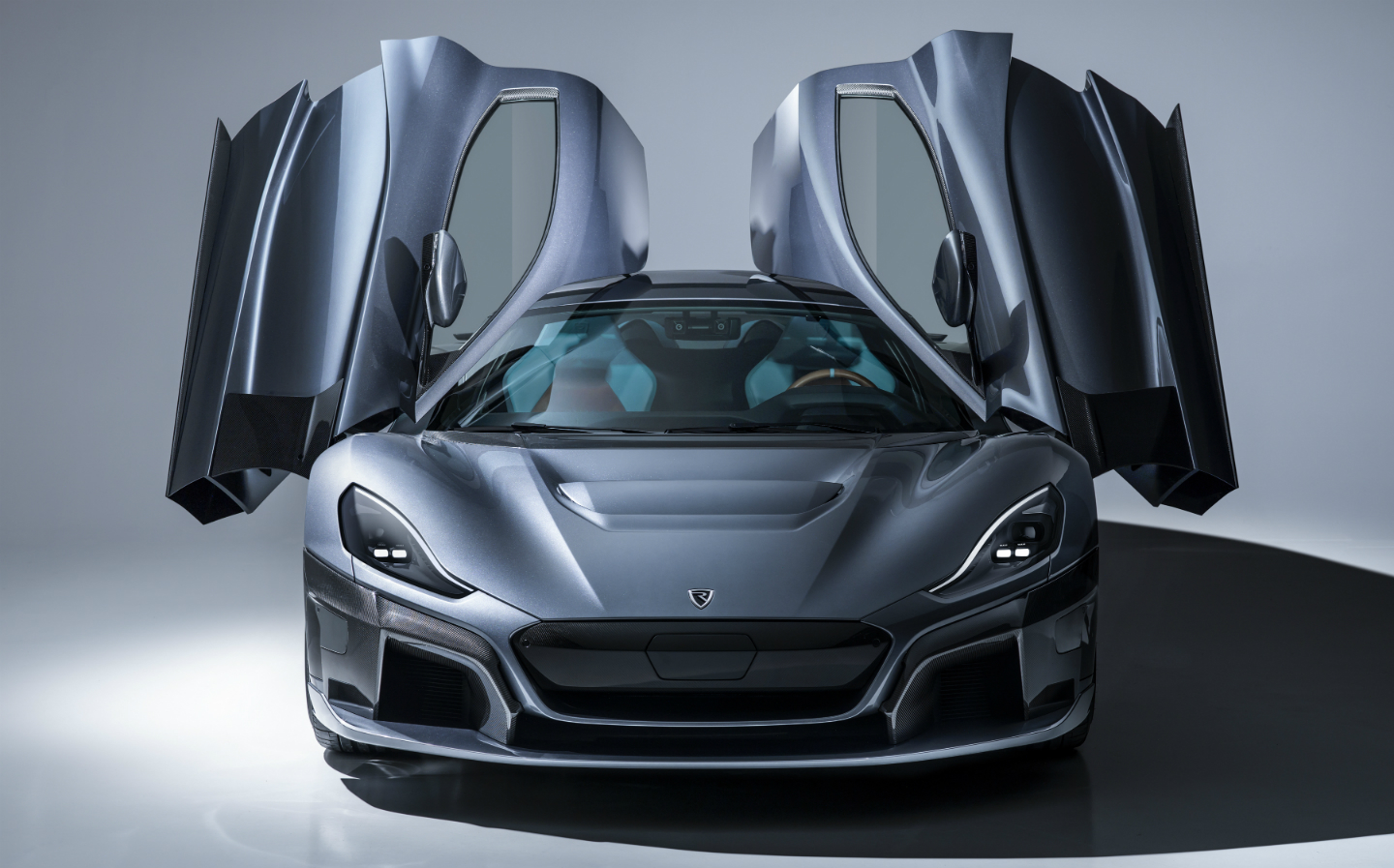 On sale now Nevera
Coming soon TBC
The Croatian company, Rimac, famous for creating the Concept One hypercar that Richard Hammond infamously crashed on the Grand Tour, has been collaborating with more established manufacturers like Aston Martin, Jaguar and Seat lately on battery and drivetrain technology and has even taken a controlling stake in Bugatti.
Its only car, the Rimac Nevera is capable of mind-bending performance figures. A 340-mile WLTP range is promised and fast, 500kW charging delivering 0-80 per cent charge in around 19 minutes. That's good, but not as impressive as Rimac's claimed performance figures including 1,888bhp, 258mph and 0-60mph in 1.85 seconds. Rimac plans to build just 150 units starting at £1.7 million each.
Rivian electric car plans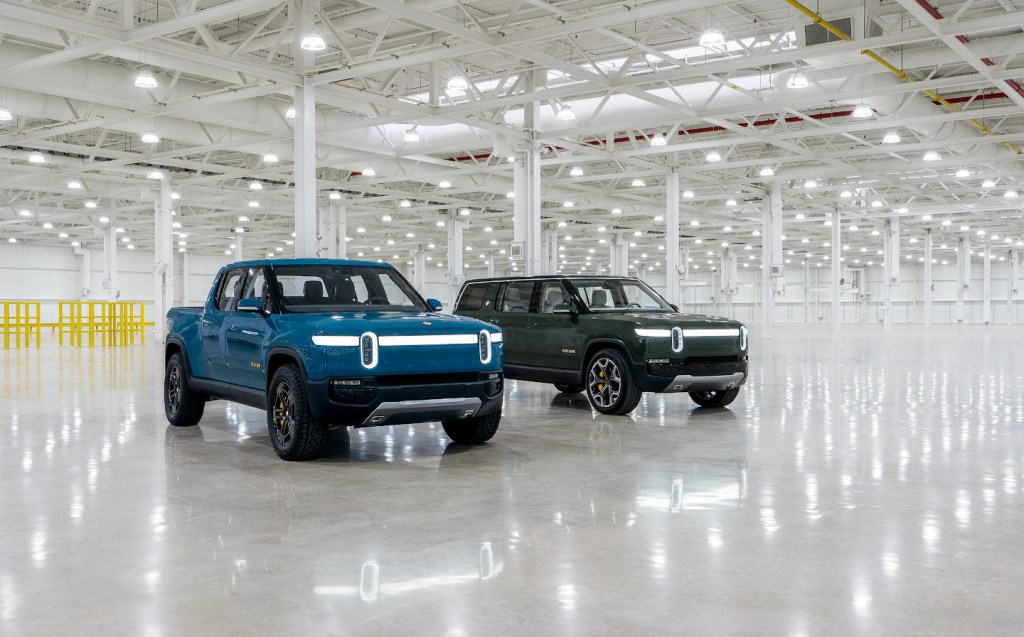 On sale now: R1T, R1S
When American electric vehicle company Rivian began producing its quirkily styled pickup, the R1T, in September 2021, not only did it beat established manufacturers such as Ram, Ford and Jeep to market with an electric truck, but Tesla too, the arrival of whose Cybertruck still appears to be some time off.
Rivian is initially focusing on what it believes is the most profitable market segment — pickups and SUVs. The R1T and R1S use a 135kWh battery pack to deliver 314- and 316 miles of range respectively according to figures released by the EPA in the United States; longer-range models are expected to follow. Prices for the R1T start from the equivalent of just under £50,000 while the seven-seat R1S is priced from around £51,000.
While Rivian's vehicles, having won praise for their style, appear to be in high demand relative to the company's production capacity, Rivian is currently devoting a lot of its energies to fulfilling an order from Amazon for 10,000 electric delivery vans by 2025.
That means if, as it says, it plans to launch in Europe by the end of 2023, it'll need a factory on this side of the Atlantic. Rivian is currently in negotiations with two European countries to build a battery and vehicle assembly plant, and the UK government even offered the company significant financial incentives to set up a facility on a 635-acre site in Somerset.
Rolls-Royce electric car plans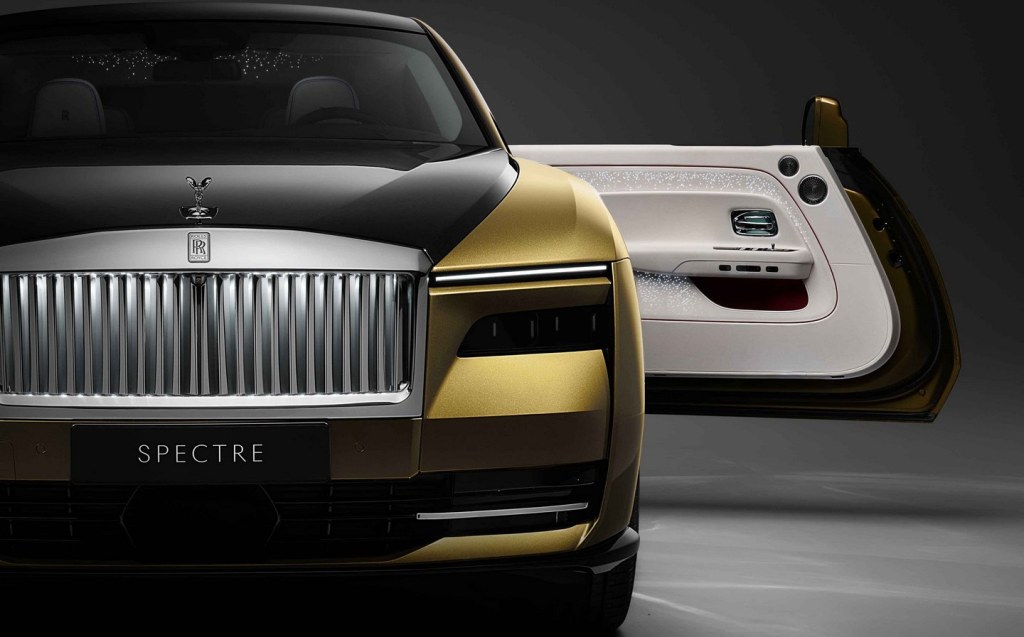 On sale now none
Coming soon: Spectre (2023)
Rolls-Royce is due to launch its first electric vehicle, to be called the Spectre, in late 2023. A large coupé taking up where Rolls' old Phantom coupé left off, the Spectre will be based on Rolls-Royce's "Architecture of Luxury" platform that it will share with the current Phantom, on sale since 2017. The underpinnings are exclusive to Rolls-Royce models and not used by any other members of the BMW group, the parent company of Rolls-Royce.
The official range figure is just over 320 miles between charges for the Spectre, while it produces maximum power and torque figures of 577bhp and 664lb ft, respectively, giving the coupé a 0-62mph time of 4.5 seconds — quite brisk considering that it weighs 25kg shy of three tons.
The Spectre is currently undergoing testing around the world that will see up to 1.6 million miles covered to simulate, what the company says, is more than 400 years of use. Its maker has described the Spectre as "the most perfect product Rolls-Royce has ever produced."
Seat electric car plans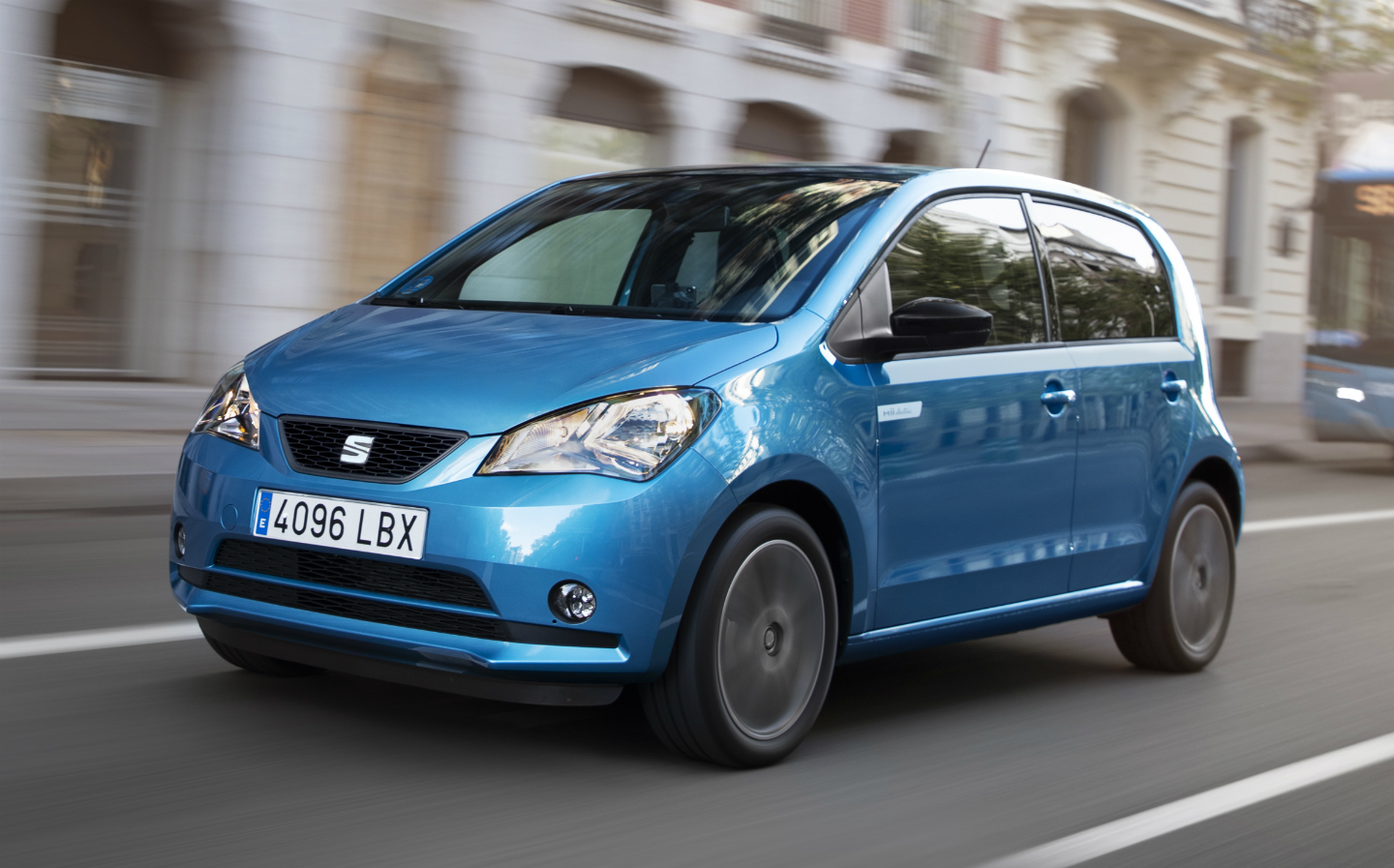 On sale now none
Coming soon TBC
Seat's next pure-electric model, after the plug-in version of the Mii Electric, was supposed to be the el-Born hot hatch but the marketing people at Volkswagen Group HQ have decided to stick a Cupra badge on that car instead (see above), meaning that Seat will have to wait a bit longer for its new electric model.
Indeed, there are rumours that the Seat brand will stop making cars entirely and become an 'urban mobility' brand instead.
Skoda electric car plans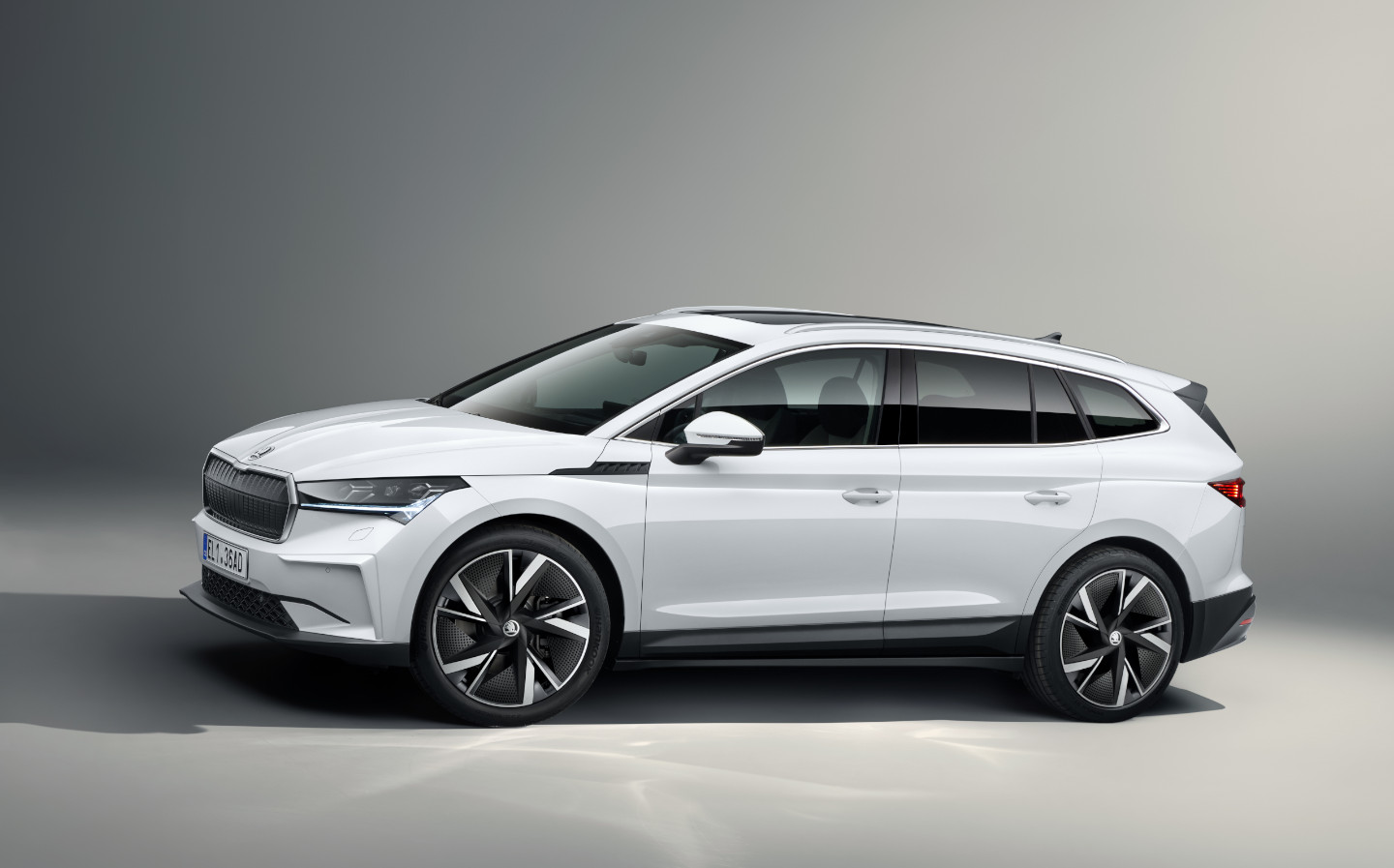 On sale now Enyaq iV, Enyaq Coupé iV
Coming soon Four all-new pure-EVs by 2026: Elroq crossover, estate, seven-seat SUV and compact crossover
The Skoda Enyaq iV shares its MEB platform with the Volkswagen ID range and is Skoda's equivalent of the ID.4. With the 77kWh battery fitted, the Enyaq can go a quoted distance between charges of 330 miles, though a shorter range (and cheaper) Enyaq iV 60 model is also available.
Joining the Enyaq is the Enyaq Coupé, a very similar car but with a sloping, coupé-like roofline, making it Skoda's version of the VW ID.5. It's available as the 295bhp all-wheel-drive vRS and a tamer rear-drive model with 201bhp and a 339-mile range – thanks in part to improved aerodynamics over the standard Enyaq.
In April 2023 Skoda announced its electric car plans for the next few years, including the launch of four new EVs between now and 2026. The Elroq will be an electric crossover to replace the Skoda Karoq; there'll be a smaller – and much more affordable – crossover below that in the line-up; the Vision 7S concept car previews a seven-seat EV; and there will also be an electric C-segment estate.
Skoda has also confirmed that the two Enyaq models will be significantly revamped in 2025.
Smart electric car plans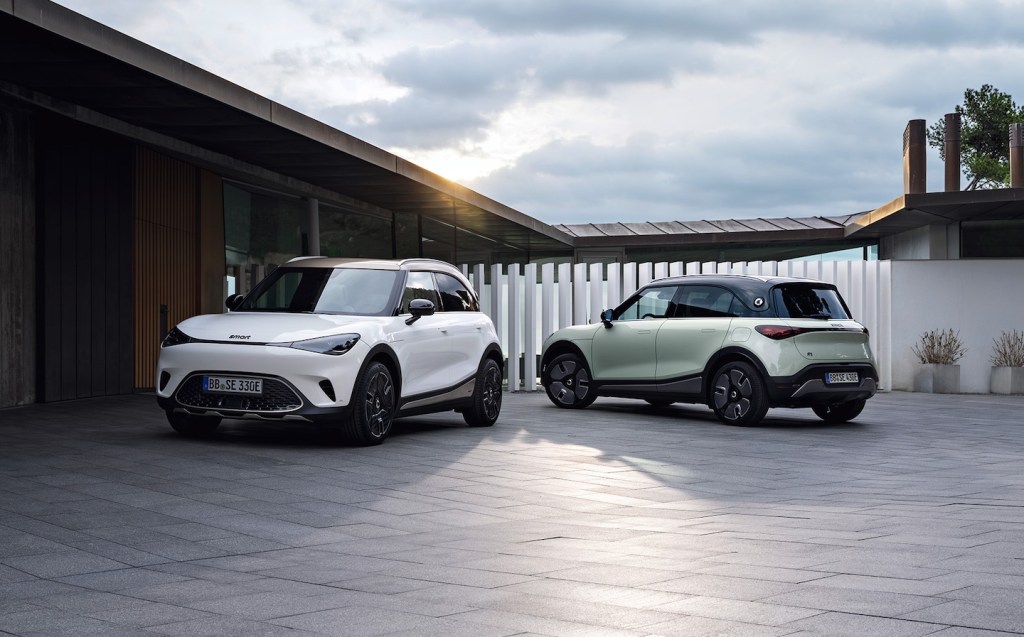 On sale now #1
Coming soon TBC
Smart ditched combustion engines entirely in 2019 and has now launched its first purpose-built EV, a compact SUV around the size of Mercedes's EQA crossover.
Named the #1 (ridiculously pronounced "hashtag one"), the new model is a collaboration between Smart's parent companies Mercedes and Geely, with the latter undertaking the engineering and construction and the former responsible for interior and exterior styling. Its architecture is based on the same Geely platform that will underpin the Volvo EX30.
That Geely platform means that the Smart #1 gets a 66kWh battery, which means a range of 273 miles. Power comes from a 267bhp electric motor, making it by quite some distance the most powerful Smart model yet, while a Brabus version with even more performance was made available from launch in the UK.
The #1 is built at Geely's plant in China alongside replacements for the ageing Smart fortwo and forfour. In the UK it went on sale in January 2023, with deliveries from the autumn.
What comes after that is yet to be announced, though Smart did confirm to us it is already working on the follow-up. We'd expect a smaller option based on the same platform, perhaps with two doors, but at the moment that's pure speculation. We'd like to see a new Roadster at some point, too, but is that type of car popular enough for the ambitious new Smart?
Sony electric car plans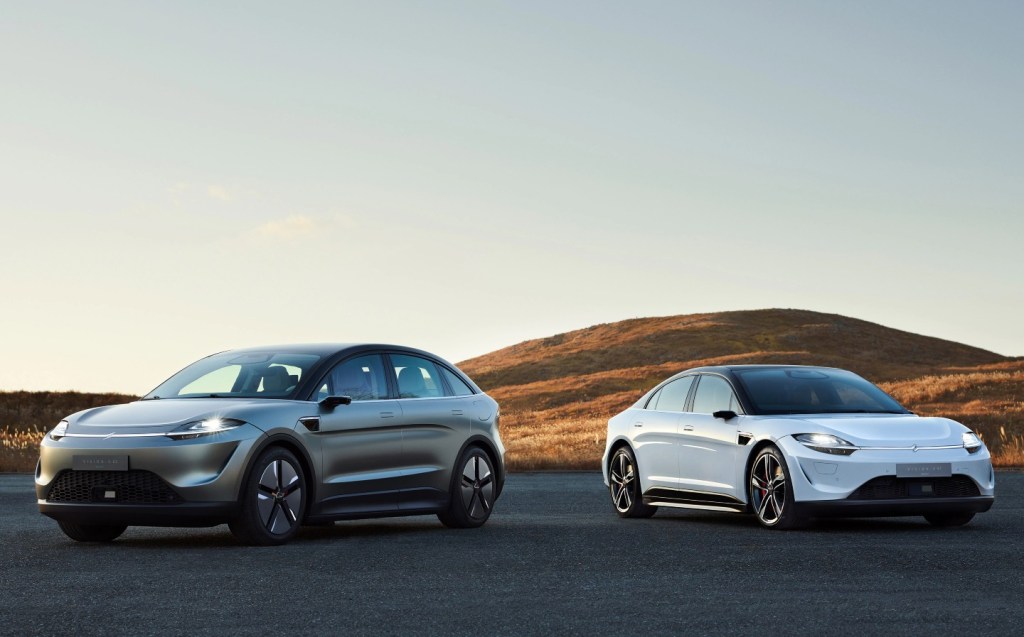 On sale now none
Coming soon Vision-S saloon (TBC), Vision-S 02 SUV (TBC)
When Sony unveiled the Vision-S saloon at CES Las Vegas in 2020, it tried to quash rumours that it had plans to become a car maker, insisting that the model was a development testbed for sensor and communications technologies. With the reveal of Vision-S 02 SUV at CES in 2022, however, it said that it was actively considering entering the car business with a new division, Sony Mobility Inc, to be established later in the year.
Both the Vision-S saloon and seven-seat SUV are based on the same underpinnings and use a pair of 200kW electric motors to send around 540bhp to the front and rear wheels. Beyond that, however, there's little indication of battery size or range.
In January 2023 Sony and Honda announced the creation of the Afeela joint venture with a view to launching its first EV by 2026. It is expected to be a saloon.
SsangYong electric car plans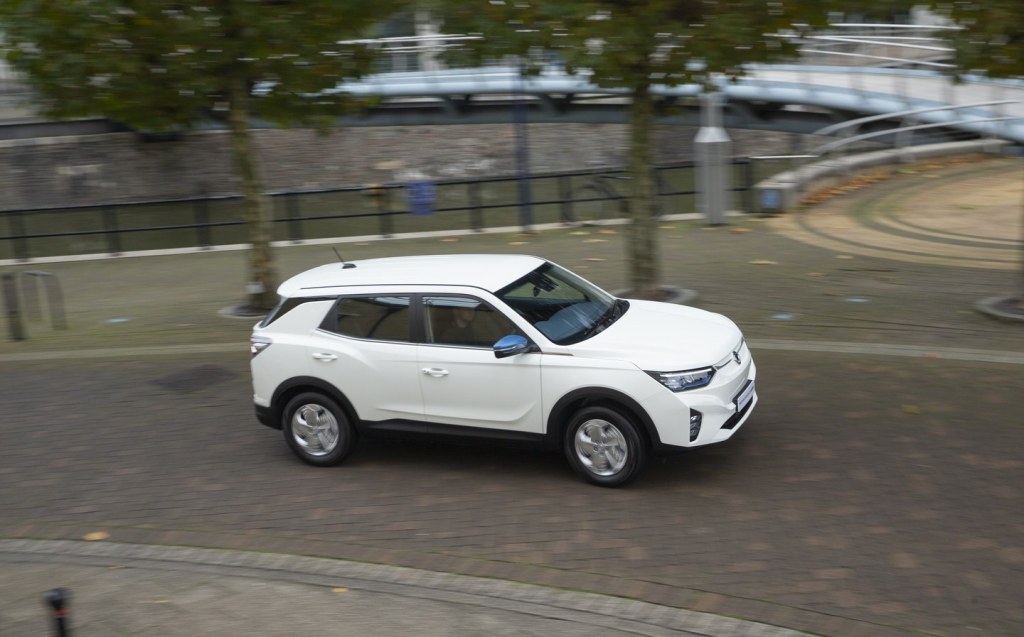 On sale now None
Coming soon Korando e-motion (2023 – TBC); J100 mid-sized SUV (2023 – TBC)
SsangYong's first pure-electric vehicle, a version of its Korando SUV model that will be known as the Korando e-Motion, has already gone into production, and though it had been slated to go on sale in the UK in 2022, the end of 2023 now looks to be the earliest it will launch. When it arrives, it should offer low-cost electric SUV competition to the likes of the MG ZS.
The Korando e-Motion is set to be driven by a single motor producing 187bhp and will provide a range of around 200 miles.
SsangYong plans to launch a larger, mid-sized electric SUV, currently codenamed the J100, which it envisages launching in 2023 and which may include a pick-up variant.
The company is working to develop an all-new EV platform and aims to launch its first vehicle on that platform by 2024.
Subaru electric car plans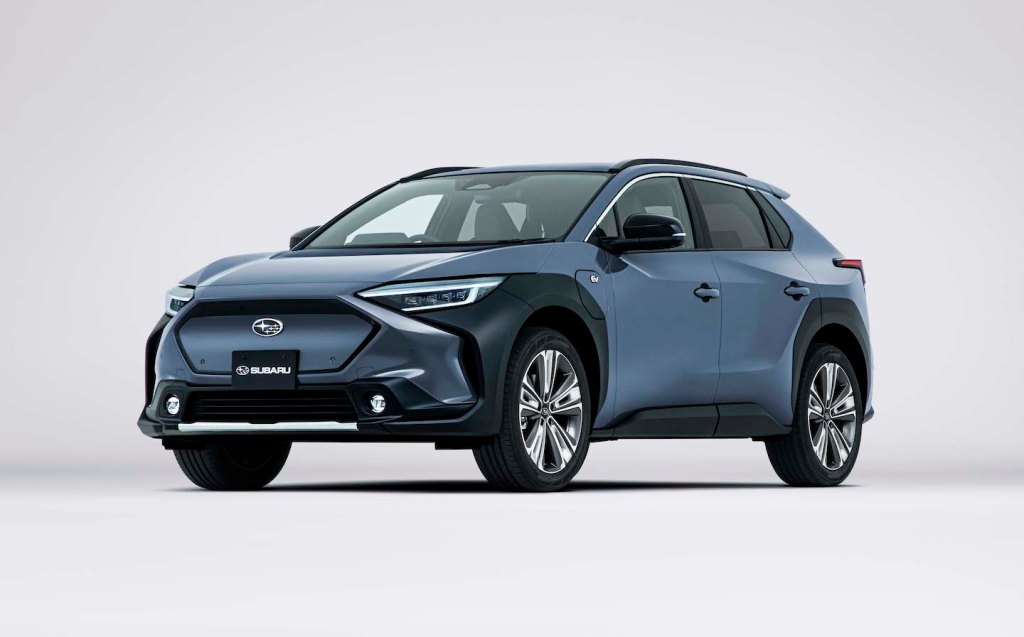 On sale now Solterra
Coming soon TBC
Subaru's brand-synonymous "Boxer" combustion engines are on borrowed time, it seems, as the car maker has been working with Toyota on a new pure-electric car platform.
The fruits of that collaboration come in the form of the Solterra SUV, which shares its underpinnings with the Toyota bZ4X and Lexus RZ.
The production model isn't as alarmingly angular as its concept and, like the bZ4X features a 71.4kWh battery pack. Subaru only sells the Solterra in the UK with a dual-motor, all-wheel-drive setup, which uses an electric motor on each axle for up to 215bhp. The entry-level Limited model has an official range of 289 miles.
Suzuki electric car plans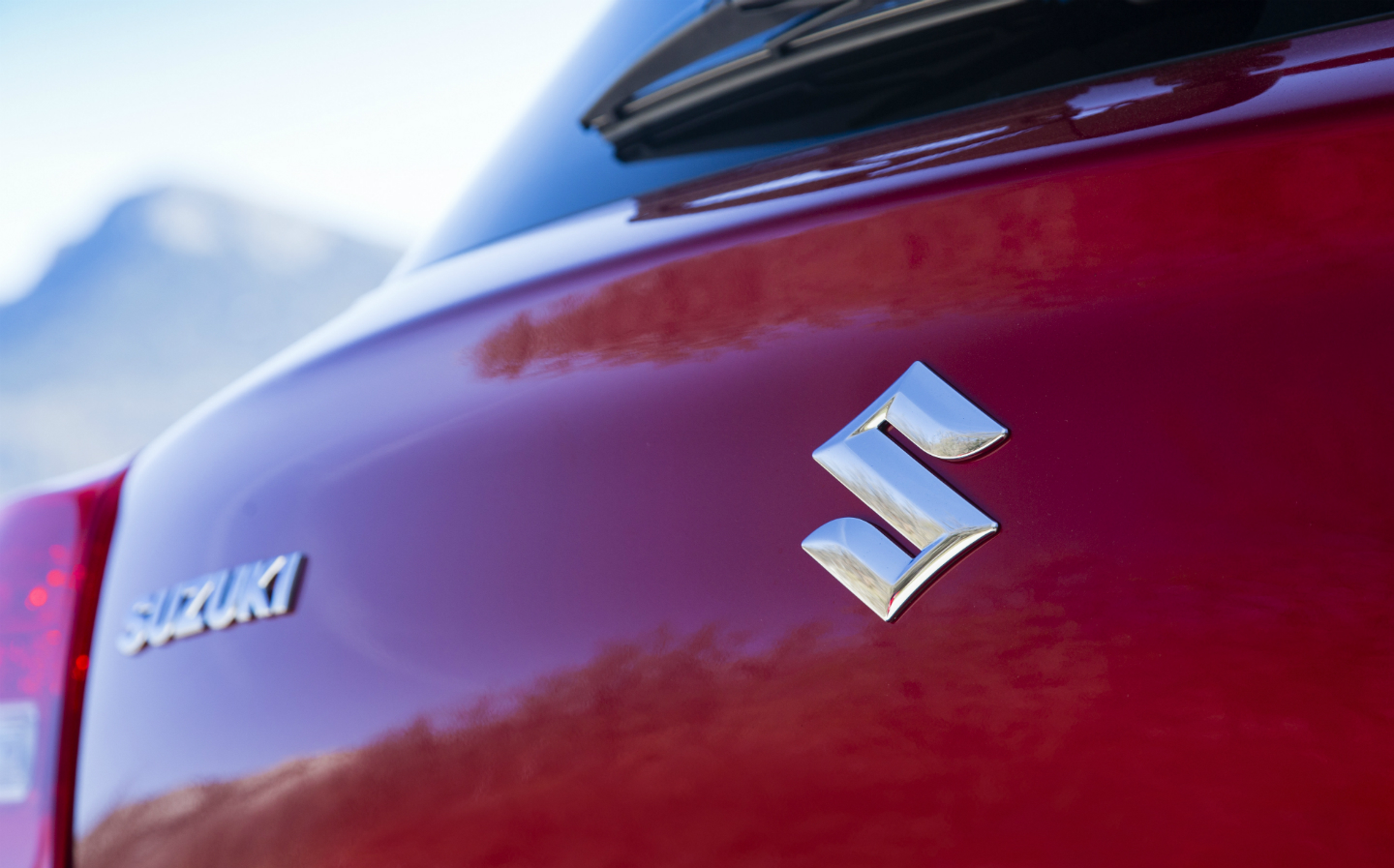 On sale now None
Coming soon Compact electric car (date TBC)
Suzuki will soon enter the electric car fray, as it's currently co-developing a new pure-electric model with the Japanese car making giant Toyota. We don't yet know when it will go on sale or whether it will be offered in the UK, though it has been confirmed the car is being pitched as a compact vehicle — suggesting the pure-electric Suzuki will either be a small hatchback or a small SUV.
Tesla electric car plans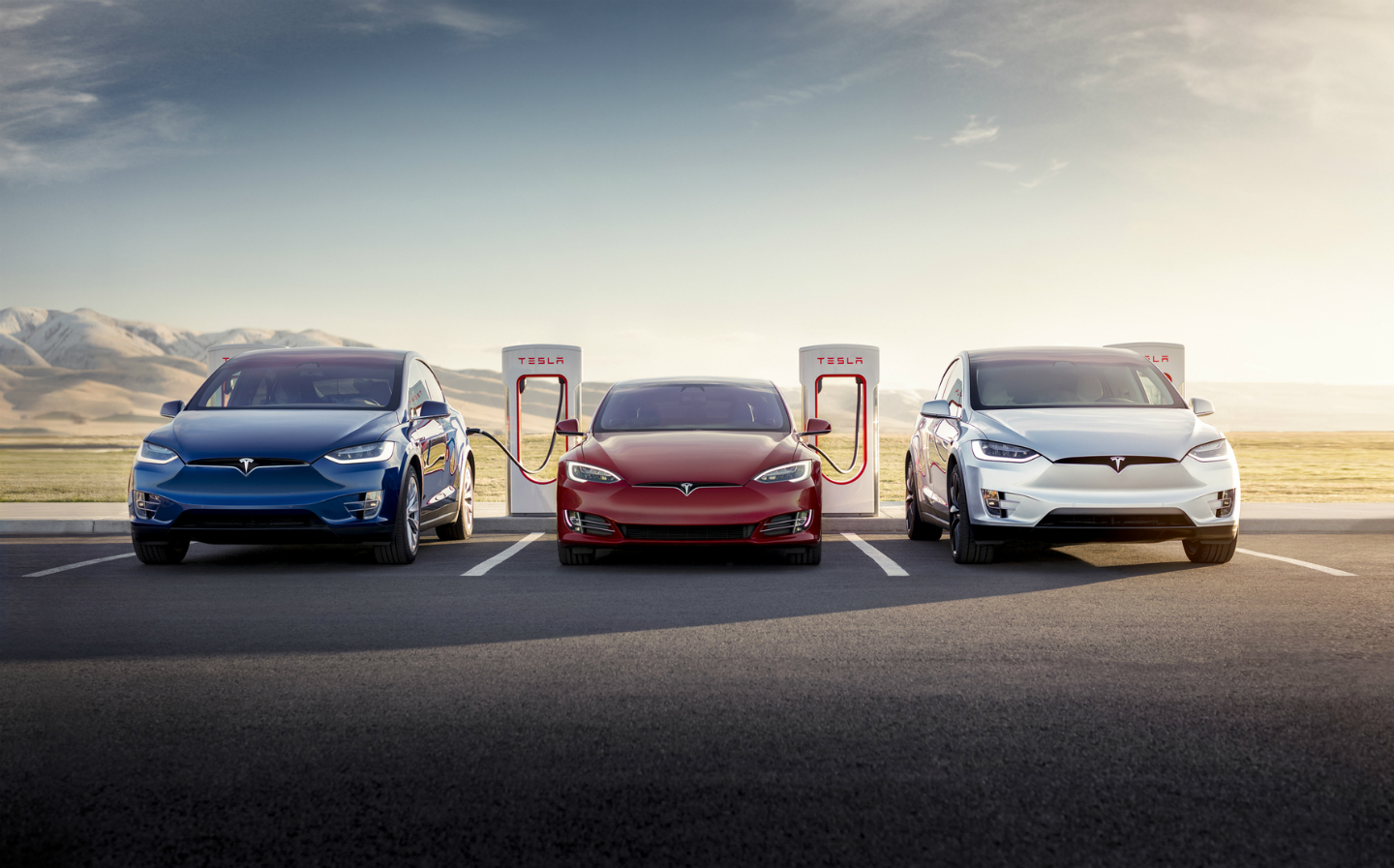 On sale now Model 3, Model S, Model X, Model S Plaid, Model Y
Coming soon Cybertruck (TBC), Roadster (TBC)
Tesla has one of the most impressive EV line-ups in Europe, including the incredibly successful Model 3 and its SUV-like alter ego, the Model Y. Price reductions this year meant more buyers could afford a Tesla, which is sure to put a squeeze on other car-makers' profit margins.
Unfortunately, Tesla also announced that right-hand-drive production of the Model S and Model X was suspended "indefinitely" so it's suspected that UK buyers will have to wait for the next generation of those models before they will be available again.
The next-gen Tesla Roadster, which the company is claiming will be able to do 620 miles on a single charge and sprint from 0-60mph in under two seconds, was expected to launch in 2023, but there's no sign of that happening.
Likewise, the stainless steel Cybertruck, which has already been pushed back several times and was most recently slated for arrival in 2022, has been delayed further, any reference to its 2022 launch date being removed from Tesla's website. Recent rumours suggest that it still hasn't advanced much beyond a prototype stage.
Don't expect to see versions of either car in the UK until 2024 at the earliest.
Toyota electric car plans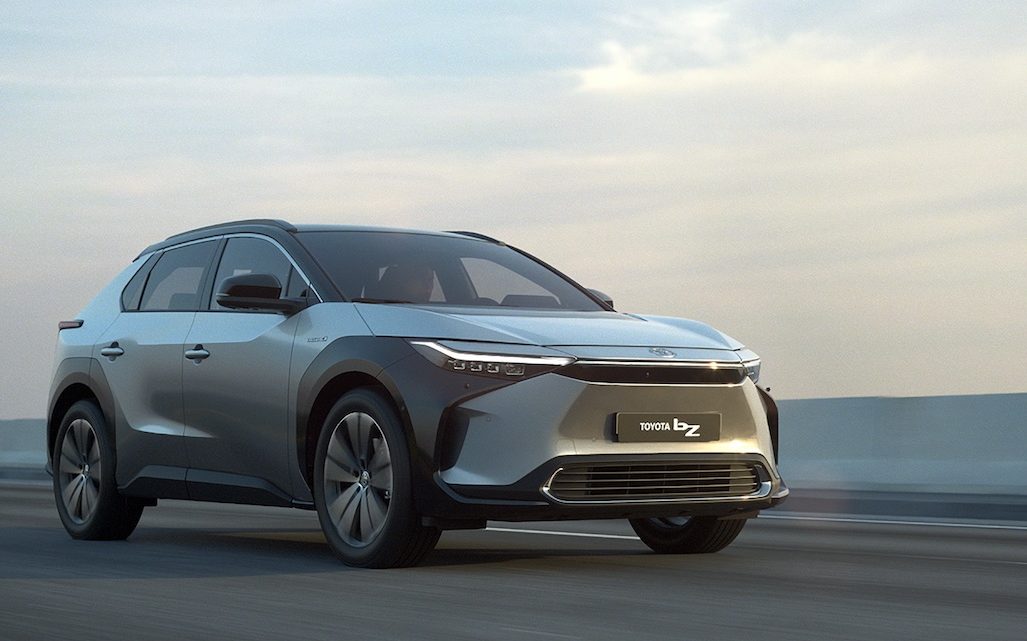 On sale now Mirai FCEV, bZ4X
Coming soon 10 pure electric models globally by 2025
Toyota has long been a world leader in hybrid cars, with the ubiquitous Prius hitting the road more than two decades ago. It's taking the transition to electric cars at its own pace, though, and exploring all avenues in the case of the second-generation Mirai hydrogen fuel cell car.
It has also partnered with a number of other Japanese car makers, including Mazda, Subaru and Suzuki, to develop future battery-electric models, and expects to have 10 models in its global portfolio by 2025.
Toyota did launch the bZ4X in 2022, which is a crossover based on the same underpinnings as the Lexus RZ and Subaru Solterra, and features a 71.4kWh battery pack offering 330 miles or so of range, with front- and all-wheel drive versions.
TVR electric car plans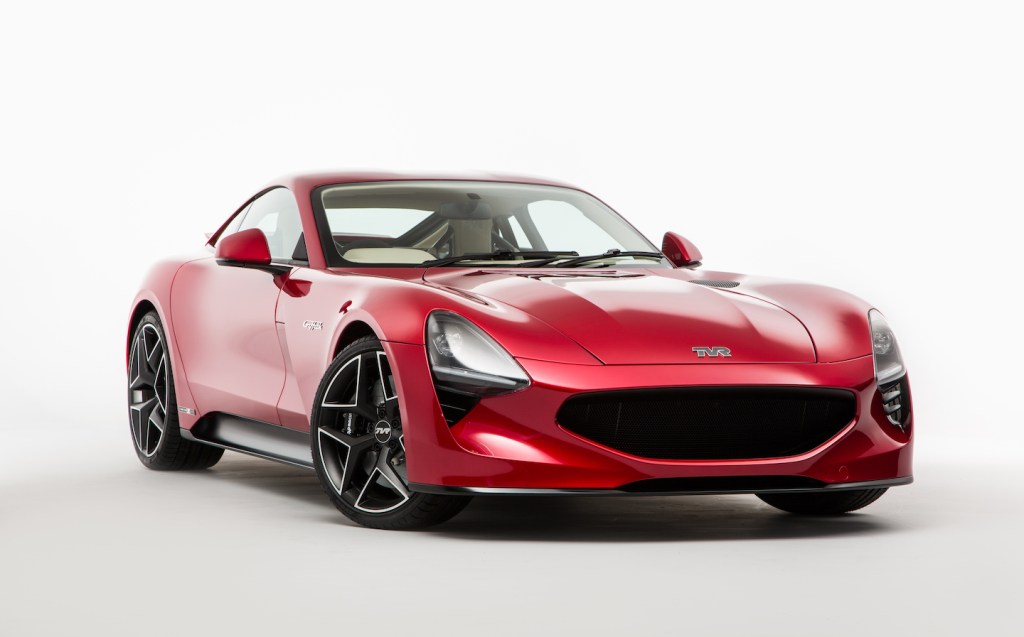 On sale now None
Coming soon Three EVs, one of which could be based on the Griffith (TBC)
To call TVR's revival long-delayed is quite an understatement. The Griffith model was originally planned to spearhead that revival, having been first seen in 2017.
Production still isn't underway at the company's plant in Wales, but with a new financial backer in the form of South American lithium mining firm Ensorcia, it has been suggested that maybe, just maybe, production of the Griffith could begin within the next year.
As well as hinting that the Griffith was closer to production than before, in April 2022, TVR announced that it was partnering with the Formula E racing series to promote its electrification ambitions. It said that following the launch of the V8 Griffith, it would launch an electric version in 2024, to be followed later by two other electric models. Further details, however, remain elusive.
Vauxhall electric car plans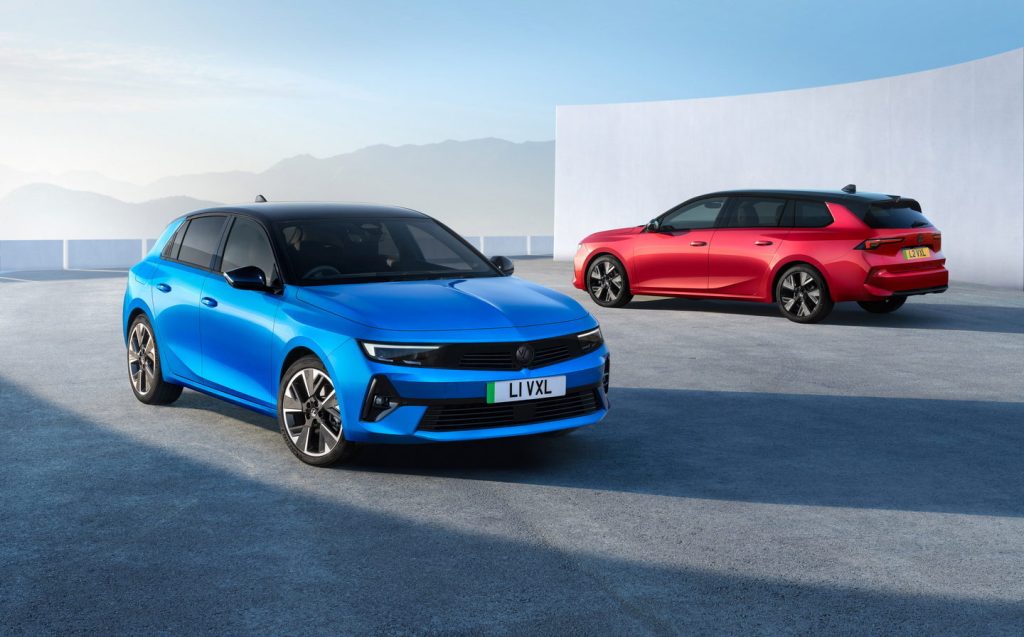 On sale now Corsa Electric, Mokka Electric, Combo Life Electric, Vivaro Life Electric, Astra Electric
Coming soon possible Monza crossover (2024), Manta (2025)
With its sister brands Citroën, DS and Peugeot pursuing their own pure-electric projects, it's no surprise that Vauxhall is also adding plug-ins to its line-up. By 2024, every car it makes will have a hybrid or electric variant, and by 2028 the brand plans for all its models to be electric.
Vauxhall's electric car range currently consists of the Astra Electric (in hatchback and estate forms), the Corsa Electric supermini (a facelifted model was revealed this year) and the Mokka Electric crossover, along with electric variants of the Combo Life and Vivaro Life people carriers, as well as their van equivalents.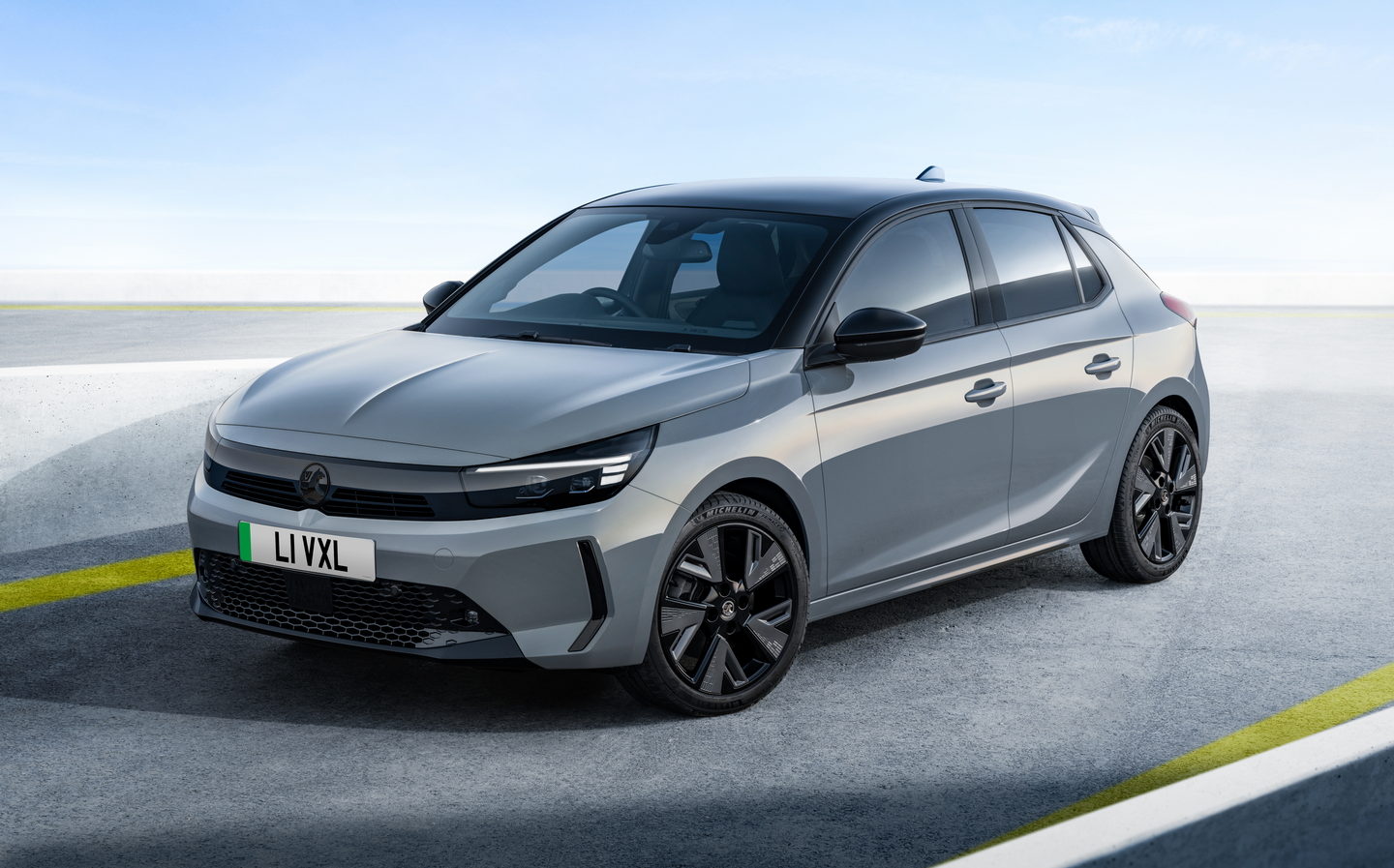 There are also rumours that Vauxhall will reboot the Monza name as an electric crossover, but that won't be revealed until at least 2024 if confirmed, and we expect the Manta to be reborn as an electric car in 2025.
Volkswagen electric car plans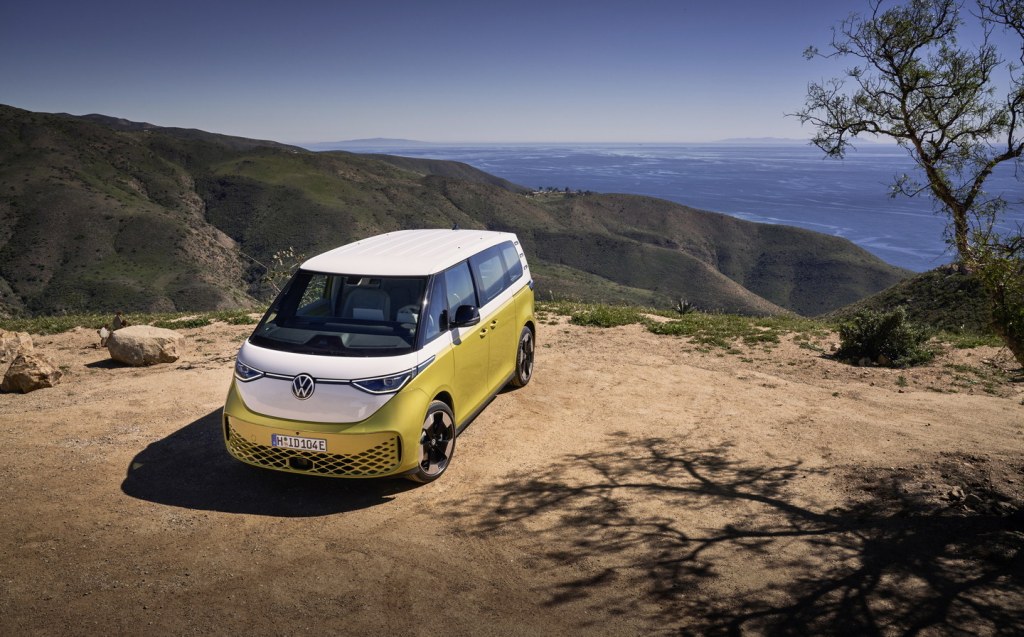 On sale now ID.3, ID.4, ID.5, ID.7, ID. Buzz
Coming soon ID.2 (2025)
Volkswagen placed great importance on the ID.3 at its launch calling it a third chapter in the brand's history — after the Beetle and the Golf. It put special emphasis on its environmental benefits: it's produced in a carbon neutral manner, which is great PR for a brand still haunted by the spectre of the dieselgate emissions scandal. A facelifted version launched in 2023.
Order books are open for the ID. Buzz, the long-awaited revival of Volkswagen's iconic Microbus model, concepts for which were first revealed way back in 2001. Though featuring retro styling, it's an entirely modern MPV with roughly the same dimensions as VW's T6.1 Multivan, built on the same underpinnings as the ID.3 and ID.4 and using a similar dash layout to both. Also shared is a 77kWh battery promising around 250 miles between charges. It's available as both a passenger MPV and a commercial van and will be sold in GTX and long-wheelbase guises at a later stage.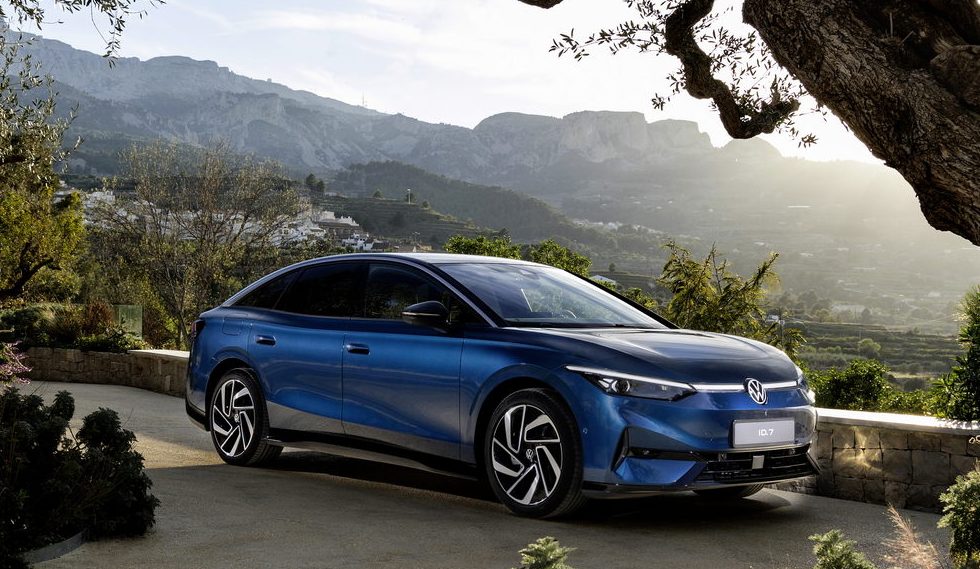 The Volkswagen ID.7 hit the market in late 2023 as the range-topping EV in the line-up. It follows on from the ID. Aero concept car and continues that vehicle's theme of aerodynamic efficiency with a coefficient of drag as low as 0.23. This translates into an electric range between charges as high as 435 miles when fitted with a new 86kWh battery pack, though high-performance all-wheel-drive variants are also expected.
In March 2023 Volkswagen took the wraps off its ID. 2all concept car, previewing a new direction for the company's smallest EV. It is said to preview an affordable new small VW launching in 2025 and likely to be called the ID.2.
Volvo electric car plans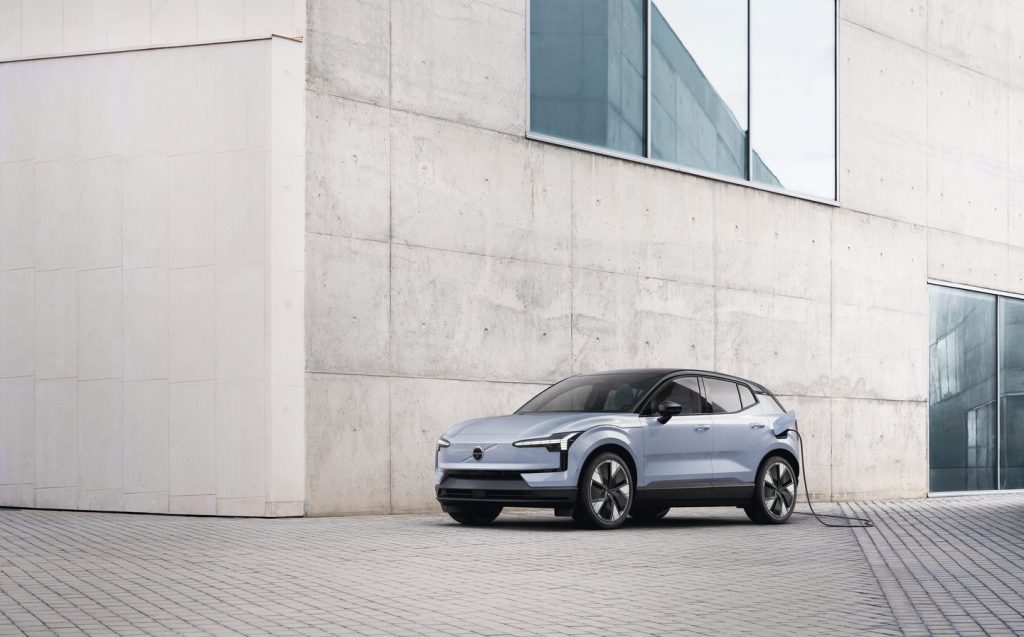 On sale now XC40 Recharge, C40 Recharge, EX30, EX90
Coming soon TBC
Volvo plans for its sales to comprise entirely either pure-electric or plug-in hybrid models, in a 50:50 split, by 2025, and in order to make that happen it will release a pure-electric model every year until then. All its new car sales will be pure-electric from 2030.
Four purely-electric cars are now officially on sale from Volvo in the UK. The XC40 and C40 Recharge soldier on, though they've been updated as part of the '2024 model year' refresh and are now either rear-drive or all-wheel drive, where before, the single-motor cars were front-wheel drive. There has also been a boost in efficiency for the twins thanks to a new battery, and faster charging speeds.
Meanwhile, the EX90's design is very much an evolution of the XC90 SUV, and the model features the same underpinnings as the upcoming Polestar 3. Powering the EX90 will be a hefty battery pack with a 111kWh capacity, supplying energy to electric motors front and rear to give the Volvo all-wheel drive, 510bhp, 671lb ft of torque and a range between recharges of up to 373 miles. Though listed as for sale on the Volvo website, deliveries have yet to begin – and are not expected before 2024.
Volvo's next pure-electric model is the stylish EX30. It's the smallest and most affordable EV in the line-up, but it's also somehow one of the most desirable thanks to its Swedish design inside and out. To keep pricing down, there's a relatively small 51kWh battery pack as the entry-point, with a range of 214 miles, though even then it's paired with a powerful – 286bhp – electric motor. A 69kWh battery pack allows for a range of up to 298 miles, while a dual-motor version offers up to 422bhp.
Related articles
Latest articles