Ferrari Purosangue 2023 review: Behind the wheel of Ferrari's first production four-door four-seater
The Prancing Workhorse
Whatever you do, don't call the Ferrari Purosangue an SUV. Times Luxx magazine's David Green in our video review below avoids using "those three letters" altogether. The Prancing Horse's latest car may have a raised ride height and rugged-looking wheelarches, but it's not an SUV, it's a "dynamic coupé with a powerful stance", according to our briefing at the car's launch in the Dolomite mountains.
It's also Ferrari's first ever production four-door four-seater. There was the Ferrari Pinin concept car from 1980, but that project was shelved and the Prancing Horse hasn't attempted anything similar since. The reason? If you believe Ferrari it's because it wasn't possible to do so before now without compromising the Ferrari DNA.
So yes, the Purosangue (meaning "thoroughbred") is higher off the ground than any Ferrari that has come before, and has space for four adults plus luggage, but thanks to state-of-the-art suspension and a naturally-aspirated V12 engine it's designed to be something altogether different from anything else on the road.
Convinced? The fact is that almost everyone outside of the Maranello-based car maker will refer to the Purosangue as its first SUV, and though it's true that no other performance SUV is powered by a naturally-aspirated V12 (let's ignore the luxurious Rolls-Royce Cullinan), there are a few obvious rivals in terms of body shape and on-paper performance; namely the Lamborgini Urus, Aston Martin DBX707 and Porsche Cayenne Turbo GT.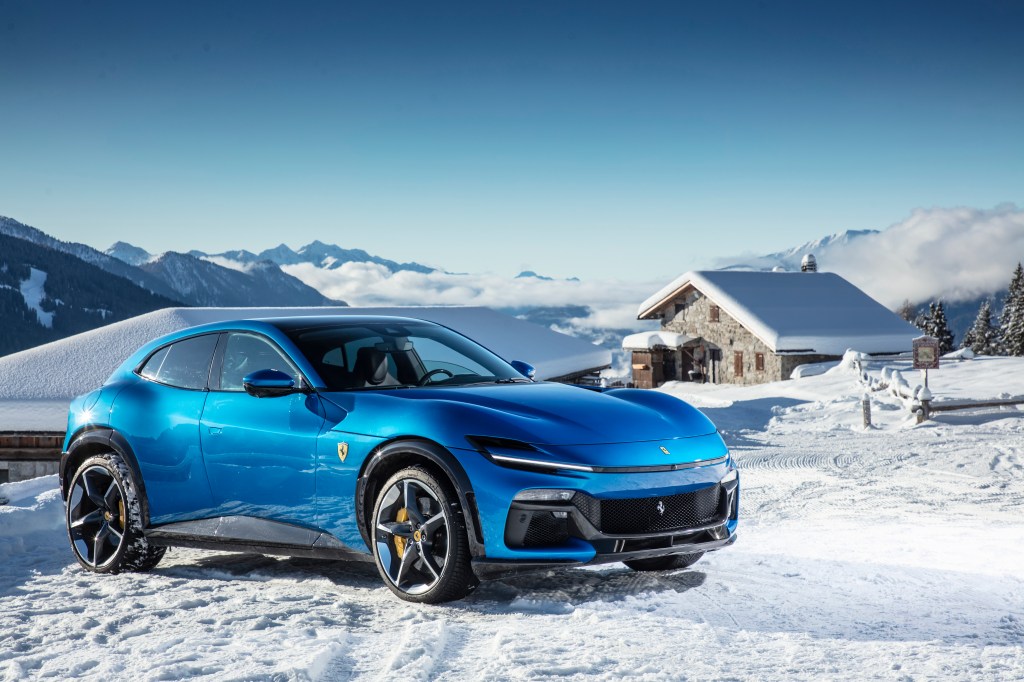 Ferrari's effort has another important differentiating factor, though: the price, which starts at £313,220. That's some serious wedge even at this end of the market, where most would argue that money is no object, and twice what you'd pay for an entry-level Urus.
What the Purosangue does, of course, is open up the potential for Ferrari not only to add another vehicle to the garages of existing customers but also attract an all-new type of owner; one for whom a car with four proper seats and rear doors are an absolute necessity.
Exterior design and layout
Although some Ferrari designs are more successful than others, it's very easy to wax lyrical about the way a new model looks. With the Purosangue, the job is harder because — and I'm just going on anecdotal evidence — there are some car enthusiasts out there who think it shouldn't exist at all. But it does, so quite frankly they need to deal with it.
And whether or not you buy into the idea that it's not an SUV, a lot has been done to ensure that despite its raised ground clearance there's still something of the Berlinetta about Ferrari's first four-door four-seater.
To add those rear doors and ensure there are two proper seats for grown-up humans in the back, rather than the usual 2+2 layout, while still packing in a V12 and a usable boot, Ferrari's design team had to go back to the drawing board and spent at least a year working on an all-new platform, they said.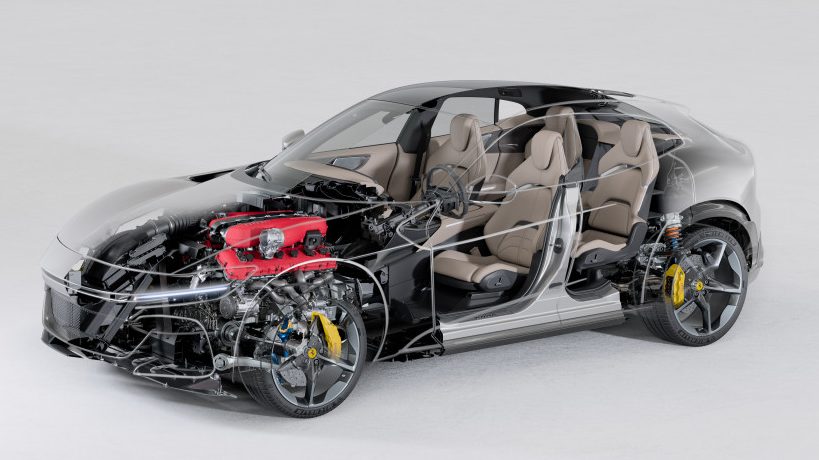 Mounting the V12 engine as far rearwards as possible, behind the front axle, with the double clutch gearbox installed at the back of the car between the rear wheels helps achieve near-perfect weight distribution (49:51 front to rear). Having sorted that bit out, they could get to work on the basic shape of the car and then work out how to limit drag as much as possible on what is Ferrari's tallest vehicle. 
That fact that it's still an attractive-looking machine is testament to the effort put in. The nose is particularly good-looking, in my opinion, while the rear is neat, considering the car's role as a proper family car with a decent boot; reminiscent of the FF from certain angles.
The body itself seems to float above what Ferrari calls a "technical layer", with the carbon wheelarch surrounds seemingly separated from the painted panels above. Ferrari liked the results so much it patented the idea.
Efforts to channel the airflow effectively over such a tall body involved thousands of computer simulations and "hundreds of hours" of wind tunnel testing. The trickiest bit to get right was around the front wheels, with the bumper design featuring twin air intakes, above and below the LED daytime running lights, that feed the louvres behind the wheelarches to reduce pressure and therefore drag, while also helping to channel heat from the engine bay.
There's no grille, as such, with the lower "shelf" doing much of the cooling work while the upper slit houses a forward camera and sensors.
One of the most noticeable design features is the rear-hinged back doors (there was no mention of the term "suicide doors" on the launch; Ferrari instead calls them "Welcome doors"), which wasn't added as a design quirk — it helps minimise the distance between the front and rear wheels, and the overall length of the car, by allowing the doors to open over the rear wheelarches. They also improve entry and egress.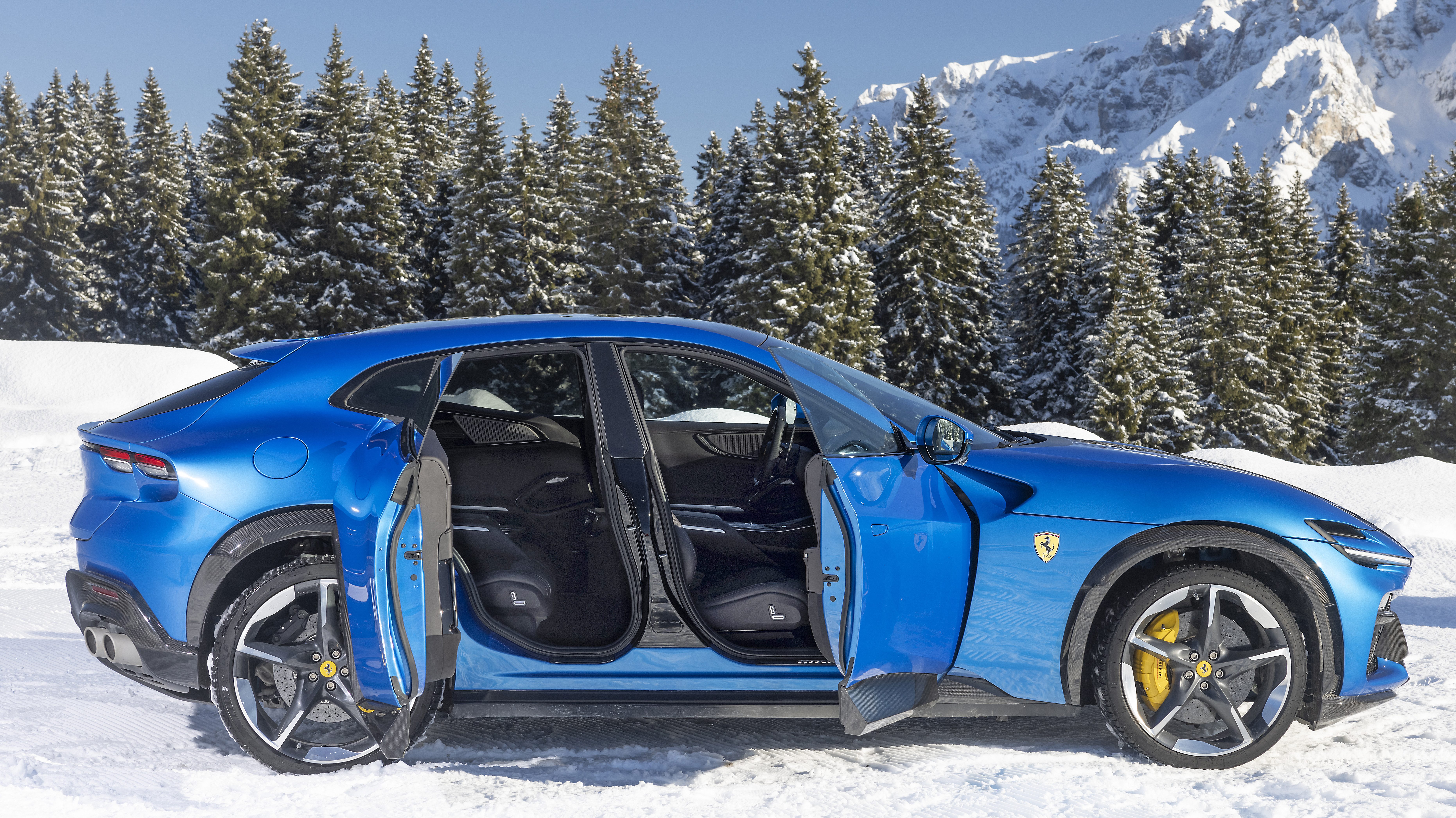 Handily, they're electrically–operated so they can be closed with the touch of a button on the B-pillar, and because you don't have to open the front doors in order to open the rears, there's no chance of a scary repair bill if a rear passenger slams their door while the fronts are shut.
Round the back of the car, airflow is channelled over the rear window via the roof spoiler to remove the need for a wiper, and during our time with the Purosangue I didn't notice it getting covered with slush and mud, or feel the need to give the glass a wipe, so clearly it was working as intended.
Interior and technology
Inside there is indeed space for four adults — and tall ones, at that. At 6ft 5in I didn't feel squashed in the back seats, my head wasn't quite touching the roof and my knees fit behind the front seat comfortably.
The rear perches are proper figure-hugging full-size affairs, too, with recline function, and they fold flat to make the rear load space properly practical. You'll want to add the official liner to the options list, though, as marking or tearing the leather on the backs of the seats doesn't bear thinking about.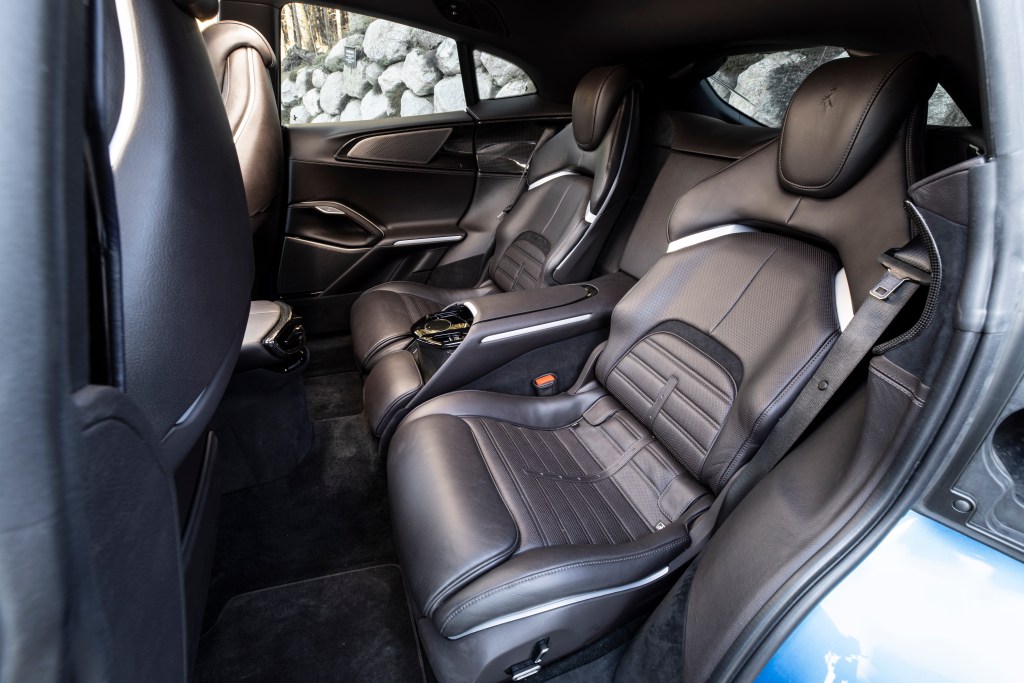 The cabin in our test car was dark in colour but didn't feel gloomy, and lighter upholstery is available. Ferrari has made more of an effort to use sustainable and recycled materials in the Purosangue, including the introduction of a new type of Alcantara, produced in collaboration with the Italian textile company, that uses certified recycled Polyester. So owners can boast of their unquestionable environmental credentials.
The design of the dashboard is instantly recognisable as Ferrari, with a digital driver's display that performs most of the infotainment functions, with the buttons on the steering wheel as usual, along with the manettino drive mode selector. There's also a second screen in front of the passenger.
It's not as successful an arrangement as one might hope, with frustrations such as not allowing the passenger to view the map and help with navigation, which seems an obvious role they could play, and sound settings for the Burmester 3D stereo are buried at the bottom of a menu system, though it's slicker than previous Ferrari HMIs.
For the driver, it's also not ideal having every piece of info housed on the main driver display, as it means compromises in terms of clarity — especially when it comes to using navigation as the route is crammed into a tiny space making it hard to follow.
Navigation, by the way, isn't built into the Purosangue; it requires a connection to Android Auto or Apple Carplay, and we found ticking off waypoints on Google Maps much harder than it should be as it requires waking up the touch-sensitive buttons on the wheel then sliding your thumb around to highlight the relevant options. A central touchscreen would be infinitely more intuitive, but this is the Ferrari way, it seems.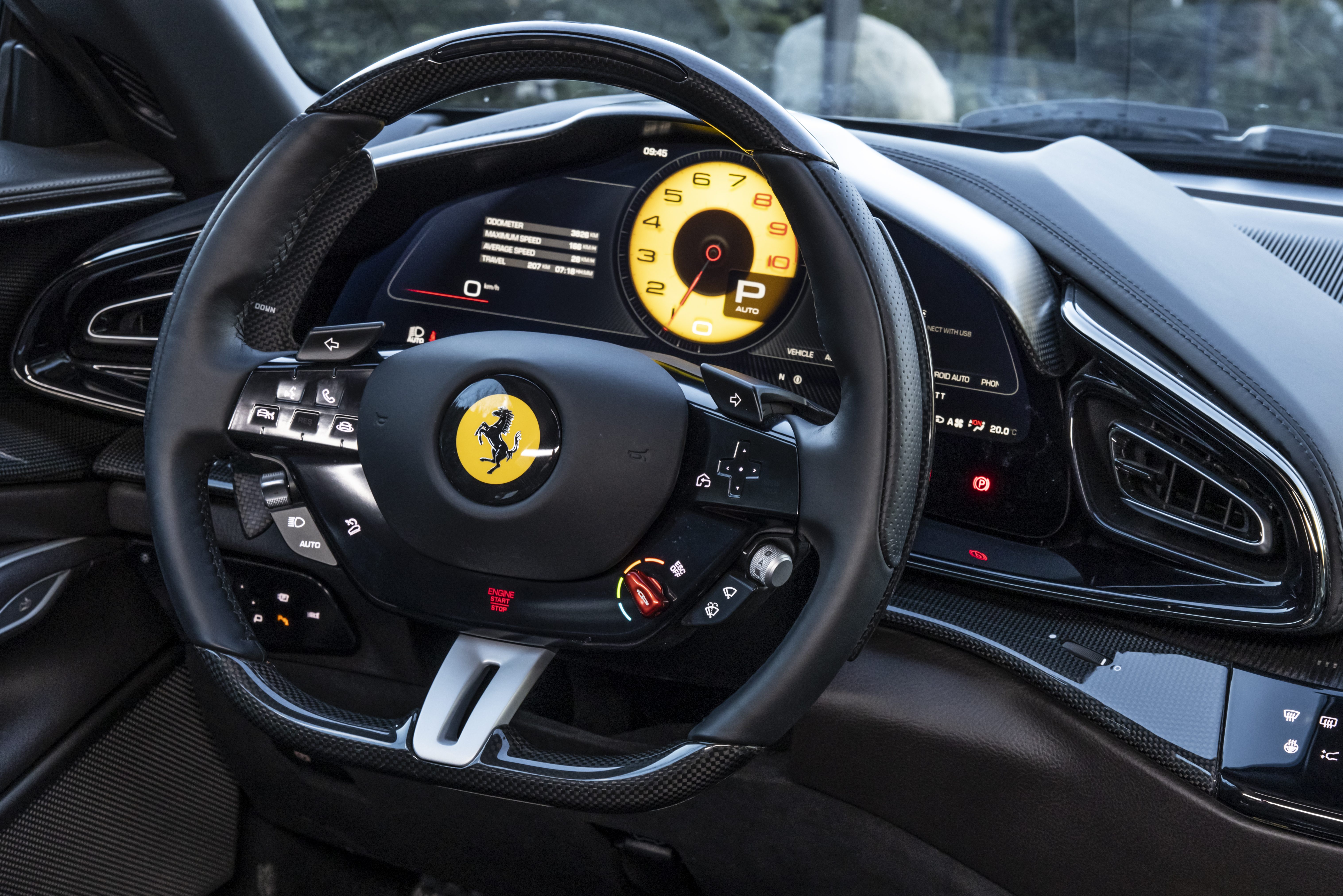 On the plus side that Burmester 3D stereo is outstanding. It's the first collaboration with Ferrari for the German audio company, and features 21 speakers with a total output of 1,420w, 400w of which are dedicated to the subwoofer alone. It also features things called ribbon tweeters, which involve a strip of foil between two magnets, rather than a traditional cone, and don't distort the sound at high frequencies — apparently.
Having tried it out with Groove Is in the Heart by Deee-Lite, streamed to the car via the car's internet connection, all I know is that it's a good stereo. Apparently it's perfect for all different types of music, from opera to hip hop, though I failed to download Rigoletto or NWA during our test drive.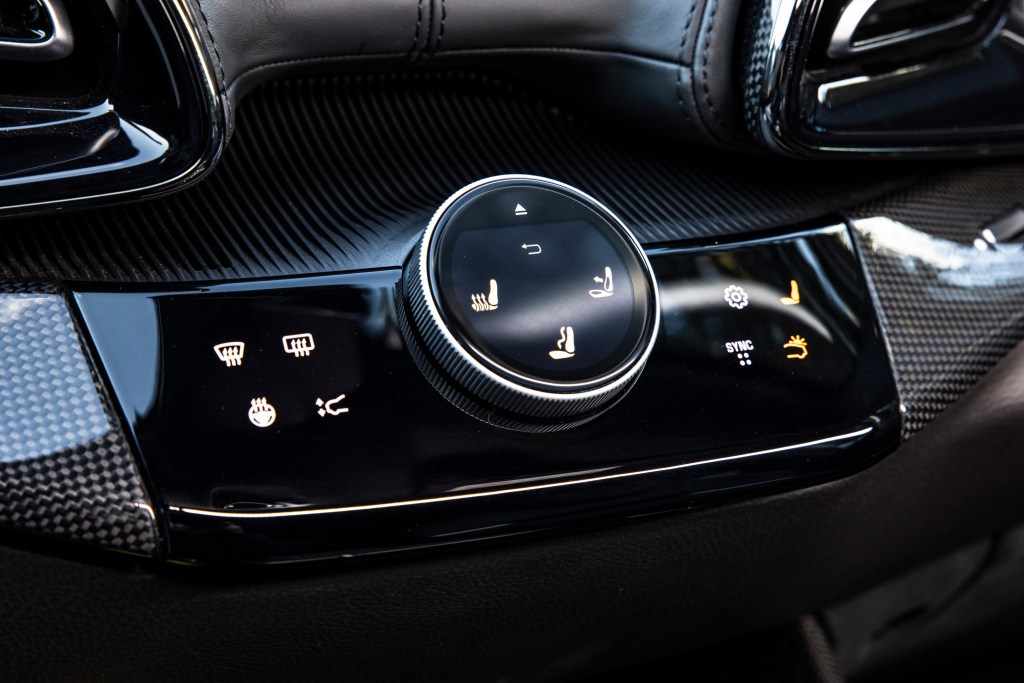 What also works well, and is rather neat, is the way the climate control dial rises out of the centre of the dash with a single touch, and then can be twisted to adjust the temperature. Further touches allow adjustment of fan speed and direction, along with seat heating and ventilation.
Engine, performance and 0-62mph time
Using a naturally-aspirated V12, with no electrification to be seen, is an interesting choice by Ferrari. One could see it as two fingers up to the environmentalists, but from Ferrari's point of view it is what truly makes the Purosangue stand out from its competition.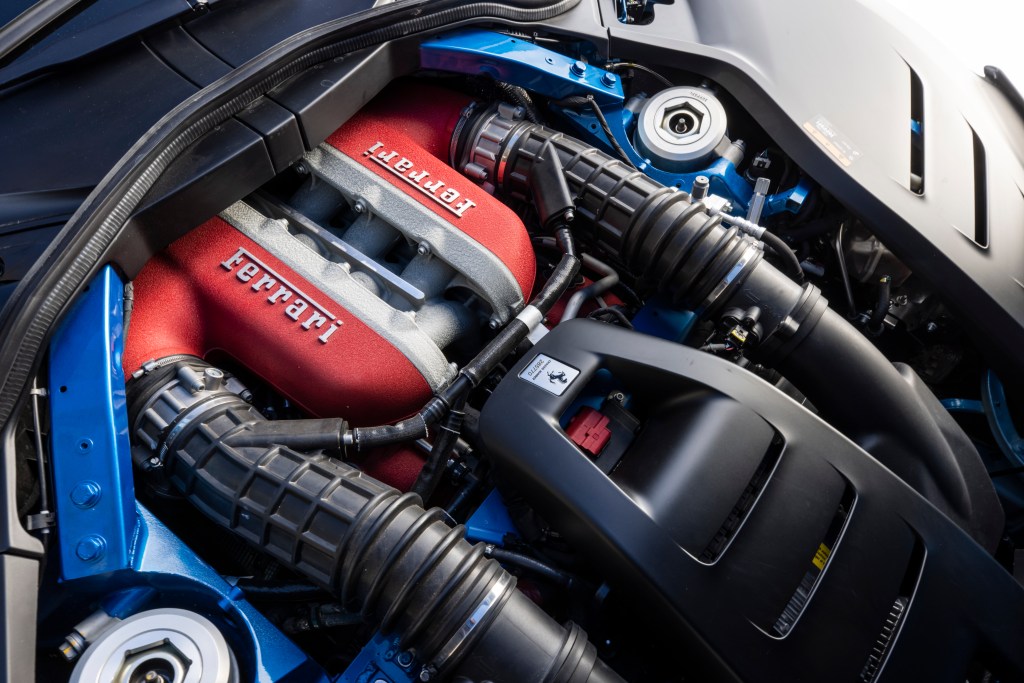 Enzo Ferrari considered the engine to be the heart of a car, and a V12 engine has always been the beating heart of Ferrari, so using the 812 Superfast-derived 6.5-litre unit (albeit with a bespoke intake and exhaust, with optimised cylinder heads and timing) in the Purosangue marries the marque's thoroughbred tradition to a modern, arguably necessary, bodystyle.
It also means silky-smooth throttle response and sensational performance, of course: there's 715bhp on tap, with 80 per cent of the maximum 528lb ft of torque available above 2,000rpm, and upwards of 480lb ft between 4,300rpm and 7,750rpm. That results in sensational pulling power over a wide rev band, and instant performance at any speed in any of the eight gears.
The sound's not bad when pushed either, as the audio file above demonstrates, though the good news for owners planning to cross continents is that the engine is barely audible at low speeds. Not because of noise cancellation by the Burmester stereo, rather the exceptional cabin insulation and the fact that when cruising the V12 is barely ticking over.
The vital statistics? Accelerating from 0-62mph takes 3.3sec and 0-124mph just 10.6sec, which is pretty sensational stuff for a car weighing 2,033kg with all the optional lightweight components, and before you even add fluids. It'll keep pulling away all the way to its top speed of 193mph, too, which makes the Purosangue no slouch at all.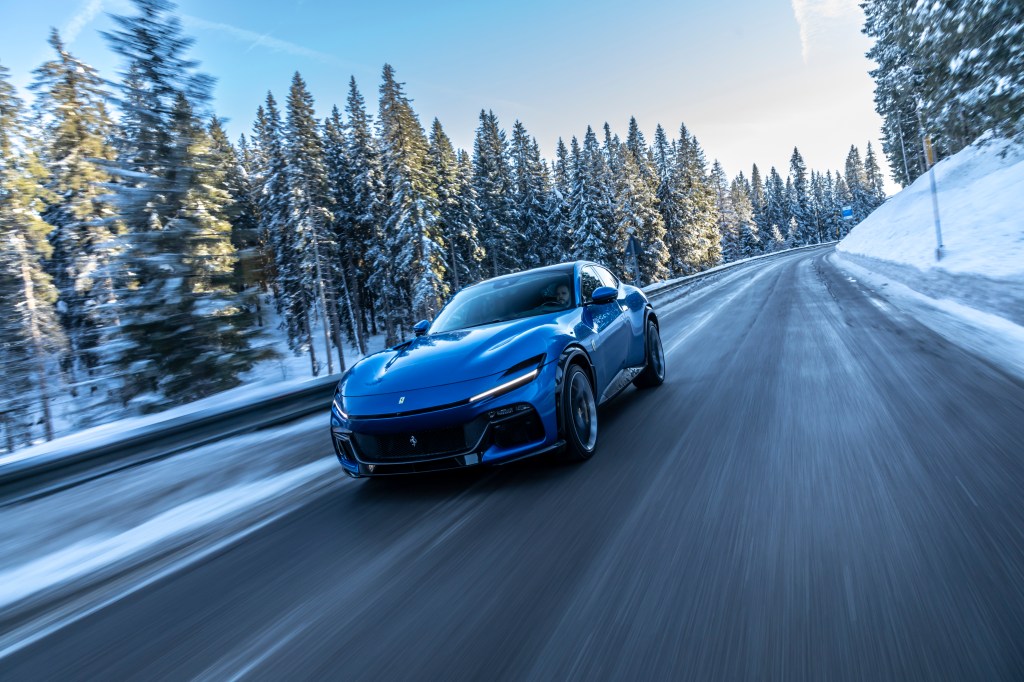 In fact it's just two tenths of a second slower to 62mph than the twin-turbocharged V8-powered Aston Martin DBX707, and hits the same top speed. But then again, that comparison's not fair because as we know, the Purosangue is not an SUV.
Despite its prodigious performance, we never felt intimidated by the Purosangue. Through towns and villages our car, fitted with Michelin Pilot Alpin 5 winter tyres (it said "Alpin 5 SUV" on the sidewall but that can't be right, surely?), was graceful and controllable, while on twisty mountain roads you can play with the throttle and manettino settings without becoming overwhelmed or nearing the limits of your talent.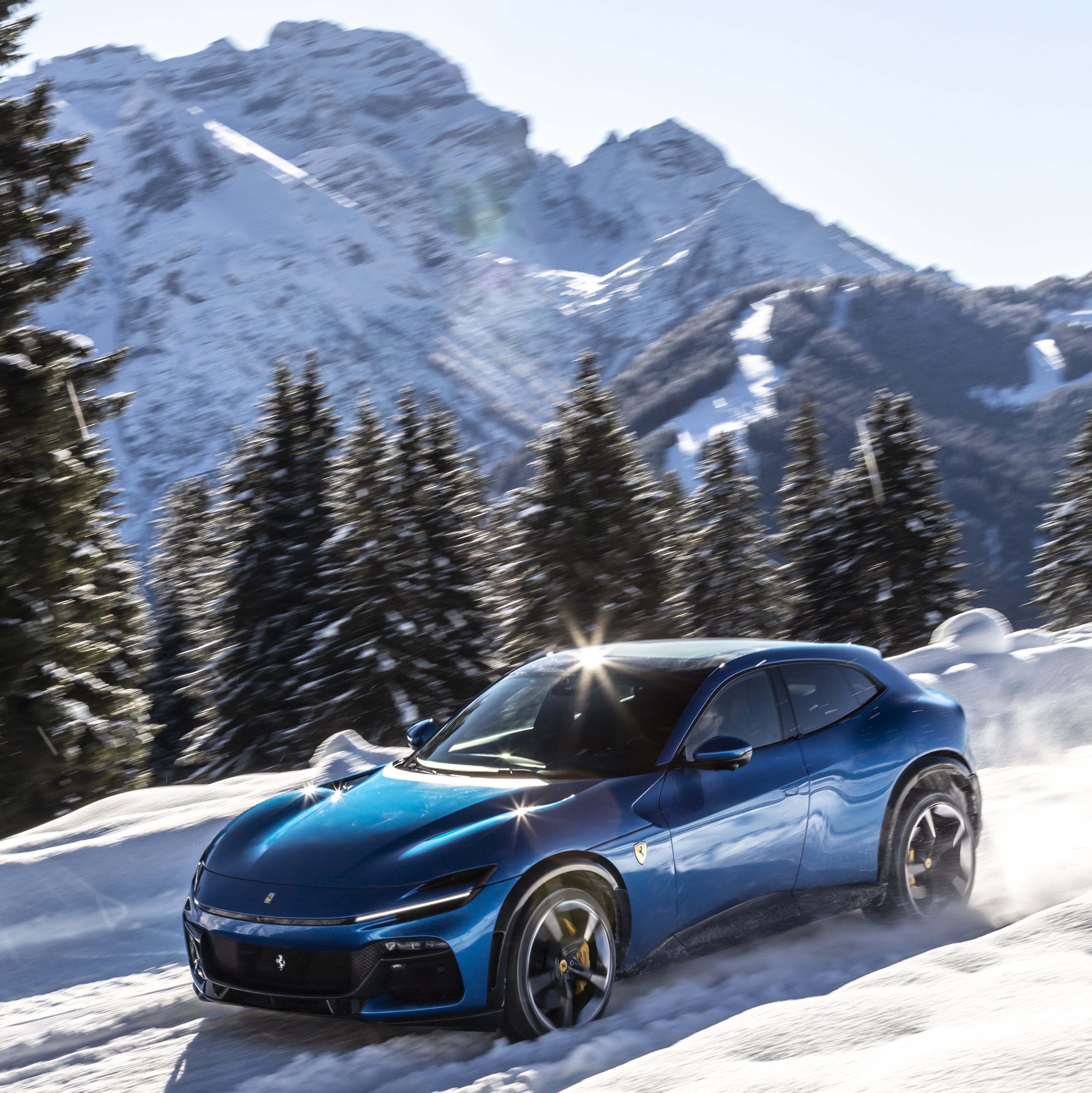 Experienced drivers will enjoy flipping it into Sport mode, or even ESC off, and controlling slip at the rear end with their right foot. Despite clever four-wheel steering and electronic stability control systems (see below), acceleration and torque distribution is natural and progressive.
Take it out on the deep white stuff and switch the manettino to Ice, as we did at one point, and it's the same story — control, poise and confidence — though of course with greatly reduced throttle response, power and steering sensitivity.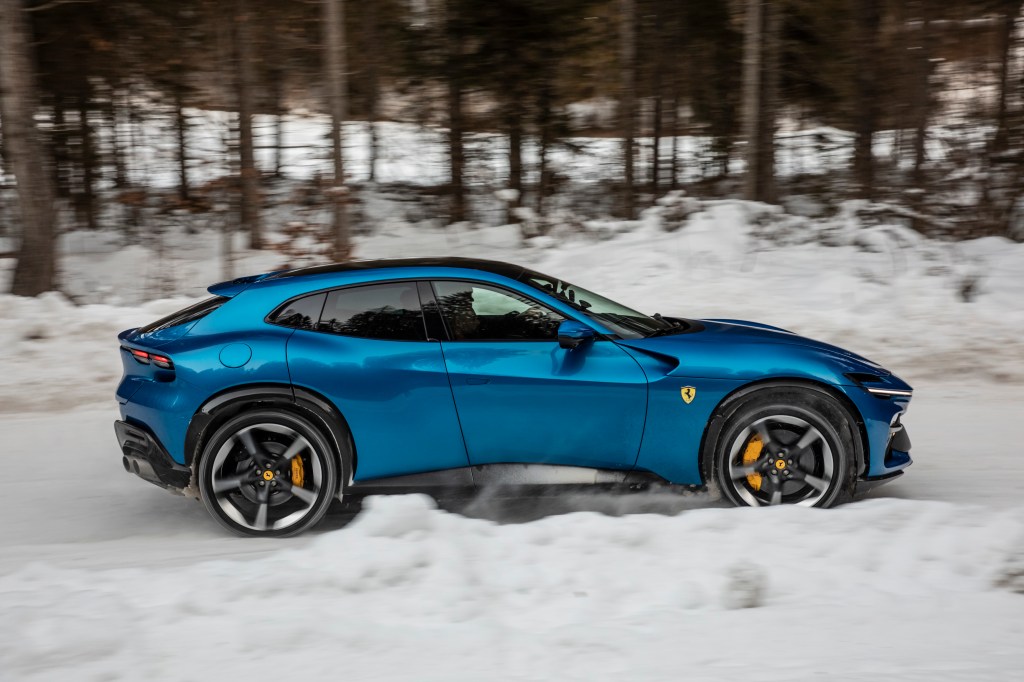 The brakes are pretty sensational in the dry but extraordinary on those low grip surfaces. Ferrari's ABSevo braking system, with brake-by-wire technology, is available for the first time on a model designed for use on snow and ice and it manages not just to keep the car pointing in the right direction under hard braking but also scrubs off tremendous amounts of speed.
The only potential problem for owners expecting a proper load-lugging experience? The Purosangue can't tow — it's not designed for that. But if you can afford this car, you almost certainly also own a Range Rover, so that won't be an issue.
Ride and handling
Ferrari developed an all-new active suspension system for the Purosangue, and it's an astonishing feat of engineering. Having sat through the extensive technical briefing and Q&A session, and asked the chief chassis engineer for further explanation of how it works, it's still boggling my mind so trying to explain it in broad brushstrokes here is no easy task, but let's give it a go, anyway.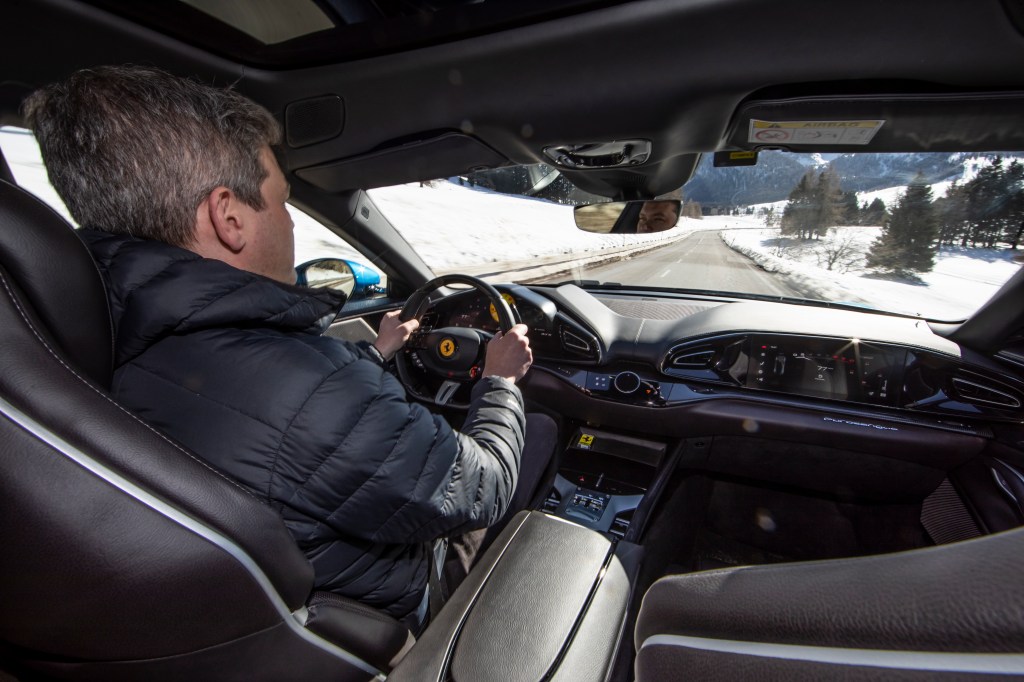 The active dampers were developed in conjunction with Multimatic, the engineering consultants behind the Ford GT and Aston Martin One-77, and use a central "recirculating ball screw", driven by a 48-volt electric motor and gears, to adjust the suspension height and active compression resistance. They're combined with valves for passive resistance to shocks.
Each unit has its own motor control module and they're linked together by a central processor that monitors the position of each unit and can adjust roll and pitch resistance on the fly.
There is a short coilover spring at each corner, and these do compress under load, though Ferrari told us they're not strictly needed during driving – they're mainly necessary to suspend the car when parked and switched off.
Keeping the outside of a car propped up during cornering to prevent roll is nothing new, and some journalists questioned whether it is truly "active" when it's not using cameras or GPS data to read the road and set the suspension up in advance (it's more of a reactive system, they argued), but the way the Purosangue's suspension works is certainly unique and honestly I can't argue with the engineer who said "we don't need cameras" — the car is supremely agile through corners, with limited roll yet a granular definition to the handling feel. It's so clever there's no need for anti-roll bars at all.
The worry with advanced electronic damping and ride height control is that you end up with an artificial sensation through the wheels, but with the Purosangue the way the car moves around when punishing it is absolutely natural and predictable. It's a car that belies its 2.1-tonne weight, with those astonishingly powerful carbon-ceramic brakes that you can lean on hard for hairpins or feather gently when you want to carry speed through a tightening turn, and there's never a hint of it getting out of shape.
The ride is amazingly smooth on rough roads, despite narrow tyre sidewalls, so long distances can be covered without rattling teeth. There's no "bumpy road" setting in the Purosangue, as you find in other Ferraris, and in its place is a Soft suspension setting to go with Medium and Hard options. The latter is only reserved for the Sport and ESC Off manettino settings, though Medium and Soft can be selected for any of the drive modes with a push or two of the manettino dial. It's a really quick and simple system to get to grips with.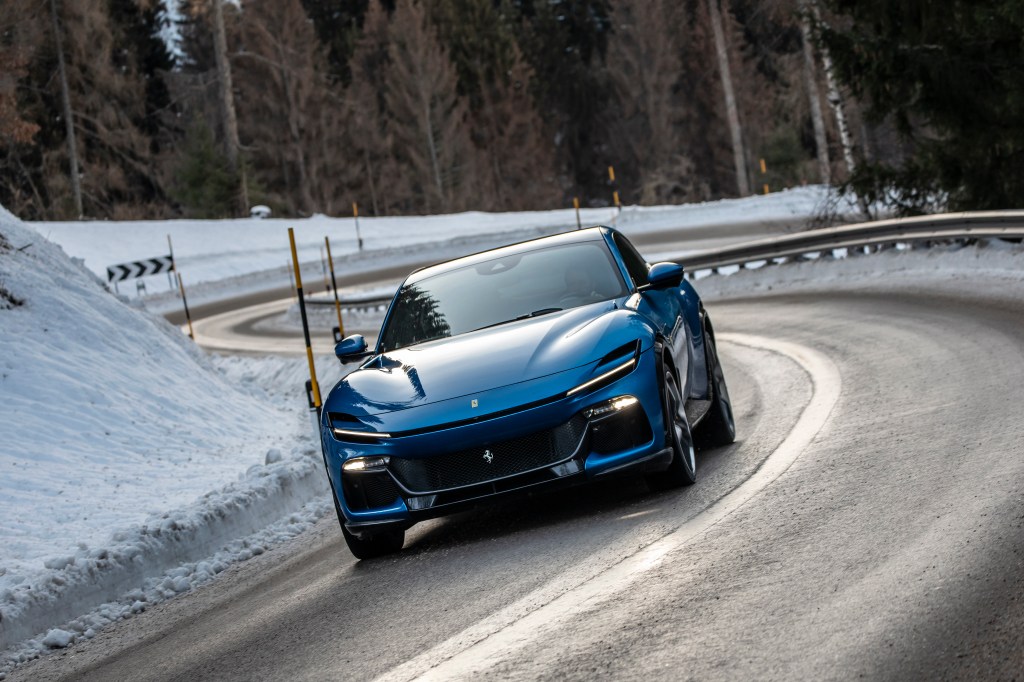 The steering is beautifully weighted, with super-sharp turn-in when in Sport mode (there's no Race setting on the Manettino, this being in Ferrari's GT model line-up), and incredible front-end grip.
Independent rear-wheel steering (Ferrari has developed a system that can limit the angle of the inside rear wheel) along with an electronic rear differential and a two-geared power transfer unit sending torque to the front wheels really helps pivot the car through tight turns, and on hairpin-heavy mountain roads in the Dolomites the Purosangue genuinely felt like a car half its weight.
Combined with the V12 and its oodles of torque it's easy to provoke oversteer out of tight corners but as mentioned above, power distribution is natural and progressive, making this car far more fun to drive than it has any right to be. We loved the Aston Martin DBX707 when we drove it, but there's an extra level of finesse to the Purosangue's handling.
And I probably shouldn't mention this but one other (well-known) journalist we spoke to on the launch, who'd been driving the Porsche Cayenne Turbo GT, said the German car felt like an elephant in comparison to the Ferrari. That says it all.
Pricing and availability
The Ferrari Purosangue is on sale now for upwards of £313,220, though order books are filling fast and if you order one today you'll be on the list for 2024 or possibly 2025. Existing owners tend to get preferential treatment so if you're keen, the best advice is to head into a showroom, buy a car from the forecourt and put yourself on the list for the Purosangue at the same time. Do that and you're part of the famiglia.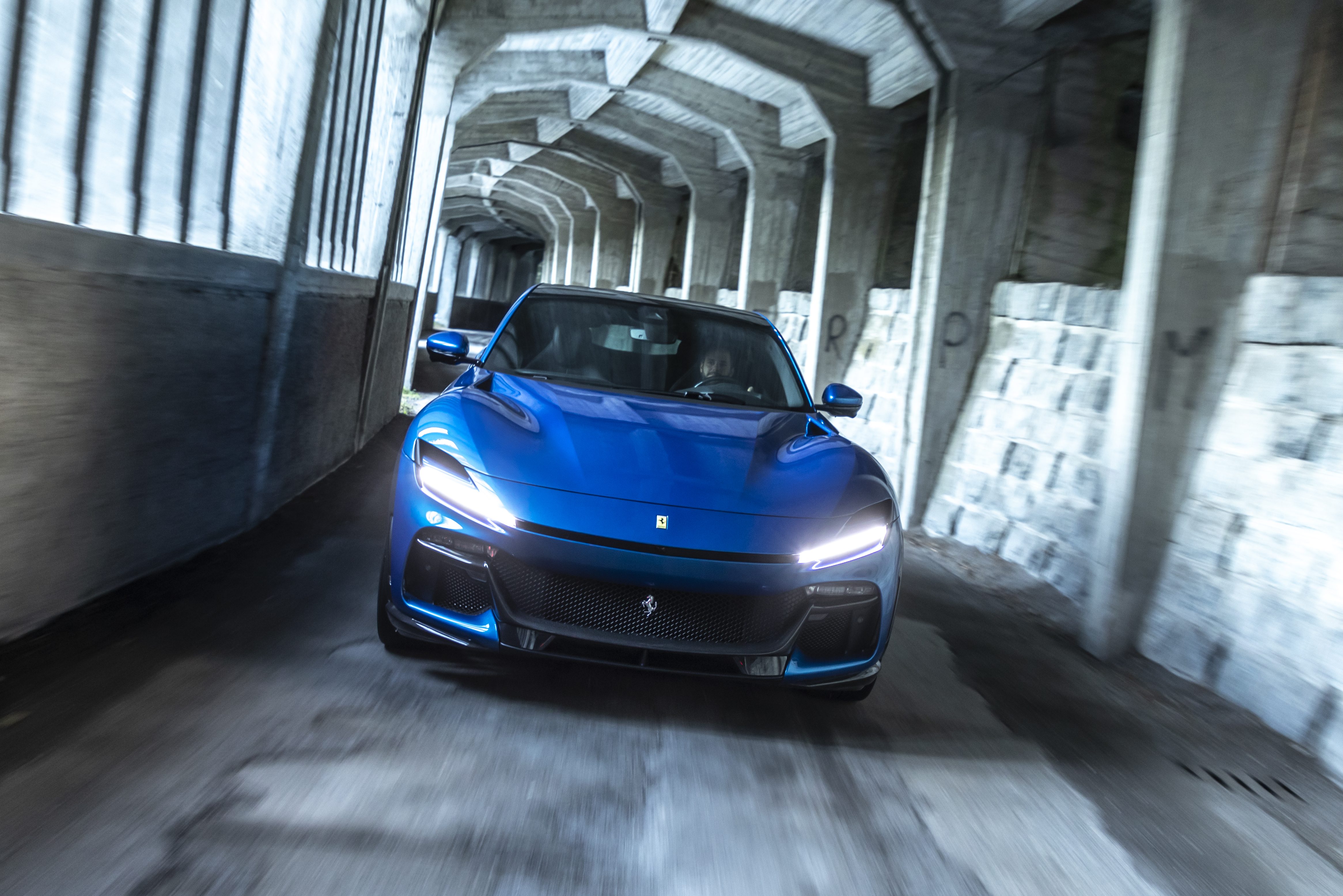 Verdict: 2023 Ferrari Purosangue review
Despite some incredulity at Ferrari's insistence that the Purosangue is not an SUV, having driven it we know what the company is getting at; Maranello's first production four-door four-seater may tip the scales at more than 2.3 tons and genuinely fit four adults plus luggage, but from behind the wheel it feels like a significantly lighter, more agile machine.
The 6.5-litre V12 is a work of art, but then so too are the astonishingly clever suspension system, aerodynamics and electronic stability control. The HMI infotainment system isn't perfect and the price is eye-watering, but the order books suggest buyers are falling over themselves to get hold one. When theirs is delivered they will find they have not only the company's most versatile car of all time but also a genuine, proper Ferrari. And that is probably the Purosangue's greatest achievement.
Follow @wdron
Tweet to @wdron
Second opinion: Purosangue video review
Related articles
Latest articles