Ferrari confirms electric car plans but will continue producing V6, V8 and V12 engines beyond 2030
Forthcoming Purosangue SUV will be V12-powered
Ferrari will continue to produce its pure-combustion engines beyond 2030 but will ramp up the share of electric and hybrid models to 80% over the next eight years, it has confirmed.
At Ferrari's Capital Markets Day (CMD) for investors yesterday, held in its hometown of Maranello, CEO Benedetto Vigna (pictured) said his company was "fully committed" to electrification and corporate sustainability, with a goal of becoming carbon neutral by 2030, but V6, V8 and V12 engines will all remain part of the mix for the foreseeable future.
The company, which traces its electrification roots back to the 2009 hybrid F1 car, the technology of which went into the LaFerrari hybrid supercar in 2013, has launched four hybrid models since 2019 – the SF90 Stradale, SF90 Spider, 296 GTB and 296 GTS.
Earlier this week Ferrari revealed that its first pure-electric supercar would be launched in 2025, but next on the agenda, and a key model for Ferrari's continued financial health, is an SUV called the Purosangue, meaning "Thoroughbred". That car, it was confirmed at the CMD, will feature a V12 engine and was described as a sports car by Ferrari, despite its high-riding stance. More details will be revealed at the car's unveiling in September.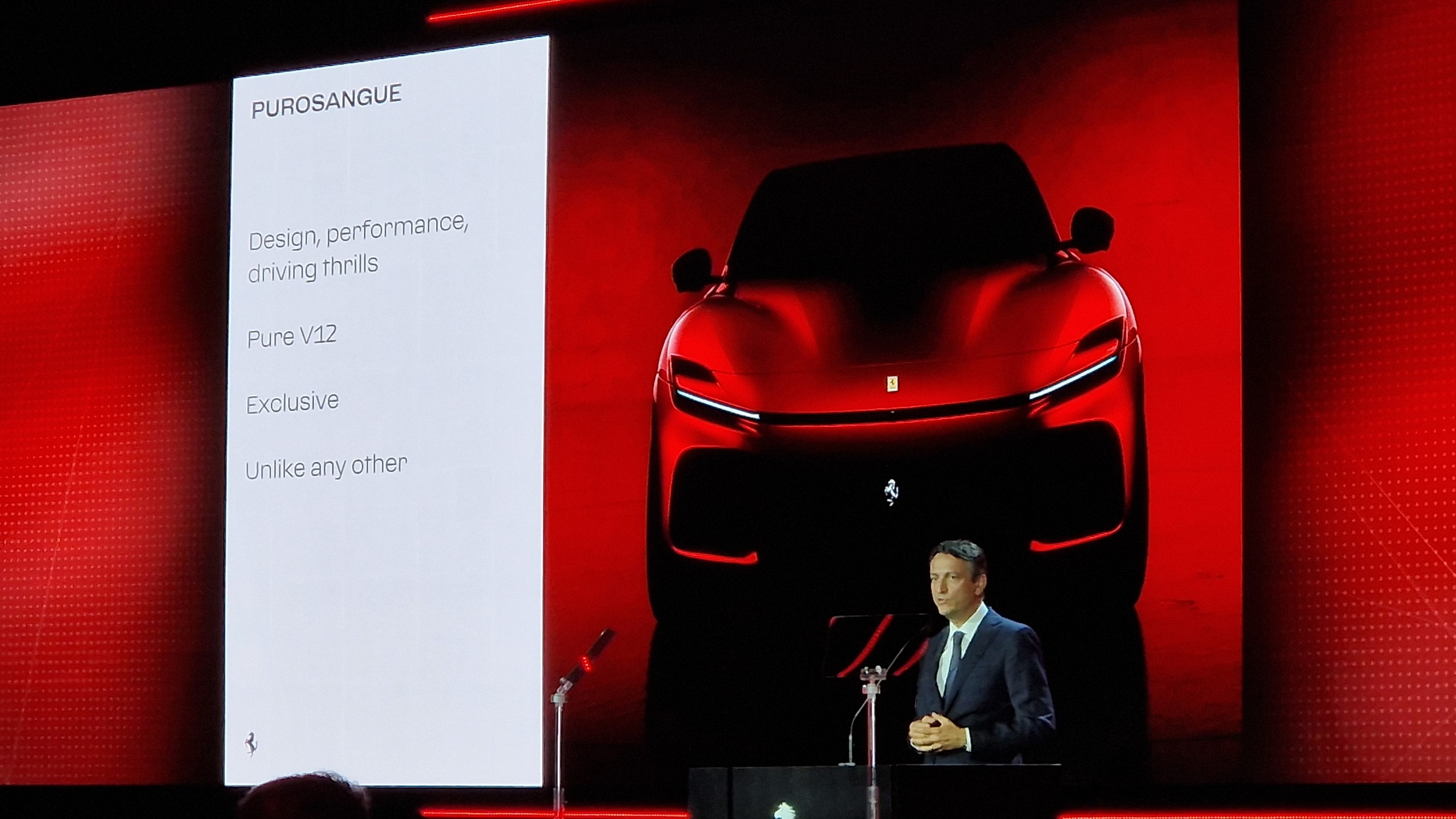 Enrico Galliera (above), Ferrari's chief marketing and commercial officer, described existing customers as "petrolheads", though since the introduction of cars such as the SF90 and 296 GTB better understand the possibilities for electrification to enhance performance and driving pleasure while retaining Ferrari DNA.
Full details of its first pure-electric model will be revealed in three years' time but certain information was disclosed at today's CMD.
For one thing, the electric motor has been designed in-house and will be built in Maranello, too. Company founder Enzo Ferrari described the engine as "the heart of the car", and as such all Ferrari engines – including those for its F1 cars – have been produced at the company's factory. The same will be true of its electric motors.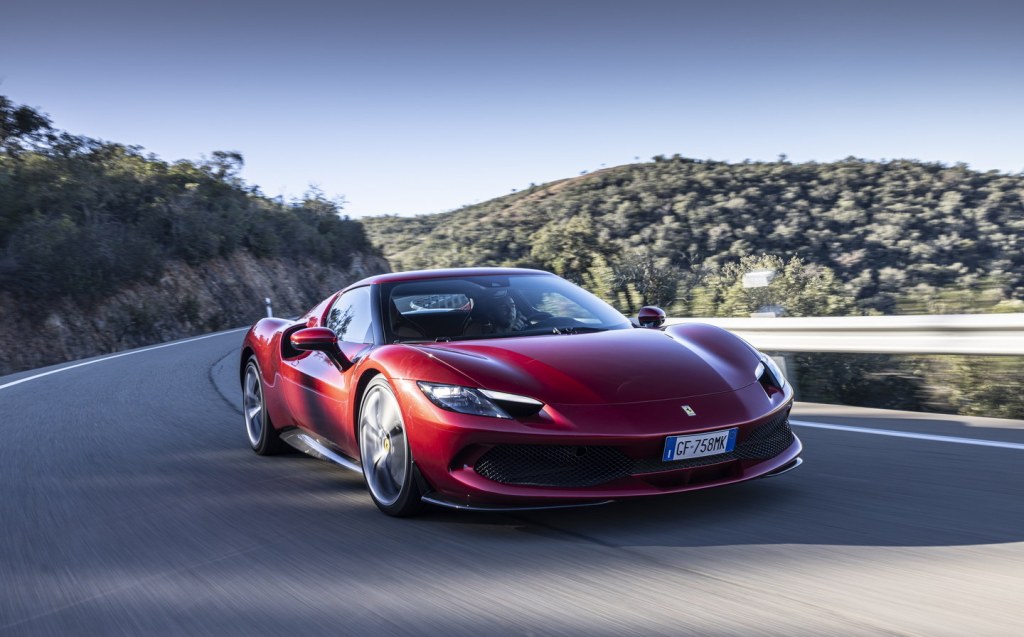 Vigna, 53, refused to say whether the compact axial flux motor used in the hybrid 296 GTB (above) would form the basis of the pure-electric model's powertrain, but claimed it will be racing-derived, in a "unique configuration", and the most power dense electric motor in its class.
Ferrari is targeting a 10% increase in power density every two years for its pure electric powertrain through hardware and software development.
And the Ferrari electric cars will still have the drama associated with Ferrari combustion cars, it was claimed. Vigna, who joined the company from the tech industry nine months ago, said it's a misconception that electric motors are silent and each electric Ferrari will make a characteristic, emotional, noise – one that has not been manufactured synthetically.
Executive chairman John Elkann claimed, "Electrification allows us to make even more unique cars."
In terms of performance, Ferrari's executives remain tight-lipped except to say that they have determined whereabouts on the performance spectrum it will be positioned. Product chief Gianmaria Fulgenzi told Driving.co.uk that performance is more than just about acceleration and top speed, but the ability to handle lateral acceleration (cornering) and braking. Track times are important to Ferrari, he confirmed, and testing would take place at the Fiorano track next to the factory, and to achieve quick laps active aerodynamics may be employed.
The fastest accelerating electric supercars at present include the Rimac Nevera, which has a claimed 0-62mph time of 1.97sec and can hit a top speed of 256mph. If Ferrari is aiming for that end of the market, other rivals will include the Lotus Evija and Pininfarina Battista.
Ferrari is expanding its Maranello factory in order to ramp up its electric vehicle production. A new "E-building" will house the vehicle assembly line, electric motor and inverter production facilities, as well as the battery pack assembly, though initially the individual battery cells will be produced off-site by a supplier. The battery pack was described as a "strategic component" by Galliera, and Ferrari's aim is to instruct a supplier to manufacture cells to its specifications in the future.
Vigna confirmed that there will be 15 launches between 2023 and 2026. In 2025 Ferrari's vehicle split will be around 5% pure-electric, 55% hybrid and 40% internal combustion, but by 2030 it is targeting 40% pure-electric and 40% hybrid. Even by 2030, 20% of production will be of cars powered purely by combustion engines.
Hydrogen power, he said, is being developed with partners because, "as a company that is pushing leading edge technology, have a responsibility to look at technologies for the next decade and so we are working with partners on it." However, he said he doesn't see it becoming a significant technology for road cars in the next 10 years.
Meanwhile the Purosangue will be "unlike any other" SUV, according to Vigna, and "100% Ferrari". It will use Ferrari's V12 naturally-aspirated engine because "it's for the most passionate customers and members of the family," he said.
Vigna also said order books are full but production volumes won't be increased to meet demand, and that "the highest possible level of exclusivity" will be maintained.
It's the V6 hybrid powertrain that Ferrari has identified as the most potent in its line-up, however, with F1-derived technology. Ferrari's F1 team is situated literally across the road from its road car factory in Maranello, and as has been the case throughout its history, Ferrari manufactures its own power units.
It's the only F1 team to have always done so, which insiders believe gives it several key advantages when it comes to road cars. Performance and efficiency benefit from this set-up, of course, but Vigna told us there are also cost savings when it comes to developing its electric road cars because it has technology that already exists; Ferrari isn't working from scratch.
Tweet to @wdron
Follow @wdron
Related articles
Latest articles