43 of the best Christmas gifts for car lovers 2021
The perfect present ideas for the petrolheads in your life
---
Published 16 December 2021
CAR ENTHUSIASTS are a diverse bunch but they mostly share one thing in common: they're picky when it comes to gifts.  If you're looking for a Christmas present for a friend or relative who loves cars — or even just a handy gadget to fill the stocking of someone who spends a lot of time behind the wheel — then you've come to the right place. Our guide to the best Christmas gifts for car lovers includes video games, books, movies, gadgets, clothing and stocking fillers.
As the big day inches ever closer, remember that the world's retail industry still affected by supply-chain issues, so leaving it until the last minute while you wait for inspiration to strike may not be the best an option this year.
To make browsing easier, we've broken down our list into six categories. If you're after a particular type of present, click on the links and you'll be taken straight to the relevant Christmas gifts for car lovers.
Toys and games
Books, films and art
Gadgets, tools and tech
Clothing and accessories
Stocking fillers
Video games and consoles
---
Toys and games
1. Lego Technic Lamborghini Sián FKP 37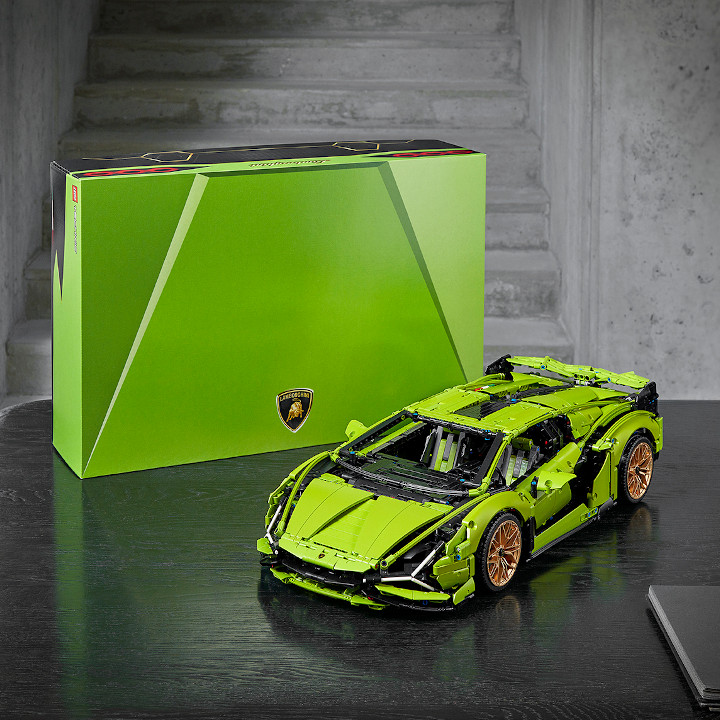 Lego has created a few cars in its impressive Technic range in recent years, which comprises sets with more complex functions (such as working eight-speed sequential gearboxes). There was a Bugatti Chiron in 2018, a Land Rover Defender last year, and there's also been a Porsche 911 RSR.
This year, the company responsible for childhood joy and adult foot pain the world over collaborated with Lamborghini to create a 1:8 model of the Sián hypercar, complete with the aforementioned gearbox (which is triggered by a functioning flappy paddle), an active rear spoiler, and a recreation of the Sian's V12 powerplant.
It'll only be for people on Santa's nice list, though, with a price of £349.99. Although that might sound like value for money when you factor in that it's a 3,696 piece set — that should keep your child, partner, or whoever else occupied at least through Easter.
Price £349.99
Buy it at Lego.com
2. Lego Speed Champions Panasonic Jaguar Racing Cars Set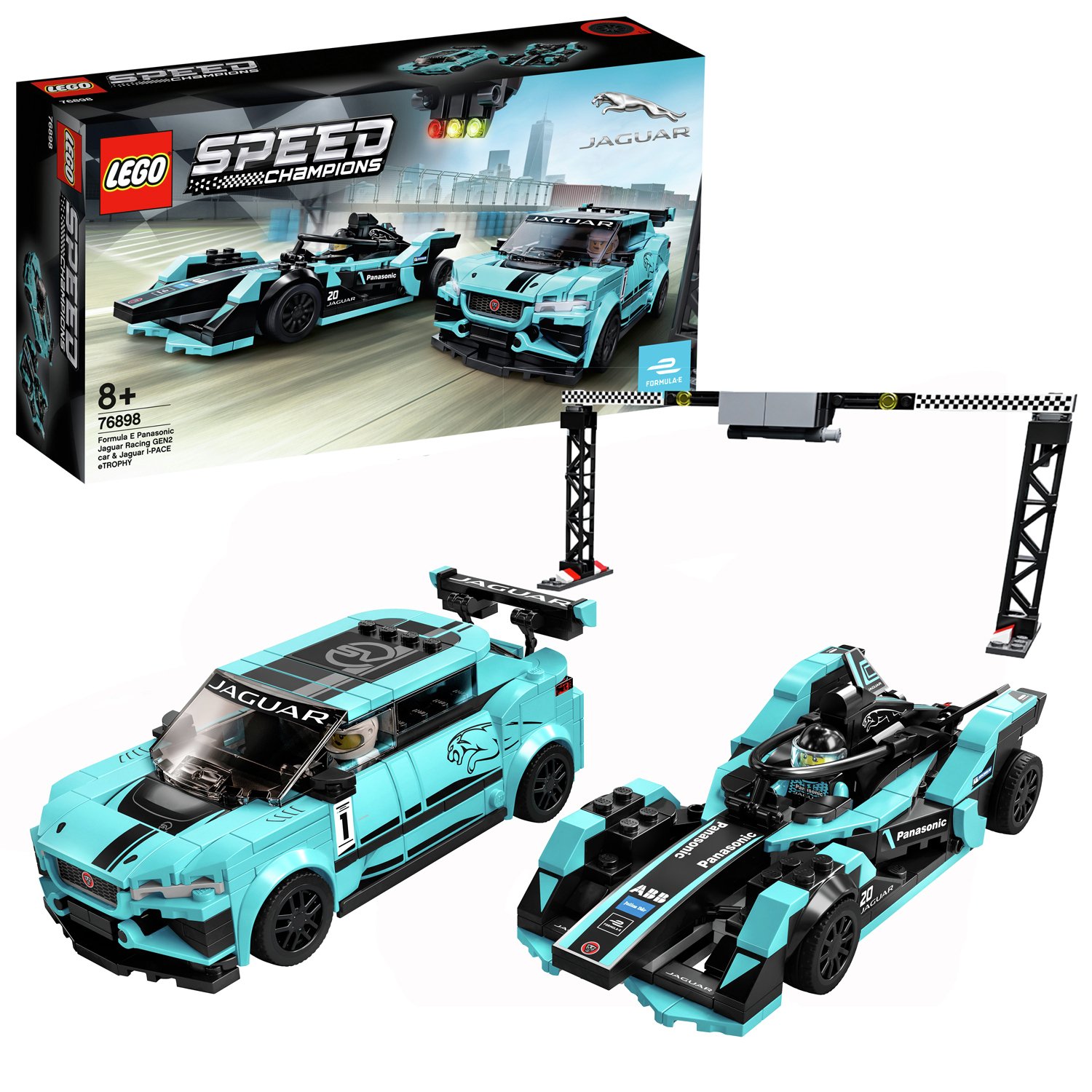 If £350 for the Lego Lamborghini had you aghast (you wouldn't be unjustified), this might be more your speed. Two cars for thirty five quid, and not just any cars — one is the new Gen2 Formula E car, decked out in the livery of Panasonic Jaguar, one of the two British teams that competes in the series. It's the first Lego Speed Champions set to feature two pure-electric racing cars, with the Jaguar I-Pace eTrophy also included. If you're looking for a stocking filler for a Formula E fan, there's also a Formula E Hot Wheels car for just £4.99 on the Formula E website.
Price £35.00
Buy it at Argos
3. Lego Technic Land Rover Defender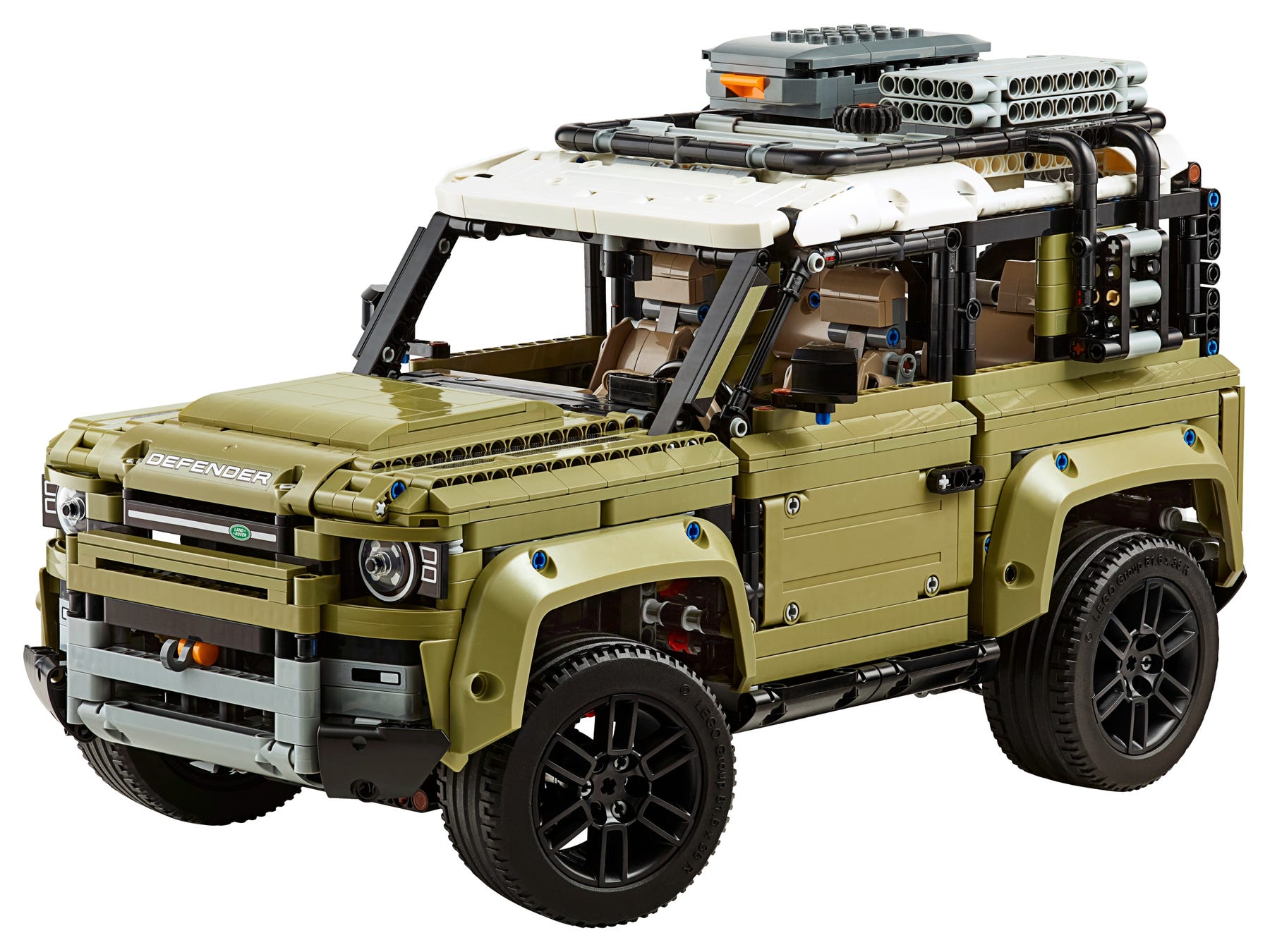 Models in Lego's Technic series are pretty expensive (see above), but they're as well loved — perhaps more so — by adults than they are by kids. Depending on one's spare time or level of commitment, they can take either days or months to complete, though it's usually a rewarding experience which can be enjoyed by multiple members of the family. The Lego Technic Land Rover Defender is one such example, its blocky shape lending itself well to a Lego rendition and featuring a suitably detailed interior and engine bay.
In all, there are 2,573 pieces and watching the "mechanical" pieces working in unison is downright hypnotic, not to mention a great way to get kids interested in engineering.
Price £159.99
Buy it at Lego.com
4. McLaren Senna ride-on car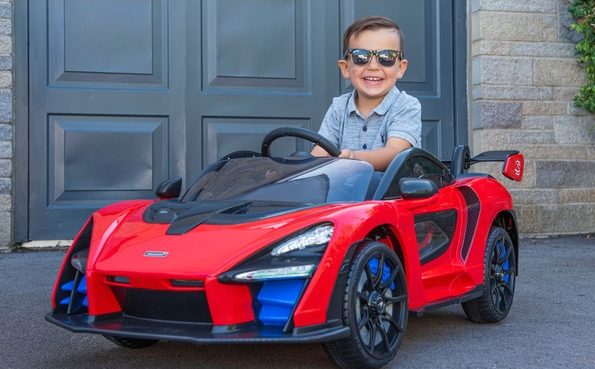 You may remember Jeremy Clarkson reviewing the McLaren Senna for The Grand Tour: "0-60 in 2.7 seconds… That's one hundred and twenty… A hundred and fifty… a hundred an—Jesus H. Christ! That's really alarming. I'm going to be sick now."
This McLaren Senna can only do three miles per hour but it'll probably give your toddler as much glee as Clarkson got thrashing the real thing around Thruxton. It's got the same aerodynamic styling, with the Senna's rear spoiler, see-through side panels and butterfly doors, and is officially licensed by McLaren. It's the third of its models that's been miniaturised, after the P1 and the 720s, powered by a tiny rechargeable battery. There's also a remote control, in case your child is too small to reach the pedals. Usable only by children up to seven years old, unfortunately.
Price: £319.95
Buy it at: Outdoor Toys
5. Mercedes F1 Silver Arrows Second Edition Monopoly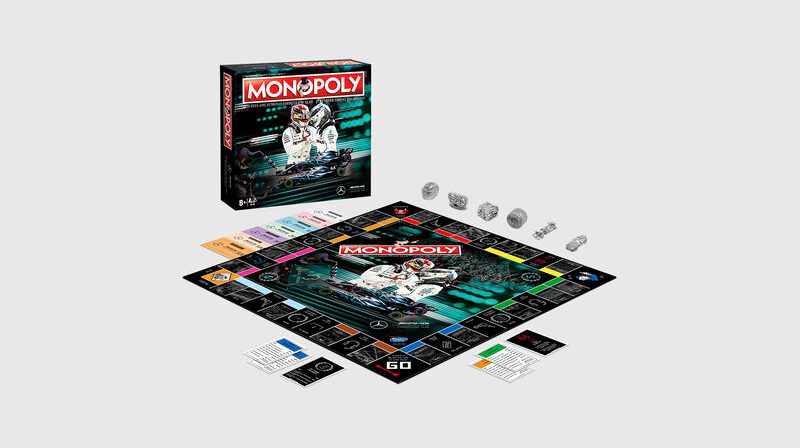 The board game responsible for creating festive family rifts since its release in 1935 has been given the Silver Arrows treatment. It's the second edition of the game, and according to the team it's "designed with all things Mercedes F1, making it the perfect item for the ultimate fan."
Price £33.25
Buy it at Mercedes AMG F1 Store
6. BMW kids' scooter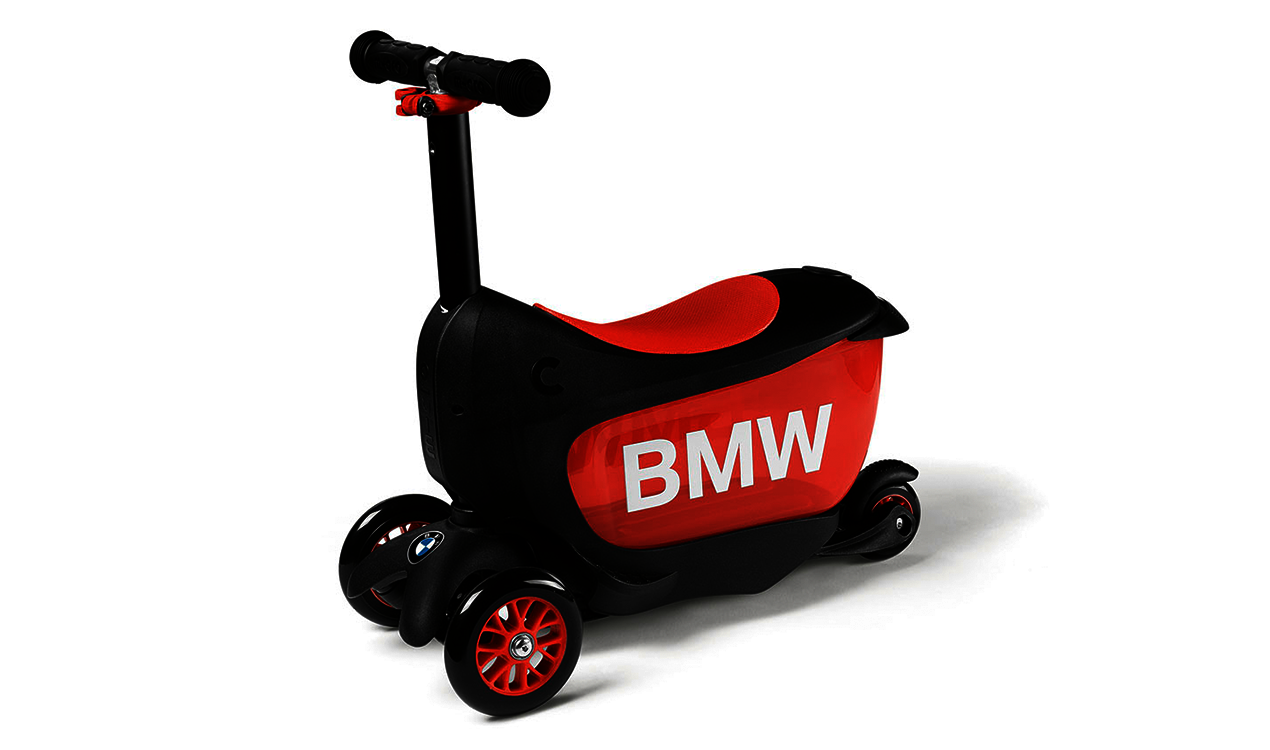 BMW's kids' scooter has an extendable handle and allows children to stand on it with one foot and push along with the other, or for smaller loved ones who are less sturdy on their feet. It comes in two colours, black and orange or white and pink, and is available via BMW's official eBay store.
Price £95
Buy it at BMW eBay shop
7. Spin Master Monster Jam Megalodon Storm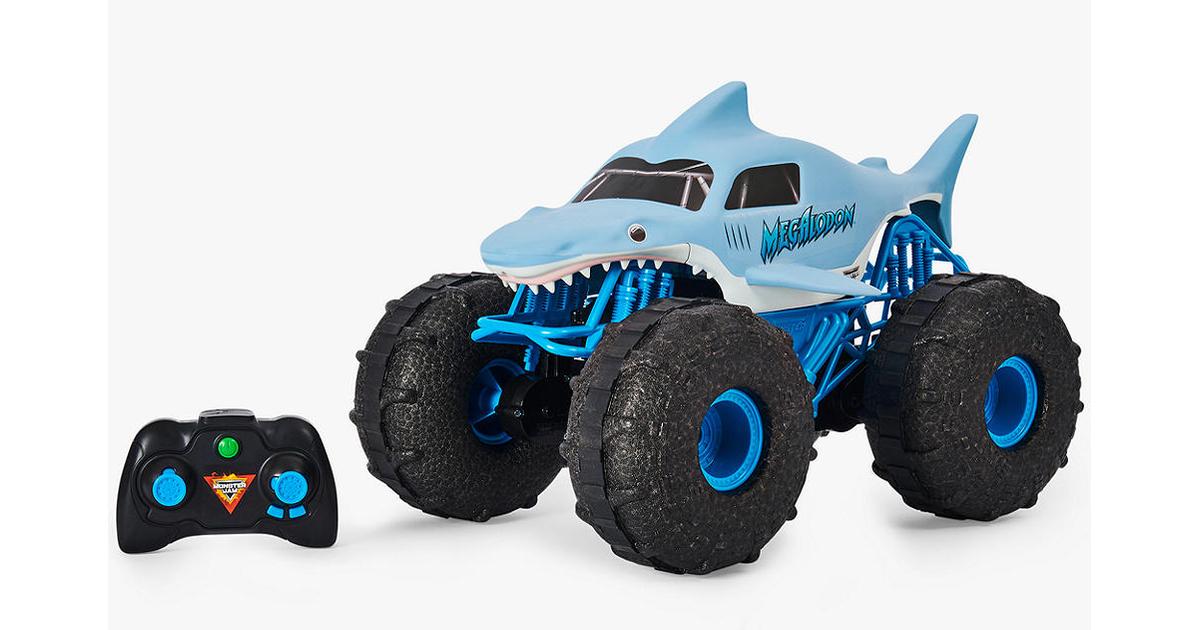 In a less realistic corner of the RC world is the buzzword-filled Spin Master Monster Jam Megalodon Storm, which is an unholy shark/monster truck hybrid capable of going over snow, gravel and, impressively, through water. Voted the best RC of 2020 by Parents Magazine, one mother told the publication that it was "Hands down the coolest toy my boys have ever seen. And that includes my husband."
Price £59.99
Buy it at Smyths Toys
8. Aston Martin DB5 Junior ride-on car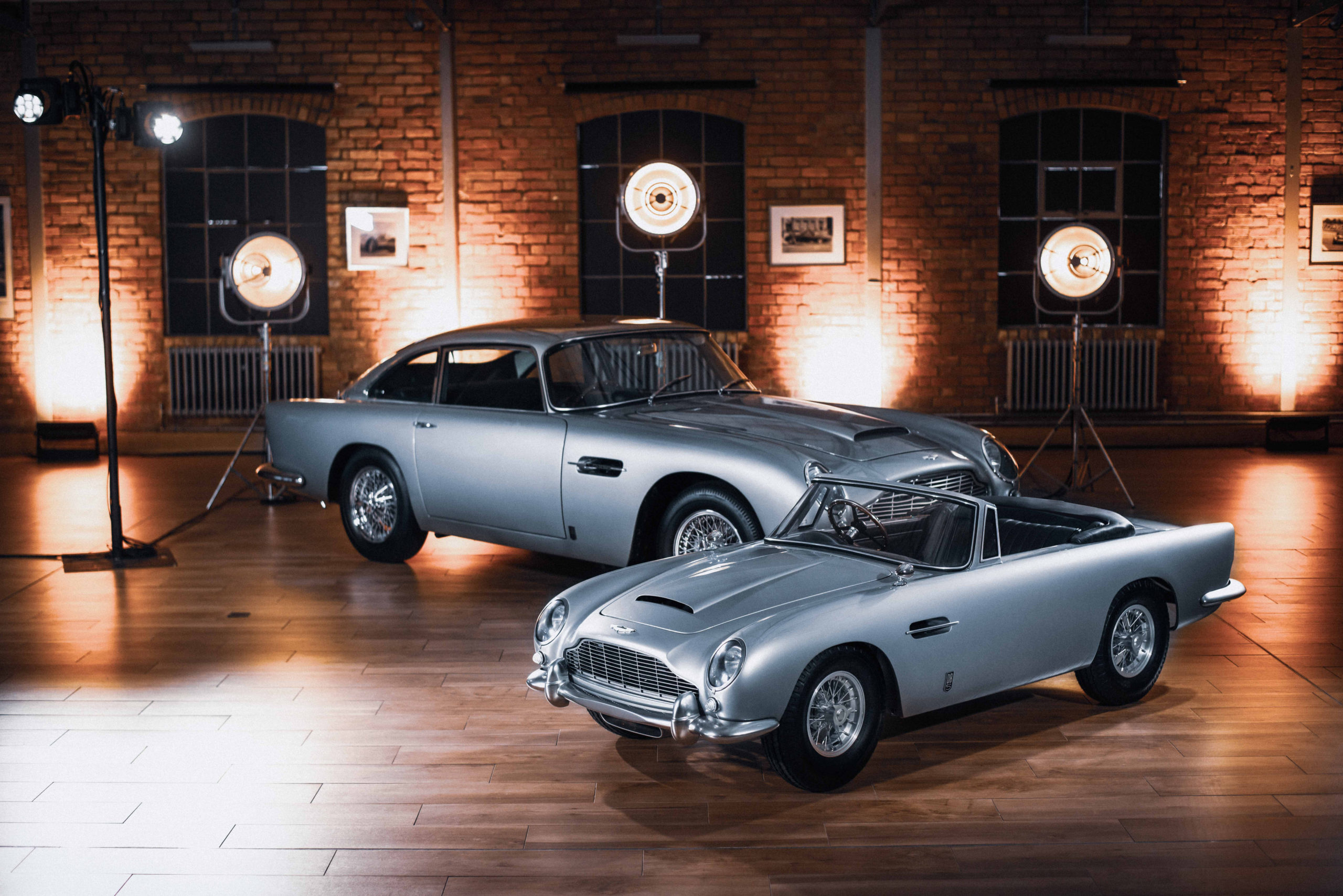 This is no ordinary ride-on toy, as the £35,000 starting price attests. Aston Martin collaborated with The Little Car Company, which also produces a stunning Bugatti Type 35-based junior car, to produce this two-thirds scale version of the brand's famous DB5. Three versions are available, the DB5 Junior with a 6.7bhp electric motor and the DB5 Vantage Junior, which produces double the power and a battery pack with twice the capacity, or a No Time to Die special edition with more than 21.5bhp and Bond gadgets including miniguns, revolving number plates and a smokescreen.
Price: DB5 Junior £35,000 plus taxes; DB5 Junior Vantage £45,000 plus taxes; DB5 Junior No Time to Die Edition £90,000 plus taxes
Buy it at TheLittleCar.co
9. Land Rover Defender transforming radio control car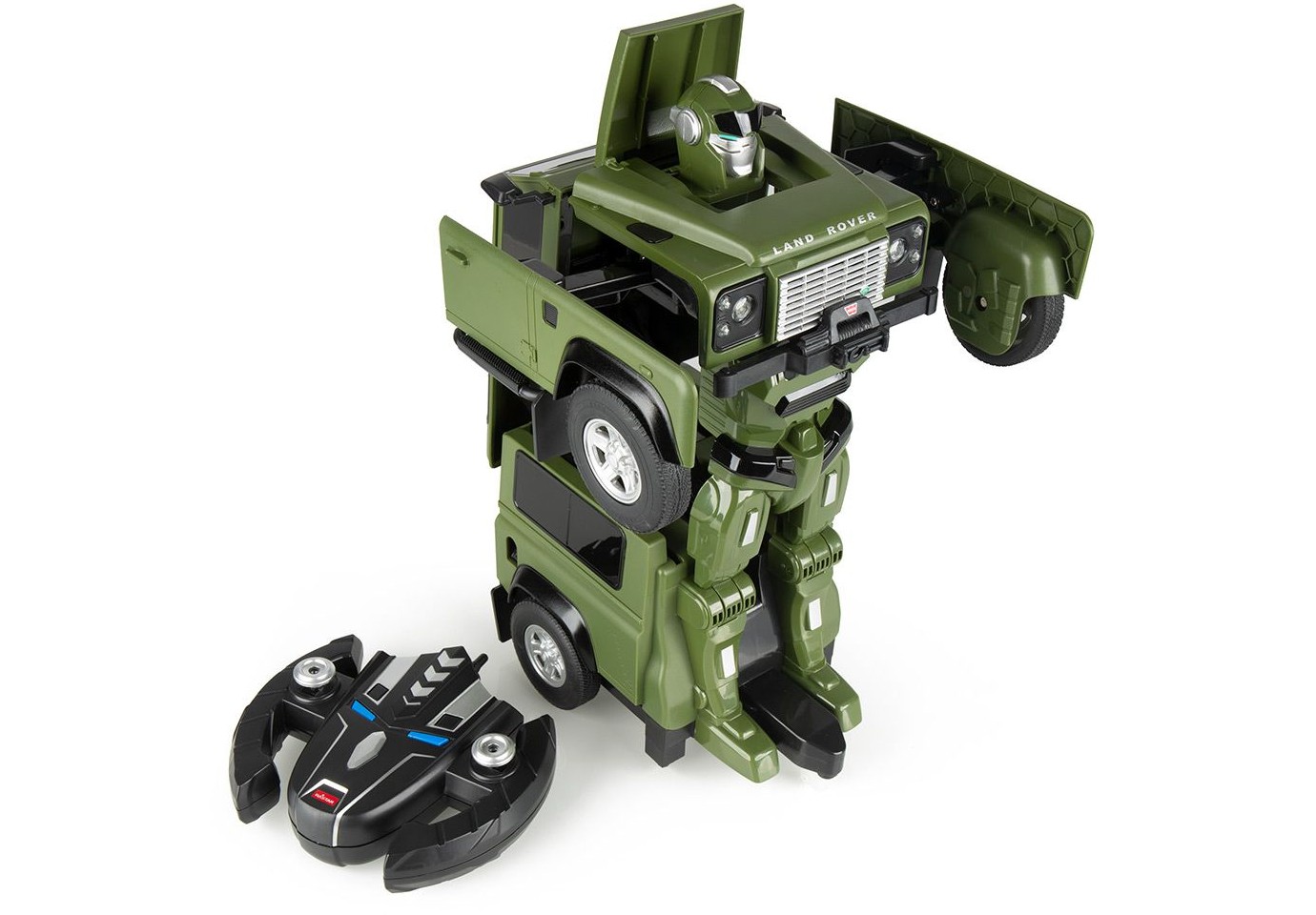 The new Land Rover Defender may have launched but there's still a lot of love for the old model, and this Transformers-style radio controlled version is a fab way to celebrate the legendary off-roader … and have hours of fun playing with, too. The 1:14-scale model transforms from robot to car at the push of a button, ready to tackle the tricky terrain of you living room carpet via the remote control.
Price: £50
Buy it at: LandRover.com
---
Books and films
1. James Bond's DB5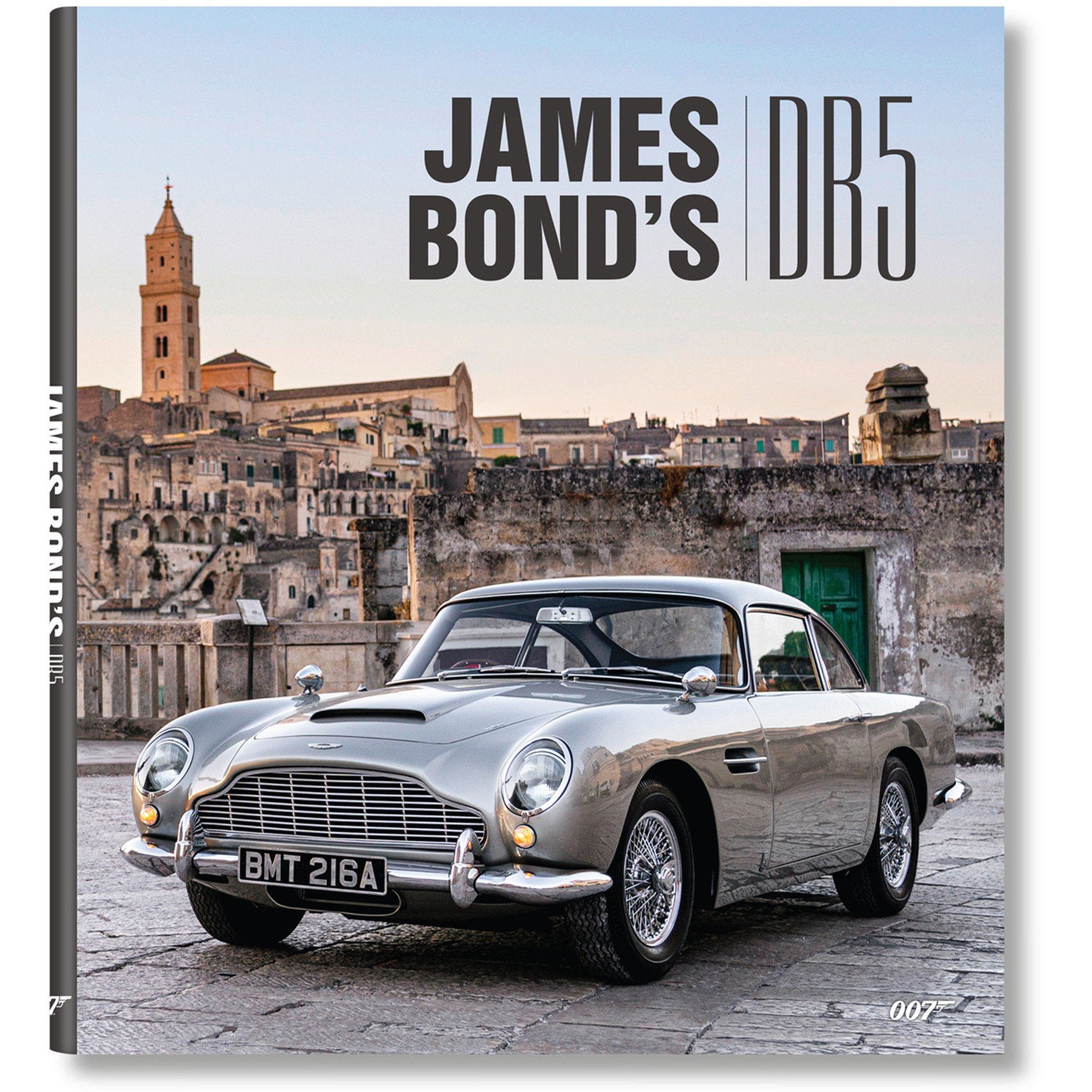 Billed as the first official history of 007's most famous set of wheels, James Bond's DB5 is a lavish, large-format tome with 280 pages of information and images taken from the archives of both Eon (owner of the Bond franchise) and Aston Martin.
It starts with forewords from film producer Michael G Wilson, Aston Martin's chief creative office Marek Reichman and actor Daniel Craig, who recently appeared in No Time to Die, his final outing as the titular secret agent.
It then includes information about Aston's history, the development of the DB series and how Eon negotiated with the car maker to make sure the DB5 had a starring role in perhaps the ultimate Bond film, Goldfinger. The book even includes photographs of original correspondence between the film makers and Aston's marketing team. We then get close-up looks at how the car was modified for the film, and how its scenes were shot. There are similar details and images for each of the car's returning roles in the Bond franchise, inlcuding Goldeneye, Skyfall and No time to Die.
This is an impressive book in not just size but also depth of information, and it's beautifully designed to boot. An absolute must for Bond fans.
RRP: £40
But buy it at WH Smith for £32
2. Bond Cars: The Definitive History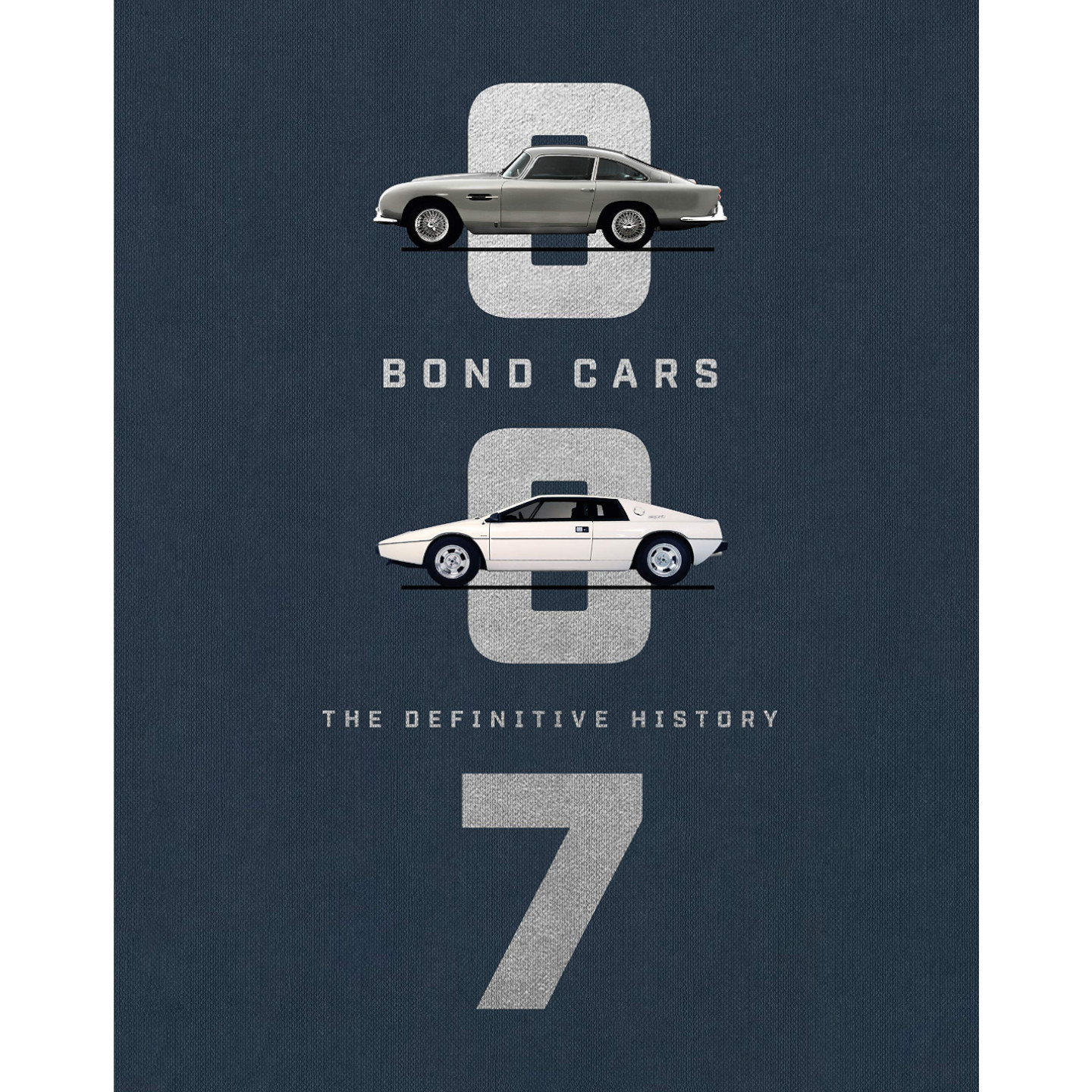 It's not new this year (it was first published in 2020) but if you're interested in the full set of Bond cars right up to and including No Time to Die, then Bond Cars: The Definitive History is surely the ultimate read. It includes previously unseen photographs and exclusive interviews from the author, motoring journalist Jason Barlow (of old Top Gear TV fame), that put you behind the wheel of the myriad cars driven by 007.
You get insights from people absolutely central to the franchise, including Daniel Craig, as well as the films' screenwriters, producers and vehicle supervisors.
If you get the special edition, it also includes a slip case and exclusive posters.
Price: £33.61
Buy at: Amazon
3. Diddly Squat: A Year on the Farm by Jeremy Clarkson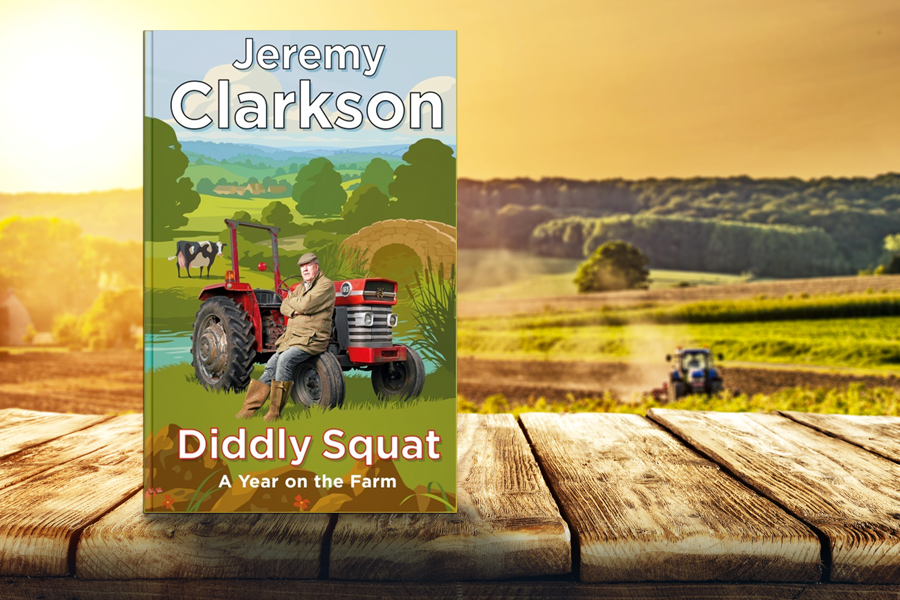 A new Jeremy Clarkson book these days is as much of a Christmas tradition as sitting down to a glass of Bailey's in front of The Great Escape on TV. Following-on from last year's Can You Make This Thing Go Faster?, the Sunday Times columnist and Grand Tour host's new book Diddly Squat: A Year on the Farm, chronicles Clarkson's conversion from city slicker to a son of the soil. The new book provides a more detailed and wide-ranging look behind the scenes at his Diddly Squat farm in Oxfordshire as seen on the Amazon series Clarkson's Farm.
Diddly Squat: A Year on the Farm launches on November 11 in hardback, paperback and Kindle formats.
Price: £8.99
Buy it at: Waterstones
4. Boring Car Trivia 3 by Richard Porter (Sniff Petrol)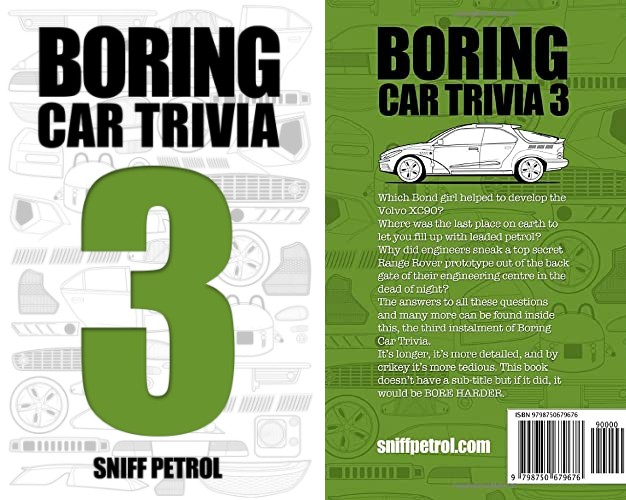 Did you know that a Bond girl helped develop the Volvo XC90? That's just one of the 'boring' facts compiled by Richard Porter, The Grand Tour (and former Top Gear) script editor, Sunday Times car reviewer and creator of the hilarious Sniff Petrol website, in this book. The fact that it's the third instalment in the series goes to show that there is a lot of dull information out there about cars. Who knew?
Price £4.99
Buy it at Amazon
5. A Race with Love and Death: The Story of Richard Seaman
Richard Seaman was one of Britain's most successful pre-war Grand Prix drivers, and his brief life was one of the most complicated and tragic in motor sport, in an era defined by tension and fragility. Born in 1913, he grew up with wealthy parents and attended some of the UK's best educational institutions, before finding employment with Nazi-associated outfit Mercedes-Benz just two years before World War Two broke out.  He met his untimely death in 1939, at the famous Spa-Francorchamps racetrack. This book by Richard Williams, who has previously written books about Ayrton Senna and Enzo Ferrari, takes a deep and frank look at Seaman's short but complicated life.
Price £13.99 (hardback)
Buy it at Amazon
6. Prints by Russell Wallis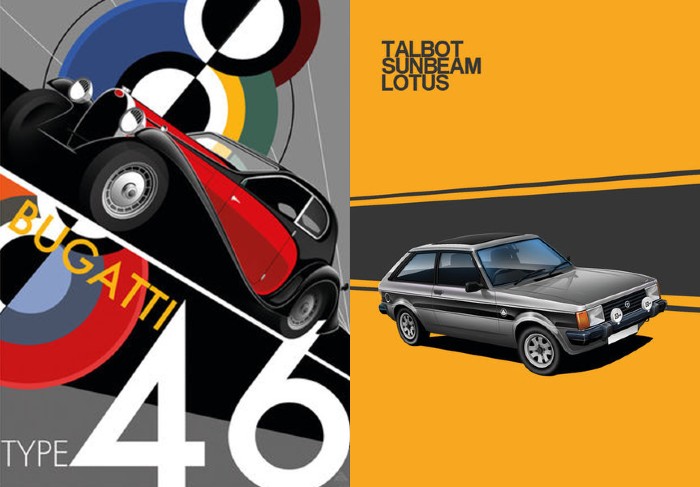 Russell Wallis studied Automotive Design at the Coventry School of Art and Design and has, over the last few years, begun producing the most stunning illustrations showcasing his love of classic cars. Best-known for his Car Collections series, these feature a stack of cars in profile, showing the evolution of different varieties of vehicle, rendered in exquisite detail, whether that's beautiful Bugattis, sporting Triumphs, Renault Twingos or a whole lot of other kinds of cars.
Other automotive prints, inspired by both period adverts and his own imagination are also available and are a classy addition to any living-room wall, let alone garage space.
Price Greetings cards from £2.40 / art prints from around £50
Buy it at Artflakes
For more designs, check out Russell's own website.
---
Gadgets, tools and technology
1. Amazon Echo Auto
While the quality of virtual assistants in cars is rapidly improving, the systems in used cars can often be more hindrance than help, meaning you may have to divert your attention away from the road and onto fiddly physical controls. Bringing in the help of an established assistant like Amazon's Alexa, then, can make driving a more serene and more safe experience.
Decked out with eight microphones, it can hear your voice above the sound of whatever music you're listening to — whether that's the sound of your engine or your favourite '80s playlist — and can do things including checking petrol prices and making calls. It connects through either your phone's Bluetooth or an old-fashioned aux cord, and if you buy from Halfords they can also install it for you.
Price £49.99
Buy it at Halfords
2. Diptyque car diffuser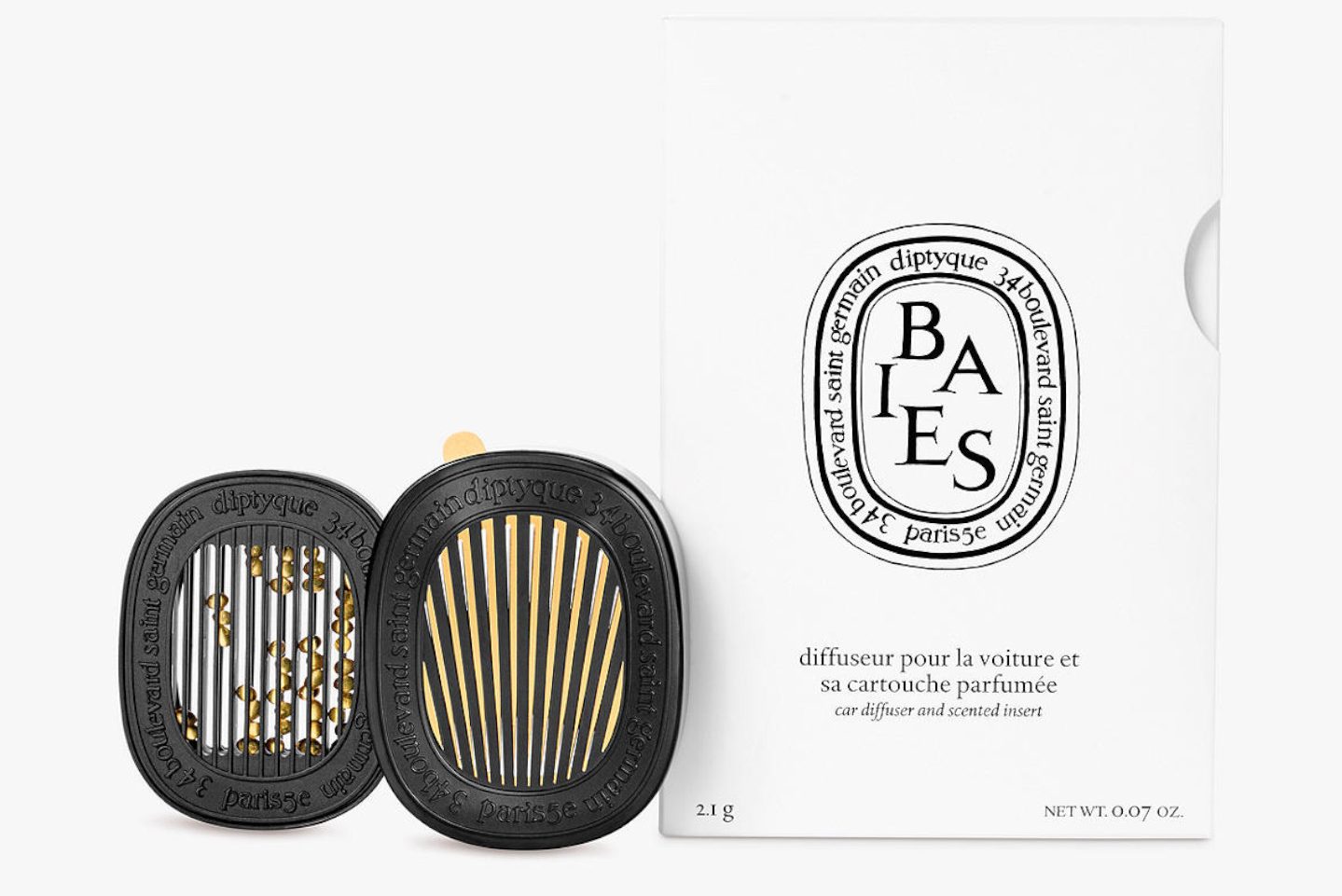 If one of your loved ones spends hours a day in their car (or perhaps their car doesn't smell as good as it looks), perhaps this is for them: it's a diffuser and diffuser insert by Diptyque, a Parisian brand known for making home fragrances that scream "status". This one is the Baies scent, which packs "the tangy coolness of freshly pickled blackberries", but you can buy refills for the diffuser in a range of sophisticated scents, for £30 each.
Price £79.00
Buy it at John Lewis
3. Tile Mate Bluetooth keyring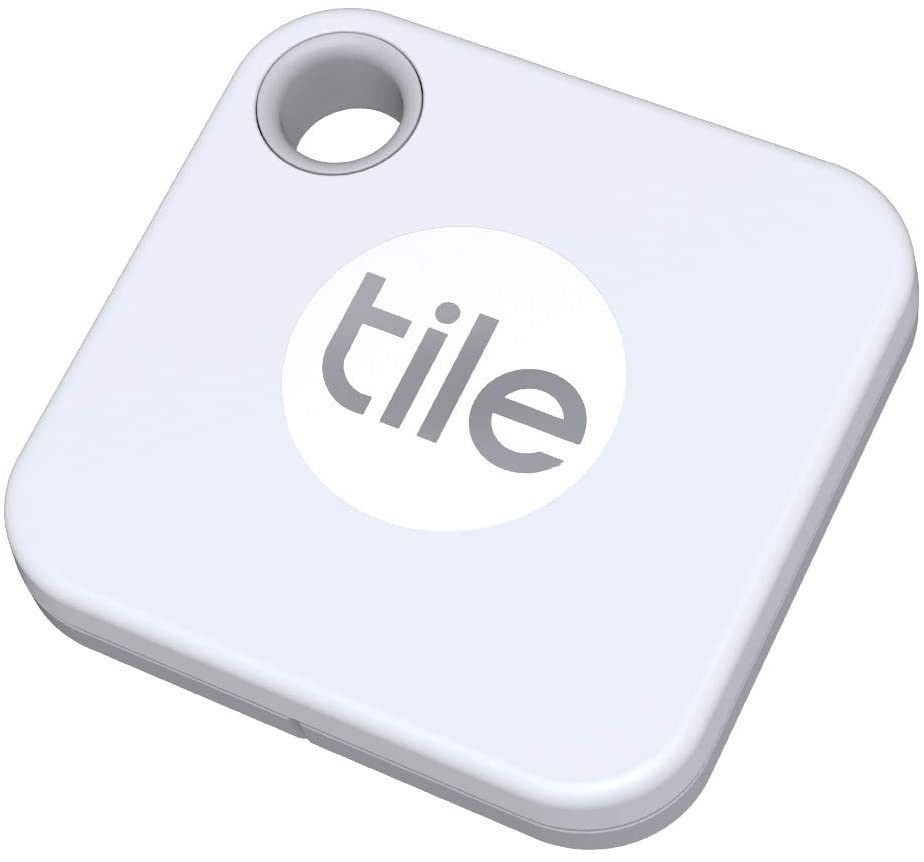 We all know someone who seems to make the simplest of domestic tasks — like keeping track of their phone, wallet or car keys — seem perennially difficult. The Tile Mate, while not being the most glamorous gift in the world, could be one that saves someone you know untold hours of stress, frustration and tardiness. It can be attached to a set of car keys (or wallet, TV remote, etc) and prompted through a smartphone app to emit a loud beep that should enable the recipient of your thoughtful gift to find what they need and reach their appointments on time.
Price: £19.99
Buy it at: Amazon
4. Nextbase 622GW dashcam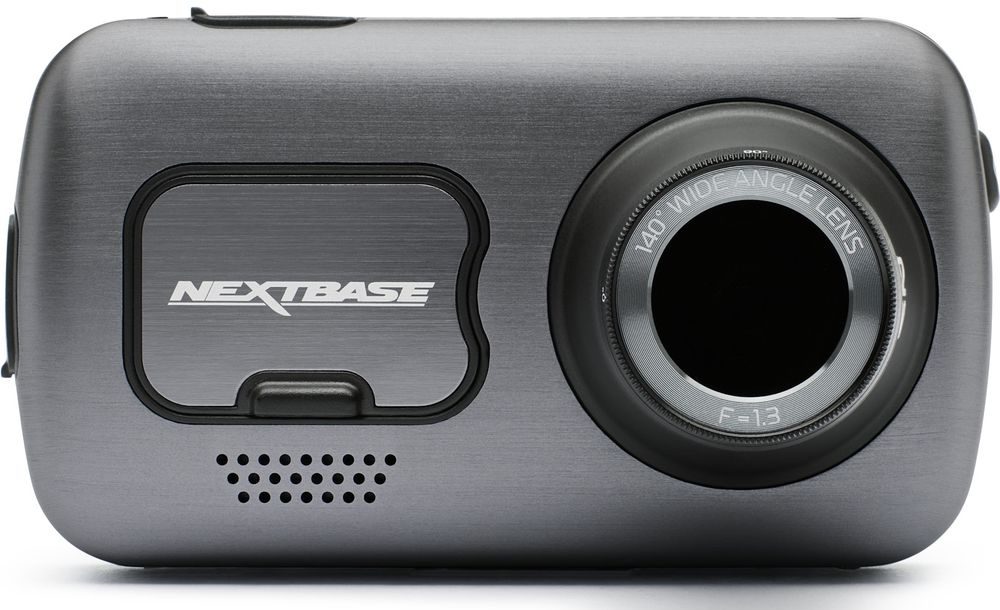 Dashcams are extremely popular due to their use in clearing up insurance claims and other driving incidents. Market leader Nextbase's range-topper is about as sophisticated as they get, with enough quality and definition to record a Hollywood blockbuster, as well as GoPro-level image stabilisation and extreme weather control to improve video clarity. It's also the first dashcam to be kitted out with What3Words, the service that pinpoints your global location to within three square metres using a combination of three words. Amazon's Alexa voice control also makes the device easier to use while driving.
Price £249.99
Buy it at Halfords
5. Wacaco Pipamoka portable coffee maker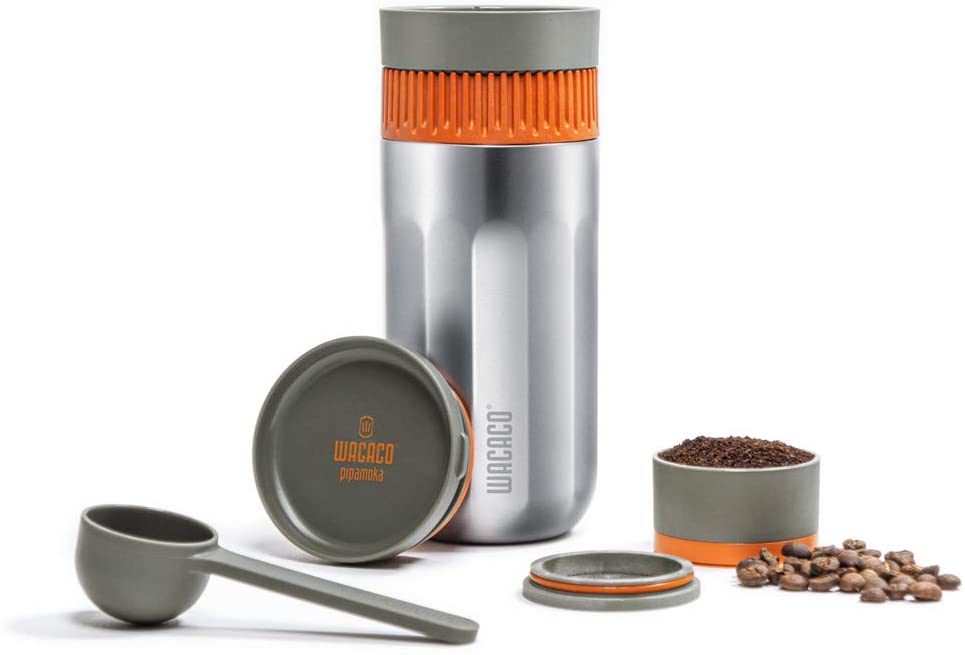 We all know the mad rush to leave the house on time, and many will be familiar with the frustration of beginning the morning commute without having had a coffee. Intended for those who need to streamline their morning routine, the Wacaco Pipamoka portable coffee maker is everything you need to make a coffee on the go, allowing you to brew coffee in two minutes, then drink it from the same device.
Price £49.90
Buy it at Amazon
6. Quad Lock phone mount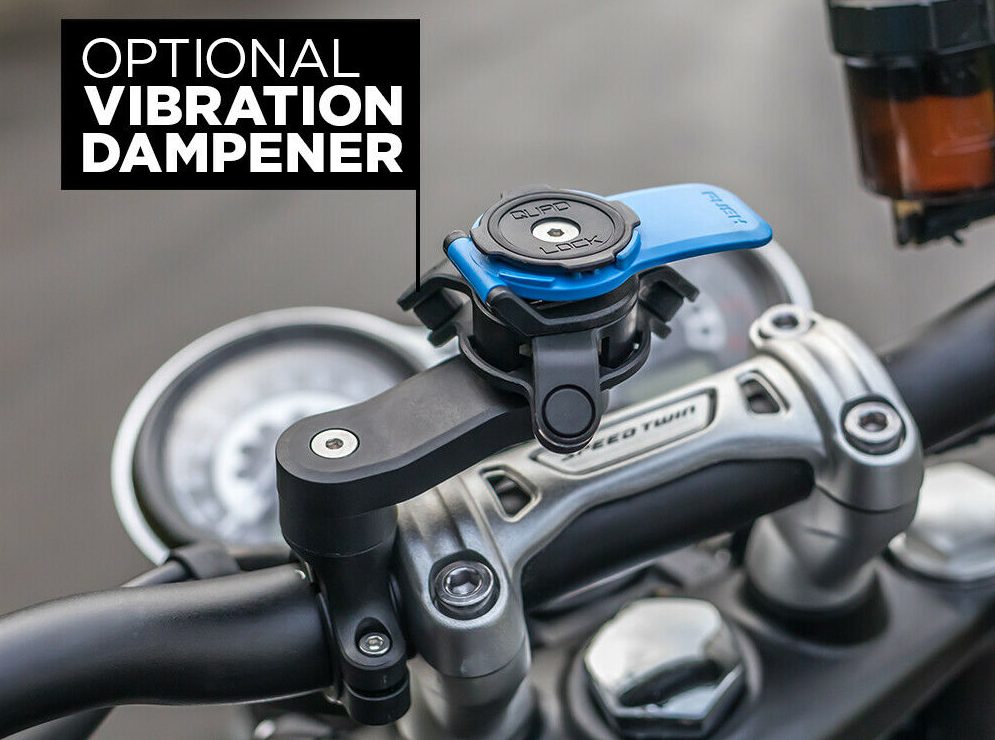 Apple recently warned that the camera mechanisms in its iPhones could be damaged by high-frequency vibrations when mounted on motorcycle handlebars. This is a problem for bikers as, while many use their handlebar-mounted phones for navigation purposes, they understandably don't want them ruined.
Quad Lock, which already makes secure phone mounts for motorcycling, came up with a vibration dampener which uses silicone grommets to reduce vibration and prevent internal damage to phones. The dampener can be used with one of Quad Lock's phone mounts and is a good way to reduce the risk of damage, whatever the type of phone a motorcyclist uses. The dampener can also be used on Quad Lock's bicycle mounts, so it's a practical gift for either a biker or a cyclist.
Pricing for the dampener is just £15.95, though with a phone mount and compatible case on top of that, it pushes the price up to around the £65-70 mark.
Price: £15.95 for the dampener, £39.95 for the mount, circa £22 for compatible phone case
Buy it at: eBay (dampener) / eBay (mount) / eBay (phone case to fit Samsung, iPhone, etc.)
7. Beeline Moto motorcycle sat nav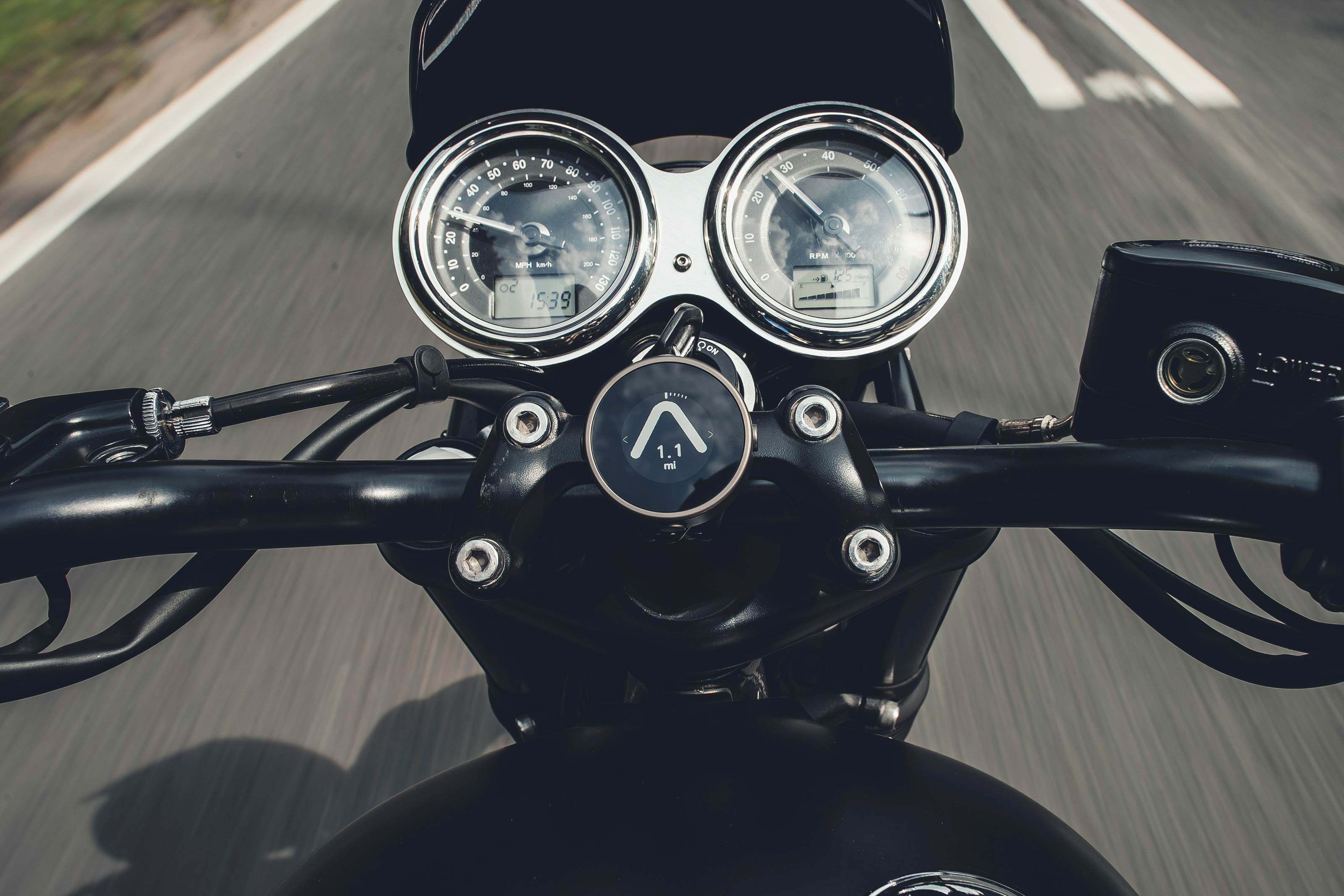 Motorcycle riders can mount phones or dedicated sat navs to their handlebars but the Beeline Moto is s streamlined, weatherproof solution with a simple arrow guiding the way and distance to your next turn. It takes a little getting used to but in no time at all proves to be a clever, robust device with at-a-glance instructions that mean you spend more time with your eyes on the road.
Routes are prepared via an app on your phone and a few mounting options are available, including a brilliantly simple and secure rubber band option guaranteed to fit almost any make and model of bike.
Price: From £149
Buy it at: Beeline.co
8. Breaker bar (19in)

Rusted or over-tightened nuts are the bane of the life of anyone who regularly tinkers with cars. Instead of skinning knuckles trying to remove wheel nuts with a cross-brace or ratchet, a breaker bar can be a legitimately life-changing tool, which, in providing greater leverage than a standard wheel-brace makes removing wheel nuts — or any other stuck nuts for that matter — a whole lot easier. Absolutely no garage or shed should be without one.
Price: £26.49
Buy it at: Halfords
9. Noco GB40 jump starter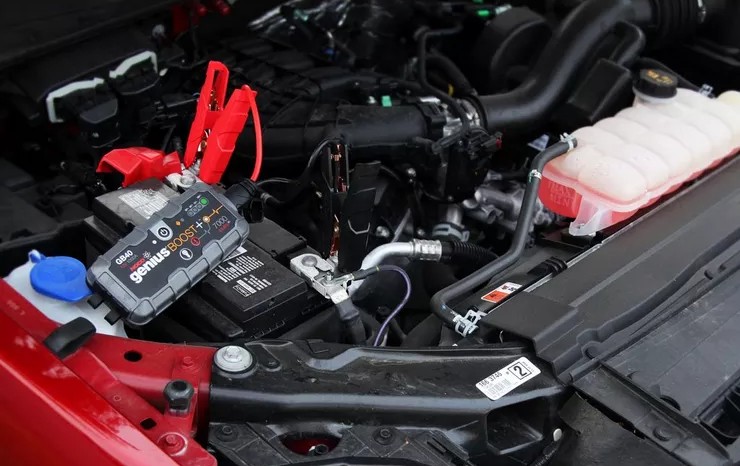 Since the Covid-19 pandemic, many people aren't driving as much as they were before and, going into the winter months, that could start to lead to non-starting cars due to flat batteries. A jump starter like this one from Noco shows how far the technology has come in recent years, evolving from the heavy, expensive jump-starting packs of old. This one is small, light and powerful and features spark-proof connectors and reverse polarity protection, meaning its easily-used by anyone.
It can be used as a power-bank too for mobile devices, meaning it could be as handy for a summer camping trip as for getting someone out of a flat-battery-related hole in the depths of winter. This particular model is capable of starting petrol engines of up to six litres and diesels of up to three.
Price £99.00
Buy it from Halfords
---
Clothing and accessories
1. Volvo x Casca trainers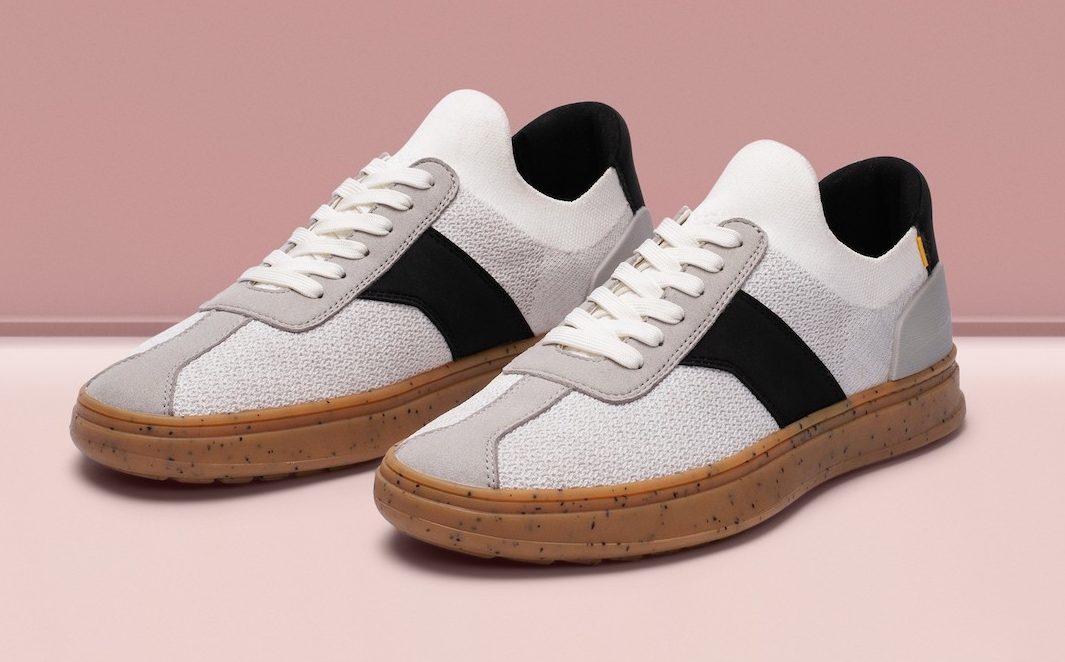 Volvo has recently been collaborating with fashion brands in order to showcase its commitment to using eco-friendly materials in its cars. One of the most recent is its collaboration with Canadian shoe company Casca to produce a low-key, eco-chic pair of trainers, the lines of which were inspired by the "Thor's Hammer" headlight design of the Volvo XC40 crossover. 10% of the rubber in the soles is made from recycled car tyres while the breathable uppers are partly made from recycled plastic bottles.
Perfect for Volvo fanatics and anyone looking for a practical pair of trainers.
Price: USD $168 (£123) plus shipping
Buy it at: Casca.com
2. Serengeti Driving sunglasses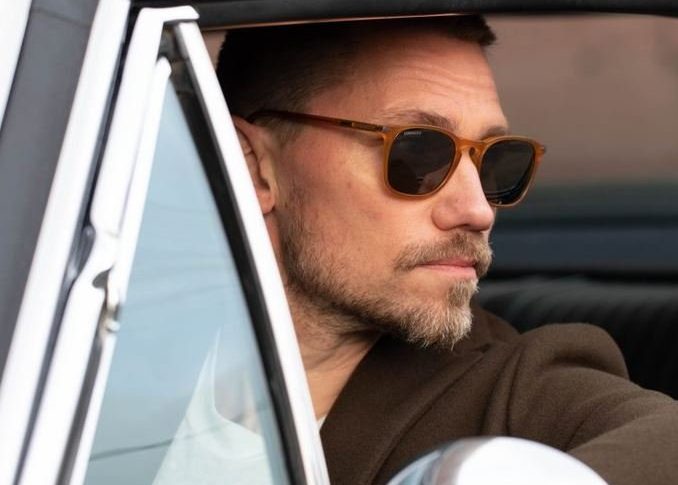 American brand Serengeti was established in 1982 but it claims its roots go back to lens innovations by materials scientists Corning in 1877. The brand's sunglasses today still use Corning borosilicate glass and they are seriously high tech. Many are designed specifically for driving, including the Delio (pictured in the "Shiny Honey" colour), which has "ultra-light mineral" lenses, making them thinner and lighter than the usual fare. They are also photochromic, which means they transition from light to dark automatically depending on the amount of UV radiation in the atmosphere, as well as polarised to reduce glare. Plus Serengeti's "Spectral Control" technology filters up to 96% of blue light, which is said to protect eyes from aging and damage while enhancing colour and improving contrast, selectively managing light wavelengths to improve clarity. The frames are made in Italy from cotton acetate and in our tests they felt solid and of very high quality. Other driving-focused styles we tried include the Lenwood and Raffaele.
RRP: Lenwood £230 / Raffaele £230 / Delio £270
Buy it at: serengeti-eyewear.com for the latest models or for potential discounts on established collections such as the Delio, try Sunglasses2U.com
3. Triumph Motorcycles lifestyle clothing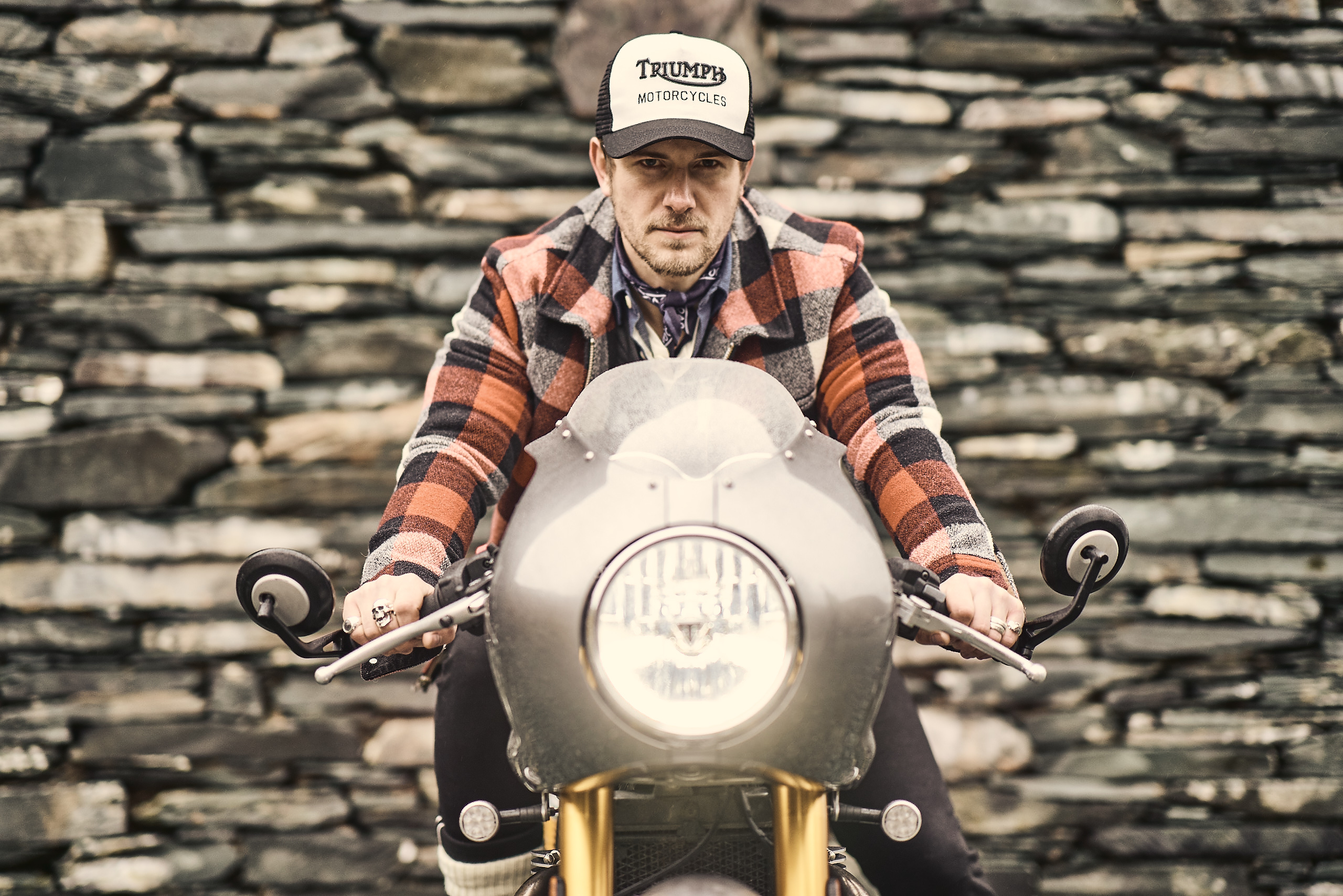 Why is it that it's cool to wear a motorcycle-branded t-shirt but not one with a car logo on it? Is it the danger involved in riding a motorcycle? Or the fact that they're predominantly ridden by true enthusiasts? Who knows, but it's a fact. And there aren't many cooler brands than Triumph. The range of lifestyle clothing, from caps to tees and jackets, looks superb, too.
Price from £25
Buy it at TriumphMotorcycles.co.uk
4. BMW Genuine Mens M Collection Stand-Up Collar Outdoor City Jacket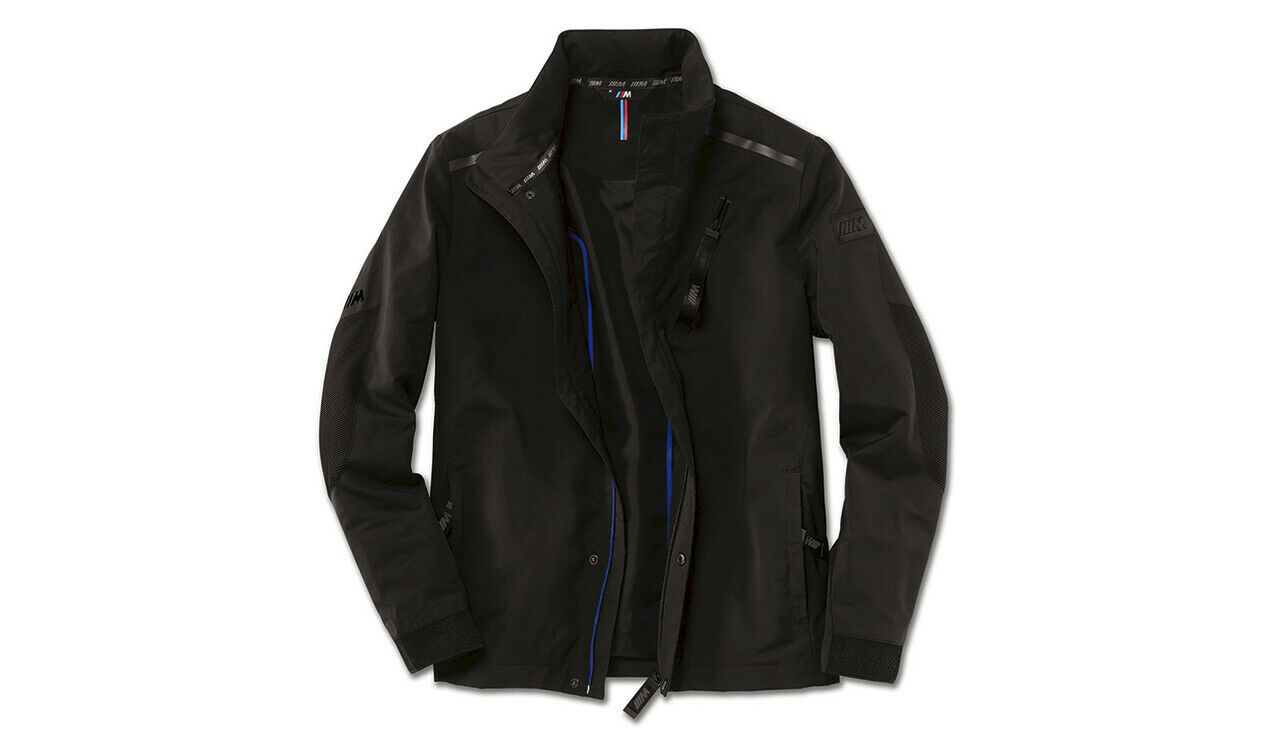 As mentioned, car-branded clothing is usually naff and the motor companies don't tend to have the greatest eye when it comes to designing clothes — think of the Ferrari-branded leather trainers — but BMW has bucked the trend with this jacket. This is how to do it: appealing to petrolhead sensibilities with a tasteful, subtle BMW M logos on the sleeve and carbon-style material on the rear.
Price £180
Buy it at BMW eBay shop
5. Car seat pattern bifold wallets by Walletwerks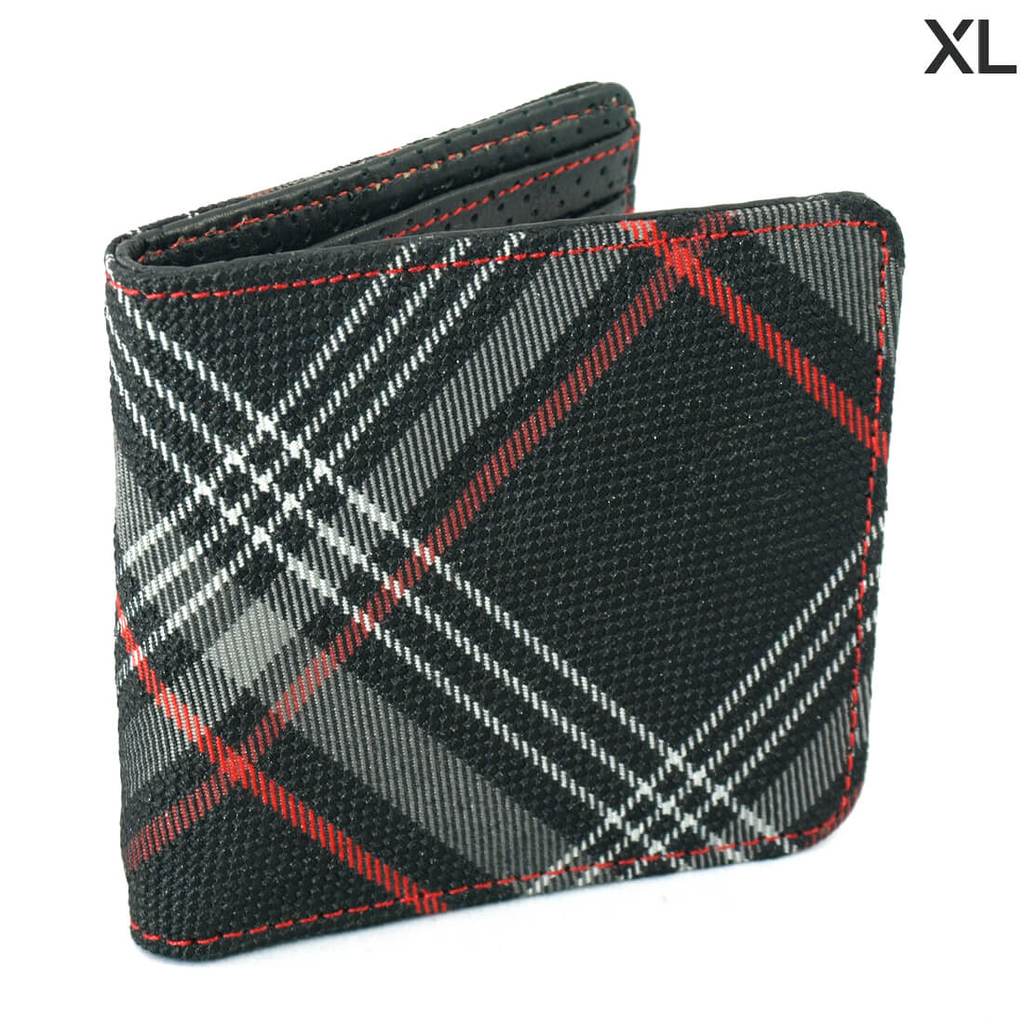 While we've seen fabulous seat-patterned socks from Heel Tread before (see below), US company Walletwerks' seat-cover-inspired products are even more of an automotive deep-cut.
While Walletwerks also makes socks, its main focus, as the name suggests, is on wallets with designs inspired by Porsche, Volkswagen and BMW interiors. While made from leather, the exteriors are fabric-coated in patterns reminiscent of classic seat covers — think Volkswagen check, Porsche houndstooth and abstract 1990s BMW cloth.
Price: From $40 (around £29) plus shipping
Buy it from: walletwerks.com
6. Heel Tread Golf GTI socks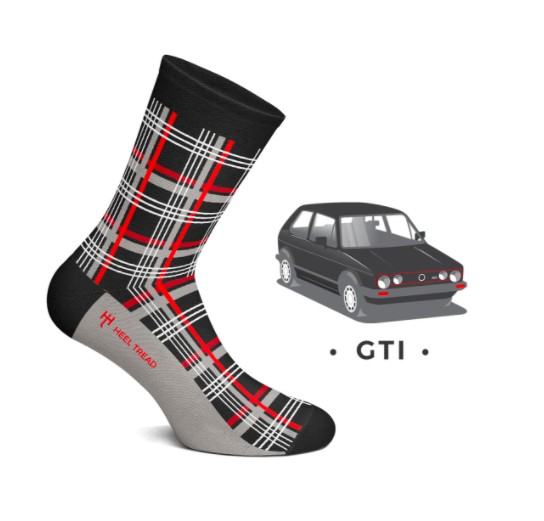 Heel Tread is another company that makes socks giving a subtle nod to automotive icons. Among other great designs based on things such as Senna's helmet and the Gulf Oil-adorned Ford GT40, is this charming nod to the checked seats of the Golf GTI. Most people won't get the reference but the recipient of this gift is sure to get kudos from those in the know.
There's also a multipack based on cars from the James Bond films, which references the Aston Martin DB5 and V8 Vantage that appear in No Time to Die, the Lotus Esprit from The Spy Who Loved Me and the AMC Hornet from The Man With The Golden Gun.
Price £8.45
Buy it at Heel Tread
7. Bentley Momentum Unbreakable eau de toilette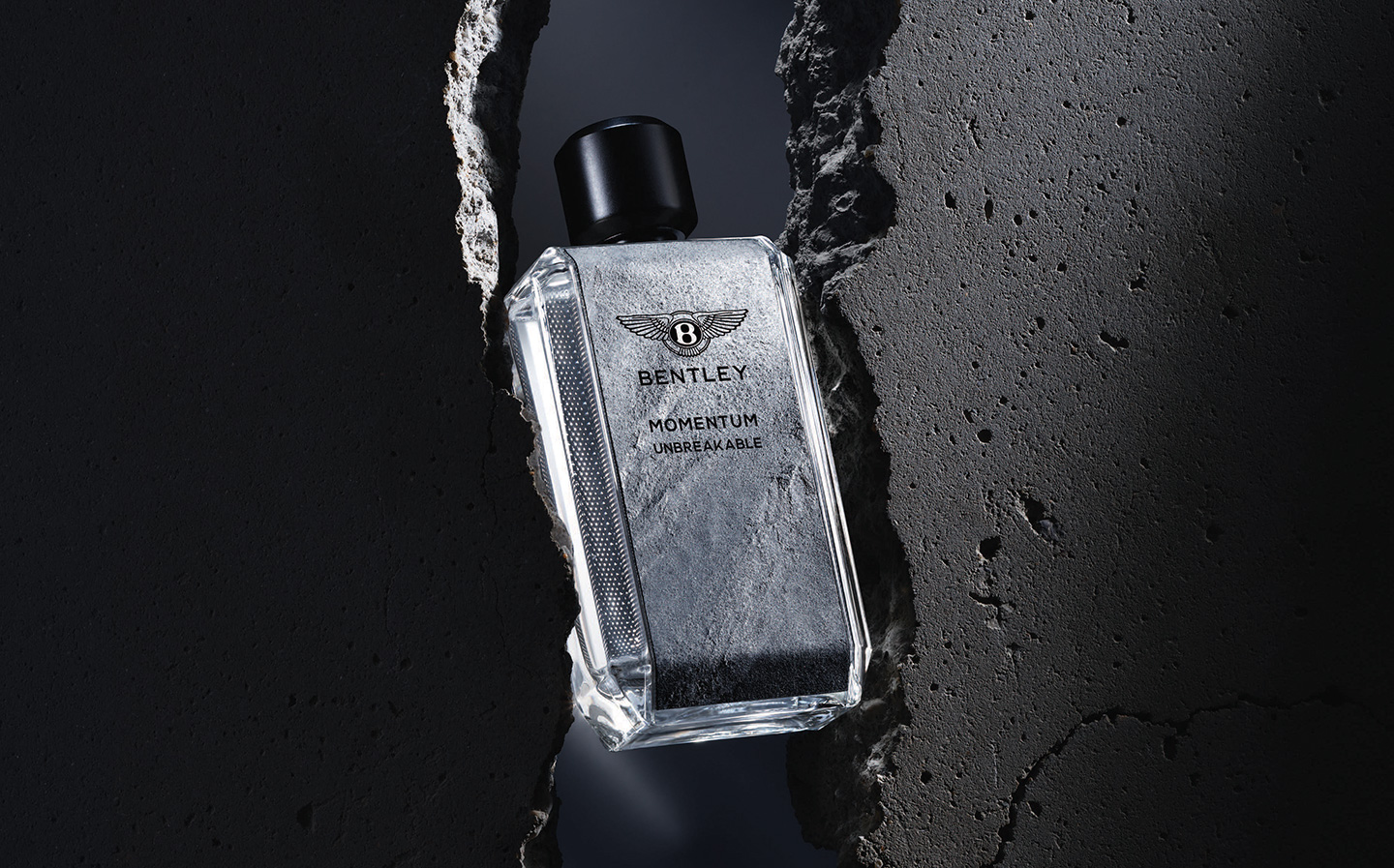 It seems that the industry of car-related fragrances is a burgeoning one, with Bentley adding to its well-established scent collection. Last year it released three new floral fragrances for women that match "peerless ingredients with far-flung destinations" — namely "Mellow Heliotrope", to evoke Lima, Peru; "Radiant Osmanthus", a fruity aroma apparently reminiscent of Kyoto, Japan; and "Vibrant Hibiscus", which is an olfactory odyssey to Seoul, South Korea — and "Silverlake" for men, a "cool breath of fresh air through mountain forests".
The latest addition, though, is Momentum Unbreakable, with a woody, floral and spicy scent that we rated highly in our tests. It's a classy, traditional fragrance for men, rather than a bright, modern scent, but that suits the brand perfectly.
Price £69.50 for 100ml
Buy it at Harrods.com
---
Stocking fillers
1. Two-pack of keyless car fob pouches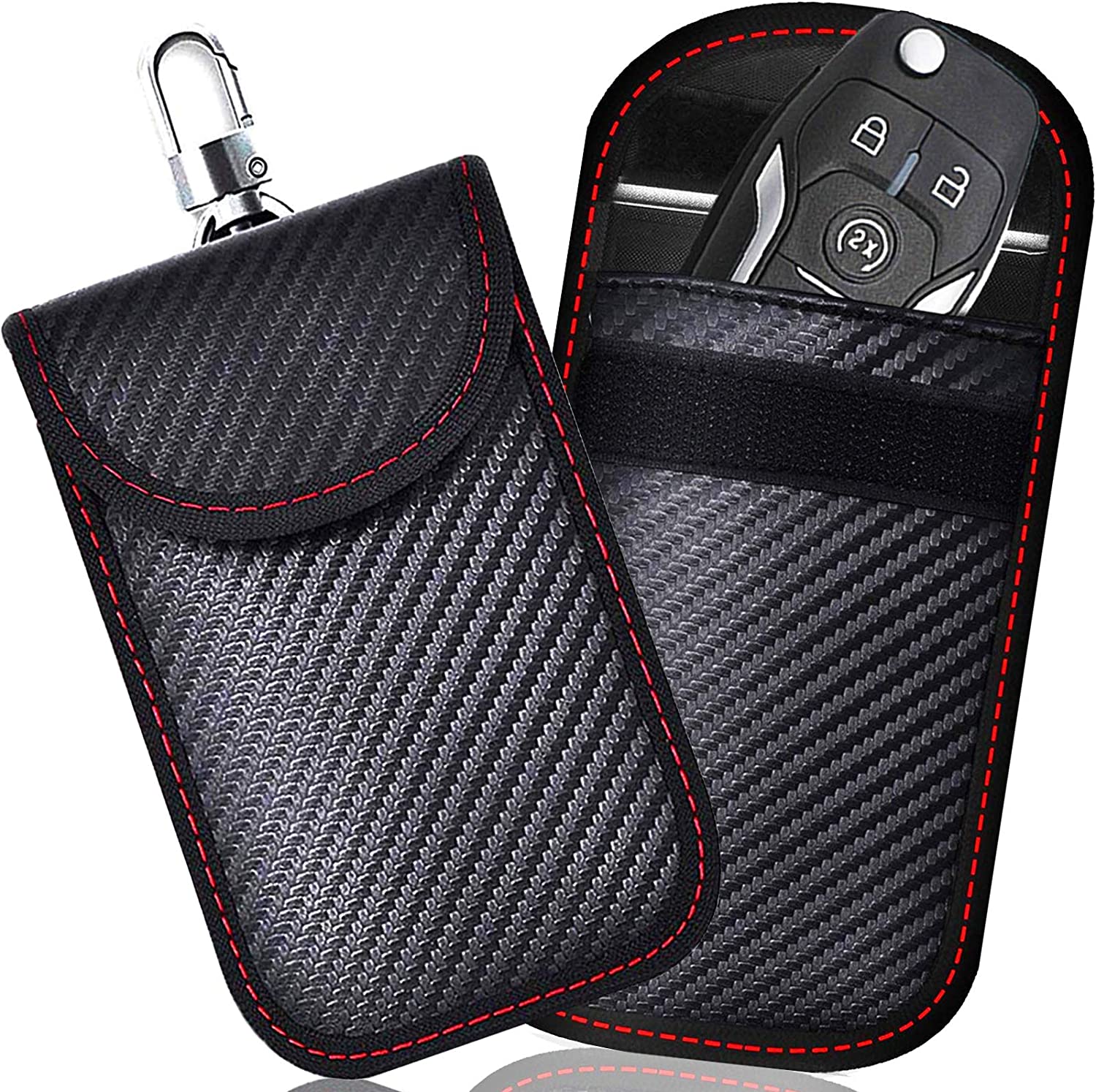 Keyless cars are common these days, and thieves have seized on the technological innovation by creating high tech ways to easily unlock vehicles. One of them is cloning, whereby a signal from your key fob is captured and boosted to another device held by a accomplice, standing next to the car, who can then simply open the door and press the start button. Faraday wallets are one way of counteracting this, by blocking the signal from such malevolent contraptions. Not the most glamorous gift, but more so than wading through insurance documents because your car's been nicked.
Price £6.99
Buy it at Amazon
2. James Bond Aston Martin DB5 keyring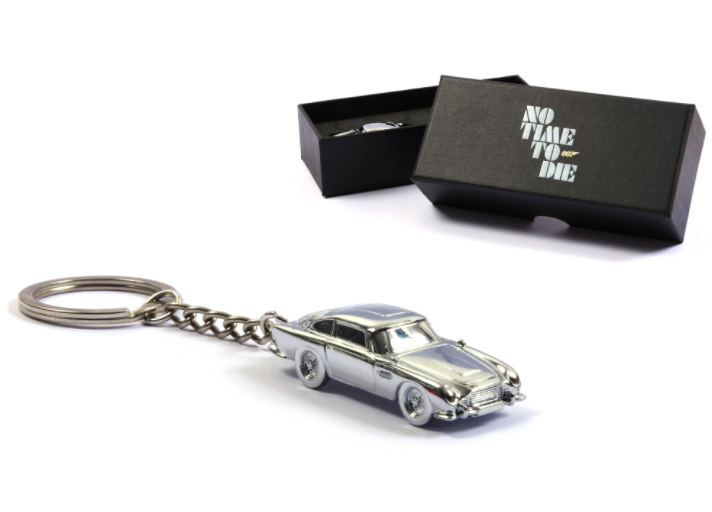 Whether or not this elevates a car key with a touch of class, or just provides a depressingly stark comparison between one of the most beautiful cars of all time and your loved one's Vauxhall Astra key, is up to you. All we know is that it's shiny, comes in a nice box, and well… it's an Aston Martin DB5. What more is there to say?
Price £15.95
Buy it at 007 Store
3. Airfix Quickbuild Jaguar I-Pace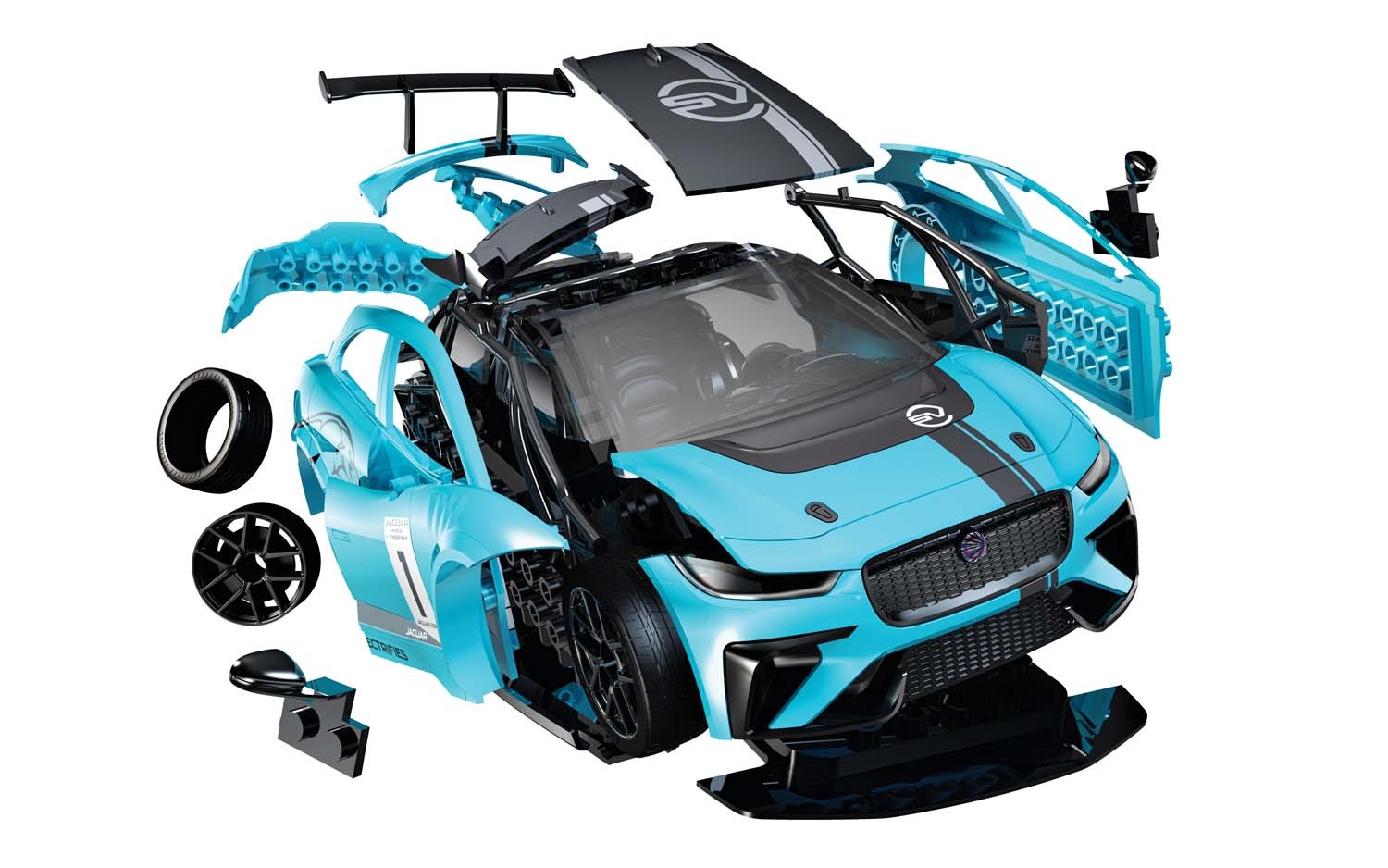 Airfix has been around for nearly 80 years, meaning that it's a household name, especially among model enthusiasts. However, kits like this Jaguar I-Pace might mark a new era for the company, as it joins Lego in embracing the increasing popularity of electric cars. This one is a Quickbuild, meaning that there's no gluing or painting — just assembly and adhesive stickers.
Price £13.99
Buy it at Airfix
4. Build Your Own Electric Stunt Buggy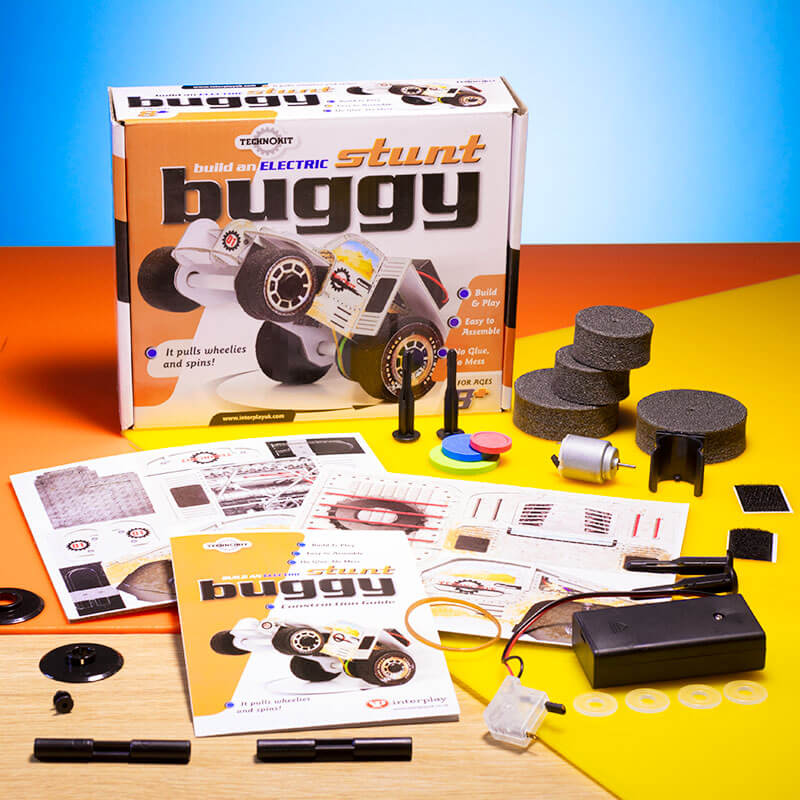 With no need to faff around with glue, this cheap and cheerful gift slots together simply, with easily integrated electrical and mechanical parts, and can be decorated with included decal stickers. At £9.99 it probably won't be the most sophisticated thing in the world, but it's perfect for that downtime between Christmas dinner and dessert.
Price £10.99
Buy it at Prezzy Box
5. De-icer mitt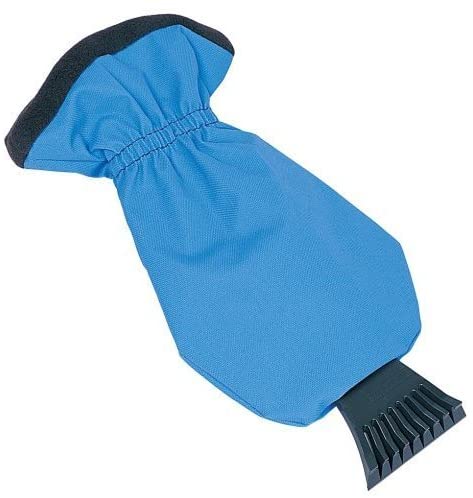 There are few experiences more bleak than frantically de-icing your windscreen, in the dark, when you're cold, tired and late for work. This mitt probably won't make it a part of the day to look forward to, but at least your recipient will do it with warm hands and a warm heart, thinking of you.
Price £9.99
Buy it at Amazon
---
Video games and consoles
1. Xbox Series X and Xbox Series S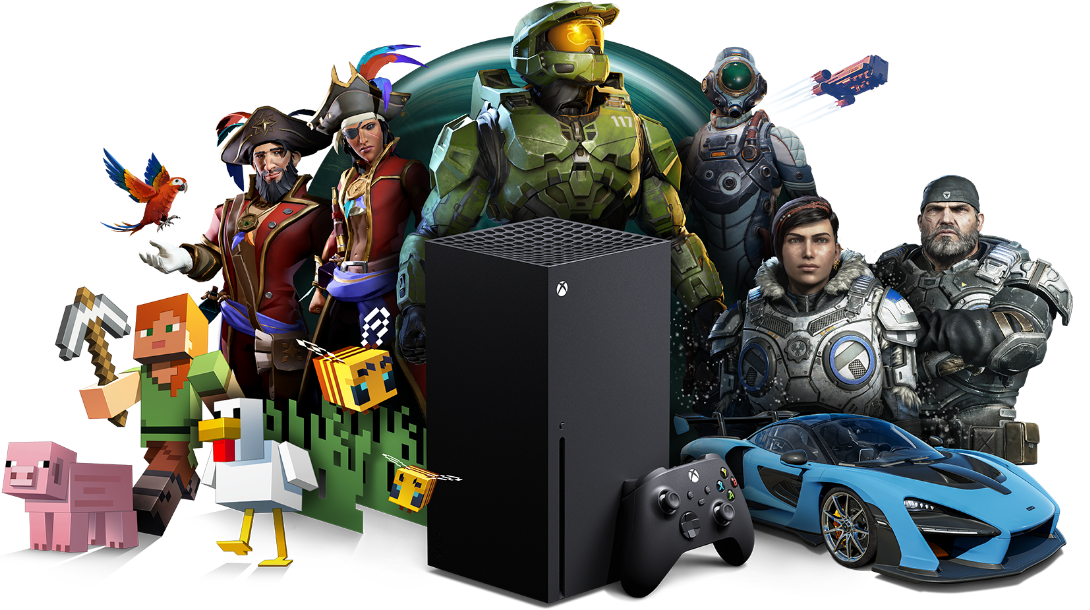 The arrival of a new generation of games consoles has suffered badly from short supply due to the ongoing shortage of semiconductors and, irritatingly, scalping, whereby resellers buy up all available consoles and advertise them on online marketplaces for over-inflated prices. Both the Sony PlayStation (below) and this, the all-new Microsoft Xbox Series X Not to be confused with the old Xbox One X), have been targeted over the last 12 months.
Supply issue this year may be exacerbated by the shortfall of HGV drivers, but if you can get an order in, the Series X is a hugely powerful console, with true 4K graphics (a huge number of pixels), 8K HDR (adds depth through use of light and shade) and ray tracing (true-to-life shadows and reflections), up to 120 frames per second (for incredibly smooth animation – a movie is traditionally filmed at 24 frames per second) and 12 teraflops of processing power.
All of which means racing games such as Forza Motorsport (an Xbox exclusive) should run with speed and clarity like never before. Like the PS5 it's also backwards compatible, meaning hundreds of games for previous Xbox consoles will be playable on Series X.
If the Series X is a bit out of reach, price-wise, there's also the Series S, which plays the same next gen games but has a smaller hard drive, less impressive graphics and a processor that's only a third as powerful as the Series X.
Keep trying the links below — there are occasional restocks at each reputable store.
Xbox Series X price £449.99 or £28.99/month with Xbox All Access
Buy it at Amazon.co.uk, Game or Smyths
Xbox Series S price £249.99 or £20.99/month with Xbox All Access
Buy it at Amazon.co.uk, Very or Smyths
Or take a look on eBay (at buyer's risk): Xbox Series X / Xbox Series S
2. PlayStation 5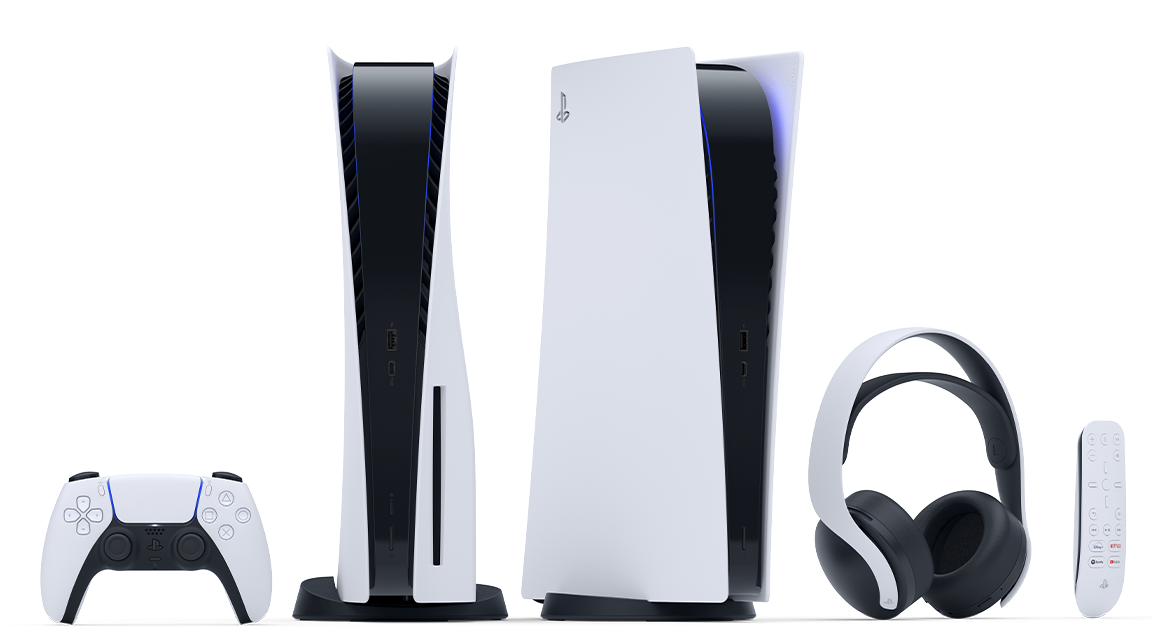 Microsoft's chief console rival Sony also released its next generation games machine last year: the PS5. Stocks are even more limited, however.
If you can get your hands on one, Gran Turismo 7, the legendary Sony-exclusive racing game, is due next year and it looks stunning from the official trailer. Superb rallying sim Dirt 5 is available now.
Like Xbox Series X, the PS5 packs a punch with an ultra-high speed hard drive, 4K graphics, 8K HDR, 120 fps and ray tracing. It also looks pretty cool compared to the Xbox's cube-like design, though be warned it's a fair bit larger than the PS4, so takes up more room on the shelf.
PS5 is available in two forms – the standard model or a cheaper Digital version, which comes without the disk drive. It's backwards compatible so if you want to run your old PS4 disks on the PS5, best opt for the pricier model.
Check availability, though, as stocks are extremely limited at reputable retailers.
PS5 price £449.99
Buy it at Amazon.co.uk, Game
PS5 Digital Edition price £359.99
Buy it at Amazon.co.uk, Game
Or take a look on eBay (at buyer's risk): PS5 
3. Nintendo Switch OLED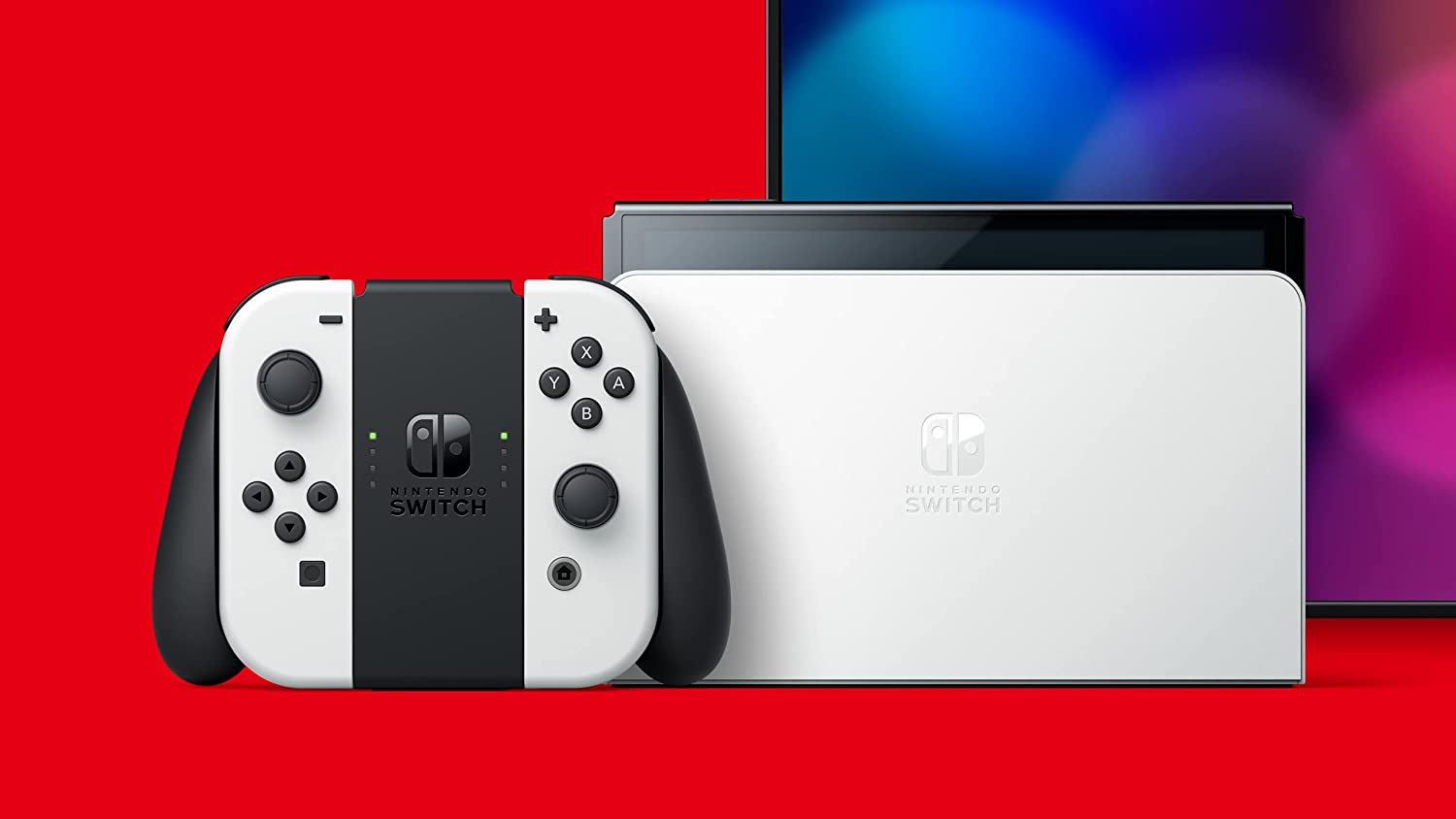 The Nintendo Switch doesn't offer as much as the Playstation and Xbox for racing game fans, but it does have a few cracking titles, especially for younger gamers, such as Mario Kart 8 Deluxe and the clever Mario Kart Live Home Circuit, which merges a real radio control kart with the video game graphics on the console screen so that you can race on the floor of your living room.
And this Christmas there's a new OLED (organic light-emitting diode) version, with a larger (7in), more vibrant screen and double the internal storage (64Gb) compared with the regular Nintendo Switch.
The real beauty of the Switch is that you can play it away from home, using the screen on the controller, making it ideal for car journeys and visits to friends' houses, as well as home entertainment.
Price Currently £309.99
Buy it at Amazon.co.uk / Game /  Currys
4. Art of Rally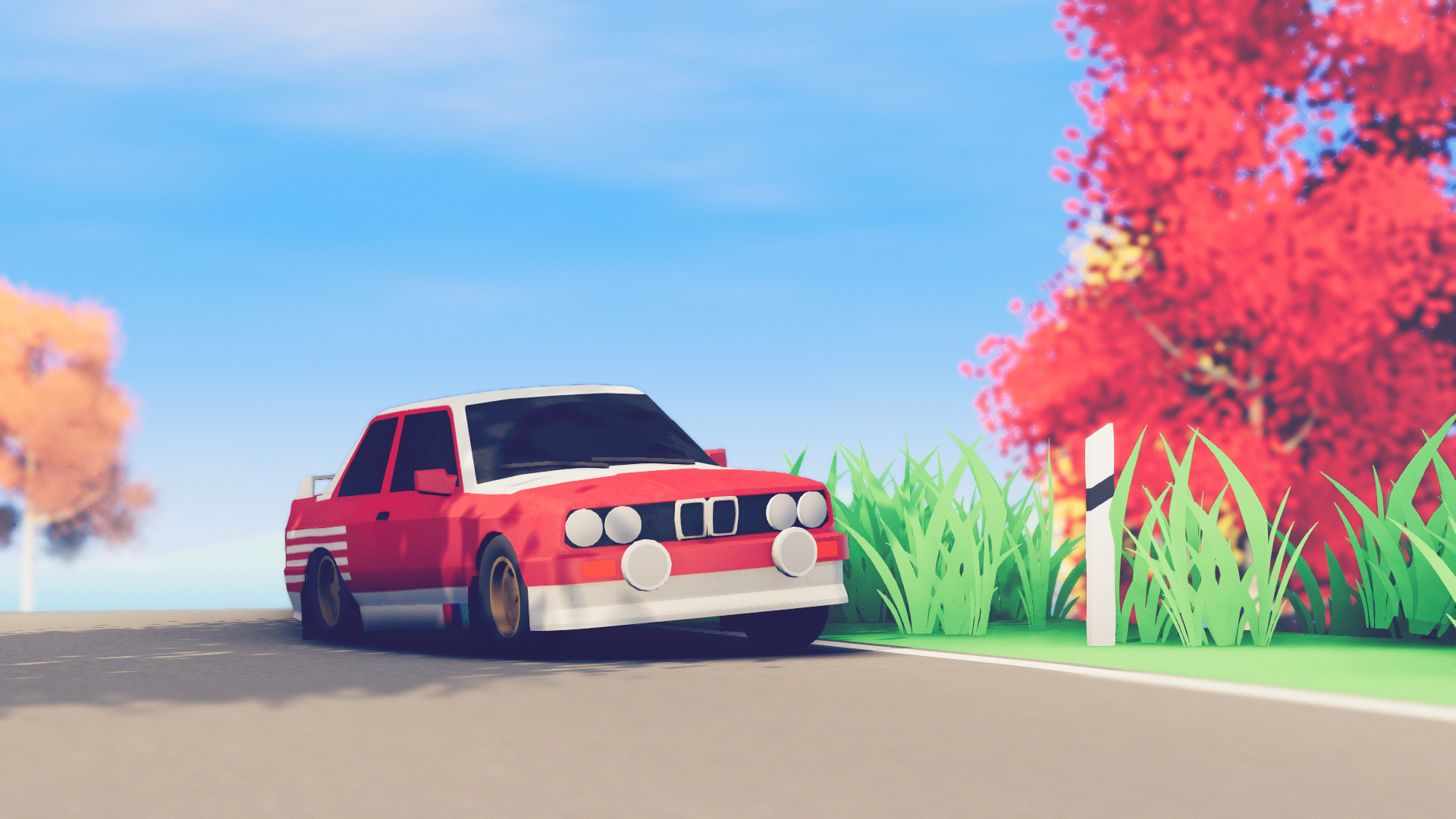 There are more realistic rallying games certainly, but Art of Rally is far more charming than all of them. The game, made by Funselektor Labs, has a hazy, dream-like quality and eighties-influenced soundtrack and allows players to race rally cars from the 1960s to 1980s around sixty stages loosely — very loosely — inspired by real-world rallies.
Yes, the cars have been renamed for legal reasons but they're still very clearly modelled on Minis, Porsche 911s, Audi Quattros, Ford RS200s, BMW M3s and Mazda RX-7s.
It's a wonderfully arty, strangely meditative take on the arcade racing game and is available across Xbox, PlayStation and Nintendo Switch platforms.
Price: £16.99 (PS4 & PS5) / £19.74 (Xbox) / £19.49 (PC)
Buy it at: Playstation store (PS4 & PS5) / Microsoft Store (Xbox) / Steam (PC)
5. Project Cars 3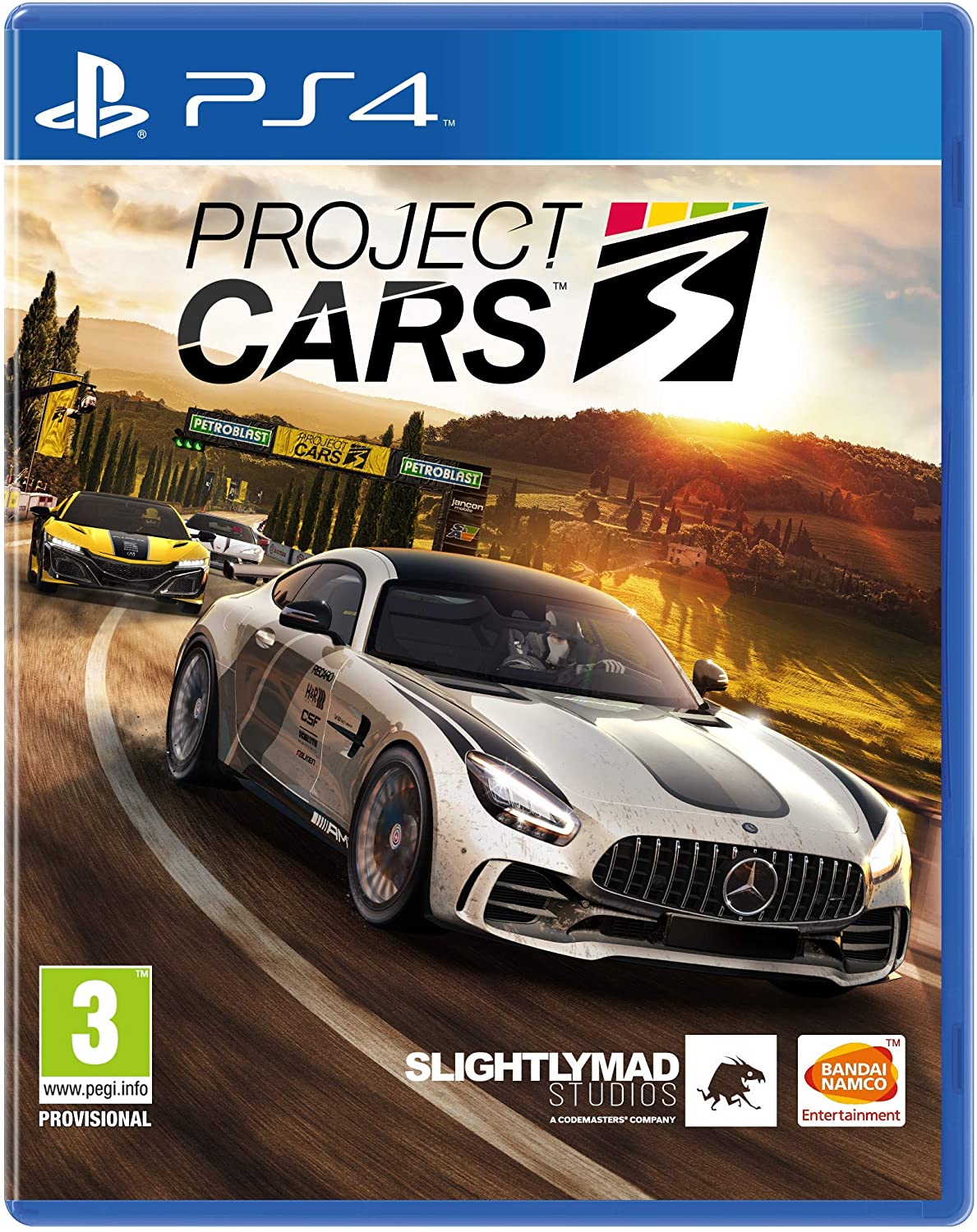 The third instalment in a racing franchise that sits towards the sim (rather than arcade) end of the racing game spectrum, though this time around the controller experience was completely redesigned for more accurate and fun handling, and the adjustable skill settings mean beginners can get to grips with it.
The career mode that takes you from street racer to circuit champion, while in-game credits allow you to buy and own hundreds of cars and performance upgrades, including wheels, tyres and body kits, with racing on "over 120 global tracks". It also includes a 24-hour clock for day and night driving, dynamic weather and new multiplayer modes.
Price £17.99 (PS4) / £16.54 (Xbox One)
Buy it at Amazon.co.uk: PS4 / Xbox One
6. Snowrunner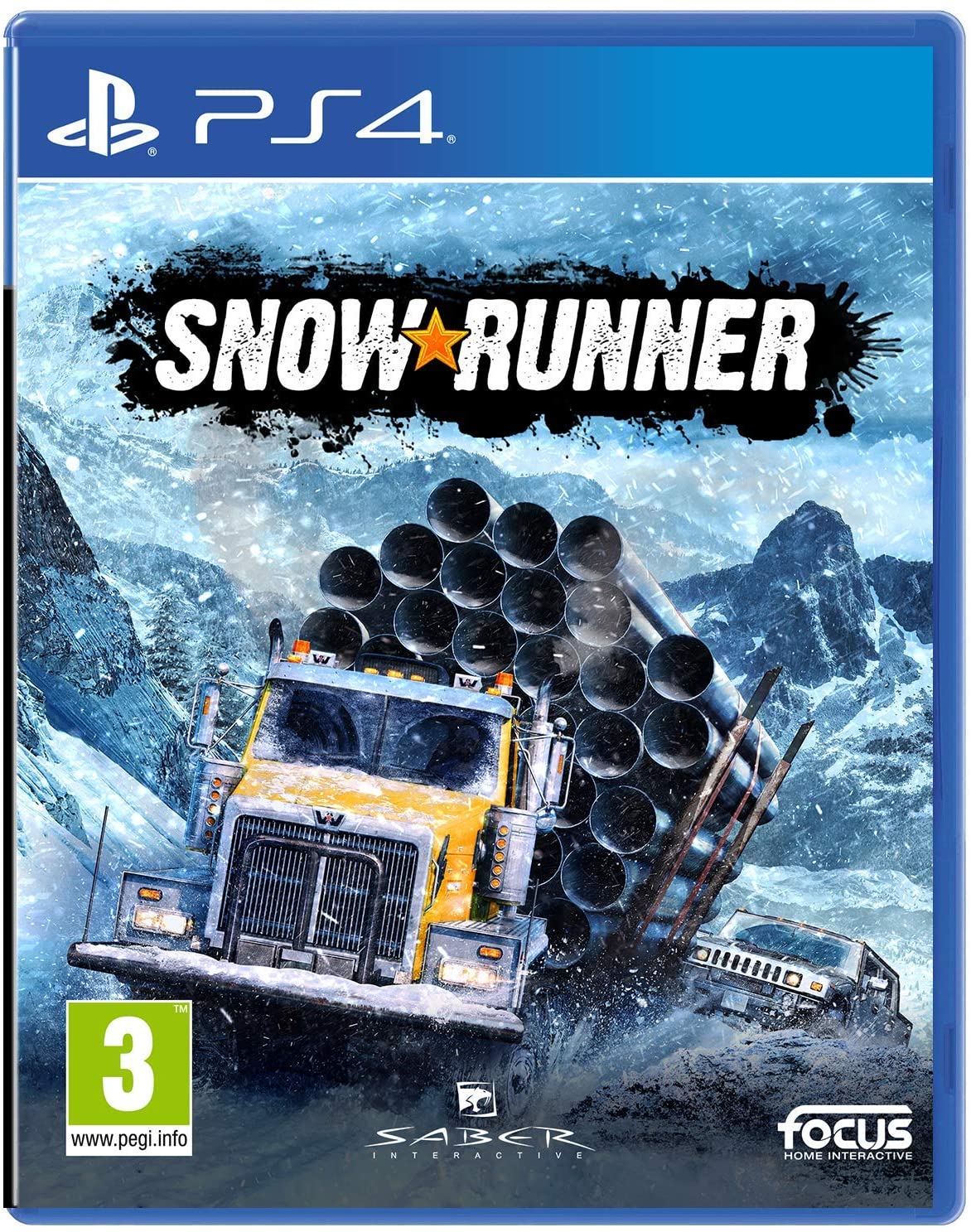 It looks like nothing more than a dull game involving delivering stuff with trucks but the Snowrunner has won over motoring journalists and gamers alike with realistic physics, environments and weather. It really is amazingly rewarding to play – snow joke. [Groan. I'm only leaving it in as it's Christmas – Ed.]
Price £34.94 (PS4) / £49.99 (Xbox One)
Buy it at Amazon.co.uk: PS4 / Xbox One
7. WRC 9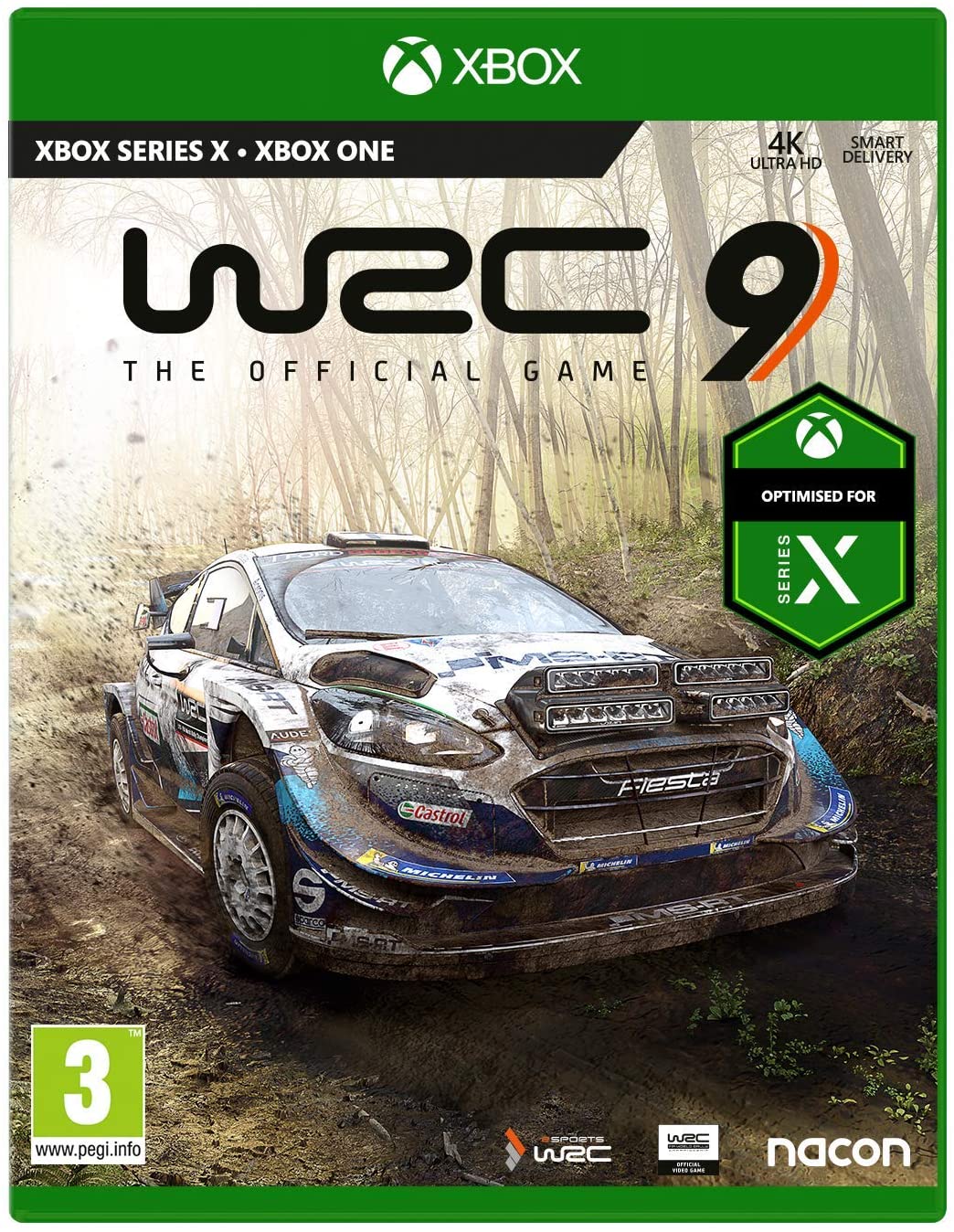 The WRC series of rallying simulations are not the easiest to master but if you have a decent quality steering wheel and pedal set-up, and like a challenge, it doesn't get much more impressive than the officially-licenced game. The new WRC 9 arrives on November 19 to coincide with the launch of the PS5 but it's also available for PS4 and Xbox One. Note: the Nintendo Switch version arrives after Christmas.
Price Around £25-£37, depending on format
Buy it at Amazon.co.uk: PS4 / Xbox One / PS5 / Switch
Enjoyed our roundup of the best Christmas gifts for car lovers? Then you might like to read our other car accessory reviews.