Extended test: Honda HR-V 2023 review
---
Published 08 November 2023
Honda HR-V specifications
Model Honda HR-V 1.5i-MMD Advance Style e-CVT
Price from £35,615 OTR
Price as tested (with options): £36,265
Cost options fitted: Metallic two-tone paint £650
Colour Meteoroid Grey
Engine 1498cc 4-cylinder petrol engine plus two electric motors
Transmission Electronic continuously variable transmission (automatic)
Power output 129bhp
Torque 253 lb ft
Weight (DIN/EU) 1,380kg / 1,401kg
Luggage capacity 304 / 1,274 litres (seats up / rear-seats folded)
Top speed 106mph
0-62mph 10.7sec
Fuel consumption (WLTP combined cycle): 52.3mpg
CO2 emissions (WLTP): 122g/km
VED (road tax) £170 for first year; £145 thereafter
BIK tax payable (2022/23) 29%; £1,909 (20%) or £3,818 (40%)
Insurance group 31A
Test details
Test period August – December 2023
Starting mileage 9,565 miles
Updates
October 5, 2023 Will the hybrid HR-V electrify or give me a flat battery?
November 8, 2023 Can the HR-V handle a hybrid of different family holidays?
---
October 5, 2023: Will the hybrid HR-V electrify or give me a flat battery?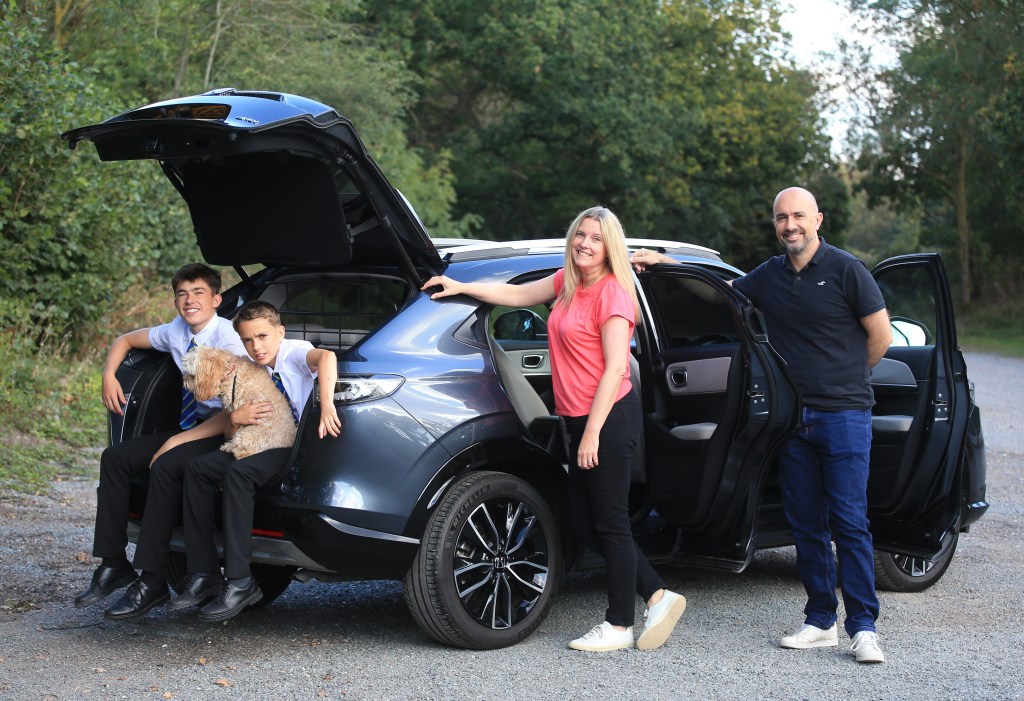 With the ongoing commentary about what the UK's automotive future will look like, I was more than intrigued about whether the Honda HR-V and its "self-charging" hybrid system would make a sound bridging step before full EV ownership.
My journeys are generally local with the need to go on longer stretches only a few times a year, for family trips and holidays. Whether a full hybrid offers significant fuel savings compared with traditional petrol cars will be interesting to discover. I'm also wondering if it'll actually push me towards considering a full electric vehicle in future. The next few months will tell.
While still very much part of the crossover/ small SUV segment, I was immediately drawn to the sleek coupé bodystyle of the HR-V. Its sporty appearance goes against the pre-conceptions I held about Honda, namely they are cars either for boy racers (Civic Type-R) or the retired (Jazz).
Interestingly, this HR-V's powertrain is derived from the Jazz hybrid system, but updated to suit the larger body with extra performance and efficiency.
A couple of other early impressions stand out. Despite being a small SUV, you get a commanding view of the road from the driver's seat, and I felt elevated with good sight lines in all directions. As many other female drivers may attest, this can add to the driving experience and feeling of security when around larger vehicles or driving alone.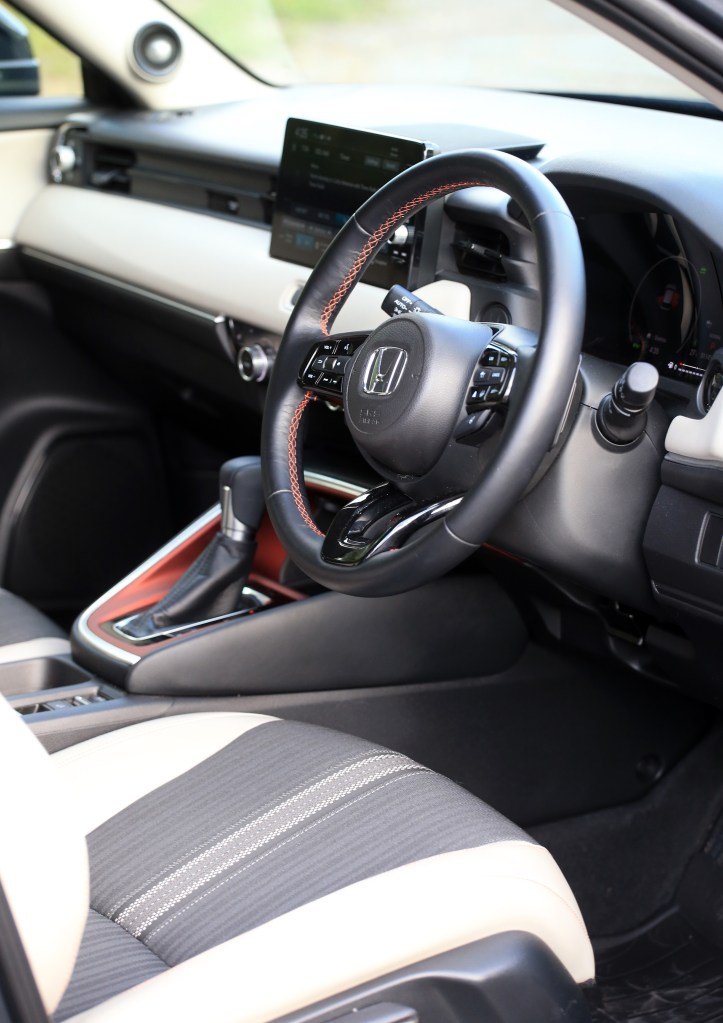 The smartphone wireless charging pad is also a bonus. I'll probably keep this quiet from my two children, with their YouTube Shorts-hungry mobiles.
With regards to rival types of cars, to help give an idea of what it's up against, the HR-V sits within two subsets depending on your point of view. I'd put it in the same group as the Renault Captur, Peugeot 2008 or Vauxhall Mokka, for example; established players at the affordable end of the market that appeal to everyone from urban adventurers and young families to pre-retirement empty nesters.
However, in terms of the HR-V's unique styling, the Toyota CH-R and Mazda CX-30 are more interesting and closer competitors, standing out from the crowd while not falling into a niche. The CH-R, incidentally, is another full hybrid.
In my first month of driving, I'm loving the fuel economy, hitting the heady heights of 58mpg before settling at an average of 53mpg when my journey mix levelled out.
I'll examine the driving experience more fully next month as I continue to get to grips with the hybrid set up. I'll also have had the dog-friendly options installed by Honda at that point, which I truly hope are more genuine than its Pet Co-Pilot Front Seat that ran as an April Fool's prank in April 2022.
Miles this month 813 miles
Average economy 53.1mpg
As ever with our extended tests, you can ask questions using the comments section below.
November 8, 2023: Can the HR-V handle a hybrid of family holidays?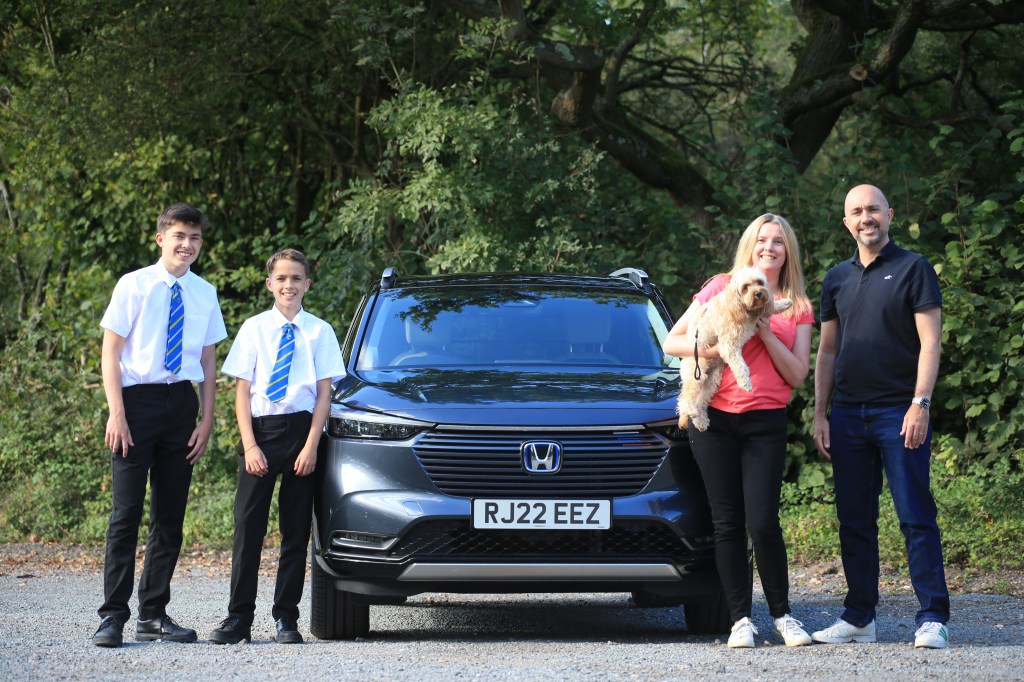 Our HR-V test car arrived just as we were due to set off on a couple of getaways to different corners of the UK. It was certainly dropped in at the deep end.
First up was a family camping trip to Kent. Over the years we seem to have accumulated a lot of the gear required to make a few nights under a canvas roof more comfortable, a mix of both essentials and nice-to-have luxury items (portable larder anyone?). So my first concern was how on earth would we fit all of this paraphernalia into the Honda's compact and snug interior?
Thank goodness both my growing lads were meeting my husband and me at the campsite, as this size of car simply isn't capable of carrying four people and their camping gear. But for two people plus a cavapoo, it was excellent.
I found the pull-down levers on the rear seats, which are slick to operate and the seats themselves have a slick mechanism, which drops them forward logically and seamlessly. This created a huge and completely flat area for me to load into (1,274 litres in total), which to be honest was perceptually larger than I had been expecting.
I didn't need it for this trip but the HR-V also features Honda's clever "magic seat" set-up, where the rear seats fold up cinema-style to allow for carrying taller items. It's simple features like this that really help you warm to a brand.
The journey involved local roads and faster stretches, and it was the first time I'd take the car over longer distances. The initial electric-powered surge from a standing start is super smooth and has an impressive gliding quality.
Honda is very proud of its regenerative braking technology, meaning that slowing down recovers some energy, normal lost as heat, back into the battery. It can then deploy it again when you begin to accelerate.
However, as we began to negotiate longer uninterrupted stages of the journey it became very noticeable how hard the HR-V's petrol engine was having to work. The increased engine noise was palpably loud at 70mph on the motorway, and unused to hybrids and the way the engine revs seem to bear little relation to what your right foot is doing, it was a slightly uncomfortable feeling at first. In fact I wondered if there was something wrong with the car.
These fears did ease after a few minutes as the engine settled down but it returned after further periods of acceleration, as the engine worked hard to charge the battery pack.
A spot of research suggests this issue is due to how the continuously variable transmission (CVT) automatic gearbox works with the engine and battery, and is perfectly normal. But I'm not sure I'll ever get used to it.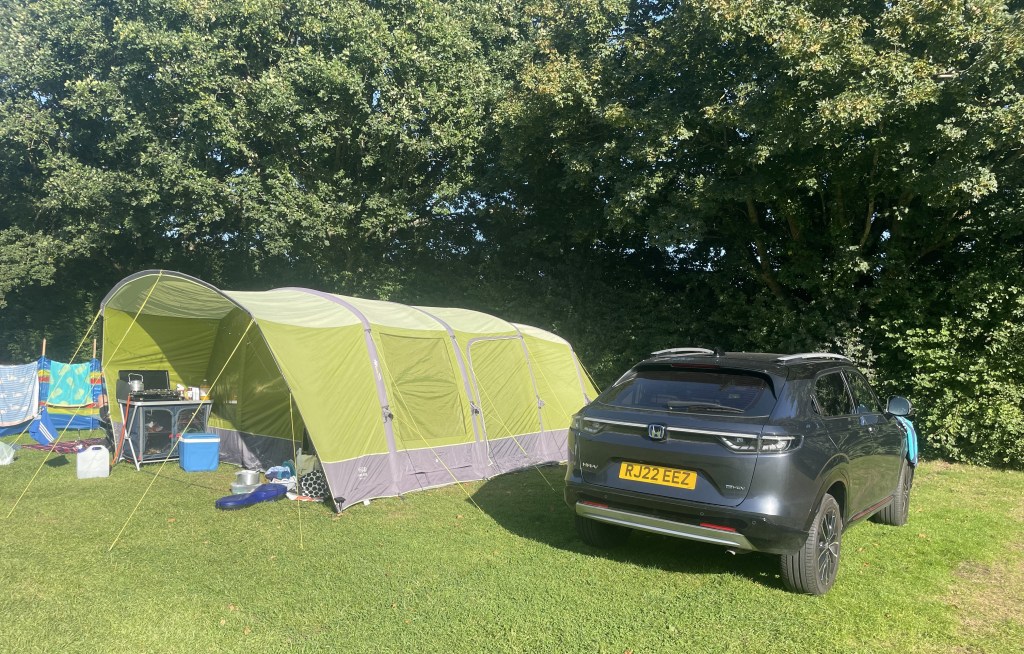 On arrival at the campsite, the HR-V was unloaded pretty quickly and had only one more job — namely to help with inflating the air mattresses. This is when my husband committed an error that he ultimately took full responsibility for. Having got our airbeds and my brother-in-law's mats pumped in record time, the HR-V was given a rest until we departed at the end of a fun weekend. It was at this point we realised we had a dead battery.
A quick call to Honda Assistance (awesome service via their partners at the AA) and the friendly repair guy was with us in five minutes. We lucked out as it felt like he had stepped out from behind a tree the moment we put the phone down but he only lived up the hill from the campsite.
He explained for a job such as using an air pump we should have fully powered up the car's ignition, in order to enable the engine to fire up and recharge the 12v system, which runs all the car's electrics, as the high voltage traction battery can't do that — it's merely there for propulsion (lesson learned!).
A quick boost charge from his vehicle (it's critical to not leave the keys inside while doing this, he told us) and we were back on schedule to get home, with the return motorway trip also helping charge the 12v system back up to optimal levels.
Next up for the HR-V was a longer run down to Cornwall for a week of beach trips and tricky hilly corners, full of caravans and tractors coming the other way. The HR-V took to the task with relish, effortlessly holding its grip on inclines as we patiently waited for large vehicles to pass within inches of us and the high hedgerows.
I'd read other reviewers' comments that the HR-V's suspension was relatively lumpy on more difficult terrain, but I can't say I thought this to be a problem and found the ride nicely sorted.
Yes, the heightened rev noise returned as we moved up and down the rugged Cornish landscape and the Honda worked to adjust, but it wasn't unexpected by now.
On trips to the beach, the hard-wearing plastic mats did a great job of stopping the car from filling with sand. They are easy to remove, brush and clean and can be interchanged with the carpet versions as needed.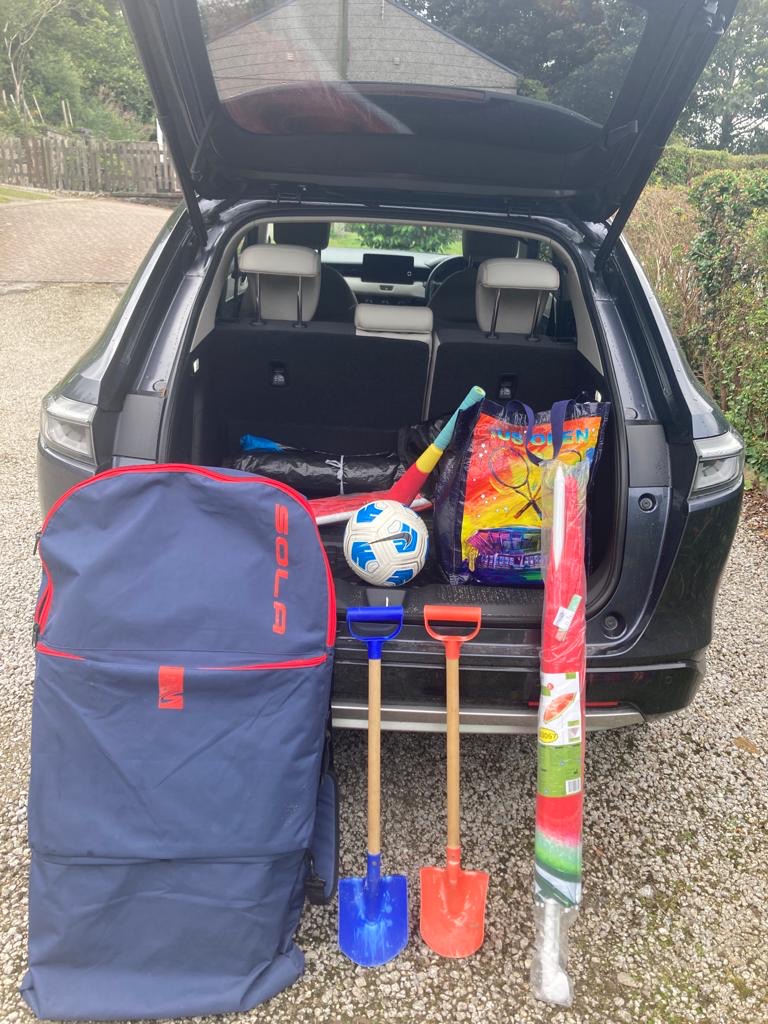 The HR-V may only have 304 litres of regular boot space but this proved sufficient for our wetsuits, bodyboards and beach gear. Notable mention goes to the flexible boot load cover. Unlike a solid parcel shelf, this folds away when not in use and is easy to store. It then can spring back like a pop-up tent when required and tethers in place with some simple hooks. Very convenient and helpful.
So, the HR-V took our family escapes in its stride and pretty much took on board everything we threw at it (human errors withstanding). Fuel efficiency continues to impress, hovering at just above 52 mpg, which while a drop from last month is understandable given the long motorway stints.
The HR-V has been in the Honda workshop recently to get its dog-friendly equipment installed. We'll be giving this the once over in the next review instalment as well as the chance to compare the HR-V with its sister model the ZR-V, which we were given as a courtesy car for a couple of days.
Mileage this month 920 miles
Mileage to date 1,733miles
Average Economy 52.1 mpg
As ever with our extended tests, you can ask questions using the comments section below.
Related articles
Latest articles