F1 2022: When is the next race, what time does it start, what are the championship standings and how can I watch in the UK?
All the info about the next GP, along with reports from each race so far
The 2022 Formula 1 season is hotting up, and the next race will be the Spanish GP at Barcelona on Sunday, May 22.
After last year's rollercoaster championship, which saw Red Bull's Max Verstappen clinching the drivers' title in controversial style in the dying moments of the final race (something revisited in thrilling detail on Netflix's F1: Drive to Survive), it's all change for 2022 with an all-new car.
Pre-season testing didn't suggest dominance for either of 2021's top teams but after five races, the main themes and trends of the season are already clear.
Ferrari seems to have the edge with an impressive one-two at Sakhir, another double podium in Saudi Arabia and an absolutely dominant race for Charles Leclerc in Melbourne.
But Red Bull seems to have caught up on speed and seems to be tackling reliability woes early in the season, with both of its drivers, Verstappen and Perez, being forced to retire in Bahrain, and Verstappen unable to finish in Australia. A commanding one-two finish at Imola and another win for Verstappen in Miami goes to show though that reliability issues aside, Red Bull shouldn't be discounted yet as potential championship winners.
Mercedes, meanwhile, are salvaging the best results they can given their package is clearly not up to par, though the silver cars seem to the best of the rest. Just.
The politics of the season is proving fascinating to watch. For example, after moving to Mercedes, the talented and hungry young driver George Russell is showing Lewis Hamilton, a driver who many regard as the greatest of all time, that he's not willing to be the team's number two driver.
Meanwhile Valtteri Bottas, who was ejected from Mercedes after the 2021 season, is having a whale of a time giving his former team a run for its money in at his new home with Alfa Romeo.
Meanwhile Haas, the laughing stock of the 2021 season, has impressive pace with Kevin Magnussen, drafted in at the 11th hour before the first race and who managed to score a sensational fifth place in Bahrain and is picking up points fairly regularly.
Sections:
What time is the 2022 Spanish Grand Prix?
The 2022 Spanish Grand Prix begins at 2pm on Sunday, May 22.
There are two Practice sessions as usual on the Friday beforehand (May 20), with a final Practice and Qualifying taking place on the Saturday (May 21).
The full schedule and timings for the 2022 Spanish GP are as follows:
Sunday, May 22
Race: 14:00 – 16:00
Saturday, May 21
Qualifying: 15:00 – 16:00
Practice 3: 12:00 – 13:00
Friday, May 20
Practice 2: 16:00 – 17:00
Practice 1: 13:00 – 14:00
F1 2022 calendar
Though dates and locations is subject to change, the 2022 F1 season began as planned on March 20 in Bahrain and is set to finish on November 20 in Abu Dhabi.
The 2022 season sees the inclusion of one new track — Miami — with the race taking place on May 8, marking the first time since the US Grand Prix at Sebring in 1959 that F1 has gone to Florida. Other US GP venues over the years have been Detroit, Watkins Glen, Dallas, Austin, Phoenix, Las Vegas and Long Beach.
China is not on the calendar this year due to coronavirus restrictions, though it will be restored once the situation allows, according to the organisers.
We've also seen the Russian Grand Prix scrapped due to the host country's invasion of Ukraine.
First pre-season testing for the 2022 F1 season took place on February 23-25 at the Circuit de Barcelona-Catalunya, and was followed by another at Bahrain on March 10-12.
For now, the 2022 F1 season looks like this:
| Date | Grand Prix | Venue |
| --- | --- | --- |
| March 20 | Bahrain (read race report) | Sakhir |
| March 27 | Saudi Arabia (read race report) | Jeddah |
| April 10 | Australia (read race report) | Melbourne |
| April 24 | Emilia Romagna* (read race report) | Imola |
| May 8 | Miami (read race report) | Miami |
| May 22 | Spain | Barcelona |
| May 29 | Monaco | Monaco |
| June 12 | Azerbaijan | Baku |
| June 19 | Canada | Montreal |
| July 3 | United Kingdom | Silverstone |
| July 10 | Austria* | Spielberg |
| July 24 | France | Le Castellet |
| July 31 | Hungary | Budapest |
| August 28 | Belgium | Spa |
| September 4 | Netherlands | Zandvoort |
| September 11 | Italy | Monza |
| September 25 | Russia (CANCELLED) | Sochi |
| October 2 | Singapore | Singapore |
| October 9 | Japan | Suzuka |
| October 23 | USA | Austin |
| October 30 | Mexico | Mexico City |
| November 13 | Brazil* | Sao Paulo |
| November 20 | Abu Dhabi | Abu Dhabi |
*Sprint Races to be included
F1 2022 championship standings
Drivers' Championship
| POS | DRIVER | NATIONALITY | CAR | PTS |
| --- | --- | --- | --- | --- |
| 1 | Charles Leclerc | MON | FERRARI | 104 |
| 2 | Max Verstappen | NED | RED BULL RACING RBPT | 85 |
| 3 | Sergio Perez | MEX | RED BULL RACING RBPT | 66 |
| 4 | George Russell | GBR | MERCEDES | 59 |
| 5 | Carlos Sainz | ESP | FERRARI | 53 |
| 6 | Lewis Hamilton | GBR | MERCEDES | 36 |
| 7 | Lando Norris | GBR | MCLAREN MERCEDES | 35 |
| 8 | Valtteri Bottas | FIN | ALFA ROMEO FERRARI | 30 |
| 9 | Esteban Ocon | FRA | ALPINE RENAULT | 24 |
| 10 | Kevin Magnussen | DEN | HAAS FERRARI | 15 |
| 11 | Daniel Ricciardo | AUS | MCLAREN MERCEDES | 11 |
| 12 | Yuki Tsunoda | JPN | ALPHATAURI RBPT | 10 |
| 13 | Pierre Gasly | FRA | ALPHATAURI RBPT | 6 |
| 14 | Sebastian Vettel | GER | ASTON MARTIN ARAMCO MERCEDES | 4 |
| 15 | Alexander Albon | THA | WILLIAMS MERCEDES | 3 |
| 16 | Fernando Alonso | ESP | ALPINE RENAULT | 2 |
| 17 | Lance Stroll | CAN | ASTON MARTIN ARAMCO MERCEDES | 2 |
| 18 | Guanyu Zhou | CHN | ALFA ROMEO FERRARI | 1 |
| 19 | Mick Schumacher | GER | HAAS FERRARI | 0 |
| 20 | Nico Hulkenberg | GER | ASTON MARTIN ARAMCO MERCEDES | 0 |
| 21 | Nicholas Latifi | CAN | WILLIAMS MERCEDES | 0 |
Constructors Championship
| POS | TEAM | PTS |
| --- | --- | --- |
| 1 | FERRARI | 157 |
| 2 | RED BULL RACING RBPT | 151 |
| 3 | MERCEDES | 95 |
| 4 | MCLAREN MERCEDES | 46 |
| 5 | ALFA ROMEO FERRARI | 31 |
| 6 | ALPINE RENAULT | 26 |
| 7 | ALPHATAURI RBPT | 16 |
| 8 | HAAS FERRARI | 15 |
| 9 | ASTON MARTIN ARAMCO MERCEDES | 6 |
| 10 | WILLIAMS MERCEDES | 3 |
2022 F1 race reports in brief
Bahrain GP, March 20
Ferrari and Red Bull proved the fastest over the race weekend in Bahrain, with Charles Leclerc taking pole position, Max Verstappen lining up second, and their team-mates starting third and fourth.
The start was clean, and Leclerc led most of the race, though he and Verstappen swapped places a few times at about a third race distance. In the end it was Ferrari's day, though, as first Max and then Sergio Perez retired towards the end of the race. Verstappen seemed to have electrical issues while Perez's engine seized on the final lap.
That proved a boon for Lewis Hamilton and George Russell in the Mercedes W13s, who managed to claim third and fourth despite being very much on the backfoot. Fifth went to Kevin Magnussen in the Haas, which was a stunning achievement for the man drafted in to replace Russian Nikita Mazepin at the 11th hour. If they were the teams on top, those with real issues appear to be McLaren and Williams, both of which are lacking in pace. Bahrain also so a fiery end for the AlphaTauri of Pierre Gasly, which brought out a safety car on lap 46 or 57, bunching the cars back together for the exciting conclusion.
Saudi Arabia GP, March 27
After a brilliant pole position, Sergio Perez wasn't able to capitalise and Saudi Arabia became another Leclerc-Verstappen sparring match out front. The Ferrari driver was again canny with the DRS zones, allowing Verstappen to pass just before the activation line after the final corner so that he could benefit from having his rear wing open down the long main straight. But Verstappen got wise to this and did the same to overtake, then a final safety car put paid to Leclerc's hopes of re-passing on the penultimate lap. In the end, the Dutch reigning world champion won by just half a second.
Sainz completed the race in third so secure another double podium for Ferrari, while Perez brought his car home fourth. George Russell had a steady race for Mercedes, finishing fifth, and it's fair to say he out-performed his team-mate Lewis Hamilton all weekend.
Hamilton had a shocker of a Qualifying and didn't even make it into Q2; it was the first time he's not done so since 2017. His race was better, and by switching onto hard tyres early he managed to progress through the pack, though he wasn't able to pit at the crucial safety car moment to benefit from fresh rubber at the end, and picked up just a single point in 10th,
The mid-pack is proving to be a terrific battle this year, with cars from Renault, McLaren, AlphaTauri and Haas (Kevin Magnussen once again proving to be an excellent last-minute signing) all joining Ferrari, Red Bull and Mercedes in the top 10 at Saudi.
Emilia Romagna GP, April 24
This year's Emilia Romagna Grand Prix at Imola threw up few surprises and was far from a vintage event. The weekend saw the first sprint race of the season, Red Bull's Max Verstappen finishing first, putting him on pole position for Sunday ahead of Ferrari's Charles Leclerc and fellow Red Bull driver Sergio Perez.
In damp conditions, Verstappen led the race into the first corner and his lead never looked threatened. Considering the team was racing on home turf, it was a poor race for Ferrari with Carlos Sainz and McLaren's Daniel Ricciardo colliding at Tamburello leaving Sainz stranded in the gravel and Ricciardo dead last. There were few overtaking opportunities throughout, especially given that the race director did not deploy DRS until relatively late.
In the final ten laps of the race, Charles Leclerc, who had been running fourth, spun into a wall, damaging his front wing. He recovered, but the crash and his subsequent pit stop left him finishing ninth.
Towards the end of the race, all eyes were on Alfa Romeo's Valtteri Bottas running in fifth position behind the Mercedes driver George Russell. Would the Finn overtake the underperforming Mercedes driven by his replacement at Mercedes? Despite a close-run battle, Bottas failed to make the move, but at least had the comfort of knowing he finished eight places ahead of his former teammate and seven-time world champion Lewis Hamilton who ended the race in a dismal fourteenth position, only being bumped up to thirteenth following Esteban Ocon's time penalty for an unsafe pit release. Mercedes boss Toto Wolff later apologised to Hamilton for the car's performance, describing it as "undriveable".
It was a lonely race for Verstappen who took victory, followed by Sergio Perez and McLaren's Lando Norris in a creditable third place.
Australian GP, April 10
With Ferrari's Charles Leclerc and Red Bull's Max Verstappen in pole and second position respectively, it looked like it was going to be another round of the two fastest drivers this season duking it out. Leclerc proved untouchable, though, keeping Verstappen behind the whole way in a crushingly dominant performance until Verstappen retired on Lap 39 of 58 with an engine fire, once again underlining Red Bull's Achilles' heel this year — reliability.
Nothing went right all weekend for Leclerc's teammate, Carlos Sainz, who spun out from a dismal P14 on Lap 2. It was a weekend to forget too for Sebastian Vettel and the Aston Martin team, both Vettel and Lance Stroll having crashed in practice sustaining extensive damage and Vettel crashing out on Lap 23 on race day.
After a solid performance, Sergio Perez took second in the race with third going to the Mercedes driver, George Russell who managed to pit during the safety car period following Vettel's crash. Safety cars once again proving to be the bane of his career, Lewis Hamilton pitted shortly before the safety car came out for Vettel's crash and, unlike Russell, was unable to avail of the seven seconds or so saved by pitting under a safety car versus in the normal course of racing. Hamilton was unable to really challenge Russell for the last of the podium positions due to an overheating car forcing him to back off, the frustrated seven-time world champion having to settle for fourth.
Third and fourth positions, coupled with Red Bull's misfortune meant that even though the Silver Arrows haven't really had the pace this year, Mercedes is still second among the constructors.
It was a solid race for McLaren with Lando Norris and Daniel Ricciardo, the latter in front of a home crowd, finishing in fifth and sixth.
One of the most interesting performances of the day was from the Williams driver Alex Albon, starting on hard tyres and only pitting on the final lap for a tyre change to avoid a penalty. It was a clever strategy as, though dropping back from seventh position, he was able to finish in tenth, securing one point each for both himself and the Williams team — their only ones so far this year.
Miami GP, May 8
Ferrari locked out the front row of the grid at the inaugural Miami GP, after Max Verstappen made a mistake on his final fast lap in Qualifying. The Dutchman lined up third, though, and on the grippier side of the track managed to pass Carlos Sainz into the first corner to claim second place.
He then drove the wheels off his Red Bull, managing to catch and then pass Leclerc on lap 9, with a little help from the drag-reduction system, and stayed dominant thereafter. When Lando Norris and Pierre Gasly came together on lap 41 it brought out a virtual safety car, then a real safety car, but Verstappen managed to keep Leclerc behind him at the restart.
Sainz managed to bounce back from two crashes on the trot to ensure Ferrari had two cars on the podium in Miami, finishing behind Leclerc. Sergio Perez in the second Red Bull came fourth, following a desperate lunge on Sainz
Lewis Hamilton was sixth on the grid after a lacklustre Qualifying and lost a couple of places at the start, but regained ground during the race and passed Bottas to finish where he started.
Hamilton's teammate George Russell started well down the pack in 12th and opted for hard tyres, while most others started on mediums. That meant he struggled with pace early on but it proved a brilliant move as the laps ticked over and his race pace improved, allowing the Brit to claim places during the first round of pitstops before the virtual safety car was instigated with 15 laps to go. That allowed Russell to put medium tyres on his car and he leapfrogged Hamilton to finish fifth.
Mick Schumacher drove a good race and was on for his first ever points until a clumsy crash into Vettel's Aston Martin with a few laps to go ended his Miami GP.
2022 and 2021 F1 cars compared
Racing in "dirty air," such as when running closely behind another car, can result in a huge loss of downforce in an F1 car. That loss of downforce partially disincentivises the kind of hard, close racing loved by audiences and drivers.
Research has shown that the 2021 F1 cars lost 35% of their downforce when running three car lengths (20m) behind a leading car, while closing up to one car length (10m) resulted in a 47% loss.
That's why the 2022 F1 car is getting a whole suite of aerodynamic upgrades aimed at increasing downforce and decreasing aerodynamic wake. The new cars rely more on ground-effect than before, with less of an emphasis on disruptive aerodynamic aids such as wings. This, it is claimed, reduces downforce loss to just 4% at 20m and 18% at 10m.
These changes had all been originally slated for the 2021 season, but were delayed due to the Coronavirus pandemic. Here are a few of the highlights:
1. The front wing and nose have been completely redesigned to reduce the aerodynamic wake thrown out by each car, allowing following cars to get closer without worrying so much about disrupted airflow.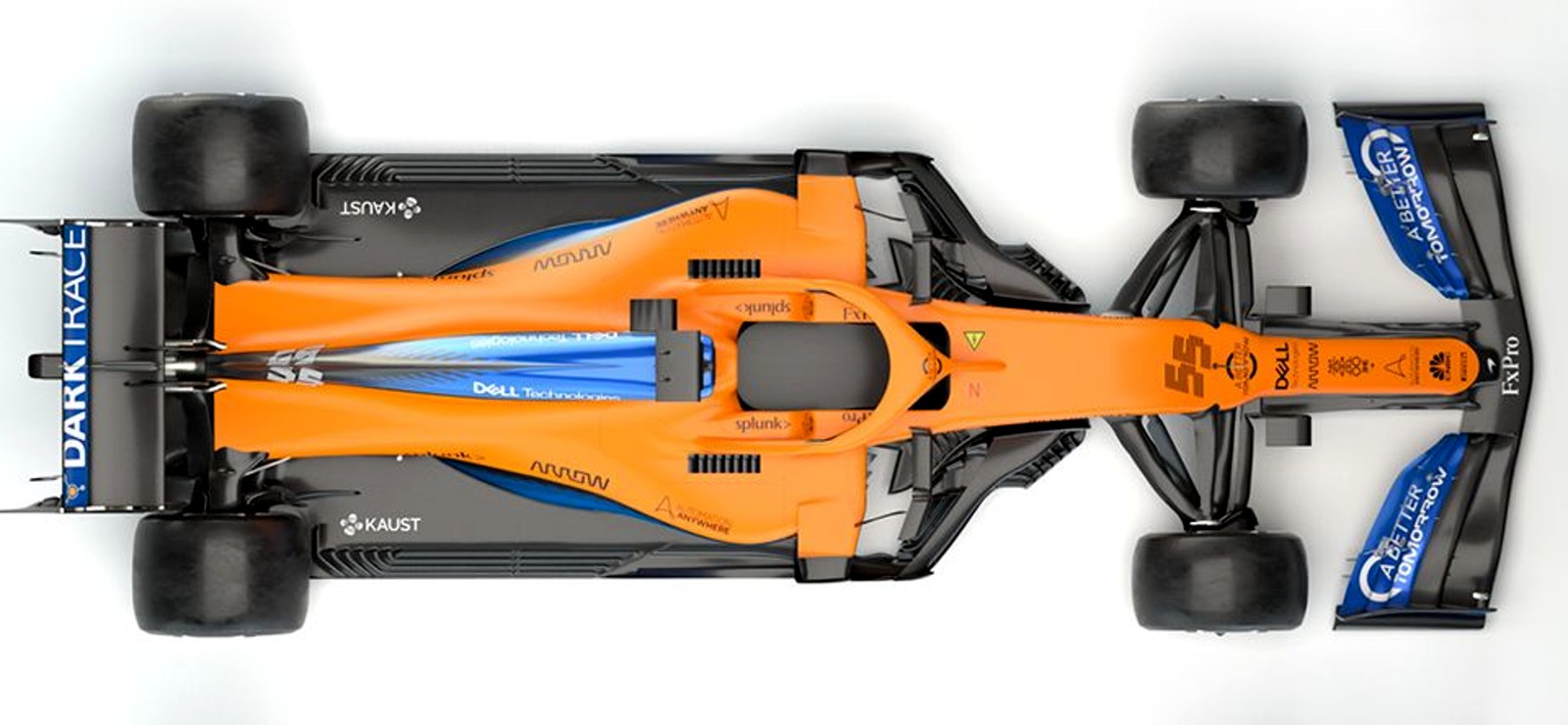 2. The same has been done with the new winglets set back from the nose, the new 18-inch wheels and the return of wheel covers, all tweaked to keep airflow smooth and tight.
3. New floors featuring fully shaped tunnels have been created to increase ground-effect-related downforce, helping the cars stick more closely to the road, reducing the reliance on the rear wing for downforce.
4. The rear wings gets a more curvaceous, sculpted shape to create a less disruptive mushroom-shaped vortex behind the car. 5. The 1.6-litre turbocharged hybrid engines may be the same (though running on more sustainable E10 fuel), but the changes to the aerodynamic array will, in minimising airflow disruption and increasing downforce, potentially lead to much more exciting on-track action.
Will F1 Sprint Qualifying races return in 2022?
Sprint qualifying races made their debut during the 2021 season and they are, in essence, races that determined the grid position for Sunday's Grand Prix. At 60 miles long, they are shorter than a normal 190-mile-long Grand Prix race, though the rules are the same.
Are they confirmed for 2022?
Yes, although it was touch and go. In November 2021, F1's sporting director Ross Brawn said that there would be six sprint qualifying sessions in 2022 and that the first of these would take place at the season opener in Bahrain followed by others at Imola, Montreal, Spielberg, Zandvoort and Sao Paulo.
However, reports suggested some of the top teams were unhappy with the proposal. Although F1 has agreed to pay teams more money to offset the cost of extra racing, it rejected demands from some of the bigger teams to increase the £140 million budget cap as a result.
F1's owner, Liberty Media put forward a revised proposal for three sprint qualifying races this season as a compromise, and that was approved on February 14 following talks between F1's governing body the FIA, and all the teams.
The three F1 Sprint races are due to take place at the Emilia Romagnan, Austrian and Brazilian Grands Prix.
How does Sprint Qualifying work?
The starting grid for the Sprint Qualifying race on Saturday is determined on Friday afternoon, after Practice 1, by the usual three-session knockout Qualifying session, whereby the slowest five drivers are eliminated in Q3, followed by five more drivers in Q2, leaving the final ten to battle for pole position in Q3.
With the fastest times all set, the starting grid for the Sprint Qualifying race is determined.
Grid formation and start procedures are identical to the full-length grand prix, though drivers do not have to pit for tyres during the Sprint Qualifying race.
The final result of Sprint Qualifying then determines the starting grid for Sunday's grand prix.
Related articles
Latest articles