5 Best steering wheel locks you can buy in 2022
Beat high tech thieves the old school way
---
Published 16 December 2021
MECHANICAL security methods such as steering wheel locks are back in vogue, increasingly seen as one of the best ways to make your vehicle less attractive to would-be thieves in a digital age of keyless cars.
While car makers, tech boffins and thieves themselves keep up coming up with ever-more ingenious technological innovations, it remains true that a thief will probably think twice about stealing your car if it is fitted with a steering wheel lock, even if they do seem a bit old-fashioned.
Car thieves will look for easy targets, and the increase in the time it takes to remove a steering wheel lock will mean they're more likely to divert their attention elsewhere.
There are a range of options available, at a range of price points — you can pick one up for just over a tenner, or spend upwards of £100 on the most sophisticated models. Here are five of the best steering wheel locks you can buy this year.
1. Stoplock Pro Steering Wheel Lock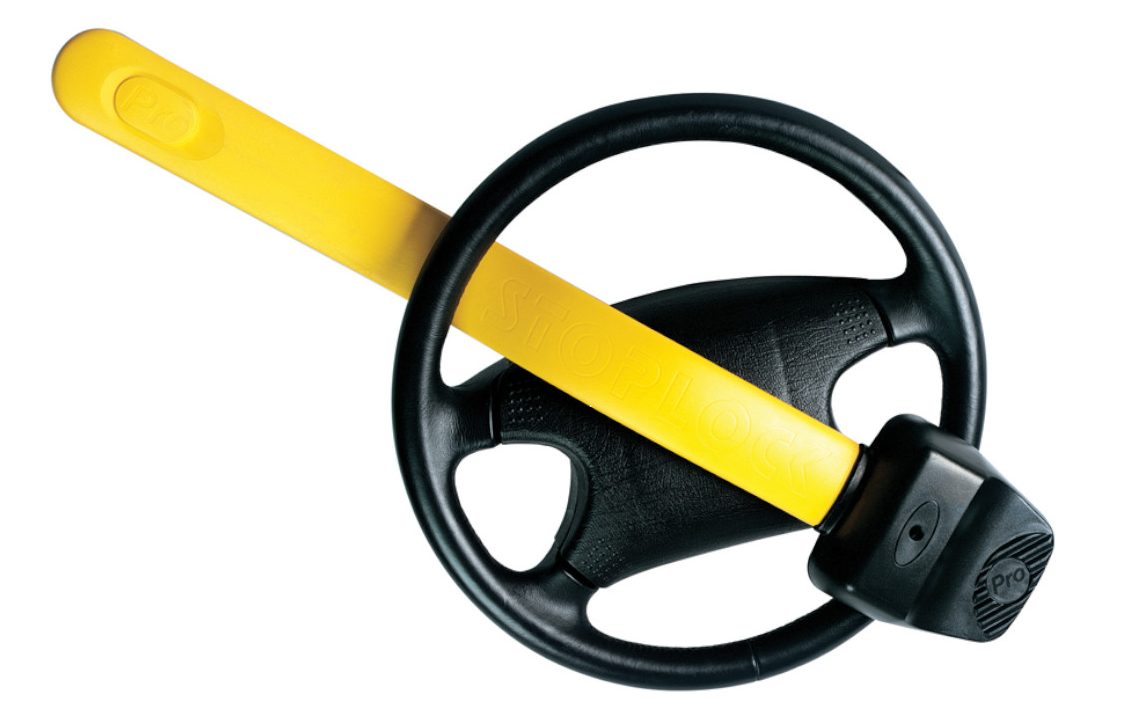 Stoplock Pro Steering Wheel Lock, £40 at Amazon – buy here
Car thieves will spot the Stoplock Pro's bright shade of yellow a mile off. As a bar lock, it's also quick to install before leaving the car and should fit most steering wheels.
In a test, Auto Express found that the Stoplock Pro was as hard to break as the Disklok (more on that below), and reported that cracking it open isn't exactly a quiet affair, either.
The Stoplock is also less than half the price of the Disklok, and Stoplock's 10-year manufacturer warranty puts Disklok's to shame.
More than 97% of Argos reviewers said that they approved of the product, although some said that they had to opt for the Stoplock Pro Elite rather than the standard Pro due to difficulties fitting the device on their steering wheel. Worth bearing in mind.
2. Disklok Steering Wheel Lock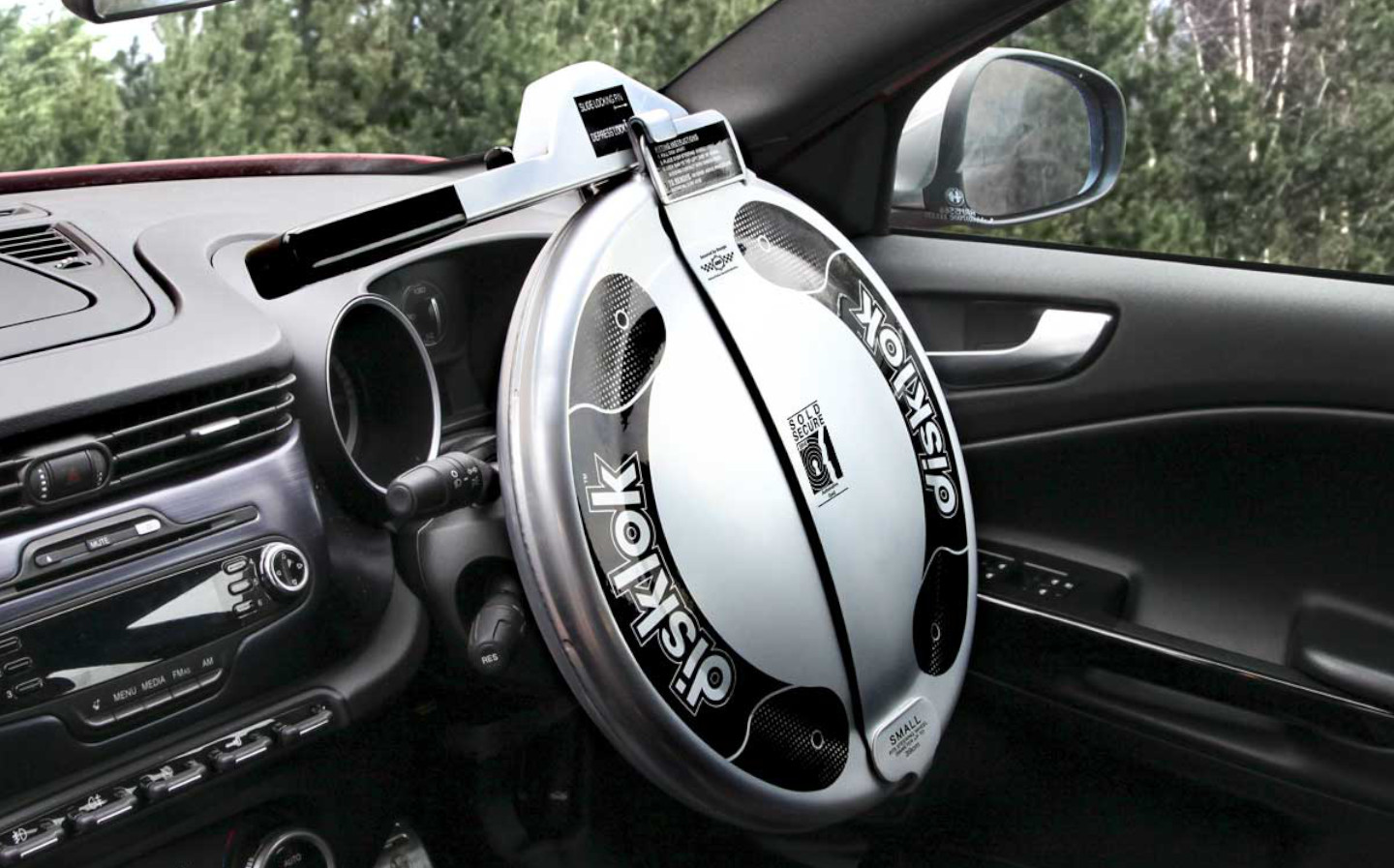 Disklok Steering Wheel Lock, from £132.99 at Amazon – buy here
Since Disklok was established nearly 30 years ago, its focus has been rather narrow: make the best steering wheel lock that money can buy. It's been doing this since 1993, when the company's founder had two Ford Escort RS Turbo MK.2s stolen in a single year.
Such was his heartbreak that he came up with a product that has won pretty much every relevant annual award since then, and was approved by safety experts Thatcham Research back when they used to test steering wheel locks.
Rather than taking the form of a bar that fits through the steering wheel the Disklok envelops the whole wheel – the idea is that it's harder to cut or break off.
There's also a bar on the product to add to the inconvenience, and if a particularly audacious thief does decide to have a crack at removing it, they'll struggle — if attacked, the lock just spins wildly. Reviewers have found that it takes significantly longer to forcibly remove than most competitors.
However, the Disklok has some downsides: with a reputation as the best in the game it comes with a hefty price premium, and it's heavier and more cumbersome to put on and take off than some of its competitors.
People seem to be willing to live with these drawbacks, though: various customers who bought the Disklok said that the product was worth the price, while another said: "The quality feels great and would be a struggle for any thief to get off, unless they've got a nuclear device."
And while its three-year guarantee pales in the face of the decade-long one offered by Stoplock, it's still peace of mind.
3. Streetwize Double Hook Steering Wheel Lock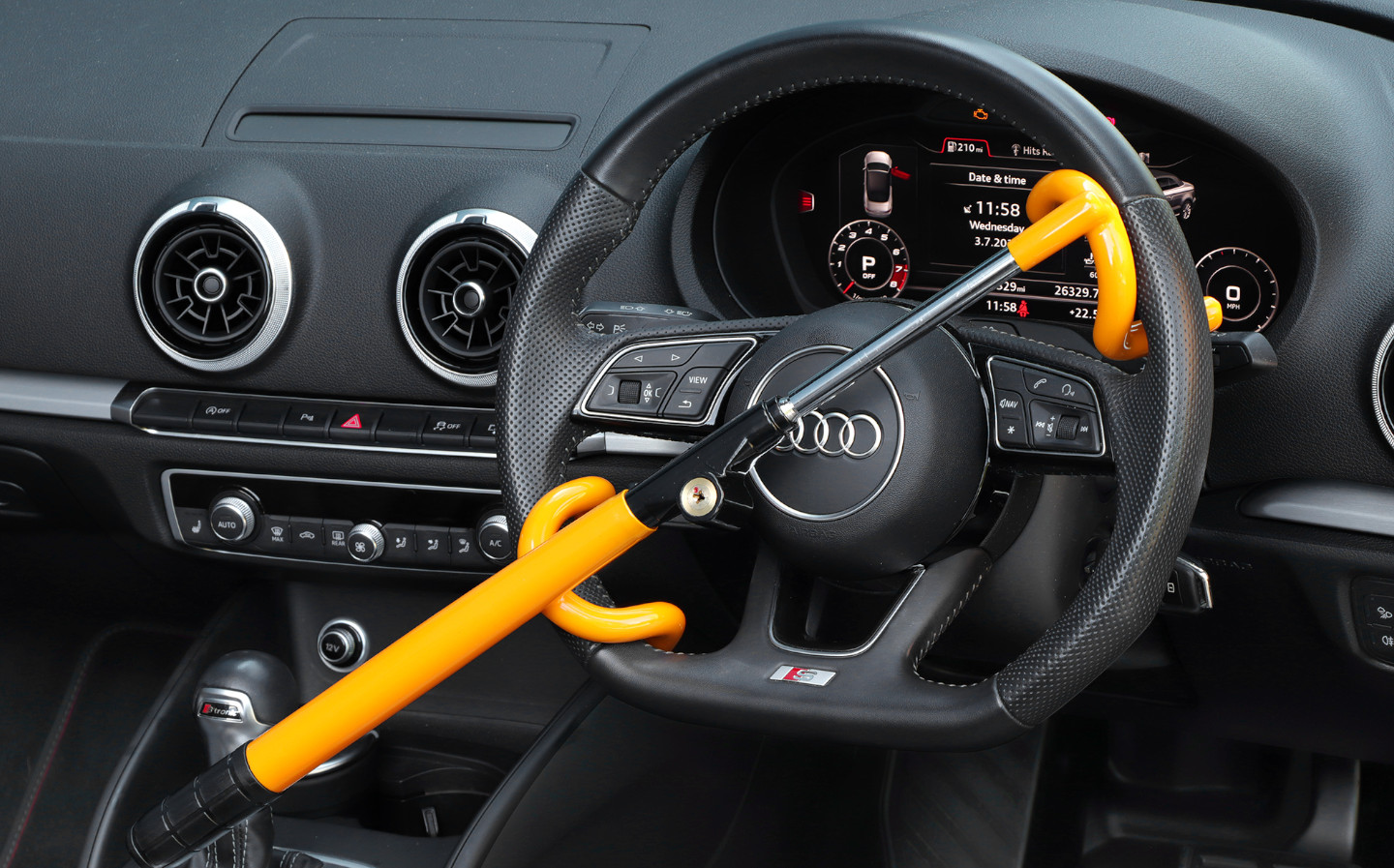 Streetwize Double Hook Steering Wheel Lock, £11.59 from Amazon – buy here
The Stoplock and Disklok are quality bits of kit, sure, but they're not exactly cheap. If you can't put so much of your paycheque towards a car anti-theft device, the Streetwize Double Hook Steering wheel lock might be the one for you.
Like the Stoplock, it's finished in a preventative shade of yellow that will stand out against the interior of most cars, and a "unique cross key locking mechanism" aims to make it particularly difficult for thieves to get through.
And with low prices comes simplicity: it's made from steel and rubber, which makes it "pleasingly weighty", according to buyers, who also praised the fact that it is easy to install and remove.
However, there are also bound to be a few setbacks, at such a low price: while 89% of Amazon reviewers gave the Streetwize Double Hook either four or five stars, some said that they struggled with the keys and experienced issues with the lock jamming. A number of users who experienced this when they first bought the lock said that they found that it disappeared after being used a few times, though. A can of WD40 might be a wise additional investment.
4. Milenco High Security Steering Wheel Lock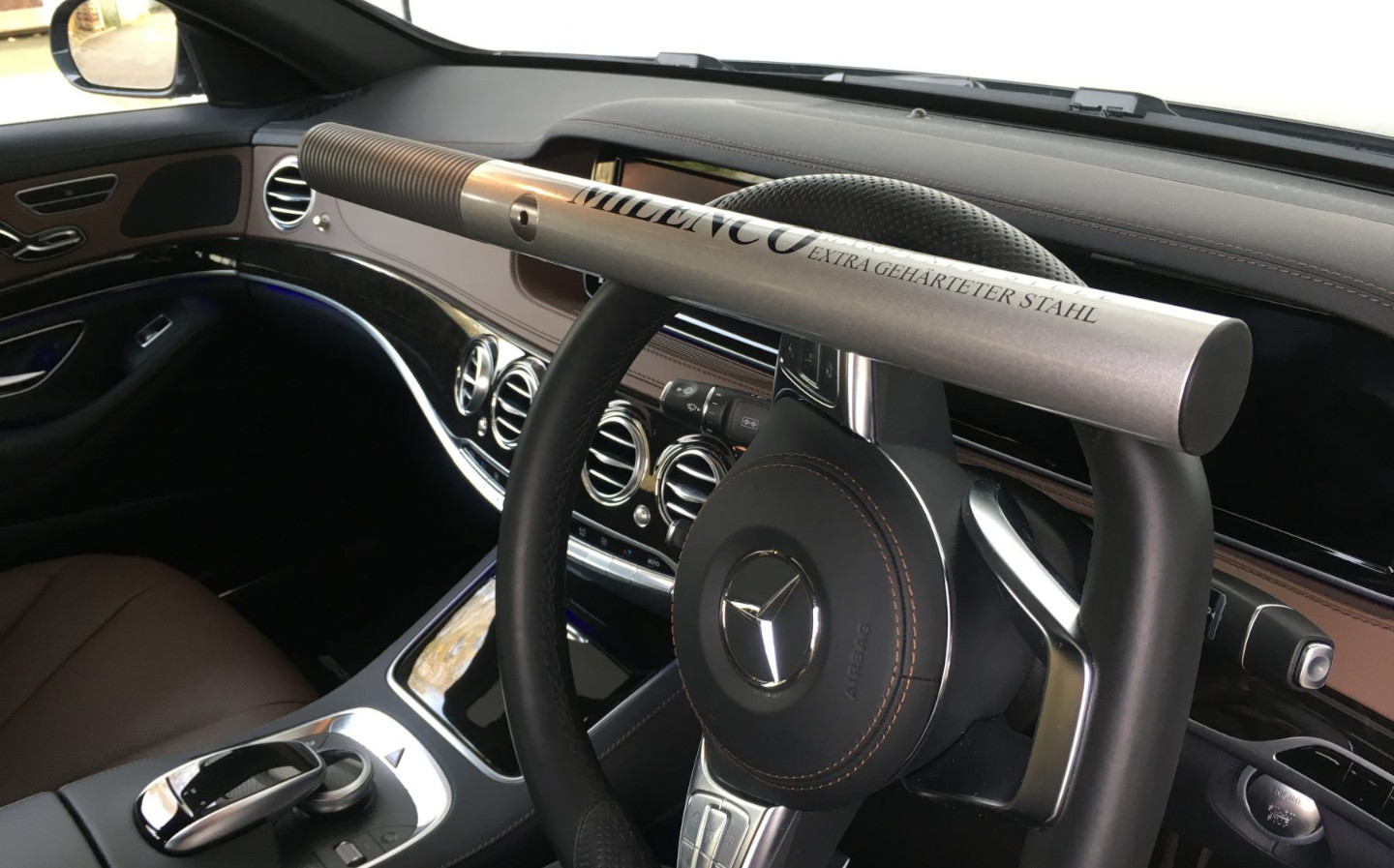 Milenco High Security Steering Wheel Lock, £59.99 from Halfords – buy here
The Milenco is the second most expensive steering wheel in this list, meaning that it has to make a case for itself. And it does: aside from the Disklok, it's the only product here to be branded with the Sold Secure Approved sticker, meaning that it has passed a series of tests carried out by trained locksmiths. The tests claim to be the most rigorous around.
It also has a unique design that means the lock doesn't have to be put across the horn, making it fit more types of wheel than some of its rivals.
It comes with three security keys, and in case you're not a fan of yellow, you can also get it in a more subtle — but perhaps less deterring — shade of grey, as shown here.
An impressive 82% of Amazon reviewers have given the Malenco a five-star rating, with people saying that it is well-made, hefty and easy to fit.
However, reviewers whose steering wheels are made of soft materials — such as leather or alcantara — reported that it left small indentations in their wheel after being removed.
5. Streetwize Urban X Steering Wheel Lock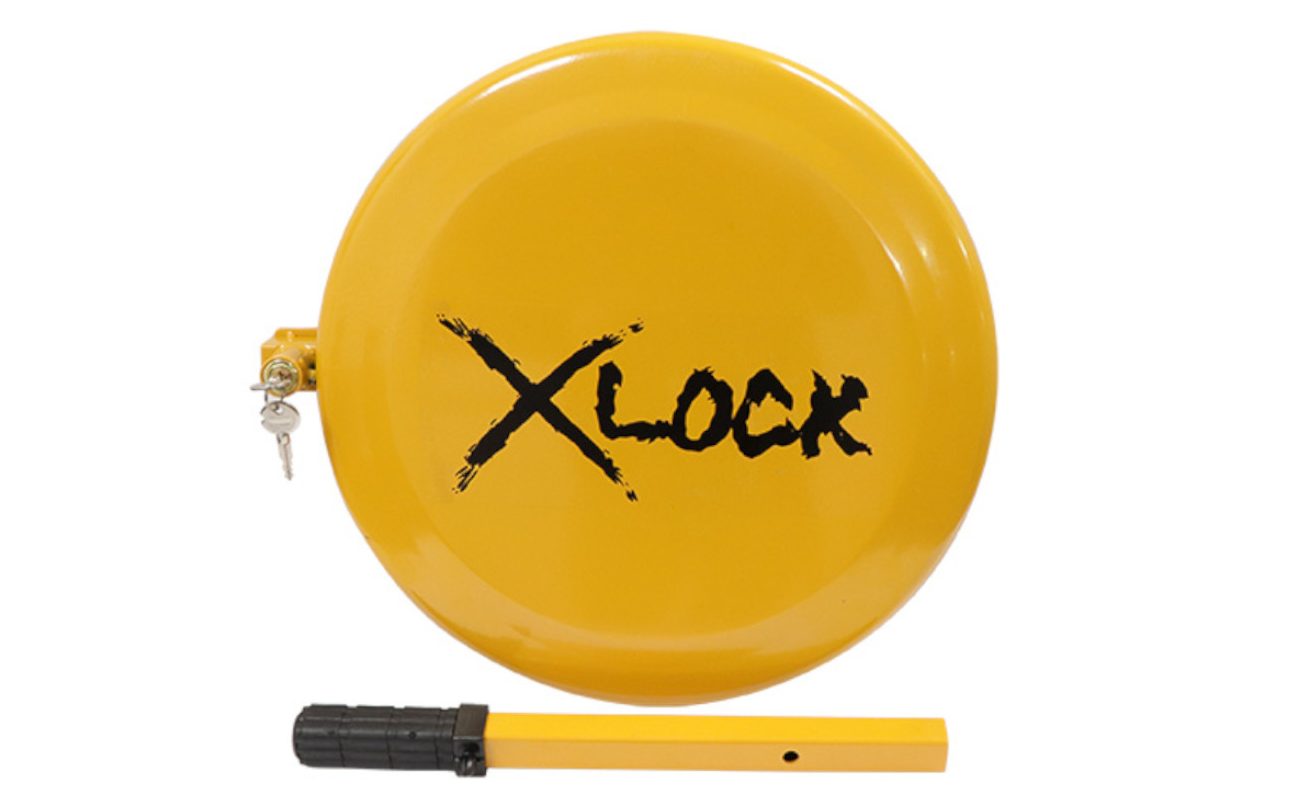 Streetwize Urban X Steering Wheel Lock, £39.95 at Amazon – buy here
Those who want a lock that covers the whole wheel but don't want to fork out for a DiskLok may find the Streetwize Urban X — at around a third of the price — worth a look.
The manufacturer says that this will fit any steering wheel with a diameter of up to 39cm, although this comes with a flipside — some customers with smaller steering wheels said that it can feel a bit loose once fitted, even after fitting the included padding.
This means that drivers of cars with smaller steering wheels (some newer Peugeots, for instance) may be better off with the Disklok, which comes in multiple sizes.
However, it is probably the biggest visual deterrent of all the locks in this list, and practical inclusions such as a cover and an extra set of keys make it a sensible purchase at the price.
How does a steering wheel lock work?
The philosophy behind a steering wheel lock is fairly primitive, but it's effective: strapping a whacking great chunk of metal onto your steering wheel to make it harder to turn, and thus impossible to drive away without removal, will probably act as a deterrent to potential thieves.
Can steering wheel locks be removed by car thieves?
Steering wheel locks are not unbreakable: thieves are surprisingly enterprising, and have come up with methods of cracking even the most sophisticated vehicle security systems. But the general thinking is that, if a thief is given the choice between a car installed with a steering wheel or one without, they'll go for the latter.
In fact, one American security expert and law enforcement veteran, George Babnick, said that in his three-decade long career recovering stolen vehicles, he never encountered a vehicle that had been stolen with a steering lock installed.
Of course, this doesn't mean it can't happen, and some are easier to forcibly remove in tests than others.
Are steering wheel locks just for old cars?
Steering wheel locks became a big deal in the 1980s, in the days before sophisticated central locking, when cars could be easily hotwired (started by connecting wires together under the dashboard). For older cars, they can still be a benefit, though valuable classic cars ought to have modern electronic immobilisers and trackers installed, too.
But thieves have become more tech savvy, and many car thefts are of high value new cars with keyless entry and start systems, so an old-school steering wheel lock is increasingly seen as a good way to protect even the newest vehicles.
Should I buy a steering wheel lock for a keyless car?
Many car security experts recommend it. Some modern cars with keyless entry and start can be stolen from your driveway in less than a minute. We've identified six ways thieves can steal a keyless car, and ways to prevent it, here. Steering wheel locks are one affordable method of deterring the thieves.
Tweet to @ST_Driving Follow @ST_Driving
This article features products that have been chosen independently by Driving.co.uk journalists, and our reviews are unbiased. We may earn revenue if you click the links and buy the products, but we never allow this to affect our opinions.