ULEZ checker: Is your car exempt from the Ultra Low Emission Zone?
Some 60,000 vehicles per day face the charge — is yours one of them?
In 2019, London became the first city in the world to establish a dedicated ULEZ for vehicles. As of October 25 2021, there have been significant changes to the system including a large expansion of the zone and an end to residents' exemptions. Further changes too may be on the way with the Mayor of London, Sadiq Khan proposing to extend the ULEZ to cover the whole of Greater London by the end of 2023.
What is a ULEZ?
A ULEZ is an "ultra-low emission zone". Drivers entering a central area in the capital are charged for doing so if their vehicle does not meet certain emissions standards.
How much is the London ULEZ charge?
Drivers pay a £12.50 charge (or £100 for lorries, buses and coaches) per day for entering the ULEZ if their vehicle doesn't meet the emissions standards. That's on top of the £15.00 London Congestion Charge, which currently applies to most cars, so many motorists could have to pay £27.50 per day.
When the ULEZ came into force on April 8, 2019, it was estimated by the London Assembly that up to 60,000 vehicles per day would face the charge.
Why was the ULEZ introduced?
The ULEZ is designed to encourage people to drive less polluting cars or use other methods of transport, such as walking, cycling or public transport. This was expected to substantially improve the air quality in the area.
A report four months after its introduction found that around 13,500 fewer polluting cars were being driven into central London every day, compared with six months earlier. This equated to a decrease of around 36% in levels of roadside nitrogen oxides, which are harmful to respiratory health.
Air pollution causes seven million deaths a year worldwide, according to the World Health Organisation (WHO), and the Royal College of Physicians concluded that traffic fumes are contributing to the early deaths of an estimated 40,000 people in the UK.
In December 2020, a coroner ruled that air pollution made a "material contribution" to the death of nine-year old Ella Kissi-Debrah — it was a landmark ruling that for the first time listed air pollution as a cause of death.
Is my car exempt from ULEZ?
Drivers of older, more polluting petrol and diesel cars are affected.
Drivers of petrol cars with engines that are compliant with Euro 4 emissions regulations, which were introduced in 2006, will escape the ULEZ charge.
However, drivers of diesel-powered cars will only be exempt if the engine complies with the Euro 6 vehicle emission rules, which came into force in September 2015; if your diesel car is older than that, it's possible it will be subject to the ULEZ charge.
However, some cars complied with these emissions standards prior to the rules being enforced, which means some older cars may still escape the charge.
What vehicles are ULEZ exempt?
Though Transport for London "would prefer you use a vehicle that meets the new emissions standards" as outlined above, some older, more polluting cars are also exempt from the ULEZ charges under very specific circumstances.
Vehicles over 40 years old can apply for an exemption from the ULEZ. This does not apply to commercial use vehicles such as food trucks. All vehicles built prior to January 1, 1973 (including food trucks and other commercials) can, however, receive an exemption.
Other exemptions are also made for types of vehicle used for specialist purposes such as agriculture or the military.
No taxis registered for use in London will be hit by the ULEZ penalty. In order to be licensed as a London taxi, the vehicle can't be more than 15 years old, and all new licensed cabs "must be capable of producing zero emissions". A new plug-in black cab went on sale in 2017— read our LEVC TX review here.
Prior to October 25, 2021, ULEZ residents, upon registering with Transport for London, did not have to pay to drive non-ULEZ-compliant vehicles within the zone, they now must pay a full fee if they do so. This does not apply if the vehicle remains parked for the day.
"Designated wheelchair-accessible private hire vehicles" will also be exempt from the ULEZ penalties until October 26, 2025.
Can I make my car ULEZ compliant?
It may be possible to retrofit your non-compliant car or van to meet the requirements, either by changing the engine or upgrading the exhaust, but the cost of doing so and then re-certifying your car so that it is recognised as compliant by the DVSA is unlikely to make it worthwhile. The best options if you need to travel into the ULEZ are to go by other means (cycling, public transport, taxi, etc.) or sell the car and buy one that is compliant (you don't have to buy new, remember — you just need to buy a car that meets the emissions standards). It may be possible to part exchange your old car or scrap it via a dealer.
ULEZ checker
The best way to check whether or not your vehicle is exempt from the ULEZ charge is to enter its registration number (number plate) into the ULEZ vehicle checker at the Transport for London website.
How big is the London ULEZ?
As of October 25, 2021, the ULEZ has expanded to all areas within the North and South Circular roads.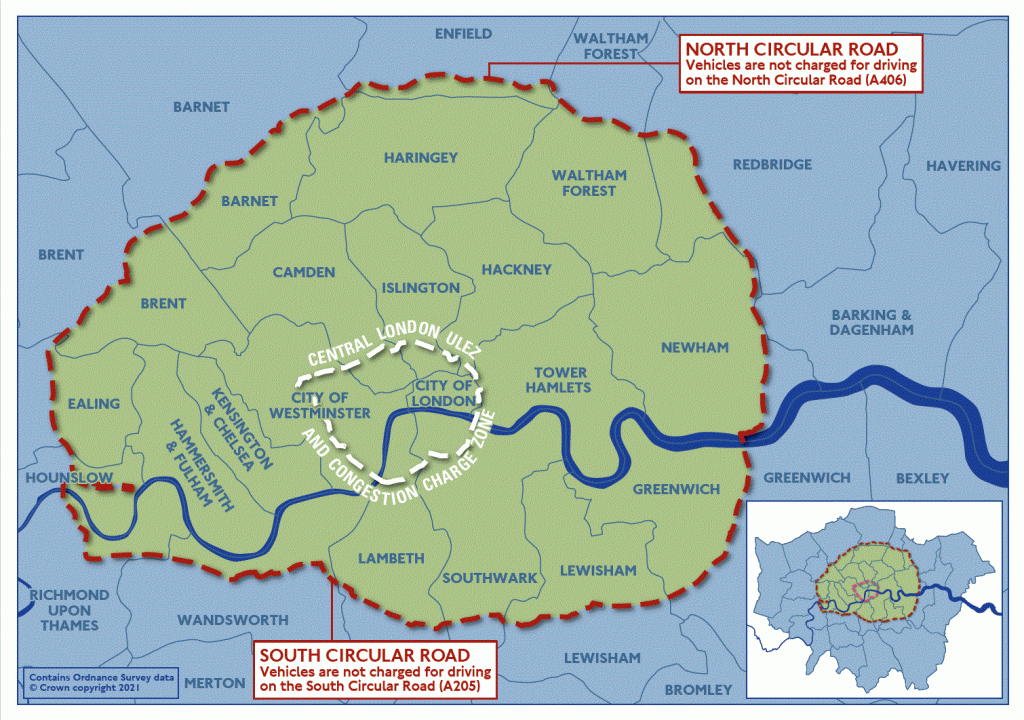 Neither the North Circular nor South Circular roads themselves fall within the ULEZ area and drivers using them will not have to pay the charge.
Drivers entering the ULEZ between the North and South Circular roads will have to pay the ULEZ charge, but unless they also enter the London Congestion Charge zone, they will not necessarily have to pay an additional fee beyond the ULEZ charge.
Previously, the ULEZ had covered the same area as the London Congestion Charge.
On what days and between what hours does ULEZ operate?
Unlike the Congestion Charge, which is in force between 7am and 10pm, seven days a week — with the exception of Christmas Day — the ULEZ operates 24 hours a day, seven days a week, with the same exception of Christmas Day.
This £12.50 fee daily rate resets at midnight, so if you enter at 11.59pm and exit two minutes later, you'll be charged for two days (£25).
What's the penalty for not paying the ULEZ charge?
If your car isn't exempt and you don't pay your ultra-low emissions zone charge on time, you will be subject to a £160 penalty. This will be halved to £80 if you pay for the fine within 14 days.
Is the congestion charge expanding?
There was speculation in October 2020 that the congestion charge, which currently covers an area in central London, would be hugely expanded in order to recover money that Transport for London lost during the coronavirus pandemic.
Government Ministers, including Transport Secretary Grant Shapps, had proposed expanding the £15 per day charge to the North and South Circular roads, which would have affected around four million Londoners.
However, the Mayor of London Sadiq Khan said that he had "succeeded in killing off" the proposal. As part of the agreement made with central government, though, London will need to raise extra money in future years, meaning that the temporary changes that were made to the congestion charge in June 2021 (raising the price to £15 per day and expanding hours to 10pm) are likely to be made permanent.
Is the London ULEZ expanding?
While the congestion charge may not be expanding, the London ULEZ could in the coming years.
In March 2022, Sadiq Khan asked Transport for London to consult on expanding the ULEZ to cover the entire Greater London area beyond the zone's current boundaries by the end of 2023, saying that there is "still far too much toxic air pollution permanently damaging the lungs of young Londoners and leading to thousands of deaths every year."
At present, no further details have been revealed as to what exact areas an expanded ULEZ would cover. Although likely to meet some local opposition, an expansion has been hailed as preferable to some of the other proposals on the table that have now been dropped such as an even harsher Clean Air Charge and a ban on vehicles registered outside London from entering the city.
"Expanding the ULEZ is preferable to the other charges that the mayor previously mooted, so it's welcome he has seen sense and dropped those proposals, particularly given the cost-of-living crisis," said the RAC's head of roads policy, Nicholas Lyes.
"While the ultra-low emission zone will rightly target the most polluting vehicles, it's vital Londoners have enough time to upgrade to compliant vehicles, and that the scrappage scheme benefits those least able to afford to switch."
Addressing the potential ULEZ expansion at a time when many are feeling a financial pinch, Khan defended his position, saying:
"At a time when people's budgets are under pressure, I'm not willing to ask people to pay more unless I'm absolutely convinced it's justified to save lives and protect the health of Londoners."
Khan is also said to be considering proposals such as a scrappage scheme to support those on low incomes, disabled people and businesses. In the long-term, variable pricing based on how polluting a vehicle is and in what area it is being used is under investigation.
Related articles
Latest articles