Extended test: 2022 Skoda Kamiq Monte Carlo 1.0 TSI review
Does the Skoda's small crossover stand out in a crowded market?
2022 Skoda Kamiq Monte Carlo 1.0 TSI specifications
Model 72-reg Skoda Kamiq Monte Carlo 1.0 TSI 110 PS DSG
Price From £27,405 OTR
Price as tested (with options) £31,132.50 OTR
Cost options fitted Graphite Grey Metallic Paint £660; Dual-zone climate control £735; Steel space saving spare wheel £170; Winter pack £485; Variable boot floor £175; Electrically operated boot £445; Electrically adjustable, heated and folding door mirrors £235; Front and rear parking sensors £405; Dog Hammock (back seat protector) £115; Boot luggage mat £80; Dog partition guard £152.50; Dog safety belt medium £70
Engine 999cc, 3-cylinder, turbocharged petrol
Transmission 7-speed, DSG (automatic)
Power output 108bhp
Torque 200 lb ft
Weight (DIN/EU) 1,280kg / 1,355kg
Luggage capacity 400 / 1,395 litres (seats up / rear-seats folded)
Top speed 122mph
0-62mph 10.4 sec
Fuel consumption (WLTP combined cycle) 45.6-47.1mpg
CO2 emissions (WLTP) 136-141g/km
VED (road tax) £230 for first year; £165 thereafter
BIK tax payable (2022/23) 32%; £1,736 (20%) or £3,471 (40%)
Insurance group 14E
Test details
Test period February – August 2023
Starting mileage 580 miles
Test updates
---
March 14, 2023: Skoda Kamiq first impressions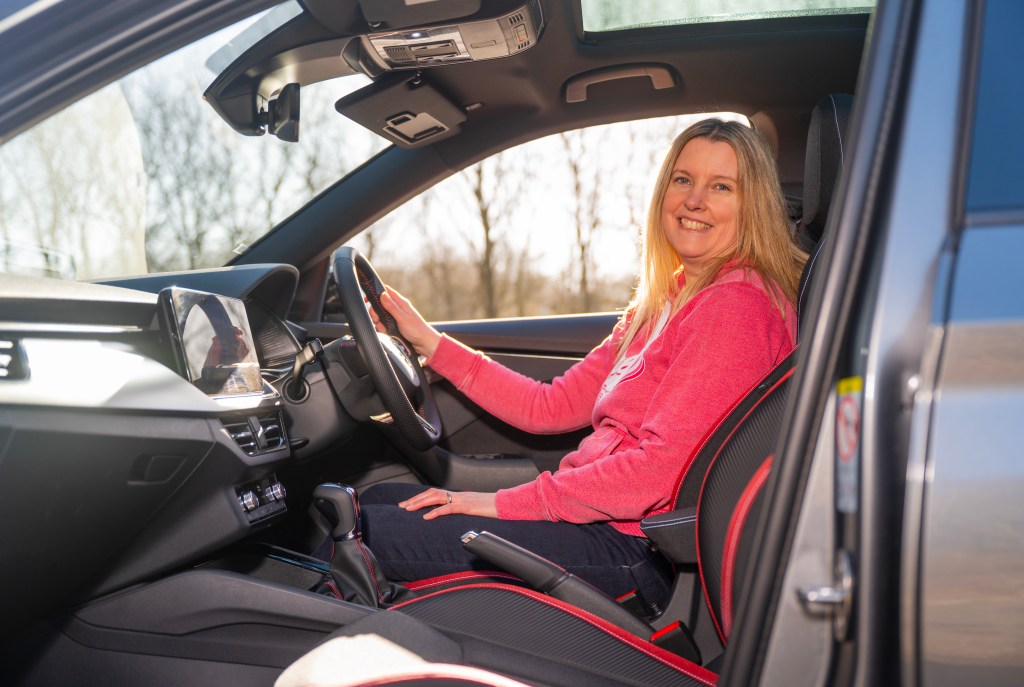 The small SUV/ crossover market has become more crowded in the last five years than a supermarket at 7am after a fresh drop of the social influencer-inspired Prime drink (yes, I've had the 6am wake-up call from my kids).
Skoda's effort in this busy category is what you see here: the Kamiq, a smaller sibling of the Karoq and Kodiaq models. Standing out in this space takes some doing, so I'll be putting the Kamiq through a long-term test to see how well it does so, while exploring Skoda's recent attempts to woo dog owners with Fido-friendly accessories.
Skoda has supplied me with a Kamiq in Monte Carlo specification, so it has sporty trim that has helped with positive first impressions. The 18in Vega wheels, large panoramic glass roof and stylish red-trim stitching on the interior's seats are among the features that appeal. Such touches play homage to Skoda's 86-year association with the prestigious Monte Carlo rally, emphasising the brand's blend of practical and sporting prowess.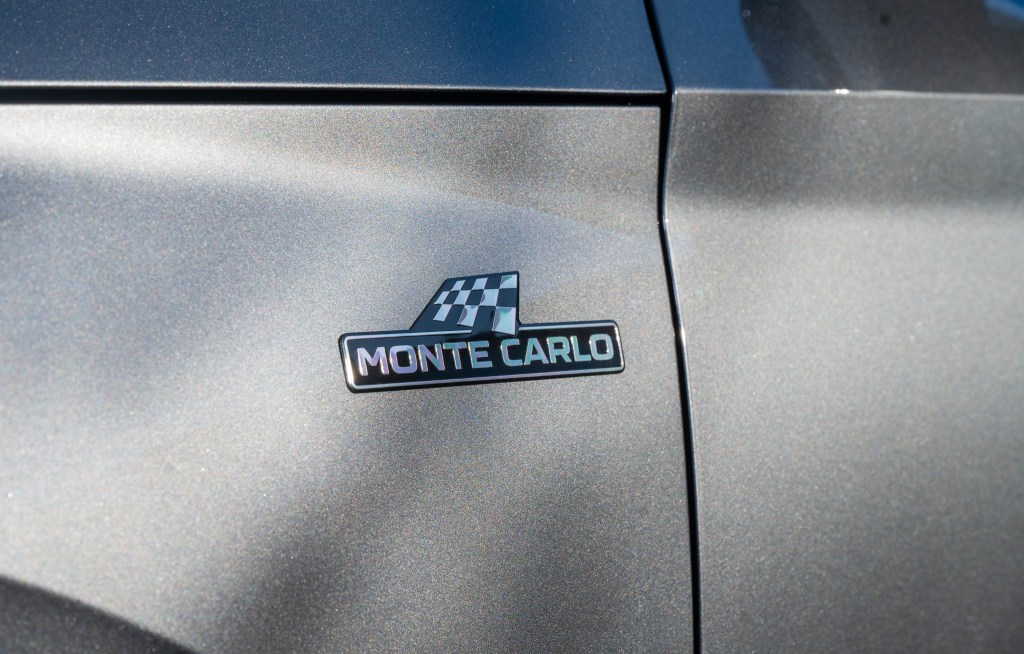 The Kamiq's competitors are ubiquitous, starting with rivals in its Volkswagen Group stable, such as the VW T-Roc and Seat Arona. Externally, this ramps up with the likes of the Hyundai Kona, Renault Captur, Citroën C3 Aircross and Ford Puma, to name but a few. All models are available in similar sizes, options and mid-market price points, which makes the need for unique features even more important.
This is where I get a strong feeling that the Kamiq may well hold an advantage via Skoda's famed reputation for functionality and clever thinking. It certainly hit the ground running from the week it arrived in the bitter mid-January weather, offering a handy ice scraper conveniently housed within the fuel cap (just as I remembered my de-icer was in my husband's car, which he had taken out for the day).
It's this type of detail that reflects a holistic approach towards drivers with busy lifestyles and I'm already warming to Skoda as a savvy player for my future car purchase decisions.
My Kamiq comes with a spectrum of dog-friendly options, including a safety lead, dog hammock (you read that correctly), boot mat and dog guard. These elements are reassuring, as keeping Jess, the family Cavapoo, safe and content on journeys of all lengths is particularly important to me.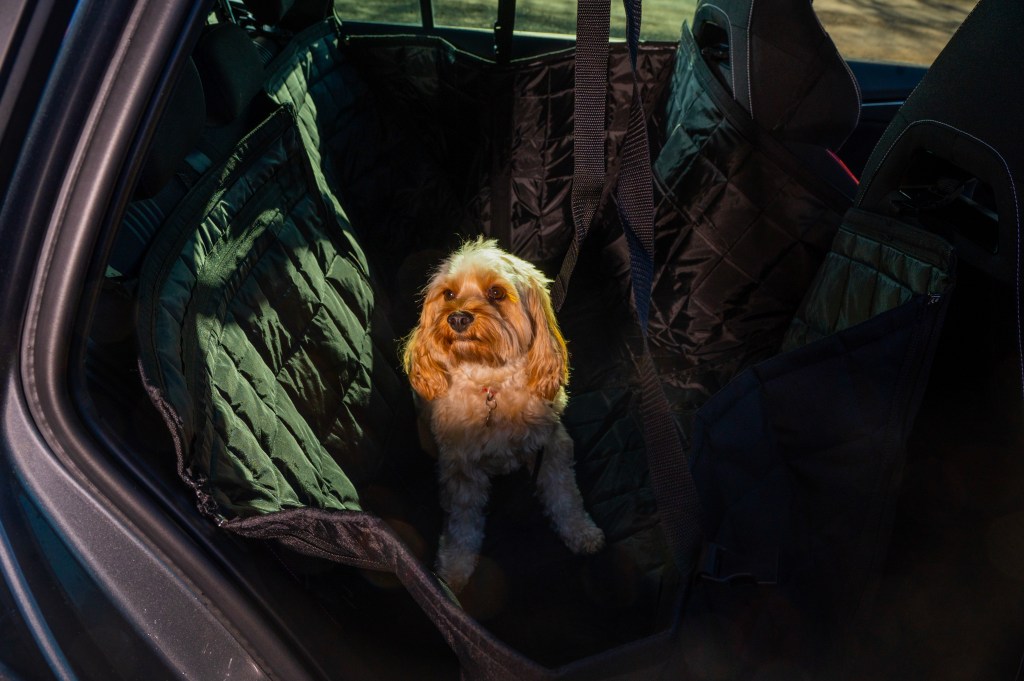 The first month of driving the Kamiq has been a pleasant experience. It's super smooth on acceleration and handling, with controls that feel naturally placed and intuitive. Despite the relatively small engine, it's no slouch and has purred along local dual carriageways. I'll explore the interior layout, specific features and technology set-up in future reviews, but the optional heated rear seats are already a crowd-pleaser with my two sons.
In the next instalment, I'll reveal how the Kamiq performed on a recent half-term break in Devon, putting it through its paces on long motorway stretches and windy coastal routes. The trip gave us an insight into whether this model is roomy enough for the four of us (plus dog and baggage) to survive a week together rather than take our larger but older family SUV.
Mileage this month 623 miles
Mileage to date 623 miles
Average economy 41.1mpg
If you want to ask Tina a question about the Kamiq, enter a comment below.
March 30, 2023: Roomy enough for a family staycation?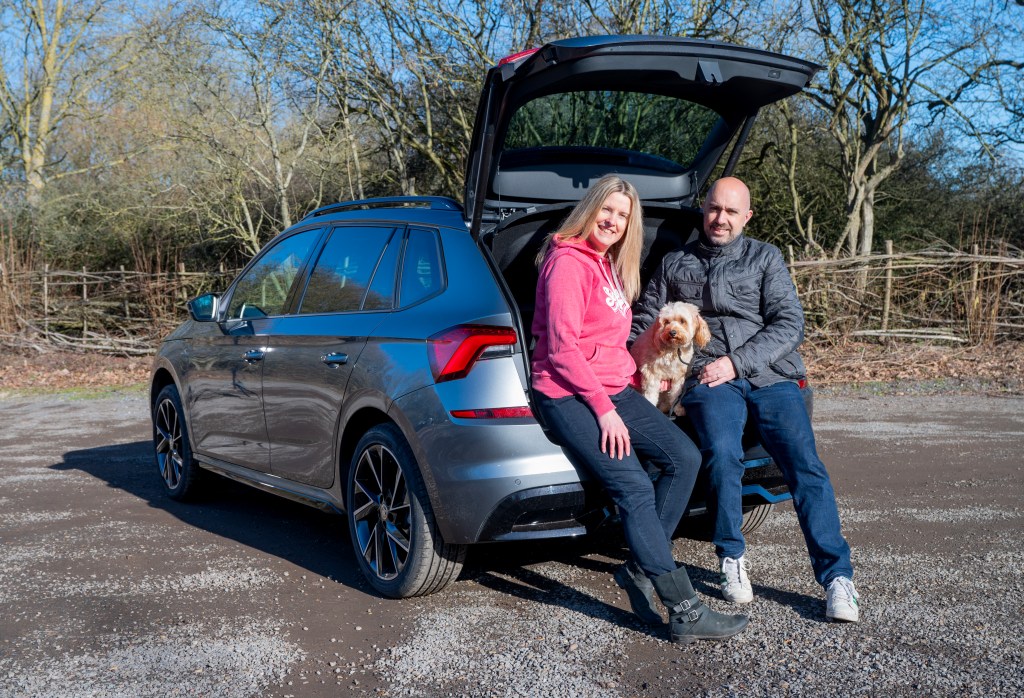 Probably my biggest question when taking on the Skoda Kamiq for a long-term test was, as a small SUV would it cut the mustard in terms of space? My family of two growing lads (aged 15 and 12), a husband and a small dog means we need a car that can swallow all the family paraphernalia that comes with the territory.
We're motorway regulars, travelling to see family and friends for day trips and weekends, in between more local activities such as country walks, so our boot becomes a holding ground for muddy boots, towels, clothing and toys designed for humans and canines alike. This busy life has meant bigger cars have been our preference in the past, for ease of use and practicality, so there was a question mark over the ability of the compact Kamiq to suit our needs.
Our recent trip to North Devon put this to the test and I'm pleased to report that the Kamiq coped admirably. With all seats in place, the Kamiq has a boot capacity of 400 litres; a spot of research online suggests this is pretty standard for a compact crossover model, with key rivals including the Kia Stonic (352 litres), Toyota Yaris Cross (397 litres)and Seat Arona (also 400 litres). The Skoda is outperformed in this area by the Citroën C3 Aircross (410 litres), VW T-Roc (453 litres) and Ford Puma (453 litres), mind you.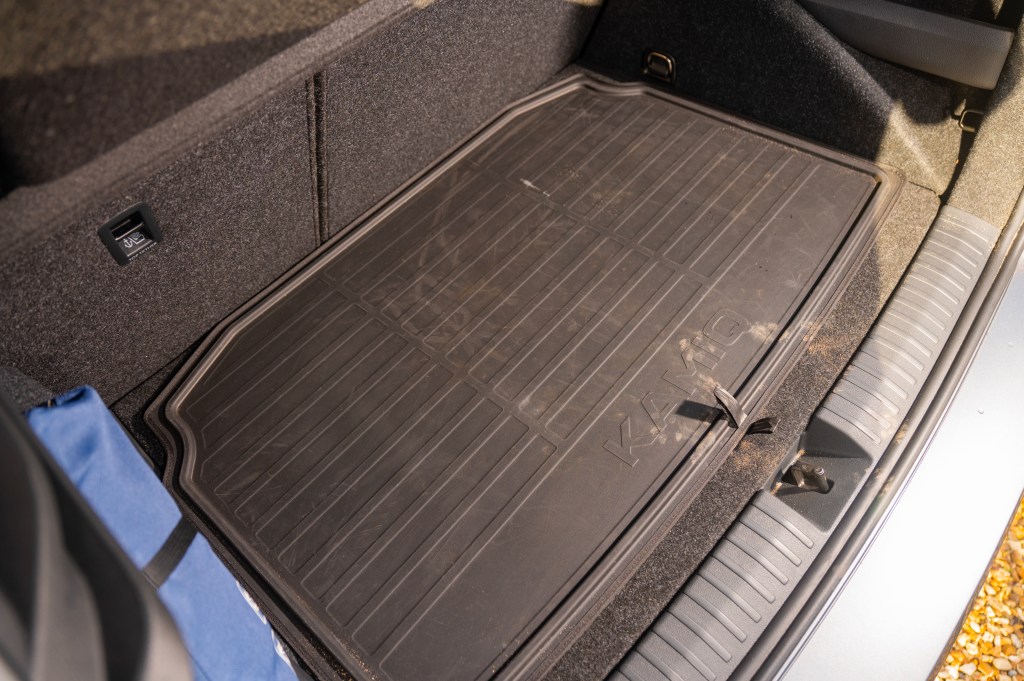 Our Kamiq has a trick up its sleeve, though, with a variable boot floor as a fitted option (£175). By simply pulling out this false floor, I was able to add about 10% additional boot room. This helped us to cram in all of life's essentials for our week away. Yes, we did have to pack slightly leaner than normal, but a bit of savvy organisation was all that was needed.
In terms of the rest of the interior space, the Kamiq Monte Carlo's front seats offer a good degree of comfort and leg room. They are both manually height adjustable and come with lumbar support as standard.
The back seats look a little tighter on first inspection but both sons reported there was good leg space. Overall, the cabin feels sturdy and ready for day-to-day family life, with durable and high quality fabrics, and there is a pleasing lack of scratchable plastic for stray shoes (and paws) to mark.
When it came to engine performance, I could help but marvel at the impressive fuel efficiency that the little 1-litre petrol motor offered on the week away. All while fully laden and across different types of terrain, from hills to motorways, this rarely dipped below 40 mpg. On the long sections of the M5 between Somerset and Devon, this rose to 48 mpg, which struck us as superb for a petrol car, let alone one hauling a family and luggage around.
I certainly wouldn't pitch Skoda within the value car category, but with these driving stats it seems wallet-friendly.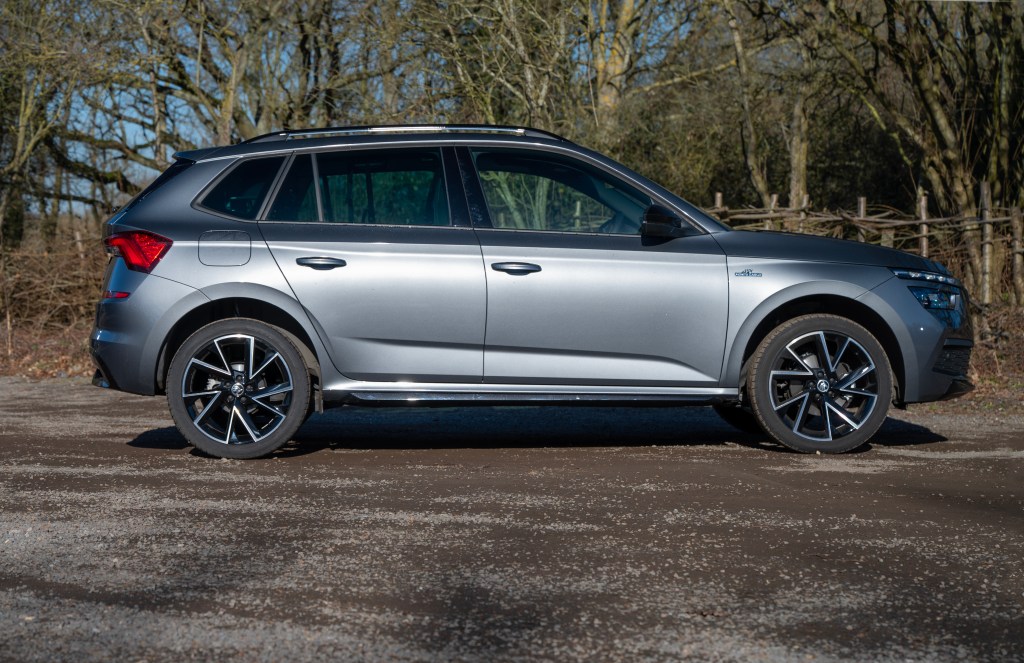 It hit 70 mph on motorways with decent gusto and had good acceleration (even with a full load) for overtaking. However on sharper inclines across smaller country roads, it lacked a bit of punch that would come with a larger engine, with the DSG automatic gearbox working hard to find the lower gears.
So it would seem safe to categorise the Kamiq as a firmly functional drive, a real winner in its usefulness but maybe not as blessed in the kerb appeal stakes as some of its rivals. The Monte Carlo variant does add a touch of glamour in terms of the eye-catching 18in black Vega alloy wheels, but the driving performance doesn't feel overly sporty.
So, for this chapter, the Kamiq fully delivered what we needed for our week away – space wasn't an issue and it gave us a pleasant journey for the full duration.
Small SUVs may be flavour of the moment for many runabout town drivers but this model went further to become the family all-rounder we were looking for.
Could it step up and be our sole family car? On the evidence of this week, it's a yes from me (with a caveat that both boys stop growing sometime soon).
Mileage this month 780 miles
Mileage to date 1,403 miles
Average economy 42.8mpg
If you want to ask Tina a question about the Kamiq, enter a comment below.
May 16, 2023: Can the Skoda Kamiq harness pooch power?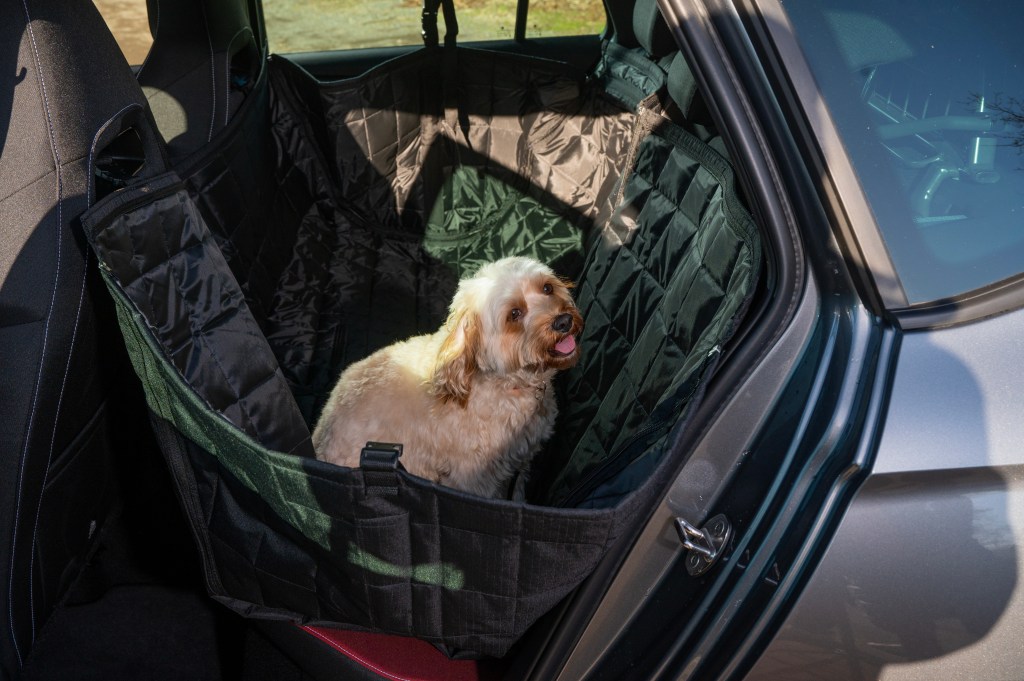 This month I'll be putting the Kamiq's doggy credentials under the microscope to assess if it's fit for our fido. What better way to swing our hound into a relaxing road trip than in a dog hammock? While a hammock might traditionally be pictured strung between two coconut trees on a tropical island, Skoda's dog variety is closer to a high-sided seat protector. This is an ingenious idea to keep furry friends snug in the back, and dirty paws and claws enclosed away from the interior fabrics and trim.
Clipping into position around the front and rear headrest covers with adjustable straps, the hammock sits loosely across the rear seats. It quickly became clear that the hammock is aimed at medium to large-sized dogs. I could picture a Golden Retriever, for instance, snoozing in such a padded house.
Our Cavapoo Jessie, however, looked rather swamped when we put her into position, although she had a great game of chase running up and down the length of the hammock until we could catch and tether her to the seatbelt clip. Hammocks of assorted sizes would be useful for small to medium dogs.
While the hammock was on the large size, the Kamiq's boot is the perfect fit for Jessie. She can travel snuggly with the dog guard securely in place to stop her from jumping into the backseats (although I did find this narrowed my view in the mirror).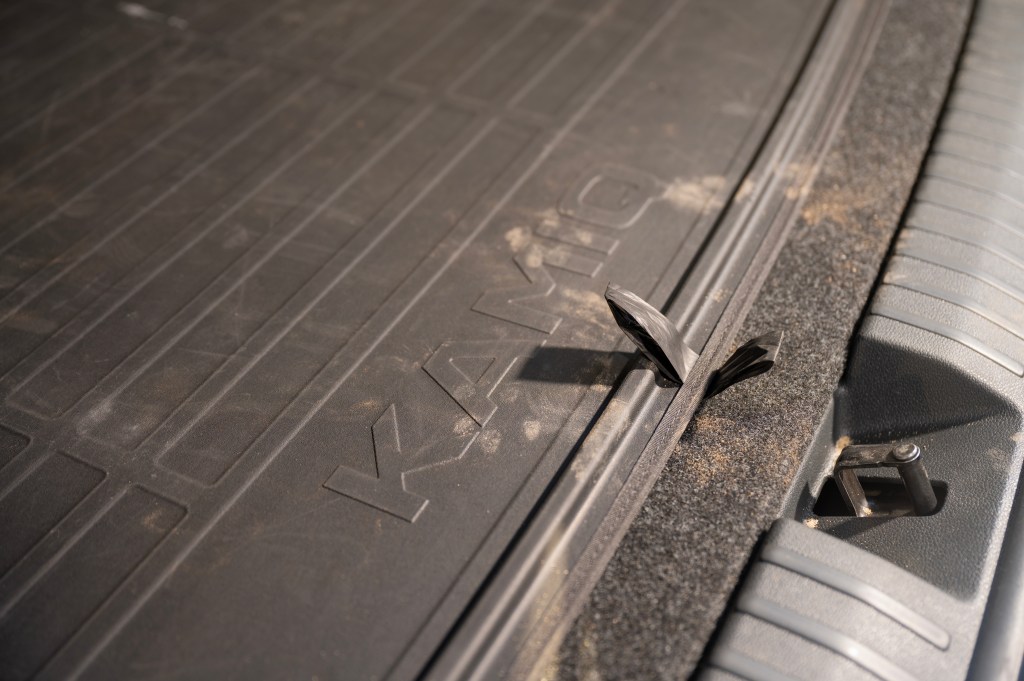 The double-sided boot mat is another highlight. The rubber side was favoured for its wipe-clean qualities after muddy dog frolics, as it's easy to remove, shower down and dry. But flipping it over to a textile-upholstered surface was also of use, particularly for travel with bags while Jessie was sitting in the rear seats.
Talking of which, riding in the back is made ultra-safe with the provision of Skoda's dog safety belt, which allowed Jessie to be strapped to a harness, holding her steady in the event of an emergency stop or turning a sharp corner. Again, this seemed to be designed for large breeds, so was a little roomy for our Jessie. Nonetheless, as an added bonus, the harness can be attached to a lead, so it can be used for dog walks or training, too.
To turn up the in-car chill factor, we also sampled the Happy Hounds Spotify playlist, "scientifically proven" to soothe anxious dogs on car journeys. The track list was introduced in collaboration with canine behaviour expert Anna Webb to celebrate Skoda's sponsorship of Crufts this year, sending a clear signal that it means business when it comes to raising its visibility (and ultimately capturing sales) among dog owners.
The tunes in the playlist are designed to alleviate a dog's stress levels, thanks to slow BPM (Beats Per Minute), calming tones and repetition. It was hard to tell if the line-up was music to Jessie's ears as she's a wonder on car trips anyway and is generally horizontal after being lulled to sleep by car vibrations. But the boys and I enjoyed the eclectic collection, which skips through the musical genres, with anything from the Elvis classic, Hound Dog, to Watermelon Sugar by Harry Styles.
Skoda's dog-friendly initiatives stretch beyond playlists and Crufts sponsorship to give back to the dog community. For example, it has donated two Kamiqs to Dogs for Good, a charitable organisation that brings people and dogs together to help people with disabilities.
When it comes to canine credentials, the Skoda Kamiq has proved its pedigree with hammocks and safety harnesses though we're less convinced by the blissed-out playlist. And, though the dog pack certainly enhanced our Jessie's comfort, it could be improved further by a range of size options.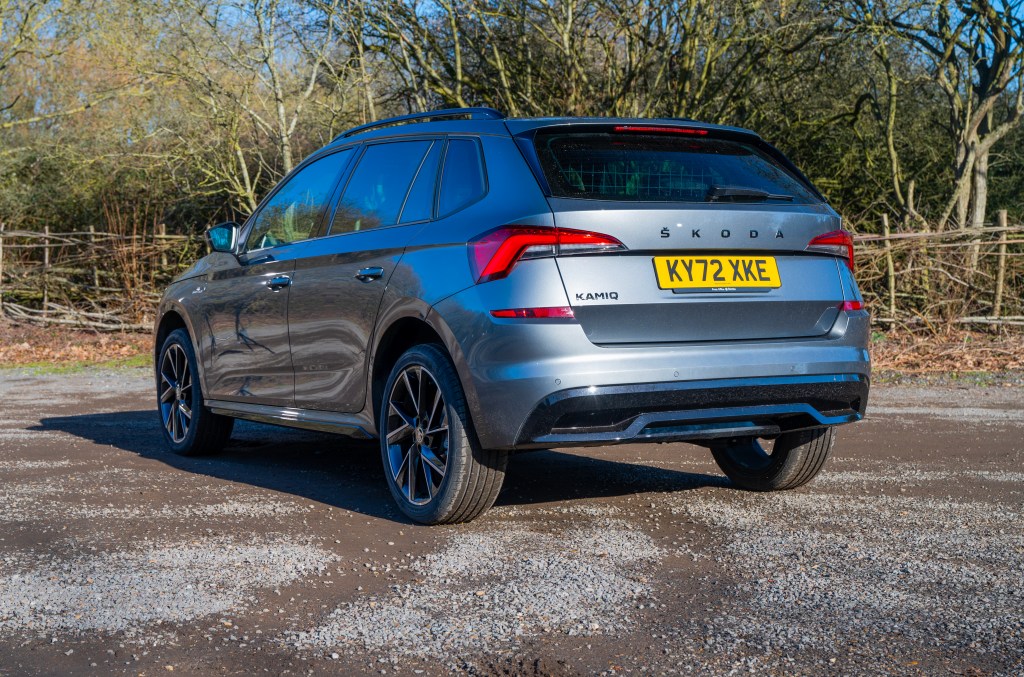 In our next review, we'll be on the hunt for a 'pawfect' day out at Goodwoof, an event that celebrates all things dog at the Goodwood Estate. They say every dog has its day, and this will most certainly be one for our Jessie.
Mileage this month 594 miles
Mileage to date 1,997 miles
Average economy 39.8mpg
If you want to ask Tina a question about the Kamiq, enter a comment below.
June 29, 2023: Trip to the ultimate fidofest — Goodwoof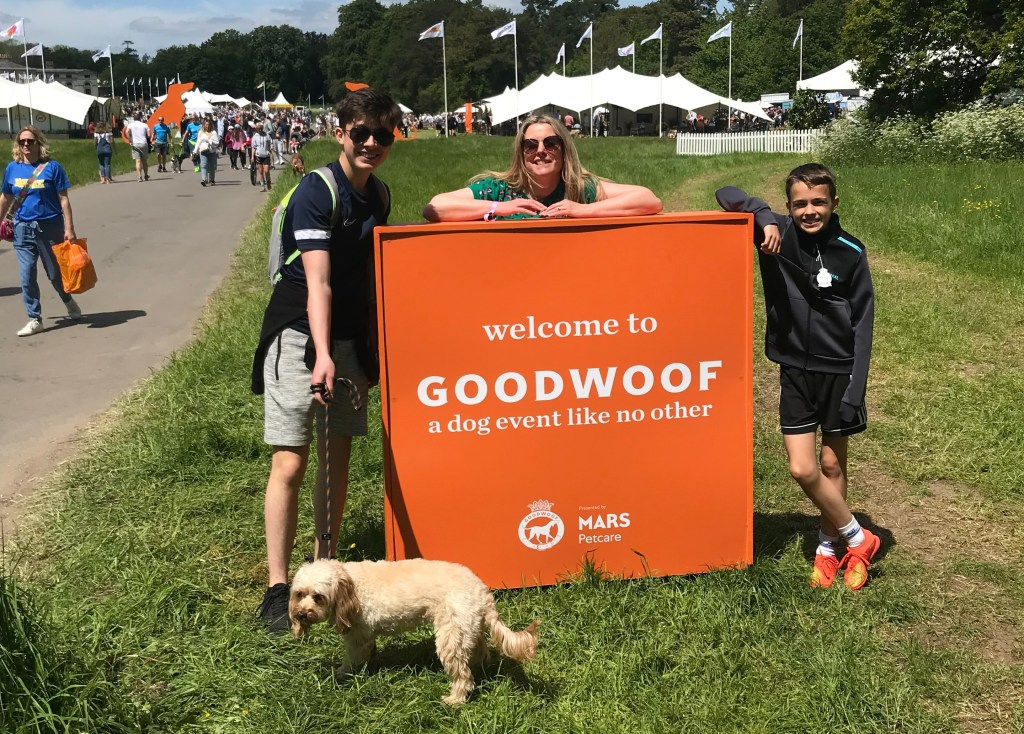 Sticking with the dog theme once again, we took a family trip with Cavapoo Jessie to Goodwoof, the event designed to celebrate all things dog on the Goodwood Estate.
Although our journey to the second day of the festival was bathed in glorious sunshine, Jessie looked rather hot under the collar, so, there was no better time to consider how to keep her cool, calm and collected in the car.
Of course the Kamiq's air-con kept us lightly iced in the front and back but there are other tricks for dog owners to consider: Skoda UK's latest collaboration with dog behaviourist Anna Webb does exactly that, with her top tips for dog-owning drivers including ice cubes on dogs' gums, meaty mocktails and a cooling vest or mat to chill underbellies.
If there was a paradise for dogs, I think Goodwoof would come pretty close. Covered in canines of all shapes and sizes (even IBM's robot dog Spot), Goodwood's stately Kennels was a particularly apt backdrop. Back in 1787, the third Duke of Richmond needed a home for his beloved foxhounds and built The Kennels, a Georgian building that sits at the helm of Goodwoof.
Roving with our rover was both as top-notch and diverse as it could get. Care for a spot of Doga (you guessed it, dog yoga)? No problem. Or how about a Tarot Card reading for your pup? Step right up. Four-legged friends and their human escorts were spoilt for choice among the competitions (we loved the fastest dog in the 50m dash), demonstrations, activities (action sports, including Barkour were our favourite), and workshops on offer.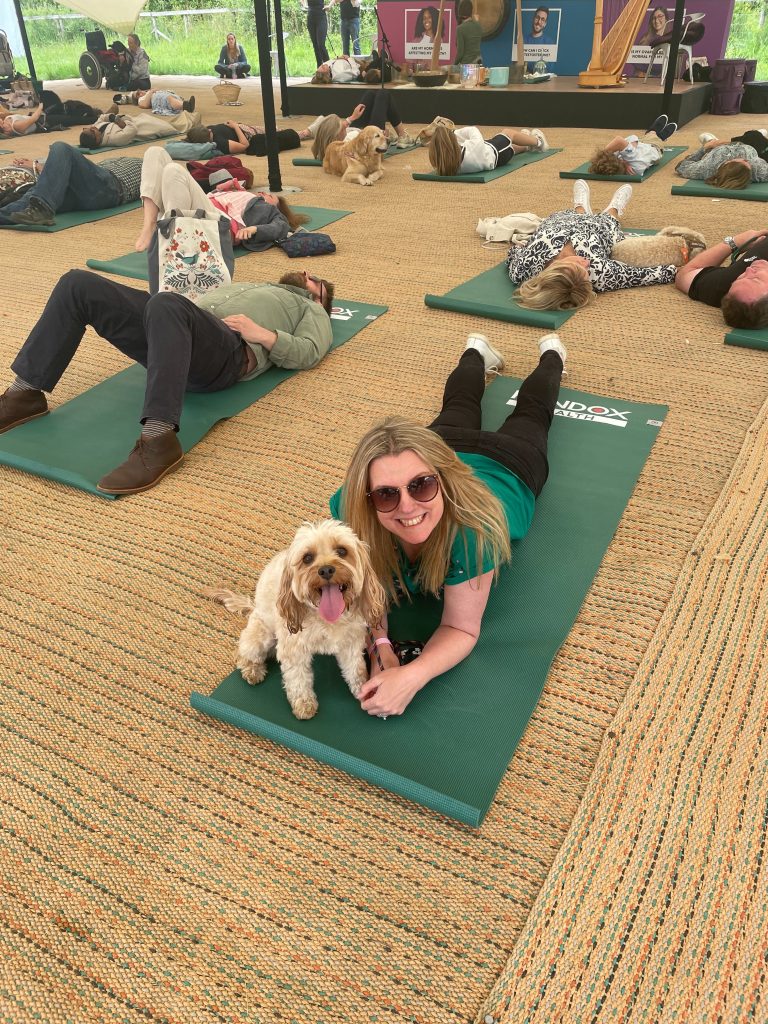 Have-a-go areas were particularly popular with long queues for sessions that operated on a first-come-first-served basis. While Jessie didn't have the right size, build or mentality to sample CaniCross, we knew that anything tennis ball-related would be a winner, so we tried the hurdles with her (although flyball would have worked just as well). This was a huge success, as she jumped the hay bales with ease, ears streaming in the wind and her tongue lolling with happiness. Joined by our son Shay, they were quite a smooth operation over the jumps. Just about dog heaven for our Jess.
There were more tennis balls to be had at the Barkitecture tent, where a tennis ball kennel ('Fetch' by Coffey Architects) caught Jessie's eye among the line-up of homes designed by some of the world's most high-brow architects. Kevin McCloud, who spearheaded the project in 2022 with The Duke of Richmond, invited global contenders to compete for the Single Kennel Design Award with proceeds from auctioned dog houses going to the event's official charity Pets As Therapy. All embraced the theme 'A Companion Piece – Dogs at Work'.
But it wasn't all work and no play for Jess (or us). The Studio was a haven that offered relaxation for both dogs and their owners. Although we were tempted by Doga, reiki and dog massage, Jess and I opted for a jot of sound bathing but she looked more sentry than serene standing guard while I tried the mat for size.
Still, there was no time to lie around for too long. Those wanting to shake their tail could take to the doggie disco at the Ministry of Hound (co-hosted by the Ministry of Sound), with the soundtrack provided by Fat Tony and friends.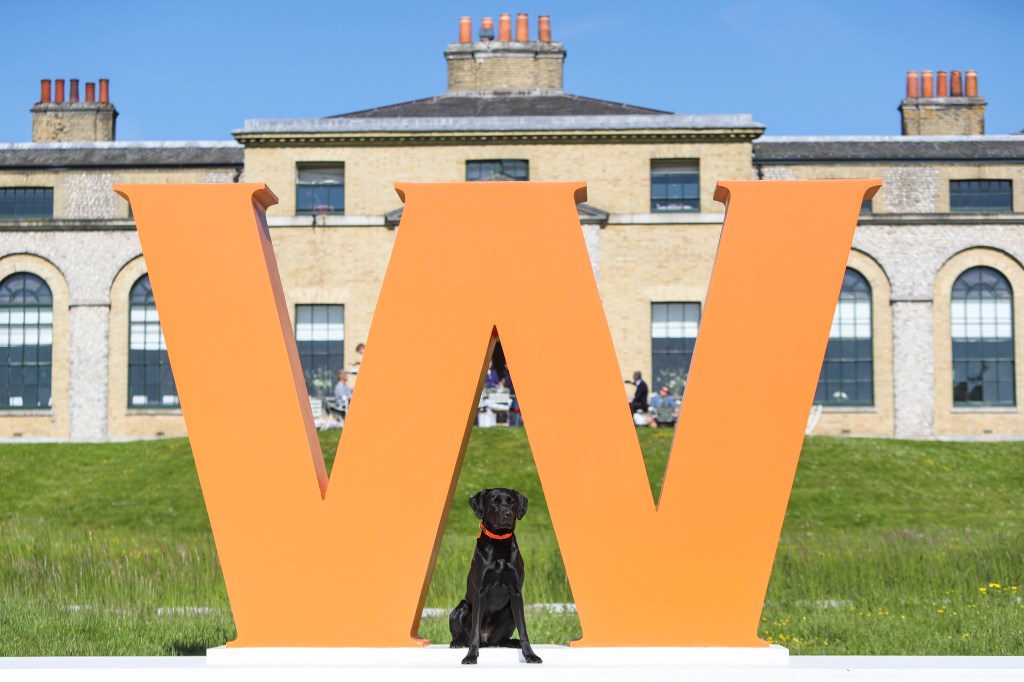 Our one regret of the weekend was missing oodles of poodles at the parade opener on Saturday morning, which featured hundreds of poodles and their owners. Jessie had kept cool and found her dog Nirvana, and we'd had a paw-some time helping her find it.
Goodwood has cleverly added another successful event to its schedule. Goodwoof was a fun day out and from the mix of visitors we encountered, they seem to have hit the right demographic of dog lovers who have budgets to tap into. The size and range of vehicles in the car park show that savvy manufacturers also know dog-friendliness is a real money-spinner, and Skoda is among those leading the pack. More on the Kamiq next time, but suffice to say it looked the part among the other vehicles.
Mileage this month 451 miles
Mileage to date 2,448 miles
Average economy 40.1mpg
If you want to ask Tina a question about the Kamiq, enter a comment below.
July 28, 2023 Do the Kamiq's options add up financially and practically?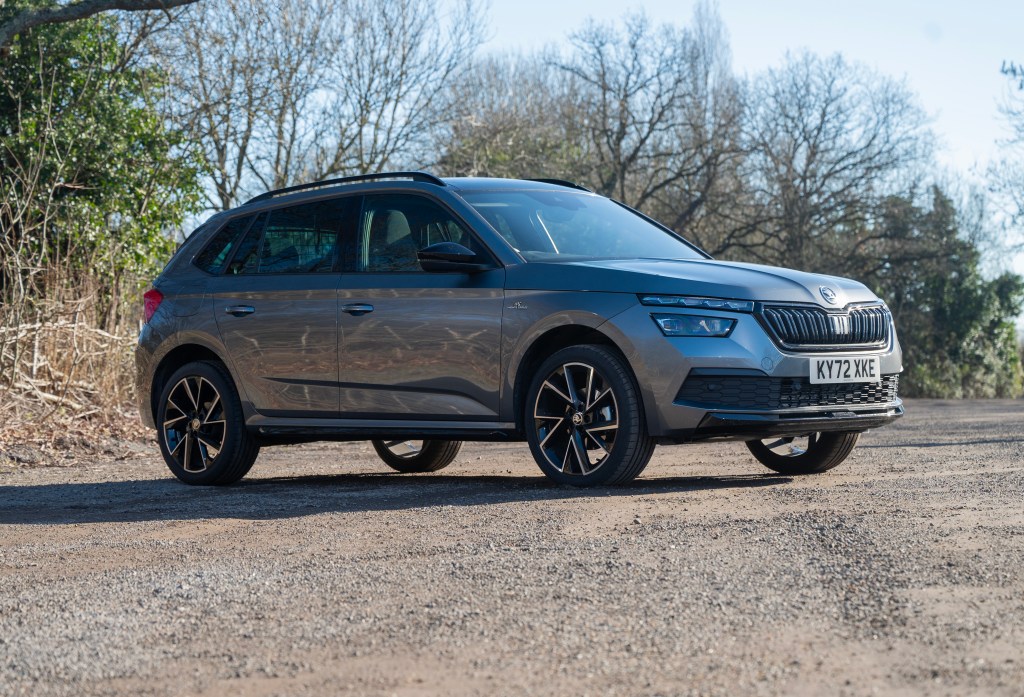 Adding options while configuring your new car can be a mixed experience. Yes, it can be fun as you think of the enjoyable extras that you know you'll use and appreciate, but when added together they can make the final bill rather hard to swallow. Skoda has treated us to a range of these options on our Kamiq, so which of these would I be plumping for and which do I think we could have dropped?
First up is the dual-zone climate control (£735) that allows the heating and air-conditioning to split between the driver and passenger sides of the front cabin. As the UK has warmed up in recent weeks, this has been a real joy to play with as it has enabled us to set our own chill factor, with the vents quick to supply a cool breeze.
This is where I have a gripe, however, as while the temperature level is easy to adjust via a physical dial on the central cluster, the strength of the fan can only be changed via the touchscreen. Call me old fashioned, but surely one method is best for simplicity and efficiency. Physical buttons and dials work best for me.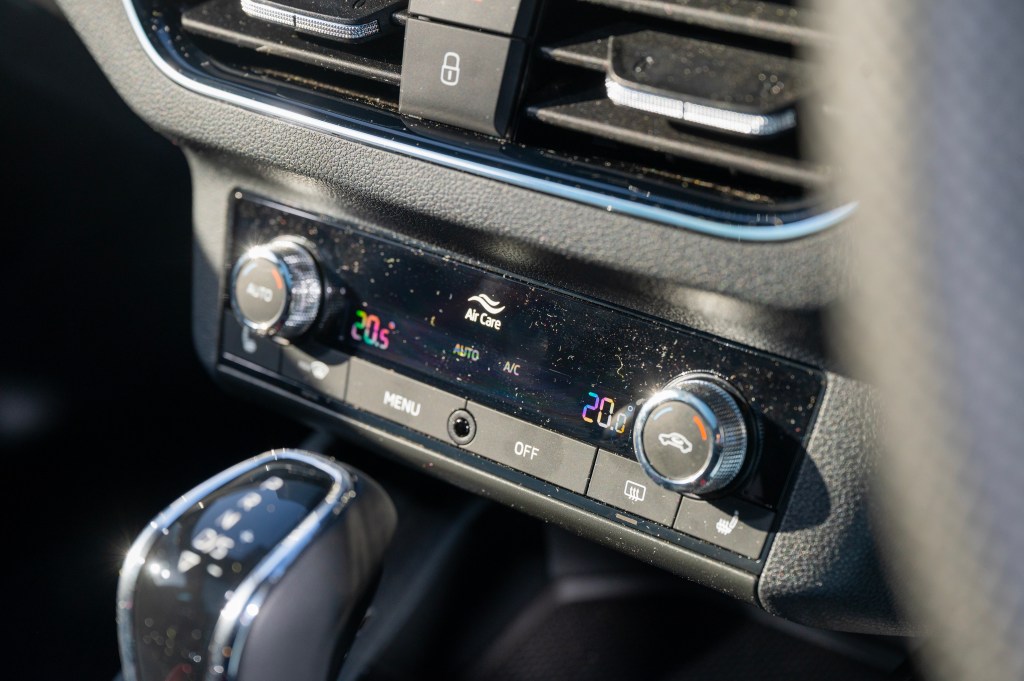 Skoda is back on form with the climate system for the rear cabin, blasting out a decent level of cold air (or heating) to keep the younger members of the family happy. This unit is run by controls in the front, so not adjustable from the back row. However, returning to the early days of our time with the Kamiq, both rear seats are heated and come with two buttock warming settings that are user-adjustable.
One final positive point worth mentioning about this Climatatronic (Skoda's term) system is the Air Care feature, which can be selected to help monitor air quality for seasonal allergy sufferers. It achieves this by filtering dust and pollens, then recirculating air when needed rather than introducing it from the exterior. This is a welcome touch and well received by my eldest son as hay fever has affected him since early June.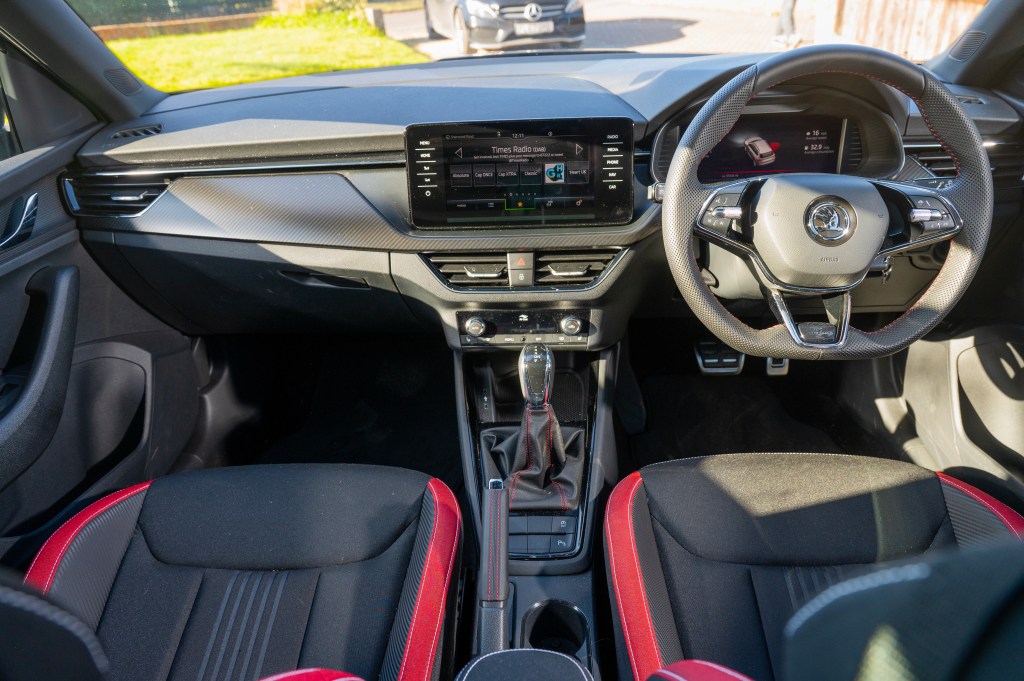 The Kamiq's front and rear parking sensors (£405) have worked adequately, helping navigate tight parking bays when needed. I was able to easily open the settings to adjust the volume and tone levels, making them slightly less urgent without compromising their usefulness. My one niggle on this option is that for a Monte Carlo high-spec model, I would expect the Kamiq to be equipped with parking cameras, not just sensors. The car has a strong tech set up in all other aspects, with a generously-sized touchscreen that would be perfect for a camera feed.
Notable electric options come in the shape of the adjustable, heated and folding door mirrors (£235) and the electrically-operated boot door (£445). Both are no-brainers for me as they have been very much part of our everyday use of the car. The heated mirrors cleared ice and rain quickly on inclement mornings.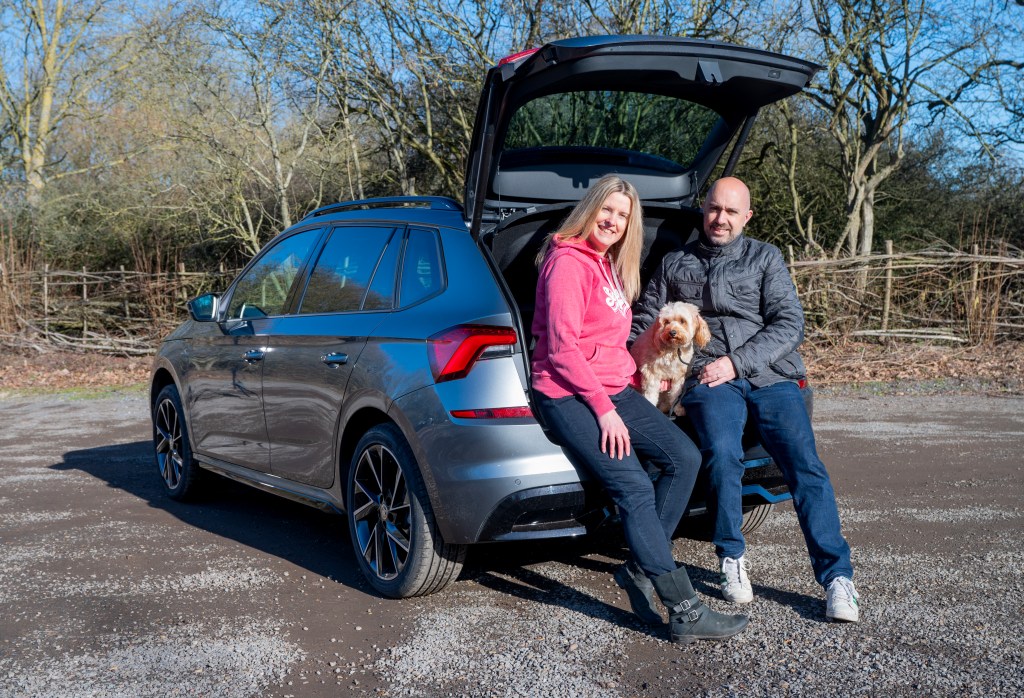 As for the boot option, I don't know what I'd do without it. It's easy to use via the buttons on the key fob, rear and driver's doors. The sensor was sharp, too, reacting well to stray dog gear obstructing it from closing.
The grey metallic paint job (£660) was one of the notable higher-priced options and is one I've come to favour more as time has passed, particularly when I see it on other Skodas, making me realise how this signature tint gives the Kamiq stand out looks. With Fiat recently vowing to stop selling grey cars not everyone is a fan of this shade, but it is clear the ability to personalise vehicles is an important feature.
My Skoda Kamiq came with almost £3,000 worth of options, which add up to over 10% of the on the road price of £27,405. This is a significant increase but clearly the demand is there and I for one would stump up for the creature comforts.
Mileage this month 251 miles
Mileage to date 2,669 miles
Average economy 39.8mpg
If you want to ask Tina a question about the Kamiq, enter a comment below.
August 18, 2023 Final verdict: Has the Kamiq left me with car karma?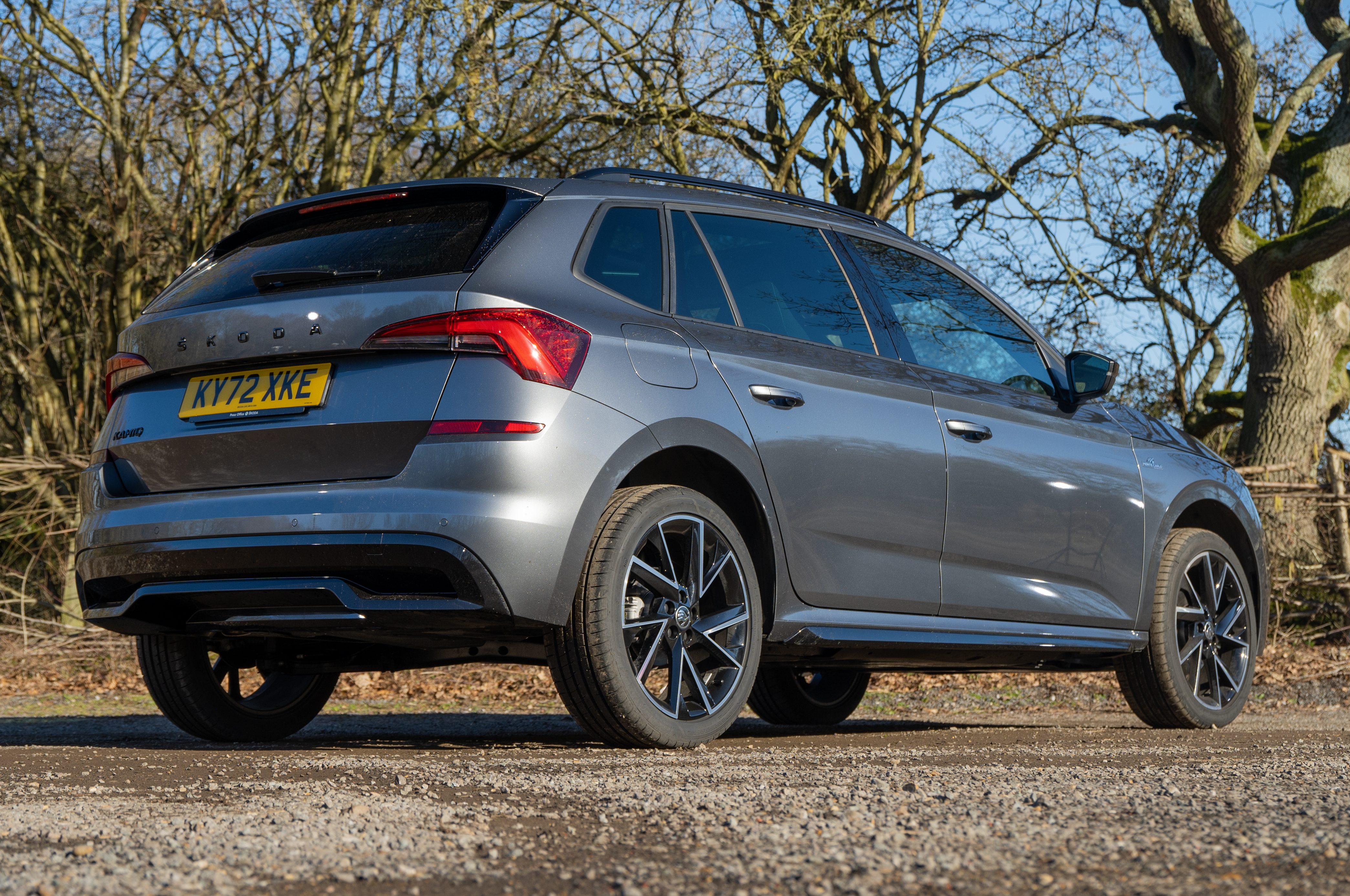 The Kamiq was retrieved by Skoda recently and in truth the whole household misses it, particularly our cavapoo Jessie who has been heavily spoilt by the many dog-friendly features. Having undergone a robust family extended test over six months, we can happily give it a positive overall rating if you're looking for an economical crossover or small SUV.
From a pure driving perspective, I was a fan of the Kamiq's super-smooth ride quality right from the start. The car glided away when started up, with one of my son's friends enquiring if it was in hybrid mode such was the lack of noise and velvet-like transmission.
Despite what used to be considered a relatively small engine (a 1-litre petrol), thanks to the efficiency and modern turbocharging the Kamiq never seemed to struggle, no matter the amount of holiday gear, sporting equipment or teenage bodies I managed to load it with.
The Monte Carlo sporty spec isn't one that naturally appeals to my taste (the flash red interior trim didn't trigger my inner girl racer), but potency of the powerplant was definitely noticed.
What really stood out for me is Skoda's ability to think beyond the standard driving experience and consider how the car needs to accommodate the driver's lifestyle and daily routines. The company nailed the practicality, the striking design and efficient performance metrics but don't stop there; Skoda puts itself in its customers' shoes and asks what else might make life easier for families.
Three simple but so effective examples of this come to mind:
The small umbrella housed within the driver's door. Easy to forget it was there, but so handy when I needed to make a quick dash from the car and the heavens had just opened.
An ice scraper within the petrol cap. Innovatively housed and located, but a complete life-saver when my usual accessory was (of course it was) in my husband's car.
Parking ticket windscreen grip. Not immediately obvious but a really useful accessory and prevents tickets blowing off the dashboard when the door closes.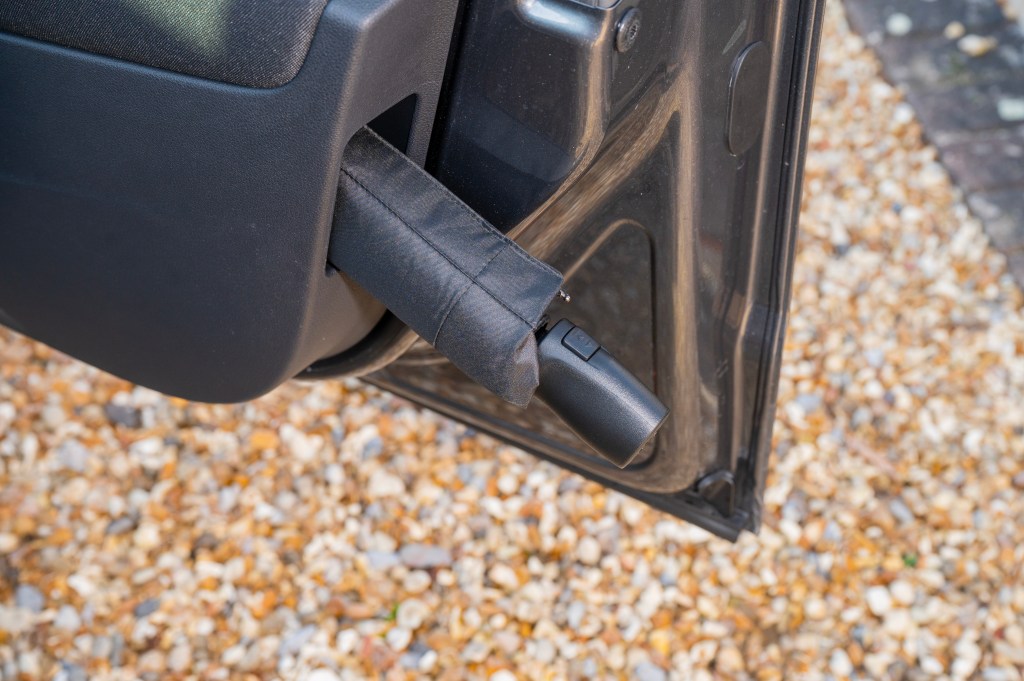 None of these features are rocket science, but they're all smart and add up to make me believe Skoda are "like me", and it's a sign of a savvy manufacturer looking to win hearts and minds.
For balance, there were a few little issues that I've mentioned in previous review instalments. Most of these seem to come from a technological standpoint and it's an area that I think Skoda could address to reach a top score.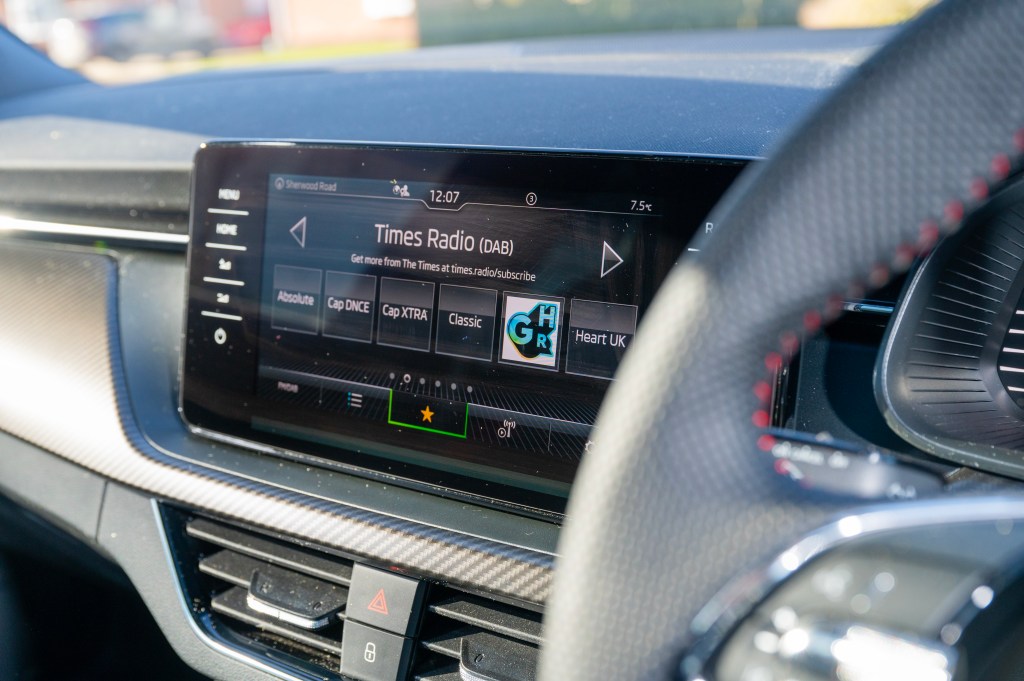 The infotainment system and central touchscreen had plenty of potential in terms of features but they didn't feel very intuitive to engage with. This may be a little harsh as I naturally default to Apple Carplay, but I'm always curious to explore the in-built settings on a new car. However, I didn't feel these were easy to interact with on the Kamiq.
I'm from a generation where Skoda previously got a bad rap and was often subject to comical jibes. It has come a long way since then and under Volkswagen ownership has become a desirable badge. The last six months have converted me to the Skoda fan club and either a Kamiq, Karoq or Kodiaq would sit comfortably on my wish list when it comes to replacing the family wagon.
If it continues with the Crufts sponsorship I'm sure Jessie will be giving me a firm (paw) nudge, too.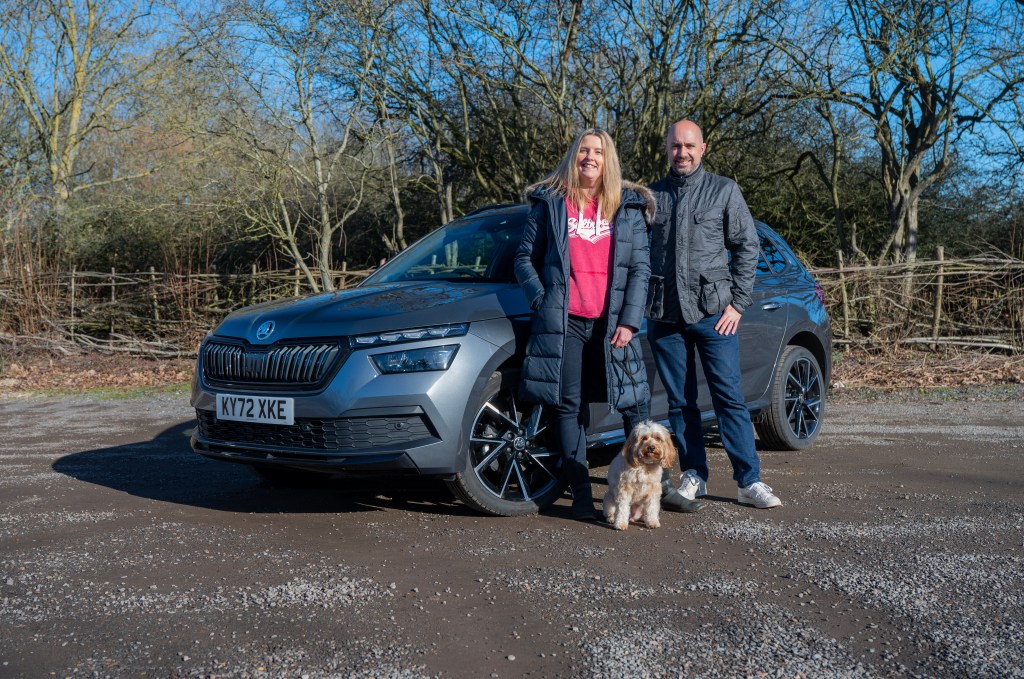 Test period February to August 2023
Starting mileage 580
Mileage this month 272
Mileage in total 2,971
Average economy 39.2mpg
This concludes Tina's Skoda Kamiq extended test. Visit the Reviews section for the latest first drive reports and other long-term reviews.
Related articles
Latest articles