Gran Turismo 7 review: A triumphant return to form for Playstation's blockbuster racing game
Back to the good stuff
Gran Turismo 7 has finally landed, and the latest iteration of the long-running racing game for Playstation was worth the wait, feeling like a soothing tonic after the more clinical GT Sport of 2017.
Available for both PS5 and PS4 (creating a version for the latter led to launch delays), GT7 sets its upbeat tone from the very first moments, as you're invited to play three "Music Rally" minigames while the full game downloads in the background. These involve driving a trio of cars (Porsche 356; Honda S800; Shelby Cobra) at three circuits, while music tracks blast out and each beat counts down a timer. Checkpoints around the circuit boost your beat count, and the goal is to keep going before the music stops; run out of beats before that and you've failed.
It's great fun, which is not a word often associated with GT7's predecessor. GT Sport was a bit like a McLaren MP4-12C – objectively efficient but somehow lacking in heart.
Part of that game's problem was a revised user interface that did away with the series' beloved map-based areas and went with a more clinical website-style user interface. It lacked the much-loved "GT Mode", whereby players started out with a small budget and had to buy budget used cars from dealers, then race them for credits to buy tuning parts before climbing up the ladder to better cars and more advanced races.
A career progression was possible, series director Kazunori Yamauchi told Driving.co.uk in 2016; they'd simply changed the user interface, he said. In fact, the truth was that because each car had to be remodelled in 4K resolution, with new physics (handling profile) for GT Sport, Yamauchi's team simply didn't have time to create a full roster of cheap used cars before it was released. That's why GT Sport had just 140 vehicles at launch, compared with the 700+ included in the Xbox's rival Forza Motorsport 7.
In addition, the tuning side of things had been "simplified" for GT Sport – according to Yamauchi, this was because gamers in 2017 didn't have the same car knowledge as players when the series first started 20 years earlier. This was nonsense, of course – surely also down to time-saving ahead of launch – and gamers lamented the more basic tuning options available to them.
Scroll forward five years and it's clear GT Sport was a stopgap because GT7 includes all of those elements along with a selection of more than 400 cars, along with new, more immersive and emotional menu elements.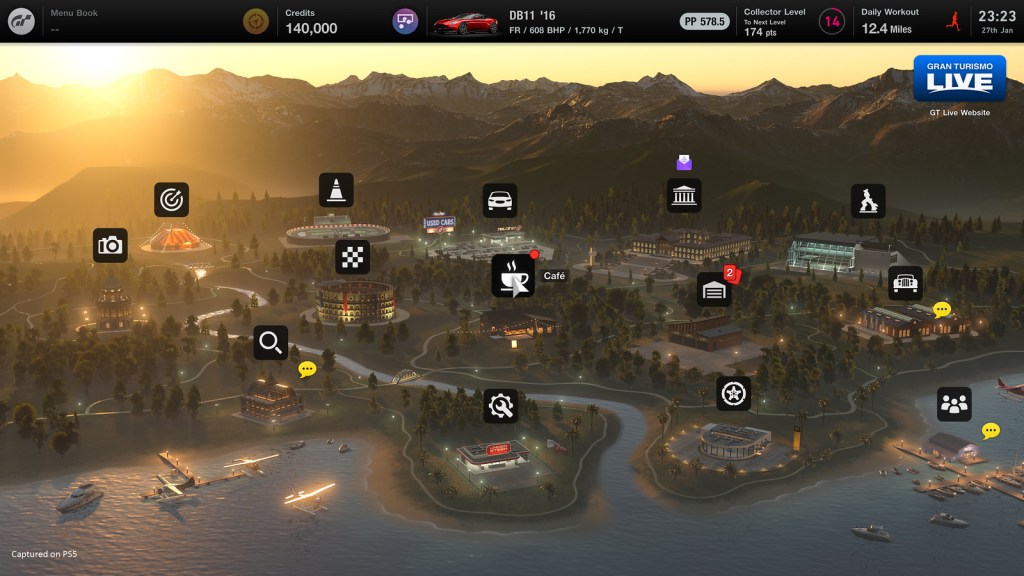 The map-based menu is back, looking more glorious than ever in 3D and with day/night lighting effects, and so is the career progression with a used car dealership that offloads delights such as a 2011 Toyota Aqua, 1991 Mitsubishi GTO and 2014 Honda Fit (Jazz) Hybrid.
Early in the game you get to experience some classic cars, too, starting with the likes of the Mini Cooper, Fiat 500 and VW Beetle. They're not powerful but stripping weight out of these already featherlight machines and adding soft sports tyres in the Tuning Shop makes them a hoot against more powerful machinery in races, as you regain ground through corners that was lost on long straights.
A one make classic Mini Cooper race at Goodwood Motor Circuit proved glorious fun, too. My unmodified car was down on power and clearly less stable through the turns, but slipstreaming and bravery worked wonders. The replay shows just how smart the Gran Turismo vehicle physics is working, with my car, on standard suspension, dipping its nose significantly under braking and rolling significantly more than other vehicles through the corners. That work on GT Sport, and subsequent years of development, were worth it.
The great thing about GT7, though, is that you don't need a steering wheel and pedal set-up to be competitive – it's eminently playable with the control pad, particularly with the PS5's next-gen DualSense controller. The steering is smooth and the accelerator and brake triggers vibrate under wheelspin or loss of traction, making it easier than ever to switch all the driver aids off while using the controller.
Of course, for absolute perfection there's no substitute for a wheel – you can see that in the occasionally jerky changes of direction in our videos – but it's possible to be accurate enough with the DualSense to be quick and have fun; the early run around Trial Mountain in the Cobra proved that oversteer could be corrected using the control pad.
GT7 adds the fun in other ways, too. The Café is a new location that acts as a central hub, where owner Luca provides you with "menus" of tasks to complete, such as completing racing licences (each one now overseen by virtual versions of real world Gran Turismo global champions) and collecting a group of cars, about which he'll offer a little history lesson once the set is complete.
While the new areas move the game on, it's the return of areas missing from GT Sport that are likely to win over gamers. Back is the system whereby cars get dirtier and worn out as you race them, so GT Auto brings back the classic car wash facility, as well as allowing you to maintain the mechanicals.
GT Auto also allows you to modify the paint scheme and add decals, as well as design helmets and overalls. You can then take them to the Scapes area – a photo mode pioneered by GT Sport – to snap your creations against hundreds of realistic backdrops. We were sceptical about how popular this would be when GT Sport launched, but it proved a sensation and, cleverly, it's a reason for people to show off their efforts on social media.
On beauty, GT7 excels. Vehicles and backdrops in the Forza series look sensational, too, but with the power of the PS5 and new, more advanced "ray tracing" (it monitors light sources and types of surfaces to accurately show reflections). We were stunned by the street lights reflecting off the instrument panels of a Honda S800 during a Music Rally on the Tokyo Expressway.
Rain, too, is brilliantly rendered on the windscreen as you drive, and it's not just "on" or "off" – the droplights vary in intensity, so one minute there can be light spots on the glass and a lap later there can be a torrent, with droplets running up the glass independently of one another. It's like that moment in Jurassic Park when Jeff Goldblum tries to explain chaos theory, with different droplets taking different routes depending on the motion of the car and the weather outside.
Rain really affects vehicle handling, as well. Another race on the streets around Tokyo showed how grip can change in extremis when the heavens really open, and when transitioning from dry tunnels to open-air sections of road. As in real life, wet weather really does prove to be a challenge. Running off the road, too, reduces grip as the rubber picks up dirt.
It's not perfect, though. While the menu system has been improved greatly over GT Sport, moving from one licence test to another is harder than it should be.
And for some reason the drivers of the cars spend a lot of their time driving one-handed, with their other hand on the gearlever – something a race instructor would take a very dim view of. If you can control lift-off oversteer in a Shelby Cobra with one hand, you're basically superhuman.
We also found some of the history lessons and grammar to be less than accurate. And once again, the noises the cars make are more artificial than those of Forza.
But these are small gripes that you're prepared to gloss over for the rich, engaging experience overall. We haven't yet experienced online racing, nor the game in Playstation VR, but will report back here once we have.
GT7 review: the verdict
This is the game we wanted when GT Sport was launched. GT7 benefits from all the physics advances made during the creation of GT Sport but adds more beauty and a richer, more entertaining user experience. Back are some of the beloved game modes that we so missed last time around, though developed for the next-gen gaming era, along with some engaging new features that help provide a deep connection with the game.
GT7 holds beginners' hands while allowing experienced gamers to get stuck in straight away, and the career progression will keep you coming back for more as features unlock. There's no end to the tinkering possible through the Tuning Shop and GT Auto, and it helps that there are four times as many cars available in GT7 than were offered at GT Sport's launch.
In short, this is the ultimate edition of Gran Turismo: beautiful, engaging, challenging at times and, importantly, fun.
Where to buy Gran Turismo 7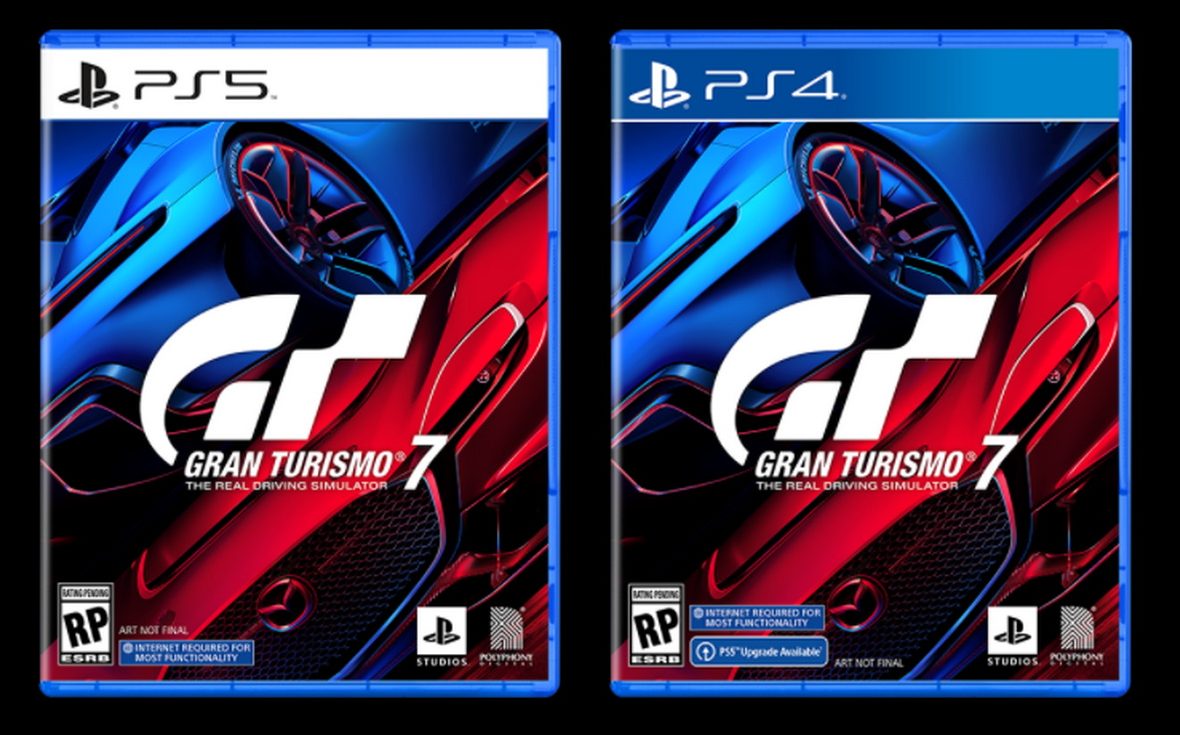 Gran Turismo 7 is available to purchase on PS4 and PS5 from various online stores, including:
Playstation 4 – from £54.99
Playstation 5 – from £64.99
We may earn revenue if you click a link and buy the game, but we never allow this to affect our opinions.
Related articles
Latest articles