Who is to blame for dieselgate? Driving tracks down the engineers and asks, could the scandal really destroy VW?
If only everything in life was as reliable as a Volkswagen
If only everything in life was as reliable as a Volkswagen. That's what the advertisements used to say. Now VW's reputation is in tatters after the revelation that the car maker deliberately cheated in emissions tests. Who is to blame? Nick Rufford and Dominic Tobin report.
"WE'VE TOTALLY screwed up." The Germans may not be known for their sense of humour, but it turns out their corporations do a decent line in understatement. When Michael Horn, the US boss of Volkswagen, admitted that the company had lied about how clean its engines were, he didn't know what the full cost would be.
He probably does now. Six months after the crisis that has become known as Dieselgate, sales of the Volkswagen Golf are down by more than 30% year on year in the US and total Volkswagen sales in Britain have dropped by more than 11% year on year, for the period October to January. Seat and Skoda — two of VW's offshoots — have also seen a slide.
Volkswagen's mistake was to fit software to millions of its diesel cars across the world to ensure that they would pass emissions tests. Away from test laboratories, the cars reverted to a "road mode", in which they were more driver-friendly but produced higher levels of toxic compounds.
In Britain, Volkswagen has begun recalling cars to disable the cheat software. More than a million owners are affected in a process likely to last a year. It's worse in America, where customers are mobilising to sue the firm, leading to what could become one of the biggest class-action lawsuits in history. The company may be forced to buy back tens of thousands of its own cars.
VW — bankrupt? Impossible, surely. People might have said the same about PanAm before Lockerbie
Yet the thing most likely to destroy Volkswagen is not the recalls, the legal actions or even the choking red tape imposed by half a dozen official investigations, including those in Germany, Norway and India — any one of which could lead to criminal charges against VW personnel. It is the fact that customers will never see Volkswagen in quite the same light again.
Volkswagen's success is built on trust. Solid. Dependable. Just listen to the reassuring clunk as you close the door, the sales literature says. A 1987 TV ad (see below) featured the model Paula Hamilton, who, after a row with her fiancé, discards his gifts while walking to her car. First the ring, then the pearl necklace, then the fur coat. When it comes to the keys to the VW Golf, she pauses and changes her mind. The closing caption reads "If only everything in life was as reliable as a Volkswagen".
The reliability of Volkswagen — or lack of it — will be at the centre of a prosecution brought by the US Department of Justice. It could cost the company more than $40bn — greater than the estimated clean-up costs of the Bhophal gas leak that brought down the chemical giant Union Carbide, and more than twice the GDP of Cambodia, Namibia or Mozambique.
According to Volkswagen's own chief executive, the crisis is "existence-threatening". On the face of it, that seems extraordinary. VW — bankrupt? Impossible, surely. People might have said the same about PanAm before Lockerbie, or TWA before the explosion on flight 800 over Long Island. Global companies can be brought low by a single crisis if it's big enough, and Dieselgate is big. And unlike an air crash, VW's crisis was premeditated.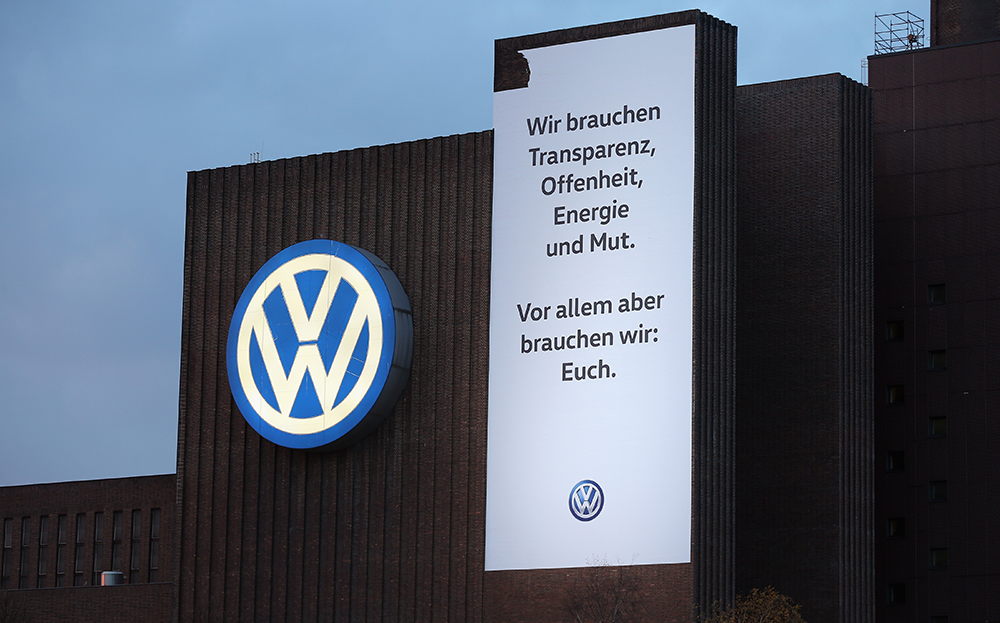 WHISTLEBLOWERS WANTED A sign at VW headquarters in Wolfsburg, Germany, reads: "We need transparency, openness, energy and courage. But above all we need you."
It's a monumental fall from grace for a company that, for a while, was the world's most profitable car manufacturer. Named after the "people's car" — the VW Beetle that Adolf Hitler asked Ferdinand Porsche to design in the 1930s — Volkswagen emerged from the ruins of postwar Germany to enjoy seven decades of expansion. It grew so big, it gobbled up some of the most famous names in automotive history, including Lamborghini, Bentley and Bugatti.
It is as brilliant in engineering terms as it is successful commercially. It makes Europe's bestselling car, the Golf, and the Bugatti Veyron, the world's fastest production car. Yet, behind the facade of sobriety and attention to detail, a different picture of VW has emerged in recent years: one of a company racked by internal strife, bungs and backhanders, and a culture of fear in which staff felt under pressure to meet impossible goals.
Landau is a small town in the southwest of Germany, a region best known for its riesling wines. The offices of Automobil-Prüftechnik Landau (APL, or automotive testing, Landau) lie on an unprepossessing industrial estate on the outskirts of town. The company helps car manufacturers to develop new engine technology. It has no direct links to the VW scandal, but the man who heads it probably knows better than anyone the sequence of events that led up to it. Jens Hadler, 49, was executive director of powertrain development at Volkswagen in 2008, when the company launched the engine that was to be at the heart of Dieselgate.
Dr Hadler is not at work today, says the security guard at reception. "I can't tell you any more," adds his secretary
That April he proudly announced a breakthrough his team had made in building the world's cleanest diesel engine. "I think this motor will help the diesel get its big break in America, because it consumes so little and yet can go such long distances on a single fill-up," he said in a press statement. "And in a country as big as the United States, this is a priceless advantage."
Dr Hadler is not at work today, says the security guard at reception when we visit APL's head office. "I can't tell you any more," adds his secretary. "When he's back, I'll tell him that you called."
A gifted engineer, Hadler received his grounding at Magdeburg University, where he completed a PhD in engine mechanics — a specialism that would take him to the uppermost ranks of VW. Magdeburg's graduates have gone on to make Germany's car companies global leaders in the industry. Professor Jürgen Häberle, acting head of the university's machine institute, says he knows Hadler's name well, even though he arrived after the student had left. "Jens Hadler was very successful," he says. "We don't normally make geniuses."
Häberle says he is mystified as to how the Dieselgate scandal came about. "That's not what we teach here," he says, before leaving to give a lecture. He walks a few steps, pauses and then turns around. "Please don't kill VW," he says as an afterthought. "We need it."
Hadler's talents were recognised by Martin Winterkorn, Volkswagen's former chief executive. An engineer and a lifelong football fan, Winterkorn had worked his way up through the group's ranks to reach the top job in 2007. He championed VfL Wolfsburg, the top-tier football team that had grown out of a sports club for Volkswagen workers in the 1940s and won the Bundesliga title in 2009. He had similar ambitions for the company: he wanted to make Volkswagen the world's biggest car maker, overtaking Japan's Toyota and America's General Motors.
It seemed within his grasp — the company was riding a wave of confidence. One of Winterkorn's stunts at motor shows was to stride onto rivals' stands and push a measuring device into the gaps between bodywork panels, looking closely before walking away with a triumphant nod. The message seemed clear: VW was the best and its position was unassailable.
Uber-confident, the company shrugged off the kind of bad publicity that might have sunk a less successful rival. In 2008, two senior Volkswagen executives were convicted of involvement in a bribery scandal. There were tales of VW managers endorsing a slush fund for union officials, who used it to pay for prostitutes, brothel visits and Viagra. There were, however, no such sleazy perks in the engineering division, where Hadler and his team of boffins worked. They were too busy pursuing the "clean diesel" breakthrough that VW needed to conquer the lucrative territory it had yet to dominate: America.

A BRAND YOU CAN RELY ON Paula Hamilton stars in the 1987 VW Golf TV advert
Between 2004 and 2010, California, America's biggest car market, phased in tougher regulations, reducing the maximum permitted emissions of oxides of nitrogen (NOx) from new cars to an eighth of what they were before. Other states followed suit. Meeting the Californian targets seemed impossible with the engines then on sale in Europe. New technology had to be developed. The first car maker to do so would gain a huge advantage, and Volkswagen's bosses decided they would win that race.
Volkswagen had previously licensed BlueTec technology from Mercedes that involved injecting an additive called AdBlue into the car's exhaust to convert harmful NOx into harmless nitrogen and water vapour. That licensing deal was cancelled in 2007 because, it has been suggested, VW was uncomfortable using a rival's technology. Neither did it want to fit its vehicles with a costly additive tank that would require regular top-ups — a chore that Winterkorn knew would be unpopular with owners.
With the clock ticking, Hadler came up with an apparent solution, which he detailed in May 2008, in the engineering journal Internationales Wiener Motorensymposium. Hadler's paper describes how software in a car's computer could be used to help meet emissions targets. In conjunction with fuel injectors and exhaust filters, the software could make continuous adjustments to the way an engine runs, making it less thirsty and less polluting, but no less powerful. The paper referred to "engine modifications, some of which are unique worldwide". In short, it was the engineering equivalent of alchemy.
The only problem was that it didn't quite work. Try as they might, Hadler and his team seemed not to be able to translate theory into practice. They struggled to cut pollution enough to comply with Californian regulations without affecting the car's fuel economy or performance. As time ran out, so did their ideas. So, under instruction — from whom it is not clear — Hadler's EA189 engine was programmed with additional software, supplied to Volkswagen by Bosch, an automotive-parts maker as well as a manufacturer of power tools.
The software was intended to be used in engine development, but never in production vehicles, according to insiders at Bosch. But who would even know it was there? Invisible among the millions of lines of code that a modern car's computer uses, it lurked in the background, silently monitoring how the vehicle was being driven.
Most of the time, the code remained dormant, but it sparked into life when it detected only two of the car's four wheels moving, and when the steering wheel was stationary — a combination that occurred when the car was on a rolling road in a lab. When this happened, the engine switched into a mode that was much cleaner — but that would have given a poorer performance during normal driving.
To all intents and purposes, the pollution problem had been solved. Emissions were only tested in the laboratory, and never on the road, so how could the software be detected?
"I was amazed that the Germans were able to accomplish something that the English, the Japanese, nobody else could do." — Jay Leno
In 2008, after a burst of publicity, Hadler launched Volkswagen's revolutionary Jetta saloon. He listed the new features of the 2-litre engine, including a "NOx trap", an alternative to the AdBlue system. "Implemented together, these measures reduce nitrogen oxide emissions by 90%," VW claimed.
As the world economy crashed, diesel cars were suddenly in demand as a frugal alternative to petrol. The Jetta was named green car of the year by a panel of experts that included Jay Leno, the late-night talk-show host and car fanatic — the closest thing America has to Jeremy Clarkson. Though Leno says he didn't vote for the Jetta, he had no reason to doubt the company's claims to have achieved the seemingly impossible.
"Before that, I never saw diesel as the future, because it's inherently a pretty dirty fuel," he told The Sunday Times. "I was amazed that the Germans were able to accomplish — in engine design — something that the English, the Japanese, nobody else could do. I just put it down to German engineering."
To drum up excitement, VW had taken the Jetta on a six-month travelling exhibition, Dieselution, which toured car shows and even the Super Bowl, trumpeting the advent of "clean diesel".
Customers were tempted by the promise of astonishing fuel economy, and when John and Helen Taylor, an Australian couple who specialise in fuel-efficient driving, averaged 58.8mpg while driving the Jetta across all 48 contiguous American states, they gained an entry in Guinness World Records. Most cars at the time struggled to achieve half that, plus the Jetta was clean enough to qualify for green subsidies and tax exemptions.
It didn't take long for Volkswagen to begin fitting its frugal diesel technology to other cars: the Passat saloon, the Beetle, the A3, made by Audi, and of course the Golf.
Volkswagen's rivals had nothing to match it — the established diesel emissions-reduction technology was just too expensive. "VW was really the only car maker in the world that was trying to sell low-priced diesel cars into the US," says Stuart Pearson, an automotive analyst with Exane BNP Paribas. "You saw bigger diesel cars, like BMW's X5, where you could afford to put in an additive system costing £1,000. But when you are selling a £20,000 Jetta to cost-conscious American consumers, it's tough to pass that cost on."
When Europe tightened its emissions rules, car makers began to introduce the technology developed for America in Britain and on the Continent. From time to time, doubts were raised about whether the claims were achievable. The Sunday Times revealed that diesel cars were often emitting 20% more pollution than advertised. Clean-air groups were also sceptical, pointing out that NOx emissions in cities had not fallen as fast as expected, given the stricter regulations.
Yet the doubts didn't stand in the way of the relentless rise in sales of VW cars. In the first half of 2015, Volkswagen overtook Toyota to become the world's largest car maker. By the time the Dieselgate scandal broke in September, 11m cars with EA189 engines had been sold.

TRUST ME In a video statement on the VW Group YouTube channel, Prof. Dr. Martin Winterkorn said: "It would be wrong to cast general suspicion on the honest, hard work of 600,000 people because of the mistakes made by only a few. Our team simply does not deserve that."
Then, quite by accident, and in the best David-and-Goliath tradition, a little-known figure stumbled across the engine's secret. John German, a 63-year-old father of two from Ann Arbor, Michigan, used to work in powertrain development for Chrysler before turning gamekeeper and enforcing emissions regulations for the Environmental Protection Agency (EPA) in America. He now heads the American arm of the International Council on Clean Transportation (ICCT).
In 2013, German commissioned the Centre for Alternative Fuels and Emissions at West Virginia University to monitor the exhaust fumes from three diesel cars. All were "rentals" (the not-for-profit organisation had no budget to buy cars) — a Volkswagen Jetta, Volkswagen Passat and BMW X5.
In the laboratory, the results were as expected: all the cars met the tough Californian standards. But, crucially, advances in testing kit allowed the university to use monitoring equipment compact enough to fit in a car's boot. On the road, the testing results were dramatically different.
Across a series of different routes, at different speeds, the Volkswagens were emitting up to 38 times the permitted levels of NOx. The BMW was not. Fitted with the technology that VW had rejected — the tank of additive that Winterkorn had feared would alienate owners — the BMW had real-world emissions about the same as they were in the lab.
"We were monitoring this throughout testing and we got this dawning realisation over time that this was something strange," says German. "Quickly, we realised that we had to hand our findings over to the California Air Resources Board and the EPA."
Initially, Volkswagen protested ignorance. But when further tests showed that the cars were still sending out clouds of NOx from their exhausts, the regulators got serious. Unless VW came up with an honest explanation for the discrepancy, its 2016 cars would not be certified for sale in California. Reluctantly, VW bosses came clean.
The reaction was swift and merciless. As the story spread across the globe, VW's reputation for reliability and integrity was left in tatters, its dream of retaining the top spot as the world's biggest car maker dashed. Dieselgate wasn't just a car crash, it was the biggest pile-up in corporate history.
Many of the personnel linked to the development of the EA189 engine are suspended. . . others no longer work for Volkswagen
Uncovering who knew what and when is likely to be tricky, even for the 450 lawyers and paralegals now reported to be sifting through the internal emails and interviewing staff of every rank at VW's offices across Germany.
With many of the personnel linked to the development of the EA189 engine suspended and others — including Hadler — no longer working for Volkswagen, investigators had to begin by finding out exactly how the cheat software worked. Trawling through reams of code to identify the small snippet at the heart of the scandal has proved to be a challenge in itself.
The question of who authorised its installation remains unanswered. The chief executive at the time the scandal broke, Martin Winterkorn, resigned in September, saying he was "not aware of any wrongdoing on my part".
VW has said its investigators are still hard at work; they have seized more than 1,500 computer devices, including memory sticks, from 380 employees, and are scouring 102 terabytes of information — the equivalent of about 50m books. The company has not indicated how much help it is getting from the people who developed the engine. They are certainly not talking publicly.
Falko Rudolph, the head of diesel engineering in 2008, was moved to run Volkswagen's engine factory in Kassel, in central Germany. It's a vast complex, dominated by a huge, dark-brick building. When we visit, Rudolph is not there: suspended by the company.
Burkhard Veldten was the head of software design under Hadler, but is understood no longer to be at the company. At the Burgdorf gliding club, where he is chairman, there's no sign of him. The grass runway is neatly trimmed, but the adjoining clubhouse is unmanned. Empty beer bottles and a used barbecue attest to happier times.
Wolfgang Hatz, the head of research and development at Porsche, has been suspended, as has Heinz-Jakob Neusser, the head of development for Volkswagen. Ulrich Hackenberg, responsible for technical development at Audi, resigned after being suspended.
There is corporate silence. The shutters have come down. The workers aren't talking, fearful of the impact the scandal could have not just on their lives but on an entire town. Wolfsburg, an hour's drive from Hanover in northern Germany, is home to Volkswagen's headquarters and an enormous 2.5-square-mile factory that churns out 836,000 Golf, Touran and Tiguan cars a year. The company employs three in five of the 125,000 residents, and the rest are mainly reliant on the firm's supply contracts or the visitors it brings in.
Under the glow of a huge Volkswagen logo on the factory's brick-chimneyed power station, factory workers decline to comment. "We've been told: no contact with journalists," one says.
"We all know people who work for VW and we all need the company," explains Manuela Schmidt, the manager of a local hotel. "When this happened, a lot of my friends posted messages on Facebook in support." She scrolls down her Facebook page to show a poster saying "Keep Calm and Love VW".
Another posting shows a big Volkswagen badge, with the words "Treue Loyalität Zusammenhalt", calling for loyalty and solidarity.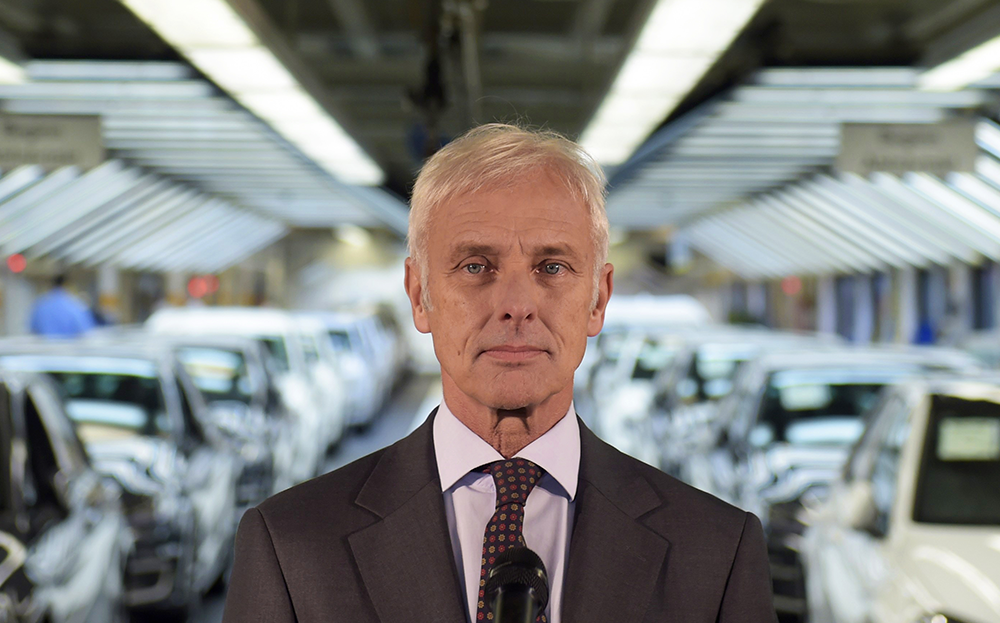 THE NEW GUARD Mathias Müller, the new chief executive of Volkswagen, was appointed after the emissions scandal broke. He is untainted by the affair — but now has to deal with its devastating aftermath
VW's risk and compliance department is marked by a plaque next to a glass door. Could this be where the investigation is taking place? Two staff are leaving. Are they part of the investigation? "Definitely not," says one. "We don't know anything, but we're happy to escort you outside."
Eventually, after many requests, Volkswagen breaks its silence and grants The Sunday Times — together with a car magazine journalist — an interview with Matthias Müller, the group's new chief executive, who was appointed in September, and Hans Dieter Pötsch, the new chairman.
Müller had arrived on VW's board from Porsche just before Dieselgate broke and is untainted by the scandal. Pötsch is the company's former finance chief, and is overseeing the internal investigation. He is as upfront as someone steeped in corporate culture can be, admitting that VW has lost the trust of the public, its customers and its investors.
"We are in the midst of one of the greatest tests in the history of the group," Pötsch says. "The developers of the EA189 project could not find a way to meet the tougher NOx emissions in the US by permissible means, or fit the time frame they had been given, so software was installed that regulated emissions, depending on whether the vehicle was on the road or on a test bench.
"You cannot re-register your vehicle, because it doesn't meet emissions standards, and neither can you sell it. Someone should go to jail, that's for sure." — Jay Leno
"The decisions were wrong, but also the premises and priorities on which they were founded. All this goes against the values of Volkswagen and the values by which our 600,000 employees act, day in, day out."
Pötsch confirms that a small group of engineers has been suspended. Have investigators spoken to Hadler? There will be no naming and shaming today. The investigation is still under way and there could still be criminal proceedings. Pötsch does suggest that blame is limited to a small group of individuals, although he concedes they were allowed to get their way because of a flawed corporate culture.
Measures are being put in place to ensure a similar situation can "never happen again". He speaks of "belt and braces" checks for future engine-control units, better-defined job responsibilities and more checks to "nip negative developments in the bud".
For the blue-shirted Müller, a neat line has already been drawn: on one side the old, corrupt and conveniently ousted regime. On Müller's side is the clean, new and reformed company. "We are determined to restore Volkswagen's excellent reputation and we will do so," he says. "We want to lead this company into a better future. We are doing everything we can to overcome this present situation, but we will not allow this crisis to paralyse us. We are using it as a catalyst for change that Volkswagen needs."
It's a convenient story. Until, perhaps, Hadler decides to tell his tale.
In the meantime, Jay Leno believes the scandal has caused a fundamental shift in public opinion and could end altogether the market for diesel cars in America. "I think this will knock diesel right out of the United States," he says.
"Let's say last year you bought a Jetta with a diesel engine in it. Now the motor-vehicle authorities here are trying to say that you cannot re-register your vehicle, because it doesn't meet emissions standards, and neither can you sell it, because it's illegal. So what do you do? You can't drive it and you can't sell it. The price of diesel in California has plummeted, and in many cases it's now 50c cheaper than gas [petrol], when it used to be a dollar more expensive.
"It's hurt Volkswagen tremendously. Just watching the late-night chat shows here in the States, all the jokes are about going back to Volkswagens and Nazis and all that. It's not good. I hope all the goodwill and the reliability associated with the Volkswagen brand is not gone. Will it sink them? Someone should go to jail, that's for sure. But if history has taught us anything, it will be some low-level guy in the engineering department, but obviously this goes right to the top."
How VW's "defeat device" cheated regulators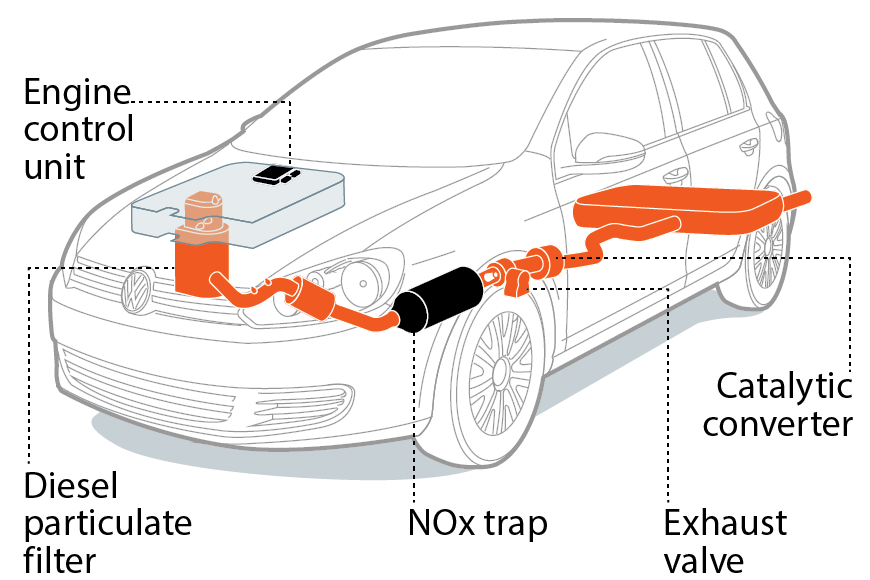 Software in the engine control unit knew when the car was being tested and activated filtering equipment that reduced emissions. But the software turned the equipment off during normal driving, increasing emissions far above legal limits.
The reasons are not entirely clear: possibly it was to improve the car's power and acceleration, or because the computer could save fuel by allowing more pollutants to pass through the exhaust system.