Jeremy Clarkson thought Richard Hammond had died after co-star crashed 220mph Rimac electric supercar
"James May was waving his arms and screaming"
JEREMY Clarkson says he thought co-star Richard Hammond had been killed following a high-speed crash in Switzerland.
Describing the dramatic accident, the former Top Gear front man and Grand Tour presenter told The Sunday Times Driving: "I watched that thing blow up. And I do mean blow up. And I thought he was still in it," adding that it was a "F****** huge crash."
Clarkson says his knees 'went to jelly' when he realised Hammond's Rimac electric supercar had skidded off the road at 120mph and erupted into flames.
---
Browse NEW or USED cars for sale
---
Clarkson was one of the first of the Grand Tour crew to arrive at the scene of the accident. He could see the burning supercar on its roof and was led to believe a 'body' had been pulled from the wreckage.
'I genuinely thought he was dead. I can feel it now; the coldness. My knees turning to jelly. It was Hammond who'd crashed.'
Fortunately, Richard Hammond sustained only a damaged knee in the accident, and has joked from his hospital bed that he will soon be getting a "Swiss Army knee."
Hammond thanked medical professionals who came to his aid following the smash. And after joking that James May deserved credit for smuggling gin into the hospital, the previous evening, he apologised to his wife and two daughters.
Clarkson, Hammond and May had been filming at a hillclimb course in St Gallen, Switzerland. Clarkson was driving a high powered Lamborghini Aventador S and Hammond the Rimac Concept One, an electrically-powered supercar capable of speeds of up to 220mph, according to the Croatian company. James May was in a Honda NSX.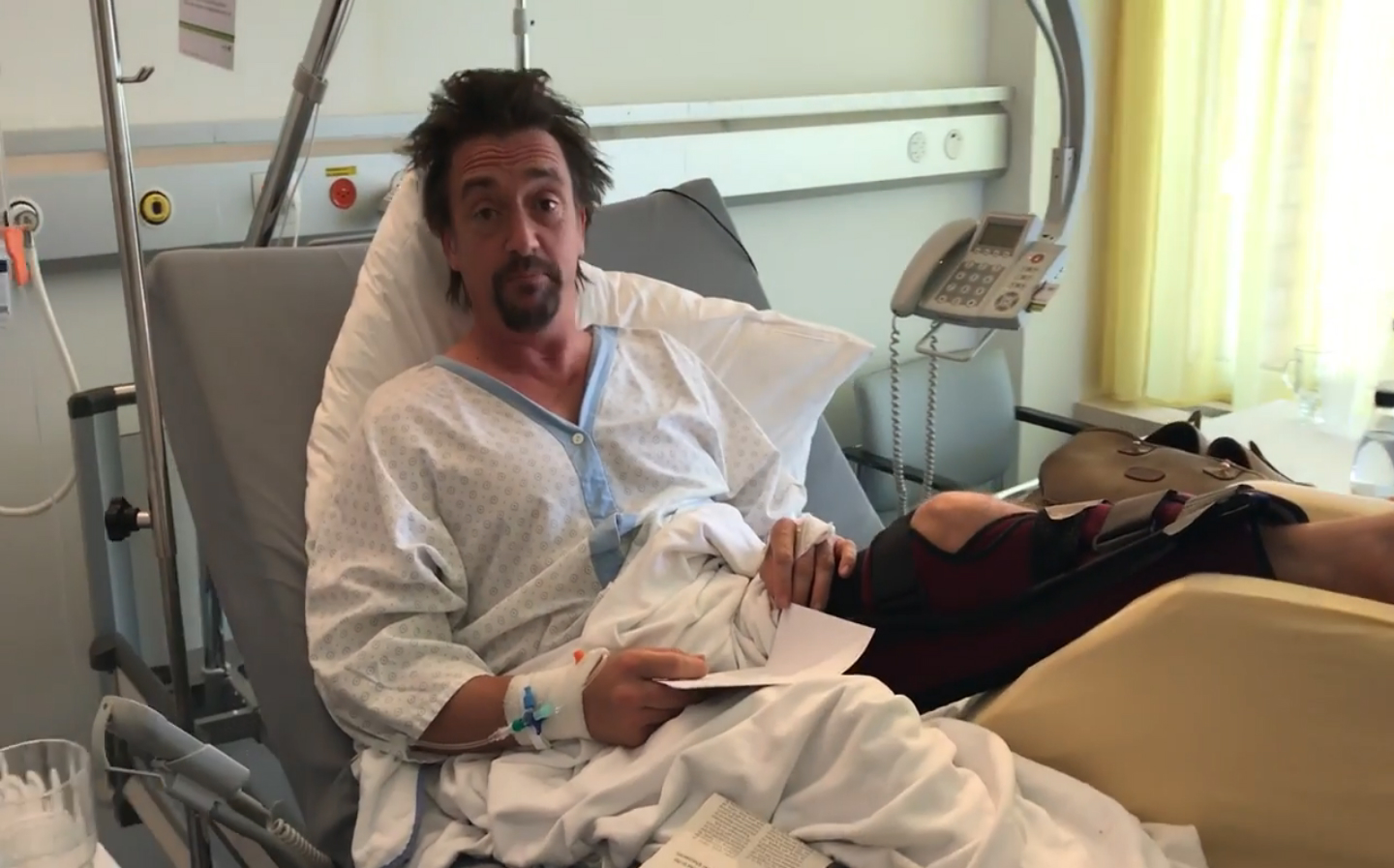 According to Clarkson, prior to the accident, Hammond had been driving the Rimac for four days 'on motorways, airfields and closed mountain roads'. He had also completed several runs on the hillclimb course.
Recounting the moments immediately after the crash, Clarkson wrote on Drivetribe: 'I saw a plume of smoke. Fearful that the "off" may be quite serious, I urged the driver to get to the top of the hill as quickly as possible.
'I arrived maybe 30 seconds later and leaped out to see an inferno raging, maybe a quarter of a mile away, at the bottom of a hill.
'It was obvious from the skid marks what had happened. He'd lost it somehow on the final bend after the finishing line and had plummeted down one bank onto a road lower down the hill, which had caused his car to flip.
'The big question was: had he managed to get out. No-one knew.
Clarkson goes on to describe there was confusion over which car had been crashed. Initial reports suggested it was the Lamborghini Aventador, that was being driven by a Lamborghini test driver.
'…as I stood there, waiting for news, it dawned on me that the burning car was not yellow, as the Aventador was. It was white. Hammond's Rimac had been white. And I can feel it now; the coldness. My knees turning to jelly. It was Hammond who'd crashed,' said Clarkson.
James May thought Hammond was still in the burning vehicle: 'He was in a right old state, his arms waving frantically, his eyes wide. "Hammond's in there," he was screaming,' said Clarkson.
Then confirmation came from a nearby marshal that Hammond has managed to escape the car before the fire started.
Hammond escaped death in 2006, after a tyre burst at 288mph, on a rocket-powered car he was driving.