2018 Jaguar I-Pace review
The Brits flick the switch to the future
UNTIL NOW, if you wanted an electric car in which you could travel a reasonable distance between charging stops with decent levels of comfort and performance, the only answer was a Tesla. The Californian tech company cornered the market in luxury battery-powered vehicles, leaving conventional car makers scrambling to catch up.
All that is set to change in the next 18 months when Elon Musk's rivals take the wraps off their own versions of Teslas. Sleek, battery-powered models are on their way from Audi, Porsche and Mercedes, marking a radical shift in the car market and, eventually, in the way we drive.
But wait — Jaguar has sneaked in ahead of the Germans. Its offering is called the I-Pace: an all-electric SUV that is a genuine first for the Coventry car maker, even though it is engineered by, er, Germans and built in Austria.
It's probably the biggest step the company has yet taken from the long-bonneted, walnut-panelled Jaguars beloved of prime ministers and affable geezers. Instead, the I-Pace is tall with a short nose and a long wheelbase, though not bad-looking for all that.
The company admits it called it an SUV because that's what everyone wants these days, but in truth it's a low-slung design based round a 600kg battery that stretches almost the length of the car and gives it a range of at least 240 miles on a single charge — enough to drive from London to Liverpool.
When it arrives in showrooms (soon), it'll cost about £60,000 — £10,000 cheaper than the equivalent Tesla, the Model X.
Ralf Speth, the German head of Jaguar, and Wolfgang Ziebart, who masterminded the electric propulsion (both former BMW men), say it's their proudest achievement.
There has been a drip feed of briefings during the I-Pace's four-year development, but finally the company has allowed journalists behind the wheel on motorways in Portugal and along mountain hairpins and gravelly off-road sections.
Because all the power is available as soon as you put your foot down, it's quick: 0-62mph in 4.8 seconds. That's faster than Jaguar's F-type V6 sports car.
"In most respects it's fun to drive: quick and responsive, in the way of a giant fairground dodgem"
The only sound is the faint whine of electric motors, even as it accelerates to its top speed of 124mph. Foreseeing that some owners might find silence disconcerting, Jaguar has included an option deep in the menu that allows you to turn on electronic engine noise, variable from "calm" to a throaty "dynamic" note.
One trick they've missed is to put a clock on the dash. It was once a boast of Jaguar owners that the engines were so quiet you could hear the clock ticking. The I-Pace is the quietest Jaguar yet but, sadly, progress leaves no room for analogue timepieces.
It's comfortable, though, with all the trimmings you'd expect of the leather-lined Jaaags of old. The fact that it doesn't have a bulky combustion engine or gearbox (traction comes from compact electric motors, one on each axle) means a bigger cabin with generous leg space, and a panoramic glass roof gives a spacious feel.
To drive, it's simple: you press your foot on the pedal and go. There's no complicated transmission; in fact there are hardly any moving parts.
Arthur Daley, enamoured of his Jaguar XJ6, is probably spinning in his grave like an old-fashioned prop shaft, but there's no point being nostalgic. Those who remember the troublesome Monday morning and Friday afternoon Jaguars of old won't miss the leaking oil, loose tappets and dodgy electrics.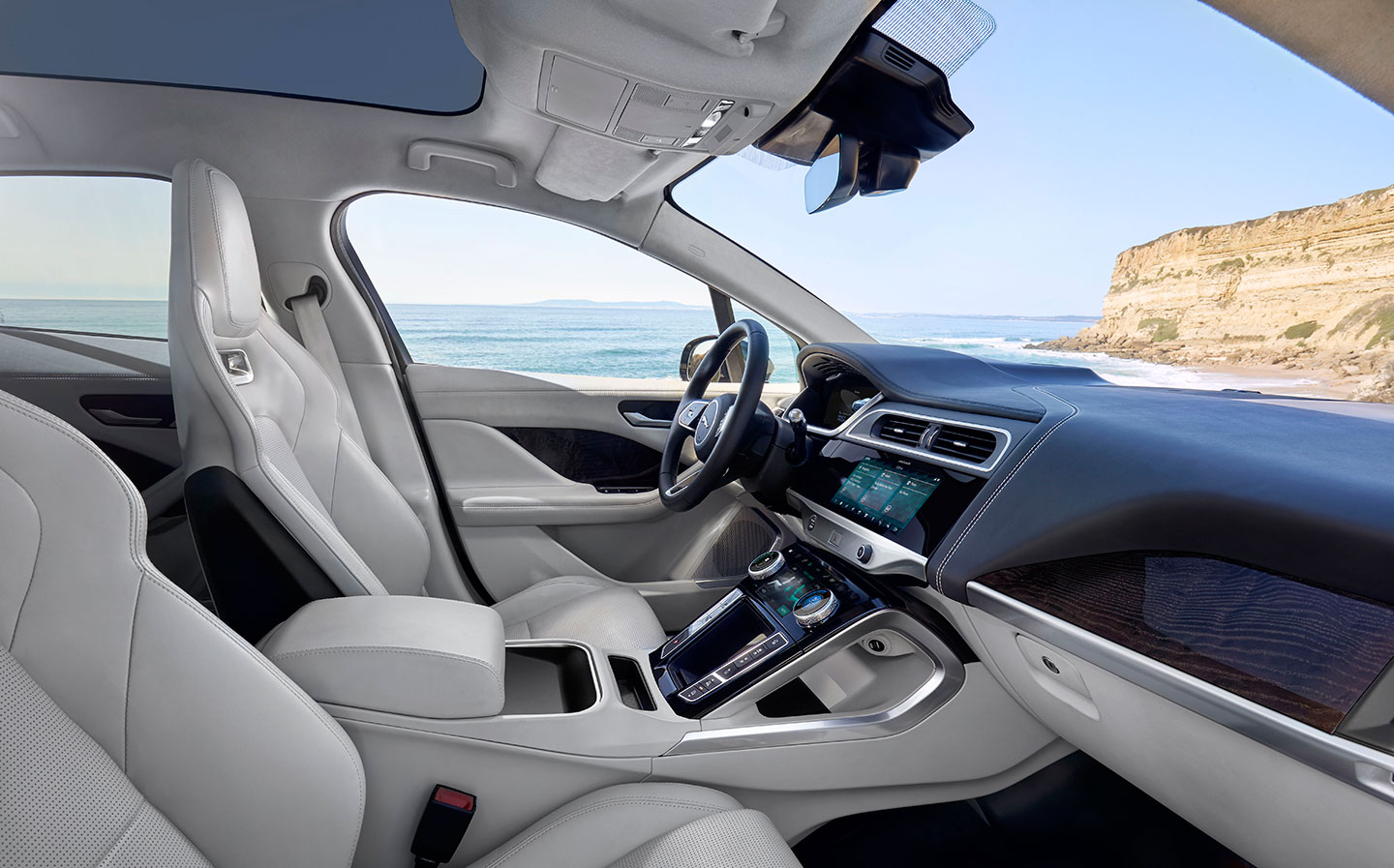 Drivers can adjust the regenerative braking: set to high, the car slows immediately you lift off the pedal, turning the motors into dynamos to recharge the battery. Those who, like me, find the lurching effect induces motion sickness will want to switch to the low setting.
The dashboard controls are based on a couple of rotary dials and two high-definition screens: one for climate control and a bigger one for sat nav and entertainment. The bigger screen doubles as a computer when you want to adjust the settings or get feedback.
There is a phone app to check the state of the battery and heat it on cold mornings, monitor whether the doors are locked and find the car if you've mislaid it in a car park or festival field.
The bugbear is the same as with other electric cars — recharging. Getting energy into a battery is never going to be as easy as sloshing in a few gallons of liquid fuel. A home charging point — usually a wall box — will replenish an empty battery to 80% in 10 hours. Recharging at a motorway services using a 50kW rapid charger will take 85 minutes for an 80% charge.
The I-Pace is also compatible with 100kW public chargers, which would give an 80% charge in just 45 minutes, but these are not yet widely available.
Jaguar is apparently assuming customers will be happy to charge the I-Pace at home and use it for journeys under 240 miles, with a second car for long hauls to weekend cottages in Cornwall or holidays in the south of France. Maybe so, but the prospect of fiddling with a cable on a winter night may limit its appeal, unless you have a heated garage.
"Arthur Daley is probably spinning in his grave, but there's no point being nostalgic"
Is it the car of the future? With no exhaust, it's a breath of fresh air for cyclists and pedestrians, and it attracts plenty of interest at the roadside. It also attracts the £4,500 government plug-in grant, is zero-rated for vehicle tax and is exempt from the London congestion charge. For company car drivers there are significant savings too.
And in most respects it's fun to drive: quick and responsive, in the way of a giant fairground dodgem.
But there is room for improvement. The weight of the 90kWh battery means the I-Pace tips the scales at more than 2.2 tons — heavier than a Range Rover Sport. This is not a car you want to throw into corners.
It's also worth noting that the battery carries the energy equivalent of only two gallons of petrol (weight: about 7kg). Then there's the problem of battery fade, an unknown that Jaguar has tried to counter by guaranteeing it will hold at least 70% of its charge at eight years or 100,000 miles, whichever is sooner.
Electric car batteries are fussy about temperature, too, and need preheating in cold weather to get the quoted performance. And like combustion engines, they tend to run hot, requiring complicated cooling systems. Plus, they are combustible, as several US Tesla owners found when they drove over objects that ruptured the battery packs (and as Richard Hammond discovered when his electric Rimac crashed).
Once electric cars reach mass production they should be cheaper to make, and batteries are getting lighter and smaller all the time. At some point, when vehicles are powered by a couple of AA-size cells, drivers will look back at the I-Pace and smile, as we do at those brick-shaped mobile phones.
But for now, at least, it's the future — an impressive engineering achievement and a big leap towards the government's target of electrifying all new cars by 2040.
Tweet to @ST_Driving Follow @ST_Driving