MG4 2022 review: Bargain basement, or just a bargain?
Better than a Volkswagen?
The MG brand has an illustrious history, but the modern image is somewhat more mundane. Nevertheless, the company has successfully reinvented itself as a value-orientated manufacturer with a wealth of cheap and surprisingly competent models. At first glance, the MG4 looks like a product of that very same mould, but MG confidently claims there's more to this car than meets the eye.
Designed from the very beginning to be an all-electric hatchback, the MG4 is intended as a showcase of the brand's future direction, as well as a competent and convincing solution for present-day customers seeking an electric car. Normally, such customers might be tempted by the Volkswagen ID.3 or the Hyundai Kona Electric, but MG wants customers to check out the punchily priced MG4 before making their final decision.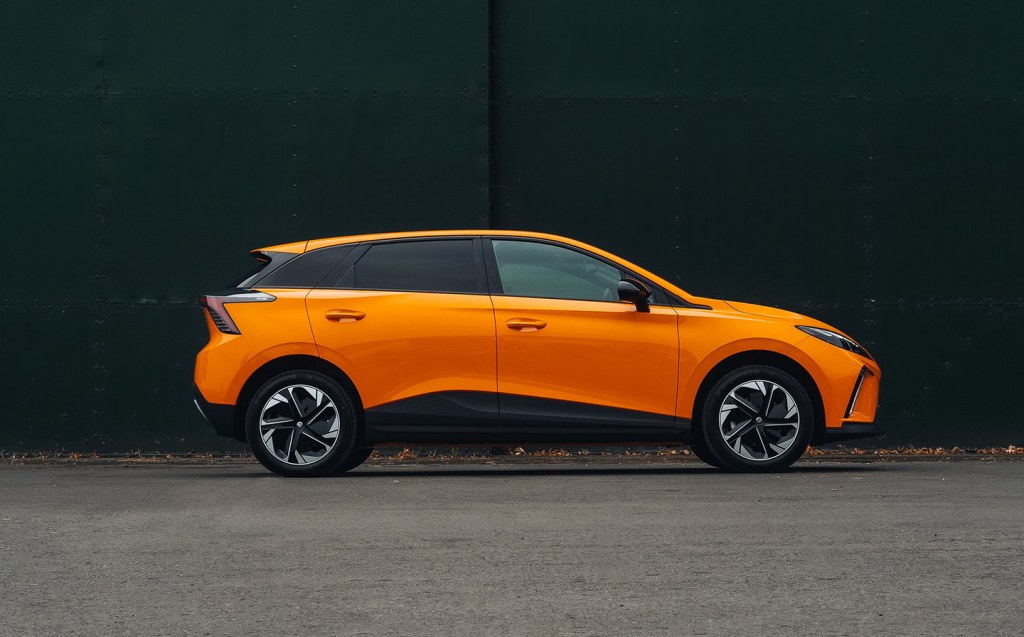 To find out whether the MG can really mix it with such capable competitors, we put the range-topping Trophy Long Range model to the test.
Exterior design and rivals
The MG4 is nothing if not distinctive, but whether buyers will warm to the looks remains to be seen. The basic shape is something of a cross between a hatchback and an SUV, and though the MG looks large in pictures, it actually sits somewhere between the VW Polo and Golf in terms of dimensions. It has some natty touches, including the snazzy lights at the front and rear, even if they're bespoke to the range-topping Trophy model, while every variant has to endure the hideous 'aero' wheel covers despite having lightweight alloy wheels as standard.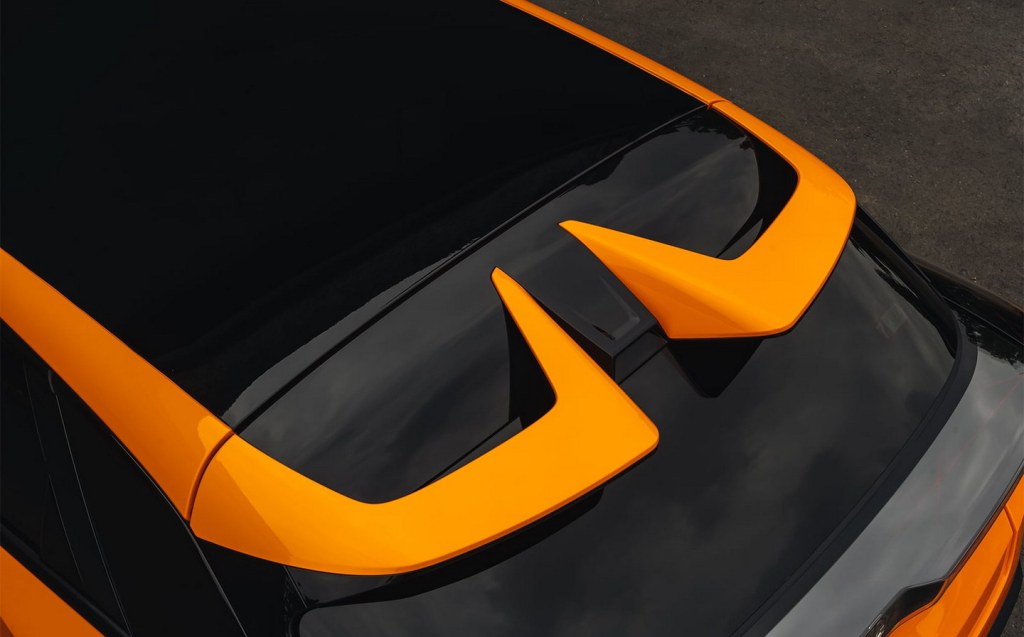 While there's nothing too wrong with the overall shape, it has a slightly bug-like appearance at the front and a somewhat abrupt rear end, which doesn't quite sit right with us. And while styling purists might like the lack of a rear wiper, we're less keen. Still, what matters is the MG4 isn't ugly, and it doesn't look out of place alongside rivals including the VW ID.3 and Cupra Born, both of which really push futuristic design.
Interior and practicality
The MG4's interior is dominated by two screens that are standard across the range. The primary display is a 10.25-inch touchscreen that floats atop the dashboard, while there's also a seven-inch screen that sits in lieu of instruments behind the steering wheel. With so many functions migrating from conventional switches to these screens, the cabin has quite a clean design.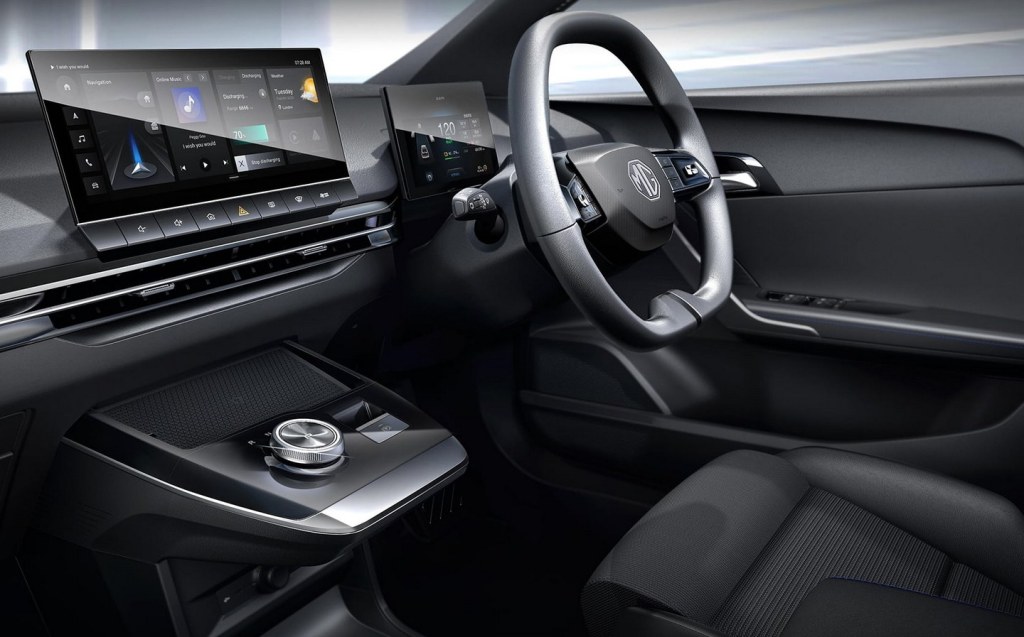 There's a floating centre console that houses a cubby and the gear selector, and there's a lower console with the USB connectors and the like, but that's pretty much your lot. Otherwise, it's just two screens, some air vents and a steering wheel, plus a row of switches for vital functions that can't be placed in the screen. Other than that, most of the buttons are found on the steering wheel, which is also adorned with two little thumb sticks for navigation. The switches are confusing, to say the least, because the labelling is vague and depending on which order you press the buttons in, they do different things. It's probably fine once you've worked it all out, but it's fiddly at first.
Complexity aside, the MG4 is a reasonably pleasant place to sit. Material quality is so-so for a car in this class, but it certainly isn't behind the curve. Think of it more like a Skoda or a Hyundai, rather than a VW or a Mazda, and you'll be about there. Build quality is decent, too, with everything feeling solid and well-engineered, as though it's designed to cope with family life.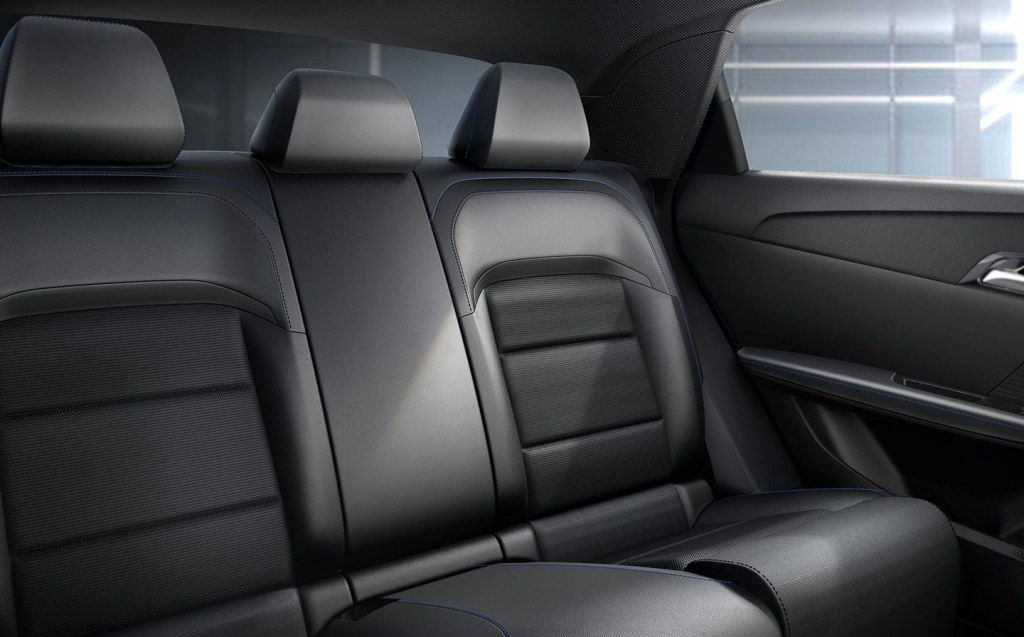 On the practicality front, the MG4 scores slightly less well, but it remains competitive compared with its rivals. Interior space is very good, and though the dark roof lining makes the back seats look and feel cramped, there's actually more than enough legroom and sufficient headroom for most passengers. Boot space is slightly low compared with the similarly sized VW ID.3, but not by much, and owners will hardly notice the difference. There's still ample space for most drivers' needs.
Technology and safety
With so much riding on the MG4's touchscreen and the digital instrument cluster, their utility and capability takes on added importance. The digital instrument cluster is arguably the lowlight, even though it manages to display all the information you need, but it's controlled by those fiddly buttons on the steering wheel and the overall look is a bit messy.
The touchscreen is much better, however, even if some of the icons feel a tad small and there's nowhere to brace your hand when you're driving. Even so, the menus are logical, the display is sharp and the system is customisable, so you can easily access the things you use most often. Of course, it doesn't look quite as cool as the system in, say, a Cupra Born, but it works just as well, if not better, and that's what really matters.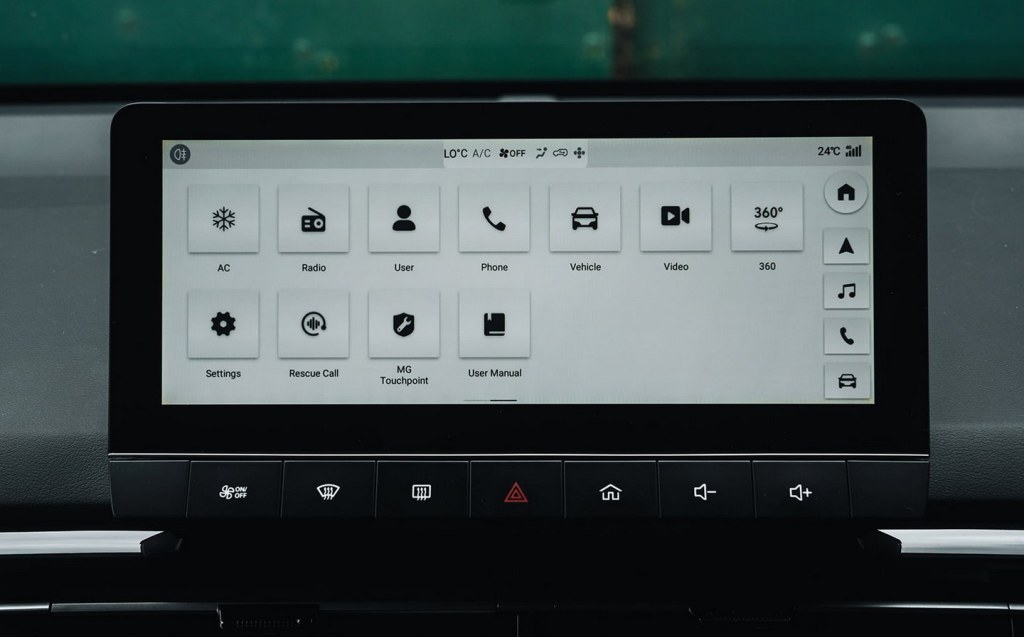 But those screens are not the only bit of tech in the MG4 arsenal. As with numerous electric cars these days, MG has effectively done away with the starter button, instead preferring to use a switch in the seat to tell the car when to switch itself on or off. That isn't ideal, because it cedes some control to the car and there are situations when you might want to be in the driving seat without having to drive. Most of the time, though, it seems to work well. You just have to get used to the idea of leaving the car and locking it to turn it off.
More useful is the vehicle-to-load functionality that's standard across the MG4 range and allows you to plug in appliances, tools or anything else with a plug and power it using the car's main battery. It'll run laptops, phones, lights and pretty much anything else, should you so wish, so it's ideal for camping or using devices when you're on the move.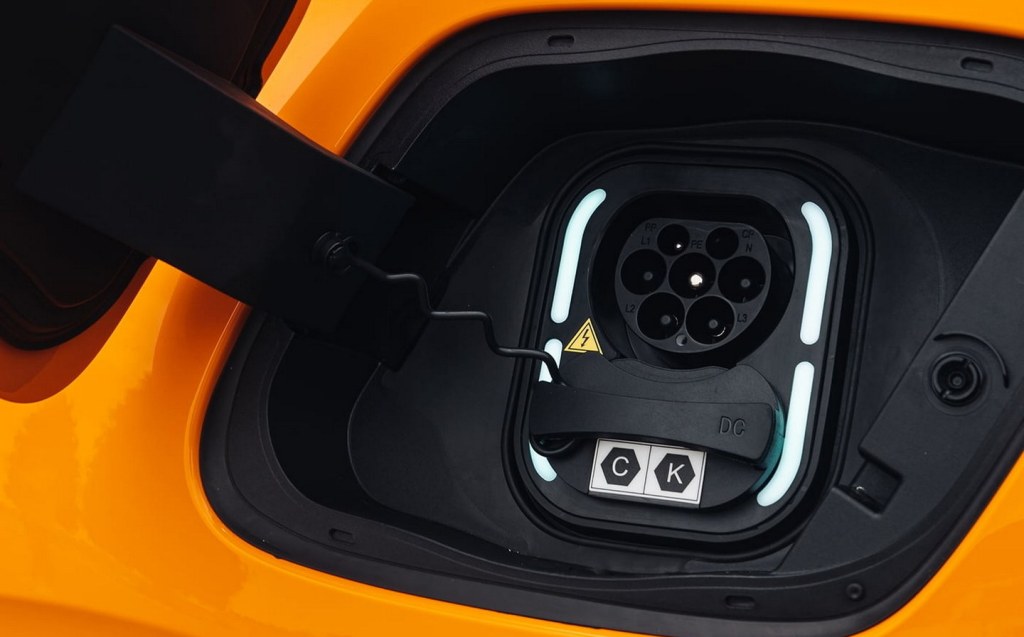 Finally, the MG4 also comes with a range of safety gizmos as standard, giving drivers a little help and protection when they're out on the road. Features such as adaptive cruise control and autonomous emergency braking are included as standard, while Trophy models also get blind-spot monitoring technology.
Performance, power output and acceleration
At present, the MG4 is available with a choice of two different battery packs, each of which comes with its own bespoke motor that drives the rear wheels. In the case of the entry-level 'Standard Range' 51kWh battery, that's a 168bhp motor offering a 0-62mph time of around 7.5 seconds and a range of up to 218 miles on the official economy test. Upgrade to the 64kWh 'Long Range' battery and you get 201bhp and a range of up to 281 miles on a single charge.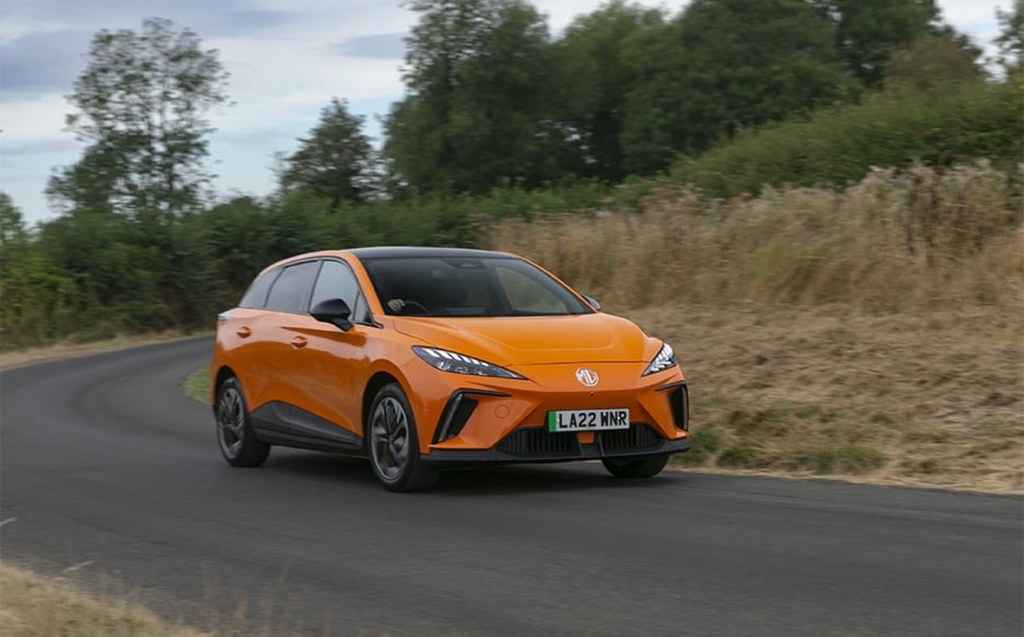 Those two options are set to be joined by a high-performance model that will pair the 64kWh battery with two electric motors and all-wheel drive, while an Extended Range model with a 77kWh battery is also in the works.
For now, though, the obvious choice is the Long Range battery, not least because it's the only one offered with both the SE and Trophy trim levels. In the real world, the 281-mile range (270 miles in range-topping Trophy form) is predictably optimistic, but we achieved efficiency of around 3.5 miles per kilowatt-hour without really trying, so a range of 200 miles or so should be within most drivers' reach. However, motorway driving will probably limit that somewhat, so don't use those figures for route planning. Nevertheless, that's solid range for an electric car, and it stacks up well when compared with comparable versions of the VW ID.3 and Cupra Born, as well as the Nissan Leaf.
On the performance front, the MG4 does the classic electric car trick of managing to feel utterly rapid without backing that up in terms of performance figures. The instant acceleration is addictive and available at any speed, but the Long Range version only manages 0-62mph in 7.9 seconds, which won't cause sleepless nights for the Golf GTI. That said, it's more than adequate for most drivers' needs, and it's good going for a family hatch.
Ride and handling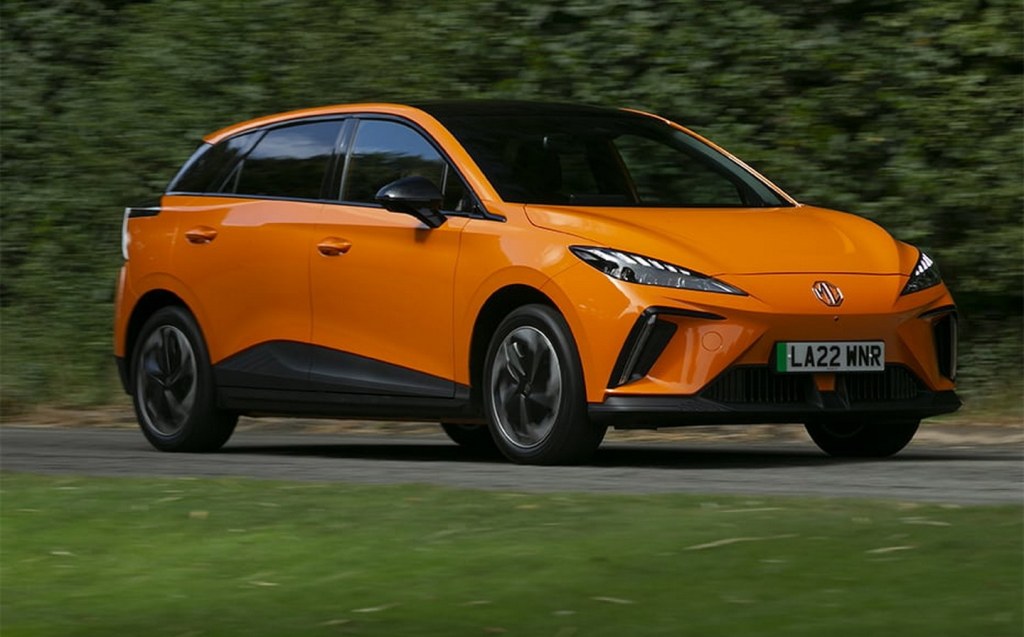 This is arguably the most impressive of the MG4's attributes because the ride is unerringly excellent. Electric cars often suffer for the weight of their batteries, but the MG feels smooth and supple at any speed and on any surface. Even on the roughest country roads we could find, the car felt stable and unflustered at the national speed limit or at a crawl.
Admittedly, it isn't a magic carpet, and subsiding roads and speed bumps will cause the car to move around a bit, but the suspension is so well damped that it just doesn't matter. Even the sharp-edged potholes in tired town-centre asphalt never send judders through the car's frame, and on the motorway the ride is near-perfect.
Traditionally, such comfort would come at the cost of handling, but again the MG impresses. It rolls a bit more than we'd like whenever it tackles a corner and steering feel isn't copious, but for a family hatch it's more than agile enough. The steering doesn't feel too light, which makes a pleasant change, and the roll is at least predictable and well controlled. There's enough grip, too, and the MG can be quite good fun on a winding road.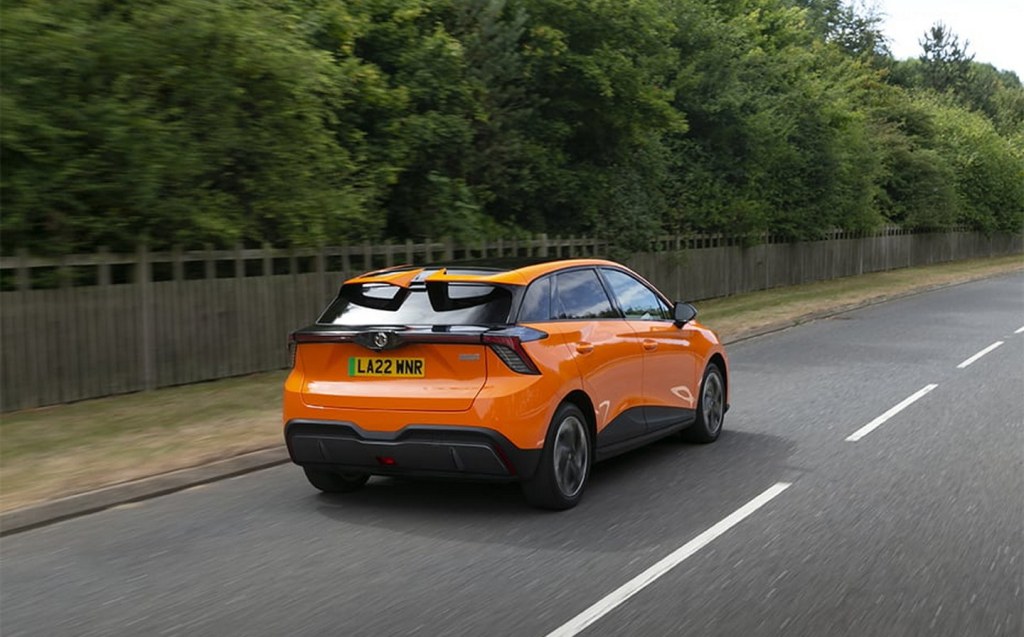 Refinement is reasonable without being overly impressive, but it's hushed enough to have a normal conversation at any speed, and it won't be tiring on longer drives. Admittedly, that's to be expected of a car with near-silent propulsion, but the MG still has to dial out some of the wind and road noise that becomes more apparent without an engine in the background.
Pricing and on-sale date
Pricing was always expected to be a strong point for the MG4, and it hasn't disappointed. Prices start at £25,995, which pays for the basic 51kWh Standard Range car in entry-level SE trim, but it's hardly short of equipment. The 10.25-inch touchscreen is standard, as is the digital instrument display and the automatic climate control. Rear parking sensors are also thrown in, along with 17-inch alloy wheels and the Android Auto and Apple CarPlay smartphone integration tech. What's more, the MG4 also comes with vehicle-to-load (V2L) capability, allowing devices including laptops and power tools to be powered by the car's battery.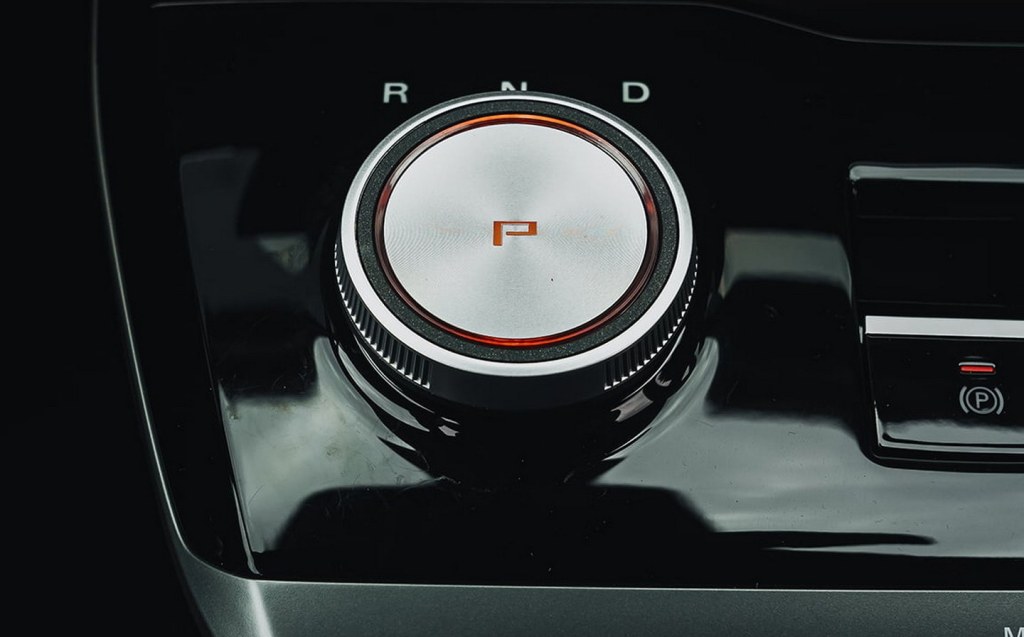 For those who want more equipment, the £31,495 Trophy model comes with a two-tone paint job, part-leather upholstery and heated front seats, as well as a heated steering wheel and navigation. There's also a reversing camera and a wireless charging pad, as well as a selection of extra safety systems.
Verdict: MG4 review
When it first relaunched with the questionable MG6, the MG brand was a bit of a joke, but nobody is laughing now. A plethora of dull-but-worthy alternatives to mainstream models have brought the brand success, and now it has made another step forward. The MG4 is not simply 'good value' or 'not bad for the money', but it's also comfortable, enjoyable to drive and high-tech, as well as being reasonably practical.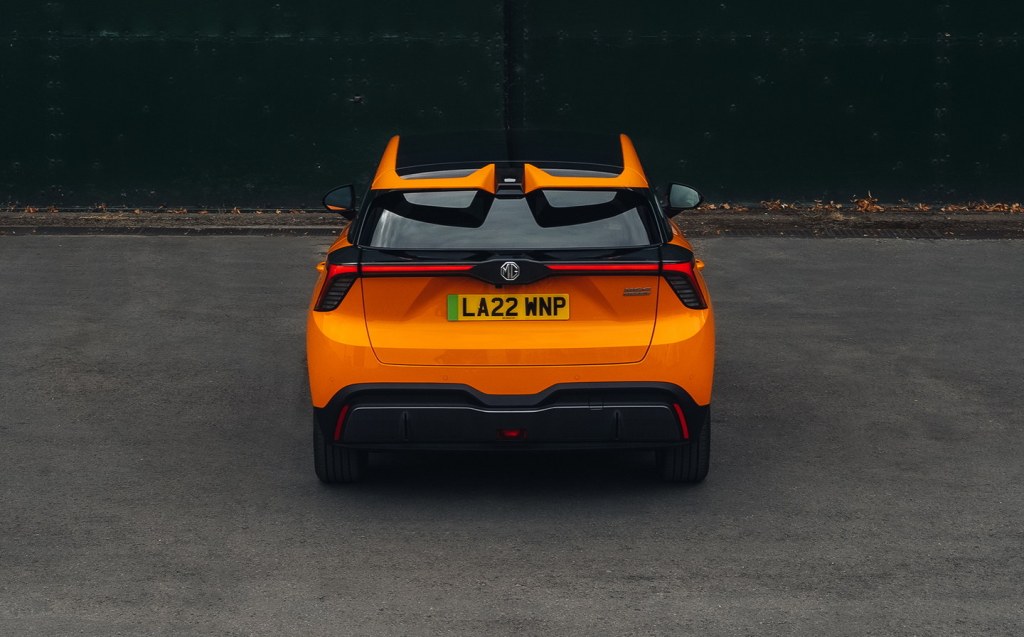 In short, it's a good car – one of the best in its class – and the fact it comes with an attractive price tag only makes it more appealing. Of course, the styling won't be to everyone's taste and the rear cabin is a bit dingy, but this is a really solid contender in the electric car market. That an MG can now be considered in such terms is impressive, and it bodes well for the brand's future.
Chinese car makers
Buyers ought to be aware that Chinese car makers, however independent they claim to be, have been criticised for receiving an unfair advantage through WTO rule-breaking state support, from a regime that Amnesty International reports carries out torture, genocide and routine suppression of dissent.
Related articles
Latest articles