MG ZS review 2022: a welcome refresh of the 'affordable' electric crossover
An affordable, practical electric SUV
---
Published 10 January 2022
ELECTRIC crossover SUVs are nothing new, and there are plenty more in the pipeline, but many of these are from upmarket or premium brands with premium price tags. The MG ZS is something of refreshing antidote to these, and a recent overhaul has bolstered its appeal further.
The changes MG has made are more than skin deep. A revamped interior robustly answers previous criticisms of the ZS's cabin. Digital instruments and an enhanced infotainment package replace cheaper-feeling elements of the previous model. New features such a vehicle-to-load capability, enabling the powering of external objects via the car's battery, put it in line with the latest EVs, such as the Hyundai Ioniq 5 and Kia EV6. 
That battery is also now larger so the ZS can travel further on a single charge, up to 273 miles according to the standardised WLTP test conditions. Stay away from motorways, which sap energy, and stick to town and city driving and that figure should climb further still, making the ZS a suitable candidate for small families considering the switch to electric.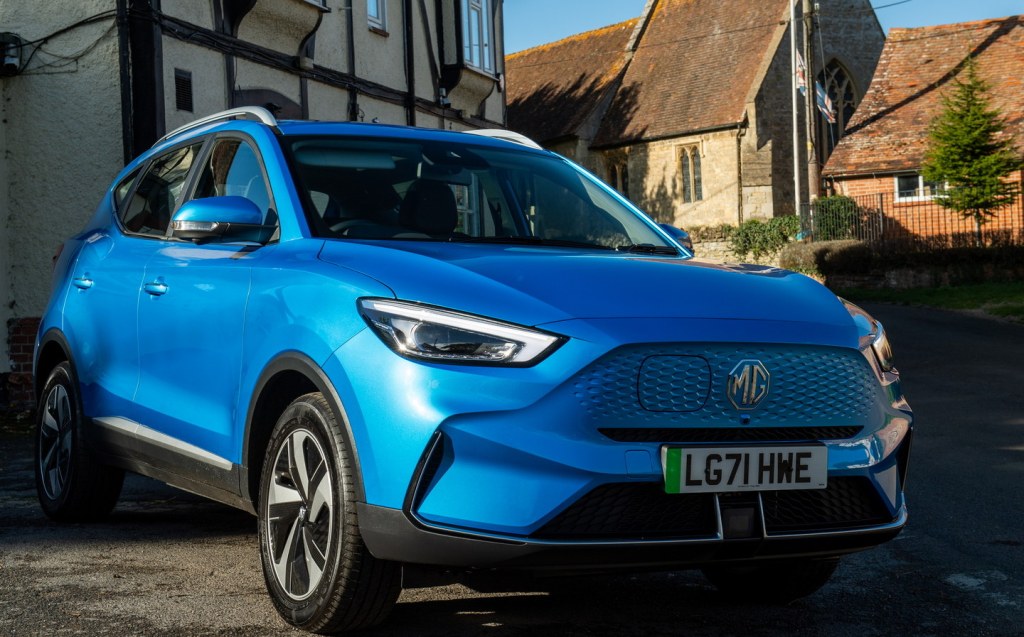 Exterior design and rivals
A thorough re-design of the front gives the ZS a fresh face and more modern appearance. Bi-function LED headlights have a new daytime running light signature that isn't far removed from what you might expect to see on a new Mercedes, though without the same advanced technology.
The semblance of a grille fades away with a body-colour panel, something that has become the default option for most modern electric cars. Its shape and dimpled surface are stylish looking, with a bold embedded MG logo and a new battery charging port that is more easily accessible than its predecessor's. A simpler lower bumper completes the facelift by suggesting more width by its flat design. 
All of the three specification grades feature the same 17in alloy wheels, and these are designed to optimise the car's aerodynamics. They do look smart, but also a bit lost in the wheel arches. The upside is that the tyres have a generous sidewall for a bit more bump absorption, while the smaller wheel diameter helps to increase the distance it can travel between charges. 
There's not much in the way of design flourishes in the MG's side profile and it still bears more than a passing resemblance to the old Hyundai iX35. At 1,625mm, it is tall, surpassing both the Kia Niro and Seat Ateca. Only the upper two equipment grades receive the silver roof rails, something to consider if you rely on using a roof box.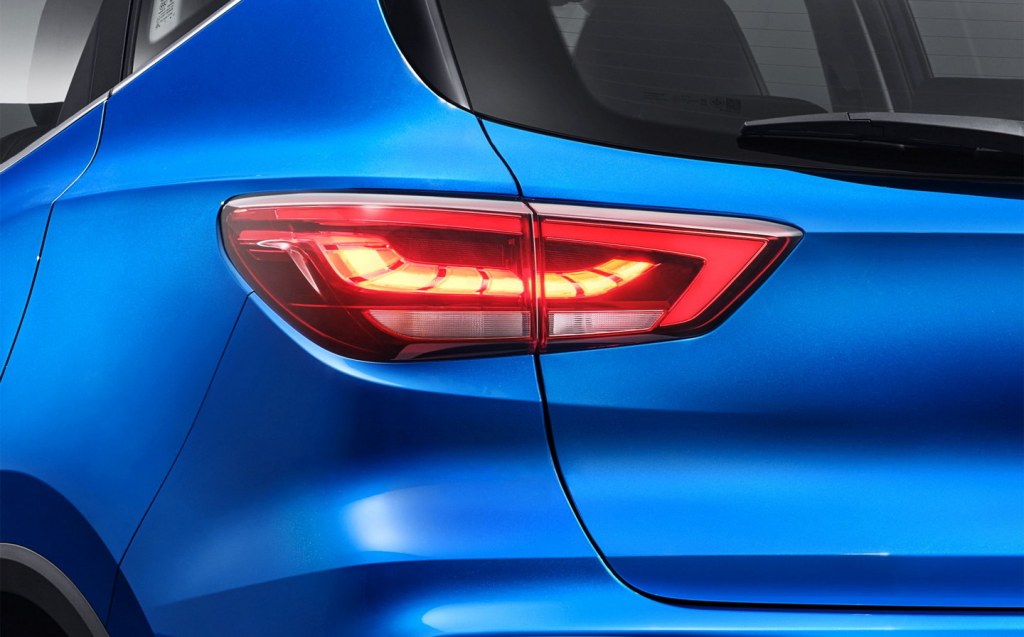 Exterior modernisation continues at the back of the car, with new rear lights that ape the design and lighting signature of the front lamps. Opening the boot is still via the MG badge, which is now partly colour-coded to the body, while the lower bumper gets a fresh look that, like the front, has a cleaner shape.
Interior and practicality
One of the advantages of a taller profile is that the ZS feels quite airy inside. Getting in and out is easy and there's enough adjustability in the seat to find a comfortable driving position. A low scuttle line across the base of the windscreen, combined with a slightly raised seat, provides a clear view of the road and from the driver's perspective everything seems logically laid out.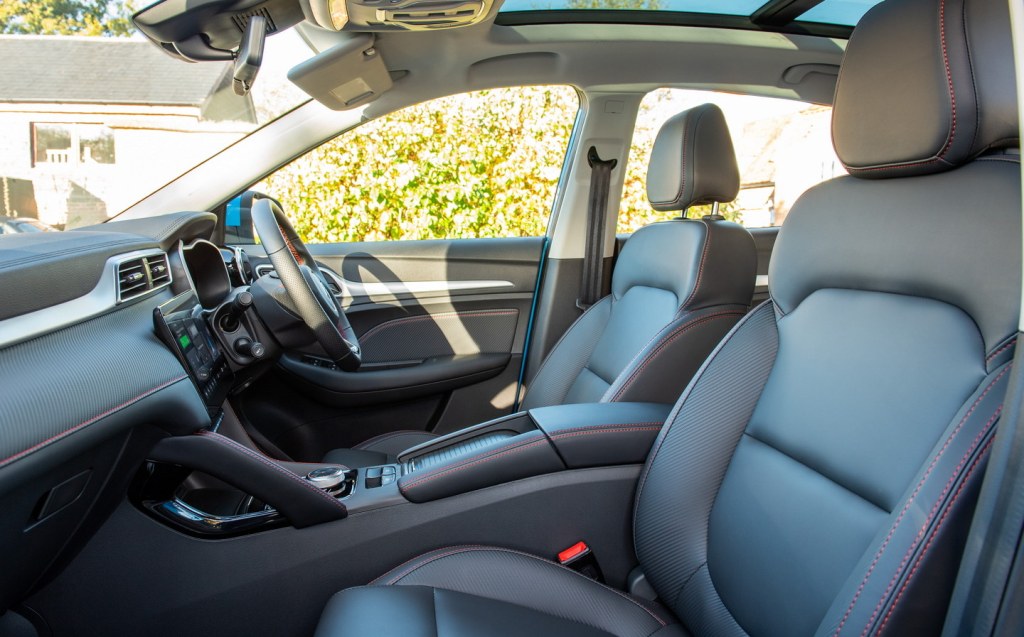 Thanks to the compact design of the rotary selector for choosing forward or reverse there is more free space around the centre console, allowing room for a wireless charging pad to keep your phone topped up. The drive selector is easy to use, requiring only a twist clockwise or anti-clockwise depending on which direction you want to move, or pressing down for Park.
Rear passenger comfort for two adults is reasonable but it gets squashed with three as the middle seat is narrow and slightly raised. Both outer seats contain Isofix anchor points for child seats, as required by law, and if that middle seat isn't required, a central armrest can fold down.
Trophy versions of the ZS also get a panoramic glass roof as standard to add a further sense of space inside.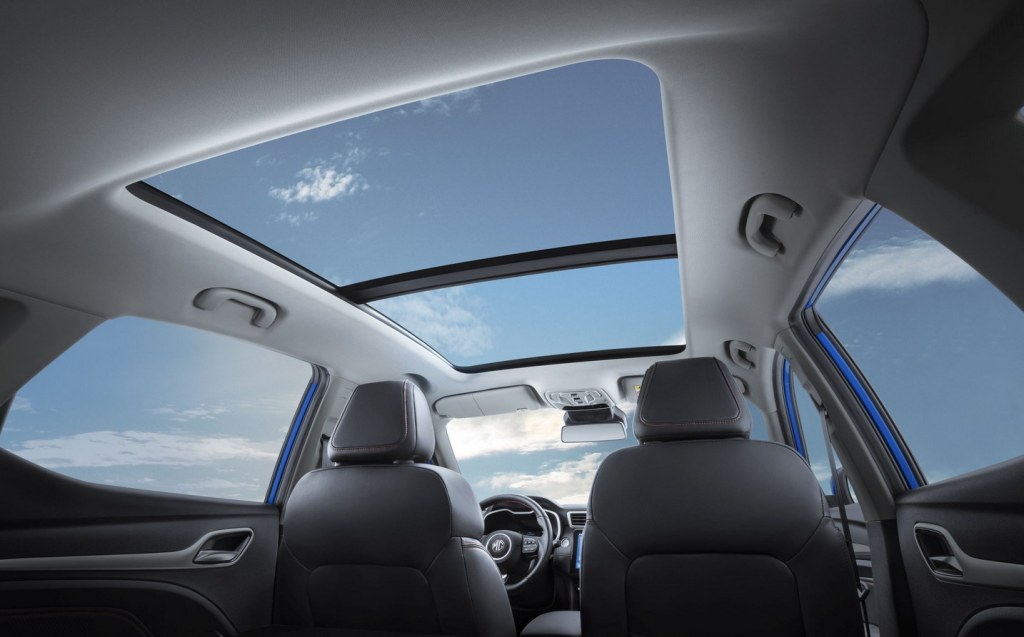 The boot features an adjustable dual-height floor and the carrying capacity is 470 litres, which can expand up to 1,100 litres when the rear seats are folded forward – although they don't fold completely flat.
Technology and safety
The ZS is equipped with a suite of driver assistance systems under the MG Pilot name. This package includes both safety and convenience-related functions, including an automatic emergency braking function that can detect cyclists and pedestrians, lane keeping and an intelligent speed limiter that can automatically adjust the car's speed when a speed limit changes.
Automatic high beams are helpful when out of town and a Traffic Jam Assist function takes up the strain of moving in stop-start traffic. Only the base SE model misses out on Blind Spot Detection with Lane Change Assist and Rear Cross Traffic Alert, as everything else is standard across the board.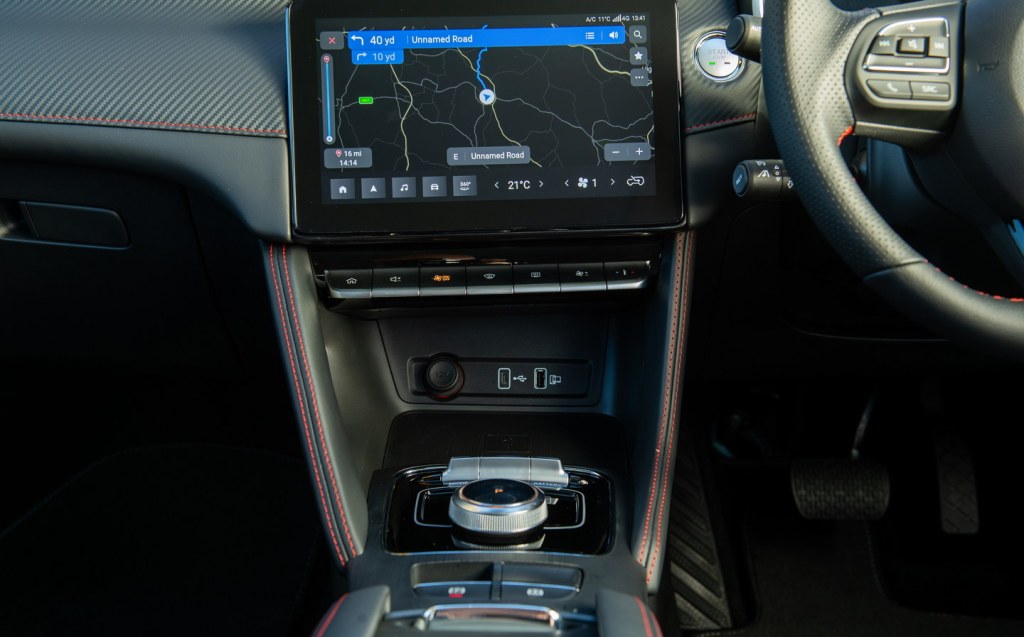 The ZS's multifunction steering wheel may look as if it has been lifted straight from a late-2000s Volkswagen Golf, but it works perfectly well and isn't festooned with buttons. The new digital instrument display is tastefully styled with the most relevant information, speed and power usage, easily readable at a glance.
The battery level icon is small, perhaps an indication that drivers will be less concerned by charge levels due to the larger battery. A larger version can be shown on the central touchscreen, which is complemented by physical shortcut buttons along its base for more frequently used tasks such as temperature controls. 
Better still is the new 10.1in touchscreen. Looking more upmarket and responding far quicker to inputs than before, the new display is a welcome addition. The usual Android Auto and Apple CarPlay connectivity is standard on all versions, as is navigation, DAB radio and a 360-degree parking camera system. MG follows rival VW Group brands in offering a USB charge port behind the rear-view mirror for powering dash cams, while Trophy and Trophy Connect models also get the wireless charging pad mentioned above. 
Performance, power output and acceleration
MG keeps its model range simple and so only one electric drivetrain is available, which is appropriately named the Long Range. Battery capacity has increased from 44.5kWh to 72.6kWh, meaning the official driving range receives a notable bump up to 273 miles. That's a significant improvement that gives the ZS an operating scope that will appeal to a greater number of people than before.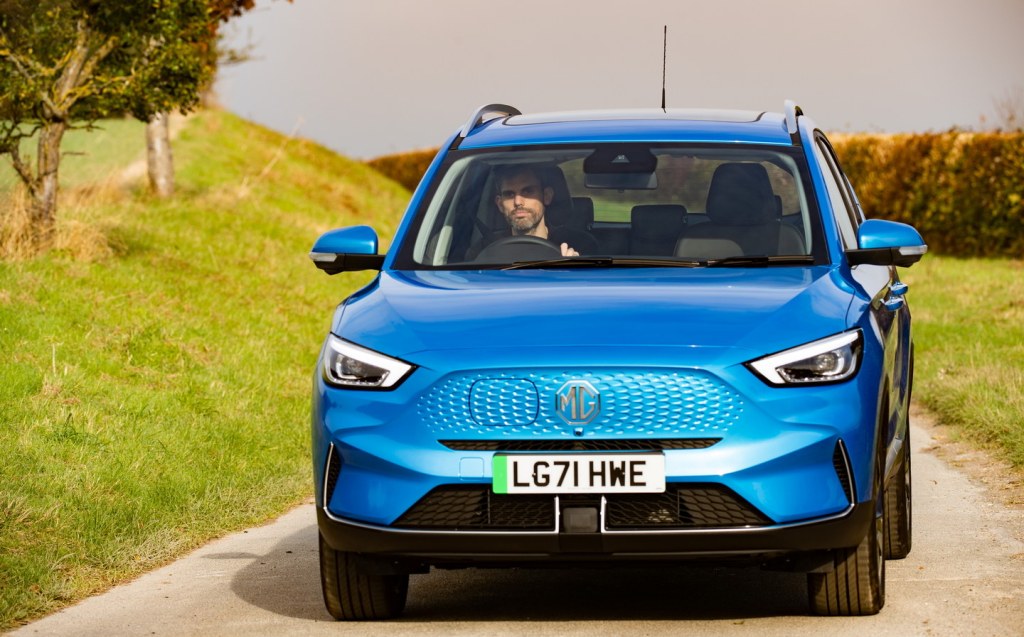 Power goes only to the front wheels, via a single-speed automatic transmission. With 154bhp, acceleration is adequate, reaching 60mph in a respectable 8.2 seconds — the ZS is built for efficiency rather than acceleration, but it will cruise comfortably at higher speeds and 206lb ft of torque means it feels fast enough.
Stick mostly to motorways and that range figure will naturally drop, though it should remain on the right side of 200 miles. However, at lower speeds that driving range increases substantially, with as much as 387 miles being extractable from a single charge.
Many will charge up the car at home, where a full refill of the battery can take 10.5 hours on a 7kW domestic wallbox. When out and about the DC rapid charging can top the battery up to 80% in 1 hour 3 minutes.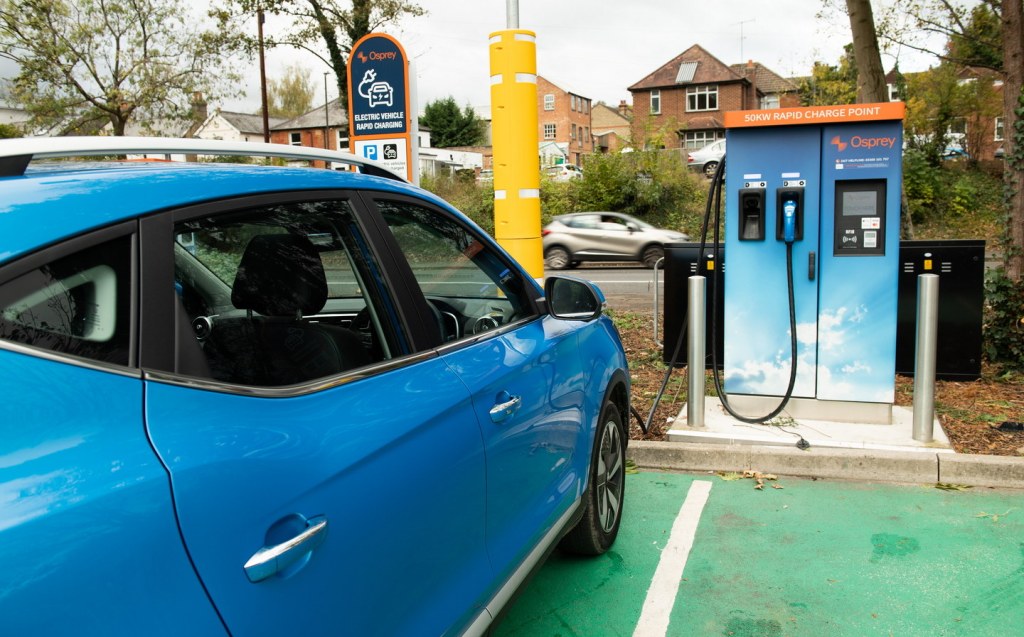 Ride and handling
Far from the world of triple motors and Top Trumps-tyle power figures, the sensibility of the MG ZS is in many ways a big part of its appeal. This isn't a car that's trying to be something it's not, nor does it try to set expectations that can't be realised. There is perfectly adequate performance from its front-wheel-drive setup ensuring that it will easily keep up with traffic and get you from point A to point B without fuss or the risk of your passengers feeling queasy. 
A compliant suspension arrangement, augmented by small but well cushioned wheels, means that both bump absorption and noise suppression are commendable for a car at this price point. That suspension suppleness does become more obvious when bends are attempted with greater gusto, though the ZS telegraphs what's happening underneath to the driver clearly and in good time.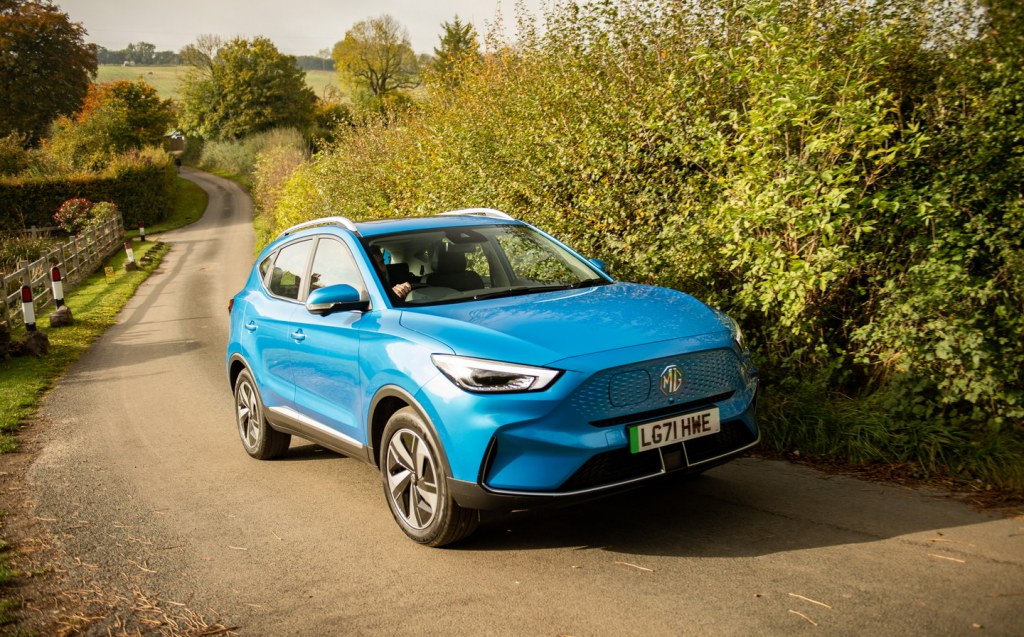 Three different levels of energy recuperation are selectable and at its strongest it nears what many would consider one-pedal braking. This setting is most useful for towns, though one must remember to keep one foot hovering close to the brake pedal. When this function is turned off, the ZS freely coasts along when the accelerator pedal is lifted. 
Drivers can also select from different driving modes, with Eco and Sport having predictable if not hugely noticeable effects on performance. Leaving the MG in its default Normal mode will be perfectly fine in almost all scenarios.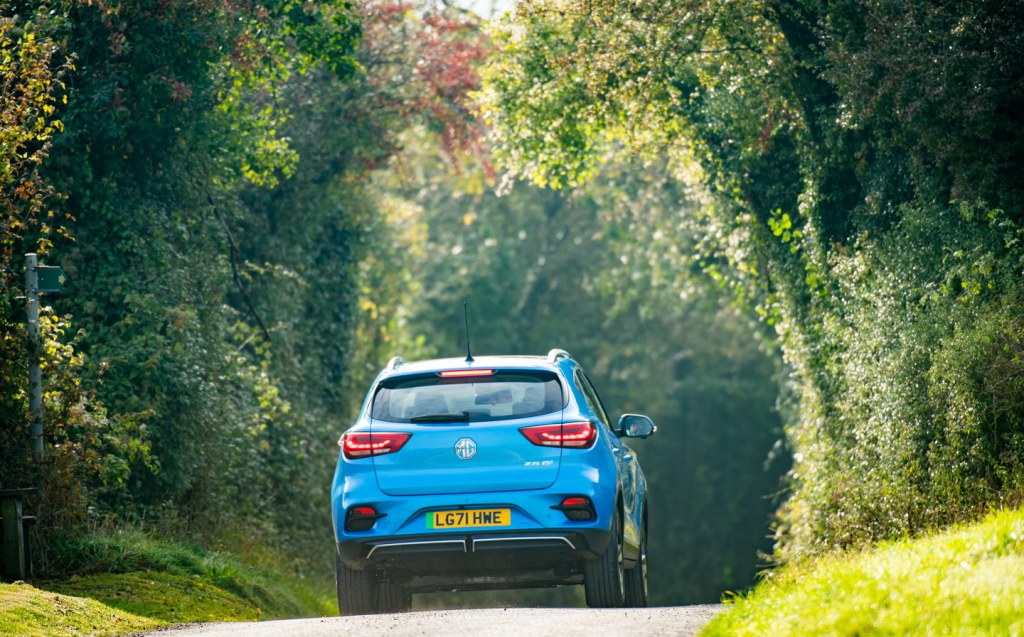 Pricing and on-sale date
The MG ZS is available to order and has a starting price of £29,495 for the SE Long Range. Adding an exterior colour other than the standard Arctic White adds £545, or £695 in the case of Dynamic Red. The mid-level Trophy Long Range costs £33,495 and the Trophy Connect Long Range costs £33,995.
Verdict: MG ZS review
The MG ZS is good without ever being exciting. We'd stop short of calling it an appliance automobile as it now has a more interesting design, though many rivals are more alluring.
Nevertheless, those uninterested in badge cachet will appreciate the generous levels of standard equipment, excellent range and affordable pricetag. It's a perfect jumping-in point for those looking to move to electric for the first time, especially small families. 
Tweet to @LordHumphreys Follow @LordHumphreys
Related articles
Latest articles