2021 Hyundai Ioniq 5 review
Hy-5 for Korean brand's most appealing electric car yet
OCCASIONALLY a new car arrives on the scene and captures the public's attention like very few that have come before. The Hyundai Ioniq 5, reviewed here, is just such a car. There's more buzz around the South Korean company's electric hatchback than you'll find on a North Korean phone line.
That's partly down to the electric drivetrain, with headline figures such as up to 298 miles on a single charge, rapid charging from 10%-80% in 18 minutes and acceleration from 0-62mph in as little as 5.2 seconds. But what's really got drivers excited is way it looks, which, without overstating the matter, has 'design icon' written all over it. The Ioniq 5 is an anglepoise lamp, an original iMac, a Bauhaus… well, anything. It's a head-turner — a car that people known for their sense of style want parked outside their home.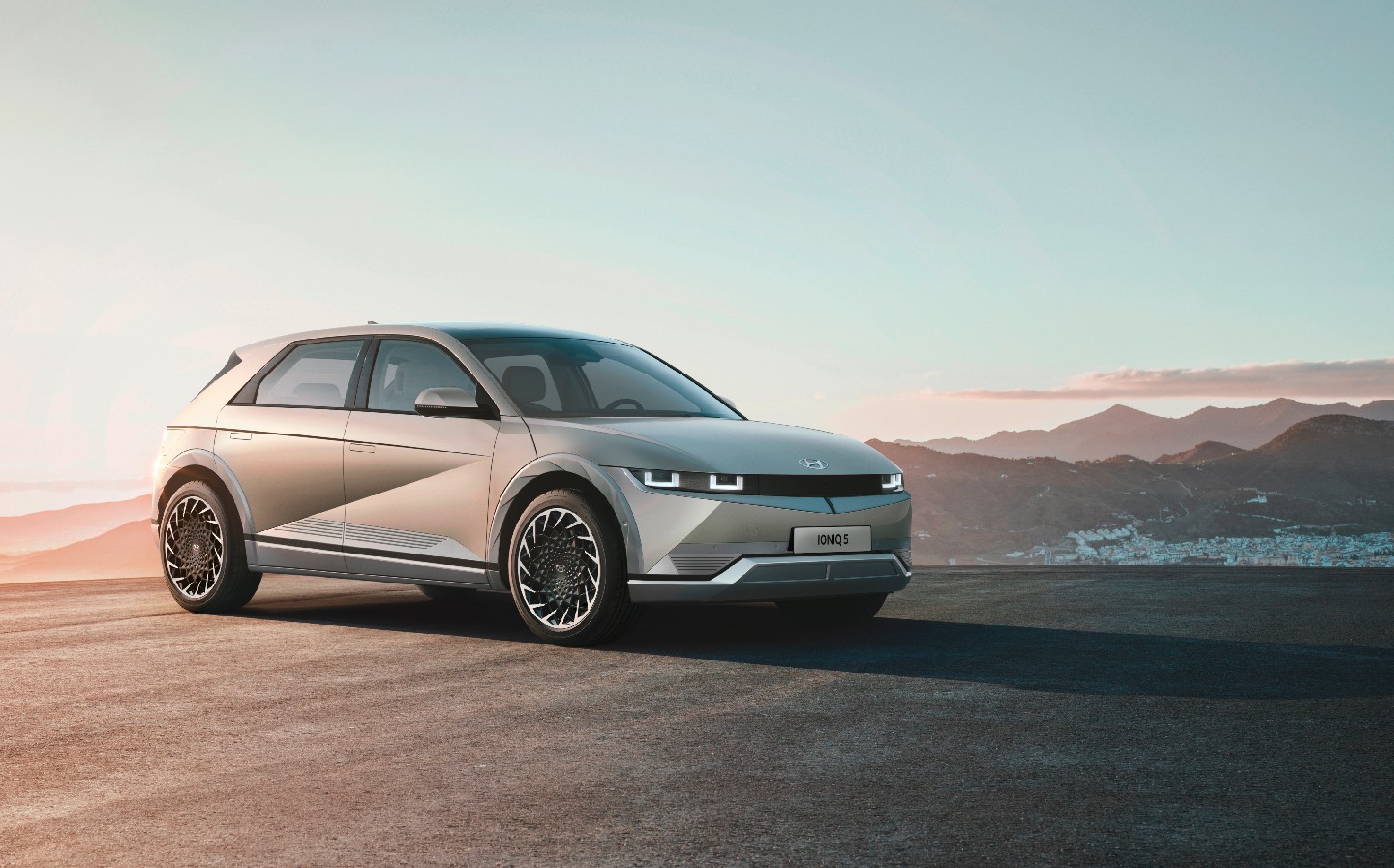 Exterior design
The aesthetic appeal could be down to the challenging of convention. While many car makers are going for curves and swoops, the Ioniq 5 is unashamedly angular, making it distinctly "retro", with a clear nod to the Pony — Hyundai's first production car. No bad thing, considering that car was penned by Giorgetto Giugiaro, the legendary design behind the first VW Golf. The influence is clear; put it this way, Giugiaro liked a ruler.
In fact, Ioniq 5 is likely to go down well with fans of the VW Golf, especially those not turned on by the ID.3 — a clear rival of the Hyundai — which might be considered too "cutesy", as the Hyundai is altogether more macho and brutalist.
But while it has one foot in the past, Ioniq 5 is also noticeably high tech, with highly distinctive pixel-like daytime running lights at the front and rear of the car.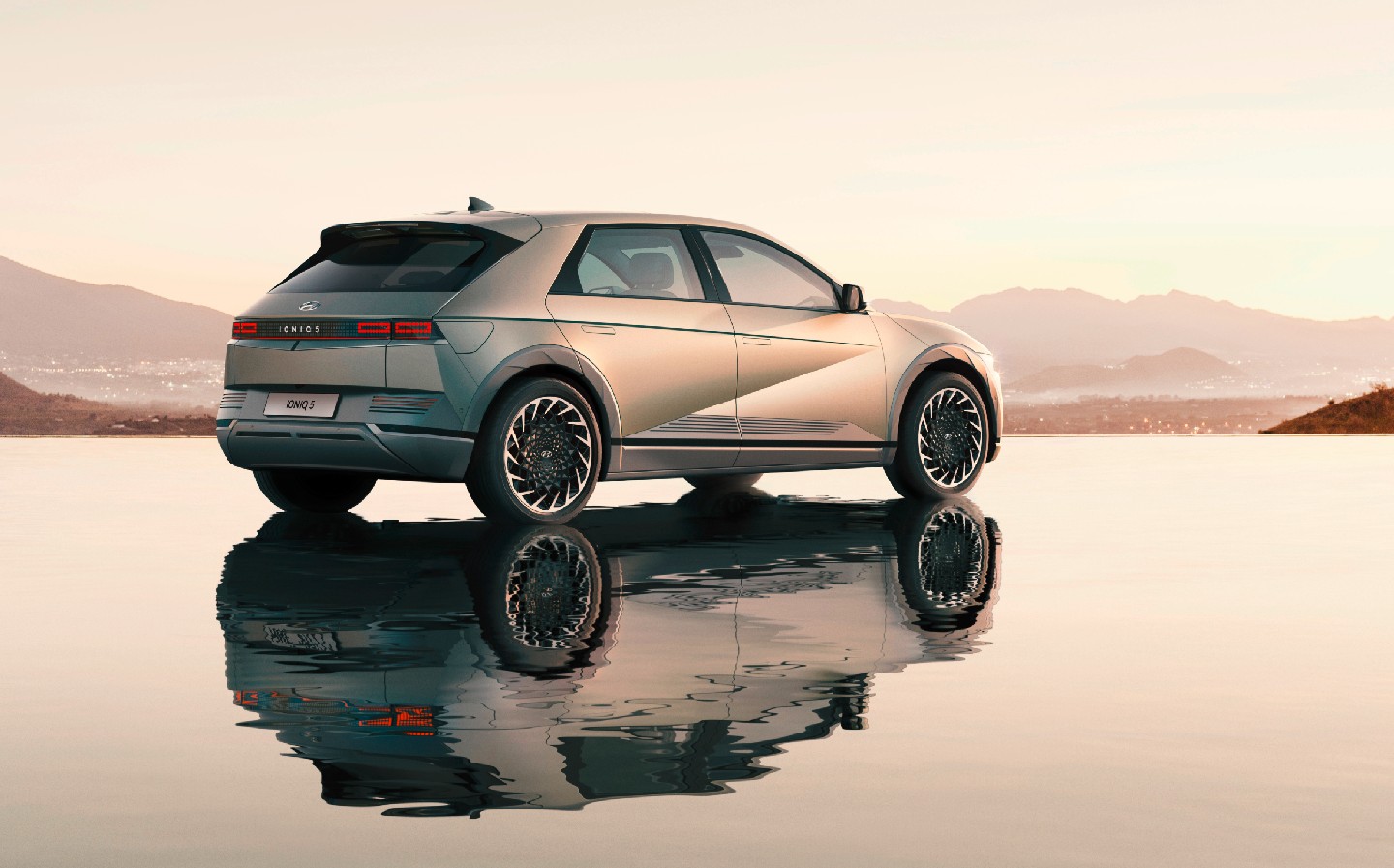 It's compact but looks wide, thanks to the squat design, clamshell bonnet, and the super-sized 20in alloys — the biggest rims ever fitted to a Hyundai — pushed to the far corners. It's like a concept car that somehow made it to production unchanged from the original artwork.
The Ioniq 5 shares much with the Kia EV6 under the skin, but externally the treatment is entirely different, with Hyundai's design team doing a tremendous job in reinventing the family hatchback.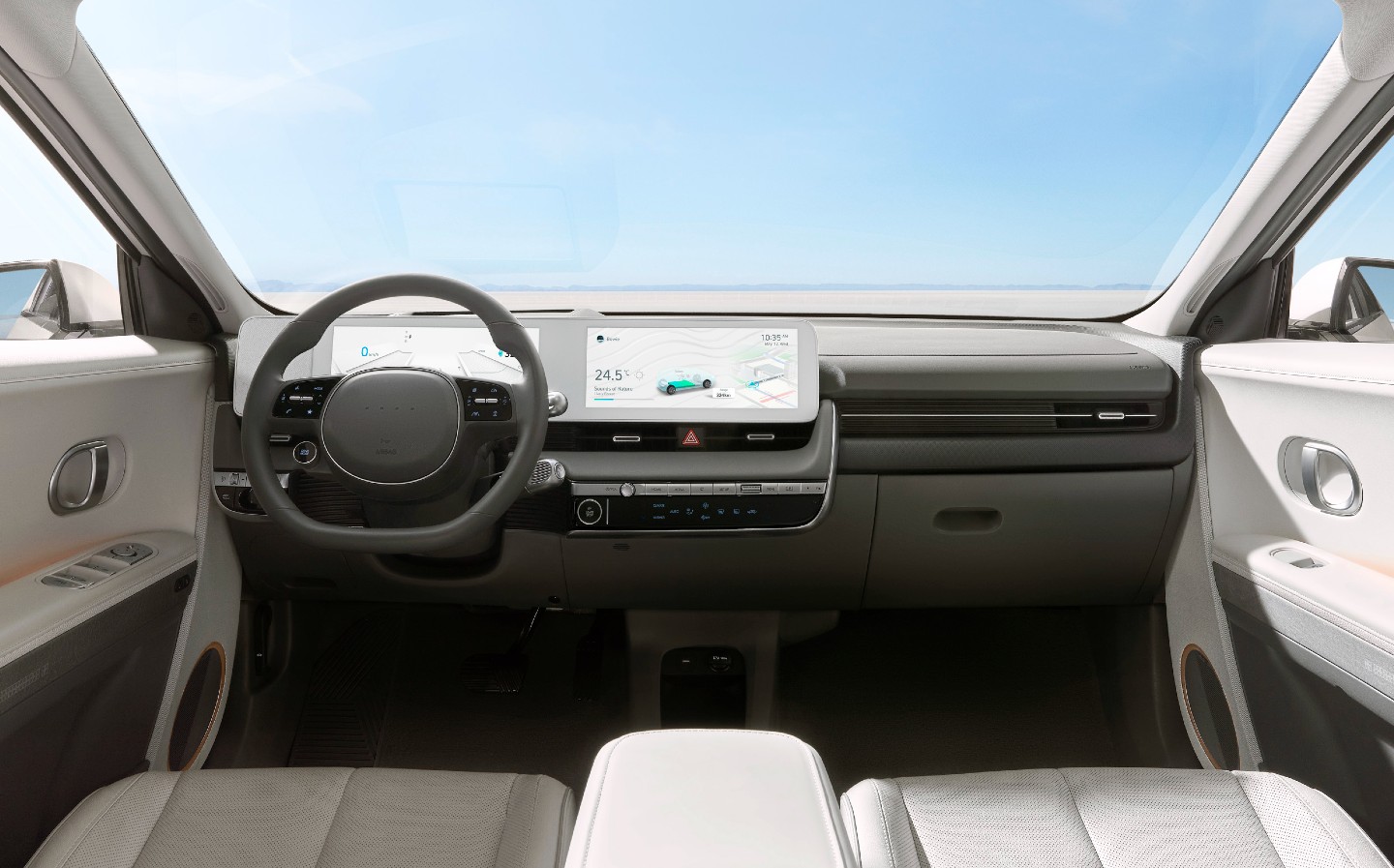 Interior
If the exterior is striking, then the interior will blow your socks off. Like many modern cars, Hyundai has gone for a lounge-style cabin, which means materials that you might find in your front room: soft leather seating, natural fabrics. Most of the materials, including on the seats, headliner, doors, floor and armrest, are eco-friendly and sustainably sourced materials — recycled PET bottles, plant-based yarns and natural wool. Hyundai also says the Ioniq 5 features "eco-processed leather with plant-based extracts, and bio paint with plant extracts", though we're not entirely sure what that means.
Still, it's a smart interior: modernist, with straight lines to match the exterior, though rounded corners literally take the edge off, contributing to a very clam, relaxing cabin.
The instrument panel and infotainment screen are part of one continuous panel, though they're two separate 12in displays side by side.  The digital driver's display features a bright white theme that evokes the modern movie takes on the Starship Enterprise in its design and layout, and the infotainment screen is also bright and clear. It's relatively nicely designed but there are lots of menus and sub-menus, and I couldn't find out how to change the settings on the head-up display. A search function came to the rescue, though, allowing me to pull it up  within a few seconds.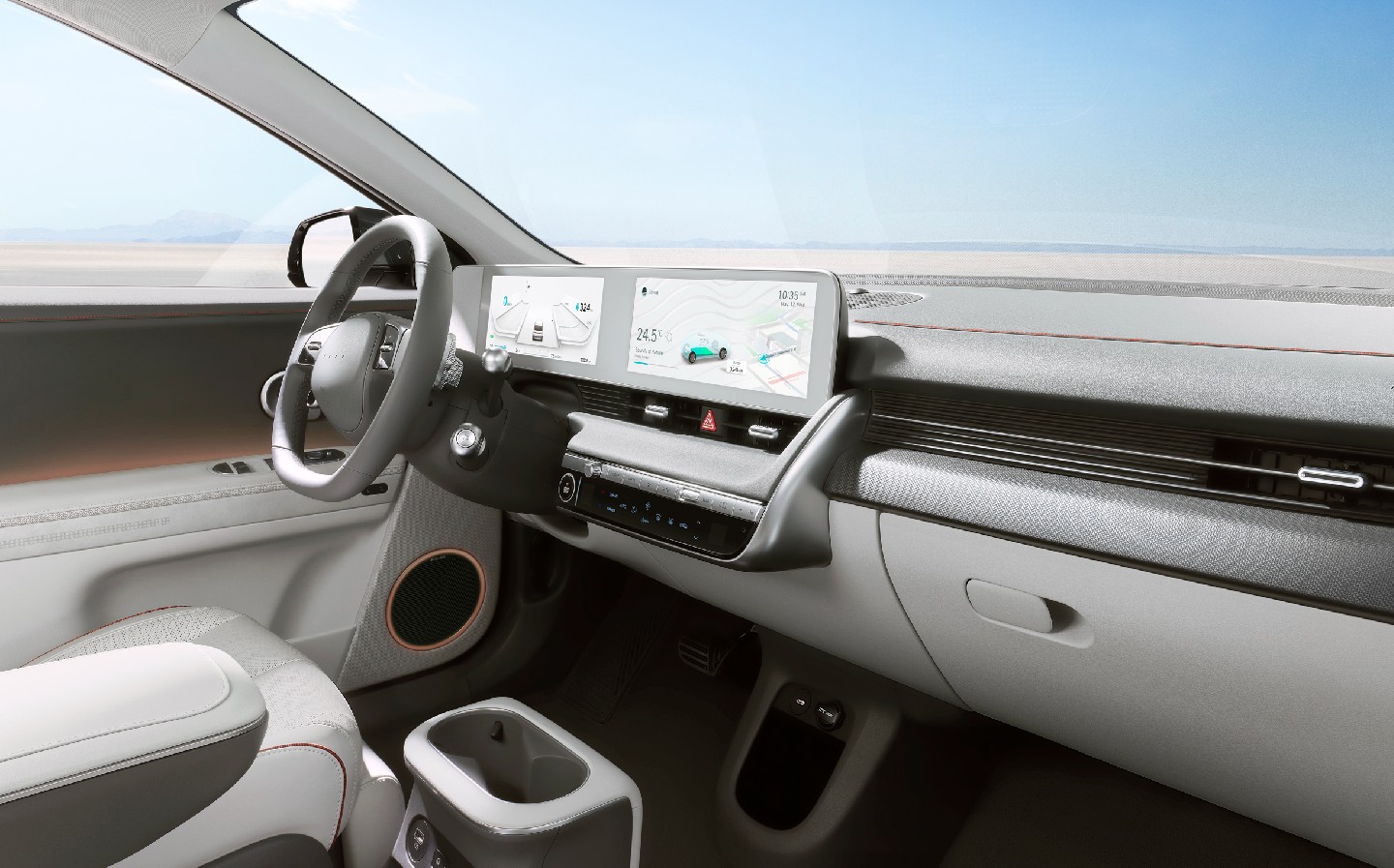 And the cabin is marvelously open and airy. The "roller-skate" style platform, with the battery pack under a flat floor, and the front and rear wheels set a full 3m apart, means Hyundai has been able to play with the way that the interior works. The top spec versions' centre console, for example, has a lever at the front that allows you to grab the entire unit and slide it forwards and backwards. You can either create more room at the front or the back, depending on how you want to configure the cabin.
The centre console itself has a couple of cupholders and then a big gap behind, which is a good space for handbags, picnic cool bags and that sort of thing. It reminded me of the sort of thinking that went into the original Land Rover Discovery, with a similarly designer-led interior by Jasper Conran, who included a removable centre console bag that enabled customers to take snacks and so on with them when they left the car.
In front of that there's a space for a wireless charging pad and another phone perhaps, along with a couple of USB sockets and then there is a floating armrest which can be lifted up to allow access to the space underneath. The cup holder's big enough for large bottles and there's also space for large bottles in the door, although the door pockets aren't huge.
One of the big selling points of the Ioniq 5 is the front lounge seats, which I found very comfortable when driving around, even for my tall frame, but uniquely can be reclined at the touch of a button with footrests that come up, making roadside snoozes supremely comfortable.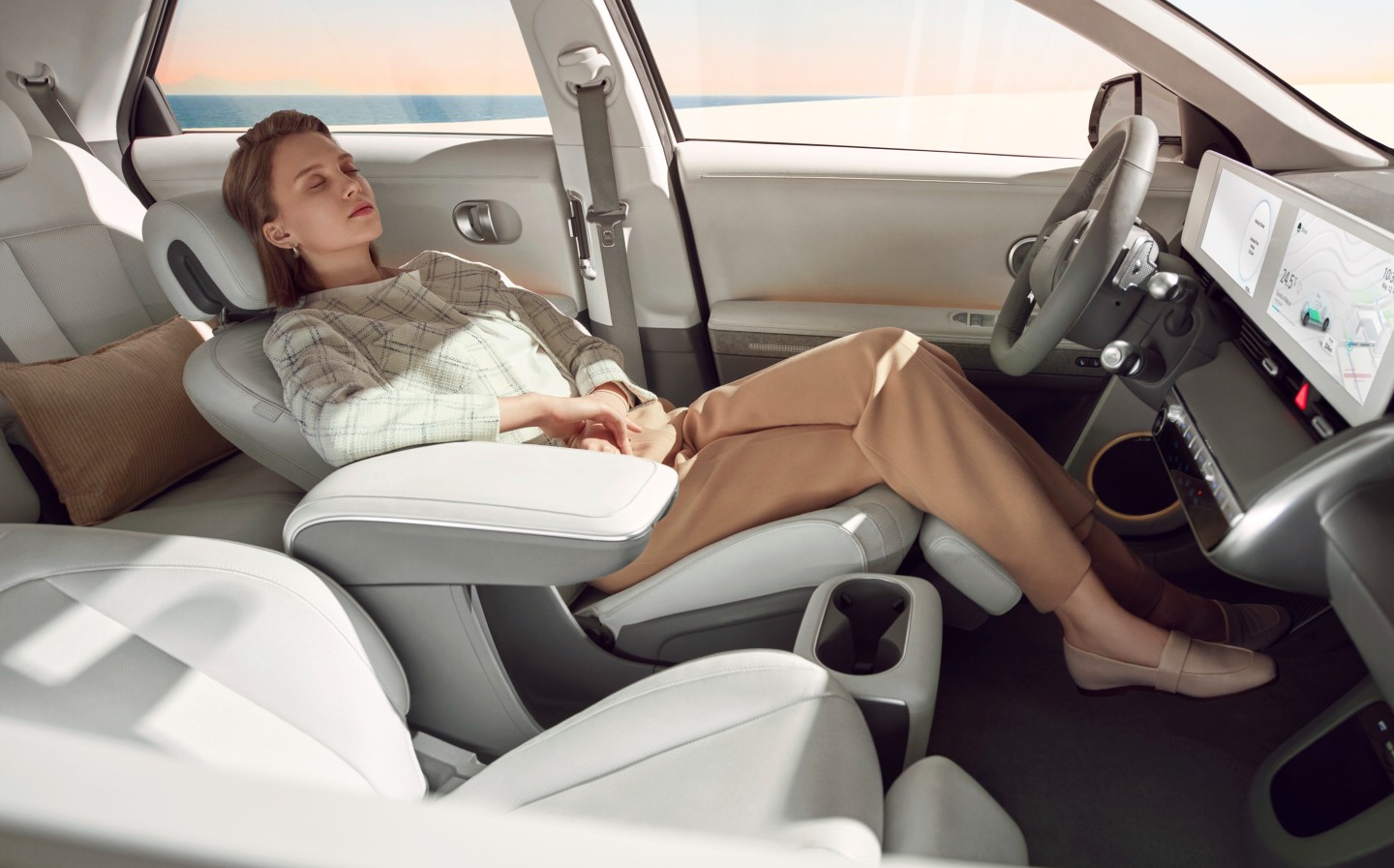 Cleverly, though, and like on other Hyundai (and sister brand Kia) models, there are buttons on the inside backrests to allow other passengers, including those in the rear, to adjust the front seats themselves
The flat floor and the ability to slide the rear seats make the Ioniq 5 a brilliantly versatile car. With the seats pushed all the way back, rear legroom is really impressive for a car of this size. Headroom is less so but it's good for your average-sized adult and definitely for children. Technically there are three seats but the centre perch isn't terrifically accommodating.
Boot space is obviously affected by the position of the rear seats but it can take up to 531 litres of luggage, which is superb compared with the likes of the VW Golf (381 litres) and Ford Focus (341 litres), and expands to 1,600 litres when the back seats are folded.
If there are complaints, the material for the steering wheel is a little bit ticky tacky, as are Hyundai's switches on the side of the seats, which aren't terrifically intuitive, either — it took a while to coax the seats into their flattest position. Some of the other aluminium-effect plastic switchgear feels a little cheap, too — tell-tale signs that there was some cost-cutting during the development process — and the cabin is not as nicely appointed as the Honda e, for example. But the overall look is great and the use of space is really clever.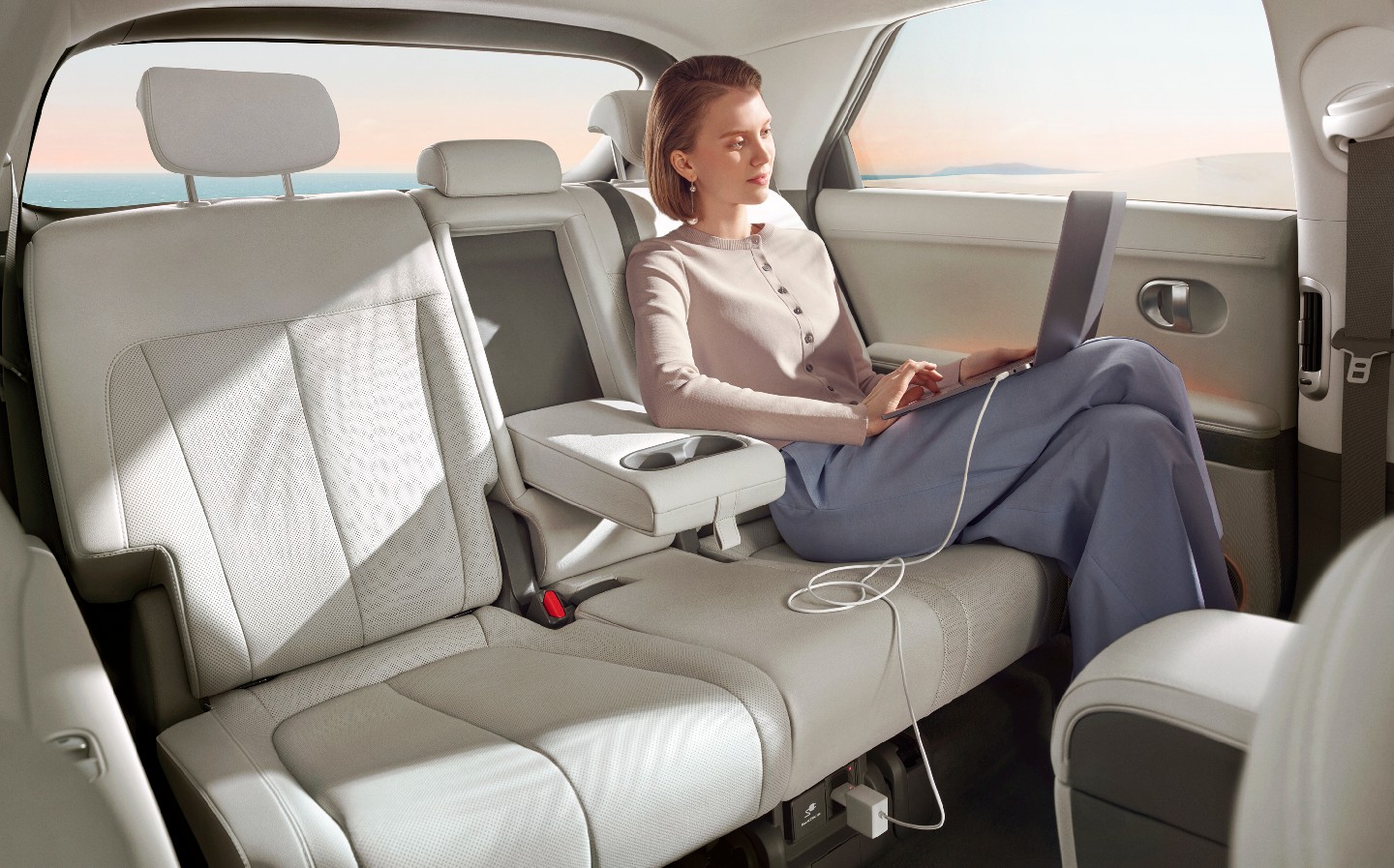 Technology
Hyundai says the Ioniq 5 is more than a car — it's a "charger on wheels", thanks to vehicle-to-load (V2L) technology. Under the rear seats of the Ultimate trim versions (lesser models don't get V2L) you'll find a plug socket that provides 3.6kW power, which is enough to charge anything from a mobile phone to an e-scooter or e-bicycle or camping equipment, and via an adapter the exterior charging port can be used for V2L, too, which makes the car superb for camping. Essentially it becomes a giant powerbank.
In addition, Ioniq 5 is offered with an augmented-reality head-up display, which superimposes turn signals and lane departure information onto the windscreen, while the latest version of Hyundai SmartSense includes advanced driver assistance systems.
There's a mobile phone app to go with the car, of course, allowing remote pre-conditioning of the cabin temperature.
While driving, voice recognition allows controls of the air conditioning, Bose eight-speaker stereo, heated seats and steering wheel, and even allows you to open or close the rear hatch.
There's also an advanced connected navigation system, with traffic alerts and charging station information including availability and estimated charging time.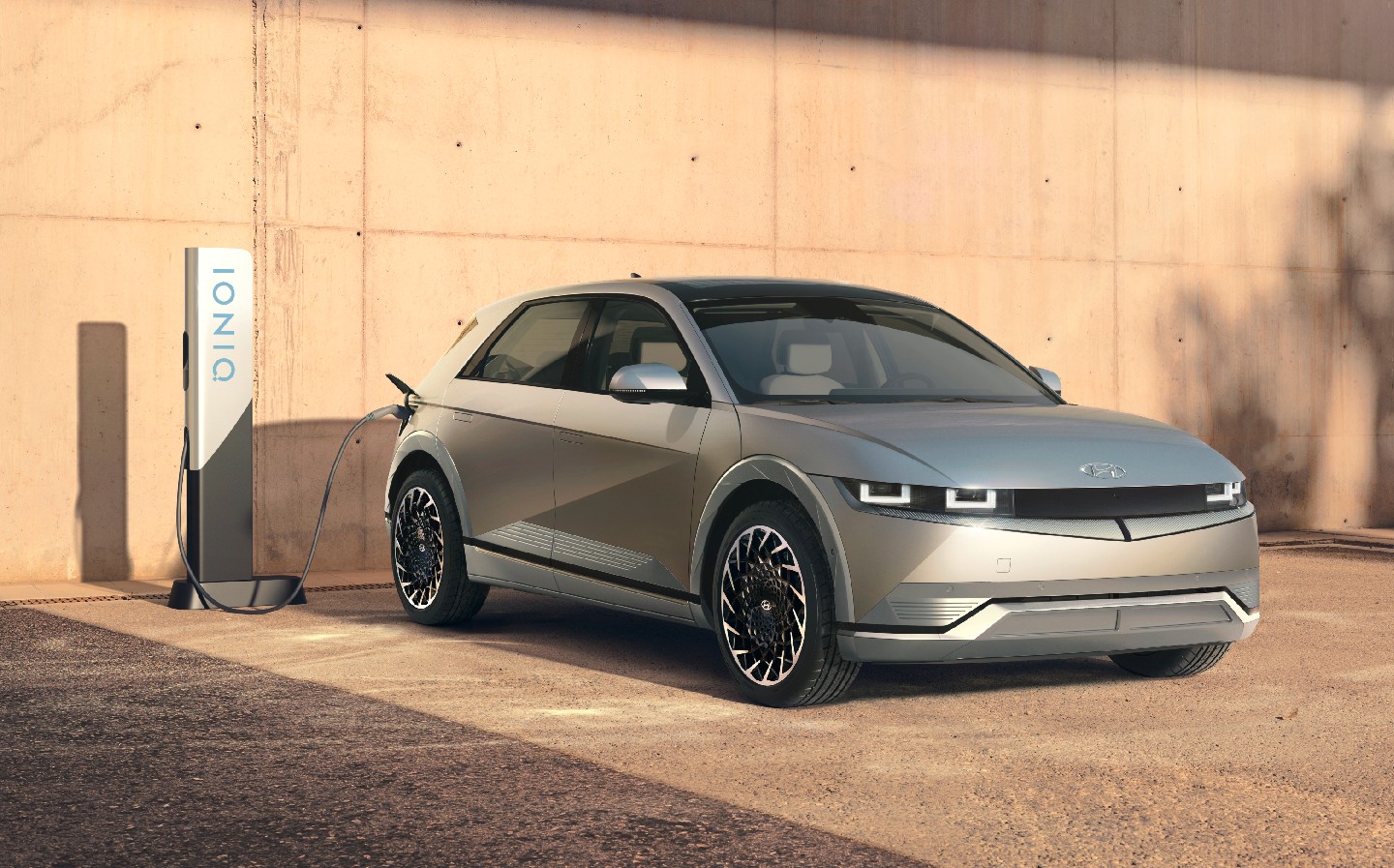 Performance, range and charging times
You can buy the Hyundai Ioniq 5 in the UK with a choice of two battery sizes — 58kWh or 73kWh — and rear-wheel or dual motor all-wheel drive. The most potent version is the Long Range (73kWh) AWD model, which we tested, and it is no slouch: with 300bhp and 446 lb ft of torque it can accelerate from standstill to 62mph in just 5.2sec — more than a second quicker than a VW Golf GTI and nearly as fast as a Golf R.
There are three drive modes — Eco, Normal and Sport — and in the latter there is plenty of performance under your right foot — noticeably nippier than a Nissan Leaf or Renault Zoe. It's not Tesla powerful but the little Hyundai is not lacking in punch, with an immediacy of acceleration thanks to the torque of the electric motors.
The Standard Range (58kWh) AWD model is just under a second slower to 62mph, despite having a lighter battery, because output is reduced to 232bhp. The rear-wheel-drive models come with either 215bhp or 168bhp, and just over half the amount of torque as the AWD models, but with 7.4sec and 8.5sec 0-62mph times, they couldn't be called sluggish.
I was impressed with the efficiency of the range-topping model, as after driving it quite hard it recorded more than 4 miles per kilowatt hour over 20 miles, so expect north of that for everyday use in 30, 40 and 50mph speed limits.
The larger battery combined with rear-wheel drive is likely to get you furthest per charge, with a range of up to 298 miles. Trying to find an official figure for the AWD car that I drove isn't as easy as you might think, but if you do average 4m/kWh in the real world, and have a 73kWh battery, that works out at 292 miles per charge, which would be mightily impressive for a medium-sized hatchback.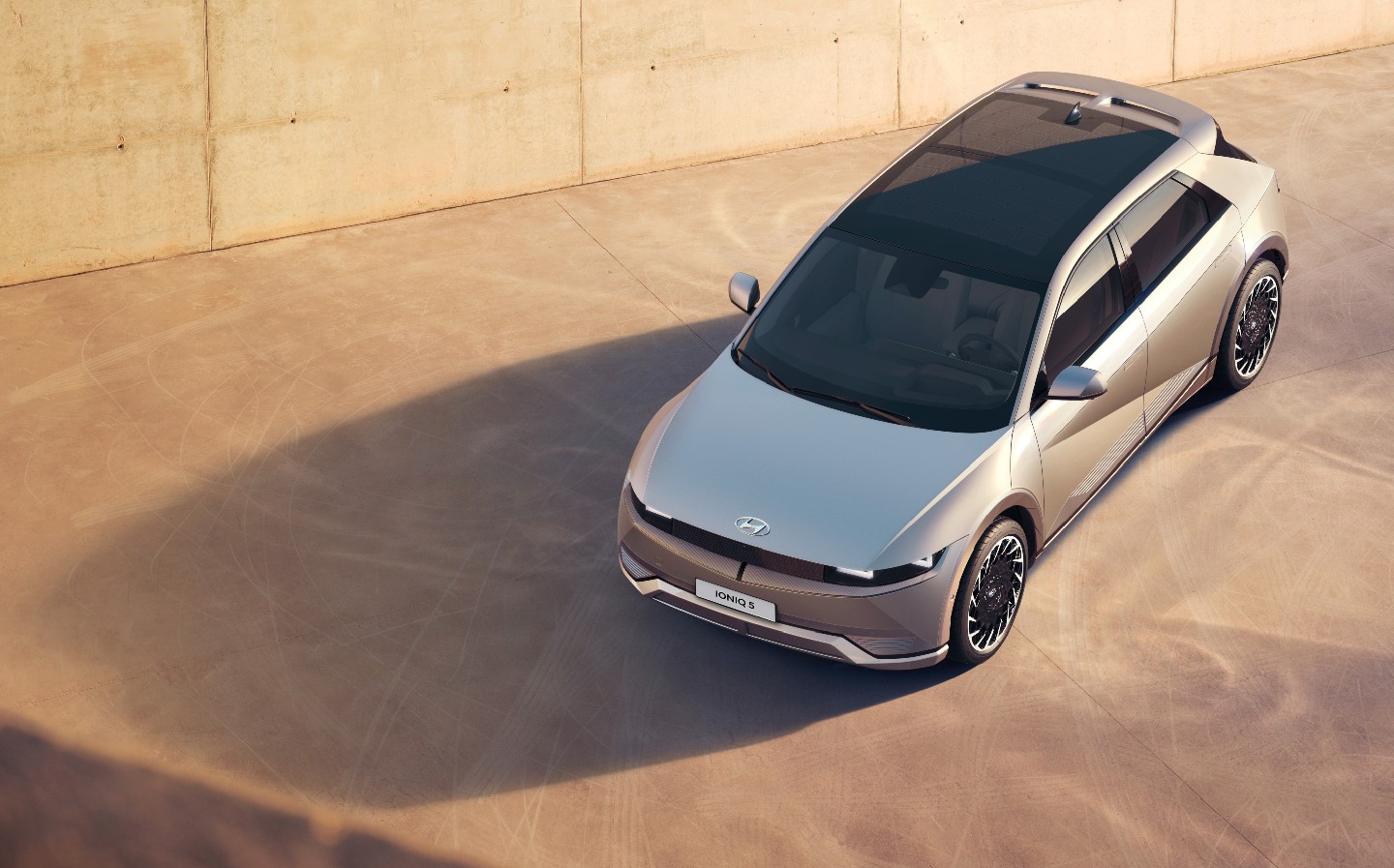 It's possible I'd have needed to plug in after around 232 miles, though, as with 81% charge in the battery, my test car was showing 188 miles of range remaining. Again, it really does depend on conditions such as air temperature, road type and how quickly you're driving. Motorway driving will require much more frequent charging.
When you do need to plug in, the good news is that 800V charging at up to 350kW is possible, which allows 62 miles of range to be added in as little as five minutes, and 10-80% battery takes 18 minutes. That's if you can find a rapid charger capable of delivering power that quickly, of course.
Hyundai hasn't provided home charging times but using a 7kW or 11kW wallbox is obviously going to take longer. If the car's parked, though, it may as well be charging, and most owners will find they wake up to a full battery every morning.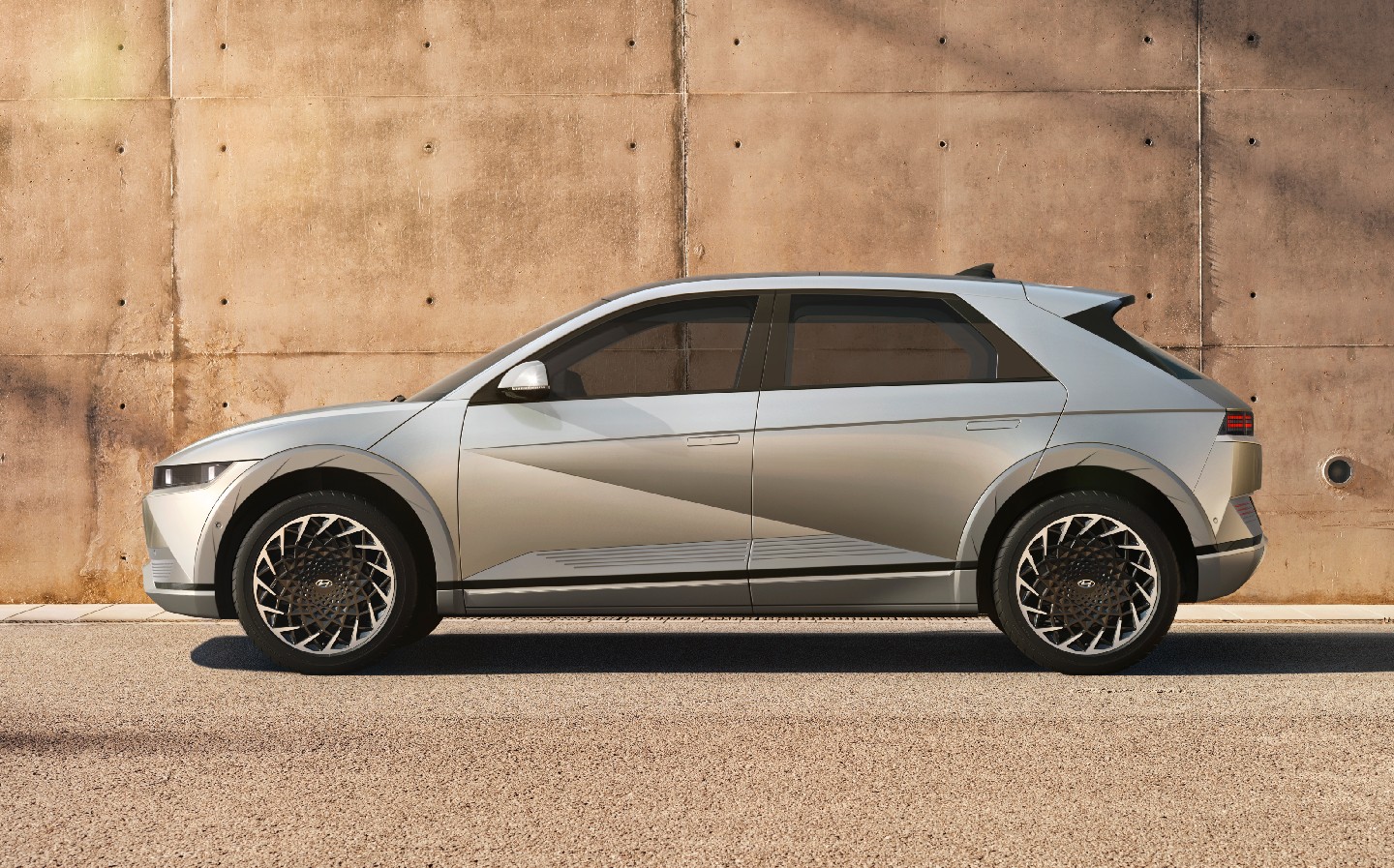 Ride and handling
Despite its hot hatch acceleration times, the Ioniq 5 is not a sporty car. It's designed for cruising and town driving more than B-road fun, and that shows with an overly-darty front end — perhaps because the steering is tuned towards a tight turning circle — and a floaty ride.
Chassis composure is aided by the fact that most of the mass of the car (the battery) is under the floor, giving it a low centre of gravity, but enter a corner quickly and you're likely to find it will understeer. The Ioniq 5 is definitely no Mini Electric for driver engagement.
But that's OK, because most owners won't be looking for proper thrills, and what the Ioniq 5 lacks in handling nous it makes up for in ride quality. The supple suspension and large wheels mean it doesn't crash into potholes and bumps; it seems to mould into them and flow out the other side.
One thing that Hyundai ought to look into, though, is the sound deadening at the rear as I could hear every little stone and bit of grit hitting the wheel arches — a problem exaggerated by the fact that the powertrain is so quiet.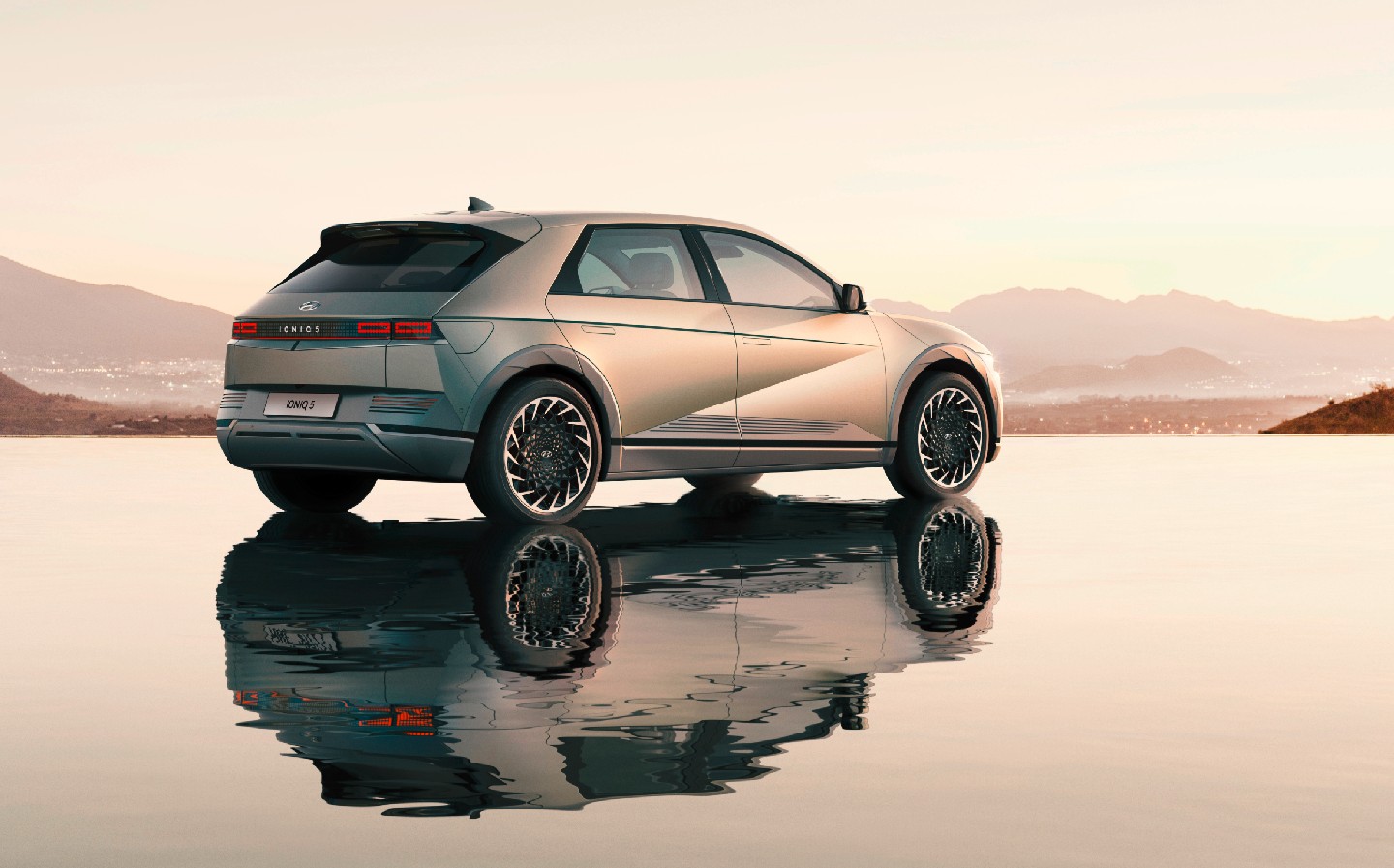 Pricing and on-sale date
The Hyundai Ioniq 5 is on sale now and available in SE Connect, Premium and Ultimate trims, starting at £36,995.
The entry-level car comes with sat nav, DAB, Apple Carplay and Android Auto, a fully-digital driver's display, wireless phone charging, rear view camera and smart navigation-based cruise control.
The Ioniq 5 Premium costs from £39,295 and adds a power tailgate and heated seats, along with Highway Drive Assist Level 2 with automatic lane changing function.
The Ultimate model adds a heads-up display with augmented reality, Bose sound system and leather seats, heated and ventilated front seats, heated rear seats, sliding centre console and V2L. Prices start at £42,295.
Deliveries have already begun.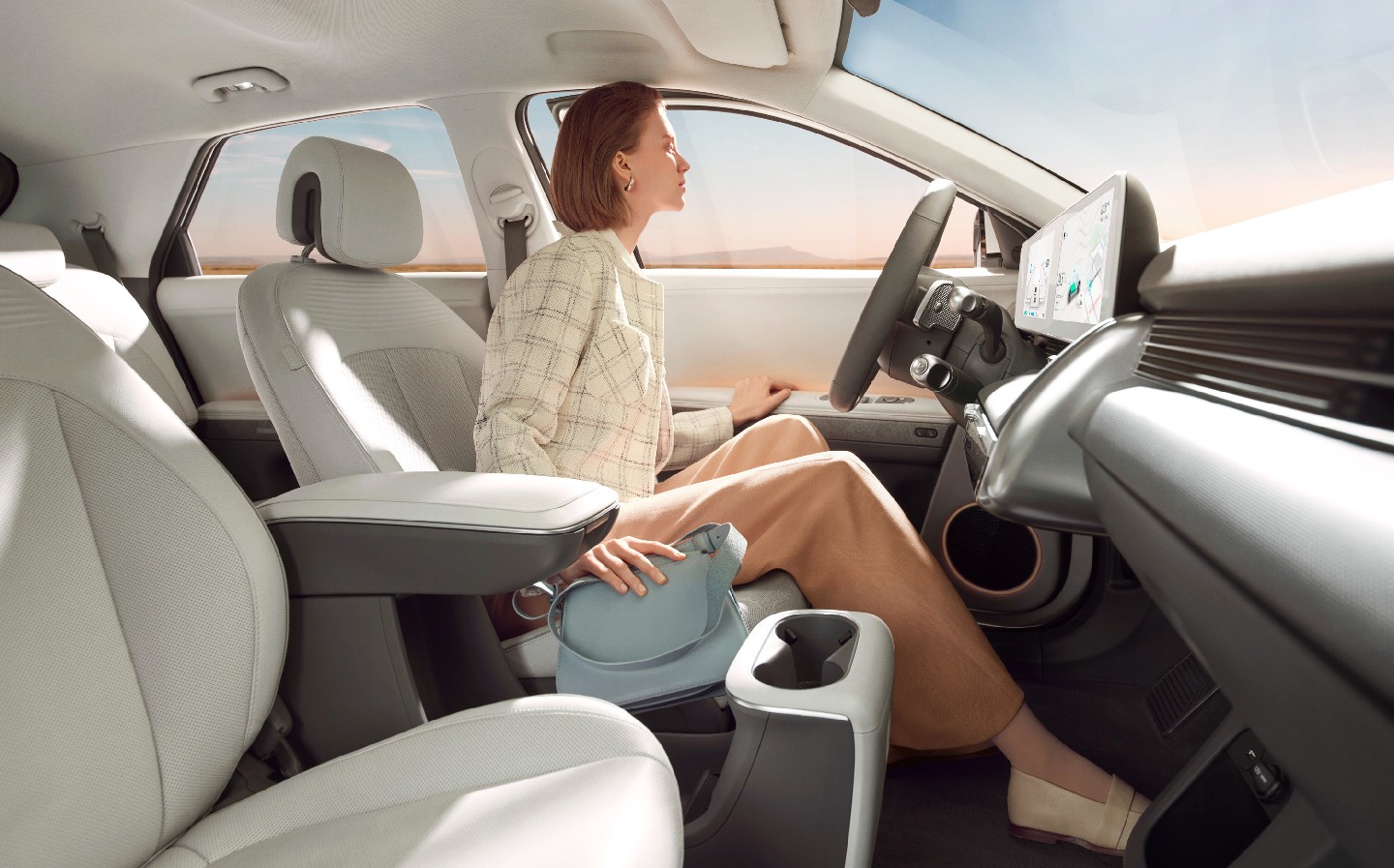 Verdict: Hyundai Ioniq 5 review
If a vehicle were judged solely on its looks, the Ioniq 5 would be the car of the decade. The exterior is a masterpiece of modern retro design, while the interior is beautifully laid out and fabulously practical.
Hyundai's electric hatchback is let down a bit by the handling (we're looking forward to trying the sporty Ioniq 5 N, when it arrives) but with a supple ride, affordability, ultra-rapid charging and plenty of range in the battery, the Ioniq 5 deserves its current status as the darling of the car world.