2020 Volkswagen ID.3 review
VW's new plug-in baby has arrived … what now for the Golf?
---
Published 10 October 2020
THE NEW ID.3 is pitched as one of Volkswagen's most important cars since the Beetle. The brand's first model, designed by Ferdinand Porsche under the instructions of Adolf Hitler to create a true car for the people, was an instant classic and 23.5m were sold between 1938 and 2019, when it was discontinued.
The ID.3 could also be as significant as the Golf, which first launched in 1974 and has sold more than 35m over the years – one every 41 seconds, apparently. It's the family car against which all others are judged and the new eighth-generation is so good that we named it our Car of the Year 2020.
But in a rapidly changing (charging?) car landscape, and still reeling from the dieselgate scandal, Volkswagen needed a new icon, and the ID.3 is it. The name indicates both the start of a third chapter for the company – one powered by clean electricity – and its size: ID.3 is a family hatchback in the same mould as the Golf.
More pure-electric models will follow, starting with the ID.4 crossover, after a €33bn investment in the technology by parent the Volkswagen Group, with $11bn going to the VW brand itself.
So keen is VW to wipe its face of the reputation for environmental irresponsibility (and illegality) that each ID.3 comes off the production line carbon neutral. This is because its factory in Zwickau, Germany, is powered exclusively by wind and solar, and any unavoidable transport and logistics emissions are compensated for through investment in initiatives such as the forest protection project in Borneo. The entire process, including the battery production, is monitored by independent body TUV Nord Cert.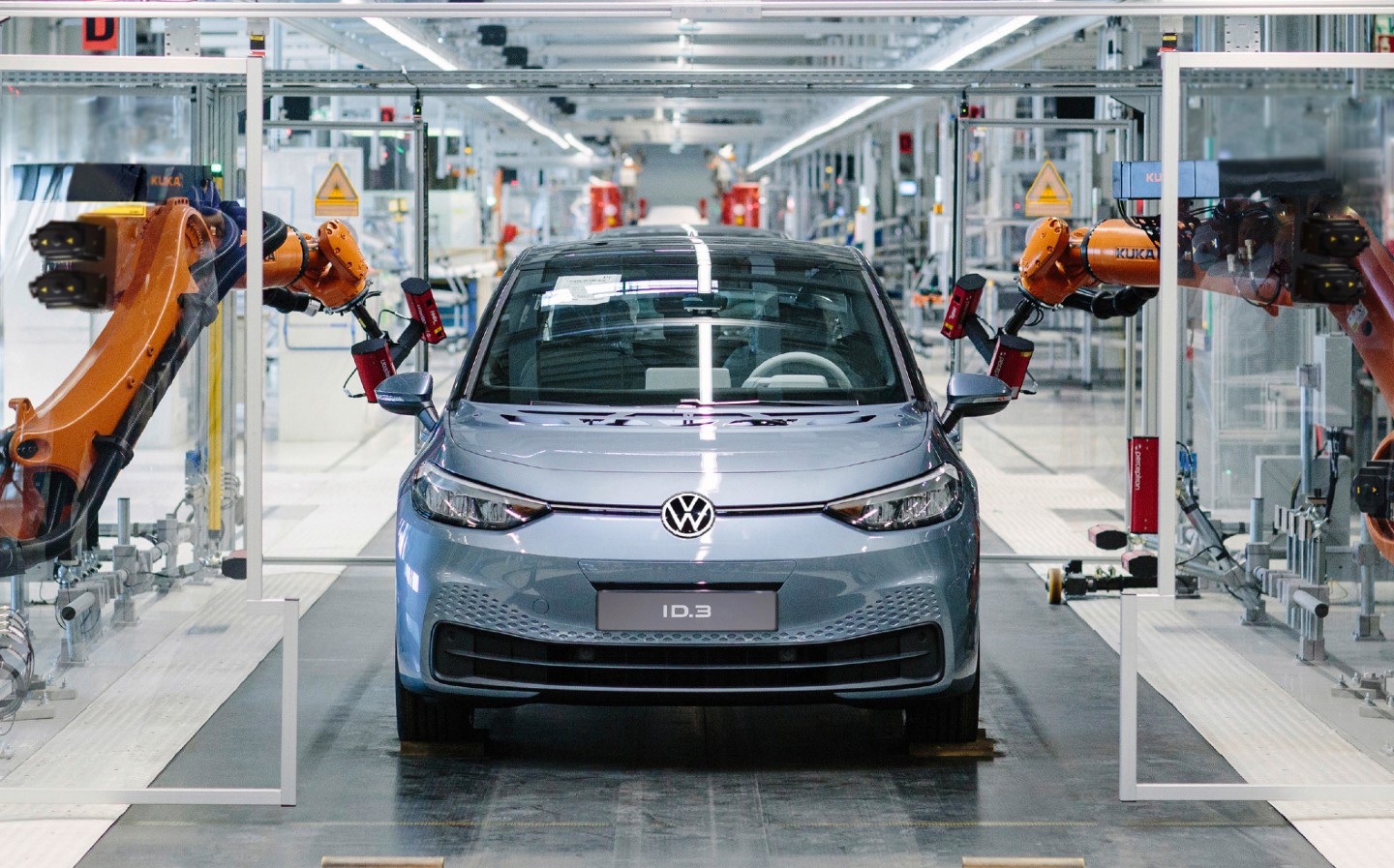 Buyers are encouraged to use green energy suppliers for charging up, too, and VW has done a deal with the Octopus energy supplier in the UK for any ID range buyers. All of which should shut up the unnecessarily contrary social media trolls who enjoy brainlessly parroting such phrases as, "Yeah, but where's the energy coming from?" and "Building electric cars is way worse for the environment than a petrol car." It should, but it won't.
Of course, environmental credentials are a consideration but very few people will buy a car based on that alone. So the ID.3 needs to have more substance – is it really capable of replacing a petrol hatchback day-to-day?
ID.3 is actually just over 2cm shorter than a Golf but because its front and rear axles are further apart (by 14.6cm, which in car terms is massive), it's slightly wider and the roof is higher, there's actually more room inside the cabin of the ID.3. It feels noticeably more airy in the front and more spacious in the rear, with extra legroom, and you'll need to be 6ft 5in tall (as I am) for your head to touch the roof.
Additionally, there's lots of space where you'd normally find a transmission tunnel – there's an enclosed cubby-hole large enough for small bags, plus a slot for a mobile phone and two cupholders.
The boot is bigger, too, but not by much – four litres with the rear seats in place and 30 litres with them folded flat.
In terms of size and capacity, then, the ID.3 is pretty much a Golf. But let's talk about the differences. Firstly, the exterior design is certainly different. It may not appeal to everyone, and that side profile for me is a long way off the classic appeal of the Golf to my eyes, especially around the rear end. The designers may have been trying to evoke the Beetle and have managed to make it look like a bug, but not in an especially pleasing way. It's not ugly but it may take time for the aesthetics to grow on me.
The interior is a different matter altogether – it's a fabulous, minimalist space even by the standards of the pared-back new Golf. The eye-catching white steering wheel and orange accents in our test car are particularly striking, and the unique drive select controller — a rocker switch on a stalk behind the steering wheel — adds to the futuristic feel. High res digital screens also stand out (in every sense), and the main infotainment touchscreen is user friendly, responds quickly and is beautifully animated.
Even the volume slider, which I wasn't sure about when first introduced to it in the new Golf 8, worked like a charm, allowing quick, precise adjustments of the volume. As there's no volume dial it means the only circle in front of you is the steering wheel.
Aside from the touchscreen, you can control functions easily via the quality-feeling gloss black steering wheel controls and via voice control. The Alexa-style intelligent assistant can be used to change radio stations, adjust the temperature or switch on the heated seats. It will recognise nuanced phrases like "my bum is cold", and will even know which passenger said it and switch on the heating on their side only. Clever stuff. Other phrases include "My hands are cold" and "My feet are too hot", with appropriate air conditioning adjustments to suit.
The electric powertrain is what really marks out the ID.3: Golf 8 is available with every type under the sun (petrol, diesel, mild hybrid and plug-in hybrid) except pure-electric, whereas ID.3 was designed ground-up as a fully battery-powered machine.
The platform on which it sits is all new and will underpin a whole new wave of electric vehicles from VW and its sister brands, and it's impressively flexible. The battery goes under the floor, like in a Tesla, and extra modules can be added or removed to create versions with different ranges: the First Edition has a 58kWh battery (which VW calls "Pro") that's good for an advertised 260 miles, but a cheaper 45kWh model (dubbed "Pure") will arrive in due course, as will an ID.3 with a 77kWh battery ("Pro S") that will make it capable of up to 340 miles per charge.
Different charging capabilities will also be available but our First Edition test car can be rapid charged at a public charging point at 100kW, which adds up to 180 miles of range in 30 minutes. I drove the car from Milton Keynes to Surrey at a fairly steady 70mph on mainly motorways, then took it on a fairly brisk loop around Heathrow to Virginia Water – adding 102 miles to the car in total. Consumption is officially 3.92 miles per kWh but I got 3.4m/kWh for hammering it over that distance; I suspect some drivers could get over 4m/kWh in daily driving.
I arrived at a Shell rapid charger with 45% battery and an indicated 92 miles still remaining and the car had fully charged after 61 minutes, adding 35.5kWh in that time. Although at that point the car reckoned it had 203 miles available to it, I then drove another 10 miles along country and town roads and arrived back home with an indicated 205 miles, which shows that the indicated range on the ID.3, like other electric cars, will vary greatly depending on how hard you push it.
Just as interesting is the way that it drives. In a nod to the Beetle, ID.3 is powered from the rear with the electric motor mounted to the rear axle. We know the ID.4 – a crossover to follow on the same platform – will be available with a second motor connected to the front wheels so it's no surprise there's a 300bhp-plus four-wheel-drive ID.3 R hot hatch expected for 2024. But as it is, the rear-drive ID.3 isn't slow and it makes for a fun driving experience.
Its 201bhp motor feels plenty powerful enough, especially if you switch up from Comfort drive mode to Sport. The 0-62mph time is 7.3 seconds but being electric, with instant torque, and the power coming from the weight-loaded end of the car, it feels sprightlier – especially at up to 40mph. Even in Eco mode the ID.3 is more than acceptable in the acceleration stakes, and planting your foot at speeds about 50mph allows swift overtakes. The only criticism with the power delivery is from standstill, when I found moving from the brake pedal to the accelerator resulted in an unpleasant initial jerk – something a software tweak could no doubt eliminate.
Braking is decent enough, though it's worth being cautious approaching junctions when you first get behind the wheel as, like the Taycan from VW stablemate Porsche, the default setting when you lift off the power is for the car to coast, rather than slow down using regenerative braking (turning the electric motor into a generator, to feed power back to the battery). Porsche told me this is actually a more efficient set-up for electric cars and apparently the engineers at VW agree. There is a "B" mode, which turns on "regen", but it's not as powerful a braking effect as you find in a Nissan Leaf or Mini Electric – unlike those cars, you can't drive the ID.3 with one pedal.
It also feels heavy heading into a turn… because it is. The battery pack means the ID.3 weighs 1,793kg, which is up to half a ton more than a Golf. And that's significant. But because the weight is mainly under the floor and mounted centrally between the wheels, there's great poise, little roll and a surprising amount of grip. Steering feel can be switched between two settings and neither is especially weighty, but the ID.3 doesn't lack feedback through the wheel.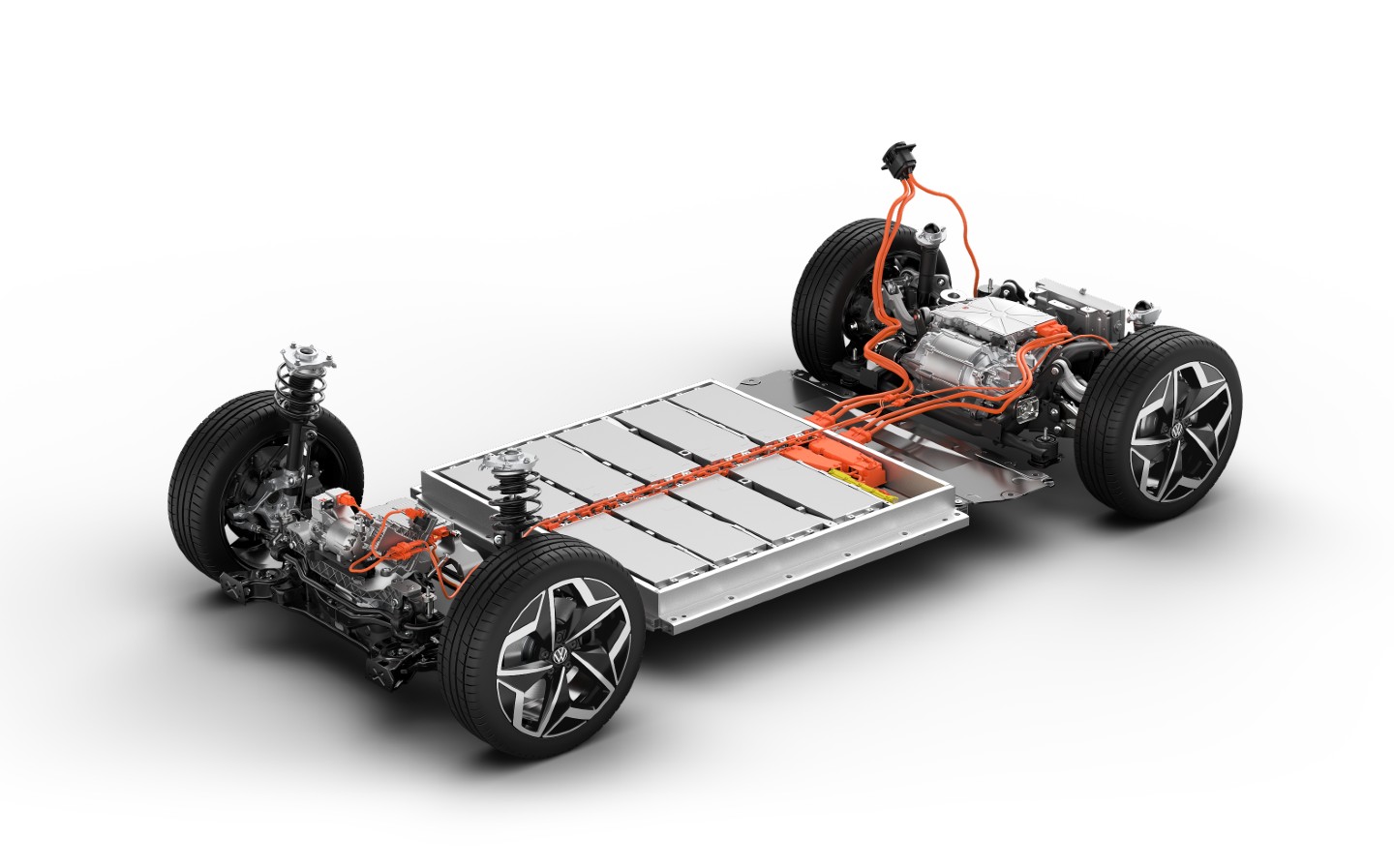 Even better, the ride and comfort is exceptional, with supreme ironing out of bumps and a complete absence of unpleasant vibrations. Our car was fitted with 19in wheels, with 18s and 20s also available on series cars, and it provided a brilliant balance between sporty and soft, with the Macpherson front and multi-link rear suspension and aiding chassis stability. Road noise is blissfully low, too, matching the quiet powertrain.
The major sticking point may be the price. The First Edition is not cheap, at £35,215 (including the plug-in grant). It's not going to be cheap to insure, either, as it's in the same group as the Golf GTI (28E), meaning savings on fuel (electric cars cost less than 5p per mile versus around 14p per mile for petrol models, depending on energy costs) may be wiped out. Cheaper versions to come after the First Edition will make the ID.3 more affordable but it will still be difficult to consider it a true "people's car" in the mould of the Beetle or Golf in the short term.
It's worth noting, though, that buyers don't appear to have been put off: all 30,000 ID.3 First Editions allocated to European pre-bookers sold out, with 10,000 people placing a deposit within the first 24 hours. What's more, prices will come down in years to come, and if the ID.3 lasts as long as either of its predecessors we may have price parity with petrol models before we know it.
In which case, what does that mean for the Golf? It wouldn't be silly to put a bet on the eighth generation being its swansong, especially given the UK ban on new petrol and diesel car sales from 2035 (maybe even 2030, if the government has its way). That will be sad news for many, but with the ID.3, Volkswagen has created a worthy successor.
Volkswagen appoints supply chain watchdog to ensure ethical battery supply