Genesis GV60 2022 review: The premium electric SUV that will be worrying German car makers
Genesis' first pure-electric car needs to be a class act to lure buyers away from established premium brands. Mission accomplished, reckons Will Dron
How long does it take for a new brand to enter the public consciousness? When is the tipping point? When it comes to Genesis, we're not quite there yet, if the blank stare I received from a neighbour after telling them I had just driven the new Genesis GV60 is anything to go by.
"Genesis… it's a posh Hyundai, basically. Think Lexus to Toyota."
"Oh."
"Yeah, and the GV60 is a pure-electric crossover, similar in size to the Ford Mustang Mach-E or Jaguar I-Pace."
More blank stares.
"Aren't you getting a Volkswagen ID.4 through your company?" I venture.
"Oh, yes. At some point. Is it like that?"
"A bit, yeah. But posher."
Clearly Genesis has some work to do but in fairness, the brand only launched in Europe just over a year ago and it's not chasing the mass market — that's for Hyundai and its sister brand Kia, which last year launched vehicles based on the same underpinnings, the Ioniq 5 and EV6 respectively.
You also won't find Genesis dealers anywhere: the brand is instead opening a handful of "Studios" around Europe. There's one in Munich, another in Zurich (Genesis Europe's HQ and R&D centres are in Germany) and a third at Westfield shopping centre in Shepherd's Bush, London.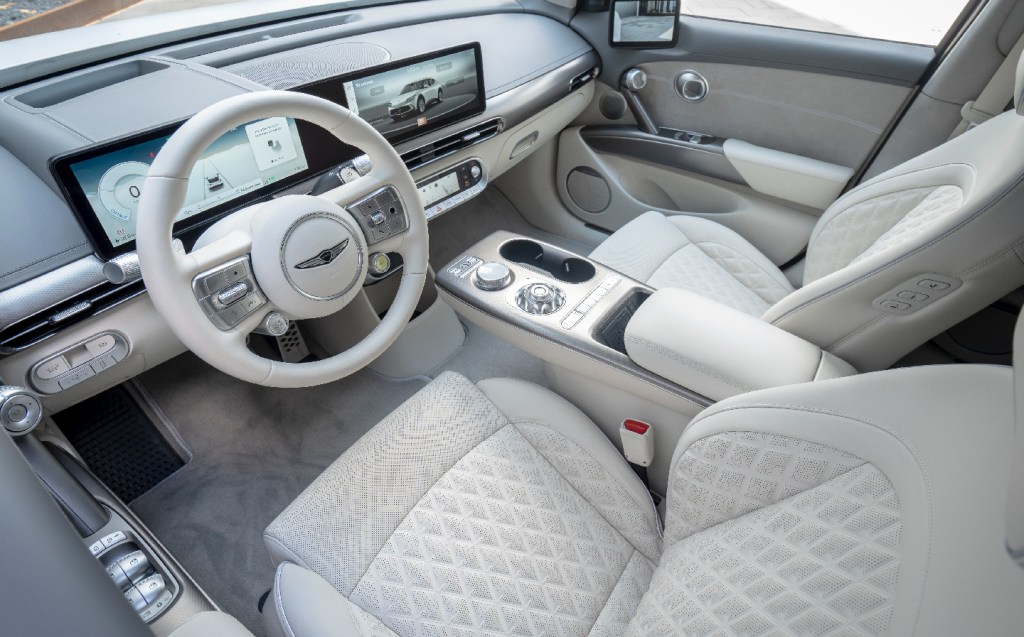 Judging by the GV60 launch presentation by product specialist Dominik Kling, Genesis has also decided to ignore at least half the population, as he referred to customers using the pronoun "he" all the way through. Which is odd because there's a lot for female (and, indeed, non-binary) car buyers to appreciate about Genesis' first pure-electric car, not least the funky styling and eye-catching drive selector (see below).
Whatever your gender, with prices starting at just over £47,000, you'll need to be fairly well-heeled to buy one. But against competitors from established German and Swedish brands, the Genesis GV60 is pretty keenly priced (more below). And it has a lot going for it besides.
Read on for the full review.
Exterior design and rivals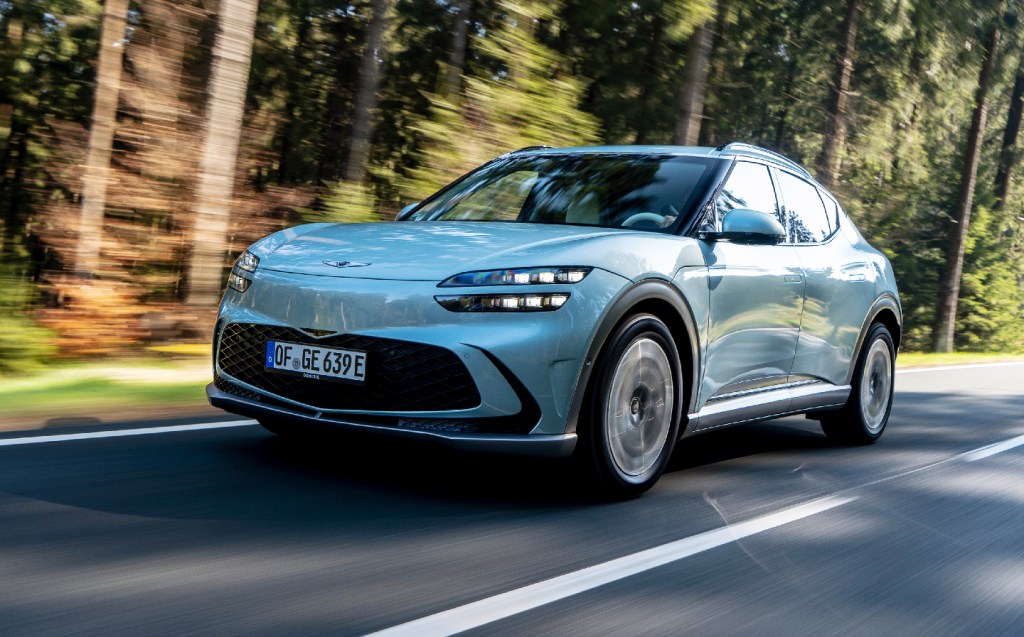 The GV60 borrows the skateboard-like underpinnings of the Hyundai Ioniq 5 and Kia EV6, so it has its wheels pushed to each corner and the same 77.4kWh lithium-ion battery in a flat pack under the floor, but the design inside and out is quite different from those offered by its more affordable siblings.
Genesis has integrated its core design elements in the look of the car: the quad headlamps, crest grille with "G-matrix" pattern and "parabolic lines" down the sides. But it's the smoothness of the GV60's body that is really striking, with miniscule panel gaps, a clamshell bonnet and hidden door handles. It's as if the car was hewn from a block of metal rather than assembled from parts, and that near-seamless bodywork helps to reduce drag through the air as much as the aesthetics.
Perhaps the most distinctive design element is the V kink in the chrome trim running along the roofline, which Genesis calls the Volt Signature — a deliberate nod the electric powertrain, that Kling called a "hidden design element". It seems to be hiding in plain sight, though.
In terms of the Genesis GV60's rivals, this is a segment expanding at an explosive rate with new pure-electric crossovers pouring into the market.
In addition to the Ford Mustang Mach-E, Jaguar I-Pace, Kia EV6, VW ID.4 and Hyundai Ioniq 5 mentioned above, there's the likes of the Skoda Enyaq iV Coupé, Citroën e-C4, Peugeot e2008 and Renault Mégane E-Tech.
And for more comparable money there's the Tesla Model Y, Mercedes EQA, Audi Q4 Sportback e-tron, BMW iX3 and Volvo XC40 Recharge. And coming soon are the Nissan Ariya and Smart #1, which is similarly smooth-surfaced.
In short, Genesis has its work cut out.
Interior design and practicality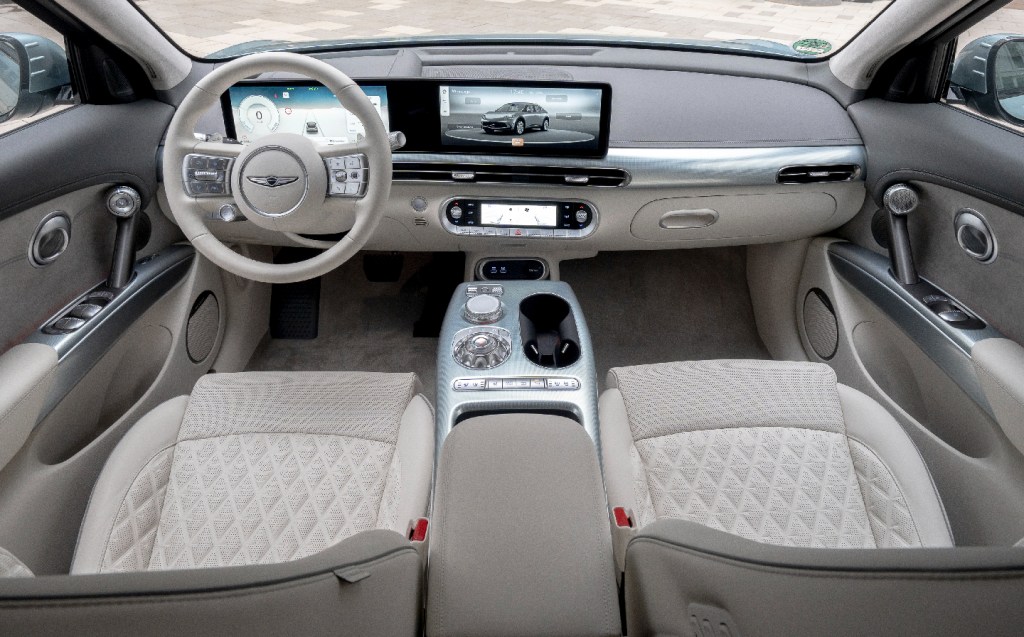 The cabin is pretty eye-catching. As with the other Genesises (Alan Partridge would use the collective noun "Genesae") that have come before it, the GV60 is upholstered with thick, quilted, premium materials. You can have leather if you want but there are also eco-friendly alternatives, and what you get is sumptuous soft-touch surfaces on the seats, floor, and door and roof linings.
The seats themselves are exceptionally comfortable and feature air pockets in the side cushions that will inflate when you drop the car into Sport mode for extra support, and add extra air to one side through corners. They also fully recline, in case you want a snooze while charging up.
The attractive floating dashboard curves away from you at the lower section, giving the impression of plenty of legroom, though in the front passenger seat I actually found my knees to be disconcertingly close to the glovebox (which slides out like a drawer rather than opening via a door) and legroom to be a little tight, due to the thick battery-housing floor and close bulkhead. It's fine if you're of average height but very tall passengers may feel a bit cramped.
There's no problem in terms of headroom for drivers and passengers up to 6ft 5in, though (there's more headroom than in the Kia EV6, in fact).
The fully digital driver's display is smart and customisable, and includes an augmented realty video display that shows your route over the image when using navigation, along with Hyundai Motor's party trick: blind spot video displays when you engage the indicator — something pioneered on the Hyundai Nexo hydrogen fuel cell vehicle.
In addition to that, higher spec GV60s get wing-mounted rear view cameras, rather than traditional mirrors, with fairly large displays positioned inside the doors. These unquestionable offer a clearer, wider view of what's going on around the car, and essentially eliminate blind spots. They're also less likely to pick up dirt than mirrors. But it's fair to say they take a bit of getting used to, and catch your eye while driving more than you'd like, or want.
Having them installed does make the cockpit look incredibly space age, though, with video screens running almost the entire width of the cabin.
But the GV60 cabin's real party trick is the crystal sphere, mounted within the centre console. It illuminates when you enter the car, then when you power up the car it rotates 180 degrees to present the drive selector. It's a little gimmicky, perhaps, but it does ensure you know when the car is powered up, so you're less likely to have a Brian Harvey moment. And let's face it, you'll enjoy showing your friends.
In terms of packaging, all dedicated EVs are roomier than their combustion-powered equivalents, particularly in the back seats, thanks to the skateboard layout with relatively compact electric motors and no fuel tank and transmission to house. With a flat battery pack under the floor, it can mean that feet are slightly raised, though, and that can in turn mean a more acute angle at the knee for rear passengers, but the GV60 is pretty good in this respect, with no compromise on headroom, either.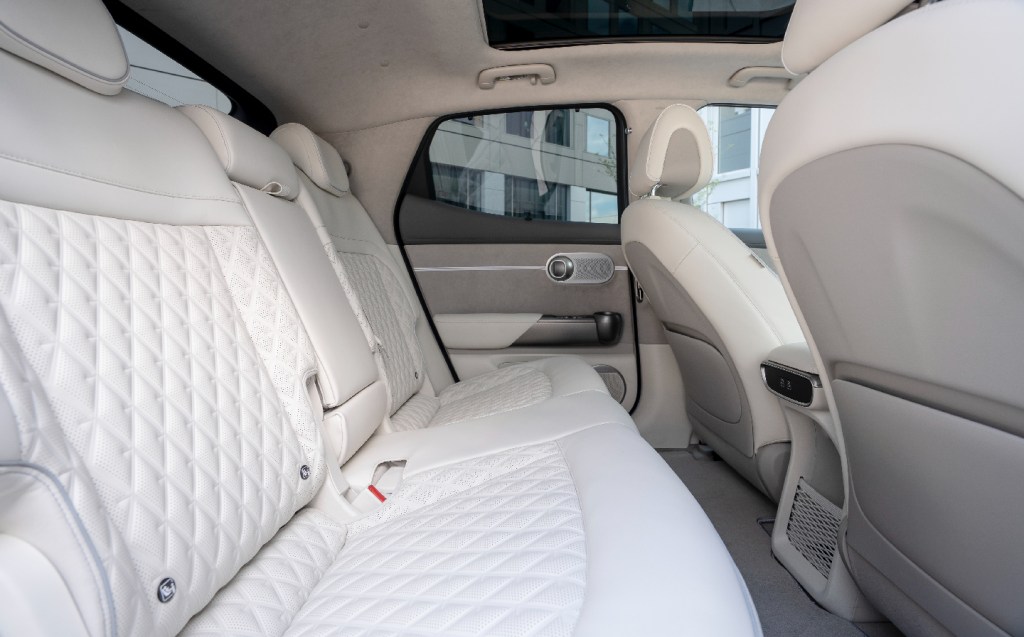 The boot has a healthy 432 litre capacity, whatever grade you go for, and there storage under the bonnet, too. It's worth noting, though, that this decreases from 53 litres in the single motor model to 20 litres in the dual motor versions, as room is take up by the extra powerplant driving the front wheels.
Technology and safety
Sometimes this is a hard section to fill, as most cars have very similar technology when it comes to connectivity and driver aids, but there are some standout features of the Genesis GV60 that are worth pointing out.
For starters, the GV60 is fitted with battery conditioning technology, such as you'd find on a Tesla, Audi or Porsche, which will not only keep the pack in optimum condition during use but also raise the temperature of the pack while en route to a rapid charger, to enable fast charging sooner after plugging in.
The GV60 can be charged at both 400v and 800v, which means ultra-rapid charging capability of up to 350kW. Genesis' launch presentation was timed to 18 minutes, which it claims is the length of time it takes to achieve a 10-80% charge. Slick stuff but note that is only if you can find a charger capable of delivering power that fast (they're few and far between in the UK at present, but being installed all the time). You do pay a premium for public charging, too, so you'll want to plug in at home as often as possible.
A handy reference for state of charge is the eight-level LED battery indicator inside the charging port, and as part of the Outdoor Pack (which we highly recommend), you get a Vehicle-to-Load adapter that allows you to connect and power any external device with a standard three pin plug. That means you can power all kinds of things while camping, for example, including lighting, stereos, cookers and more.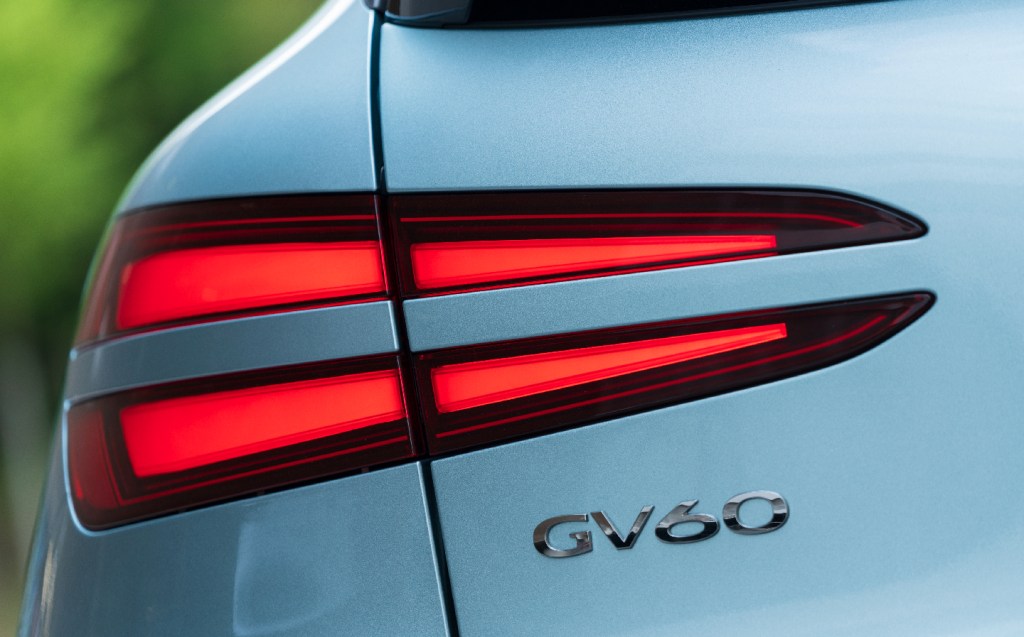 We didn't try this on the GV60 but have done so with the Kia EV6 and found we could easily power a rice cooker and grill at the same time, both of which have a fairly high draw of power. You should be able to power any appliance that can be lugged in at home, in fact.
Again, we didn't see it, but the Genesis will no doubt also feature the Kia's touchscreen menu to allow you to end the power supply when the car's battery reaches a certain level, which ensures you still have enough range to find a charging point, if needed.
Other features include Highway Drive Assist, an advanced cruise control that helps steer the car within your lane and around corners on the motorway; a "smart boot" that opens the hatch hands free if you stand behind the car with the key in your pocket; acoustic glass for a quieter cabin; and optional noise cancellation technology that monitors background hum and plays a cancelling tone to further increase interior hush.
All GV60s come with wireless phone charging, two USB-C and one USB-A sockets in the front plus two USB-Cs in the rear, and Android Auto and Apple Carplay. We'd also advise paying for the Bang & Olufsen stereo upgrade, at an extra £990, as it's simply sublime.
Performance, 0-60mph acceleration times and range
Although there's just one battery size, there are three versions of the GV60 from which to choose: a rear-wheel drive entry-level model with 225bhp called the Premium and two dual-motor versions dubbed Sport and Sport Plus.
Interestingly the front motor of the latter two has different power outputs, with the Sport sending 99bhp to the front wheels but the Sport Plus using the 241bhp rear motor up front, too. That gives the Sport Plus a maximum total output of 483bhp, which is 81bhp more than the Volvo XC40 Recharge P8 that we drove a couple of years ago, and that felt very "really quick".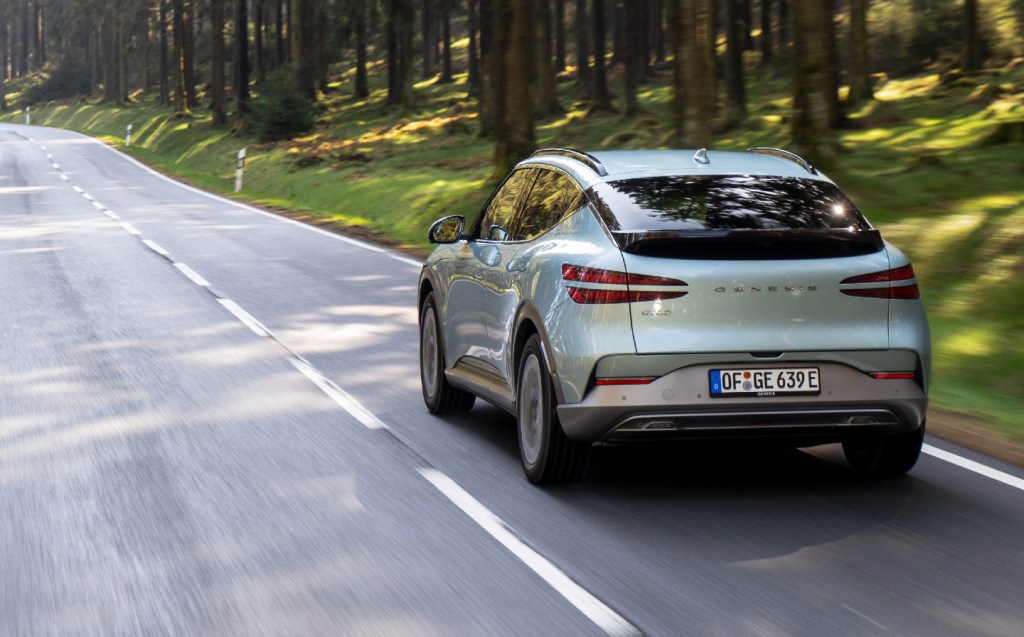 Since then, though, we've experienced electric rocketships such as the Audi e-tron GT and Porsche Taycan Turbo S. Compared to those, the Genesis GV60 Premium feels merely sprightly while the Sport Plus just seems fast.
What it has that most rivals don't, though, is a Boost button on the steering wheel that gives maximum power for a period of 10 seconds, which counts down on the digital driver's display. It's like a "push-to-pass" button from F1, and the child in me loved it.
We didn't get a chance to try out the Sport but I'm going to go out on a limb and guess that the 314bhp model feels somewhere in between, acceleration-wise. I can make that call because of all my years of experience test-driving cars, you know.
At dinner I asked Genesis' powertrain chief about the fact that the Tesla Model Y Performance is half a second quicker to 62mph than the GV60 Sport Plus. Yes, it would have been possible to be the fastest but that's not core to the Genesis DNA, he said, adding that customers expect decent performance but comfort, quality and customer service are more key to the brand.
I'll say it again, though: the Genesis GV60 is not slow, with 0-62mph times ranging from 7.8sec for the Premium down to 4.0sec for the Sport Plus. That feels quite fast enough, thank you.
It's also got a lot going for it in terms of distance between charges: 289 miles for the Sport Plus, 292 for the Sport and 321 for the Premium. Some readers complain that the official figure is irrelevant in the real world, and I have some sympathy for that view, but it's the best way we have at the moment to benchmark all cars against one another.
Handily, though, Genesis has also provided us with official efficiency ratings: 3.2, 3.3 and 3.65 miles per kWh respectively. On my own test drives I found that to be extremely representative, recording 3.25kWh over 55 miles in the Sport Plus on a mix of roads around Frankfurt and 3.88kWh over 32 miles around the city centre in the Premium.
Ride and handling
This is the area that is really setting apart electric SUVs right now, and Genesis is at the top of the pile when it comes to both passive and active ride technologies.
The GV60 benefits from multi-link rear suspension (MacPherson struts at the front), along with Electronically Controlled Suspension damping all round, providing superb comfort in town and excellent body control around corners.
But in addition, the optional Advanced Preview system borrowed from the big GV80 uses a front facing camera to scan the road ahead and set up the adaptive dampers to reduce body movement and wheel impact harshness over potholes and road bumps. This tech doesn't always work but in the GV60 it's spot on, mainly because you don't notice it happening.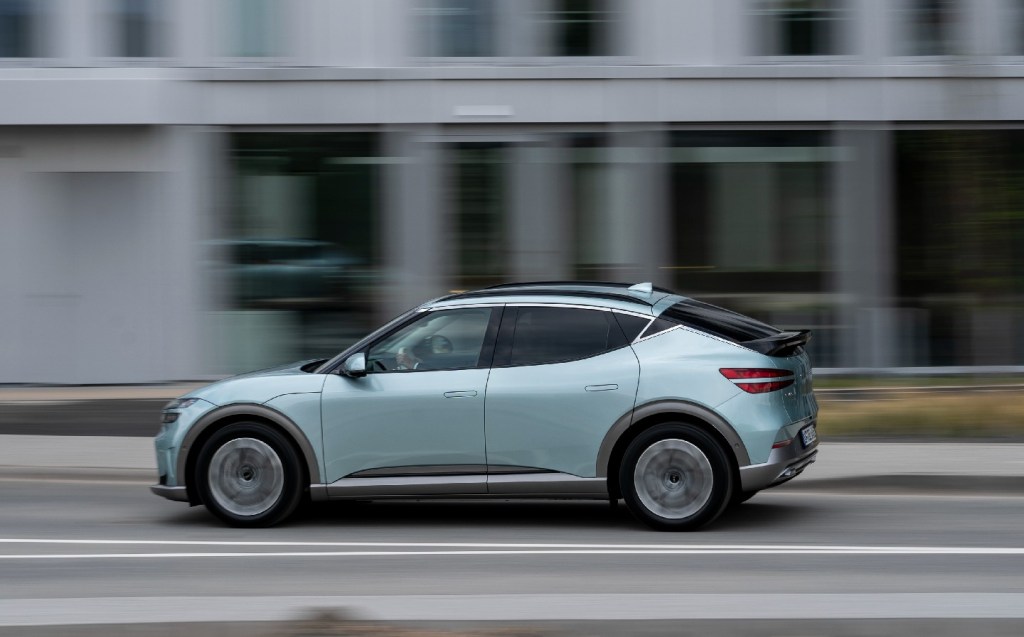 The Sport Plus model fitted with Advance Preview just seems to iron out road surfaces in Comfort but becomes taught and responsive in Sport and Sport+ driving modes. It's a pleasure to cruise around in and a pleasure to drive fast.
By comparison the Ford Mustang Mach-E feels really firm while the Citroën e-C4 feels overly soft (as is Citroën's wont). Tesla Model Y, if you'd like to know, errs towards the Mach-E end of the spectrum, and that's made worse but a sparse, cavernous interior that results in booms through the cabin as you hit bumps and potholes.
Of course, you can't ignore the fact that all of these cars are heavy compared to petrol equivalents, but while approaching a tight corner at speed, braking late and flicking the nose into the apex is never going to be as fun as in a lightweight sports car, the GV60 Sport Plus is a fun thing to throw around, should the mood take you. The weight is low down, the torque is instantaneous, the damping loads up and the grip is excellent. You can't say the steering talks to you, especially, but it's certainly decent enough.
Pricing and on-sale date
The Genesis GV60 is on sale now with prices starting from £47,005 for the entry-level, rear-wheel drive Premium model, which makes it just over £10,000 dearer than the most affordable VW ID.4, but that comes with a 213-mile range, so it's not comparing apples with apples.
An ID.4 with equivalent range of over 300 miles costs from £42,100, but Genesis sweetens the deal with a five-year care package, including warranty and servicing, along with the "We come to you" philosophy, whereby they drop off and pick up the car for servicing and so on, and you get an appointed customer manager. And the VW's infotainment set-up isn't to everyone's taste (though I don't mind it myself).
Compared with an equivalent Audi Q4 Sportback e-tron (the Sport 40 model), with a range of 311-320 miles, the Genesis looks like a really good deal, as the Audi is dearer at £48,315.
A Ford Mustang Mach-E RWD is slightly harder to compare, as the two battery choices are either a little smaller or a little bigger, but the lesser of the two starts at £47,530 so again, the Genesis is starting to look very keenly priced.
The GV60 price rises to £53,605 for the 160kW + 74kW dual motor Sport model, and if you want the Sport Plus, with its more potent front motor and a 0-62mph time of 4.0sec, you're looking at £65,405.
All versions are on sale now.
Verdict: 2022 Genesis GV60 review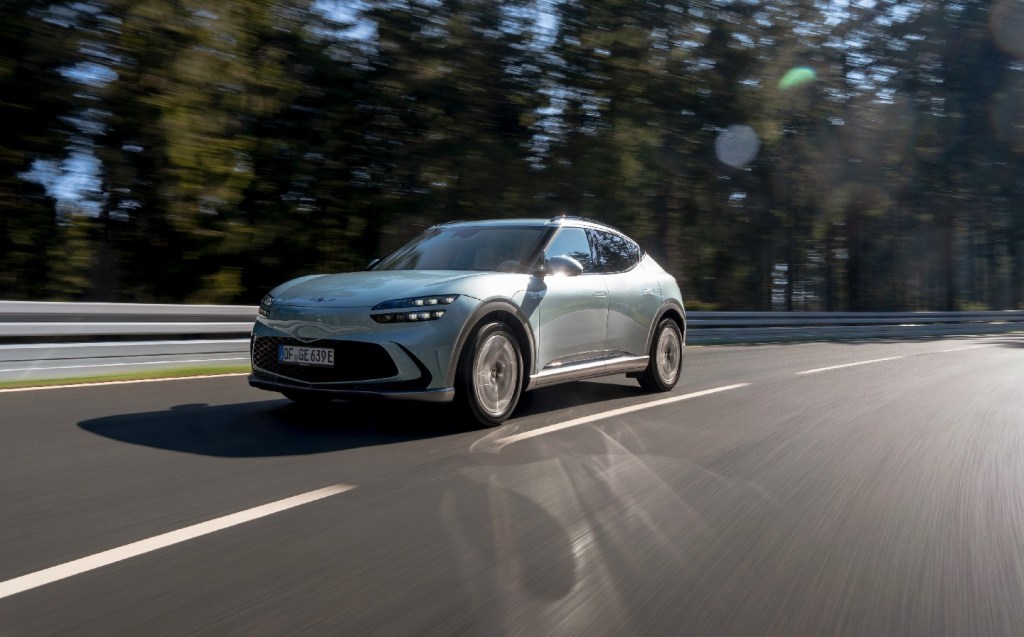 The Genesis GV60 is built on a very solid base, sharing its platform with the Kia EV6 and Hyundai Ioniq 5, but it takes those cars attributes and adds more. More luxury, more technology, more customer service. Prices reflect that but as you can see above, the GV60 isn't overpriced compared with its chief competitors, which definitely include premium brands such as Mercedes, Audi and BMW.
The GV60 stands out from the crowd, though, with a fresh, inviting cabin, classy exterior design and a badge that is more exclusive than the usual German fare. It also delivers the performance you'd expect from a premium EV with handling aplomb you perhaps wouldn't.
In short, this is a really great addition to the electric mid-sized SUV segment. But with so many such cars flooding the market, whether or not it gets the attention it deserves remains to be seen.
Related articles
Latest articles