Volkswagen ID.4 review 2021
Volkswagen ups its electric car ante
VOLKWAGEN isn't doing electric by halves. The new VW ID.4 is the second car, after the ID.3 hatchback, to be based on all-new underpinnings designed specifically for electric power, and comes as part of an €11bn (£9.5bn) investment in electric vehicles up to 2023.
The ID.4s available at launch are the models with a long-rang battery and high specification but multiple versions of the crossover SUV will roll out in due course, including one with a smaller battery (making it more affordable), a version with a coupé-style rear end and the recently-announced hot ID.4 GTX, which boasts 295bhp.
For VW to hit its ambitious target of producing 1.5 million electric cars per year by 2025, the success of the ID.4 at luring family car buyers away from their petrol and diesel motors is absolutely critical. No pressure, then.
Exterior design and rivals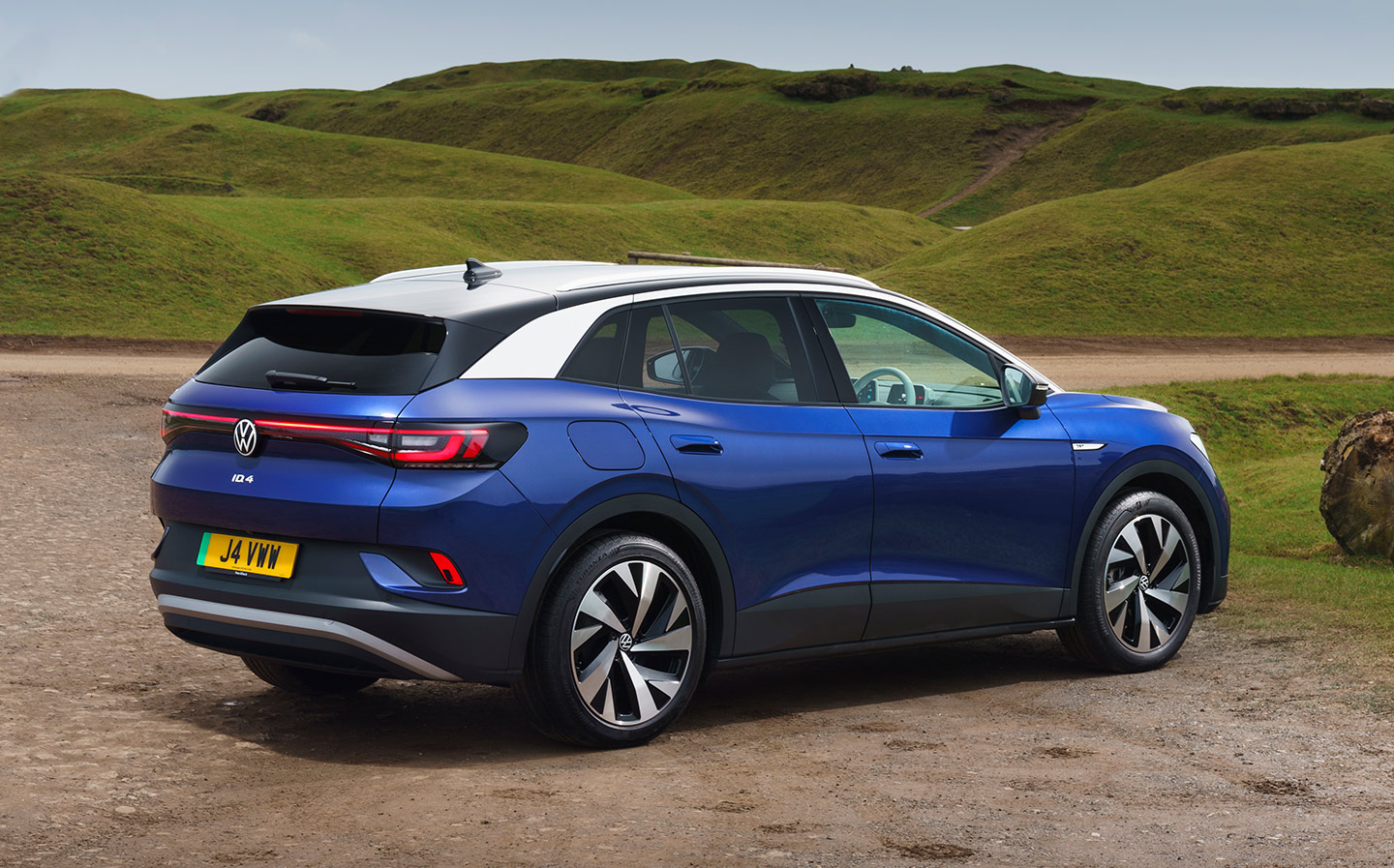 I expected the look of ID.4 to be a Marmite-y – people would either love it or hate it – but a straw poll of my neighbours (the ones with kids, at least) suggested it's much more appealing than that, as everyone approved. In fact, some people came out of their houses to ask what it is and get more details.
It's quirky and futuristic without being too far out, and a few of the details are really quite eye-catching – the large LED headlights and rear light clusters, connected with horizontal LED strips, are familiar but modern. And with larger wheels fitted (up to 21in) they look impressively oversized.
In some ways it's underwhelmingly generic in appearance, which could actually help sales – often the best selling cars are disappointingly homogenous. But for me the ID.4 is oddly-proportioned, with a front end that looks too wide and a strangely bulbous rear end, especially compared with the more traditionally-attractive Skoda Enyaq iV, which is based on the same underpinnings. Both are less attractive than the Ford Mustang Mach-E, which also has an electric range in excess of 250 miles.
Interior and practicality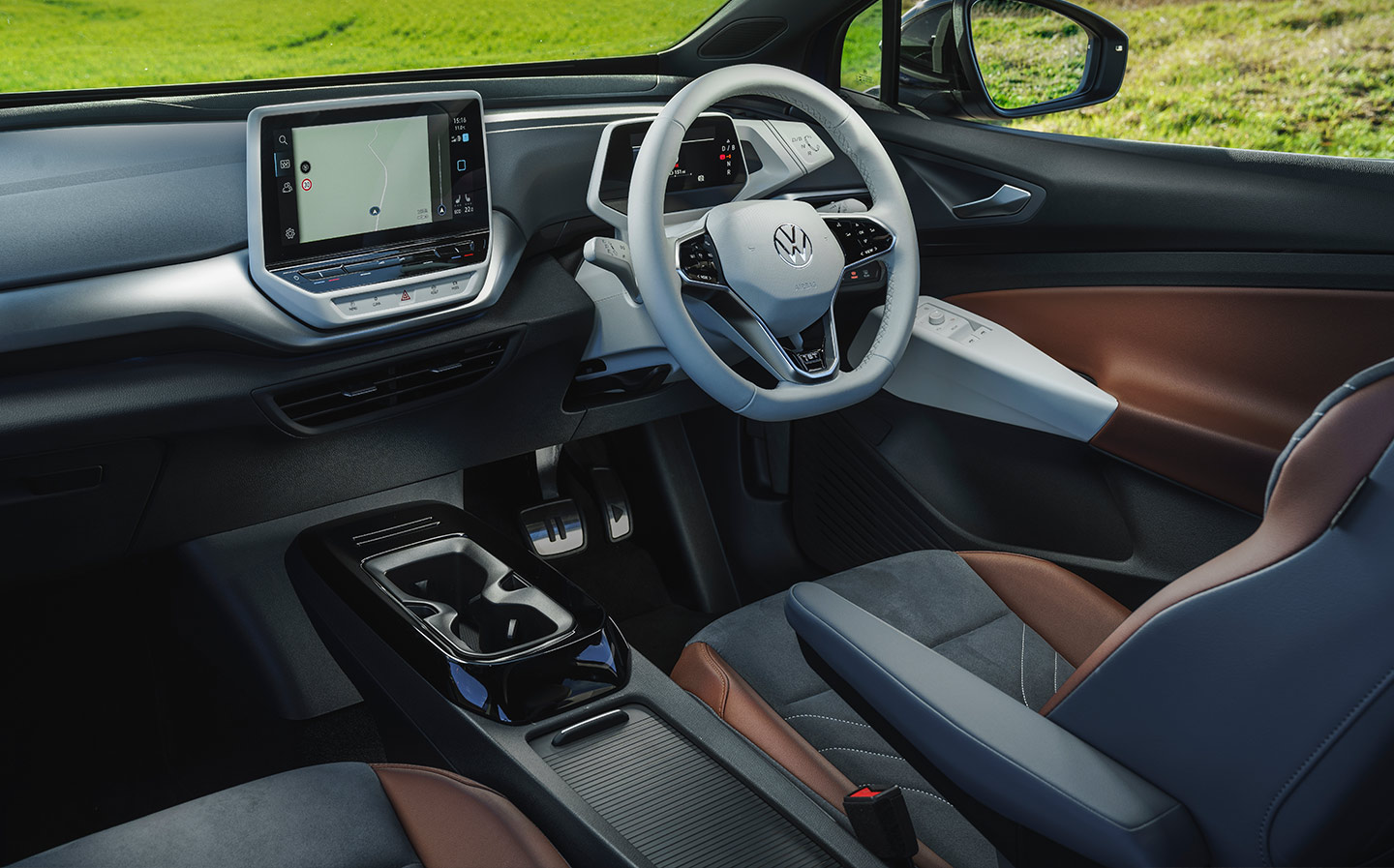 The inside is very much like that of the ID.3, and it's anything but generic. There will always be those who turn their noses up at the pared-back design and stripping away of physical switches and buttons, but its "Open Space" layout is undeniably calming and to my eye, rather appealing.
Our 1st Edition test car came with two-tone grey microfleece and tan leather trim, while the leather steering wheel, window controls and instrument panel surrounds were in white, a colour that became synonymous with Apple products and therefore lends the ID.4 interior a high tech feel, especially in combination with the glossy piano black steering wheel buttons.
The front seats are nice and high, offering a commanding view of the road ahead, and they support the back well. The seat base could be a little longer for taller drivers and additional side support wouldn't go amiss but the general driving position is good. I enjoy an armrest fixed to the seat, too, which the ID.4 includes.
Innovative touches such as using the same switches to operate the front and rear windows (a separate button cycles between the two) appeal to the sci-fi fan in me, even though that may actually be a cost-saving measure — if all ID cars get the same treatment, shaving off two switches multiplied millions of times does actually affect the profit margin. Famously, when American Airlines removed a single olive from every salad in First Class, it saved $40,000 a year, or nearly $95,000 adjusted for inflation.
Meanwhile the child in me liked the play/stop symbols on the accelerator and brake pedals, though again that's not entirely new: Twitter's hive mind pointed out to me that Renault's RS Twingo had something very similar. In an electric car it makes more sense, though.
As with the ID.3, the drive selector is mounted on a stalk on the steering column, which works just fine once you know where it is (it's slightly obscured by the steering wheel), and as there's no Start – instead the car turns on when you place your bum on the seat, due to pressure sensors within. That makes getting in and setting off very quick and easy.
The touchscreen isn't massive compared with some other electric cars but you'll become very familiar with it, as this is where most of the vehicle controls are viewed. There are a few quick access buttons below, though for the likes of climate control, and temperature is adjusted via sliders under the screen. There's also a slider for the stereo volume and there isn't a huge amount of love for the system among motoring journalists but come on, grandads, it's not that hard.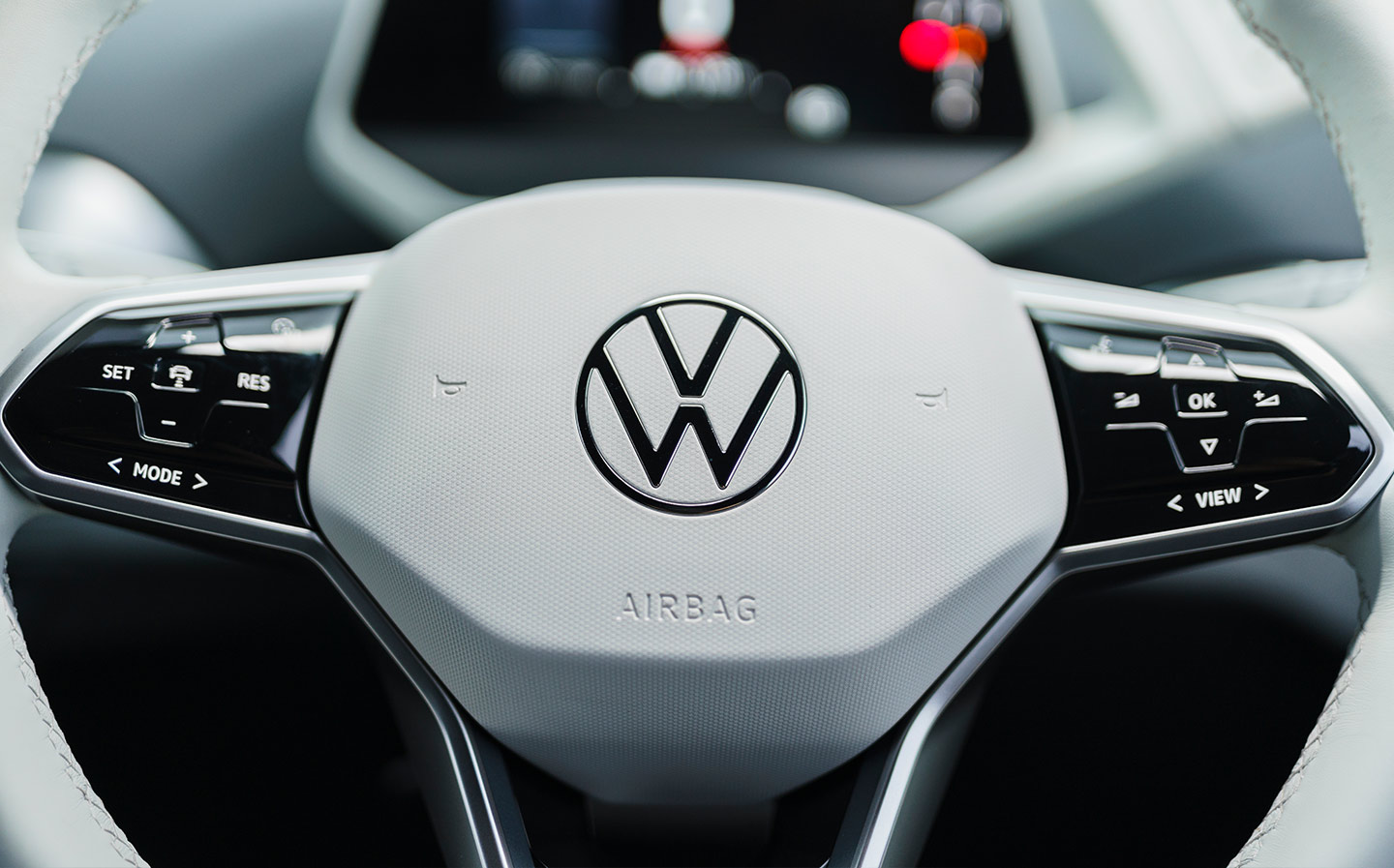 Besides, volume can also be controlled via the steering wheel controls, as can radio station, music track and cruise control. There's also a button for the voice assistant, which will adjust temperature, change radio stations or turn on heated seats without needing to take your eyes off the road. You don't even need to press that, you just need to wake it up, Alexa-style, by saying, "Hello, I.D.".  Forget giant heads or "Nintendo thumb", humans of the future will evolve to have no hands at all, I reckon. By which time driverless cars might actually have arrived. Maybe.
Interior storage is decent — the centre console isn't short of cupholders — and thanks to the front and rear axles pushed to the very front and rear ends (the wheelbase is similar to that of the Tiguan Allspace), room in the rear is generous, with a flat floor across the width of the cabin (due to the flat underfloor battery) meaning central passengers aren't short of space for their feet, though the bench is quite low, meaning knees can be quite high in relation to hips. That does improve headroom, though.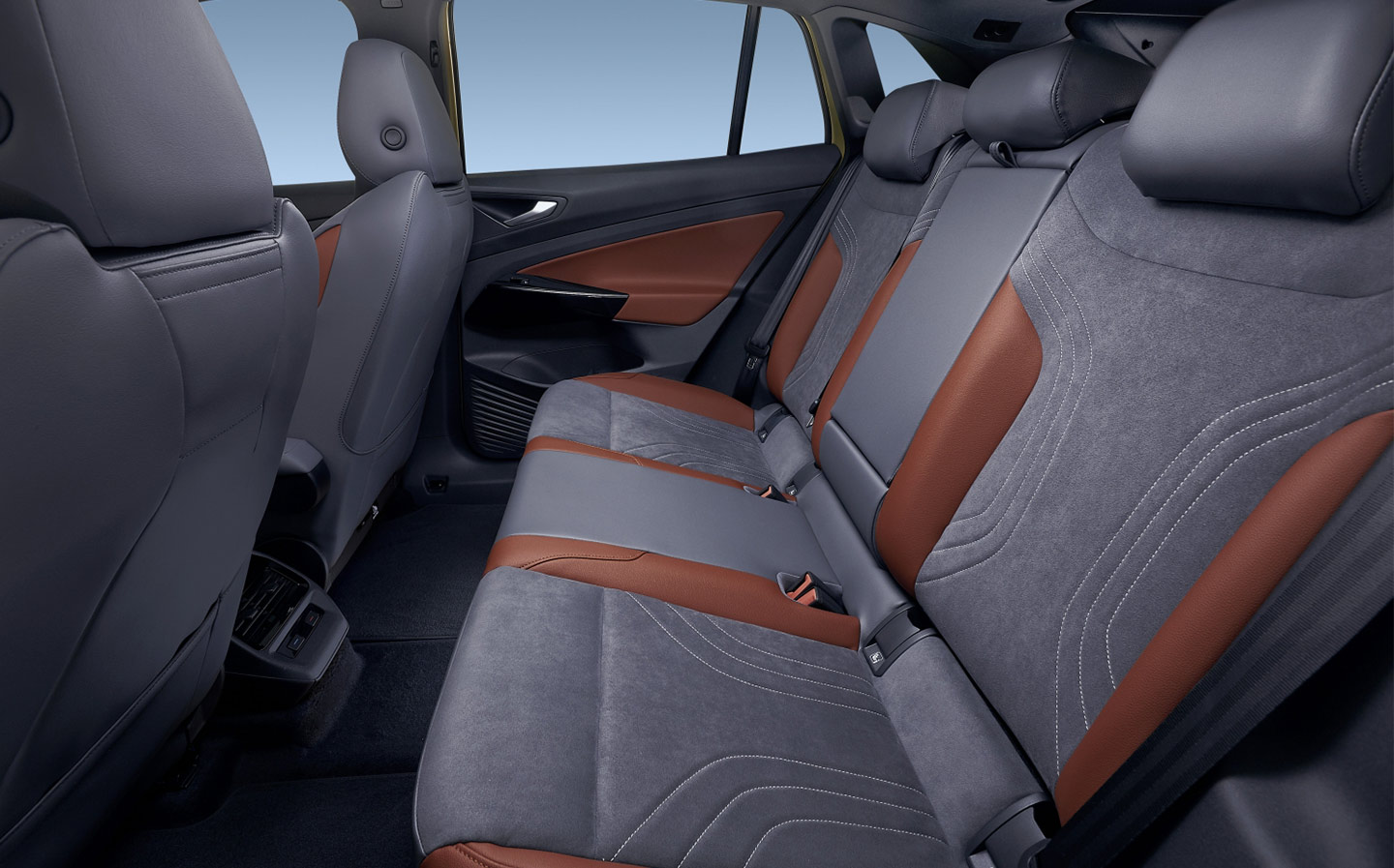 There's no luggage compartment under the bonnet for some reason (other brands have managed it, VW) but the boot is pretty generous compared with the ID.3, of course — 543 litres versus 385 litres with the rear seats in place. That increases to 1,575 litres with them folded, though even our 1st Edition test car didn't come with a flat floor, meaning there's a boot lip to negotiate when loading or unloading, and you can't slide items to the front of the space so easily.
Amazingly the 1st Edition's boot lid isn't automatic; some people won't mind that but give me a boot that's open and close with the waggle of a foot under the bumper any day — it makes it much easier when carrying shopping in both hands. Maybe one day it won't just be infotainment systems that are voice-activated, but tailgates, too — we'll need it in the "age of the armless". Mind you, who then carries the shopping … ? Perhaps I haven't thought this through.
Ride and handling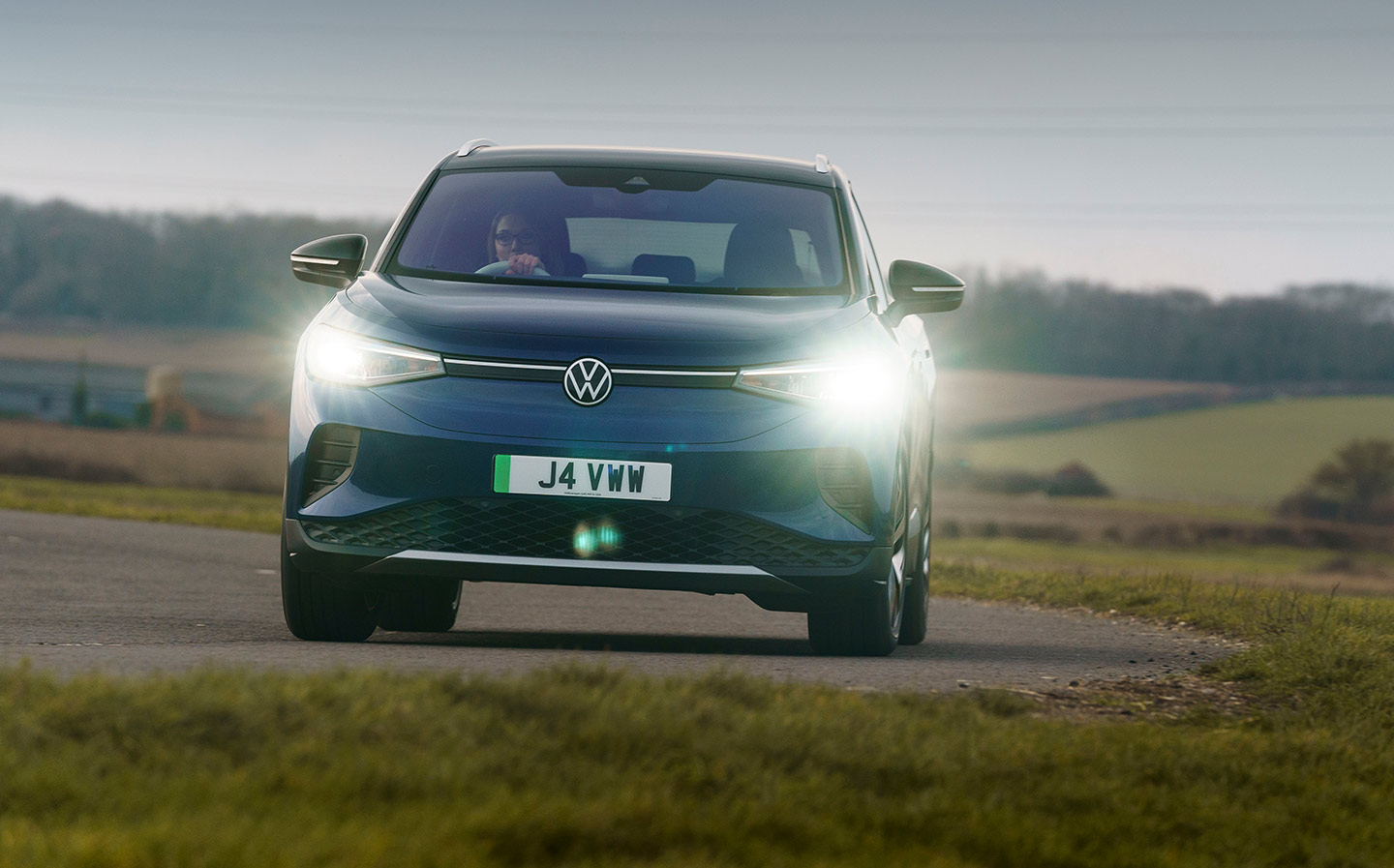 The VW ID.4 is no sports car, of course, but consider it's a big lump weighing more than two tons, it's remarkably enjoyable to drive. We wouldn't say it gets the heart pounding by any means but as a daily driver it's quiet, comfortable, stable and easy to pilot.
The 1st Edition models come in 'Pro Performance' specification with a 77kWh, which is a flat pack beneath the floor, between the front and rear wheels. That means the bulk of the weight is very low down, which helps with stability, and VW has engineered the suspension to be both pliant over bumps and not too rolly through the turns; in fact the ID.4 has a firmer ride than some of its competitors.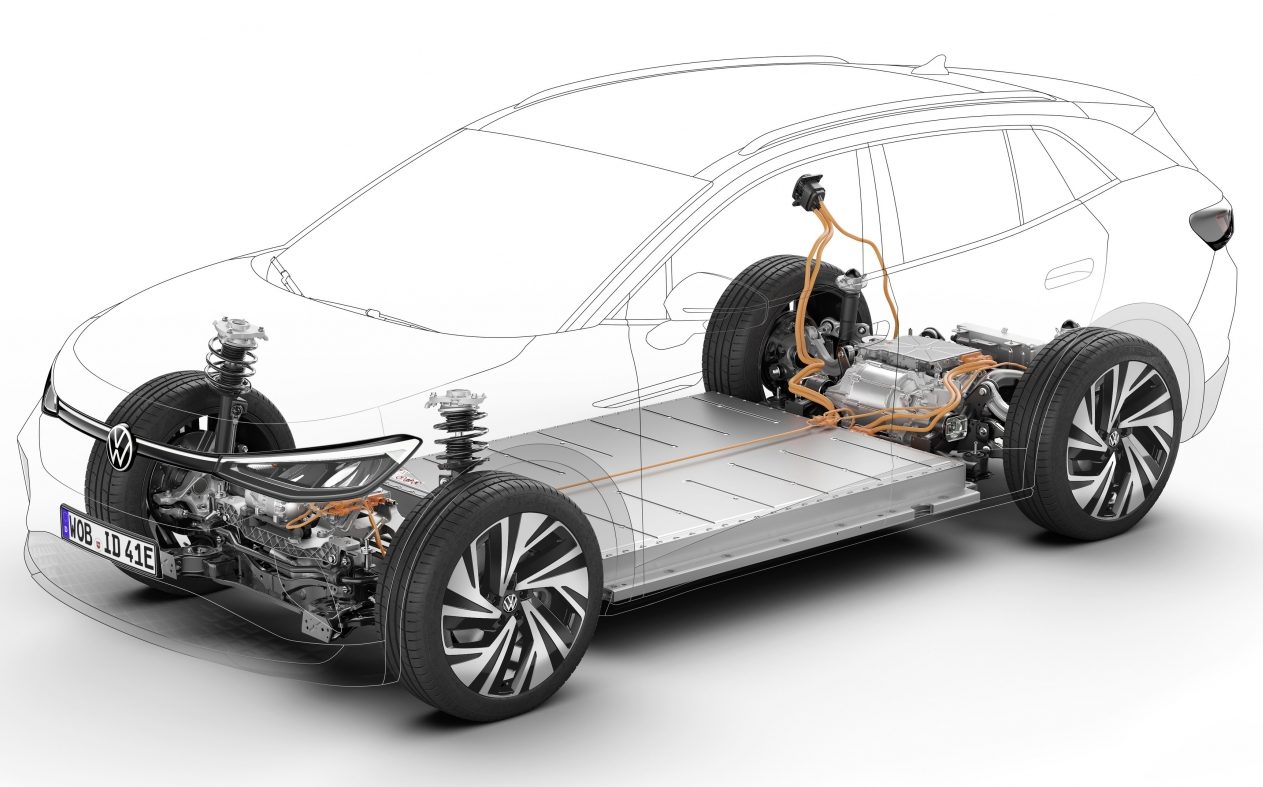 The steering is light, though, and the turning circle is superb, which makes town and city driving extremely easy. It's not even that wide, for an electric SUV — 1,852mm excluding mirrors makes it exactly the same as Peugeot 308.
The 1st Editions aren't on the VW website any more, though you can still configure a model with the same 77kW battery. However, if you don't need so much range, there are now versions with smaller 48kWh or 58kWh packs good for between 215 and 260 miles per charge. The smaller battery versions will be lighter than the model we tried, which means the ride and handling won't be the same. So if you're buying one of those be sure to take it for a test drive. That's good advice anyway, of course.
Performance, battery capacity, range and charging times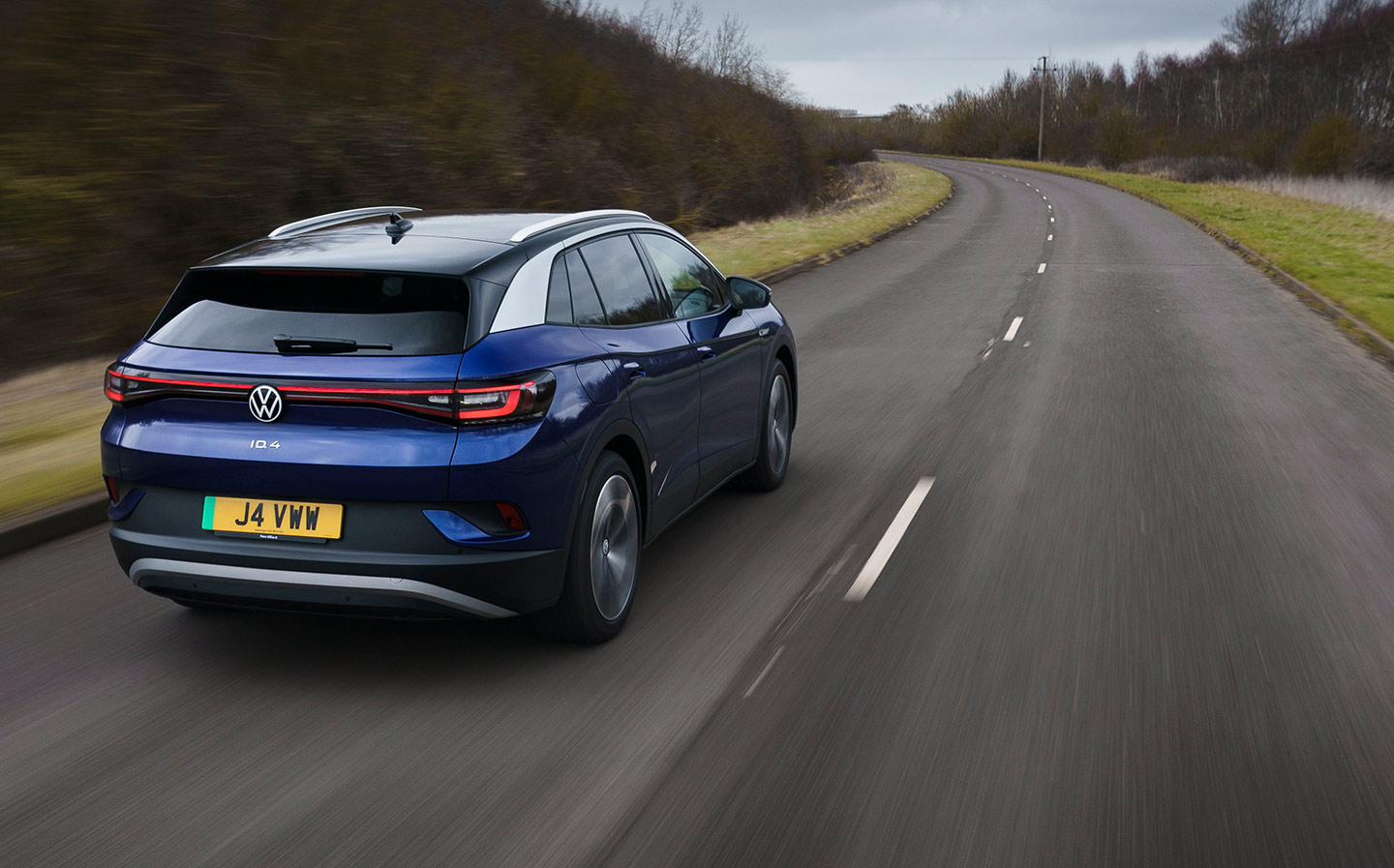 The 77kWh battery of the 1st Edition models, with the Pro Performance powertrain, is good for 310 miles officially, though over 107 miles I averaged 3.1 miles per kWh, which means a real world range of 238 miles between charges. That's still pretty decent, and with a lighter right foot than I have and purely town-based driving, nearer 300 will be achievable. If you spend all your time on the motorway, though, expect more frequent recharges.
The good news is that the Pro Performance ID.4 models will take a rapid charge at up to 125 kW (DC), which means that at a public rapid charger it is capable of adding 199 miles in just 30 minutes. Going from empty to 80% at 125kW is possible in a claimed 40 minutes.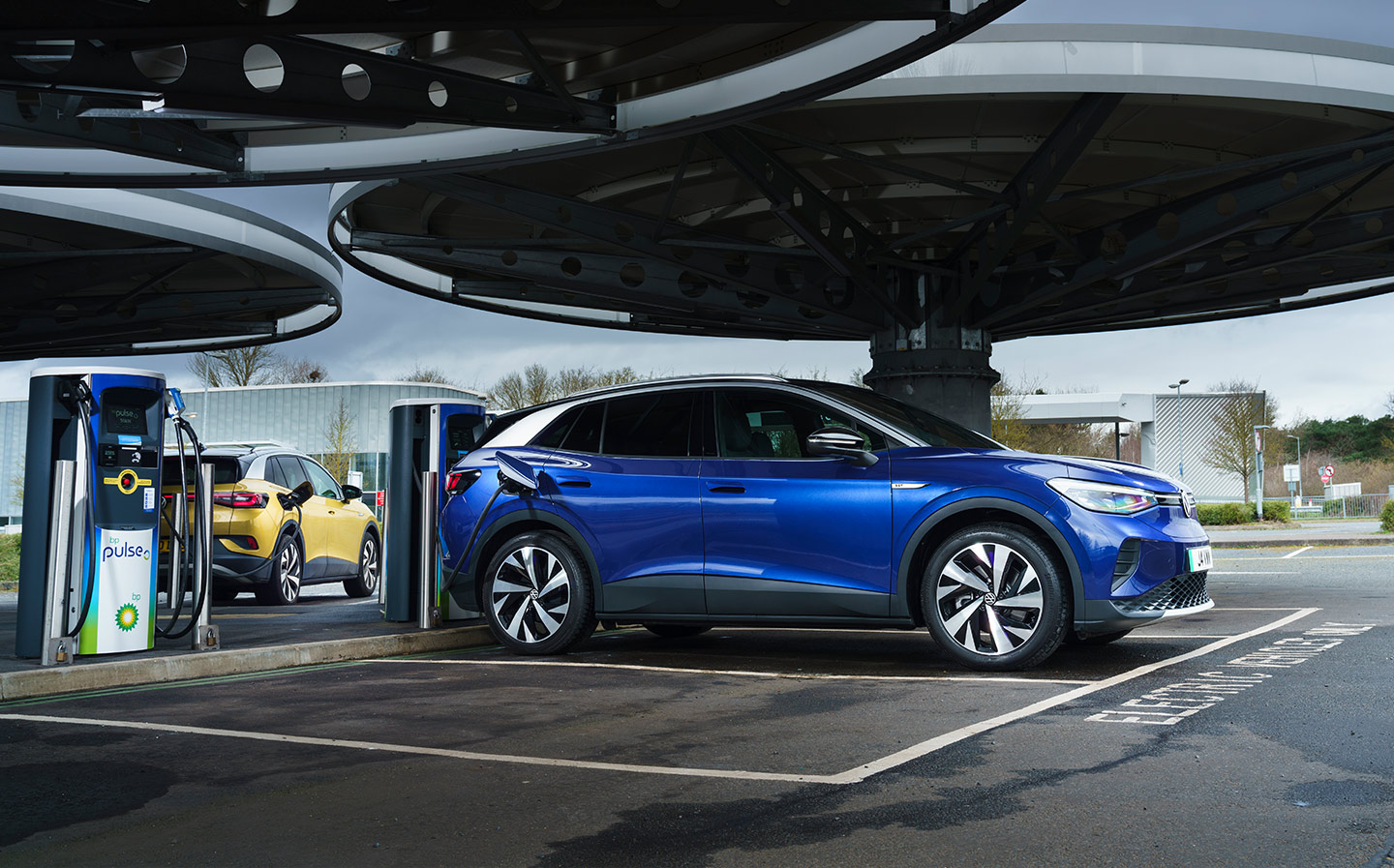 More likely you'll be charging at home with an 11kW wallbox, which will charge the car fully in eight hours, meaning if you plug in overnight you'll have a full battery every morning, even if you've emptied the pack during the day.
The Pro Performance models come with a 201bhp electric motor mounted to the rear axle, enabling a 0-62 mph sprint in 8.5 seconds, which isn't lightning fast but feels urgent for a car of this size. Maximum speed is 99mph, but given the UK speed limits such information is largely irrelevant. There will be a hot version, though – the ID.4 GTX is due later this year sharing the same 77kwh battery but an uprated four-wheel drive powertrain with 295bhp, allowing 0-62mph in 6.2 seconds and a top speed of 111mph.
The smaller battery models will be the most popular, though, as they're more affordable. They come in entry-level Pure form, with  an output of 146bhp, or Pure Performance, with 168bhp.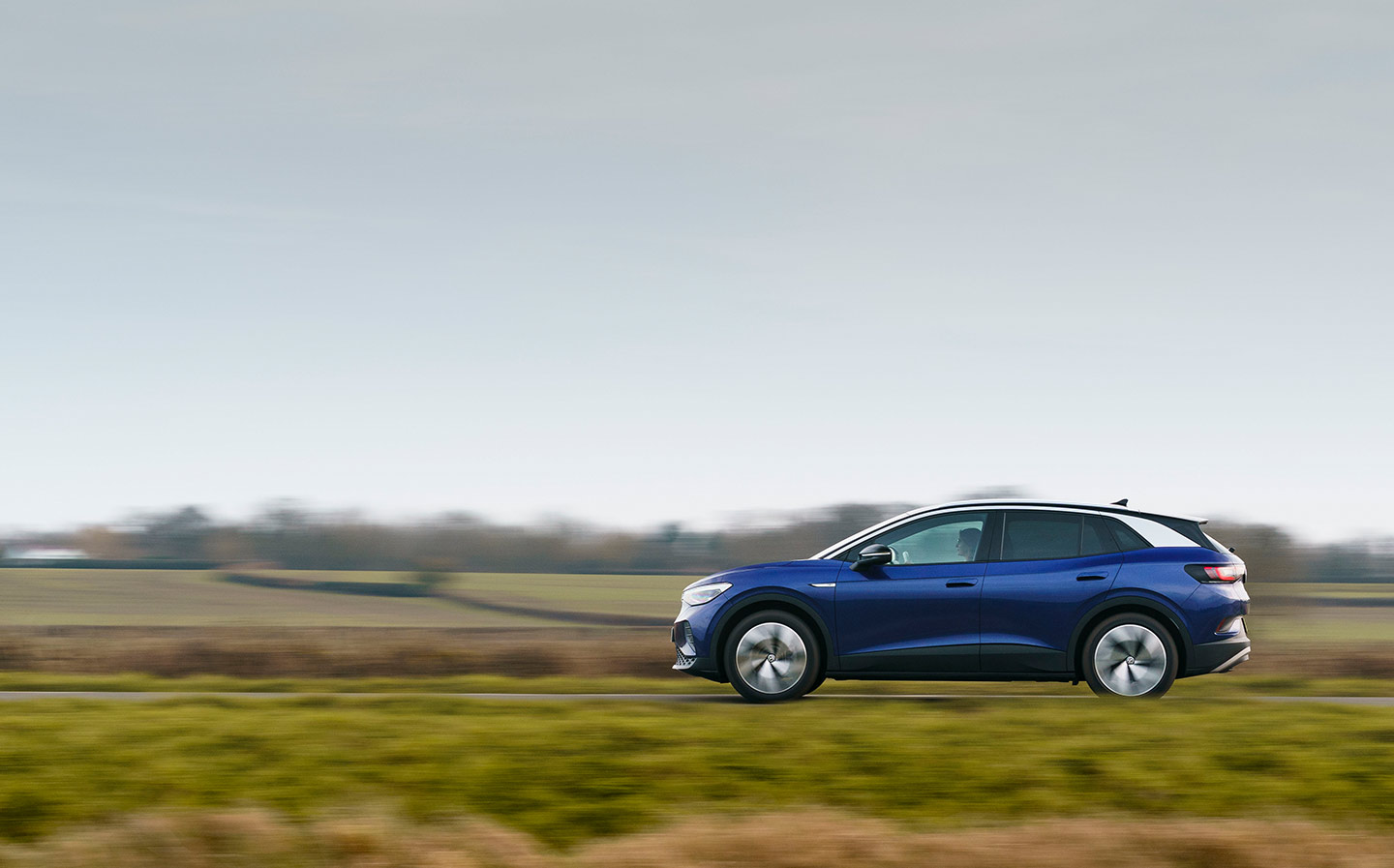 Stopping power is excellent, aided by regenerative braking. In fact, as with the Skoda Enyaq the rear wheels are fitted with drum brakes due to the fact that disc brakes are unnecessarily powerful, and they come with the huge benefit of being sealed units that are resistant to corrosion and warping, which means they should last the life of the car. As many Tesla owners will tell you, that's good news as they have been know to receive hefty bills for new discs and pads after only 12 months of ownerships, simply because they have become rusty and warped due to underuse. (Incidentally, the ID.4 comes with a three-year, 60,000-mile warranty for the car and an eight-year, 100,000-mile warranty for the battery pack.)
How much is a Volkswagen ID.4?
Prices of the VW ID.4 vary from the entry-level City Pure model, at £32,150 including the government's Plug-in Car Grant (PiCG), to the ID.4 Max Pro Performance at £49,990. We don't know the price of the ID.4 GTX yet, though we expect it to start at around £44,000.
| | | | | |
| --- | --- | --- | --- | --- |
| Model | Price (OTR) | 0-62 mph | Top speed | Range† |
| City Pure (52kWh, 148ps) | £32,150* | 10.9 sec | 99 mph | 213 miles |
| Style Pure (52kWh, 148ps) | £38,150* | 10.9 sec | 99 mph | 211 miles |
| City Pure Performance (52kWh, 170ps) | £36,030 | 9.0 sec | 99 mph | 213 miles |
| Style Pure Performance (52kWh, 170ps) | £39,530 | 9.0 sec | 99 mph | 211 miles |
| ID.4 Life Pro Performance (77kWh, 204ps) | £41,570 | 8.5 s | 99 mph | 323 miles |
| ID.4 Family Pro Performance (77kWh, 204ps) | £45,520 | 8.5 s | 99 mph | 318 miles |
| ID.4 Max Pro Performance (77kWh, 204ps) | £49,990 | 8.5 s | 99 mph | 314 miles |
* Inc. PiCG  † WLTP combined
Volkswagen ID.4 review: The verdict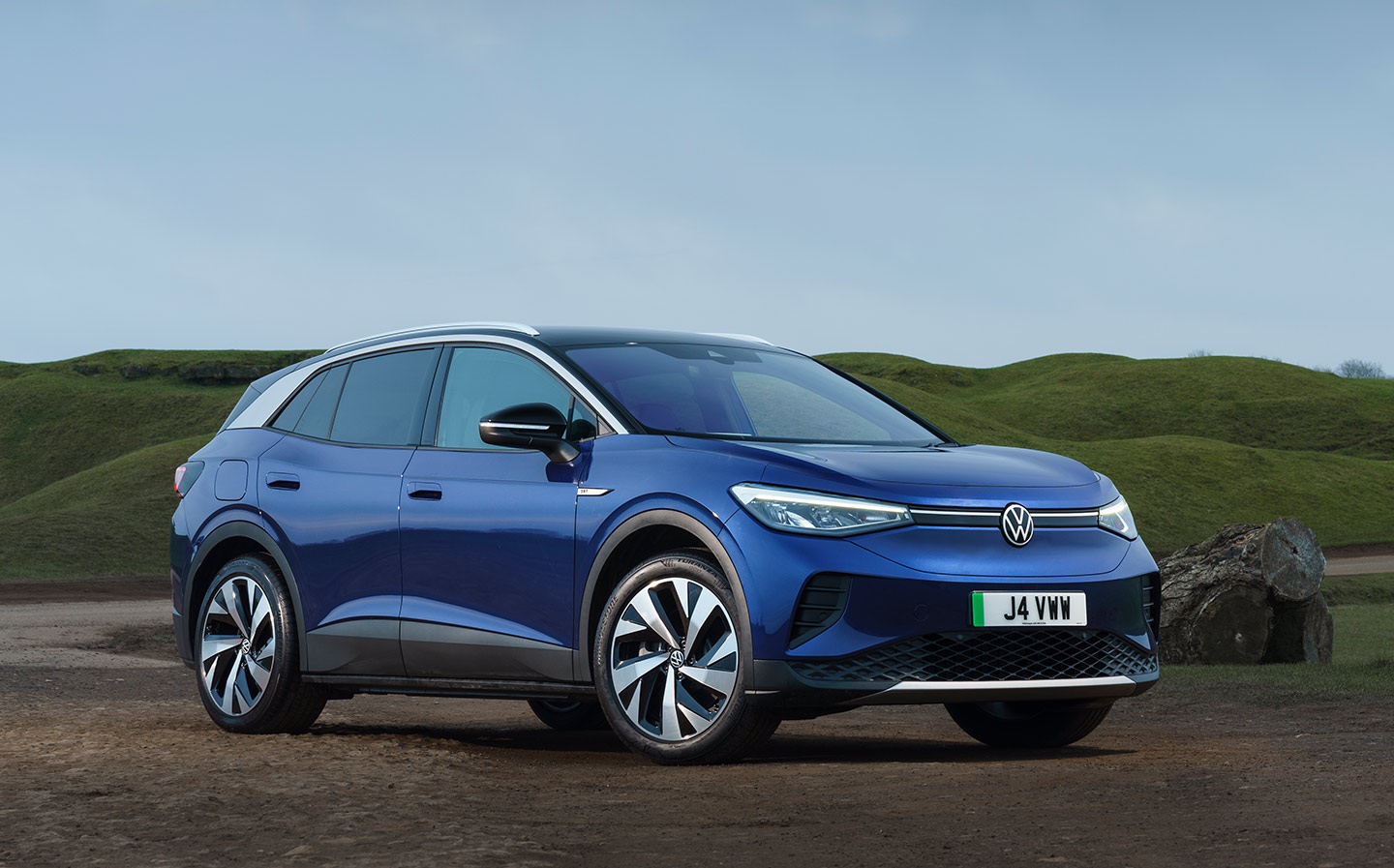 It may take time before we start seeing the ID.4 on the road en masse, as it's not the sort of car that many will think they need to have on their driveway immediately, but it could happen over time as regular drivers finally switch out of their petrol and diesel cars. Though some will scoff at the £50,000-or-more range-topping versions, prices for the entry-level models, which just about attract the government's measly £2,500 electric vehicle grant are keen.
And while the interior may not be to everyone's tastes, I really like its unfussy minimalism. There are better-looking electric cars to drive, more advanced ones and faster ones, but VW's everyman EV is likely to steal sales away from the likes of the Kia e-Niro and Hyundai Kona Electric (about time, one could argue).
Its biggest issue is that VW's stablemate Skoda has just launched the Enyaq, which is based on the same underpinnings but has more traditional styling and a more impressive touchscreen infotainment system. The Ford Mustang Mach-E is a further threat. But VW fans may feel that the ID.4 is just their kind of quirky, and in truth it's very easy car to live with day-to-day.