Skoda Enyaq iV 2021 review
Skoda's definitely on right track with the 'yaq
JUST HOW important is the Skoda Enyaq to the Czech brand, I ask as I'm handed the key fob (which is wrapped in an antiseptic wipe and at the end of an outstretched arm) before my test drive.
"This is probably the most important car in our 126-year history," the PR man tells me. I check for a wry smile, but there is none — he's deadly serious.
Make no mistake, we're going through the most profound shake-up of the motor industry since the car was invented. We now know for sure that we will all be driving pure-electric cars in the UK in the within the next couple of decades (perhaps hydrogen fuel cell-electric at some point after that), and car makers have pivoted from petrol and diesel at breakneck speed to be sure they're not left behind.
Some have reacted faster than others. The Volkswagen Group, of which Skoda is a part, has made a multi-billion pound investment to make sure its brands remain as leading manufacturers during — and well beyond — this seismic shift. Well, you would after dieselgate, wouldn't you?
Skoda's electric line-up are all to be badged "iV". We've had the Octavia iV and Superb iV plug-in hybrids, and the tiny Citigo-e iV (now discontinued) pure-electric, but the Enyaq iV is the first production Skoda based on VW's MEB platform, which is specifically designed for electric cars, and also underpins the VW ID.3 and ID.4.
Later this year we will get to see a fastback version of the Enyaq, and an RS version, and by 2025 there should be 10 plug-in Skodas available in showrooms, including six pure-electric models. The Enyaq really needs to set the tone and convince buyers that Skoda does electric cars right.
Design and rivals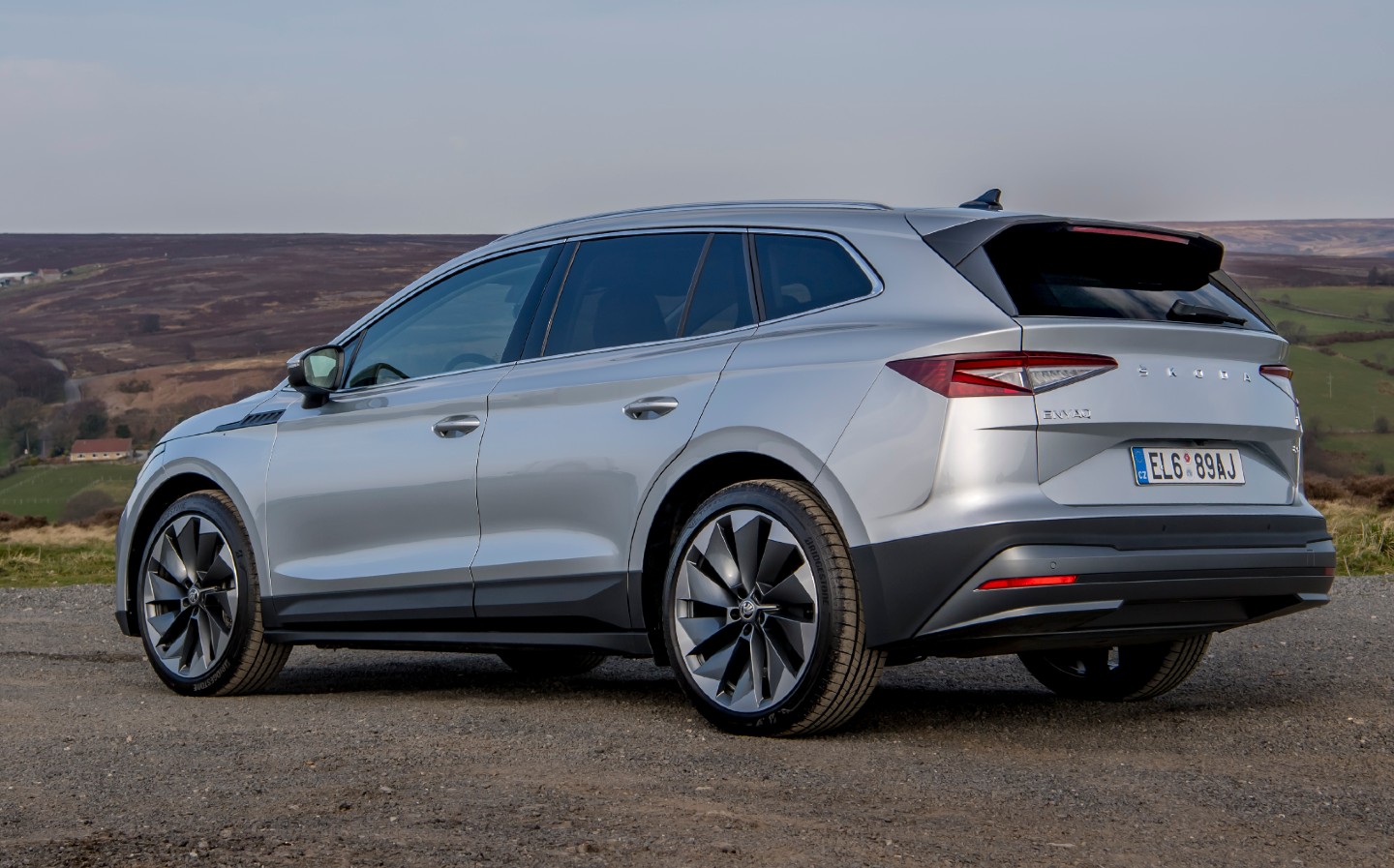 Our test car was parked next to a similarly-sized Audi e-tron, an electric SUV from Skoda's upmarket sister company. Interestingly, the Enyaq has a much fresher-looking and, dare I say it, more attractive design, and with its optional Brilliant Silver metallic paint shimmering in the sunlight, and huge 21in wheels (the largest available), the Skoda looked more expensive, too (if you ignore the badge).
The sharp bonnet creases and jagged lines around the headlights and front air intakes give the nose a modern look without being overly fussy, while the black grille trim is neatly textured. Batteries do need cooling but air isn't scooped in here — it's a solid panel; more of an homage to the grilles on traditional combustion cars, no doubt included so that the look of the Enyaq isn't too jarring for the more conservative car buyers out there.
For the futurists and cyberpunks, though, later this year Skoda will offer an optional "Crystal Face" grille, which includes 130 LEDs laid out in 19 vertical strips and one horizontal bar, to light up the front end in a highly characteristic pattern. I have a feeling this one design touch will secure a decent number of sales on its own.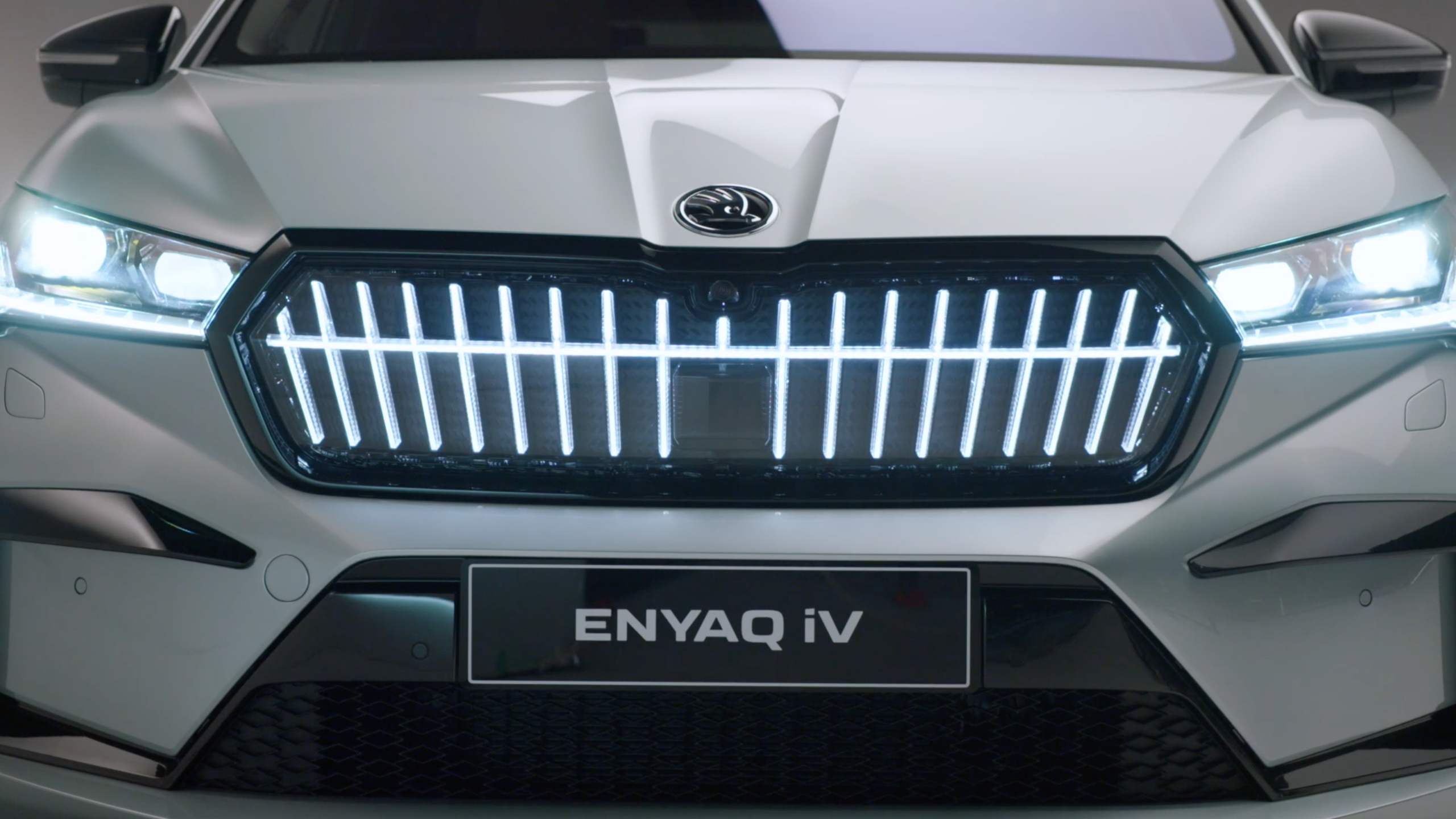 Around the rest of the car, it's SUV business as usual, really, and most drivers would find it hard to pick out the Enyaq's rear end from a line-up.
In terms of size, Skoda Enyaq iV's rivals right now include the VW ID.4 and Ford Mustang Mach-E, both of which are sensibly-priced and have electric ranges in excess of 250 miles. For more money you could also look at the Audi e-tron, Mercedes-Benz EQC, Jaguar I-Pace and Tesla Model X.
Interior and practicality
Skoda's interior design follows VW Group's recent trend for minimalism, with a lot of the buttons removed, replaced by a central infotainment touchscreen.
And what a touchscreen. At 13in, it's massive — Skoda's largest ever, in fact — and crystal clear. It makes navigating the menus and viewing the information so much easier than doing so on a screen even a few inches smaller.
A Skoda spokesperson had warned me there may be a glitch with the screen on my car during the test drive, and it duly happened: the screen went black while interacting with Android Auto. This was, I was told, because the test car left the factory loaded with outdated software.
I have to mention it here, of course, but I'm fairly confident these sorts of issues can be sorted with over-the-air software updates fairly swiftly. Importantly, none of the drive systems were interrupted and I was able to continue my journey safely (though temporarily without a map, which was the most disconcerting part of the experience).
I should also say that both Android Auto and Apple CarPlay can be run via smartphones wirelessly in the Enyaq iV, which is bloody brilliant for anyone who has developed a phobia of USB cables cluttering up the centre console. A wireless charging pad means the phone's battery is kept topped up, too.
Some will miss physical dials for the temperature and volume controls, but the most important functions have been retained by Skoda on the piano keys below the screen or on the steering wheel.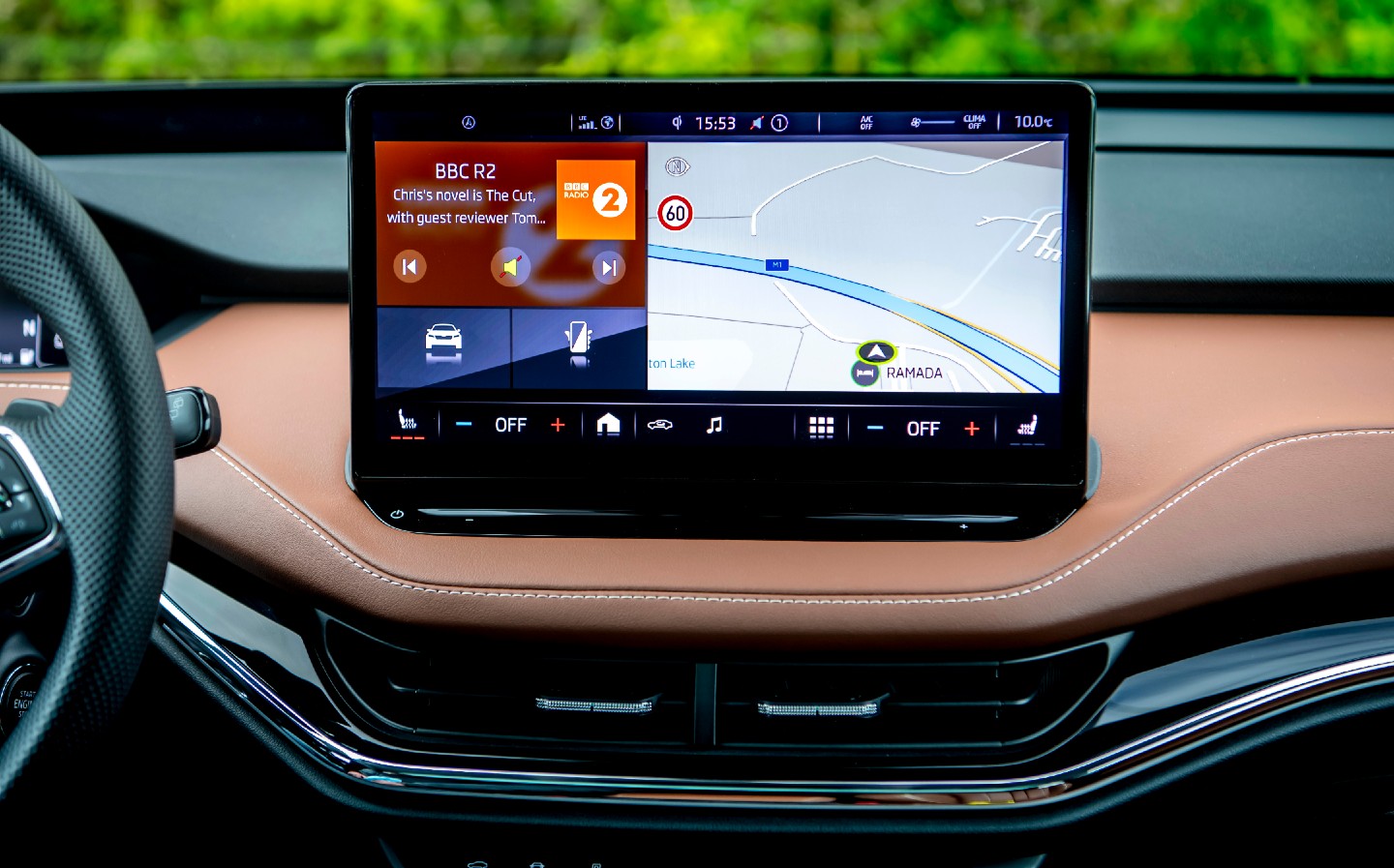 If you read or watch a lot of car reviews you'll have seen some journalists criticising the volume slider, which runs horizontally below the screen, but honestly it works just fine. I've grown to like it in the Octavia iV, in fact. Not distracting; accurate. But it's new and different, so we must all dislike it instantly.
In the Enyaq, Skoda has added an extended lip below the slider, large enough for the driver to rest their thumb or wrist while tweaking the settings, to avoid a bump in the road resulting in accidental tuning-away from Times Radio.
There's also a voice-activated AI assistant. Most car makers adopting this tech choose a neutral wake phrase such as "Okay, ID" (VW) or "Hey, BMW" (er… BMW), but Skoda has decided to go down the Alexa route and give its system a female name: Laura.
To wake her up, you say, "Okay, Laura", and then demand that she do your bidding, like a good little AI. Laura's smart, though: she'll heat your seat or check tyre pressures quite readily, and found Times Radio for me pretty much instantly.
The fully digital driver's instrument panel is small, but deliberately so — designed to house only the essential info. Above that, the head-up display (standard on EcoSuite models) projects the info into the line of sight, and driving the Enyaq gave me a first taste of VW Group's augmented reality head-up display (HUD) tech.
When using sat nav, the turn arrows find the road you need to head down and appear to float next to it, growing larger on the screen as you approach. It's a little distracting at first but you get used to it, and no doubt the graphics will be perfected over time. I can imagine a future in which the entire windscreen is an augmented reality display, which might help liven up Milton Keynes somewhat.
There are five interior design options to choose from, each with a distinctive feel, but the difference in price is minimal because it changes the upholstery and trim materials rather than adding technology, which instead you bolt on via various options packs.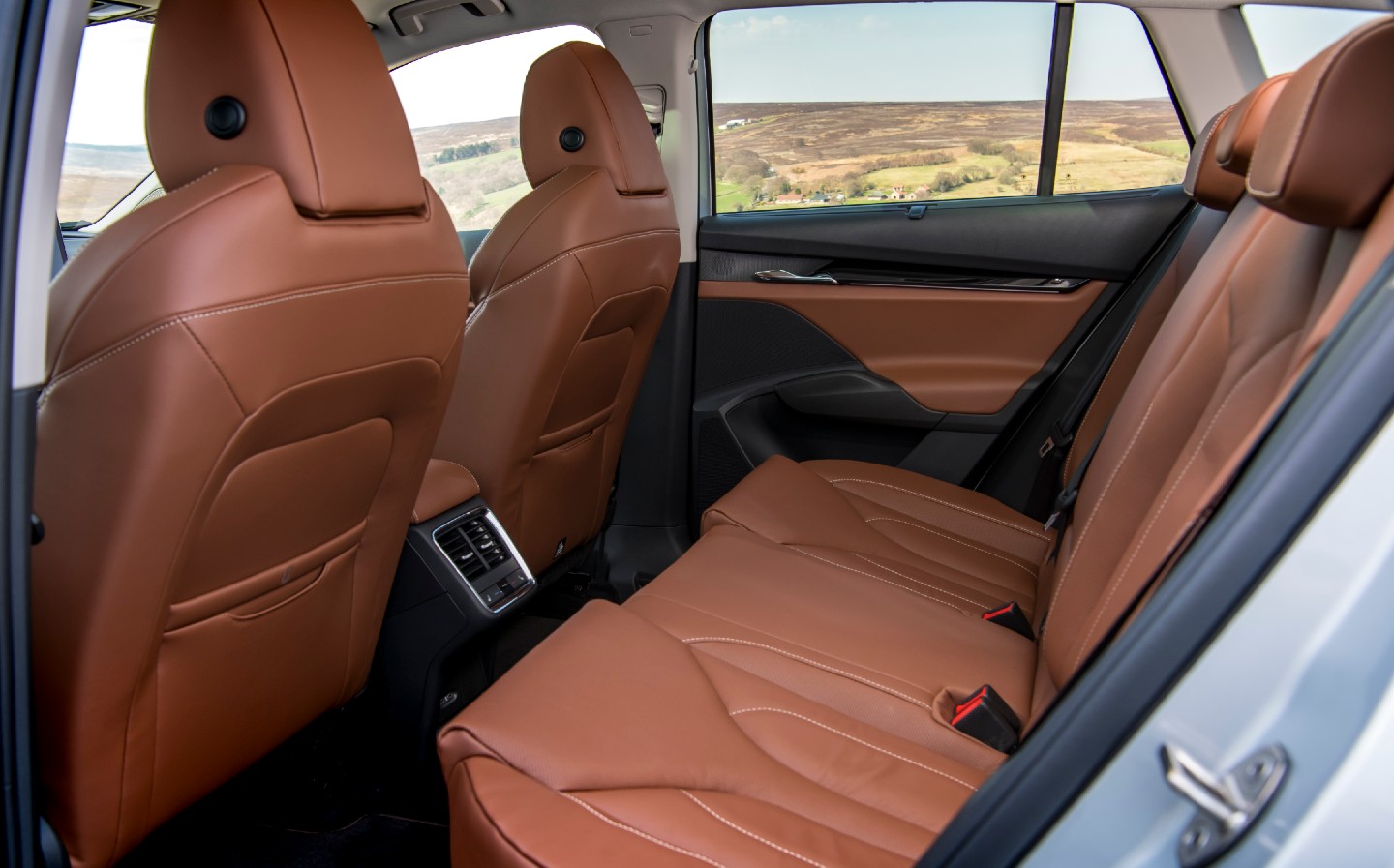 Our test car was fitted with the EcoSuite interior, which includes tan (Cognac) leather on the dashboard and door panels, as well as on the seats, that is dyed using olive leaf extracts rather than chemicals. I'm not sure how "eco" the cows find this process, but it looks good, and the front seats are comfortable and supportive, with electric adjustment and three memory settings.
The cabin is smartly-designed, using an appealing mix of materials, and the build quality is excellent … with the exception of a rattle from the boot area, which I couldn't eliminate, even by plugging in the rear seatbelts and playing with the parcel shelf — something to listen out for on your test drive.
If I have one other minor criticism (I searched high and low for issues) it's that the quality of the window switches doesn't seem to match the rest of the cabin.
The Enyaq is the same length as an Octavia Estate but the front and rear axles are further apart, which in packaging terms means increased room inside for passengers. Whether you travel in the front or rear, space is excellent, and even tall passengers will have plenty of kneeroom in the second row, which includes heating, in-built window blinds, power sockets and its own climate control setting (in EcoSuite models, at least).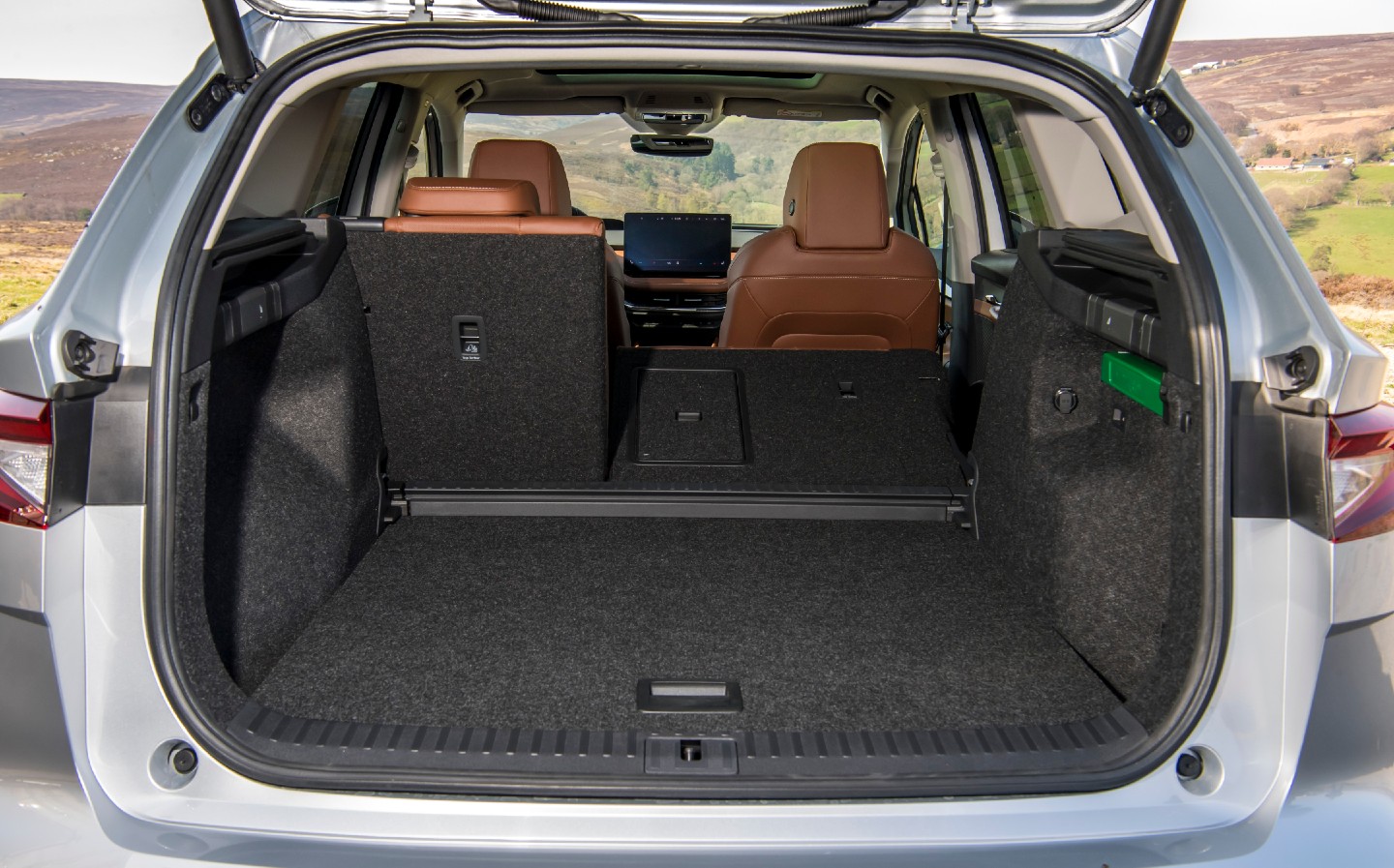 The Enyaq's SUV height results in a generously-proportioned boot, with a wide and tall (electric) hatch. Up to the retractable parcel shelf, there's 585 litres with the rear seats in place, which is a load more (literally) than the Ford Mustang Mach-E (402 litres) and actually a chunk more than you'll find in the back of a Nissan X-Trail (565 litres). The five-seater Kodiaq is still king of the Skoda range here, though, with a massive 835 litre boot capacity.
But while the Enyaq loses out on boot space to the Kodiaq, it wins on storage options in the main cabin, thanks to a lack of a transmission tunnel. Under the "bridge" centre console there's an 11.4-litre space to store a bag, for example, in addition to a deep 6.2-litre box under the armrest and the usual cubbyholes.
Safety technology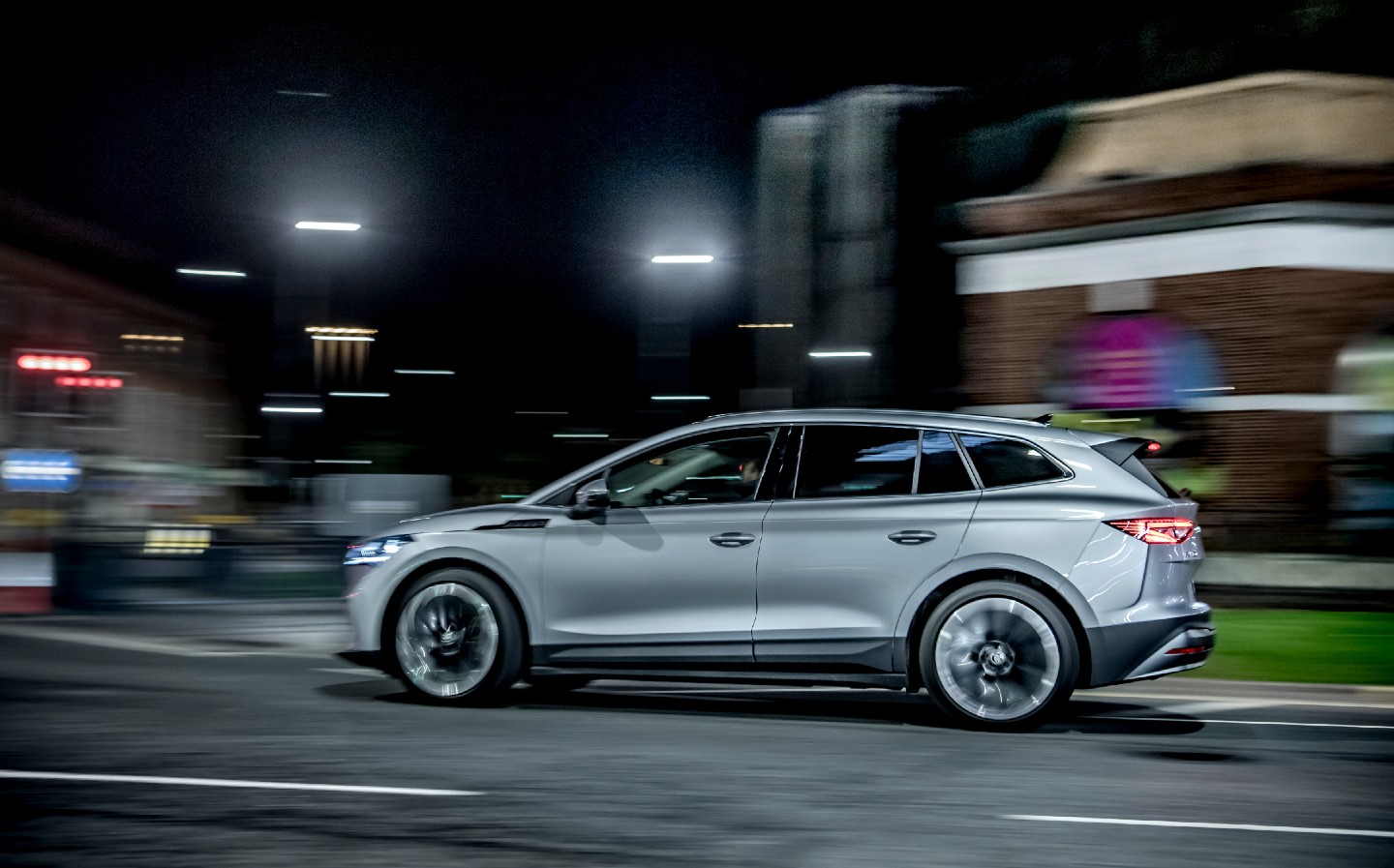 The Enyaq has received a maximum five star safety rating from Euro NCAP, with the best result ever for occupant protection. The car features up to nine airbags, including one that opens between the front passengers as standard across the range. The safety body also noted the various active safety systems, which it said performed well in tests.
The auto emergency braking system is sophisticated enough to detect pedestrians and cyclists, and in the event of a slide the car will close all windows and tighten front seatbelts for maximum security. And when pulling out of junctions, if you have failed to spot an oncoming car or bike, turn assist will warn the driver and slam on the brakes if necessary. During my test drive, there weren't any such warnings, which suggests it's not overly intrusive.
On motorways, the active cruise control provides steering assistance to keep you centred in the lane, and if you're in queuing traffic the car can accelerate, steer and pull to a stop on its own.
Exterior cameras spot roadside warning and speed signs, while a driver monitoring system sounds alerts if it thinks you're nodding off. If you try to open a door while an object is approaching in your blind spot, you'll be warned, too.
All-round cameras make parking a doddle, and if you're feeling particularly lazy there's park assist, too.
Battery capacity, range and charging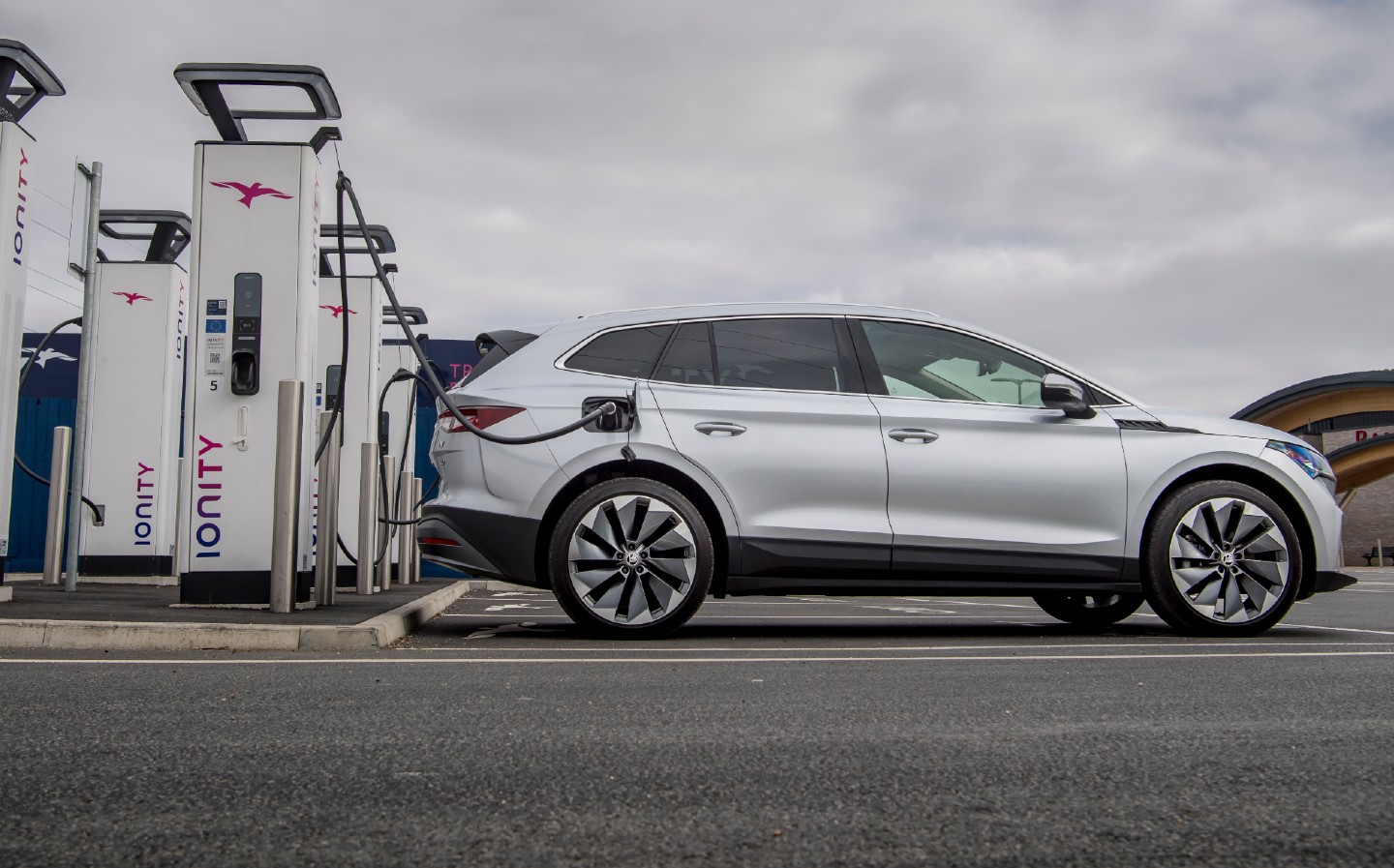 The Enyaq is being sold with two sizes of battery pack: 62kWh and 82kWh (think of a kWh of electricity like a litre of petrol), which for simplicity are badged Enyaq iV 60 and 80.
The useable (net) capacity of the 80 is actually 77kWh, which is good for an official range of 333 miles (WLTP combined) per charge.
When I set off on my test drive the battery was full but the range indicated was 200 miles, which, given that the car predicts range based on previous driving style, suggests the last person behind the wheel had been Lewis Hamilton, and that he was late for an appointment with his stylist.
The concept of predicted range may confuse those new to electric cars but those with experience won't be alarmed by this. After an hour and three quarters with the car, and not driving it particularly sedately by any means, I had covered 44 miles and the indicated remaining range was 171 miles, with 80% left in the battery.
The Enyaq 60, which I didn't drive, has a useable 58kWh of battery that is good for 257 miles, according to the WLTP combined test. That still means a decent amount of driving between fill-ups, compared with most of the competition today.
I've found that far more important than range, though, is how quickly the battery can be topped up, especially if you are unable to plug in at home or at work. This is because if you rapid charge in around an hour nearby your home, it's possible to own an EV and not be inconvenienced. Many rapid chargers are appearing in pub car parks, which is as good an excuse as any to visit your local.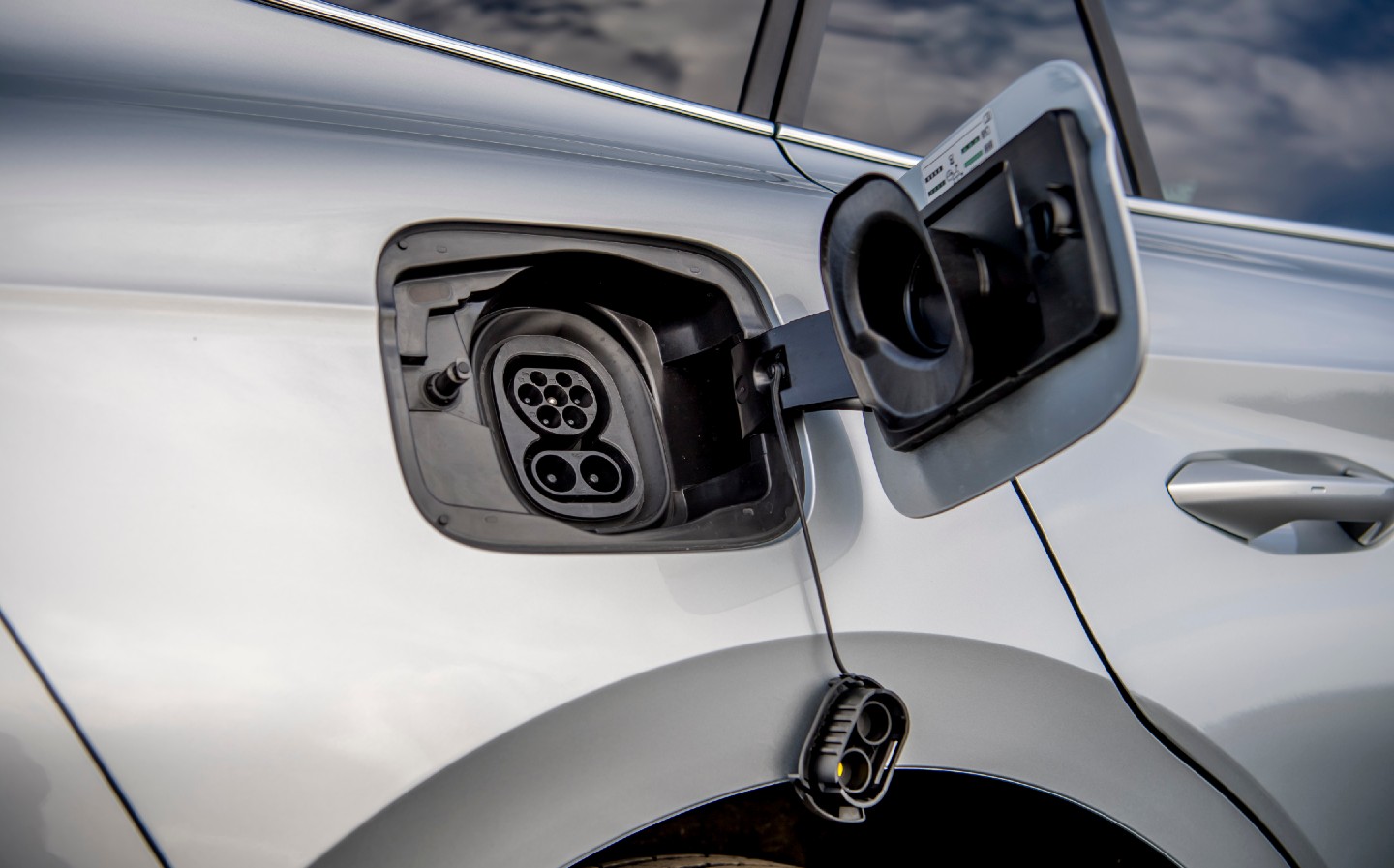 The Skoda Enyaq iV scores decently here, with 50kW rapid charging as standard, but with 100kW or 125kW charging upgrades available as cost options for the 60 and 80 respectively. This doesn't break records but the fastest option can get the battery from 5% to 80% full in 38 minutes (after which the charging speed slows to preserves the battery chemistry).
Whichever car you go for, if you plug in at the Three Horseshoes for Sunday lunch, you'll come out to a fully-charged car. Which doesn't sound terribly inconvenient to me.
If you can plug in at home, you'll find it's half as expensive but just as convenient, with a full battery each morning thanks to an 11kW charge from a wallbox taking six to eight hours, depending on which battery size you have.
Ride, handling and performance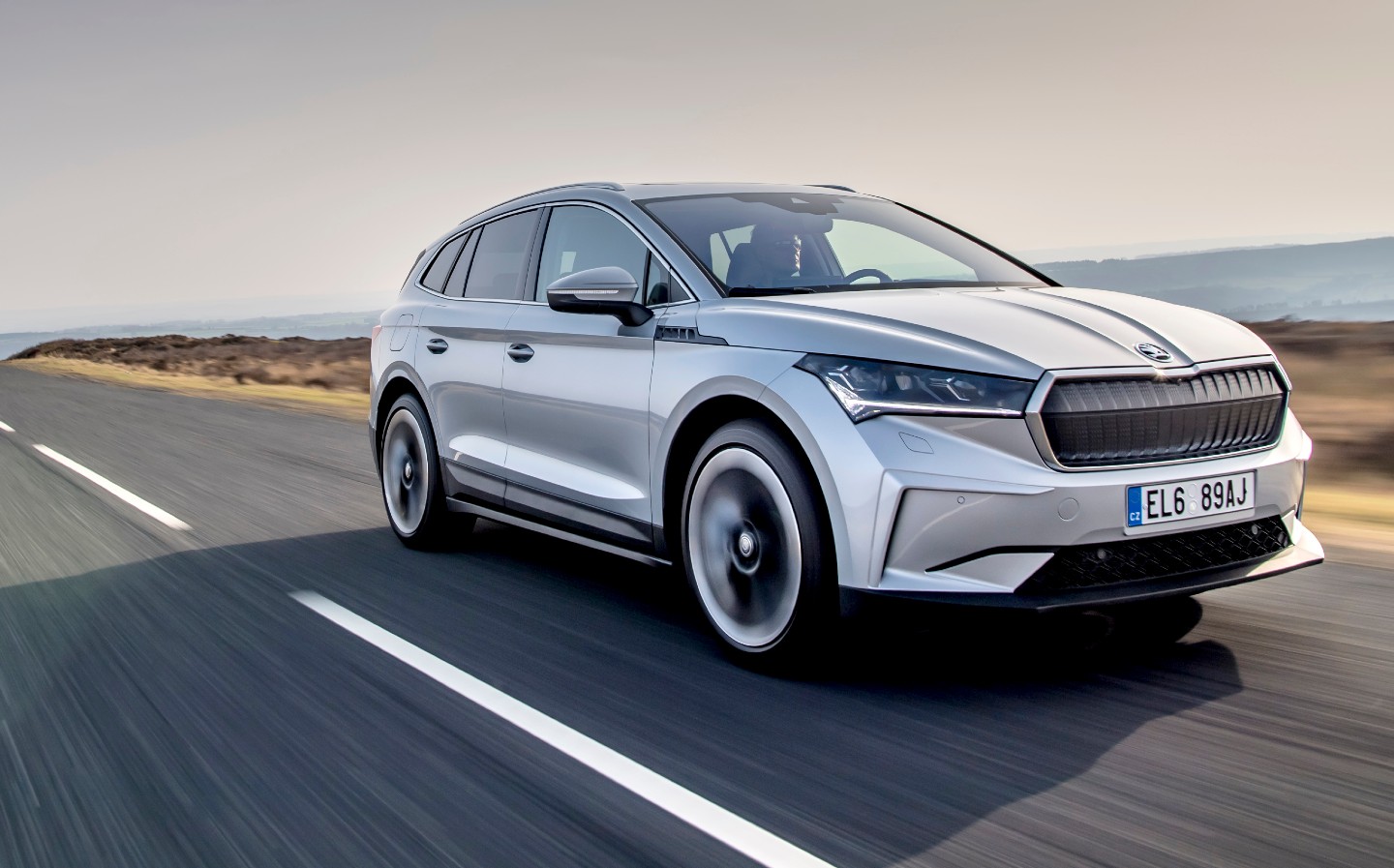 Climb into the driver's seat and the dashboard comes alive, thanks to a pressure pad in the seat. The drive selector is a teeny little toggle in the centre console. Flick that back to D and you're on your way.
Acceleration in the Enyaq 80 is brisk for sure, if not as exhilarating as the likes of a Tesla Model X. Its battery, while larger and heavier than the one in the Enyaq 60, is compensated for with a 201bhp electric motor, compared with the lighter 60's 132bhp powerplant. That leads to almost identical 0-62mph times of 8.6sec and 8.7sec respectively.
A sportier option will arrive later in the year in the form of the dual motor Enyaq RS iV, with a 0-62mph time of 6.2sec. Again, that's not going to impress a Tesla owner, nor someone currently sniffing around Polestar, but it's easily quick enough for an SUV, in my opinion.
A less powerful dual motor mode will also be available, called Enyaq iV 80x, which along with the RS model will be capable of pulling a trailer weighing up to 1,400kg.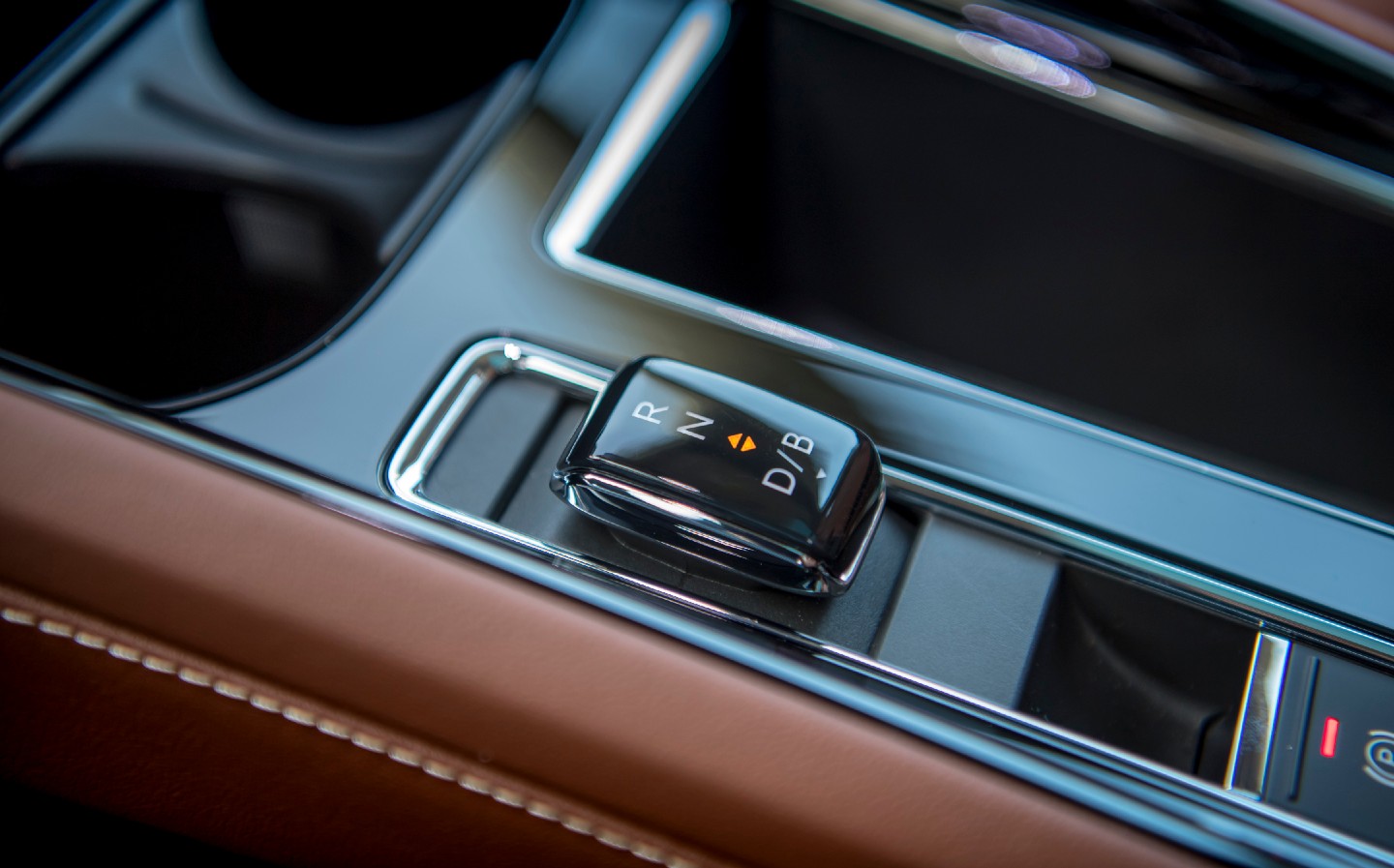 Out on the road, the quietness is impressive. Not just because the Enyaq lacks a thrumming petrol or gruff diesel (though that is noticeable), but because sounds from the road and wind have been dialled down with proper insulation and double glazing.
In Normal drive mode, the ride quality is good, even on the large 21in wheels. It feels quite firm on highways, but in a pleasing way rather than being overly harsh. It doesn't feel like a big soft pudding.
But then when you go through corners, there is a bit of body roll as a result of the Enyaq's taller suspension. It's nothing to write home about, and the car actually goes around the corners extremely well. The handling is quick and direct, while the flat battery pack beneath the floor, Tesla-style, results in the bulk of the car's mass being as near to the ground as possible.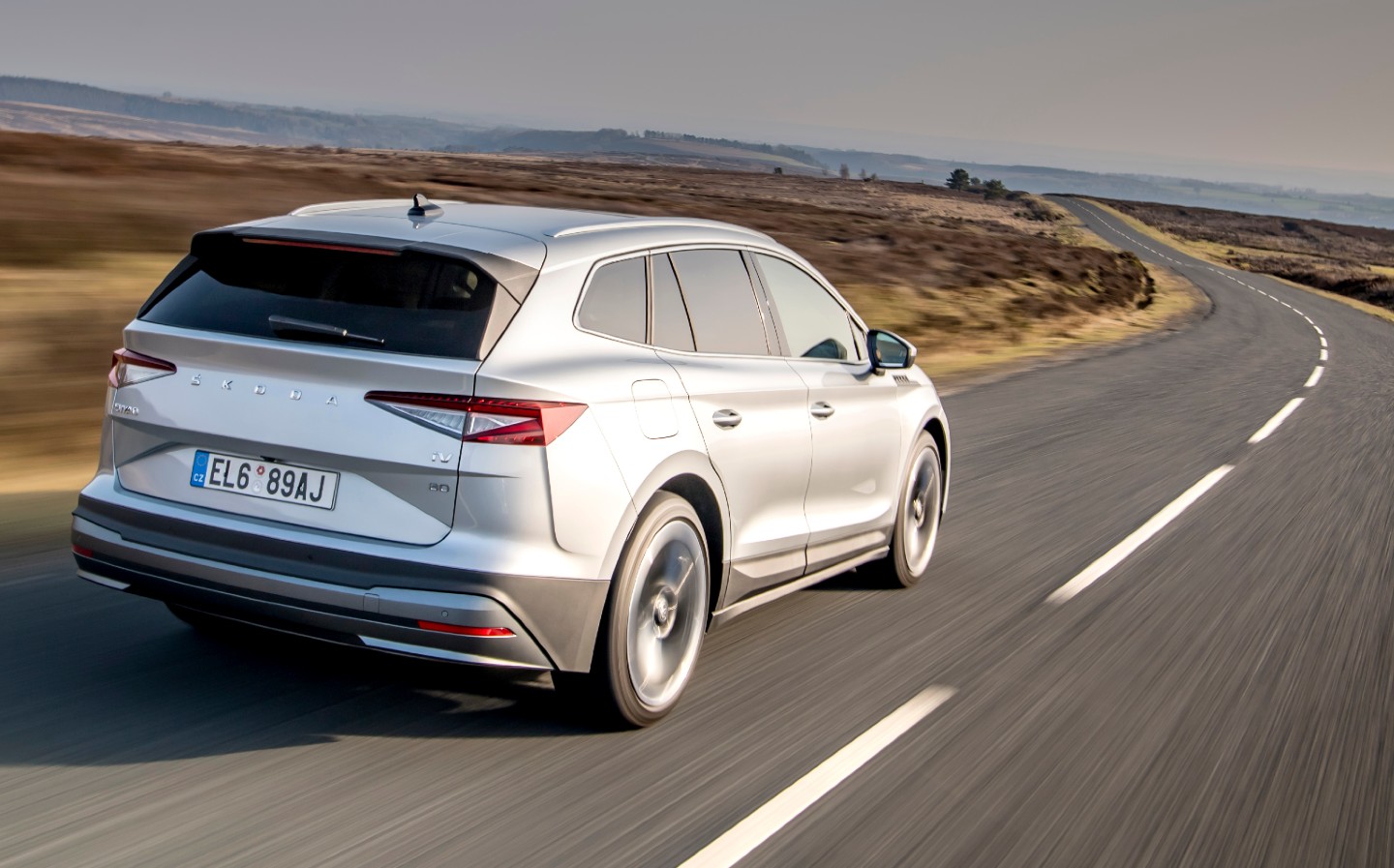 Grip in the dry is excellent, and the car feels very stable when changing directions.
The drive going to the rear wheels is an interesting dynamic for Skoda; it's something that BMW has adopted with its iX3 as well. Normally front-wheel drive makes sense when the going gets slippery (if you can't have four-wheel drive), as the weight of the engine over the front wheels improves grip, but with an electric car that has 50:50 weight distribution, that makes marginally less sense.
There are four other driving modes, aside from Normal: Eco, Comfort, Sport and Individual. With the latter you are able to adjust the sharpness of the steering, the responsiveness of the motor, the strength of the damping (on a sliding scale) and the power of the air conditioning.
Braking is strong and progressive. Interestingly, the rear brakes are old-school drums, rather than discs, because they're used so little due to the regenerative braking of the electric motor that discs and pads wouldn't have been scrubbed enough to keep them in good working order. That's Skoda's reasoning, anyway.
How much is a Skoda Enyaq iV?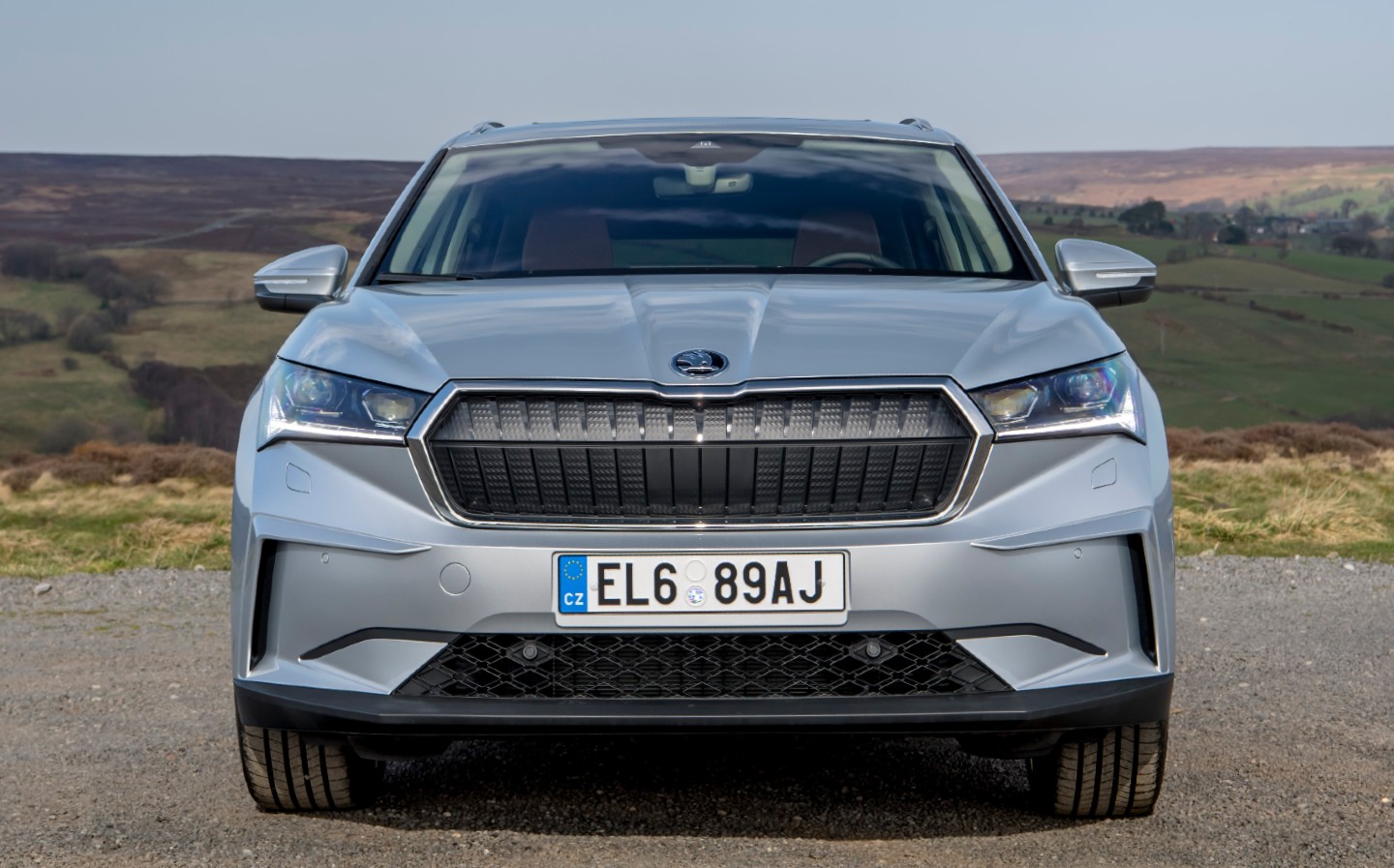 Prices start at £31,585 on the road (including the government's £2,500 plug-in car grant) for the Enyaq iV 60, which is incredibly affordable for a high quality electric SUV capable of 256 miles per charge.
Prices rise significantly if you spec up the car, though, partly because the PiCG now cuts off at cars costing more than £35,000. If you want the larger battery pack, you're looking at upwards of £39,350 for the Enyaq iV 80, while the recently added SportLine version costs from £42,900.
Add onto that the various options packs, and you can be talking serious money. My Enyaq 80 EcoSuite test car costs £40,920 as standard, but came fully loaded with a resulting retail price of £54,085.
Prices for the dual motor Enyaq iV 80x and Enyaq iV RS are still to be revealed at the time of writing.
Skoda Enyaq iV: The verdict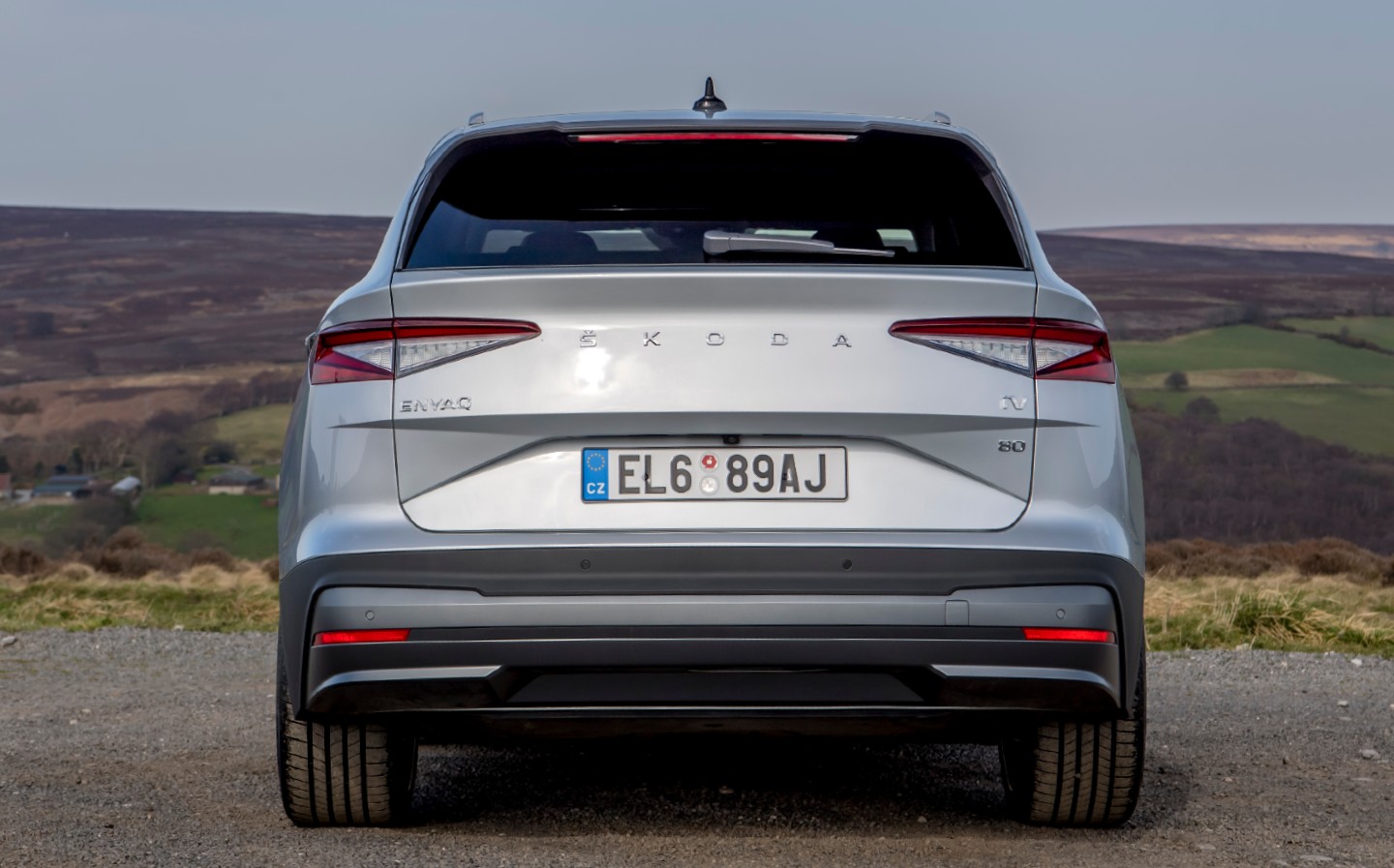 A truly impressive bit of kit, with plenty of range, quick enough charging, a super slick and comfortable interior, lots of tech and pleasing driving characteristics. But watch those optional extras if you're looking for an affordable electric SUV.
– If you enjoyed this Skoda Enyaq iV 2021 review, take a look at our list of 10 electric cars with the longest ranges.
– Interested in all the car makers' plans for electric cars? Click the link to view our rundown, which is updated regularly.
– And check out our extended test of the Skoda Octavia iV Estate plug-in hybrid.