2020 BMW iX3 electric SUV review
High performance, high tech, high stance ... and a high price
---
Published 04 November 2020
THERE ARE two main schools of thought when it comes to creating a range of electric cars: one is brave, the other … not so much. A car maker can either design them from the ground up, clearly distinct in design from their combustion-engined counterparts (usually going full-on futuristic), or they can find a way to insert some electric running gear into a pre-existing model and offer the plug-in version alongside petrol and diesel stablemates.
Volkswagen is going down the first route with its ID range of cars, which makes a lot of sense for a car maker trying to reverse its image as the polluter-in-chief of the car world, following dieselgate. Meanwhile Peugeot has decided to take a "Buy your car, choose your powertrain" approach, so you can go into a showroom and, if you decide you like the look of the 208 supermini you can then choose whether you want it to come with a fuel tank or lithium-ion battery pack.
BMW took the bold route initially, creating the BMW i brand for electric products, and the i3 and i8 cars within it — two completely unique carbon fibre-tubbed space-age models that really set out BMW's electric car stall. At the same time it also began introducing plug-in hybrid versions of existing models, including the 2 Series Active Tourer and 7 Series.
But a few weeks ago, at the launch in Munich of the car you see above — a pure-electric version of the X3 — the company said it now clearly favours the more conservative approach: flexible vehicle underpinnings that can be fitted with a variety of power options — petrol, diesel, plug-in hybrid, pure-electric and even, according to a chart we were shown, hydrogen versions in the not-too-distant future — all on the same assembly line. BMW's term for it: "Power of choice."
By the way, so-called "self-charging hybrids" — which actually are charged by the petrol engine — are not to be part of the mix, we were told. Petrol and diesel will remain part of the BMW offering for the next decade, though, as they're still the best solution for some customers in the 140 markets it sells cars. And according to one spokesperson, "Diesel contributes more to climate protection than people think."
The writing was on the wall for BMW's initial strategy earlier this year, when the company announced it was to end production of the i8 just six years after the sports car was first introduced. And according to reports, it looks like the pure-electric iX1 will soon "indirectly replace" the i3. Even though, in my review of the i3, I said it felt like the least "BMW" BMW I had ever driven, it still makes me sad to see a car maker chuck out its bravest offerings.
The iX3 — a rival to the likes of the Volvo XC40 Recharge, Mercedes EQC and Audi e-tron — on the other hand, looks almost exactly like the petrol and diesel X3. This may reassure loyal customers as they consider moving to electric motoring, of course. It's not a bad design, either. Of the mid-sized SUVs on British roads right now, the X3 is one of the more attractive. Marking out the electric version are a plastic grille cover, a few blue bits of trim here and there and a conspicuous lack of exhaust pipes. And that's about it.
Inside it's much the same story. We don't have a brave new world of futuristic styling here — BMW customers will feel at home instantly, with the usual portrait touchscreen infotainment system, shortcut buttons and iDrive infotainment control.
Of course, it's when you switch it on that the car's electric nature makes itself known. There's no engine ignition, the car simply plays a tune and the dashboard lights up to let you know you're ready to go. The iX3 includes the latest BMW Operating System 7, which features cloud-based navigation for much more accurate traffic information and arrival time information, information about battery charge level when you arrive, nearby charging location and and real-time route recalculations.
It also has connected music and Alexa-style AI voice control, so you can switch on heated seats, defrost windows or change radio stations without needing to take your eyes off the road. And you can pre-programme the car to do things like switch on heated seats when the outside temperature drops below a certain level or automatically open the driver's window when you reach a particular GPS location, such as approaching a ticket barrier or security checkpoint outside your office. Because let's face it, pressing the window switch has always been a chore. We're not animals, after all.
You can also use a smartphone app to control settings and send a digital key to family members or friends so that they can access and drive the car using their own phone. If you're doing so to allow you son or daughter to borrow the car, you can even set it so that power is reduced, the stereo can't go above a certain volume and safety aids can't be switched off.
What's more, I can report that the stereo system is good, the comfort levels are excellent and there's plenty of space inside — no compromises on packaging versus the petrol and diesel models.
It's a different thing altogether to drive, of course. Stick it in drive and press the accelerator and you immediately notice the spaceship-like sound it makes — sounds created by Hollywoood composer Hans Zimmer. You can switch off the sounds if you like, for a quieter ride, and I preferred to do so after a while.
BMW's fifth-generation electric motor, used for the first time in the iX3, adds to the rocketship feel. It's 20% more "energy-dense" than the electric motor currently used in the i3, which means it packs more of a punch for its size.
Unlike most rivals, BMW has included just one motor in the iX3, rather than two, and it's mounted directly onto the rear axle, powering the rear wheels (which is very "BMW"). The 282bhp and 295 lb ft is some way off the 308bhp and 398 lb ft available in the dual motor Audi e-tron 50 quattro, but even with the power advantage and four-wheel drive, the Audi sprints from 0-62mph in exactly the same time as the BMW: 6.8 seconds.
A closer inspection of a cutaway version of BMW's motor at the launch showed it's a lovely piece of engineering, so much more complex than electric motors from even a few years ago, integrating gearing, high voltage components and wiring and traction control sensors directly within the housing. It's a bit like looking at a petrol engine from around 1930 — a lot more sophisticated than previous efforts but there's a sense that future versions will be massively more complex.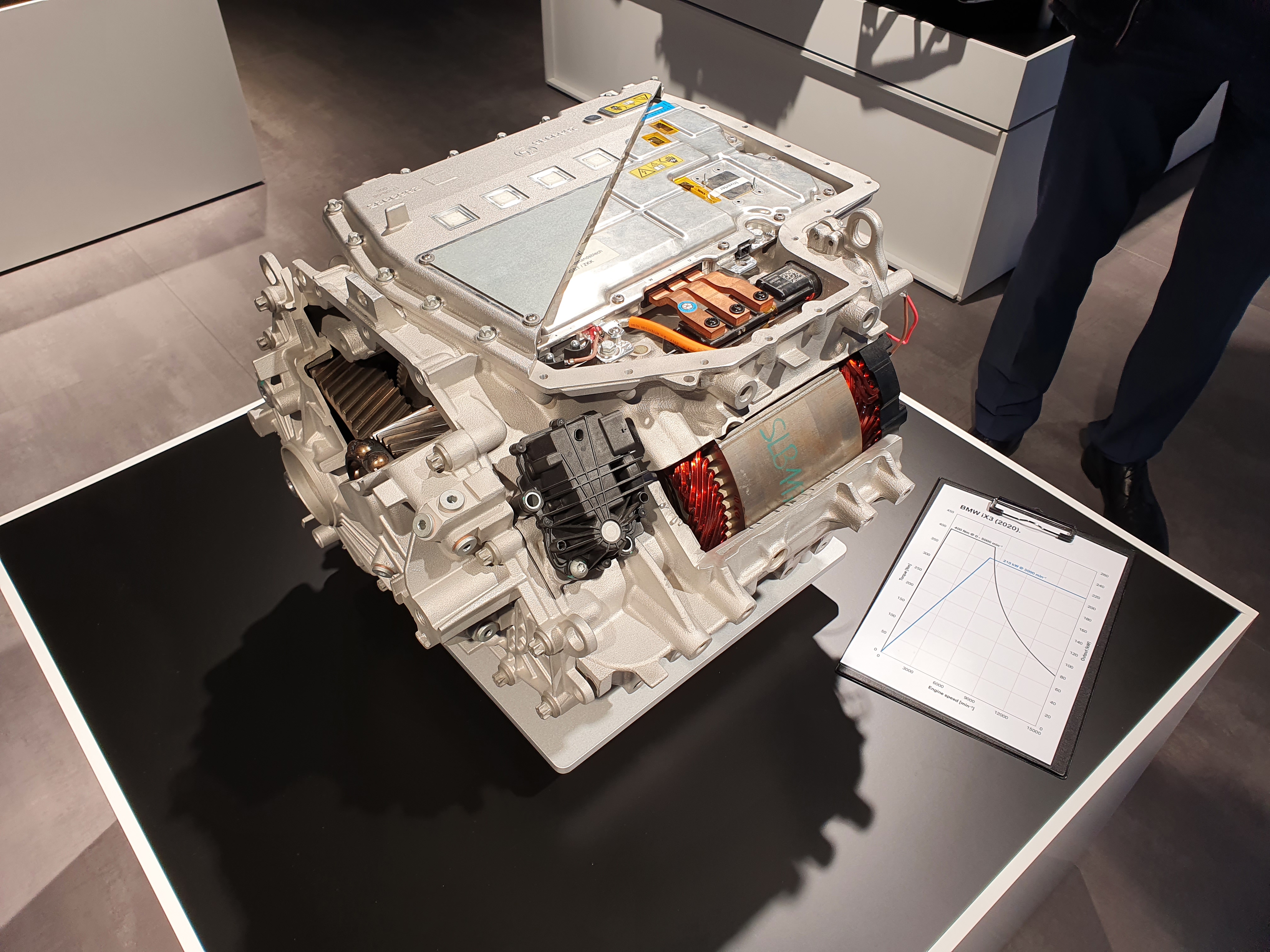 BMW has gone with a synchronous motor rather than a permanent magnet and, no, I wasn't sure what that meant, either, but basically it can spin freely when you lift off the accelerator, much like engaging a clutch on a traditional car. This allows the iX3 to "coast" (or freewheel) when you take your foot off the pedal, which can be more efficient than having a permanent magnet that turns the motor into a generator when not accelerating, to recuperate energy back into the battery while slowing the vehicle down.
Volkswagen agrees with this approach — the ID.3 defaults to coasting when you step off the accelerator, as does the Porsche Taycan (also from the VW Group). In all of the cars, you can of course switch on regenerative braking (to varying degrees) if you prefer more of a "one pedal" approach to speeding up and slowing down. In the iX3 you slide the gearlever to the left to switch it on permanently.
But BMW has gone a step further, with an "Adaptive recuperation" mode set as the default. That means the car decides when best to coast and when to apply regenerative braking. On a highway with no traffic, it will favour coasting but when you're following behind another car or approaching a junction it will add some regen, to assist in slowing down. It uses its GPS, sonar and camera tech to work all this out, of course.
It all results in an official range of up to 286 miles from the 74kWh (usable) battery pack, which is very decent versus the competition. After a 72-mile journey around southern Germany the car had recorded 20.6kWh per 100km, which is just over 3 miles per kWh in British money. A recent test of the Mercedes-Benz EQC saw me get just 2.4 miles out of each kWh at a steady 60mph, and less than that when hurrying it along country roads — the Merc clearly a victim of its extra weight (see the specs table below).
BMW points to the iX3's aero wheels as another way in which efficiency is improved, as they're 15% lighter than equivalents on the petrol and diesel X3s, with 5% less air resistance. Apparently they add 10km to the range.
The fifth gen BMW eDrive motor is also quieter than previous BMW motors and can sustain torque for longer at higher revs, which means putting your foot down at 50mph still results in a responsive acceleration, rather than feeling like it's running out of puff the faster you go. Mind you, this is not a problem suffered by its competitors, either.
Around corners, the BMW proves nimble and responsive, thanks to a low centre of gravity and adaptive suspension as standard, though it's not as able to cling onto the inside of a turn as adeptly as the four-wheel drive rivals and powering out of a turn is less immediate. With the power going to the rear, it is possible to induce an amount of oversteer (sliding the back end under acceleration), we were told, but that's not something I experienced during my time with the car. Sensibly, 57% of the iX3's mass sits over the rear wheels, which helps traction while making the front end lighter and more responsive.
Overall it's a fun driving experience — quieter, more refined and more responsive than the combustion engine equivalents can offer. Die-hard petrolheads may not immediately warm to it but most car buyers will find being behind the wheel a revelation.
Keeping it topped up shouldn't be too much of a concern, either. Most cars sit on driveways or in car parks for around 95% of their lives, during which time they can be plugged in. If you can't do so at home or work, the iX3 will rapid charge from 0-80% in 34 minutes, and it's possible to fit these recharges into your life — I have done so this year with the Mini Electric, relying 100% on public charging infrastructure and using the charging time to edit articles on my laptop. It's not the most convenient way to run an EV but it's possible, and not as expensive versus my home electricity tariff as I'd imagined, if you use the right network. And if anything, my productivity has gone up as a result.
If you're concerned that electric cars are worse for the environment than petrol or diesel cars, BMW is at pains to point out that owning an iX3 reduces your CO2 footprint compared with the X3 xDrive 20d by more than 30% when charging with the average European electricity mix, and roughly 60% when exclusively green energy is used. What's more, the cobalt and lithium used in the battery pack is purchased directly by BMW and shipped to a company that assembles them on BMW's behalf, ensuring they can monitor the suppliers for ethical mining practices.
The iX3's battery pack uses 62% less cobalt per kWh than in the i3 battery, apparently, though in doing so it increases the amount of nickel used and that hasn't been uncontroversial in itself. But the point is that car makers are taking the whole life cycle of these cars incredibly seriously these days. BMW adds that 96% of the battery can be recycled.
Whether you go for a petrol, diesel, plug-in hybrid or pure electric X3 is now up to you. For many, the iX3 ought to be the right choice in terms of easiness to drive, comfort, performance and running costs. At upwards of £58,850, though, it may be aligned with pricing of rivals but it's not cheap — a petrol-powered X3 xDrive20i M Sport costs £14,000 less, meaning many private buyers will still naturally dismiss the iX3 on upfront cost alone. Company car drivers could reap the tax benefits, though.
And if you have the cash and really are dead set on spending it on a pure-electric SUV, BMW's first effort is a real contender when compared with its principal rivals. It's not as powerful as some but it's very nearly as quick, and outperforms its Audi and Mercedes equivalents in terms of efficiency.
The one to really watch out for, though is the Volvo XC40 Recharge, which at the moment is pricey in First Edition form, but when a version launches early next year with a single motor and in a more affordable specification, it could prove to be the premium electric SUV of choice. It's particularly worth thinking about given that the iX3 won't be available in dual motor form until at least its next iteration, and deliveries of this one are not expected until summer 2021.
A previous version of this article incorrectly asserted the at production of the iX3 uses less CO2 than production of a petrol or diesel X3. It does not – BMW's data refers to the whole life cycle of the iX3 versus the xDrive 20d. We are happy to make the correction above.
|   | BMW iX3 | Volvo XC40   Recharge P8 First Edition | Audi e-tron 50   quattro | Mercedes EQC   400 |
| --- | --- | --- | --- | --- |
| Starting price | £58,850 | £59,985 | £61,350 | £65,720 |
| Drivertrain | Single   motor RWD | Dual   motor AWD | Dual   motor AWD | Dual   motor AWD |
| Battery size | 80kWh   (74kWh usable) | 78kWh | 71kWh | 80kWh |
| Range (WLTP) | Up   to 286 miles | 248-260   miles | Up   to 208 miles | 232-259   miles |
| Charging tech | Up   to 150kW DC | Up   to 150kW DC | Up   to 120kW DC | Up   to 110kW DC |
| Charging time | 0-80%   in 34 mins | 0-80%   in 40 mins | 0-100%   in 50 mins | 10–80%   in 40 mins |
| Power | 282bhp | 402bhp | 308bhp   (in boost) | 402bhp |
| Torque | 295   lb ft | 487   lb ft | 398   lb ft (in boost) | 560   lb ft |
| 0-62mph | 6.8sec | 4.9sec | 6.8sec | 5.1sec |
| Top speed | 112mph | 112mph | 118mph | 112mph |
| Weight (DIN) | 2,185kg | 2,188kg | 2,445kg | 2,495kg |
| Dimensions | 4,734   x 1,891 x 1,668mm | 4,425   x 2,034 x 1,651mm | 4,901   x 2,192 x 1,632mm | 4,774   x 2,096 x 1,622mm |
| Luggage space | 510/1,560   litres | 414/1,290   + 31 litres | 660/1,725   litres | 500/1,060   litres |
| Availability | Pre-orders now (deliveries summer 2021) | On   sale now | On   sale now | On   sale now |