2018 BMW i8 Roadster review
Chop, chop, rivals: we're zipping into the future
TURNING a sporty coupé into an open-top roadster usually involves a great deal more work than just attacking the unwanted bits of bodywork with a hacksaw.With the BMW i8 Roadster, however, things are a little different.
The very first development cars started life as conventional coupés, before an intimate date with Madame (or in this case, perhaps "Frau" is more appropriate) Guillotine. Yes, the engineers at BMW simply sawed the roof off a perfectly serviceable i8 – and took it for a spin.
To their astonishment, they found that the plug-in hybrid sportscar stood up remarkably well to decapitation.
That isn't to say the finished Roadster has been so crudely cropped and slapped with a heftier pricetag, of course. Look carefully and you'll notice a few changes under its curvaceous carbon-fibre skin – such as an extra storage space where the hard-top has a pair of cramped back seats.
Its high-tech drivetrain produces 374bhp – that's the same as the recently facelifted coupé. And despite having a weighty battery as well as a petrol engine, BMW has managed to reduce heft by using lightweight construction materials. Combined with the torquey electric motor, that makes the Roadster feel very rapid indeed; it will dispatch the 0-60mph sprint in just 4.6 seconds, and won't run out of puff until it reaches 155mph. The electric motor alone can sprint it along at an impressive 75mph.
This is a smidge slower than the coupé but the i8 Roadster compensates with its unique soundtrack – especially with the electric folding roof stowed away.
Sure, its Mini Cooper S-derived three-cylinder petrol engine can't match the booming bass notes of V10-powered rivals like the Audi R8 Spyder, but every time you peel out past slow-moving traffic, the whining electric motor, whistling turbocharger and buzzy 1.5-litre engine orchestrate an altogether more futuristic soundtrack.
"The whining electric motor, whistling turbocharger and buzzy 1.5-litre engine orchestrate an altogether more futuristic soundtrack"
Some soft-tops suffer from soggy suspension and unresponsive steering – not so the i8 Roadster. It feels every bit as sharp as the standard i8 and – in Sport mode – devours twisty roads with a hunger that belies its large size and blasts away any negative preconceptions of hybrid power.
It even cruises relatively comfortably without too much buffeting, and the fabric roof does a great job of muting wind noise at motorway speeds.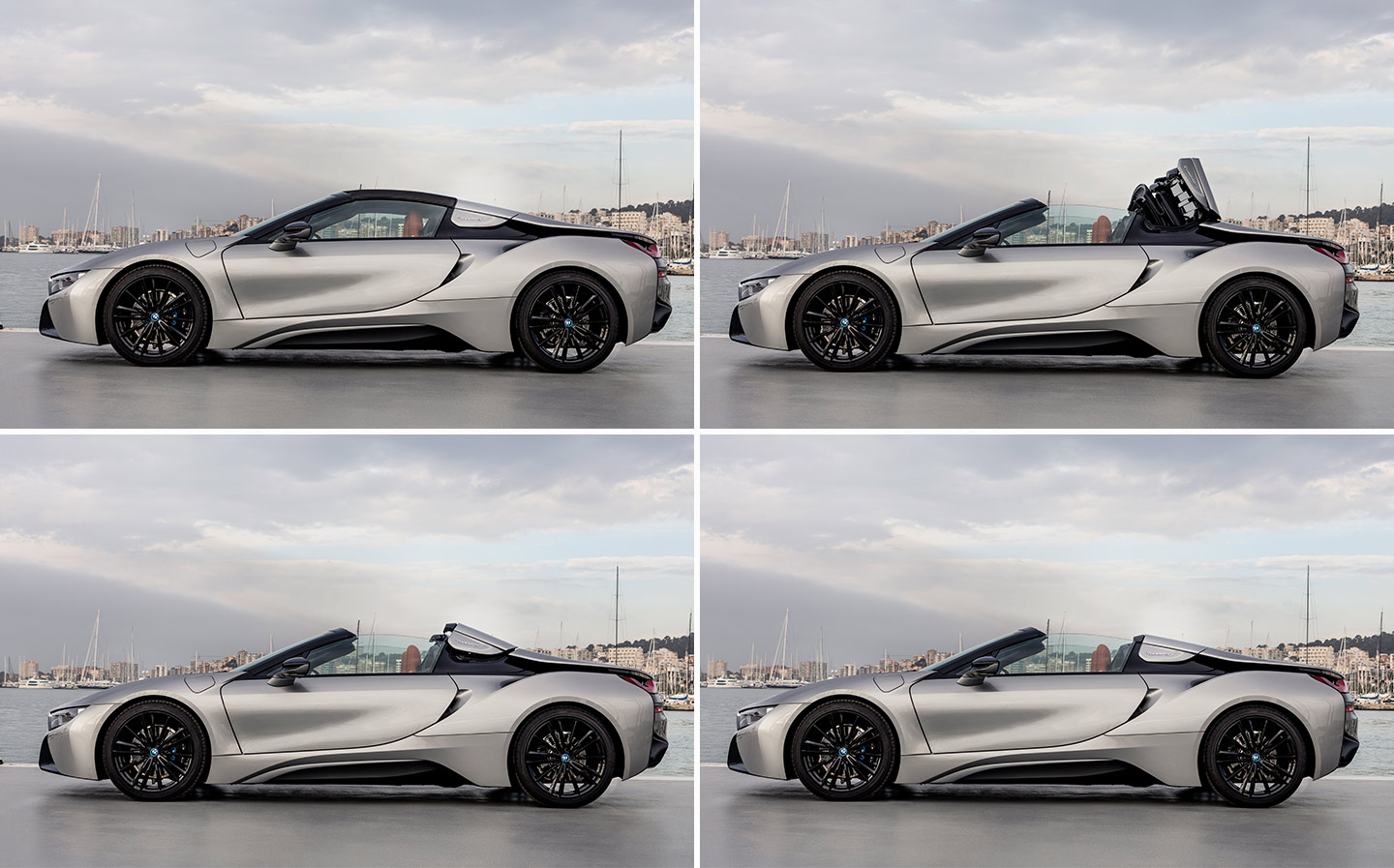 Pop it in Eco mode instead and the Roadster takes on a silent-but-still-pretty-deadly persona. A three-hour charge from a dedicated wall charger lets you slink silently through traffic like a praying mantis on the prowl for around 30 miles.
Less subtle, but equally insect-like, are the BMW's look-at-me butterfly doors. They certainly make for an impressive entrance, but climbing out over the i8's broad door sills requires a fair degree of flexibility.
Luckily, its neat, minimalist cabin design means you won't be in a hurry to get out. Every inch of the Roadster's interior comes with a plush leather, brushed metal or sturdy plastic finish and all the knobs and dials are sensibly laid out. Programming the sat-nav or connecting your phone won't drive you scatty like in some sports cars, either.
It's even reasonably practical – for a drop-top sports car, at least. The Roadster's 88-litre boot is around half the size of the coupé's but, combined with the aforementioned loadbay behind the front seats, you've actually got slightly more space for luggage than in the hard-top.
It really is an excellent do-it-all sports car that shows the motoring world not only what the future looks like but also that being given the chop isn't necessarily a bad thing.
Tweet to @ST_Driving Follow @mat_watson
BMW i8 Roadster rivals
Click to check latest prices at carwow.com
Or, for a more affordable alternative, check out the Mazda MX-5.