Extended Test: 2020 Mini Electric review
A spark of excitement
---
Published 21 December 2020
Specifications
Model 69-reg Mini Electric Level 3
Price £33,900 OTR
Price with options £33,900 OTR
Colour Enigmatic Black metallic
Cost options fitted None
Drivetrain Synchronous electric motor plus 32.6kWh lithium-ion battery pack
Power output 181bhp
Torque 199 lb ft
Kerb weight (without driver/ with driver) 1,365kg / 1,440kg
Boot capacity 211 litres
Top speed 93mph
Acceleration 0-62mph: 7.3sec / 0-37mph: 3.9sec
Range (WLTP) 141 miles combined
Rated consumption (WLTP) 4.33 miles per kWh
Charging time 0-100%: 3hrs 30 mins (AC 11kW) / 0-80% 36 mins(DC 50kW)
CO2 emissions 0g/km
Road tax £0
Test details
Test period June 2020 – November 2020
Starting mileage 682 miles
Updates
July 5: Introducing the Mini Electric
In a way, the Mini Electric could be the ultimate iteration of the Alec Issigonis' original design. The Mini was born out of the Suez oil crisis, which began in 1956. At the time, two thirds of Europe's oil passed through the canal, so when Egypt seized control, oil supplies were limited. Issignonis' solution was an affordable compact car with seats for four passengers and exceptional fuel economy (by the standards of the time). The first Mini rolled off the production line in 1959 and it became a sensation.
And now we have Mini's first ever production electric car, which sips no oil at at all. Issigonis may have also been impressed with the fact that it produces no exhaust emissions, runs whisper quietly and feels extremely eager, thanks to the punch afforded by the instant torque of the electric motor (more on the way it drives in my next update).
This isn't Mini's first attempt at an electric car, mind you. Back in 2009 we had the Mini E, a rolling testbed vehicle for BMW – a toe in the water for its electric plans. Shortly after came another car for electric trials: the BMW ActiveE. Those in turn led to the BMW i3, which launched in 2013, but we haven't had a proper electric Mini until now.
Officially, customer deliveries of the Mini Electric should have begun in March, though plans have been somewhat disturbed by the Covid-19 pandemic so there aren't many on the roads yet. There are question marks over the breadth of the plug-in Mini's appeal, too, as it doesn't go very far per charge by modern electric car standards: the 32.6kWh battery pack, arranged in a T-shaped unit in the vehicle floor between the front seats and below the rear seats, gives the car a range of up to 145 miles on the official WLTP test.
---
If you like this Mini Electric review, also read our review of the 2020 Renault Zoe
---
Compare that to the likes of other electric cars in its class and it doesn't look very impressive: the Renault Zoe has a 52kWh battery that gives a driving range of up to 245 miles; the Peugeot e-208 can muster up to 217 miles from its 50kWh pack.
And whether the Mini's 145 miles per charge is actually possible to achieve in the real world is something I'll be looking at in due course. Will I have to adjust my way of life to suit the Mini Electric's range, or will it fit into my lifestyle. Time will tell.
Another thing I'll be exploring carefully is the ability to charge it away from home. I am unable to install a wallbox at my house, despite having off-street parking (it's complicated), which basically puts me in the same boat as the 25% of drivers nationally who park on the street (or up to 60% in London)*.
A trickle charge via a robust extension cable would probably be fine but part of the reason that a wallbox is difficult for me is that I'd still have to run cables across public land. I could potentially ignore the trip hazard issues and run an extension lead from the house to the car, but mention such an idea to an experience electric car owners and they'll look at you as if you're a wannabe arsonist. Fires can happen with extension cables or dodgy wiring, due to the amount of power an electric car draws over extended periods. For that reason I'm going to attempt to charge up only via public charging points during my time with the car. Can you own an EV without being able to charge at home? Let's find out.
Charging aside, I think what Issigonis would most like about the Mini Electric is the way it drives. Writing that a Mini handles like a go-kart is such a cliché that no motoring journalist would dare do such a thing, but from my experience so far the Mini Electric has lost none of the brand's characteristic appeal for keen drivers. A smaller battery means less weight, of course, and it feels rapid. Very rapid.
* Data from Spaced Out: Perspectives on parking policy by the RAC Foundation, July 2012
Mileage today 964 miles
Distance since start 272 miles
Average consumption 4.5 miles per kWh
As always with our extended tests, you can ask questions at any time via my Twitter account or the comments below.
September 4: What's the Mini Electric like to drive?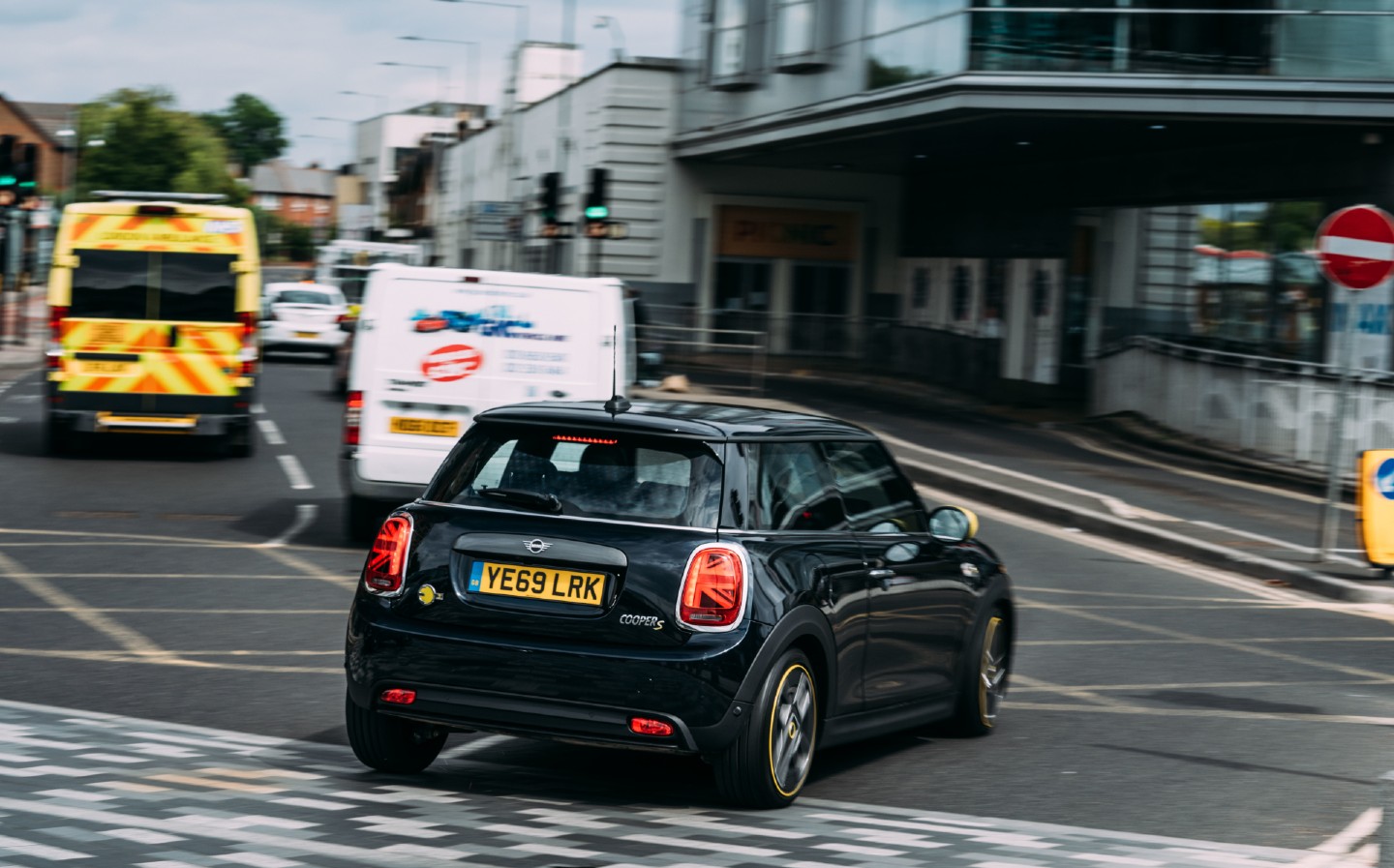 It's been two months since my last update — apologies for that but a holiday and an avalanche of post-lockdown test drives landed on me. I'll make up for it with an extra bit on the Mini later this month, and I'll make sure the car gets lots of love on this page before the keys are snatched back. First things first: I promised a proper assessment of the way the Mini Electric drives, so here it is…
Most obvious is its rapid, instant acceleration. The official 0-62mph time is 7.3sec, which is decent enough — somewhere between the three-door Mini Cooper (8.0sec) and Mini Cooper S (6.8sec) in terms of grunt — but that doesn't really tell the full story as the way the car grips the asphalt and throws itself off the line is pretty brutal. We should be talking 0-30mph rather than 0-62mph, as it's that initial thust that's so impressive.
This is in common with all electric cars: the torque from the electric motor comes from zero revs. But not all electric cars pull with the same ferocity: a Renault Zoe or Nissan Leaf, for example, just doesn't feel as sporty as the Mini. The Honda e, too, is slouch by comparison (0-62mph in 8.3sec).
A drive mode button on the centre console of the allows you to switch to Sport, which makes it all the more potent. We're not talking Tesla acceleration here but the Mini Electric definitely feels like the sportiest compact electric car out there right now. The same button can be flicked the other way for Green or Green+ modes, which dampen accelerator response, and less the effect of the air con (switching it off completely in Green+, in fact).
---
If you like this Mini Electric review, also read our review of the Kia Soul EV
---
The regenerative braking is also wound up in the Mini Electric. The first time you take your foot off the accelerator you may end up nutting the steering wheel, as it's like stepping on the brakes. The regen turns the electric motor into a generator when slowing down, recovering energy to the battery, which helps a bit with range.
You get used to this "one pedal" style of driving over time but there are some situations where it's not ideal, so I have found myself occasionally reaching for the switch (also on the centre console, in front of the gear lever) to reduce its effect. The next time you switch on the car it defaults back to max regen, so be prepared for neck-snapping on lift-off. You may be able to change this in the settings — I just haven't felt the need to do so.
The ride is on the hard side but if I had a pound for every time I've written that about a Mini, I'd have nearly enough for a pint of beer in London. Firm suspension is basically Mini's thing, so if you're looking for a comfortable cruiser, there are better options. However, it's not tooth-rattling by any means, and the car deals with road humps and speed cushions well, the spot-on damping ensuring you're not launched off the top. The extra weight of the Mini Electric's battery pack also means it's less prone to vertical movement than petrol or diesel cars in its class.
That extra weight is noticeable through corners, with less sprightly changes of direction than you'd find in a petrol Mini, but again the suspension comes to the Mini's aid, limiting body roll, while a centre of gravity that's 30mm lower than in the Cooper S petrol version, and more even front-to-rear, massively helps with agility. Grip, too, is astonishing — I've not felt the car get away from me even when turning hard into sharp a bend at silly speeds.
All of which makes the Mini Electric a brilliantly engaging and fun car to drive. Don't just take my word for it — my wife now doesn't want to drive her diesel Countryman any more, as she's fallen in love with the Mini.
Obviously, driving it hard reduces range… but that, along with how and where I've been keeping it charged up, is something to cover on the next update.
Mileage today 1,831 miles
Distance since start 1,149 miles
Average consumption 4.3 miles per kWh
As always with our extended tests, you can ask questions at any time via my Twitter account or the comments below.
October 12, 2020: Can you own a Mini Electric if you can't recharge at home?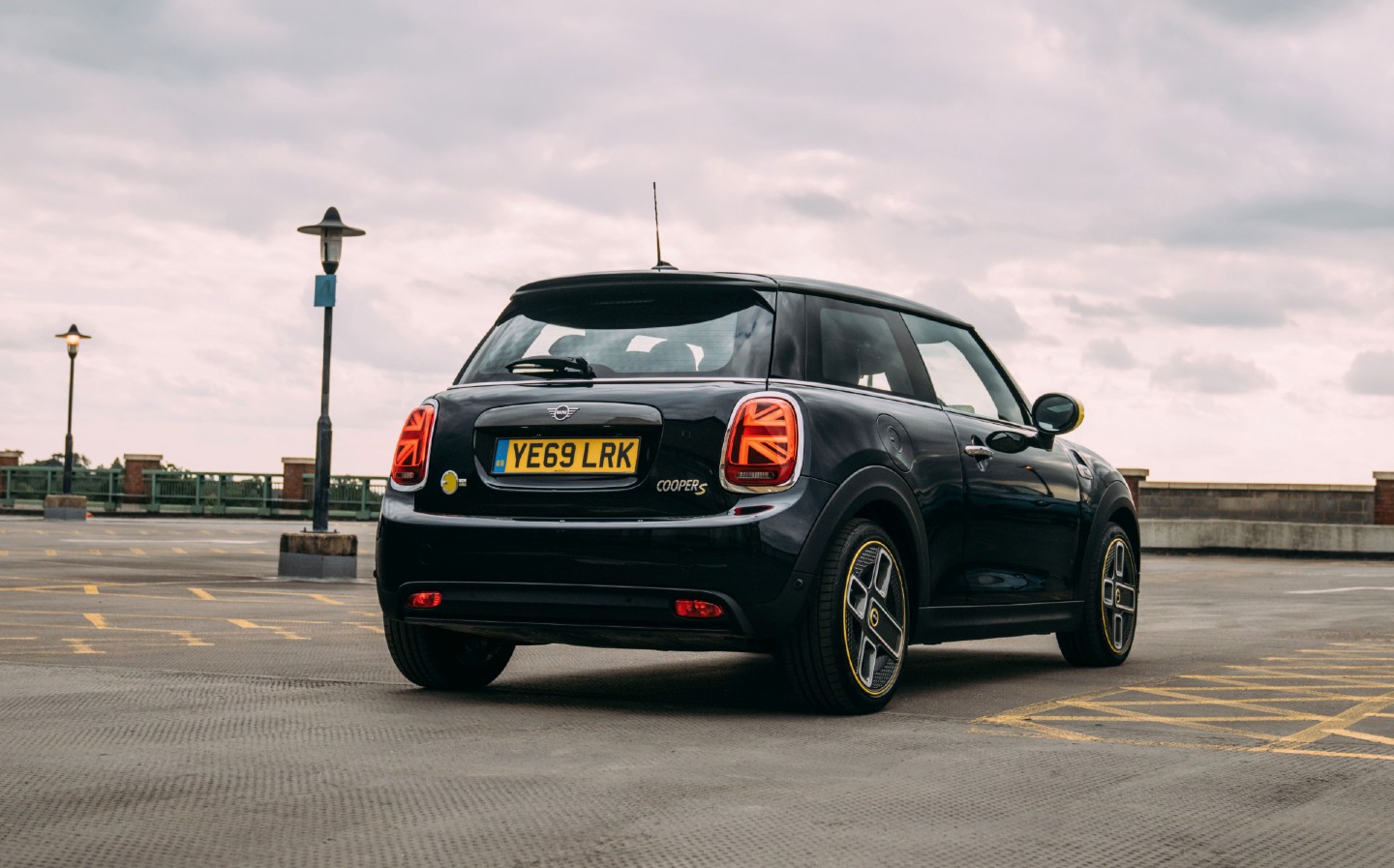 This extended test of the Mini Electric was always going to be fascinating for me, for two reasons: I can't really charge up at home (without an extension lead, and even then only at 13 amps) and because the Mini has a relatively limited amount of range. It's no Tesla in that department, with its 32.6kWh battery pack capable of 141 miles on the official WLTP test; the electric cars with the most range are capable of more than twice that distance.
So would I be constantly running out of battery? Would it be a chore to keep it running? Would I have to resort to other cars for long-distance runs… or even short, day-to-day journeys?
---
If you like this Mini Electric review, also read our review of the 2020 Honda e
---
The first proper test came early on in the loan, with a journey up to the Oxford area. It was 70 miles there from my house and the car was indicating 71 miles before I set off. If you can charge at home your electric car will have a full battery every morning, but I don't have that luxury. So I checked the Zap-Map app and found a Polar rapid charger en route, 59 miles from home, for a "splash-and-dash" top-up.
When I arrived, the car was indicating 15 miles remaining and six minutes after plugging in I was back up to 30 miles indicated. The car reached 80% full after half an hour, and I was on my way again. I used the same charger on the way home for another 30-minute juicing, just to be on the safe side.
Driving to a car launch. 70-mile trip and I had 71 miles indicated range in the Mini Electric before I left. Could have take a diesel car instead but went for it, with rapid charge en route, 59 miles from home. 50kW Polar point available when I arrived, now charging no probs. 1/3 pic.twitter.com/KNX61VL3hS

— Will Dron (@wdron) July 9, 2020
There are a couple of important things that I noted here. Firstly, there would have been issues if the charger had been occupied when I arrived. Hopefully it woudn't have resulted in a long wait, while the other person charged up, but as more electric cars hit the road this may become more common. Fortunately most apps now tell you if a charger is being used in realtime, and the mapping technology being built into electric cars is becoming sophisticated enough to recognise if someone plugs into a charger you were bound for, and will re-route you to another one nearby. That's not on the Mini Electric, though.
Also, public chargers are likely to be more expensive compared with using your home electricity supply. Polar Plus membership is currently £7.85 per month (the first three months are free) and you then pay 15p per kWh for the 50kW rapid charger, which is actually comparable to my home energy tariff.
But other public charging networks have higher fees; plug in at a Shell Recharge station and you'll currently pay 39p per kWh, which means a full charge of a 100kWh battery pack would cost you £39 — nearly as expensive as refilling a petrol tank. Ecotricity, which dominates the motorway service station locations, will charge you 30p per kWh unless you use them to supply your home energy, which halves the cost. GeniePoint's 50kW chargers, which you'll find in many Morrison's car parks, also cost 30p per kWh, plus a £1 connection charge.
There are plenty of opportunity charges – VW is working with PodPoint to install public chargers at many Tesco locations, and a set of 7kW posts went in at the store near me earlier this year. They're currently free to use, which is absolutely superb, and I can add a decent number of miles while doing the weekly shop. Multi-storey car parks in town centres are ideal locations for a recharge, and would encourage me to shop on the high street rather than online. And roadside chargers can mean a trip to the cinema also means a full battery after the show.
And one of the surprising takeaways from my time spent charging the Mini at rapid chargers is that it's not wasted time, as some would have you believe. When the battery gets low, which is about every couple of weeks of normal usage, I always take my laptop with me so that I can respond to emails, or write or edit articles. It's actually highly productive time, away from the distractions of the home or office.
Quite a few of the rapid chargers near my home are in pub car parks, which means I'm obliged to go inside and buy a cappuccino (or maybe even a half pint of beer) – that's no hardship as far as I'm concerned. On the flipside, one near me is in a hotel car park and you're charged an exorbitant parking fee on top of the cost for the electricity. I also found that the CCS (DC) plug wasn't working on that particular Polar point, so I was forced to plug in the 42kW Type 2 (AC) cable, which is a bit slower.
And it's fair to say the Mini Electric isn't the perfect car for long motorway journeys – it's not the electric car I'd chose to drive to Scotland or Cornwall for a holiday. But because it recharges so quickly, it is possible to venture much further than you might think, and when you do plug in, that's not lost time — you can grab a coffee, carry out some life admin or get on with some work.
And the most important thing I've discovered is that it is possible to own an electric car, even if you can't charge at home and it has a relatively low range of less than 150 miles per charge.
Mileage today 2,131 miles
Distance since start 1,449 miles
Average consumption 4.4 miles per kWh
As always with our extended tests, you can ask questions at any time via my Twitter account or the comments below.
November 25, 2020: Five good and five bad things about the 2020 Mini Electric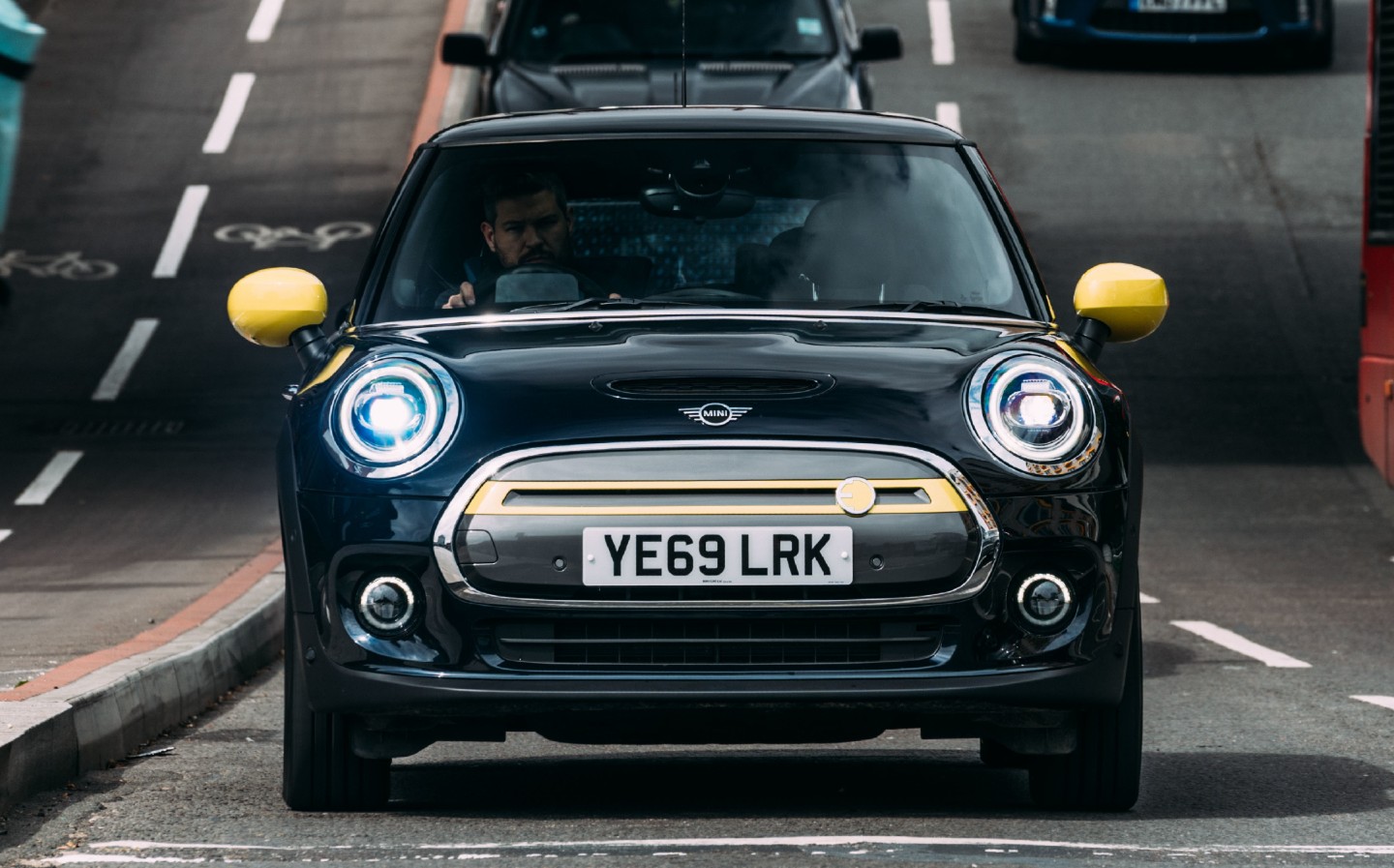 My time with the Mini electric is coming to an end – it is being collected in less than a month's time. As you'll have gleaned from the above, I like the thing (and so does my wife), so I'll be sorry to see it go. But during our time with the car I have picked up on some things about it that I don't like, so here is a list of five good and five bad things about the 2020 Mini Electric.
Five of the best things about the Mini Electric
1. Rapid charging
Being able to fill up an electric car quickly is far more important than how far it can go on a single charge, I have found. Long journeys, while not ideally suited to the Mini, are made possible due to the fact that it takes less than an hour to fully recharge on a 50kW DC charger, and 30 mins to get it to 80% full. And because I can't charge at home, I'm reliant on quick charges using public infrastructure – if I had to hang around for hours while it charged at 7kW away from home, it just wouldn't be a viable car for me.
2. Performance & handling
The Mini Electric is just such great fun to drive. Many EVs make you a much lighter-footed driver, because you learn to eke out every last drop of range. This is especially true in models that don't go particularly far between charges. But the Mini is just too entertaining not to drive as if it was one fire, from time to time. Punchy acceleration, a very low centre of gravity, firm suspension and sharp steering make it probably the most engaging electric car you can buy right now – certainly for reasonable money. And it's maybe one of the best Minis to drive, too.
3. Underfloor storage in boot
The boot isn't large, it's fair to say, but that's true of all Mini Hatches. Importantly, Mini has packaged its electric three-door so that there is still storage underneath a flat boot floor, which is perfect for charging cables.
4. Good packaging
The joke about modern Minis is that they're not Mini at all, but actually the Hatch isn't large compared to most other cars these days. Inside is relatively roomy, though, especially up front — it doesn't feel too cramped for me, at 6ft 5in tall. My children fit in the back, in their child seats, too — only just when I'm driving, but it's possible. An electric five-door would make it easier for families, for space and convenience of getting the kids in and out, and you'd probably rule out the Mini Hatch if you have very young children, as they require pushchairs, but for a normally-heighted family of four, it's a perfectly usable everyday runaround.
5. People love it
Few cars elicit such a positive response from other drivers. It's a head-turner, and my wife and I have both noticed some people smiling at us we've been driving along. On more than one occasion, after parking up, people have approached me to ask about it (and electric motoring in general). It's a joy to own in that respect. The opposite of owning a supercar.
Five of the worst things about the Mini Electric
1. Switches off when you don't want it to
First World problem, perhaps, but whenever I arrive at my housing estate and need to get out to open the gates, I put the Mini in Park and engage the parking brake (of course). When I then open the door, the car powers down and starts bonging at me, telling me the door is open. "Yes, I bloody know the door is open – I just opened it!" I have found myself shouting at it. I then hop back in and have to switch the thing on again before selecting Drive. This is common with other cars these days, not just the Mini, but it's irritating. Car makers: just stop it.
2. No rear interior light
This may be because we have the twin sunroof option (which we like, because it lets in a lot of light, making the cabin seem airier), but there's no interior light for the rear of the car. This can make finding dropped toys or rear seatbelt buckles tricky at night.
3. Infotainment
Mini has always been poor at this. In the pre-touchscreen days, the menus were seemingly designed to be as baffling as possible. The 8.8in top spec touchscreen in new Mini Hatches is marginally better, and they now benefit from an additional BMW iDrive-style dial control, but the brand still has one of the least intuitive systems on the market. Just selecting radio stations is a chore. Worse, the Mini Electric lacks the clear energy usage information you find in every other electric car, which makes it hard to know how efficient your driving has been. At least the battery level gauge is clear and accurate, but I'd expect more from a top spec Mini.
4. Firm ride
Okay, I praised the performance and handling… but it comes at the expense of comfort. Be aware of that when buying one, and consider choosing the 16in wheel rather than the 17in, as fitted to our test car. That should result in a slightly less harsh ride (at the expense of on-rails dynamics).
5. Missing features
Level 3 is the top spec Mini Electric, so you might expect it to have electric seat adjustment and lumbar support, or an electric tailgate so that you can open the boot with a waggle of you foot under the bumper (handy if you have armfuls of shopping) – it doesn't. Yes, it has dusk-sensing headlights, rain-sensing wipers and heated seats, but so do the Level 2 versions. You get the panoramic sunroof thrown in with Level 3, and Matrix LED headlights, though they're not as sophisticated as the ones found on BMWs. You also get the wireless phone charger. The awful touchscreen is actually an upgrade from Levels 2, too. For an extra £4,000, I don't think it's worth it.
Update, December 7, 2020: I have discovered on extra problem with the Mini Electric and need to include it here. The charging port isn't illuminated, which makes plugging in at night when there's no street lighting quite tricky. Some other electric cars have a ring of LEDs around the socket on the car, and it's a really handy feature. It sounds like nit-picking but trust me, when you're in a dark, secluded car park at night, or if it's cold and rainy, the last thing you want to do is waste time trying to work out which way round the plug goes.
Mileage today 2,545 miles
Distance since start 1,863 miles
Average consumption 4.2 miles per kWh
As always with our extended tests, you can ask questions at any time via my Twitter account or the comments below.
December 16: Mini Electric versus rivals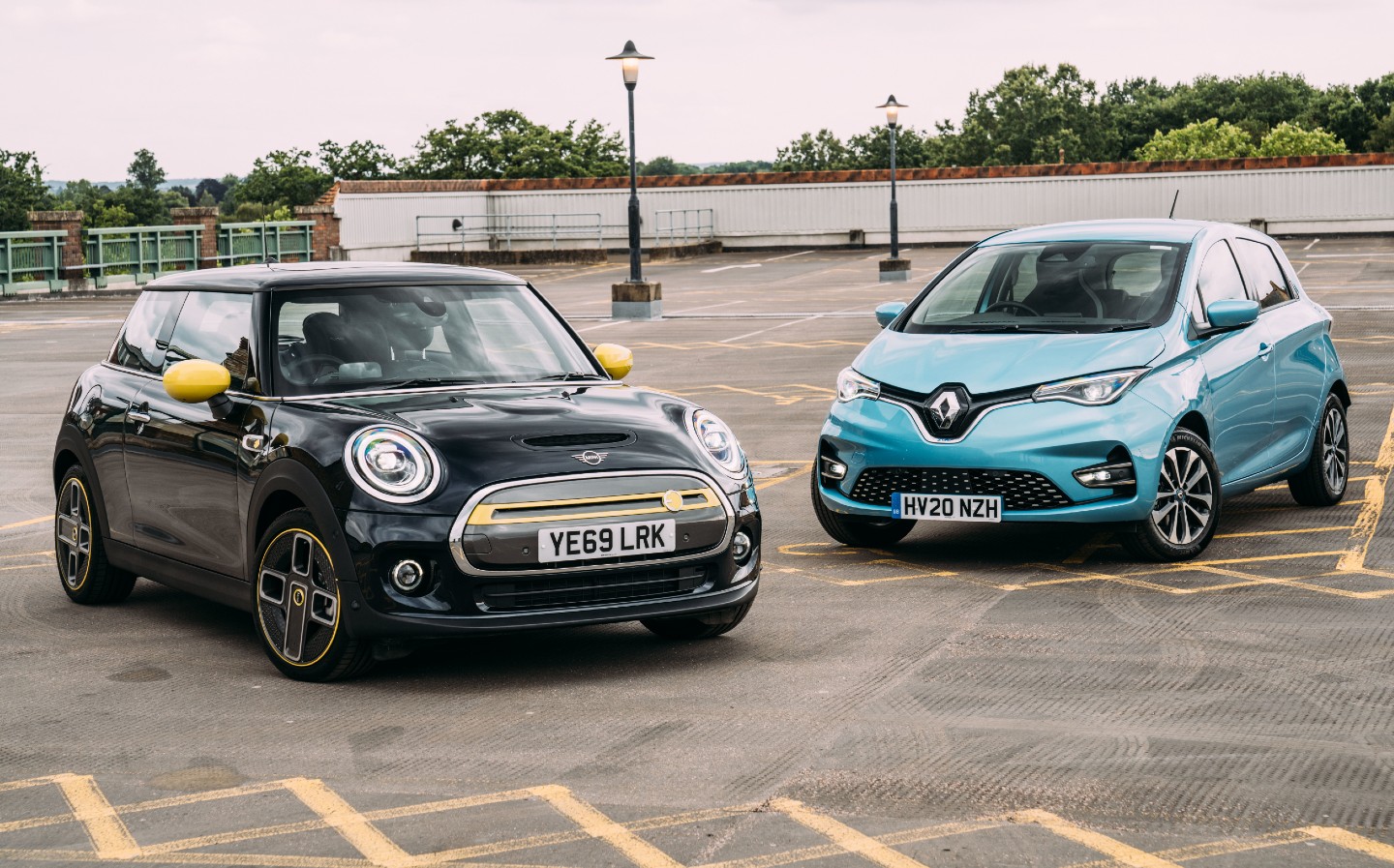 So many factors come into play when deciding which car to buy. If you have bad knees or hips, the height of a car's seat from the ground will be critical, for example. For those with three children, the width of the rear bench is of critical importance. For many, cost is key while others may choose badge over value.
With that in mind, I'm not going to tell you to definitely buy the Mini Electric or not, but I will do some of the hard work for you: comparing its vital stats against key rivals.
The table below compares the Mini Electric with other small electric cars currently on sale in the UK, namely the Renault Zoe (pictures with the Mini above), Seat Mii Electric, Honda e, Peugeot e-208 and Vauxhall Corsa e (which shares the Peugeot's electric motor and battery).
| | Mini Electric | Honda e | Peugeot e-208 | Vauxhall Corsa   e | SEAT Mii Electric | Renault Zoe R110 |
| --- | --- | --- | --- | --- | --- | --- |
| Starting price* | £25,100 | £27,160 | £26,725 | £26,640 | £19,800 | £29,495 |
| Driven wheels | Front | Rear | Front | Front | Front | Front |
| Battery size (gross) | 32.6kWh | 35.5kWh | 50kWh | 50kWh | 36.8kWh | 52kWh |
| Range (WLTP) | 141 miles | 127 miles | 217 miles | 209 miles | 160 miles | 245 miles |
| Charging tech | 50kW DC CCS | 50kW DC CCS | 100kW DC CCS | 100kW DC CCS | 40kW DC CCS | 50kW DC CCS |
| Rapid charging time | 0-80%: 36min | 0-80%: 31min | 0-80%: 30min | 0-80%: 30min | 0-80%: 1hr | 0-80%: 1hr 10min |
| Power | 181bhp | 152bhp | 136bhp | 136bhp | 60bhp | 107bhp |
| Torque | 199 lb ft | 232 lb ft | 260 lb ft | 261 lb ft | 156 lb ft | 166 lb ft |
| 0-62mph | 7.3sec | 8.3sec | 8.1sec | 7.6sec | 12.3sec | 11.2sec |
| Top speed | 93mph | 90mph | 93mph | 93mph | 81mph | 84mph |
| Dimensions (mirrors folded) | 3,845mm   x 1,727mm x 1,432mm | 3,895mm x   1,752mm x 1,512mm | 4,055mm x   1,745mm x 1,430mm | 4,060mm   x 1,765mm x 1,435mm | 3,557mm   x 1,645mm x 1,478mm | 4,087mm   x 1,787mm x 1,562mm |
| Boot space | 211 litres | 171 litres | 311 litres | 267 litres | 251 litres | 338 litres |
* Including £3,000 government plug-in car grant
Price
You can see straight away that the Mini is quite keenly priced. Of the bunch, the Seat Mii Electric is the cheapest but that's reflected in its performance – the Spanish model is very underpowered when compared to the others, and has only a third of the Mini's horsepower.
Performance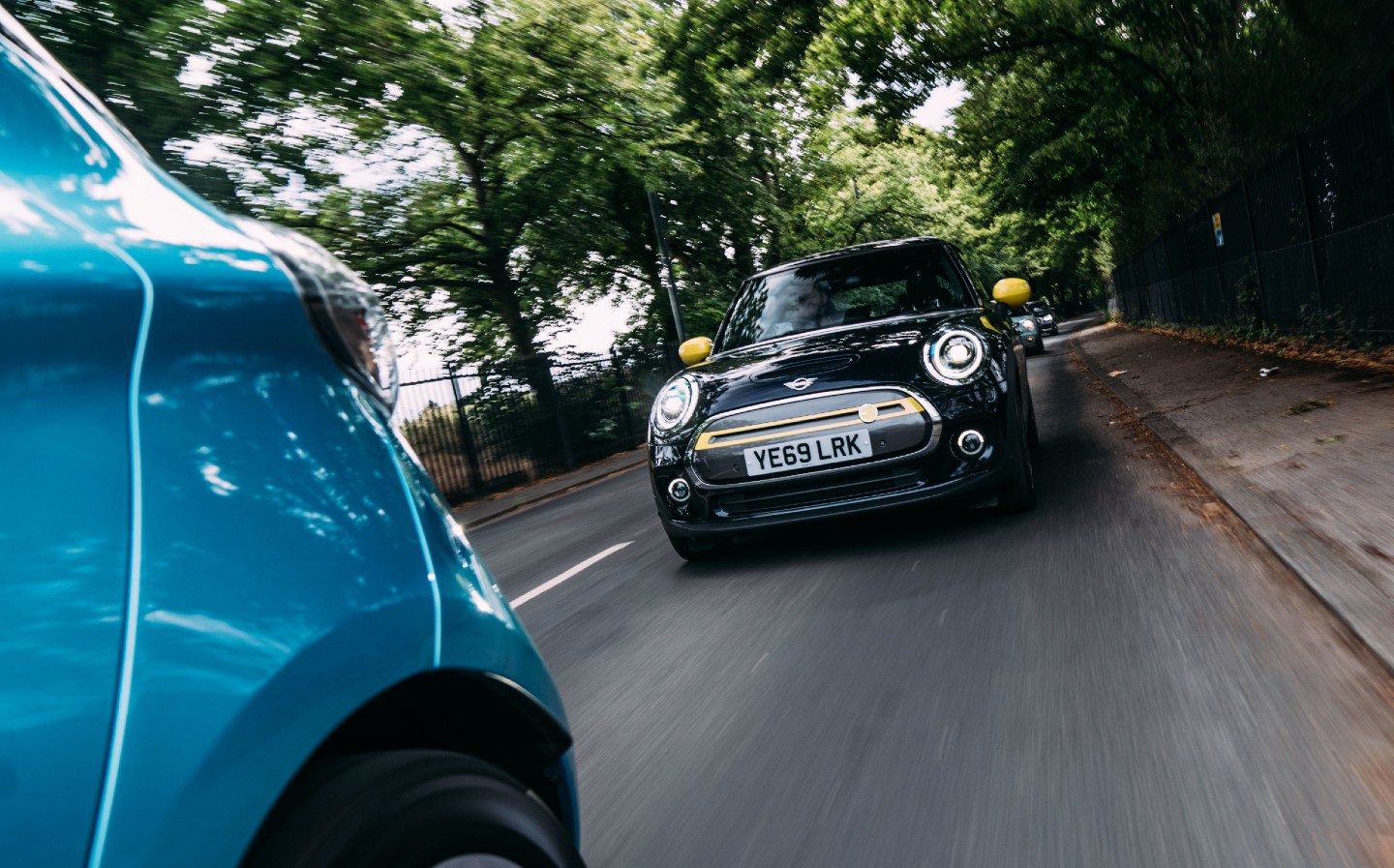 Interestingly, while the Mini is the most powerful, its torque rating (twisting force from the motor, or "punch" under acceleration) isn't the highest – it's beaten in that respect by the Honda, Peugeot and Vauxhall. The Zoe is the most expensive, but then it has the most range.
But the Mini is the quickest to 62mph thanks to having the smallest battery of the lot, which saves weight and improves energy efficiency. I've been really impressed with the Mini's 4.2+ miles per kWh during my time with it.
I wouldn't pay much attention to the top speeds: if you're going over 70mph you're breaking the law, of course, and all cars here will be able to keep up with the flow on the motorway.
Range
As mentioned, the Renault can go furthest out of these small cars, and on paper the Honda is the loser here. But I've found the Mini can't get anywhere near 140 miles per charge; nursing it around town you might get 120 miles, perhaps, but driving normally means plugging in every 100 miles or so. Having said that, CarWow drove a number of small electric cars until they died, which showed that when the Mini says it's out of battery, there's actually a fair few miles left in "the tank".
The real surprise has to be the little Seat, which has a claimed range of 160 miles per charge despite being the most compact and affordable of the lot.
Charging speeds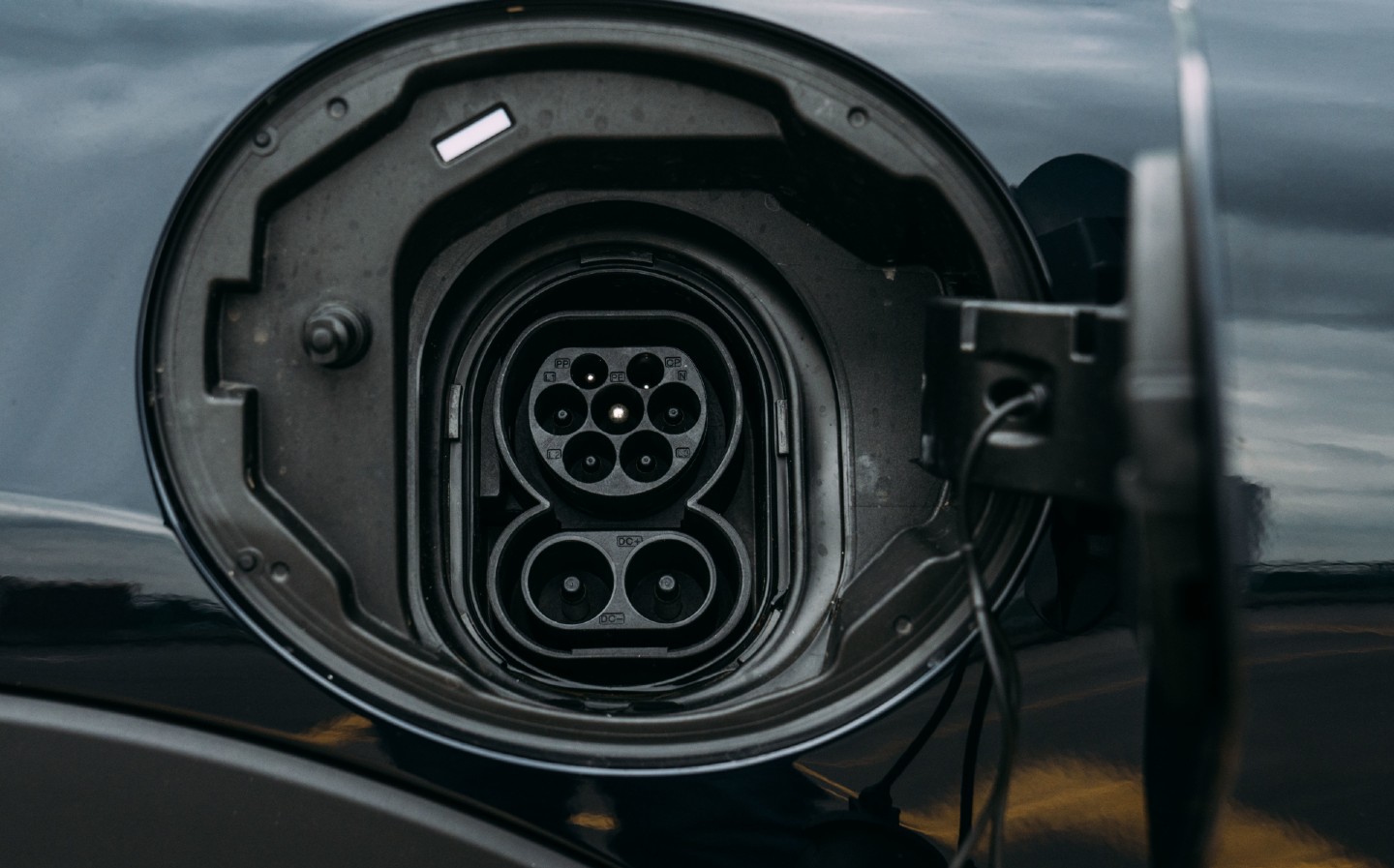 But, as I said in my last post, more important than range is how quick an electric car is to charge, and the Mini is excellent in this regard: on a 50kW DC charger it will get to 80% full in 30 minutes, as per the spec sheet. It then takes the same amount of time to reach 100%, as the charging speed slows down (all electric cars do this to protect the battery chemistry). The fact that it can charge quickly means I've been able to recharge away from home 100% of the time, using public chargers, and have used the 30 mins to one hour to answer emails and write articles on my laptop. It's not been wasted time at all.
Comparing the Mini with the other cars here is interesting. The Zoe shown might be the Rapid Charge model but it cannot take a 100kW charge, like the Peugeot and Vauxhall, and it takes over an hour to get to 80%. It can go a lot further between charges than its rivals, though, despite not having a massively larger battery pack.
The Seat is the slowest to charge, while the Honda is broadly similar to the Mini.
Interior space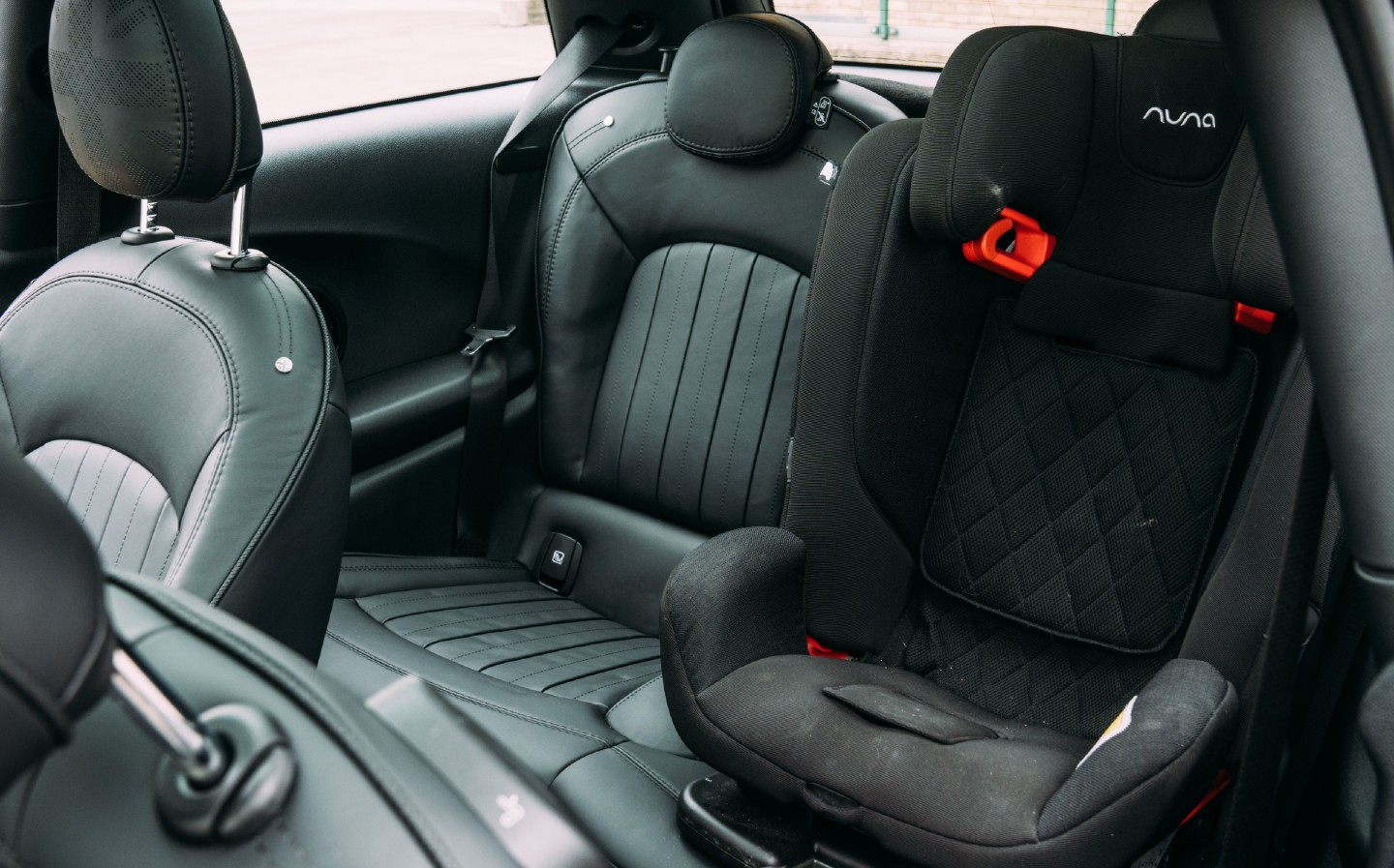 I'm 6ft 5in tall and the Mini is just about okay for a driver of my height. When I have my kids in the car, I do have to slide my seat forward, though, which makes things a lot more cramped up front – I'd not like to drive long distances like that. But for a family of non-giants, the Mini should prove decent, and my wife has described the interior as surprisingly spacious.
But while the Mini makes good use of space, the Seat Mii Electric is truly amazing – it's the shortest and narrowest car here but can still seat four in comfort and its boot is larger than those of both the Mini and Honda. Like its VW Up! and Skoda Citigo siblings, the Mii is a brilliant example of compact design.
But while the Mini, Honda and Seat are all city cars, the Peugeot, Vauxhall and Renault are in the class above, size-wise – they're superminis, equivalent to petrol-powered rivals like the Ford Fiesta and VW Polo. Probably the most spacious is the Zoe – that's definitely true of the boot, which is a very useful size. I have found the Renault does have a fairly high boot lip, though, which makes it harder to lift bags in and out of those with flat floors – the Mini included.
Conclusion
As I said at the start, so many factors will come into play when you pick your next car. I haven't mentioned design, nor the quality of the build or materials used inside (the Mini is excellent for both). Neither have I factored in infotainment (the Mini is not great in this regard, while the Honda is a clear winner).
But I can tell you that the Mini is clearly the most fun to drive, and it's decently practical compared to rivals, too. You'll make the final decision but hopefully this comparison has made the job easier.
Mileage today 2,630 miles
Distance since start 1,939 miles
Average consumption 4.2 miles per kWh
As always with our extended tests, you can ask questions at any time via my Twitter account or the comments below.
December 21, 2020: Mini Electric final test report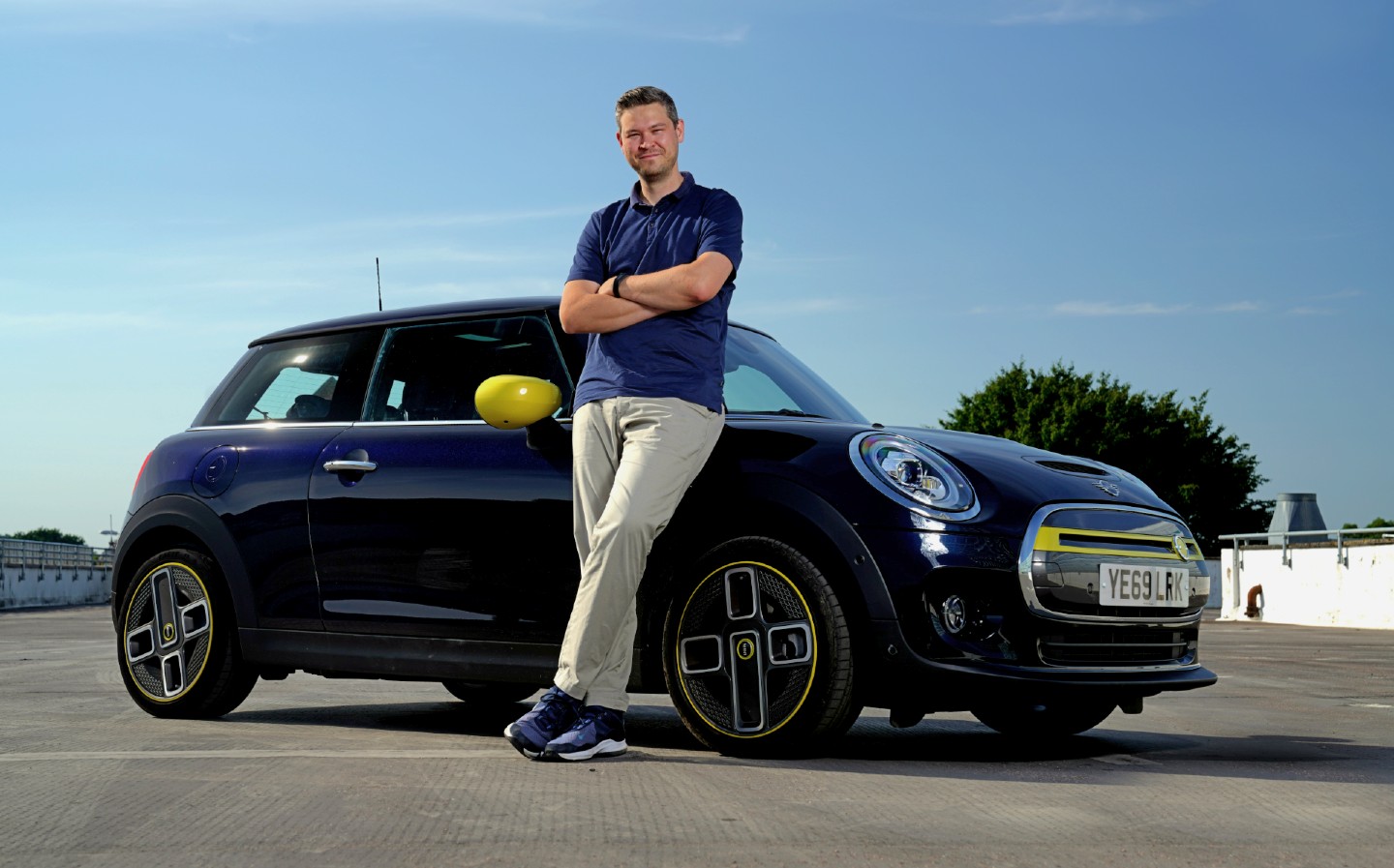 The Mini Electric has been collected from my driveway so it's time to reach a final verdict on the car.
When the car was first delivered I honestly didn't know if it would be a pain in the backside compared with a petrol or diesel model, given that we haven't been able to charge at home without an extension lead, and the public chargers near my home are few and far between. I was prepared for the worst, in fact, and would have said so here had I ever run out of juice and found the whole thing a nightmare.
Actually, running it hasn't been an issue – there was only one occasion when the low battery warning came on and I started to feel a little uncomfortable about making it to a place to charging point. You need to plan ahead but as mentioned above, the rapid charging capability has made life with the Mini Electric pretty stress free, surprisingly.
In recent weeks I've had a three-pin outdoor socket installed at the end of my garden but it's really not a proper solution for a pure-electric car, given how long it takes to charge at 10amps (nearly 16 hours from flat to full), and I have to run the cable across my neighbour's parking spaces. He's happy for me to do so but it's not ideal for either of us.
Not being able to charge at home shouldn't necessarily deter you from buying a Mini Electric, however, if there are opportunities to charge elsewhere. And new apps that allow you to rent home chargers at properties near your home, such as Co Charger, only make things easier.
So if charging isn't an issue, should you buy a Mini Electric? It's a personal choice, obviously, but my wife would have the Mini back in a heartbeat – she loved its instant torque, quiet running and emissions-free (and therefore guilt-free) driving. "This is how a car should feel to drive in 2020," she told me, comparing the Mini to her smartphone and Macbook. Her diesel Countryman feels like old tech now, she added.
I've driven quite a few other electric cars, of course, so have a bit more of a basis for comparison – is the Mini better than a new Honda e or Renault Zoe? It's more fun to drive, certainly. Probably more satisfying to drive than a petrol Mini Hatch, in fact.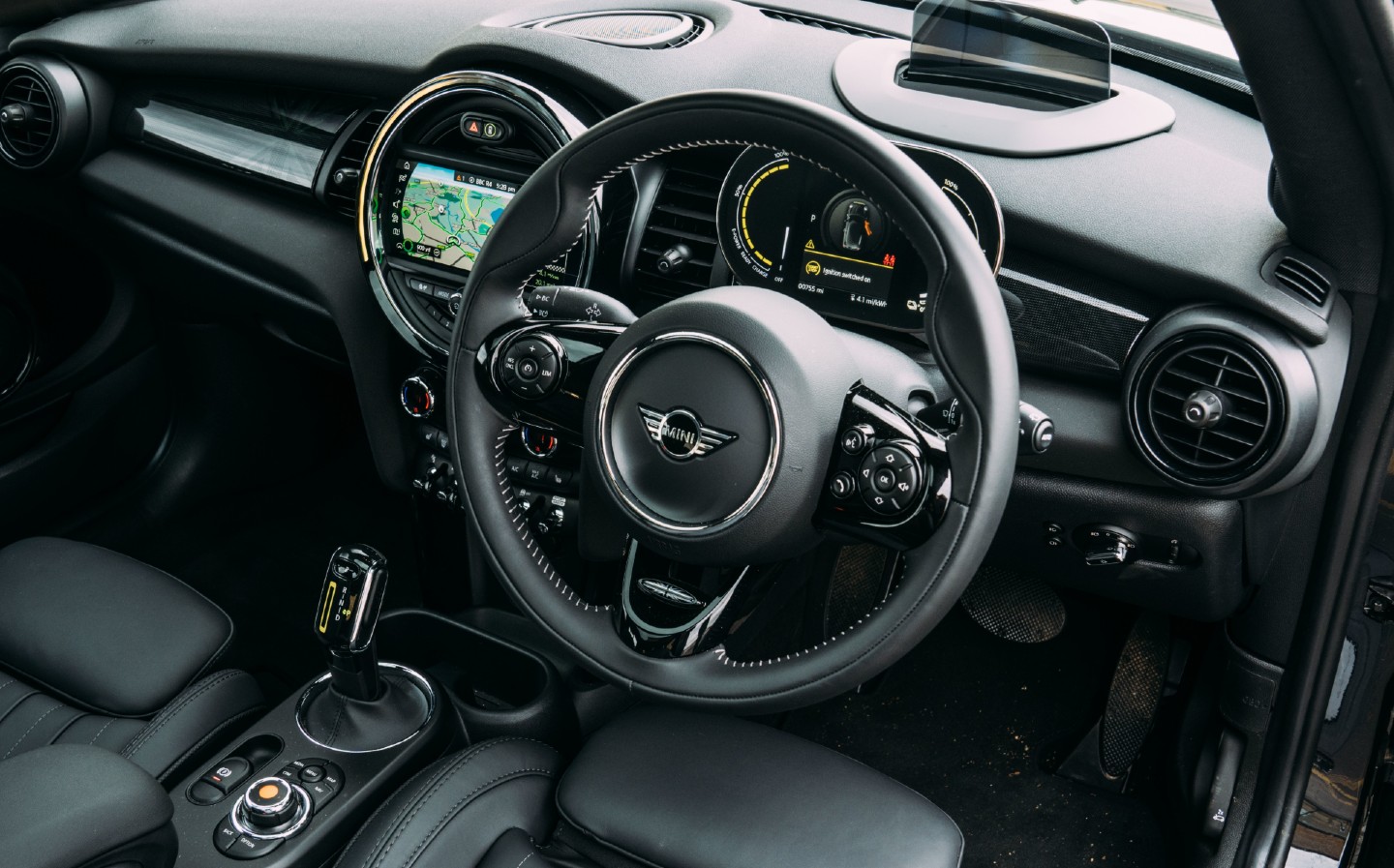 It's a pity the infotainment lags behind that of most rivals in terms of design, functions and ease-of-use. The controls are fiddly and frustrating. And no Android Auto? That's very disappointing from an electric car launched at the end of 2019.
The dashboard just seems a bit busy, and the driver's display is a long way from what you'd call modern. The Honda's interior is not just more high tech by comparison but also easier to use and offers more in the way of functionality.
Which is a real shame for the Mini as, for a small car it's decently practical – the boot is fine for a weekly shop and there's space for the kids in the back. A five-door option would make it better for families with very young children but it's fine in the back for toddlers and kids up to the age they want (and can drive) their own car.
---
If you like this Mini Electric review, also read our summary of all car makers' electric vehicle plans
---
It's also highly efficient – during my time with the car it managed more than 4.2 miles per kWh – ev-database.co.uk rates only the Tesla Model 3 and Hyundai Ioniq above the Mini Electric for efficiency.
So on balance there's a lot to like about the Mini but it were my money, I'd probably want a model with a little more room for tall drivers and the ability to run Android Auto. Mini says it's ditching plug-in hybrids, so the next Countryman will be available in pure-electric form from 2023/24. And there's a smaller electric SUV (somewhere between the Mini Hatch and the Countryman in size) planned for around the same time. If they launch either of those with a decent touchscreen, I'll be sold.
Final mileage 2,690 miles
Distance since start 1,999 miles
Average consumption 4.2 miles per kWh
If you liked this review of the 2020 Mini Electric and want to read more of our long-term car reviews, click here.