Extended Test: 2020 Skoda Octavia iV Estate plug-in hybrid review
Is now the time to buy a plug-in hybrid?
2020 Skoda Octavia iV Estate specifications
Model 70-reg Skoda Octavia iV SE L Estate
Price £33,605 OTR
Price as tested (with options) £36,426 OTR
Colour Moon White metallic
Cost options fitted Driver fatigue sensor £45; Metallic Paint/ Pearlescent £595; Park Assist £345; Rear-view parking camera with dynamic indicators £595; Winter Pack £480; Wireless charging £325; Skoda roof bars £210; Skoda bike holder £113 (x2)
Drivetrain 148bhp, 1,395cc, 4-cylinder turbocharged petrol engine plus 114bhp electric drive motor and 13kWh li-ion battery
Transmission Six-speed DSG automatic, front-wheel drive
Power output 201bhp (maximum combined)
Torque 258 lb ft (maximum combined)
Kerb weight (with driver) 1,620–1,797kg
Max trailer weight (braked / unbraked) 1,500kg / 750kg
Boot capacity (rear seats in place / folded) 490 litres / 1,555 litres
Top speed 137mph
Acceleration 0-62mph: 7.8sec
Electric range (WLTP) Up to 37 miles
Official consumption (WLTP) 188.3-256.8mpg
Charging time (0-100%) 5hrs using standard household socket (10amp); 3hrs 33min using 3.6kW wallbox
CO2 emissions 24-33g/km
Road tax £0 for first year; £140 thereafter
BIK tax payable (2020/21) 6%; £403 (20%) or £805 (40%)
BIK tax payable (2021/22) 7%; £470 (20%) or £939 (40%)
Insurance group 21
Test details
Test period December 2020 – June 2021
Starting mileage 873 miles
Test updates
December 22: Introducing the Skoda Octavia iV Estate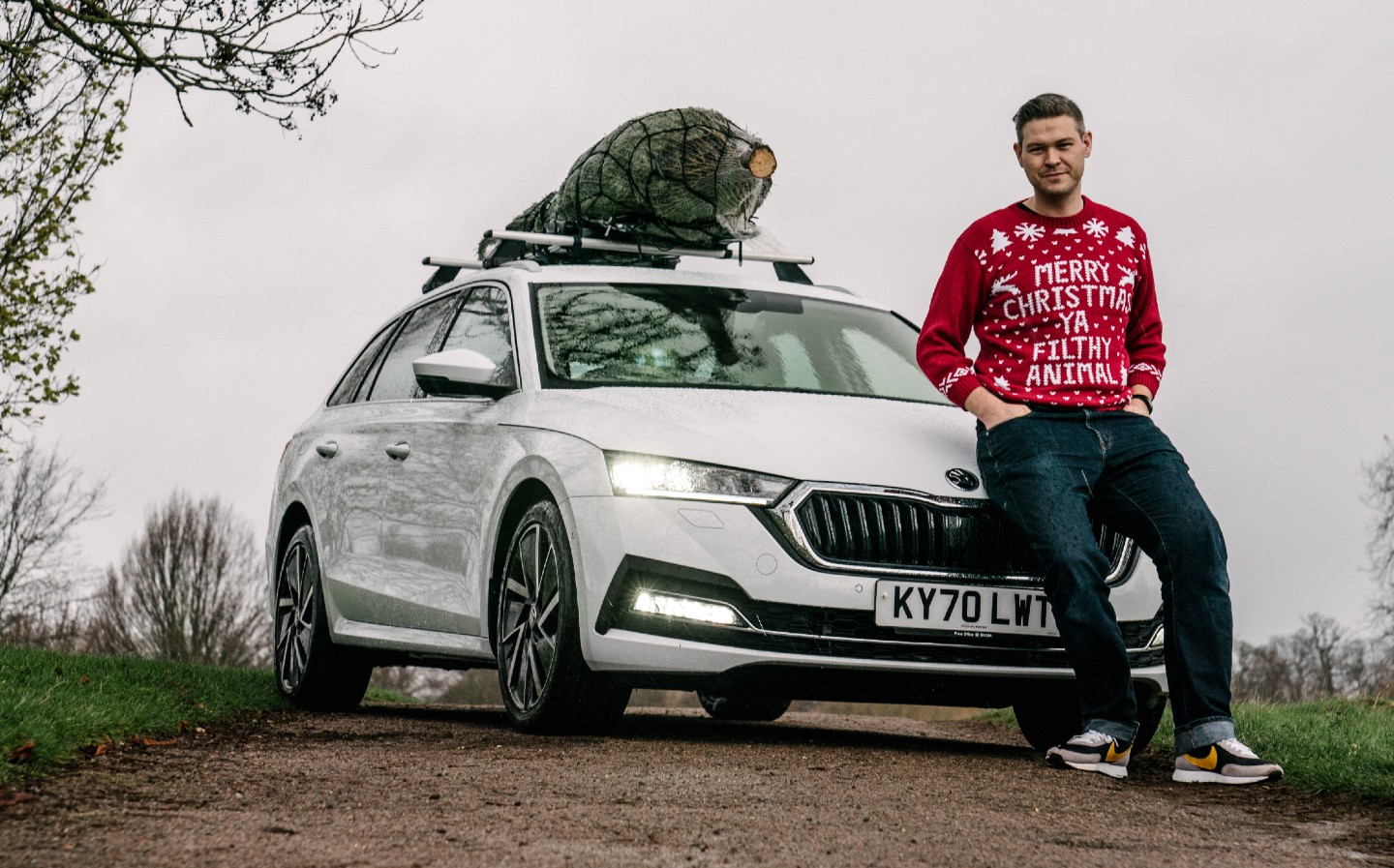 Skoda delivered the Octavia iV Estate on December 14 with a Christmas tree on the roof and a Christmas card inside (adorned with the lovely pun, "The holly and the iV"), which was a lovely touch.
We already had a tree at our house but my elderly mum, who lives alone and, due to Covid-19, is insisting on spending Christmas Day on her own, did not — so the car's first duty (after its photoshoot) was a trip to ma's, where there tree was erected. I think it has made her Christmas. Skoda may not be seen as the most exciting car brand in the world, perhaps, but it definitely has a heart and soul.
So what is the Skoda Octavia iV all about? Well, it's a plug-in hybrid (PHEV), which means it can be driven on electric power for a number of miles before a traditional combustion engine joins the party, after which it works pretty much like a standard hybrid. In the Octavia's case, it'll go for "up to 37 miles" on electric power, according to the official WLTP test, though from day one the actual range indicated by the car is 25 miles, and that seems to be pretty accurate so far.
As with most other PHEVs, you can hold the battery charge at any stage, so that you can use it later. In my extended test of the BMW 225xe, I found this really useful for maximising efficiency — I used electric power around town before switching to hybrid mode and holding the battery reserve for a stretch of 50mph dual carriageway, then went back to pure-electric for the final stint through central London.
---
2020 Ford Kuga Plug-in Hybrid review
---
Due to coronavirus I'm commuting far less these days, with many more short, local trips. That means I should be able to get even higher fuel economy out of the Skoda than the 79mpg average in the BMW, especially as it promises an extra five miles per charge of electric motoring.
The official fuel economy is an eye-opening 188.3-256.8mpg, but take that with a massive pinch of salt: the real economy will vary massively depending on how you use it. If you spend all your time on motorways the figure will be much lower — probably lower than you'd get from a diesel car. But imagine if you plug in every night and only drive less than 25 miles per day — in theory you could never use a drop of petrol.
Of course, you will want to venture further afield on occasion, and that's where a PHEV comes in handy — no need to wait at charging points for a recharge on your family holiday to Cornwall; you can simply refill the petrol tank and continue on your way.
I'll be paying close attention to my personal fuel economy in future posts, in daily running but also on long trips, as well as ease of charging and costs. It's worth noting that government incentives for plug-in hybrids have ended, and new hybrids will be banned from sale from 2035 (they want us all to buy pure-electric cars now), but PHEVs can still make a lot of sense depending on circumstances. One thing to look at in the coming months is residual values, with all that in mind.
This is the Estate version of the new Octavia that launched in 2020, and comes with a choice of two petrol engines, both of which come with a mild-hybrid set-up for improved economy, but these can't run on electric power alone. There's a 2-litre diesel engine, too, which can be specced with four-wheel drive, plus a sporty vRS version of the plug-in hybrid.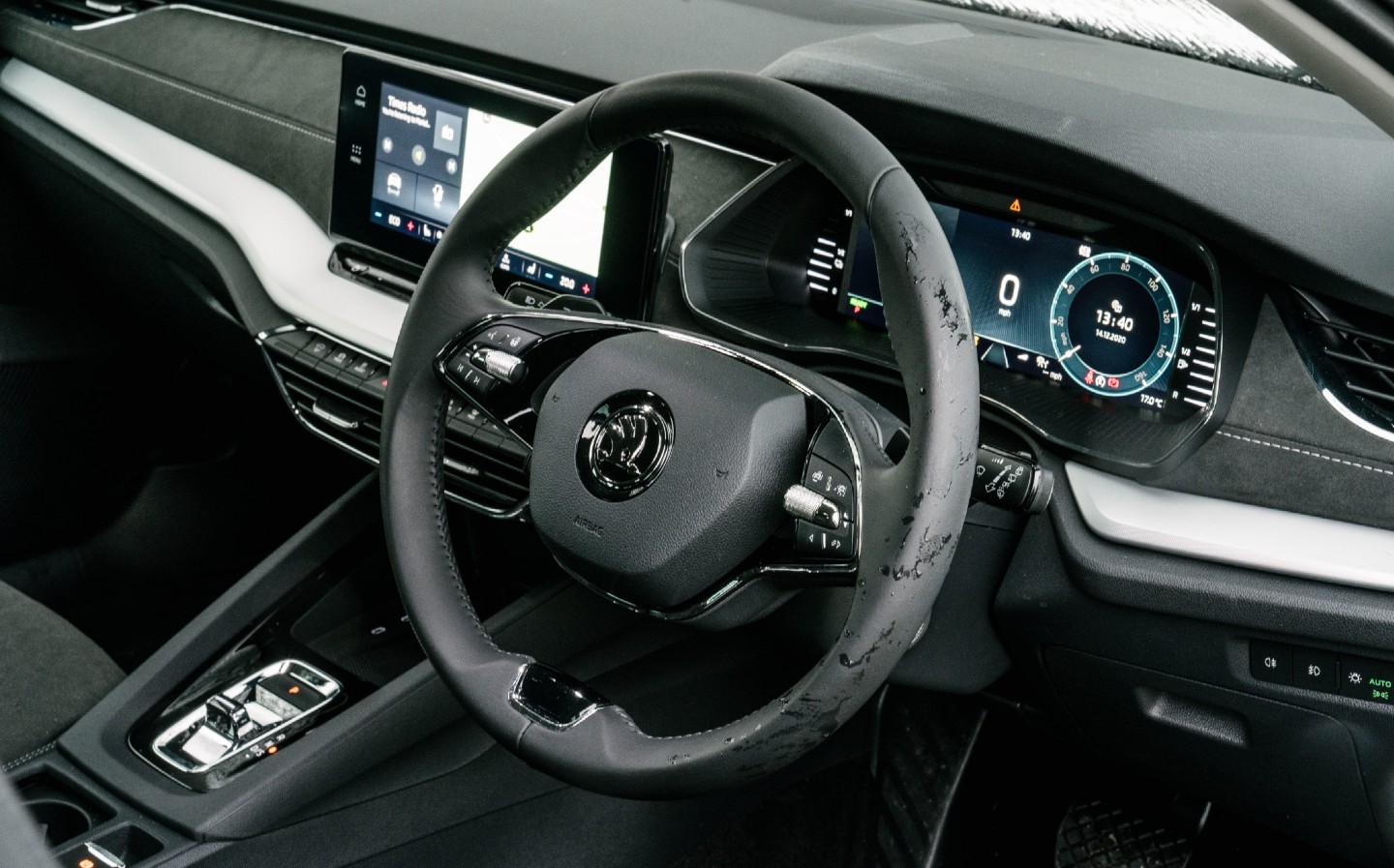 All are based on the new VW Golf 8, and there's an Estate version of the Golf, so we'll compare the two alongside some other Estate rivals in a future post, looking at practicality and features.
And as with the Golf 8, the new Octavia's interior has been dramatically stripped backed and updated with new tech — I'll devote another update to all the infotainment features available, including the connected phone app.
We can also explore the Skoda's unique features, including the ones marked out as Simply Clever. At least one of them could prove very handy as the temperature drops.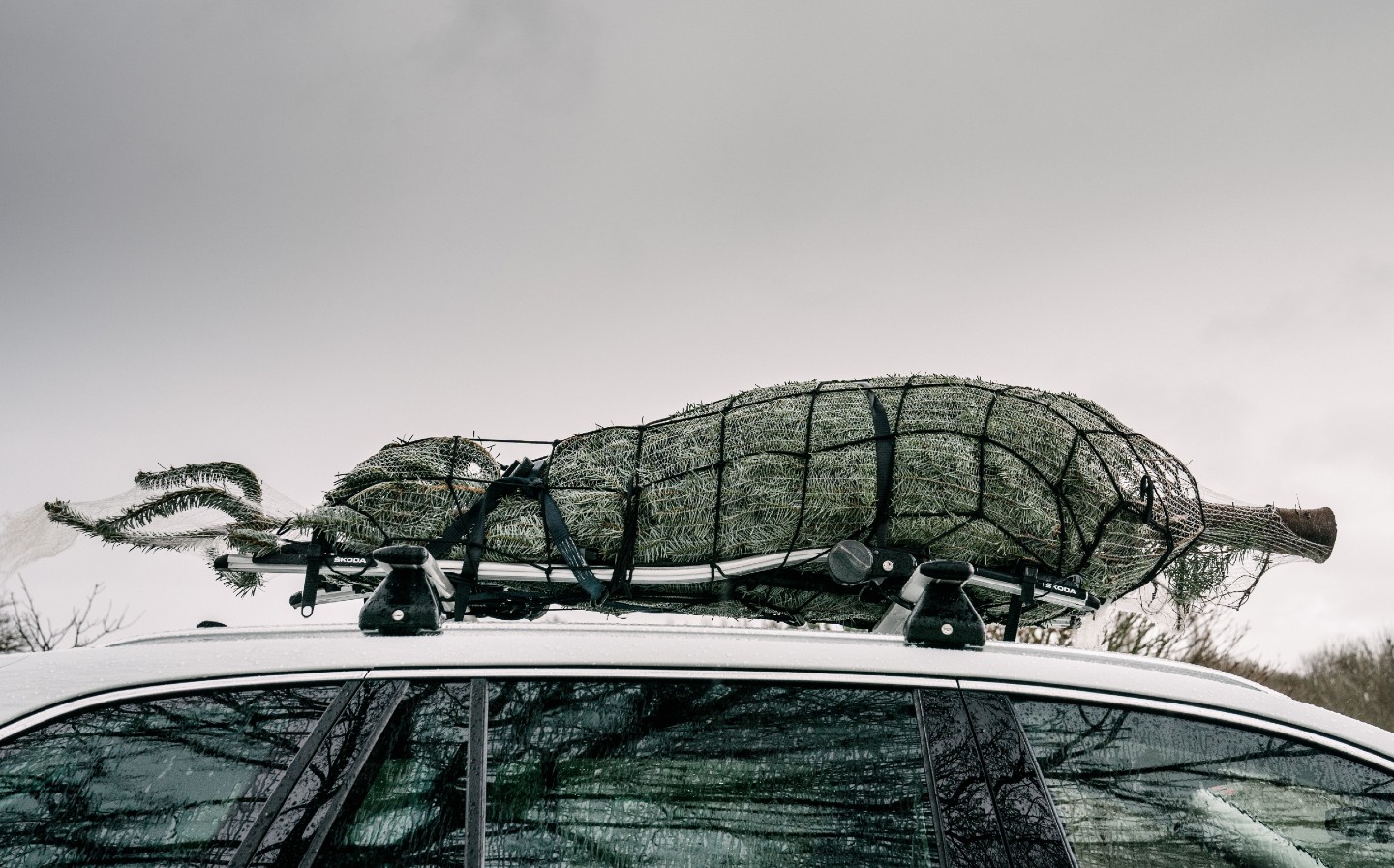 I'm delighted about being sent the Christmas tree not only for the tree itself but also because it was strapped to Skoda's bike carriers, so I can let you know if they're worth £113 each, too.
So. there's plenty to talk about over the next six months, so bookmark this page and return for the updates.
In the meantime: Merry Christmas!
Mileage today 1,124 miles
Distance since start 285 miles
Average consumption 61.8mpg / 7.7 miles per kWh (375 miles hybrid & 26 miles electric)
As always with our extended tests, you can ask questions at any time via my Twitter account or the comments below.
January 25, 2021: What's the Octavia iV like to drive?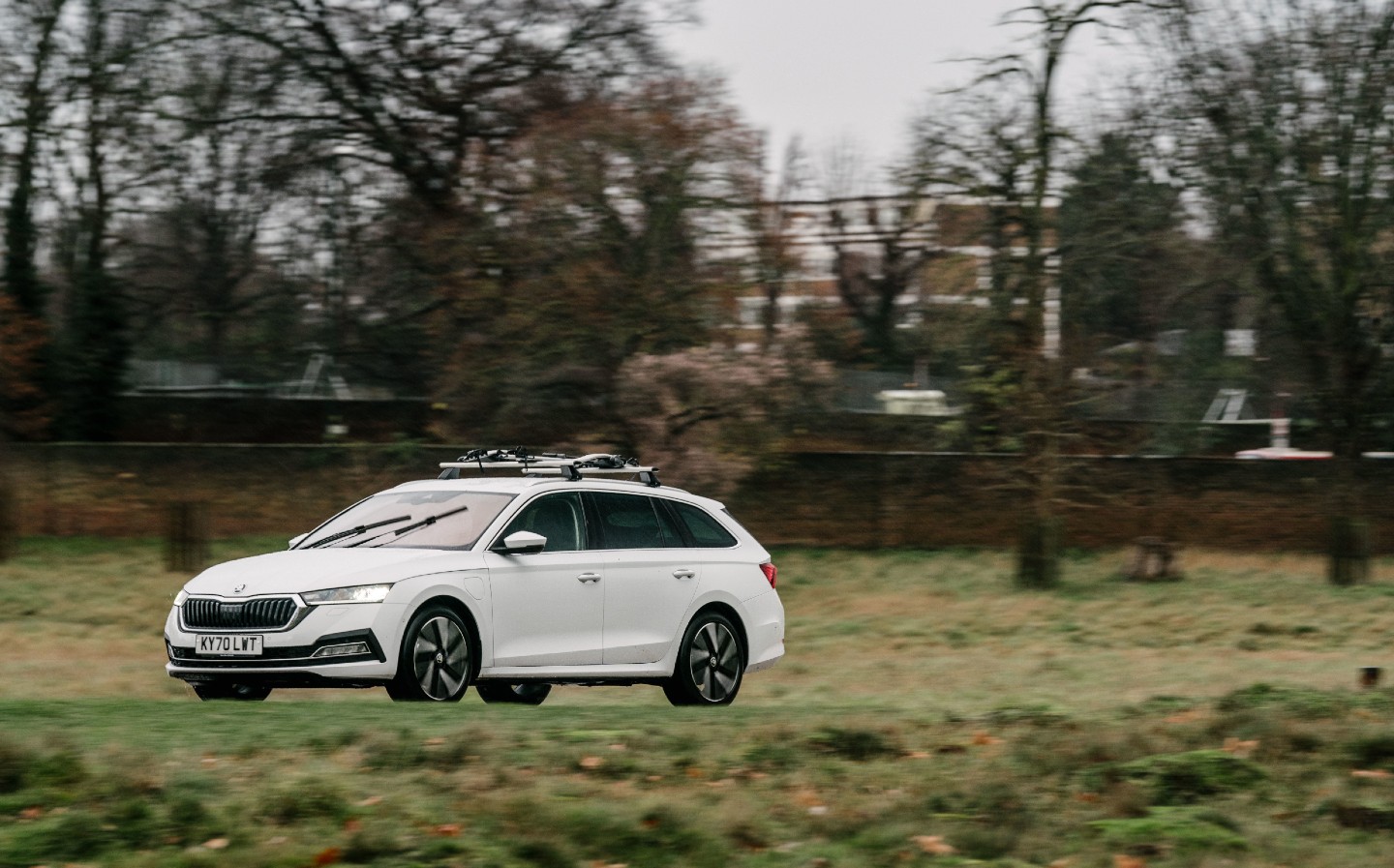 Skodas have been good to drive for years now, and the Octavia iV Estate is no exception. The ride errs on the side of comfort rather than sportiness (if you want that, there's the vRS model), so you get suspension that brilliantly soaks up the worst road imperfections.
It also means that driving over a sleeping policeman doesn't rattle your teeth or jar the spine, but you do find there's more vertical travel at the nose and tail than some rivals (I'm thinking of the BMW 3 Series and Audi A4 estates, for example), and the springs continue to compress and rebound for longer than one might expect.
Having said that, this is no wobbly blancmange by any means (we've owned a Citroen C4 Picasso, so we know all about that) – the chassis control is good, and when you're carting around a family, the last thing you want is a car that feels like it has no suspension at all. My wife's current car is a Mini Countryman and that's as stiff as you'd want a family car to be – the Skoda's ride is better judged for a wider range of journeys, I'd say.
The malleable ride also means it's a brilliant motorway cruiser – very comfortable on long runs. Vibration and harshness are minimal, and the engine is barely audible.
Wind noise is a hard one to judge at the moment as it's hard to say how much noise is coming from the roof rack and how much is generated by the mirrors and other exterior design elements. For a while I attributed a whistling noise about 30mph to the mirrors before realising it's much more likely to be coming from a bike wheel strap (or the like) above my head. I have a couple of work events this week in the Midlands, so I'll remove the rack before I head out and report back next time.
As a plug-in hybrid, it's most economical on short trips near home, running on pure-electric power, but a 238-mile return trip around the M25 and up the M1, combining the turbocharged 1.4 TSI petrol engine with the electric motor, returned 52.3mpg. That's not diesel-beating but it's much better than I expected.
After that trip I filled up at the petrol station, and have travelled 146 miles since, almost entirely on electric. The petrol tank is still full, according to the gauge.
There are four driving modes on my test car: Eco, Normal, Sport and Individual, which allows you to tailor the steering feel and engine to your preferred setting – I like a firmer feel to the wheel so put that into Sport, but for efficiency's sake keep the engine in Normal mode. You can also adjust the cruise control and air condition in the Individual settings, and there's a Chassis setting, through I'm still to find out exactly how that affects the car; the suspension isn't adaptive on our test car(it has coil springs and regular dampers), so it must be to do with the electronic stability system.
If you opt for the Dynamic Chassis Control (DCC) system, which is a £945 extra, you do get adaptive damping and as a result, there's an extra "Comfort" driving mode.
If you're wondering whether the Octavia iV has regenerative braking, which slows the car down by turning the electric motor into a generator when you lift off the accelerator, it does. However, it's an automatic system connected to the cameras and GPS that adjusts the strength of the "regen" based on how quickly you're approaching a junction, which means it's slightly unpredictable. I find it's always best to apply some brakes – that way you get smooth, consistent deceleration every time.
One of the surprising things about the Octavia iV is that, unlike other PHEVs I've driven, there's no "Battery hold" button (that I've so far discovered, at least). These, as you'd expect, hold the battery level at a specific amount and switch a car into hybrid mode. This means that when you approach a residential area, you can be sure you've got enough battery to drive through emission-free. It's especially useful when you know you're likely to enter a zero emission zone (ZEZ), which have been proposed in areas of London.
But there is a way to do it in the Skoda: by unticking the 'Auto' box in the Drive Mode menu on the touchscreen, you can set a desired battery level. If you have more battery than required, the car will keep running in electric until it reaches that level, then switch to hybrid and hold that amount of charge in the battery. If there's not enough charge in the battery, the petrol engine will work as a generator and top it up to the specified amount. Which is good, but a simple Battery hold button would still be useful.
It's been interesting driving the Octavia iV following recent snowfall, as I noticed the petrol engine firing up even when it had plenty of battery. I had wondered if this was because it was cold outside (-1 degrees C at the time), but Skoda says it will only automatically switch from electric to hybrid modes if the temperature dips below -10 degrees, so it was likely a bit of wheel slip on ice that caused it.
Obviously when driving on ice, four-wheel drive is preferable, but the Octavia managed my lockdown-allowed trip to the Tesco Metro without feeling like it was out of control, even on a particularly treacherous road and without winter tyres, thanks to the electronic stability system, which I knew from the twinkling lights on the dashboard was working overtime.
I put my foot down a couple of times to check the response of the traction control, which laughed off my foolishly heavy right foot and returned maximum possible acceleration, rather than spinning the wheels pointlessly. I also braked hard and found the anti-lock braking system kept the car pointing straight and true. It really was sheet ice on that road, I realised at that point, as it took an age for the car to stop, even from 15-20mph.
I've waffled on for too long but here are a couple of other observations about driving the Skoda Octavia in sub-zero temperatures.
One of the "Simply Clever" features of Skodas is the ice scraper fitted inside the fuel filler flap, but it's not a push-to-open flap – it's electric, with a button in the driver's door, and when I pressed it the ice around the seal was holding it firmly shut. I had to run a credit card around the gap to release it. Fortunately the charging port is push-to-open.
The other thing is that there's no quick-clear windscreen demist, so it takes a while to defrost the windows fully. Some electric cars, like the Renault Zoe, have heat pumps that warm the cabin very quickly but when you start the Octavia iV, with electric mode as the default, heat comes slowly.
I'd pre-condition the car's interior using the Skoda app, but I've had a hell of a time getting it set up (for a future update), and in the end found that you need both keys to do so. Which means I've arranged to stop by Skoda's press garage tomorrow en route to another car launch, to borrow the spare key and get it sorted.
Mileage today 1,296 miles
Distance since start 423 miles
Indicated long term consumption 149mpg / 23.7kWh/100km (2.63 miles per kWh)
Petrol fill-ups since test began One (tank still full, 146 miles after last fill-up)
As always with our extended tests, you can ask questions at any time via my Twitter account or the comments below.
March 17, 2021: How spacious and practical is the Skoda Octavia iV vs rivals?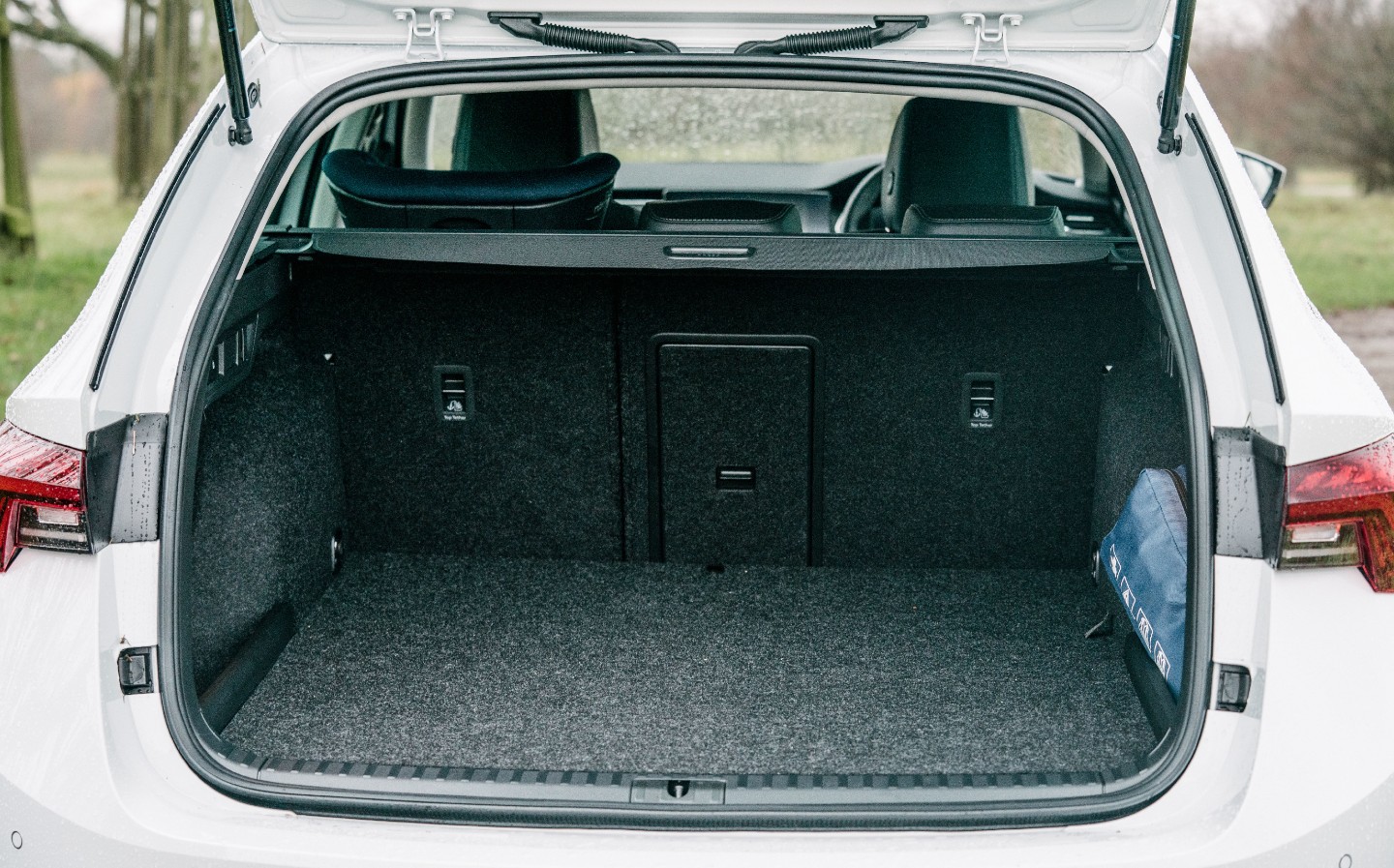 I had wanted to write about the fuel economy in this update, and include information about how much my electricity bill has increased (and how many kWh I've been pumping into the car), but apparently Green Network Energy closed down in January. It's being taken over by Eon but I haven't yet got a login for the online account to view my energy statements, so change of plan: let's talk about practicality.
The previous Octavia estate was known for the roominess of its boot versus rivals, and the new one is even more impressive: boot space is up from 610 litres to 640 litres with the rear seats in place. But the iV version is compromised here, with very little in the way of underfloor storage under its hatchback, due to the packaging of its plug-in hybrid powertrain. Lift the flat floor lid and there's a cubby big enough for two charging cables and not much else.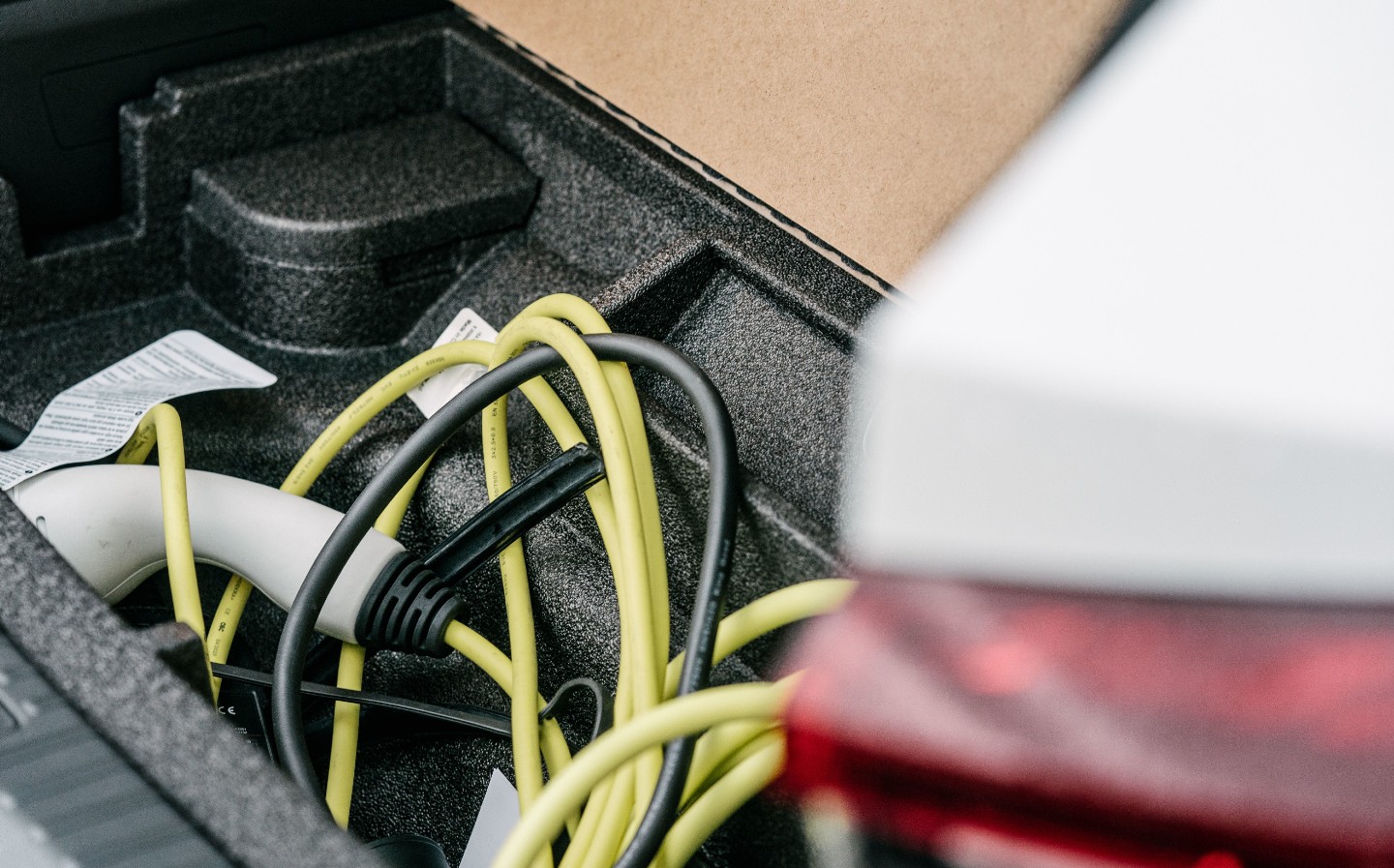 Its total of 490 litres up to the shelf (with the rear seats in place) is actually slightly less than is offered by the Fabia Estate (530 litres), which is in the class below, but if you compare it to other similarly-sized plug-in hybrid estate cars, it fares much better (see table below).
| | Price from | Overall length | Boot space (seats up) |
| --- | --- | --- | --- |
| Kia Ceed Sportswagon PHEV | £30,540 | 4,605mm | 437 litres |
| Skoda Octavia Estate iV | £32,185 | 4,689mm | 490 litres |
| Mercedes C 300 e/de Estate | £42,069 | 4,702mm | 315 litres |
| BMW 330e Touring | £41,530 | 4,709mm | 410 litres |
| Volvo V60 T8 TwinEngine | £45,230 | 4,761mm | 529 litres |
| Peugeot 508 SW | £36,545 | 4,778mm | 530 litres |
And 490 litres is still a healthy amount of boot space: I've found there's plenty of room for even the biggest of grocery trips (we won't talk about how the last one came to more than £200).
The problem, actually, is bags falling over due to the long, wide space back there, which is where Skoda's multiple bag hooks (two on each side) come in handy, along with the optional cargo net, which you'll remember was supplied with the test car. The net comes with hooks that can be attached to the luggage loops in the four corners of the boot, or clipped directly onto a number of smaller toggles.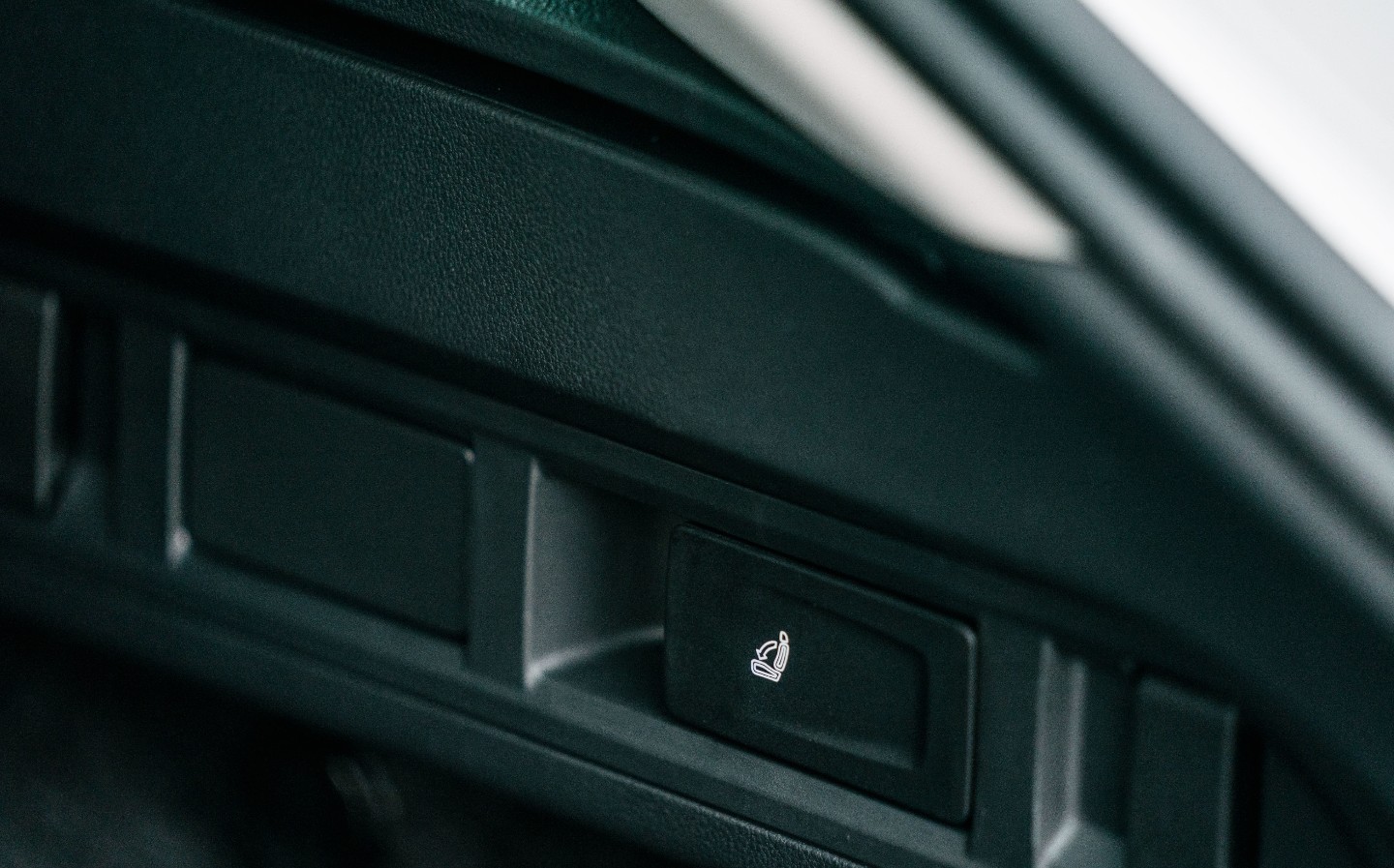 Also in the back of our test car is a 12v (cigarette lighter) socket, which is good because for some bizarre reason Skoda has decided to remove them entirely from the main cabin, where all you'll find is a number of USB-C sockets.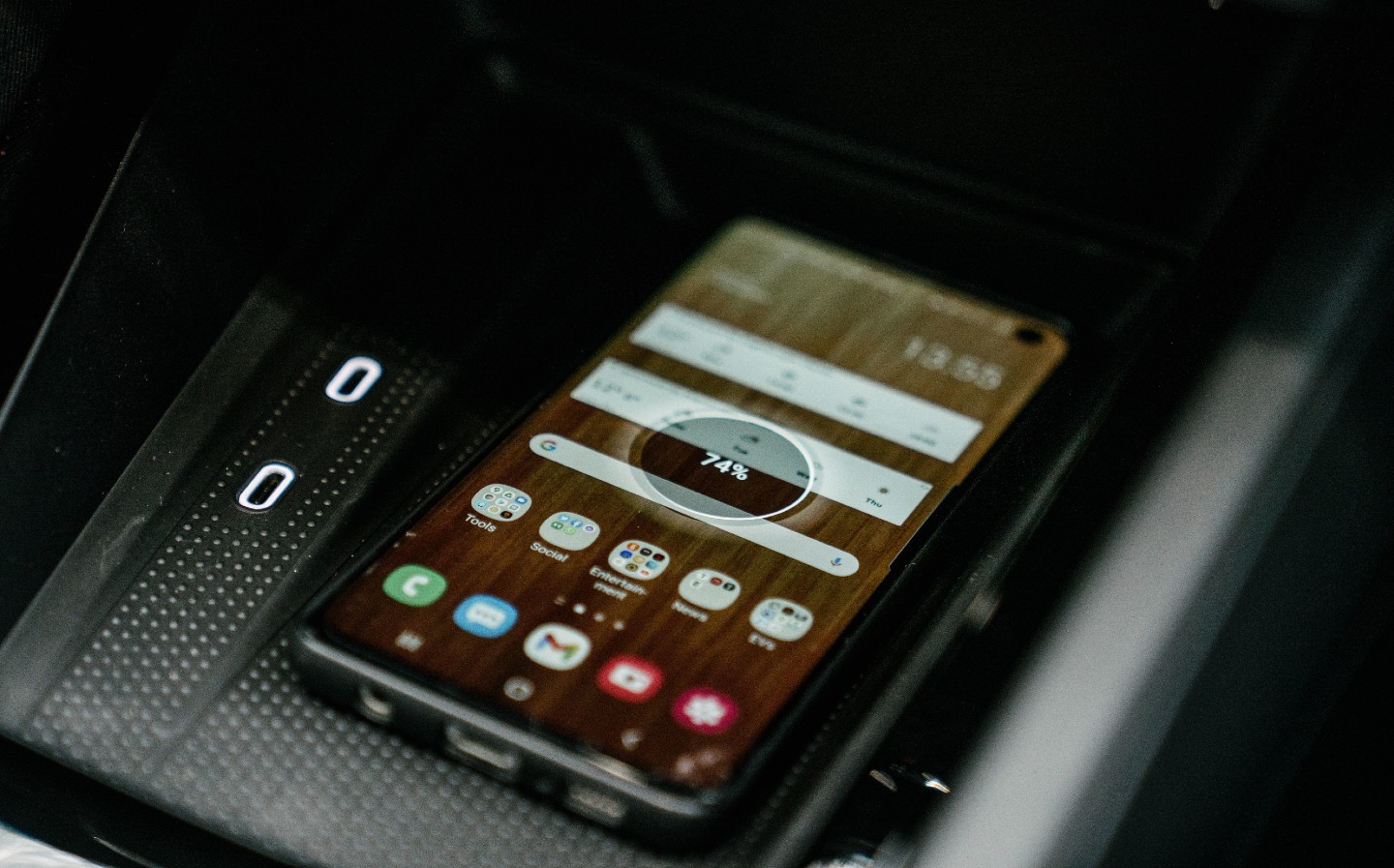 If you have a dash cam, that could prove a problem, and I spent some time complaining about it on Twitter before some people suggested I get a USB-C cable for the dash cam instead. I haven't tried that yet but, assuming my Nextbase can be powered that way, there's the convenience of a USB-C socket behind the rear-view mirror. That would make the cabling situation a lot tidier without having to hardwire the unit or tuck the power cord behind the car's trim.
More frustrating was the lost time I spent trying to inflate the car's tyres (after I received a warning on the dash). Again after much ranting on Twitter I was informed about the 12v socket in the boot by a helpful follower (to be fair to me, I had been told by a spokesperson there was no 12v in the car at all).
Ah! You're quite right – there's one tucked away just behind the wheel arch. Which was not mentioned when I asked Skoda about 12v sockets shortly after delivery. I asked because I can't plug in a dash cam in the front. That's progress, apparently. pic.twitter.com/p8D68Dh9uv

— Will Dron (@wdron) February 20, 2021
Further frustration set in when I found that my own tyre inflator's cable was too short to reach the front nearside wheel, so I had to unpack the model supplied under the boot floor with the puncture repair gunk. A simple job made difficult, and my thoughts are with anyone who finds this all out after a puncture while in the middle of nowhere, at night, in the rain.
Let's get back to some good features of the car, though. These are Skoda's Simply Clever features:
– Two smartphone storage pockets on the front seatbacks
– Automatically retractable load cover
– Sleep package
– Electrically retractable tow bar
– Funnel integrated into the lid of the windscreen washer tank
– Storage compartment in the front doors with umbrella or snow brush
– Boot nets with convenient net opening SigmaQuick
– Retractable sun blinds for the rear side windows
– Water channels on the windscreen
– Electric tailgate incl. Tip-To-Close function and virtual pedal
– Multifunction storage pocket
– Easy-Open cup holder
– Double-sided boot liner
– Tablet holder on the headrests and for the rear armrest
– Ticket holder on the driver's A-pillar
– Waste bin in the door trim
– Holder for multimedia devices
– Bag hooks in the boot
– Cargo fasteners in the boot
– Holders for 1.5-litre bottles in the front and rear doors
– Ice scraper in the fuel filler flap with a tyre tread depth gauge
– High-vis-vest storage in every door
– Electric child safety lock
– Storage compartment for the load cover under the false boot floor
– Removable ski bag
Before I finish, you're probably wondering about space for rear passengers. Adults will find they've a good amount of room in the rear bench compared with a family hatchback such as a VW Golf or Ford Focus, though taller front occupants will need to slide their seats forward a touch to make things comfortable.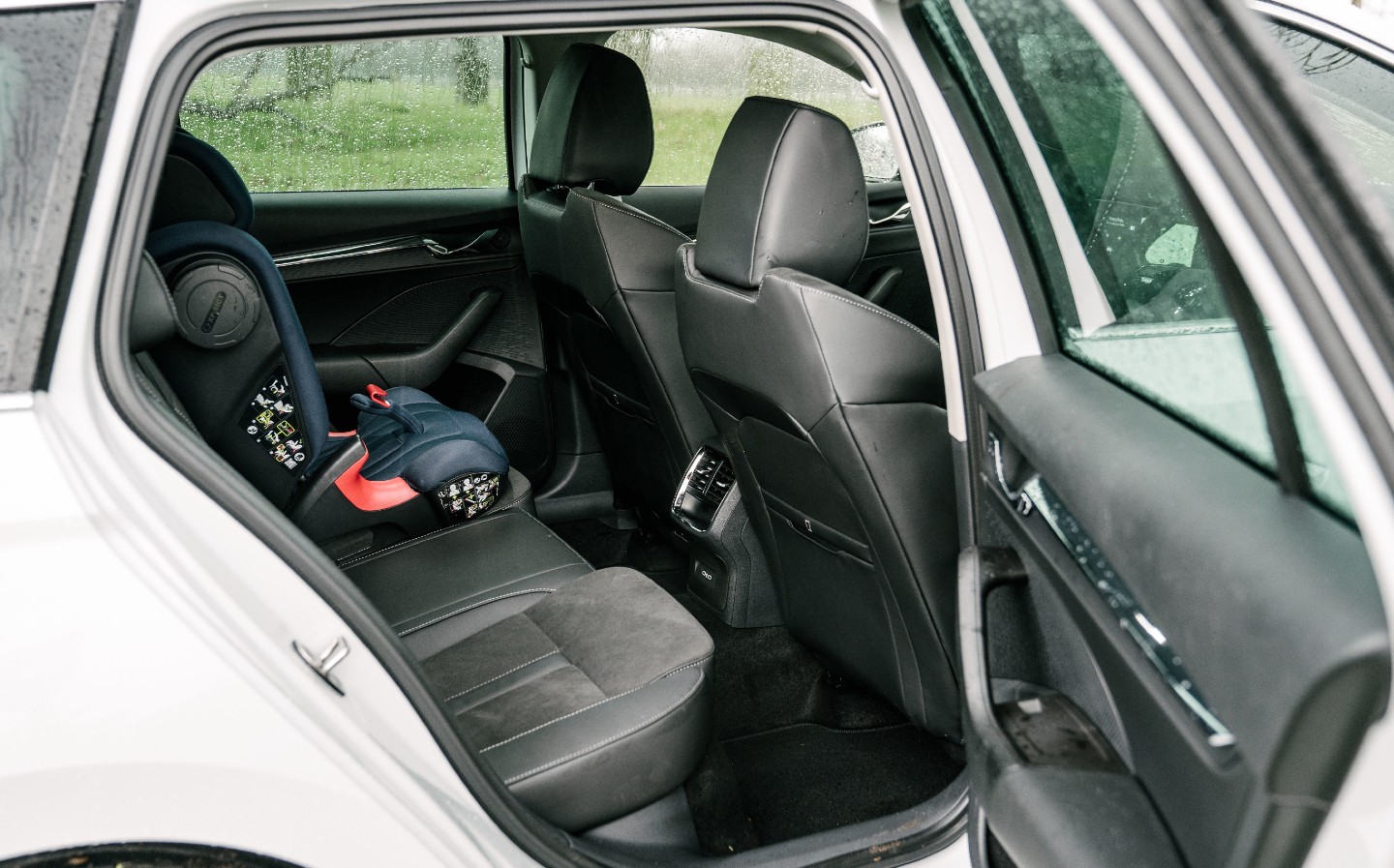 I have had to do this when my children are in the back, using their child seats, though I am 6ft 5in tall, and it doesn't make things uncomfortable – just a little less than ideal. If you're a normal sized human being, you'll find this car is an excellent blend of space, size and practicality.
Mileage today 2,079 miles
Distance since start 1,206 miles
Indicated long term consumption 103mpg / 14.6kWh/100km (4.25miles per kWh)
Petrol fill-ups since test began Two (tank at 80%)
As always with our extended tests, you can ask questions at any time via my Twitter account or the comments below.
April 12: The good and not so good of the Skoda Octavia iV Estate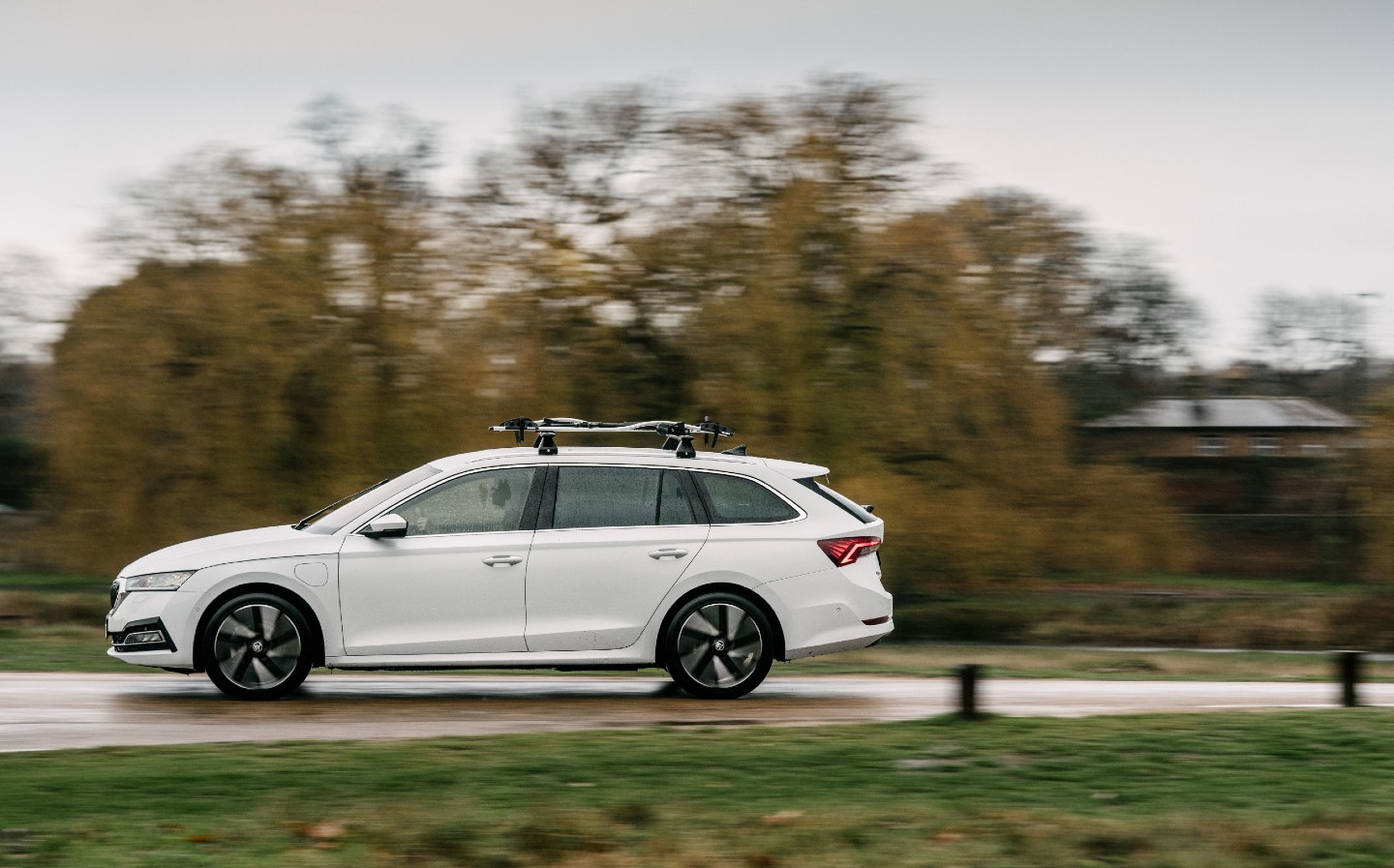 The Octavia iV has been part of the family for long enough now for the best and worst of it to have been revealed. He are the things the things that I like and the things that I like and don't like about four months with the car.
The good
Fuel economy: Officially it's 188.3-256.8mpg, which looks like a fairly outrageous figure and most owners will struggle to get anywhere near that if they plan to take the car on the motorway from time to time. Last month the fuel economy was reading 103mpg over the previous 400 miles or so but a trip up the M40 recently has brought that down to 74.9mpg today. However, as I've mentioned before, if you spent 90% of your time on driving locally (to the supermarket, school, after-school clubs, the office, etc.), then 200mpg or even more might be realistic, if you keep the car charged up.
Ride quality: The Octavia iV is pretty good around corners but it doesn't have the most focused handling of any estate out there (I haven't tried the vRS version, which not doubt is much handier, but the benchmark here is the current BMW 3 Series). However, the aplomb with which the Skoda deals with road humps and broken roads is tremendous – the ride quality is terrific.
Comfort and space: In the time I've had with the car I've driven from the London area to the Midlands (for test drives) and back a few times but have never noticed an aching leg or a bad back, which is quite something considering my height. Even when I have to scoot my seat forwards a little to accommodate one of my kids in the child seat behind me, no-one complains of being cramped. The boot (see above for exact capacity) is a great size for a car in this segment, too — remember, the Octavia is in the same class as a Golf or Ford Focus (though if you want to transport bicycles in the boot, you'll want to look at the Superb Estate instead).
Charging port light: The last car I tested over an extended period was the Mini Electric. One of its problems, I found, was that the charging port didn't include a light, which made connecting cables in the dark that much trickier. No such issues with the Octavia iV, which features an LED light that not only illuminates the area but gives a visual indication of charge status.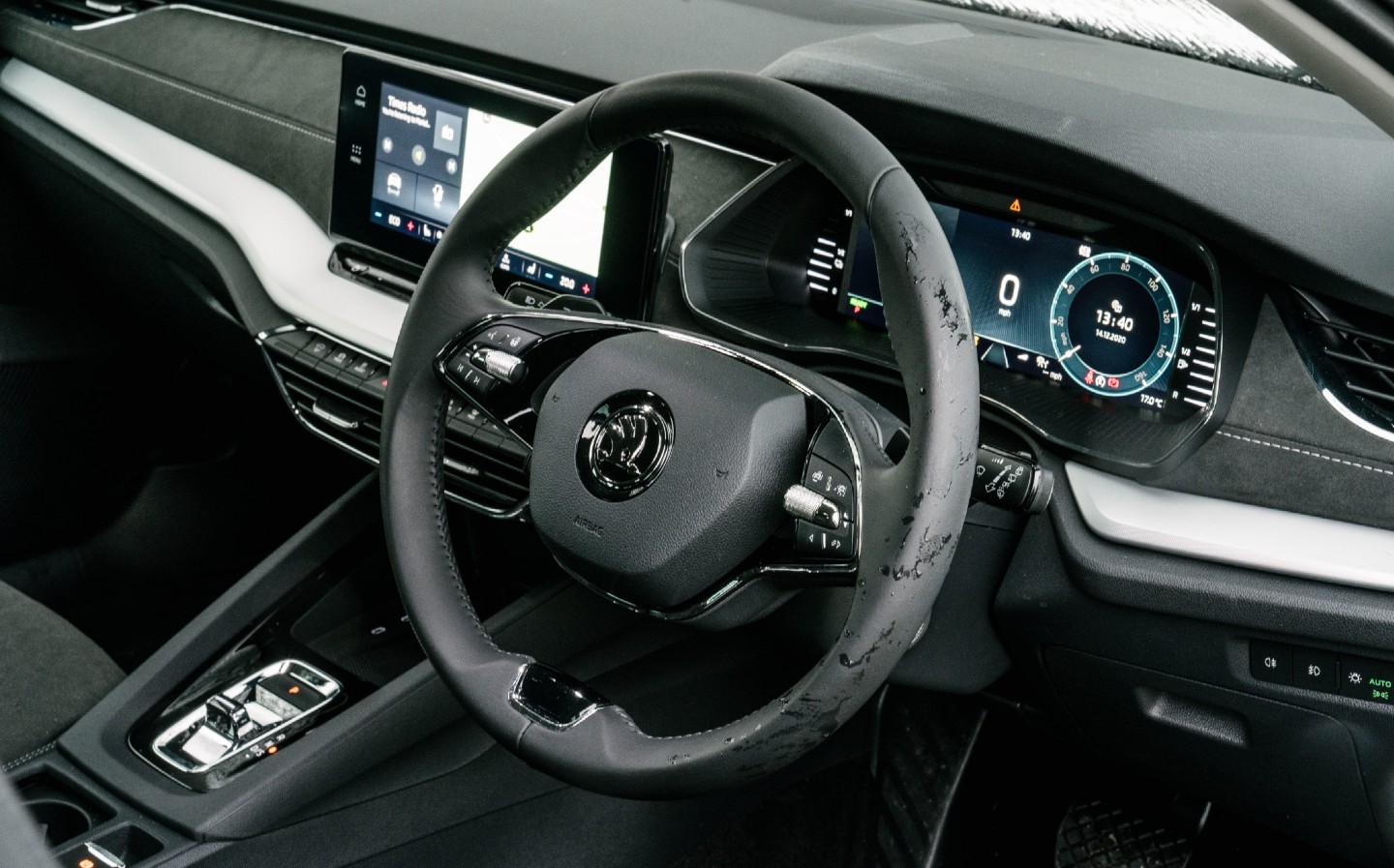 Interior design: Lack of a 12v socket in the main cabin aside (see above), the design of the cabin is really impressive. Some will lament the removal of physical dials for the stereo volume and temperature, but the volume slider is just as easy to use, and you don't have to go through menus to find the temperature controls on the touchscreen — they're a permanent fixture in the lower section (both can be adjust via voice command, too). And the upside of a less cluttered interior is a general sense of calm — it's a pleasant place to spend time.
High specification: My test car is in SE L trim but the base spec for the Octavia iV is a rung down: SE Technology. That model still comes with the 10in touchscreen (upgraded from 8.25in in the SE trim) with Columbus navigation, front and rear parking sensors, dual-zone air conditioning, front seat lumbar support, cruise control, an eight-speaker stereo, wireless Apple CarPlay (wired Android Auto) and a digital driver's display, among other things. The only quibble might be that the smallest 16in wheels come as standard on SE Technology.
Safety tech: In SE Technology trim the Octavia also comes loaded with curtain and front side airbags, as well as one for the driver's knees. There's automatic emergency braking, tyre pressure monitoring and eCall, too, so that you can ring for assistance via a button in the roof lining. An option fitted to my test car is a driver fatigue sensor.
Convenience features: Digging through the touchscreen Settings menu I found a speed limiter, which could be set if you pick up an puncture on run-flat tyres and need to drive to safety, or if you've temporarily fitted a space-saver wheel, for example. The rear-view mirror automatically dims, the boot includes plenty of back hooks and there's an umbrella in the car door.
Low running costs: I've refilled the petrol tank four times since I took delivery of the car in November, relying mainly on electric power, which is much cheaper per mile (I'll attempt to calculate the details in a future update). But in addition, company car drivers will love the cost savings of a plug-in hybrid — the Benefit-in-Kind is just 7% versus 25-30% for the petrol and diesel models. The downside? Expect insurance costs to be higher than a petrol or diesel version, as the iV Estate sits in group 21E while the petrol models start at 11E out of 50 (with 50 being the highest).
Keyless entry on all doors: Keyless entry — whereby the car unlocks when you grab the door handle, provided the fob is in your pocket or bag — is nothing new but the fact that the Octavia iV features keyless entry on all four doors is very convenient for when you're carrying a child, for example. The doors also lock with a single touch, and the boot opens without the need to unlock the car, too.
The not so good
Key badge quality: The Skoda badge snapped off my key fob within days of taking delivery.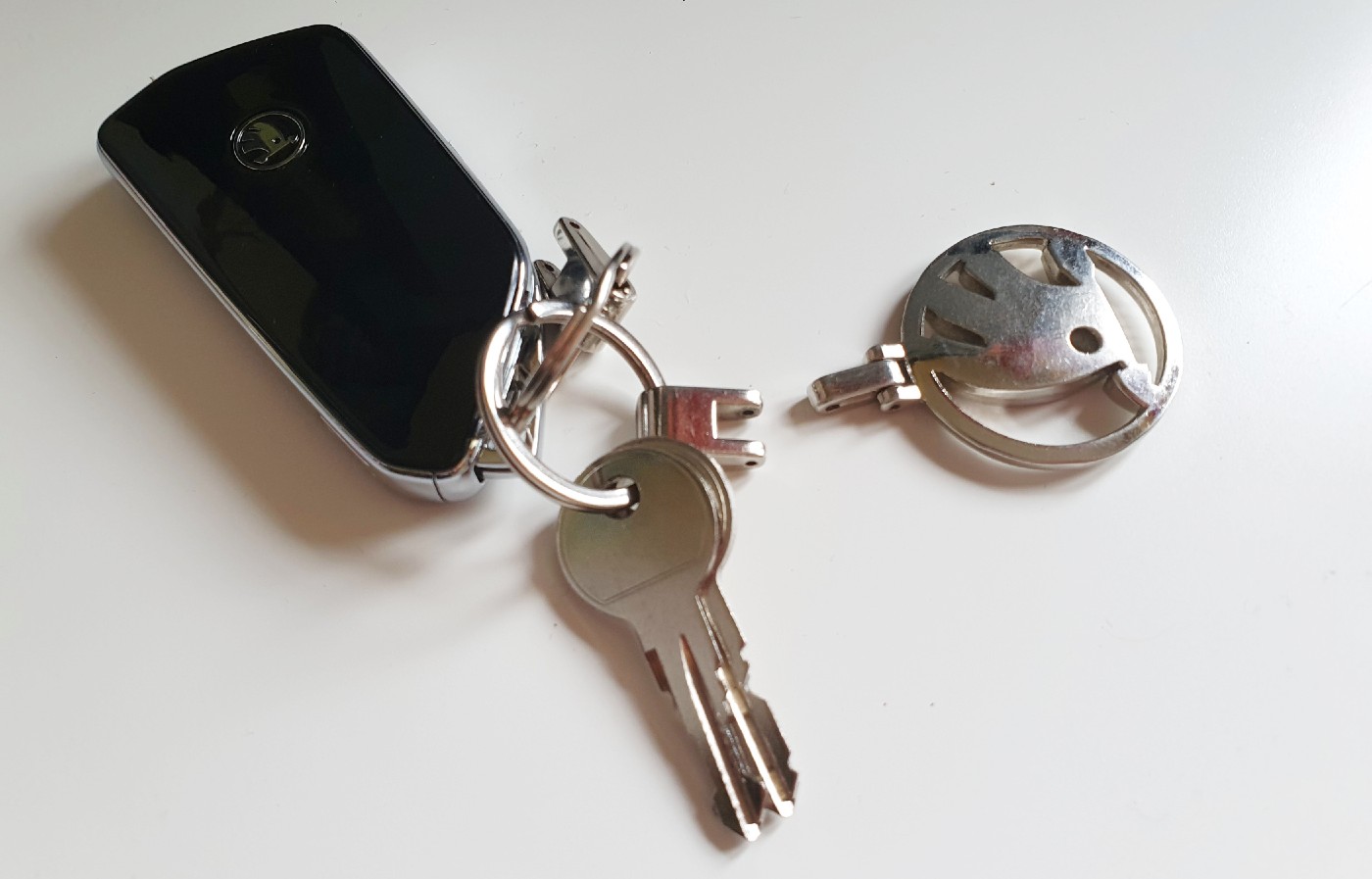 App connectivity issues: I've finally got the app connected, months after taking delivery. It involved having both key fobs inside the car, registering a profile for myself and setting it as the primary user, then logging into the app and "activating" the profile. It helps if you have both keys — journalists aren't given both, so I had to make a trip to Skoda HQ to borrow the second — but I then had a hell of a time activating the car. The breakthrough came after deleting my profile, the app and starting again from scratch. Suddenly it all just worked, but it was painful. On the plus side, the app is now proving to be rather good.
Bag hook height: There's not much height between the shoulder line of the body and the boot floor in the Octavia iV, so although there are two bag hooks on each side of the boot, shopping bags are often too tall to be "hung" from them. This can result in bags falling over and groceries spilling into the boot.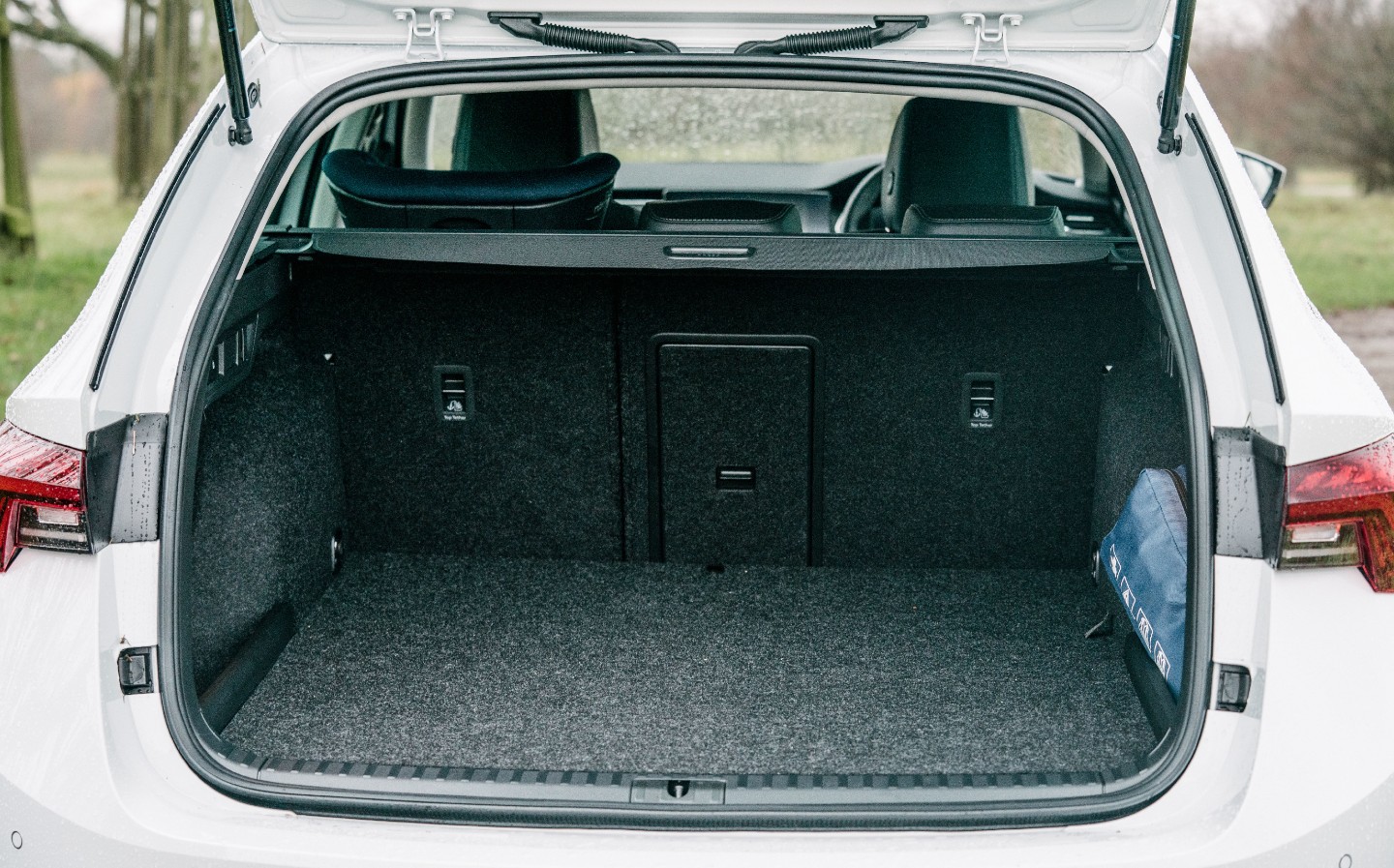 The rear parking camera reliability: Occasionally when selecting reverse, the image from the rear parking camera doesn't show up on the touchscreen — all you get is black. The sonar sensors still make an audible alert, and there's not substitute for looking all around and using the mirrors, but it's still a tech glitch I didn't expect from a VW Group car.
Lack of 12 volt socket: There isn't one in the main cabin. There is one in the boot, but you'll see why this set-up is less than convenient in a previous post.
Cruise control stalk location: As with other VW Group cars, the cruise control is adjusted via a stalk behind the main steering wheel, making it hard to see. What's wrong with putting the controls on the steering wheel itself?
Predictive regen: Regenerative braking — whereby the car recovers energy to the battery when you lift off the accelerator — is a good thing. In many electric and plug-in hybrid cars, there are two or more levels of regen, allowing the driver to adjust it — and the resulting braking effect — to their preferred strength. By default, the Skoda Octavia iV uses predictive regen, which is linked to the forward camera and sat nav. As you approach a junction or get closer to the rear of a car you're following, the regen braking effect increases. Some people may like this, but I don't, as it feels less predictable. Fortunately, you can set the regen from Automatic to High or Weak via the Octavia iV's touchscreen.
Found it. pic.twitter.com/GbVLKjhU8h

— Will Dron (@wdron) March 30, 2021
Waking up infotainment: It takes a few seconds for the infotainment system to warm up, which means you can't just jump in and set the radio to a particular channel straight away, for example. It's a small thing, but I know it can work better — Jaguar Land Rover's new infotainment systems are fully alert within milliseconds of you opening the car door.
Manual tailgate: Why, in a car that costs £35,990 (including options) and has keyless entry and a dedicated app, is the rear tailgate not electric?
Fuel filler cap freezes: In sub zero temperatures I couldn't open the fuel filler flap without running a credit card around the seal. Which is fairly amusing given that Skoda's "Simply Clever" ice scraper is stored inside the flap itself.
The price: Upwards of £33,000 does seem like a lot to pay for Skoda Octavia Estate, doesn't it? The bigger Superb Estate starts at just under £27,000, after all, and you can get one with the same plug-in hybrid powertrain in SE Technology spec for £35,845. But then just compare the interiors of the two: the Superb is still rocking the old design with analogue driver's instrument panel and ageing infotainment system.
Mileage today 2,525 miles
Distance since start 1,652 miles
Indicated long term consumption 70.6mpg / 7.1 miles per kWh (over 681 miles)
Petrol fill-ups since test began Four (tank at 100%)
As always with our extended tests, you can ask questions at any time via my Twitter account or the comments below.
May 19: Options, options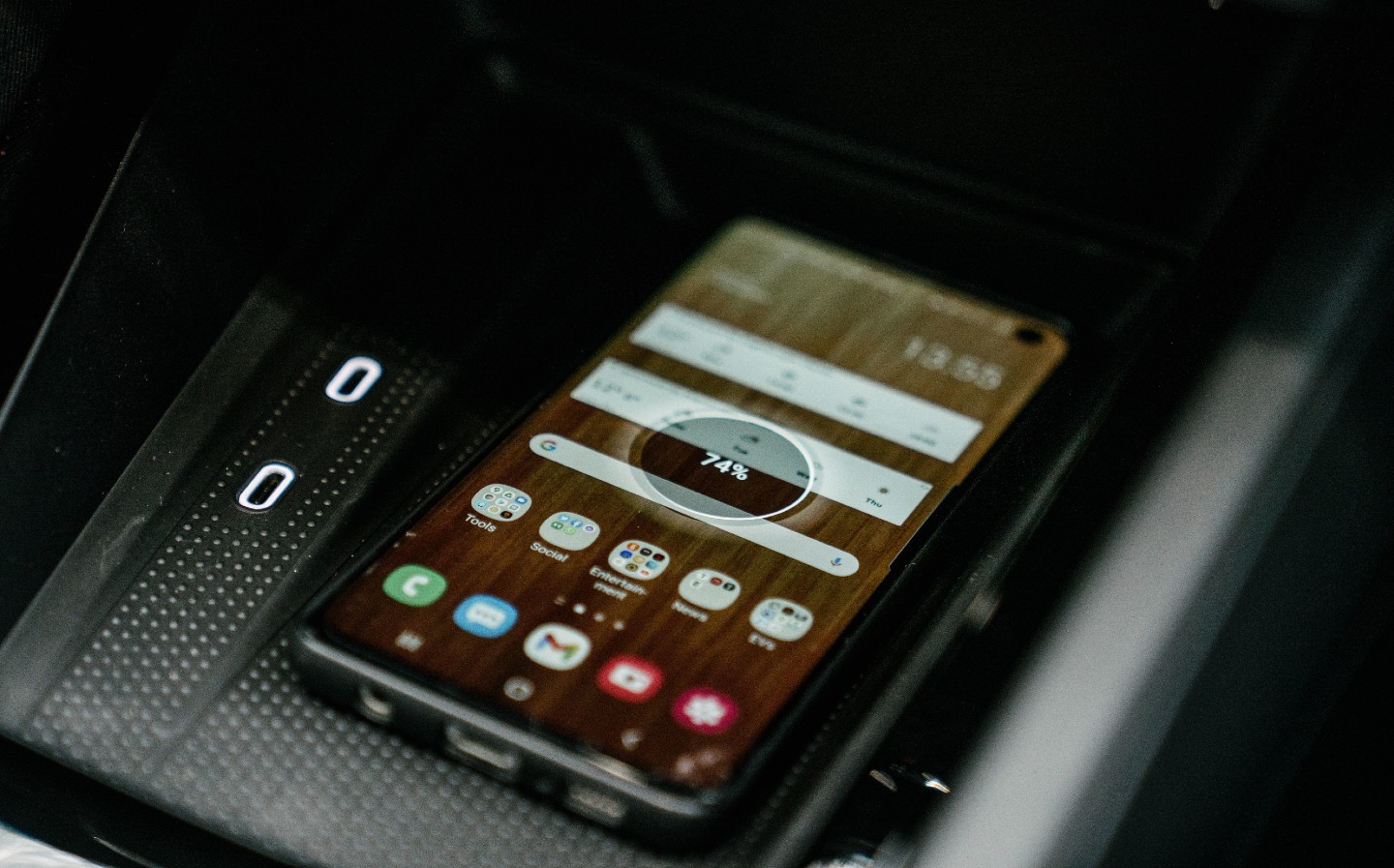 If you're planning to buy a Skoda Octavia iV Estate you may be wondering whether to go for the base trim or get one fully loaded with all the comfort, convenience and technology on offer. Or perhaps you are thinking of adding on a few packs but aren't sure if it's worth it. Ultimately, what to go for is a subjective matter but it might help to tell you which options I've most appreciate during my time with the car.
As you can see at the top of the page, my test car comes in SE L trim, which is a step up from the entry-level SE Technology version (you can't get the plug-in Octavia iV in base SE specification). SE Technology is aimed at fleet buyers but anyone can spec their car in this trim via the Skoda configurator.
Confusingly, SE Technology for the non-plug-in Octavia is not quite the same as for the plug-in – the iV gets upgraded 18in alloys, for instance (16in on the petrol and diesel versions), in addition to unique decorative sills and instrumentation.
And the spec is good for SE Technology iV models. In addition to the larger wheels you get electric, heated door mirrors; LED headlights and front fog lights; a 12v socket in the boot; dual-zone climate control; an auto-dimming rear-view mirror; height adjustable front seats with lumbar support; the two-spoke multifunction steering wheel; keyless stop/start; cruise control; tyre pressure monitoring; rain-sensing windscreen wipers; front and rear parking sensors; and eight-speaker stereo and the larger 10in touchscreen with Columbus navigation; the 10.25in digital instrument display; and wireless Apple Carplay (Android Auto is wired).
The Octavia iV in SE L trim is an extra £2,045, but what do you get for the money? Keyless entry for one, which I've found very useful. There are styling upgrades, such as the chrome interior door handles and chrome surrounds for the windows, as well as microsuede dashboard trim and rear privacy glass (tinted windows). Tech and comfort upgrades include auto-dimming and electrically-folded side mirrors, headlight washers, adaptive cruise control and heated front seats.
But you get the same infotainment system and same 18in alloys, so although I'd miss the heated front seats I might be able to live with the SE Technology model knowing that I've saved more than two grand. It's not exactly "poverty spec".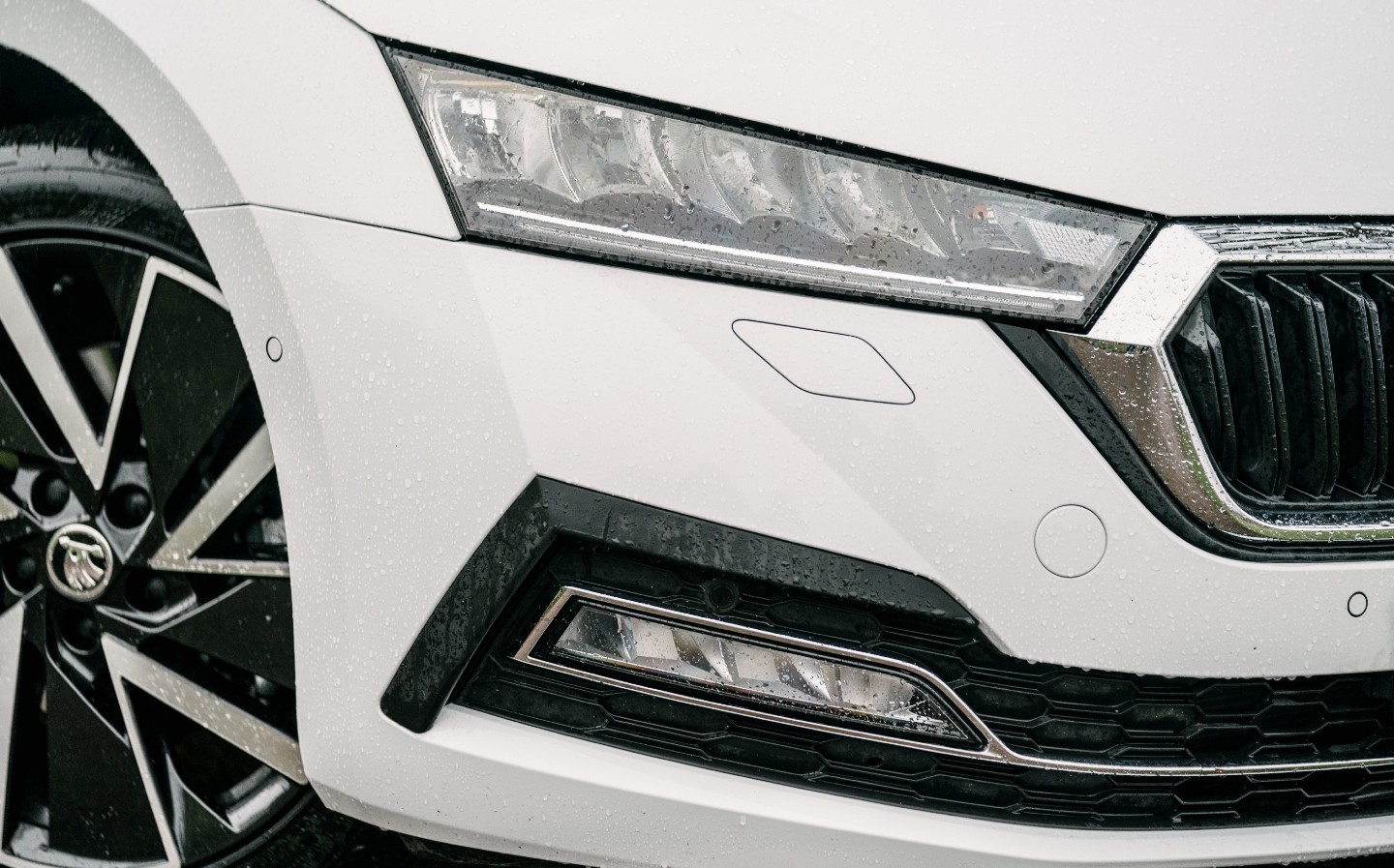 My test car has a few options added on, though. Which would I keep and which could I live without?
Well, for £45 I might want to keep the driver fatigue sensor – it's not come in handy yet and I doubt it adds value to the car, but it's not expensive and might prevent a crash one day.
Metallic paint is £595. I might choose this but I'd not go for white, personally – too much washing required. The standard "Energy Blue" paint is fine, in my opinion.
The roof rack is just £215, so if you plan to carry and loads on the roof, definitely consider getting this installed by the dealer.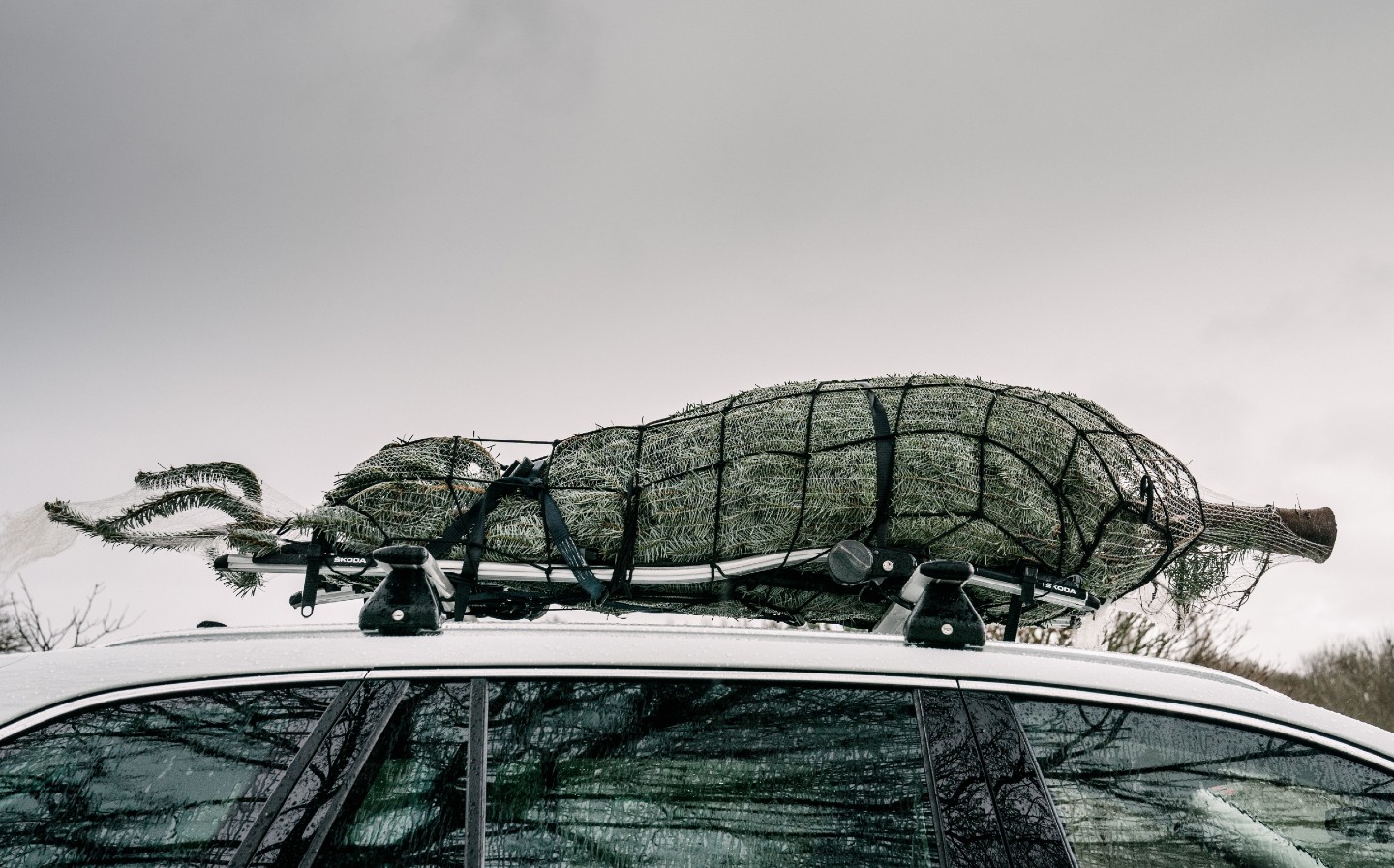 Park assist? Not for me, thanks – I do it better myself, though it's interesting to note that Tina Milton, testing a VW Touareg for us right now, has found it invaluable on her car so those of you less confident parallel parking or backing into spaces at Tesco may find it similarly useful.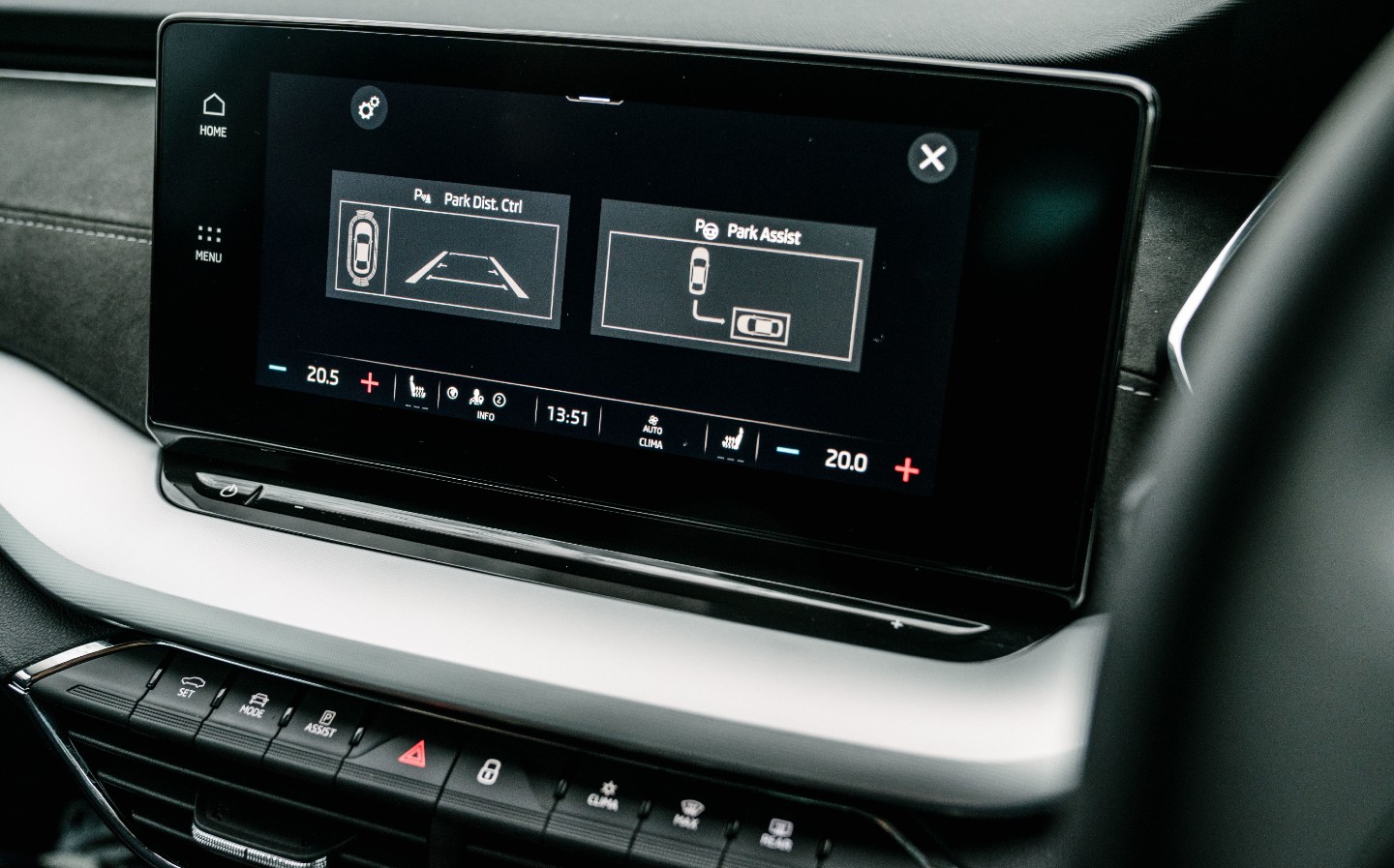 The rear view parking camera is useful (when it works, which it doesn't always), but is it worth £595? Perhaps not, but then again it will be a selling point if you wish to buy privately.
The Winter Pack is pricey, at £740, but you get heated front seats and a heated steering wheel, which I love, as well as a heated windscreen and heated windscreen washer nozzles. Obviously this is a must if you live up north or at altitude, but I'd say it's worth considering for all Brits.
Finally, my test car has a wireless phone charging pad, which I would definitely consider if you have an iPhone as it can charge while using Carplay wirelessly. If you have an Android handset there's not much benefit as you need to plug in via USB cable, through which it charges anyway. Incidentally, wireless Android Auto is now available in the latest cars… just not the Octavia. Yet.
So what doesn't it have that I'd want? An electric tailgate would be high up there for me. The fact that it isn't included on SE L iV models is a bit or a gripe of mine, actually.
I might also want full LED Matrix headlights with AFS (adaptive front light system), which dips the full beam around other cars automatically. Brilliant technology, and I've love it on other cars – on a country lane at night it's massively helpful, giving you maximum illumination and you don't have to keep dipping manually. But it'll set you back £1,480, making it a high cost option.
There are plenty of accessories to mull over, too – dog packs, roof boxes, boot dividers and cool boxes – check out the Skoda website if you want to go on a shopping spree.
Best spec for this car, though? SE Technology in bog-standard Blue with the winter pack and automatic rear tailgate, I reckon. But as I said, it's all subjective.
Mileage today 3,023 miles
Distance since start 2,150 miles
Indicated long term consumption 69.2mpg / 8.0 miles per kWh (over 1,178 miles)
Petrol fill-ups since test began Four (tank at 100%)
As always with our extended tests, you can ask questions at any time via my Twitter account or the comments below.
July 6, 2021: Real world fuel economy (a.k.a economical with the truth) — final update
I have been meaning to do a proper calculation of fuel economy and electricity used during my time testing the Skoda Octavia iV. Simple, you might think, but no, partly because of the way the information is presented on the touchscreen and mobile app.
You can view figures for each journey, since refuelling (with petrol) and long term, but annoyingly the car resets the long-term figure seemingly at random (I'm certainly not resetting it myself). What it means is that I'm getting chunks of data rather than an overall view.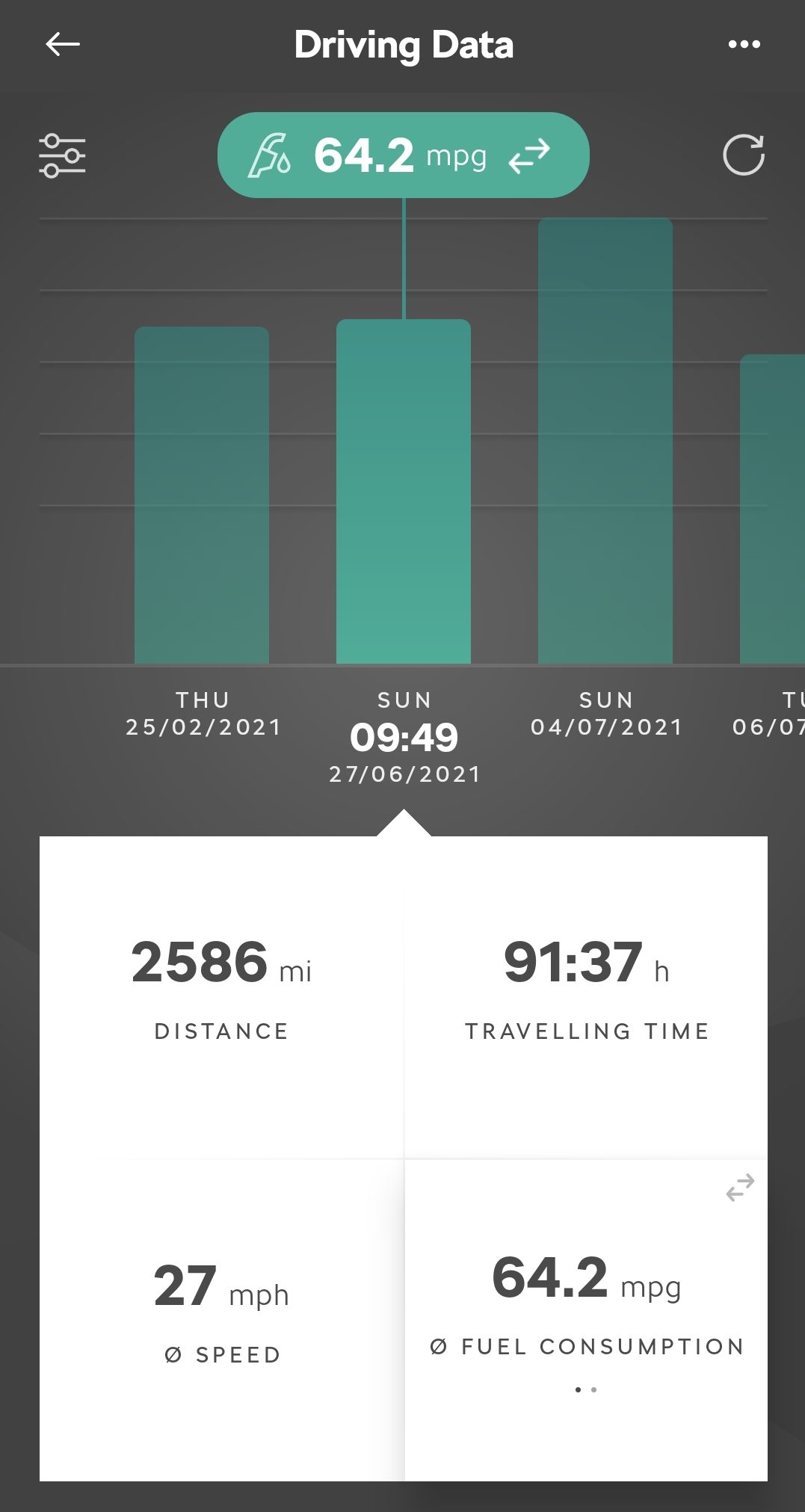 And there are the readings themselves. On the electric consumption front, you get a miles per kWh figure, but that includes miles run in hybrid mode. So when the car says it managed 10.9 mi/kWh over 2,586 miles (a genuine figure) it's the electrical consumption augmented by the petrol engine, and so not comparable with that of a pure-electric car (the most economical of which get just over 4 mi/kWh, roughly).
Then there's the petrol consumption figure, which over that same distance was an indicated 64.2mpg. That again is for the petrol consumed by the hybrid system as a whole, which is fine but doesn't give you a clear sense of total energy used.
And actually, while that's an impressive figure, you'll note that it's nowhere near the official 188.3-256.8mpg. Don't think that's because the car makers are lying to you, though — it's based on the official WLTP test, which is far from perfect but is the best tool we have to benchmark the relative efficiency of different vehicles.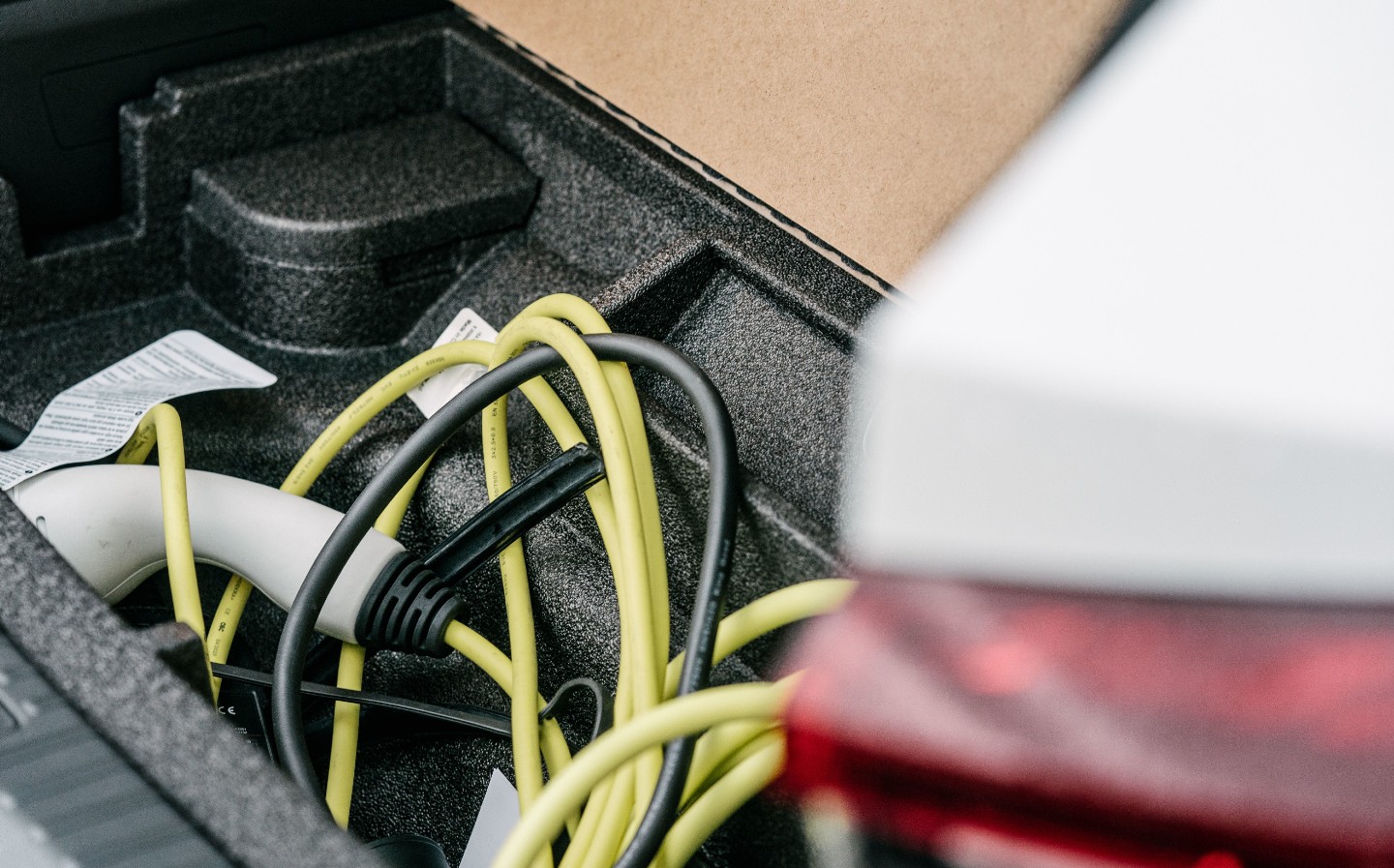 And although I haven't been able to get near that official figure, you might manage to get a lot closer. I've been on quite a few motorway journeys recently, which of course hammers the consumption. If you use the car for short journeys 99% of the time and charge up every day, the mpg figure will be a lot higher.
After much chin-scratching, I decided that what you probably want to know, really, is how much extra electricity I've been using at home during my time with the Octavia iV. That would give you a basic idea of how it might affect your wallet, once you know the ballpark petrol consumption.
As mentioned in a previous update, this has not been easy because my supplier, Green Network Energy, decided to enter bankruptcy earlier this year (so inconsiderate) and since then my household bills have been in a black hole, with zero visibility of kilowatt hours consumed.
Finally, though, EDF (which has taken on GNE customers such as myself) has got things back on track and I have a full month's worth of electricity usage for June. I decided to compare it with how many kWhs my family used in the same period 12 months ago:
June 2020 250 kWh (an average for the period May 20 – Aug 19, 2021)
June 2021 304kWh
So that's a circa 54kWh increase in electricity consumption, year-on-year, and I can pretty much put that down to the effect of charging the car, because I wasn't plugging in cars at home in 2020.
My GNE electricity tariff has been frozen at 14.68 pence per kWh (plus a 21.17p per day standing charge) until September, so based on that, the car cost me £7.93p in electricity last month.
I made a note of distance covered in June, too: 1,137 miles. I filled up with petrol three times, adding a total of 83.21 litres (it's a small tank), at a cost of £106.82p. So — and this is back-of-a-fag-packet stuff — the car cost me just over 10p per mile in fuel.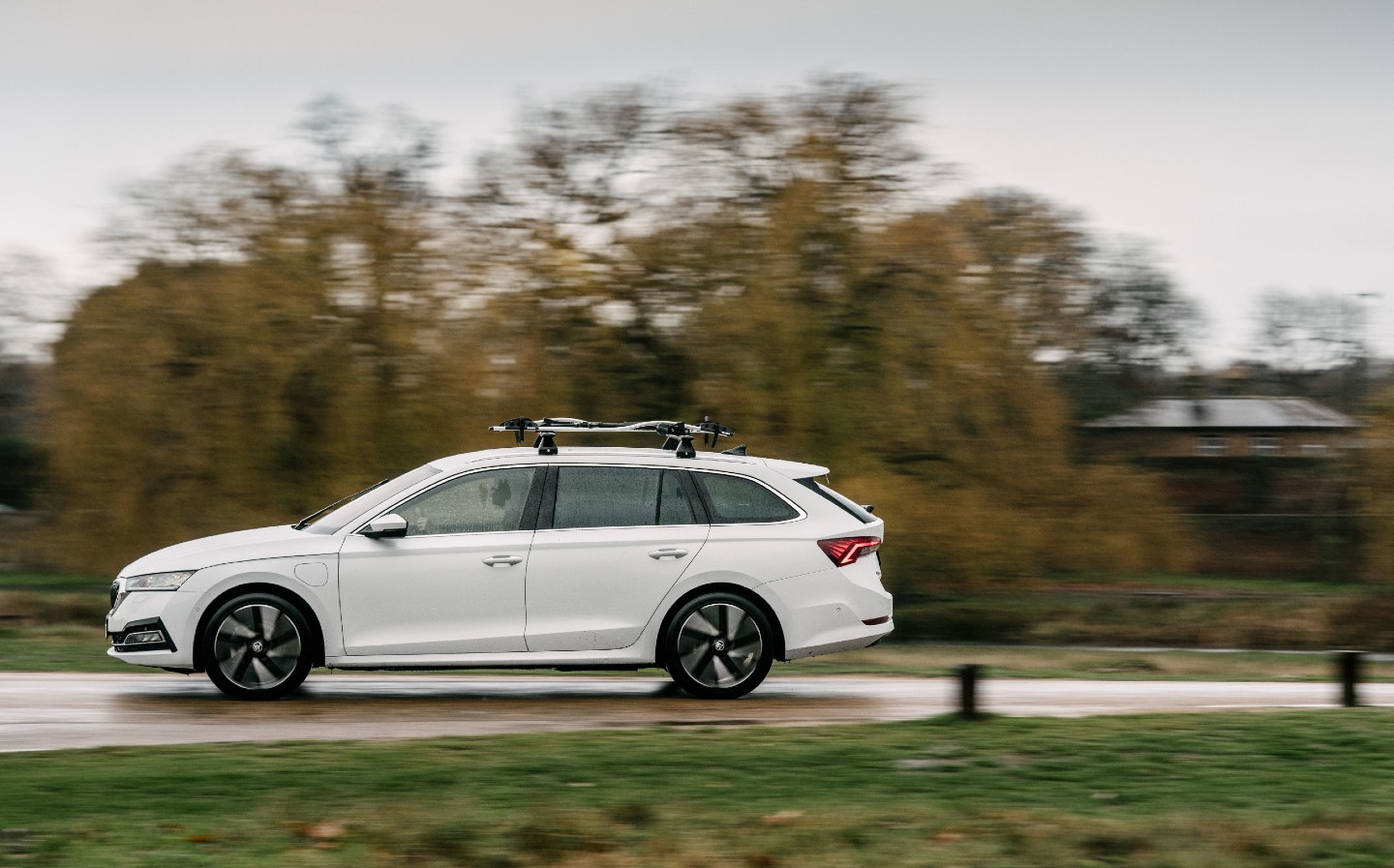 Various reports I've read, including from the Society of Motor Manufacturers and Traders and this one from Cenex, estimate the average diesel car costs 13p per mile in fuel, while a fully electric car might be nearer 3p.
So fuel savings in the Octavia iV are likely, but how much you save will depend very much on what sort of journeys you'll be doing.
One (almost) final thought: Volkswagen Group has been criticised for its new minimalist cabin and an infotainment system that some see as unintuitive and full of bugs. It's true that the reversing camera on my test car doesn't always work (fortunately the sonar sensors continue to do so).
While I don't think that's acceptable, it's not the end of the world and that's pretty much the only thing that's gone wrong with the car in six months. And I imagine that could be fixed with a software update.
What's more, most people (fellow journalists, on the whole) who contacted my about their own experiences of the VWG infotainment system seem to agree that Skoda has done a better job than most other Volkswagen Group brands in designing its version of the user interface and cabins, and that they are all improving with time via over-the-air updates.
Just read another piece rubbishing Volkswagen Group's touchscreen system. I've been living with an Octavia iV for six months and am a bit baffled by the negativity, as it is better than others I've tried, but it feels like to come out and say that now will result in a backlash.

— Will Dron (@wdron) July 6, 2021
I'll leave you with a review from my wife, who drove the car for the first time recently (she's been insured to drive it since the start but hasn't felt courageous enough to drive one of my test cars): "I felt like I was sitting in the car rather than on it, if you see what I mean… like a part of the machine."
She also wants her next car to be electric. There is something very satisfying about the responsiveness of an electric motor, it's true, and if you're not ready to go fully electric yet, a plug-in hybrid is a great compromise.
Thanks for reading.
Mileage today 4,718 miles
Distance since start 3,845 miles
Indicated long term consumption 83mpg / 9.0 miles per kWh (over 253 miles)
Petrol fill-ups since test began Eight (tank at 50%)
This extended review of the 2020 Skoda Octavia iV Estate plug-in hybrid has now ended. If you liked it and want to read more of our long-term car reviews, click here.