Extended Test: 2016 BMW 2-series Active Tourer PHEV
Living with the plug-in hybrid people carrier
---
Published 21 October 2016
BMW'S PLUG-IN hybrid MPV (what we used to call a people carrier) is being driven daily on an extended test by our acting editor, Will Dron.
We reviewed the car here, not long after getting our hands on it, but what's the 225xe like to live with day to day? What niggles and what good points have revealed themselves over time, and can we get anywhere near the claimed 141.2mpg combined-cycle fuel economy figure?
We will post regular updates on this page, so if you're considering buying a BMW 2-series Active Tourer, particularly in plug-in hybrid form, check here for updates.
Vehicle 2016 BMW 225xe PHEV Luxury Active Tourer
Run by Will Dron
Delivery date April 26, 2016
Odometer reading at start 558 miles
Price £39,400 (after government grant, including options)
Options fitted Mediterranean Blue Metallic (£550); Oyster with grey highlight Dakota leather (no extra cost); 17in double-spoke style 385 alloy wheels (no extra cost); roof rails, matt aluminium (£245); high-gloss black interior trim with Pearl Chrome finisher (no extra cost); panoramic glass sunroof (£945); sun protection glass (£270); exterior mirrors, folding (£420); electric front seats + driver memory (£650); sport seats, front (£395); lumbar support, driver and front passenger (£230); seat heating, front (£295); eDrive services (no extra cost); internet (£95); enhanced Bluetooth telephone with USB (£350); Harman Kardon hi-fi (£600); deadlining, Anthracite (£150); BMW Navigation Plus package (£1,395); Driver Comfort package (£590); Technology package (£1,095); Driving Assistant Plus (£1,150). Total options amount to £9,245.
Main review Will Dron, May 13, 2016
---
October 21: As exclusive as a Lamborghini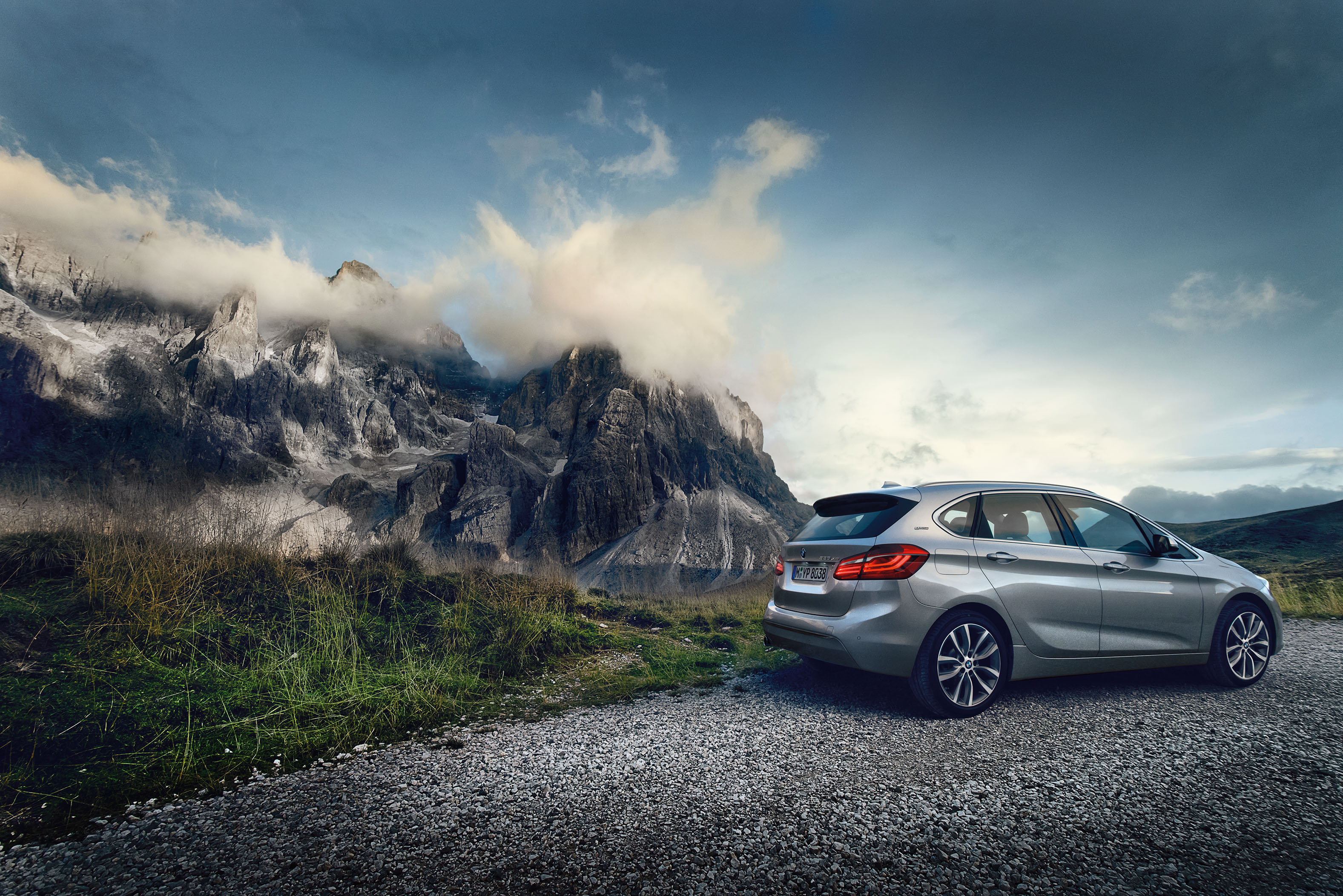 Anyone buying a plug-in version of the BMW 2-series Active Tourer will be in a rather exclusive club. We asked BMW for sales figures for the model, and the proportion of the total that are plug-in hybrids. The numbers are interesting.
So far this year, BMW has sold a total of 4,602 2-series Active Tourers in the UK, of which 296 were 225xe (PHEV) versions. That means that there aren't that many more of them on British roads than there are Lamborghinis; the Italian supercar maker builds around 2,500 cars a year, 10% of which end up over here.
BMW's spokesperson added that the 225xe numbers are slightly up on what they expected, and even above what has been forecast for 2017, but BMW still only expects it to account for around 5% of total 2-series Active Tourer sales. That means the car will retain supercar levels of exclusivity for the foreseeable.
September 14: Oh, 225 . . . you've popped open again
I love having an automatic tailgate on a car. I know Clarkson and others like to criticise them for taking an age to open and close while you wait in the pouring rain, but the reality is that they can be time-saving devices in certain circumstances.
For example, I often pop open the boot as I approach the car after charging up. By the time I've removed the cable and walked it round to its storage compartment in the boot, the tailgate is open and ready to receive it. Far from being a pain, that's hands-free convenience, if you ask me.
You can then press the close button on the boot lid and walk to the driver's door while it closes – no yanking the lid down for me, thank you very much.
Another convenience comes if the car has a kick-to-open function, whereby sensors under the bumper detect a moving foot and activate the tailgate without any button-pushing. It's a feature I first encountered on the Ford Kuga SUV but it has since appeared on other makes and models and is perfect for when you've got both hands full of shopping bags.
The BMW 2-series has this function – the smart opener comes with the Comfort Access package – but our 225xe test car isn't fitted with this option, which is a shame.
There are a couple of snags with an automatic tailgate, other than having to stand and wait a few seconds for it to open. First, the boot lid has tried to close on me more than once, for no apparent reason. BMW has agreed to take a look at it, but as it's not a serious fault, I've suggested the dealer gives it a thorough inspection when I hand the keys back.
Second, on two occasions I have woken up and looked out of my window to see the tailgate gaping open. At first I wondered if someone had bypassed the electronic security somehow and broken in, but I park in a gated residential car park, so unless my neighbours are secretly tech-savvy car thieves, that's unlikely. Besides, nothing was stolen or vandalised on either occasion.
Far more likely, it later occurred to me, after I found my family Citroën mysteriously unlocked on a couple of occasions, was that the key fob buttons were being pressed accidentally by other keys in my work bag. The car is parked close enough to the house to receive the signal from the bedroom.
The only solution is to keep the BMW fob separate from other keys. Maybe I should invest in some kind of wall hook. Whatever, it's something to watch out for if you're an owner of any car with an automatic tailgate – this potential problem is not specific to BMW, of course.
---
August 20: Miles better?
After three and a half months and more than 3,500 miles, it's time to do some fuel calculations. Excited to find out the results? No? Of course you're not, but if you're in the market for a plug-in hybrid, pay attention anyway. I'll make it as anti-slumber-inducing as possible.
Here's lowdown on trips to the petrol station:
| | | | | |
| --- | --- | --- | --- | --- |
| Date | Mileage | Litres | Price (pence) | Rolling MPG |
| 04/05/2016 | 863 | 34.55 | 109.3 | 40.13 |
| 17/05/2016 | 1476 | 35.15 | 109.3 | 79.28 |
| 01/06/2016 | 1953 | 35.57 | 112.9 | 60.96 |
| 24/06/2016 | 2731 | 32.48 | 112.9 | 108.89 |
| 21/07/2016 | 3414 | 31.42 | 125.9 | 98.82 |
| 10/08/2016 | 4102 | 35.48 | 106.8 | 88.15 |
| TOTALS | – | 204.65 | 112.85 | 79.37 |
The headline figure is the Average MPG of 79.37. Nearly 80 miles to the gallon is pretty spectacular on the face of it – that's the sort of thing that only the greenest little city cars claim to achieve, and in the real world never get near. But that's a genuine fuel figure from the trusty 225xe, which is actually worse than it would have been had I not driven all the way to Lotus in Hethel, Norfolk, early on in the loan – motorway runs are a killer for high fuel economy. You'll notice that for a period between fills-ups in June I achieved over 100mpg, and as documented below I can get over 200mpg each way on my 24-mile commute (this morning it the app read 218.3mpg).
In terms of fuel costs (which I shoulder personally in case you assumed the Sunday Times was footing the bill, hence my attempts to be as economical as possible), I spent £230.46 on petrol between April 26 and August 10, covering 3,544 miles. I work that out to be 6.5p per mile.
Of course, some of you will have noticed that this fuel economy figure isn't the whole story. What it omits is the cost of electricity being "pumped" (to use the somewhat archaic terminology said to have been adopted by many electric car drivers) into the hybrid's battery pack every day. I charge at home overnight and at the work car park during the day. Can I work out those costs and add them to the fuel costs? In short, not easily.
For example, I have been getting "free electricity" at the Q-Park near the office, as it was until recently part of the Source London network. My Source London card cost me £10 and I've been exploiting the network as much as possible since. It has been seriously good value for money – my daytime charges have cost me virtually nothing.
Just this month, however, Q-Park dropped out of the Source London network and is now part of the Chargemaster-run Polar network, for which there are fees (free subscription for the first six months and just £7.85 per month thereafter). Charging electric car drivers for charging their cars is a trend that will continue – last month Ecotricity started charging for its network, too.
That's something to factor in going forward, and is a reasonable thing for those companies to do – they can't invest in growing their networks and not expect to get a return eventually. Market economics, you'd hope, would prevent these service providers from putting costs up to unreasonable levels while the industry is its infancy, although that's exactly what Ecotricity has been accused of.
Meanwhile, the cost for charging at home is tricky to gauge until I get my next bill; I'll need to compare electricity consumption since April with the equivalent period 12 months earlier, pre-electric car. Until then, it's hard to know the true cost per mile running the 225xe, but given electric cars are sold partly on the basis that electricity is so cheap compared with petrol/diesel, I'm not expecting and horrific shocks. Pun intended.
---
July 27: BMW Remote app deep dive
It's no surprise that a plug-in car comes with a smartphone app. Buy a Nissan Leaf or Audi A3 Sportback e-tron and it'll have a mobile companion. But there's no point in having one for the sake of it; there needs to be a genuine usefulness to it. So how does the 225xe's fair?
The first thing to note is that you can hook up two apps to the car: BMW ConnectedDrive and My BMW Remote.  The former links your phone to the iDrive system in the car, and so will allow you to do things like read tweets, calendar appointments and news from the iDrive menu. It's not terrifically useful, to be honest.
The one to get for plug-in drivers is the My BMW Remote app, available for Android and iOS. It's free to download. Here's what to expect from it:
1 Registration is tiresome
Downloading the app is easy but connecting it to your car is more bothersome. Without going into the detail, it involves creating a ConnectDrive account on the BMW website, adding the car to the account, which involves sending a code to it and then entering the code on the website, creating a four-digit pin. As they say on iPhone adverts, this sequence has been shortened.
The good news is that once you're set up, the app itself is rather useful.
2 Home screen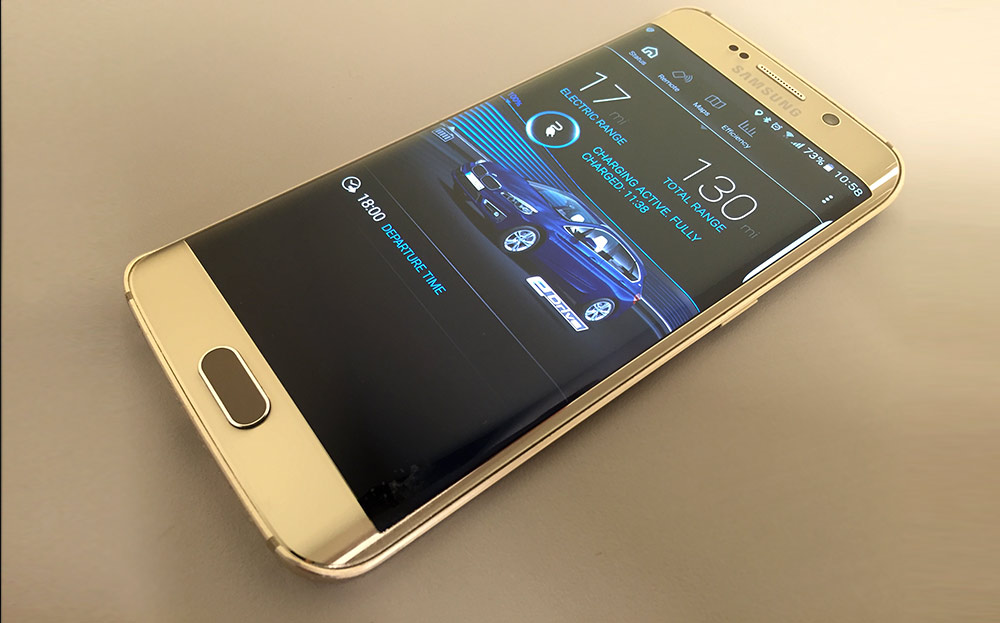 From here you get an overview of the car. Most prominent is the current charge state and electric driving range which, importantly, is live information – there doesn't appear to be any delay. So if you pop out for lunch and plug in at a nearby charging point then you could time the bill to arrive moments before you're topped up. By tapping on the plug icon you can even see how much time it will take until fully charged. Very smart.
Electric range is predicted based on recent driving. Currently, the 225xe suggests that a full charge will allow it to travel 21 miles on electric power alone. When I took delivery of the car in April, in colder weather (temperature affects the chemistry of the battery, and therefore range) and I was still to master driving the car efficiently, the maximum range was shown as 18 miles.
Total range is also calculated. It shows how far you can drive, based on both battery charge and how much petrol is in the tank. Of course, this being a hybrid you can top up the tank at a petrol station to increase your range on a long journey.
We'll come on to the departure time below, but essentially it allows you to precondition to a desired cabin temperature before you arrive at the car.
3 Remote settings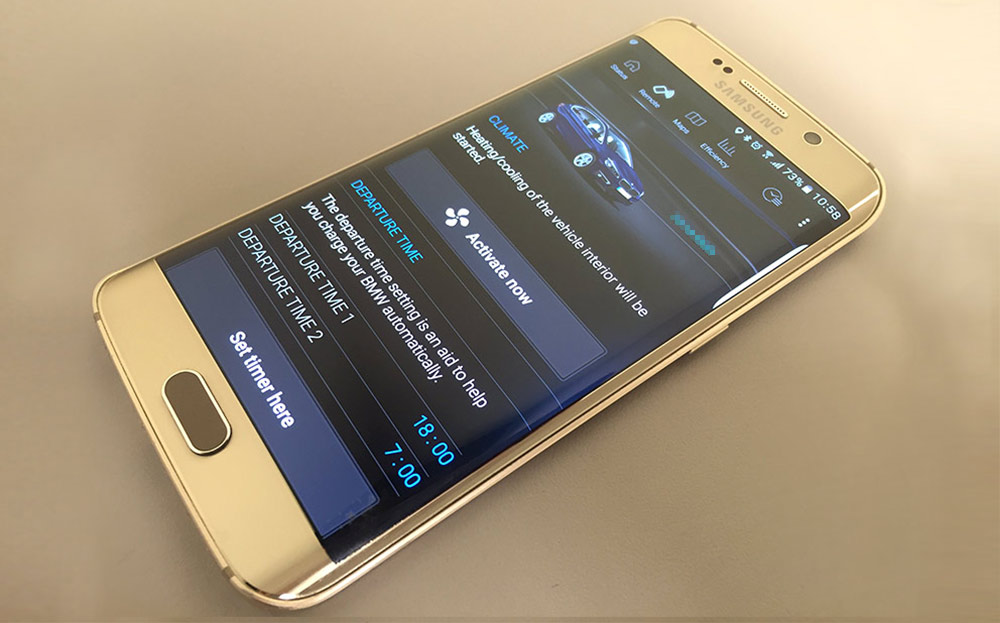 A few useful tools here: activating the air conditioning (pre-conditioning), locking and unlocking the car (never again wonder whether you locked the car before walking away) and the ability to flash your headlights, which could prove useful if you've parked your car in a large parking lot and can't remember exactly where it is (say, at a music festival).  From reading owner forums, it seems some other countries allow you to sound the horn but that function isn't available in the UK.
You can also access the pre-conditioning (see below).
4 Departure time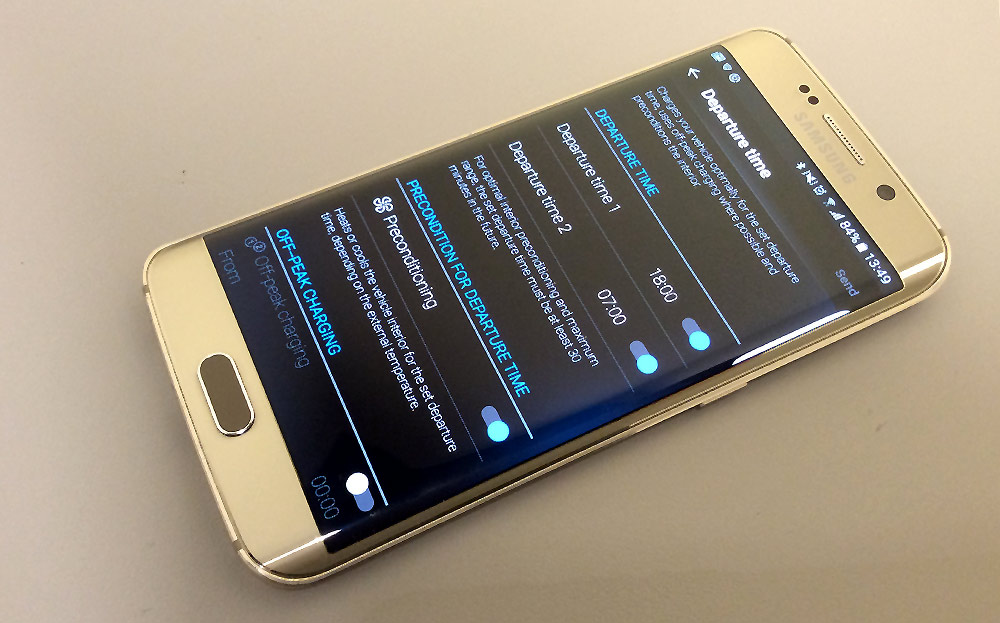 This is a handy feature. It allows not one but two departure times, which should be useful for commuters: if you know you'll be jumping into the car at 7am and again at 6pm, and have left it plugged in to a charging point, the BMW preps itself ready to receive you at the allotted hour. This means charging at the most efficient time and speed, and turning on the air conditioning to your preferred temperature just before, say, your 6pm commute home. Opening the car door on a hot day to a beautifully-cooled interior is a little-known pleasure. And because all this happened while plugged into an electrical socket, the car's battery range remains at its maximum.
5 Maps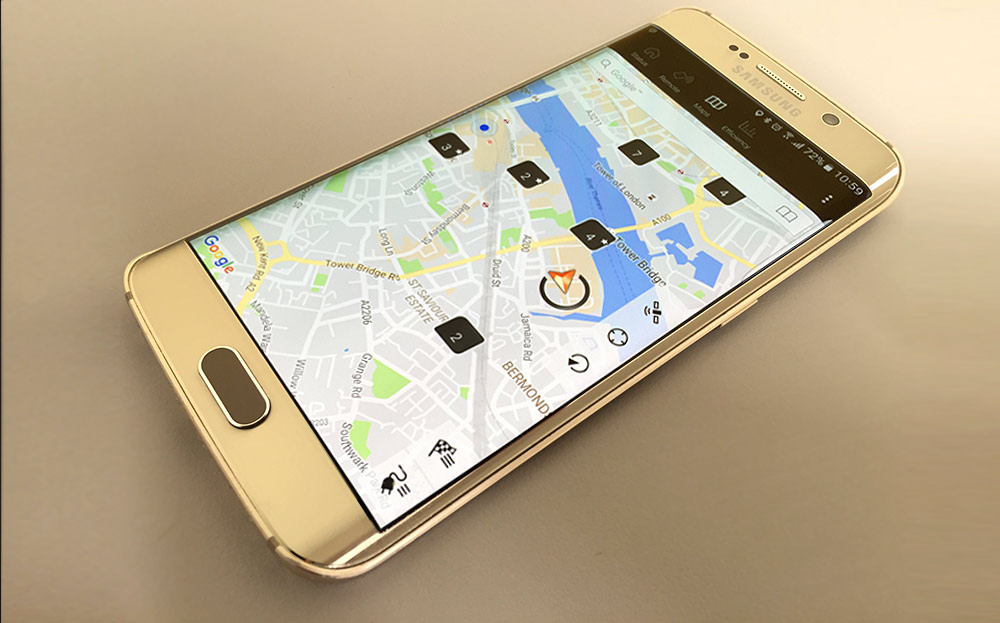 Now, where did I park, again? As long as you're within 1.5km of the car (for security reasons, presumably), the map on the app will show you. You can also set destinations and send it to the car, so there's no faffing around entering postcodes on the iDrive, and it will also show nearby charging points and navigate you to one.
6 Efficiency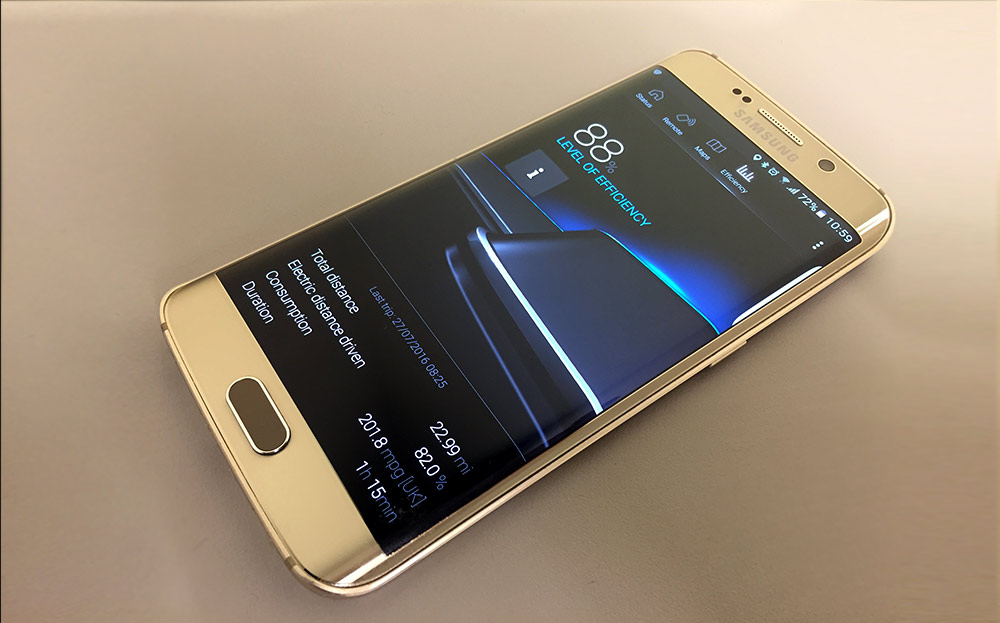 The details of your last trip are logged here, including duration, distance driven, how much of it was by electric power (as a percentage) and petrol consumption in miles per gallon (iDrive maxes out at 99.9mpg so this is the best place to get an accurate reading for the 225xe if you head above that, as I frequently manage).
BMW will encourage you to drive more efficiently with an overall efficiency score for the trip (88% in the case of the above trip), although this is a somewhat dubious score for the reasons below.
7 Efficiency details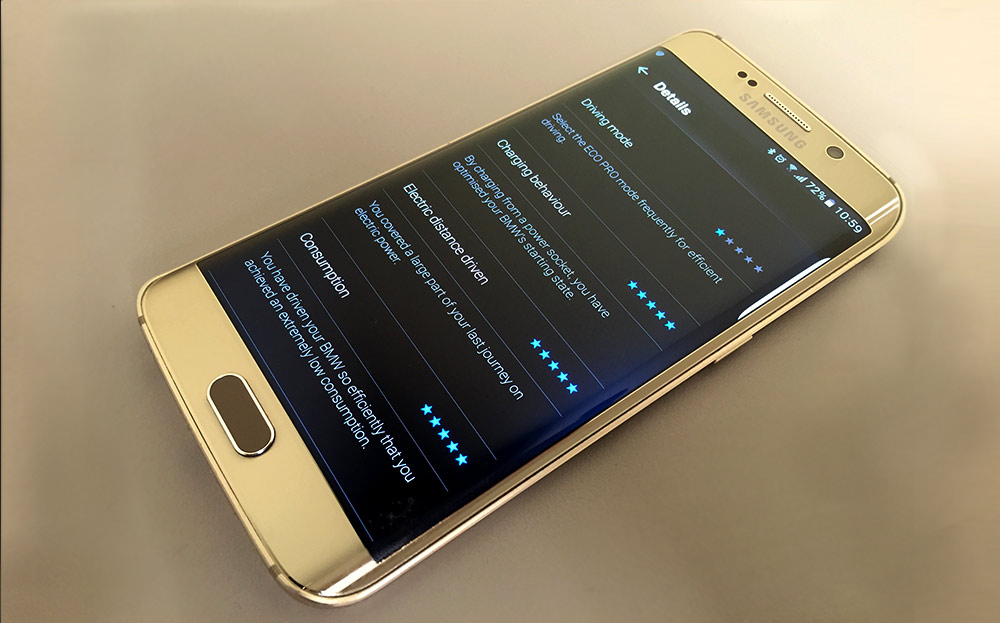 Click on the "i" in the Efficiency menu and you're presented with a breakdown of the trip. The categories are Driving mode, Charging behaviour, Electric distance driven and Consumption, with a star rating out of five awarded for each.
Now… 88%. I beg to differ. You'll notice that I received only one star for Driving mode, as at no point did I use Eco Pro. Why not? Because it dulls the throttle and reduces the effectiveness of the air conditioning, neither of which are desirable. Most of the time I don't use air con, anyway, as I know it's a killer for battery range. I prefer to use Sport mode when on pure-electric drive, as it stiffens the dampers, thereby tightening up the handling, and makes the accelerator pedal more immediate in its response. As long as you have a deft touch with your right foot, you won't waste battery power, as my ever-improving consumption figure attests (I managed 217.3mpg this morning, for the same trip as the one pictured).
Use Eco pro and a technical 100% efficiency is attainable, but you'll not be able to go any further on a single charge.
8 Other options
Click on any of the four categories mentioned above and you'll get tutorials on each. You can also access these tutorials, and others, from the top navigation (the three dots in the top right corner). The tutorials are simple, clear and concise, offering info on everything from charging to Eco Pro navigation routes (which claims to take you on a route that uses the least energy).
You can also view total electric distance driven, total fuel saving and change app settings, including unit measurements (metric, imperial or Japanese), and your pin.
 Security thoughts
You'll need to enter your four-digit pin every time you open the app, but that's not a big ask and clearly indicates the potential for security threats with apps that can control the car. Without the key, a phone thief could unlock the doors remotely but wouldn't be able to drive off. An experienced car thief may also be able to start the vehicle and drive away (read about the rise of keyless car theft here).
Tesla is already selling cars which can drive from your garage to your front door on their own at the touch of a button on a smartphone app, so the potential for theft over the airwaves via apps is real and one that the industry is looking to counter. With this in mind, it's not surprising that BMW asks you for your pin every time you start the app, and even when the screen times out. Be thankful that it's not too easy to access.
---
July 8: Practically clever?
HEAD to BMW's website and filter its new cars by body style and you find that the 2 Series Active Tourer is categorised as a "Gran Turismo" (grand tourer to you and me). Except it's not, really, is it? GT cars have powerful motors and are designed to provide drivers and passengers with a spirited adventure across great distances. Think Aston Martin DB9 or Maserati GranTurismo (there's a clue in the name).
By contrast, the 2 Series Active Tourer is dumpier in profile and to drive, while composed and comfortable, couldn't be considered terrifically sporty. The 22xe we have on loan has proved surprisingly good fun in Sport mode, it has to be said – the dampers firm up, the steering gets tighter and the petrol engine combines with the electric motor to give maximum power through all four wheels.
But as a long-distance cruiser you'd be better off with the diesel-powered 220d, which is lighter and could return 60mpg on the motorway (versus around 40mpg for the PHEV version), and has a larger fuel tank, meaning fewer fuel stops en route. The 225xe, then, is not a grand tourer.
It is, however, rather a good compact MPV. Let's talk practicality, for a bit, starting with the most obvious compartment, the boot. With the rear seats up it has a capacity of 400 litres, which makes it smaller than that of the Ford C-Max (432 litres), Mercedes B-Class (486 litres), Citroen C3 Picasso (500 litres) and Golf SV (590 litres).
However, compare it with the PHEV class rival from Audi, the A3 etron Sportback (currently being tested by Driving's James Mills) and the 225xe's boot is positively gargantuan – the Audi's piddly 280 litres makes it tight for even a small baby buggy. By contrast, the BMW will fit a double buggy and the related kiddie paraphernalia.
Even better, the BMW's load space isn't compromised greatly by the addition of a high voltage battery pack or electric motor, which is attached to the rear axle. It's a flat load area and, unlike with the Audi, the charging cables can be hidden under the boot floor, in a small storage compartment, rather than in the cable bag provided. I like that; neat and tidy.
Behind the wheel arches are recesses for other knick-knacks, one of which includes a small cargo net on our model.  Also of note is the 12V socket in the boot – useful  if you have a plug-in handheld vacuum or refrigerated cool box.
Working our way forward, entry to and exit from the rear is easy thanks to raised seating and wide door apertures, while the second row slides by about 150mm and can be split-reclined. The seats also fold handily into the floor to make an almost flat load bay, and the front passenger seat also folds, making a trip to Ikea less of a headache.
The rear doors have two cubby holes, suitable for small water bottles, plus a small recess in the arm rests that is effectively the grab handle but looks as if it could have been originally intended to house an ash tray before the designer was reminded that such things are no longer socially acceptable. While small, they're quite useful for coins, boiled sweets and the like once on the move. Answers on a postcard for what the smaller desk tidy-like pocket between the grab handle and window button could be used for. Paper clips? A rubber?
Rear passengers also get a small cubby hole between the front seats, along with air conditioning vents and a 12V power outlet, which could be useful for headrest-mounted DVD screens, tablets or phone charging. The cargo nets on the back of the front seats are suitable for not much more than a map, given that rear legroom is at a premium in this car (it's not especially long).
In the front, you'd be wrong to assume the 2-series Active Tourer lags behind the likes of the Citroen C3 Picasso for handy storage. In fact, the door pockets are generous and split handily in two sections, while the grab handle and small recess feature in the armrests here, too. A central armrest includes space for not much more than a mobile phone, although below that is a deep tray with USB and aux in ports. Two cupholders feature just in front of that, along with a 12V power socket. The driver also gets a small compartment by their right knee, while the central cubby hole on the dashboard, above the temperature controls is useful.
Space in the glovebox is disappointing, though – very little fits in there beyond the log book/manual.
Regardless of practicality, the quality of the BMW's interior continues to impress, with lovely materials, soft plastics and, in the cream leather of our test car, it's a nice light, airy space. If you wear blue jeans you may find the dye rubs off on the seats, but this can be scrubbed off. Fortunately.
---
May 24, 2016: Who'd be the cable guy?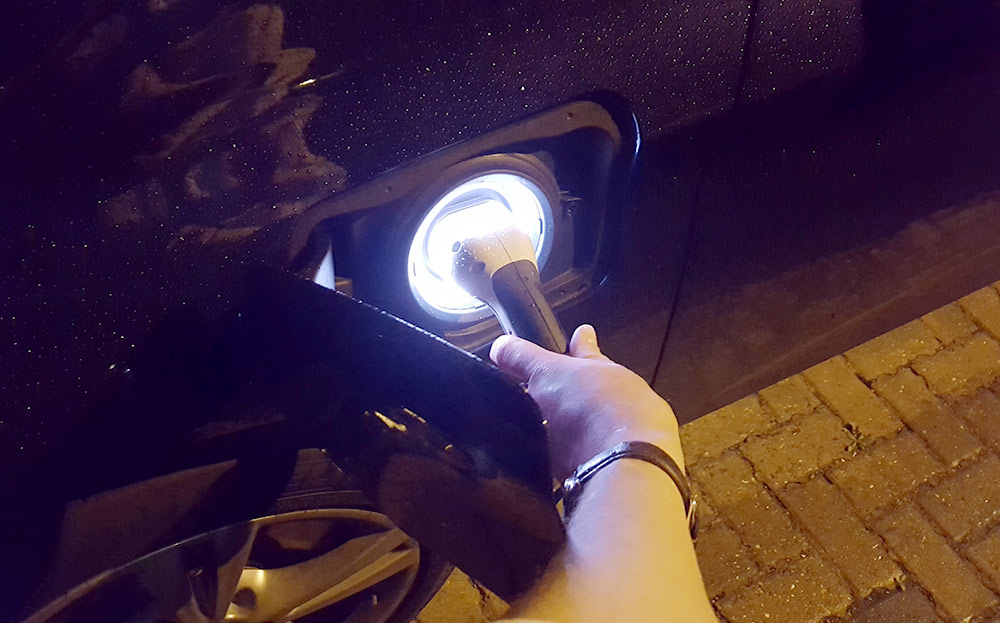 A MONTH into the test of the 225xe, I already have plenty to say. Let's start with the first problem buyers of any plug-in car will have to deal with: charging.
The 225xe has a 5.7kWh litium-ion battery nestling under the rear seats, good enough for a purported 25 miles of pure electric driving (18 miles in the real world, I've found). Keeping it charged as much as possible will save you money (the cost per electric mile is significantly less than for petrol or diesel) and result in zero emissions from the exhaust pipe.
During recharging, the professional advice is not to use extension leads or connect to existing three-pin sockets, at least without first having an inspection by a qualified electrician. This is because electric cars draw a heavy power load (up to 13 amps for 3½ hours in the case of the 225xe), which can heat up cables and connectors if they're not up to the task. Fires have been known.
So, while a very basic three-pin socket, properly inspected and isolated, should be fine, for peace of mind car makers recommend a dedicated heavy-duty charging point. This can also offer a fast charge at 32 amps — which is not really necessary for the 225xe, as it has a small battery. Still, you could look at it as future-proofing yourself.
BMW has its own wall-box charger for home installation, in two designs: BMW i Wallbox Pure (£760 with installation) and BMW i Wallbox Professional (£1,500 with installation). It's recommended that customers contact the installer (check with the dealer) as soon as they've bought the car, before delivery, to allow time for an inspection and installation. Your local BMW dealer will be able to provide details. Bear in mind that other companies, such as Chargemaster, Pod Point and Rolec, may work out cheaper.
With a fully charged battery, I have been able to set off for work in London Bridge, 24 miles from home. I can recharge it at a public car park, which has 13A and 32A Chargemaster wall-boxes (BMW supplied the car with the optional BMW i Public Charging Cable required for the fast charge, which costs £165).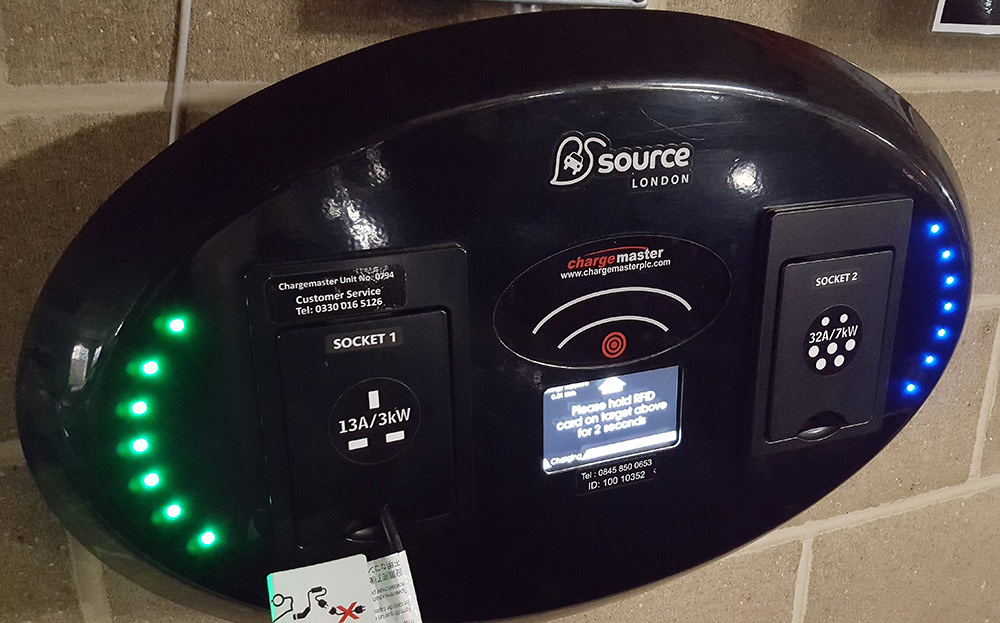 These public wall-boxes are run by Source London and are one of several UK recharging networks. These require drivers to sign up and, in some cases, pay a nominal subscription fee (typically £10-£20 a year). For now, at least, the electricity from the point I'm using is free.
As I mentioned in the first review of the car, I do need to engage the petrol engine and give the battery a rest, using Save mode, for a 50mph stretch along the A3. But for the start of the journey and in central London the car runs in pure electric mode, covering around 18 miles (in mild weather). To give you an idea of my typical fuel consumption, today the 225xe returned 134.5mpg on my morning journey.
The novelty of charging an electric car soon wears off, and unplugging and plugging in every morning and evening is — there's no other way to put this — a bore. You have to get the cable from the boot, unravel it and plug both ends in, then repeat, in reverse, before driving off. When it's raining heavily, it's even less fun, and the cable picks up dirt, which you then get on your hands.
A "tethered" wall-box, where the cable is attached to the unit, would make things less tedious, but it's still a faff. The real revolution will come with wireless charging. Tests are under way: BMW and Mercedes have been working together on this since 2014. Inductive charging plates for electric cars, which sit on the ground under the car, should be available soon. Whether or not they'll come to the 2-series Active Tourer PHEV is another matter, so for the duration of the 225xe test, just call me "the Cable Guy".
On the flipside, I've had to stop for fuel only twice since taking delivery of the car, despite having put around 1,000 miles on the car and despite its puny 36-litre fuel tank (a non-hybrid Active Tourer has a 51-litre tank). Between the first and second fill-ups, over 613 miles, I calculated average fuel economy of 79.3mpg. I'll share some sums on costs for fuel and my electricity bills in a future post.