Renault Mégane E-Tech Electric 2022 review: Function, form and efficiency
Renault has produced a diamond
With six billion kilometres (3.7bn miles) covered by its more than 400,000 electric cars sold to date, it's fair to say that Renault has some experience with electric vehicles. However, for most of the last 10 years the French brand has only had one main model — the Zoe — to showcase its EV expertise. 
All that changes later this year with the arrival of the Mégane E-Tech Electric (quite a mouthful, isn't it?). As familiar as the Mégane name is, this is an all-new and electric-only model that targets a segment led by the Nissan Leaf, Kia e-Niro and Volkswagen ID.3. 
Renault will offer buyers a choice of two battery sizes and two power outputs, with the most efficient capable of up to 292 miles between charges. The crossover-influenced design, upmarket interior and one of the most capable onboard charging systems on the market are all sure to make it a desirable choice and give its competitors a headache.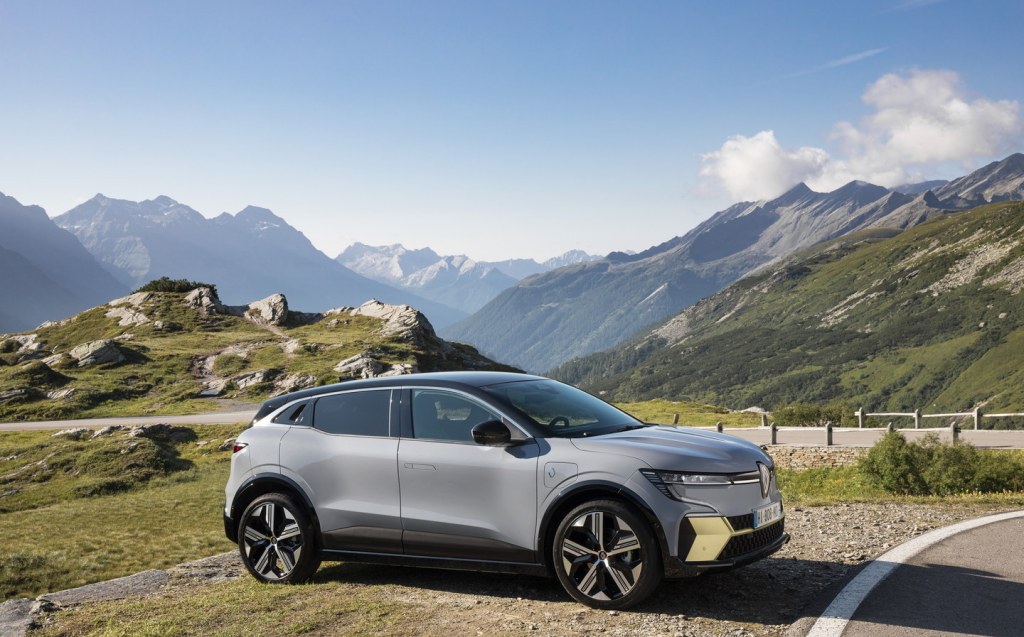 Exterior design and rivals
Just like a concept car you might see at a motor show (remember those?), the Mégane E-Tech Electric has striking proportions that make it look larger than it actually is. Measuring 4.2 metres long, it's actually slightly shorter than a Ford Focus, but with up to 20in wheels pushed out to the Mégane's extremities, it has the presence of a bigger car. 
Nonetheless, as Renault has managed to produce a battery that is only 110mm thick, the Mégane isn't that tall; its roofline is lower than the Zoe's.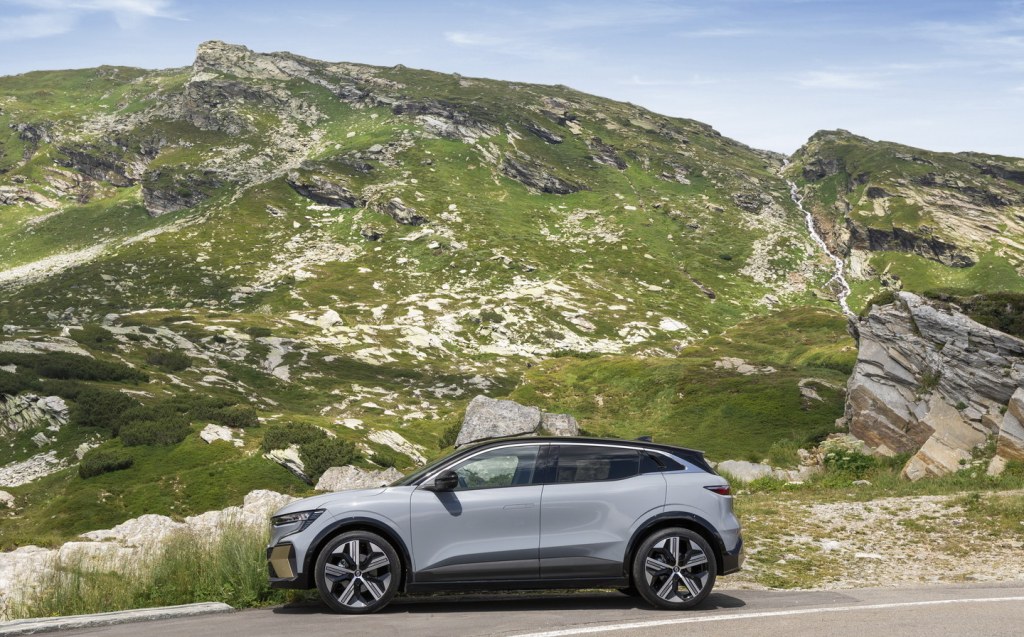 A high bonnet and beltline provide crossover styling cues, as do the black wheel arch surrounds and sills. The front door handles retract to sit flush with the bodywork while the rear handles are integrated into the door frame. 
With this new era of design comes a new Renault badge, too, placed big and bold on the Mégane's nose and braced by very slim LED headlights and a fresh take on the company's lighting signature. Unlike the Zoe, Renault doesn't fit the charge port behind that front badge; instead it sits on the front right wing. As is à la mode for electric cars, a light bar spans the rear of the car below a shallow window. 
A palette of six exterior colours will be available from launch with the option of a roof, pillars and door mirrors in a choice of three contrasting colours. Higher-spec models will include the 'Warm Titanium' colour on the front bumper blade, side air vents and rear. 
Interior and practicality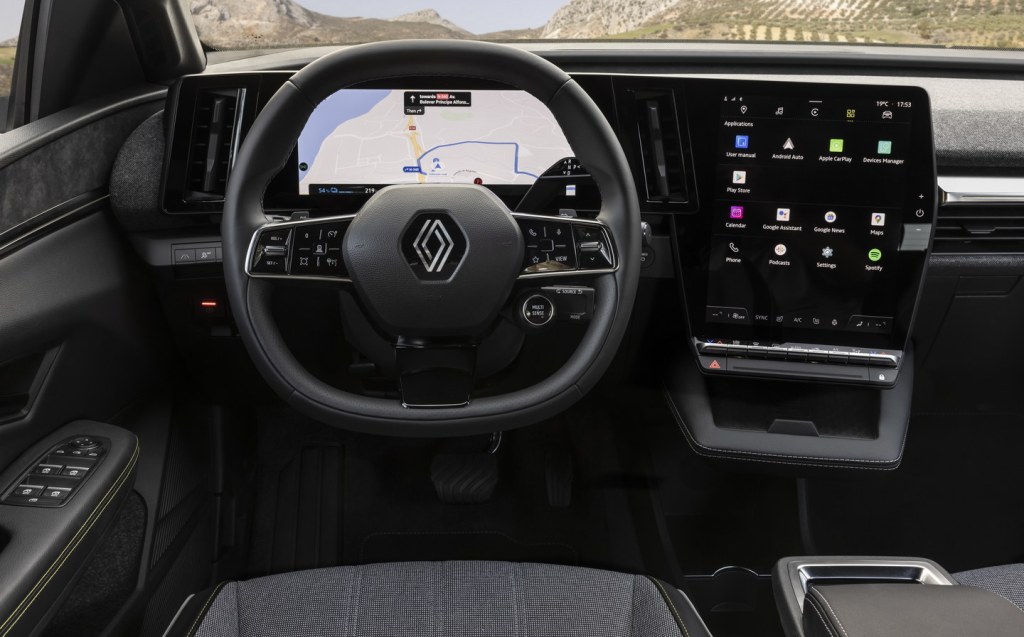 Buyers justifiably expect a lot from their car's interior these days and while the Renault isn't a sea of open space inside it is nicely packaged and thoughtfully laid out.
An almost entirely digital dashboard with a 12in instrument display and a 12in touchscreen in portrait orientation angled a few degrees towards the driver looks the part, while the few physical buttons are all new and not raided from Renault's old parts bin.
Entry-level versions will receive a 9in touchscreen that is shorter rather than using a thicker bezel, so it shouldn't detract from the overall look. 
A squared-oval steering wheel is a new touch for Renault, and feels more normal in your hands than you might guess from the pictures. Both the multifunction controls on its arms and the column stalks feel much more solid than anything Renault has served in recent memory. Taking a leaf out of the Mercedes book, Renault opts for a column-mounted gear selector.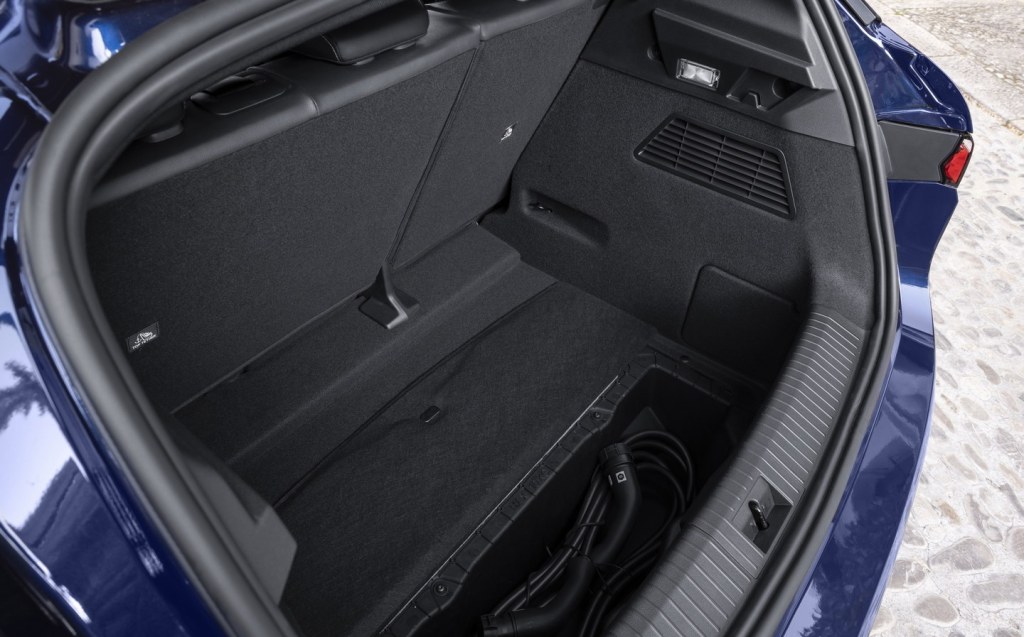 Interior quality is also on the up with Renault offering some tasteful options including upholstery made from 100% recycled materials, to boost its environmental credentials. Synthetic leather appears on upper trim versions and an innovative 'Nuo' wood insert consists of thin lime timber veneer bonded to a cotton textile backing that is then laser etched. 
As with other dedicate electric cars, rear passengers benefit in the knee-room department from stretching out the distance between the front and rear axles. Aside from a narrow middle seat that has less legroom on account of the centre console, passenger comfort in the back is good. The roofline is low but there's just enough headroom for the average person and long side windows partly compensate for them not being very tall. 
A 440-litre boot is larger than what you'll get in the likes of a Volkswagen Golf or Nissan Leaf and there's a separate underfloor compartment for carrying the charging cable.
Technology and safety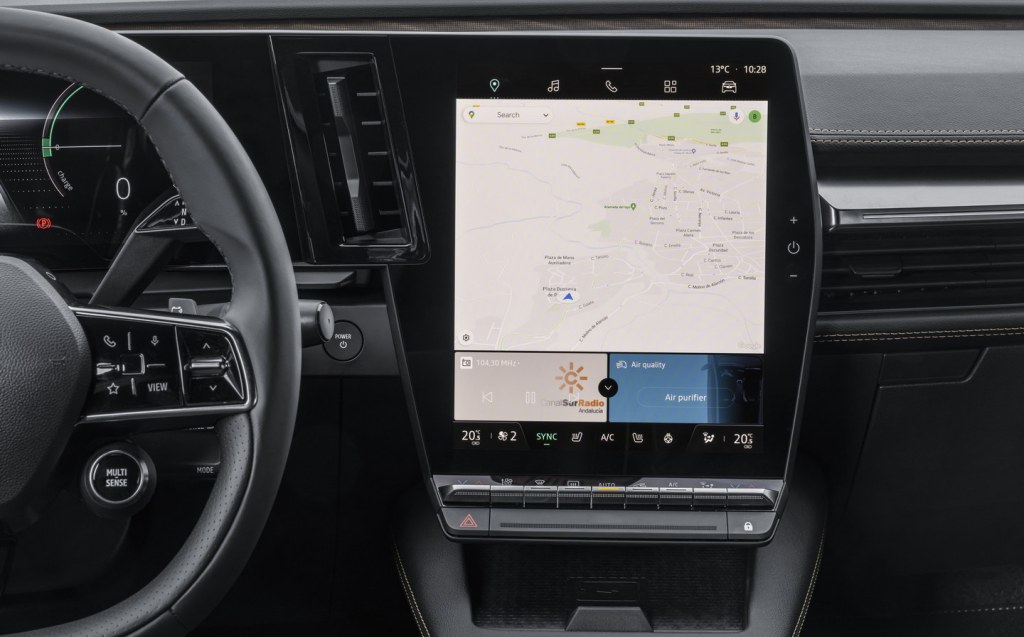 Not only has Renault embellished its interior with a duo of 12in displays, the infotainment system, like the Polestar 2's, is Android-based and offers a host of nifty features. Perhaps the most useful is that the sat nav is powered by Google Maps, meaning easier search functions for the places you want to go and real-time traffic updates.
As it's integrated into the car, it also means that it can accurately predict how much battery charge you'll have when you arrive at your destination. If you're travelling further afield it can suggest the best places to stop for a quick top-up, enabling the car to prepare the battery temperature for the most efficient charge when you arrive.
And charging is one particular aspect that will pique buyers' interests, because Renault bucks the EV market trend by equipping the Mégane with a 22kW AC charger. What this means in the real world is that the Renault will be able to suck as much juice as possible from any fast public charging points you encounter, and 100 miles of range can be added in one hour at a 22kW charger.
It will take a rapid charge, too, of course: the peak charging rate of 130kW on DC rapid chargers means it's possible to add 186 miles of range in 30 minutes. That's not the fastest out there but on a par with the VW ID.3 and ID.4.
Renault has also taken a leaf out of Land Rover's book by offering a 'smart' rear-view mirror. The unit can display a live feed from a camera mounted to the top of the back window as a way of compensating for the below-par rearward visibility offered by the conventional mirror.
Performance, power output and acceleration
Representing the start of a future generation of electric cars, the Mégane sits on new underpinnings that allow for better packaging, and it uses one of the thinnest batteries on the market. A model with a battery capacity of 40kWh is the starting point, and that will offer up to 186 miles of driving range in WLTP conditions and 0-62mph in 10 seconds, thanks to a 129bhp (96kW) electric motor powering the front wheels.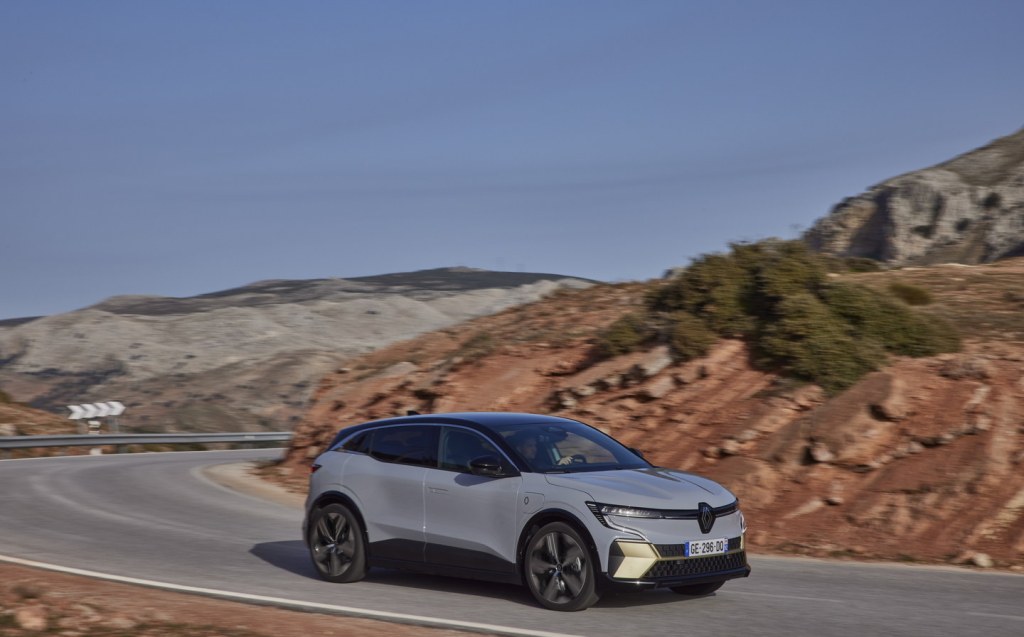 For those seeking the ability to drive further on a single charge, the 60kWh battery option extends driving range to 292 miles. Using the same electric motor it offers similar performance, taking only half a second longer to accelerate to 62mph. 
There will be those that crave more performance so Renault will also offer the 60kWh battery with a more potent 215bhp motor that can propel the Mégane from 0-62mph in 7.4 seconds and has more torque, too.
Sadly there's no chance there will be an R.S. Mégane E-Tech with dual motors and blistering performance, as sister brand Alpine is now effectively the sports arm of the company (Renaultsport as we know it has gone), and an expected hot crossover from Alpine won't have Mégane badging.
What's more impressive is how it uses its battery energy. The noteworthy official range figures do appear to translate into real life use as, during our time with the car, driving it across a variety of different settings, it returned an energy consumption figure slightly better. That's a rarity and bodes well for buyer satisfaction.
Ride and handling
Our first taste of the Renault Mégane E-Tech Electric came in its more powerful guise and it didn't disappoint even if we spent the majority of the time driving in the 'Normal' driving mode. Similar to a Porsche or Mercedes-AMG, when you do want to switch to 'Sport', a quick turn of a dial on the steering wheel instantly changes the Renault's persona.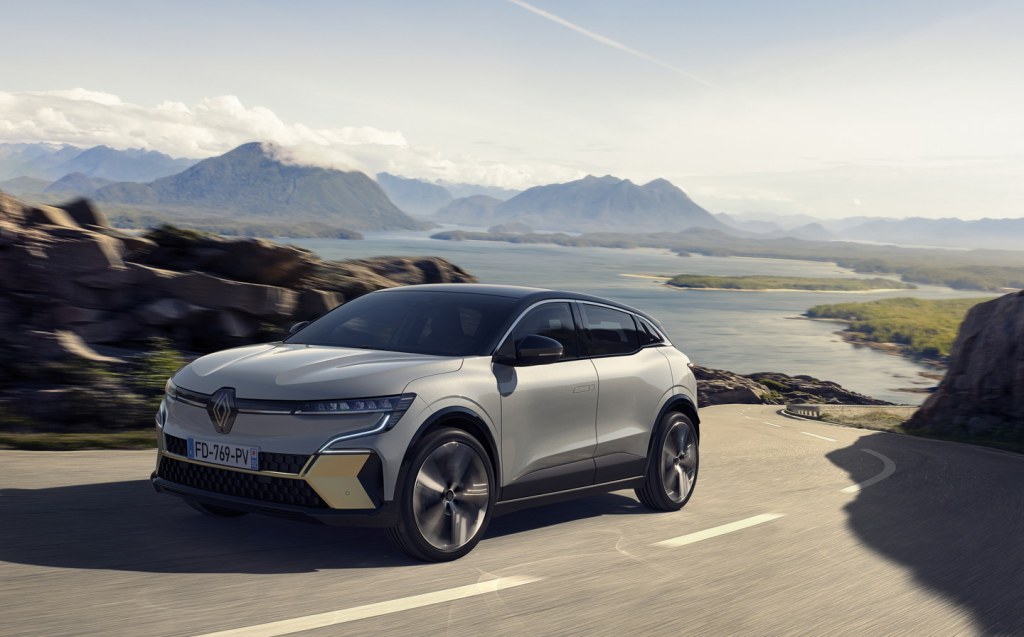 It's plenty quick in any setting and its well-insulated cabin and polished ride enhance the experience. Sharp steering response means less steering angle is needed than in most regular road cars, making the Mégane surprisingly fun to thread down a meandering road.
You can set the regenerative braking effect to four stages, too, with the strongest capable of scrubbing off high speeds simply by lifting off the accelerator. At the other end of the spectrum it will coast for considerable distances. 
A key factor in how the Renault handles and also how efficient it can be is weight. Tipping the scales at 1,636kg in its heavier form still leaves it around 100kg lighter than the Volkswagen ID.3. Direction changes can be swift and precise with body control never an issue.
While the 18in wheels are likely to offer a bit more comfort and bump absorption, the 20in wheels add responsiveness through turns and do little to detract from what is quite a polished driving experience overall.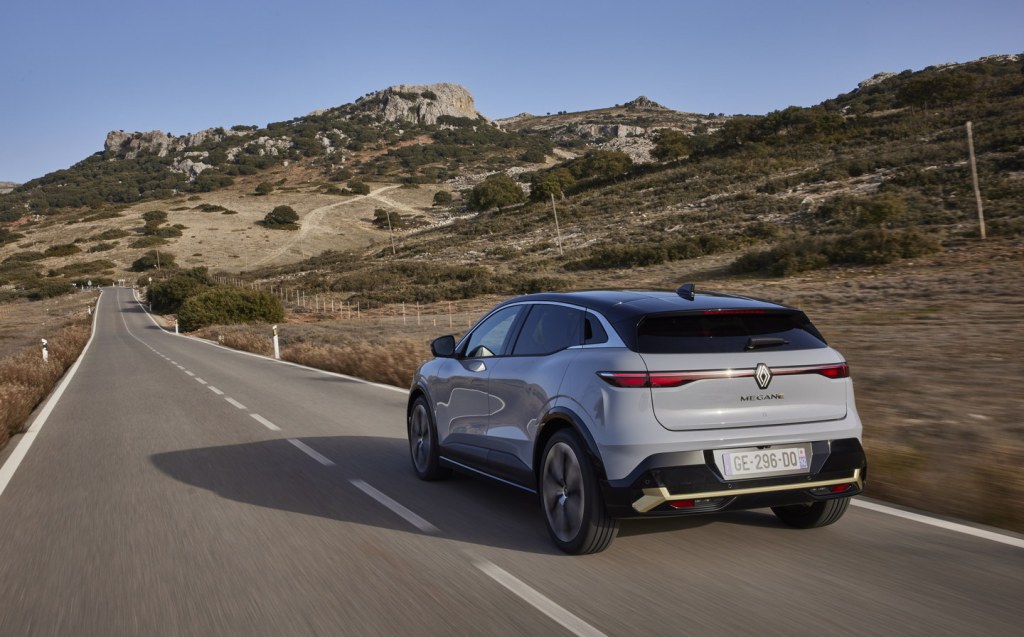 Pricing and on-sale date
Renault is asking buyers to register their interest on the brand's website, before completing the order via a dealer when pricing details are finalised. The smaller battery option should help Renault list an attractive entry price, hopefully not much more than £30,000, but the increased range that the 60kWh battery offers could make that the popular seller, even if it's getting on for £35,000.
Verdict: Renault Mégane E-Tech Electric review
Buyers have had to wait a while for Renault to expand its EV offering, but the Mégane E-Tech Electric seems to have been worth the wait. It's a superb electric car: refined, comfortable to drive and, crucially, seems to walk the walk when it comes to real world driving range. 
Related articles
Latest articles