Volkswagen ID.Buzz review 2022: Useful electric people carrier, but is it as cool as the classic VW T1 bus?
Bulli for Volkswagen
---
Published 20 February 2022
The Volkswagen Type 2 (for it was VW's second model after the Type 1, or, if you like, "Beetle") is an unquestionable icon of motoring, particularly in the original "T1" form, with its split windscreen. It became synonymous with alternative lifestyles, and if you want to evoke the era of "flower power", the "Splittie" is as essential as hair shirts and peace sign medallions.
The new VW ID.Buzz has been designed to capture some of that spirit while also looking to the future, helping the German brand become the embodiment of a nascent automotive niche: the pure-electric people carrier.
VW hopes the ID.Buzz will lure hoards of buyers, who may be looking for something a bit different and more practical, out of their everyman SUVs.
The ID.Buzz is still in its final stages of development but Driving.co.uk got the opportunity to take a pre-production version out for a spin on UK roads to get a taste of what buyers can expect. Far out, man.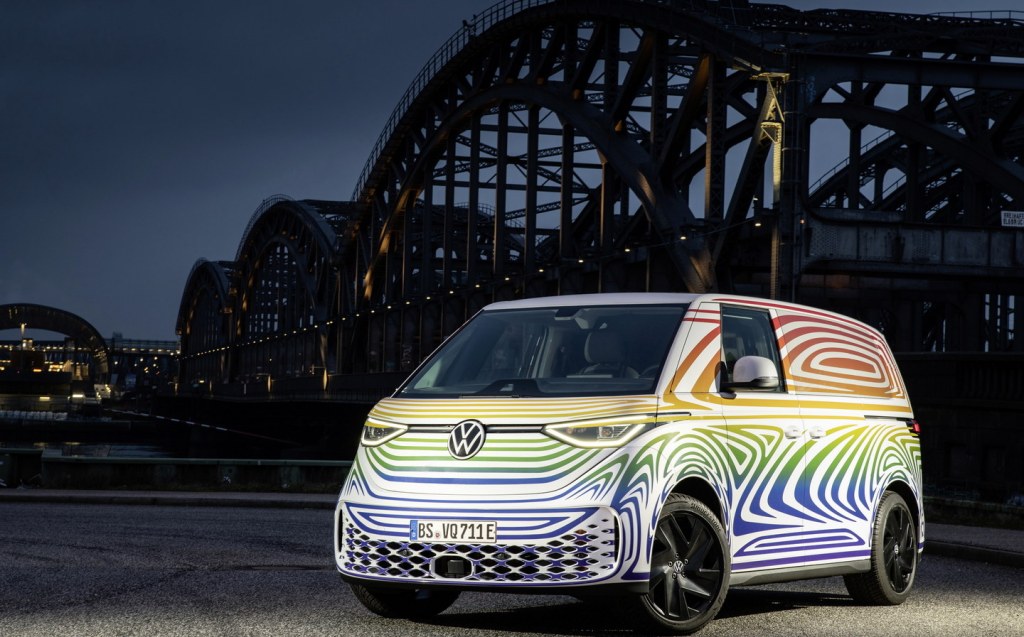 Exterior design and rivals
The swirly rainbow-coloured camouflage is designed to disguise the final detail of the ID.Buzz design, but it's clear it references the original in places, if not overall execution.
For starters, the new ID.Buzz is a huge vehicle. It dwarfs the Volkswagen ID.4, never mind the T1 or T2 generations of the Type 2. Indeed, its wheelbase is only 2mm shorter than that of the current T6.1 van.
And the test vehicle pictured here sits on 20in alloy wheels, wearing chunky Goodyear winter tyres, giving it a far more imposing stance than most modern practical vehicles, and they're giant compared to the button-like wheels on the classic models.
Volkswagen is openly targeting buyers that might have bought an SUV for the high driving position and image, hoping they'll notice they get the same commanding view of the road but with greater utility and charm.
Despite that, its more obvious rivals come in the form of other van-based people carriers. Indeed, Volkswagen will be competing with itself in the form of the new VW Multivan, which comes with diesel or plug-in hybrid power options for those not quite ready to go fully electric.
Pure-wlectric rivals on the market right now include the Citroën e-SpaceTourer and Peugeot e-Traveller (both essentially the same vehicle), as well as the Mercedes EQV.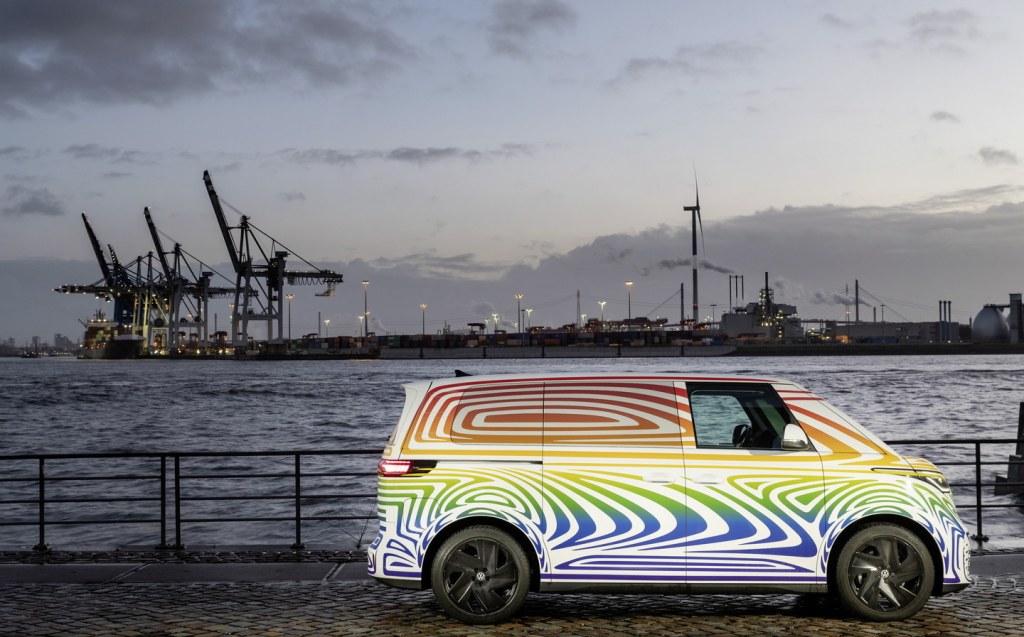 Interior and practicality
As mentioned, the ID.Buzz has a high-set driving position with a commanding view of the road ahead. Admittedly, it feels more like a commercial vehicle than a desirable lifestyle car, but that's hardly surprising when you realise that there will be passenger and van versions launched from the start.
Though pictures of the cabin have yet to be released, we can confirm that there are differences between the two models inside to suit their uses, in terms of the materials – and the van (called the ID.Buzz Cargo) has a bulkhead behind the front seats.
They share the same small digital instrument pack that is found in the Volkswagen ID.3, ID.4 and ID.5, though the drive selector has been redesigned and moved to the steering column to make it easier to reach.
A large central touchscreen is also retained, as are the less-than-perfect touch-sensitive door controls. There's a tangible increase in interior space with seemingly endless headroom, and much more width than you'd find in an ID.4.
At launch, the passenger version of the ID.Buzz will be a five-seater, with a seven-seat option arriving later on. Two sliding doors allow unimpeded access to the back seats, which are set high for a great view out in all directions.
There is masses of legroom and the seat bases are quite wide, but it's disappointing to note that there are only two Isofix mounting points.
Nonetheless, three adults will comfortably fit across the rear bench, and there's huge amounts of room for their luggage, too; in five-seat guise, the ID.Buzz carries 1,121 litres of cargo. That's enormous by any family car standard, and it suggests that even the seven-seat version should have useful space with all seats occupied.
In terms of fit and finish, our test vehicle was kitted out as a '1st edition' so it came with high-spec upholstery and other detailing. It's likely that Volkswagen will allow buyers to customise the interior and exterior to a high degree.
Technology and safety
Volkswagen has confirmed that over-the-air updates of its ID. infotainment software mean the ID.Buzz will in time be available with extra features such as 'Plug & Charge' and bidirectional charging.
The latter will allow the car to exchange energy with a 'smarthouse' for example, using the building's solar panels to charge up the battery pack during the day, which in turn can power the house in the evening. Presumably it could also be used to power other external devices, as do the Kia EV6 and Hyundai Ioniq 5, with their 'vehicle-to-load' systems.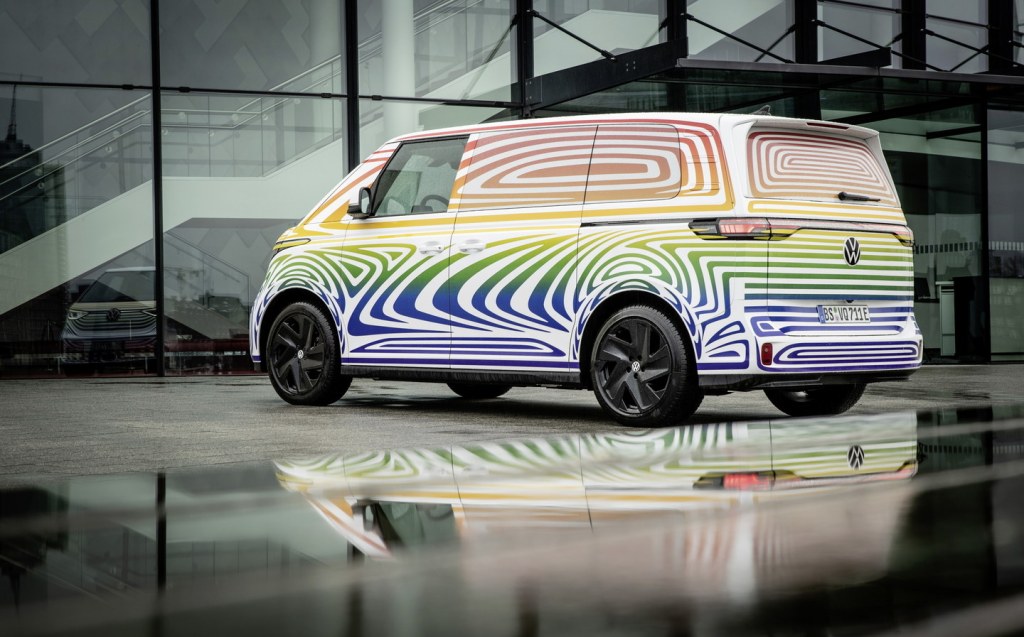 Meanwhile, Plug & Charge is designed to simplify the process of using a myriad of public chargers without needing a different app or access card for each. The concept is that the car can communicate with the charger directly through the cable to manage payment, as Teslas do when plugged into Tesla Superchargers.
Performance, power output and acceleration
Underneath is Volkswagen's Modular Electric Drive (MEB) platform for electric vehicles. At launch, the sole powertrain option will be a 150kW (201bhp) electric motor driving the rear wheels, putting out up to 228lb ft of torque.
An 82kWh lithium-ion battery pack with a 77kWh usable capacity provides the energy. An insider suggested that a range of nearly 250 miles is being targeted for the initial models and, though Volkswagen hasn't yet commented, the recent upgrade to the Skoda Enyaq iV 80 battery pack to allow recharging at a rate of up to 135kW is expected to carry over to the ID.Buzz.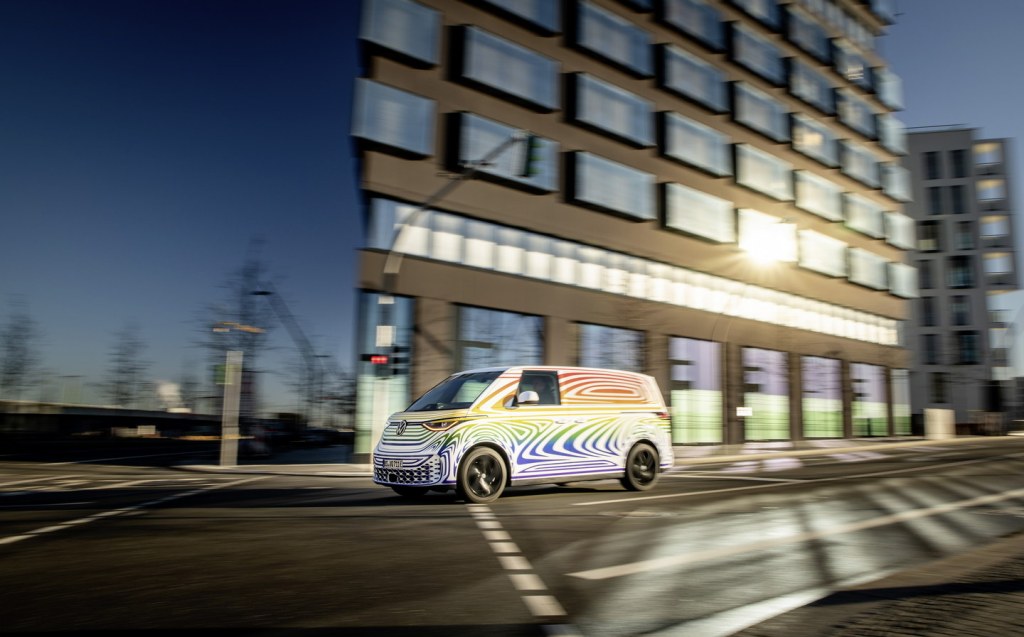 There will be all-wheel-drive versions in time and Volkswagen even let slip that there will be an ID.Buzz GTX variant, too, presumably with the same 299hp powertrain as the ID.4 and ID.5 GTX.
That extra performance will be welcome to anyone who plans on filling the ID.Buzz with people and their luggage. With two in the vehicle, acceleration off the line is perfectly adequate, making full use of the instant-torque characteristic of the electric motor, which means the hills that presented the original Splittie with difficulties will be no issue at all. We'd estimate that the 0-62mph time is just under the 10-second mark.
On the move, it feels responsive to accelerator inputs and more than fast enough for the average driver's needs. More pertinently, the powertrain is quiet, making the driving experience a relaxing one.
Ride and handling
The tight turning circle is worthy of a special mention, as it makes what is quite a large vehicle a cinch to manoeuvre. You notice it right away when parking.
It's also quite comfortable. The test route took in some urban roads, a section of motorway and a challenging B-road with lots of twists and a poor road surface. The ID.Buzz managed all with aplomb, and it's even quite fun to drive, with a balanced chassis and a slightly rear-led feel.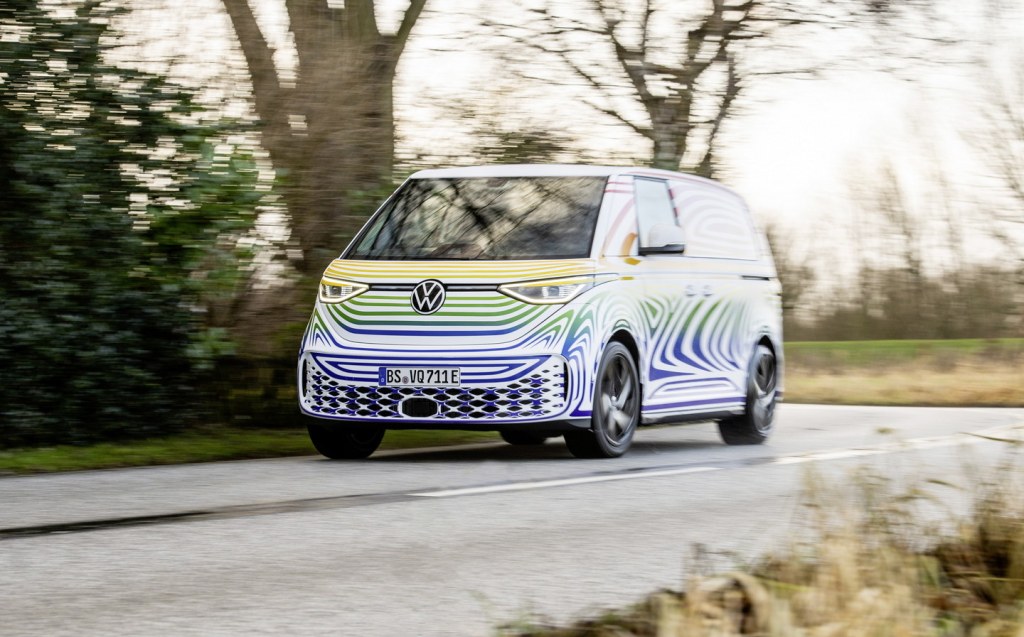 The only thing of note to watch out for on the road is that there was a marked difference in ride comfort between vehicles riding on 20in wheels and those on 18in rims. The latter were much more comfortable.
If you're tempted by the larger wheels, we'd suggest it's also worth investing in the adaptive damping system, as that allows for a more comfortable setting than can be achieved by regular, passive damping.
Pricing and on-sale date
Volkswagen will strip away the rainbow wrap in a matter of weeks to reveal the showroom-bound model and it's expected that the UK order book will open in May for first arrivals in October this year. Pricing has yet to be confirmed, but is expected to start at a little under £50,000.
Verdict: Volkswagen ID.Buzz review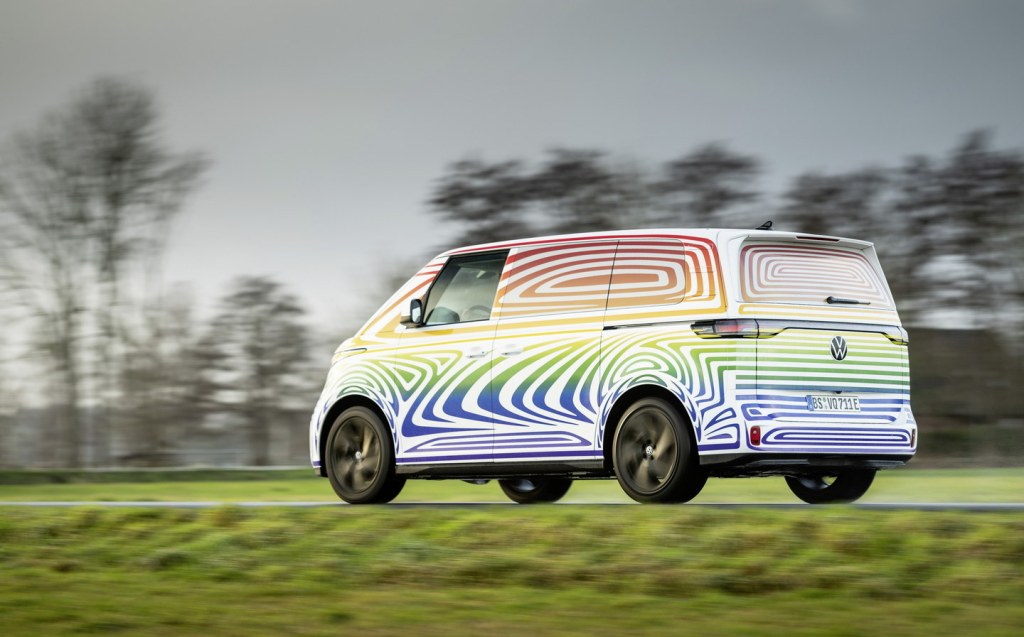 Until VW reveals the finished item and details the customisation options, it's difficult to know just how desirable the ID.Buzz will be. Aside from that, it feels and drives like an enlarged ID.4, and it is undoubtedly massively practical. As an alternative to usual SUV fare, though, it could be a winner, especially around coastal towns and with those who carry the flower power spirit.
Tweet to @Shane_O_D Follow @Shane_O_D
Related articles
Latest articles