Genesis GV80 2021 review
Korean class act will rattle Range Rover dealers
LET'S AVOID all the clichés — there will be no mention of Phil Collins or the Old Testament here — and get straight to the point: Genesis is the new premium (nudging luxury) car brand from Hyundai Motor Company, and arrives in the UK this year, six years after it was launched in its native South Korea.
Expect seven new models in the first 12 months, including three pure-electric cars; after the model you see here, the GV80 large SUV, and its G80 sister saloon will come the smaller G70 saloon (with a shooting brake to follow) and GV70 compact SUV.
You may ask what are Genesis' core values — what does it stand for as a brand. Ask them and you'll be told it is "audacious, progressive and distinctly Korean", though anyone who doesn't speak marketing might be better served thinking of it simply as a rival to the likes of Mercedes-Benz, BMW, Audi and Volvo.
Based on the interior of our test car (details below), the GV80 is also clearly designed to tempt buyers away from Range Rover.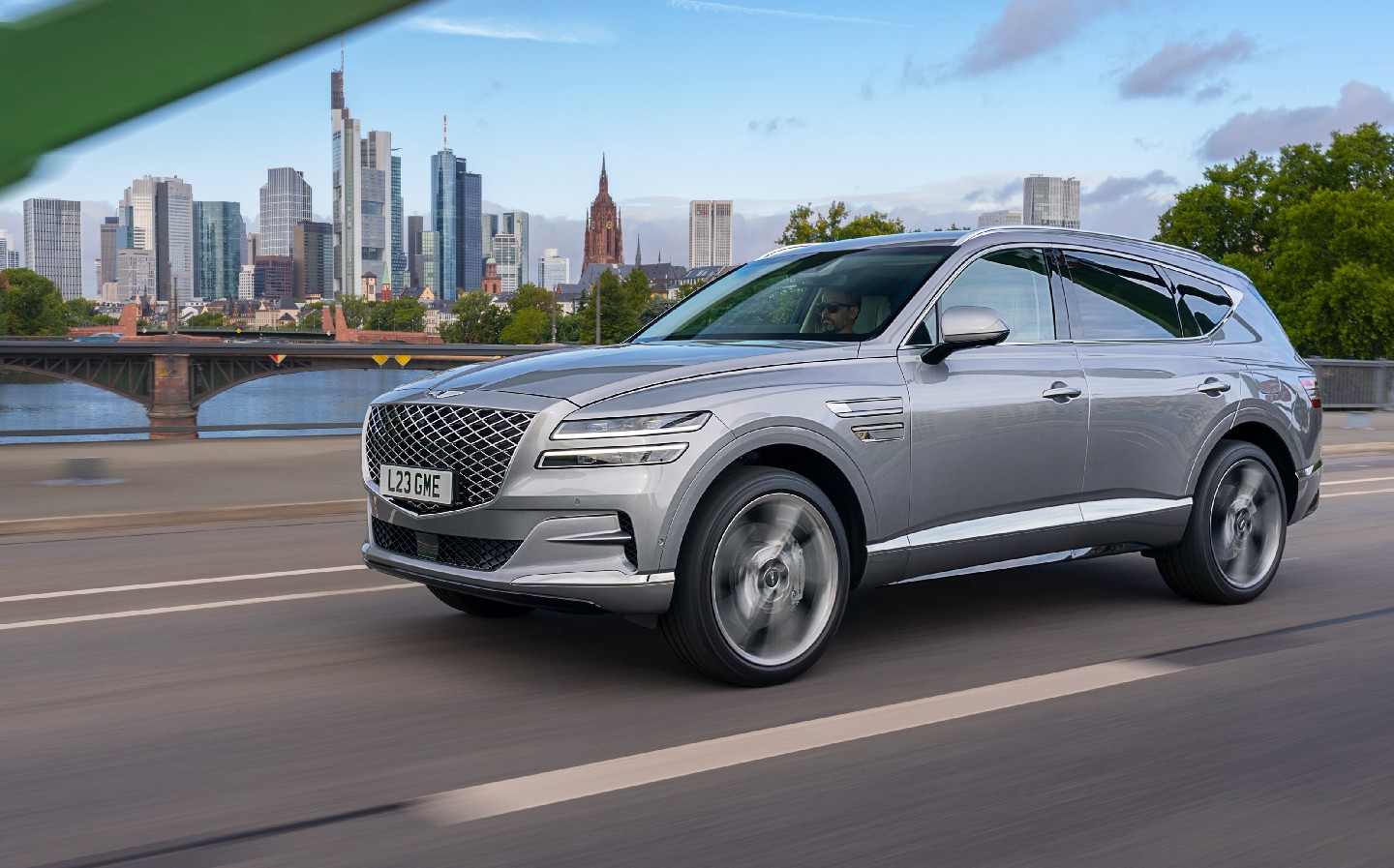 Genesis is not the only premium spin-off that's waging war with those big names — DS Automobiles is also scouting for custom from car buyers who like a bit of luxury in their lives. And as with DS, Genesis says it is doing things a little differently on the sales side of things, in order to try to lure away the well-heeled.
The key difference when buying a Genesis, the company says, is that they "come to you" — you'll be assigned a personal assistant to guide you through the entire process, from initial enquiry to test drive, purchase and delivery to your door.
Importantly, this personal assistant isn't paid on commission, so they're not under any pressure to clinch sales, and haggling over prices is strictly off limits — what you see is what you get when it comes to costs.
Personal assistants will be "representative of the local population", which perhaps suggests ethnicity will be a key consideration during recruitment, but Genesis's UK boss was more keen to focus on representation of women, who are so often overlooked in the car sales process. The cars aren't aimed at women specifically but there will be gender "balance" when dealing with customers, we were told.
It's hard to ignore that these new brands claiming to be doing things differently are actually copying Tesla's online-only car sales model (in Genesis' case, right down to having a brand experience "salon" in London's Westfield shopping centre), but you get the feeling that Genesis customers will be looked after slightly better.
What's the car like, though? Let's takes a deep dive into the Genesis GV80.
Exterior design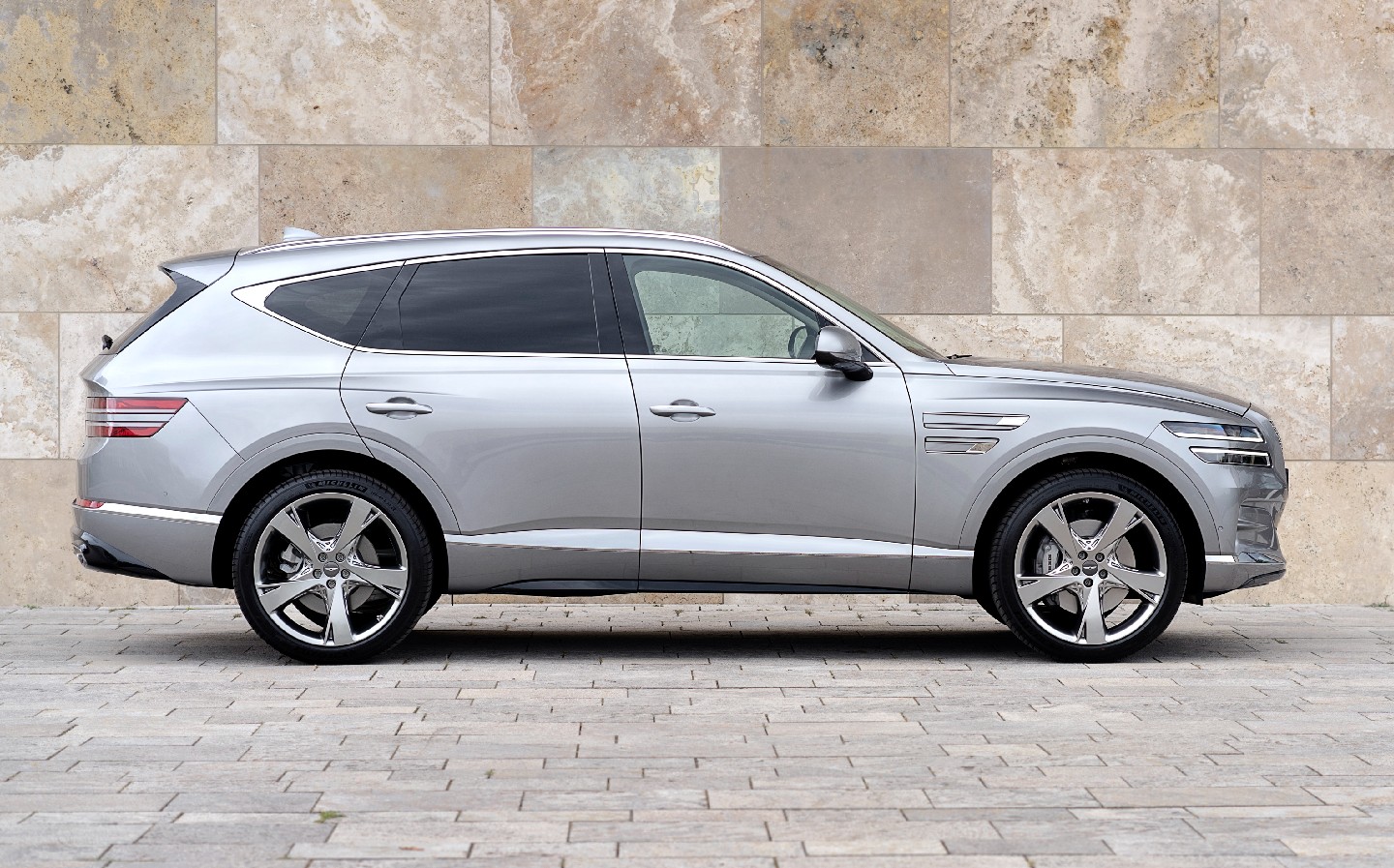 Genesis brand identity involves "two lines". You can see it in the LED headlights, the vents behind the front wheels arches and the rear lights, but there are more subtle applications around the car, too.
The "G-matrix" crest grille is huge, of course — size matters in this department, apparently (just ask BMW) — and very smart it is, too, though in the UK it is rather spoilt by the front registration plate. Still, the look of the car is clean and elegant, without doubt, with design touches that help lift it from the everyday to high end (its headlights sparkle at night, for example).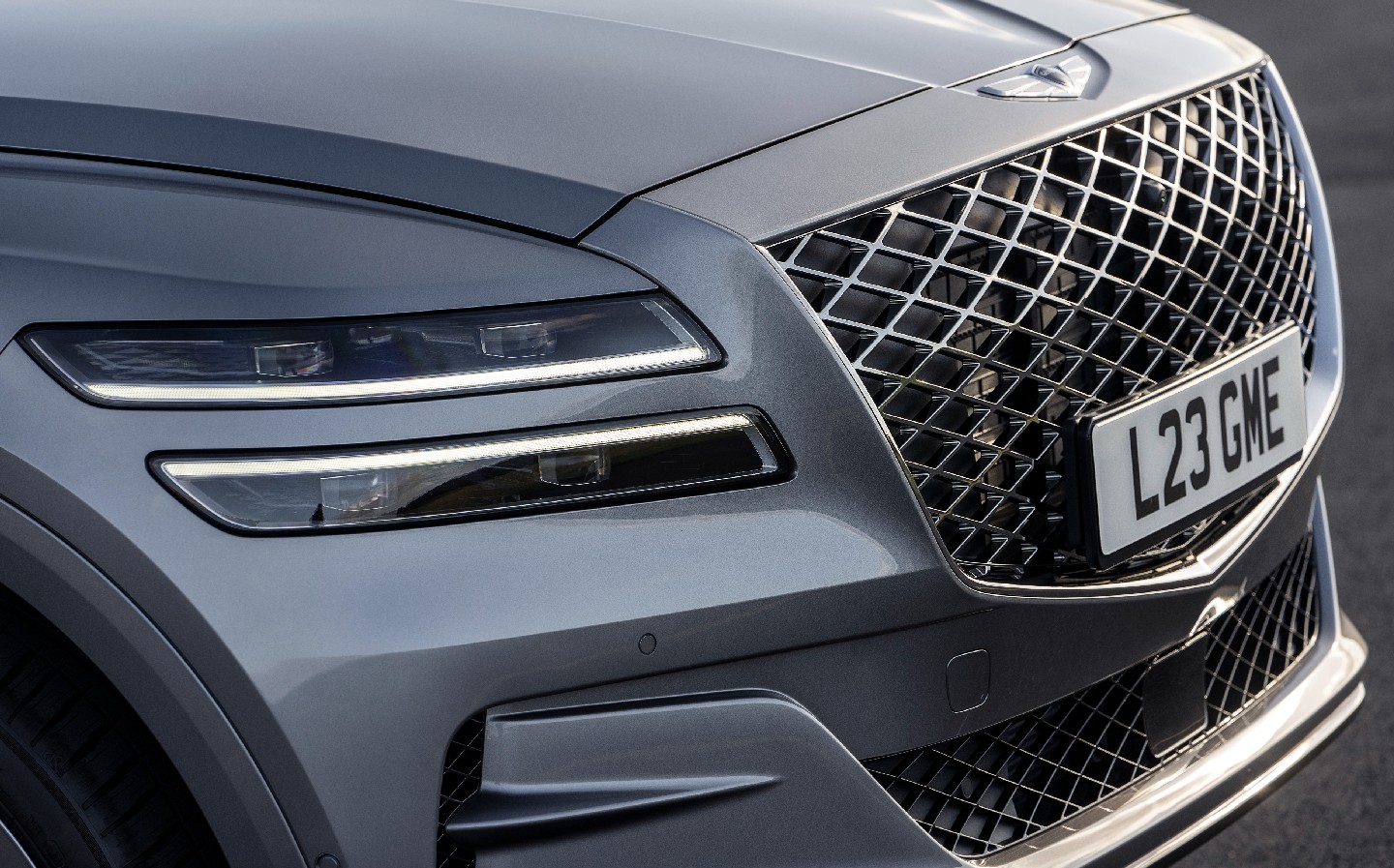 The GV80 is an imposing presence on the road, too — as much so as a Range Rover, Volvo XC90 or Audi Q7 — at nearly five metres long, two metres wide and 1.7 metres tall (though the GV80 is actually a fraction shorter than the XC90 and around 5cm off the Q7 and Range Rover).
Interior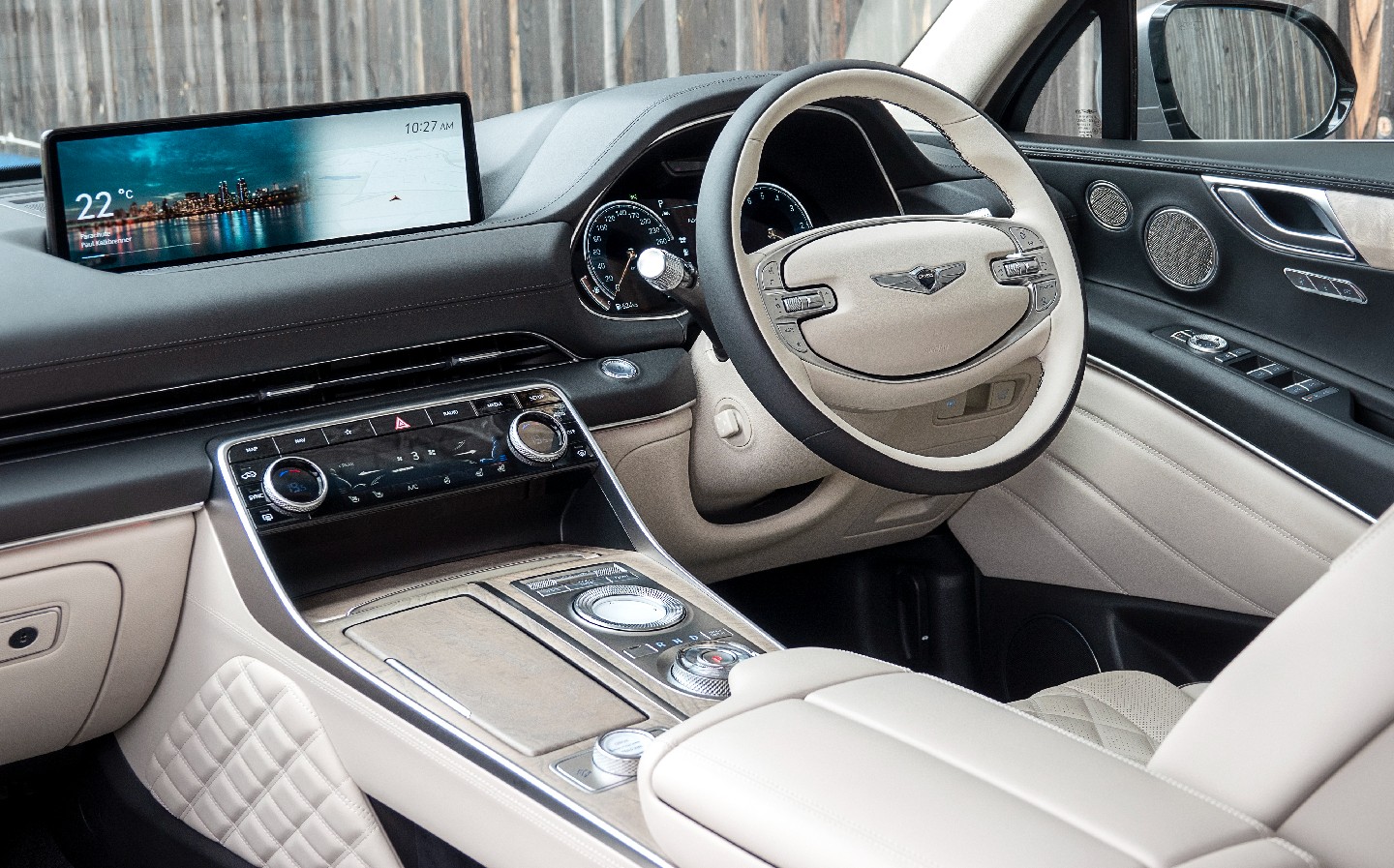 Range Rover buyers won't feel hard done-by when climbing into a Genesis GV80. Three upholstery materials are available but our test car came with the optional quilted Nappa leather, contrast piping and matte-finished open pore wood veneer trim. It really was very smart indeed.
Of course, the perches are a long way off the deck, offering a truly imperious driving position, and with the Comfort Seat Package it felt like I was sitting in the seats, rather than on them, such was the softness of the quilting. They have 18-way electric adjustment, three-stage heating and ventilation (cooling), and a number of massage settings. I fumbled for the settings while on the move and managed to get a terrific buttock-fondle and spine stretch — so much better than the Poundland massage I received in the DS 9 I test drive recently. The GV80's seats even adjust the side bolstering automatically depending on which driving mode you're in.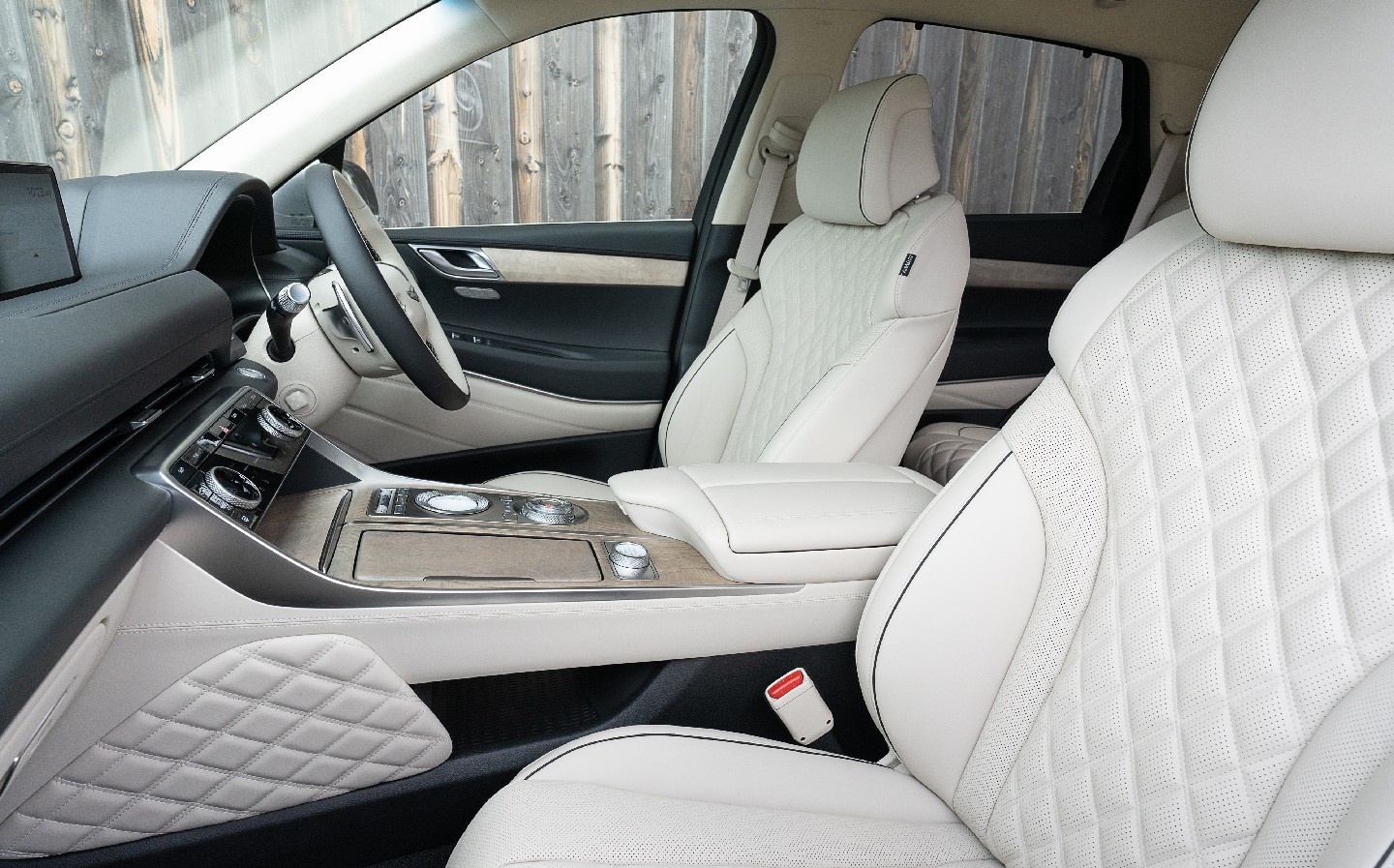 The dashboard and control layout is very similar to that of the G80 saloon, with an infotainment screen that is wide and not very tall but with bright colours and sharp, clear graphics. Although it's touch sensitive, the screen is quite far away from the driver (especially if they're tall and have the seat positioned far back on its runners), so it helps to have a BMW iDrive-style rotary controller in the centre console. Genesis has received a Red Dot Award for the infotainment system's interface and user experience.
There are physical buttons for Home, Back and Menu, as well as for the navigation, radio, media and set up, and the temperature for the left and right side of the front cabin is controlled via a pair of dials, rather than the touchscreen, which makes things easy. I even managed to adjust the head-up display height within seconds, though found its lowest setting wasn't low enough for my lanky frame (6ft 5in).
And if I'm to issue another black mark for the cabin, although the switchgear on the doors is top notch, the quality of the buttons on the steering wheel is a little bit below what one might expect of a premium car.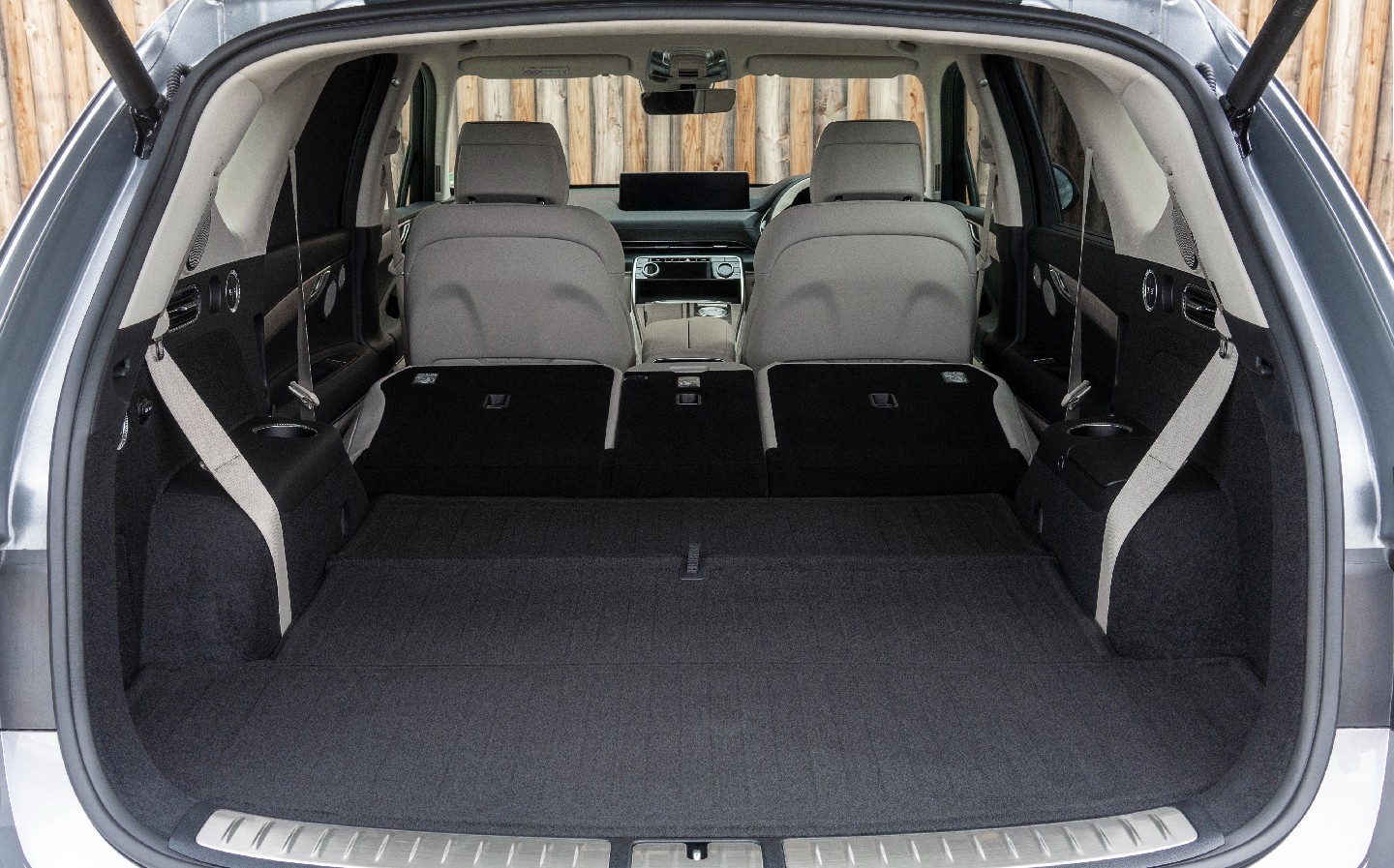 You can't fault the space in the back, though, even when specced as a seven-seater, as our car was (GV80 can also be ordered with five seats), and again, the benches are beautifully appointed. They can also be specced with power adjustment and ventilation, and second row passengers can also be treated to powered integrated sunshades and their own climate controls.
Technology and safety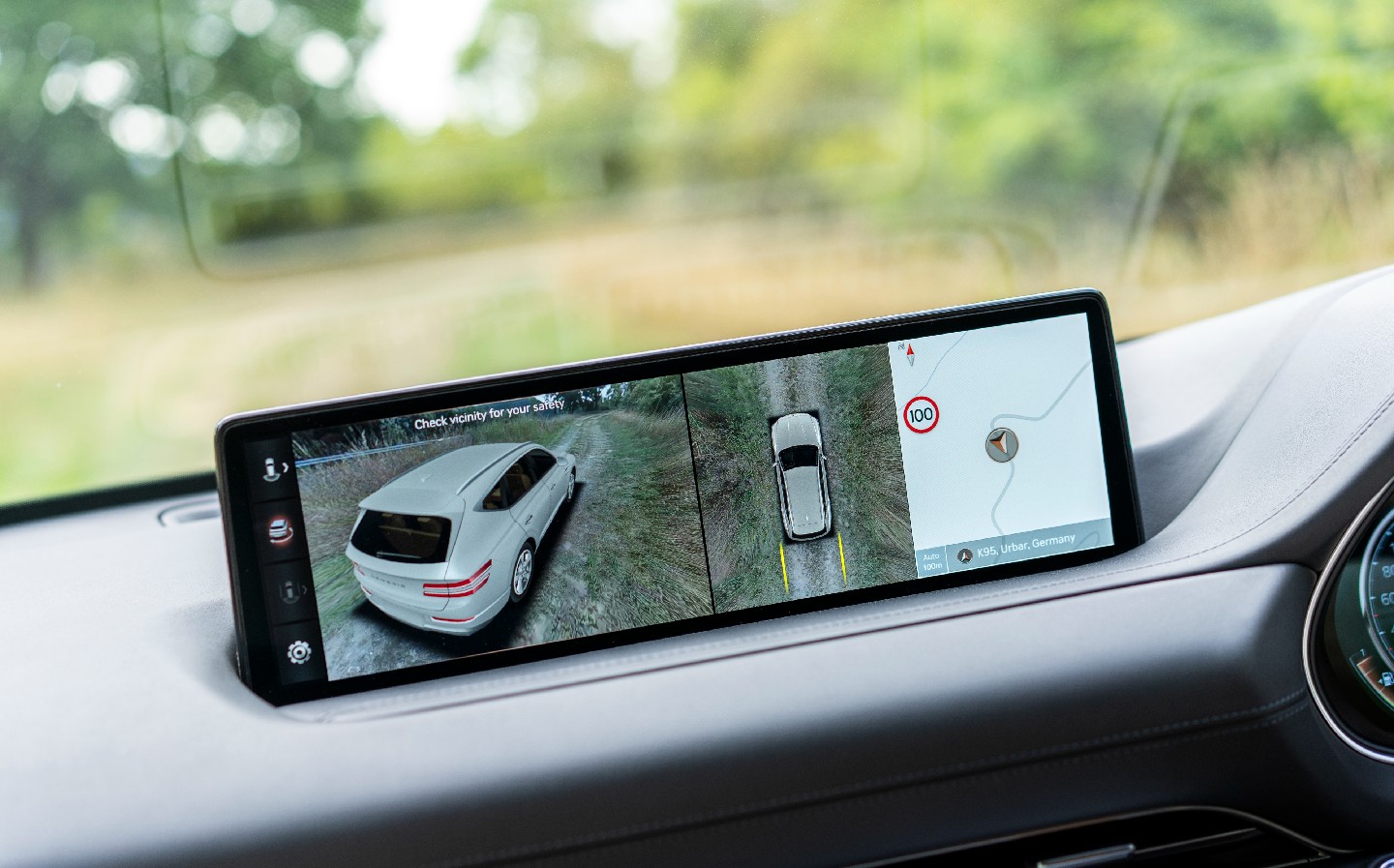 We should probably mention safety first, given you may have heard about Tiger Woods' recent test of the Genesis GV80's abilities to withstand a real-world crash. The golfer was travelling at 87mph — more than twice the speed limit for the road he was on — when he bounced his loan car off a central meridian, then a kerb and then a tree before rolling it down a grass verge.
Thanks to this selfless act, we know a crash of that exact kind is unlikely to be life threatening for the driver — no doubt in part thanks to the 10 airbags, including a centre airbag between the front passengers — but may result in serious leg injuries.
To get rather more serious for a moment, the GV80 comes packed with safety features, including junction crossing and rear cross-traffic alert, for when pulling out of a driveway, safe exit alert with power child lock, to make sure doors aren't opened when cars are overtaking, and blind spots are shown on the digital driver's display when the indicator is activated.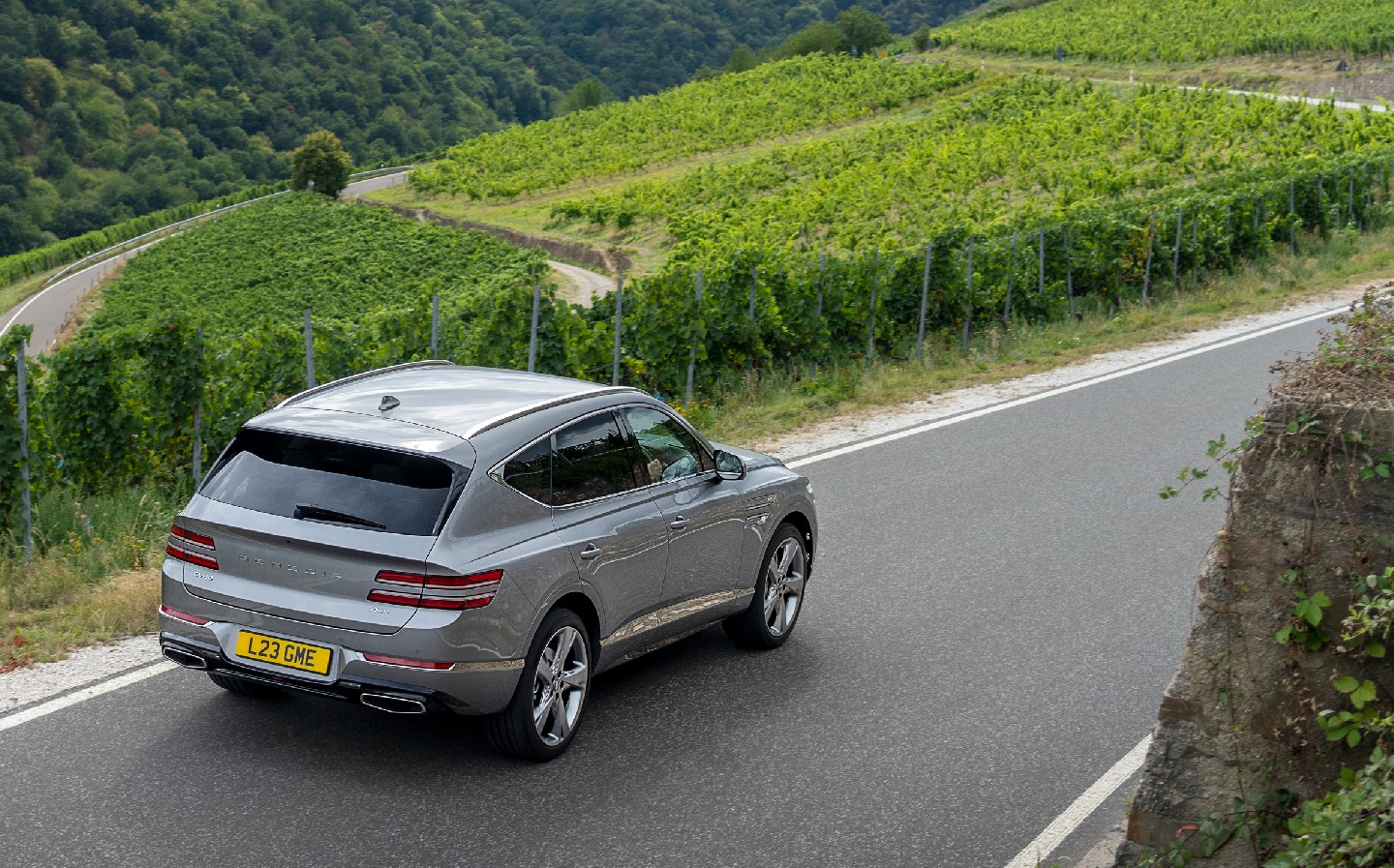 It also has machine learning (artificial intelligence) technology that works with camera and sonar sensors to help detect and avoid obstacles, and the AI even keeps a tab on how you drive so that it can fine-tune the lane-keep assist, intelligent cruise control and so on.
However, I didn't allow the machine to learn my driving style as I got so hacked off with the lane keep assist system, which beeped at me constantly, that I switched it off within minutes of setting off. It's especially bad in the GV80 because it's so wide, which means that you're constantly up against (or crossing) the central dividing line when traveling along many British roads. You can't really blame Genesis for that, though — all car makers are pretty much required to install lane departure warnings by safety regulators.
Back to thes genuinely useful technology to play with in the GV80. You get including wireless Apple Carplay and Android Auto, augmented reality navigation, automatic headlight high beam assist, rain-sensing wipers, active noise cancellation in the cabin (it is really quiet inside), over-the-air updates for the nav and electronic systems, and even a remote-control parking system (handy for rolling the car in or out of tight parking spaces).
A final gold star for the quality of the Lexicon 18 speaker sound system— it is absolutely phenomenal, with such rich bass tones and crystal clear speech. It's just absolutely brilliant. And the voice assistant function works really well, too. It finds Times radio in a jiffy, anyway.
Ride comfort and handling
Big SUVs aren't exactly known for their keen handling but Genesis has done all it can to make the GV80 engaging to drive. In fact, the European models have been set up very differently from the versions you can buy in North America and China, with stiffened springs, uprated anti-roll bar, new rubber bushes and bespoke settings for the electronically controlled adaptive dampers. Because we like cars that don't feel like giant waterbeds on wheels.
Genesis highlights a stiff body, low centre of gravity (it's all relative in this class) and clever rear-biased four-wheel drive as standard. By default, 100% of the power goes to the rear, but up to 50% can be fed to the front wheels, depending on conditions. There are mud, sand and snow terrain modes, and even hill descent control, though we didn't test the GV80 off-road, or even in wet conditions, so its ability to keep up with a Range Rover when the going gets slippery is still to be determined.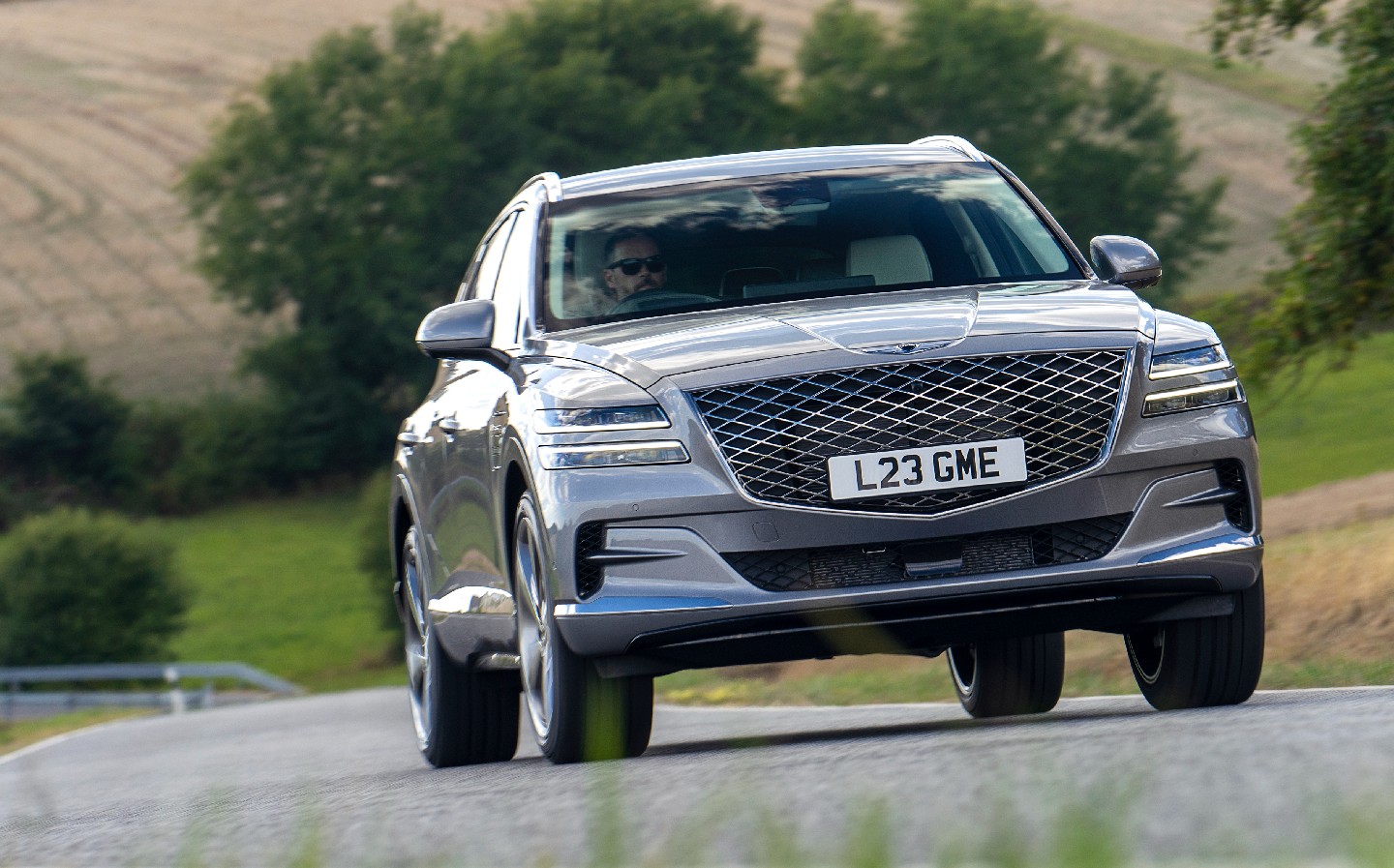 But the most important thing most buyers will want to know is that the ride on the road is exceptional, thanks in part to the multi-link suspension and adaptive dampers but also a camera system that reads the road ahead and sets up the wheels for bumps and potholes. That seems to work quite well.
Even in Comfort mode the GV80 will go round corners with a decent amount of gusto and not huge amounts of body roll, and conversely, in Sport mode good things happen in terms of body roll and composure through tight turns, yet you won't have your teeth ratted out.
The steering isn't the most engaging, even in Sport mode — it's quite light and the feel through the wheel is artificial — but in terms of dynamic qualities the GV80 is impressive, if not quite the most accomplished in its class.
And it feels big, solid, commanding. If that's your thing then there are very few cars that do it better.
Engines, performance and fuel economy
The Genesis GV80 comes with a choice of either a 2.5-litre, four-cylinder petrol engine producing 300bhp or a 3-litre in-line six-cylinder diesel that pumps out 300bhp.
Our test car was fitted with the latter, and although it's down on horsepower, it more than makes up for it in terms of torque, with 433 lb ft— 121 lb ft more than the petrol motor. This makes the diesel quicker to 62mph (7.5sec vs 7,.7sec), more fuel efficient (31.5mpg-33.1mpg vs 25.3-26.1mpg, officially, though actually I managed to get 33.3mpg out of it while pushing on quite hard) and marginally less CO2-spewing (220-231g/km vs 24-248g/km).
Even better: I drove the 3-litre diesel GV80 back-to-back with the 2.2-litre diesel G80 saloon, and the bigger motor is far more responsive.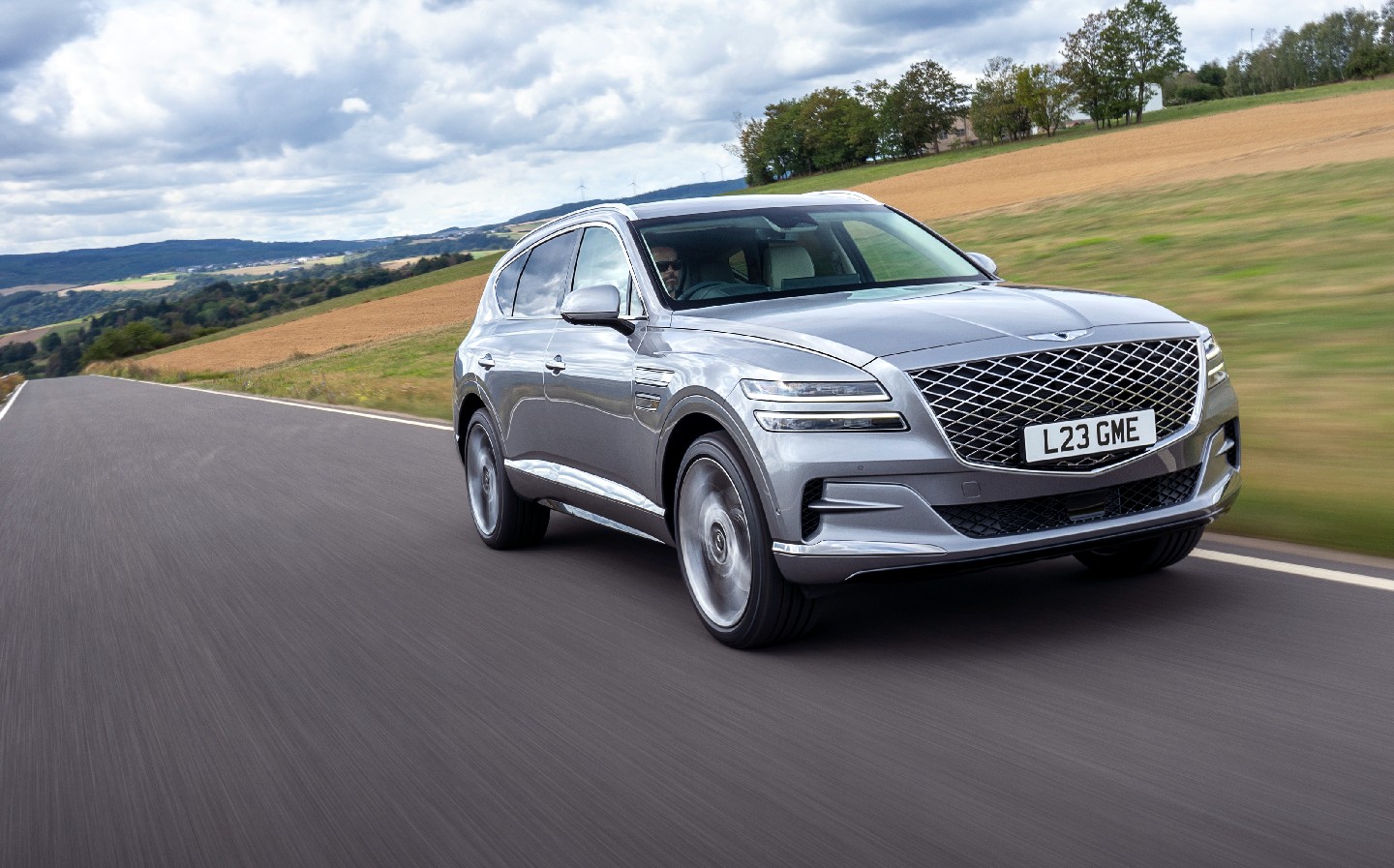 The GV80's powertrain is excellent, in fact, with the eight-speed automatic gearbox sliding down through the cogs on the approach to a corner, then finding the right one as you accelerate out the other side for a a silky-smooth power delivery. In Sport mode, the GV80 is very much working as an extension of your own mind, meaning you can leave it in automatic rather than feel the need to override the 'box by switching to manual mode.
There are no plug-in hybrid versions available at launch, which will be disappointing for those looking for a car that will produce zero emissions around town, not to mention fleet drivers, who get a massive BIK cost saving. But you can't expect Genesis to do everything at once.
Prices
All this luxury, technology and customer hand-holding doesn't come cheap, of course. Prices start at £56,815, for which you get the five-seat model with the petrol engine in the entry-level "Premium" specification. A bit of perspective, though: that is nearly £27,000 less than the most basic Range Rover, and undercuts the cheapest Volvo XC90 by around £9,000, though that does come as a plug-in hybrid. It's also a couple of grand less than the most "basic" Audi Q7.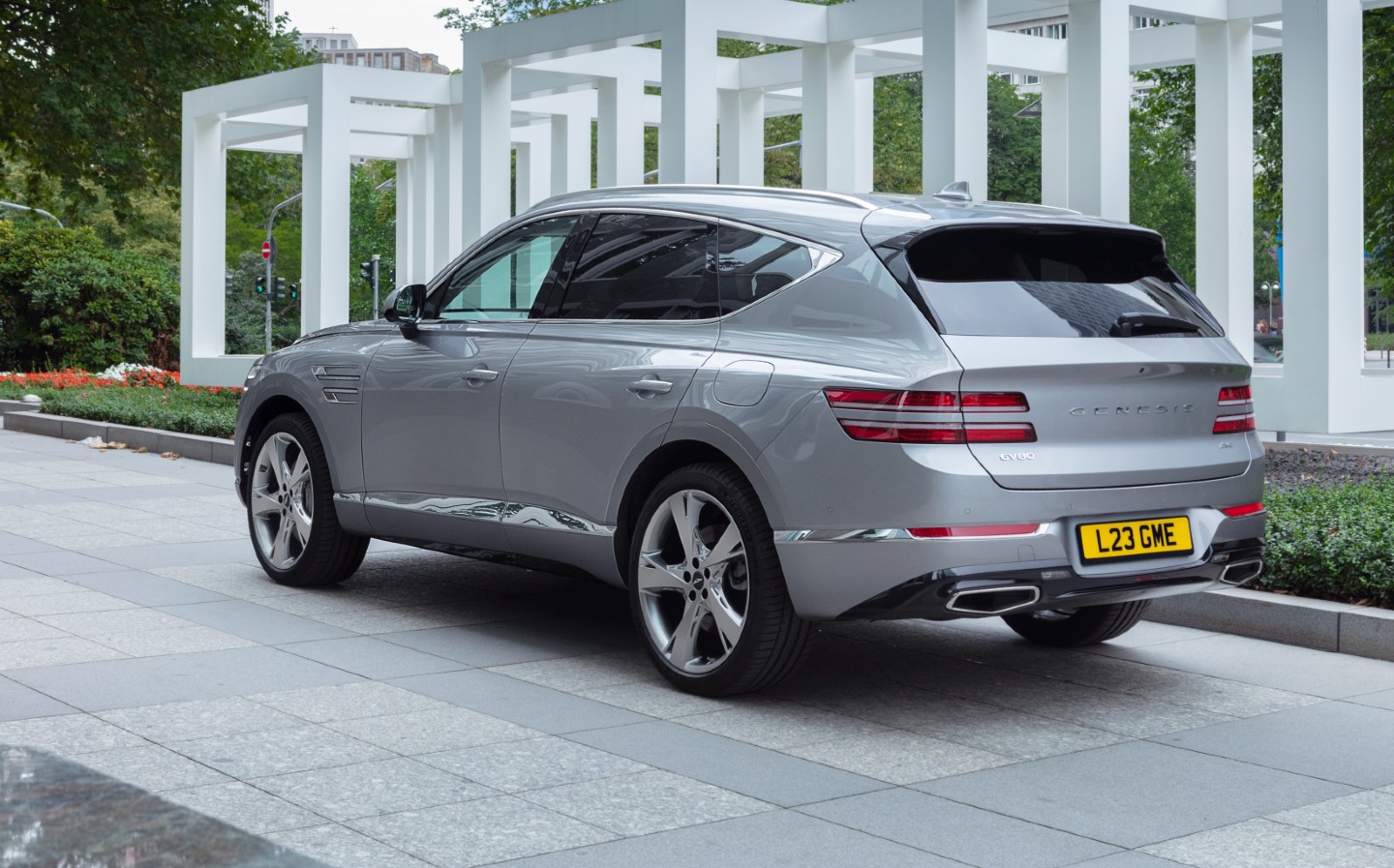 Our test car, though, with the 3-litre diesel engine and in "Luxury" trim, costs from £62,915. That includes the Innovation Pack, comfort seats in the front and rear, Nappa leather throughout, the largest (22in) wheels and awesome Lexicon sound system. Cost options include an electronic limited slip differential, sunroof and spare tyre, and the car I drove would actually set you back £76,075.
It's worth noting that not only are prices non-negotiable – haggling is too unseemly – and sales come with a five-year "care plan" that includes a warranty, servicing, roadside assistance, courtesy cars and over-the-air updates.
Genesis GV80 2021 review: The verdict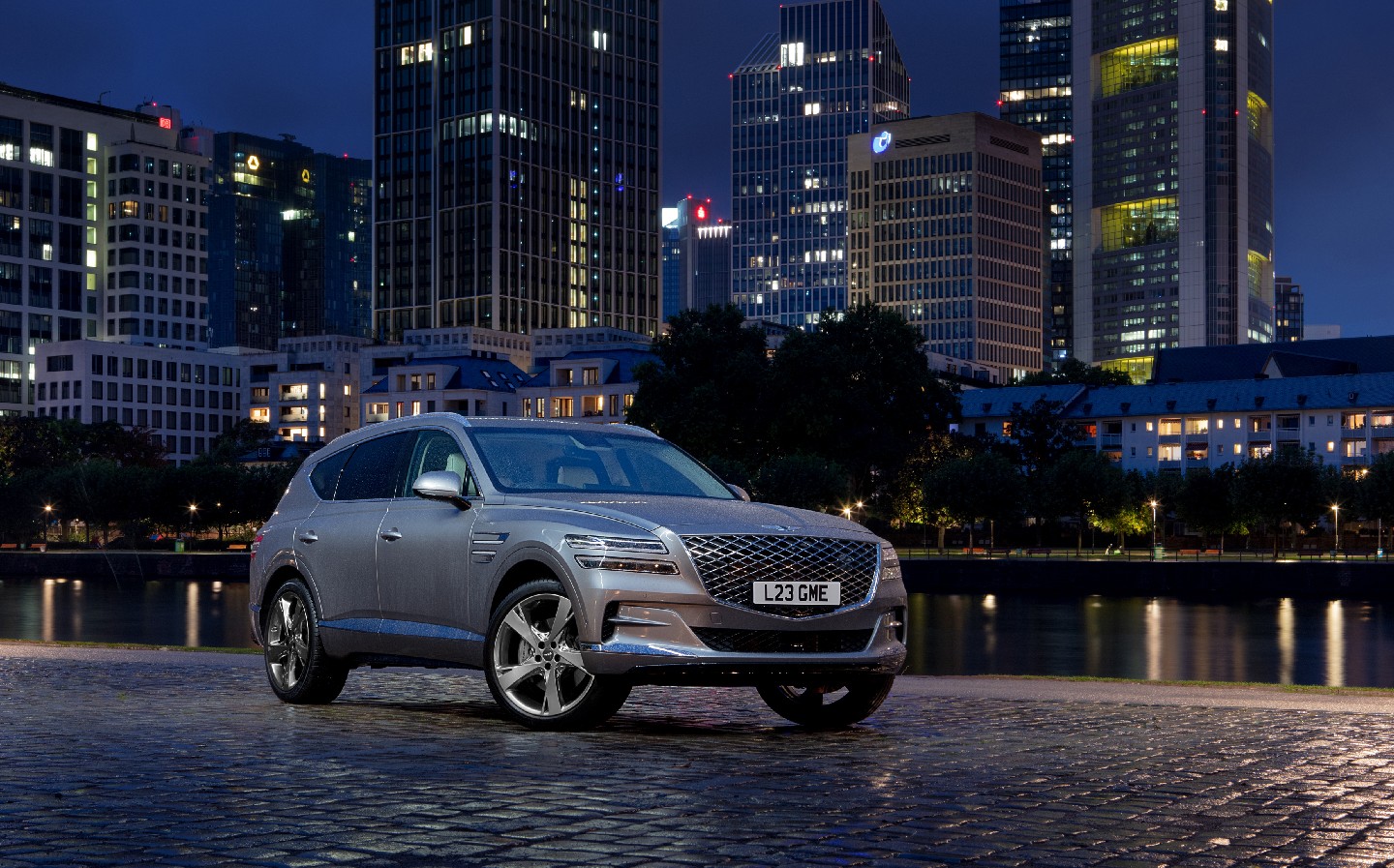 This is a very strong first entry into the seven-seat all-wheel drive SUV segment from Genesis. It impresses in terms of ride quality, comfort and technology, and is keenly priced to steal sales away from Audi, Mercedes, BMW and Volvo. Spec the car up and the luxury on offer is genuinely enough to be giving the folks at Range Rover a few sleepless nights. What's more, although it's a very young brand, we'd put money on Korean reliability shining through over time. On this evidence, Genesis is unlikely to be a flash in the pan in Europe.