Audi Q4 e-tron review 2021
Audi injects its DNA into the VW ID.4
WHEN WILL you own your first electric car? You might already have one but that puts you in a rather exclusive club — so far this year battery electric vehicles have only accounted for 7.5% of sales. Some drivers are still staunchly against the very idea while others are wrestling with the problem of where they'd charge one.
Many motorists, though, are eyeing up an EV as a replacement for their petrol, diesel or hybrid — a recent survey by Confused.com found that 56% of motorists would consider buying an electric vehicle as their next car.
Audi believes this year and next will be the tipping point, and that the car you're looking at will be the one to electrify the majority of its customers. In fact, the Audi Q4 e-tron will be German brand's second-biggest seller next year, it reckons, behind only the A3. That would be quite a thing.
It seems to be happening so fast that Audi hasn't had time to properly think through its naming strategy — the Q4 e-tron arrives on the back of the e-tron, a larger electric SUV that went on sale in January 2019 and on reflection perhaps should have been called the Q6 e-tron, to keep it in-line with the Q-series family of SUVs. Except a new Q6 e-tron is expected in 2022 … or will it be called the Q5 e-tron?
There's also the recently-released e-tron GT and RS e-tron GT, which are grand tourers based on the Porsche Taycan; simple enough for car enthusiasts to understand but I suspect most car buyers understand the term "GT" about as well as "torque vectoring".
Of course, none of this really matters in the showroom or on the Audi website — drivers buy cars with their eyes. Which is just as well for the Q4 e-tron and its coupé-reared sibling the Q4 e-tron Sportback, as they're both rather handsome cars, as SUVs go.
Exterior design and rivals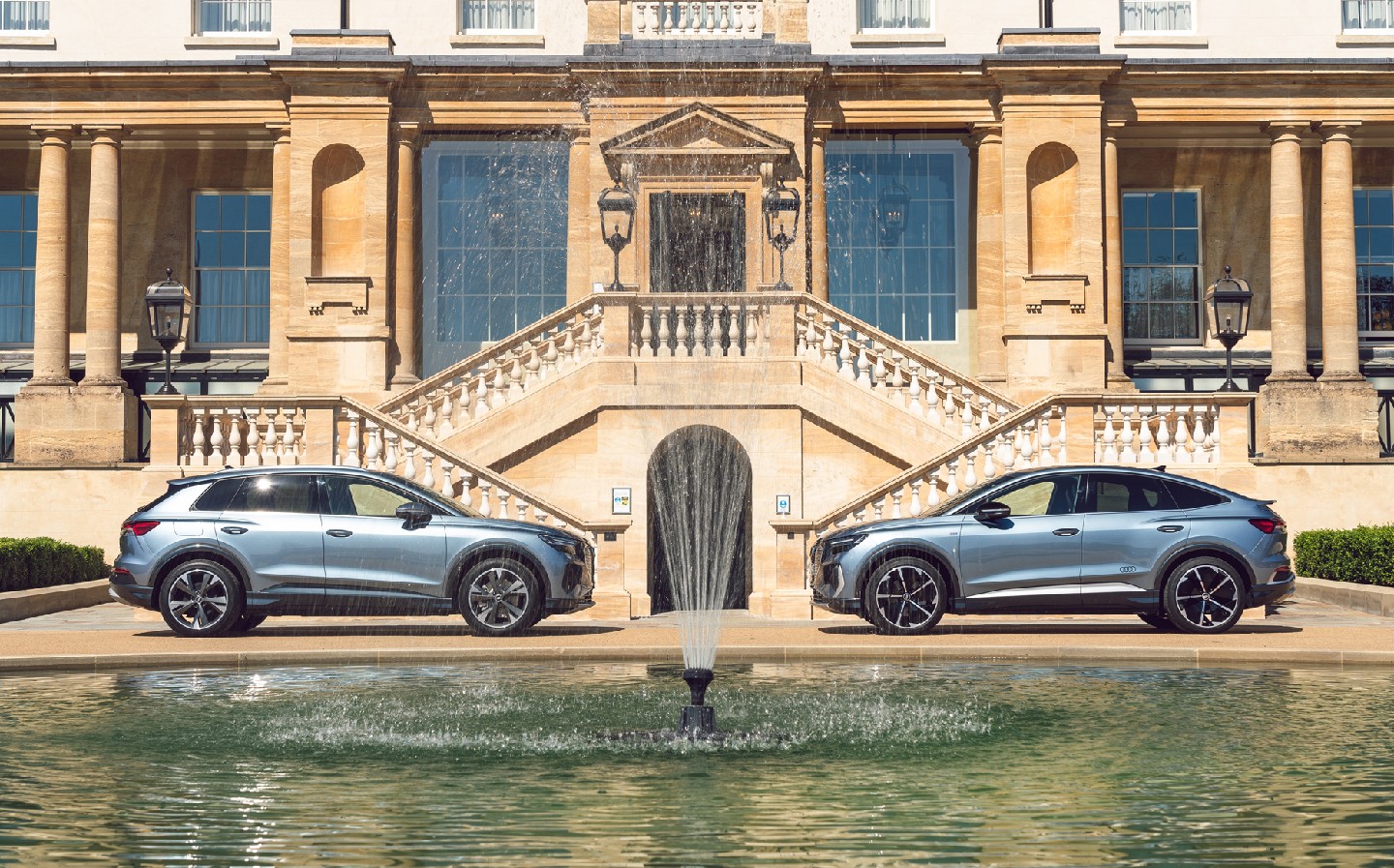 The body of the Q4 e-tron was penned by Audi's Amar Vaya and it's his first stab at a car a car as lead designer. Hats off, as it's a pretty good effort, I reckon, in both Q4 e-tron and Sportback forms (see both above).
The car is based on the Volkswagen ID.4, using the same bespoke electric platform that also goes into the Skoda Enyaq (as well as the VW ID.3 hatchback, Cupra Born and more Volkswagen Group cars to follow) but Vaya has made sure the Q4 e-tron is very much an Audi, inside and out. Beauty is in the eye of the beholder but the Q4 e-tron more attractive than both  the ID.4 and Enyaq, in my opinion.
As with the VW, the front and rear wheels are push far into each corner, which gives it a rugged, purposeful look but also frees up space in the cabin, while the high stance and full-width LED light strip across the rear of the car add the impression of width, which helps the rear proportions.
Rivals? Obviously the ID.4 and Enyaq, as well as the Ford Mustang Mach-e and things like the Kia e-Niro and Hyundai Kona Electric, but Audi buyers will no doubt be looking more towards the Volvo XC40 Recharge, Mercedes-Benz EQA or EQC, and BMW iX3.
Interior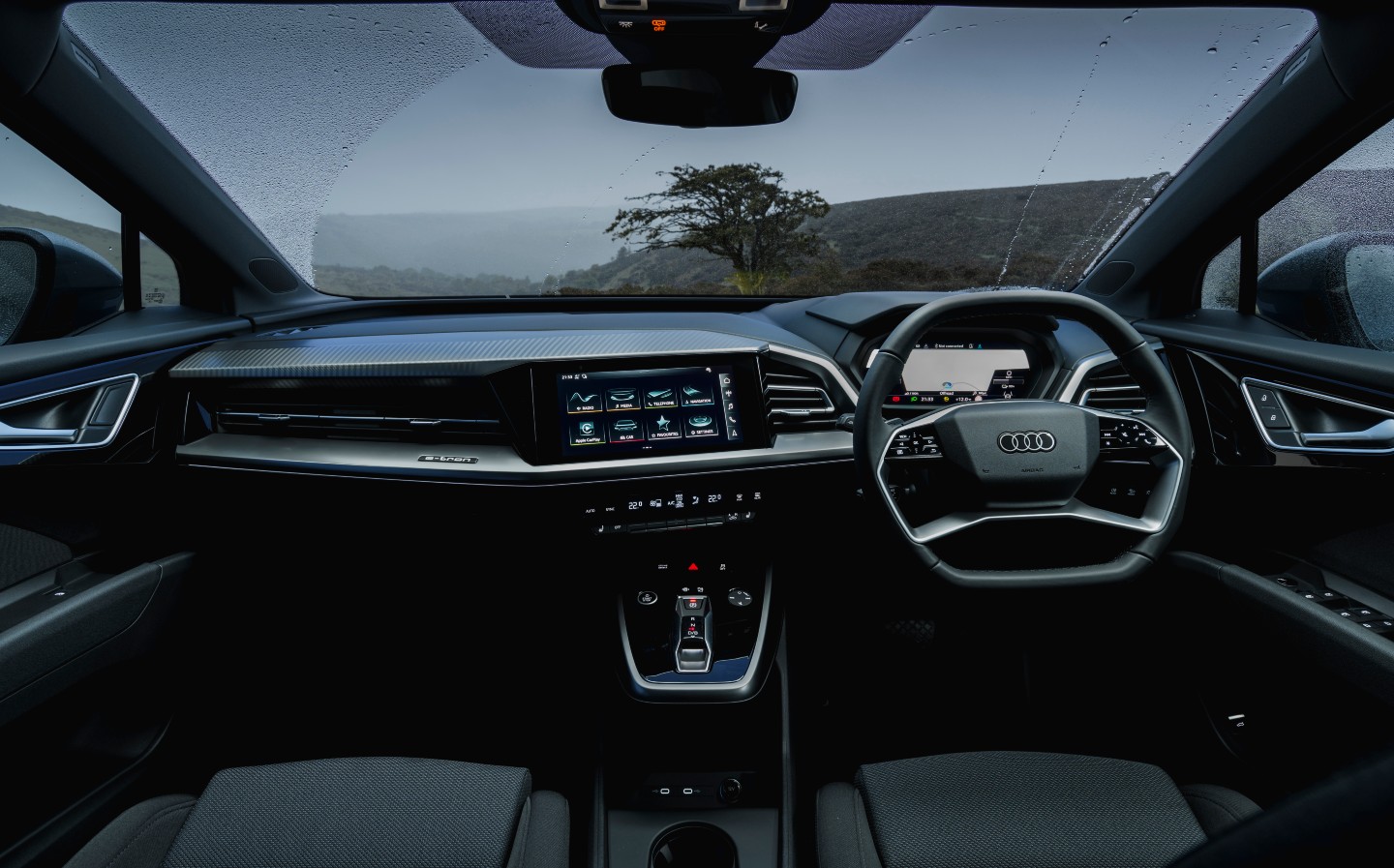 Inside this is very much an Audi, too — they haven't gone too quirky or minimalist, as VW did with the ID.4, and while it's not a busy cockpit there are plenty of physical buttons and switches that help to make it a very familiar environment for Audi customers.
There are certain obvious things that are new, though. The steering wheel, for example, has a flat top and a flat bottom which gives it a more futuristic look and match the angular lines across the dashboard on the top of the instrument binnacle, and the centre console is all new, with a slider toggle switch to go into drive or reverse.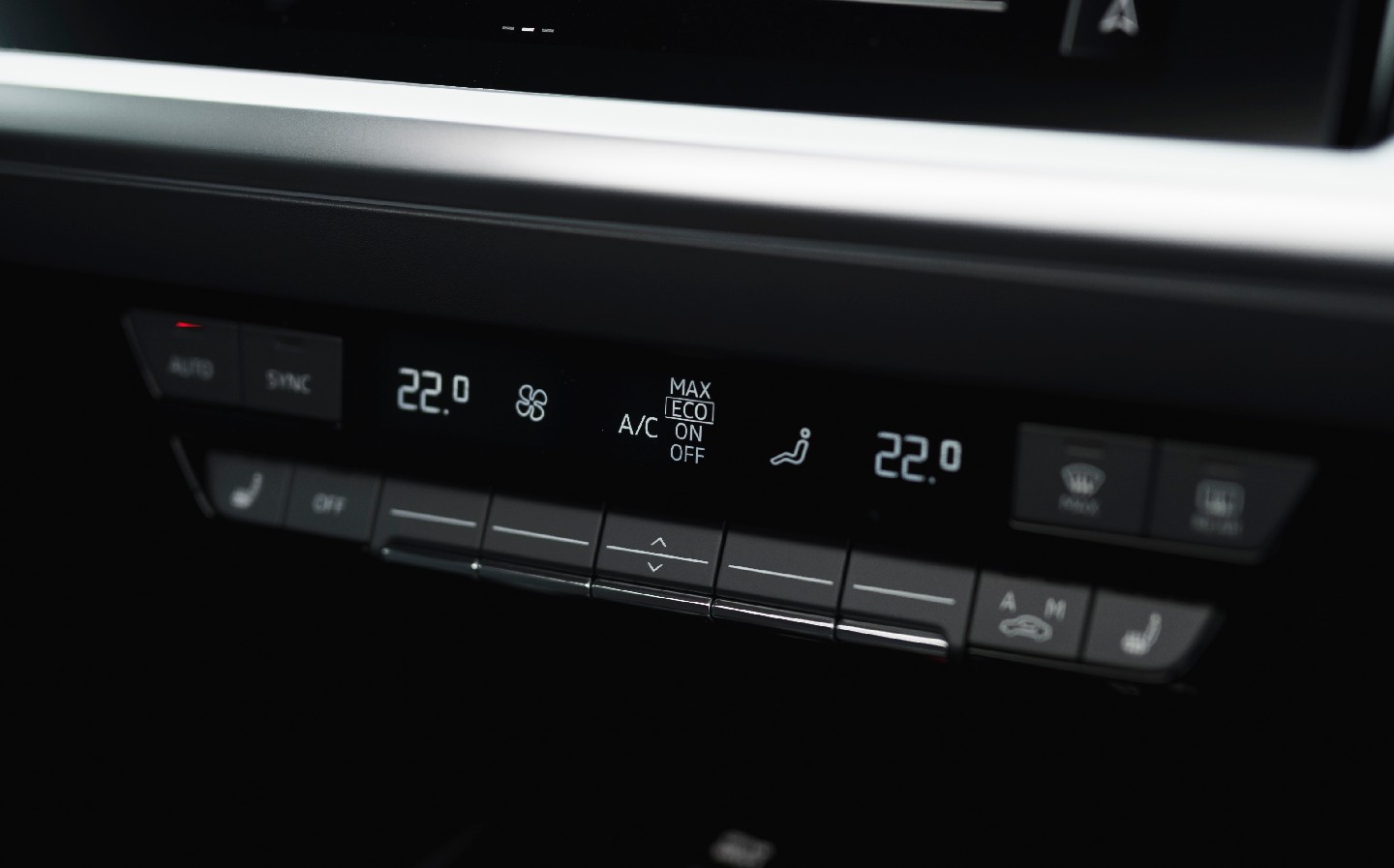 Below that is a big space for your phones, including a little clip for your phone that will hold it onto the wireless charging pad, with USB connections down there, too. I wouldn't normally bang on about cupholders but these ones are good — quite low down so tall drinks don't get in the way, and wide enough to hold my Polar Gear water bottle, which usually has to go in a door pocket. Mind you, maybe that's because the door pockets aren't massively generous. Neither is the space under the centre armrest (though it is deep).
It should come as no surprise that Audi has screwed everything together really well, and material quality is excellent, for the most part. The seats are nicely upholstered in faux leather and either a recycled suede substitute or a recycled cloth material, and the air conditioning system uses familiar Audi switches for temperature control (rather than ID.4-style touch-sliders) with that all-important hewn-from-rock feel. The window switches likewise are traditional Audi fare, and (again unlike the ID.4) there are switches for all four windows on the driver's door.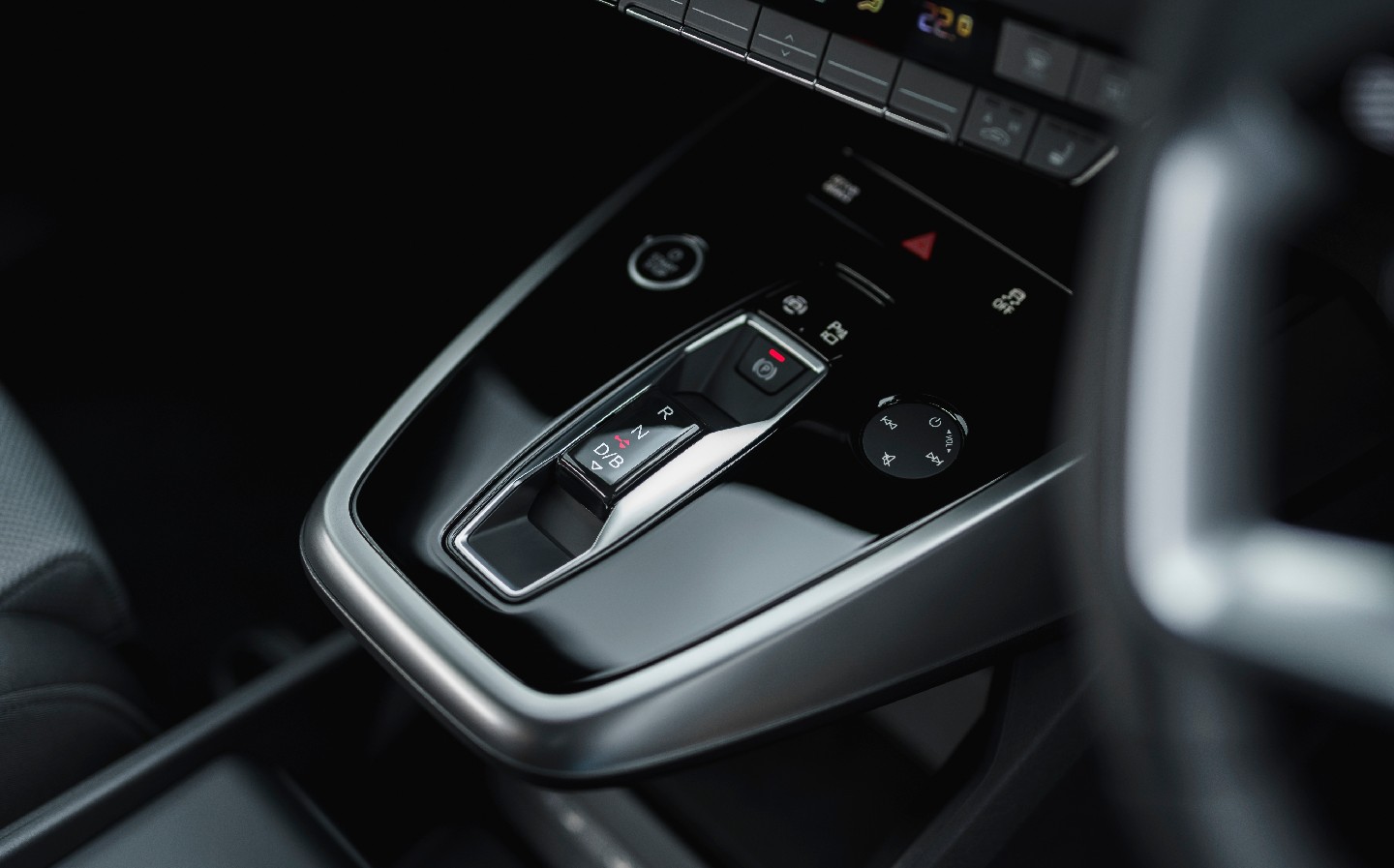 All of which will please the Audi loyalists. What isn't so good is that the Drive Select button is clearly not switched over in the right-hand drive conversion for the UK, so it's too far away from the driver. And it may be an optical illusion created by the driver-facing touchscreen, but the whole centre console seems to actually angle towards the passenger.
Still, there's plenty of kneeroom and space in the footwell, with a large rest for the left foot (you'd be amazed, but not all car makers think about this) and the seats are brilliantly comfortable and supportive, even for taller drivers, with an excellent driving position and commanding view of the road. In terms of ergonomics, the Q4 e-tron scores very highly.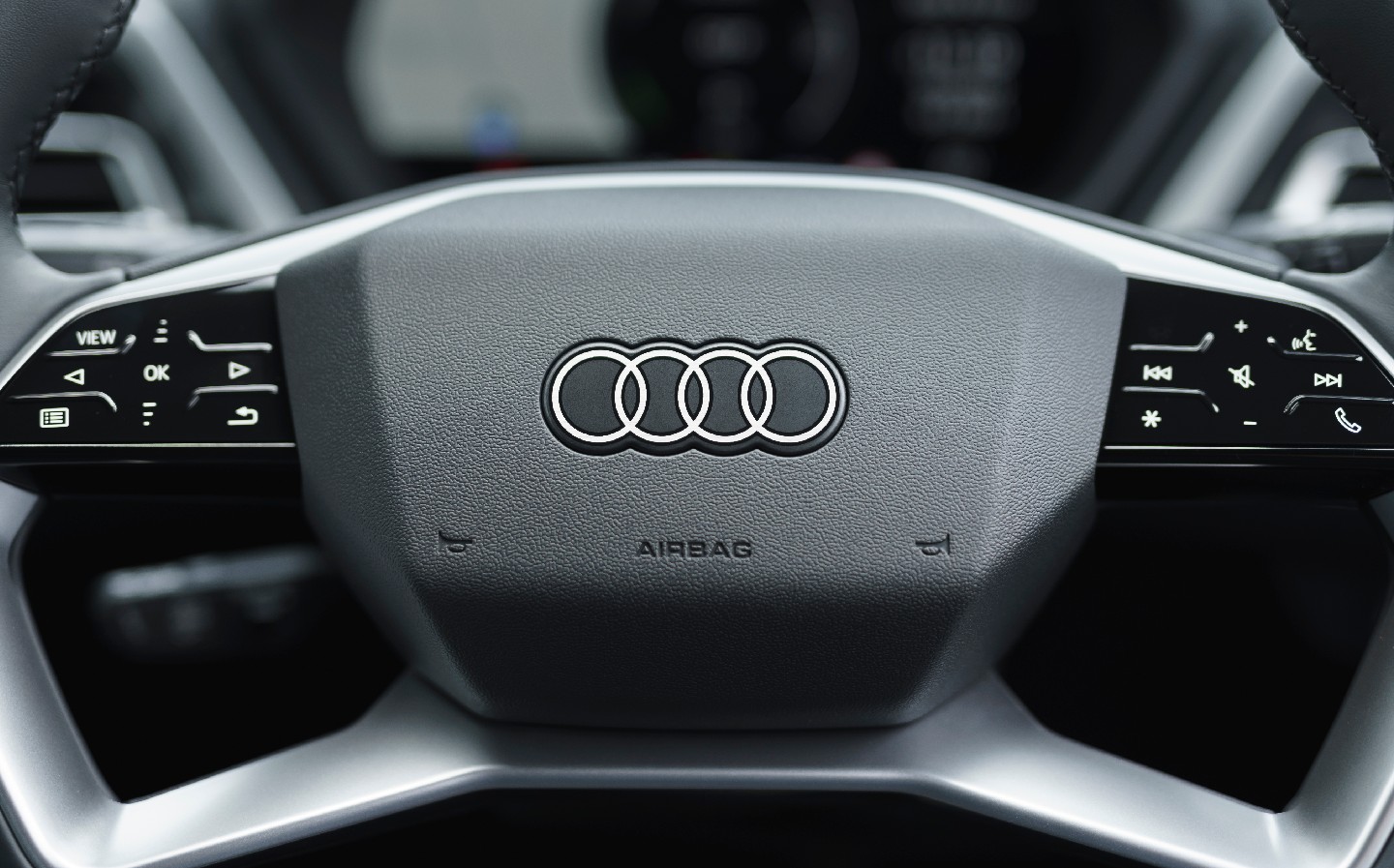 The steering wheel buttons are touch sensitive, which means that you can slide your thumb to change the volume of the stereo (which is superb if you upgrade to the Sonos audio system, partnering on Q4 e-tron with Audi for the first time) as well as press them.
The instrument binnacle is fully digital and will be very familiar to all Audi drivers, though the head-up display can now optionally include augmented reality, which means that turns are signalled with arrows that get bigger as you approach the junction and lane boundaries are highlighted if you're venturing out of one. I find it a little irritating, though, so fortunately it can be switched off via the Audi MMI infotainment system.
This, in our test car, proved to be not quite as fast to respond and one might expect, unfortunately, and settings can be buried quite deep within the menus. You may want to run Android Auto or Apple Carplay most of the time, though it was noted that only the latter can be paired wirelessly.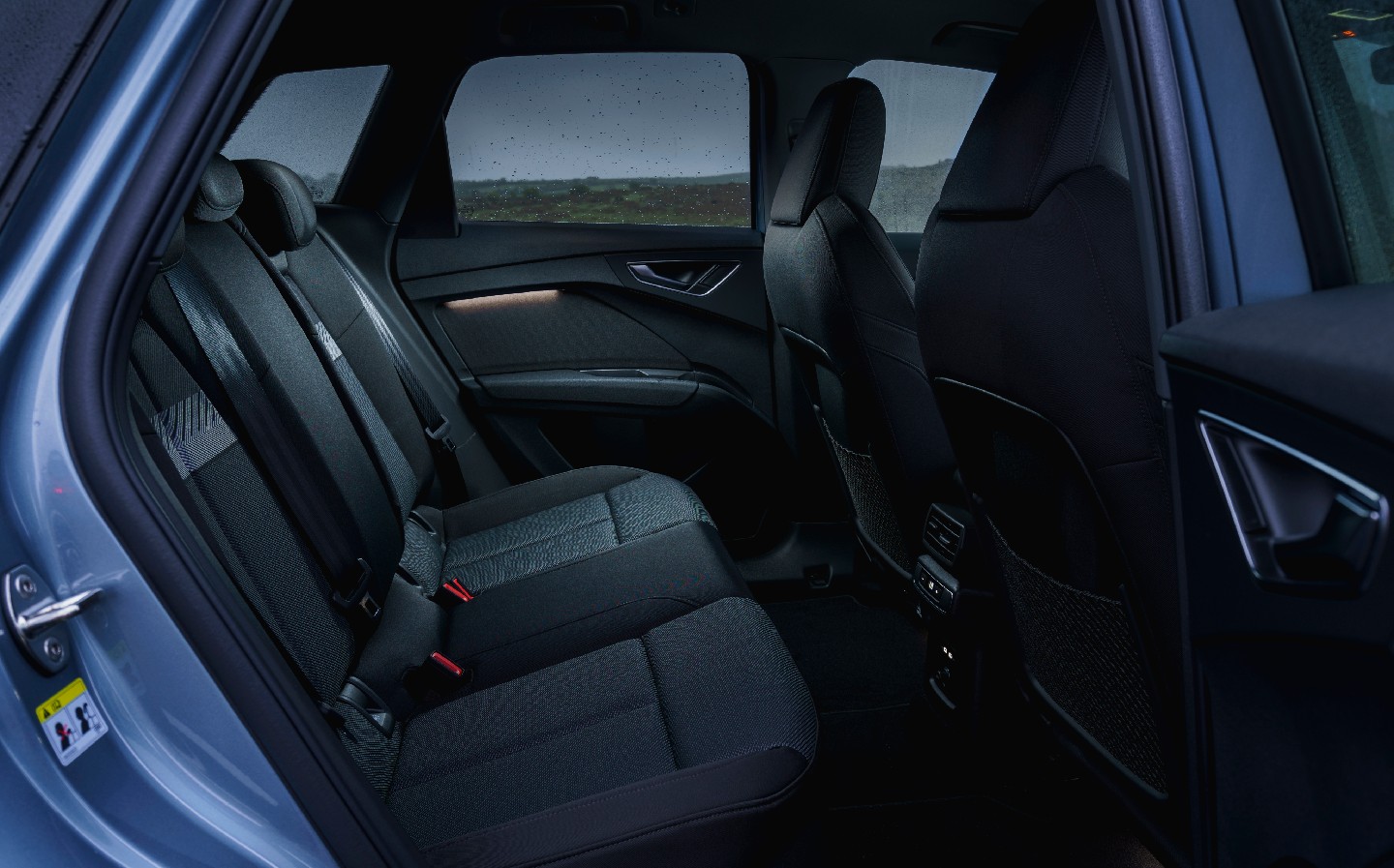 Interior space is a real plus point, though — there's loads of legroom in the rear thanks to the long wheelbase (the distance between the front and rear axles), headroom is excellent in the standard model (less so in the Sportback).
There's also a decent width to the rear bench, with space for three people across the back, and the boot is a decent size, too: 520 litres, or 1,490 litres with rear seats folded. That's less than the ID.4 (543 litres) and Enyaq (585 litres), but it's more smarter-appointed and comes with a flat false floor for easy loading.
Strangely, though, there's not storage under the bonnet, despite there being no engine under there.
Ride and handling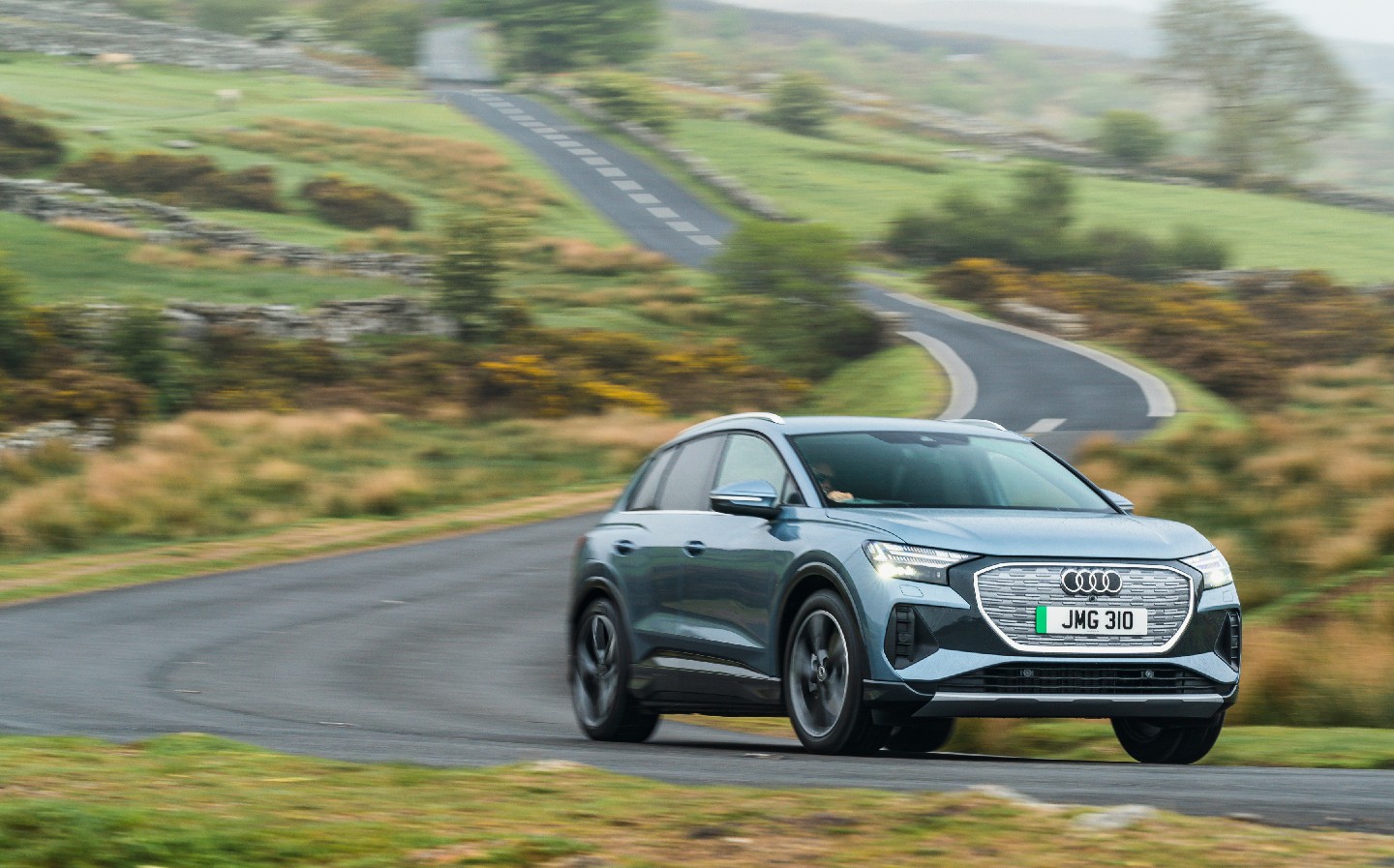 Out on the road, the first thing you notice is the quiet. The cabin is virtually silent around town and even on the motorway, it's nice and calm and relaxing.
The quality of the ride and handling, though will depend very much on how much you're willing to spend on the suspension. On our Q4 e-tron 40 Launch Edition, which comes with the S Line's stiffened, lowered (by 15mm) suspension there was a jerkiness over bumps — it's not the most settled ride. The steering lacked much feedback and when I threw the nose at a corner at pace it erred towards understeer. Dynamically, then, it's not the greatest Audi out there. Versus something like the BMW iX3 or even the Volvo XC40 Recharge, it's not as fun on the backroad. But as a car for cruising around, it's perfectly comfortable.
I didn't get into a regular 40, with "Comfort suspension", but that may help iron out the lumpier road surfaces, especially when switching from 20in to standard 19in tyres. I did, however, manage to wangle 30 minutes behind the wheel of a left-hand drive (German specification, fresh from the European launch) Q4 e-tron 50 quattro Vorsprung, which has a second motor on the front axle and adaptive damping (which is a cost option below Vorsprung). It proved easily the most sorted option in terms of both chassis control and ride comfort.
Performance, battery range and charging times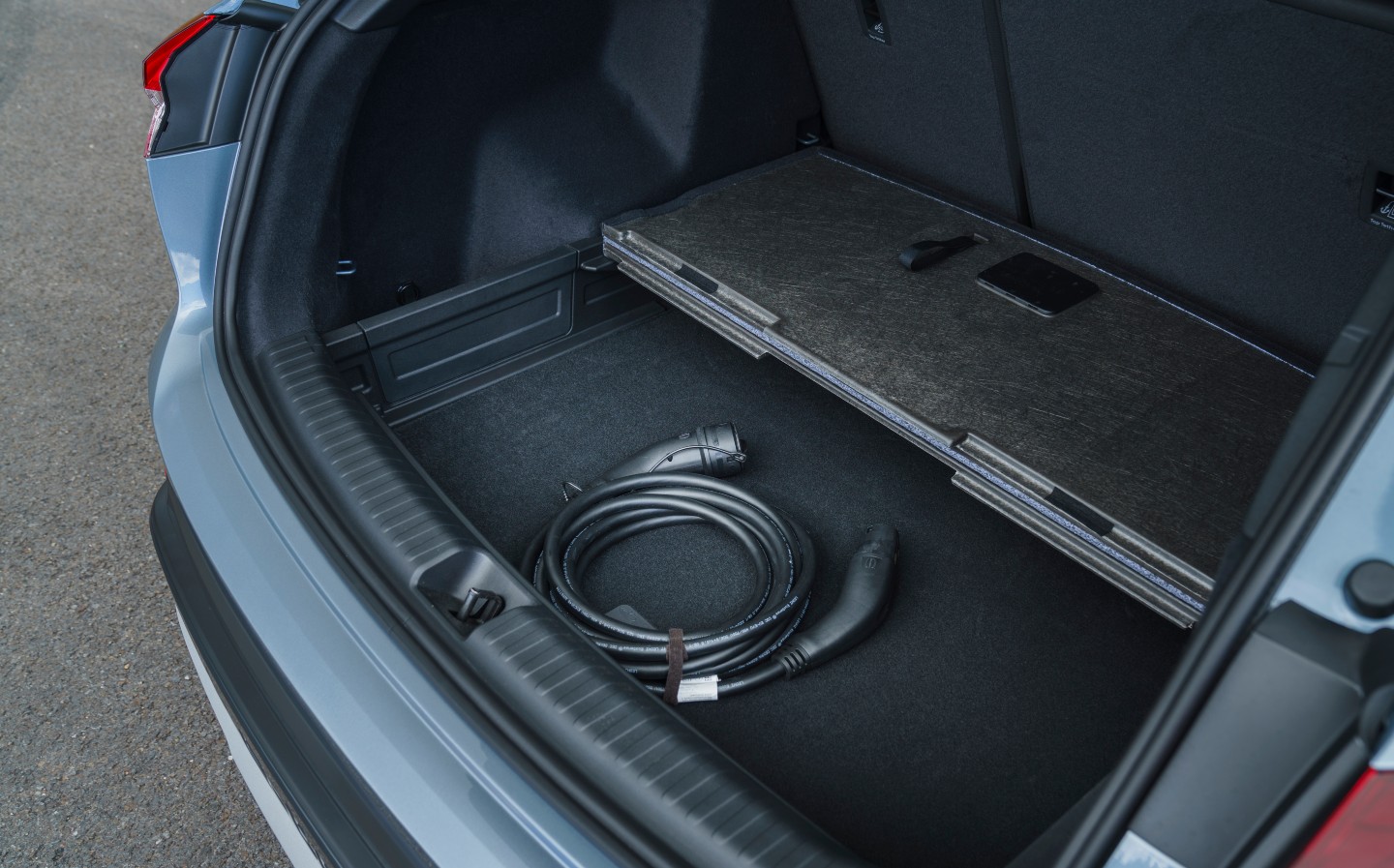 Being an electric car, there's a decent amount of poke under your right foot, even in the Q4 e-tron 40:  202bhp and 229 lb ft or torque is plenty for a family car. A lesser-powered Q4 e-tron 35 is due soon that dials down the power by 34bhp (though has the same torque) while the dual motor 50 e-tron quattro, which should begin shipping in September this year, comes with a much healthier 295bhp and 339 lb ft.
Still, that's not much to write home about when the entry-level rear-wheel drive Ford Mustang Mach-e comes with 290bhp, and the Volvo XC40 Recharge P8 boasts 402bhp and 487 lb ft, and by comparison the Audi does feel a little sluggish. There was no mention of an RS Q4 e-tron quattro at the UK press launch but one can only assume it is in the works.
In terms of acceleration times, 0-62mph takes 9.0sec in the Q4 e-tron 35, 8.5sec in the Q4 e-tron 40 and 6.2sec in the Q4 e-tron 50 quattro, with a top speed of 99mph (35 and 40) or 111mph (50 quattro).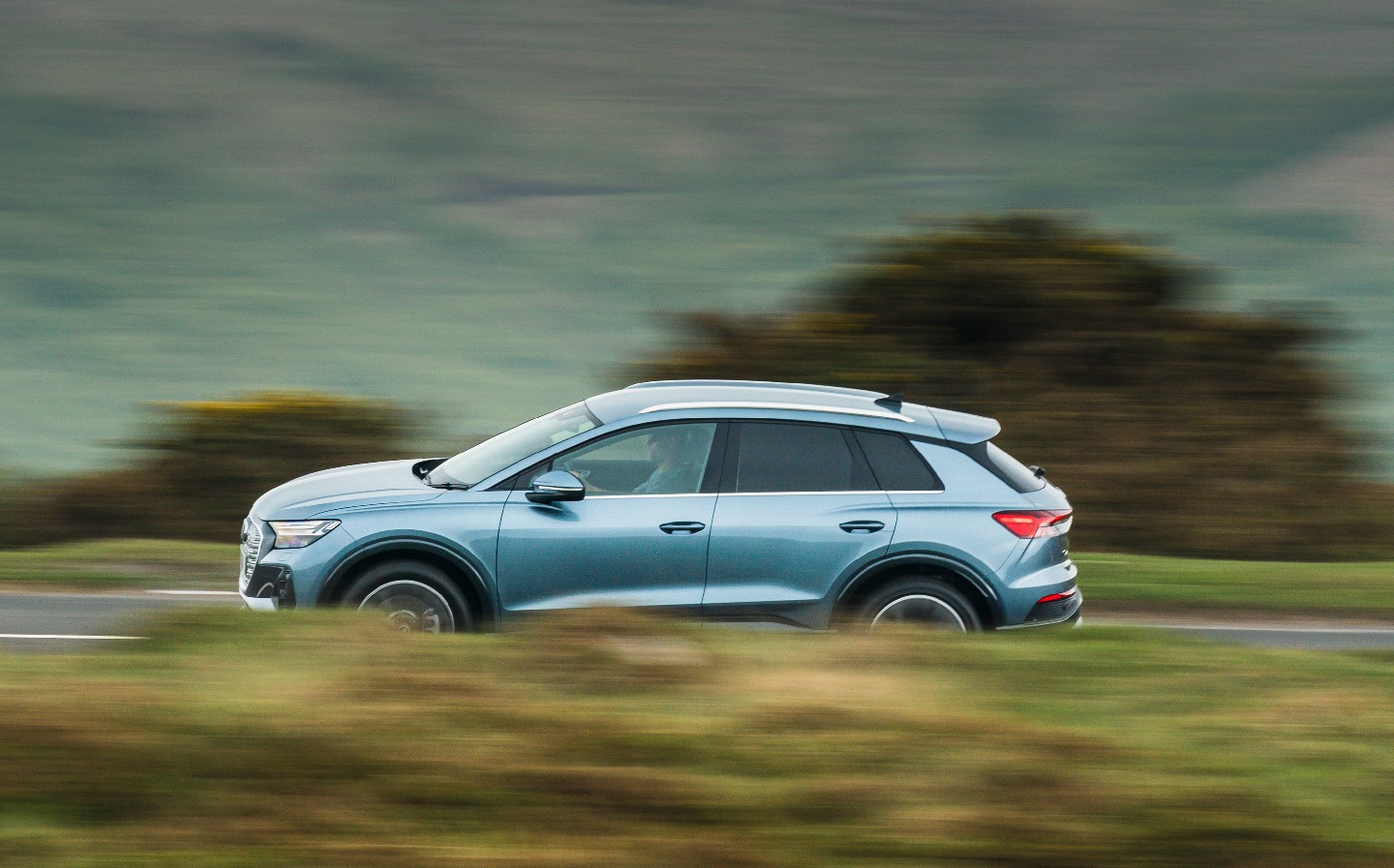 As with the VW ID.4 there are two battery size options — 52kWh and 77kWh (usable) — with the former going exclusively into the Q4 e-tron 35. The official WLTP electric range between charges starts at 193-208 miles for the 35 model and rises to 279-316 miles for the 40 and 50 models. That's a decent wedge compared with the competition, and plenty for everyday use.
Are those figures achievable, though? During my test drive (on a hot day) of the Q4 e-tron 40 Launch Edition, which has an official range of 305 miles, I covered almost 80 miles of 2hrs 12min, the first 25 miles of which were on the motorway, and there was still 190 miles indicated left in the battery at the end. The indicated average consumption was 3.6 miles per kWh, which suggests the indicated range reading is fairly accurate and you could probably get 277 miles out of the pack without too much bother. Drive it more conservatively and you could nudge it towards the official 305 figure, I reckon.
If you plan long trip at motorway speeds, you'll get nowhere near it, but there's comfort in the knowledge that the Q4 e-tron will rapid recharge at up to 125kW, which results in a 5-80% charge in 38 minutes, adding 80 miles every ten minutes. If you can find a charger that quick (they're becoming more common). Audi makes things more convenient with a payment card that works on a number of major charging networks.
How much is an Audi Q4 e-tron?
Audi Q4 e-tron 35 e-tron Sport £40,750
Audi Q4 e-tron 35 e-tron S line £42,850
Audi Q4 e-tron 35 e-tron Edition £46,945
Audi Q4 e-tron 35 e-tron Vorsprung £54,450
Audi Q4 e-tron 40 e-tron Sport £44,990
Audi Q4 e-tron 40 e-tron S line £47,090
Audi Q4 e-tron 40 e-tron Edition 1 £51,185
Audi Q4 e-tron 40 e-tron Vorsprung £58,690
Audi Q4 e-tron 50 e-tron quattro Sport £51,370
Audi Q4 e-tron 50 e-tron quattro S line £53,470
Audi Q4 e-tron 50 e-tron quattro Edition 1 £57,565
Audi Q4 e-tron 50 e-tron quattro Vorsprung £65,070
Audi Q4 e-tron 2021 verdict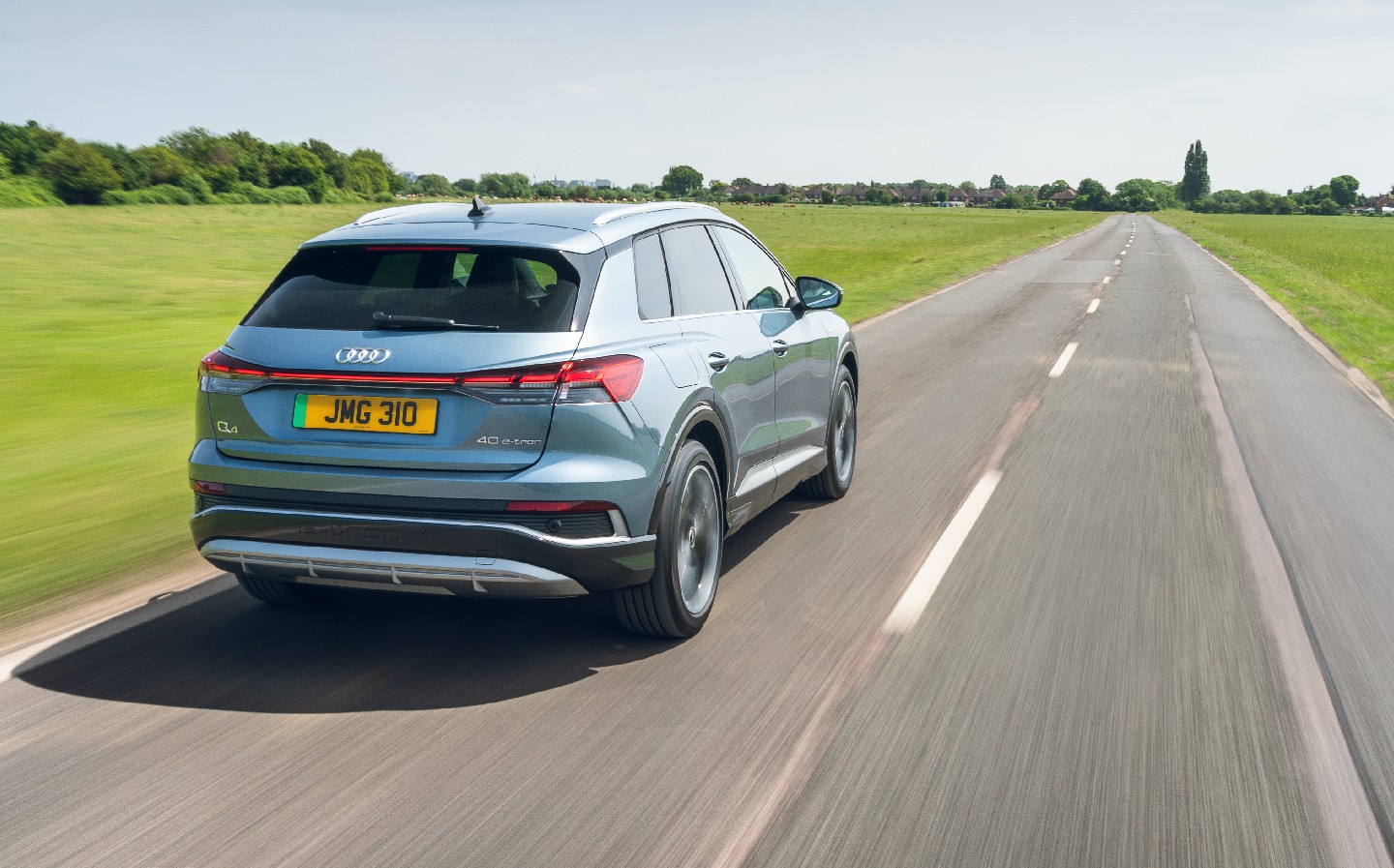 If the Audi Q5 doesn't exactly light your fire then neither will the Audi Q4 e-tron, as it's not the most rapid compact electric SUV out there, nor the best handling unless you fork out for Q4 e-trons with uprated suspension and dual motors.
But like the Q5, the Q4 e-tron exudes levels of quality that most other manufacturers can't reach. It's quiet, refined, well screwed-together and looks impressive inside and out. It can be recharged quickly and if you buy the larger battery model, it'll go a long way between charges, too. Importantly, it just feels like an Audi.