New Audi e-tron GT review 2021
A B-road beauty — right up to the point that I broke it
AUDI and Porsche seem to be living in each other's pockets these days. It should be no surprise that there is some technology transfer between the two Volkswagen Group brands, but it has raised eyebrows that Audi's entry into the 2023 Le Mans Hypercar category will be closely based on the Porsche entry in the same race.
The Audi e-tron GT, on the face of it, is another example of this copycat approach — an electric grand tourer with sports car-like performance that shares more than a passing resemblance to the Porsche Taycan.
But scratch the surface and you'll find that the two cars are satisfyingly different, no doubt thanks to a £10bn investment in pure-electric cars up to 2024 that has enabled Audi to engineer its own unique DNA into the VW plug-in push.
Audi e-tron GT quattro review: Design
Audi's design chief Marc Lichte calls the e-tron GT the most beautiful car he has ever designed, though that's a rather obtuse thing to say without mentioning all his previous work, which has been exclusively for the Volkswagen and Audi brands. But let's be fair here: the Audi e-tron GT is without doubt a great-looking GT, managing to look modern, muscular and high tech but also somehow conservative and grown up.
Like the child of the R8 supercar and A8 luxury saloon, its long profile combined with a wide and low stance give it a classic, sporty look that hints at its blistering performance, while the contrast-coloured solid mesh grille gives away its zero-emission electric drivetrain and frames an array of ultra-modern sensors below.
Aerodynamics play a key role, of course, with active elements in the nose helping with cooling when needed but closing whenever possible to reduce drag.
Interior and practicality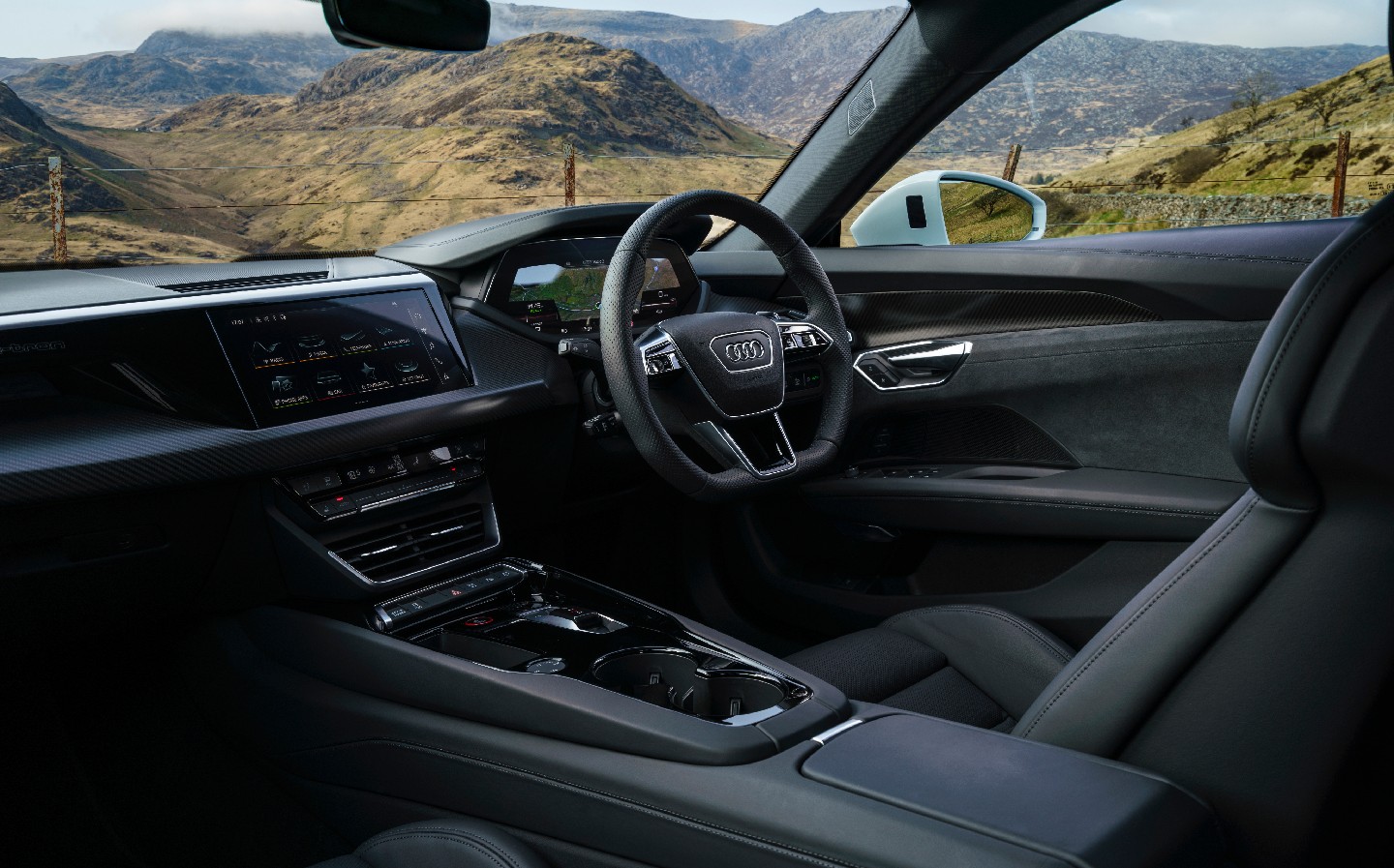 While the outside is slick, inside the e-tron GT is the place to be. It looks and feels very much an Audi cockpit (it even smells like one, somehow), with the driver-focused dashboard and centre console angled toward the driver and featuring straight lines, 45-degree angles and multiple layers. The driver feels enveloped, cosseted, cocooned; part of the machine rather than a distinct entity within the cabin. Perhaps the oddest features are the oversized air vents at the sides of the dashboard, but they are one of the more expressive features.
Materials include soft-touch leather on top of the dashboard and, in our test car, carbon fibre-effect plastic, which still manages to look cool despite not being the real deal.
The driver's seat itself, while quite narrow in the squab, has just the most superb backrest and headrest (for tall drivers, at least), and there's plenty of headroom, partly thanks to a enormous piece of glass above your head — the panoramic glass bathing the interior in light. But it's not all good news, as loftier drivers will find their knees rest a little too near to the bottom of the steering wheel for perfect ergonomics, so it's just as well the wheel has a flat bottom.
Audi has resisted wiping away all the physical buttons and switches — the temperature and heated seat controls are piano keys, for example, and the heated steering wheel function is a button on the steering wheel (it's amazing how many car makers hide it somewhere else). Everything has the usual Audi quality feel, too.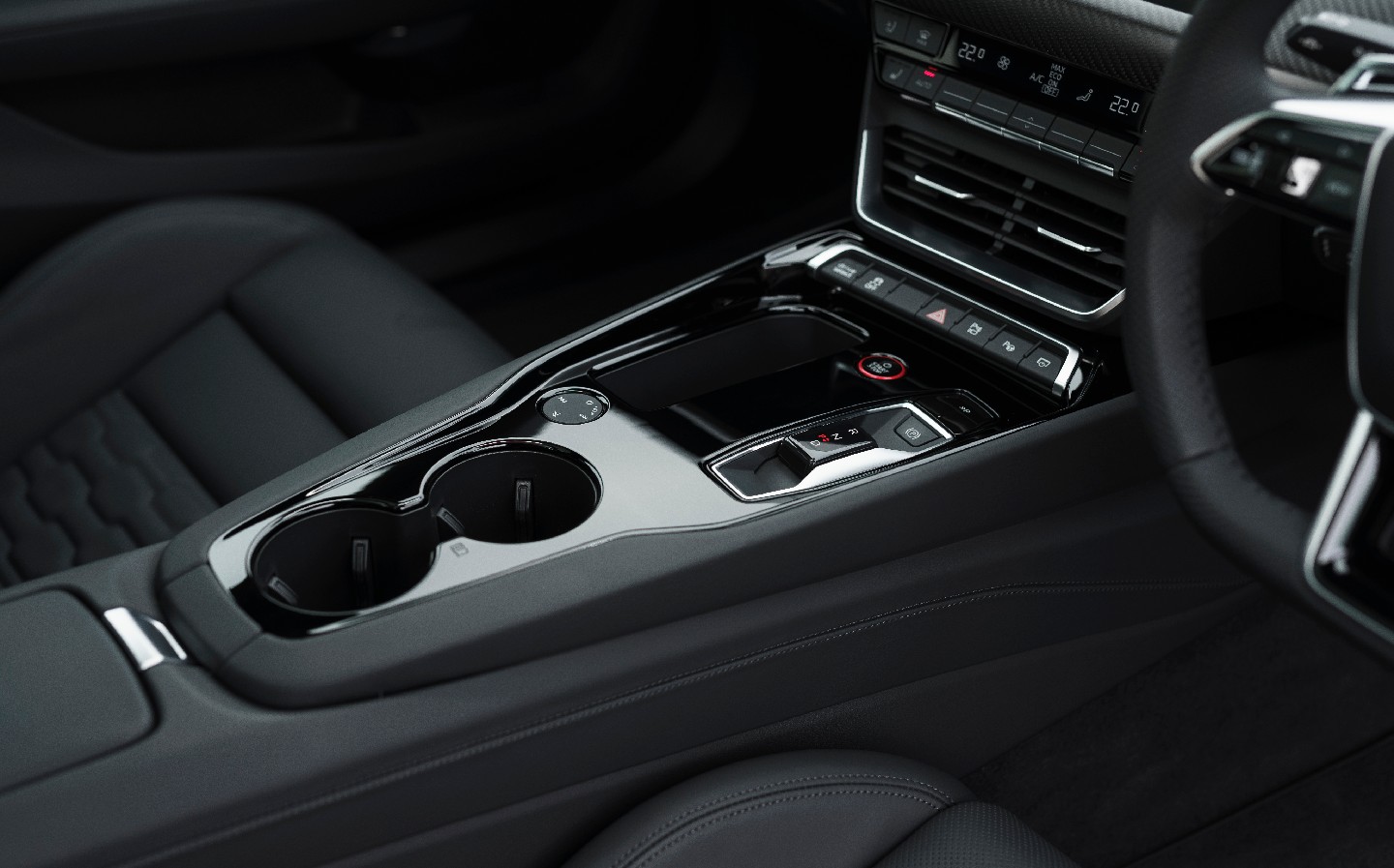 Perhaps the biggest problem is a lack of interior storage areas. The door pockets are really quite small — just big enough for a small bottle but that's about it — and the cubby between the driver and passenger seats is only large enough for a couple of smaller items and a smartphone (a wireless charger is included inside).
Technology plays a large part, of course. Audi introduced the fully digital instrument binnacle before any other car maker and the e-tron GT's is evidence of some degree of heritage in this area, being both clear and well laid-out, and is complemented by a head-up display.
The portrait-oriented touchscreen infotainment system is quite large but not massively so compared to those you'd find in a Tesla Model S or Polestar 2, and it's built into the dashboard rather than sticking out as if it were an accessory.  Perhaps the design of the MMI operating system could be a little bit more jazzy but it's classy and highly functional, which is so Audi.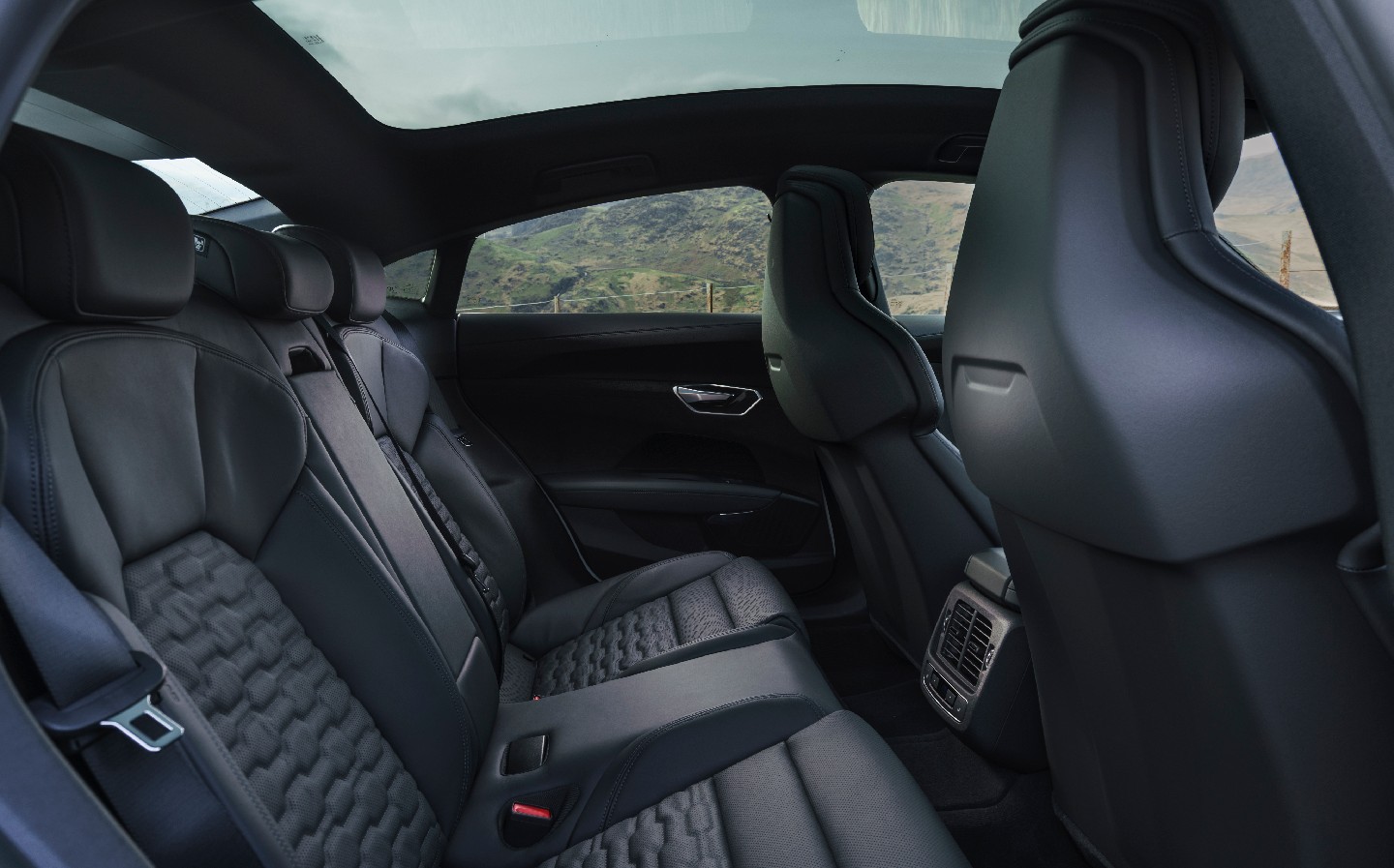 Space in the rear is tight for anyone over 6ft2in-ish, and unlike the Porsche Taycan Turbo S Cross Turismo I tested recently, which has a touchscreen in the back, the entry-level Audi e-tron GT quattro car just has a couple of plasticky looking vents and a couple of USB ports. Overall the rear of the Porsche is slightly more impressive but Audi's seats are comfortable and it's beautifully appointed with quilted stitching. And they're heated as standard.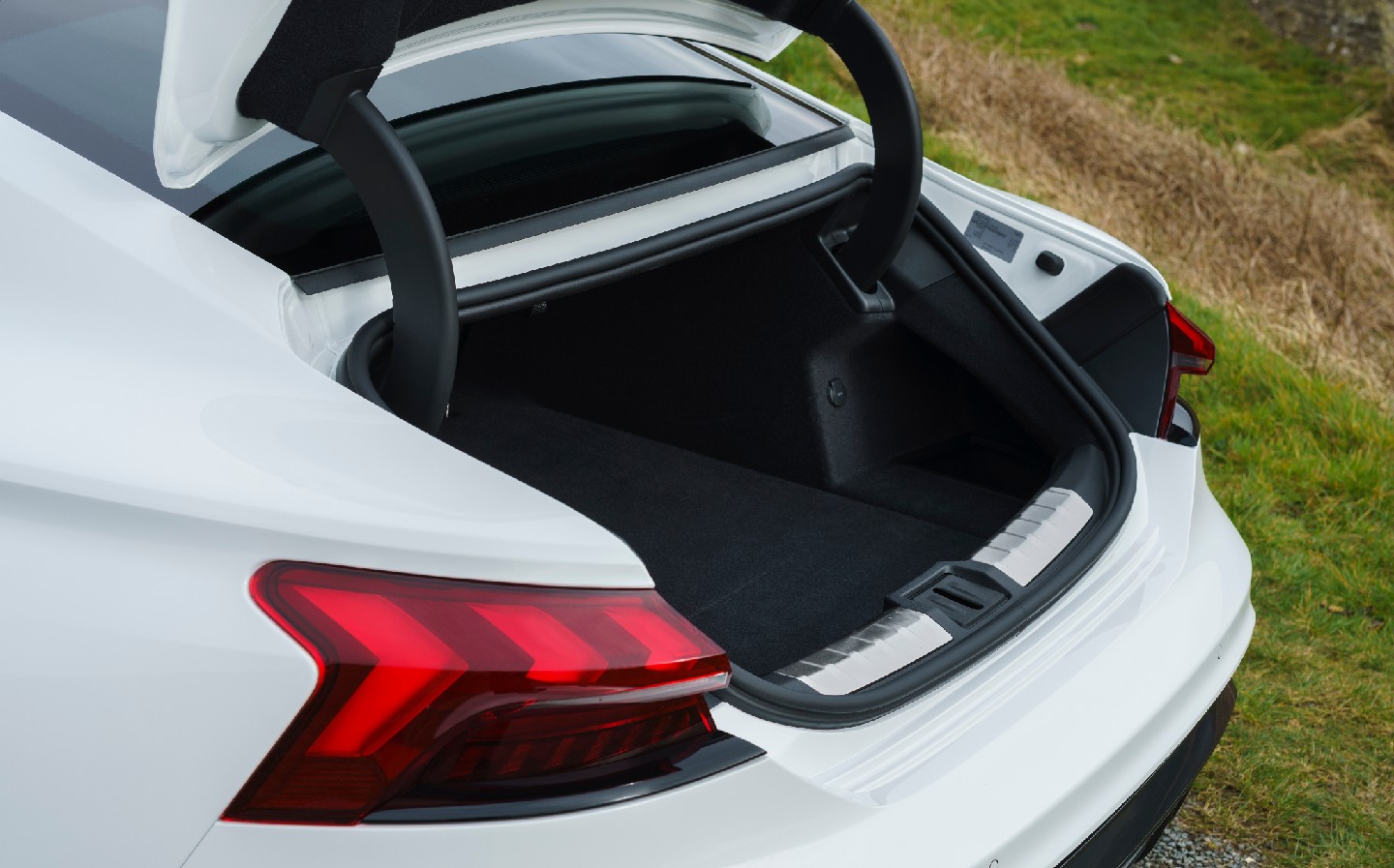 Importantly for a GT, the boot is a decent size with quite a wide opening — not very tall, but it is wide — and you can lift things in and out quite easily.  There's a small space for charging cables under the boot floor, and at the sides, behind the wheel arches, deep pockets for knickknacks both sides. There's also a 12-volt socket. Total capacity is 405 litres, with a further 85 litres under the bonnet, where you'd usually find an engine. Just don't call that space a frunk (a portmanteau of "front trunk") as every time someone does so I have to resist the urge to push skewers into my ears.
Ride, handling and performance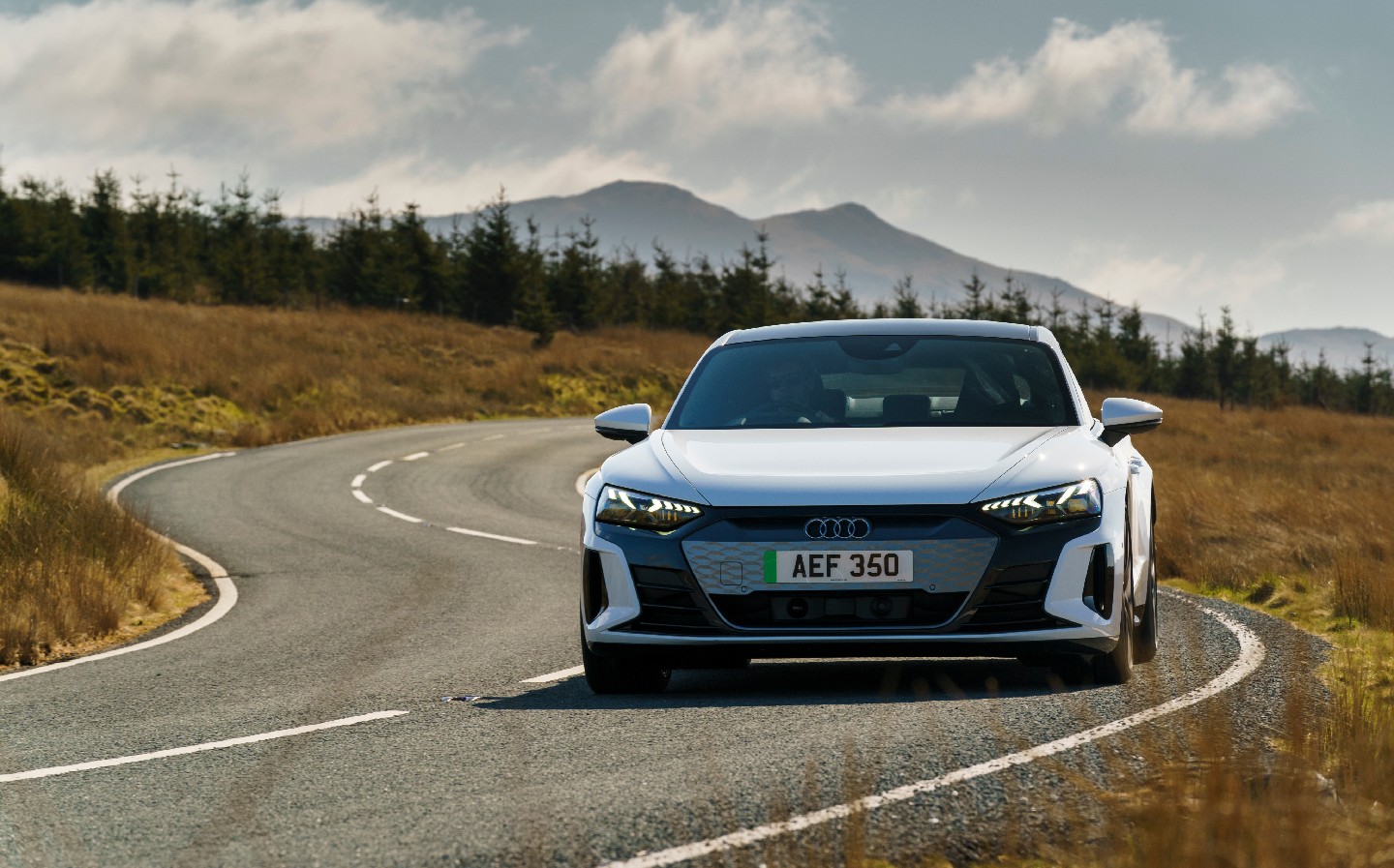 Considering there's a fair amount shared in terms of the hardware with the Porsche Taycan, it's amazing how different they are to drive. Audi's engineers clearly spent a long time working out how to make their quattro four wheel drive system, torque vectoring and suspension offer the e-tron GT its own distinct handling and ride quality characteristics.
The e-tron GT quattro comes with steel springs and adaptive suspension but our test car was fitted with the optional adaptive air suspension, which comes as standard on the higher-specced e-tron GT Vorsprung and all variants of the sportier RS e-tron GT.
Compared to the Taycan, it felt slightly less hardcore and firm, which in most scenarios makes it even more pleasant to drive. Our e-tron GT was in its element on fast, flowing B-roads, and it rode so well over bumps and broken roads…. right up until I hit the mother of all potholes about 30 minutes from the end of the drive (yes, our test took place in the UK) and managed to crack something in the front hydraulic system that resulted in a complete loss of ride height at the front, bringing my test drive to a premature end.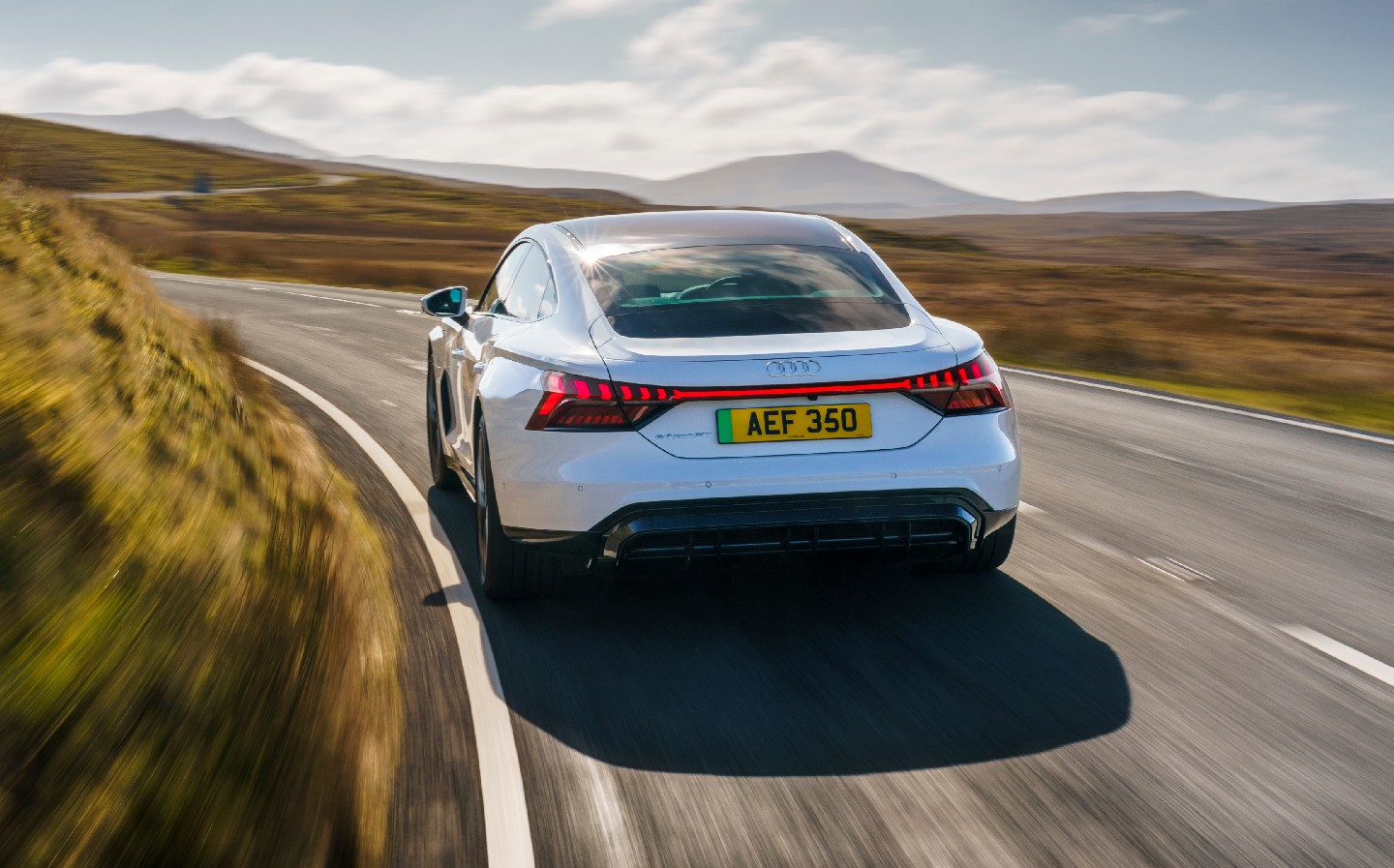 But while it was working, the car just felt like an extension of myself. It was fast but not ridiculous. It felt solid and composed, comfortable and refined. And despite weighing 2.3 tons, it didn't at all feel like a big lump — it pulled away with gusto and stopped with ease, thanks to tremendous brakes with plenty of feel. Switch the Drive Select mode into Dynamic and the car really comes alive. The steering become quicker, more direct. The Audi's rack is not quite as sharp as the Porsche's but it's just so satisfyingly precise, and in sharp turns, even on wet or damp roads, the car grips like a cat on carpet.
Obviously, compared to the top, Turbo S Taycan, the entry level e-tron GT quattro is not as powerful, but it's still very, very quick — its dual motors, attached to the front and rear axles, produce a combined 469bhp and 465 lb ft of torque for a 4.5sec 0-62mph acceleration time, though a boost mode unleashes extra power for 2.5 seconds at a time during a launch control start, taking the 0-62mph sprint down to 4.1sec.
Get the RS e-tron GT and that comes down to 3.3sec, though from my experience the quattro is quite fast enough. While the punch from standstill will make your hair stand on end it's the effortless acceleration from any speed that is really impressive. You can be cruising at 50mph and get up to 70mph in the blink of an eye, which makes overtaking a breeze.
It's a remarkable bit of kit. If there's any complaint it's that there is a fair amount of road noise from the tyres. But that is about it.
What is the range of the Audi e-tron GT, and how fast can it be charged?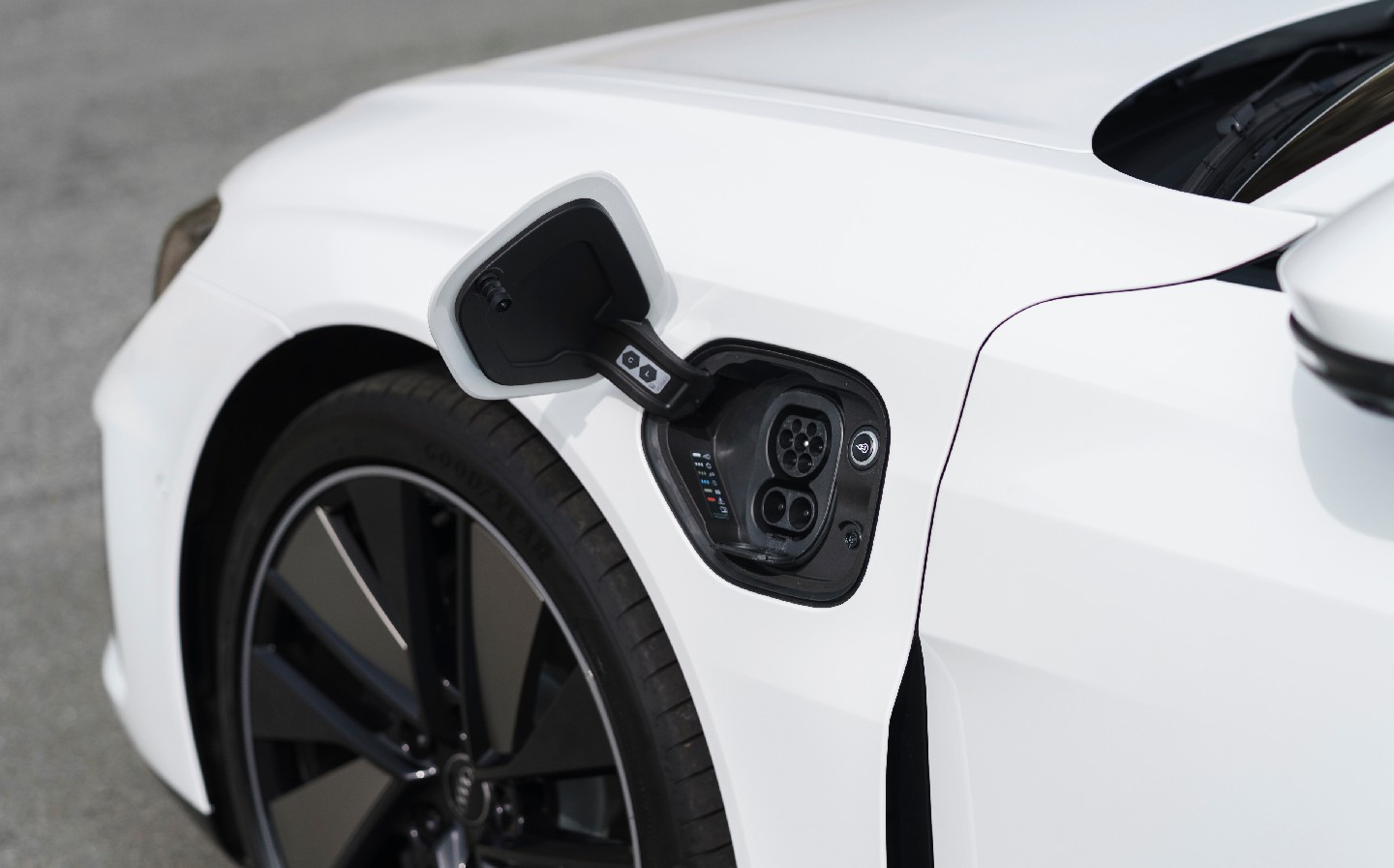 According to the official test, the 2021 Audi e-tron GT quattro can manage 296 miles per charge, or 298 miles if you get the Vorsprung model, which is decent going for an electric car but won't worry Tesla. The RS e-tron GT and its variants can travel less far between charges, unsurprisingly, but they're not far off: 283 miles per charge, officially.
All models will take a 270kW charge, which is well beyond what is offered at most public charging stations in the UK today but if you can find a suitably high-powered charger, you could fill an e-tron GT's battery from 5-80% in as little as 23 minutes, according to Audi. Audi makes public charging simple with an RFID card that grants access to many operators. Many owners will charge at home, though, using an 11kW (or, in future 22kW) wallbox, which will replenish the battery overnight meaning they'll wake up to a full "tank" every morning.
How much is an Audi e-tron GT?
These are the prices for the Audi e-tron GT quattro and Audi RS e-tron GT in the UK, both of which come with a 93kWh battery:
Audi e-tron GT quattro: 469bhp (523bhp in boost); 0-62mph in 4.1sec; top speed 152mph; range (WLTP) 281 – 303 miles; priced from £79,900
Audi RS e-tron GT: 590bhp (637bhp in boost); 0-62mph in 3.3sec; top speed 155mph; range (WLTP) 269 – 293 miles; priced from £110,950
Audi e-tron GT quattro 2021 review: The verdict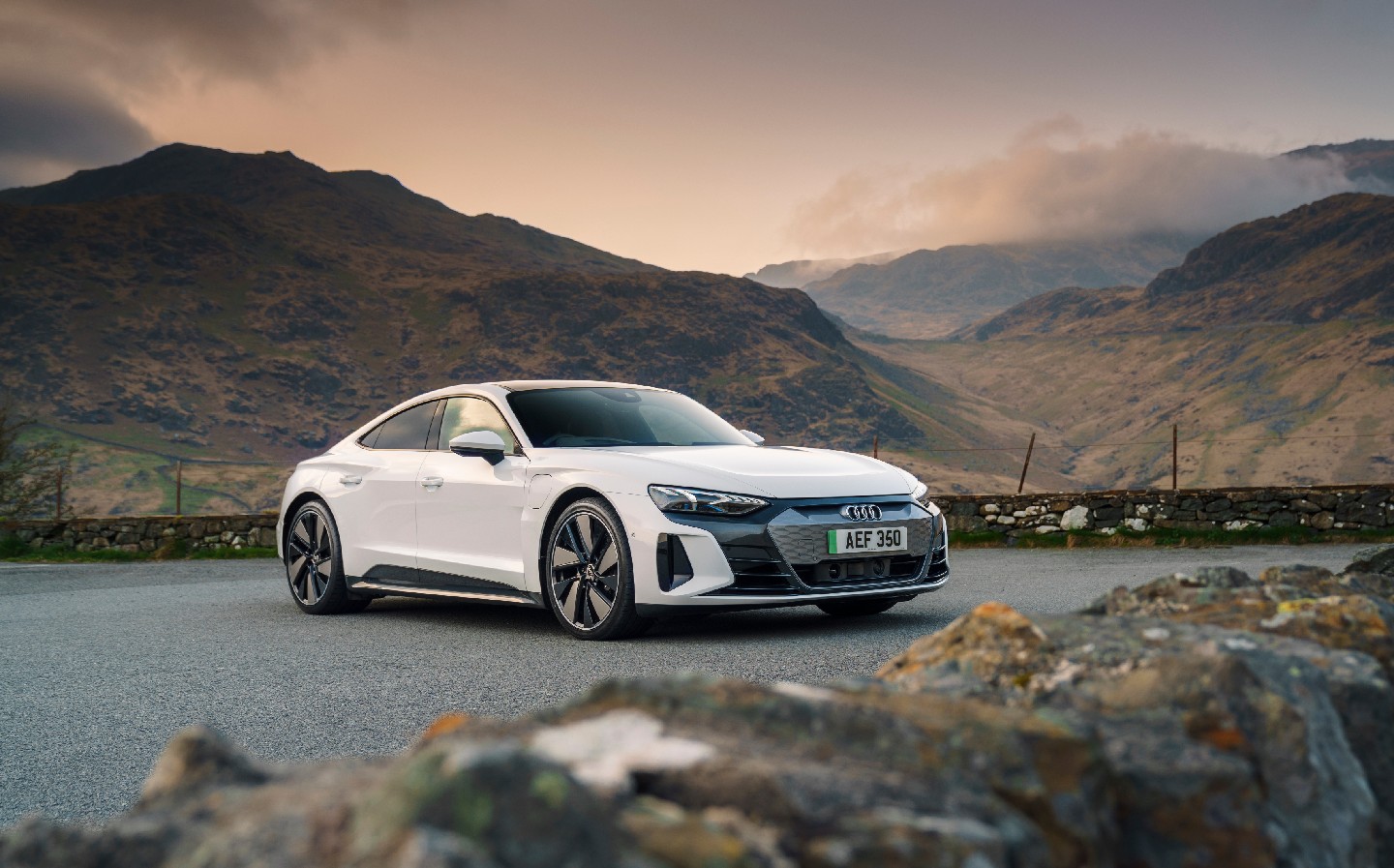 It's fascinating how different the e-tron GT is compared with the Porsche Taycan, both in terms of the interior environment and the way it handles. No doubt the Porsche would retain its value better but putting depreciation aside, I actually preferred my time behind the wheel of the Audi more. It's a stunning, accessible car, with a beautifully thought-out cabin (lack of storage space aside) and wonderfully intuitive handling. If you think electric driving must be dull or lacklustre, then the Audi e-tron GT and a flowing B-road will change your mind in an instant. There will be no looking back. There's no doubt buyers will look at the relative costs and range of it compared with a Tesla Model S but for quality and driving dynamics, the Audi is top dog.
– If you enjoyed reading this Audi e-tron GT quattro review, you may like to take a look at what Sunday Times Driving editor Nick Rufford had to say about the Porsche Taycan
– Also check out our review of the more rugged but still stupidly-fast Taycan Turbo S Cross Turismo 
– If you want to know what Audi has in store for the next few years in terms of electric cars, take a look at this guide to all the car makers' EV plans