New Porsche Taycan Cross Turismo review 2021
More rugged than the Taycan saloon but just as quick
IT MAY seem ambitious that by 2025, Porsche expects 50% of the cars it sells to be either pure-electric or plug-in hybrid, but the company says it's already well on the way to achieving that: one in three of the vehicles it delivered in Europe last year had an electric powertrain.
The pure-electric Taycan saloon (or is it a sports car? Or grand tourer?) is a major part of that plan, and the burgeoning product range now includes this: the Porsche Taycan Cross Turismo, a new model based on the same formula but with jacked up suspension, off-road driving modes and an estate-style rear end.
I was handed the keys to a left-hand drive Taycan Turbo S Cross Turismo — the most powerful version — and ventured into the countryside of the North Wessex Downs.
Porsche Taycan Cross Turismo review: Design and rivals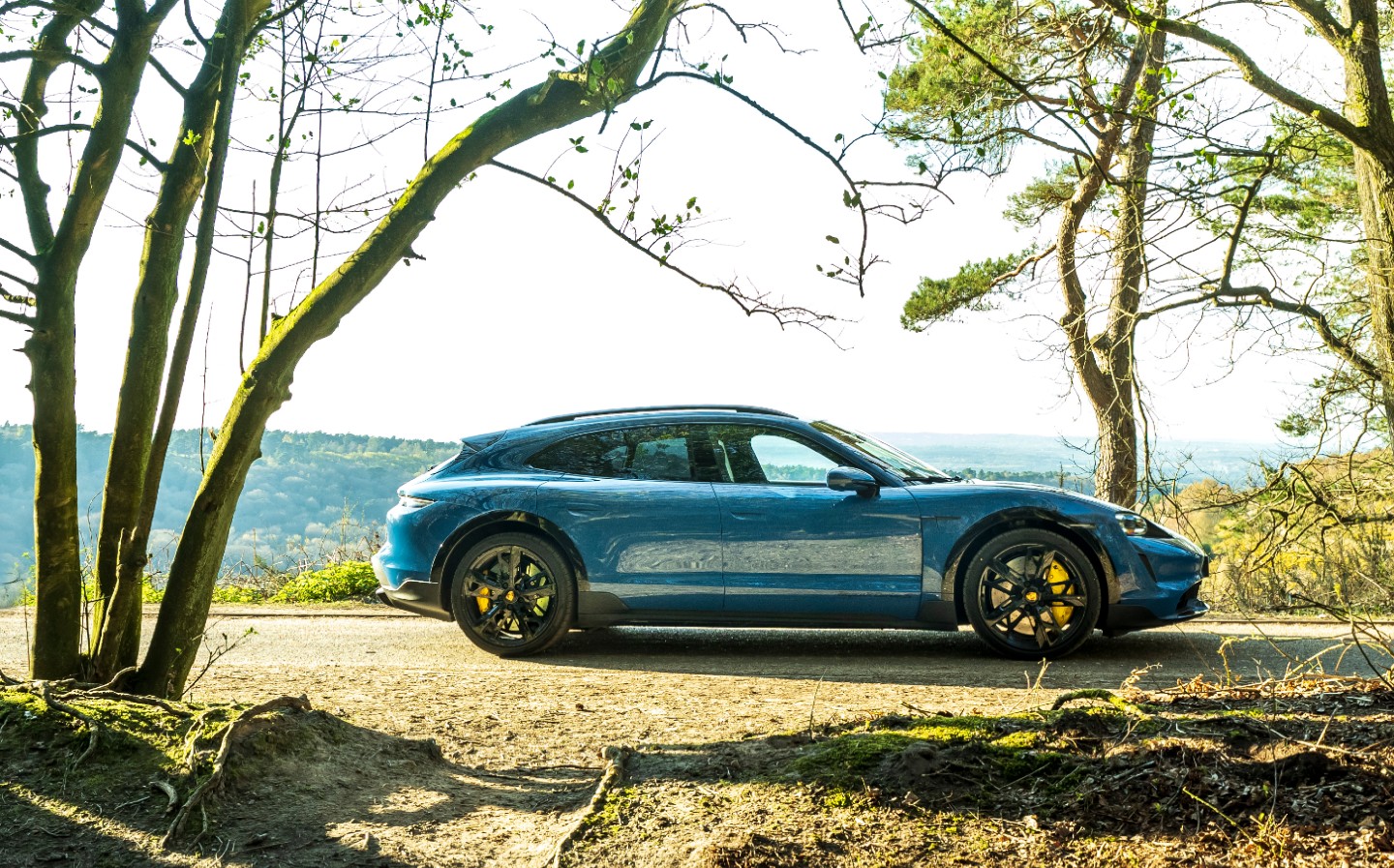 "Is it an estate?" I asked Porsche's PR man. "A shooting brake? You don't call it a crossover, I take it?"
"Well, we just use the term Cross Turismo, really," came the reply.
As unhelpful as that may seem, it's an honest answer for a car that spans a few categories. It combines sports car performance and grand tourer comfort with estate practicality and a coupé rear end (hence shooting brake), but it sits 20mm higher off the ground than the regular Taycan to make it more usable on broken surfaces. Opt for the Off-Road Design Package and you get a further 10mm of ground clearance, along with plastic trim to help protect the paintwork.
Stefan Wekkman, Porsche's product chief, describes the new Cross Turismo as "the automotive equivalent of a Swiss army knife".
But if this was a car designed by committee, its remarkably good-looking. From every angle, it's clearly a Porsche, with the Taycan's front end receiving a tweak around the front apron, while the back end is a masterclass in unboxy, contemporary design. The rear end has a squat, powerful, shrink-wrapped look.  The pictures don't do it justice; you need to see it in the metal.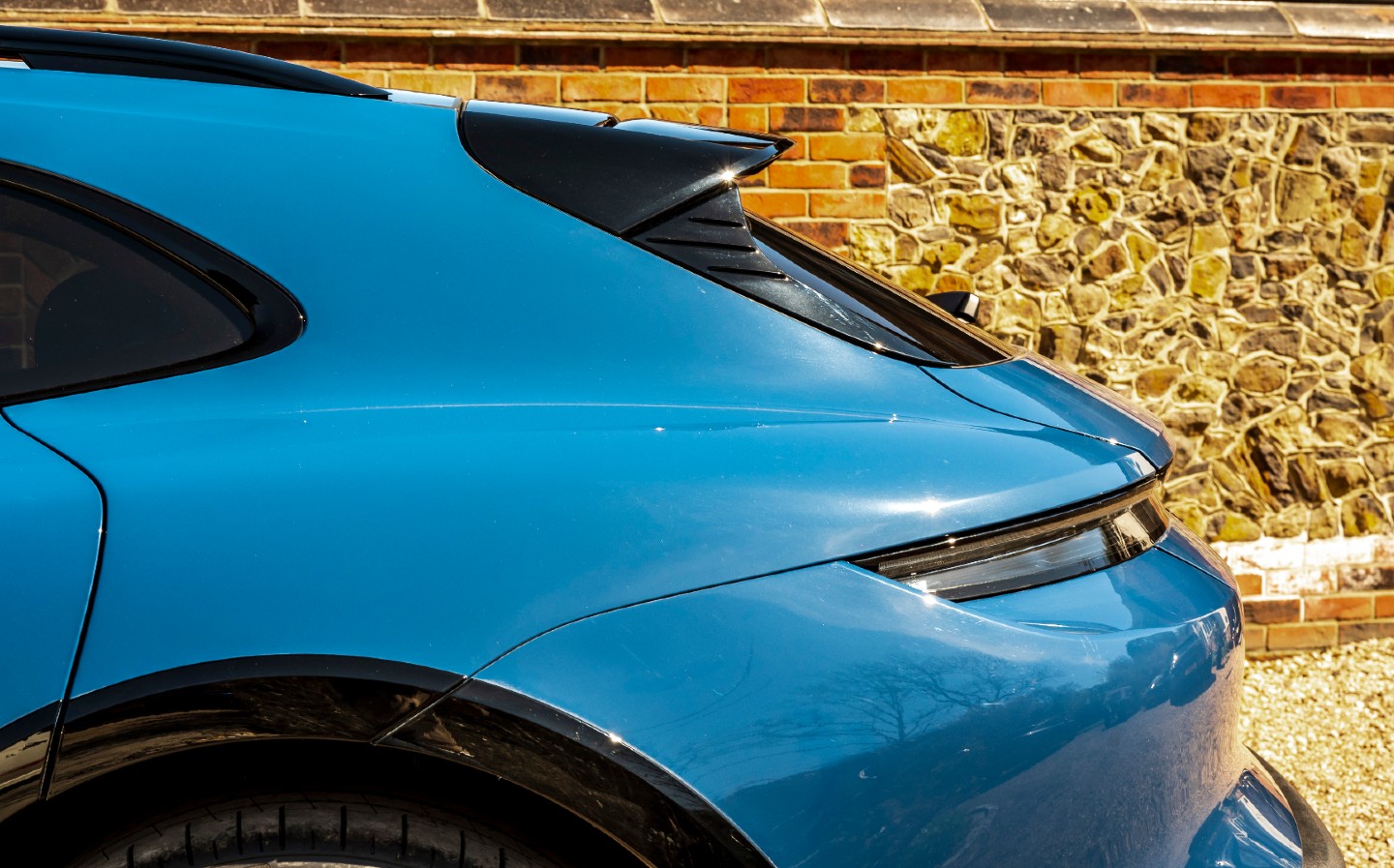 Of course, the sloping roofline doesn't maximise boot space (more on that later), and I'm not the biggest fan of modern Porsches' headlight design, but the higher stance, off-road trim and black roof rails (which come as standard), it's as tough-looking as it is pretty.
Porsche offers an extended range of wheels in 19in or 20in sizes, with three new designs. The rims fitted to my test car at first looked like they had a marble effect to them, but a closer inspection showed they were covered in chips, as the car had been on an off-road photoshoot the day before. So if you're going to bugger your alloys, you may as well do it properly — the effect is quite interesting.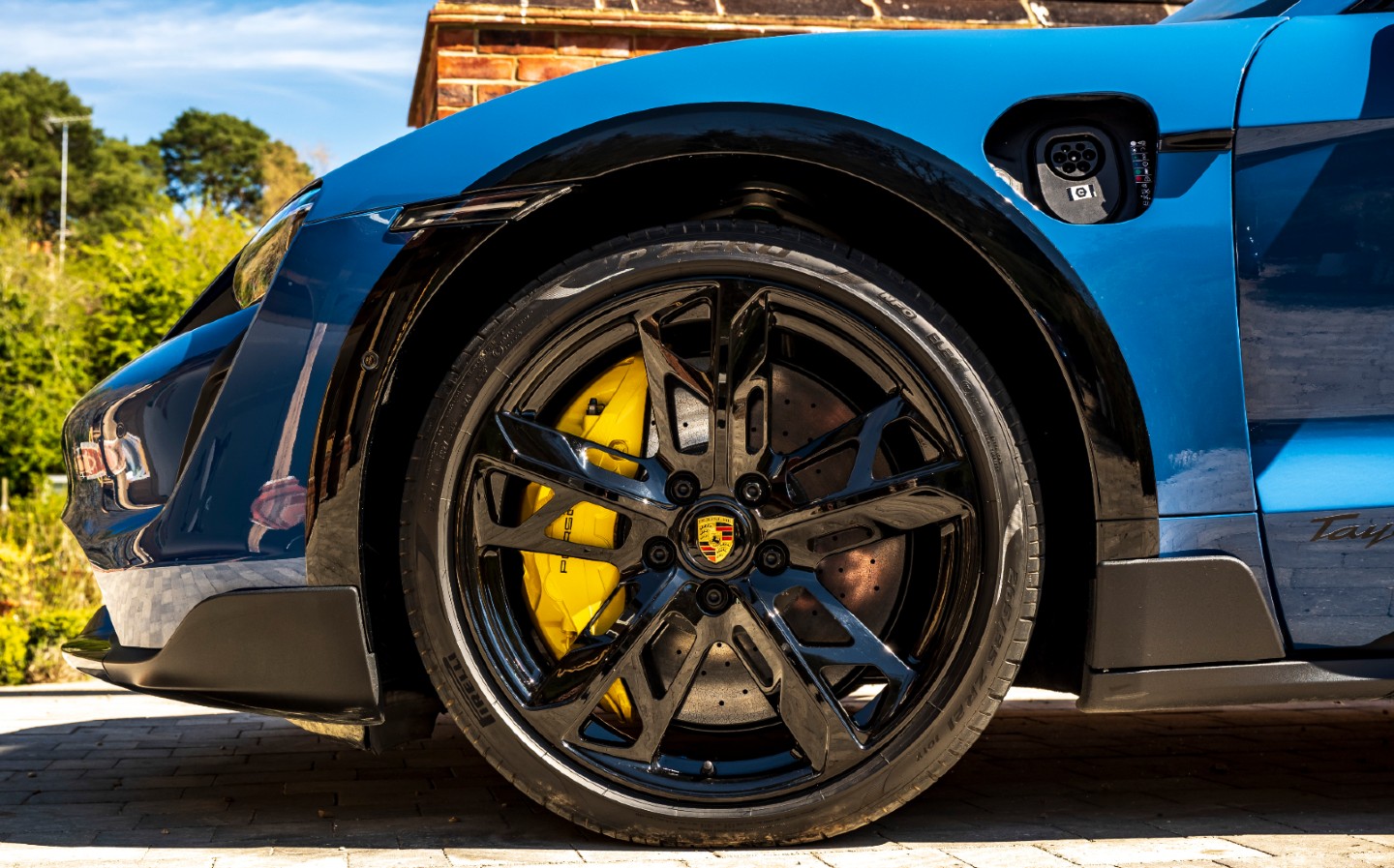 Rivals would include off-road estates, such as the Volvo V90 Cross Country (the Taycan Cross Turismo is actually 39mm longer),  or Audi A6 allroad quattro, though performance-wise the Audi RS6 Avant or Mercedes-AMG E63 S come closer.
Interior and practicality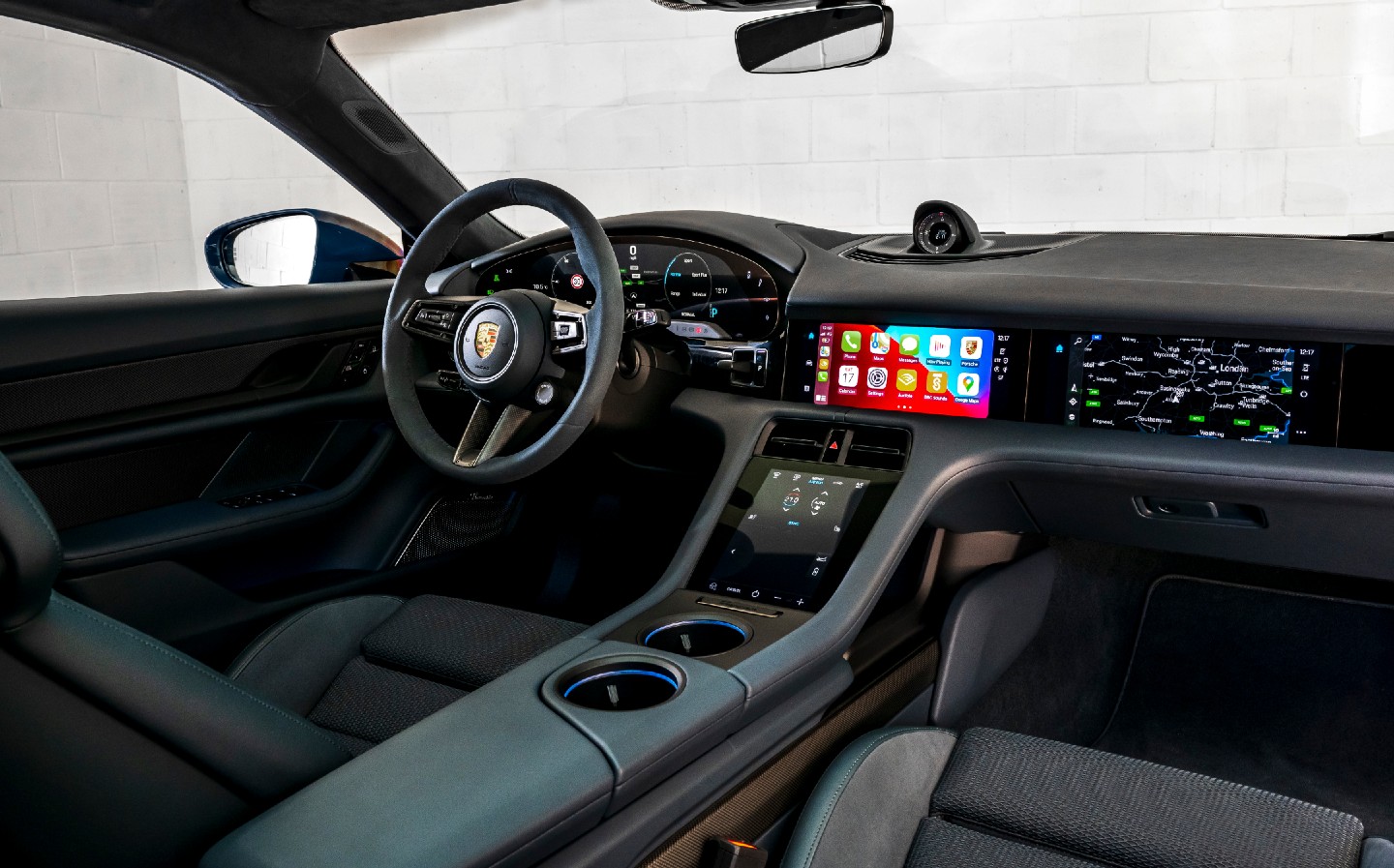 Our Turbo S Cross Turismo was decked out in blue leather with Alcantara on the steering wheel and roof lining, though I might explore some light materials if I were speccing the car myself, as it's quite a dark colour combo for such a cocooning cockpit.
Hinting at the car's go-anywhere aspirations, an optional analogue compass can be mounted on the top of the dashboard, with a digital display also showing time and altitude.
In front of the driver is the classic Porsche setup, with three dials, the central one being the largest. But it's a fully digital driver's display — no analogue dials here — and of course, as it's electric the traditional rev counter has been done away with, since there are no gears to change.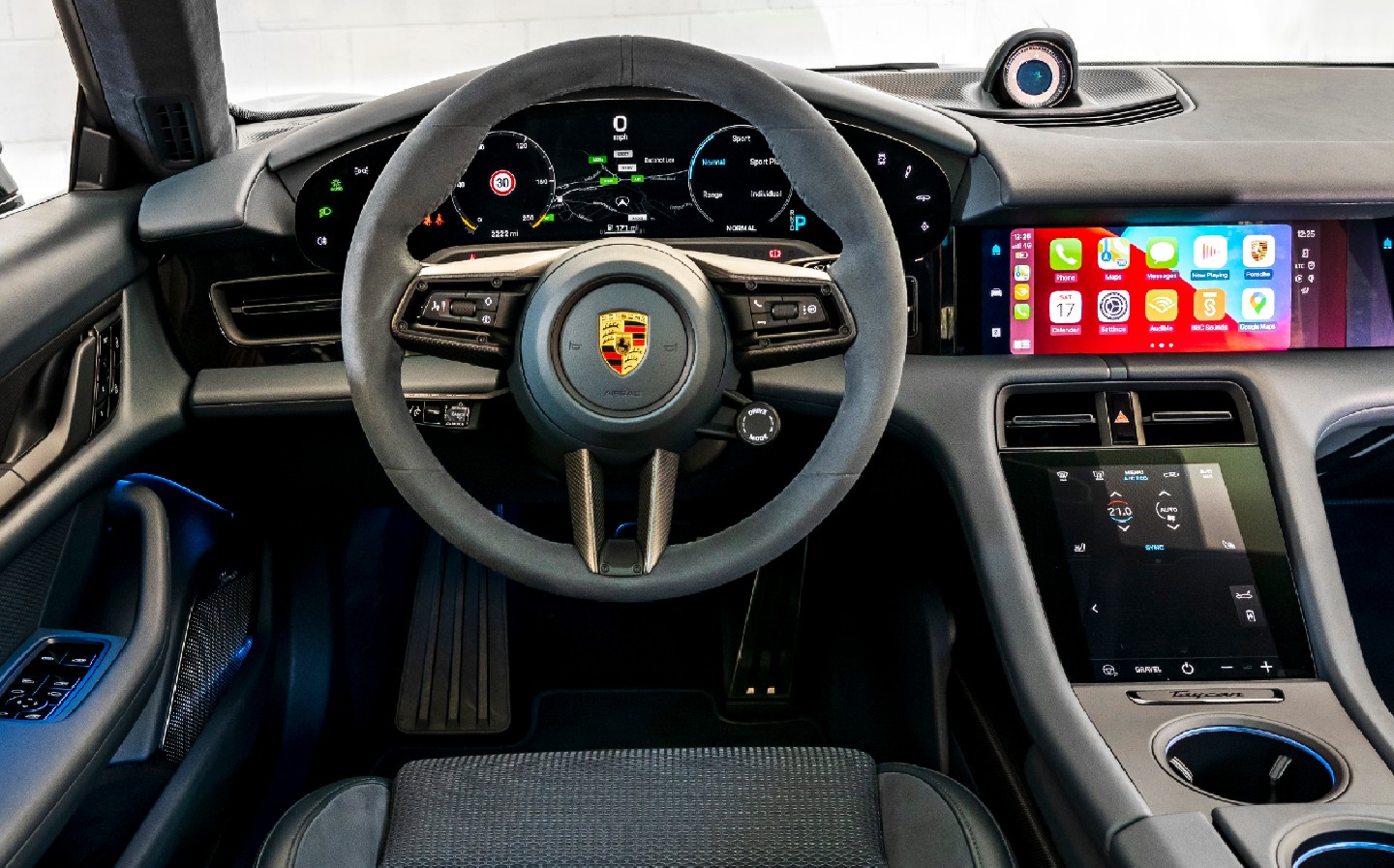 Instead there's a power meter an speed display as standard, though you can switch what's displayed in each of the three binnacle elements using the controls on the steering wheel, for example to show navigation, trip data, power flow to each wheel or G-forces. If you prefer, you can make the navigation full with across entire driver's display.
Digital screens are everywhere in the front of this car — the central infotainment touchscreen is complemented by a screen below it that seems to be for temperature control and media, but I cant say that I needed to use it once during my time with the car (and, due to the ferocity of the performance, I didn't have time to take my eyes off the road).
Additionally, Porsche has done a Ferrari Roma and added a fourth (optional) touchscreen in front of the passenger, which can display navigation, media, phone contacts and settings for a full-width digital experience. It seems like overkill to me, but perhaps its usefulness reveals itself over time with the car.
Flanking the digital binnacle are haptic buttons for turning off traction control, changing the suspension stiffness or raising the ride height — all conveniently located. Headlight controls are on the opposite side, and the positioning of switchgear in general is decent – the three-spoke wheel allows drivers to actually see the cruise control stalk, mounted low down on the left side of the steering column, which is sometimes not the case with Volkswagen Group cars.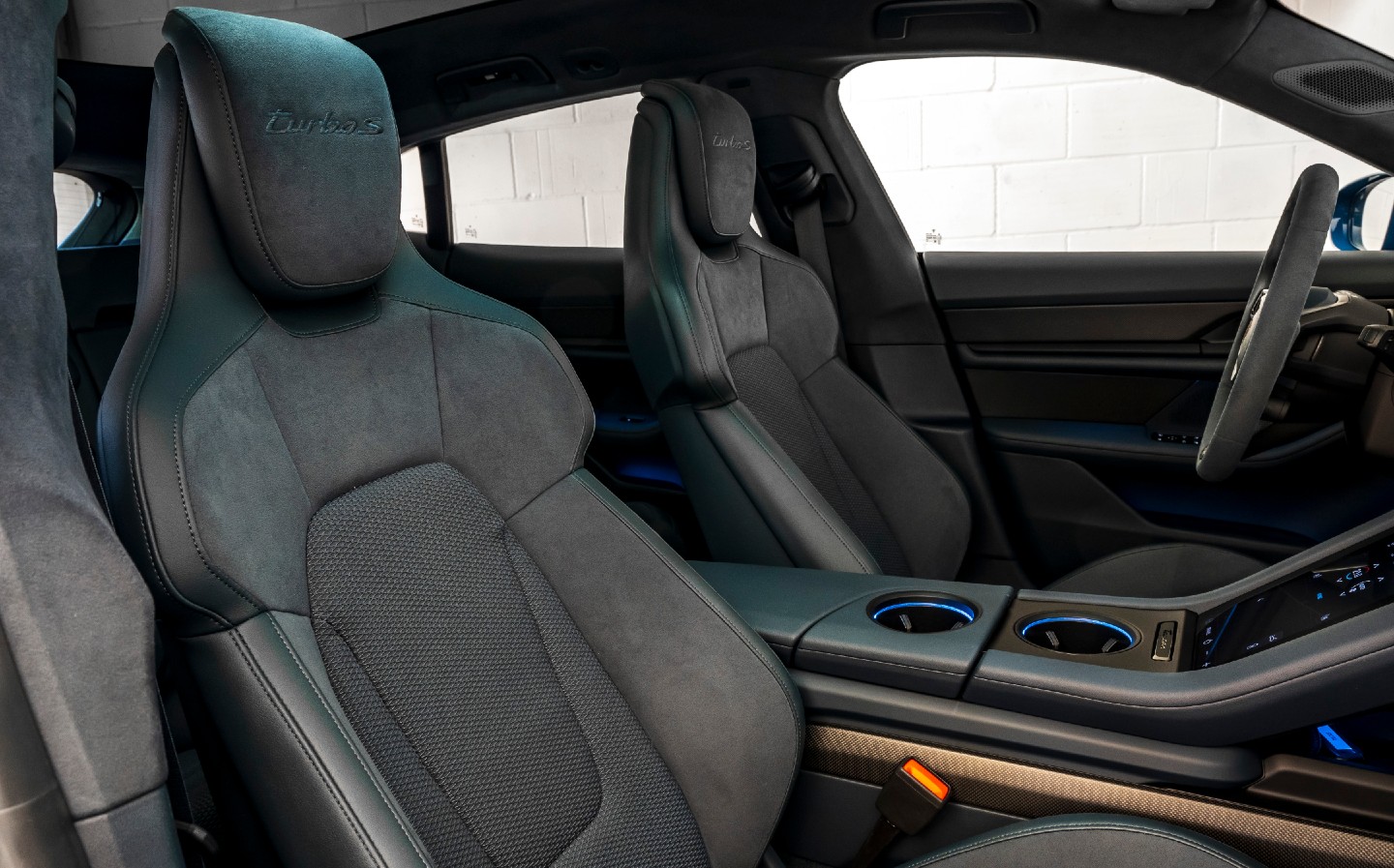 The seats in the Turbo S are tremendous — supportive and comfortable, without being overly padded, and with electric adjustment and heating. Forward and side visibility are very good, though visibility at the rear is less easy — the view through the mirrors isn't terrible but the reversing camera and sensors are handy to have when reversing into tighter spaces.
Space for rear passengers is surprisingly good in four-seat configuration, though the Cross Turismo can be ordered with three seats in the back, which would restrict shoulder room. But with an extra 47mmm of headroom available of the saloon, even very tall adults don't have to crane their necks (even with the spectacular one-piece panoramic glass roof), and their legs should have plenty of space, too.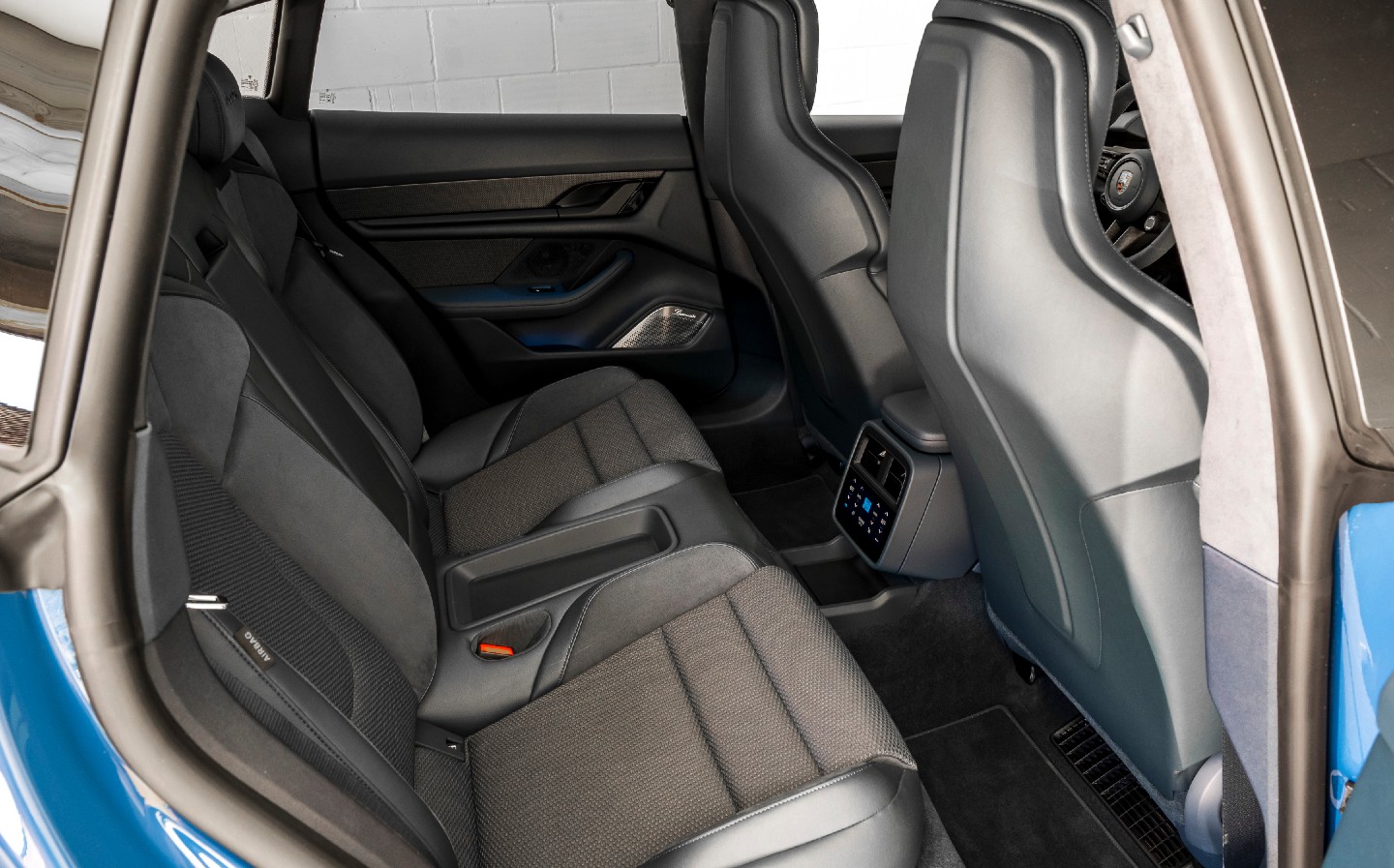 If you add the optional four-zone automatic climate control system (Advanced Climate Control), an additional 5.9in touchscreen control panel is added to the rear (because every car needs five screens).
Speaking of air conditioning, one feature of the interior that doesn't quite seem up to par is the design of the air vents, which are gaping holes that you can see right into, surrounded by scratched-within-five-minutes gloss black plastic. The vents are "louvreless" because air flow is fully electronically-controlled, but it just looks like they're unfinished, and my kids would enjoy posting all sorts of lovely treats down there, I have no doubt.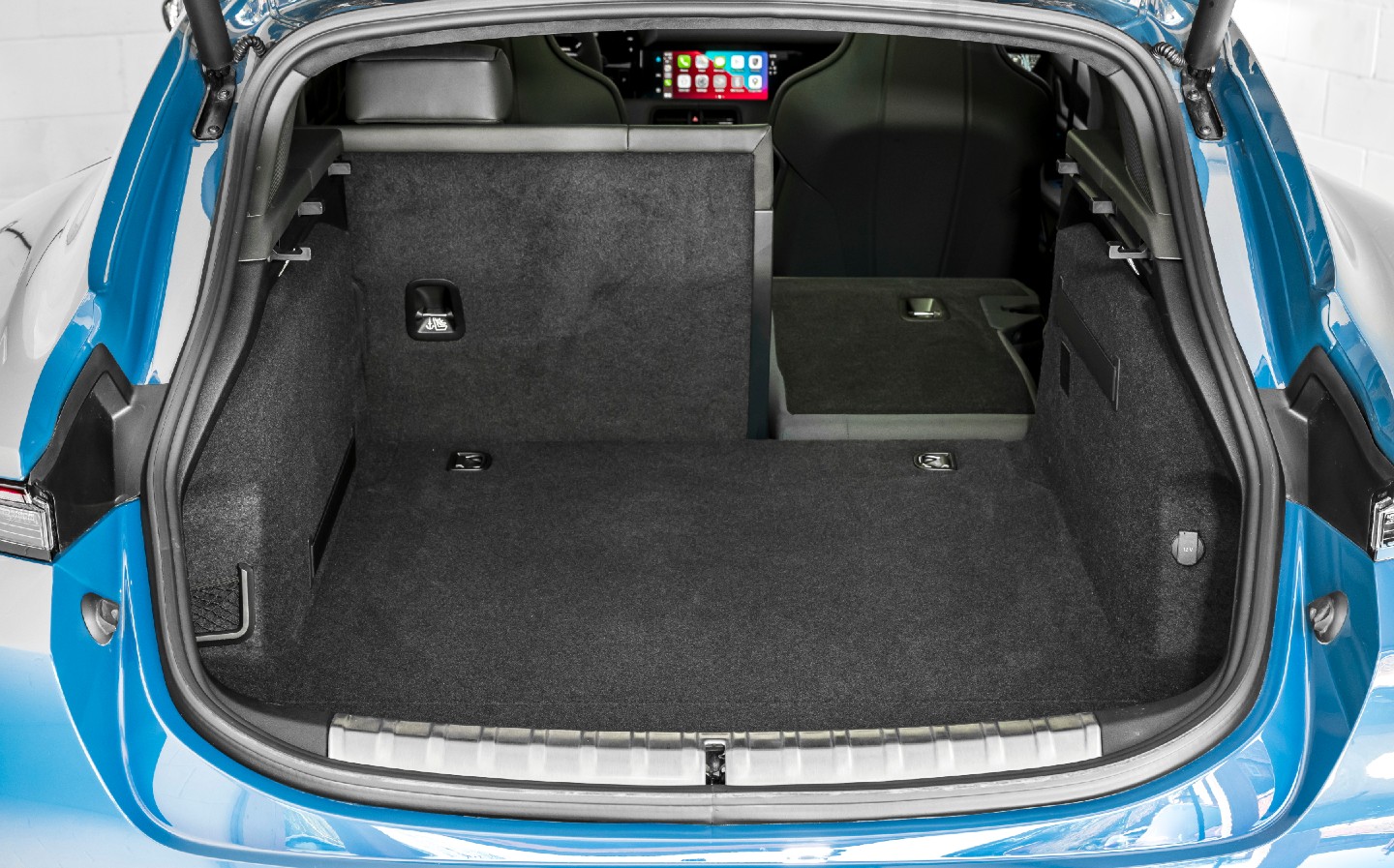 If you're hoping the boot is especially generous, you're out of luck. Thanks to the sloping roof and the extra space afforded to rear passengers, there's a hatchback-sized 405 litres, or up to 1,171 litres when the 60:40 split rear seat are folded down. The opening is wider and taller than on the saloon, though, so this is a much more practical proposition. It also has a Tesla-style additional 84 litre front storage area under the bonnet, perfect for a gym or overnight bag, and a small space for a charging cable under the boot floor.
Technology and safety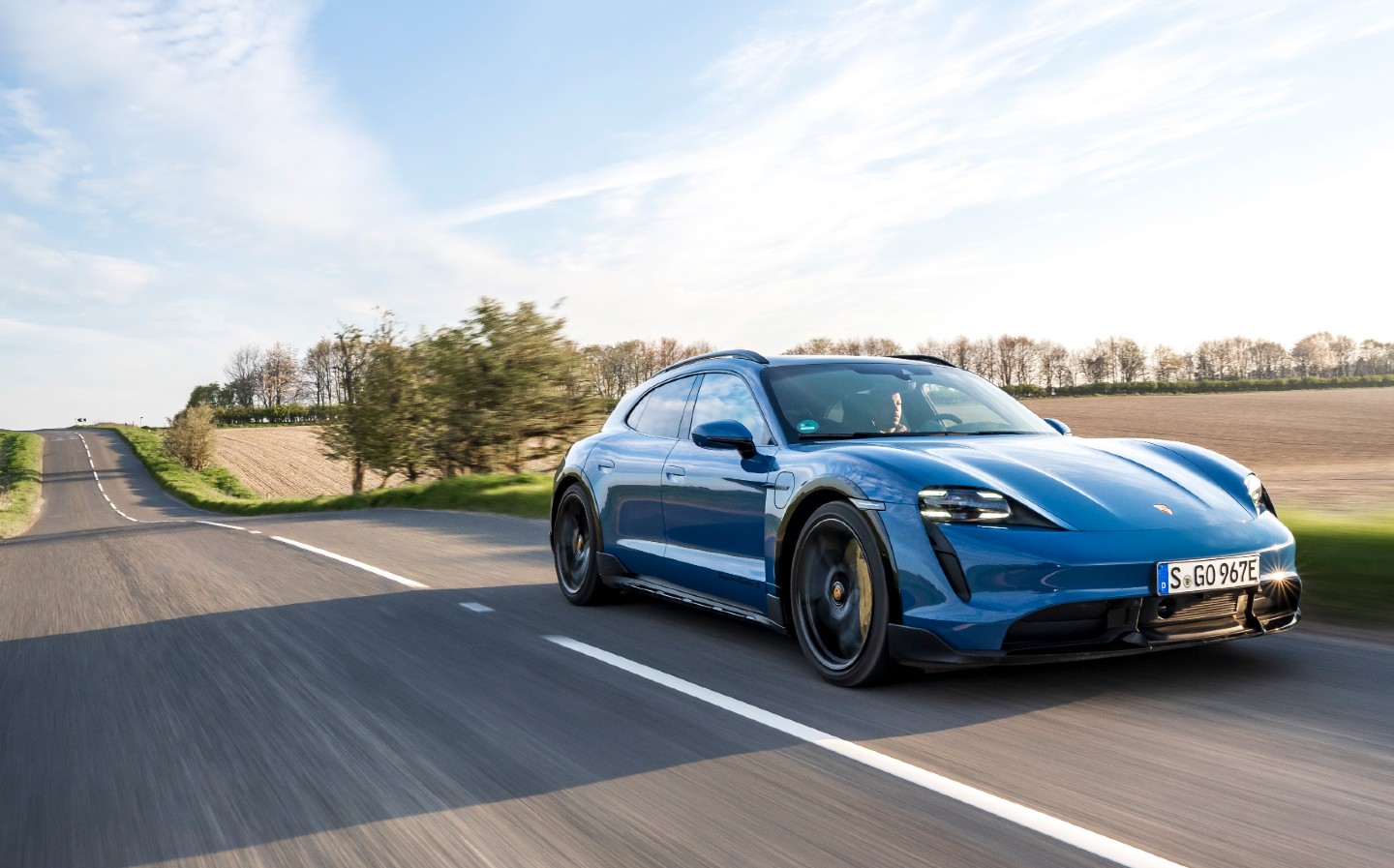 Standard equipment includes LED headlights, dual-zone climate control, DAB and Apple podcasts, and eight-way electric seats. The Taycan Turbo Cross Turismo swaps those out for 14-way electrically adjustable comfort seats while the Taycan Turbo S Cross Turismo, as tested here, includes the superb 18-way adaptive sports seats.
The range-topper also gets rear-axle steering, the Sport Chrono package (launch control, interior upgrades, etc.) and the Porsche Electric Sport Sound, which pipes in spaceship-style noises under acceleration.
When using sat nav, the car can calculate how much charge you'll have when you reach your destination, and if you set a specific battery level required at journey's end, charging stations en route will be highlighted to ensure you arrive with enough charge. It's smart enough to recognise how fast the chargers are, and how long charging will take, and can therefore select the speediest options. It will also pre-condition the battery before you arrive at a rapid charger in order to speed up the initial warm-up phase.
Porsche's electrical system heating and cooling system is more sophisticated than any I've read about, involving a radiator, three coolant pumps, six coolant valves, two fans and 10 coolant temperature sensors, linked to the car's air-conditioning system, and looks after the temperature of not only the battery pack but also the electric motor and on-board AC and DC chargers. It's as if the team behind the the PDK automatic gearbox were found in a back room in Stuttgart twiddling their thumbs and told to get their teeth stuck into battery cooling tech.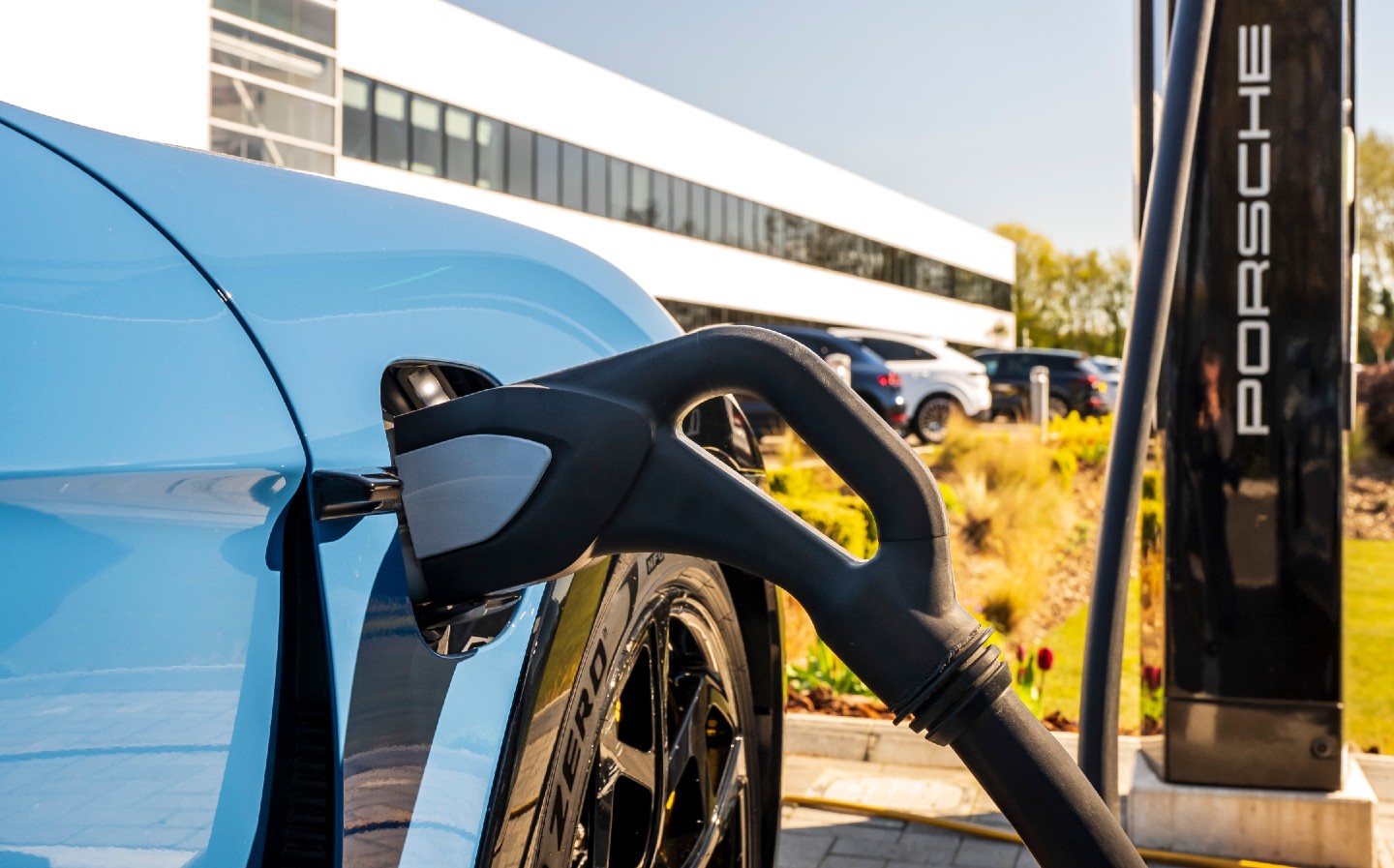 They also found time to develop a heat pump for the air con that will help keep you warm in winter without sapping excessive juice from the battery, though that's an option on the Taycan Cross Turismo.
In terms of safety, there are obviously air bags all around, including to cover the entire roof lining and protect the driver and front passenger's knees. In the event of airbags being deployed, the high voltage system is automatically disconnected to limit any chance of electrocution, and the battery pack is house in a multilayer cage with a steel bottom, to protect from strikes from below. Which is obviously quite important if it's designed to go off-road.
Problems? Well the Porsche active cruise control system worked okay on my test car but the more sophisticated Porsche InnoDrive, which uses GPS, radar and cameras to monitor the road gradients and sharpness of corners to adjust speeds on flowing roads, but our German test car seemed so baffled by UK motorways (it insisted 60mph was fine, suggesting it's designed for B-roads) that I switched it all off in frustration and didn't touch it again during my test drive. This is a Porsche, anyway — why would you want it to do the pedals for you?
It would prove more useful in traffic jams, where active lane keep assist will keep you on the tail of the car in front and centre in your lane. Also useful are the swerve assist (to help steer around an obstacle) and intersection assist (to alert you or slam on the brakes in case you haven't seen an oncoming vehicle while pulling out of junctions) systems.
Ride, handling and performance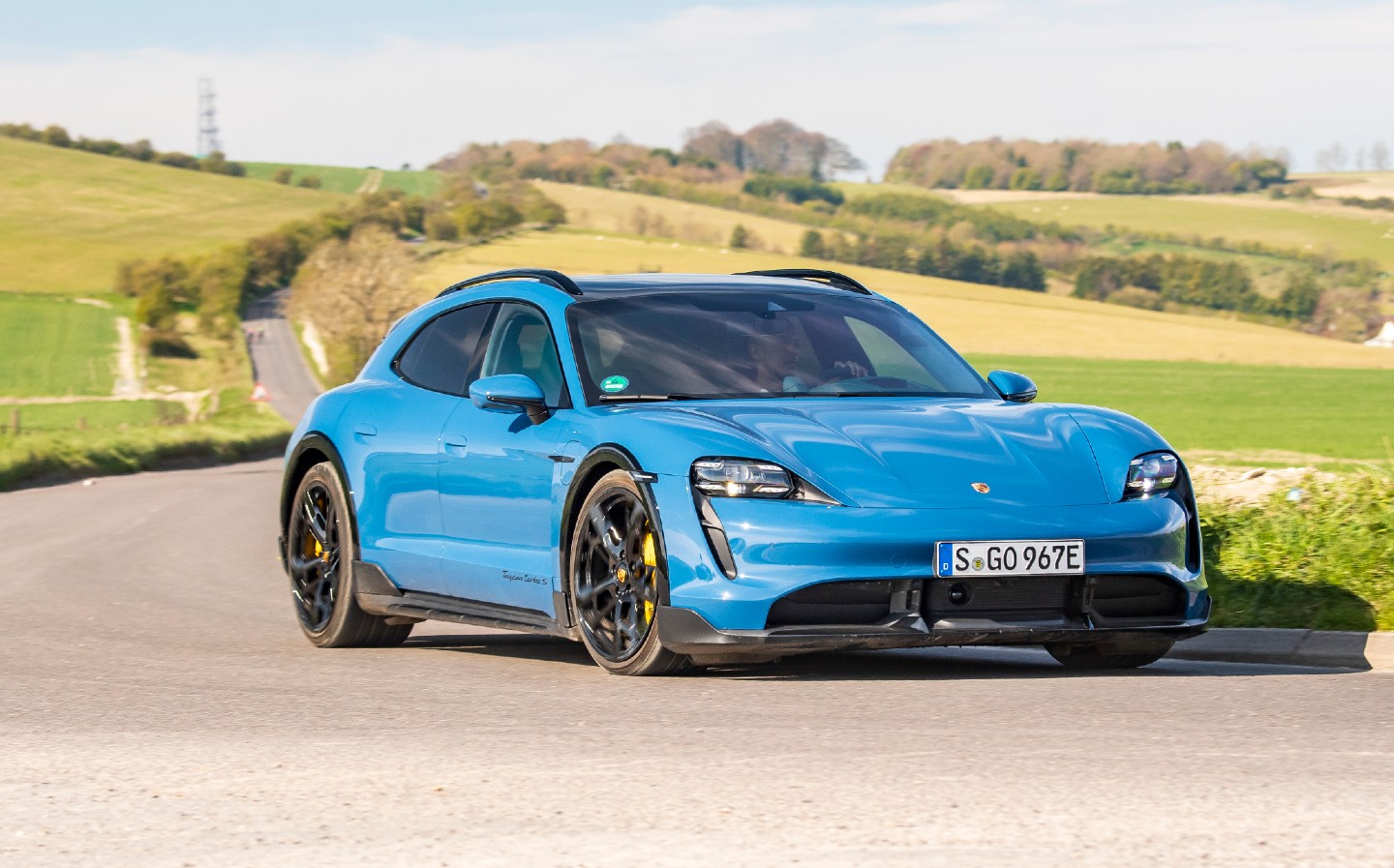 If Porsche InnoDrive sounds complicated, so is the adaptive air suspension. The basic set-up involves double-wishbones at the front and rear, though it's more complicated than that and I won't bore you with it here. Those are linked to three-chamber air suspension allowing for a comfortable ride around when cruising or around town and stiffer settings when pressing, when millisecond adjustments during acceleration, braking and cornering.
The effect is very obvious, and refinement on motorways is as impressive as I have experienced in any car — so smooth, comfortable and quiet, with little noise noticeable from tyres, air or motor. The steering feels heavy and focused on the straight ahead to keep it nice and centred in your lane.
Then take it on twisty, bumpy British country lanes and the character changes. The Turbo S is so fast (0-62mph takes 2.9sec) and agile it becomes almost frightening, with the suspension tested to the extreme.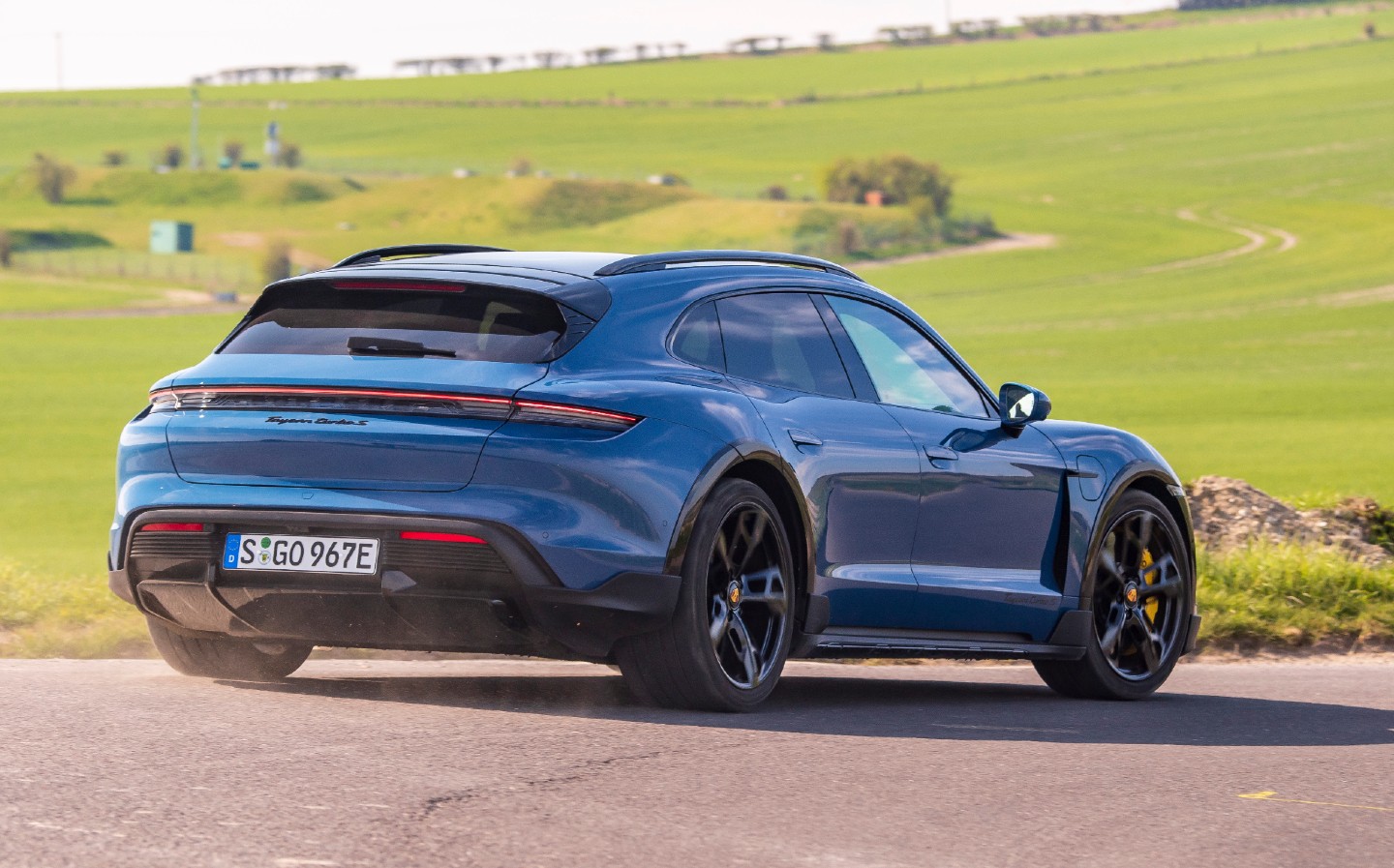 I'm not one to break speed limits, but the road route I chose involved sharp, slow corners followed by short straights, which allowed me to get intimately acquainted with the Turbo S's 800v dual motor electric powertrain, producing up to 616bhp under normal driving (751bhp and 774 lb ft of torque during launch control), and immense 420mm carbon ceramic brakes properly.
Changes of pace can be ferocious. Slow down to a safe speed for a corner and then plant the accelerator, and the chassis seems to contort as differing amounts of grip is found in each corner and you're blasted over potholes and undulations as if skipping a jet fighter along the asphalt from corner to corner. The performance, grip, rear steering, optional PDCC roll stabilisation, torque vectoring, stopping power and, crucially on these roads, extra ride height, render the car's heft utterly irrelevant.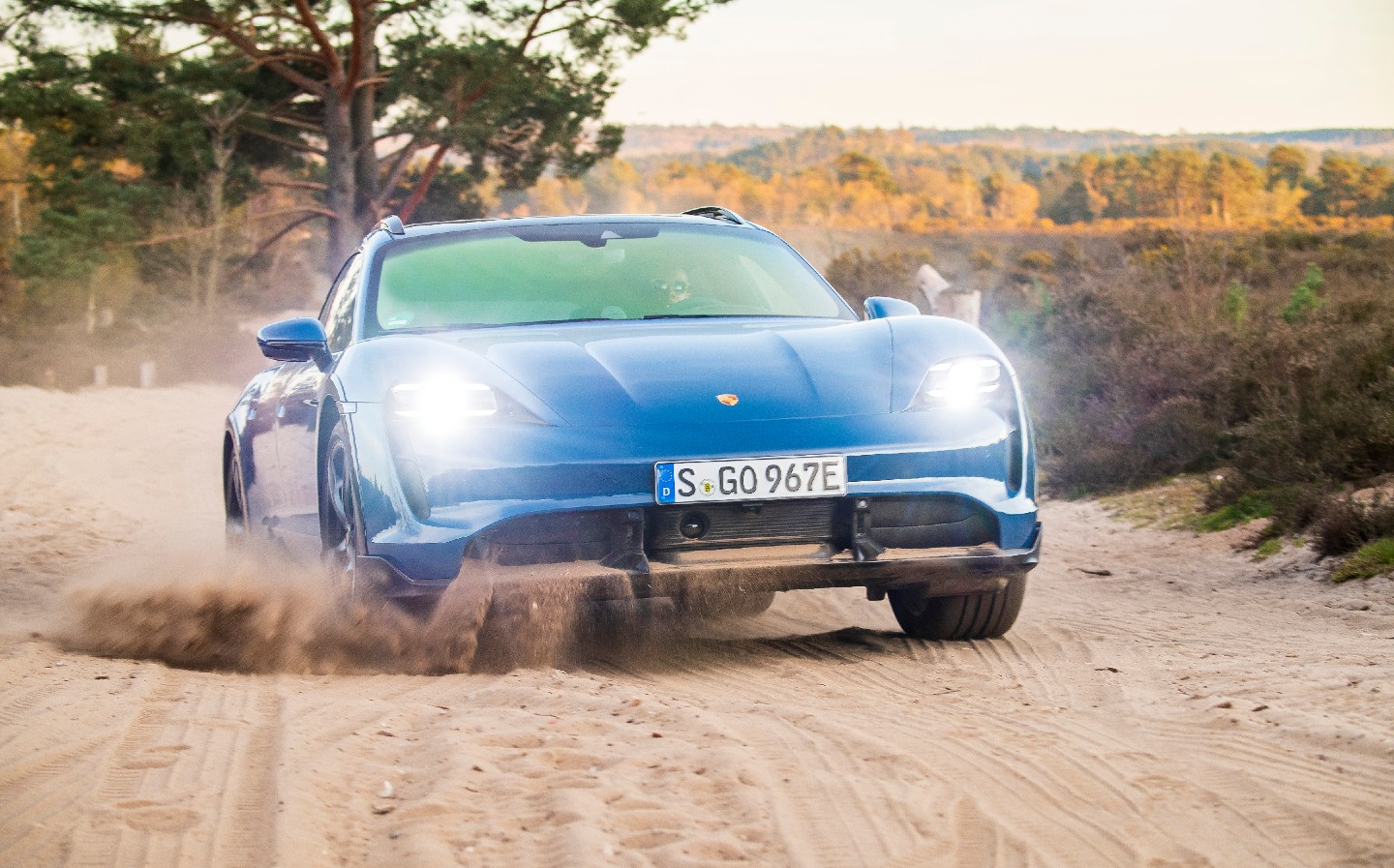 Honestly, I found that the Taycan Turbo S Cross Turismo is much more capable than I am of keeping it all together along country lanes, to point at which I began to feel nauseous and had stop for a breath of fresh air. It's a rollercoaster ride, and you're either a fan of rollercoasters or not. I fear I may no longer have the stomach for them.
I did manage to park up on a farm track, though, allowing me to raise the car to its maximum and check out the Off Road Package's extra 10mm ride height. On a bright, sunny day after an unseasonal dry spell, the earthy lane was rock hard but ruts hard been carved out by farm vehicles during more inclement, muddy periods, and it became clear that the Cross Turismo could be an ideal solution for the more successful countryside vets and farmers (I imagine Harry Metcalfe has already placed his order).
Hello, Porsche Taycan Turbo S Cross Turismo. I think it looks rather good but I can't tell you what it feels like to drive until Tuesday night. I can say: up to 761ps; 0-62mph in 2.9sec; 155mph; 241-260 miles per charge WLTP; suspension lift for off-road; priced from £139,910. pic.twitter.com/htlUpJ4aGb

— Will Dron (@wdron) April 23, 2021
It's not a proper off-roader by any stretch but this is a Porsche that can venture much deeper into the rough stuff than the brand's other sports or grand touring models.
Smartlift is included  as standard, which allows you to programme the ride height to raise automatically up to 30mm at certain locations, such on a road near home with humps or on steep driveways, and actively adjusts the ride height on motorways. In gravel mode you get an extra 10mm ground clearance over the standard setting, while the car drops by the same amount at speeds over 56mph. At 112mph, the Taycan Cross Turismo drops by 22mm. Apparently.
Battery range and charging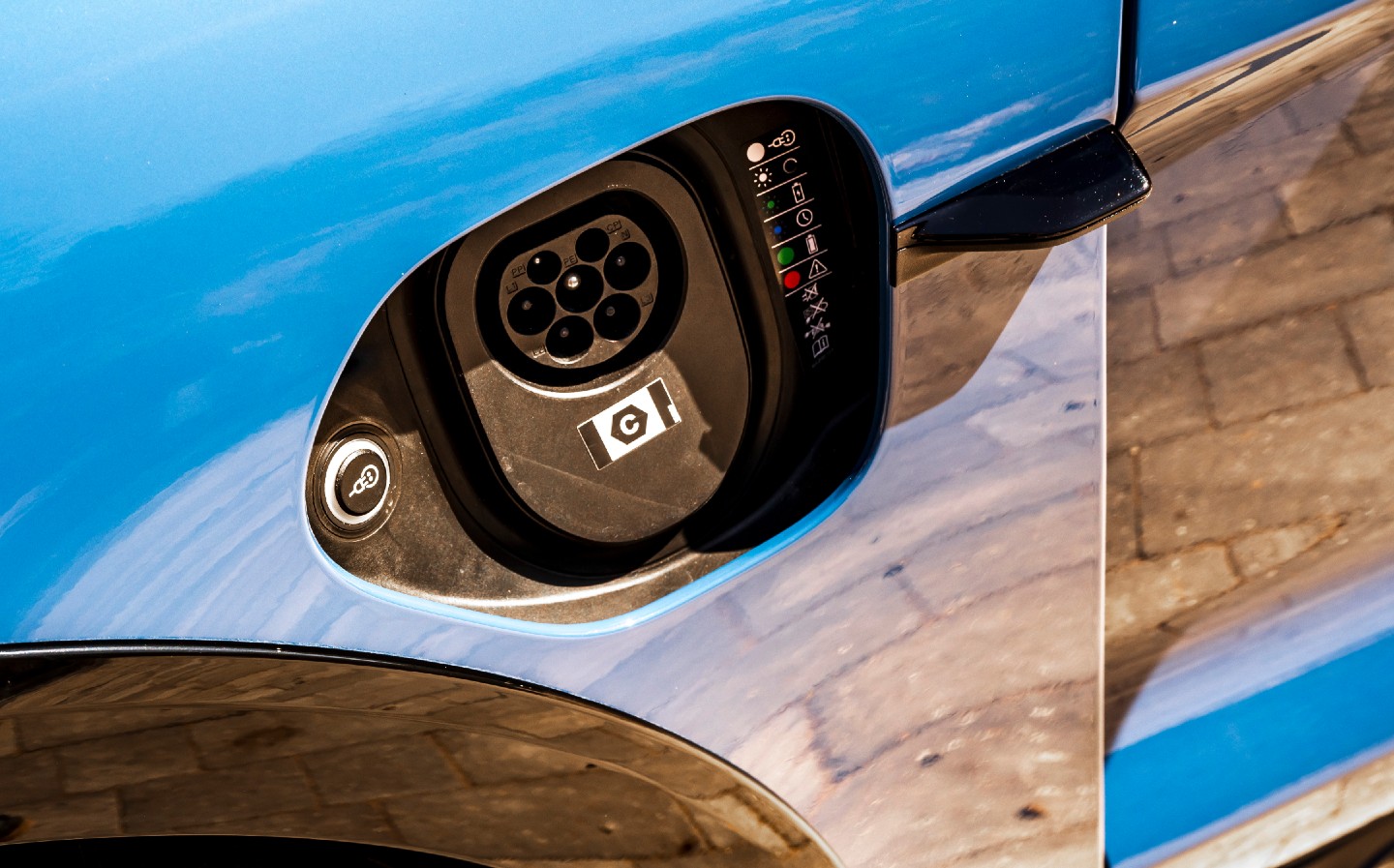 Under the floor of every Porsche Taycan Cross Turismo is a 93.4kWh lithium ion battery, which in the Turbo S is good for a claimed 241-260 miles per charge, according to the WLTP combined test cycle.
Officially the Turbo S will average just 2.53 miles per kWh, which isn't massively impressive; it's perhaps an unfair comparison but lighter electric hatchbacks might get around four miles out of each kWh. A Tesla Model S has a claimed range of upwards of 390 miles, depending on spec (get a Plaid+ and you're looking at a claimed 520 miles per charge).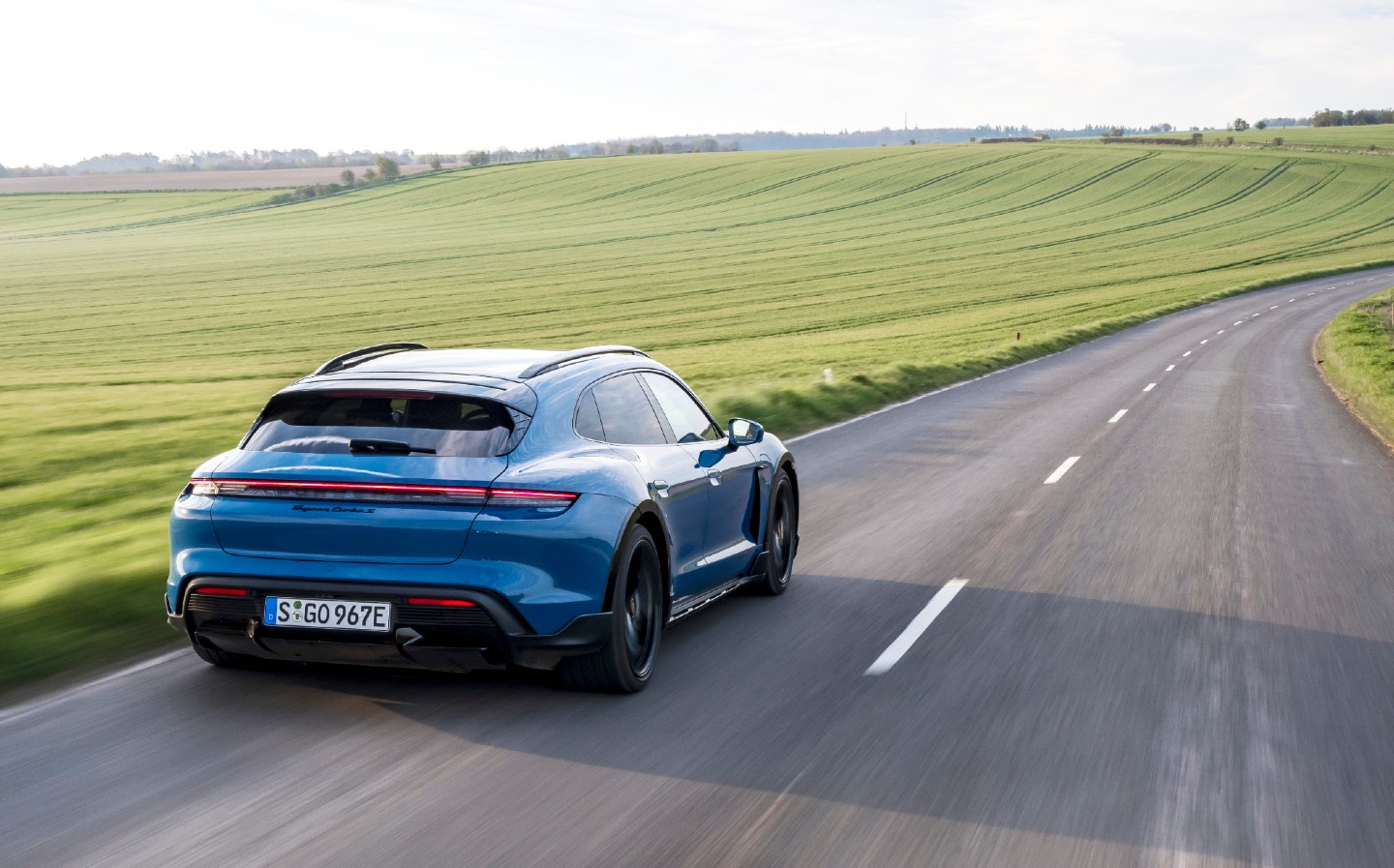 After 30 miles at a steady 70 on the motorway, the Porsche said it had managed 1.3 miles per kWh — high speeds will drain the battery quickly — and the remaining charge suggests you'd be looking for a recharge after less than 200 miles.
The good news is that the Cross Turismo should be able to recharge incredibly rapidly, which I have found far more important than total range. There are very few public chargers in the UK capable of working at the Porsche's maximum rate of 270kW at present, but they'll become more common and should you find one you should be able to take the battery from 5% to 80% in as little as 23 minutes. As with all electric cars, the charge rate then slows to protect the battery chemistry.
How much is a Porsche Taycan Cross Turismo?
These are the prices for the four Porsche Taycan Cross Turismo derivatives in the UK, all of which come with the 93.4kWh battery:
Taycan 4 Cross Turismo: 375bhp (469bhp with overboost); 0-62mph in 5.1sec; top speed 137mph; range (WLTP) 242 – 283 miles; priced from £79,340
Taycan 4S Cross Turismo: 483bhp (563bhp with overboost); 0-62mph in 4.1sec; top speed 149mph; range (WLTP) 241 – 281 miles; priced from £87,820
Taycan Turbo Cross Turismo: 616bhp (671bhp with overboost); 0-62mph in 3.3sec; top speed 155mph; range (WLTP) 245 – 281 miles; priced from £116,950
Taycan Turbo S Cross Turismo: 616bhp (751bhp with overboost); 0-62mph in 2.9sec; top speed 155mph; range (WLTP) 241 – 260 miles; priced from £139,910
Porsche Taycan Cross Turismo review: The verdict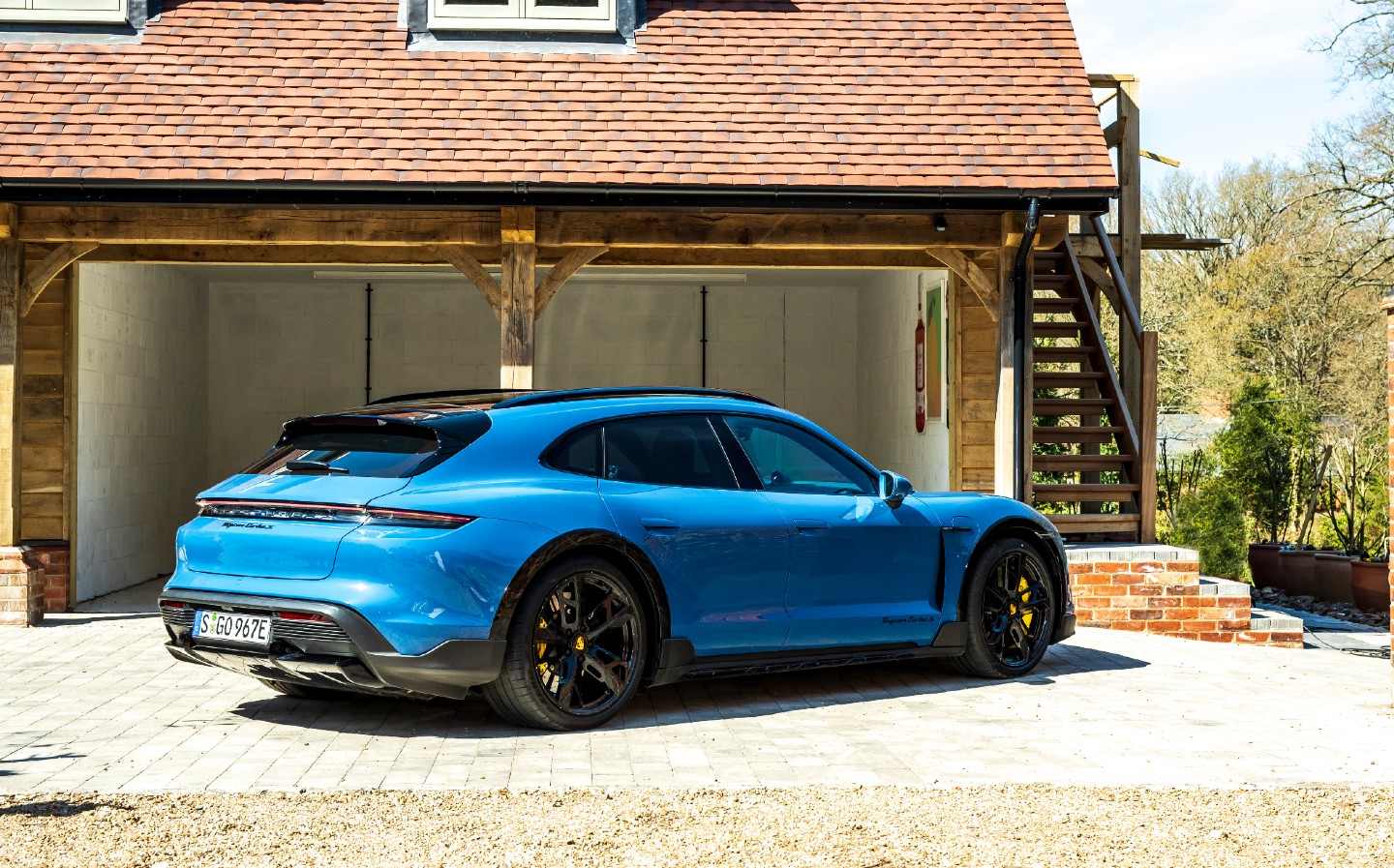 Porsche's Swiss Army knife could be hugely popular for anyone who lives around farm tracks and broken roads, but who also wants the German brand's trademark performance (which is ludicrous in Taycan Turbo S Cross Turismo guise), build quality, forensic attention to detail and driving dynamics. It can't compare with a Tesla for range between charges but it is arguably more usable than the Model S thanks to its off-road capability, and more stylish and more sophisticated in terms of driving dynamics on a twisty road than a Model X.
Having been thoroughly shocked at the  Turbo S's turn of pace on tricky backroads, though, give me the entry-level Taycan 4 Cross Turismo any day. It's much easier on the wallet and comes with a plenty quick enough 0-62mph time of a shade over five seconds.
Now, where are my slippers…
– If you enjoyed reading our 2021 Porsche Taycan Cross Turismo review, take a look at what the editor of Sunday Times Driving had to say about the Taycan saloon.
– Also check out the Taycan lapping the Nürburgring Nordschleife in 7m 42s.
– Want to know which electric cars have the longest range? Click here.