Jaguar F-Pace 2021 review
Refreshed inside and out, with new engines including a plug-in hybrid
THIS WEEK Jaguar announced that it will become a fully-electric brand from 2025, which means that this updated version of the Jaguar F-Pace is the last time we'll see it with a combustion engine under the bonnet.
Of course, none of this was mentioned to the handful of journalists who descended on Jag's Gaydon HQ for a socially-distanced drive (and a Covid swab up the nose, on arrival) of the new model at the end of January.
Perhaps the new pure-electric plan is not something we should be too surprised about, mind you, given the government's ban on the sale of new petrol and diesel models from 2030. The fact remains, though, that if you want Jaguar's family SUV with a 3-litre six cylinder engine under the bonnet, or a 2-litre four-cylinder, for that matter, now's the time to buy.
No-one is forcing us to scrap fossil-powered cars from 2030, thank god, so it could be quite a canny move to pick up one of the last Jags to feature the brand's trademark in-line six.
But don't think this 2021 Jaguar F-Pace is behind the times – the new engines are state-of-the-art, coming with mild-hybrid assistance for greater efficiency across diesel and petrol options, and for the first time in a Jaguar there's a plug-in hybrid option, too.
Of course, the design has been updated inside and out, with an impressive all-new interior. Read our full Jaguar F-Pace review below for the details.
Jaguar F-Pace 2021: Design and rivals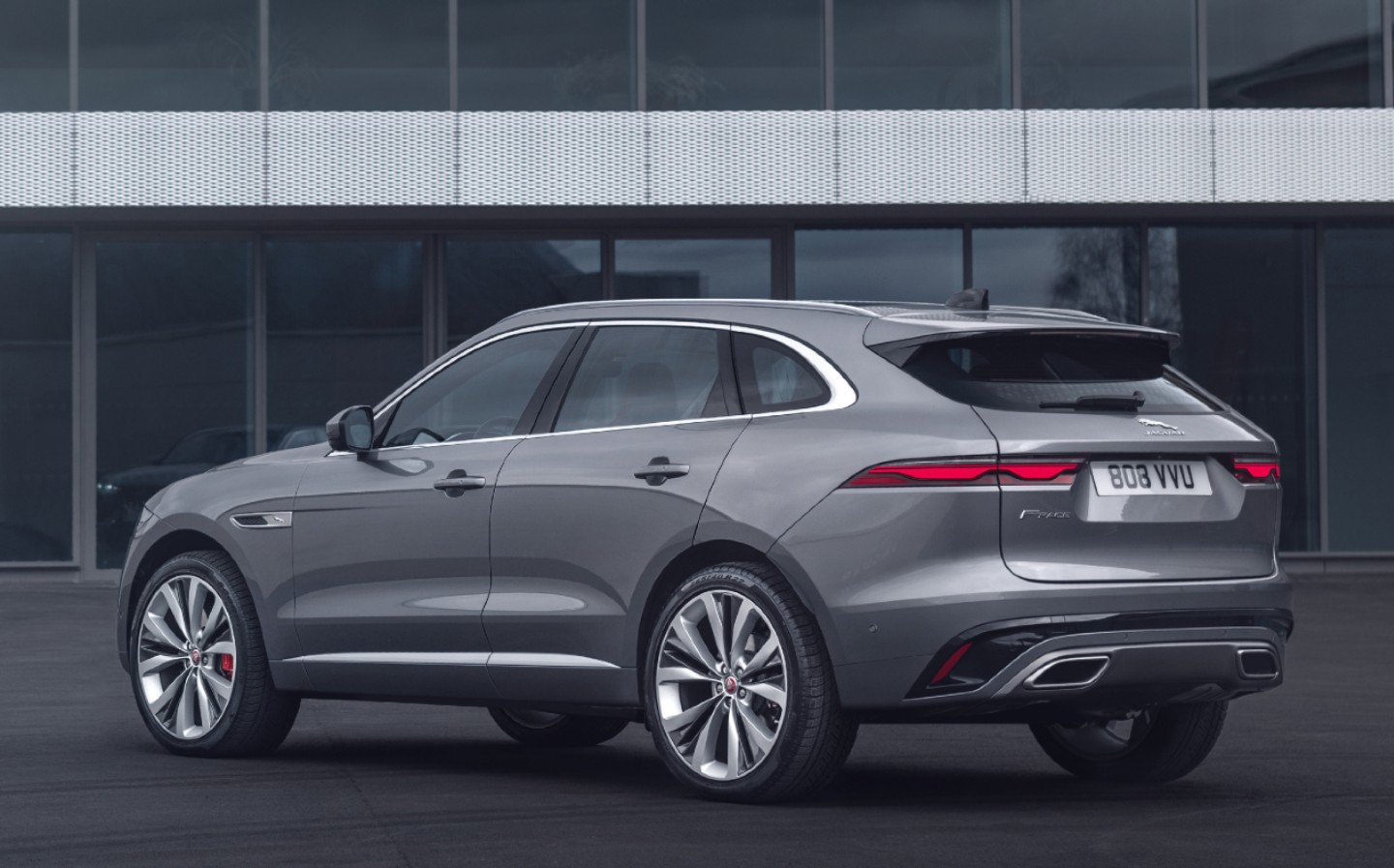 Although every car maker has flooded the market with family SUVs, the Jaguar F-Pace has managed to stand out from rival mid-sized options such as the BMW X3, Audi Q5 and Mercedes GLE with a subjectively sportier, more aggressive stance.
That's been exaggerated with the new design, which has had a nip and a tuck here and there. The bonnet has been updated to reach all the way down to the grille, which has been widened (this is the way), there are new slimmer LED headlights, and at the rear there's a new tailgate and light cluster.
Greater attention has been paid to detailing all round the cars, such as with a new lozenge-shaped design on the air in-take mesh.
Interior and practicality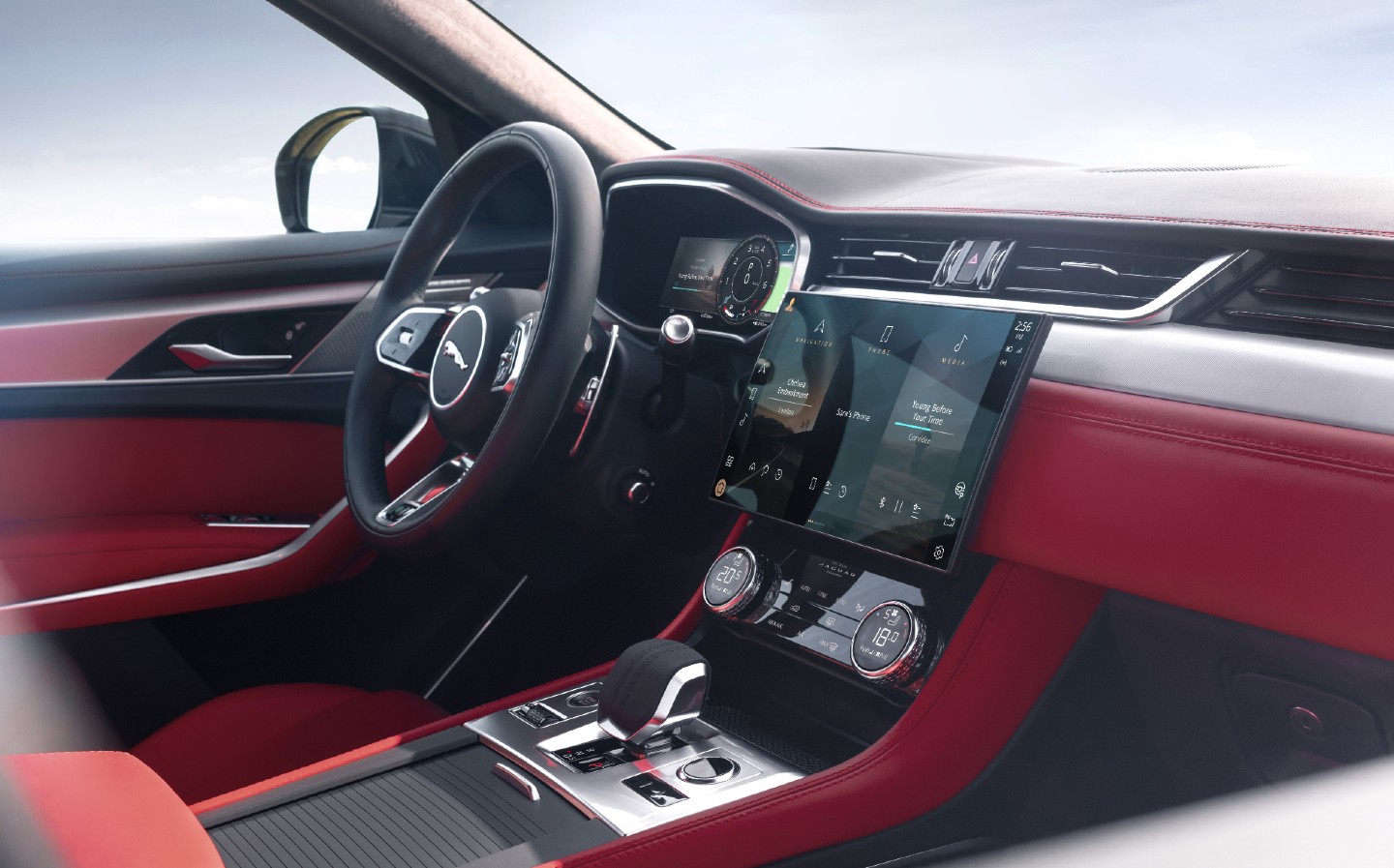 Inside is where the new F-Pace (and the XF saloon, with which it shares this new cabin design) has really upped its game. While some might not be immediately taken by the Mars Red leather trim option, available on the R-Dynamic models (give us 'Light Oyster' every time), it's a really impressive space with high quality materials throughout, and some nice detailing.
The most eye-catching change is the introduction of a super-slim infotainment screen that curves to fit the contours of the dashboard – something I've never seen on a car before. The ultra-thin magnesium frame means the digital display reaches right up to the edges for a full 11.4in.
And Jaguar Land Rover's new Pivi Pro infotainment system, which was introduced first on the new Land Rover Defender, is a joy to look at and use – responsive, attractive, intuitive. It updates over the air to improve features over time, and Microsoft and Google calendars can be synced, with integration with the navigation system. Apple Carplay and Android Auto come as standard, though, should you prefer using your mobile apps.
Also new is the gear selector, which has been designed to "fit perfectly in your hand", though seeing as the only time you're likely to touch it is when setting off or reversing into a parking space, I'm not sure how important that is.
Jaguar retains dials for the drive mode selector, which rises out of the centre console when pressed, as well as the air conditioning controls. These are embossed with the same lozenge pattern found on the air intake vents on the nose of the car, and being able to adjust the heating or cooling of the front seats by pushing the same dials, while not a new thing, is still design genius.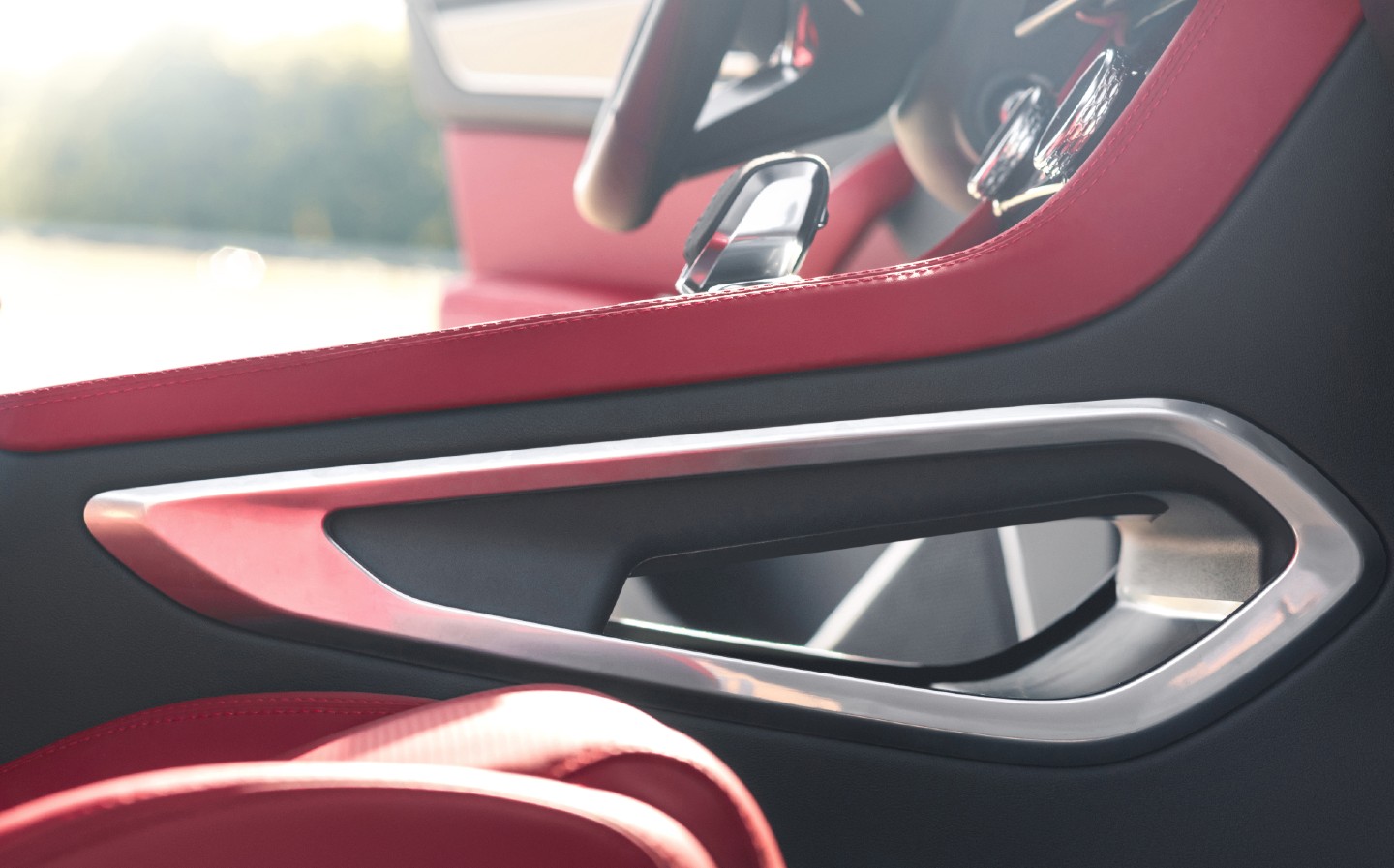 Under the centre console is a new stowage area, and there's ample space behind the gear selector and under the armrest, too. A wireless charging plate under the touchscreen will keep compatible mobile phones topped up, too.
In front of the driver is a high quality steering wheel, with controls made from high end materials rather than ticky-tacky-plastic. Sensibly, the heated steering wheel and lane-keep assist can be switched on and off with a single button on the steering wheel, rather than being forced to hunt through the settings.
The fully digital driver's display (standard on SE and HSE spec cars) looks neat and can be customised to show navigation and stereo information as well as all the usual driving data.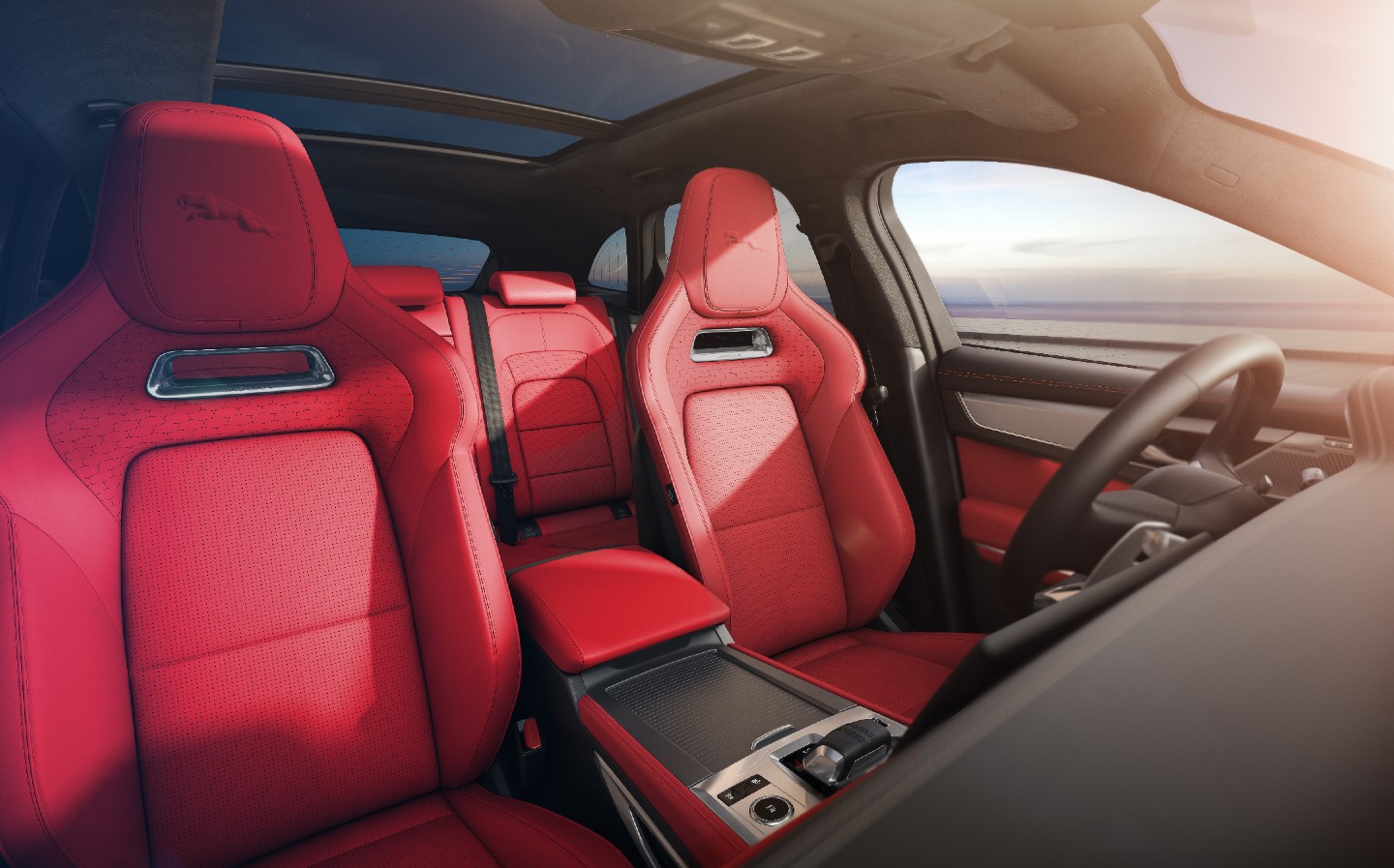 Active noise cancellation helps keep the cabin noise down while out on the road, and it's a comfortable place to spend time – more so than the XF, I found, with better ergonomics. The steering wheel in the XF doesn't come far enough back for my lanky frame, and while the raised seating position means a more commanding view of the road – clearly one of the main selling points of an SUV – it also meant my feet and knees sit comfortably lower in the F-Pace.
Space in the back is good for tall adults, and the boot offers a cavernous maximum capacity of 1,804 litres with the rear seats folded, or 619 with them in place.
Technology and safety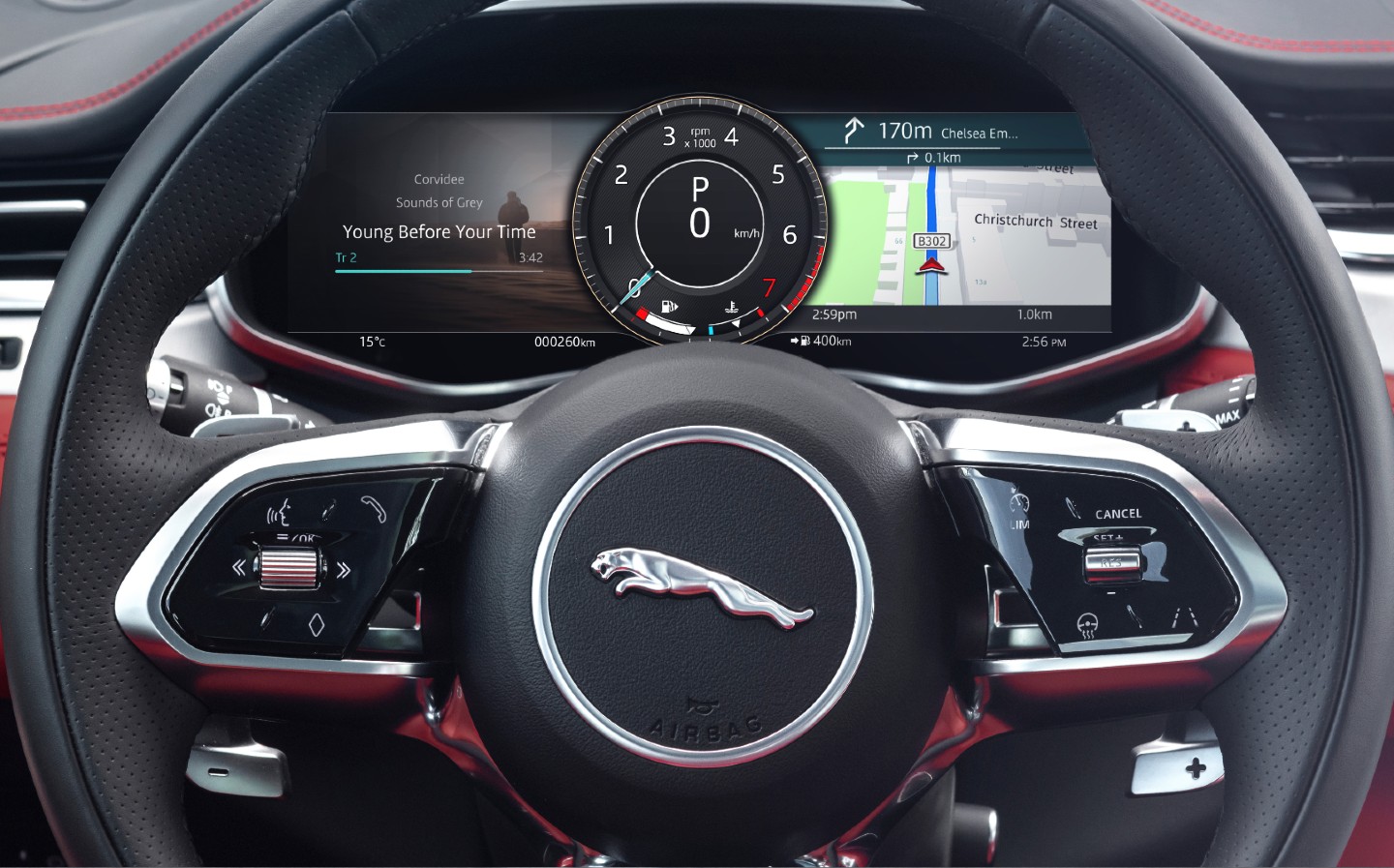 The new F-Pace is packed with clever features. In addition to the touchscreen, which includes full-screen 3D mapping and the digital driver's display, there's also an optional colour head-up display to make navigation easier, and it definitely helped me keep my eyes on the road.
Phone signal is boosted thanks to an external antenna, and the Pivi Pro system can be set to remember individual drivers and their seat settings, so if you're a giant married to a tiny person, it will do the adjusting for you each time.
We didn't try it but Jaguar also offers a rechargeable wristband with the car, which will unlock and start the car without the need for your key fob. If that's not high tech enough for you, you can also do that via a smartphone app, which also allows preconditioning of the cabin temperature.
Of course, new F-Pace comes with adaptive cruise control, which will maintain a set distance to the car in front, while the all-round cameras work with 12 ultrasonic sensors to park the car for you, if you simply can't be bothered. Or are crap at that sort of thing.
The new LED headlights are brighter than before, and optional Adaptive Driving Beam will dip the headlights around on-coming cars, or vehicles you are following, to keep the rest of the road fully illuminated. This is another thing we weren't able to try out during our time with the car, which was during daylight hours.
Finally, Clear Exit Monitor will tell you if you're about to open the car door into the path of a cyclist, and Driver Condition Monitor will detect if you're feeling a bit drowsy, and need to take a break.
Jaguar F-Pace review: Ride and handling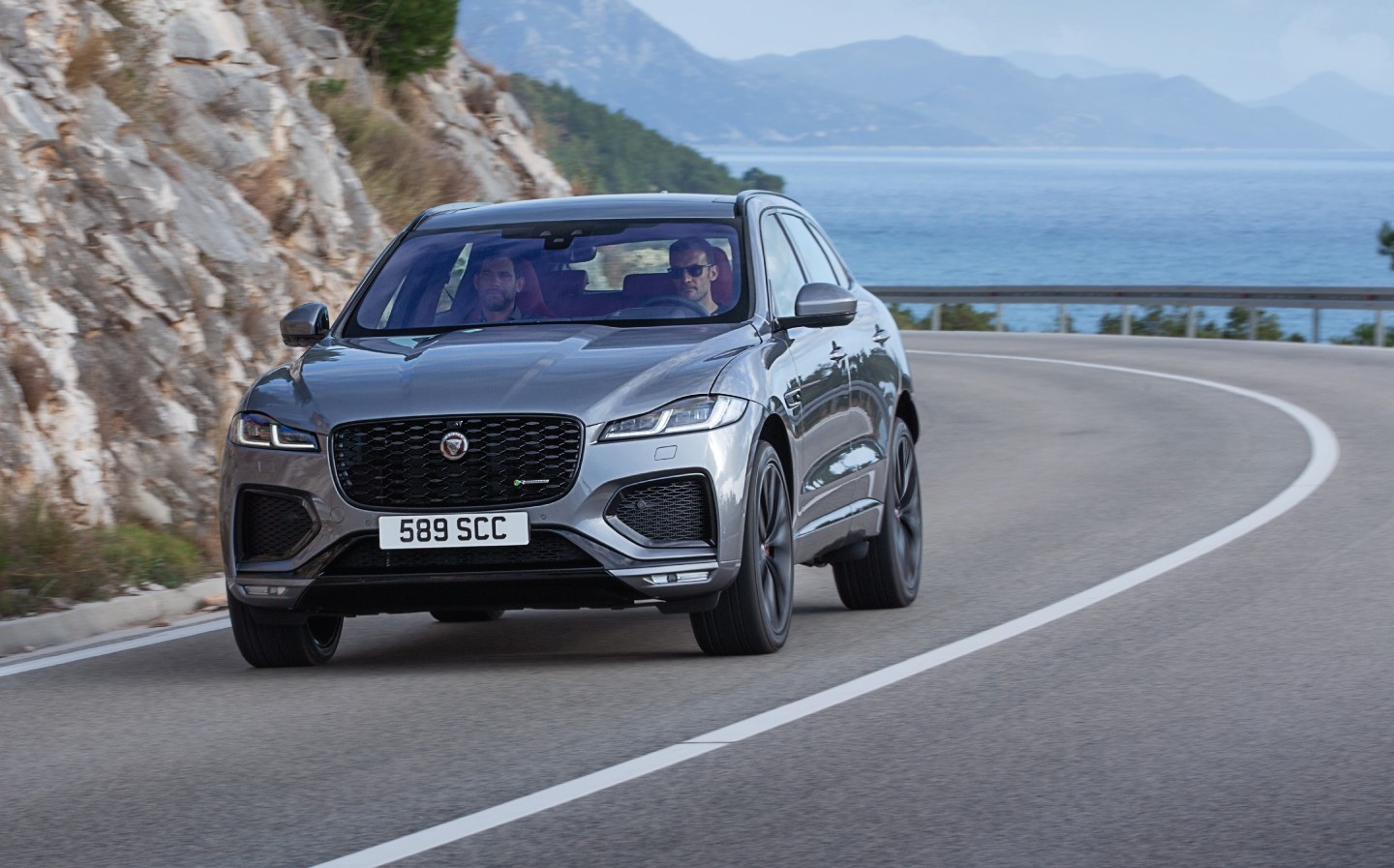 Nothing has been changed in terms of the chassis dynamics versus the old F-Pace, but our F-Pace P400 MHEV R-Dynamic SE test car, with all-wheel drive and 22in Pirelli P-Zero tyres, handled remarkably assuredly, with very little body roll yet a comfortable ride.
It also gripped exceptionally well, with a satisfying precision to the turn-in and decent feedback through the wheel. It's not the most extreme, on-rails SUV you can buy (for that there's the new F-Pace SVR), and neither is it a soft, rolly blancmange – it's a beautifully assured all-rounder.
Engines, economy, emissions and performance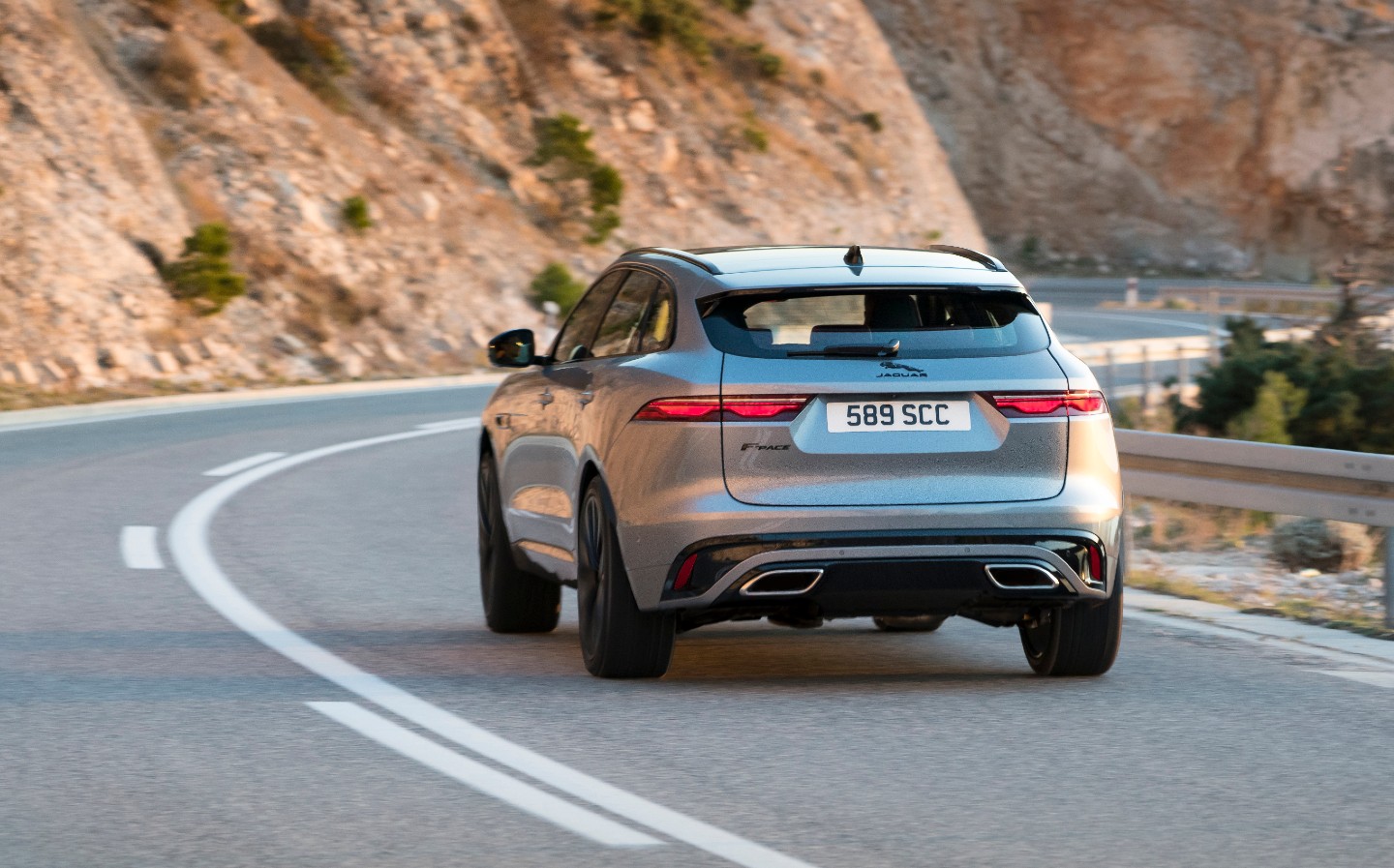 On paper, the new P400e plug-in hybrid version of the F-Pace is not only the most efficient option, with tax-friendly CO2 emissions from just 49g/km and fuel economy of up to 130.2mpg, thanks to an electric-only range of up to 33 miles (which should be achievable, as after 15.7 miles of driving on electric we had 50% battery remaining without being particularly gentle with the accelerator). If that's not appealing enough, with 398bhp on tap it's also the most powerful powertrain: 0-60mph takes five seconds dead.
We also got behind the wheel of the next most powerful option, the 395bhp P400 MHEV mild hybrid petrol. It's also a beast, with oodles of torque sent to all four wheels enabling a 0-60mph time just a tenth slower than the PHEV. And it comes with a lovely soundtrack, too.
But the 48v mild hybrid system, which recovers energy when you lift off the throttle and redeploys it through the engine via an electric starter motor when you step back on the accelerator, cannot compete with the plug-in model's efficiency claims. According to the WLTP test cycle, it'll average 28.8mpg on a mix of roads, and we recorded 23.8mpg during our spirited hour-long drive, suggesting you should be able to get near the official figure with careful driving.
But that's still a long way off the PHEV's claimed efficiency, and when you factor in a CO2 figure of 221g/km, the P400 MHEV doesn't make much sense for company car drivers.
And bizarrely, if you buy the P400e PHEV you'll not be paying a premium over the P400 MHEV: in fact, prices for both start at just over £56,000 and the top spec R-Dynamic HSE plug-in version is £500 cheaper than the same trim level in mild hybrid form, at £64,490.
As I said earlier, though – this might be the option for traditionalists looking to keep a bit of Jaguar in-line six-cylinder history, before the brand switches to full electric in four years' time.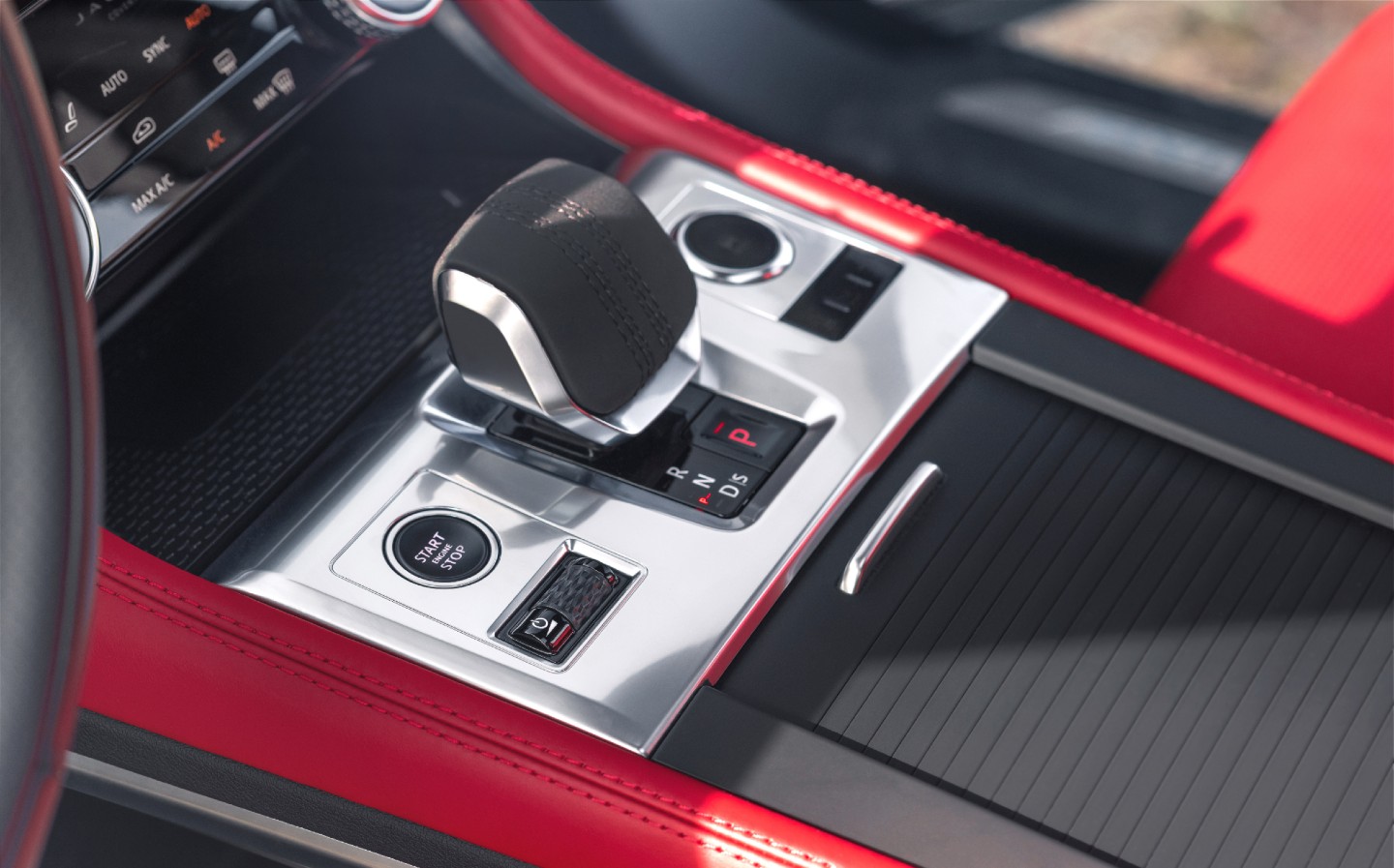 Below these two range toppers, there's a detuned version of the petrol six MHEV, with 335bhp, as well as an entry-level 246bhp 2-litre, four-cylinder petrol. Three mild hybrid diesels are also available, which could still be the right choice if you do a lot of motorway miles, with power ranging from 161bhp to 295bhp.
The most powerful diesel is also available without mild hybrid support, should you just want a traditional 3-litre six-cylinder oil burner.
All have four-wheel drive and eight-speed automatic transmissions.
Jaguar F-Pace 2021 review: The verdict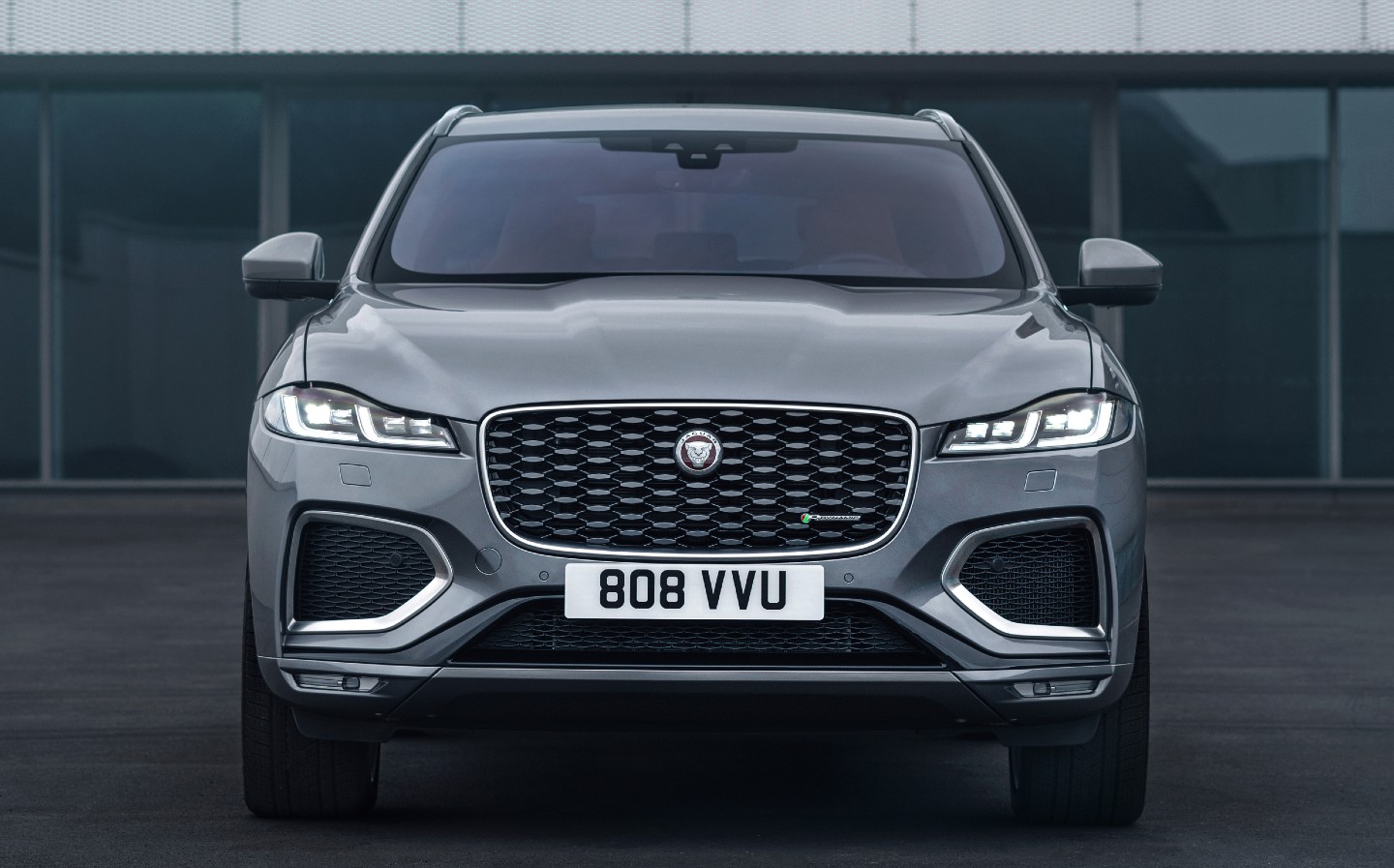 The F-Pace remains a fabulous alternative to the German SUVs that crowd our streets, and the all-new interior really is top notch, from the materials to the beautiful curved touchscreen. It's a great thing to drive, too, as SUVs go – sporty but comfortable.
The P400 MHEV had a cracking engine, in fact – the six cylinder is a lovely thing in terms of responsiveness, power and noise. But anyone with any sense will buy the plug-in hybrid version, as it's more powerful, similarly-priced and will cost less to run.
Whatever you go for, this is the swansong for petrol and diesel-powered F-Paces. Jaguar will now turn its attention to pure-electric models only, from 2025. Maybe that excites you, but equally it is quite an emotional moment for the brand and its traditional customers. It could be tempting to pick up a bit of history, and the six-cylinder 2021 F-Pace is a pretty satisfying way to go about it.
– After reading our 2021 Jaguar F-Pace review, you might like to read about the pure-electric J-Pace large SUV
– Click to read about Jaguar's new plan to become a pure-electric car maker from 2025
– Here's what Richard Porter, script editor for Clarkson, Hammond and May's The Grand Tour, had to say in his review of the Jaguar I-Pace