First Drive review: 2017 Audi Q5
The best seller just got better
---
Published 07 October 2016
DONALD TRUMP will not be happy with the new Q5, not happy at all. Because to date, all Q5s for the global market have been made in Ingolstadt, Germany, but from now on, every Q5 built (including British cars) will be built in Mexico. That's a commitment to, and faith in, Mexico's ability to produce a world-class, premium SUV that'll have The Donald reaching for his next conspiracy theory.
And this is such an important car for Audi. Since its launch, in 2008, the company has managed to shift a staggering 1.6 million Q5s, a figure that Audi says makes it the most successful premium SUV ever. And the Mexican factory, located in San José Chiapa and already up and running, is aiming to produce 150,000 Q5s per year.
In line with 'if it ain't broke' thinking, this second-generation Q5 is a gentle evolution of the previous car. Compare them side-by-side, though, and the new Q5 just looks tougher and more sophisticated all round.
---
Browse the used Audi Q5 cars for sale on driving.co.uk
---
Inside, the Q5 borrows its dashboard from little brother A4. And as with the A4, the 'virtual cockpit' is a neat bit of kit that replaces the traditional, analogue instrument binnacle in front of the driver with a digital display that can show either instruments or mix them in with infotainment and navigation instructions. That information is also on display in the high-mounted central screen, which can be controlled via a rotary dial or touch-pad on the centre console. Don't worry, it's less complicated than it sounds.
The cabin looks terrific and has a material quality and finish that means it's comfortably able to rub shoulders with the likes of BMW's X3, Jaguar's F-Pace and Mercedes Benz' GLC, especially compared with the Q5's dated predecessor. Thanks to a slightly longer wheelbase there's more legroom in the back and headroom is also increased throughout this five-seater – I'm 6'2" and can sit behind myself, as it were, in perfect comfort. It's a very comfortable space, and finding a spot-on driving position is easy, too. Boot space is also slightly increased by about 10 litres.
From launch, the Q5 will be available with Audi's 248bhp 2litre TFSI turbo petrol as well as a range of diesels, kicking off with a 2-litre 148bhp TDI and rising to a potent 282bhp 3-litre TDI. Next year, expect a range-topping SQ5 to join the party with substantially more than 300bhp. There's also a plug-in hybrid Q5 in the pipeline.
At the drive event in the southern tip of the Mexican side of the Baja peninsula, we tried the 2.0 TFSI and the 3.0-litre TDI. All of the cars on hand were equipped with the optional adaptive dampers, air suspension and 20-inch wheels. All were quattro four-wheel drive, although in order to improve fuel economy, the quattro system reverts to front-drive if the system decides you don't need all four wheels driven.
The Q5 in any engine guise is also refined and quiet – at a 100mph cruise on an empty motorway, I didn't have to raise my voice to talk to passengers
As usual, you can select a suspension mode – auto, comfort and dynamic are the ones used most often – and the air suspension will take care of the rest. Even in dynamic mode, which really tightens up the Q5's handling, the ride quality was still good. But here's a caution – on the standard dampers and springs, 20-inch wheels aren't likely deliver a ride nearly as good as they do with the air suspension, so think about a smaller wheel option. Or pay more for the fancy suspension.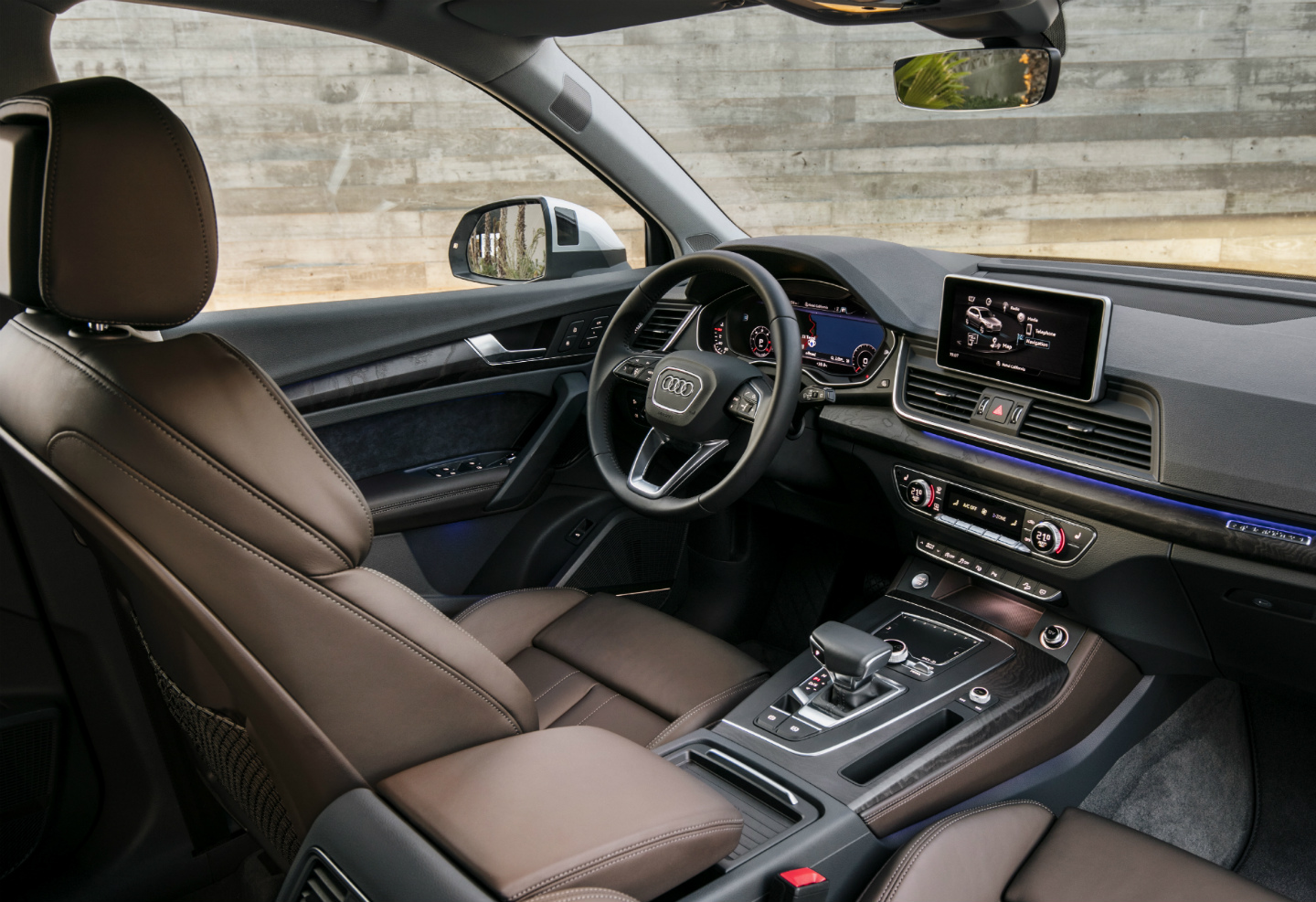 Performance from both the diesel and petrol engines (particularly the diesel) is very strong, more than enough for what is effectively a family car. The petrol engine features a seven-speed S-Tronic dual-clutch automated manual gearbox, while the diesel has an eight-speed Tiptronic traditional automatic.
Both are good to drive, too. Like it's big brother Q7, the new Q5 is lighter than the car it replaces by as much as 90kgs, so the handling is improved. Indeed, the measure of a properly sorted chassis is when you find yourself going quickly on a twisting road, feeling confident that the car is giving you the right information through the steering wheel. As in 'yes, you've got plenty of grip, and aren't about to skid off the side of a mountain.'
---
Browse the used Audi Q5 cars for sale on driving.co.uk
---
The Q5 in any engine guise is also refined and quiet – at a 100mph cruise on an empty motorway, I didn't have to raise my voice to talk to passengers (who were strangely quiet as well).
Audi is still working on the price and specification for the new Q5 in Britain, but drivers are unlikely to get much change from £38,000 for the entry-level model. It'll be offered in SE, Sport and S trim levels with specification that'll approximate that of its sibling A4. And if the pre-production cars I drove are anything to judge by 'made in Mexico' could become as prestigious a moniker as 'made in Germany'. Which should have Donald Trump's hair standing on end.