2020 Polestar 2 review
A new star is born
The term 'Tesla Killer' raises the hackles of Teslerati (the American electric car company's loyal fans) though many commentators are using it to describe the Polestar 2 — Volvo's spin-off brand's first pure-electric model, which is of a similar size to the Model 3, and offers similar performance and range, at a comparable price.
It's a fairly silly thing to suggest, though, as no car company really wants to destroy a rival. Outsell them, yes. Make more money, of course. But 'kill'? That's strictly the stuff of Swedish Noir.
"We don't see it as a 'Tesla Killer', no," Polestar's sales chief told us at the car's UK launch last week. "But it is an alternative."
Indeed, the Polestar 2 arguably owes its very existence to Tesla – and its colourful founder Elon Musk. Tesla changed the game, which emboldened governments to clamp down further on emissions. Now all car companies have to go electric, or go bust.
While Volvo is busy creating its own hybrid and pure-electric models, its performance arm Polestar has been set up as a car brand unto itself, charged with (excuse the pun) creating a new range of plug-in sports models. It will still tune the faster Volvos, I was told, while also making its own cars.
First out of the blocks was (you guessed it) the Polestar 1, a plug-in hybrid, but this new Polestar 2 is pure-electric. The Polestar 2 is less beautiful than its predecessor, and more boxy than the Tesla's flowing silhouette, though it is still a good-looking machine. Not surprising, perhaps, given that it comes from the Volvo stable.
The connection is chiefly apparent in the Thor's Hammer LED headlights, and Volvo drivers will get a general "Volvo" vibe from the Polestar 2, yet is also stands apart, with neat touches such as the frameless side mirrors (the entire mirror housing moves when adjusted, not just the glass), and most obviously the Polestar badge on the bonnet, which is always body coloured and finished in matte (Chrome? Too vulgar, darling!). Polestars are clearly cousins of Volvos, not siblings — a clever design trick to pull off.
In terms of storage you'll find that there's a boot, which can hold 405 litres of things with the rear seats up (including a useful 41 litres under floor), and yes, some space under the bonnet, though only 35 litres. Enough for some smelly gym kit, perhaps.
If the outside is decent to behold, the inside is drop-dead gorgeous, mixing the latest technology with traditional, high end materials. Two of the trim choices are vegan, meaning no animals products are used within; Polestar says it wants to help buyers of high end cars rethink what it means to be "premium". The eco-consciousness extends to items such as the floor mats, which are made from 97% recycled PET bottles rather than virgin plastics.
However, the company appreciates that some buyers simply must have dead cow in their cars, and our test car was upholstered in Nappa leather and features wood veneers (though these are sourced from ethical suppliers, we were told). Interestingly, the leather seats are the only ones to be ventilated (cooled) as well as heated, so Buttercup and Daisy ought not feel so safe.
The leather seats do offer superb comfort, though in typical Swedish style they don't hold you in place as securely as one might expected from a German performance saloon. A slightly larger gripe for me was that the wide centre console eats into driver legroom (it's deliberately cocooning, according to Polestar, and where two hard panels meet, on its side, there's a straight-edged join that runs exactly where my knee rested, causing an ache over time.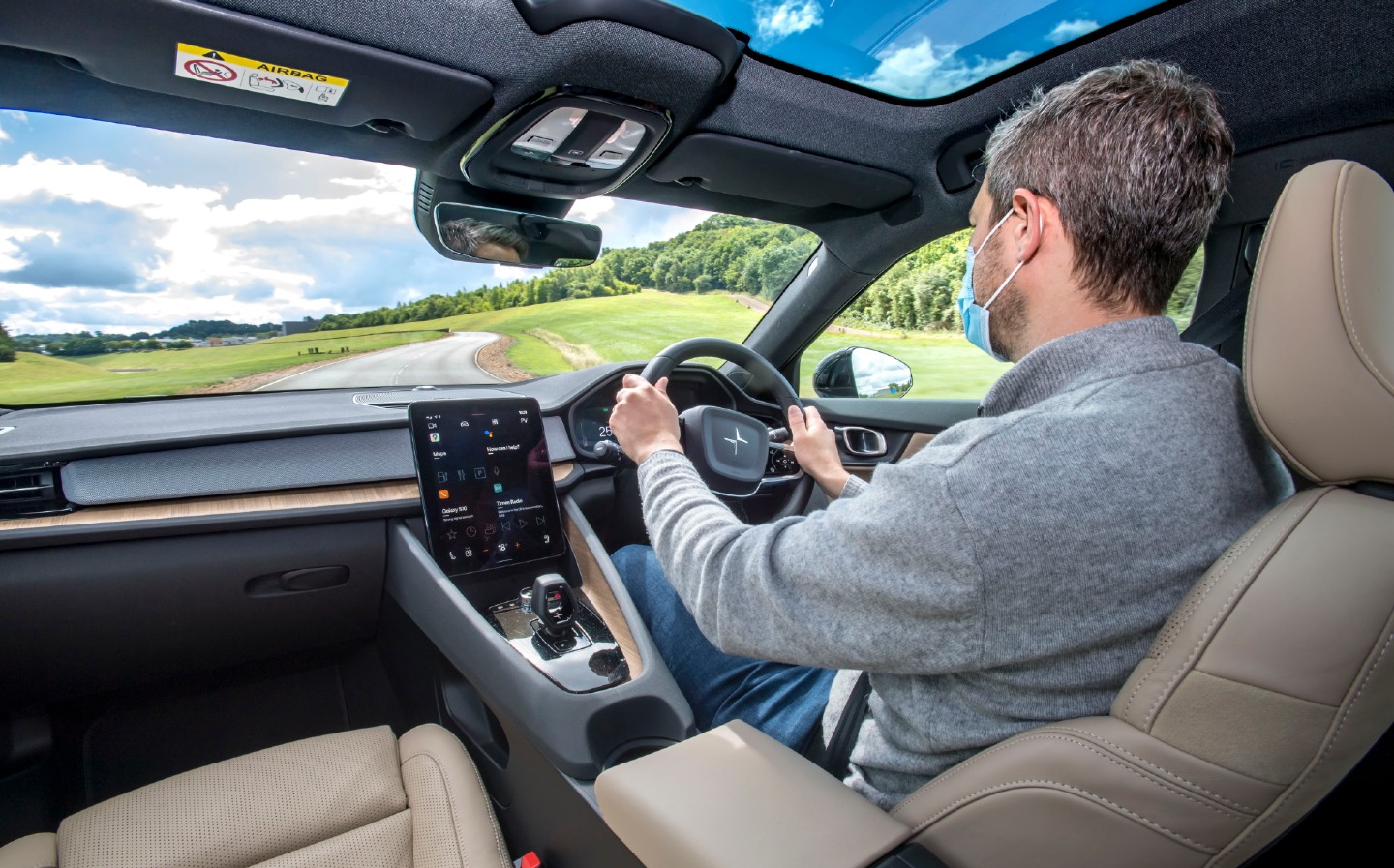 It's a minimalist cabin, though not all physical buttons and switches have been done away with — notably the gear selector (a neat piece of contemporary design in itself) and the volume dial. In front of that is the pièce de résistance: the 11.15in portrait-style touchscreen. "How very original," I hear Tesla owners cry. Well, okay, that owes more than a little to Polestar's pioneering American rival, though its ace card is that it is the first example of an Android operating system within a car. Android Auto is a thing, of course, but in other cars that runs off your Android phone — in the Polestar 2, it's built into the car itself.
iPhone users, stay with me, because the way smartphones connect is via Bluetooth, for calls, which means Apple phones are also compatible. The screen will also be able to run Apple Carplay after an over-the-air update at some point next year, but in the meantime you're not likely to be left wanting.
The screen is divided into four sections with big, clear graphics. The sections can be customised with a selection of apps from the Google Play Store, which at the moment include the likes of Spotify and Waze, though will be expanded over time. Saying, "Hey Google," wakes up the voice assistant, then you can ask it to navigate somewhere, play a radio station or song, call someone and so on.
Cleverly, if you're using Google Maps for navigation the Polestar 2 will not only work out your route but also tell you if you have enough range to get there, and suggest places to recharge en route if you need a top-up. It will even show you how much range you'll have when you get to the charging point, and how long you'll need to wait before you have enough charge to be on your way again.
Through the screen you can also alter vehicles settings, such as lighting, driver aids (including switching from adaptive to passive cruise control, which is a godsend when the driver in front speeds up and slows down for no reason), and regenerative braking strength and so on. It's a brilliant user-friendly interface, and responds very quickly to demands — no sign here of lag, as found on some other touchscreens.
There's nothing laggy about the way the Polestar 2 moves, either. Its two electric motors deliver their combined 402bhp to all four wheels with the urgency of Odin, and the torque is distributed in such a natural, balanced and confidence-inspiring manner. The Polestar can't match the most potent Teslas for acceleration times, though it will hit 62mph from standstill in 4.7 seconds, which feels brutal enough. Although there aren't a number of drive modes to play with, you can cruise around in the Polestar 2 very gently or hammer it to feel the true savagery — there's a depth to its character.
| Car | Price (from) | WLTP combined (miles) | Power (bhp) | 0-62mph (secs) |
| --- | --- | --- | --- | --- |
| Tesla Model 3 Dual Motor Long Range | £46,990 | 348 | 362 | 4.4 |
| Tesla Model 3 Dual Motor Performance | £56,490 | 329 | 483 | 3.2 |
| Jaguar I-Pace EV400 | £65,195 | 292 | 394 | 4.8 |
| Polestar 2 (Dual Motor AWD) | £46,900 | 292 | 402 | 4.7 |
| Tesla Model 3 RWD Standard Range Plus | £40,490 | 254 | 271 | 5.3 |
| Audi e-tron | £59,900 | 248 | 308 | 6.8 |
But it's through the turns that the Polestar 2 comes into its own. A few laps of the hill route at the Millbrook test facility in Bedford proved that it possesses remarkable grip, stability and poise. Even when you switch off the electronic aids, the balance is neutral and assured. It's a car that with every ounce of its digital brain refuses to get out shape, even when being thoroughly abused.
And the steering is ultra-precise. There are three settings — Light, Standard and Firm — and all allow you to hit a mark on the inside of a corner with fingertip accuracy. Throw it into a sharp turn over a crest and it clings to the asphalt with all its might. Step off the throttle mid-corner with the one-pedal drive regenerative braking system set to Standard (there's also Low and Off) and the braking effect is powerful, yet the Polestar 2 keeps its nose pointing exactly where you want it to go. Throw the wheel sharply left and right with your foot planted and the car will dutifully obey.
It has an official WLTP range (on a mix of roads) of 292 miles between charges, which is one reason why it invites the direct comparisons with high-miling Teslas and, specifically, the similarly-sized Model 3, which can manage between 254 and 348 miles, depending on the version you buy. With the dual motor Polestar 2 starting at £46,900, it's in the Model 3 ballpark on price, too.
At the moment, Polestar is only offering a single battery size: 78kWh, which can be recharged with a Type 2 AC connector at up to 11kW (1 or 3 phase, though rather unhelpfully Polestar doesn't say how long this takes to get from 0-100%), or via a DC rapid charger at up to 150kW, which will take 40 minutes to get to 80% full. I plugged it into a 50kW DC CCS charger at a Morrisons supermarket and it took 10.82kWh in 16 minutes – enough to take the range from an indicated 130 miles to 170 miles.
Polestar 2 is also only available in all-wheel drive form at the moment, with an electric motor attached to each axle, though the company told us next year will see the introduction of at least one other battery size along with a two-wheel drive option.
Will that car have power going to its front or rear wheels? Polestar wouldn't say, though the Polestar 2 has a front-wheel drive bias, with up to 50% of the power diverting to the rear, depending on how much you decide to wring out of it. If I had to guess, I'd put my money on the 2WD version doing away with the rear motor, which would be a clear differentiation from the rear-wheel drive Tesla Model 3.
Whatever version you get, it's not going to be a light car, of course. Our test car tips the scales at more than two tons (2,123kg), though it didn't feel especially heavy through turns thanks to the combination of power and grip, and having the weight of the battery pack mostly under the floor.
Unlike many rivals, some of the Polestar 2's battery cells are arranged down the centre of the car, where a transmission tunnel would traditionally be, as well as under the rear seats. By doing so, Polestar says, the pack does not intrude so much into rear footwells, increasing rear passenger comfort.
Sadly, when I climbed into the rear it didn't feel especially spacious compared with a Model 3 – knee room is limited and there was no space under the front seat into which I could slide my toes. Polestar will tell you that the full-size panoramic sunroof lacks a retracting curtain in order to offer more headroom, though the glass panel doesn't extend back quite far enough for my head not to come into contact with the roof. I am stupidly tall, mind you.
The pack's aluminium case contributes to increased torsional stiffness, Polestar says, as well as helping reduce interior noise levels by 3.7db. Somehow.
Where the car's heft becomes apparent is when cruising on a broken British road, where the bumps and cracks are transmitted through the body structure due to the standard "dynamic suspension" being tuned towards the stiff end of the scale. It's never uncomfortable and the sound deadening takes away any unpleasant noise and vibration, but a magic carpet ride this is not.
I should say that I drove the car on optional 20in wheels, rather than the standard 19in rims, and larger wheels means a harsher ride. Though, also worth noting: my car was also the only one on the press launch not to have the Performance Pack fitted, which swaps out the standard suspension with adjustable Öhlins Dual Flow Valve (DFV) dampers.
We weren't allowed to swap vehicles, due to Covid-19 precautions, though one other journalist described the ride on his car as very firm. The dampers are manually adjustable so customers who specify them on their own car could ask Polestar to tune the ride to their taste.
It's likely many buyers will want to add the Performance pack, as it also includes larger Brembo sports brakes, with the callipers finished in the brand's trademark Swedish Gold colour. The car looks much tastier with them fitted, though we did wonder what their point was, given the electric motor provides much of the necessary stopping power through regenerative braking. People want the best things, we were told by Polestar's CEO — whether they're necessary or not. The car's chassis engineer added: "If you have the best suspension, why not have the best brakes?"
And that about sums up the Polestar 2: the best of everything. From the design and technology to the fit and finish, safety and usability, performance and handling, it really feels like a quality package. It may not be a Tesla Killer, but it is a fabulous alternative to the Model 3 that draws on decades of Volvo's car-making knowhow.