Every seven-seat SUV and MPV reviewed and rated
Start your search for a family car here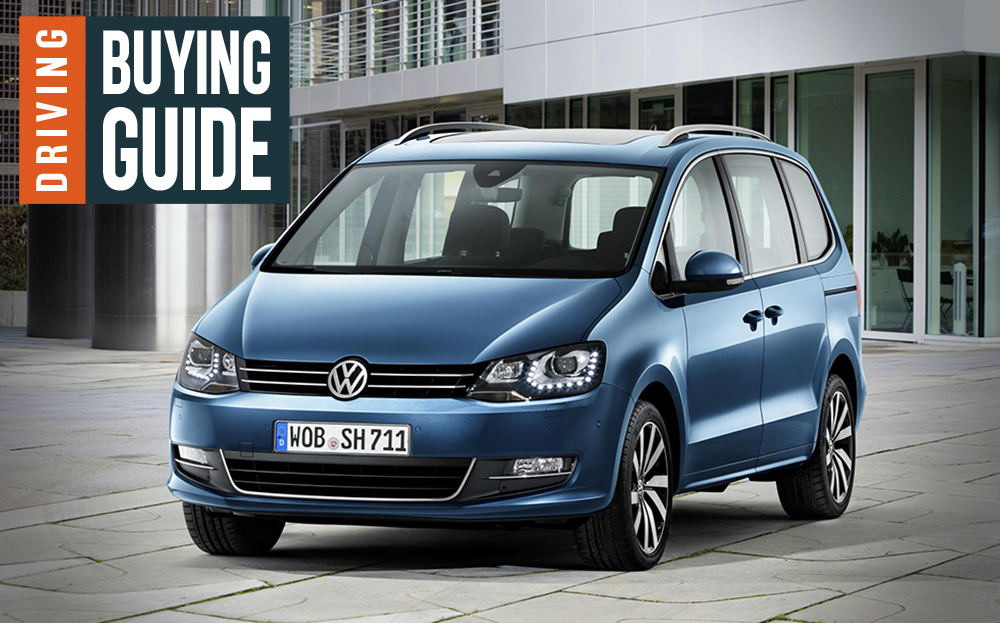 IF LIFE feels a little like a travelling circus and getting the family out of the door and into the car is a conjuring act that would put to shame the tricks of the impressario Paul Daniels, then there's every chance that you need a seven-seat car.
---
Want to buy any of the cars on this page? Search for a new or used version on driving.co.uk
---
You may not always need to use all seven seats all the time, but having them means your car is ready to carry extra children back from school or, if you're feeling especially generous, take the Grandparents out for lunch.
Choosing which is best for you can be confusing, however. Seven seat cars come in different shapes and sizes, so Driving has not only compiled a list of every seven-seat car on sale, but also divided them into their respective types of car and explained the subtleties that tend to be lost on anyone other than a committed car spotter.
A good seven seat car will be packed with thoughtful touches – from middle-row seats that tip forward and slide on rails to give easier access to the rearmost row of seats, to ventilation and USB charging points for every passenger on board.
Most seven-seaters available to buy offer a good number of Isofix child seats mounts – at least two – and some, such as Volvos, come with the option of inbuilt booster cushions that tend to be more convenient (you won't forget to bring it along) and more comfortable than the typical booster seat bought from the high street.
We've given a summary of our review for each model and a link to the full review for more detailed information. And where possible, Jeremy Clarkson's verdict is included.
The prices quoted are for the most affordable seven-seat version of each car, and you can check to see how safe any car is by visiting the car crash test results at Euro NCAP.
---
Jump to:
---
Compact SUVs with seven seats
These are medium-size SUVs that have, over the past decade, boomed in popularity and grown steadily in size to accommodate the practical requirements of drivers' needs.
Some will come as standard with four-wheel drive, which will make them better for towing or driving on slippery roads or other surfaces. Others give buyers the choice of front-wheel drive (cheaper to buy and slightly more fuel efficient) or four-wheel drive. The most affordable seven seat versions of these cost from about £24,000 when new, but you could spend a lot more; Land Rover, will charge from just over £32,000 for its new Discovery Sport.
Hyundai Santa Fe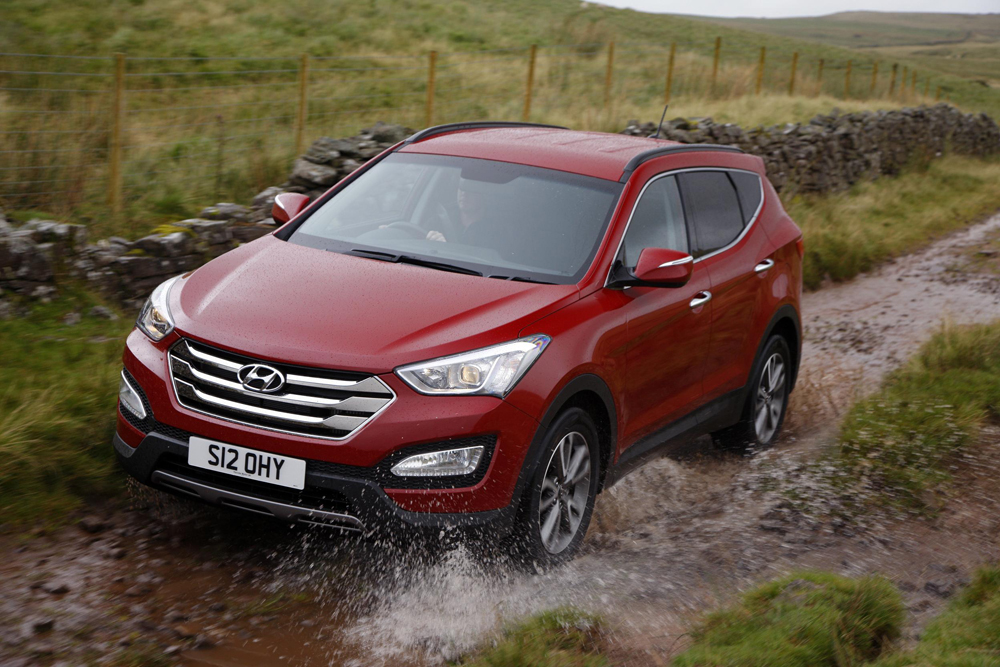 Rating: ***
Priced from: £28,910
Showing its age but a tempting discount and the attraction of a five-year warranty may swing it for drivers who aren't fussed by the driving experience or workaday interior. Soon to be replaced by the Hyundai Tucson.
Read Driving's full review
Clarkson's verdict:
"In the real world the Santa Fe is cheap, it doesn't drink a lot of diesel, it's well equipped, it's good-looking and the 2.2-litre engine is torquey enough to pull your caravan. Even if it's a Sterling Europa 565. So who cares if the seats are a bit plasticky?"
Read Clarkson's review of the Santa Fe
Hyundai Tucson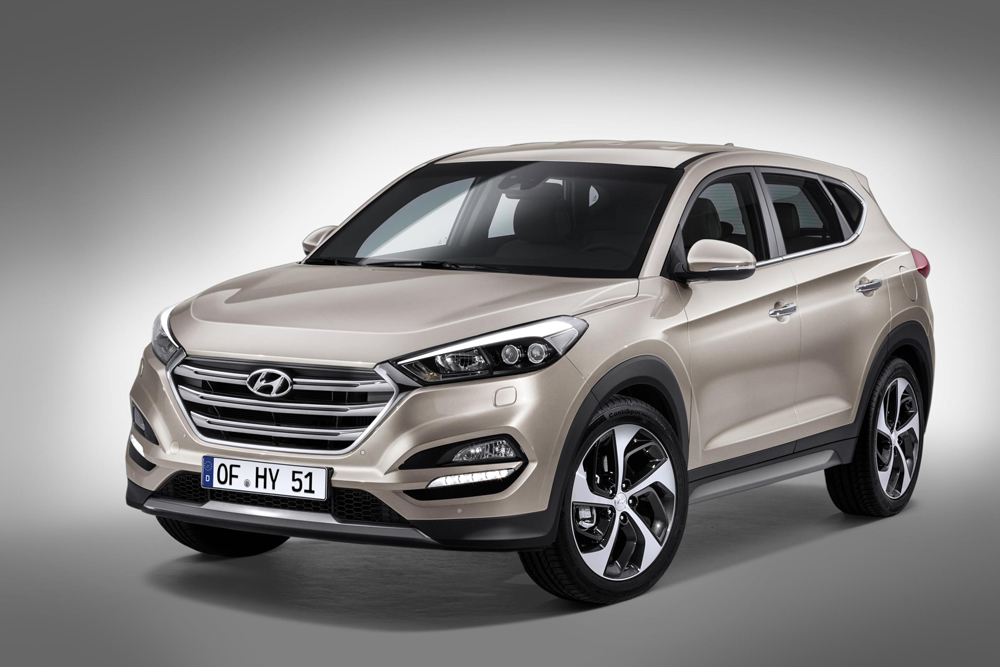 Rating: TBC
Price: to be announced
Goes on sale in the summer and replaces the Santa Fe. Promises to be much more affordable than a Land Rover Discovery Sport, and will offer the choice of petrol and diesel engines. Boasts a great deal more active safety equipment than the model it replaces.
Land Rover Defender 110 SW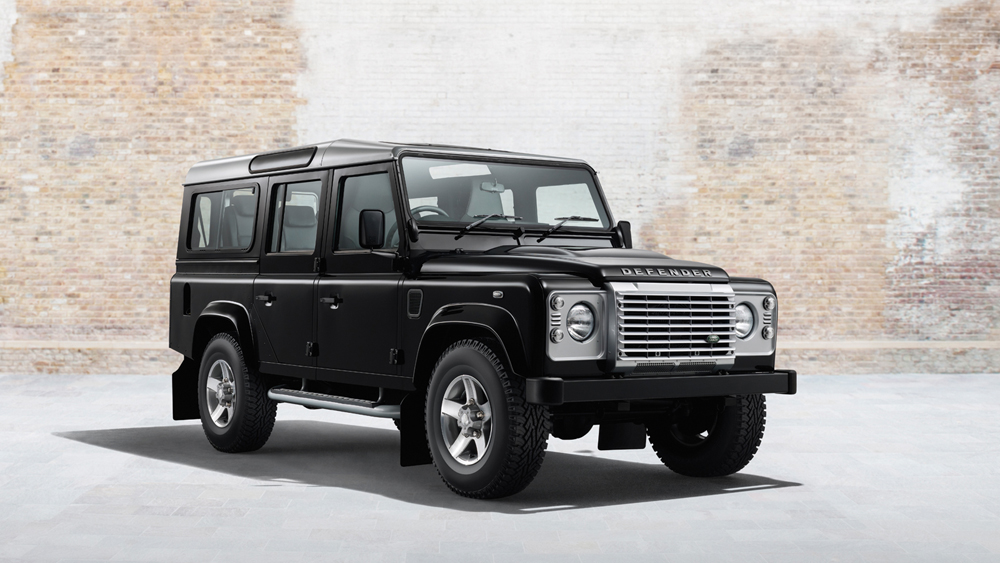 Rating: ** (on-road) **** (off-road)
Price: from £33,405
This is the last of a near-extinct breed: a true off-roader, built to go places no other car can go. It's pretty dire to drive on-road, but astonishingly capable when the mud oozes up to its axles. The interior is a ramshackle affair and safety features are lacking, but the 110 SW (Station Wagon) in XS trim seats seven in individual, forward-facing seats.
Read Driving's full review of the Defender
Land Rover Discovery Sport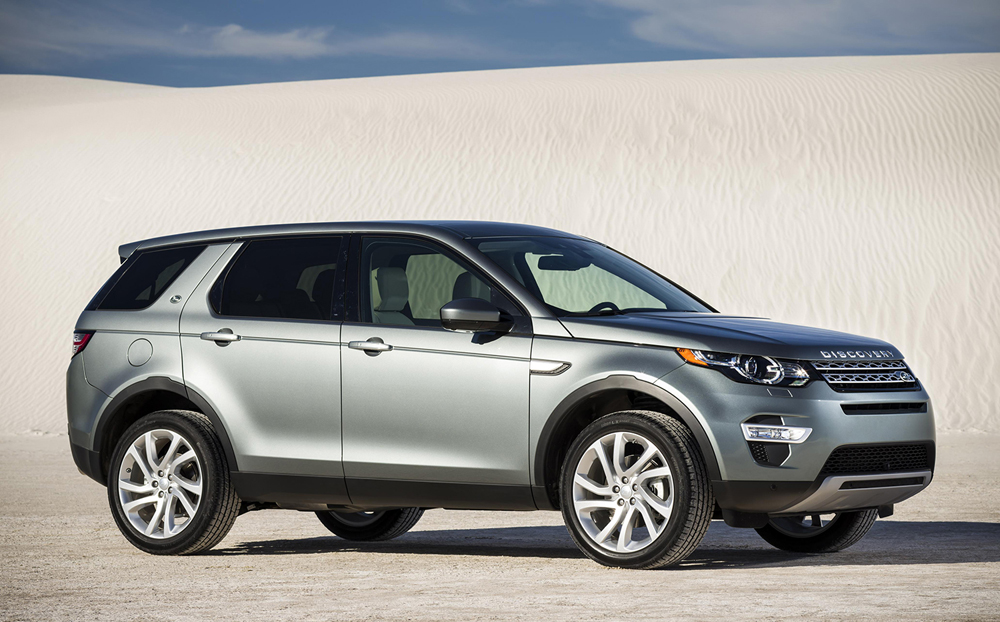 Rating: ****
Price: from £32,395
Following on from the Evoque and Range Rover Sport, Land Rover looks set to score another hit with the Discovery Sport, which is practical and surprisingly good to drive. But be warned: a new generation of engines is due at the end of the year, which should improve it further still.
Red Driving's full review of the Discovery Sport
Clarkson's verdict
"The seats are comfortable, and if you push the back bench backwards there is acres of space for kids. I haven't seen so much legroom in the back of a car since Citroën stopped making the CX Prestige."
Read Clarkson's review of the Discovery Sport
Mitsubishi Outlander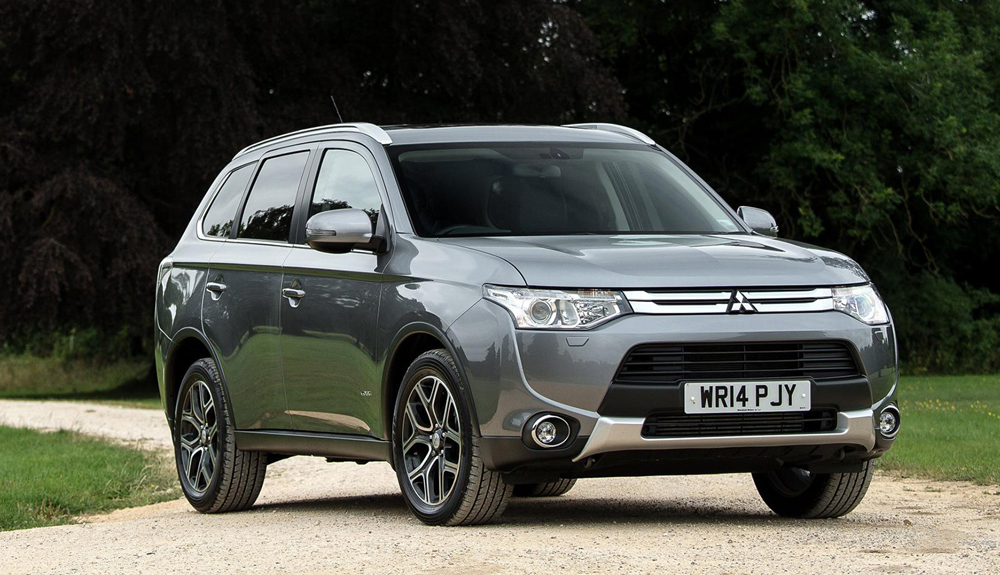 Rating: ***
Price: from £23,799
An affordable way to own a seven-seat SUV, and one of the few to offer the choice of a plug-in hybrid model, but you'll be compromising in too many other areas for this to be a wise buy.
Read Driving's full review of the Outlander
Clarkson's verdict
"There are some drawbacks, though. And the main one is this. That if you strip away all the clever-clever running gear, the Outlander isn't a very good car. The ride is poor, the petrol engine is soulless, the styling is dreadful, the seats are hard and the performance is woeful."
Read Clarkson's review of the Outlander
Nissan X-Trail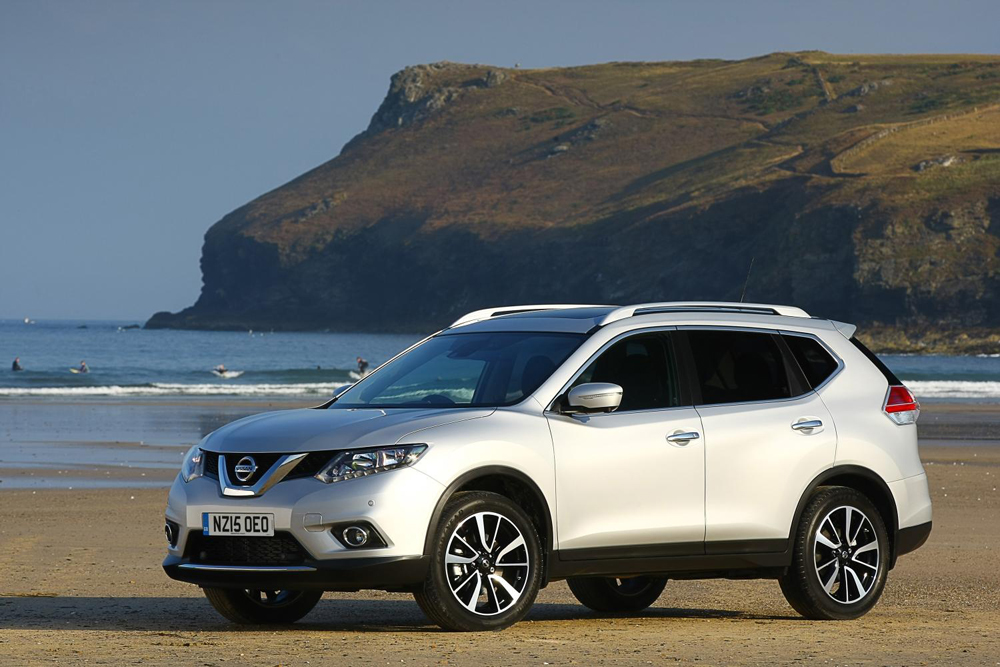 Rating: ***
Price: from £23,995
The X-Trail is a super-sized Qashqai. Its sole reason for existence is to offer seating for seven – yet Nissan asks that buyers pay £800 for the third row of seats. Go figure.With a full complement of passengers aboard, the 1.6-litre diesel engine performs like a runner with a stitch.
Read Driving's full review of the X-Trail
---
Large SUVs with seven seats
These are the largest type of SUV – sport utility vehicle – that drivers can buy. They are pitched as luxurious cars first and foremost, although some, including the Land Rover Discovery and Toyota Land Cruiser, will perform extremely well as workhorses given their ability to tackle challenging off-road terrain.
Just because they're big doesn't mean they will necessarily offer all the interior space a family could ever need. The rearmost seats on models such as the BMW X5 and Range Rover Sport, for example, are meant as temporary perches that will be comfortable for children but only bearable for adults on a short trip.
Prices start from £21,995 – if you're comfortable with a SsangYong badge on the bonnet.
Audi Q7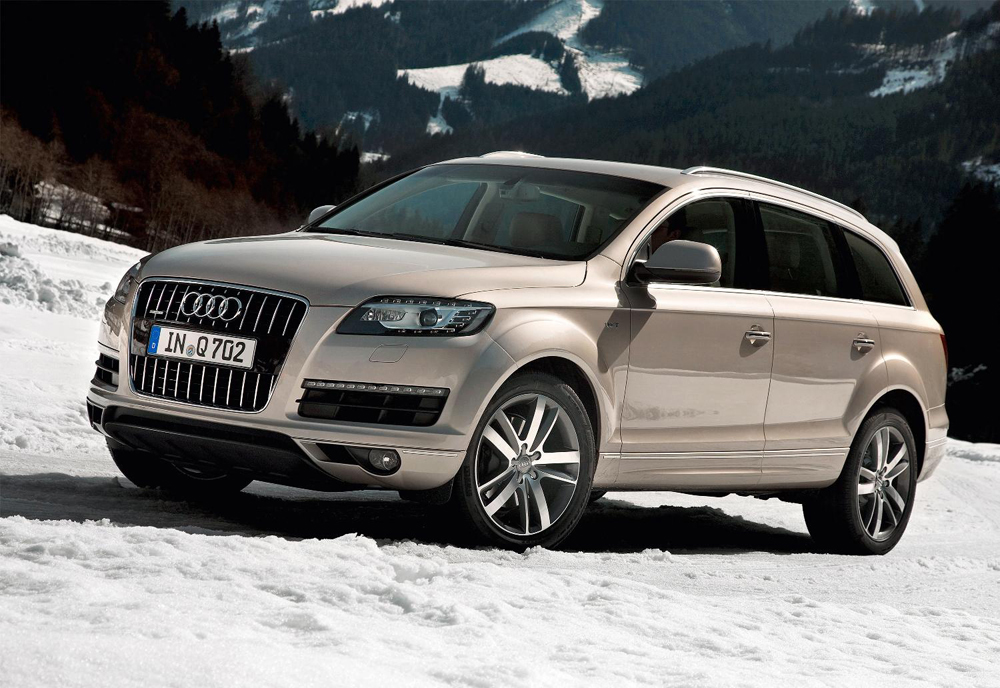 Rating: ***
Price: from £46,700
This first-generation Q7 is being replaced by a second generation version (see below). However, it's cheaper than the new version, and discounts will be more readily available. It's vast on the outside but inside the rearmost seats are surprisingly cramped, yet the car is surprisingly wieldy to drive.
Read Driving's full review of the Q7
New Audi Q7 (2015-on)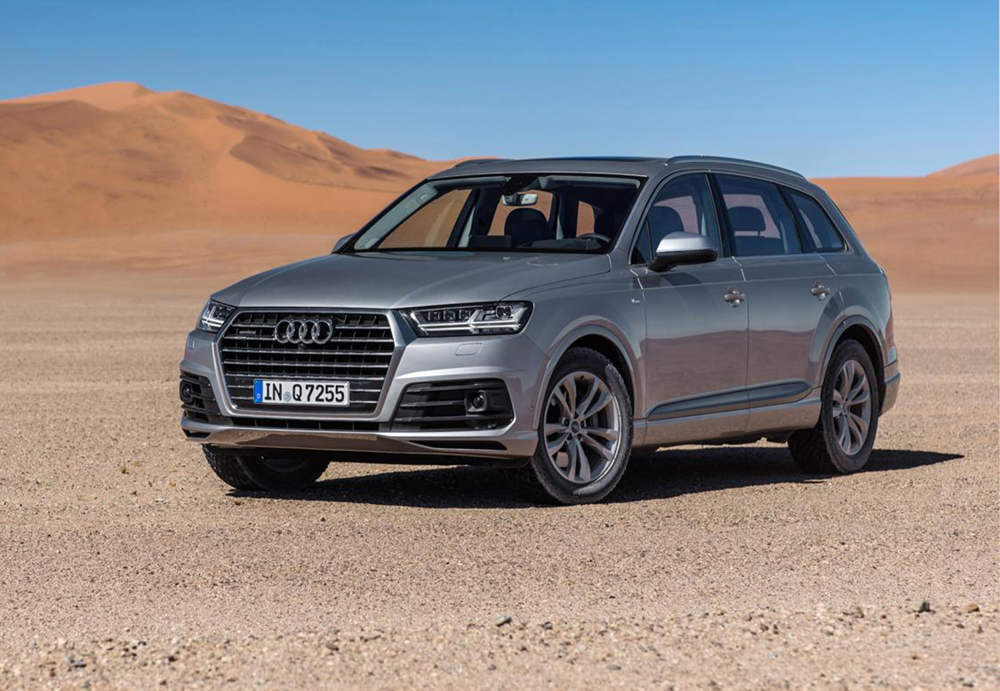 Rating: ****
Price: from £50,340
Previously porcine Audi has lost a massive amount of weight but has even more space inside and is a better drive. You can now even fit anyone up to 6ft into the rearmost seats – better than most rivals. There will be an "e-tron" plug-in hybrid model, too.
Read Driving's First Drive of the Q7
BMW X5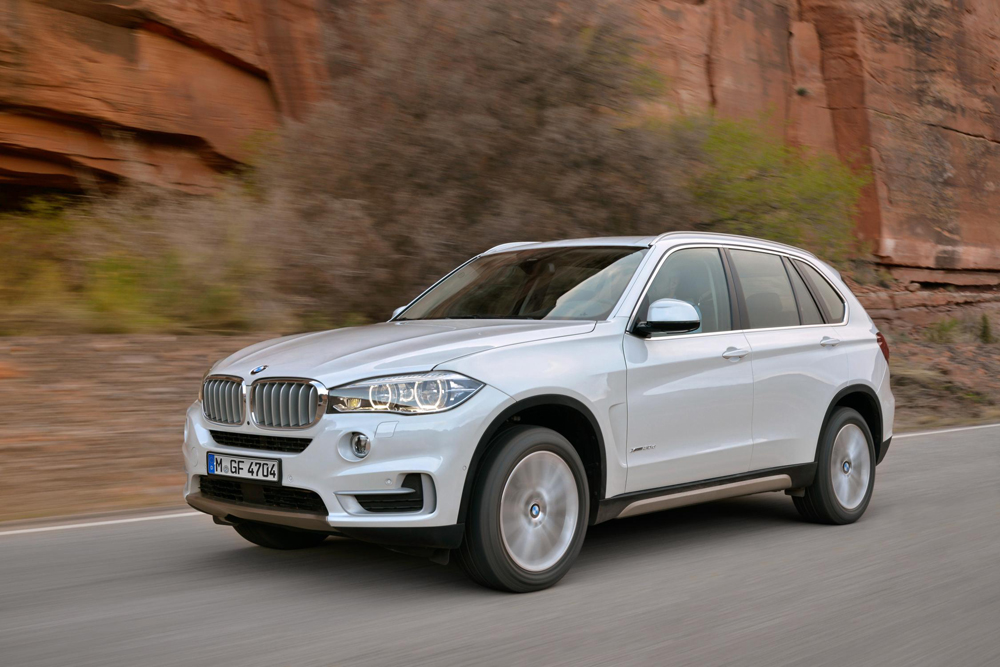 Rating: ****
Price: from £45,155
Along with the Porsche Cayenne and Range Rover Sport, the X5 is one of few SUVs that could even be considered fun-to-drive. The car's interior isn't the largest in the class and a seven seat package is an option, costing £1,410 on the entry-level sDrive25d SE, which is a rear-wheel drive model. Drivers who prefer to have four-wheel drive will have to pay from £47,460 for an xDrive25d SE.
Read Driving's full review of the X5
Kia Sorento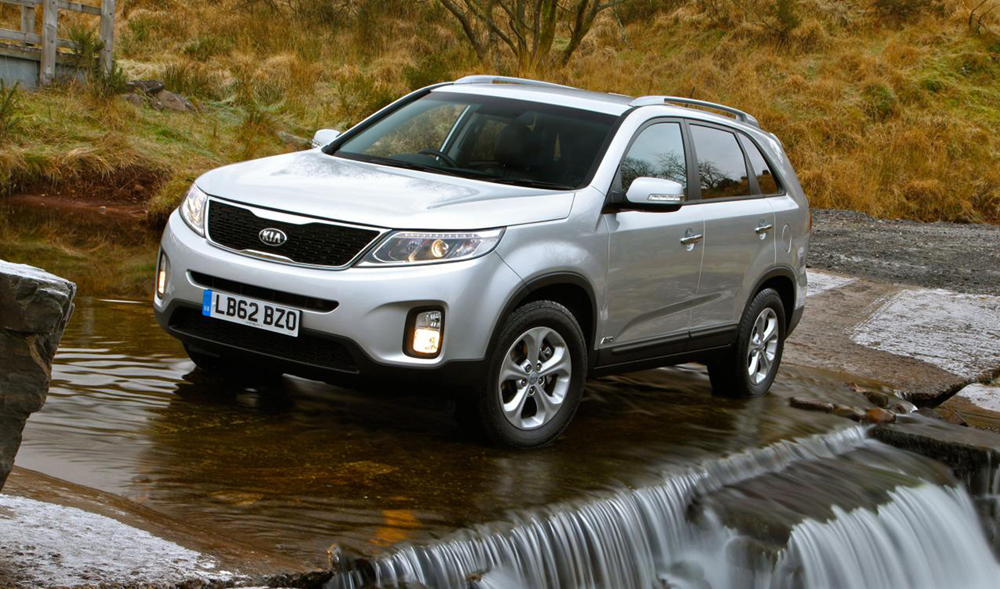 Rating: ***
Price: from £26,995
This is one of the most affordable super-size SUVs, but a word of warning – it is just about to be replaced by an all-new Sorento. So, approach this car only if you don't care about driving the latest model and would prefer haggle a hefty discount on something that's unlikely to be in great demand. It's good value and spacious inside, but getting to the rearmost row of seats is awkward and the rest of the cabin feels on the cheap side for this class of car.
Read Driving's full review of the Sorento
New Kia Sorento (2015-on)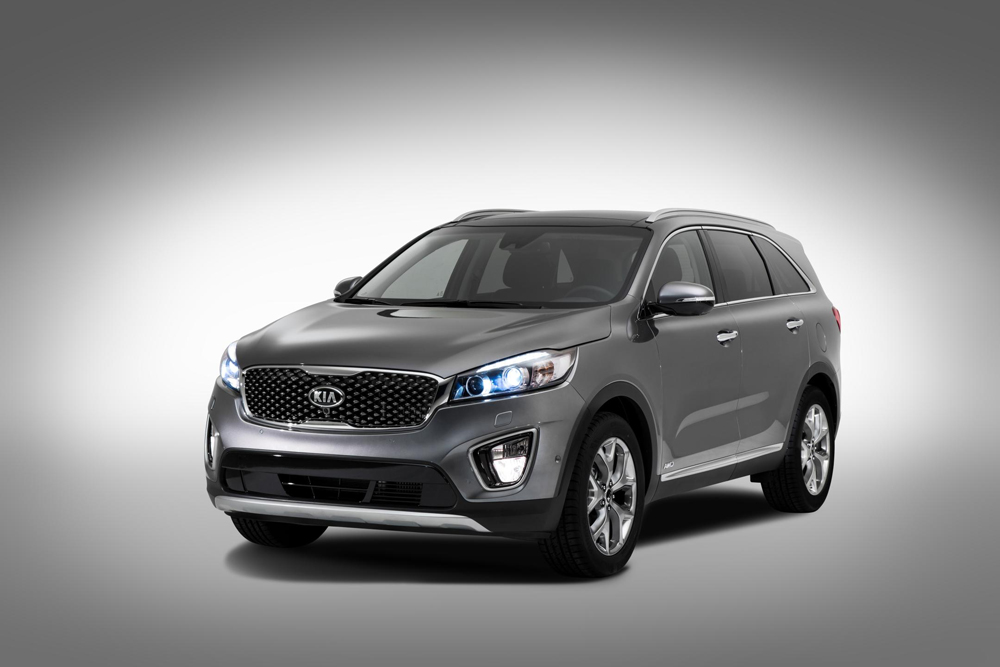 Rating: TBC
Price: from £28,795
The Land Rover Discovery (below) costs from £41,600. The new Kia Sorento, which offers an interior equally well suited to swinging a cat, will only set you back from £28,795. What's going on? We've yet to test the new Sorento, but the diesel engine is a four-cylinder, which is typically a bit more rattly than a V6, the four-wheel drive hardware isn't engineered to conquer Everest and the interior doesn't look as posh as the Discovery's affair. If you don't care about such matters, or, indeed, the badge on the bonnet, then it will be worth a test drive.
Land Rover Discovery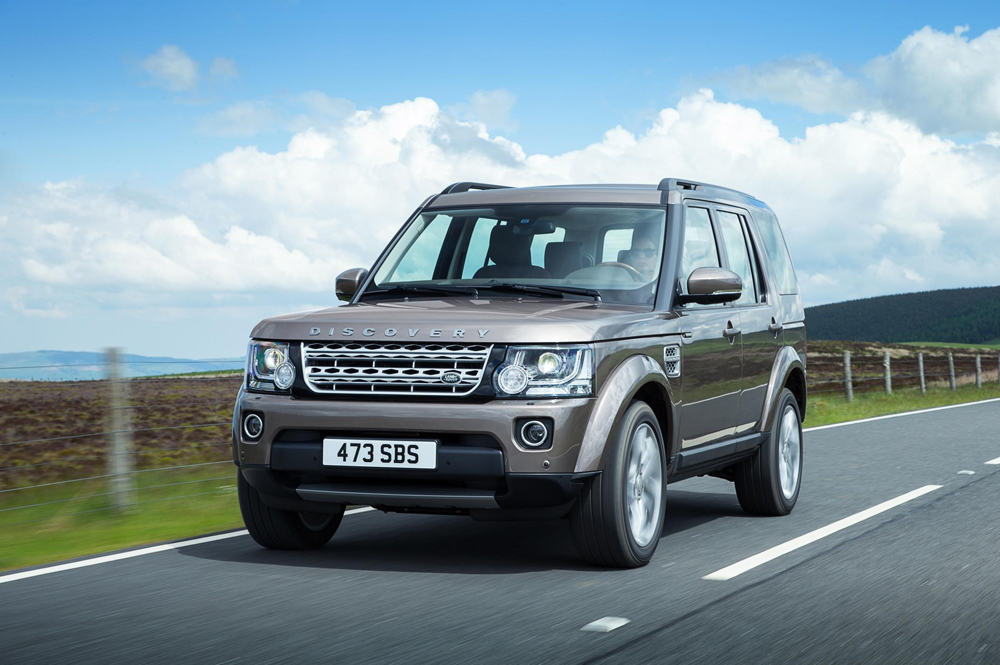 Rating: ****
Price: from £41,600
King of the jungle, king of the Kings Road; the supremely confident Discovery can handle the lot. It's big and heavy, and performance – notably fuel economy and emissions – lag behind rivals, but most owners can forgive it that for the car's specious and robust interior and impressive ability when it comes to traversing anything more serious than a wet, grass car park at the school lacrosse match.
Read Driving's full review of the Discovery
Land Rover Range Rover Sport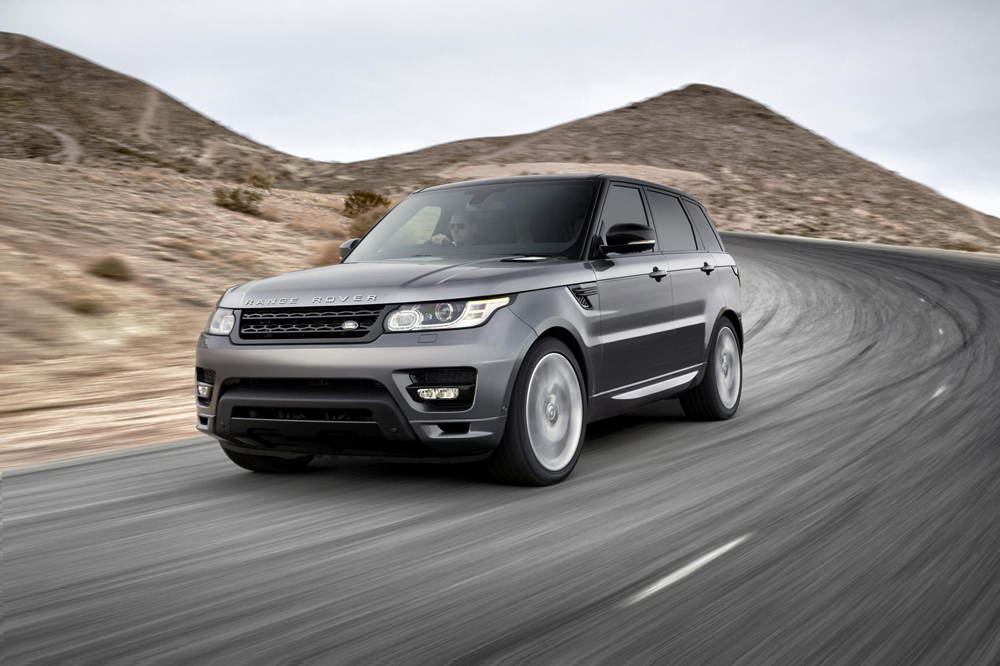 Rating: ****
Price: from £63,550
Part agricultural implement, part leather-lined über-SUV of the kind in which a Premier League footballer might plausibly take his family to a Harvester, it is a hulking great status-enhancing limo that nevertheless handles like a sports car while being strong enough for desert warfare or – tougher still, some say – the school run.
Read Driving's First Drive of the Range Rover Sport
Clarkson's verdict
"Underneath, this is not a Discovery. It shares much of its basic architecture with the new Range Rover, and that makes it light. And that in turn means massively improved fuel consumption. I swear my car wasn't using any at all. It's where the sportiness comes from too, and the sometimes vivid acceleration.
Read Clarkson's review of the Range Rover Sport
Mitsubishi Shogun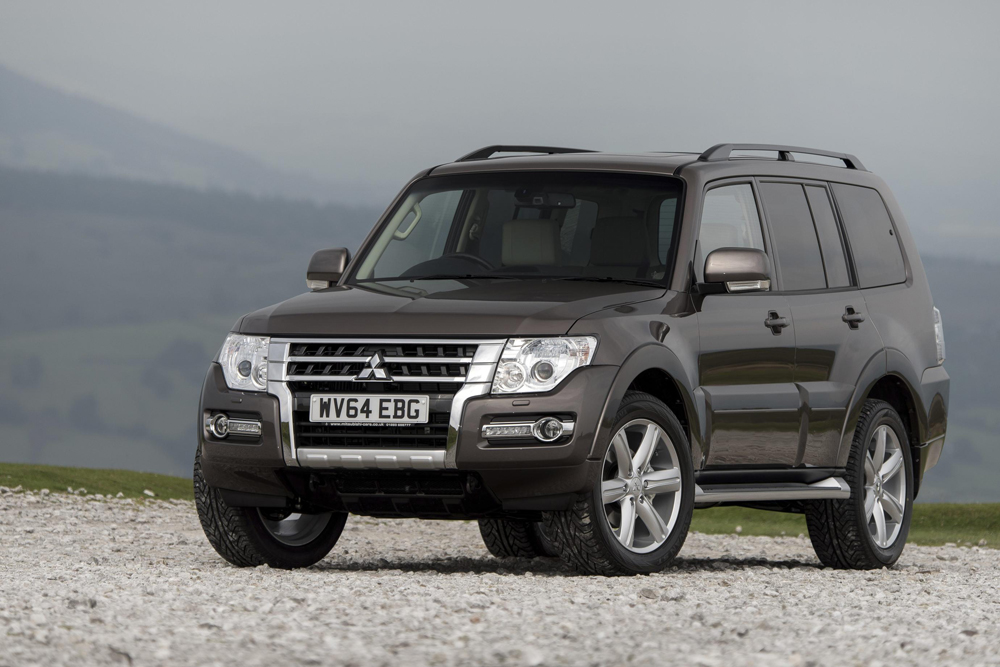 Rating: ***
Price: from £30,534
"You're a big man, but you're in bad shape. With me it's a full time job," goes the immortal line from Get Carter, the '70s crime thriller starring Michael Caine, but it could just have well been written for the Mitsubishi Shogun. It's old and outdated, and feels like a bit of a bruiser on the road. The noise levels are high and the interior isn't all that specious or comfortable – especially the middle-row seats which are awkwardly shaped. It's cheaper than most of its rivals for a good reason.
Read Driving's full review of the Shogun
SsangYong Rexton W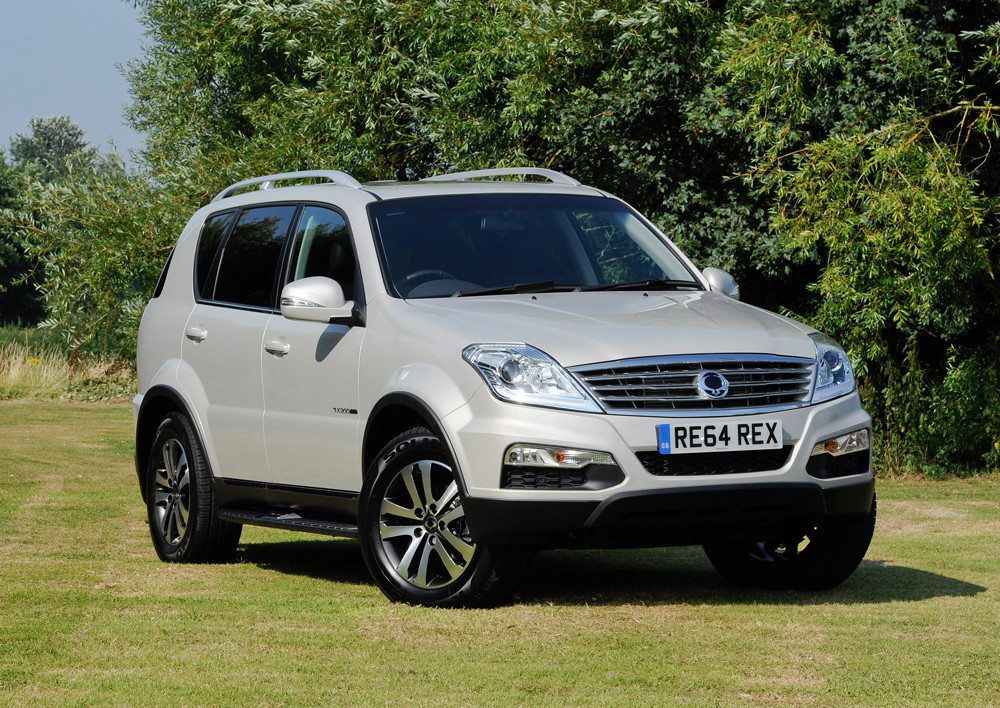 Rating: TBC
Price: from £21,995
There are two things the Rexton W does well: dirt and cheap. It should be good off-road, thanks to permanent four-wheel drive, a selectable low-ratio transmission and hill descent control, while it is pretty cheap for this size of seven-seater. Driving's full review will be published soon.
Toyota Land Cruiser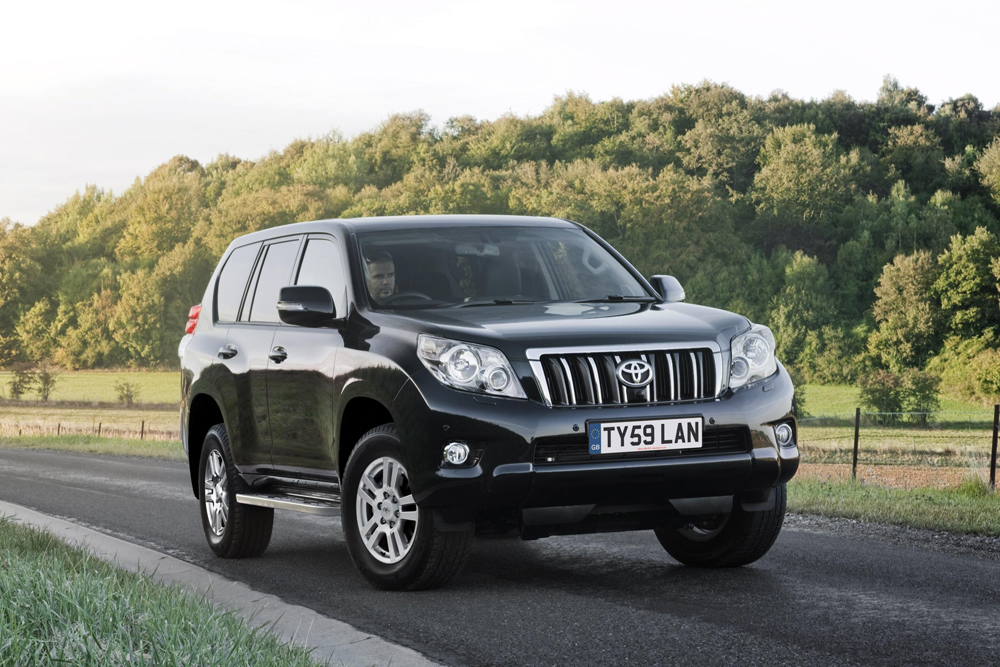 Rating: ***
Price: from £48,355
You buy a Land Cruiser because you either need something that's tough enough for life on the farm or can get round a greenfield property development site. This is a seriously impressive car – off the beaten track. If it's for any other reason then you're better off with a more modern interpretation of the SUV formula.
Read Driving's full review of the Land Cruiser
Clarkson's verdict
"Yes, a Range Rover is expensive, and the current model is fitted with a security system that seemingly allows it to be stolen by anyone with a lollipop stick and five minutes to kill. So by all means buy the half-price Land Cruiser instead. Certainly it's extremely likely still to be on your drive in the morning. Unfortunately."
Read Clarkson's review of the Land Cruiser
Volvo XC90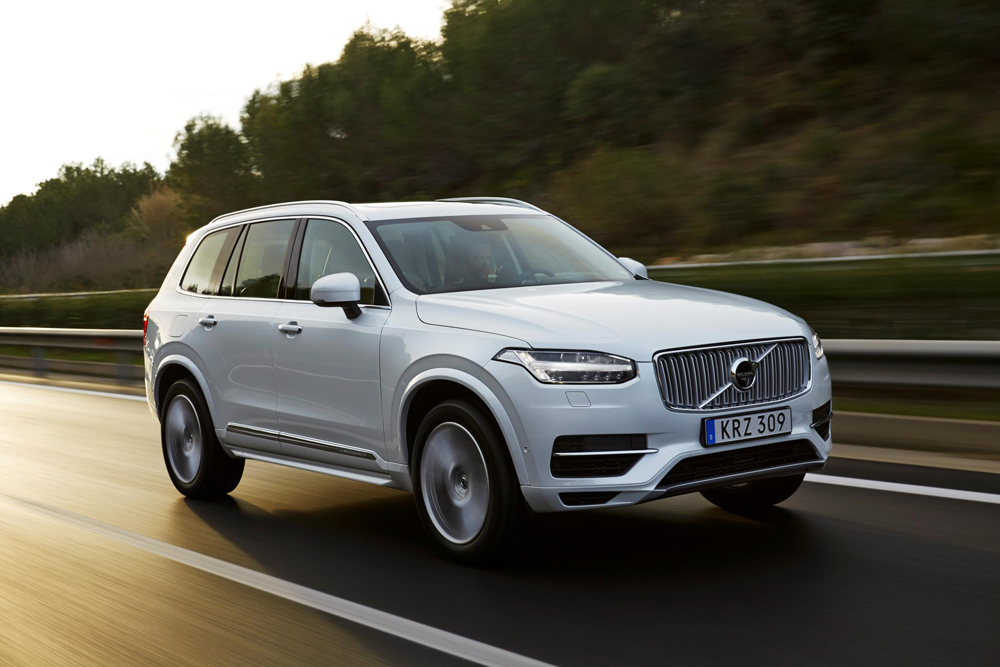 Rating: ****
Price: from £45,750
Quite possibly, the best family SUV by far. The third row of seats are spacious enough to accommodate Tom Cruise in comfort and the XC90 has all the luxury feel of an Audi Q7, but without any of the external ugliness. It's less sporty and than a BMW X5, but, anyway, who seriously wants to barrel their family into corners at 70mph? And you probably wouldn't want to pummel it across open countryside, as you might a Land Rover Discovery, but, then again, it doesn't so overtly announce a labrador-oriented lifestyle.
Read Driving's First Drive of the XC90
---
Compact MPVs with seven seats
MPVs or multi-purpose vehicles may not have a great deal of street cred' but they deliver where it counts for harassed parents – with an interior that's almost as welcoming to children as an indoor-playzone.
The original cars of this type were big – remember the Chrysler Voyager or Renault Espace? – but in a sign of the times those with lots of money to spend have gravitated toward the rough, tough image of the SUV (so much so that the Voyager and Espace are no longer sold here) while everyone else has bought more affordable, compact MPVs.
Compact MPVs typically come in two sizes, with the larger being able to accommodate seven seats. They should feature lots of ingenious touches to make life aboard a car easy, and ought to deliver respectable fuel consumption and low running costs.
BMW 2-series Gran Tourer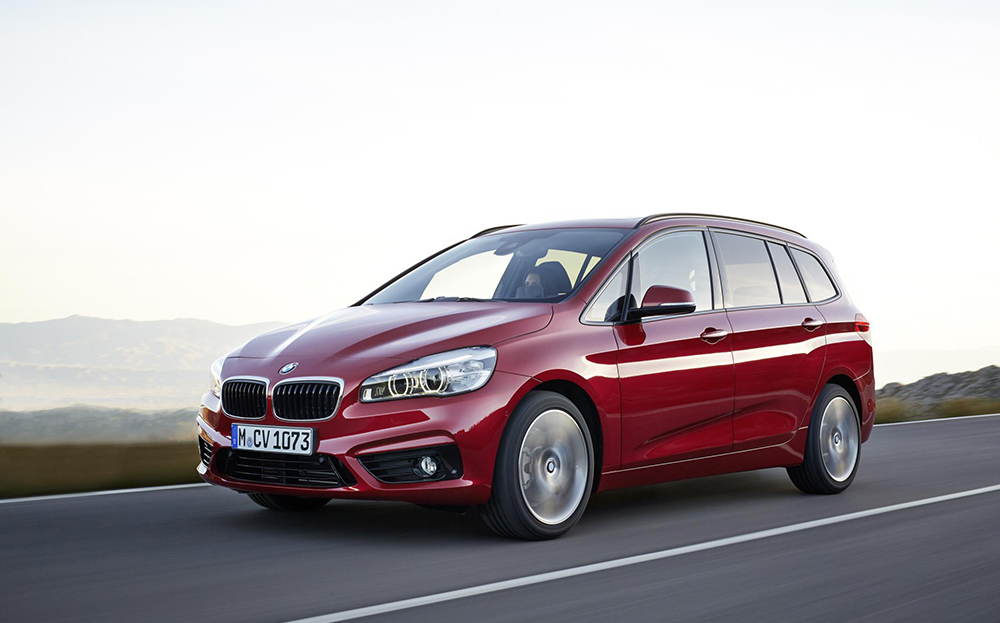 Rating: TBC
Price: from £24,175
There was a time when BMW would have scoffed at the very idea of making cars for the purposes of carrying extended families or ambitious DIY projects in their cars. Even BMW estates were small, for heaven's sake, to help keep them agile and sporty to drive. But the 2-series Gran Tourer changes all that. It focuses on boot space and easy-to-fold seats, rather than revving an engine to the redline or cornering as if on rails. We've yet to review the Gran Tourer, but will be sure to report on whether BMW's shifting stance is a successful one.
Citroën C4 Grand Picasso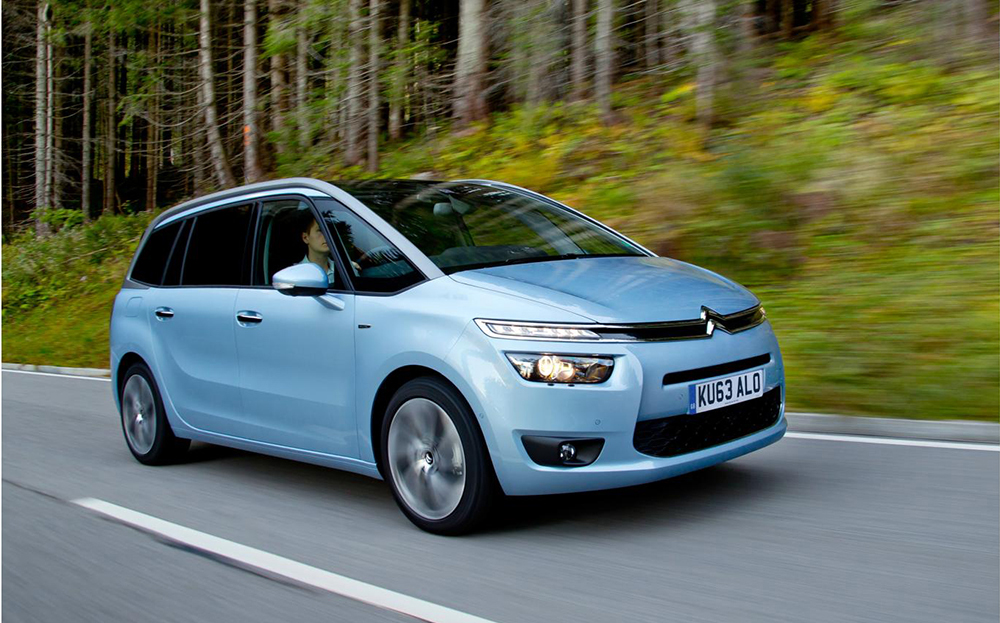 Rating: ****
Price: from £19,460
The C4 Picasso is a car designed around its passengers, with a brief to relax rather than excite. This is clear from every seat in the house; a high driving position gives excellent visibility, there's a surprising amount of space in the rearmost seats and access is helped by middle row seats that fold themselves out of the way. A comfortable ride and frugal diesel engines complete the picture for harassed parents looking for a stress-free drive.
Read Driving's review of the standard Picasso
Fiat 500L MPW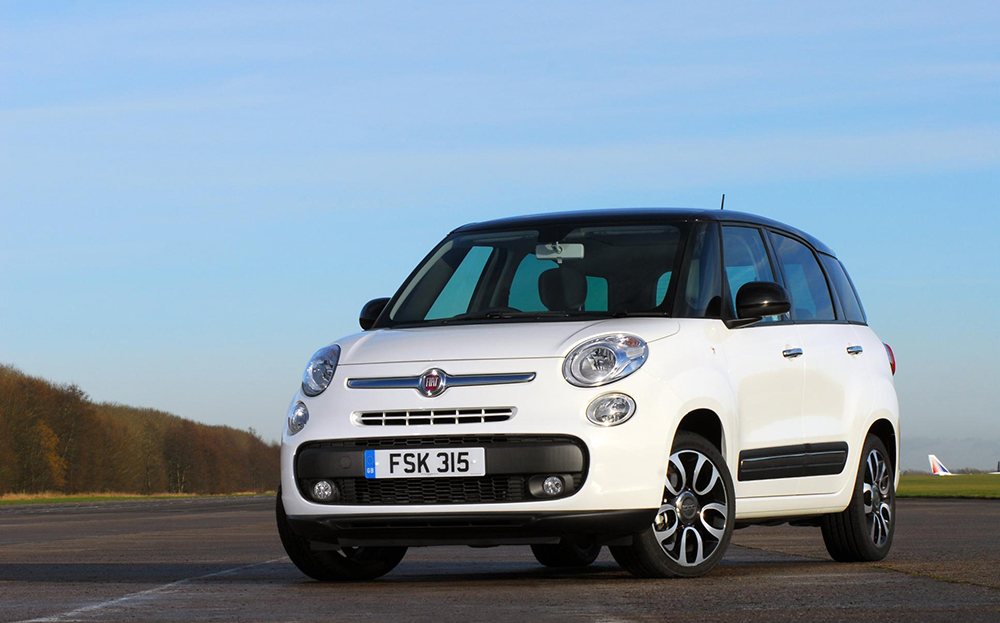 Rating: TBC
Price: from £18,380
Let's not confuse the 500L – on which the MPW (Multi Purpose Wagon) is based – with the regular, oh-so-espresso-simple 500 with which it shares its name. It is a blatant attempt to trade on the 500's classless appeal. As compact MPVs go, the seven-seat MPW is one of the most compact, so squeezing all the family and their belongings into it may not be as straightforward as Fiat's glossy brochure will tell you.
Read Driving's review of the standard 500L
Ford Grand C-Max (2015-on)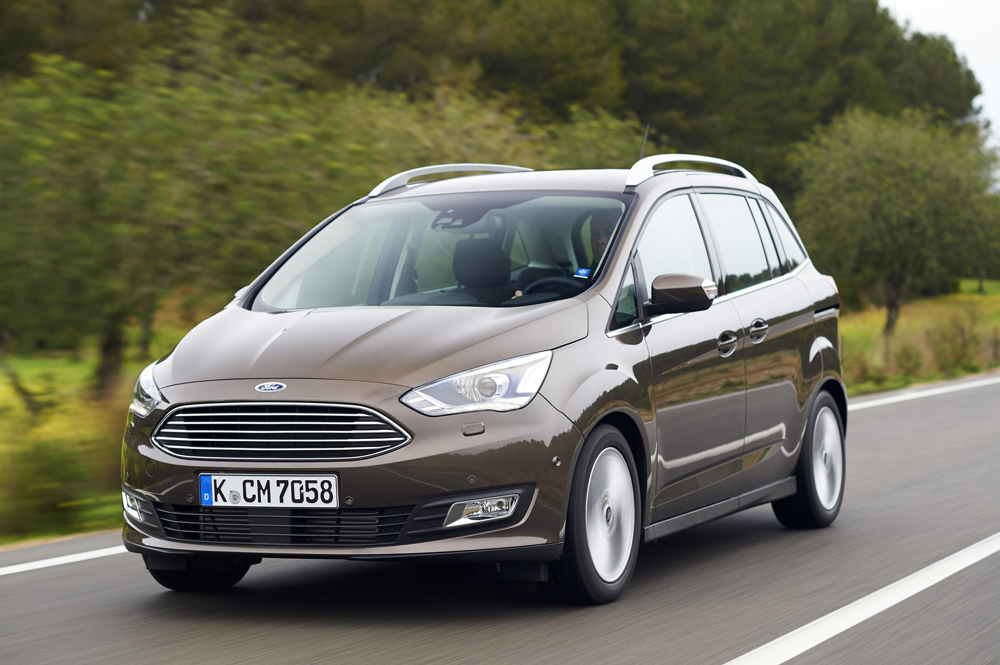 Rating: ****
Price: from £20,295
The latest generation C-Max is excellent to drive but the Grand version of the Ford C-Max plays a trump card over the regular model – and it's not the extra pair of seats in the boot. It comes with a pair of sliding rear doors, which make climbing in and out of this family car child's play. The third row of seats suits children up to the age of seven, at best, so if you're looking for more space, consider the larger S-Max.
Read Driving's First Drive review of the Grand C-Max
Kia Carens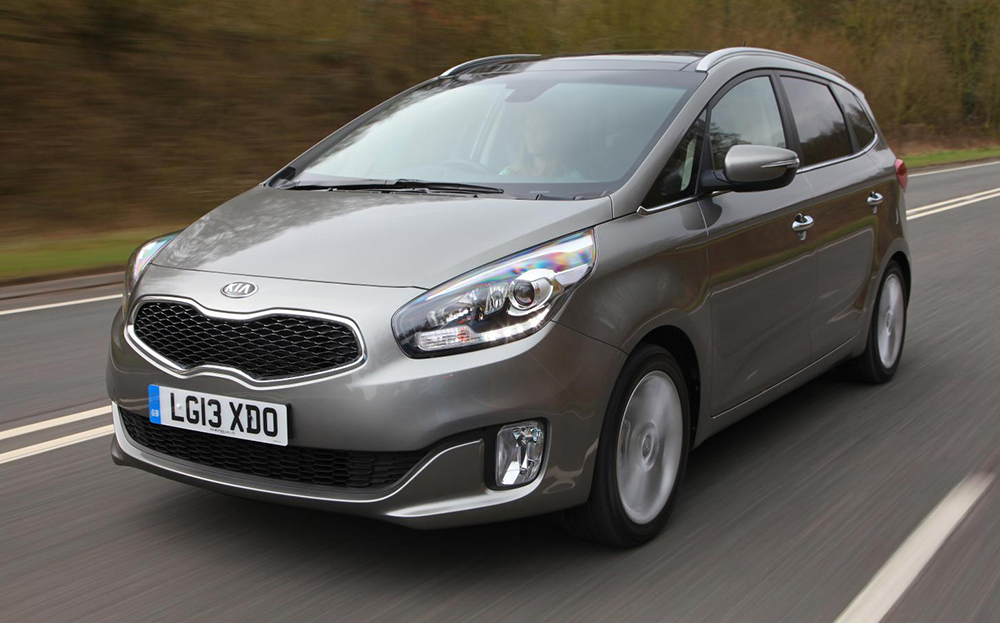 Rating: ***
Price: from £17,295
Welcome to the cheap seats. The Kia Carens is, on the face of it, spectacularly good value for money and the most affordable seven-seat MPV money can buy. It is fine to drive and easy to live with, thanks to a fuss-free interior that does a fine line in functionality rather than frills and frippery.
Read Driving's comparison test of the Carens
Mazda5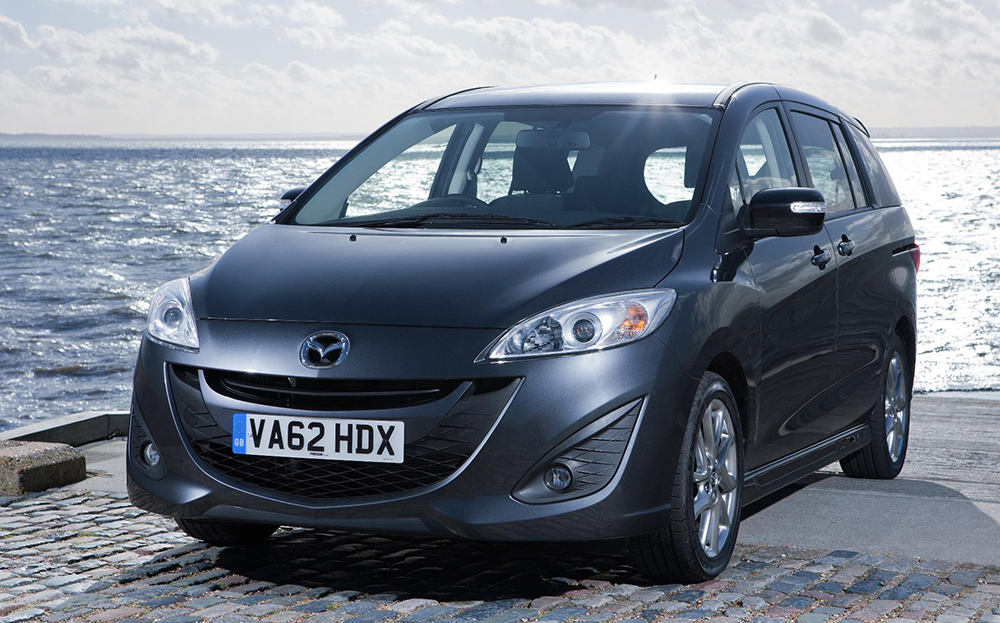 Rating: ****
Price: from £20,495
The chances are, you didn't know of the existence of this car; Mazda is best known as the maker of the MX-5, a sports car with simple charms, but its 5 is one of the better examples of how to make a people carrier practical. It has sliding rear doors and seven seats as standard, and the range is kept refreshingly simple – there's a 1.6-litre diesel engine or a 2-litre petrol unit, and just one trim level. If we're being picky (and what family car buyer isn't?) then the boot could be a little larger.
Read Driving's review of the Mazda5
Renault Grand Scénic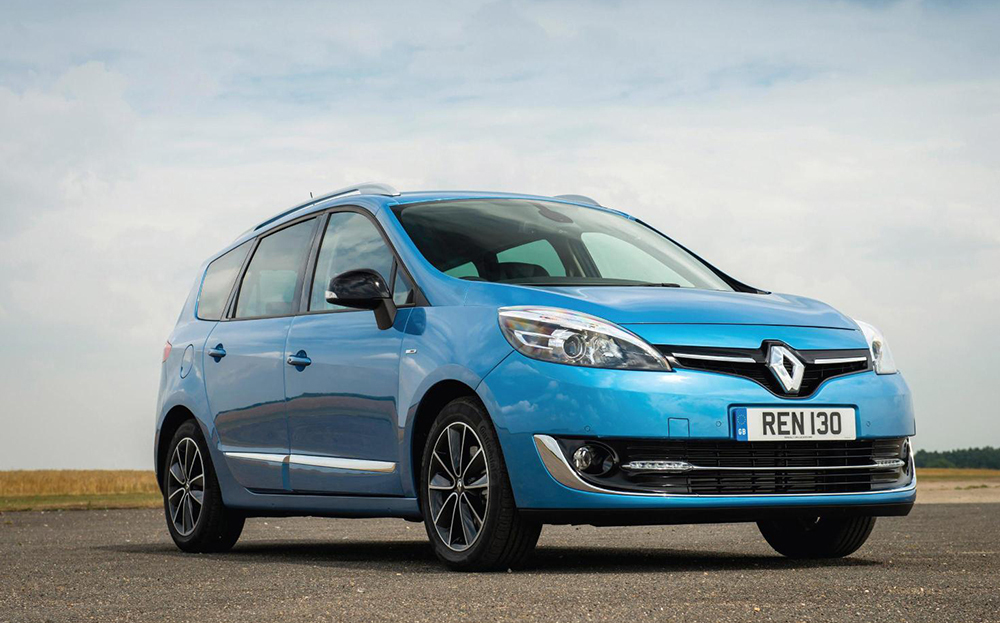 Rating: ****
Price: from £20,590
Renault knows a thing or two about MPVs, as it has been making them for longer than any other car company, so it's little wonder that the Scénic is crammed with clever touches, such as three Isofix mounting points on all three centre row seats, or Teflon-coated seats that make them toddler-proof. Well, that's the theory. It drives well – so long as you avoid the small 1.6 16v petrol engine and stick to the TCe or dCi turbo charged petrol or diesel engines.
Read Driving's comparison test of the Grand Scénic
Toyota Prius+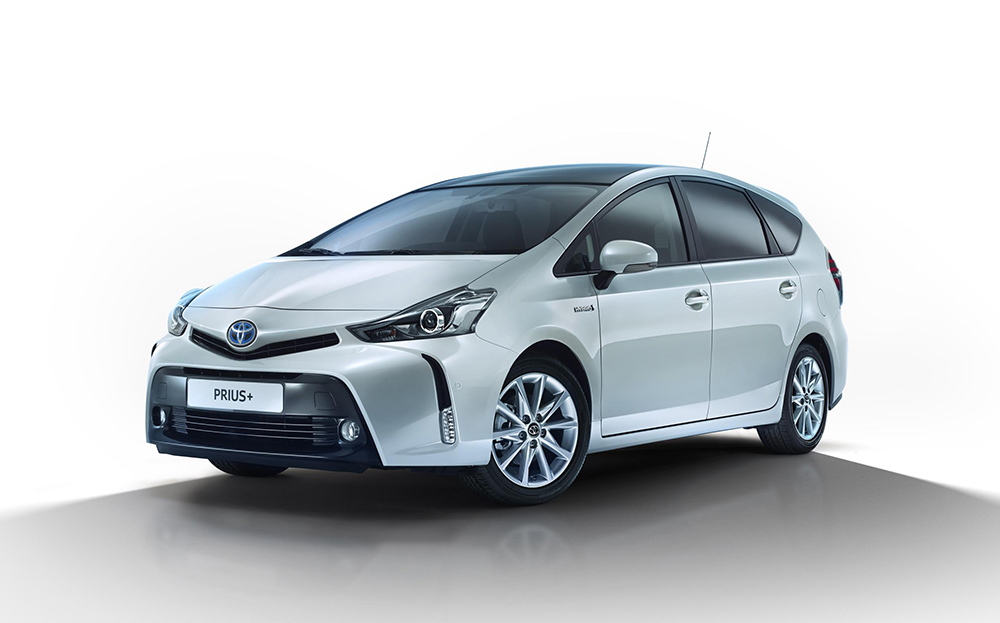 Rating: TBC
Price: from £26,995
Because of its petrol-electric hybrid powertrain, the seven-seat Prius + might be a good choice for company car drivers, as it attracts low levels of Benefit In Kind (BIK) tax, but for anyone else its appeal is limited. It's fine around town but long trips for a family escape at the weekend see the fuel economy tumble compared with a diesel-powered rival, performance in general is lethargic, there's too much noise and the rearmost seats are cramped. It's also expensive.
Toyota Verso
Rating: ***
Price: from £20,300
There's nothing that the Verso does any better or, for that matter, noticeably worse, than other MPVs in its price range. So its USP has to be the five-year warranty that is provided by Toyota, which offers peace of mind for longer – a good thing when a family car is expected to face a hard life. It's a better value buy than Toyota's Prius+, too.
Read Driving's review of the Verso
Vauxhall Zafira Tourer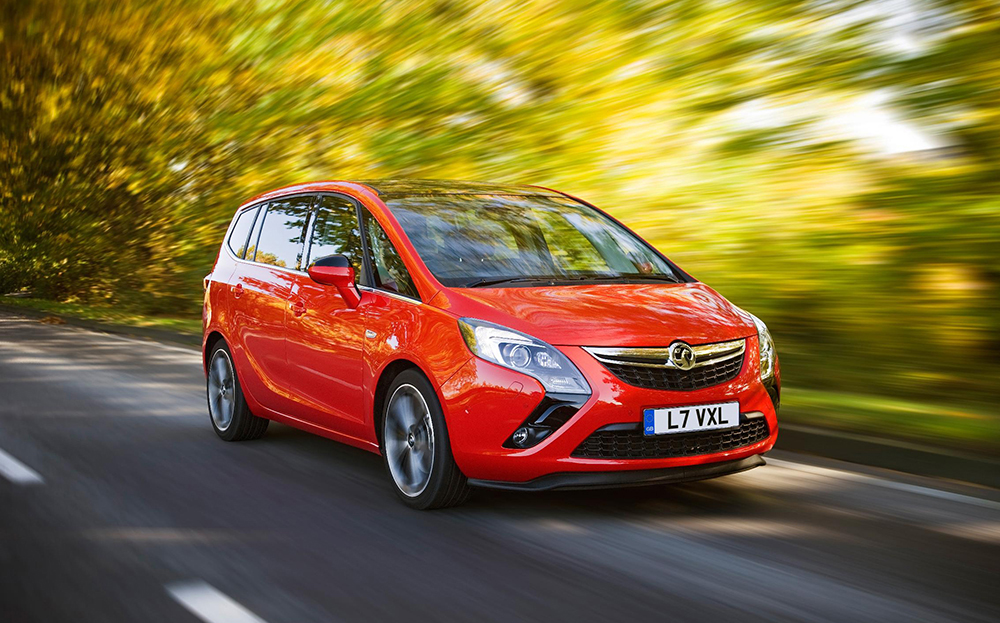 Rating: ***
Price: £20,575
The original Zafira was the first MPV to feature an extra pair of seats that could fold beneath the boot floor. The latest Zafira Tourer isn't quite as innovative, but is a good car nonetheless – and a good-looking one as far as MPVs go, too. It features seven independent seats and countless cubby-holes to stop belongings rattling round in the car.
Read Driving's review of the Zafira Tourer
Volkswagen Touran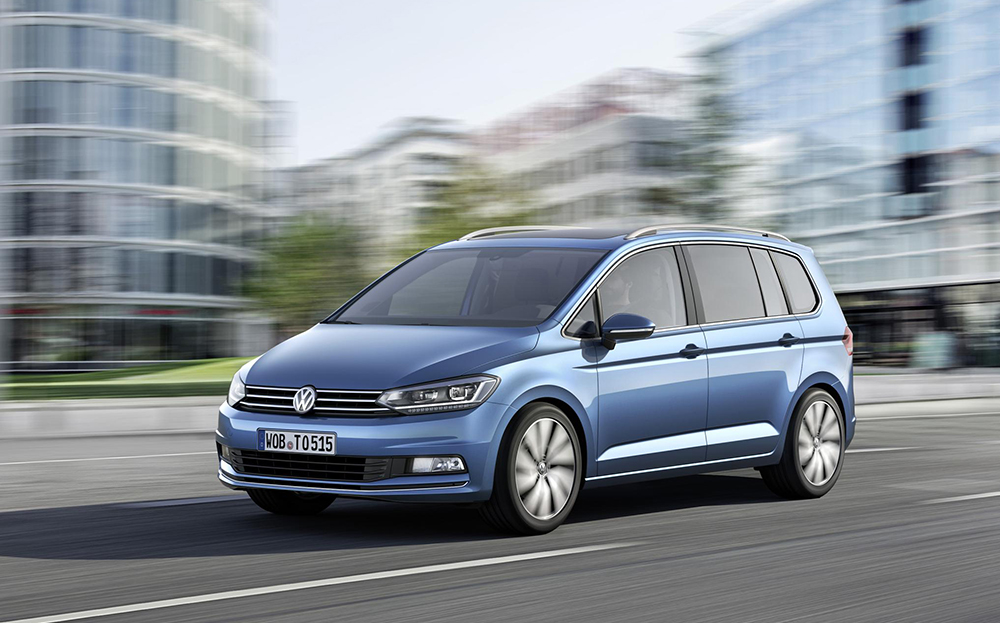 Rating: ****
Price: from £19,790
Take note: a new version of the Touran will go on sale at the end of this year. Fortunately, there's still plenty to like about the current model. The diesel models are super-frugal, returning over 60mpg, the interior is pretty spacious and feels indestructible and the pricing is surprisingly competitive. However, the design is as sober-suited as MPVs come and the absence of sliding rear doors lets it down against some of the competition.
Read Driving's review of the Touran
---
Large MPVs with seven seats
The largest MPVs or multi-purpose vehicles should be exactly that – large. These should be the most comfortable way to travel for seven people, so if the interior doesn't seem more practical than your house, something must be wrong.
There is less choice than company MPVs, simply because more buyers are happy either spending less and sacrificing a little space in the process, or they choose a large SUV as they prefer its image and off-the-beaten-track ability.
Look for plenty of safety features and convenient touches such as heating that is independently adjustable for all three rows of seats and 5V and 12V charging points. If you need four-wheel drive, Ford's new S-Max is the only car here to offer it.
Ford S-Max (2015-on)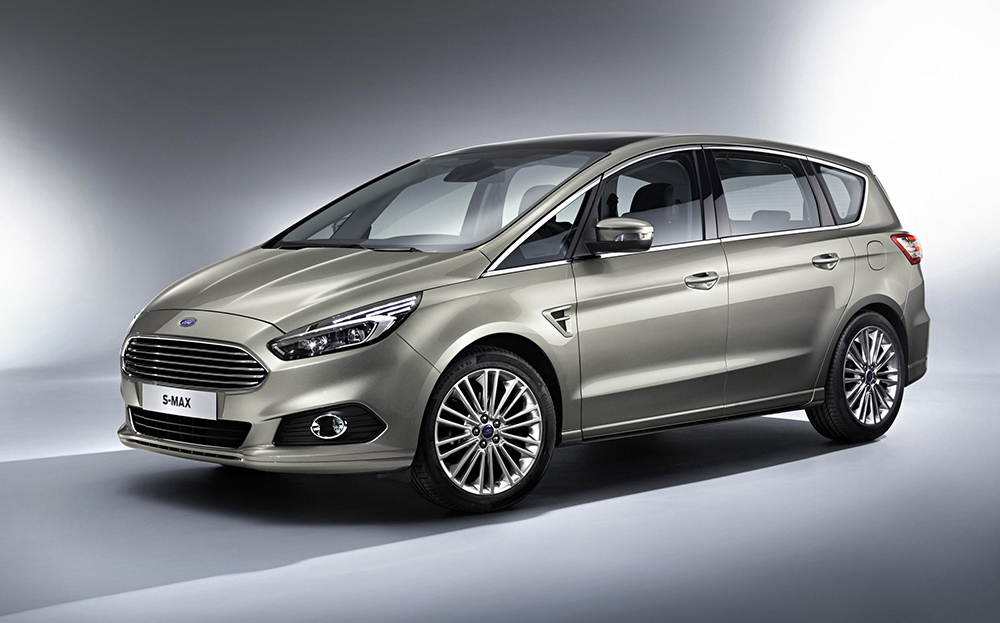 Rating: TBC
Price: from £24,545
The S-Max has always been one of Driving's favourite MPVs. It avoids looking like a crèche on wheels, drives well and has a spacious interior that really will seat seven passengers in comfort. The existing car remains on sale, for now, but the new one improves on that blend of attributes with the option of four-wheel drive and a host of gadgets and gizmos that will please touch-screen tech' heads and their children.
Ford Galaxy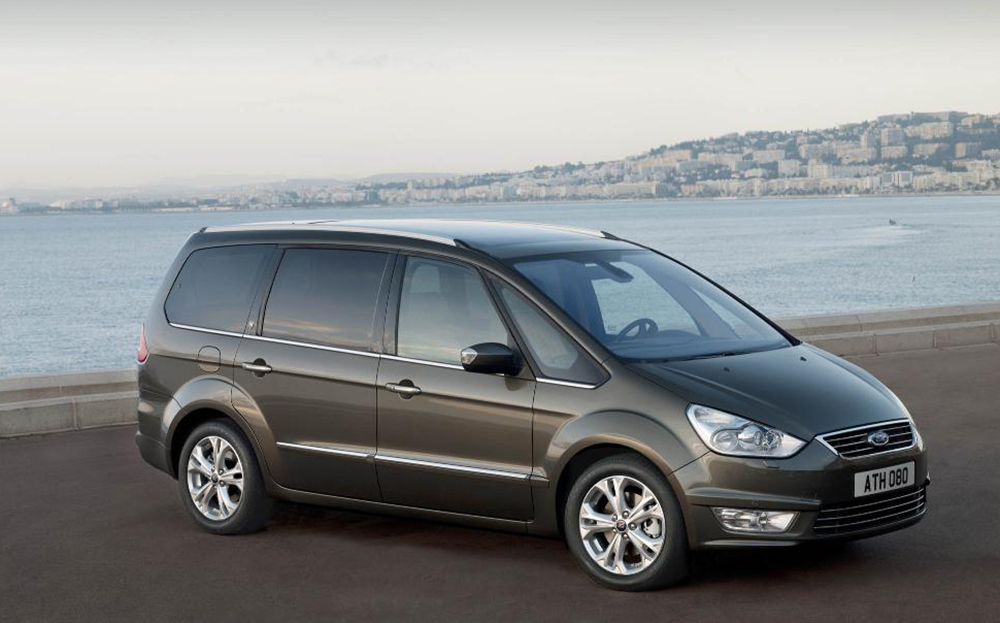 Rating: ****
Price: from £25,670
If you need to carry seven people in comfort, few MPVs – or SUVs for that matter – do the job as well as the Galaxy. Perhaps the only cars that can top are the Seat Alhambra and VW Sharan, simply because they feature sliding rear doors, which makes it easier to get in and out of all five back seats. For a car of this size, pick the 2-litre TDCI engine with 140PS, which can pull a fully laden Galaxy with confidence and returns as much as 53mpg. A new model will go on sale at the end of this year.
Read Driving's review of the Ford Galaxy
Peugeot 5008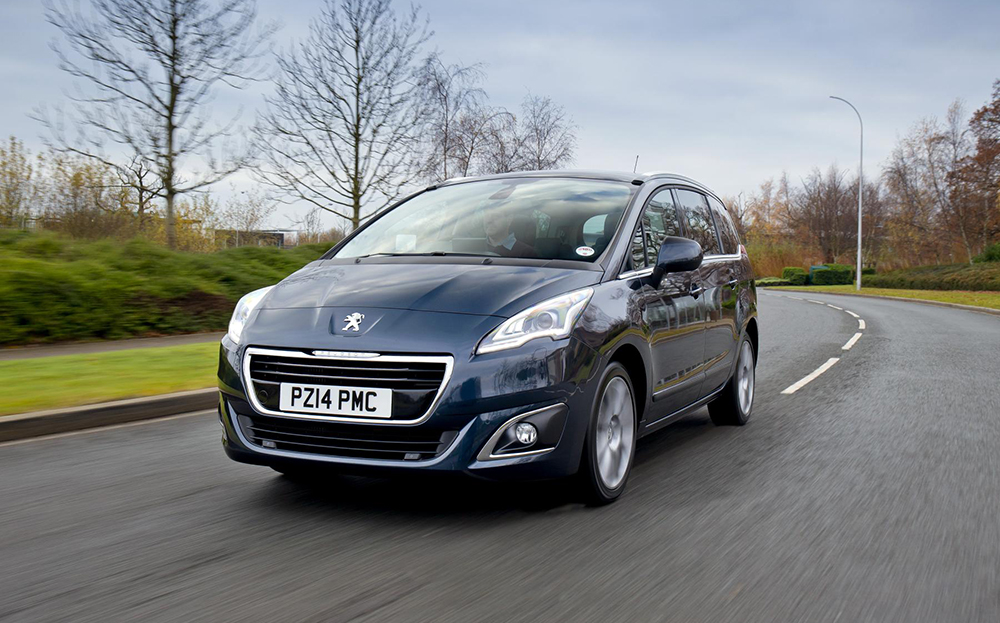 Rating: ****
Price: from £20,145
For a large MPV, the 5008 is surprisingly good to drive. It rides poor roads well and responds keenly to a driver's inputs. But of arguably more importance is the seven-seat cabin. Peugeot has planned it out well, so that those using the rearmost two seats sit highest, giving them a view of the road ahead, and all models come with a panoramic glass roof, helping eliminate any feeling of claustrophobia. Add to the mix five rear seats that fold flush into the floor and all it lacks is sliding rear doors to score a full five star rating.
Read Driving's review of the 5008
Seat Alhambra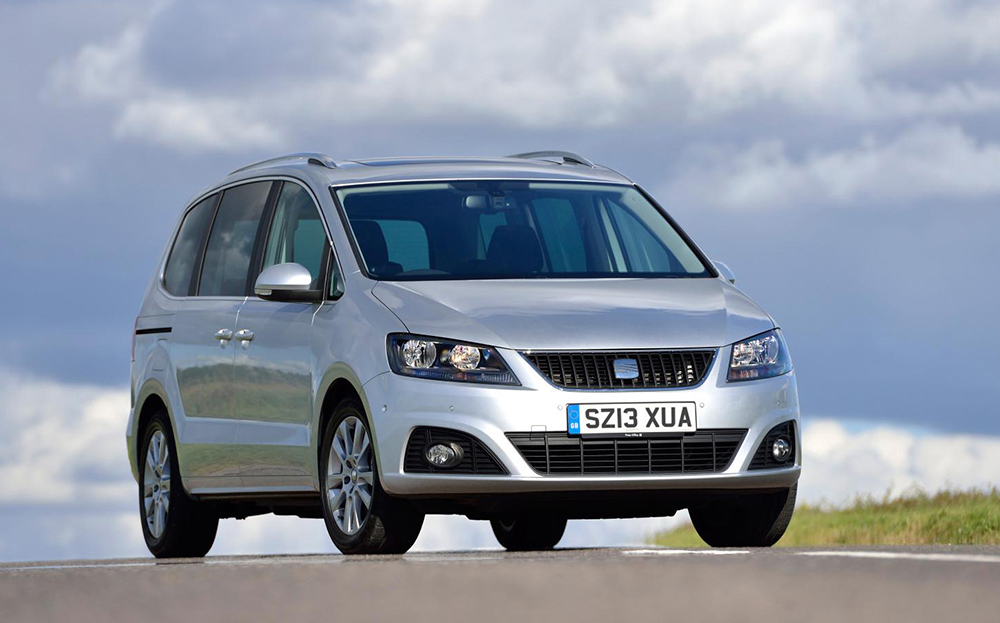 Rating: ****
Price: from £25,630
It may be lacking the remotest degree of driving excitement, but who cares when the Alhambra is probably more practical than your home? The sliding rear doors are the first sign that it has been thoughtfully designed for families who have their hands full. No less than six Isofix child seat mounting points is another. Then there are big bottle holders, underfloor compartments to keep iPods and tablets out of harms way and (optional) built-in booster cushions that raise out of the back seats. As good as it gets if you crave space above all else.
Read Driving's review of the Alhambra
SsangYong Turismo
Rating: **
Price: from £17,995
Study the price but don't spend too long looking at the pictures or you may be put off. The odd-looking Turismo has more than a cheap price up its sleeve: boot space. Typically, when drivers live with a seven seat car they'll soon discover that they are good at carrying seven people, not so good at carrying their luggage. The Turismo does the lot – thanks to a whopping 875-litre boot when all seats are in use.
Read Driving's review of the Turismo
Volkswagen Sharan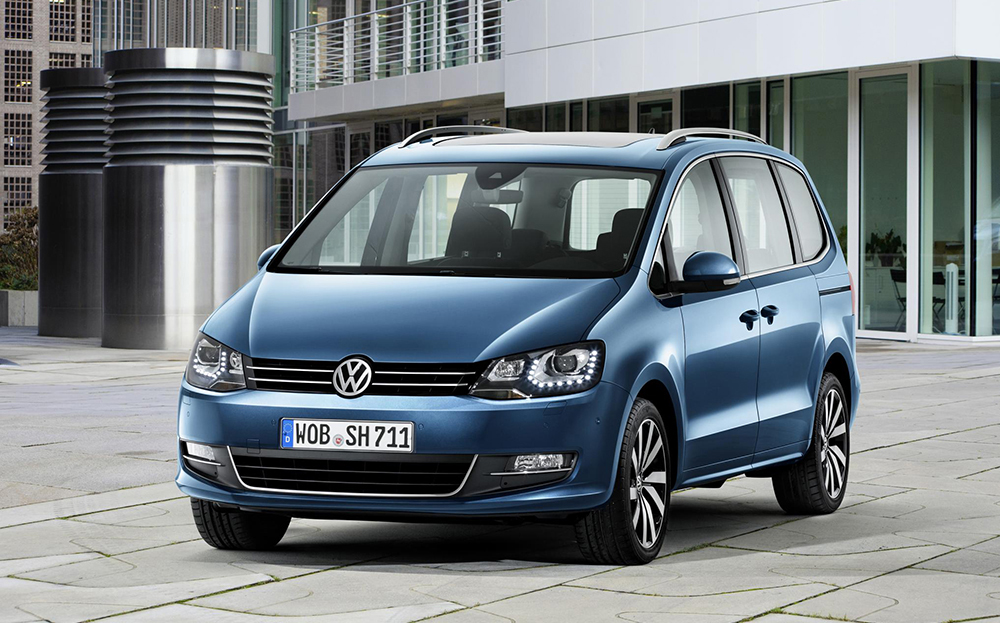 Rating: ***
Price: from £25,325
Almost everything we rate about the Seat Alhambra can be applied to the VW Sharan but the Alhambra holds a price advantage, making it our choice. In SE trim with a 2-litre TDI engine and automatic gearbox, the Sharan costs £30,285 whereas the equivalent Alhambra is £28,795. That seals the deal for us.
Read Driving's review of the Sharan
---
Other cars with seven seats
Tesla Model S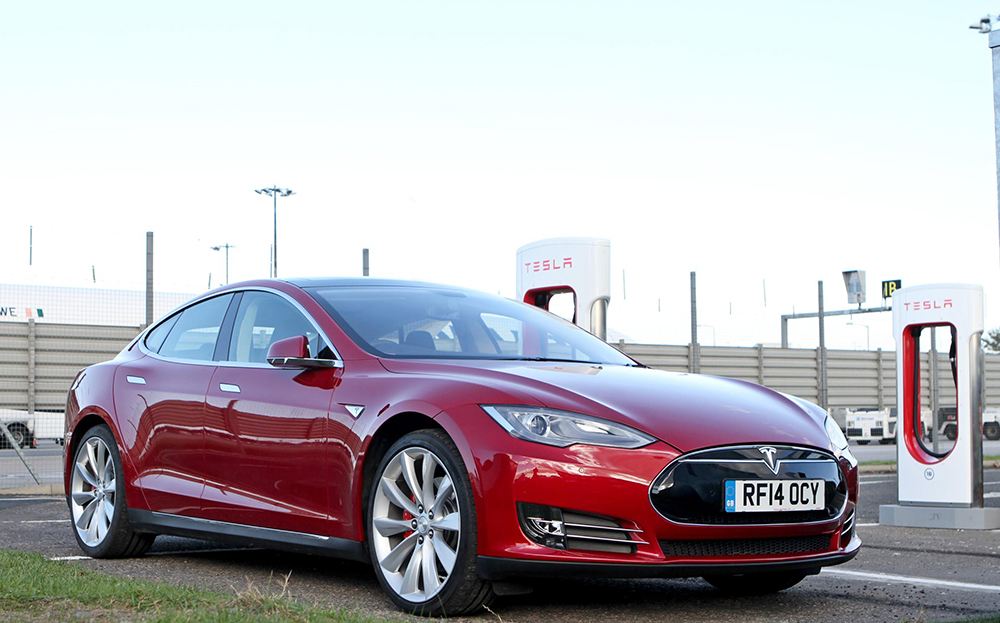 Rating: ****
Price: from £57,380
Perhaps Tesla took its inspiration from Mercedes, which until recently offered the option of rear-facing seats on its E-class estate; regardless, you can order a Model S from Tesla and pay an extra £2,500 to have two rear-facing seats installed at the factory. They are designed for children and can fold away into the floor when not in use.
Read Driving's review of the Model S