First Drive review: Land Rover Discovery Sport (2015)
Dad's gone to Iceland, and he's got all the kids in tow
---
Published 08 December 2014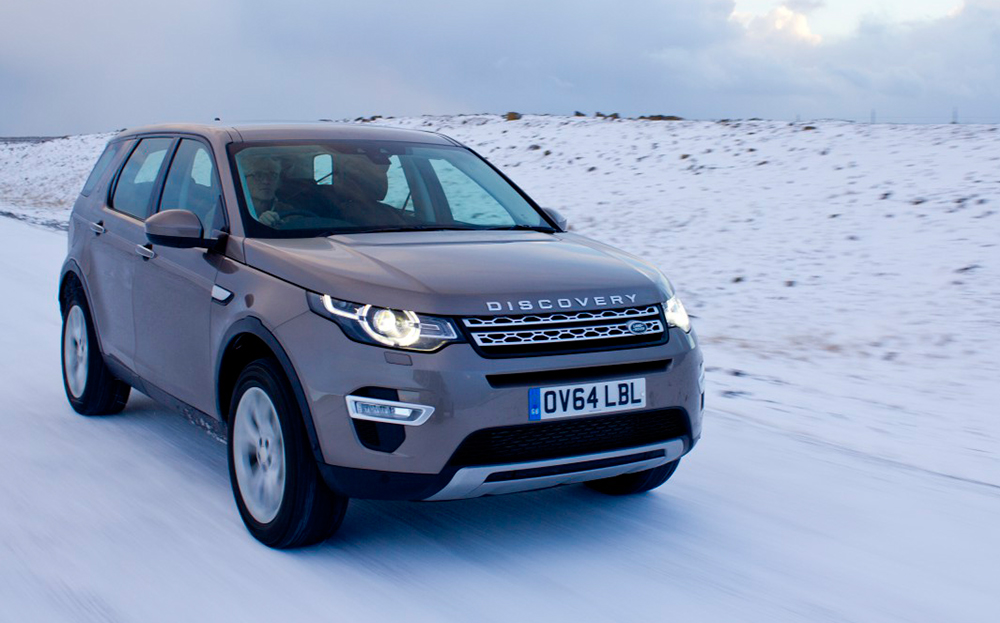 HERE'S THE bad news from Iceland. Arctic conditions blanketing the country are heading towards Britain. That means freezing weather is on the way. The good news is that you can now order a vehicle such as the one in the picture, which may make you privately look forward to it.
I know because I'm gunning up a steep incline over chunks of rock and ice as big as breeze blocks and the Land Rover I'm in is making short work of it. There's a four-position selector that allows drivers to adjust the vehicle's handling to suit the terrain (snow, gravel, sand and so on) but I note there's no setting for lava field. Nevertheless, the gutsy 187bhp engine is urging it on and somehow the tyres are finding grip.
---
Browse the used Land Rover Discoverys for sale on driving.co.uk
---
The cabin is snug and the steering wheel heater has come in handy to defrost fingers that I used to scrape ice from the headlights (it's only 11am but in the gloom of a northern winter the lights stay on most of the day). Note to Land Rover: consider headlight defrosters.
Called the Discovery Sport, this is the first of a new family of Land Rovers (a bigger Discovery is also coming along) and there's a lot riding on it. It has to sell in high numbers; its predecessor, the Freelander, was a sort of Land Rover-lite but for a while it was also Europe's bestselling SUV. The new Sport has to be rough and tough enough to earn the right to wear the Discovery badge.
That explains why I've been invited to drive it across one of the world's most bone-chilling landscapes. Nasa brought its Apollo astronauts here to acclimatise them to the lunar surface. After this the moon must have been a pleasant surprise.
I've been teamed up with Ingo Stefansson, an Icelandic guide who makes Grylls look metrosexual. He has said little so far but like the vehicle we're in he gives the impression that he walks softly and carries a big stick.
Land Rover's marketing department makes great play of its vehicles' off-road abilities, even to the extent of sponsoring the polar explorer Ranulph Fiennes and the survivalist Bear Grylls. I've been teamed up with Ingo Stefansson, an Icelandic guide who makes Grylls look metrosexual. He has said little so far but like the vehicle we're in he gives the impression that he walks softly and carries a big stick. To be fair, he has warned me not to drive into any volcanic craters — a bigger risk than you might think in this land of fire and ice.
It's an impressive debut. The baby Disco is sure-footed on ice and scree — what off-roaders call "slippery and loose" surfaces. It's a little less sure of itself in the soft stuff, where ground clearance is the key. In a day's driving over terrain that would challenge even a Mercedes Unimog, it struggles only once, when it sinks up to its axles in black sand and has to be dug out. It doesn't have a manual selector for four-wheel drive, relying instead on a clutch that engages the rear wheels if the front ones start to slip — the same system as in the Range Rover Evoque, which has donated many of the newcomer's parts.
Should it be allowed into the Discovery family without a proper low-range box? Diehard off-roaders will be horrified, but actually it works quite well. It's almost as if an off-road expert is sitting in the passenger seat, ensuring that brakes, throttle and traction control work in unison to find the best possible grip.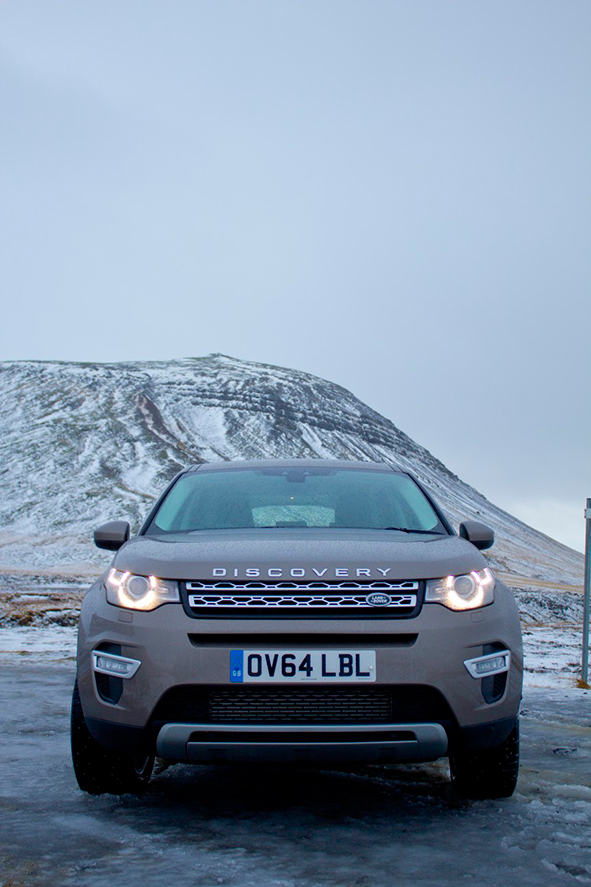 It ticks other off-roading boxes too. For those who care about such things, its approach, departure and breakover angles are 25, 31 and 21 respectively, and its wading depth is almost 2ft. It has decent underbody protection and no dangling bits to get caught.
How much does this matter to an average owner? Land Rover claims to know a thing or two about its customers, and one of the things it knows — but doesn't tell — is that few go deep off road. If customers of this new Discovery are anything like the rest, then it will seldom get beyond the farm track or pony-club field.
Yet the company can't afford to lose touch with its wild side. In one of the most fiercely competitive corners of the car market — family SUVs — Land Rover's badge and reputation are what trump sometimes better-equipped and better-finished rivals such as the Audi Q5 and BMW X3.
Whatever the conditions outside, says the subliminal sales pitch, Land Rovers look after the people inside. Winters in Britain may be benign compared with those in Iceland, but drivers still have to cope with snow, slush and motorway spray and they want to feel protected.
Hence the new Disco comes equipped with Hill Descent Control (maintains steady speed while negotiating steep inclines), Gradient Release Control (progressively releases brakes when pulling away on incline to reduce wheel spin), Roll Stability Control (detects the onset of a rollover and applies the brakes to the outer wheels to bring the vehicle under control) and Tow Assist (helps to hitch the horsebox) as well as all manner of other electronic safety systems. Its Euro NCAP safety rating is five stars, thanks in part to a pedestrian-protection airbag under the bonnet.
Land Rover says it has been tested in the cold of northern Sweden and the heat of Dubai. OK, we get the point: it will cope with everything that's thrown at it in everyday driving.
More important for Britain is that during its development families were allowed to climb inside a prototype, fiddle with the controls, strap in child seats — and children — spill food and drink on the seats, wedge things inside the cubbyholes and generally subject it to the type of abuse that even the toughest off-roading can't prepare it for.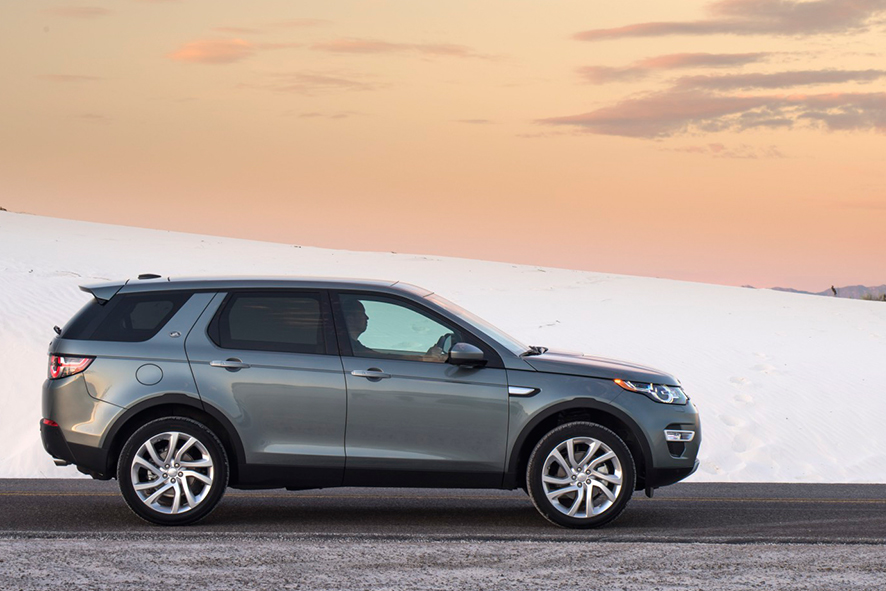 At 15ft long, the new Discovery Sport is about 3½in longer than the Freelander, but its designers have managed to squeeze in a full-size spare wheel and two extra seats. (Although officially it's a 5+2, because the extra seats are best suited for children and teenagers, we squeezed in a family of Icelanders in full winter clobber — seven of them, including two children and a guest — and they proclaimed it "roomy"; then again, huddling for shared bodily warmth is popular here.) The second row of seats slides backwards and forwards to make the most of the available space, and both the second and the third row fold flat for larger loads such as a fridge freezer — not something you'd bother with here.
It's clear Land Rover has not forgotten how to make a practical family car — albeit one in which smartphone and tablet charging points feature as prominently as cupholders and door bins.
There are other improvements, notably the infotainment system, which offers a range of apps for everything from internet radio to sat nav, as well as on-board wi-fi for teenagers who'd rather surf the web than hold a conversation with Mum and Dad. There are luxury touches too, such as an optional 17-speaker Meridian sound system.
For a seven-seater it's reasonably quick off the mark. The automatic version I'm driving gets to 60mph in 8.4 seconds, though the Discovery's rather blunt front end calls a halt to proceedings at a modest 117mph.
If there's fault to be found, it's that — aside from the welcome extra space — there's not much to set it apart from the discontinued Freelander (which managed 0-60mph in 8.7 seconds and 118mph). And that's because, underneath, when you strip away the steel and aluminium skin, it isn't much different. The chassis is adapted from the Freelander's and the vehicle will be built on the same production line in Halewood, Merseyside.
It inherits the 2.2-litre engine dating back to 2006, when Land Rover was still owned by Ford. It's been refined but it still doesn't comply with the EU's Euro 6 standards, so will probably fall foul of the proposed London ultra-low-emissions zone. Eco-minded drivers will be able to cut CO2 levels with a front-wheel-drive eD4 version out in the middle of next year, priced at less than £30,000.
Other parts derived from the Evoque include the 8in touchscreen and the ZF nine-speed automatic gearbox (an £1,800 option).
All this may give the impression that Land Rover has raided its own parts bin and dressed the result up as a new car. That would be, er, true. The company has made a song and dance about an all-new vehicle, yet its design mantra seems to have been "If it ain't broke, don't fix it".
Is that a bad thing? Once, Land Rovers were aimed at folk who wanted sturdy, unpretentious vehicles that did a job and did it well. That's not to say the cars lacked imagination. The Range Rover, launched in 1970, was the forerunner of the modern generation of SUVs that are now so popular. But in these global times the patronage of gentleman farmers no longer pays the bills. So the company went all aspirational, hired Victoria Beckham as a "creative design executive" and came up with the Evoque. Now Land Rovers are as popular in Beijing and Beverly Hills as they are in Berkshire.
The problem now for Land Rover bosses is how to satisfy their old clientele, who want a workhorse, while appealing to new customers who traverse nothing steeper than the speed humps at Waitrose — all within the limits of ever-tightening EU regulations. Purists will say that calling the new Sport a Discovery invites unflattering comparison because its bigger brother is a better all-rounder and you can buy the base model for £1,400 less than the top-spec Sport I drove. The same, of course, could be said about the company's decision to badge the Evoque a Range Rover. That car has been a runaway success — the irrevocable logic of which has no doubt silenced objectors.
Judged in its own right the Sport is a fine vehicle. It may not actually be wholly new but it is a clever repackaging of dependable bits from Land Rover's parts catalogue, with added gadgets and sparkle. A sort of coming-together of Ranulph Fiennes and the Spice Girls, if you'll pardon the analogy. To give credit where it's due, it's also a miracle of internal design. The Sport will carry two parents, their offspring and friends in comfort. Plus it stays true to Land Rover's tradition of a high-up "command" driving position and "stadium seating" (where passengers are higher than the row in front), and all that sets it above its rivals in every sense.
There's no shortage of choice in the SUV market. With BMW or Audi you get the reassurance of Teutonic attention to detail. Then there are low-price Far Eastern SUVs with long warranties. With this Land Rover you get something more enjoyable: the best view of the road ahead, an invisible off-road expert sitting next to you and an invitation to explore a wilderness.
Rufford's verdict ★★★★☆
Discover your wild – and take the children
Land Rover Discovery Sport SD4 HSE Luxury specifications
Price: £42,995
Release date: January
Engine: 2179cc, 4 cylinders, diesel
Power/Torque: 187bhp @ 3500rpm/ 310 lb ft @ 1750rpm
Transmission: 9-speed automatic
Performance: 0-60mph: 8.4sec
Top speed: 117mph
Fuel: 44.8mpg (combined)
CO2: 166g/km
Road tax band: H
---
Browse the used Land Rover Discoverys for sale on driving.co.uk
---
The rivals
BMW X3 xDrive30d xLine, from £41,295
For Excellent on-road; six-cylinder diesel gives good performance and economy; meets EU6 emissions rules
Against No option of seven seats; firm ride comfort on larger-size wheels
Browse the used BMW X3s on sale at driving.co.uk
Audi Q5 2.0 TDI (177) quattro S line Plus, from £39,060
For Stylish interior; feels robust; simple to use; permanent four-wheel drive
Against Noisy; doesn't meet Euro 6 rules; no seven-seat option
Browse the used Audi Q5s for sale at driving.co.uk