Audi Q7 Mk 1 review (2006-2015)
Do UK drivers really need such a vast and powerful SUV?

What is the Audi Q7?
Does anyone really need an SUV as vast and intimidating as the Audi Q7? Small children quail at the sight of its fierce face, lesser cars scatter into the verges as the Q7 bears down on them in a country lane. If you have any sensibilities about the brashness and selfishness of over-specified, oversized 4x4s, you'd better stop reading now.
That Q7s are as popular as they seem to be shows that there are plenty of buyers with no such scruples. Their small children have learnt to leap high enough to clamber over over the sills and into the main reason for choosing a Q7 over a Porsche Cayenne or a Volkswagen Touareg, which is the seven-seater interior made possible by a longer wheelbase (and an overall length well over five metres, along with a width sufficient to scrape both sides simultaneously on a standard UK width-restrictor).
The Q7 is made in the same Bratislava factory as those two cousins. Its engine range stretches from petrol or diesel V6s of 3 litres to a diesel-only 4.2 V8 and finally to a monster 6-litre diesel V12 (now discontinued, understandably). That top version was hideously expensive, and comfortably the most expensive "off-roader"-type car you could buy. The most popular 3 .0 TDI version, however, kicks off at a far more manageable £43,885.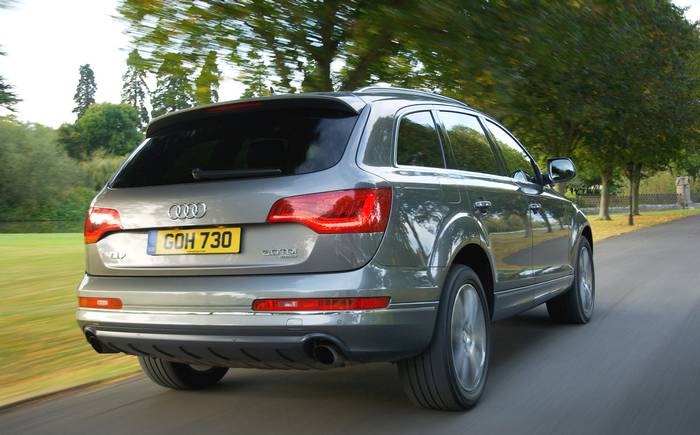 The drive
It's vast but the Q7 feels surprisingly wieldy to drive, helped by the imperious driving position, artificially light steering and air suspension, which manages to feel both supple and slightly sporting. As ever, this is best left in its automatic mode, and it's also possible to raise or lower the Q7 for (mild) off-roading or loading the boot.
The transmission works much like that of other quattro-drive Audis and lacks the low-range gearset found in some Cayennes and Touaregs, so it will never match either those, or a Range Rover, off road. An eight-speed automatic gearbox is standard, naturally. In normal road driving more of the engine's efforts are fed to the rear wheels than to the front ones, helping to point this leviathan tidily into a briskly taken bend.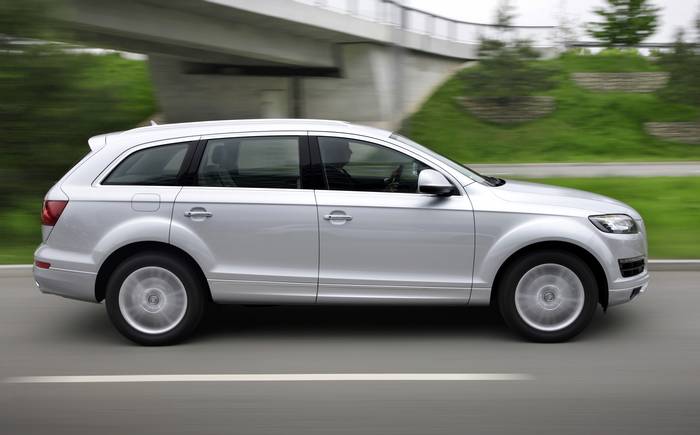 Despite weighing 2300kg, even the 3.0 TDI Q7 moves fairly smartly with 0-62mph of 9.1 seconds. This is a smooth, muscular engine and also a fuel-efficient one, with a 189g/km official CO2 rating in 201bhp guise. You don't really need any more engine than that, although there's also a 242bhp version that  is rated at 195g/km.
The interior

Inside the Q7 is all you'd expect of an uprange Audi, including the MMI multimedia system that has one of the best thought-out screens and controller of any such device. The whole cabin feels expensively made out of high-quality materials, and there are plenty of places to stash your McFlurrys.
The rearmost seats aren't as useful as you'd expect in such a monster car, though, being short on headroom and legroom compared with the space found back there in a Land Rover Discovery or a Toyota Land Cruiser. They're really for children only, making the Q7's size seem even more profligate.
What to look out for when buying a used Audi Q7
As you'd expect of an Audi, the Q7's reliability record is pretty good, although there are still things to watch out for. Tyre wear is the biggest issue: these cars are heavy and the tyres have been known to wear out in just 6000 miles. Other issues centre on electronics playing up, especially the remote key fob, while ECU faults aren't unknown and multimedia system glitches also crop up.
Reassuringly, there's been just the one Q7 recall so far, affecting cars with a power-assisted tailgate built up to summer 2007. The tailgate could close itself without warning, necessitating a new motor.
The one to buy
Audi Q7 3.0 TDI quattro
Specifications
Price:

£43,885

Engine:

2967cc, V6 turbodiesel

Power:

201bhp @ 3200rpm

Torque:

332 lb ft @ 1250rpm

Transmission:

8-speed automatic, four-wheel drive

Acceleration:

0-62mph in 9.1sec

Top Speed:

127mph

Fuel

39.2mpg combined

CO2:

189g/km

Road Tax Band:

J

Dimensions:

L 5089mm, W 1983mm, H 1737mm
Audi Q7 rivals