Group test: Best seven-seat people carriers for a growing family
The latest MPVs set a lot of store by being different from their predecessors.
THERE ARE plenty of unappealing myths about parenthood: your brain will turn to pureed carrots; and when it comes to cars you'll be drawn to a hulking great bus of an MPV. Rather than looking beguiling in a drop-top, you will find yourself thinking about cupholders, child seats and cubbyholes, along with boot capacity. Bye-bye, lovely sleek Mercedes SLK, hello big blubbery people carrier. It's the nail in the coffin of your street cred; time to surrender your individuality and slip into the amorphous mass of parenthood.
But does it really have to be quite so earth-shatteringly dull a proposition? The latest MPVs set a lot of store by being different from their predecessors — more stylish, agile and attentive to driving dynamics and the needs of the chauffeur, not just to their tyrannical passengers.
Once a tiny niche market, MPVs now make up almost 7% of new car sales in the UK, while sales of once ubiquitous family cars such as Ford Mondeos, BMW 3-series and Vauxhall Insignias — a segment known as "upper medium-sized" cars — now make up just 9.2%, down from 11.6% in 2012.
The latest addition to the MPV market is the second-generation Citroën Grand C4 Picasso, a compact (4,597mm long, to be precise, so it's all relative) seven-seater that went on sale in January but was crowned Top Gear magazine's family car of 2013.  The interior is apparently — and mind-bogglingly — inspired by "loft-style" living.
Another leader in the field, the Renault Grand Scénic, claims to be "a less functional, more car-like approach to the MPV concept" with spokesmen keen to bandy about words such as "style" and "performance". Renault was the first to launch a modern-style MPV for the European market back in 1984 and dominated the sector for a decade. The original Renault Espace is now a charmingly retro museum piece, with its triangular nose, oblong headlights, tiny wheels and big boxy body.
The 21st-century versions may lack its quirkiness but they are all together more driveable — less van-like — while retaining the same flexibility (seats that fold flat or can be removed), a higher roofline and centre of gravity, plus a flat floor for easy access and loading and ample luggage space for all the buggies, bags, cots, tents, scooters and toys.
SUVs might be seen in some quarters as more high status — and less of a total capitulation to parenthood — but MPVs usually trump them in terms of fuel economy, emissions and practicality. Also, while they may not draw admiring glances, they are unlikely to attract the opprobrium occasionally directed at a lone woman behind the wheel of a gargantuan Chelsea tractor. If your household has more than three children — and with 900,000 stepfamilies now living together in the UK, it's more common than you might think — an MPV becomes a no-brainer.
So Driving decided to put this new generation of wannabe-cool MPVs to the test: the 2014 Grand C4 Picasso, the latest Grand Scénic and the Kia Carens. Is it possible to live with one of these vehicles, carry out your normal (mummy) business and still enjoy motoring? Does parking become a catalyst for family breakdown with a vehicle of this size? Can they elicit appreciation rather than pity?
We could have carried out this experiment with a trio of five-seat MPVs but in the end we decided on the ultimate test and opted to "go large". So, for two weeks I loaded up my man, our two children and their attendant paraphernalia, and put these seven-seat people carriers through their paces to see whether it really is possible to do safe, practical and economical family motoring with a modicum of style and flair.
Citroën Grand C4 Picasso
Price from £26,855
Rating ★★★☆☆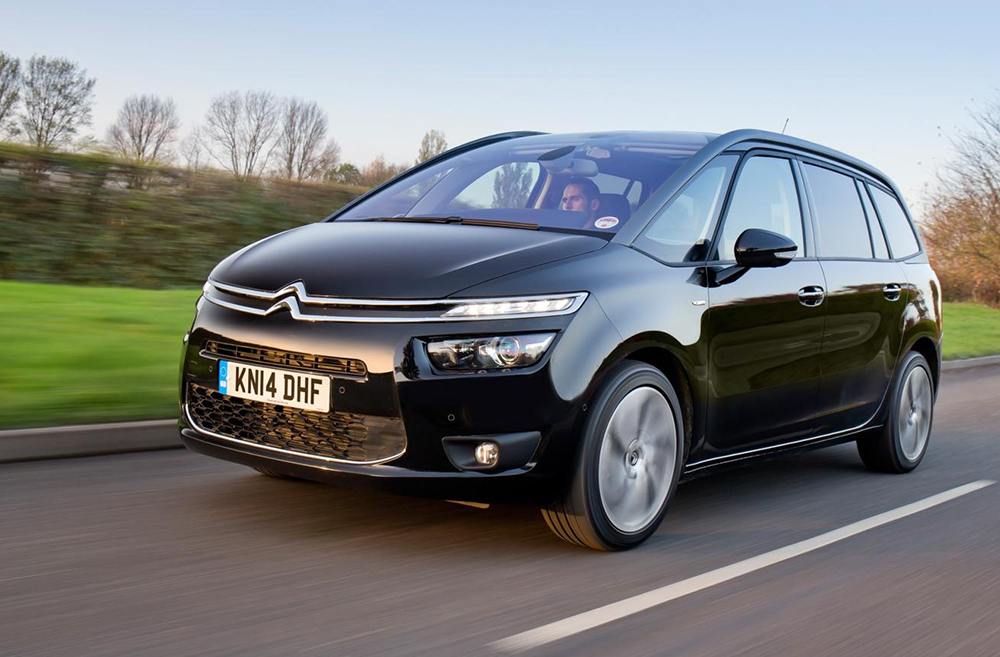 Citroën was determined to trump its rivals with the launch of the new Grand C4 Picasso. On paper it beats the Renault and Kia on pretty much all fronts — more room, luggage space, power and speed, as well as better acceleration and fuel economy, and lower emissions — plus it is more than 100kg lighter than its predecessor.
Claims of a "loft-style" interior are exaggerated, but it was uncluttered and streamlined if a little 1990s office. From a certain angle the Grand C4 does look rather thrusting, with its strip of white LEDs wrapped round each front corner. But perhaps it was the insipid pale blue my test car came in, or the co-ordinating drizzle, but the verdict from every mother I crossed paths with was a resounding "meh" of indifference. Side-on, the stumpy bonnet gave the car a sort of snub-nosed apologetic look and seemed to accentuate the bulkiness of its body.
The Citroën is the longest, widest (if you include mirrors) and tallest of the trio and was dubbed "Mummy's biiiiiig car" by the children. Like its rivals, it has a third row of two individual seats that fold flat to the boot floor. The second row of seats can also be folded flat. With five seats up, you get 793 litres of boot space, and 2,181 litres with all seats down. And there are fold-down tables, cupholders galore and extra stowage spaces in every nook. I could probably squirrel half the contents of our house into a Grand C4.
My two-year-old daughter's enormous rear-facing car seat was swallowed up effortlessly, leaving ample room for a front-seat passenger to stretch out. On the minus side, I had to install an intercom for the children to communicate across the middle row of seats and I almost took out about half a dozen cyclists as I sprawled unavoidably into cycle lanes on the narrow streets near where we live.
The C4 has the best 0-62mph time (9.8 seconds) of the three cars I drove, but you have to rev the engine hard in the lower gears to get things moving. Overall it seemed most at home eating up miles on a motorway in sixth gear. Fuel consumption is impressively low — officially 65.7mpg on a combined cycle — and with plenty of space and no obstacles to negotiate I forgot I was driving a seven-seater.
No such luck in a cramped multistorey car park. The C4 isn't too hard to manoeuvre, and visibility is excellent, but it is big and the parking sensors on every corner are extremely nervy. So much so that parking becomes a cacophony of escalating beeps, as every sensor alerts you to the proximity of another vehicle. After 10 minutes spent wiggling into the only available space alongside a tomato-red Porsche my nerves were shattered.
And never open the door of a Grand C4 Picasso with the engine on and the car still in gear. I did this, to check if I was close enough to the kerb, and unleashed a siren-like alarm so urgent that my four-year-old son was disappointed not to receive a visit from Fireman Sam.
That brings me to the digital dashboard. Citroën thinks it has simplified the in-car entertainment (Ice)/navigation/air-conditioning system by putting it all in one place and with largely touchscreen controls. But try feeling for the "button" on a  display without taking your eye off the road. At one point I had to listen to half an hour of 1980s soft rock "classics" before I could pull over to change the radio station. With my son and daughter in the back I was reduced to bashing blindly in the general area of the screen in the hope of landing on a preschool-friendly tune to distract from the war of attrition over an item of coveted plastic tat (the ultimate Ice option for preschoolers). Still, maybe you get used to it — rather like with children.
Citroën Grand C4 Picasso Blue HDi Exclusive+
Engine 1997cc, 4-cylinder turbodiesel
Power 147bhp @ 4000rpm
Torque 273 lb ft @ 2000rpm
Transmission 6-speed manual
Acceleration 0-62mph: 9.8sec
Top speed 130mph
Fuel / CO2 65.7mpg / 113g/km
Vehicle tax band C (free for first year)
Dimensions 4,597mm long, 1,826mm wide(without mirrors), 1,656mm high
Boot capacity 793 litres (5 seats in use)
---
---
Kia Carens
Price from £20,595
Rating ★★☆☆☆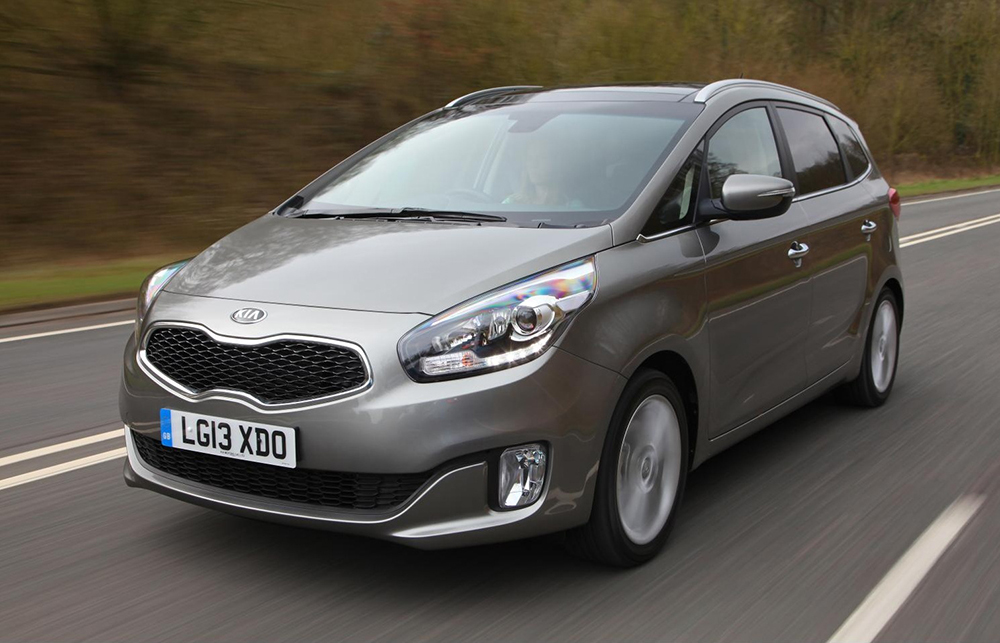 Driving an MPV was bad enough, but driving a Kia MPV? Surely this was the route to unsurpassable blandness. Of all the cars here, I was expecting to absolutely loathe the Carens — even its name means "lacking" in Latin. As if on cue, on seeing the Carens my daughter started to cry, throw a tantrum and gesticulate wildly in the direction of Daddy's car, screaming: "I wanna go in dat waaan!"
The Kia's interior was pretty uninspiring, although not actively ugly. The exterior, however, was definitely more car than van and while by no means offensive it was never going to set pulses racing. On the motorway it felt underpowered — 114bhp to the Citroën's 147bhp (although there are 134bhp units in the Carens range too) and 151kg heavier. The hard-working engine almost drowned out the weedy stereo, depriving parents of that comforting wall of sound — whether it's playing Miley Cyrus's Wrecking Ball at full blast to drown out the squabbling, or indulging the little ones with another Thomas the Tank Engine CD. The boot is just 492 litres with five seats up, which takes it into saloon territory, although the middle row of seats and the front passenger seat all fold flat.
But considering it is far cheaper than the Renault and the Citroën, the Carens isn't at all bad. For a start, it is shorter and thinner than the other two, yet still has room enough for three child seats of all but the most dramatic proportions. It didn't feel too unwieldy on busy urban streets, parking was no big deal and  around town it felt not dissimilar to driving a medium-sized car. Even my daughter's aversion thawed on a drive through London.
It isn't remotely hi-tech or flashy: a normal key and handbrake and the customary plastic dials on the dashboard, which is fine by me. With small children you barely have time to read the road signs, never mind take in, digest and analyse figures on a digital dashboard while imploring your son to give your screaming daughter her Peppa Pig toy back. Some things about being a mummy are never going to be cool, and I'm cool with that.
Kia Carens 1.7 CRDi 2
Engine 1685cc, 4-cylinder diesel
Power 114bhp @ 4000rpm
Torque 192 lb ft @ 1250rpm
Transmission 6-speed manual
Acceleration 0-60mph: 12.6sec
Top speed 112mph
Fuel 60.1mpg
CO2 124g/km
Vehicle tax band D (free for first year)
Dimensions 4,525mm long, 1,805 wide (without mirrors), 1,605mm high
Boot capacity 492 litres (5 seats in use)
---
---
Renault Grand Scenic
Price from £23,395
Rating ★★★★☆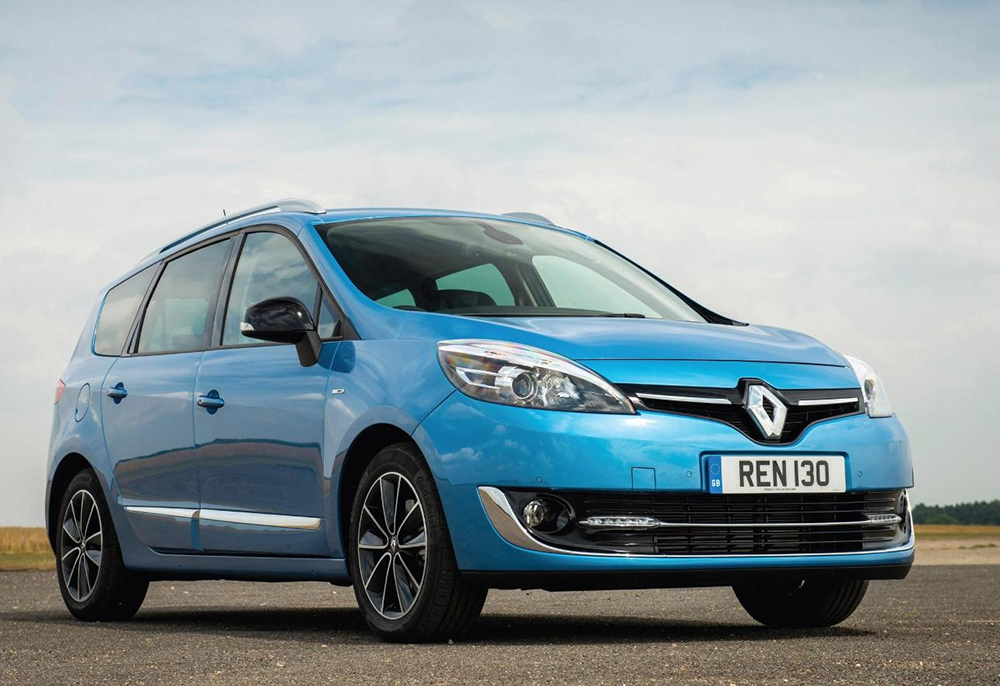 When the Renault arrived in a jaunty blue ("Azzurro Blue" in Renault-speak) the children were superficially excited: it instantly became "Mummy's blue car". The Grand Scénic's side profile was more dynamic than the Citroën's, especially with the chrome detailing along the roof bars, tailgate and grilles. One neighbour even commented admiringly on my new car (though she may have been more interested in wheedling out whether this was the sign of an expanding family).
The Renault is wider than the Citroën (minus wing mirrors), yet my son's car seat only just squeezed into the space. To further counter the frumpiness of the MPV image Renault has added some (relatively) hi-tech touches such as push-button start (the Citroën has it too).
It also has a digital dashboard, although I found the Grand Scénic's display less confusing than the one on the Grand C4. The sat nav included a seven-digit postcode search (the Citroën's didn't) and the stereo/air-conditioning also seemed easier to handle.
The interior was attractive, with a mixture of synthetic leather and Teflon-coated fabric, which sounds dismally functional but looks rather smart (and is toddler-proof). Though not as fast as the Citroën, or as frugal, the Renault drove well  at higher engine speeds, manoeuvred deftly and felt comfortable.
The second row of seats can be removed or folded forwards but does not fold flat as in the Grand C4. With five seats in place the boot capacity is only marginally less than the Citroën's, however, which should be enough for all but the most epic family excursions. We struggled to even half-fill it. Four years of a small hatchback and a husband who likes to travel light have reduced my holiday packing to buggy, travel cot, a toy each for the children and a change of underwear.
After driving two of these vehicles, I was beginning to wonder whether the children were seriously deprived and guiltily scheduling a trip to Toys R Us. Definitely time to step away from the wheel.
Renault Grand Scénic Dynamique TomTom Energy
Engine 1598cc, 4-cylinder diesel
Power 128bhp @ 4000rpm
Torque 236 lb ft @ 1750rpm
Transmission 6-speed manual
Acceleration 0-62mph: 11.1sec
Top speed 121mph
Fuel / CO2 64.2mpg / 114g/km
Vehicle tax band C (free for first year)
Dimensions 4,573mm long; 1,845mm wide (without mirrors); 1,645mm high
Boot capacity 702 litres (5 seats in use)
---
---