First Drive review: Audi Q7 (2015)
Put your foot down, Waitrose closes soon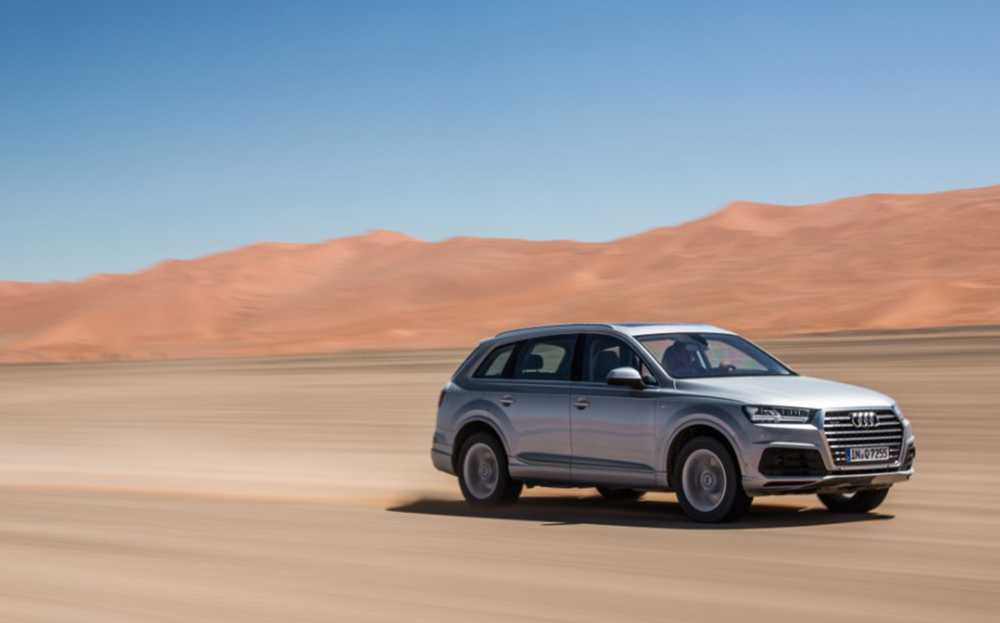 THERE can't be many more hostile places to drive a car than Namibia. If the heat, the talcum powder-fine dust and roads with potholes the size of fridges don't get to you, the occasional deadly black mamba just might.
---
Browse the used Audi Q7s for sale at driving.co.uk
---
But for Audi, the inhospitable nature of this southwest African country is part of its appeal. If a car can make it here, as Frank Sinatra almost sang, it can make it anywhere. It's the reason why half a dozen engineers and bespectacled boffins more usually seen in lab coats in Ingolstadt — Audi's German headquarters — have gathered in the great dust bowl of the Namib, among the world's oldest deserts, and home to sand dunes more than 1,000ft high.
Their job is to put the Q7 off-roader through its final paces before launching it on European roads. This is the final sign-off — a chance for the big chiefs of every department to test the components for which they are responsible. That means everything from the door handles to the drive shaft and the seat mechanism to the adaptive air suspension. Nothing should go wrong at this stage — the car is due to go on sale in August — but the Germans are not known for their cavalier attitude to precision.
To get to our remote base, we fly to Windhoek, the capital, where we meet a small plane that will take us south to the Sossusvlei region in the Namib Desert. The tone is set when our pilot announces, shortly after take-off, that he can hear a noise that he doesn't like. He executes the aerial equivalent of a handbrake turn and we're back on the ground where the problem turns out to be a loose hatch handle. We are assured the Q7 is better screwed together; although on landing we are issued with a satellite phone, just in case.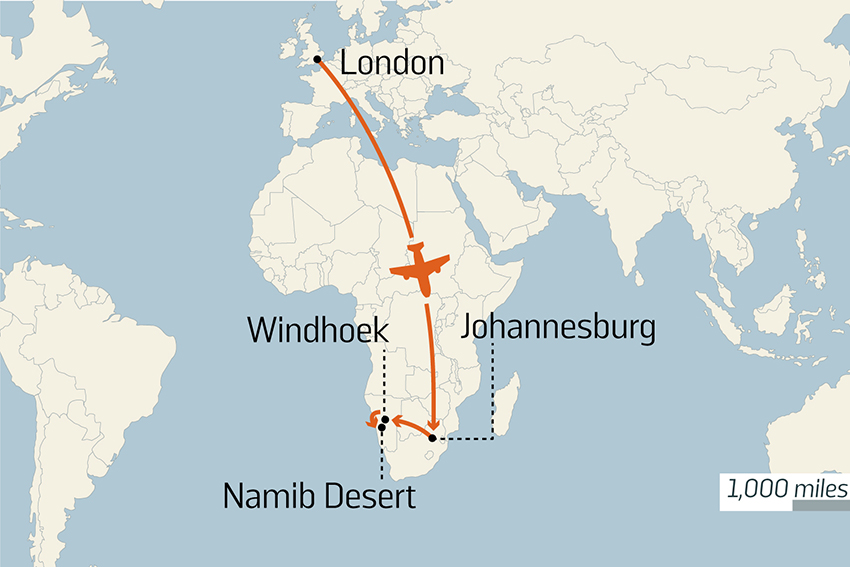 The terrain here is perfect for this type of work: Namibia has some of the most challenging dirt roads in the world, which is good when you're looking for rattles, creaks or dust getting the better of the car. It is far from the prying eyes of competitors, and the incredibly bright sunshine is ideal for discovering whether your interior plastics are up to blast-furnace conditions: a Q7 was parked for six months in the Namibia sun to see what happened, with "smell tests" conducted occasionally to see whether the plastics emit any nasties. It's also a good way to see whether powerful sunlight reflects badly on instrument panels and infotainment screens.
Granted, most Q7s sold in Britain will spend their time cruising the lanes of Surrey or Cheshire, but that's not the point. This latest version of Audi's largest car is also one of its most important: the competition in the premium SUV class has hotted up since the first Q7 appeared in 2006, with new versions of the Range Rover and BMW X5 stealing sales.
In response, Audi has put its giant of the road on a diet: the new five-seat car has lost 325kg (a little less for the seven-seat model that will be standard in Britain), which is a bit like asking four large friends to please get out of your car. Audi has achieved this mainly through lightweight body construction with ultra-high-strength steel and aluminium playing a key role — the doors, front wings, bonnet and boot hatch are, for example, all aluminium.
The car is shorter and narrower than the one it replaces, and it looks much less like the blunderbuss of old. Sharper shoulder lines and aluminium-like trim running above the sill do a great job of making the Q7 look less massive in profile. The headlights are sharper edged, as is the colossal grille with its thick aluminium surround.
If you're using the rear row for adults on a regular basis, you've got too many friends
Don't, though, go thinking that this sparkling new Audi is all svelte and sylph-like — the Q7 still has an unmissable road presence, which will be a relief to stockbrokers' wives across the country. It's a good-looking thing too, albeit in that predictable Audi-family way — if a Q3, Q5 and Q7 drove past you quickly, you'd struggle to work out which was which.
The other neat trick that Audi has pulled off is increasing the space inside, even though the external dimensions have shrunk. It has achieved this with clever packaging and seats that are a bit thinner, though no less comfortable, than before. There is more head, shoulder and knee room and the second row of seats can slide over a longer range. The third row of seats, which can be folded down and up electrically, are strictly for children and adult emergencies. With the middle row slid forward a bit my 6ft 2in frame just about fits in the back row, albeit without headroom to spare. This is suitable for short trips only, but if you're using the rear row for adults on a regular basis, you've got too many friends.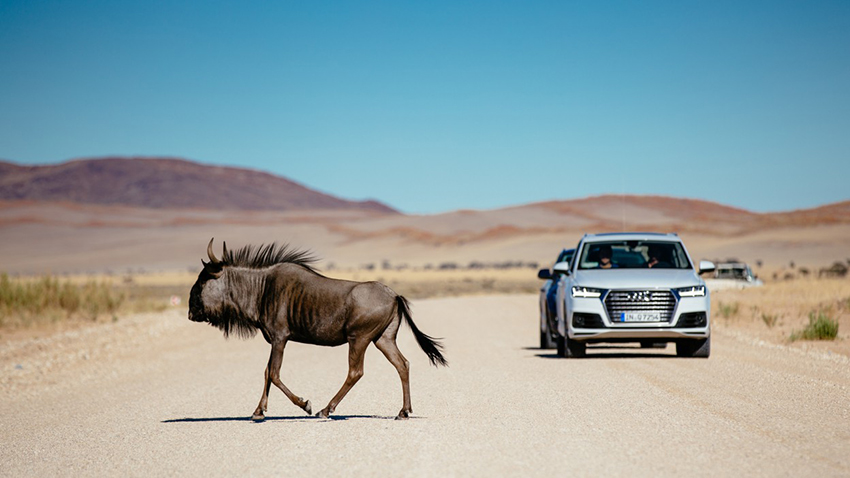 Back on the road, an oryx with comically ringed horns looks at us with a quizzical cock of his head as we spear past, leaving a vast wake of white dust as fine as flour. The gravel road — one that vanishes to the horizon — alternates between punishing washboard and deep dips that are almost impossible to predict.
And still, I'm able to maintain a steady 75-80mph, not out of bravery or lack of mechanical sympathy but because the Audi just does a "whatever" shrug at the next thing to come its way, no matter how extreme. Its air suspension, which maintains a consistent ride height and refuses to bottom out on even the most extreme dips, will eat British standard potholes and speed bumps for breakfast.
In Britain we'll be getting just one engine initially — luckily it is Audi's 3-litre V6 268bhp turbodiesel, which is a peach: refined and punchy. It is claimed to return 47.9mpg, which in an Audi this size is good going, although real-world consumption is likely to be far less. Later this year Audi will introduce its e-tron plug-in diesel hybrid version, and next year we'll get a stonking V8 hotshoe SQ7 model.
We take to the asphalt road that leads to the monumental red sand dunes in the south of the Namib. The Audi has been expert at dancing around the gravel sweeps and dips, and on the tarmac it feels equally poised with the ride beautifully cushioned. You can immediately feel the impact of that weight loss on the agility of the Q7 — this car is going to ride and handle much better than the current model.
And the rear steering system, which allows the back wheels to turn by up to five degrees, tightens the turning circle for easier parking at low speeds, and increases agility at high speed.
We run through the soft red sand at the base of the dunes, and the Q7, although without the benefit of a low-range gearbox, has no trouble dealing with the drama. Its four-wheel-drive system sends 60% of grunt to the rear and 40% to the front — sand curls off the tyres and it just powers through.
Two days and 300 hard miles later, we're ready to head back to a tiny airfield where a 30-year-old Cessna 210 Centurion waits to take us back to the relative civilisation of Windhoek. The Audi is covered in a thick layer of dust, artfully painted over its body courtesy of speeds that didn't fall much below 75mph for the duration.
To cover this kind of territory at this kind of speed I should have returned with tales of broken half-shafts and destructively high engine temperatures that required use of the satellite phone to call the cavalry.
Instead, the Q7 handled everything Namibia could throw at it — although when I asked to drive up one of the skyscraping sand dunes I was told in no uncertain terms that I could not.
In fact the most worrying thing I heard or saw was a black mamba lurking by the roadside, pretending to be a bit of delaminated rubber from a lorry tyre. It crystallised my policy for adventurers driving across the Namib Desert: never get out of the car.
2015 Audi Q7 3.0 TDI specifications
Price: £50,340
Engine: 2967cc, V6 turbodiesel
Power: 268bhp @ 3250rpm
Torque: 443 lb ft @ 1500rpm
Transmission: 8-speed auto
Performance: 0-62mph: 6.5sec
Top speed: 145mph
Fuel: 47.9mpg (combined)
CO2: 153g/km
Release date: Order books open now for August delivery
---
Browse the used Audi Q7s for sale at driving.co.uk
---