Seat Alhambra Mk 2 review (2010-on)
Take a seat in the winner of the space race
---
Published 19 September 2014
What is the Seat Alhambra?
If you have more than three children, or are doing your bit with other parents to share the burden of the school run, you'll need more than five seats. The Seat Alhambra and Volkswagen Sharan are the most spacious and practical MPVs on the market — as good as identical, bar the badges on their bootlids — but the Seat gets our nod because the 2.0 TDI 140, the version with the best engine, is cheaper. And what parent doesn't jump at the chance to save money?
It costs from £25,630 in S trim, and seats seven. What's more, it comes with no fewer than six Isofix mounting points for child seats — one for the front passenger seat and five for the back seats — which is seriously handy. As any parent who does the school run will know, you can often come home with more children than you took to school.
---
Search for and buy used Seat Alhambras here
---
Realistically, the best gearbox choice for buyers of this size and type of car — which, let's face it, was never engineered to be enjoyable to drive — is the DSG. That's VW-speak for an automatic transmission, and the cheapest version with that is the S specification, for £26,915.
Buyers should give serious consideration to the SE trim level, as it adds a wealth of practical features. Highlights include tinted rear windows and sunblinds built into the rear doors, a heap of additional storage compartments, roof rails, automatic headlamps and cruise control. It costs from £28,795 with an automatic gearbox.
However, according to Seat, most customers opt for the poshest SE Lux trim which includes sat nav, a reversing camera, electrically operated rear doors and boot lid, a panoramic sunroof (which opens and features a shade) and electrically operated, heated front seats.
The drive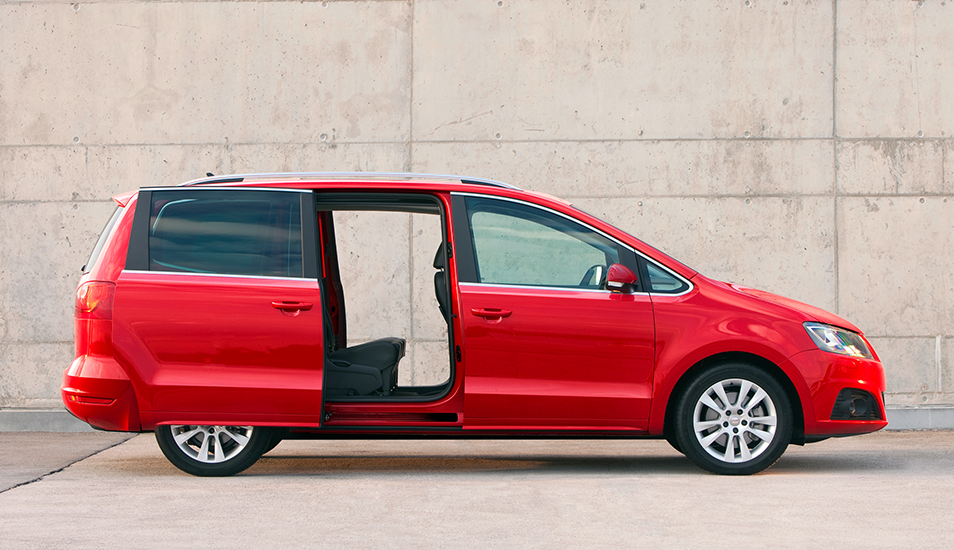 Looks like a bus, drives like a bus? Thankfully, no; at least on the latter charge. The Alhambra is relatively quiet on the move, rides comfortably and feels stable at high speeds.
There are no petrol engines in the range; only diesel engines, both of 2-litre capacity, in either 138bhp or 175bhp tune. Seat says this is down to customer preference.
The lower powered of these is all you'll ever need, as it makes swift enough progress (0-62mph in 10.9 seconds) even when the car's loaded for a weekend away. What's more, it averages 49.6mpg which, bizarrely, is slightly more than the higher-powered model but is the sort of figure that will make the owner of a seven-seat SUV weep. With CO2 emissions of 149g/km, it will cost £145 a year to tax.
---
Don't know your BHPs from your MPVs? Click to take a look at our car jargon buster
---
It's refined enough for this type of car, and pulls keenly from around 1700rpm. What's more, the automatic gearbox — the Volkswagen Group's six-speed DSG dual-clutch set up — is responsive and changes gear smoothly. It could do with another gear, to lower the engine speed on the motorway, though.
Few people carriers are designed to fly round corners like they're on rails, although the (soon-to-be-replaced) Ford S-Max comes close. So it's no surprise to find it will tackle winding mountain roads in a slow and steady fashion, without a hint of enthusiasm. But there's not too much body roll in bends, the steering is light and the handling is predictable; pile into a turn too quickly and the front tyres gently run wide, but lifting off the throttle sets everything back on course.
The interior
With an interior so cavernous that passengers will swear their voices are echoing, the Alhambra is as big as people carriers get, unless you count van-based models such as the Mercedes Viano and VW California.
On top-spec SE Lux Alhambras, the huge sliding rear doors and tailgate open and close electrically at the touch of a button on the key fob. You close them manually on lesser trims but electric power is more fun, albeit a stiff £1,005 option on S and SE models. With everything open, parents of three or more children will stand aghast, as it dawns on them that this is the calm they've been missing in their hectic, cluttered lives.
All seats adjust independently of one another, and can fold down into the floor to create a vast load bay in which you could happily stretch out. It takes no effort to fold the seats up or down, and because they sit flush in the floor, there's no need to lift them out.
As mentioned, there are six Isofix child-seat mounting points. The outer seats in the middle row have tray tables for putting the last-minute finishing touches to homework and there are neat practical features that Volvo drivers will recognise, such as a built-in booster cushion (a £230 option) that can be raised out of one of the back seats when needed — perfect for those parents who find themselves coming home with one more child than expected.
Other handy features are huge door bins in the front and back which can hold 1-litre bottles of water, and underfloor compartments where iPods and tablets can be stored out of sight, or out of harm's way from little feet.
The rearmost seats are easy to access, as the outer middle row seats tip and slide forward, and there's enough room for adults to squeeze into them.
As for the driver's environment, it's functional, clearly laid out and feels relatively robust. The driving position is adjustable every which way and even on a long drive to the South of France, the seats proved extremely comfortable.
Helping with parking duties are parking sensors at the front and back of the car (standard on all trim levels) and a reversing camera (standard on SE Lux models). If you want an Alhambra that can park itself, then Park Assist is a £305 option.
The one to buy
Seat Alhambra 2.0 TDI (140) SE DSG
---
Search for and buy used Seat Alhambras here
---
Specifications
Price: From £28,795 (correct at first publication)
Engine: 1968cc, four-cylinder diesel
Power: 138bhp @ 4200rpm
Torque: 236 lb ft @ 1750rpm
Transmission: 6-speed dual-clutch automatic, front-wheel drive
Acceleration: 0-62mph in 10.9sec
Top speed: 119mph
Fuel: 49.6mpg (combined)
CO2: 149g/km
Road tax band: F (£145 at current rates)
Dimensions: L 4854mm, W 1904mm, H 1720mm
Seat Alhambra rivals