First drive review: Range Rover Sport (2013)
First drive review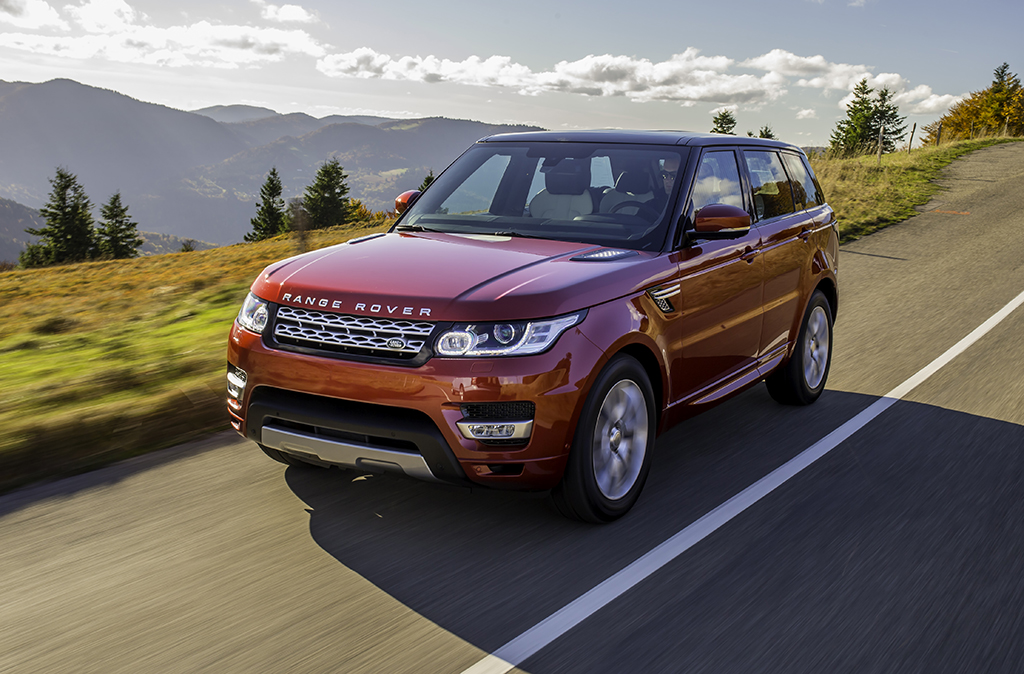 From its back massagers to its ultrasound depth monitor, the latest Sport is bristling with gadgetry. It will even text you if you've left a porthole open
What a blend of disparate concepts is the Range Rover Sport — part agricultural implement, part leather-lined über-SUV of the kind in which a Premier League footballer might plausibly take his family to a Harvester near Alderley Edge.
It is a cousin of the latest Range Rover (which was released to near-unanimous acclaim last autumn), and the brief seems to have been to create a hulking great status-enhancing limo that nevertheless handles like a sports car while being, at the same time, strong enough for desert warfare, should the need arise — which, in and around a Harvester near Alderley Edge, it so obviously could. It's a grand tourer, in other words, but capable of climbing mountains and with the time-honoured, stone-hewn Land Rover guarantee that it won't let you down in a tornado.
---
Search for and buy a used Range Rover Sport on driving.co.uk
---
You shall know it by its lower stance, its bonnet-top air inlets, the two lines of chainlink fence strung across its grille, rather than the three on the plain Range Rover, and its lightly enhanced level of suburban menace. "It's first and foremost a driver's car," suggests Land Rover. Or, "It's got 'Drive me' written all over it", which is quite a claim to make for a lump of metal this big and this square.
Yet the squareness is slightly mitigated in this new arrangement. The Sport adopts some of the crunched-down, forward-thrusting, sharply chiselled tilt of the Evoque, the mini-Range Rover whose success has Land Rover enjoying a golden period (company sales up 36% across the world last year). From the twin details on the side vents all the way back to the lippy spoiler projecting from the rear of the roof, the Sport, like the Evoque, appears to have its hair swept back. Even when parked, it seems to be doing 45mph into a decent headwind.
Nor is this just the latest Range Rover with a slightly lower ride height and some toy-boy alloys. More than 400kg of the original model's weight has been stripped out — the equivalent of five regular-sized passengers — with significant benefits to its handling.
That said, as with the Range Rover, a hint of gated-community paranoia lingers about the haunches. Cameras offer a 360-degree view of the car's immediate environs, pretty much ensuring that no one will ever steal your horsebox. Or your parking space. Or, at least, if they do, you'll be able to watch them doing it on television.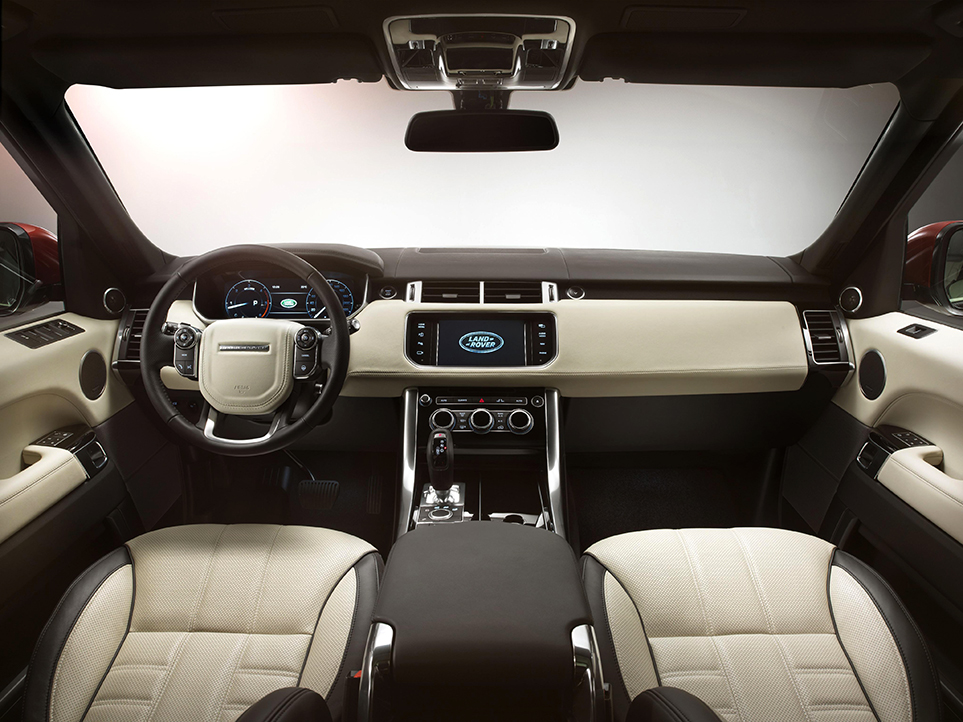 Furthermore, traces of Land Rover's distinguished past as a supplier of battle-ready machinery leak through even now in the company's peacetime deployment of military terms such as Terrain Response (your chance to adjust the car's stability settings in the event of snow, sand, gravel, hot and cold running lava etc) and the fabled Command driving position. In the Range Rover Sport, that Command position is slightly lower, but still perfectly commanding. Indeed, aloft at the thick-rimmed steering wheel in your 14-way adjustable leather chair (hand-stitched to resemble a model of an ideal abdomen), you appear to command the road ahead, the hedgerows, the fields beyond and a full panorama extending over at least three adjacent counties.
This may be a more dynamic version of the Range Rover, but it does not forget its family duties, as evinced by the thoughtful provision of two emergency overflow seats in the boot. No physical groundwork required: those seats pull themselves out of the floor electronically and stow away so convincingly that a person could plausibly own this car for many years without ever knowing they were there.
Thanks to the designers' cunning hollowing-out of the ceiling, there's plausibly enough headroom for adults back there, although the seats perch only just above floor level, so anybody grown-up will have to be prepared to sit with their knees up their nose. A Jaguar executive proposed that the third row would be perfectly serviceable for post-pub lifts, and it's certainly true that being half-cut would help. Note also that with the extra seats in operation, the boot capacity shrinks to just 175 litres, meaning that, although the Sport carries seven, it does so only at the cost of becoming, from the point of view of hauling luggage, a Mini.
We took a prototype model onto Jaguar's track at Gaydon, in Warwickshire, where it proved possible to reach 120mph without any detectable strain on the car's fabric, and certainly no strain on one's own fabric, or even very much in the way of wind noise. And then there was the chance to ease the car more slowly over Jaguar's deliberately semi-destructed test strip, which, being variously pitted, exotically potholed and even plain cobbled at one point, is currently one of Britain's better road surfaces. Passages of crumbling carriageway that would have caused lasting bone damage in less well-adjusted cars were but a distant irritation as far as the Sport's constantly compensating suspension was concerned — something simply to be glided beyond and forgotten.
Alas, we didn't get to sink the car up to its gunwales in water, thereby activating surely the best Range Rover gimmick ever — an ultrasound depth monitor that tells exactly how deeply you are steeped in the drink. Approach 850mm (2ft 9in), the car's unprecedentedly generous recommended "wading depth", and you'll be warned in time to back up. Presumably a further alarm sounds in the event of submarines — though in increasingly flood-prone Britain maybe one does best not to mock. At the very least it's a system that should embolden low-tide attempts to cross the Solent to the Isle of Wight without paying the exorbitant fare for the car ferry.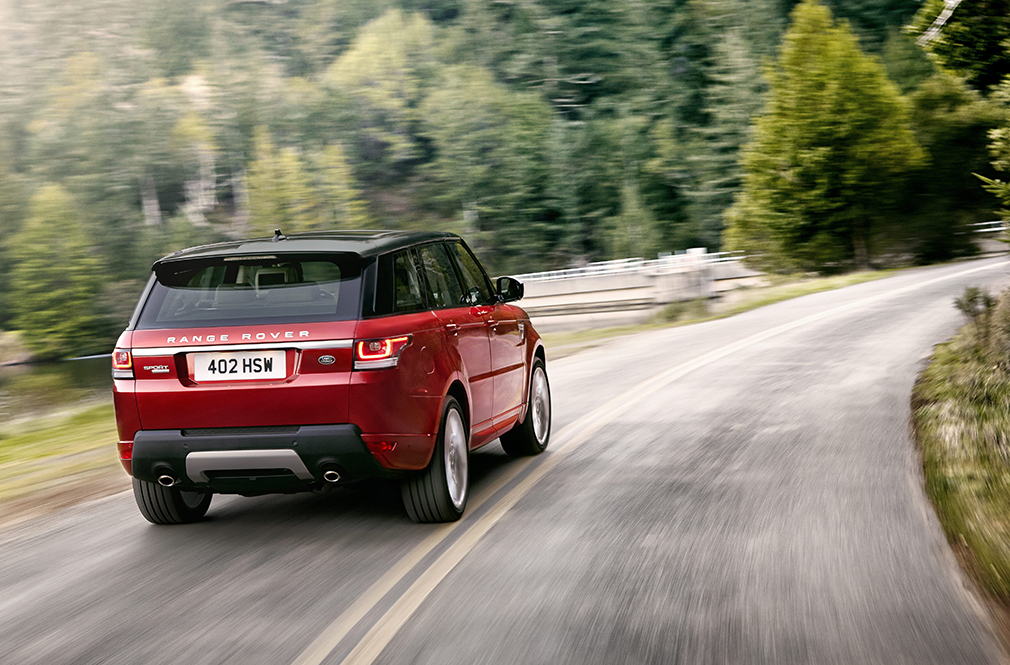 Our tests did not include a long run, but it was nevertheless fairly clear that even the most onerous journeys would be rendered light in these polished and powerful surroundings. Range Rovers have always been about easeful mileage and there's no reason to suspect that in this one you couldn't travel from Guildford to Moscow and emerge at the other end with only a mild numbness around the thighs to indicate that you had been anywhere at all.
Luxury provisions abound. This car is so smart that it can send you a text when you walk away from it leaving one of its windows open. Why it isn't clever enough simply to close the window, I'm not sure. But anyway, the front seats know five ways to massage your knotted back muscles. OK, so none of them is likely to yield full lymphatic drainage, or indeed produce an effect that much different from being rather feebly pushed in the back by someone holding an orange. But it's the thought that counts.
And this is before we even mention the studio-quality "3D" audio system. It's like the valley of sound in there: speakers to the left of you, speakers to the right of you, speakers even in the roof overhead, funnelling your Whitney Houston compilation CD (or whatever) determinedly downwards into your lap.
The bargain starting price of £51,500 can be manipulated upwards very quickly, thanks to these tempting add-ons — but even then, you'll be talking about only half a footballer's weekly wage packet.
Verdict
★★★★☆
Battle-ready for Cheshire and beyond.
Factfile
Engine:

2993cc, V6

Power:

255bhp @ 4000rpm

Torque:

442 lb ft @ 2000rpm

Transmission:

8-speed auto

Acceleration:

0-60mph in 6.8sec

Top speed:

138mph

Fuel:

38.8mpg

CO2:

199g/km

Road tax band:

J

Dimensions:

L 4850mm, W 2073mm, H 1780mm
The rivals
---
---
---