First Drive review: Ford C-Max (2015)
An Aston in the family way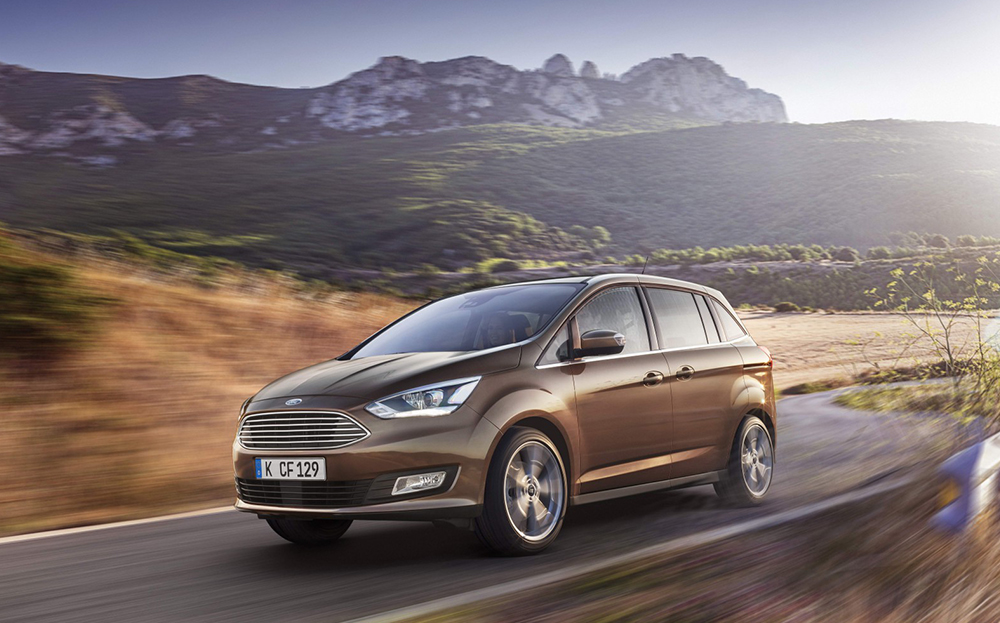 Ford C-Max, from £18,195
MPVs HAVE always had an image problem. Even in their early days they were seen as boring; a sign that the driver — typically a harassed parent — had given up on life. But they always had an ace up their sleeve: they worked so damn well that in the final reckoning between husband and wife over the kitchen table they were the obvious choice; they simply had no credible rivals.
That's all changed. Today, if you want a high-riding, spacious, family holdall that won't break the bank, there is a whole different class of car to consider. Compact SUVs such as the Nissan Juke, Ford Kuga and Skoda Yeti supply all the practicality of an MPV but none of the dull worthiness. Instead they offer a Bear Grylls-like image of adventure and attitude.
---
Browse the used Ford C-Max cars for sale at driving.co.uk
---
Which is why the latest version of the C-Max, Ford's evergreen MPV — a car that has been chugging along on the school run for more than a decade — tries very hard not to look like the family bus.
To some extent it succeeds, with its well-defined edges, intent frown, wedgy waistline and all-new front grille that makes it look as though Aston Martin has suddenly branched out into family MPVs.
The car is available as a five-seater or as the larger, seven-seat Grand C-Max, which has a longer wheelbase and sliding rear doors. The bigger vehicle works less well aesthetically: its jumble of glazing bars around the rear side windows, the mishmash of angles and the gashes around the sliding doors look forced and unnatural. More importantly, the rearmost seats suit seven-year-olds at best.
Ford sells far greater numbers of the regular C-Max than the Grand version, partly because the larger car costs £2,000 or so more and partly because the standard vehicle has ticked all the MPV boxes since its launch in 2003.
The latest version still does that and adds a new range of engines, extra gadgets and a cosmetic makeover for the cabin (as well as that Aston-like grille).
The old 1.6-litre diesel engine is replaced by a new 1.5-litre unit with more power — now 118bhp, up from 113bhp — but generating as little as 105g/km of CO2 on the official test cycle. There is no longer a four-cylinder turbocharged petrol engine because hardly anyone bought it in the previous C-Max. If you want a petrol model, go for the 1-litre three-cylinder EcoBoost engine, a brilliant little unit with 99bhp or 123bhp to choose from.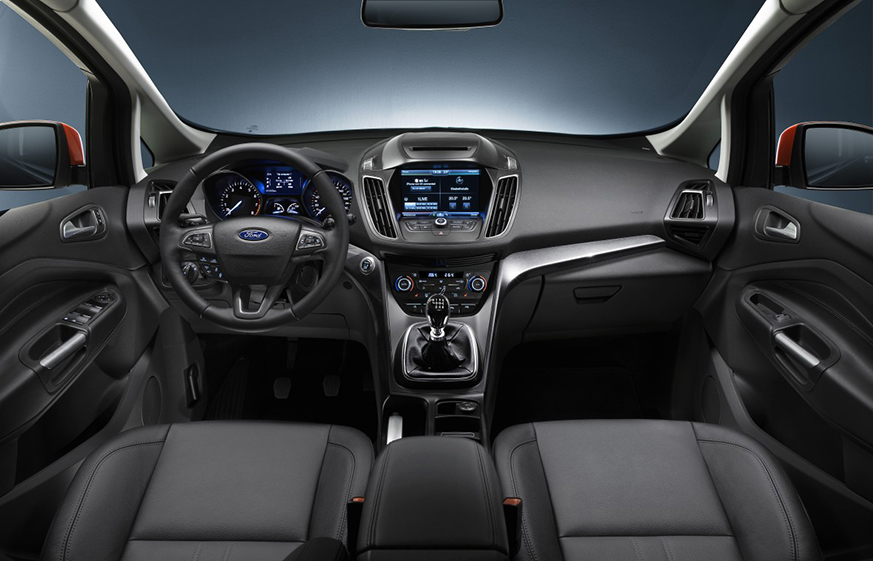 Finally there is the 2-litre diesel with 148bhp or 168bhp, and it's the former, with a six-speed manual gearbox, that we sample here. Straight away it comes across as a quality product (every car manufacturer wants to be premium now). The look of the dashboard and door trims is still an onslaught of angles and fiddly flourishes, as if the designers couldn't bring themselves to step back and say "That's finished", but there are fewer buttons than before because the central touchscreen has taken over more functions.
These include a calmer-looking, easier-to-use sat nav and a Sync 2 voice-activated command system to control the navigation, the stereo, your phone and the air-conditioning. Once you have learnt its intricacies you can say "I'm hungry" and a list of local eateries duly appears on the sat nav map.
Other gadgetry includes self-parking (and self-extraction from the space), self-braking and an irritating flashing reminder — in the form of the current speed-limit sign — that you've edged over the limit. There are also headlights that are able to point round corners.
Underneath all this is a roomy family car that is extraordinarily good to drive. The diesel engine is smooth, very quiet and very keen. The steering is one of the most natural-feeling electrically powered systems I have encountered. The C-Max flows beautifully around bends and nonchalantly soaks up most bumps. It moves with a precision and panache that chunky, top-heavy SUVs can only dream of, and unlike many of these, it has a very large boot. An honourable mention too about the fact that it has a proper manual handbrake. Remember those?
In short, the Ford C-Max is the ideal family transport module. It even looks enticing. An Aston Martin MPV? Here's the next best thing.
Ford C-Max 2.0 TDCi Titanium specifications
Engine: 1997cc, 4 cylinders, turbodiesel
Power: 148bhp @ 3500rpm
Torque: 295 lb ft @ 2000rpm
Transmission: 6-speed manual
Performance: 0-62mph in 9.5sec
Top speed: 127mph
Fuel: 64.2mpg (combined)
CO2: 114g/km
Road tax band: C (free for first year; £30 thereafter)
Release date: On sale June
---
Browse the used Ford C-Max cars for sale at driving.co.uk
---
Ford C-Max rivals
Citroën C4 Picasso BlueHDi 150 Exclusive, £23,010
For Futuristic looks; welcoming cabin; comfortable ride
Against Not much fun to drive
Volkswagen Golf SV 2.0 TDI SE, £24,150
For All the Golf's virtues in a taller, roomier package
Against Expensive compared with rivals