BMW X5 F15 review (2013-on)
Big 4x4 is packed with tech and as good to drive as ever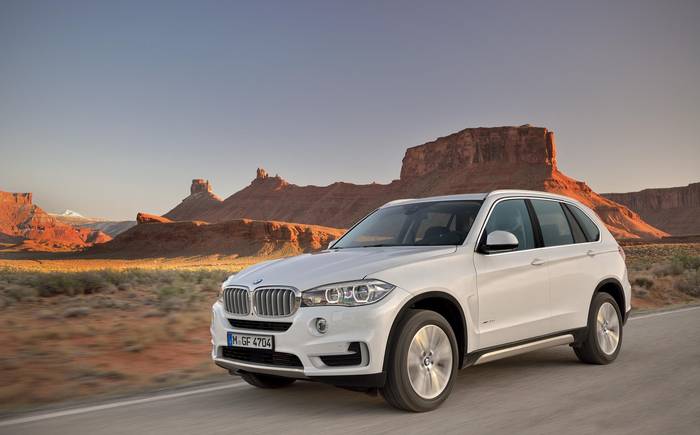 BMW calls the X5 an SAV, or Sports Activity Vehicle. Of course, we all know that's meaningless marketing speak and that what we're looking at is an SUV, or Sports Utility Vehicle. In case anyone isn't familiar with that far more sensible term (where have you been?), it implies a car that is equally at home on Tarmac as it is fields, although for some so-called SUVs that's more a fantasy than a reality. The X5 is the larger of BMW's SUV offerings with the smaller X1 and X3 sitting below it in the car maker's range, while the X6 is an X5 with a coupé roofline.
This third-generation X5 went on sale in November 2013 and BMW claims it offers advances over the outgoing model in terms of design, luxury, comfort, versatility, efficiency, driving pleasure, safety and connectivity. Quality has been there from the start and BMW has also trumped rivals with theX5's stellar handling, given its size. But competition is getting stiffer with recent versions of the Range Rover Sport, Volkswagen Touareg, Mercedes M-class and Porsche Cayenne all offering similarly engaging drives.
The 2013 BMW X5 is available with a choice of five turbocharged engines (four diesel and one petrol), a standard eight-speed automatic transmission and the option of two or four-wheel drive (sDrive and xDrive). There are two trim levels: SE and M Sport.

The drive
The  X5 M50d (the sportiest and highest specification diesel version), has the same 3-litre, six-cylinder engine as the X5 30d but with the engine tuned to offer 381bhp and a hefty 545 lb ft of torque, sufficient to propel the near 3-tonne vehicle from 0 to 62mph in just 5.3sec.
It you want the imposing rumble of a petrol V8, there's the 4.4-litre xDrive50i which BMW has given more power (449bhp and 479 lb ft). Unusually, in this age of ever-leaner petrol engines, economy has suffered over the outgoing model. The M50d, however, is 12% more efficient than its predecessor and offers oodles of power throughout the rev range. It also emits a reassuringly deep purr.
The best-seller will be the xDrive30d, which undercuts the M50d by nearly £17,000 but, with 258bhp and 413 lb ft torque on hand, can still power the car from 0-62mph in under seven seconds. There's a marginal fuel saving, too: 45.6mpg compared with the M50d's 42.2mpg. The entry-level, two-wheel drive sDrive25d does even better at 50.4mpg. Weight and drag reductions (BMW has designed body parts called Aero Curtains and Air Breathers to help smooth air flow over the wheels) help achieve these official figures. However, the X5 is too heavy and tall to be truly economical, and in contrast to the official claims, we managed a real-world 25mpg in the M50d.
As standard, the BMW X5 comes with Dynamic Drive Control offering a choice of four settings ‒ Eco Pro, Comfort, Sport and Sport+ ‒ which can be selected via a switch on the centre console. The difference between each is significant. Eco Pro will save you some fuel by dulling the throttle response and tweaking the climate control settings and so on, while the Sport modes sharpen up the throttle, gear changes and steering.
The automatic gearbox is a peach, switching cogs at such a speed as to be hardly noticeable and almost always putting itself in the correct gear for corners. It can be overridden with the steering wheel-mounted paddle shifts should you want to drop a couple of gears and put your foot down.
Standard susepnsion we found to be a little soft, with too much body roll. The Adaptive Dynamic suspension package, a cost option across the entire range, solves this completely. It monitors cornering and makes adjustments to help the big X5 remain stable while switching directions.
Meanwhile, the revised xDrive, four-wheel drive system still does its job of feeding power to each wheel based on road conditions, speed, steering angle and throttle input. It helps to prevent understeer (when the car wants to travel straight on during cornering) and oversteer (when the back end steps out during cornering).
Packing both xDrive and dynamic suspension, the X5 M50d feels comfortable and smooth when you want to cruise, but sure-footed and even sporty when needed; it's a remarkable vehicle.
The interior
With the cheapest X5 costing from £42,590, you'd expect the model to be a bit special inside. Most people won't be disappointed. High quality materials are used throughout and there's subtle ambient lighting whose colours you can change as you wish. All that said, those used to rival cars from Range Rover and Mercedes may feel slightly underwhelmed. Build quality is exceptional, however. There are no squeaks or rattles, and wind noise is minimal.
The X5's driving position offers a commanding view of the road, and good visibility all round (comfort or sports seats are available). Not so good is the X5's pedal position; the accelerator pedal is too far to the right to be truly comfortable (likely a result of the conversion to right-hand drive for the UK market). Also, the proximity sensors are too sensitive, often going off as cyclists and pedestrians find their way around the car at traffic lights.The iDrive infotainment system features a 10.2in screen that can be split to show two different functions at a time (map and radio, for example), and has come under fire in the past for being tricky to navigate, but these days it's pretty user-friendly.

Other highlights are fitted options such as the head-up display, panoramic sunroof and the heated second row of seats (the third row of this seven-seater is not heated). BMW's Parking Assistant provides a 360-degree view of the ground around the car and if required, can park the vehicle. They're all excellent options but be warned, they can soon add up.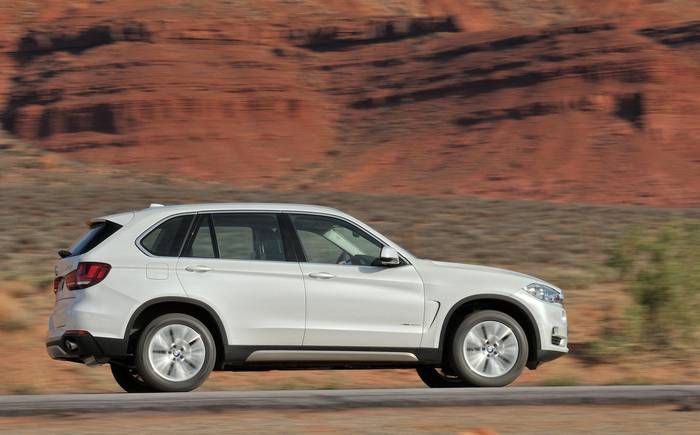 The one to buy
BMW X5 xDrive30d SE specifications
Factfile
Price:

£47,895

Engine:

2993cc 6-cylinder turbodiesel

Power:

258bhp @ 4000rpm

Torque:

413 lb ft at 1500-3000rpm

Transmission:

8-speed automatic/semi-auto

Acceleration:

0-62mph in 6.9sec

Top speed:

142mph

Fuel:

45.6 mpg (official)

CO2:

162g/km

Road tax band:

G

Dimensions:

L 4886mm, W 1938mm, H 1762mm