First drive review: SsangYong Turismo EX (2013)
Room to swing a trusty 3-iron
SSANGYONG: mean anything to you? Up to now the company has probably been most famous for bringing to British roads a big old beast called the Rodius, which looked like a lorry that had crashed into a house and which duly swept all before it in the "Britain's ugliest car" awards.
In fact, SsangYong can proudly point to a history of vehicle manufacture dating back to 1954, though 2013 seems to find the brand at something of a divided moment. It is trading under the likeable slogan "No-nonsense vehicles from Korea". (That's South Korea, obviously — though no-nonsense vehicles from North Korea are something one would like to see. There's a country that really understands no-nonsense.)
But lest that emphasis should get it pigeonholed as a purveyor of cut-price Korean tins (a label dramatically shaken off in this century by Kia and Hyundai), SsangYong is also now drawing our attention to its "high-quality build" and stressing that it can do nonsense, too: keyless entry, electrically adjustable driver's seats and so on.
---
Search for and buy a quality used SsangYong Turismo on driving.co.uk
---
So here's the Turismo, with and without nonsense. Less shocking to behold than the Rodius, it still looks as if it has recently backed through somebody's conservatory, but this time a builder seems to have gone round afterwards, patching up most of the damage and generally making good.
It has been designed to carry not just seven people but also (the bit where other seven-seat cars tend to fall short) seven people's luggage. Even when all the seats are in use, there's 875 litres of boot space. Consequently the Turismo is hilariously long, not to mention amusingly high and also quite ticklesomely wide. Never mind making vehicles since 1954: they must have been painting this one since about 1987.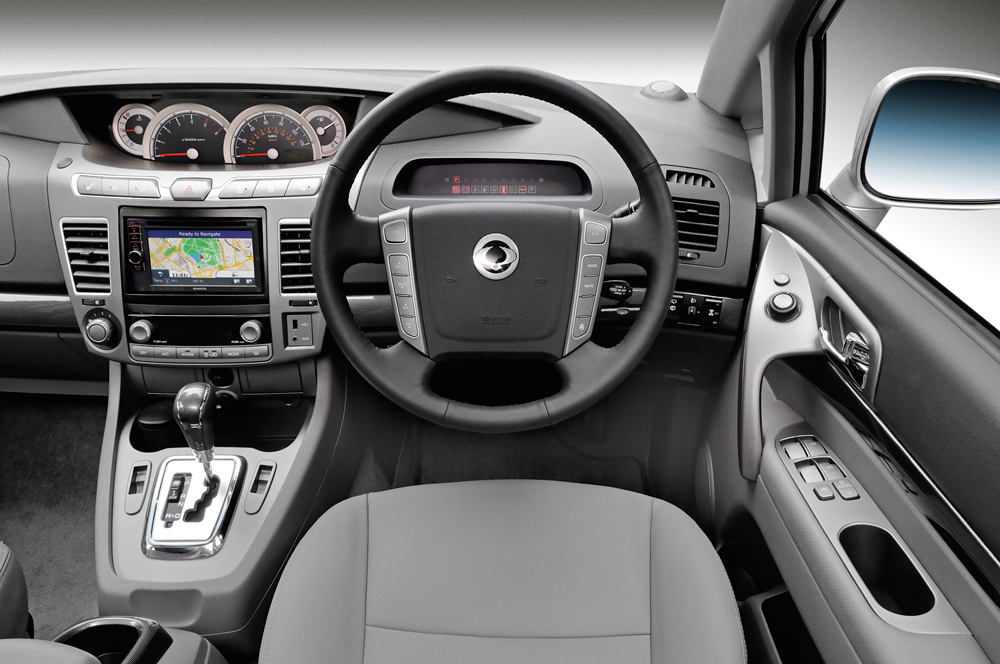 As observed in the rear-view mirror, the interior appears to extend to the far horizon. If it were on a golf course, it would be a par four, minimum. A decent tee-shot off the dashboard would just about get you into the back seats, provided you could avoid the significant hazard represented by the central storage box. But after that you'd be looking at laying up just to the right of the third-row cupholders to have any chance of making an attack on the boot catch.
It's possible that the Turismo was meant to be a commercial aircraft but that they ran out of money or got distracted somewhere along the line. Certainly the layout in the rear of the cabin, with its twin business class thrones and its seat-back tray tables, bespeaks swish air travel as much as grunting road work. And there's an aisle between those thrones down which your chief cabin bursar could easily wheel a trolley of duty-free goods to the passengers in economy in the triple-seat third row.
All those rear seats fold and slide and can be flattened entirely to create a handy space in the event that you need to store a tarmac-layer for somebody or fancy pulling over for a game of squash. Also, the entire rear of the car is encased in privacy glass, so your children will be spared public shame, though it's a matter of record that the young have a high tolerance for cars that resemble vans and/or damaged conservatories.
My Turismo had a 2-litre diesel engine, which chugged and clattered in a manner we could perhaps politely refer to as "retro" — perfectly in keeping with the overwhelmingly grey dash, whose instrument panel seemed to have been fashioned using bits from a school protractor set. That said, the five-speed automatic T-Tronic gearbox was a Mercedes-Benz cast-off. Do you have a problem with that? I didn't.
It came with a switchable low-ratio 4×4 setting for overland adventuring, though in a clash between the Turismo's no-nonsense suspension and a no-nonsense river bed, I would have been backing the no-nonsense river bed. Still, the car will allegedly tow 2.5 tons, making it a more than plausible caravan-tug, although why you would need a caravan if you had a Turismo is a moot point. Actually, why you would need a house if you had a Turismo is also a decent question.
And here's the truly staggering thing: it's only £9,000!
Oh, hang on: no it isn't. I'm just looking at the brochure here, and apparently the one I drove was nearly £24,000, in fact. The range starts at £17,995. So it's quite a lot more than £9,000. It's also quite thirsty, and expensive to tax.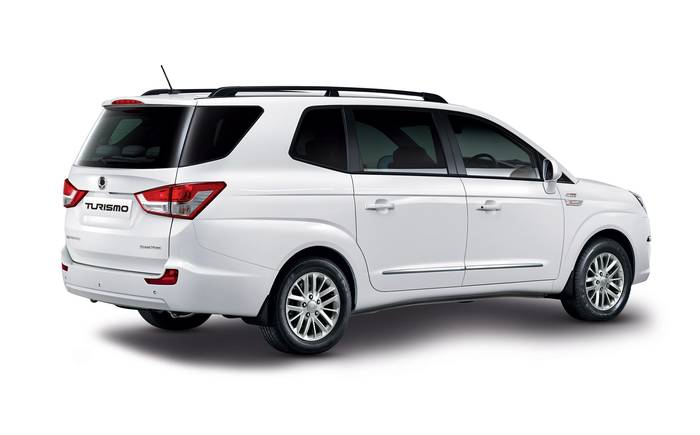 However, when you consider what a Chrysler Grand Voyager will cost you (upwards of £28,000), even before you start lavishing leather upon it, we are still in the realm of entertainingly low-cost family haulage.
Is it tempting, though? I appreciate the value of a mobile talking point as much as the next driver, and respect no-nonsense almost as much as I love nonsense. But I've got to admit that, granted a week in the Turismo's company, I pretty quickly got tired of driving it — tired of coping with its heft, tired of wincing and breathing in down narrow roads. It didn't help that the Turismo has the turning circle of a riverside apartment complex. I left it in a car park at one point and both getting it into the space and out of it afterwards involved something in the region of an 83-point manoeuvre, for a personal best total of 166 points overall.
Plus somebody apparently drove — or perhaps just walked — into the side of it while I wasn't there, leaving a dent in one of the rear doors. You could hardly blame them. In almost any situation, it is harder to miss a SsangYong Turismo than it is to hit it.
Still, go for it — why not? It will be, surely, one of the most independent decisions you have made in your life, so, at the very least, you will have that to pride yourself on. That and your manifest interest in no-nonsense nonsense.
Verdict ★★☆☆☆
SsangYong merrily on high
Factfile
Engine:

1998cc, 4 cylinders, diesel

Power:

153bhp @ 4000rpm

Torque:

266lb ft @ 1500-2800rpm

Transmission:

5-speed automatic

Acceleration:

0-62mph in 14.2sec

Top speed:

108mph

Fuel:

34.9mpg

CO2:

212g/km

Dimensions:

L 5130mm, W 1915mm, H 1850mm
The Rivals
---
Seat Alhambra S 2.0 TDI, £25,340
For Better to drive in every respect than the Turismo Against Less cabin and boot space
Buy a quality used Seat Alhambra on driving.co.uk
---
Ford Galaxy 2.0 TDCI Zetec, £26,440
For It's the best full-size seven-seat MPV you can buy Against Still can't match the SsangYong's boot space
 Buy a quality used Ford Galaxy on driving.co.uk
---