Top 100 Cars 2016: Top 5 Sports Cars
Fast five
---
Published 03 January 2016
1 Porsche 911 Carrera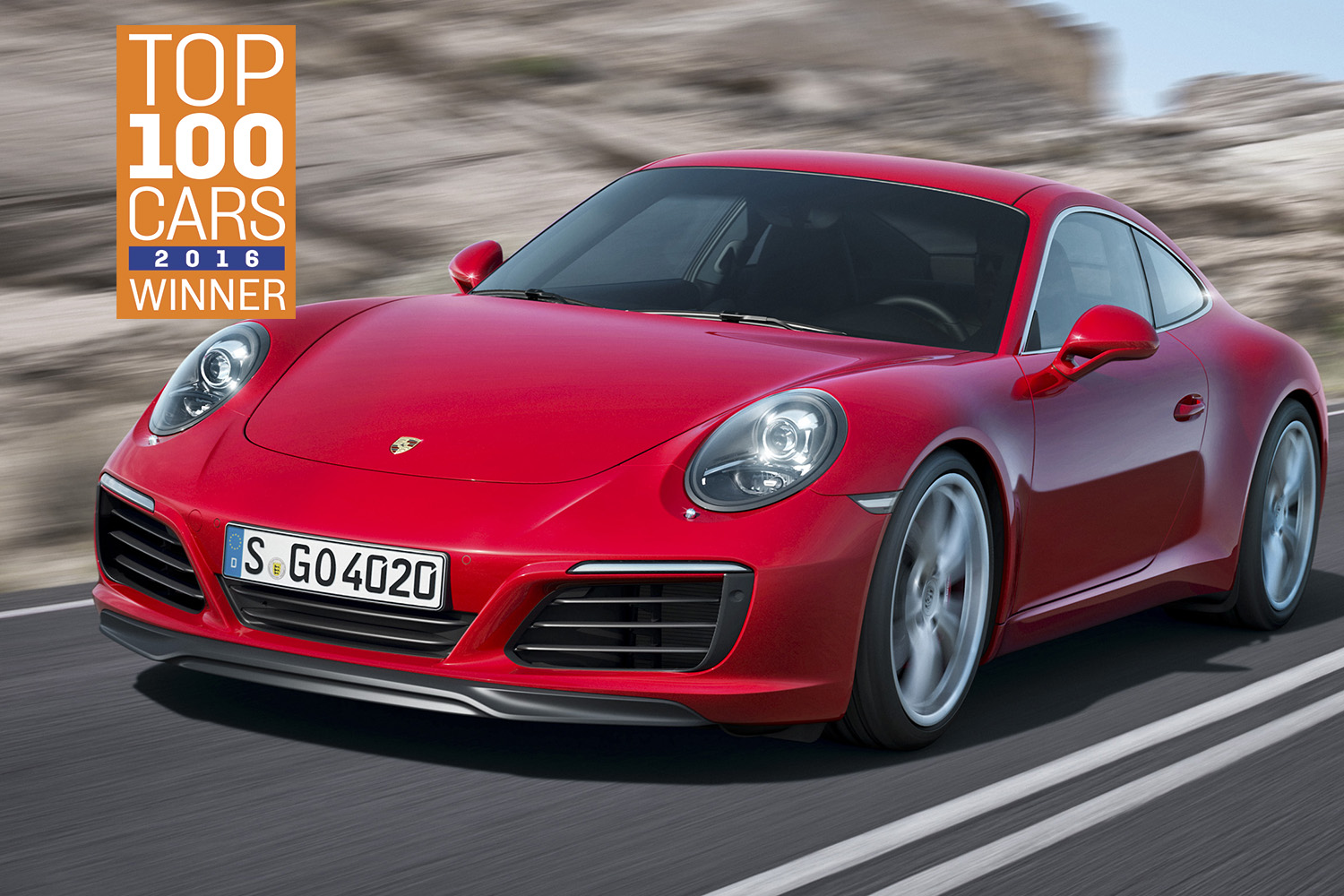 The latest 911 remains the ultimate all-round sports car. The entry-level versions are still relatively affordable to buy and run, and the rear-engined layout leaves space for two children's seats too.
Most importantly, it's seriously exciting to drive. A recent facelift hides the biggest changes to 911 mechanicals for almost two decades: the Carrera and Carrera S's flat-sixes have both shrunk from 3.4 and 3.8 litres to 3 litres; twin turbochargers make up the shortfall, with a cake-and-eat-it promise of 19bhp more power and about 3mpg extra.
Some of the old engines' character has been lost, but the turbos sound great, respond keenly and make the 911's performance more accessible than ever before. Make ours a PDK Carrera S coupé.
N.b. The Porsche 911 Carrera S is the Driving Car of the Year 2016
PRICE £76,412-£104,385
OUR PICK Porsche 911 Carrera S (£88,245)
ENGINE 2981cc, 6 cylinders
ACCELERATION 0-62mph: 4.3sec
TOP SPEED 191mph
FUEL | CO2 32.5mpg | 199g/km
View the used Porsche 911s for sale on driving.co.uk
2 Audi R8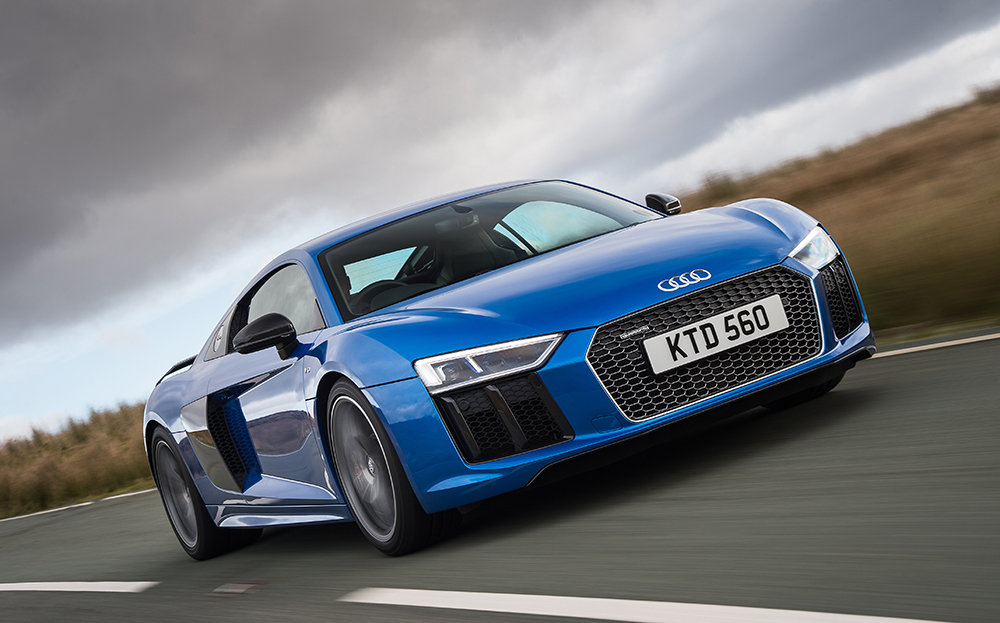 Who'd have thought Audi would be left to champion traditional sports cars? As Ferrari, Porsche and McLaren switch to turbochargers, the Audi R8 is a rare example of a new sports car with a naturally aspirated engine — and very good it is too. The 5.2-litre V10 has an electrifying response, snarling its way to 532bhp.
Like many of the R8's oily bits, it is shared with the Lamborghini Huracan; embarrassingly for the Italian brand, the R8 is cheaper and more fun to drive. But it's not all old-school: the digital dash looks like it's from a jet fighter and the chassis is a blend of aluminium and carbon fibre. The result is a car comfortable enough to commute in, with a wild side for the weekend.
PRICE £119,500-£134,500
OUR PICK Audi R8 Plus (£134,500)
ENGINE 5204cc, 10 cylinders
ACCELERATION 0-62mph: 3.2sec
TOP SPEED 205mph
FUEL | CO2 23mpg | 287g/km
View the used Audi R8s for sale on driving.co.uk
3 McLaren 570S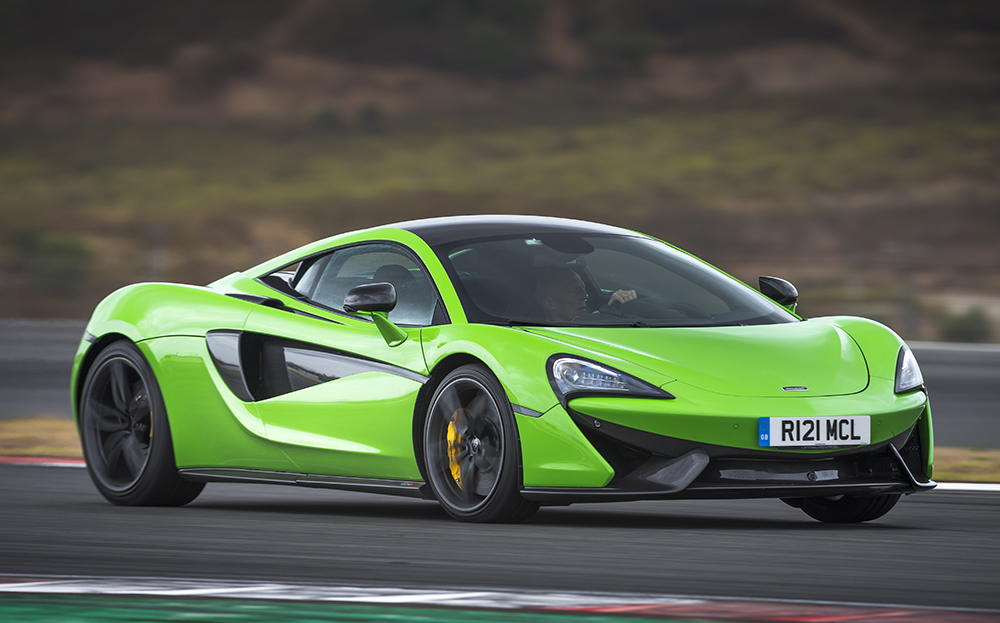 Having made a sold-out hypercar and a worthy challenger to Ferrari's 488, McLaren has now unveiled its first model for the "cheap" end of the supercar market. And it costs just over £143,000. We could argue that the 570S represents something of a bargain given the carbon chassis it shares with McLaren's £198,000 650S, as well as the twin-turbocharged V8 and seven-speed dual-clutch gearbox.
But the car's strongest selling point is the way that it drives: the steering on the 570S fizzes with feedback, the V8 fires you down the road and the chassis soaks up bumps and plasters a huge grin across your face. McLaren describes the 570S as a sports car, but it feels like a supercar to us.
PRICE £143,250
OUR PICK McLaren 570S (£143,250)
ENGINE 3799cc, 8 cylinders
ACCELERATION 0-62mph: 3.2sec
TOP SPEED 204mph
FUEL | CO2 25.4mpg | 258g/km
View the used McLarens for sale on driving.co.uk
4 Mercedes-AMG GT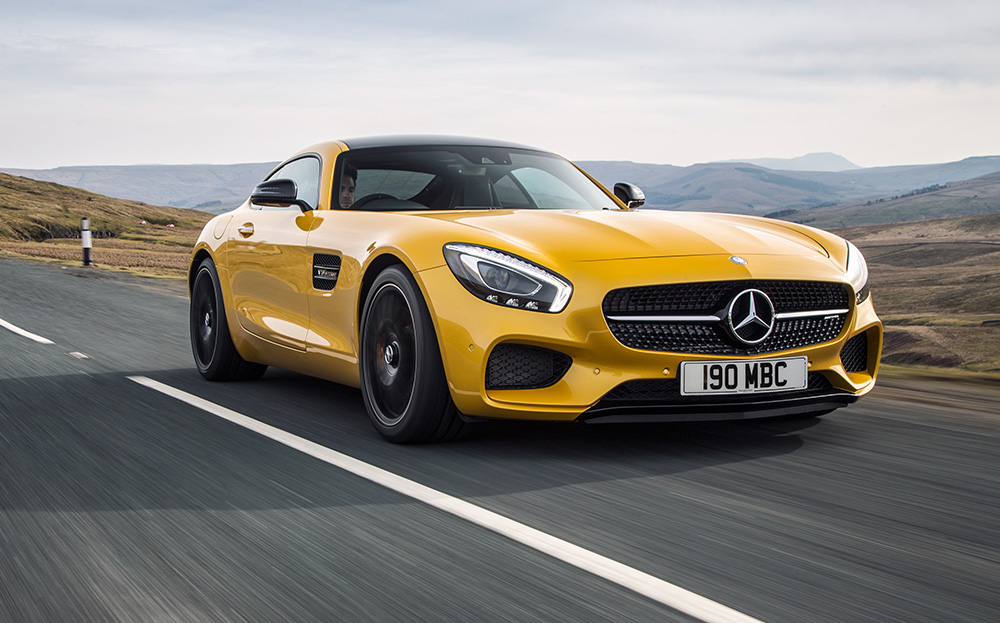 The twin-turbo 4-litre V8 engine burbles and crackles like a muscle car, the steering swoops into every corner and the rear-wheel-drive chassis is seriously good. As for the car's looks, well, if Athena still existed, it would be printing extra posters to meet demand. Even sitting inside the Mercedes is an event to behold, as you're cocooned by the carbon-fibre transmission tunnel sporting raised, chunky metal controls.
From here, it's not just a sports car, but a proper Gran Turismo car for touring. It cossets and pampers: the seats are comfortable, the stereo and sat nav are superb and the road and wind noise are but distant murmurs. With just two seats and a micro boot, it might not be practical, but when you can accelerate from 0-62mph in 3.8 seconds in the S version, who cares?
PRICE £97,170-£114,695
OUR PICK Mercedes-AMG GT S (£110,500)
ENGINE 3982cc, 8 cylinders
ACCELERATION 0-62mph: 3.8sec
TOP SPEED 193mph
FUEL | CO2 30.1mpg | 219g/km
View the used Mercedes cars for sale on driving.co.uk
5 BMW i8

Arriving anywhere in an i8 is the closest thing to experiencing a UFO moment from the point of view of the alien inside: it attracts a lot of attention. And that's not the only bit of science fiction; not so long ago, anything packaged this low and as outrageously styled would have a V12 with a single-figure mpg. But you'll find just a tiny petrol engine in the i8 alongside an electric motor.
Together, they power the car to 62mph in 4.4 seconds and return a ludicrously low CO2 output of 49g/km. The i8 isn't the most involving drive but it is agile, thanks to its relatively light, mid-engined layout. Even the engine note has been massaged to sound much more heroic than it has any right to.
PRICE £99,540 (after £5,000 grant)
OUR PICK i8 (£99,540, after plug-in car grant)
ENGINE 1499cc, 3 cylinders, turbo; plus electric motor
ACCELERATION 0-62mph: 4.4sec
TOP SPEED 155mph
FUEL | CO2 135mpg | 49g/km
View the used BMW i8 cars for sale on driving.co.uk
Top 100 Cars 2016 contents
---
Browse NEW or USED cars for sale on driving.co.uk
---