Top 100 Cars 2016: Top 5 Seven-seat MPVs
These family cars take musical chairs to another level
---
Published 03 January 2016
1 Ford S-Max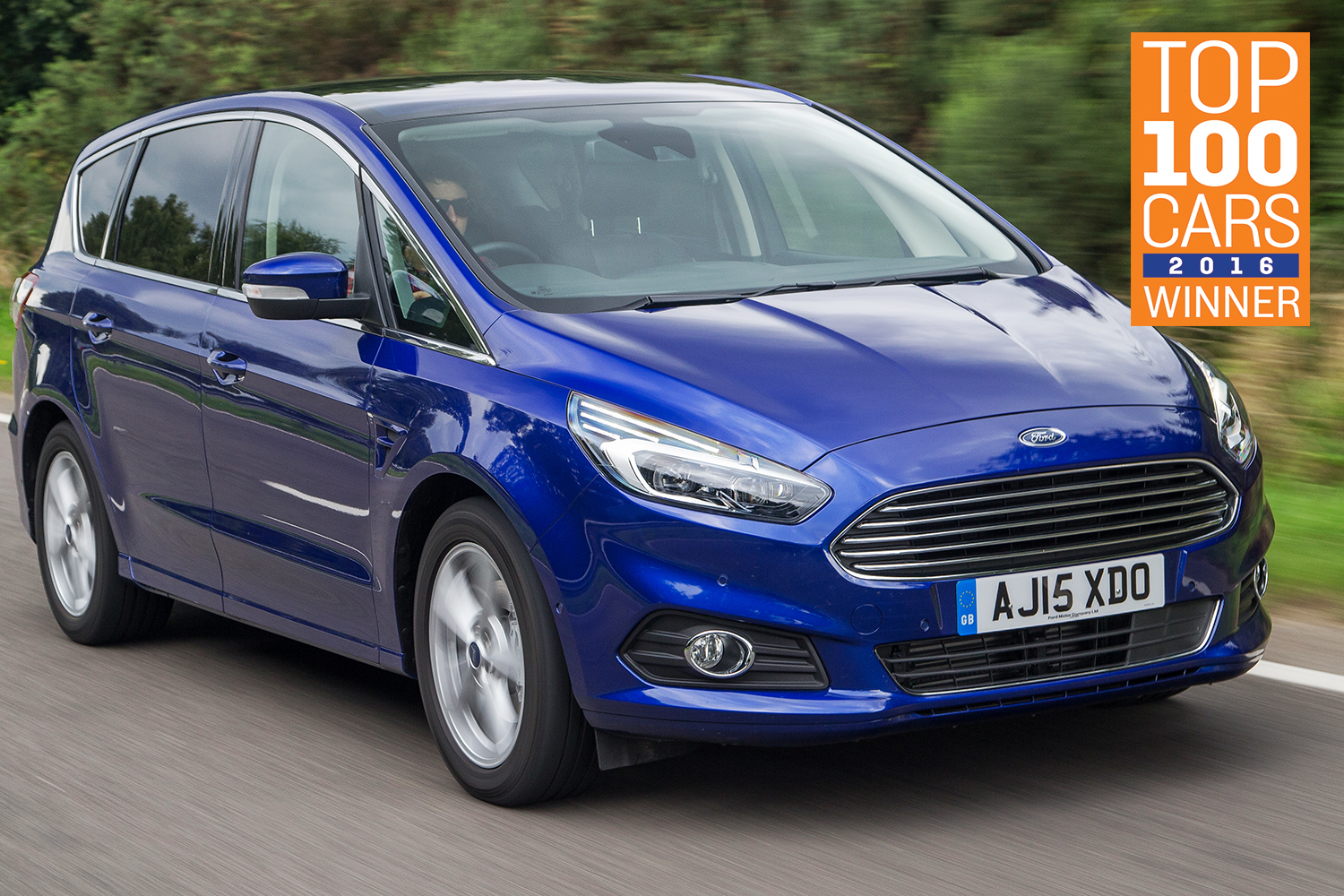 Ford was quick to realise that parents still wanted to enjoy driving despite having to buy a family bus. Its S-Max, with seven seats and a surprisingly agile chassis, has been a big success; this second-generation model is even better, with a superior ride and cleaner, punchier engines.
Options include emergency automatic braking and parking, plus a lane-keeping system. Be aware that the third-row seating is really only for children.
Price: £24,545-£32,945
Our pick: Titanium Sport 2.0 Duratorq, £29,945
Engine: 1997cc, 4 cylinders
Acceleration: 0-62mph: 10.8sec
Top speed: 123mph
Fuel | CO2: 56.5mpg | 129g/km
View the used Ford S-Max's for sale on driving.co.uk
2 Seat Alhambra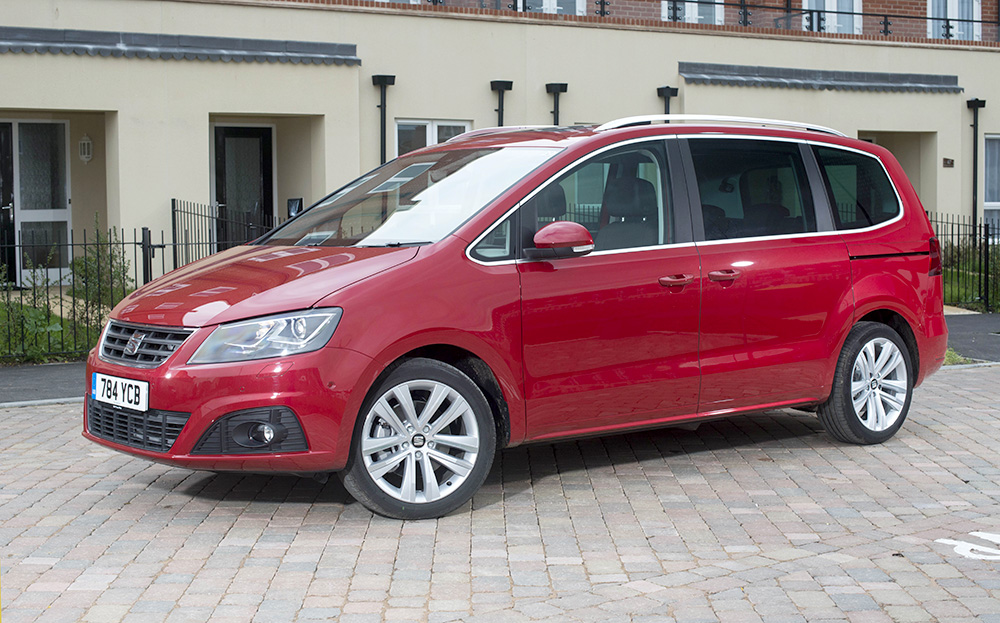 Replace the letters "VW" with "Seat" and you've replicated the process by which the Volkswagen Sharan becomes a Seat Alhambra.
The cars have the same space-efficient sliding rear doors and foldaway third-row seating, plus a middle row of three individual seats, each with their own Isofix anchors for child seats. But you'll save more than £1,400 by buying the Alhambra, which is packed with standard kit, including Park Assist to steer this sizeable chunk of Seat into parallel spaces.
It doesn't drive as well as Ford's S-Max, but it's perfectly good enough for the school run.
Price: £24,885-£35,770
Our pick: FR Line 2.0 TDi, £34,470
Engine: 1968cc, 4 cylinders
Acceleration: 0-62mph: 9.4sec
Top speed: 133mph
Fuel | CO2: 53.3mpg | 139g/km
View the used Seat Alhambras for sale on driving.co.uk
3 Kia Carens
The Carens is such good value that it gives you seven seats for the price of five. It doesn't even look terrible these days, thanks to the work of Audi's former design boss, who is now at Kia.
Air-conditioning, Bluetooth/USB connectivity and cruise control are standard in the Carens, and there's acres of luggage space when the car is used as a five-seater. That mostly disappears if you pop up the rear two seats, which will accommodate a pair of children but only rubber-jointed adults.
The Carens is not the swiftest in its class, or the most dynamic, but its strong value, practicality and Kia's industry-leading seven-year warranty are big selling points.
Price: £18,195-£27,150
Our pick: '2' 1.6 GDi, £19,600
Engine: 1591cc, 4 cylinders
Acceleration: 0-62mph: 11.3sec
Top speed: 115mph
Fuel | CO2: 44.1mpg | 143g/km
View the used Kia Carens for sale on driving.co.uk
4 Citroën Grand C4 Picasso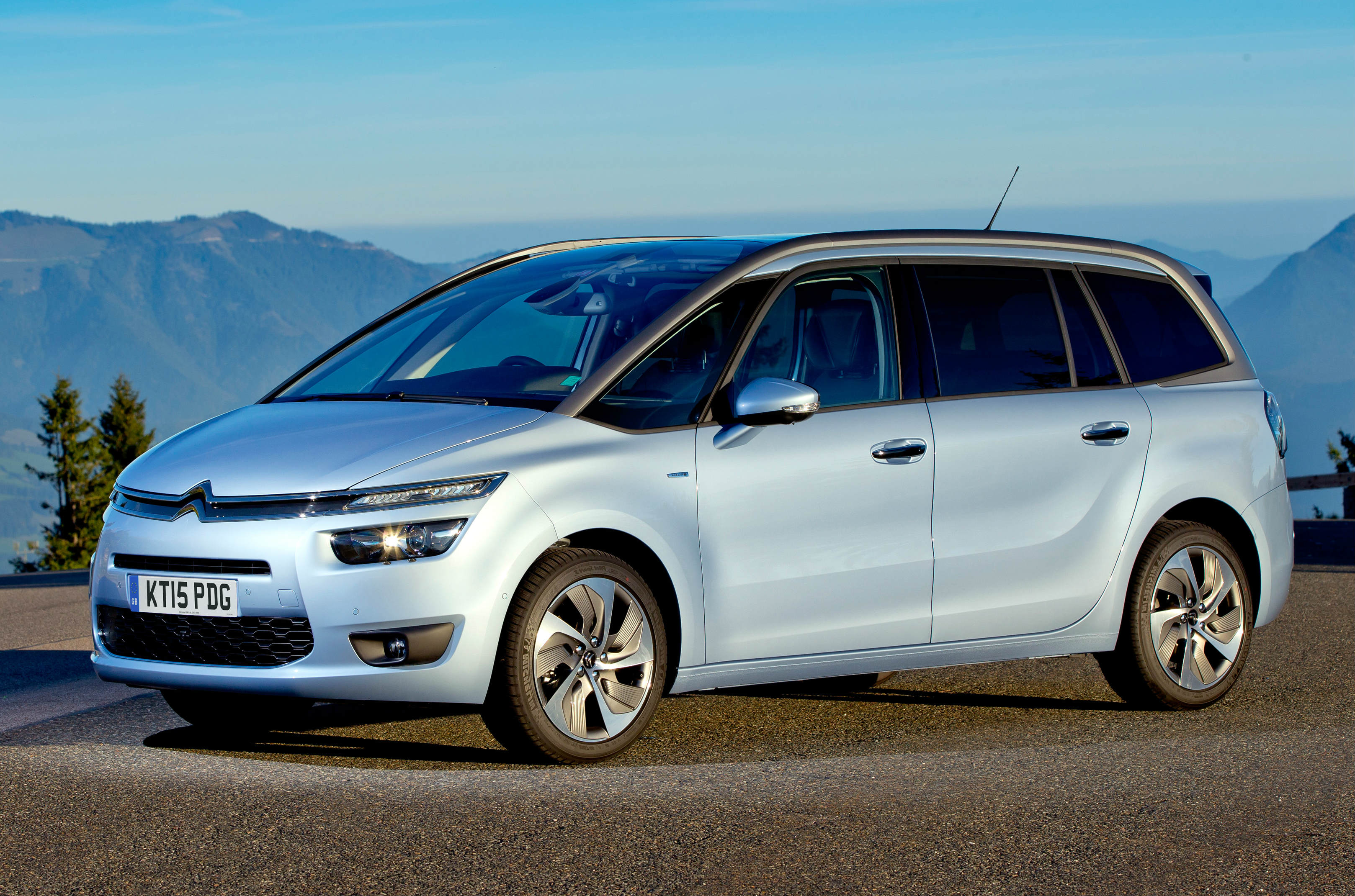 When it comes to living up to its name, Citroën's big people-carrier doesn't disappoint, with quirky design inside and out. Importantly, the car isn't wilfully odd at the expense of commonsense practicality: the interior is airily spacious, the third-row seats fold out easily and the middle row comprises three individual seats with Isofix anchors, the outer chairs tilting to ease access to the back.
The car is designed for parents who want to surrender entirely to the family lifestyle. The proportions are bus-like, the ride is pillowy soft and there are storage cubbyholes concealed everywhere.
Price: £19,970-£28,460
Our pick: VTR+ PureTech 130, £21,270
Engine: 1199cc, 3 cylinders
Acceleration: 0-62mph: 10.8sec
Top speed: 122mph
Fuel | CO2: 56.5mpg | 115g/km
View the used Citroën Grand C4 Picassos for sale on driving.co.uk
5 Ford Galaxy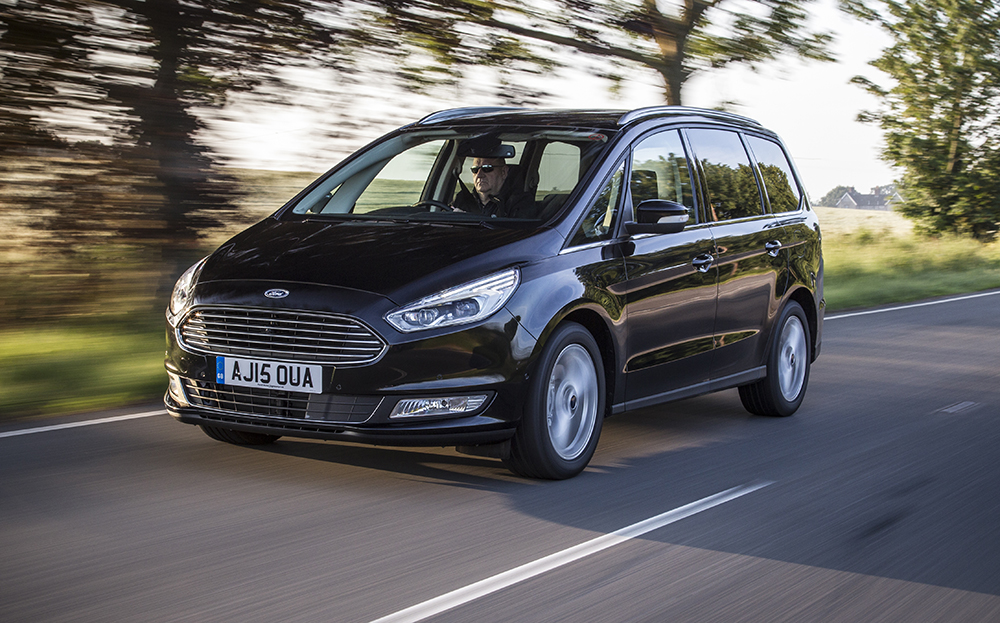 There's a reason why cabbies entrust the Galaxy with their Little Trees air-fresheners, plastic seat covers and passengers: it's enormous. Where its little brother, the S-Max, has a cramped third row of seats, the Galaxy — costing about £2,000 more — will comfortably carry seven adults.
It's packed with neat touches too, including tray tables, oversized door bins and three individual seats in the second row that can be adjusted separately, or the outer two tilted and slid forwards for easy access to row three. Get the 177bhp 2-litre Duratorq engine as a minimum, or the 207bhp diesel range-topper if you're likely to be late on those airport runs.
Price: £26,445-£36,760
Our pick: Titanium 2.0 Duratorq, £30,795
Engine: 1997cc, 4 cylinders
Acceleration: 0-62mph: 9.8sec
Top speed: 131mph
Fuel | CO2: 56.5mpg | 129g/km
View the used Ford Galaxy MPVs for sale on driving.co.uk
Top 100 Cars 2016 contents
---
Browse NEW or USED cars for sale on driving.co.uk
---