Ford of Europe announces nine pure-electric models by 2024 and finds a use for 'Model E' trademark
With no apologies to 3lon Musk
Ford has announced that it will launch seven new electric vehicles in Europe by 2024 including pure-electric versions of its Puma crossover and Transit van, as well as two all-new crossovers. It has also found a use for the coveted 'Model E' trademark that Tesla Motors was so keen to acquire for use on its compact electric saloon.
Joining the Mustang Mach-E in Ford's electric line-up from later this year will be the E-Transit, a fully battery-powered version of the company's full-sized van that will be able to travel 196 miles per charge, according to the official WLTP test.
Following the E-Transit, two medium-sized electric crossovers are set to emerge from Ford's Cologne plant in 2023 and 2024, both based on the same Volkswagen "MEB" underpinnings as the VW ID.4, ID.Buzz and Skoda Enyaq iV, as part of a platform sharing agreement between Ford and Volkswagen.
Although details remain scarce, Ford has said that the first of these models will have a range of 311 miles between charges. Based on the spec of existing MEB models, it's possible that 148bhp, 201bhp and 295bhp versions will be available with either two- or four-wheel drive.
The second model, a "sports crossover", will be followed in 2024 by a pure-electric version of the Puma, the company's top-selling car in Europe. The plug-in model will be built alongside the petrol Puma in Romania.
In the meantime, other electric Transit (commercial) and Tourneo (passenger) van and MPV models including the smallest Transit and Tourneo Courier and the slightly bigger Transit and Tourneo Custom will be launched, rounding out the range at nine battery-electric models by 2024.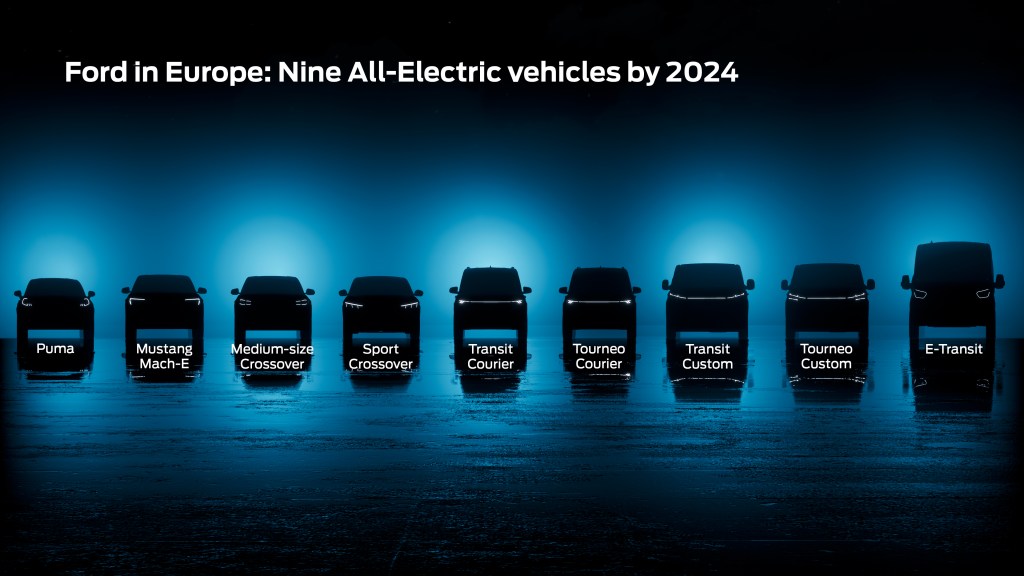 Ford's announcement of its plan to expand its electric line-up is part of a wider strategy to sell more than 600,000 electric cars in Europe by 2026.
It aims to achieve this by increasing production of electric vehicles in Cologne, Germany, to 1.2 million vehicles over six years with an investment of $2 billion (£1.54bn). The investment includes a new battery assembly facility scheduled to start operations in 2024.
Ford is also partnering with SK and Koç to create a 30-45gWh-per-year battery production site near Ankara, Turkey, slated to go online mid-decade. In addition, it plans to increase electric and commercial vehicle capacity in Craiova, Romania, under the Ford Otovan joint venture.
The Blue Oval is targeting zero emissions for its new vehicles and carbon neutrality across its European facilities, logistics and suppliers by 2035.
Ford of Europe's chairman, Stuart Rowley, said: "These new Ford electric vehicles signal what is nothing less than the total transformation of our brand in Europe — a new generation of zero-emission vehicles, optimised for a connected world, offering our customers truly outstanding user experiences."
With Ford's North American division recently announcing that it would split into two entities, one focusing on electric vehicles, the other on internal combustion models, Rowley also said that Ford of Europe would do similarly, dividing into "Ford Model e", specialising in electric vehicles, and "Ford Pro", chiefly concerned with commercial vehicles.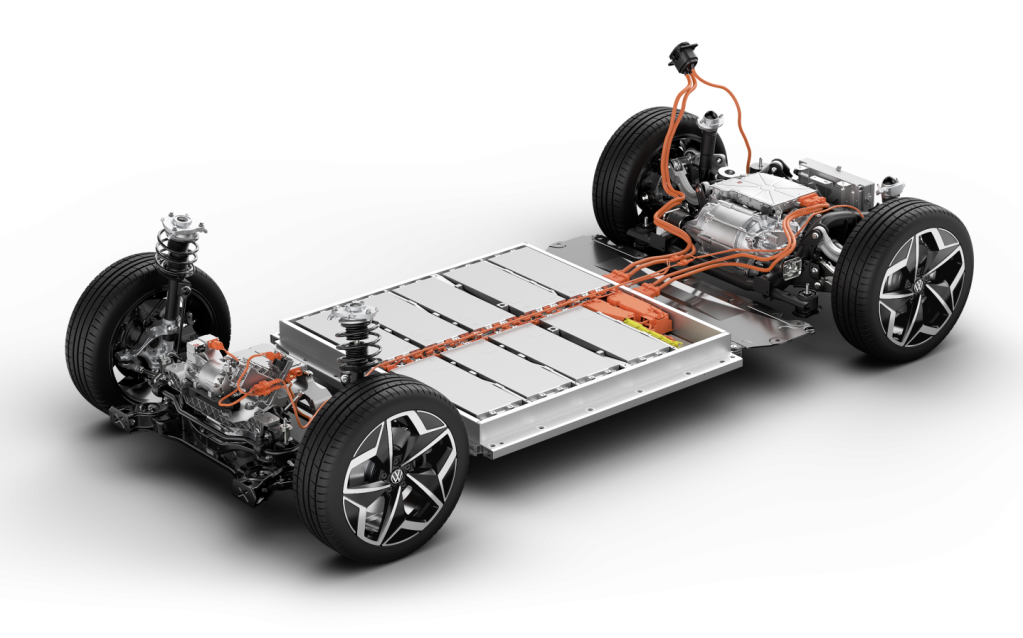 Ford's use of the Model E name, which it first applied to register in 2001, explains its reasons behind blocking Tesla's attempted use of the name in 2014.
In 2010, the two companies signed an agreement whereby Tesla would not badge any of its cars "Model E", with Ford's reasoning being that it sounded too close to its famous "Model T", the revolutionary car that brought motoring to the masses between 1908 and 1927.
In 2014, with the Tesla Model S and X already on sale and the company planning to launch a new entry-level saloon, Tesla's boss Elon Musk attempted to register the Model E name, meaning that his company's model designations would spell out "S, E, X".
After catching wind of the plan, Ford insisted that Tesla abide by their earlier agreement, and Musk was forced to rename his company's new car the Tesla Model 3.
With the arrival of the Model Y crossover from last year, Tesla's current line-up now spells out "S, 3, X, Y", which pretty much has the desired effect.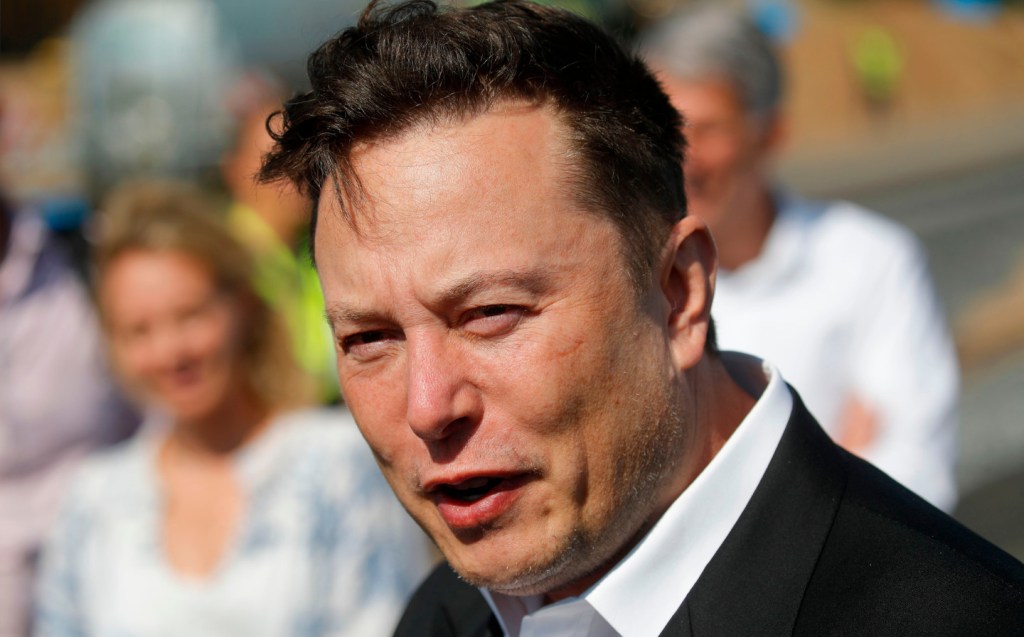 However, this is the first time Ford has used its Model E moniker. It makes sense that it has been used to name a division, rather than a car, given the name's similarity to Tesla vehicle nomenclature.
Ford's president and CEO, Jim Farley, said: "I am delighted to see the pace of change in Europe — challenging our entire industry to build better, cleaner and more digital vehicles. Ford is all-in and moving fast to meet the demand in Europe and around the globe."
"This is why we have created Ford Model e, allowing us to move at the speed of a start-up to build electric vehicles that delight and offer connected services unique to Ford and that are built with Ford-grade engineering and safety."
Related articles
Latest articles