Citroën C4 petrol and ë-C4 electric 2021 review
French hatch rises up and plugs in
THANK GOODNESS for Citroën. People often complain that cars all look too similar these days, but you can guarantee this particular French manufacturer will deliver something different. Something that makes us stop and stare. Something with a bit of flare. The new Citroën C4 and its electric vehicle counterpart, the ë-C4 (both reviewed below), are no exception.
Design and rivals
But what type of car is the new C4, exactly? It has a high-riding stance and rugged plastic trim around the wheel arches, but don't call it a crossover or compact SUV — a spokesperson claimed that (in Citroën's eyes, at least) it's still a hatchback. This is crafty, because many car buyers want a nice high driving position but not the inflated prices that come with a crossover.
All of which means that in terms of rivals for the C4, you're really talking about the Ford Focus, Seat Leon, Peugeot 308, Vauxhall Astra and the like, while the ë-C4 takes aim at the Nissan Leaf and Volkswagen ID.3, though you could also look at electric crossovers including the Hyundai Kona Electric and Kia e-Niro, or the Peugeot e-2008 (which uses the exact same underpinnings as the ë-C4).
The other reason it looks like this is that it isn't just replacing the old C4 hatchback but also the C4 Cactus. You know, the crossover model with the bubble wrap on its doors. The new C4 marks the Cactus's demise.
The resulting new C4 is quite a strange looking car. The front headlight cluster is especially odd. Good front ends should have a face of some kind, most people reckon, and I can't decide whether the eyes of the car are the LED strips or the main headlights below them, with the LED strips being eyebrows. Let's call it the [Nissan] Juke Conundrum. Still, I admire Citroën for being bold.
The line down the side of the car kinks over the rear haunches to a back end that is equally quirky. The slope of the rear has been likened to the classic GS, which celebrated its 50th anniversary last year.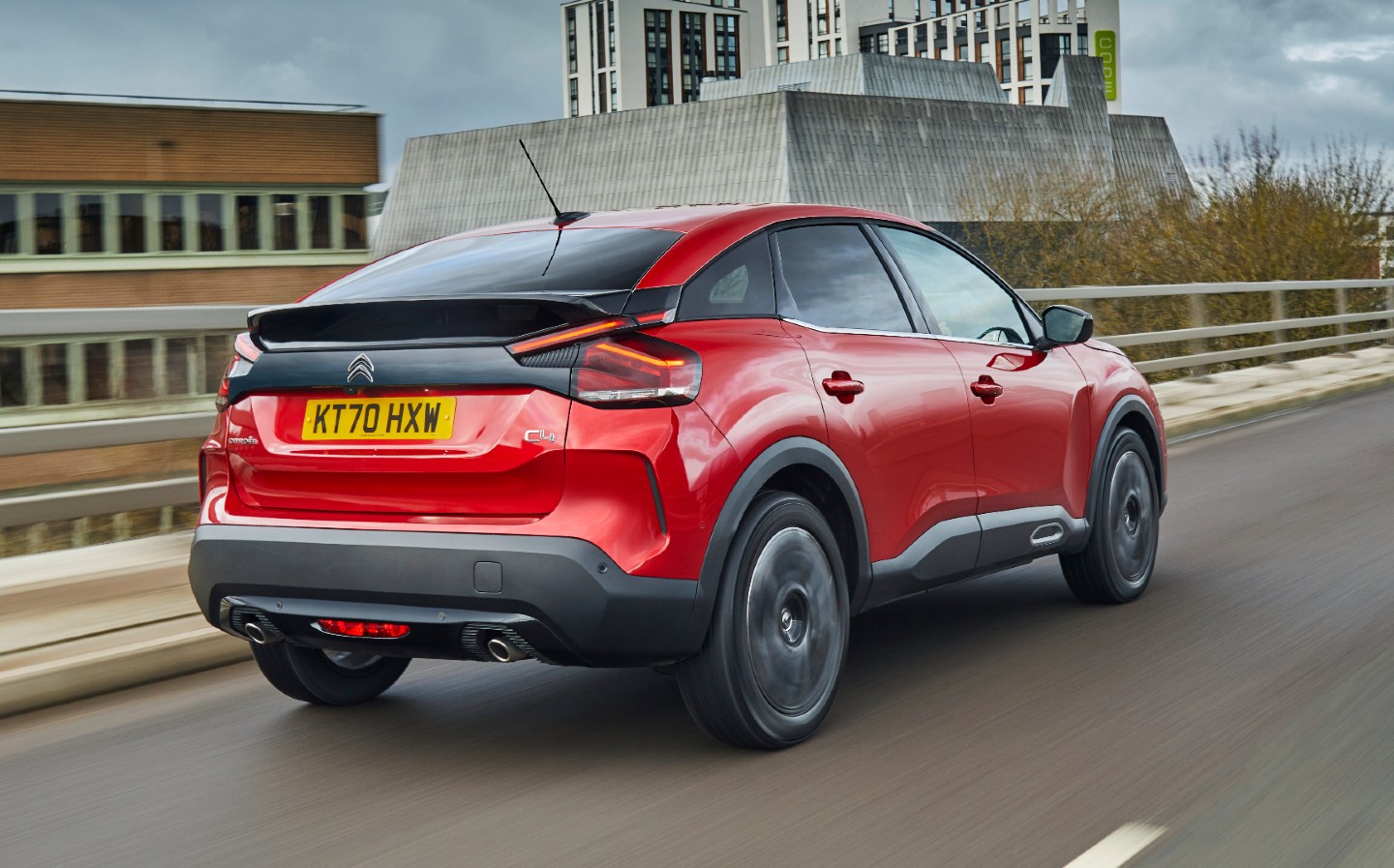 Through the rear window you can see the rear aero lip (I hesitate to call it a wing). As with the previous generation Honda Civic, this is a nice design touch when viewed from outside but from the driving seat it does result in compromised rear visibility.
The new C4 has quite a square, blunt rear end, with lines going off at strange angles. There's a lot going on, honestly, and you could call the styling fussy. It's interesting, at least, and I think I like of the overall look of the car. Probably.
If you're wondering if there are any design differences to mark out the electric ë-C4 over the petrol model, the answer is very few, aside from badging and some blue trim accents, though the 18in alloy wheel design is unique on the electric version.
Interior and practicality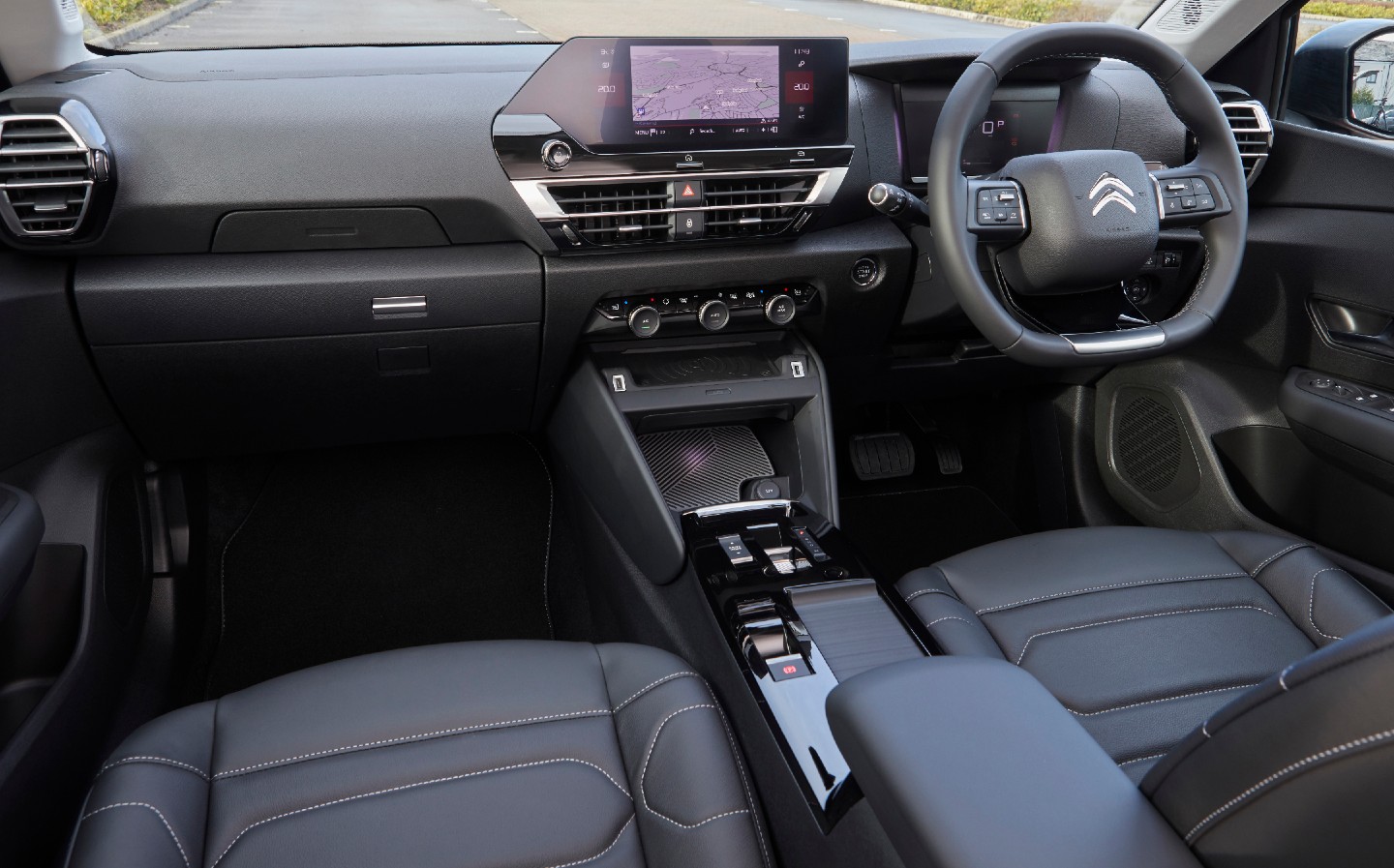 Inside, the C4 and e-C4 are very similar, too. Both are visually arresting, as you'd expect from Citroën, though not quite as far out as some of the quirkier models from the car maker's past.
In front of the driver is a three spoke steering wheel disguised as a two-spoke (there's a sort of large glossy plastic insert at the bottom). The wheel controls are a bit plasticky (as are the window buttons in the doors) but it's not unattractive and is laid out quite well.
Storage and practicality are strong suits, with decent space in the door pockets, a useful central cubby hole under the armrest, two deep cupholders and a little spot for your key in front of the gear selector.
In front of that you get a double layer storage area with a 12 volt socket and a liftable tray, hinged so you can hide stuff underneath as well as rest smaller items on top. In our top spec Shine Plus test car there was also a wireless phone charger and two USB ports, with a USB C on the left and and old-style USB socket on the right; a smart move — the new Skoda Octavia only has USB-Cs and no 12v socket, which might be OK in 2025, but not today.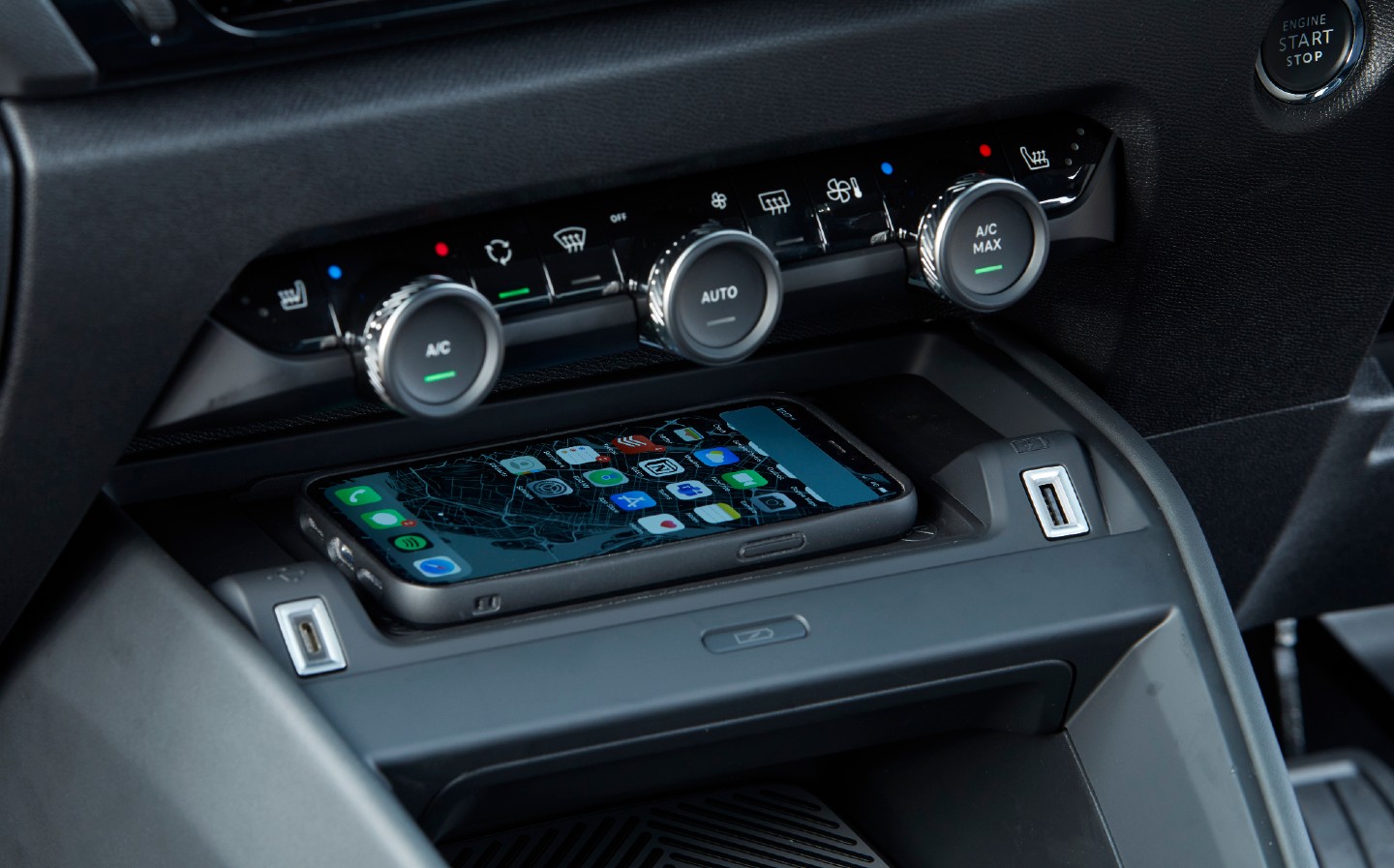 Analoguistas will appreciate that there are dials for the climate control, and top trim levels get heated seats with three levels of heating.
Above that, the touchscreen looks more impressive when the car's switched off than when it's on, because the navigation window is relatively small, and banked on either side by climate control and settings buttons.
The styling of the infotainment system is a little underwhelming — it's just not one of the prettiest things to look at and navigate. It's also slightly slower to respond to the touch than others we've tried, but not to the point that it becomes irritating.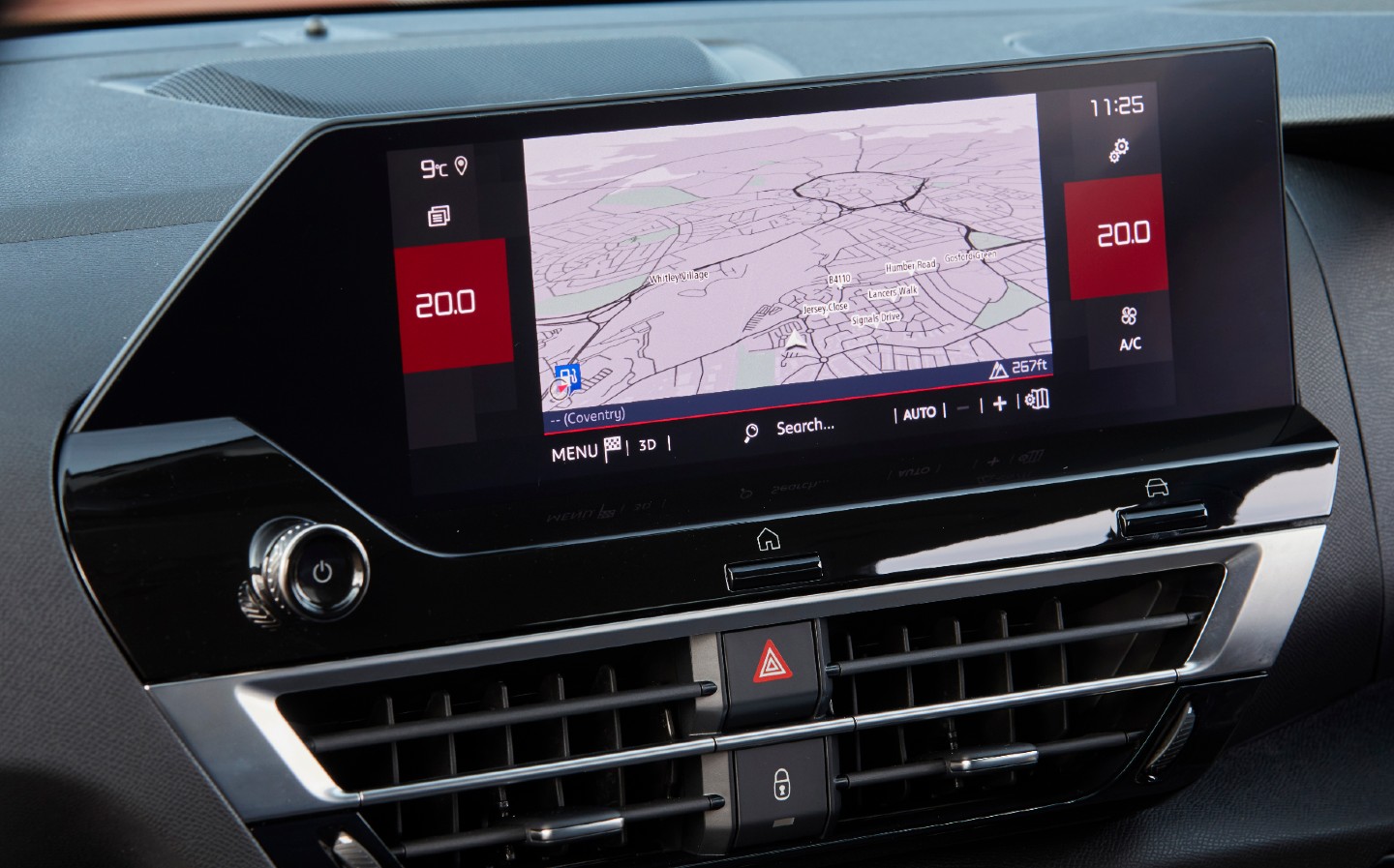 One of the standout features of the new C4 and ë-C4 is the iPad or tablet holder, which attaches to the dashboard on the passenger side. The safety of this was questioned during the car's online international launch, but Citroën told us the airbag deploys over the top of the tablet holder, so there is no cause for concern.
Your own iPad or tablet fits into a case supplied with the car, which can be stored in a slide-out tray within the dash, then you attach the case to holder. It's easier said than done (removing it from its clip is even trickier) but quite secure once attached.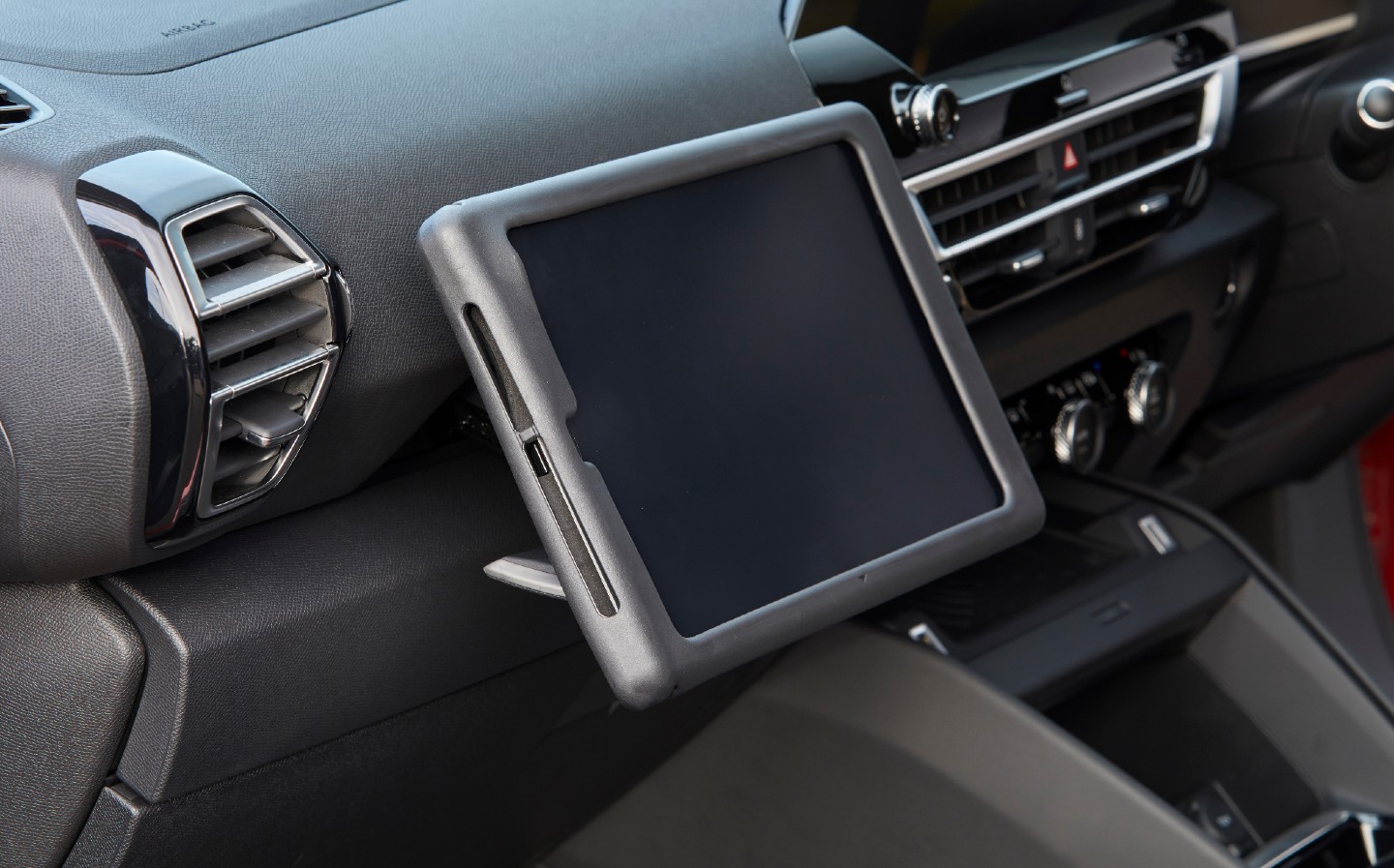 The glovebox below that is not as capacious as those found in the left-hand drive versions sold outside the UK — space is limited in our models because of the positioning of the fuse box, which is not transferred to the right side of the car along with the steering wheel and pedals. However, unlike with smaller PSA Group models, such as the Peugeot 208, there is a space to the right of the fuses that goes full depth, so actually you can fit a fairly large selection of driving gloves and boiled sweets in there.
In terms of comfort, the driver's seat is okay but, as with the C4 Cactus, the designers couldn't be bothered to sort the ergonomics for taller drivers: the steering wheel wouldn't come close enough to me, the headrest doesn't go high enough and with the seat in its lowest position my knees ended up quite high relative to my hips.
On the plus side, the high driving position gives a commanding view of the road — you definitely feel higher up than you would be in a normal hatch, which is obviously one of the big selling points of this car.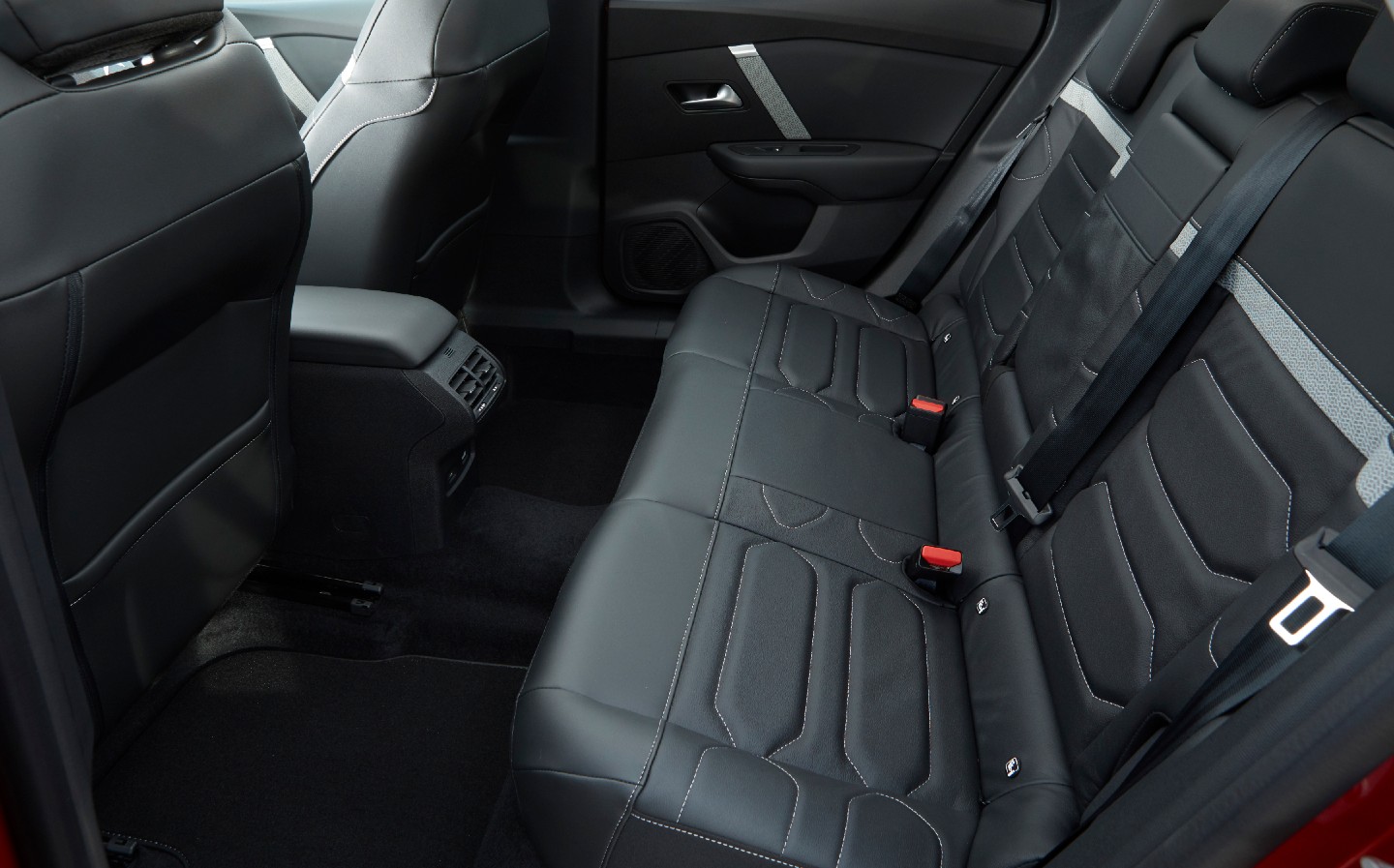 The rear is claimed to be class leading in terms of space. I can't sit in the back when the driver's seat is set to my position, but then I'm 6ft 5in tall, which is a fairly stupid height. Slide the front perch forward a bit and there is legroom even for me, though again, my knees end up fairly high in relation to my hips. Head room is worse — forget it if you're planning to carry passengers over 6ft 2in tall, but for kids, it's fine.
Seat padding is one of Citroën's strengths, and the rear bench is both soft and nicely upholstered, while rear passengers in our test car benefited from two USB slots and two air vents.
The door trim in the rear and the front includes a fabric insert that looks much like a grab handle, but you can't get your fingers behind it: it's purely a bit of the Citroën design je ne sais quoi.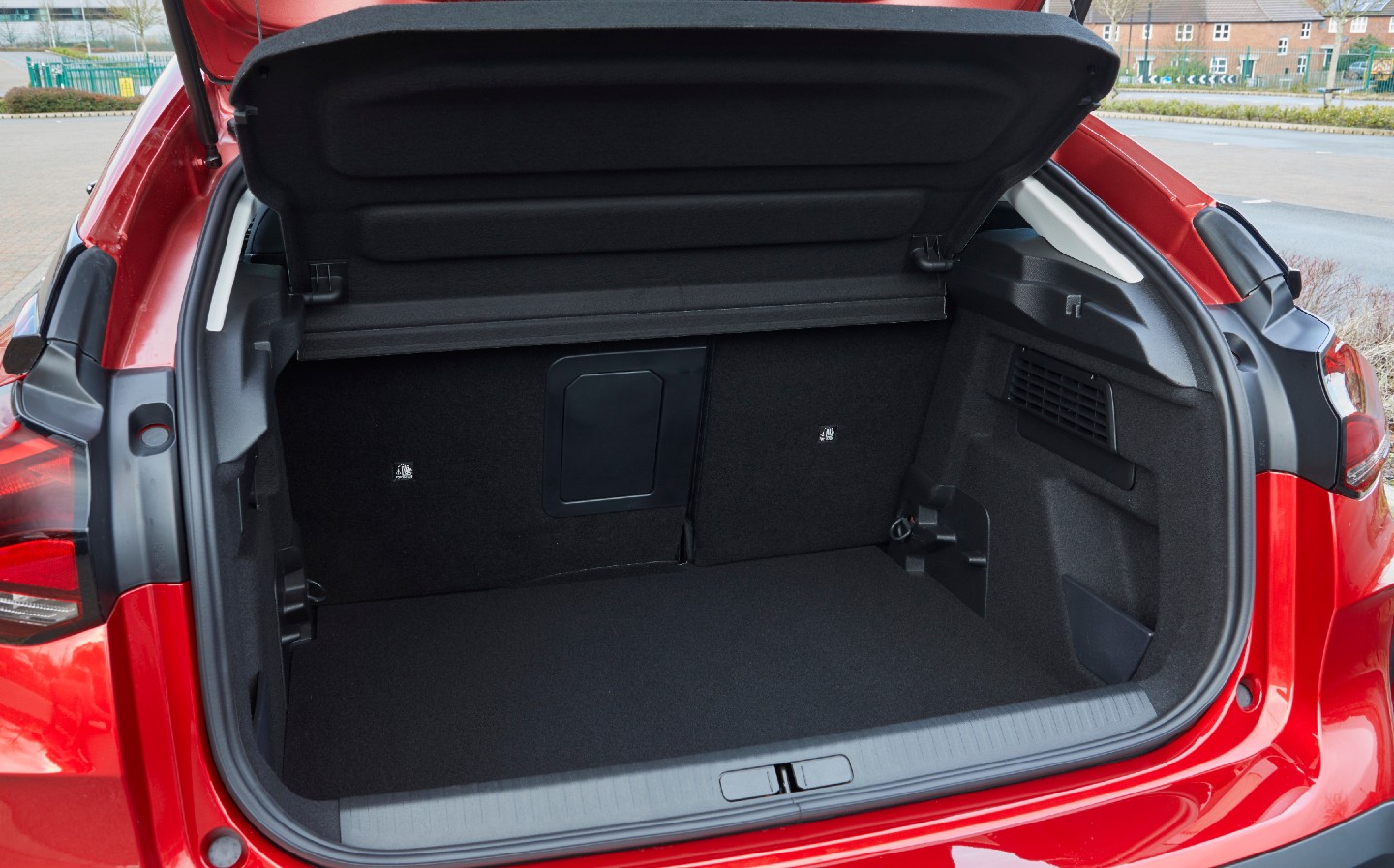 The boot is a decent size for its class (380 litres, or 1,250 litres with the rear seats folded, for both petrol and electric versions) and our test car came with an adjustable floor that can be set to the height of the lip, which means you can slide things in and out easily. But I was was surprised to find it doesn't have an electric hatchback, even on our top top spec test car.
Technology and safety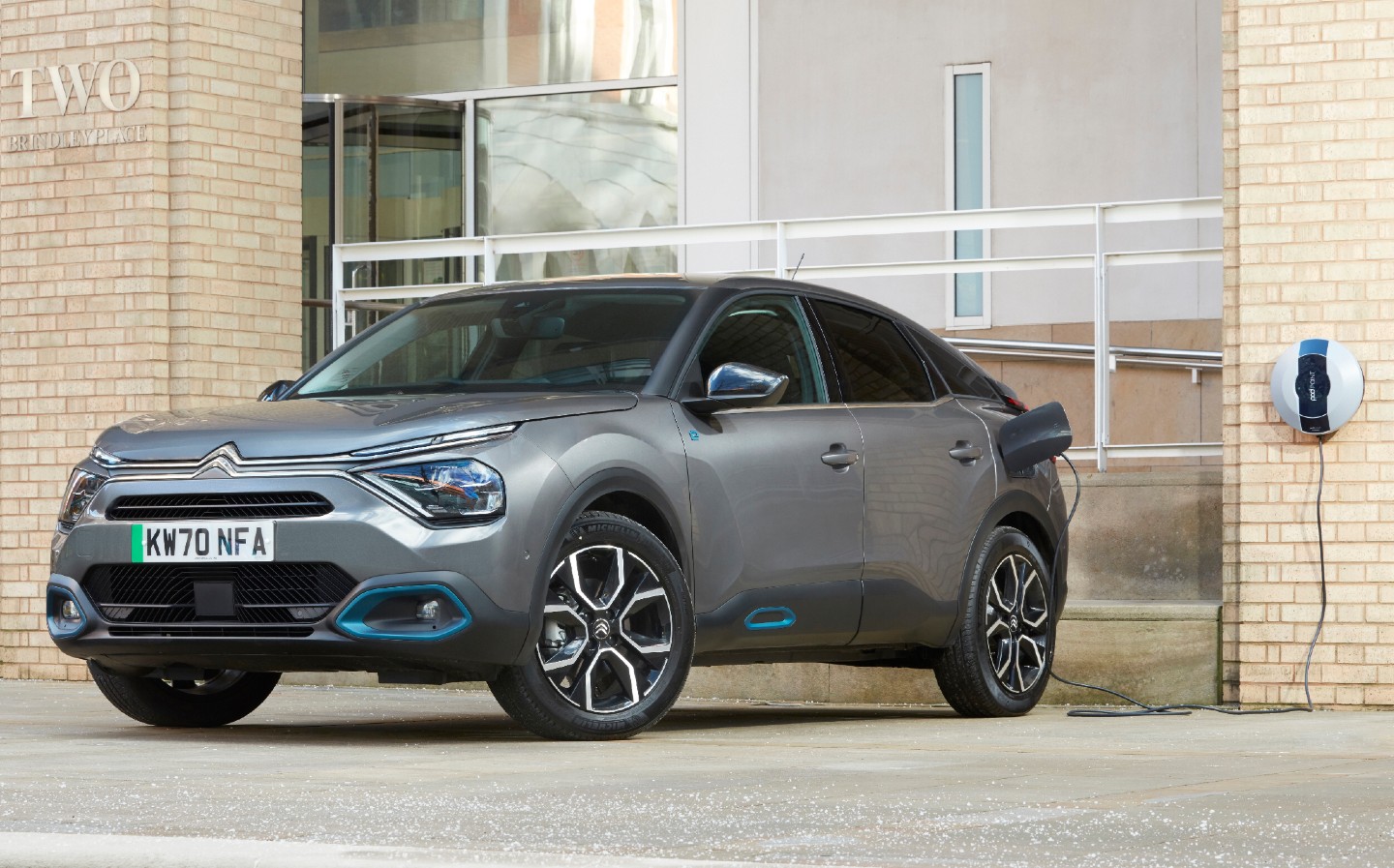 There are four trim levels for the new Citroen C4: Sense, Sense Plus, Shine and Shine Plus, and all cars get LED headlights, rear parking sensors, a 10in touchscreen and a 5.5in digital driver's display, along with safety aids such as automatic emergency braking, speed limit warnings, lane-keeping steering, and a warning if it thinks the driver is not paying attention or nodding off.
The electric e-C4 is only available from Sense Plus trim upwards, so comes as standard with sat nav, a rear parking camera, folding door mirrors, the tablet holder, and a colour head-up display for the driver.
Go for the higher specs and you'll be adding things like adaptive cruise control (on automatic versions), automatic headlights, cyclist detection, keyless entry (actually standard even on the Sense Plus version of the ë-C4), heated front seats, an upgraded stereo, wireless smartphone charging, a heated steering wheel (you need this in your life) and USB ports in the rear.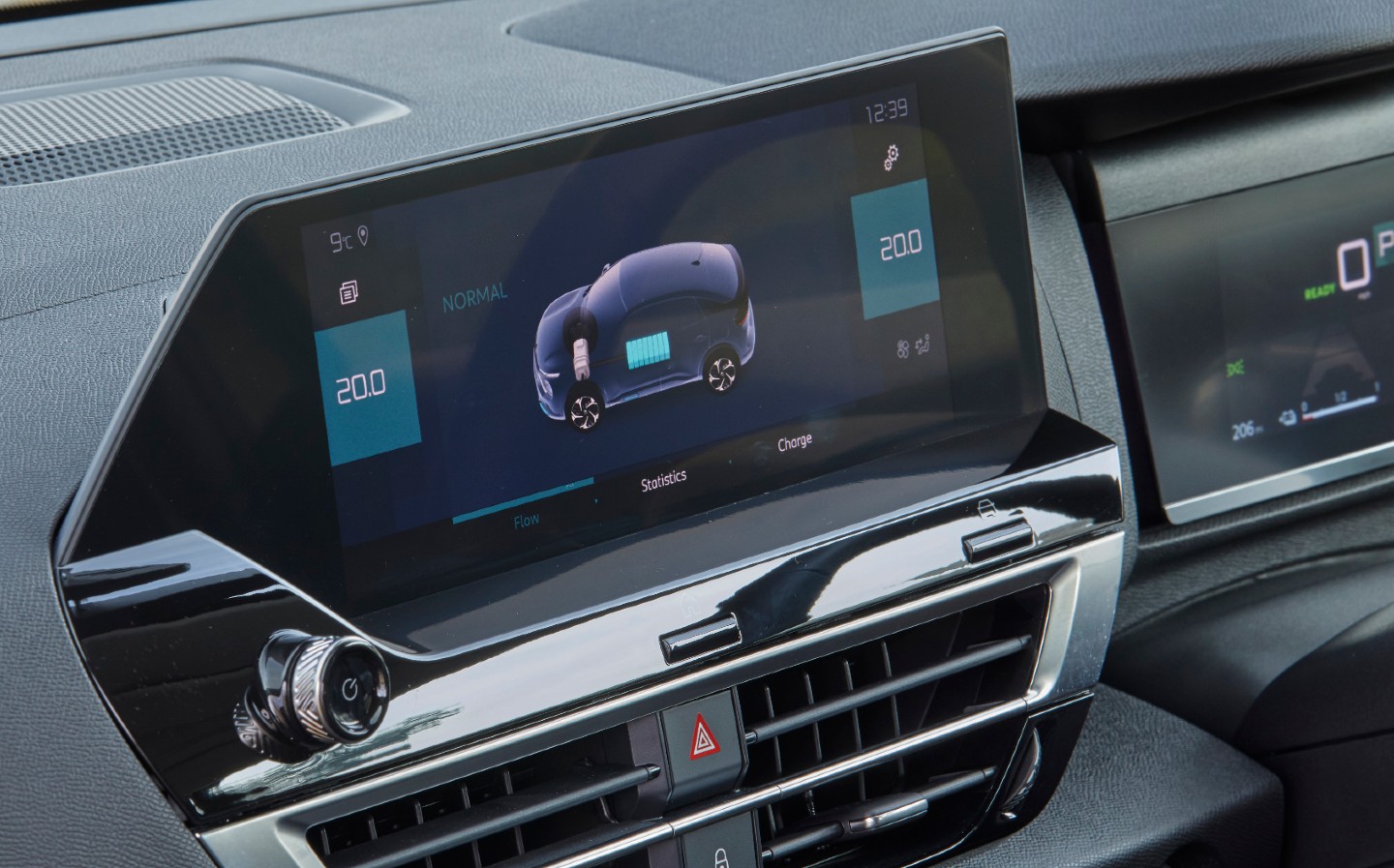 Our test cars were in Sense Plus trim and so fully loaded.  The head-up display  is clear and, mercifully, can be adjusted using buttons on the right of the dash, rather than via the touchscreen, which makes it nice and easy to set up.
Ride and handling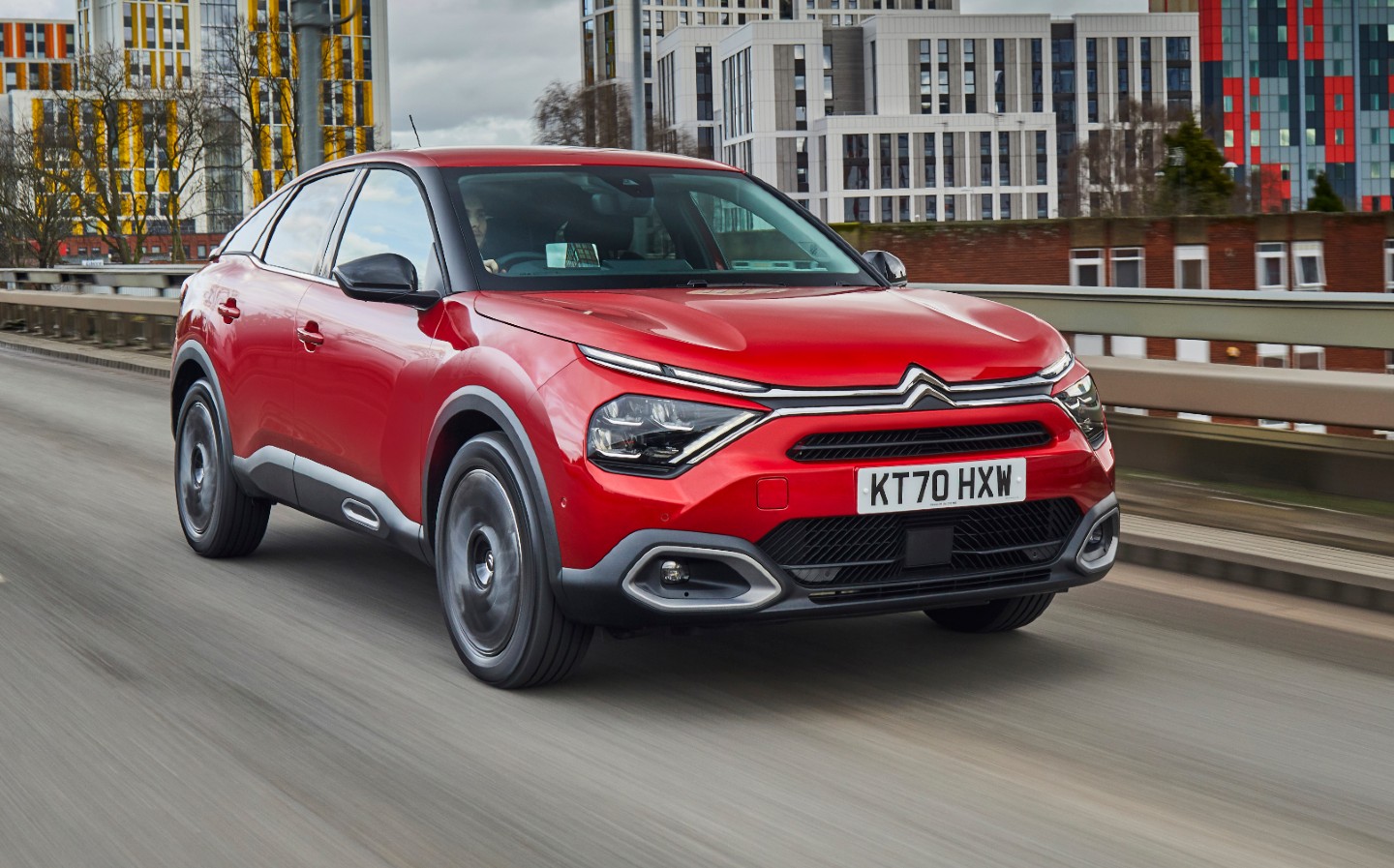 The steering is very light and not razor-sharp in both cars, which is as you might expect from a Citroën, and while the spring rate is fairly well judged — not too hard or too soft — the petrol C4 is a little floaty over bumpier roads, and our test car revealed vibrations on some country lanes that become really quite unpleasant, to the extent that it felt like there was a flat spot on a tyre. Obviously there wasn't or it would have been noticeable on motorways and A-roads, too. This must be a problem irrespective of the trim levels as all versions come with the same 18in wheels.
The ë-C4 on the other hand, had no such issues. The extra weight of the battery meant the engineers needed to beef up the suspension, and its bespoke set-up eliminates the unpleasant vibrations.
The electric model is also more fun to chuck around corners, despite its extra weight, thanks to a lower centre of gravity. What's more, cabin noise while the move is much improved in the electric model. There's a clear favourite here.
Engines, economy, emissions and performance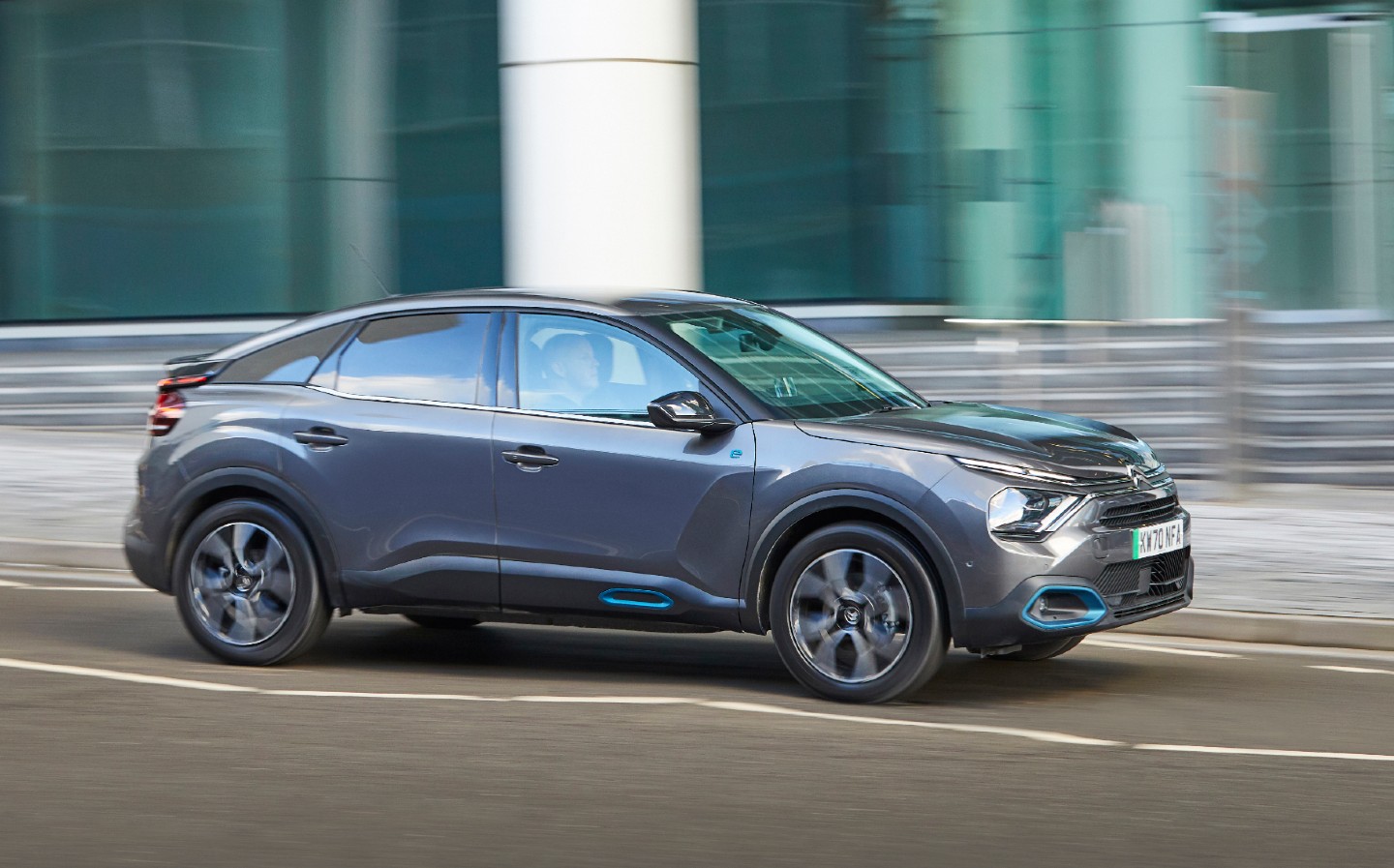 The PureTech 130 petrol engine is actually a pretty decent lump to have under the bonnet, with ample torque and a pleasant sound. During my spirited test drive I averaged 32mpg, too, suggesting it could be pretty frugal if driven carefully.
But you'll not want to drive it carefully, thanks to a disastrous eight-speed automatic transmission. I had to stick the car in Sport mode at all times because in Normal mode, the 'box reaches for higher gears to save fuel, then when you put your foot down there follows a few seconds of dawdling while the car's electronic brain has a little think about what to do. "You want speed, Anglais? Mais, non."
Overtaking can be fraught with peril. Mercifully, in Sport mode, Alain Prost shows up to add a bit of urgency and actually find the right gears.
Also, I'm not one to bang on about auto start-stop systems, which kill the engine at traffic lights, as some of them work very well, but the C4 goes to sleep at a junction with the same conviction as a narcoleptic on Valium, and needs to be woken up with a hard kick if you actually want to set off again. More than once I missed a gap joining a roundabout, and on one occasion leaving a T-junction I almost soiled my leather seat, such was the hesitancy with which the C4 coughed back to life and began to pull forwards.
There are paddles for shifting the eight-speed auto 'box, but even so, keep it in Sport if you have a dislike of heart attacks. I didn't have the balls to try Eco mode — it might be included on the car as a dare.
All of this is eliminated with the electric ë-C4: there's no transmission to become befuddled, there's no stop-start system (of course) and the immediacy of the electric motor's torque means acceleration is instant and satisfying. The 0-62mph times are fairly similar between the petrol and electric versions (9.4sec and 9.0sec respectively) but below 30mph, the ë-C4 feels like it has a chunk more urgency.
The range per charge is decent, too: 217 miles (WLTP), officially, which is more than enough for commuting and everyday driving. If you want to venture further afield, the e-C4 will take a 100kW CCS rapid charge, taking battery from 0-80% full in 30 minutes.
Citroën C4 and ë-C4 review: Verdict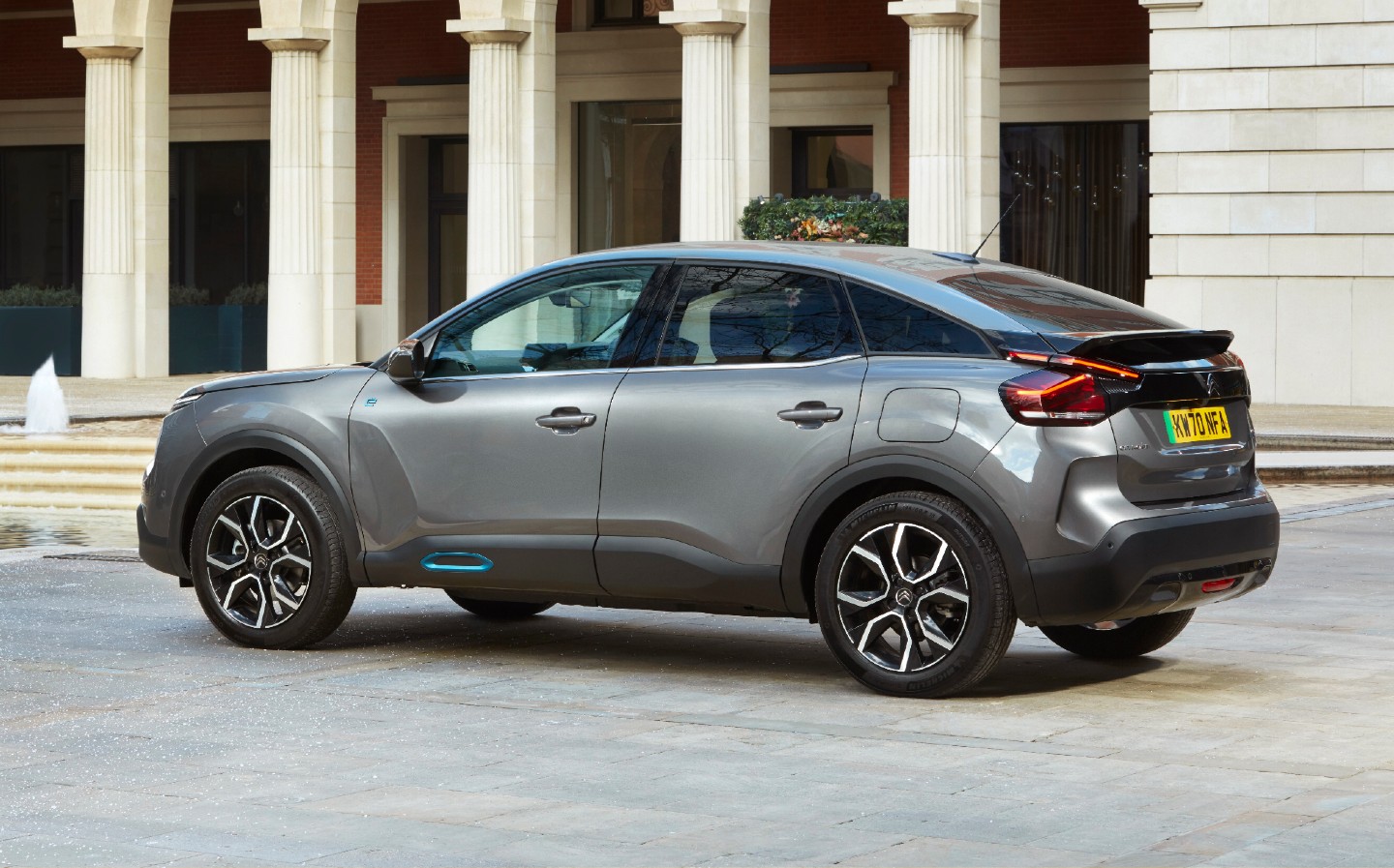 The new Citroën C4 does a good job of replacing both the old C4 and the C4 Cactus, offering quirky design, good levels of tech, decent practicality, affordability (all ë-C4 models come in at below the new upper limit for the government's £2,5000 plug-in car grant) and a high driving position that will likely appeal to many hatchback drivers. And with the car available in petrol, diesel, and pure-electric forms, there should be something for everyone here.
There's a clear favourite for us, though: the electric model has far superior ride quality and performance. It comes with a hefty price premium — around £5,000 to £6,000 — which would take a chunk of time to recoup in fuel savings (electricity when charging at home is much cheaper per mile), but it's still one of the more affordable pure-electric cars with a range of more than 200 miles per charge.
Whatever version you go for, it won't look like any other hatchback on the road, and for that Citroën should be applauded.
– After reading this 2021 Citroen C4 and e-C4 review, you might like to see our review of the Volkswagen ID.3.
– Also checkout our article outlining all the car makers' electric vehicle plans.
– And here are the top 10 electric cars with a range of 300 miles of more.