Citroën C4 Cactus review (2014-on)
Looking for a designer-look small car? The Cactus suits you, Sir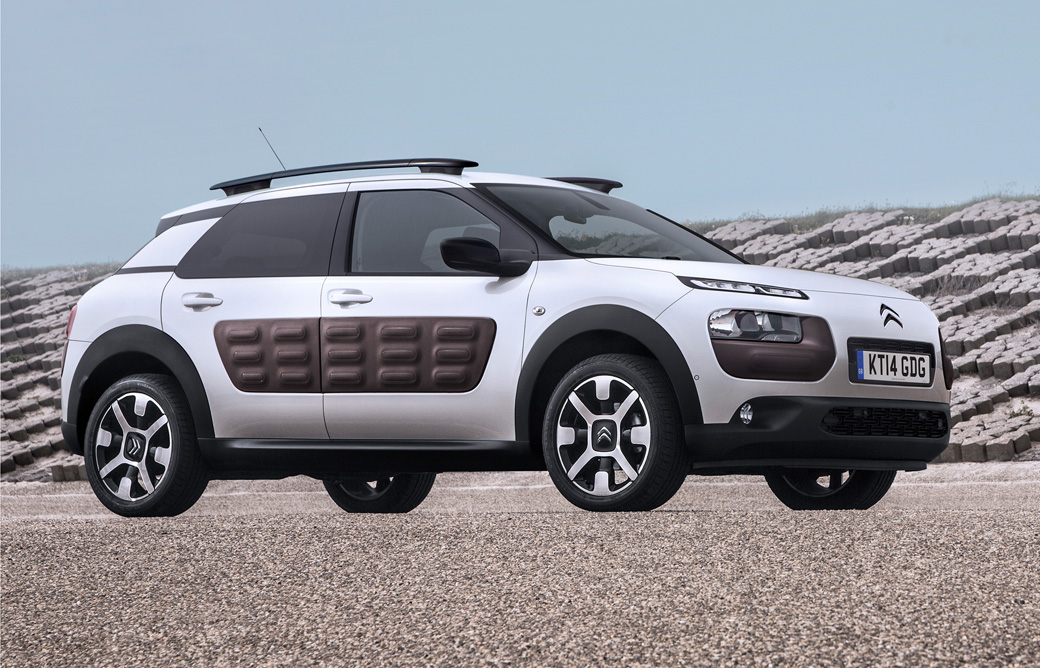 What is the Citroën C4 Cactus?
Is it a car? Is it a plant? It's… the Citroën C4 Cactus. Despite sounding like something cowboys do their best to avoid in the desert, the oddly named Cactus is a new small family car from Citroën.
Before going any further, we should stress the Cactus is not a four-wheel drive crossover, just a weirdly wonderful small car that looks like it belongs on a beach in California.
A rival to the Mini Countryman, Nissan Juke and Peugeot 2008, it has one of the most quirky features fitted to a family car since the square steering wheel of the Austin Allegro. The bodywork of the Cactus has rubber panels inserted into the doors and bumpers, aimed at preventing the everyday parking scrape.
---
Search for and buy your next Citroën on driving.co.uk
---
Called Airbump, the panels are made from thermoplastic polyurethane, a flexible plastic filled with small air pockets, much like bubble wrap. This gives the Cactus, which costs from £12,990, a unique selling point for drivers who wrestle with dense traffic, crowded car parks and careless children.
The Airbump panels are available in four colours, Black, Grey, Dune & Chocolate. It looks different. Daring, even. But there's little doubt this will be a Marmite car, liked by some, loathed by others. There are three trim levels, Touch, Feel and Flair, and a mix of five petrol and diesel engines. Our pick would be the PureTech 82 petrol engine if you don't intend to cover more than 12,000 miles a year, and the BlueHDI 100 if you do.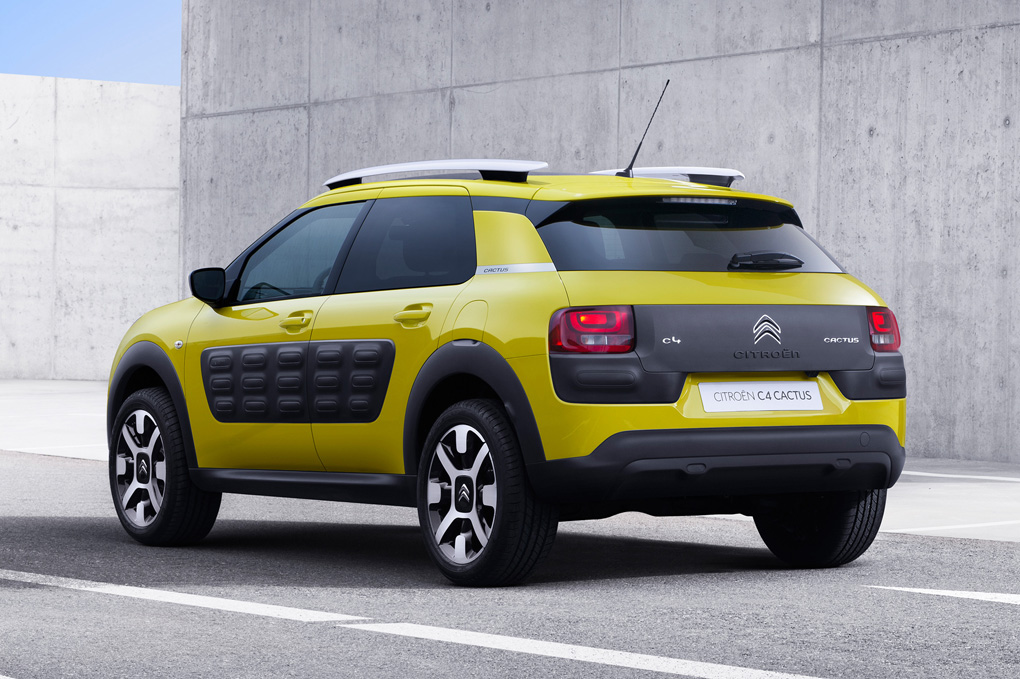 Of the trim levels, the mid-range Feel offers a good balance of coming with all the essential goodies plus nice-to-have features such as air conditioning and Bluetooth handsfree and media streaming.
The drive
The C4 Cactus is not intended to be a sporty car. It's a hatchback that is meant for the school run, supermarket sweep or occasional great escape at the weekend. So drivers expecting fun behind the wheel should look elsewhere; despite its zany dress sense the Cactus is thoroughly ordinary to drive.

Still, ordinary can be good. Driving tested the Blue HDi 100 engine, which is claimed to deliver an impressive 83.1mpg in day to day use. That's the kind of statistic drivers want to hear, and it's exempt from road tax. However, in practice you'd have to drive like a saint to get anywhere near that figure.
The engine doesn't deliver acceleration with quite enough vigour at low engine speeds, and needs to be worked quite hard to get the best from it. Noise levels are low, but there are only five gears, which seems a bit mean to us – a six-speed gearbox would have given the car better acceleration around town or across country and lowered the engine speed on motorway trips.
Curiously, there is no rev counter. Citroën says this is to keep the interior free from clutter, but given the instruments are digital, it would be simple to include one. It makes it hard to judge when to time each gearshift to save fuel, for example.
The ride comfort is supple but there is noticeable bodyroll through bends, and the levels of wind noise and tyre roar on main roads and motorways gets annoying after a while.
The interior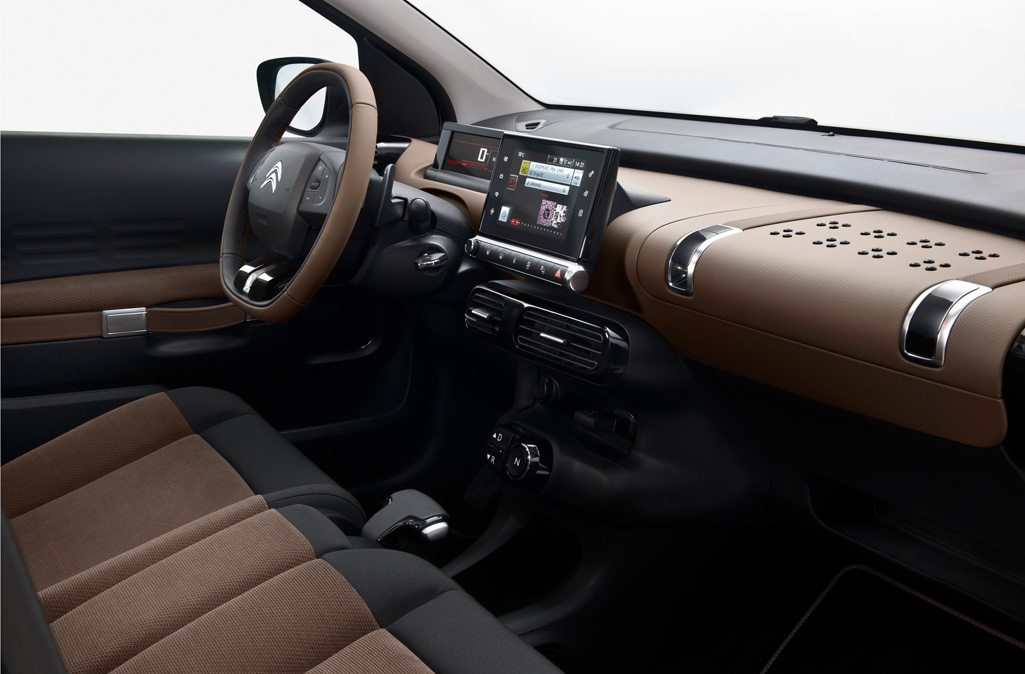 Hang on, what about the exterior? After all, that's the talking point of the Cactus. Driving tested the Airbump panels, devising a series of simple 'accidents' which the plastic panels should offer protection from. They did.
The Airbump bubble-wrap effect isn't reserved for the doors, it's also on the four corners of the car, just below the front and rear light clusters. There's no sign of it inside the car, though. That seems like a missed opportunity to have some fun.
However, the design is stylish throughout, and the cabin feels simple and uncluttered. This is partly because there are no buttons – you control all systems  using a tablet-type touchscreen – and safety equipment such as the passenger front airbag has been repositioned to the roof, allowing the designers to have a remarkably flat and low dashboard.
What's more, there's a panoramic sunroof, designed to filter UV light and reflect heat, and all the doors have huge stowage compartments. And if you're a fan of the 'sofa bench' front seat, bear in mind it's only available with the optional automatic gearbox.
Unfortunately, this all raises as many problems as it solves. There is no air vent for the front seat passenger; the back windows are hinged, so don't wind down; the glass roof badly needs a sunshade (everyone will be squinting on a bright day); and the touchscreen interface would be well serviced by some good old-fashioned buttons.
For example, if you want to change the temperature when using the sat nav or displaying radio stations, you have to fiddle around to find the right menu on the touchscreen, and then have to fiddle around again to go back to your previously chosen display.
The driving position lacks reach adjustment for the steering wheel, which is a serious fail in our view, and several drivers complained of the steering wheel fouling their knees when set to a position they found comfortable.
In the back seats there are two Isofix mounting points for child seats and three seat belts. Headroom and legroom are limited, and why Citroën thought it would be a good idea to only fit basic, hinged rear windows is beyond us. Anyone who suffers from motion sickness, or has children who get car sick, will quickly refuse to travel in the back of the Cactus.
And while we're on the subject of practical touches, the good-sized (358-litre) boot is let down by the absence of a split-fold rear seat. So if you want to carry a long but narrow load, you'll have to leave passengers behind.
The one to buy
Citroën C4 Cactus Blue HDi 100 Feel
Specifications
Price: From £16,590 (correct at first publication)
Engine: 1560cc, four-cylinder turbo diesel
Power: 98bhp @ 3750rpm
Torque: 187 lb ft @ 1750rpm
Transmission: 5-speed automatic, front-wheel drive
Acceleration: 0-62mph in 10.7sec
Top speed: 114mph
Fuel: 83.1mpg (combined)
CO2: 87g/km
Road tax band: A
Dimensions: L 4157mm, W 1729mm, H 1480mm
Citroën C4 Cactus rivals