Nissan Juke review (2010-on)
More style than substance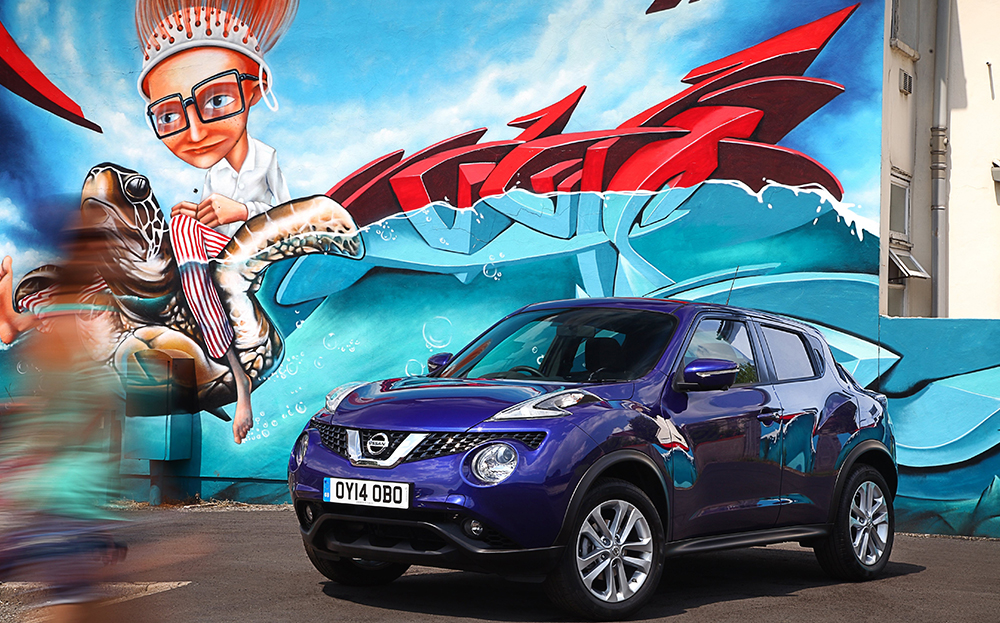 What is the Nissan Juke?
Nissan appears to have put a hatchback, a coupé and an SUV into an industrial blender, pressed the button and waited to see what would emerge. The result is a car that's nothing if not interesting in appearance, like a fluoro-coloured Nike trainer amongst a sea of black Clarks shoes.
Prices start at £13,420, and stretch to £21,300, which means buyers could also be considering cars like the Ford Fiesta, Mini Cooper five-door hatchback or Mini Cooper Countryman, the Citroën C4 Cactus and Ford Ecosport. There is a choice of two and four-wheel drive, although you'll need to pay a minimum of £20,100 to get the latter; for most drivers' needs, two-wheel drive is just fine.
A facelifted version of the Juke went on sale in August 2014, and it brought some significant improvements. A new 1.2-litre turbocharged four-cylinder petrol engine was added to the range, and it's probably the pick of the range for anyone who drives under 12,000 miles a year.  There's also a 1.5-litre Renault-powered diesel for high mileage motorists, a 1.6-litre petrol option and even a peppy 1.6 turbo for those as interested in go as they are in show.
---
Search for and buy used Nissan Juke on driving.co.uk
---
The drive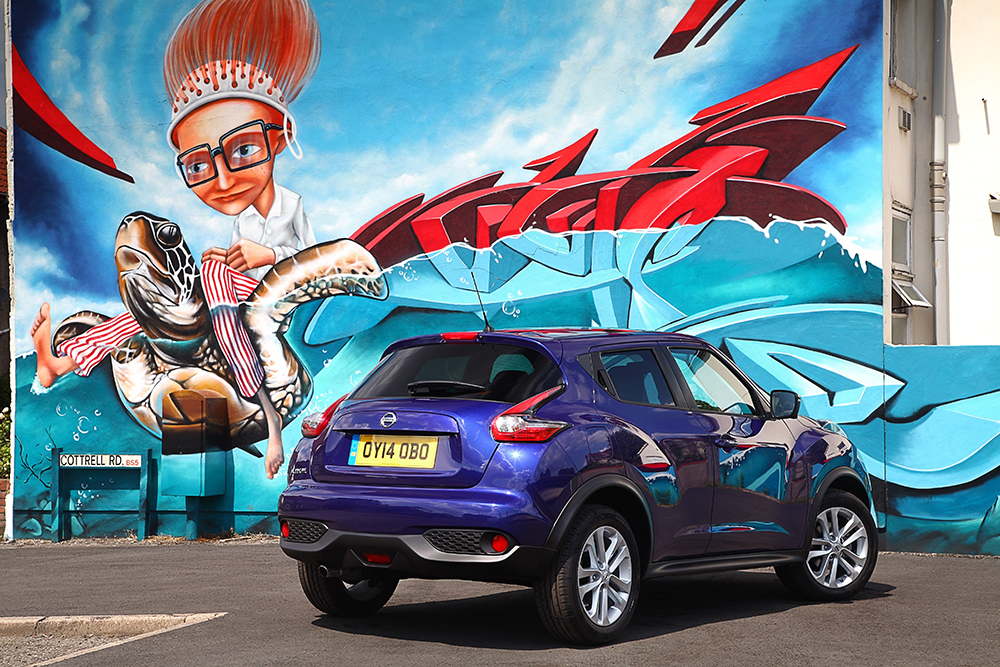 All that style comes at a price. The Juke is high and heavy, two qualities not known for their ability to confer either sparkling performance or impressive fuel economy.
However, choose the pick of the engine range – the 1.2 turbo petrol – and you'll enjoy remarkably perky performance from the smooth-sounding motor.  It pulls enthusiastically from low in the rev range, and offers a choice of three operating modes – Eco, Normal and Sport – which alter the response the of throttle and steering to make the car less or more animated.
It is claimed to return 47.1mpg, and we easily achieved an average of over 40mpg during its time on test, and over 45mpg on longer trips. However, in this respect (and the CO2 emissions) it lags behind rivals.
For high mileage drivers, the best suited engine is the 1.5-litre diesel engine. Its 108bhp may be within 2bhp of the rival Mini Cooper D five-door but the car takes 11.5secs to hit 60mph – more than two seconds longer than the Mini. The diesel Juke also has a top speed of less than 110mph instead of the Mini's 126mph, and returns 70.6mpg against 78.5mpg. The Mini is a sub-100g/km CO2 car, making it exempt from road tax (under current rules, which are likely to change in 2015); the Juke is not. You have its shape and more than 200kg of extra weight to thank for that.
The driver notices that weight in the way the car drives. The suspension is a basic design, revealing the limitations of the adapted Renault Clio platform upon which the Juke sits, and while it handles adequately given its weight and centre of gravity, its best rivals – the Fiesta and Mini – would run rings around it. Nissan tries to make up for this by giving it quick-acting steering, firm suspension and a crisp, short-throw gear change – which all combine to give it a playful, hyperactive feel.
Few buyers choose the four-wheel drive model, for the simple reason that few of them venture off the beaten track. Even on slippery roads, the two-wheel drive Juke is stable and sure-footed.
The interior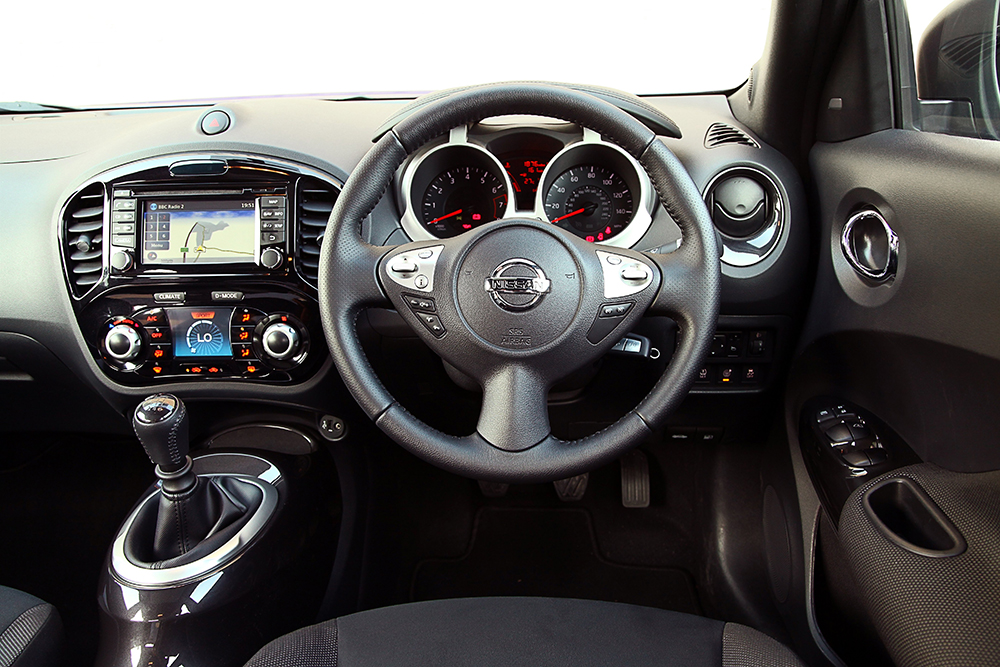 There's no question that with its interior the Juke claws back some ground lost in the driving experience. The car doesn't just look interesting from the outside; the interior is genuinely attractive and creatively arranged.
The cabin architecture and clarity of layout works well too, which often isn't the case with visually creative cockpit design. A small touchscreen is used to control the navigation, phone and audio systems. It could do with being bigger, but other than that it's one of the more intuitive systems to use.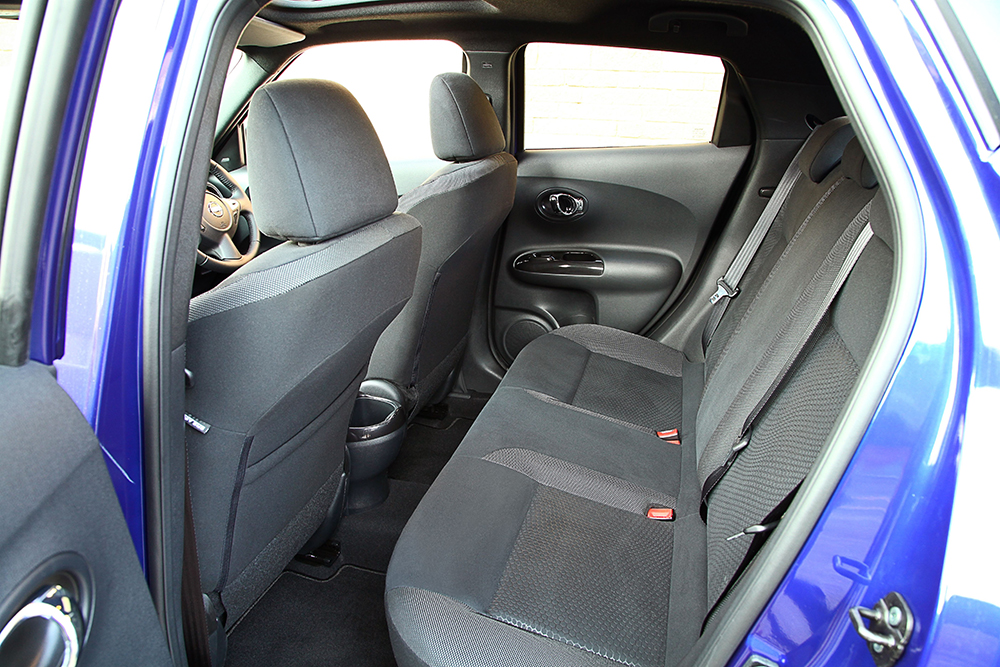 The problem is, the Juke isn't especially spacious. At best, it's a four seat car, and adults in the back will find their head touches the roof. The back doors are small, so getting babies and toddles into child seats will be a chore, and the boot (with 354-litres of luggage capacity) doesn't have squared-off sides, making it tricky to accommodate large items.
What to look out for when buying a used Nissan Juke
There have been few complaints from the many thousands of owners who plumped for a Juke after it went on sale in 2010. Lower-than-expected fuel economy is cited by some drivers, perhaps a reflection of the car's weight and the need to put your foot down to get it moving at a reasonable pace. Owners also comment about high tyre wear.
Nissan has issued a couple of recalls, one for the possibility of a faulty turbo boost pressure sensor on the diesel and the other for a possible brake fluid contamination, which potentially affected a handful of owners. You can check if your car has been affected by contacting a franchised dealer.
The one to buy
The Nissan Juke 1.2 DIG-T 115 Acenta Premium
Specifications
Price: £16,470 (Correct at the time of publication)
Engine: 1197cc, 4 cylinders, turbocharged petrol
Power: 108bhp @ 4500rpm
Torque: 140 lb ft @ 2000rpm
Transmission: 6-speed manual, front-wheel drive
Acceleration: 0-62mph in 10.8sec
Top speed: 110mph
Fuel: 47.1mpg
CO2: 129g/km (combined)
Road tax band: D
Dimensions: L 4135mm, W 1765mm, H 1565mm
Nissan Juke rivals
---
Search for and buy a Nissan Juke on driving.co.uk
---